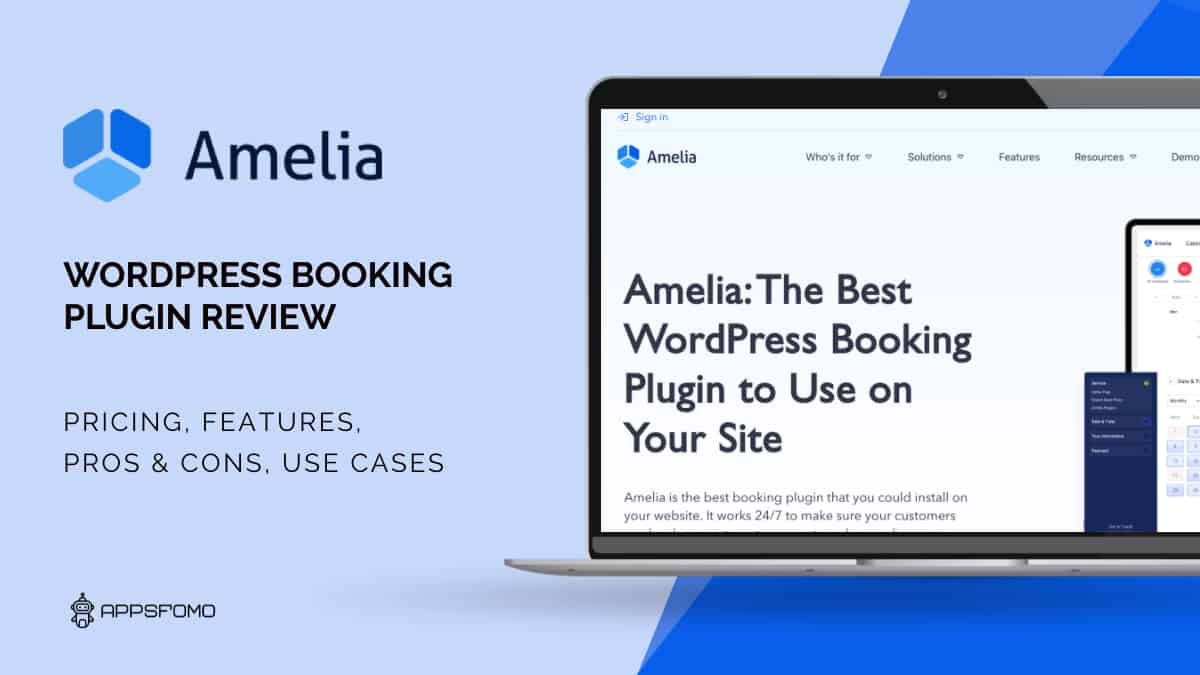 Recommended
Amelia: The Best WordPress Plugin for Event and Appointment Booking
Add to wishlist
Added to wishlist
Removed from wishlist
1
Add to compare
In today's fast-paced world, people are always in a hurry to get things done. Hence, having an efficient and reliable booking system is crucial for businesses that offer appointment-based services. Enter Amelia WordPress Booking Plugin, your all-in-one solution for event and appointment booking. In this blog post, we will discuss the importance of having a good booking system and how Amelia can help you streamline your booking process.
We will also dive into the key functionalities offered by Amelia, such as automated notifications and reminders, package and recurring appointments, Google calendar synchronization, insightful dashboard and reporting, and many more. With its powerful integrations and easy-to-use interface, Amelia is undoubtedly the best choice for businesses looking to enhance their customer experience while optimizing their workflow.
Amelia is an event and appointment booking plugin that allows you to create a fully functional, design-oriented booking system for your WordPress site. It is developed based on enterprise-level technology hence any of your team members can log in to the system and can maintain the bookings.
Amelia is best suited for small businesses if you want to maintain booking systems and logs for the booking If you are running sports clubs, restaurants, beauty salons, consultants, or businesses then this is a handy plugin to use for the bookings.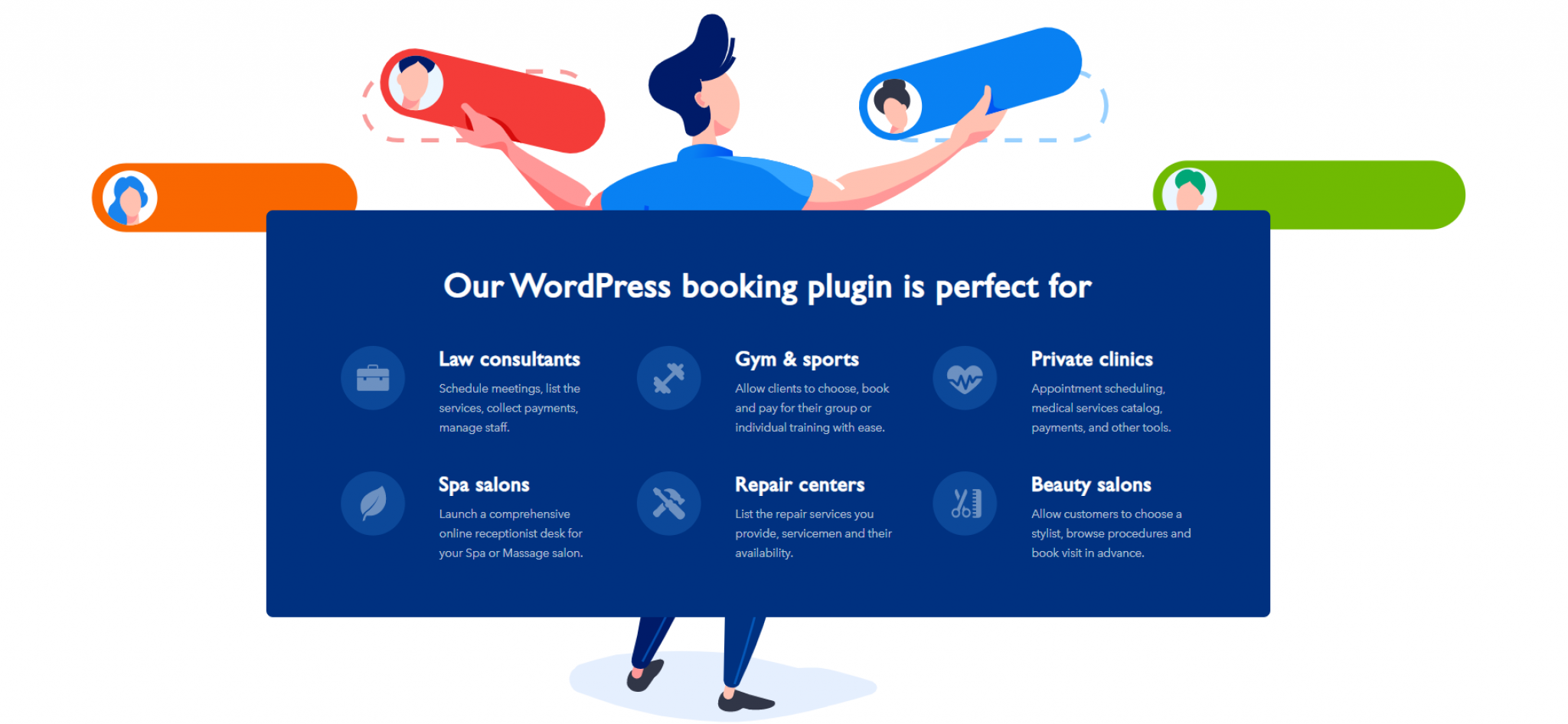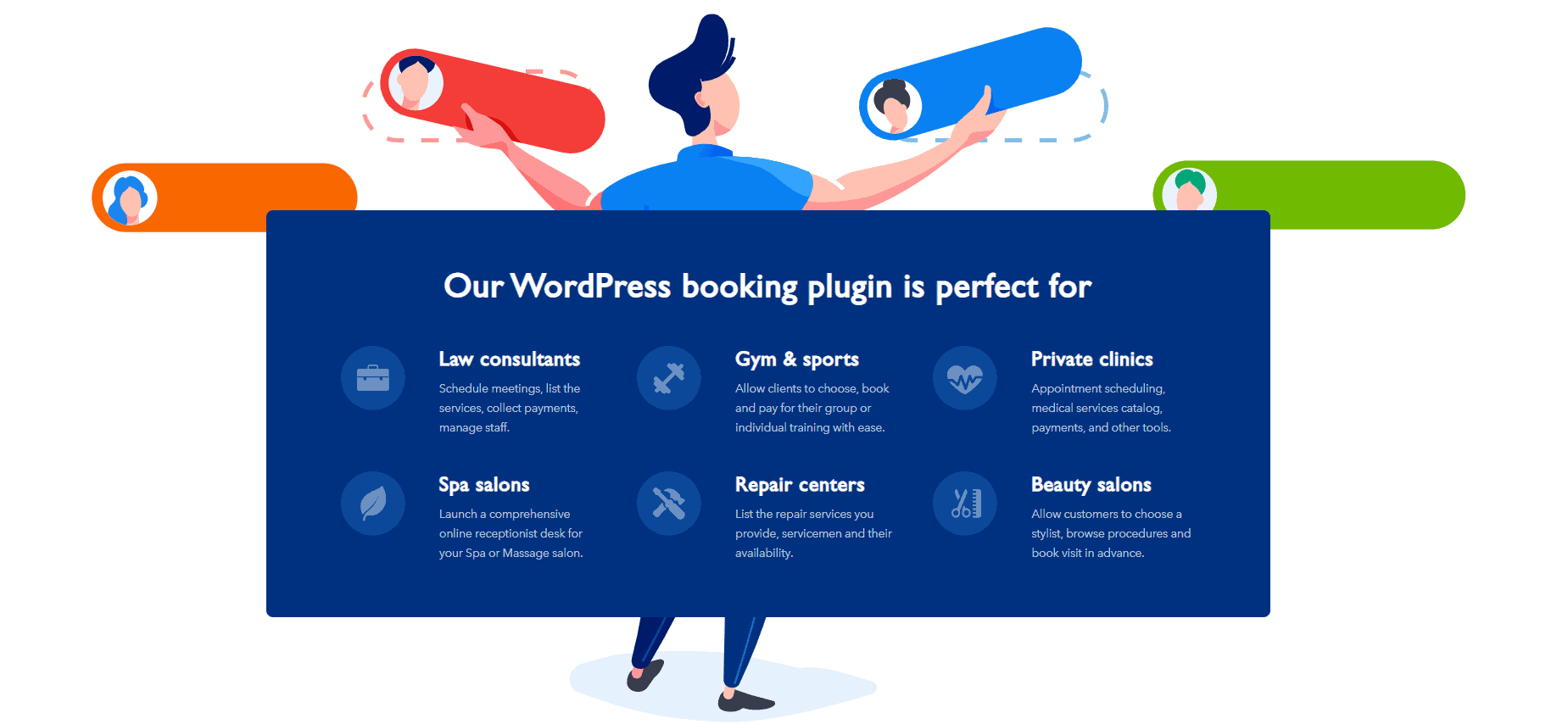 Amelia is full of features. You can integrate Zoom into it, and Google Calendar synchronization can be done based on the booking, for all the team members, and even more features you can get in this plugin.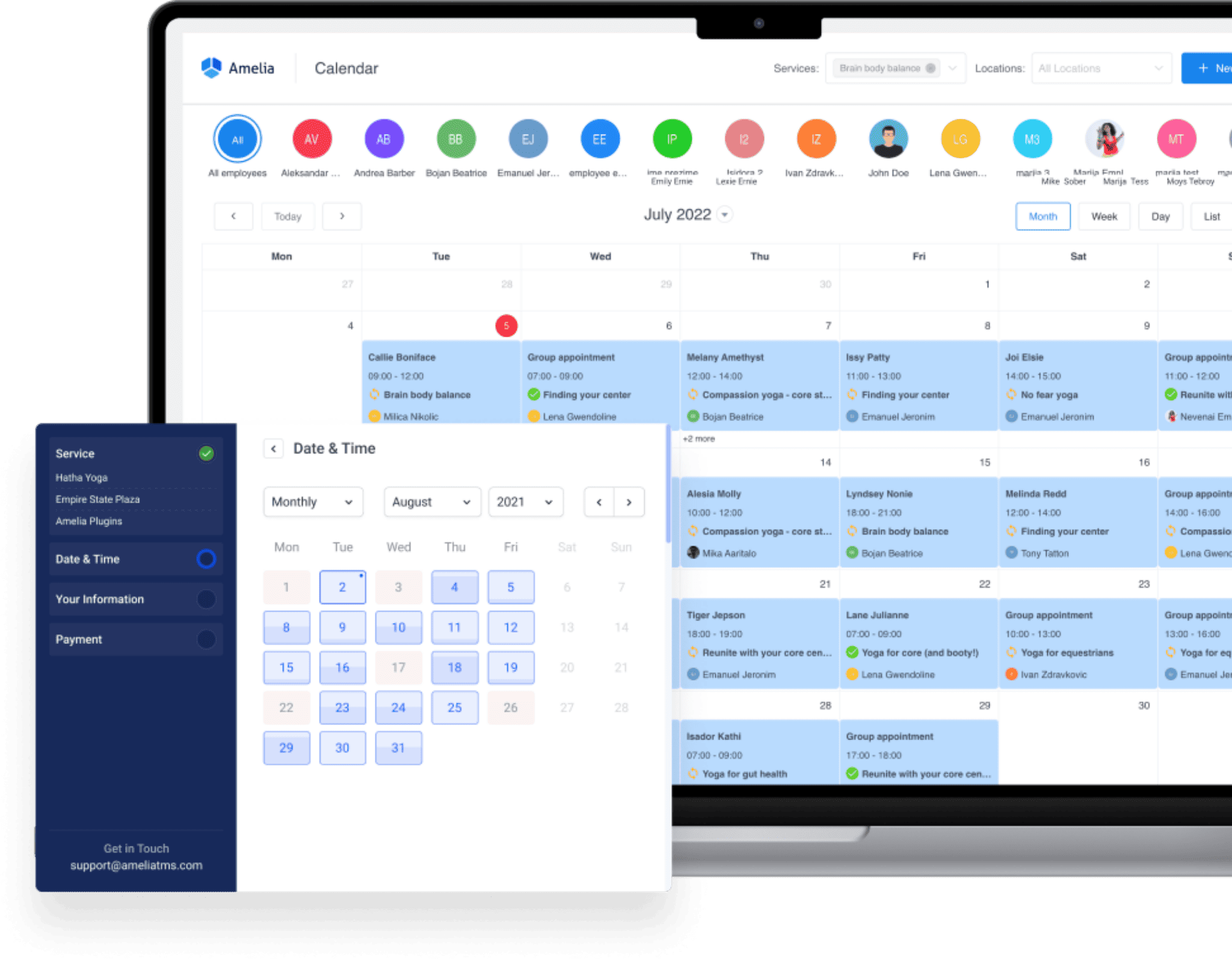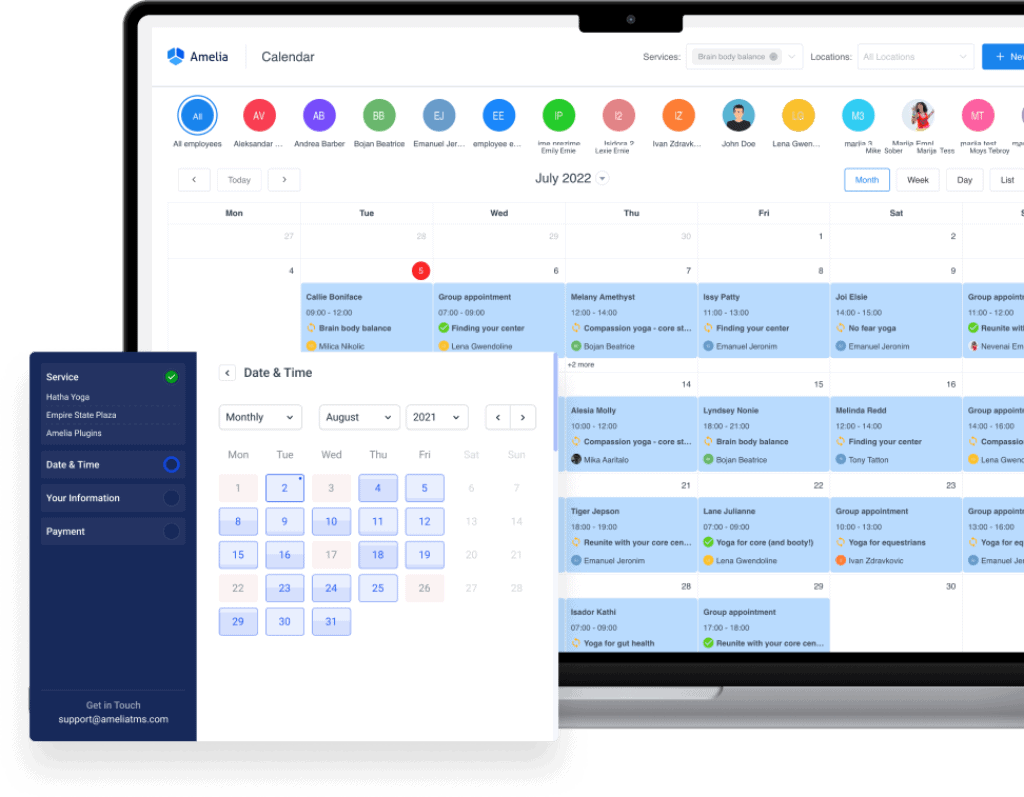 Company Details
Amelia is a product from the brand called TMS that offers exceptional, high-quality software products and development services to small, medium, and large companies alike.
Amelia is a WordPress booking plugin that aims to facilitate the process of scheduling appointments and managing events. With over 50,000 users, Amelia is well on its way to conquering the WordPress plugin ecosystem.
Online Presence
Key Functionalities of Amelia
popular features
Amelia provides the best event booking system when compared to other plugins. It has around 30 different features from where this is standalone from the rest of the booking plugins.
Amelia Dashboard
Amelia's dashboard can be accessed in the WordPress admin dashboard, the list of all the bookings and revenue generated from those bookings are stated here.
You can maintain employees also hereby looking at the number of hours they worked, which services they are working and total work time, based on these results you can come to a conclusion about which employee is good at work and which services are booking more.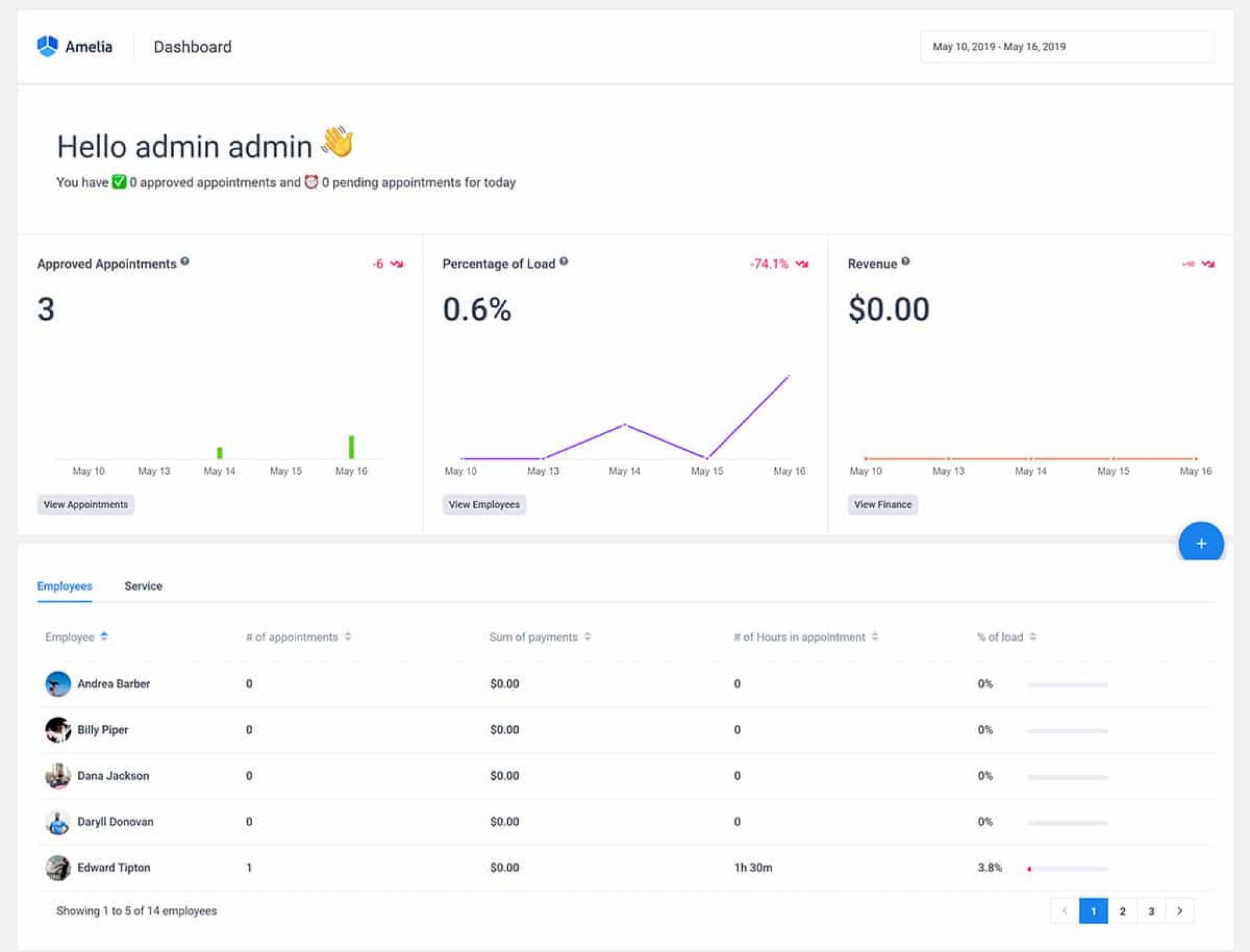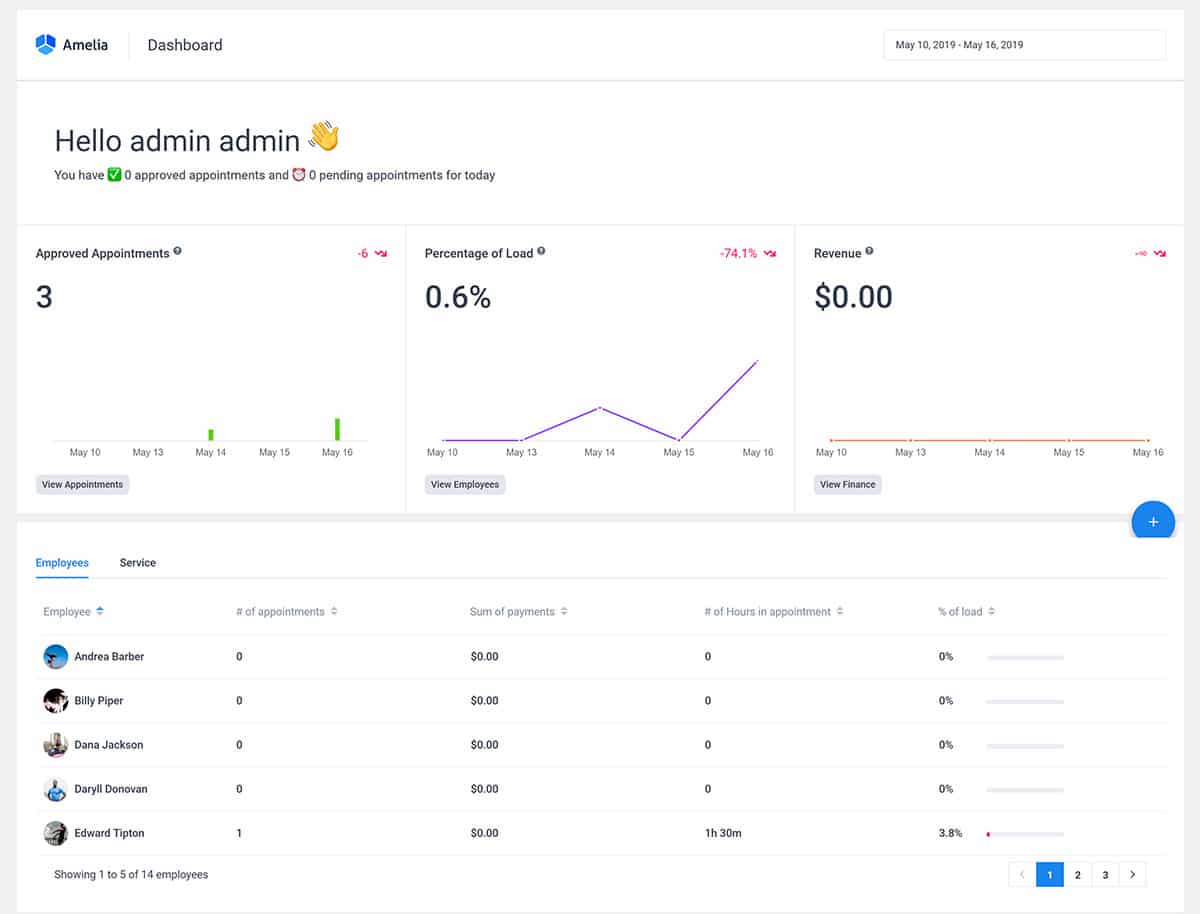 You can check upcoming events and plansbehind that event and conversion information help you regarding which services are working fine and which are not.
With the calendar page staff can see the bookings for today and in the future with location date time and other information, They can also add custom new bookings here so they will get an overall view of weekly or monthly work times on a single calendar page
Setting working hours for the business can be done here, you can work hours for each day and close days also.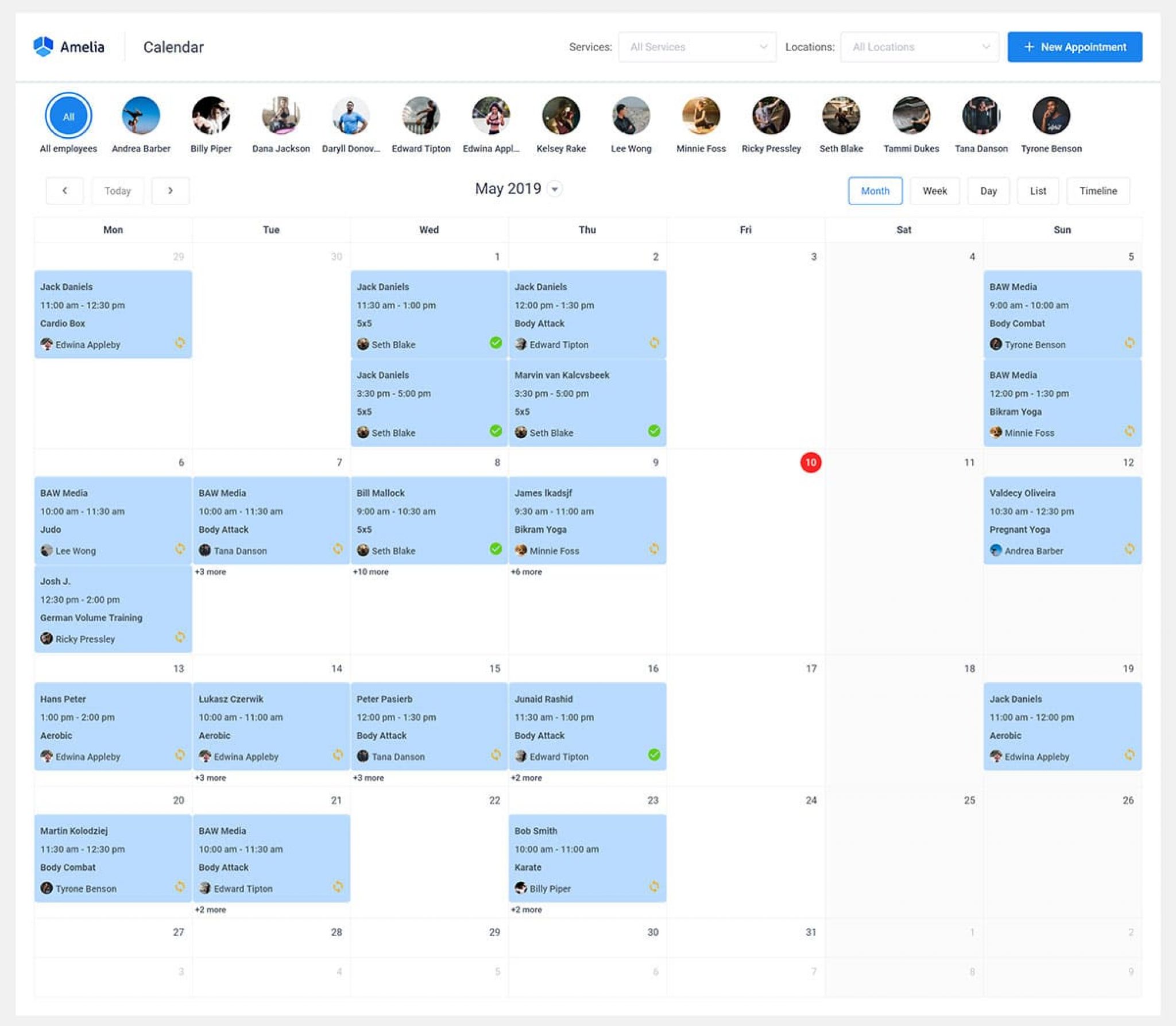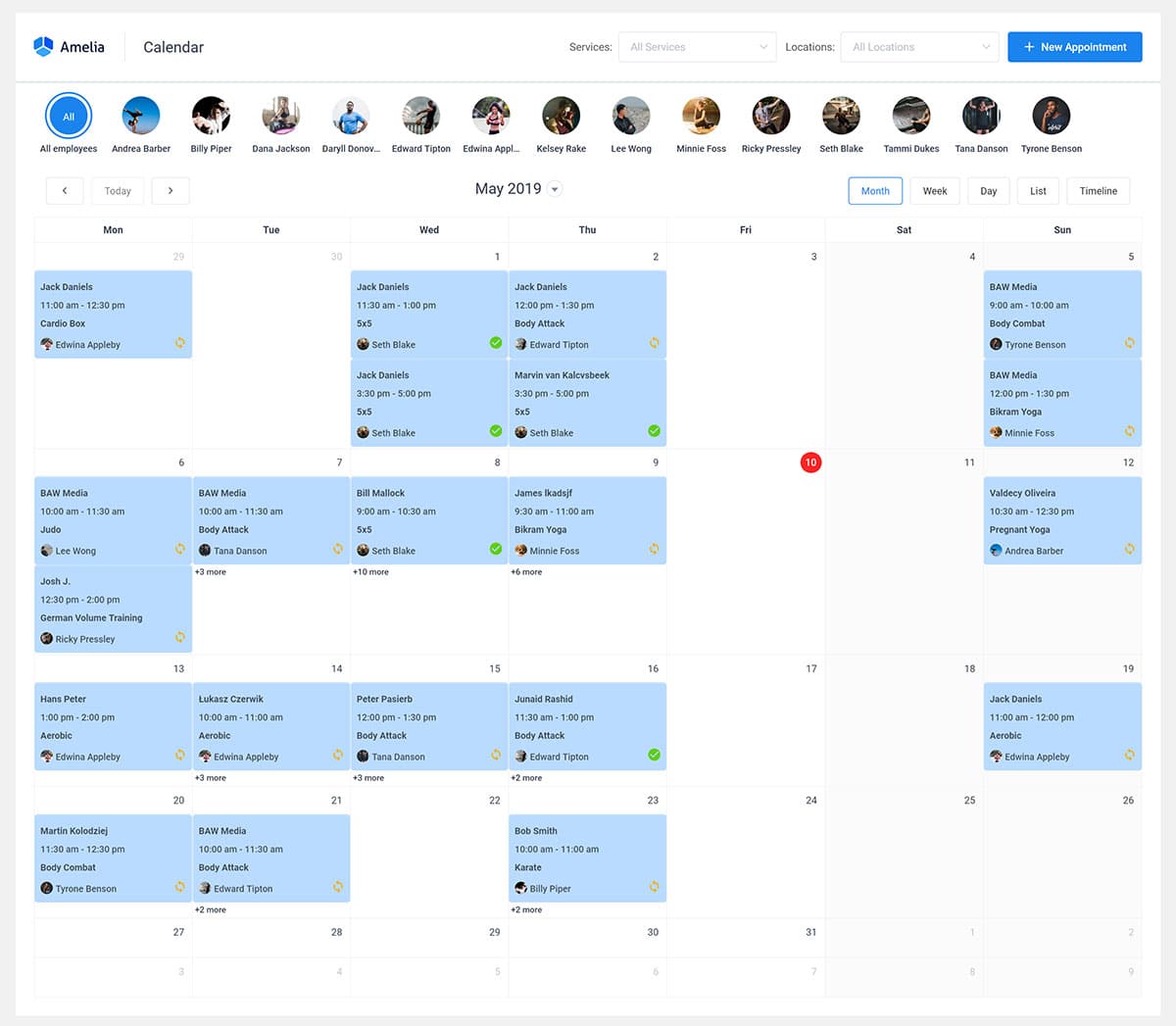 Automated Notifications and Reminders
Amelia's automated notifications and reminders streamline the process of keeping businesses and customers informed. With this plugin, businesses can set up personalized email and SMS messages to notify customers about upcoming appointments, ensuring they receive timely updates. These automated reminders significantly reduce no-shows and help businesses provide excellent customer service.
Package of Appointments
Amelia offers businesses the convenience of creating packages of appointments for their customers. This feature is particularly beneficial for businesses that provide bundled services or packages. With Amelia, customers can easily select a package that meets their needs and book multiple appointments at once. The package feature simplifies the booking process and enhances customer convenience.
Recurring Appointments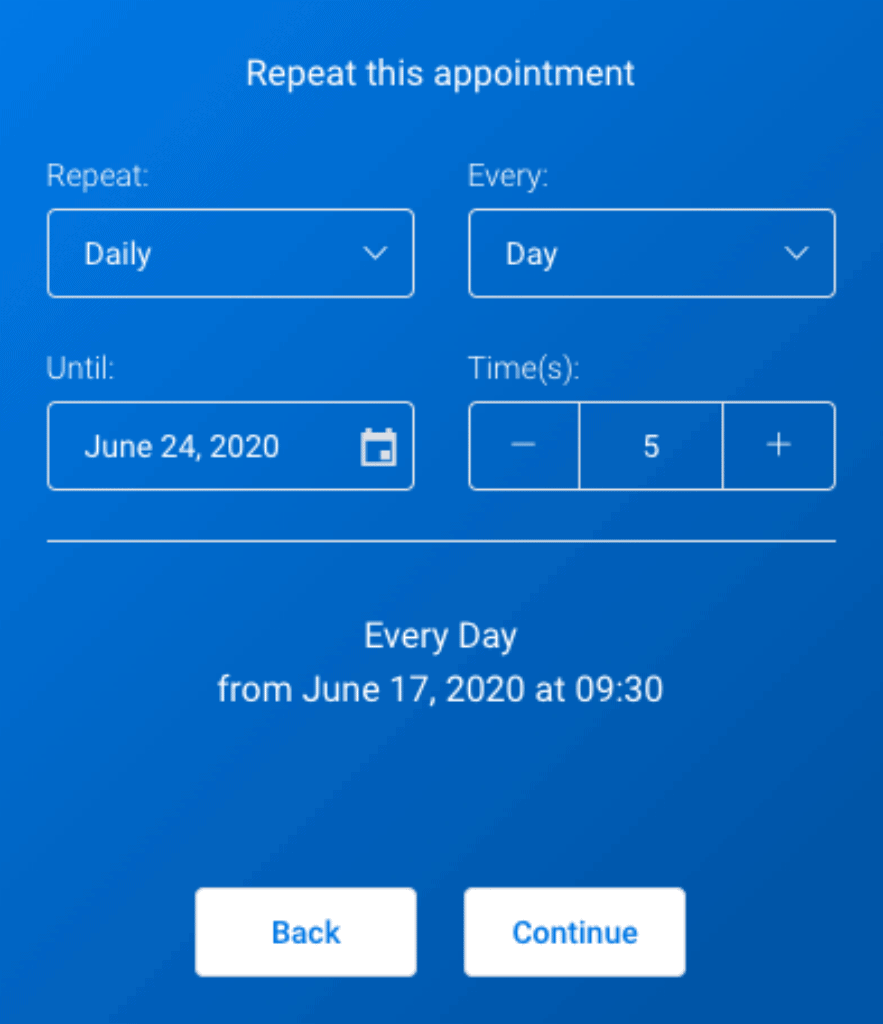 Amelia offers businesses the flexibility to set up recurring appointments, streamlining the booking process for services that are regularly offered. With this feature, it becomes effortless for customers who require repeated appointments to book and manage them.
Google Calendar Synchronization
Amelia seamlessly integrates with Google Calendar, providing automatic synchronization of appointments. This integration ensures businesses have an up-to-date and accurate schedule across platforms, reducing the risk of double bookings and scheduling conflicts. Any changes made in Amelia or Google Calendar are instantly reflected in both systems, allowing businesses to efficiently manage their appointments and resources.
Calendar and List View
Effortlessly manage your appointments with the user-friendly calendar view provided by the Amelia plugin. This convenient feature allows you to customize the display according to your business needs, ensuring a seamless scheduling experience for both you and your clients.
Additionally, the list view option enables you to easily navigate through your appointments, providing a comprehensive overview of your bookings.
Powerful Integrations
Seamlessly integrate the Amelia plugin with a variety of popular tools and platforms, enhancing your website's functionality. Connect Amelia to your website effortlessly using shortcodes or widgets, ensuring a smooth user experience for your customers.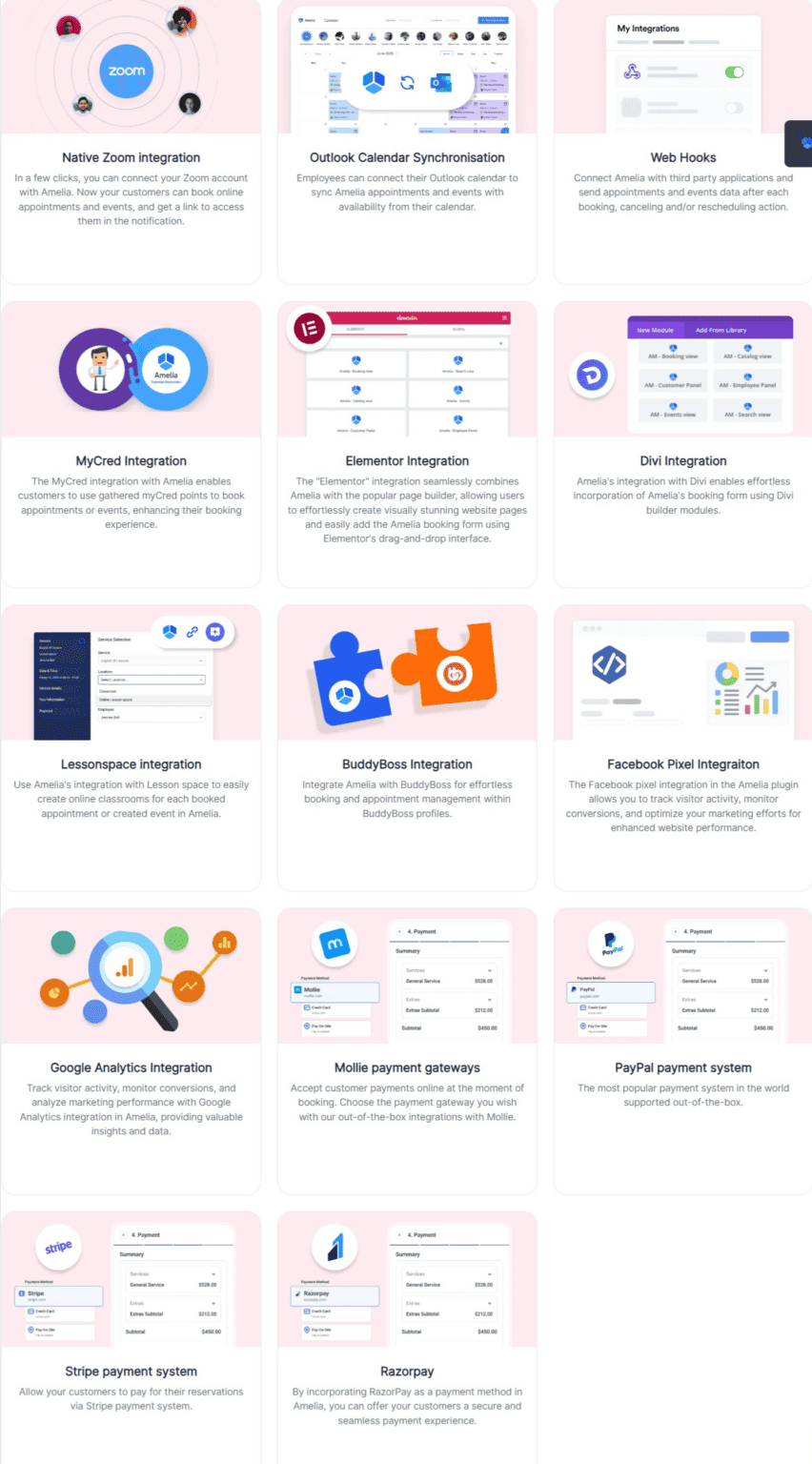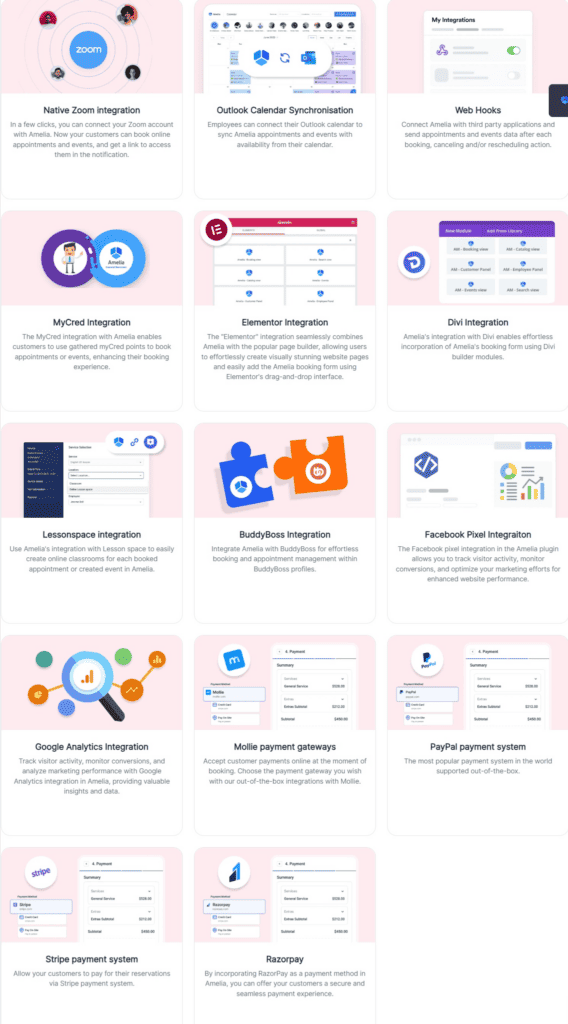 Amelia Booking System
The whole booking experience from beginning to end is smooth, professional, and with modern design.
For every event or service, you can create a category and display them more easily in this plugin. You can display all the services in a gallery format or the list view and with a search, option customers can search for the services actually they want.
Customers are just required to choose the service they intend to book, the date as well as time, and whether they are making an appointment with a particular staff member. After entering their name and email address, after that, they can pay for the reservation. With the help of the booking wizard, customers can easily book the services.
Services can be filtered with respect to date, time, location, range, and employees, based on the filtered result customers can go with which services they want.
Create a seamless booking experience with the Event List 2.0 Booking form. It offers customers a comprehensive overview of upcoming events and seamless ticket reservations, including various ticket types.
The Catalog 2.0 Booking Form simplifies the process for customers to book services effortlessly. This catalog feature helps customers search for services within certain categories.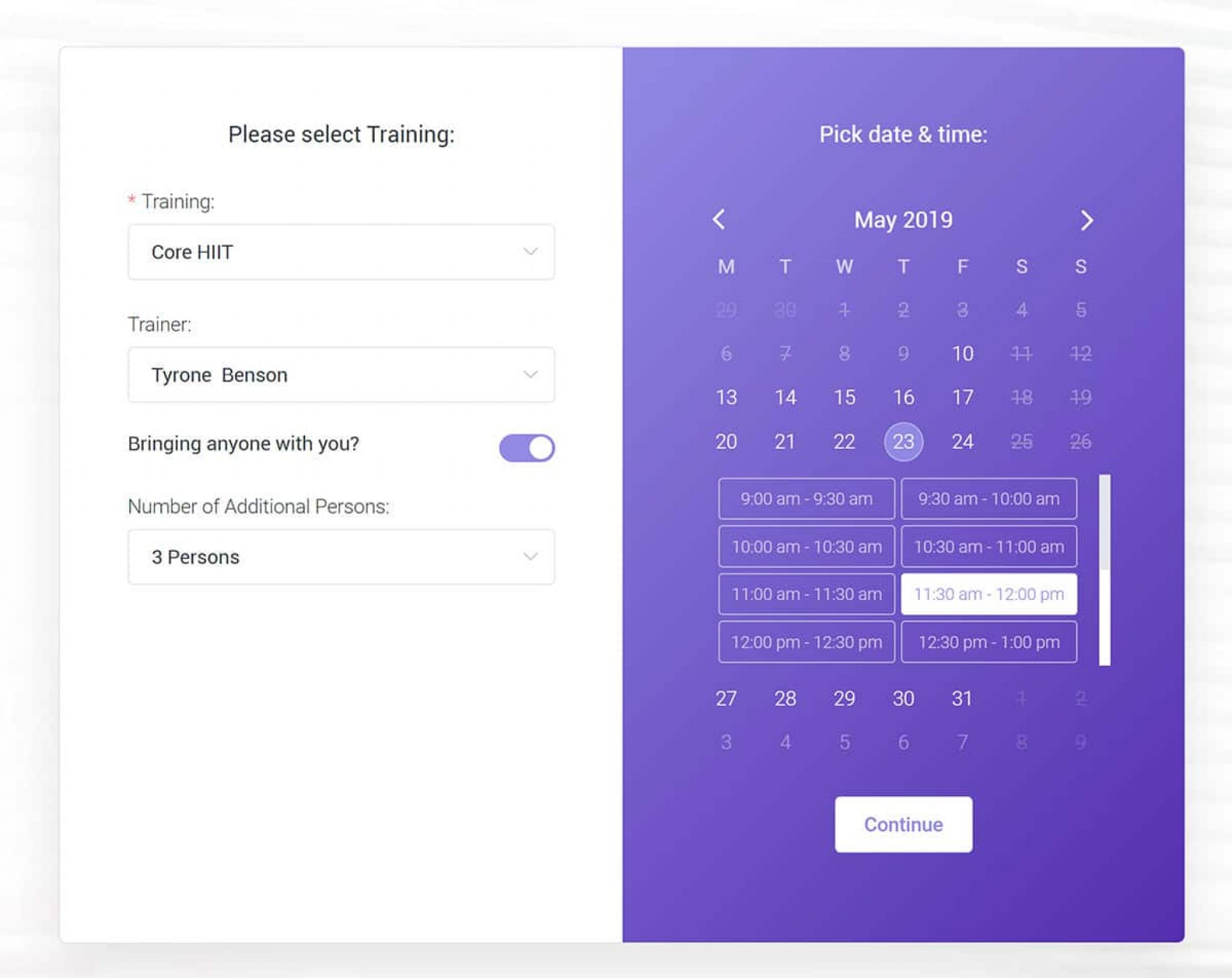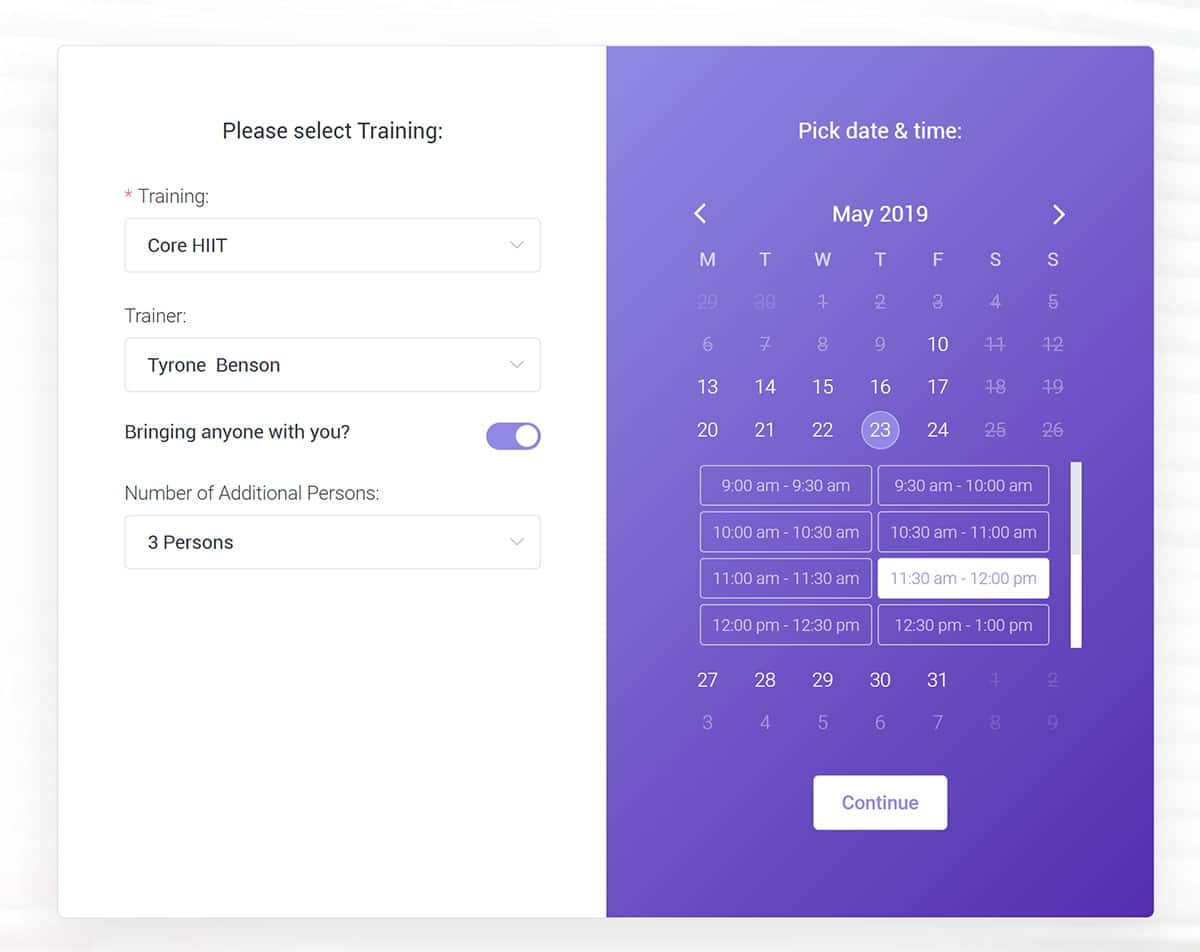 Advanced features of Amelia
Why choose Amelia
Custom fields for booking forms
Employee Schedule Management
Manage Multiple Employees and Locations
Customer data Import
Employee Panel
Manages customer database and payment details
User Roles and Permissions
Discount coupons for bookings
Recurring Events
Ticket and Custom pricing for events.
Customizable Design and Resources
Pricing
Subscription and Lifetime Plans
Amelia offers their plugin for Lifetime and yearly subscriptions with three different packages Basic, Pro, and Developer based on how many domains you want to use the plugin. Also you can Buy it for free.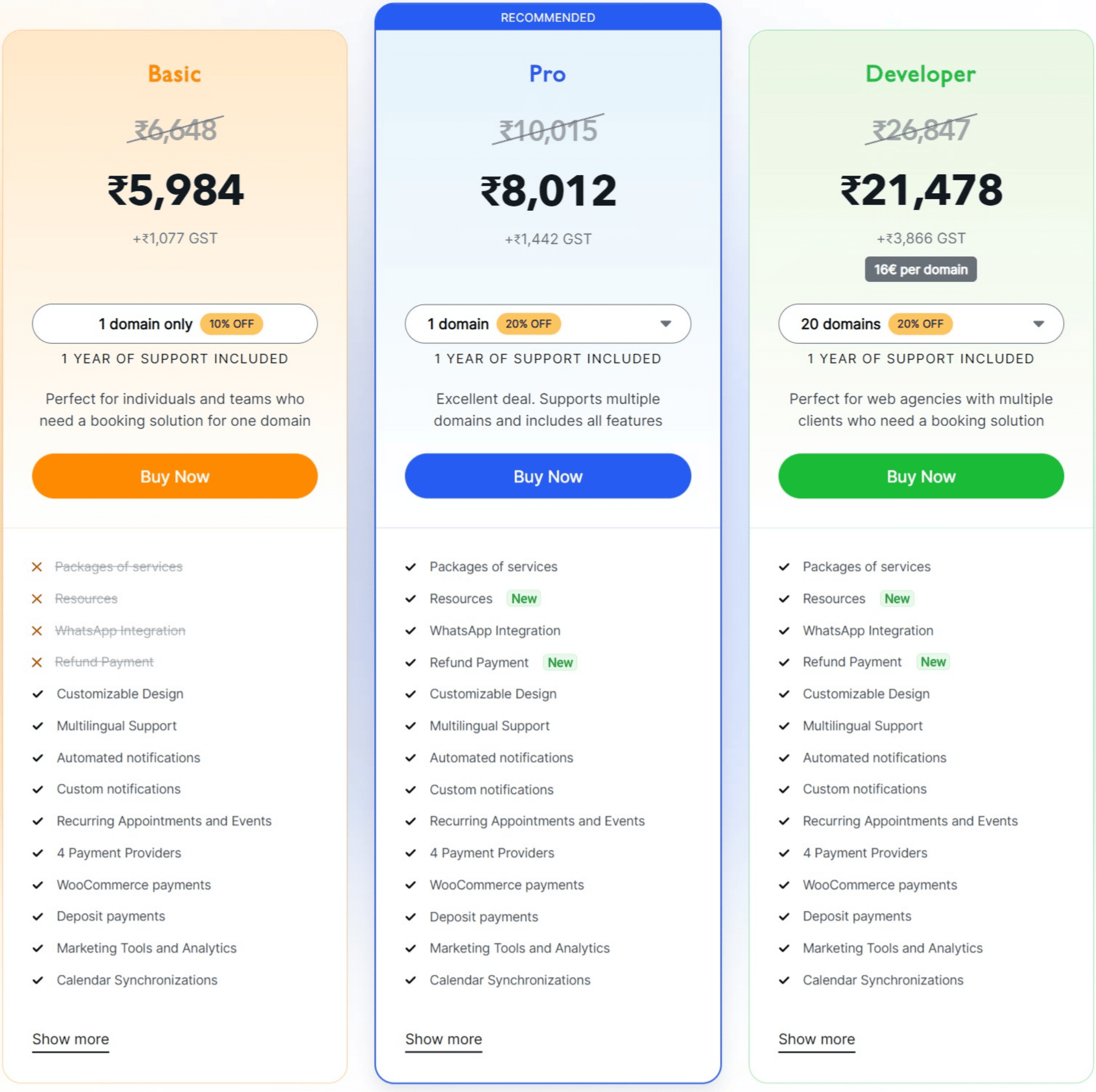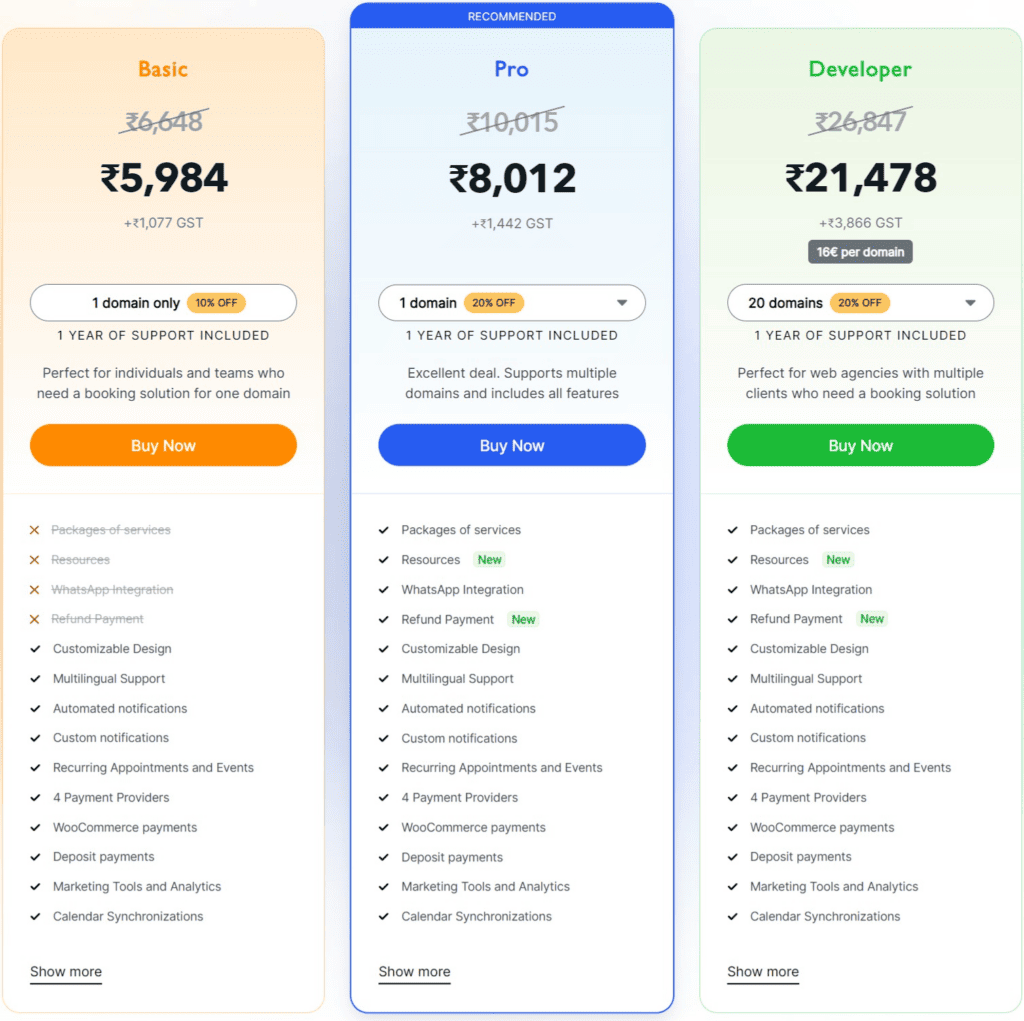 Support
Technical Support, Knowledge Base, Changelogs
Alternatives
Similar plugins
Calendly is your scheduling automation platform for eliminating the back-and-forth emails to find the perfect time.
Sign-in Scheduling gives you the power to make appointments happen effectively. Packed with features, it helps grow your business by giving you more time and scale with you. 
Final Verdict
conclusion
The best plugin that will give options for appointments and event bookings, with a wide variety of features in Amelia it is easier to maintain a staff and time for each booking.
So if you want to pay attention to your business rather than thinking about managing bookings this is the best plugin for you to go and check this out on their official website.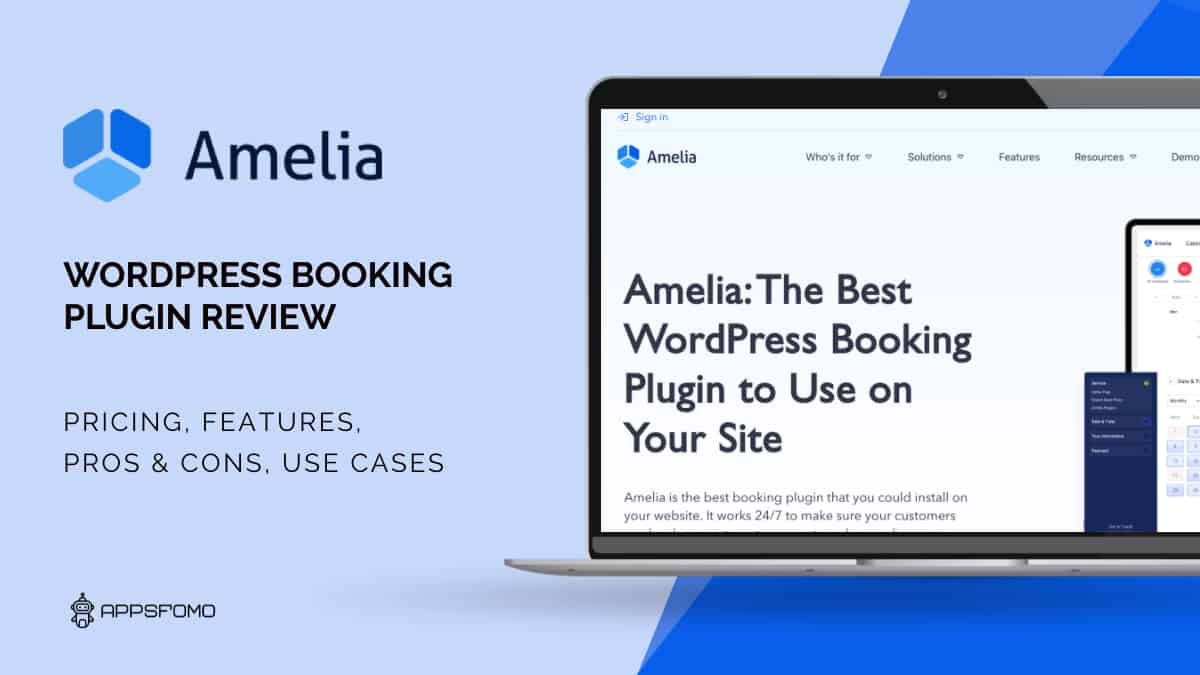 Specification:
Amelia: The Best WordPress Plugin for Event and Appointment Booking
| | |
| --- | --- |
| Review Date | March 2023 |
| Author | Alexander Gilmanov |
| Company Name | TMS |
| Country | Serbia |
| Marketplace | Own Site |
| Free Version | Available on WP.org |
| Initial Release | 2014 |
| Other Products | WP Data Tables |
| Active Installations | 50k + |
| WP.org Ratings | 4.5 |
| Free Extensions | None |
| Premium Extensions | 1 Pro Addon |
| Pricing Options | Yearly,One-time Payment |
| Past LTD | Yes |
| Money Back Guarantee | 14 Days |
| Support System | Support Ticket,Live Chat |
| Site Usage | 1 Site,3+ Sites,Unlimited Sites |
| Documentation | Good |
| Competitor | SimplyBook, Calendly, Yith Booking |
| Affiliate Program | Yes |
PROS:
Easy to use.
Lot of features available.
Very powerful booking system at a very affordable price.
Diverse modification option makes this plugin a great fit for the appointment/event booking business.
Great customer support.
CONS:
Process to setup and sync Google Calendar to Amelia is bit complicated.
No booking session allowed across midnight.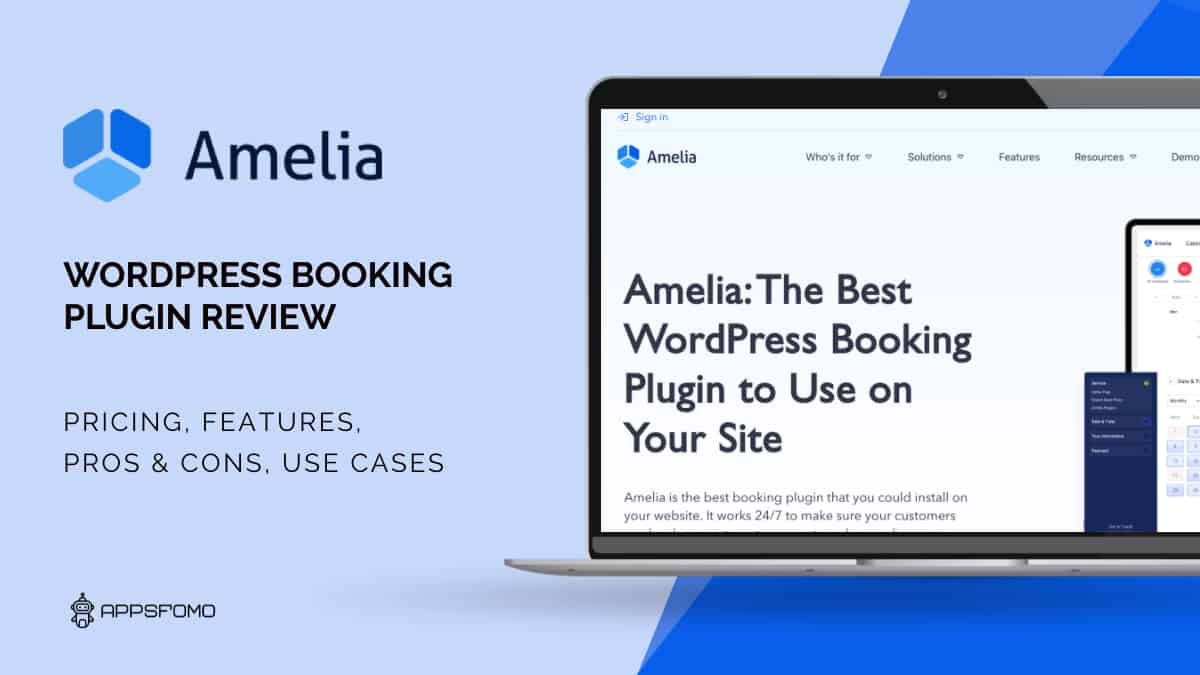 Amelia: The Best WordPress Plugin for Event and Appointment Booking