Amelia is the best WordPress plugin for Event and Appointments booking with Stripe and PayPal Integration
Amelia: Event and appointment booking plugin
Amelia is the best WordPress plugin for Event and Appointments booking with Stripe and PayPal Integration
Amelia is an event and appointment booking plugin that allows you to create a fully functional, design-oriented booking system for your WordPress site. It is developed based on enterprise-level of technology hence any of your team members can log in to the system and can maintain the bookings.
Amelia is best suited for small businesses if you want to maintain booking systems and logs for the booking If you are running sports clubs, restaurants, beauty salons, consultants, businesses then this is a handy plugin to use for the bookings.
Amelia is full of features. You can integrate Zoom to it, and google calendar synchronization can be done based on the booking, for all the team members and even more features you can get in this plugin.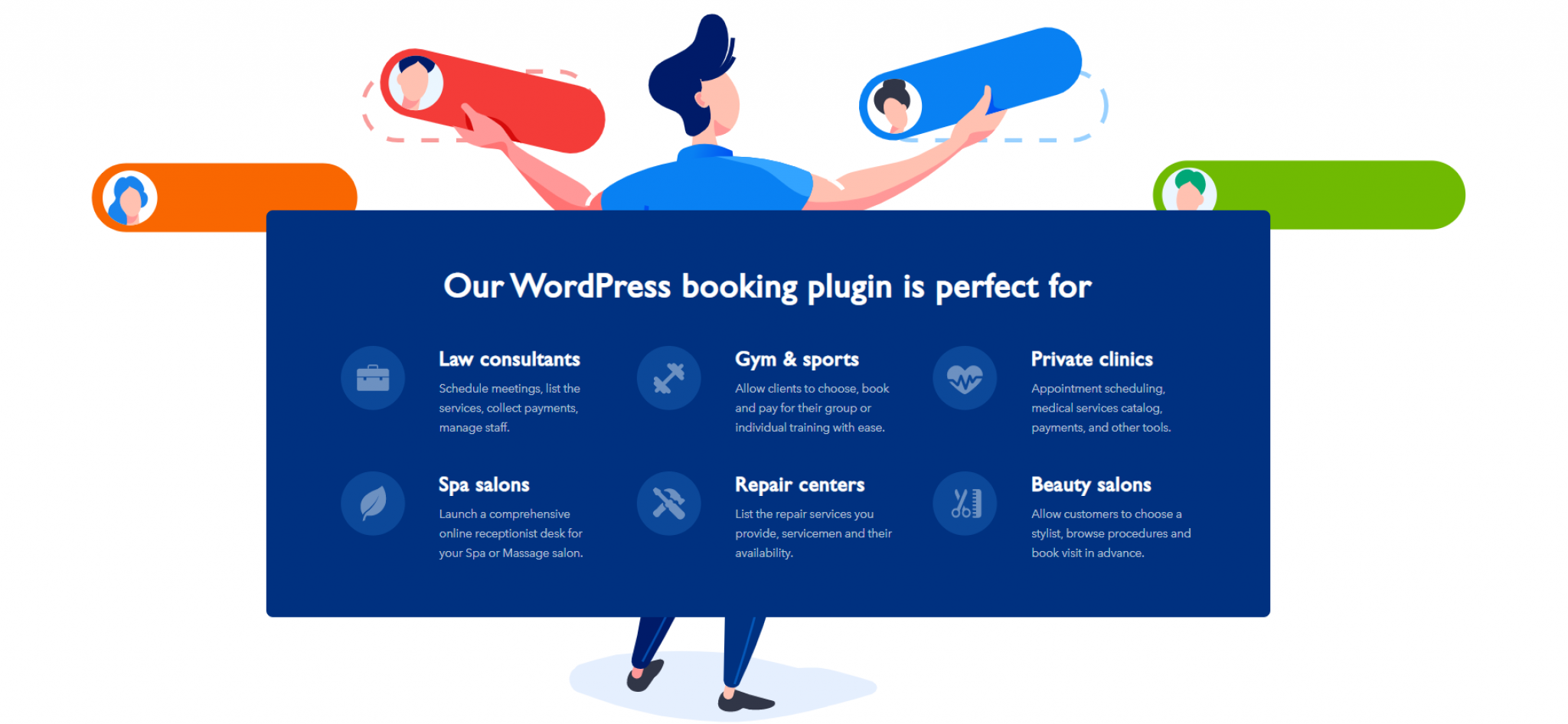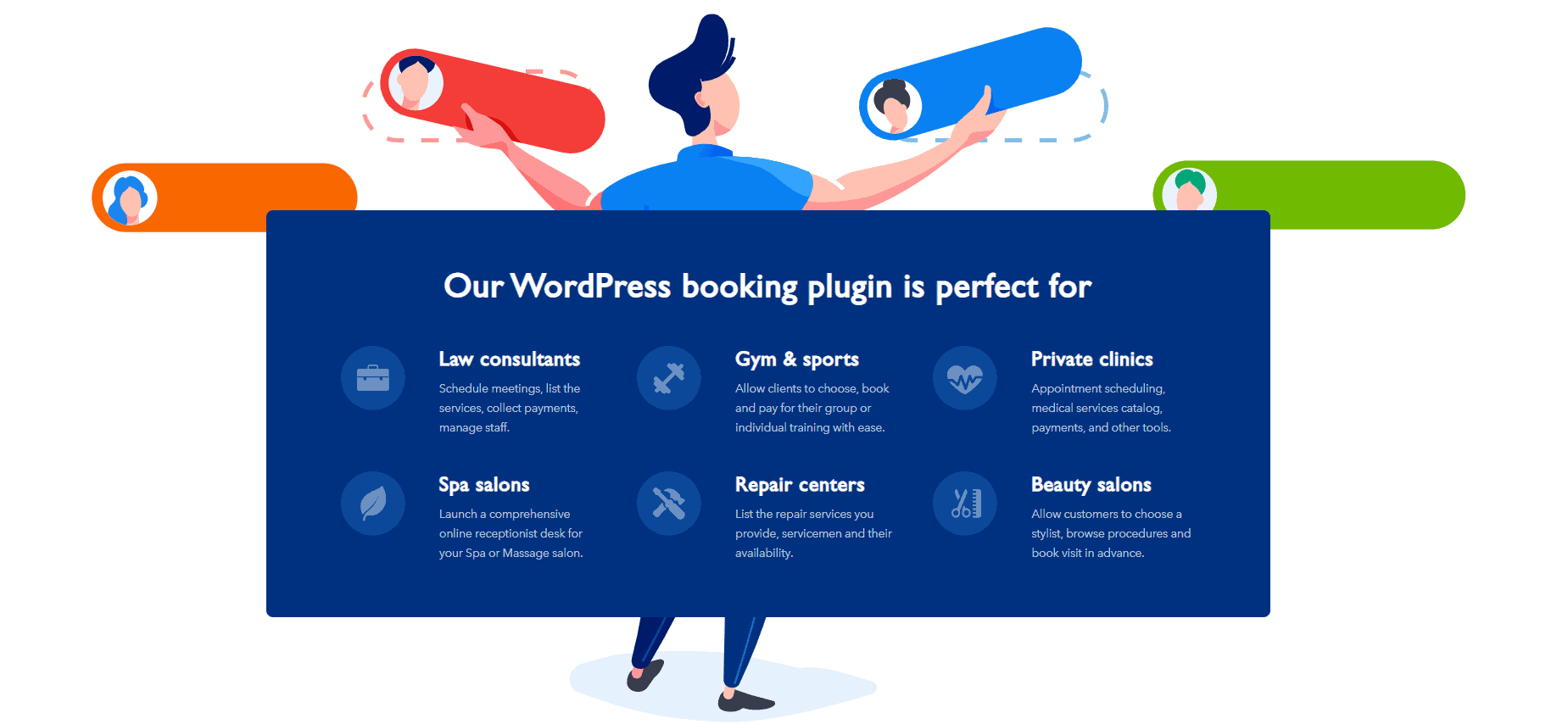 Amelia Main Features
Amelia is providing the best event booking system when compared to other plugins. It has around 30 different features from where this is standalone from the rest of the booking plugins.
Amelia gives the best user interface experience for the customers with their booking wizard they can select services, employee, location, date, and time-based on their convenience, and entering payment information can be done on a single page so there is no hustle to leave the page and switching to other.
It gives the option to every employee and staff in your organization to add customers and customers can directly choose any of the staff. and any staff also can offer services to customers directly.
Using custom fields you can add any input fields to the appointment forms, the entries for these are available in Amelia dashboard.
SMS notification and email notification are available for the bookings, both staff and customer will get intimation regarding the booking.
By default, it gives Stripe and Paypal as payment gateway options you can integrate with woo-commerce to get more payment.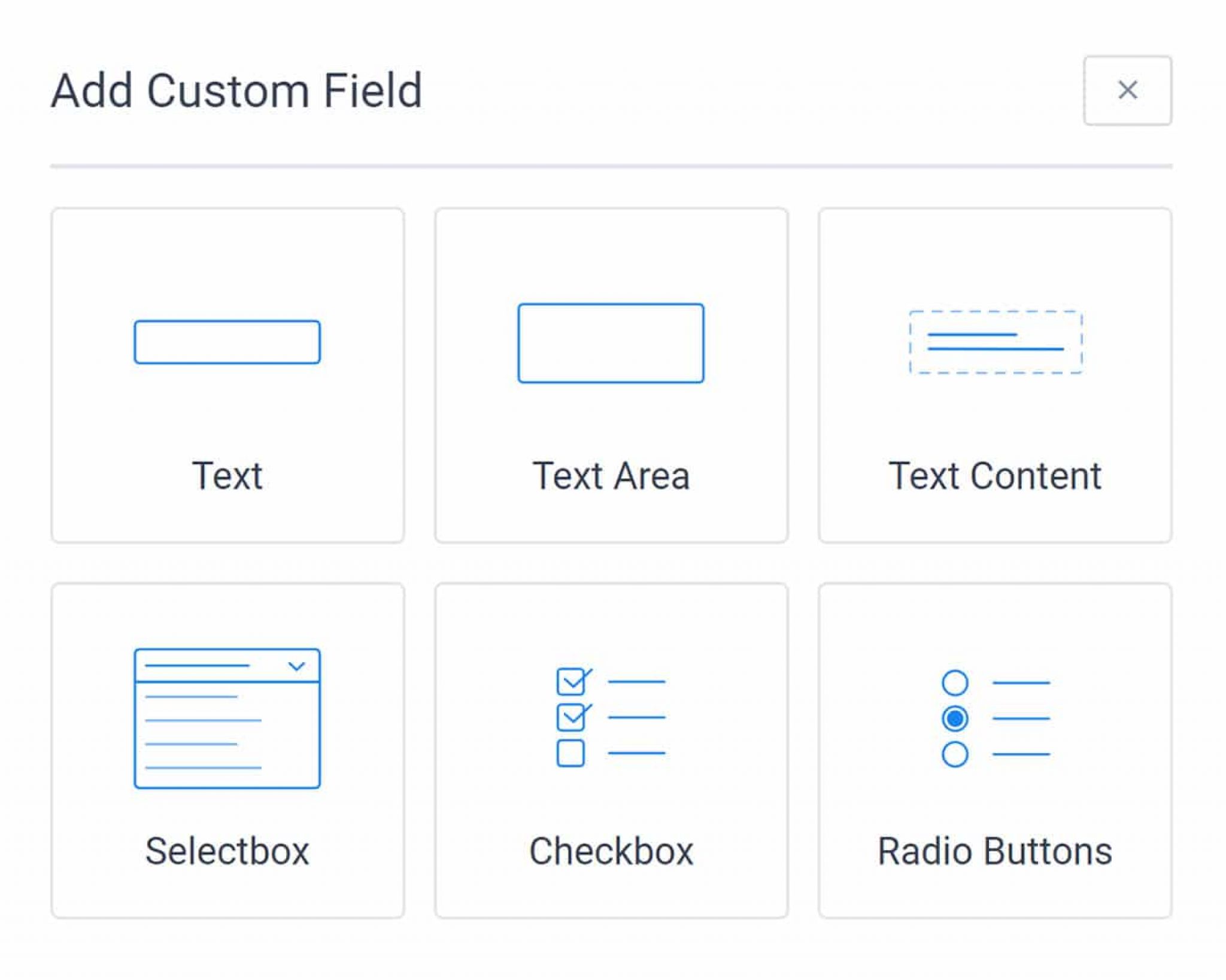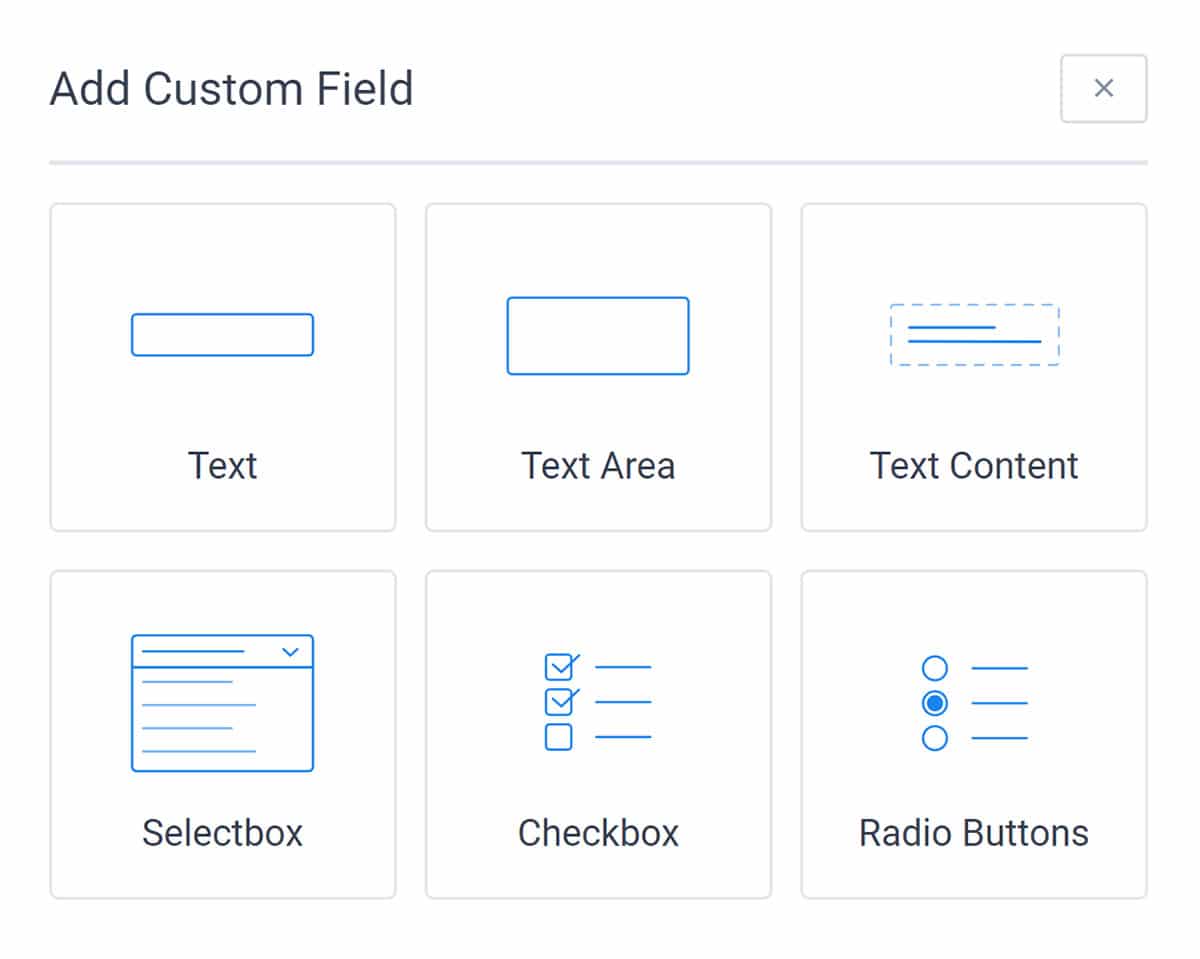 Amelia Booking System
The whole booking experience from beginning to end is smooth, professional, and with modern design.
For every event or service, you can create a category and displaying them also easier in this plugin. You can display all the services in a gallery format or the list view and with search, option customers can search the services actually they want.
Customers just require to choose the service they intend to book, the date as well as time, and whether they are making an appointment with a particular staff member. After entering their name and email address, after that, they can pay for the reservation. With help of the booking wizard customers can easily book the services.
Services can be filtered with respect to date, time, location, range, and employees, based on the filtered result customer can go with which services they want.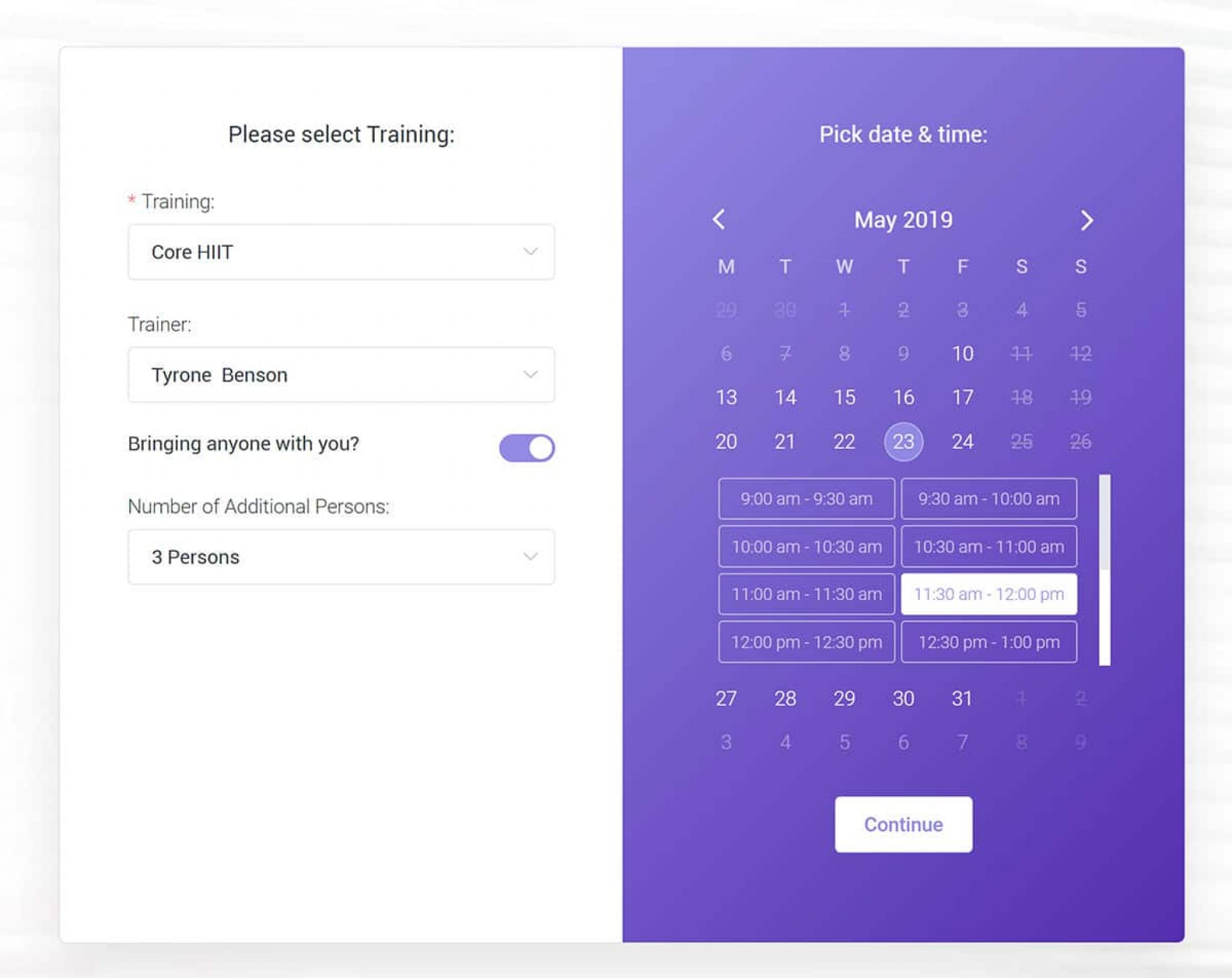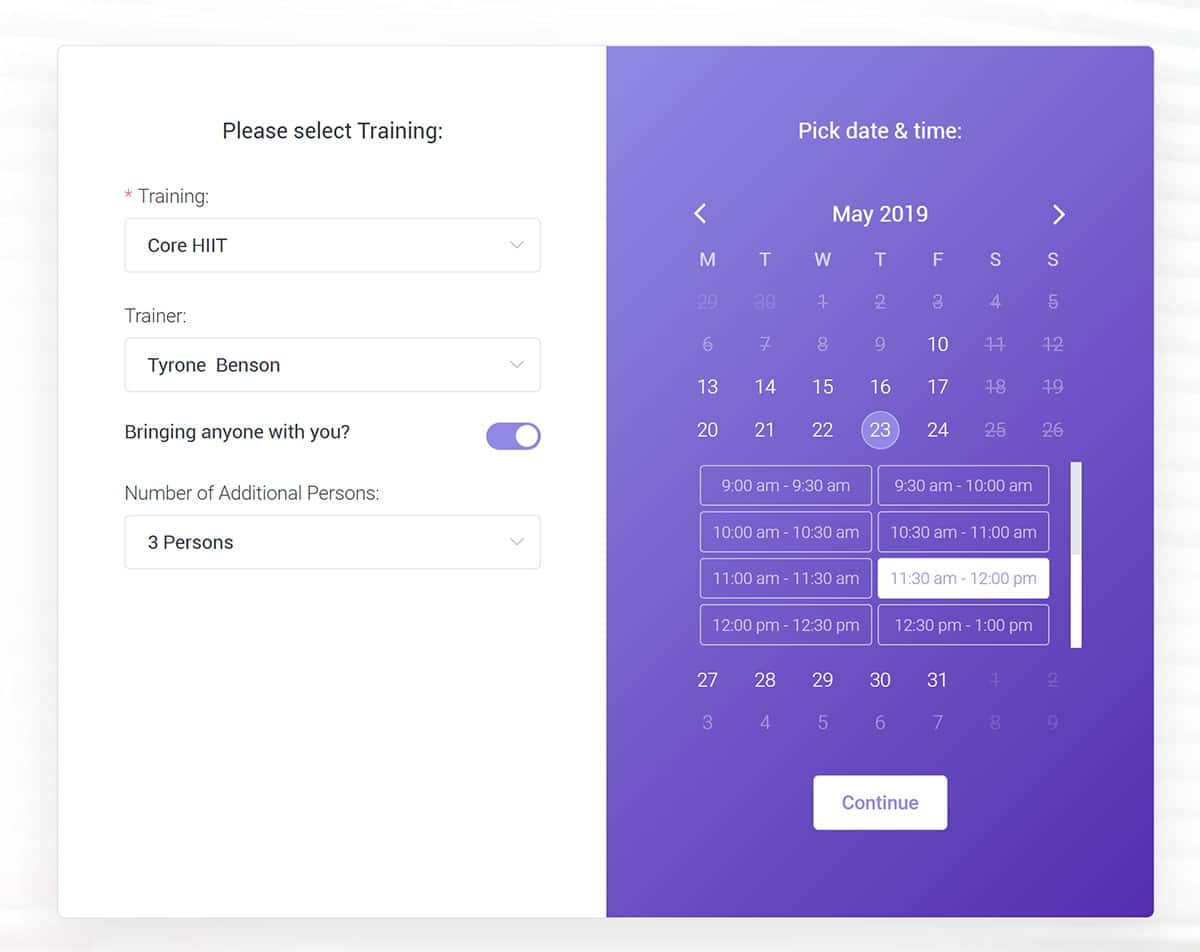 Amelia Dashboard
Amelia dashboard can be accessed in WordPress admin dashboard, the list of all the bookings and revenue generated from those bookings are stated here.
You can maintain employees also hereby looking there a number of hours they worked, on which services they are working and total work time, based on these result you can come to a conclusion about which employee is good at work and which services are booking more.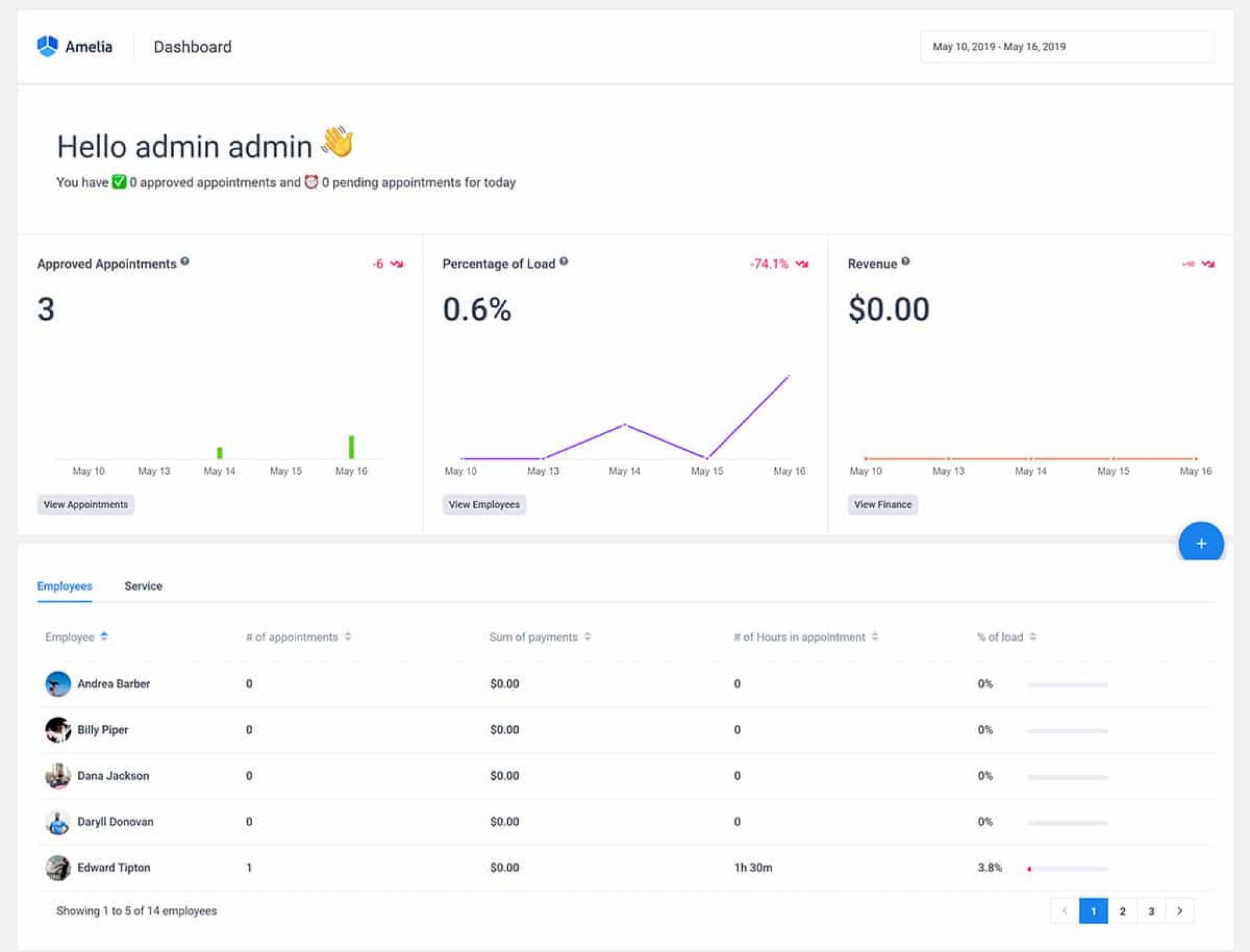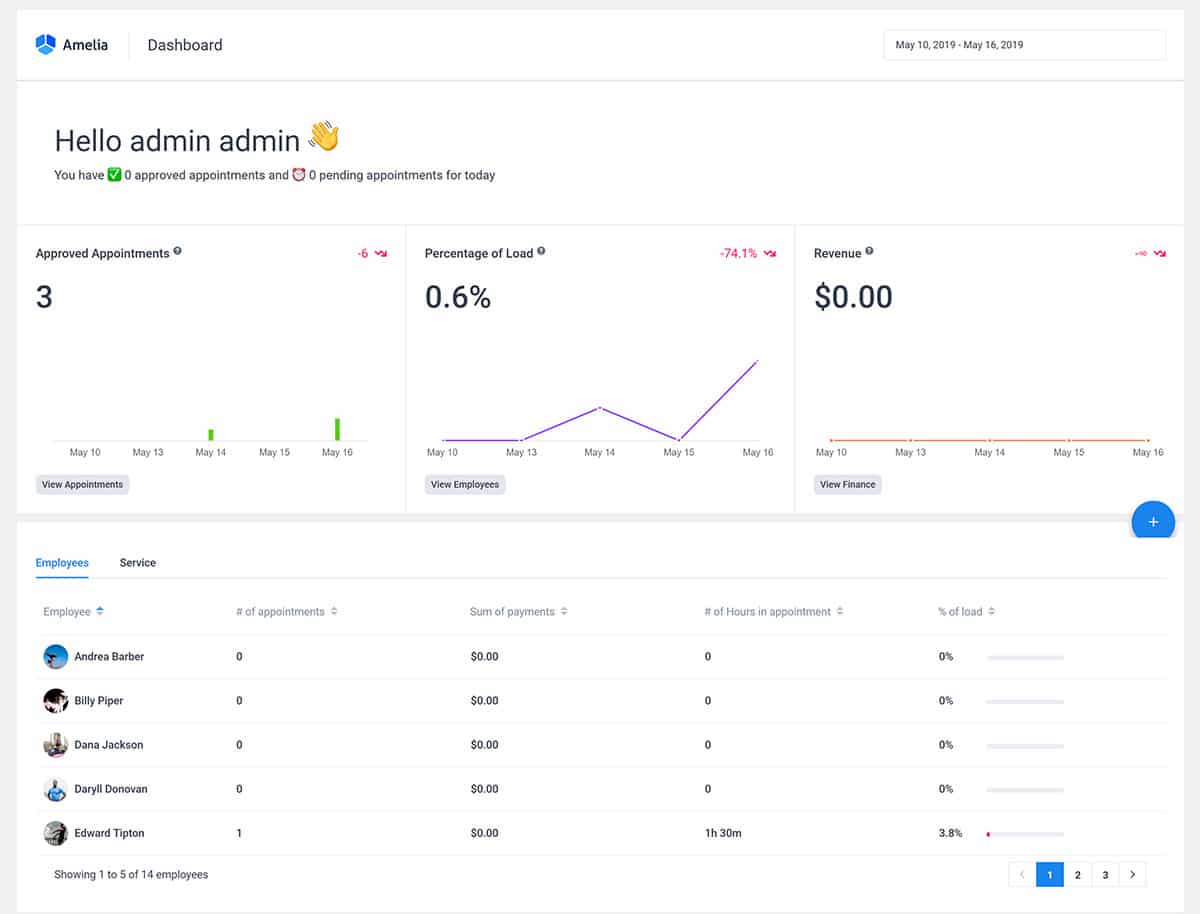 You can check upcoming events and plansbehind that event and conversion information help you regarding which services are working fine and which are not.
With the calendar page staff can see the bookings for today and in the future with location date time and other information, they can also add custom new booking here so they will get an overall view of weekly or monthly work times on a single calendar page
Setting working hours for the business can be done here, you can working hours for each day and close days also.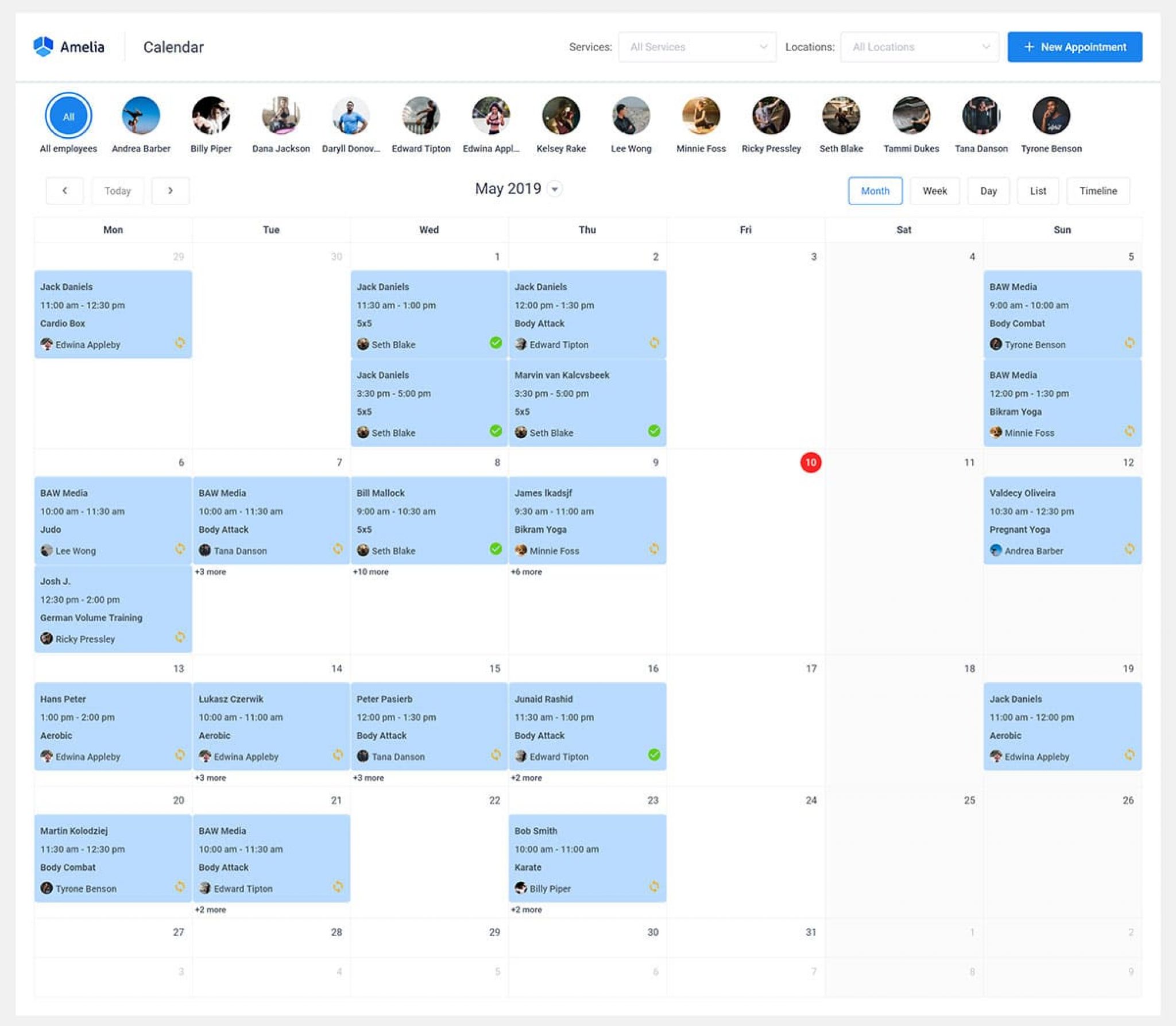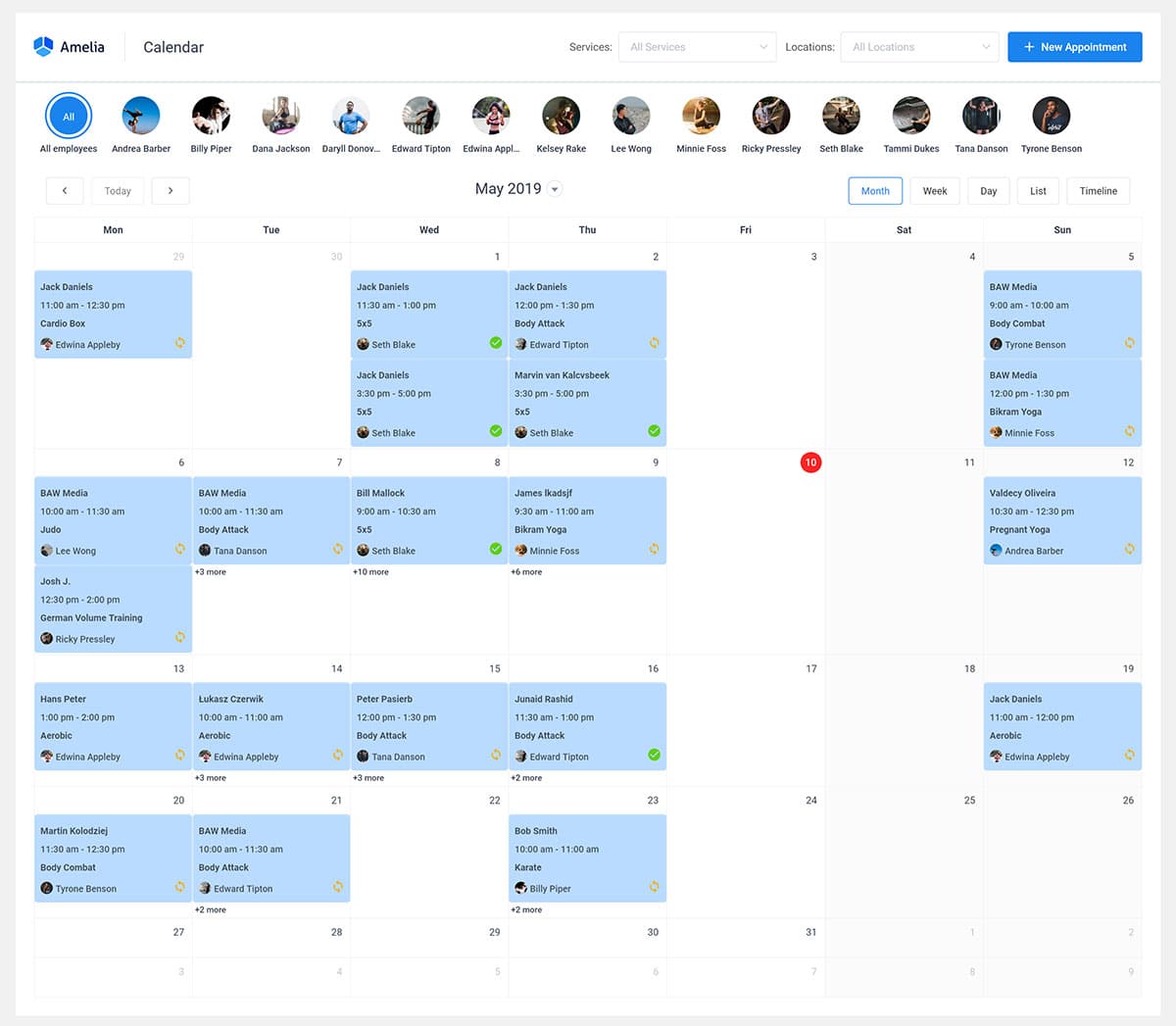 Amelia Free v/s Pro Features
Amelia gives better features in a free version that is well suited for your small business bookings and event bookings with a flexible appointment view.
But you can not explore many functionalities in the free version, pro version gives the integration to zoom and synchronizing to googler and outlook calendar and many other features
Free Features
Shortcode supported
Calendar view to shows all the appointment
Staff can add appointments
Analytics in the dashboard page
Pro Features
Booking Search view and catalog view
Filters on the booking page
Group services
Adding location and other customization
Google and Outlook Calendar synchronizations
Zoom integration
Payment gateway
Pro's and Con's
PROS:
Custom scheduling for booking
Woocommerce support
Stripe and Paypal integration
Neat and mobile responsive user-friendly interface
CONS:
Calendar design Can not be changed
Actually, the plugin looks heavy for the WordPress sites
Maybe the cost for the Pro version is also high
Pricing
Amelia offers their plugin for Lifetime and year subscription with three different packages Basic, Pro, and Developer based on how many domains you want to use the plugin.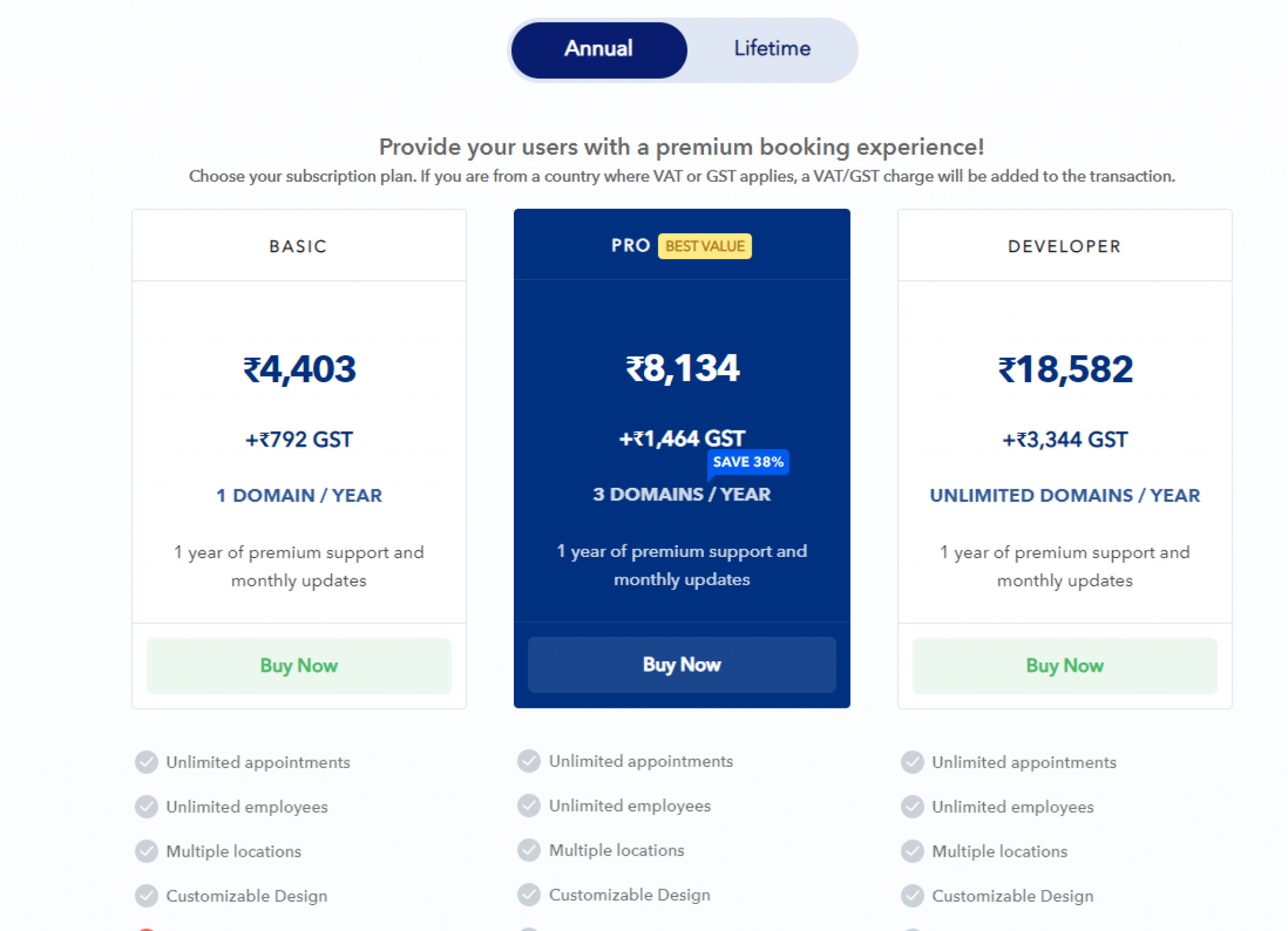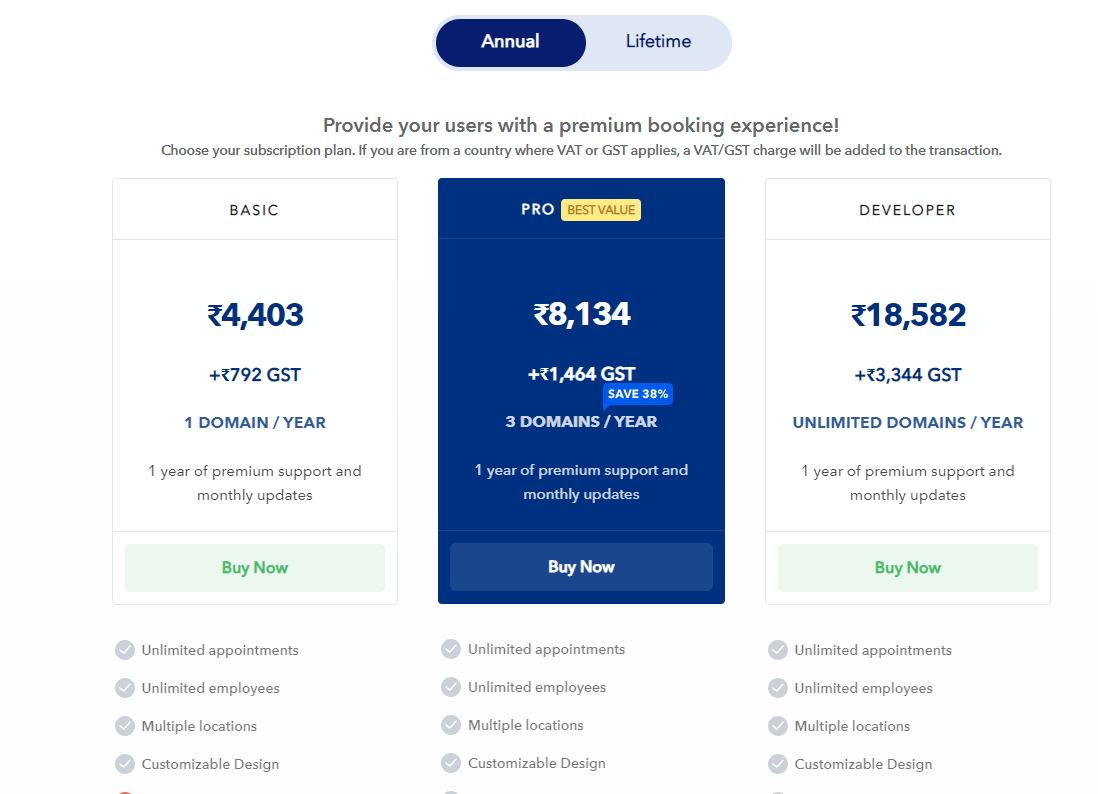 Similar Plugins
No posts for this criteria. No posts for this criteria. No posts for this criteria.
Final Verdict
The best plugin that will give options for appointments and event bookings, with a wide variety of features in Amelia it is easier to maintain a staff and time for each booking. So if you want to pay attention to your business rather than thinking about managing bookings this is the best plugin for you to go and check this out on their official website.