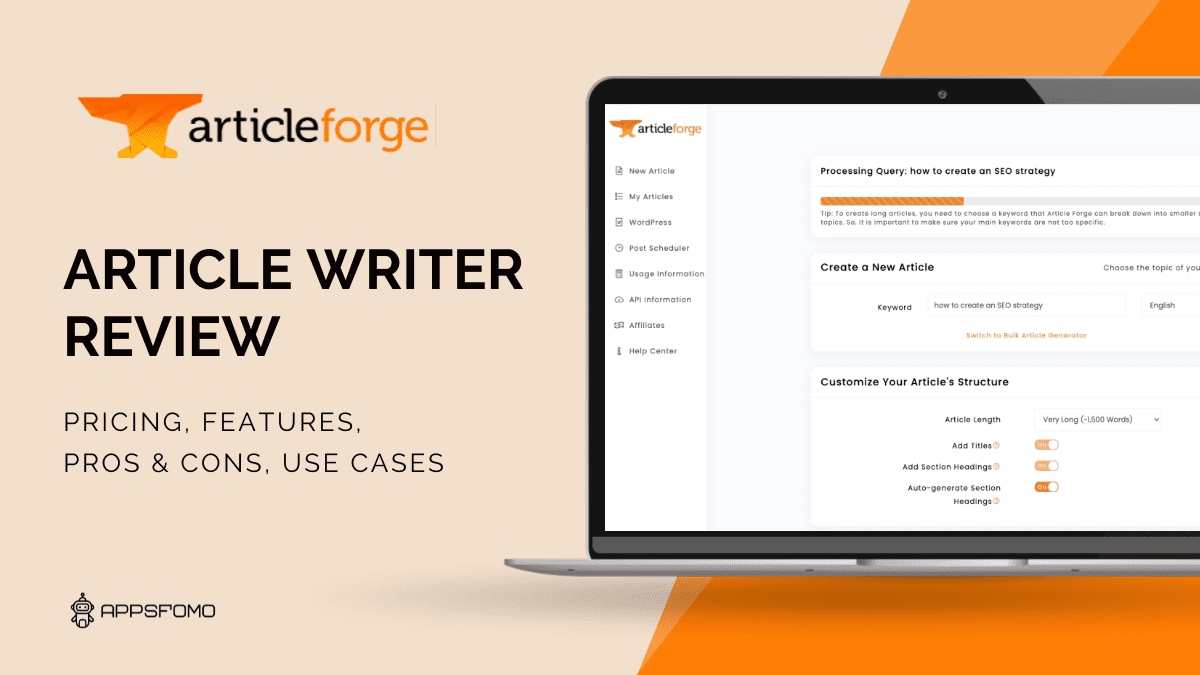 Articleforge: Generate Unique Articles with Advanced Deep Learning
Add to wishlist
Added to wishlist
Removed from wishlist
0
Add to compare
As the world becomes more and more digital, so too does the need for high-quality content. Whether you're a business owner, blogger, or just someone who wants to know a bit more about online marketing, Article Forge may be a useful tool in your arsenal.
In the world of online marketing, content is king. And if you're looking to take your content marketing to the next level, then Article Forge is a great tool to consider. It's an AI-powered content marketing tool that helps you write high-quality articles quickly.
Article Forge will make sure that each article has its own unique style, making it perfect for any kind of website or blog.
In this in-depth review, we'll run through all of the features of this Articleforge and whether or not it's worth the money. Finally, we'll provide a final verdict on whether or not it is a good AI writer in 2023.
What Is Article Forge?
Overview
Article Forge is an article or blog generator software application that offers the exact same top-quality content as human-made in a fraction of the time. It will use advanced technologies like artificial intelligence and deep learning to generate diverse and rare topics.
Article Forge is the best tool to write content for blogs, guest posts, articles, and many other purposes. It also provides content with respect to SEO-oriented. You can check the different case studies on which cases you can use the Article forge.
The content created by Article Forge does not show any plagiarism and was unique from the content on another website. It won't scrape the content from another website instead of it will create unique content with the same quality as human content.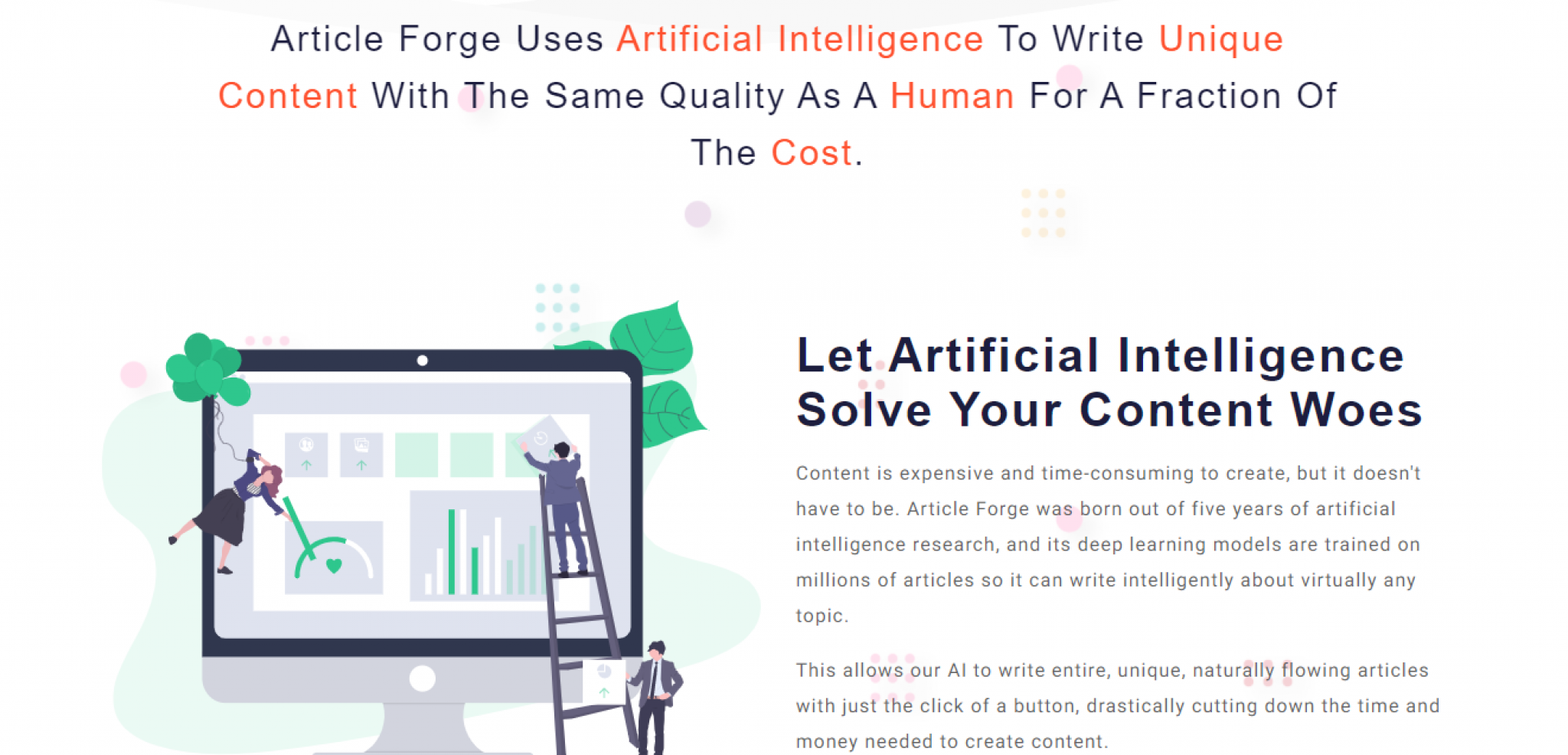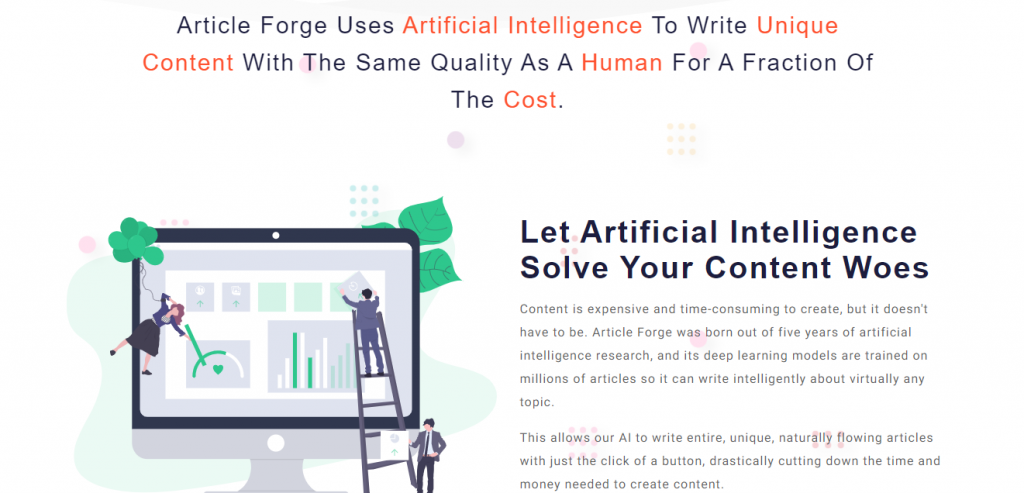 How Article Forge will work?
In just a fraction of a second, you will get a unique content-rich article for the specific topic you have given. You can think of Article Forge as a freelancer content writer but it will provide content in a fast and efficient way.
Article forge works in three steps
Enter Keyword
Generation of Article
Receive Article
First, enter your keyword on which topic you are going to create the article, you can also add the sub-keyword, your article size, and any other needs to create the article. In less than a minute it will create a content-rich article based on the keyword and it will add SEO-friendly keywords also. Finally, it will give your article and you can use that wherever you want without any restrictions.


Company Details
It is the product of the company named Glimpse.ai which is run by a team of Machine Learning researchers. Founded by Alex Cardinell in 2020. Glimpse.ai is the blueprint for reaching this future utopia without outside investment. Their mission statement is to bring a global, utopian artificial intelligence revolution through sustainable, iterative, and self-funded improvements so that they can remain independent and principled.
The company is headquartered in Baltimore, Maryland.
Online Presence
Does Article Forge Spin the content from the internet?
Article Forge is a content creation tool that uses artificial intelligence (AI) to generate high-quality content. It works by extracting insights and trends from a large corpus of data, which it then uses to write original articles, blog posts, or reviews.
The quality of the article depends on the quality of data you feed into it – which means accuracy and trustworthiness are important factors for you when using this tool. However, if you're careful in reviewing the content that is generated, Article Forge can help boost your online presence in a big way!
Features of Article Forge
Basic features?
The AI-powered content generator has a slew of great features that make it a great choice for content creators in the future. Among its many features are keyword discovery and article optimization, which ensures that your articles are high-quality and keyword-rich.
Automated content creation
Automated content creation is a process where content is created by a machine rather than a human. This technology has been steadily gaining popularity over the past few years, as more and more people are looking for tools that can help them streamline their content-creation process.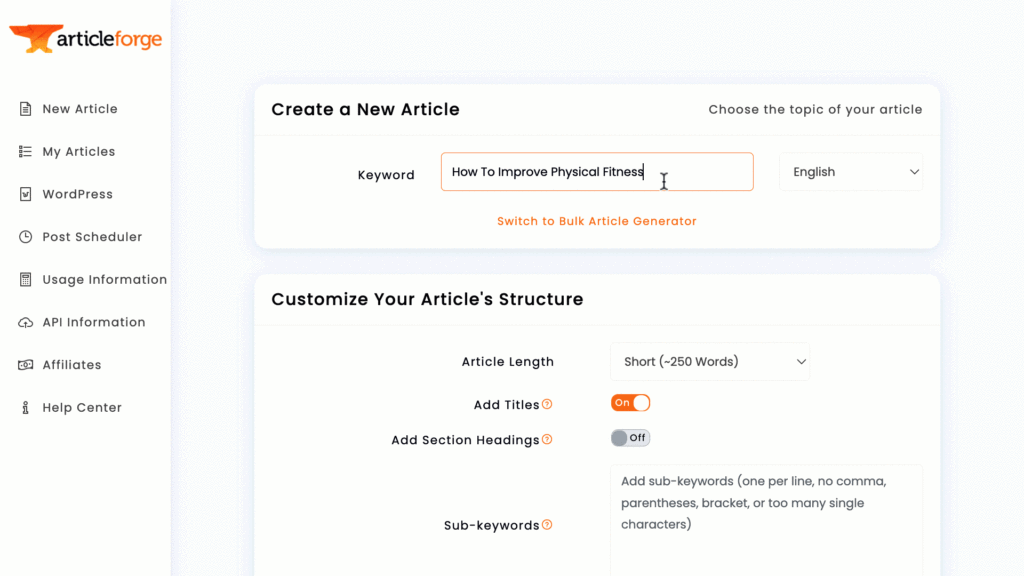 Articleforge's machine learning algorithms are able to create engaging and persuasive content that resonates with readers on an emotional level. Moreover, it is easy to use – you don't need any prior experience with artificial intelligence writing or programming – so anyone can get started quickly without any fuss.
Bulk Article generation
Another Article forge also has a bulk article generation feature, which makes it easy for you to create articles on a large scale. This is great if you want to generate several thousand high-quality content pieces in a short amount of time. This makes it a great choice for content marketers who need a high volume of content quickly and easily.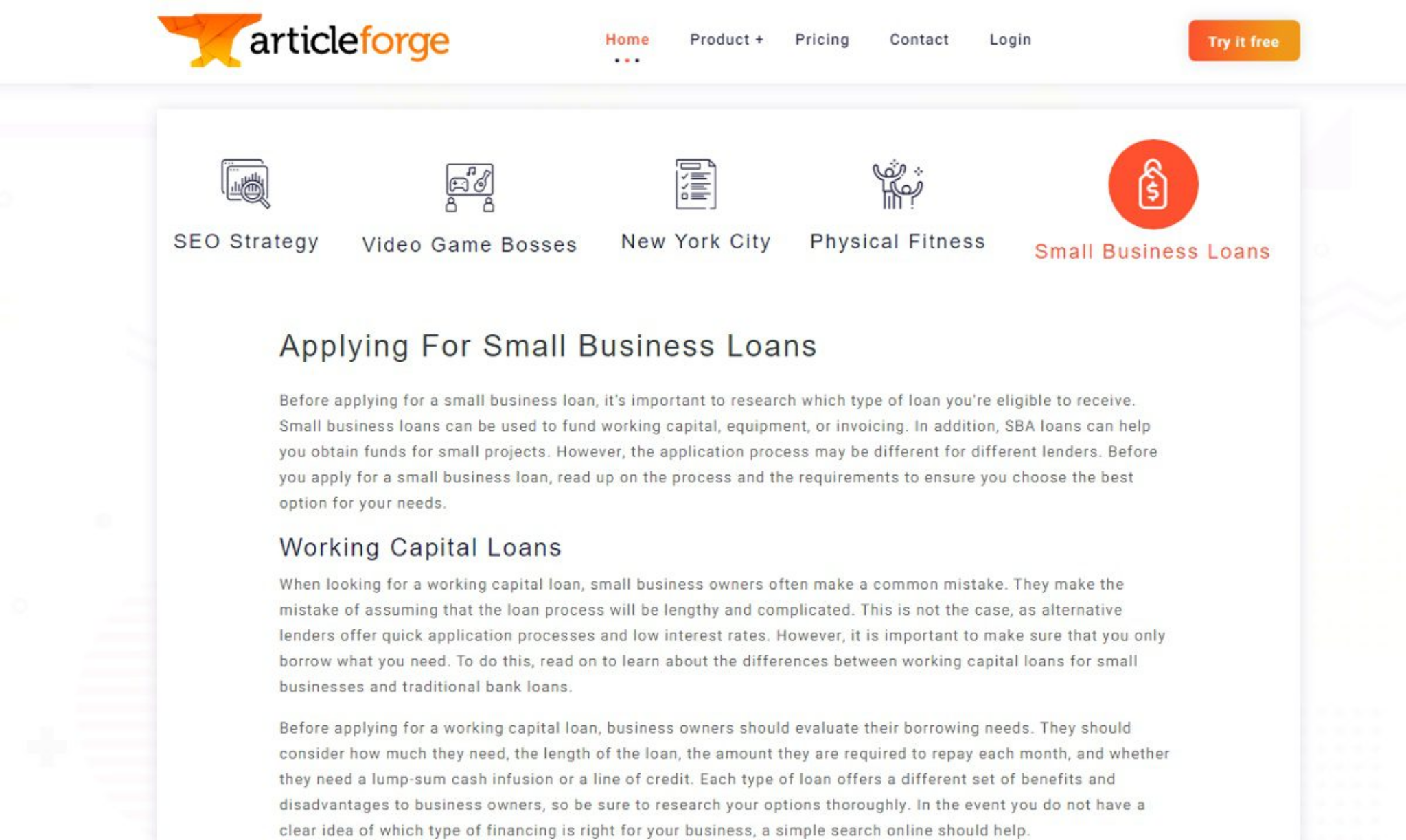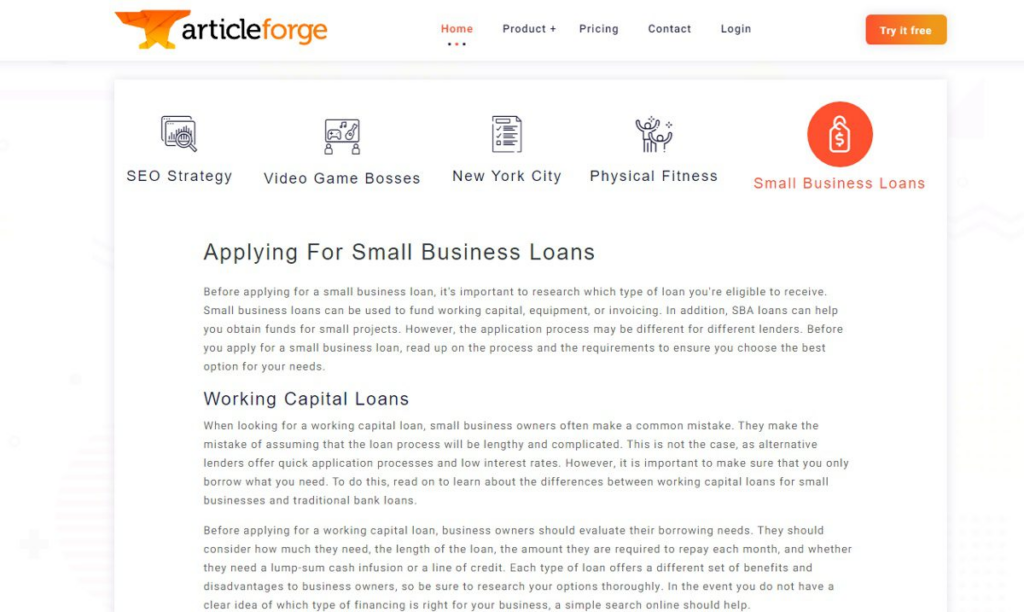 Unique Features of Article Forge
What makes it different from other alternatives?
Apart from its great content-creation features, Article forge provides external integrations that help make your blog post writing and publishing process easier and more efficient
Generate Articles in Minutes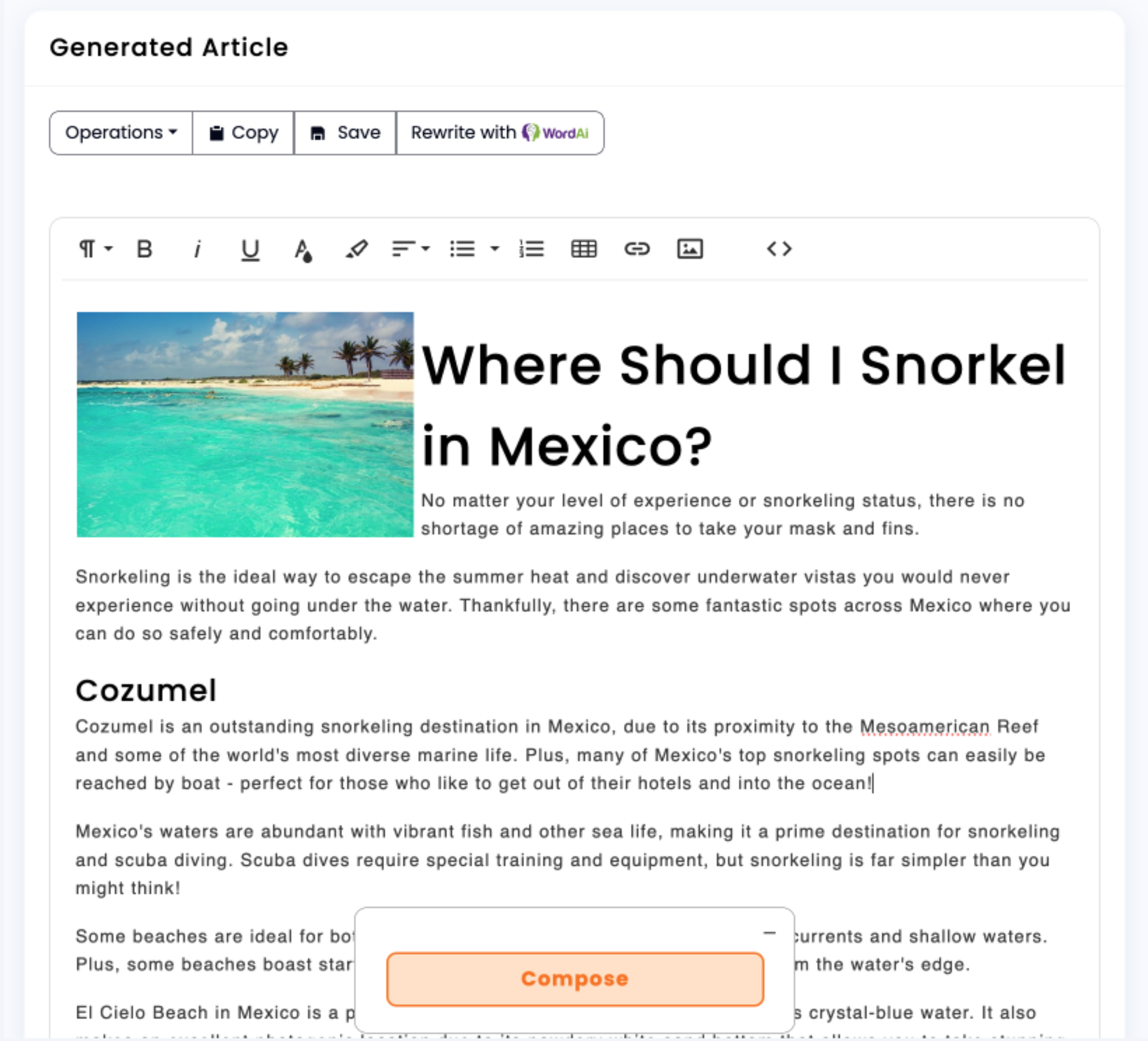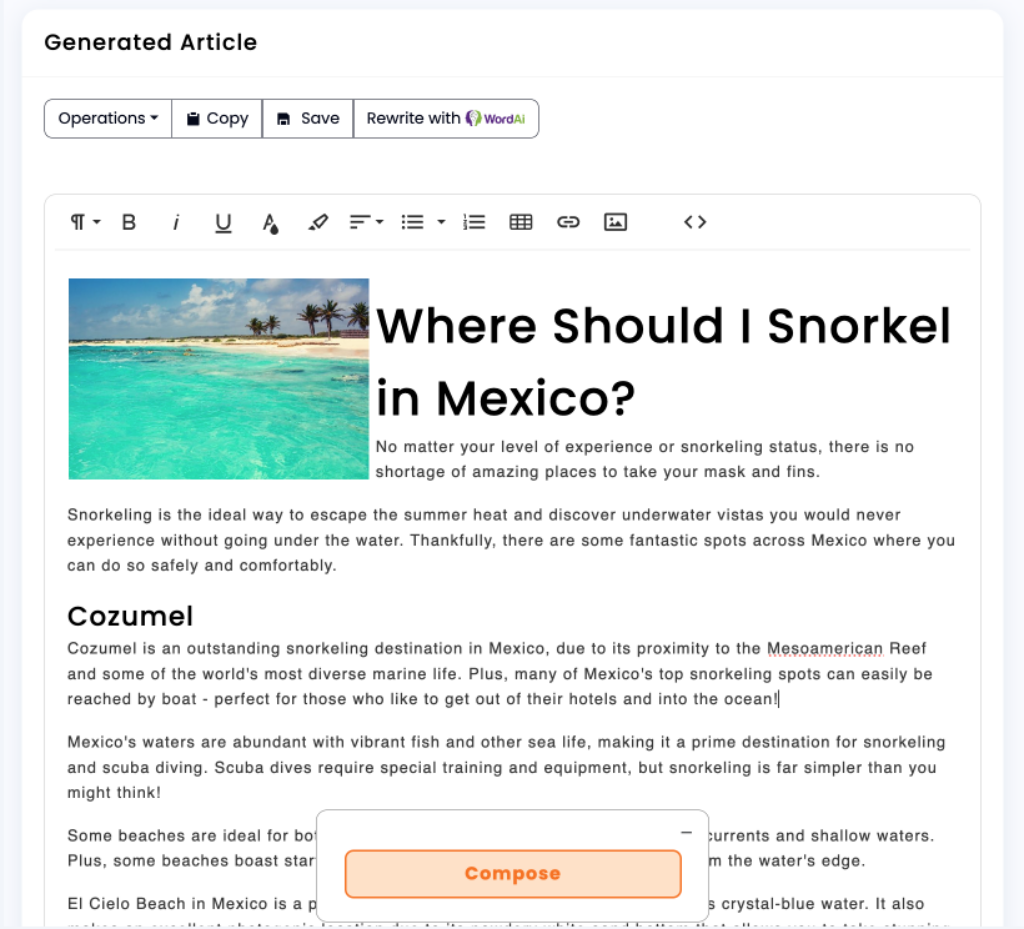 Saving time is the most significant benefit of using Article Forge. You can generate articles in minutes. The software will pull from its database of previously-read Internet-based articles about the topic. It then arranges that article data into a new article for you to use.
Automatically Add Links, Videos, and Images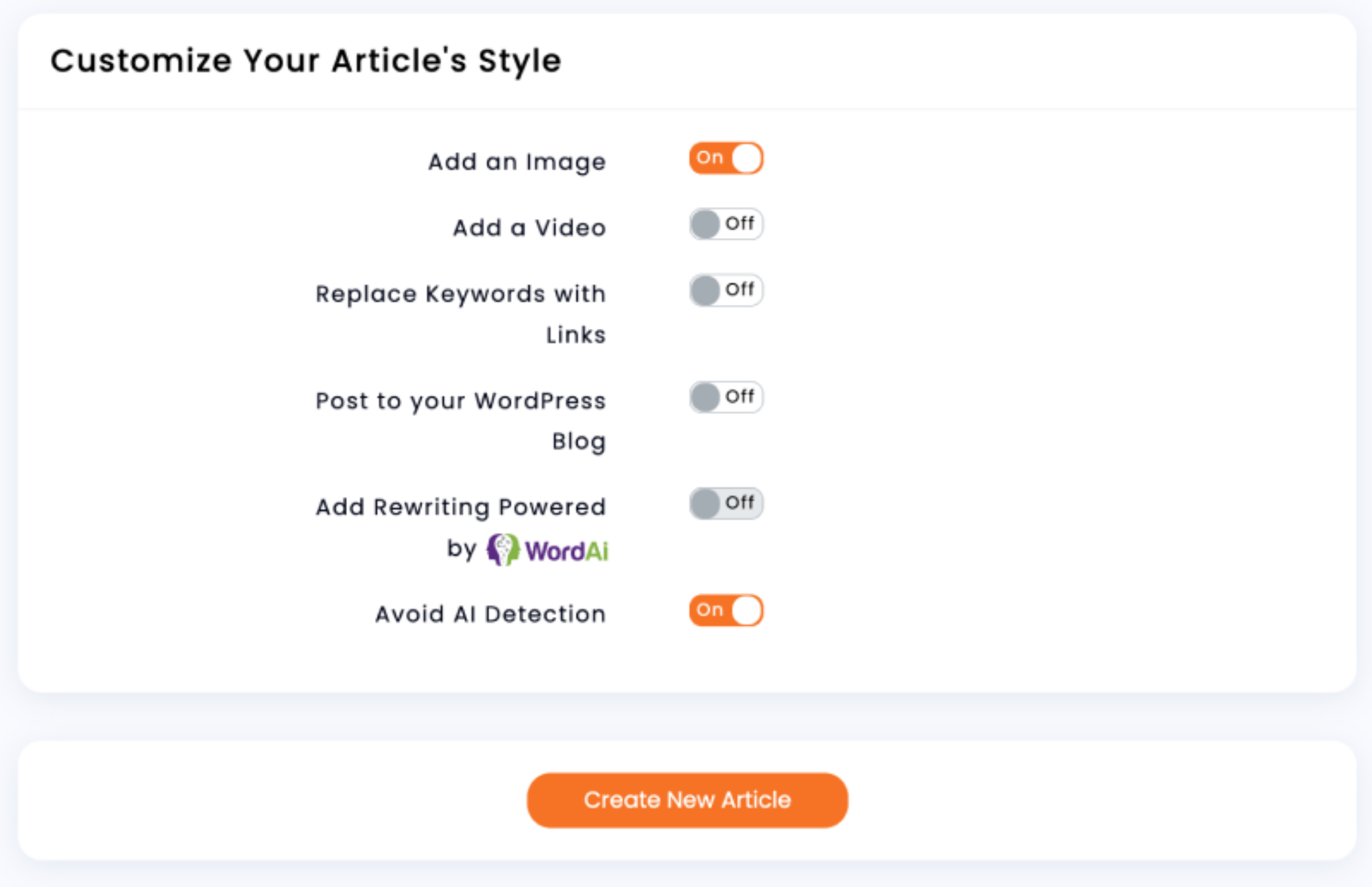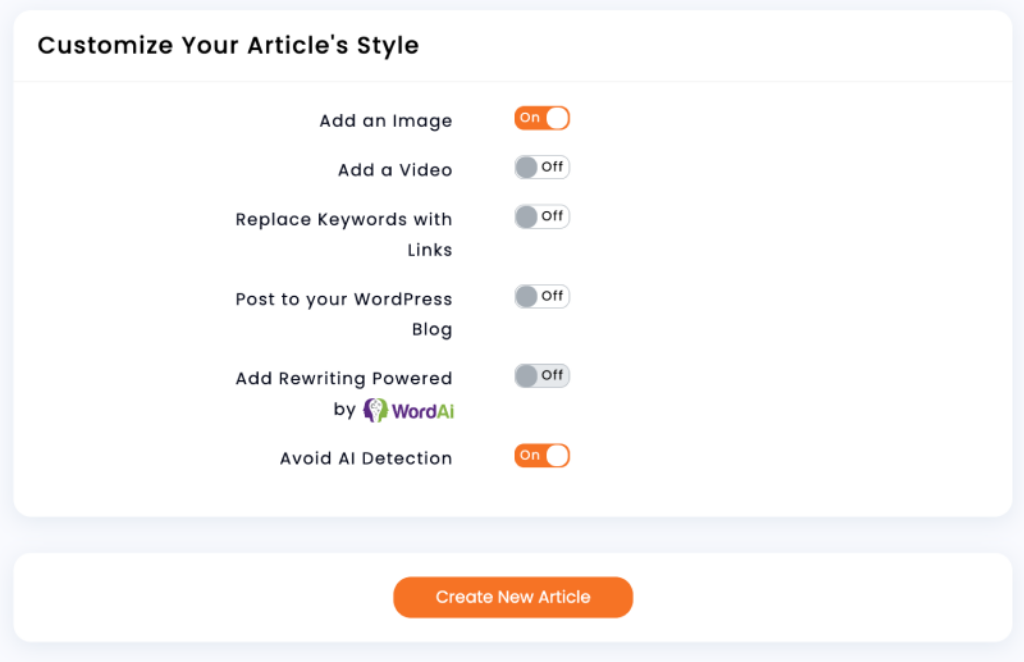 Article Forge will automatically add links, videos, and images to your articles. Try this feature as a time-saver as you add details to your written content.
Create SEO-Optimized Articles
The Article Forge software can help you create SEO-optimized articles. The platform includes a keyword research tool that inserts the best keywords in your articles as it writes.
Create Content in Multiple Languages
Article Forge also includes a translation feature. It allows you to create content in various languages. You can write articles in seven different languages. Try this feature if you want to expand your website into an international platform. Most businesses compete for English-speaking audiences. If you branch out into different languages, you'll find lower competition when it comes to ranking in search engines.
Post Scheduling
You'll find a post scheduler in your Article Forge account. Use this tool to schedule the content generated by Article Forge. You can do this for your blog or social media platforms. It also automatically detects the best time of day to post your content so that it reaches your audience in their most engaged state.
Exports
You can export completed articles in HTML, TXT, and PDF formats. Article Forge also lets you export and post automatically to WordPress.
SEO Integration
Article Forge is integrated with many SEO tools to help you further streamline and automate your ranking efforts. Such as Word AI, SEO AutoPilot, CyberSEO, RankerX, GSA Search Engine Ranker, and SEnuke TNG.
Content Management
Engaging And Following Up
Inbound Marketing
Pricing Plans
monthly and annual pricing
You can make the payment on a monthly and yearly basis, it gives you 5 days of trial try that once and see how it boosts your articles and SEO rankings. Also Provides 30 days Money back guarantee.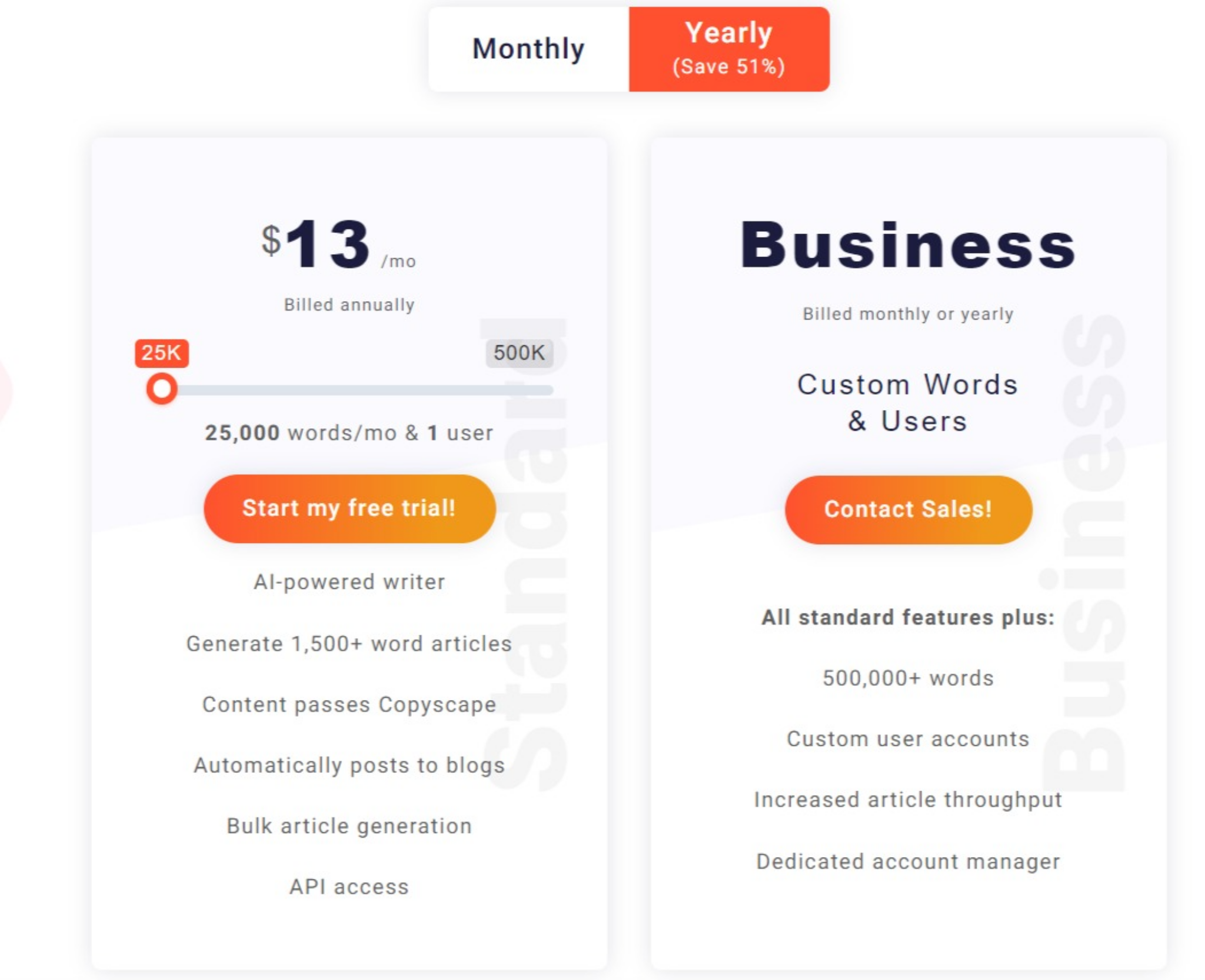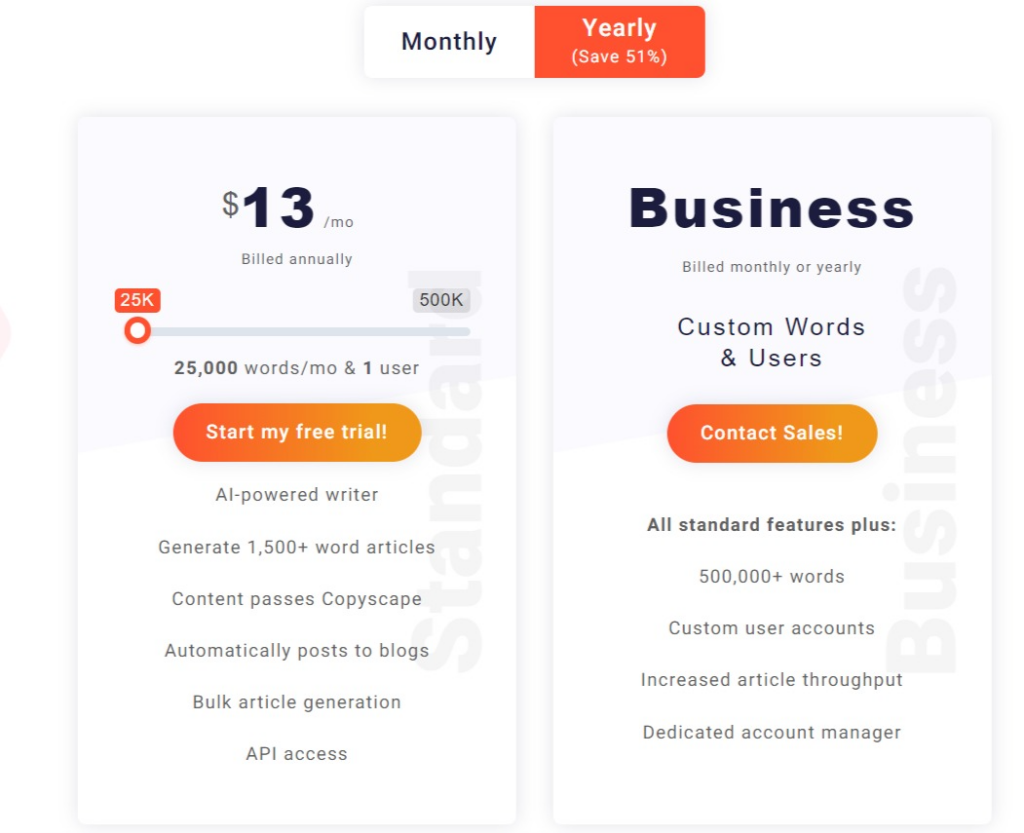 Support
Technical Support, Knowledge Base, Roadmaps, Changelogs
Offers Live Chat, Ticketing, and Email support
Offers Blogs and knowledgebase support
No Roadmap and Changelog
Alternatives
Similar Apps
Scalenut is a content marketing platform designed to help businesses to create quality writing and engaging content across all channels. By automatically generating article ideas, creating content syndicates, and effortlessly optimizing posts for social media sharing.
Writesonic is a versatile tool for writers of all levels. Use the AI Writer to create long-form blogs and articles. The AI writer will help you write SEO-optimized, long-form blog posts, and articles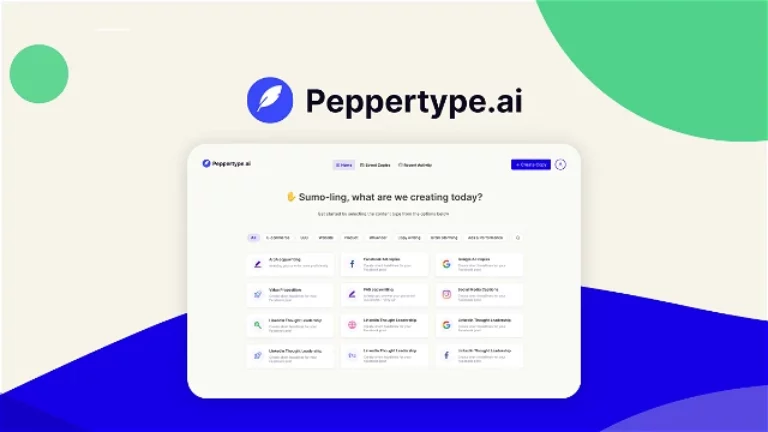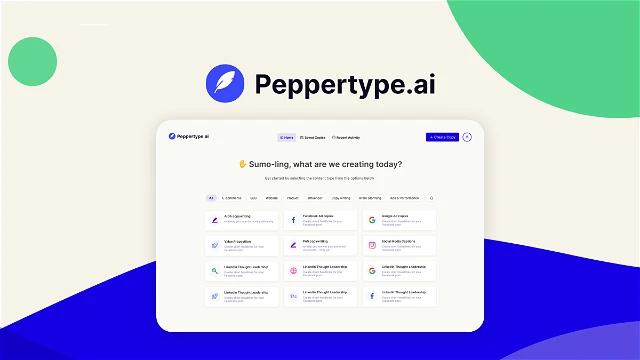 peppertype.ai virtual content assistant helps you quickly generate high-quality content for a range of purposes, from marketing copy to product descriptions to search engine optimization.
Final Verdict
Is Article Forge right for You?
Are you looking for a quality AI writing platform that won't break the bank? Look no further than Article Forge. This platform is perfect for people who are looking to produce quality content quickly and cheaply. The only downside is that the quality of the articles isn't always up to par, but this doesn't affect the overall usefulness of the platform. In fact, I think Article Forge is a good option for those who want to get started in AI writing without spending too much money or time on it. So, if you're looking for a quality AI writing platform that won't break the bank, I recommend checking out Article Forge.
Article forge is a comprehensive tool to create an article with the help of its unique features. If you are a blogger, or guest poster then try the 5-day free trial once, and based on your experience buy the tool.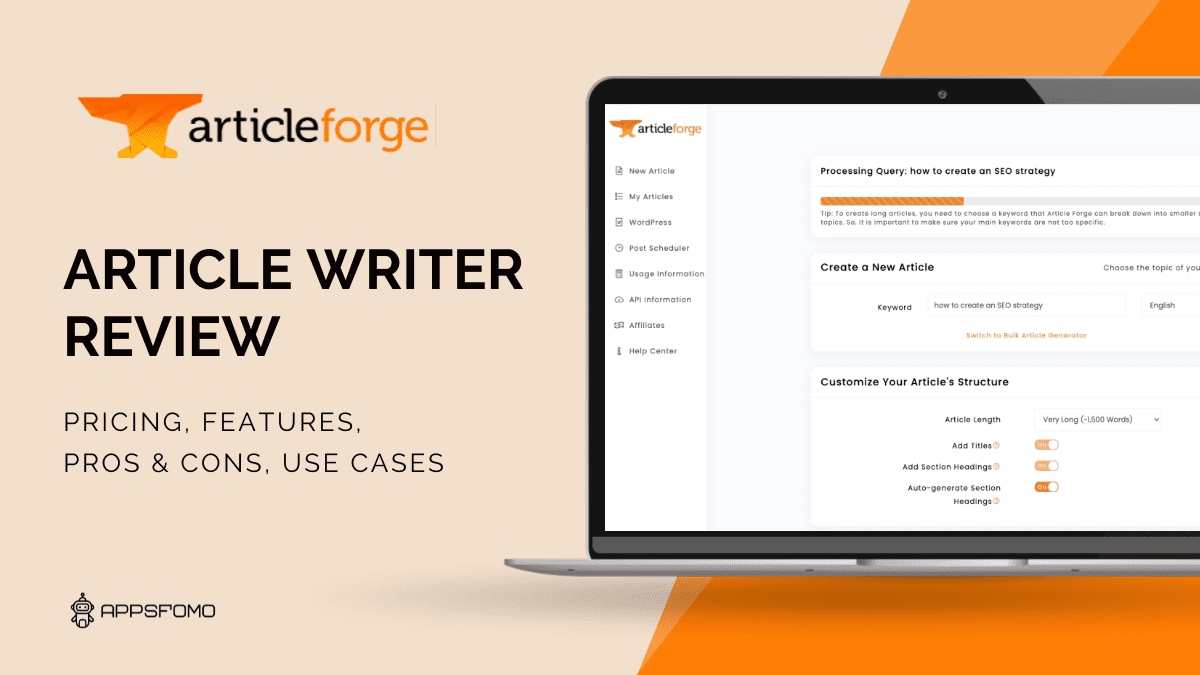 Specification:
Articleforge: Generate Unique Articles with Advanced Deep Learning
| | |
| --- | --- |
| Review Date | March 2023 |
| Company | Glimpse.ai |
| Country | USA |
| Initial Release | 2020 |
| Pricing | Montlhy, Yearly |
| Free Version | Available |
| Lifetime Deal | No |
| LTD Platform | N/A |
| Money-Back | 30 Days |
| Appsfomo Rating | 8.2 |
| Support type | Email, Live Chat, Ticketing |
| Integrations | Yes |
| Supported Device | Browser, Web Based |
| Mobile app | Not Available |
| Affiliate Program | Yes |
PROS:
Gives you the best on-topic content at the click of a button.
Allows you to produce more content than you can manage.
Can get content that is genuine, engaging, and reader-friendly.
CONS:
The monthly cost can be expensive.
Keyword input can be frustrating.
Articles can sometimes repeat the same thing a lot.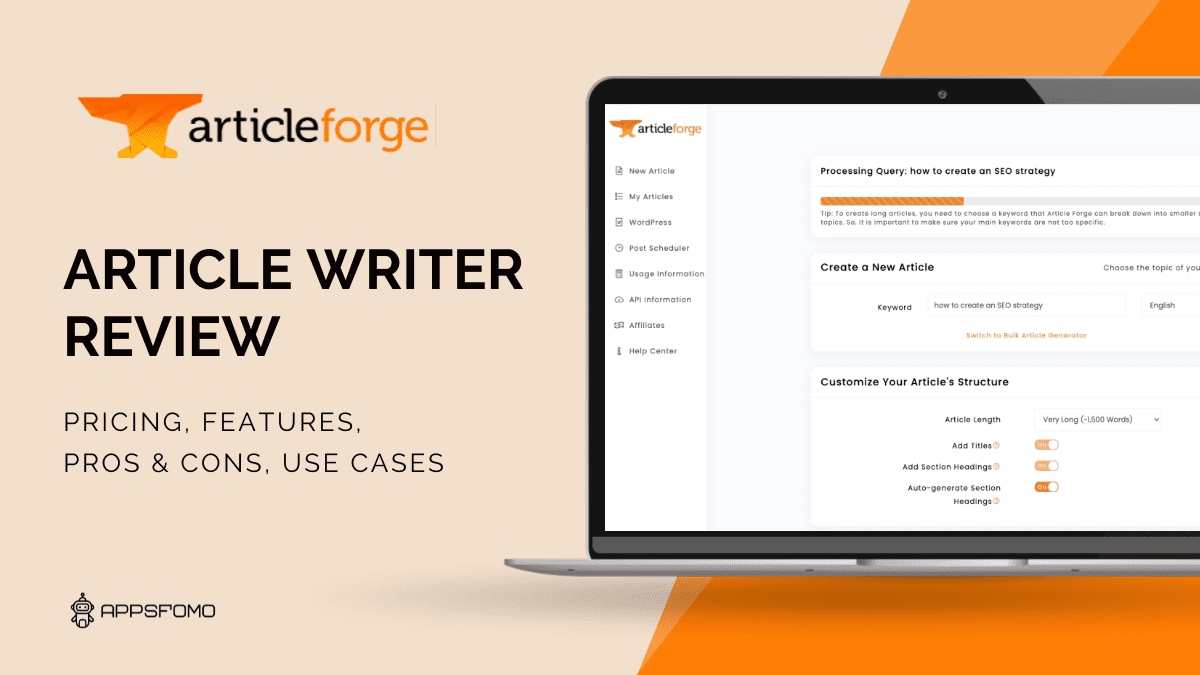 Articleforge: Generate Unique Articles with Advanced Deep Learning