BetterDocs: Provide Faster Support with WordPress Documentation Plugin
BetterDocs will help you to produce & arrange your documentation page in a beautiful way that will certainly make your site visitors locate any type of assistance article conveniently. It will facilitate your client to make faster choices as well as obtain help instantly by self-servicing rather than preventing the prolonged discussion.
Are you in the market for a new knowledge base plugin for your WordPress website? Look no further than BetterDocs! If you are struggling to create a user-friendly documentation center on your website, BetterDocs is a great solution that simplifies the task. BetterDocs is a new knowledge base plugin for WordPress that offers excellent features to keep your users happy and informed. With its user-friendly interface, you can create and publish high-quality documentation with ease.
In this blog post, we will outline all the features that BetterDocs offers, including ready-made templates, a scrollable table of contents, customization options, instant answers, and more. We will also cover why you should choose BetterDocs and some of its alternatives. Keep on reading to get a glimpse of how this dynamic new plugin can make your website look much more professional and user-friendly.
BetterDocs Overview
What Is BetterDocs?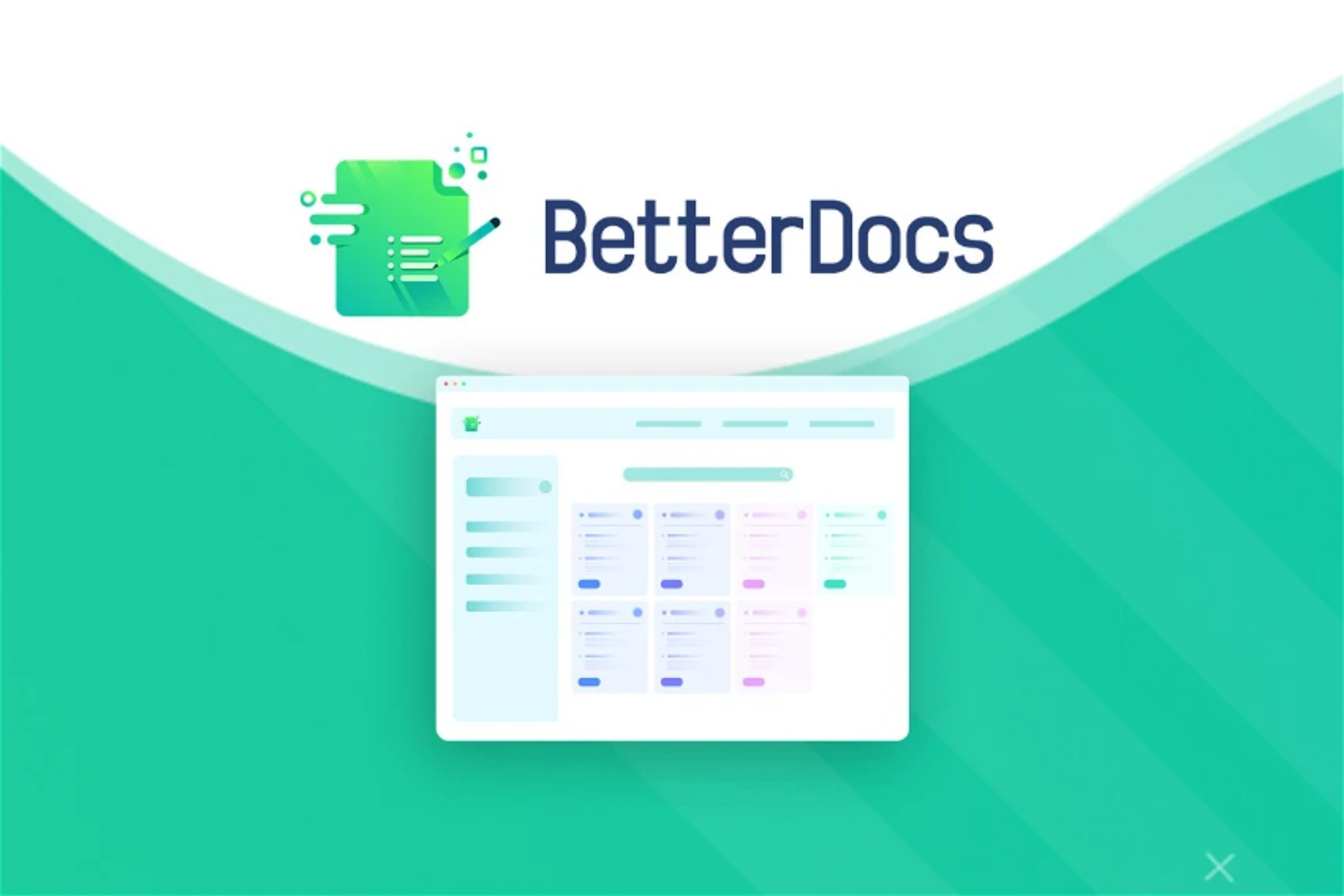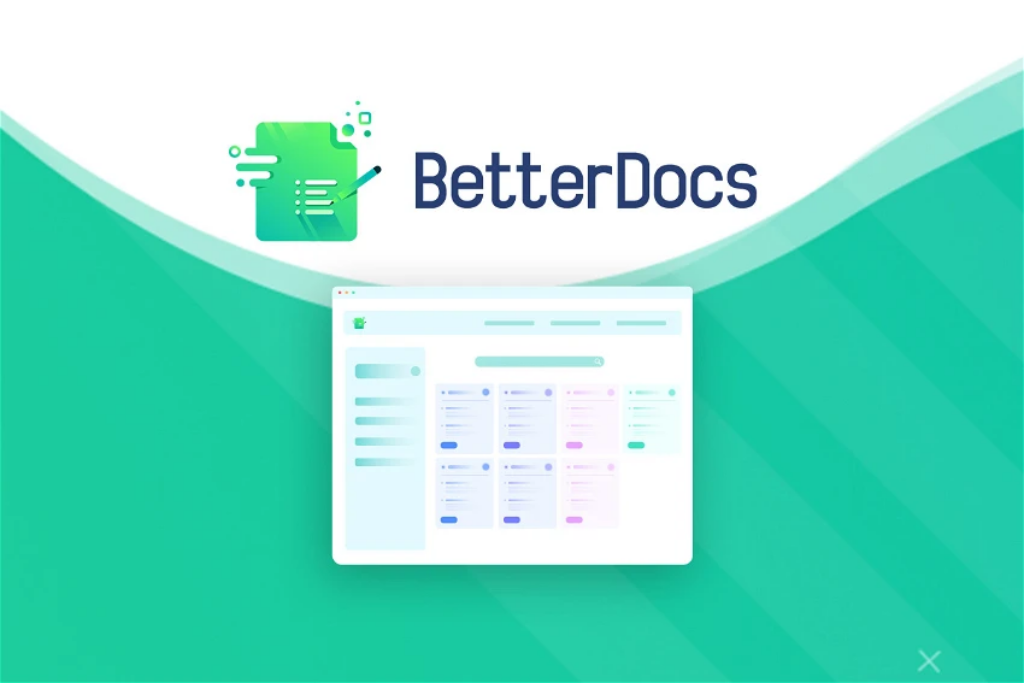 BetterDocs is a knowledge base plugin designed to help businesses scale by reducing support tickets. It features an easy-to-use backend dashboard and pre-designed frontend templates that don't require coding skills. BetterDocs is available in both free and premium versions and can be used across all iOS, Windows, or Android devices.
One of the standout features of BetterDocs is its live search suggestions, which help users find what they're looking for quickly, resulting in better user experiences. This plugin also allows you to create and organize your documentation pages beautifully, making your visitors feel supported and well-informed. BetterDocs helps streamline your business operations, allowing your team more time to focus on creating value and growth.
Company Details
BetterDocs is a product of WPDeveloper founded by M Asif Rahman in 2011.
WPDeveloper is a software product company focused on WordPress & SAAS product development. The company aims to enhance the web-building experience for users by providing top-notch solutions that help businesses grow.
The company is headquartered at Mirpur DOHS, Dhaka.
Online Presence
What is the need for Knowledgebase?
Is Knowledgebase Important?
In today's world, consumers expect to find answers to their questions quickly and easily. Providing a detailed and user-friendly knowledge base can help your customers use your product or service with ease.
The knowledge base can also help to reduce your customer support as customers are able to find the relevant information on their own.
Customers prefer the convenience of using an online knowledge base and avoid the hassle of creating support tickets, which often take longer to resolve.
In today's fast-paced world, creating an informative documentation page using a dynamic knowledge base plugin such as BetterDocs can significantly enhance your customer experience.
How to create and Publish new documentation in BetterDocs?
Let's Get Started
BetterDocs is a dynamic WordPress plugin that enables users to create and publish documentation articles effortlessly.
Step 1: Install & Activate BetterDocs
You must first make sure that you've installed and activated BetterDocs on WordPress before beginning to create new documentation in BetterDocs.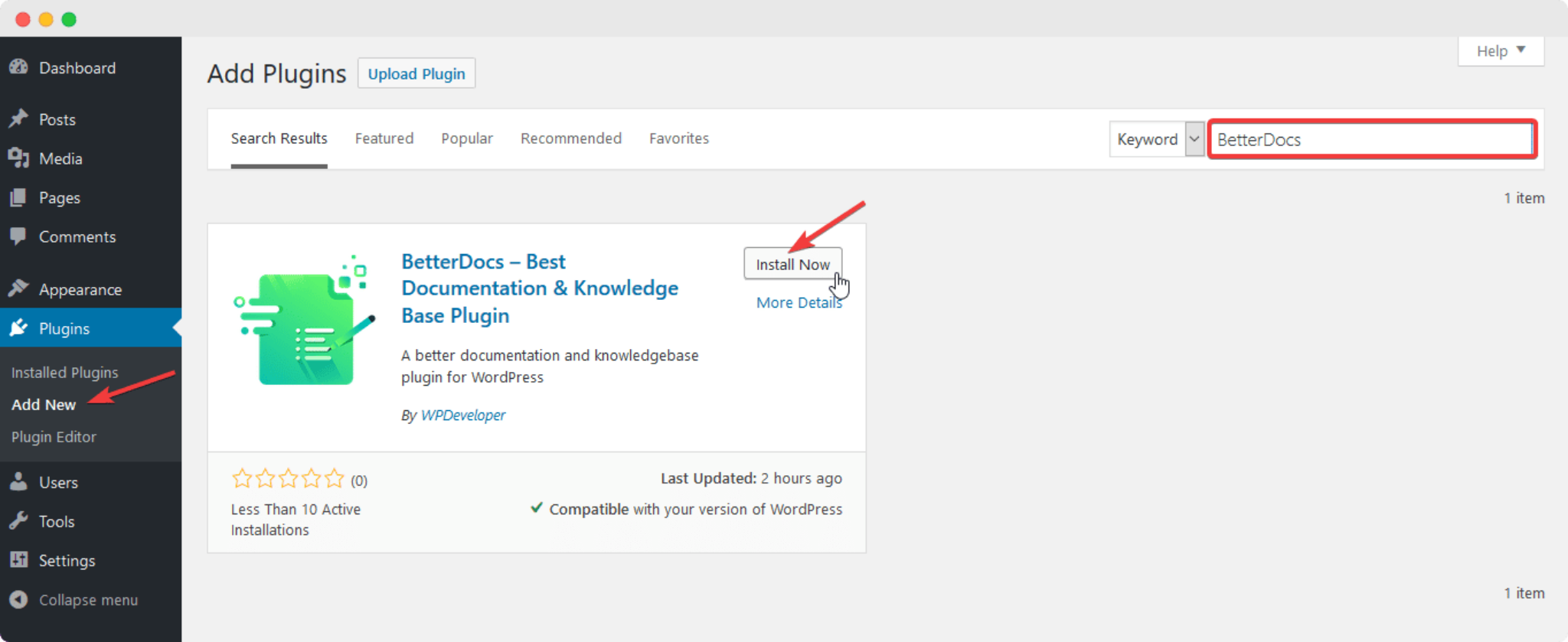 Step 2: Add New Documentation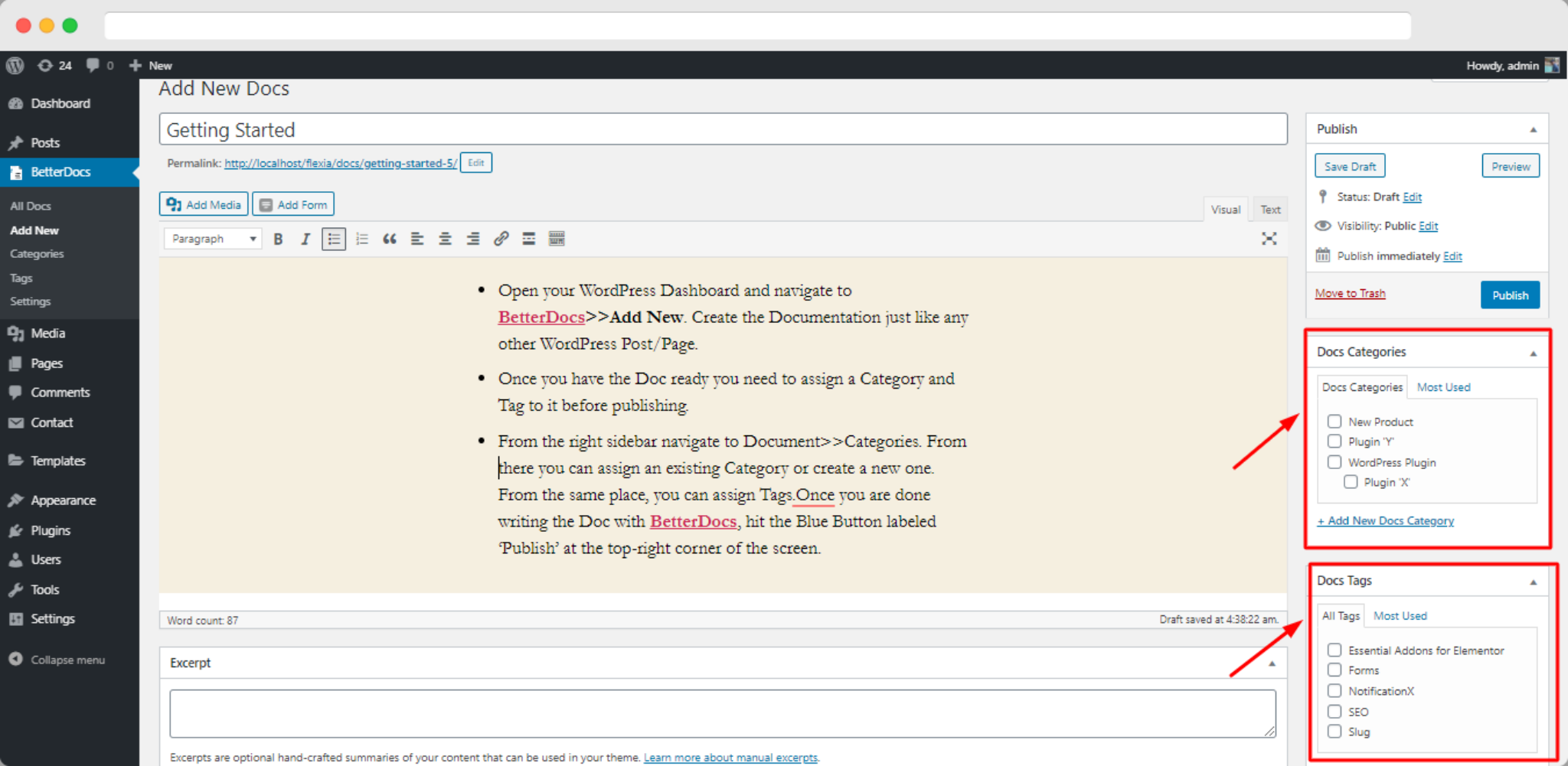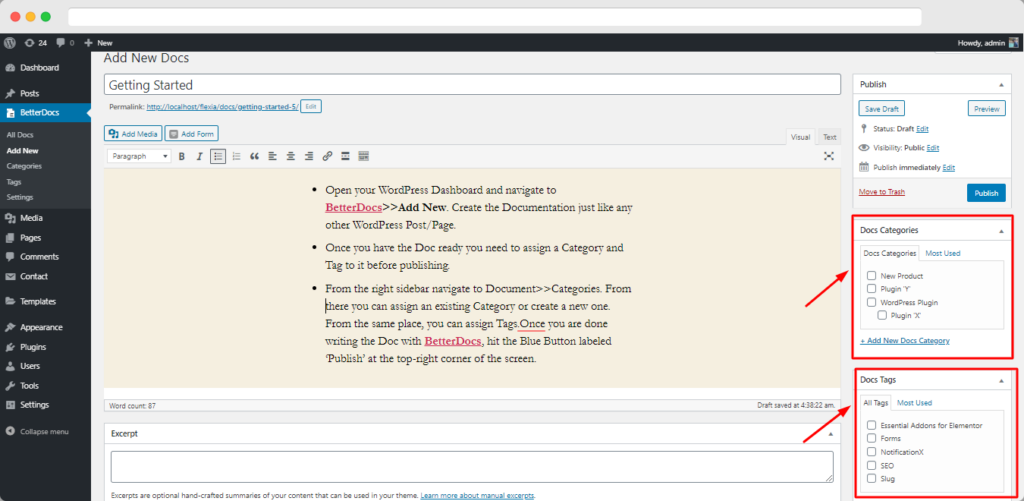 Navigate to BetterDocs>>Add New in your WordPress Dashboard. Just like any other WordPress post or page, you can create documentation.
Before publishing, you must assign a Category and Tag to the Doc once it is ready. Navigate to Document>>Categories from the right sidebar. You may then assign a current Category or establish a new one from there. You may also give Tags from the same position.
Step 3: Publish New Documentation
Hit the Blue Button labeled "Publish" in the top-right corner after you've finished writing with BetterDocs to publish your Doc.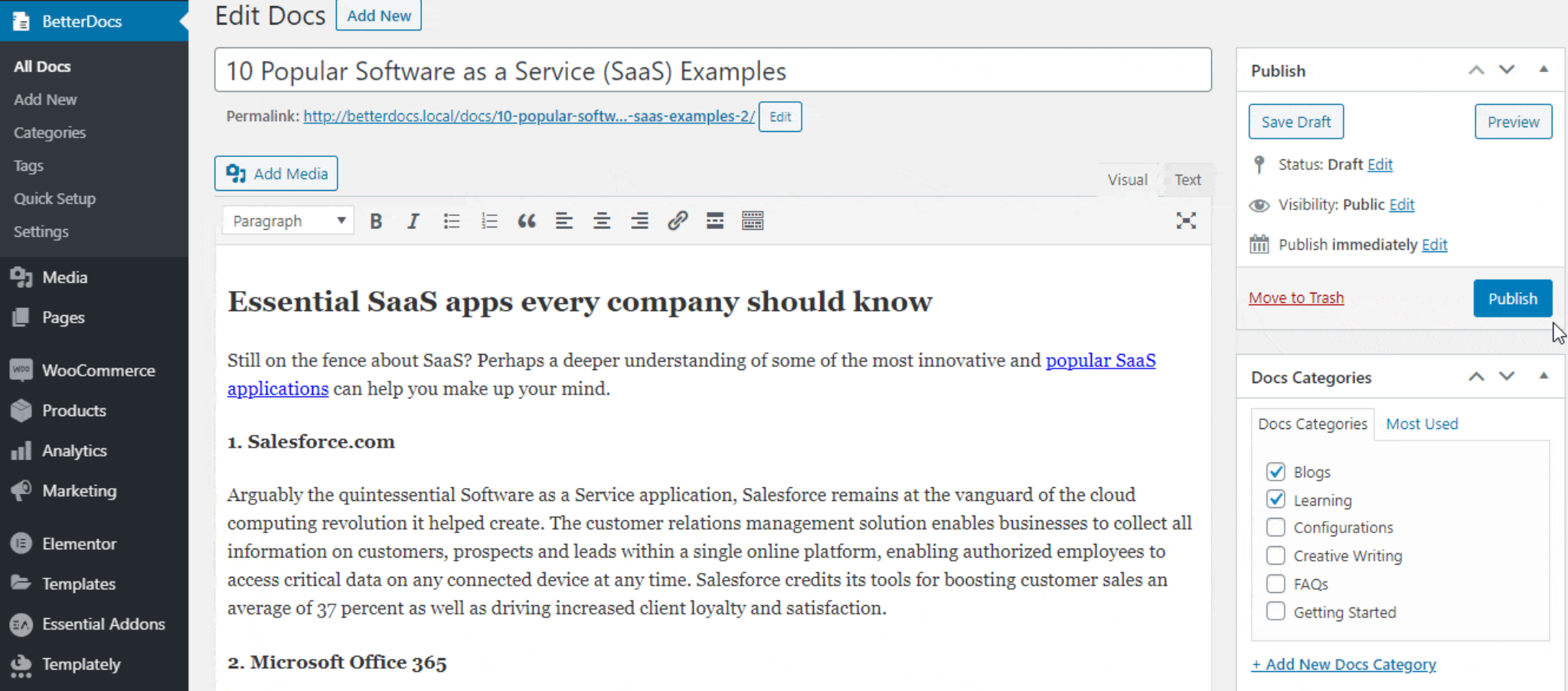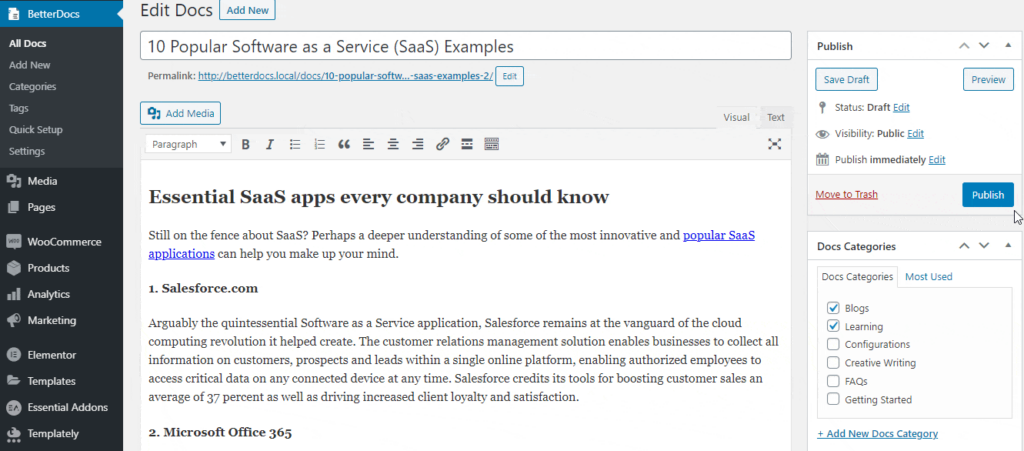 Final Result
With BetterDocs on your WordPress website, you can simply follow all of the above steps to produce and publish new documentation.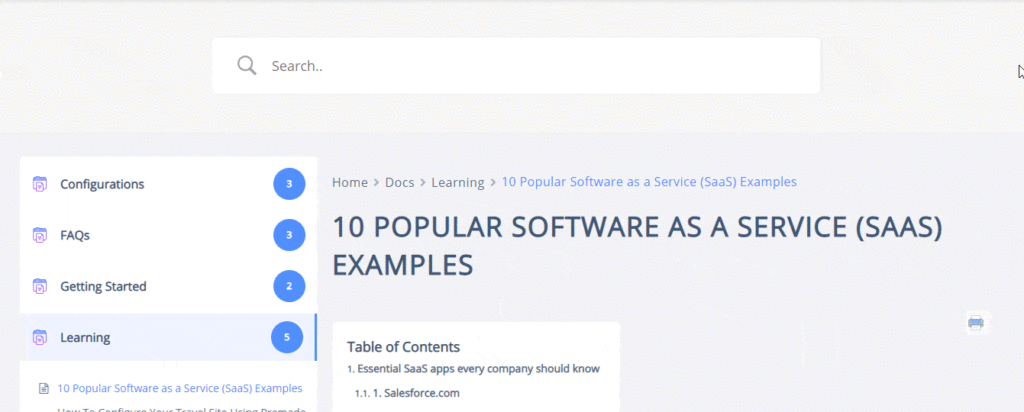 BetterDocs Top Features
Why Choose betterDocs?
Ready-Made Templates
BetterDocs offers ready-made templates that you can use to create a beautifully designed documentation page in minutes. These templates are highly customizable and do not require any coding.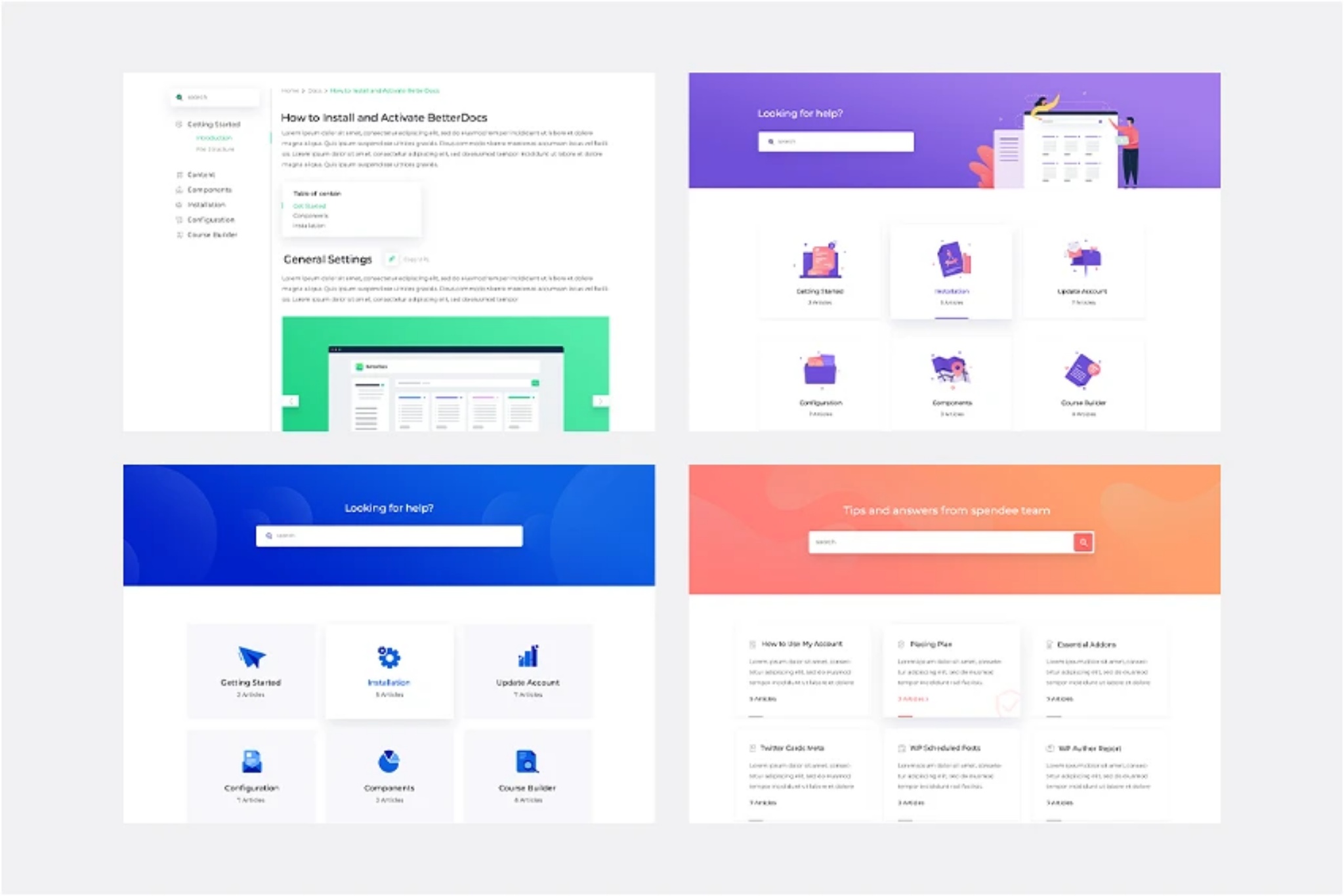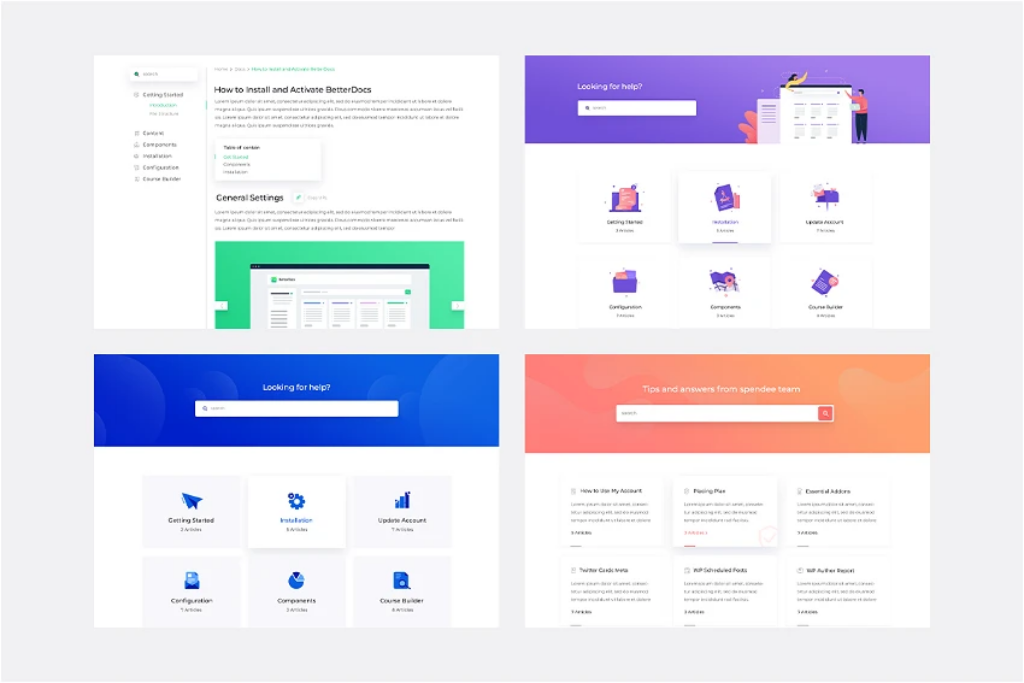 It helps new users get a head start with their projects. It also provides your old users to get inspiration for their projects. This is why BetterDocs is packed with a handful of Templates. So that users can get started in minutes.
Scrollable Table Of Contents
BetterDocs provides a scrollable table of contents in the documentation for better navigation.
This will help users quickly and easily navigate through the different articles in your documentation.
Customization Options
BetterDocs lets you customize the knowledge base style according to your needs and preferences.
The plugin comes with options to change the layout and color, or fully customize the knowledge base using page builders like Elementor or Oxygen Builder.
This is a very useful feature as it will allow you to match the documentation style to your brand's style.
Instant Answers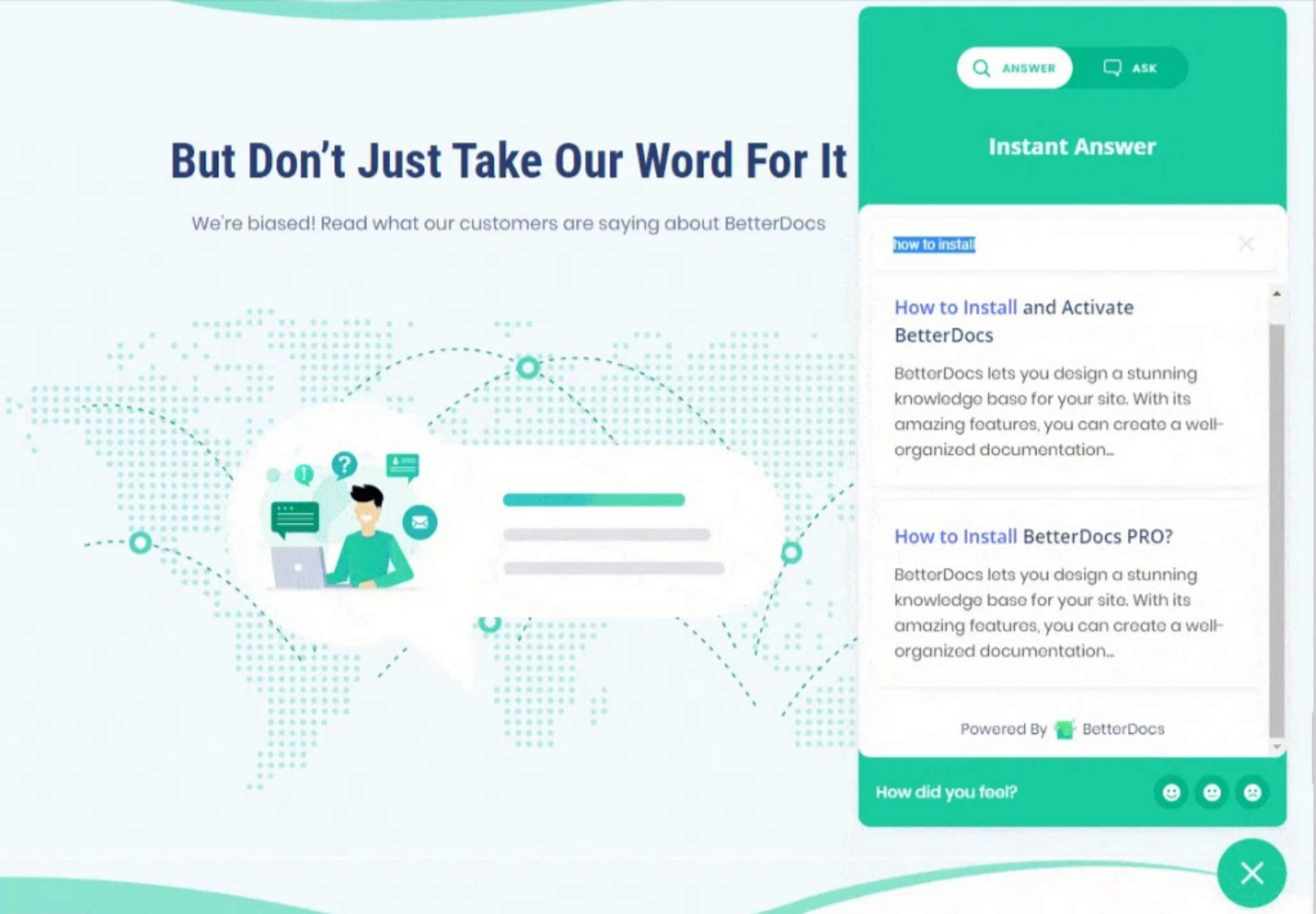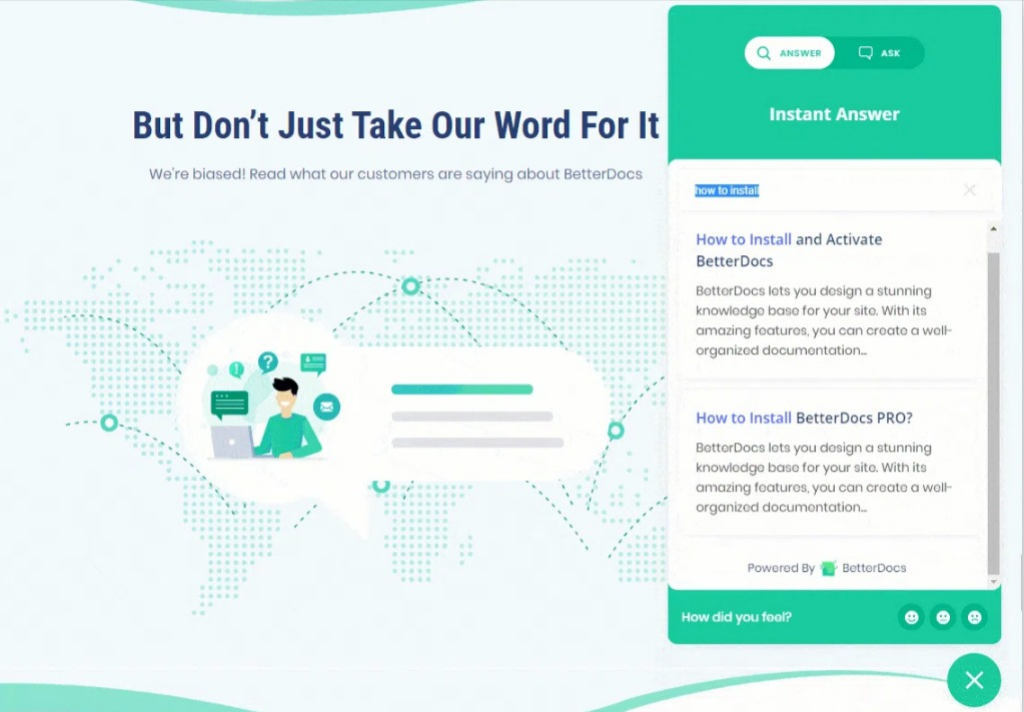 Using the Instant Answers chatbot, Better Docs quickly give better self-service to consumers and cut support requests by providing answers.
The Instant Answer feature of BetterDocs has a lot of benefits. First, if your Support Team is not available, the Instant Answer feature makes it possible for your users to find answers to their queries instantly.
Previously you could find this feature in SAAS solutions for Knowledge Base. But now you get it with a WordPress Plugin.
Knowledge Base Analytics
With BetterDoc's powerful, built-in analytics tool, you can track and evaluate the performance of your knowledge base, as well as get valuable traffic data, views, and click rates.
This will help you understand what documentation pages are the most viewed and other information on how you can improve your documentation.
Live Search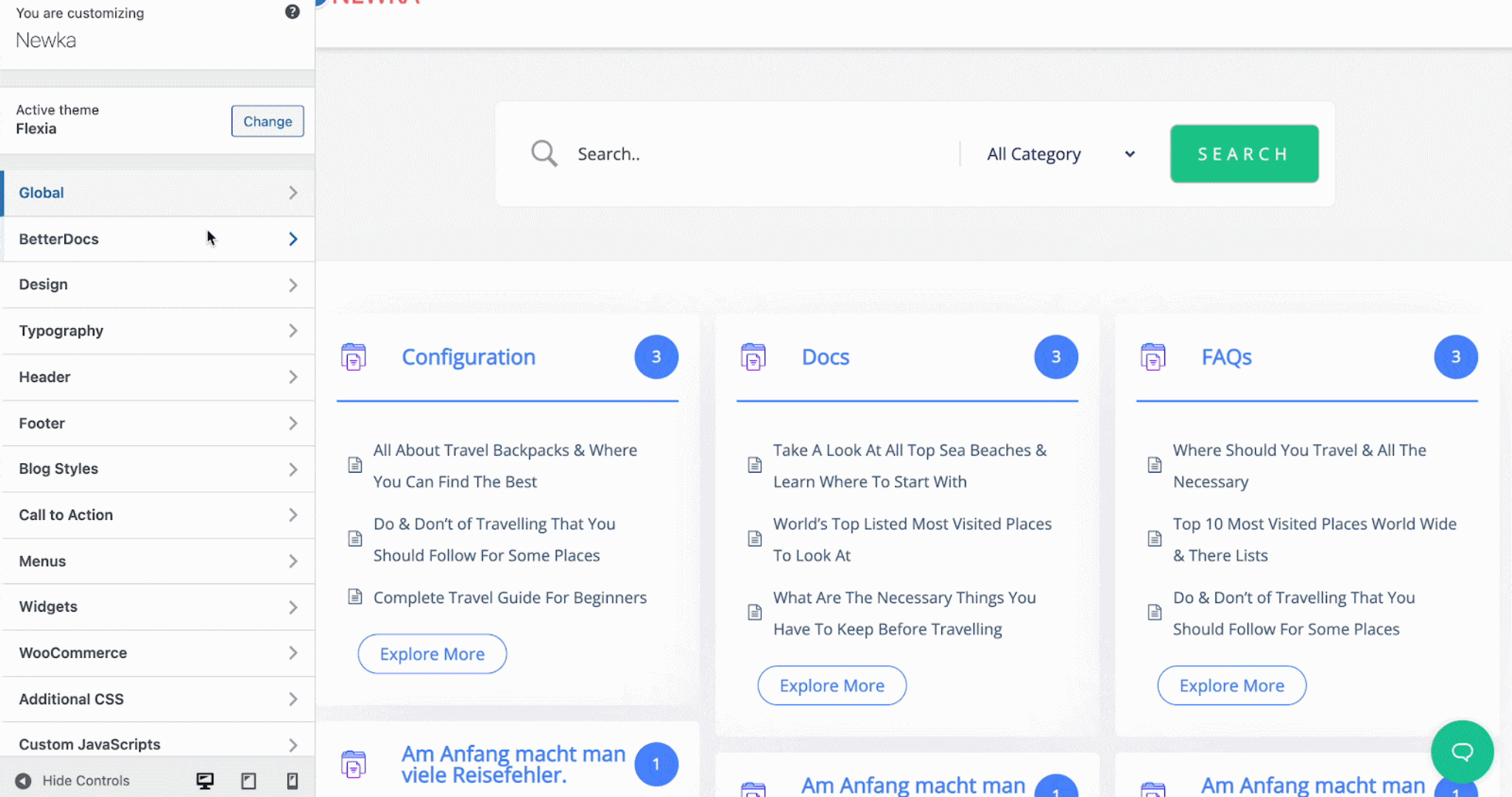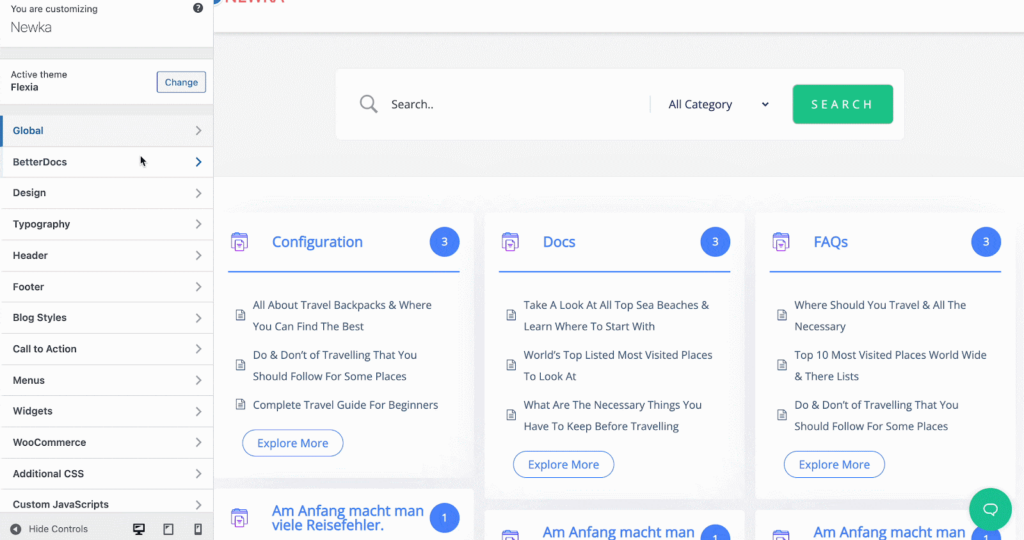 BetterDocs comes with a live search feature so that users can instantly search for questions and find their answers.
Assist your visitors to find helpful documentation articles and reduce the pressure on your support team with a built-in, customizable, advanced live search bar
Manage Multiple Knowledge Bases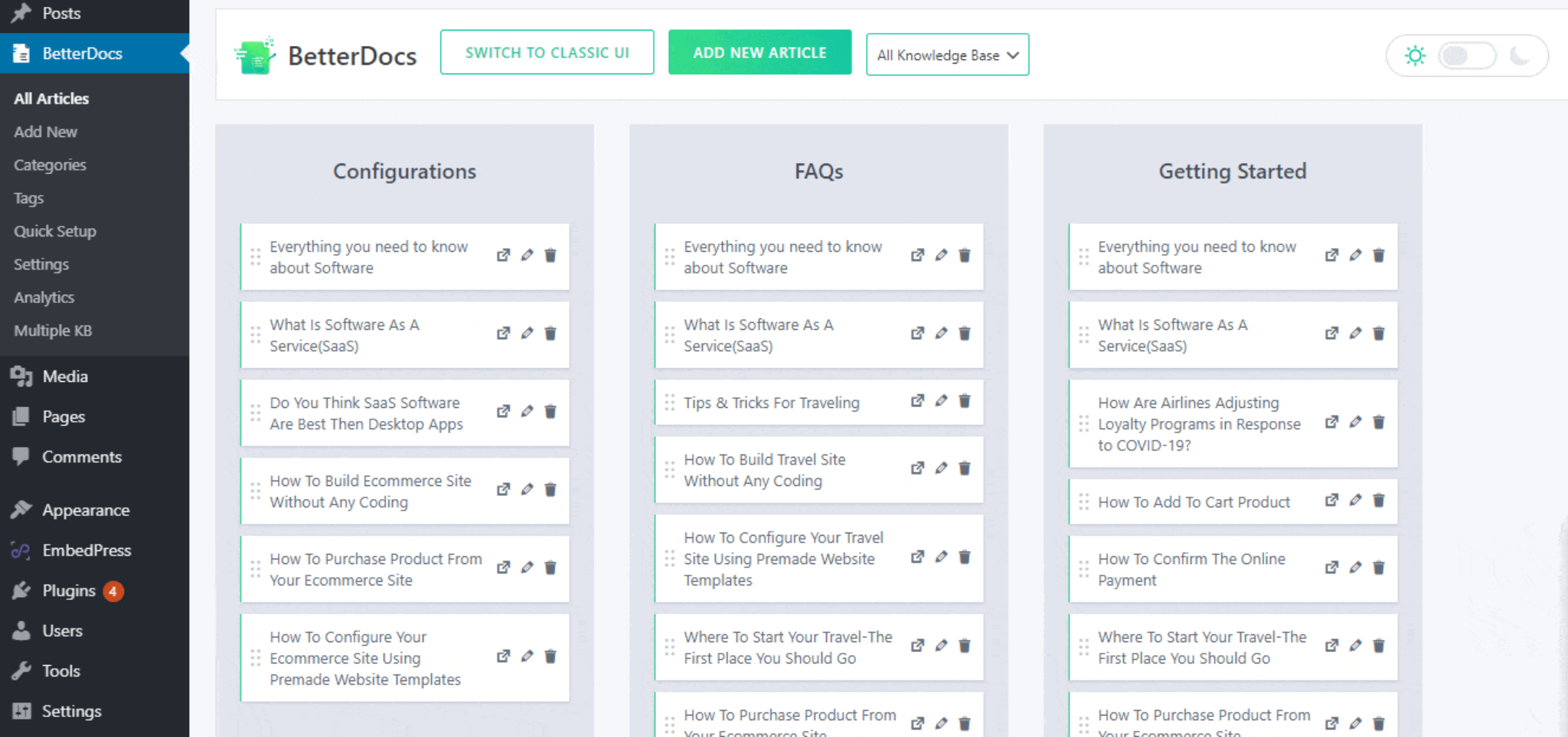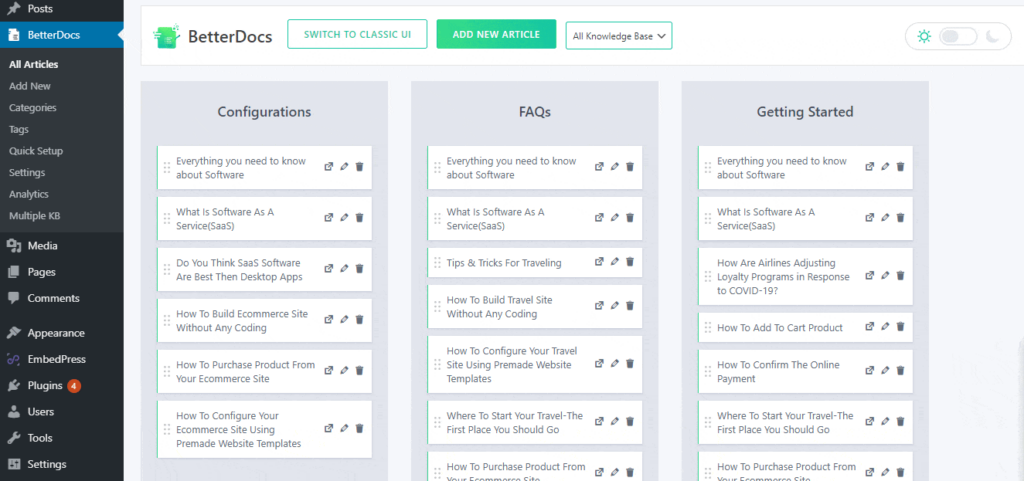 With BetterDocs, you can manage multiple knowledge bases on your website. So, if you have multiple products or services, you can create separate knowledge bases dedicated to each one of them.
To increase efficiency, create numerous knowledge bases for each of your products and keep all of your documentation in a single location on one website.
Translate Documentation
BetterDocs integrates with WPML seamlessly allowing you to translate your documentation into different languages and help connect users across the world.
This is quite helpful if you're selling a particular country or region.
Create a Restricted Internal Knowledge Base
BetterDocs also lets you create an internal knowledge base restricted for certain users. You can control access to the internal knowledge base based on user roles.
While this isn't something you might use, it can still be helpful if you want to create documentation for certain users on your website.
Advanced TOC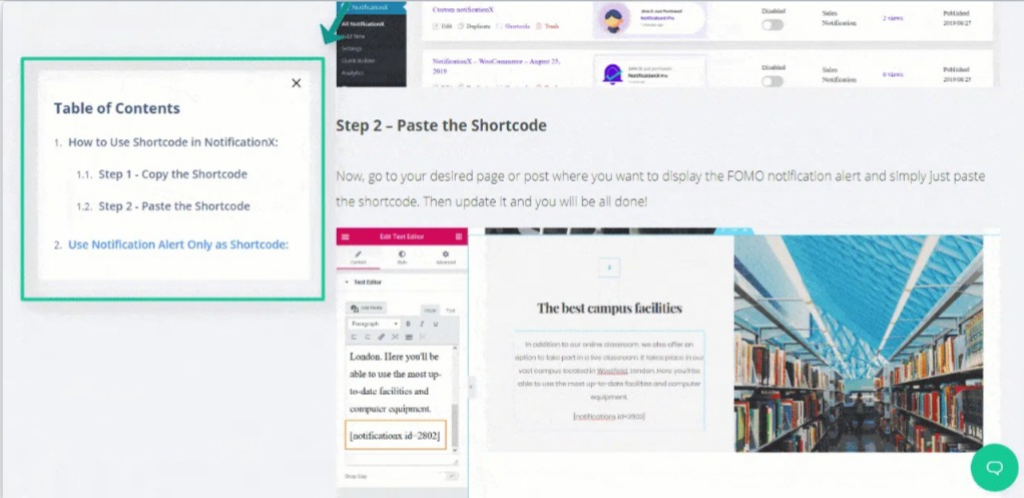 A table of Contents is a widely used feature for lengthy blogs. Readers might feel overwhelmed by the sheer amount of information they receive via lengthy blogs. But if they know what parts are included in a blog and what is the relative sequence of each of them, they can grasp information quicker.
This concept works for documentation as well. As Documentations cover all the technical aspects of your product/service it is very likely that your users might feel overwhelmed with the information you provide them with.
To solve this problem BetterDocs comes with the Advanced Table of Contents(TOC) feature. This feature places a TOC box at the left sidebar area, which stays visible at all times.
Advanced Analytics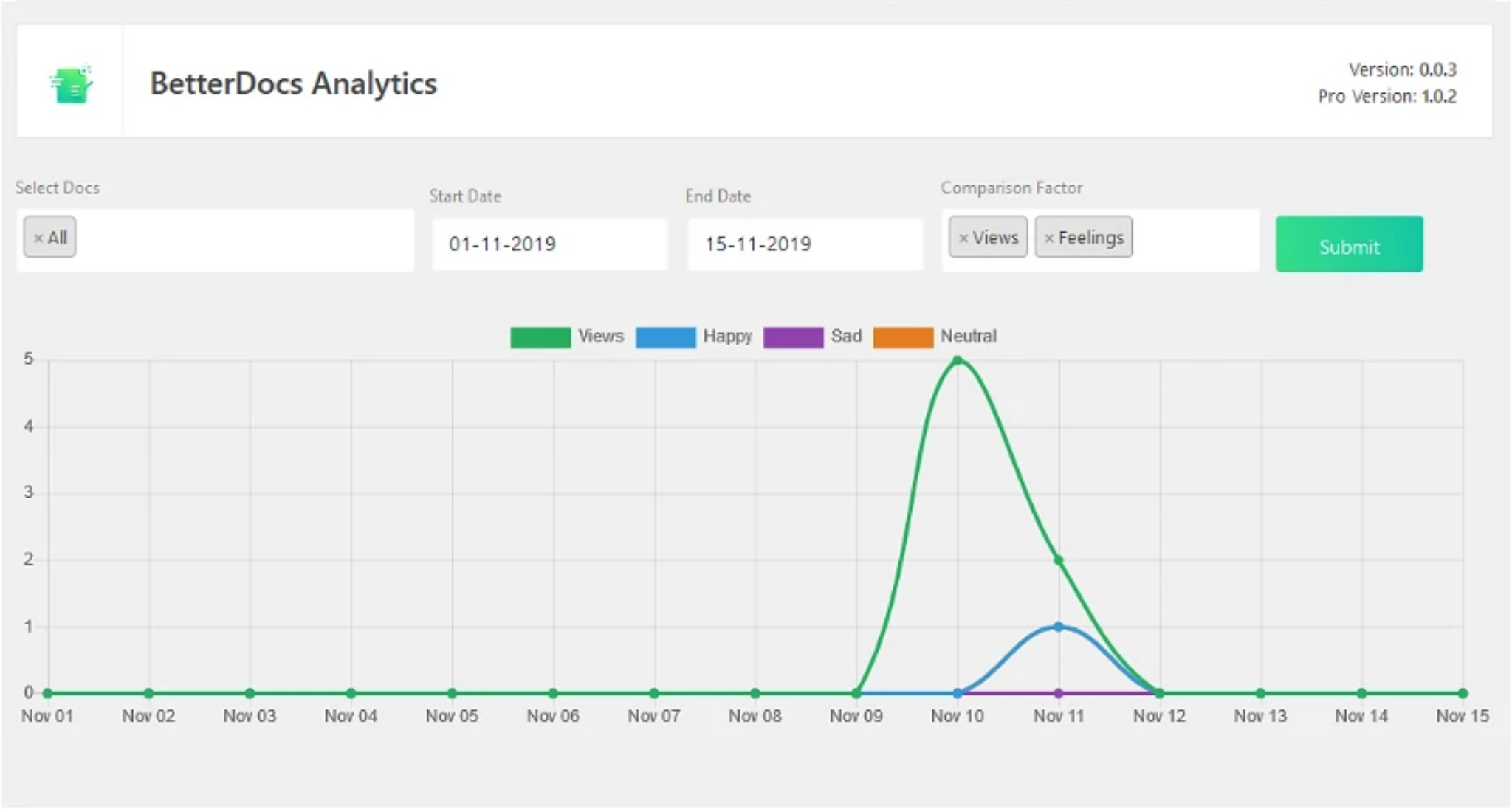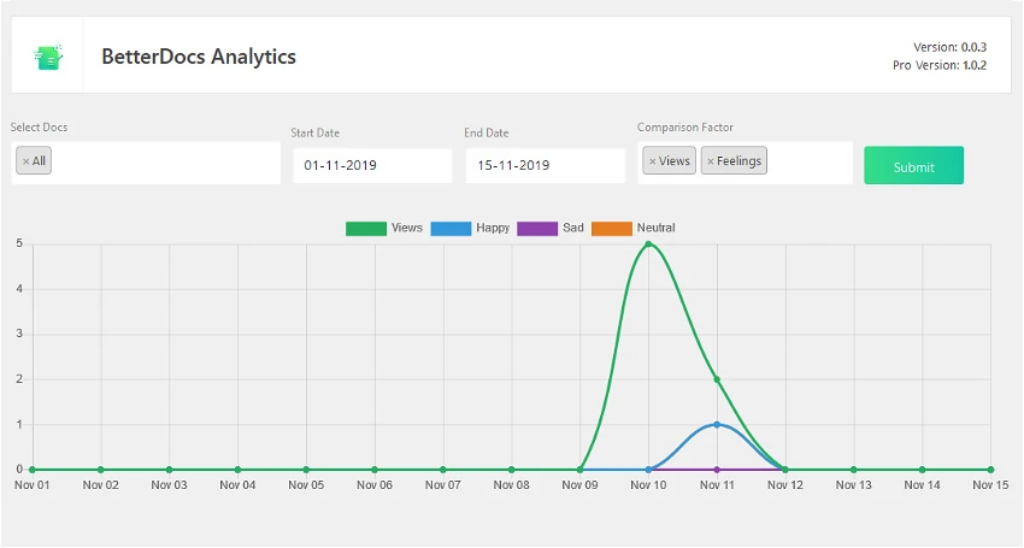 In this era of data, it's pointless to base any decisions on guesswork. This is why BetterDocs provides you with insightful data about how each of the documentation pages is doing. Once you know that, you can go ahead and make improvements to your existing Knowledge Base.
How is BetterDocs different from others?
Unique Features
100% Compatibility with Elementor Page Builder
WPML Certified Plugin
Instant FAQ creation
Fully Compatible with Guttenberg Editor
Style Your Docs Category & Archives Pages
Design Stunning Single Docs Pages
Pricing
BetterDocs Pro Pricing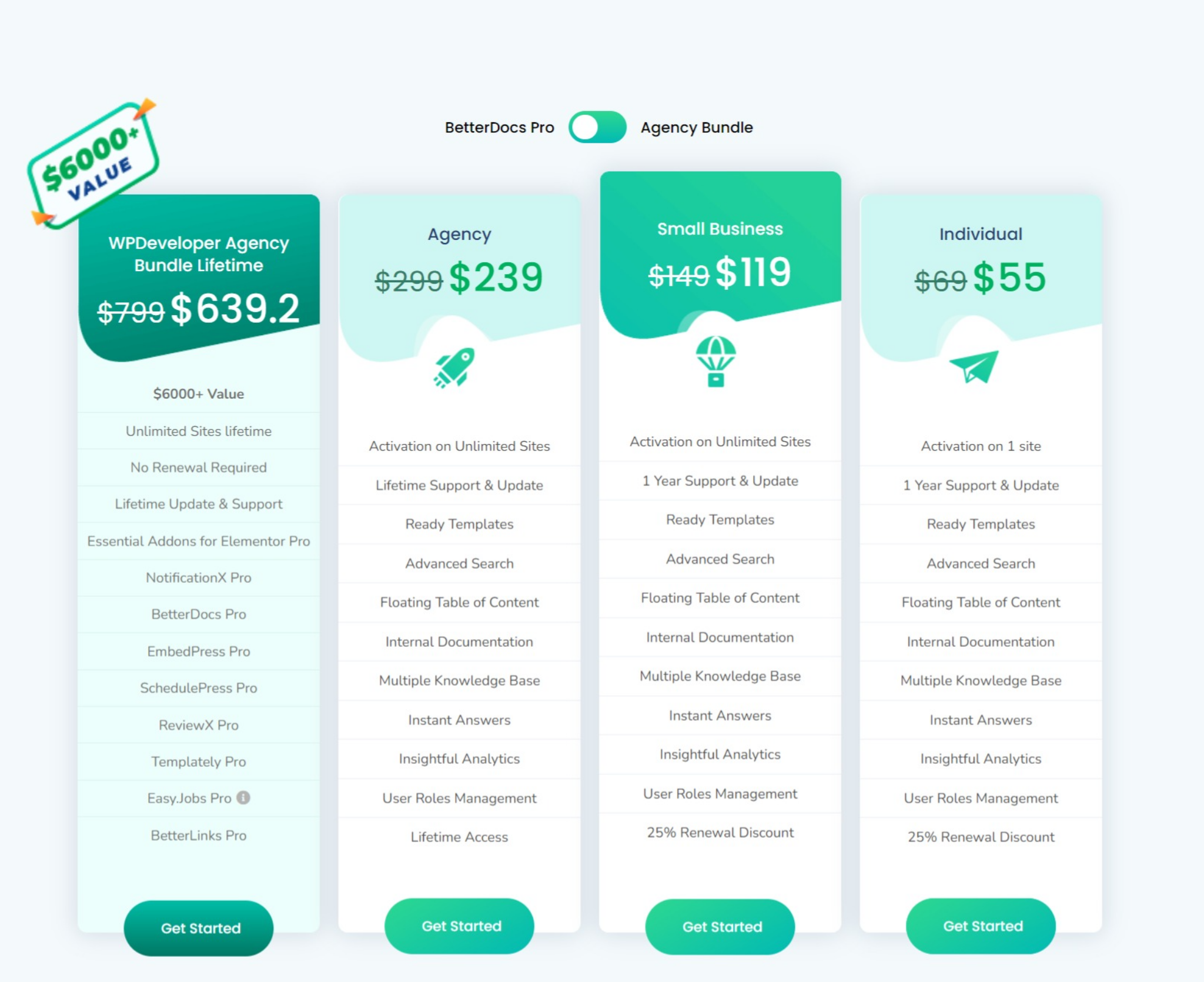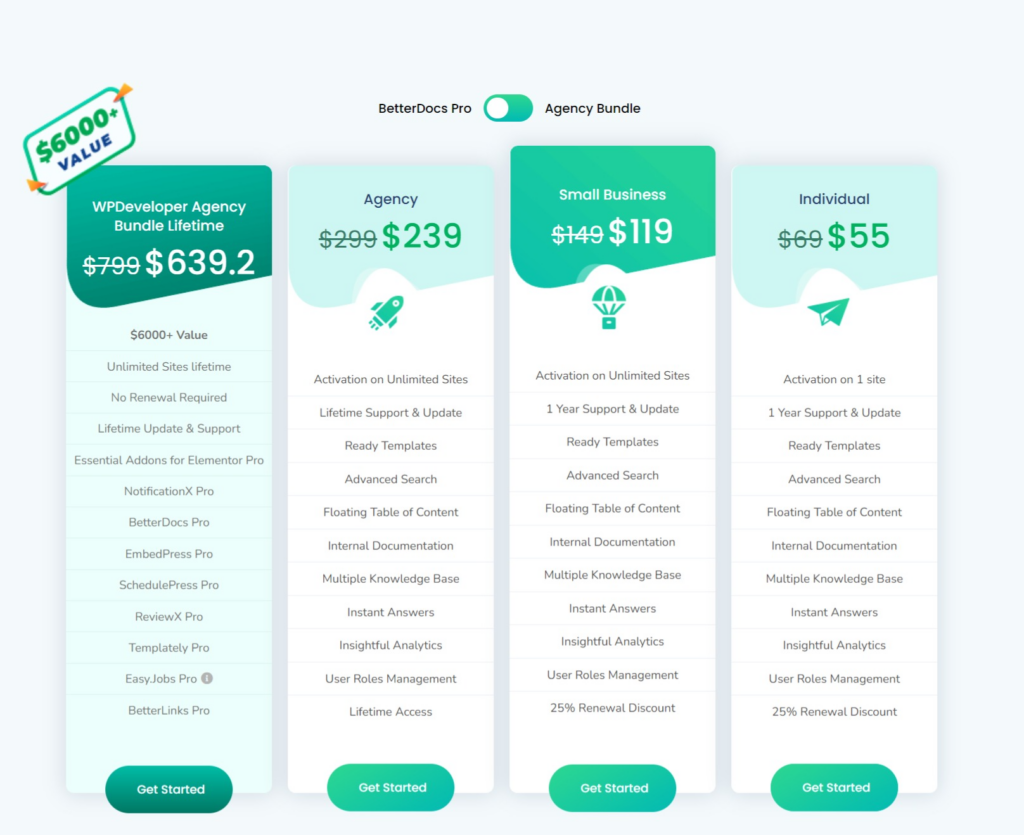 Support
Live chat, Email, roadmap, changelog
Provides good documentation support
Offers Live Chat, Email, and Support ticket
If you have any more questions, visit their support on the Plugin's Forum
For video tutorials, check out their YouTube Playlist.
Alternatives
Similar Apps
It is the modern Knowledgebase Wiki plugin for people and teams who needs to create product documentation, wiki, etc.
Reduce your support volume via a Self-Service Knowledge Base. Customers demand instant solutions to their problems. Build your Knowledgebase with the ease of Notion.
Instantly create an online Self-Service Knowledge Base for your Customer and Employees, engineered for growing companies.
Final Verdict
Is BetterDocs right for You?
BetterDocs is an innovative, dynamic knowledge base plugin for WordPress that allows businesses to create and publish documentation quickly and easily. To improve customer satisfaction and reduce support queries, switch to BetterDocs. To know how BetterDocs can transform your WordPress site into a knowledge hub, try it now.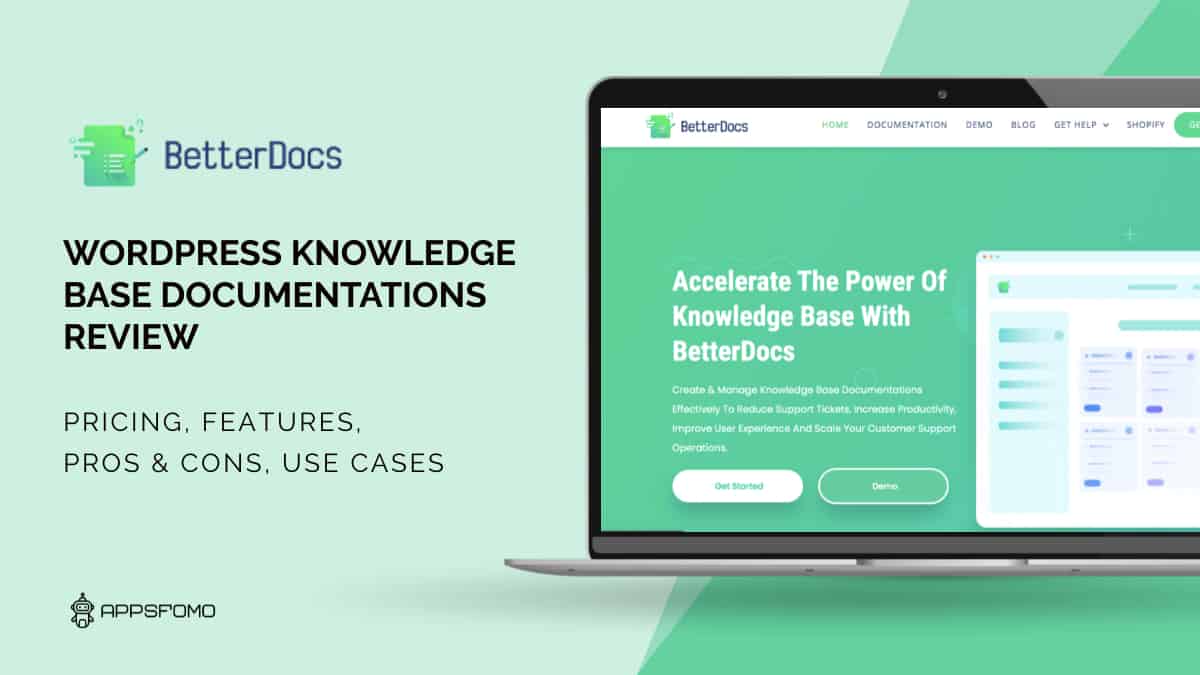 BetterDocs: Provide Faster Support with WordPress Documentation Plugin