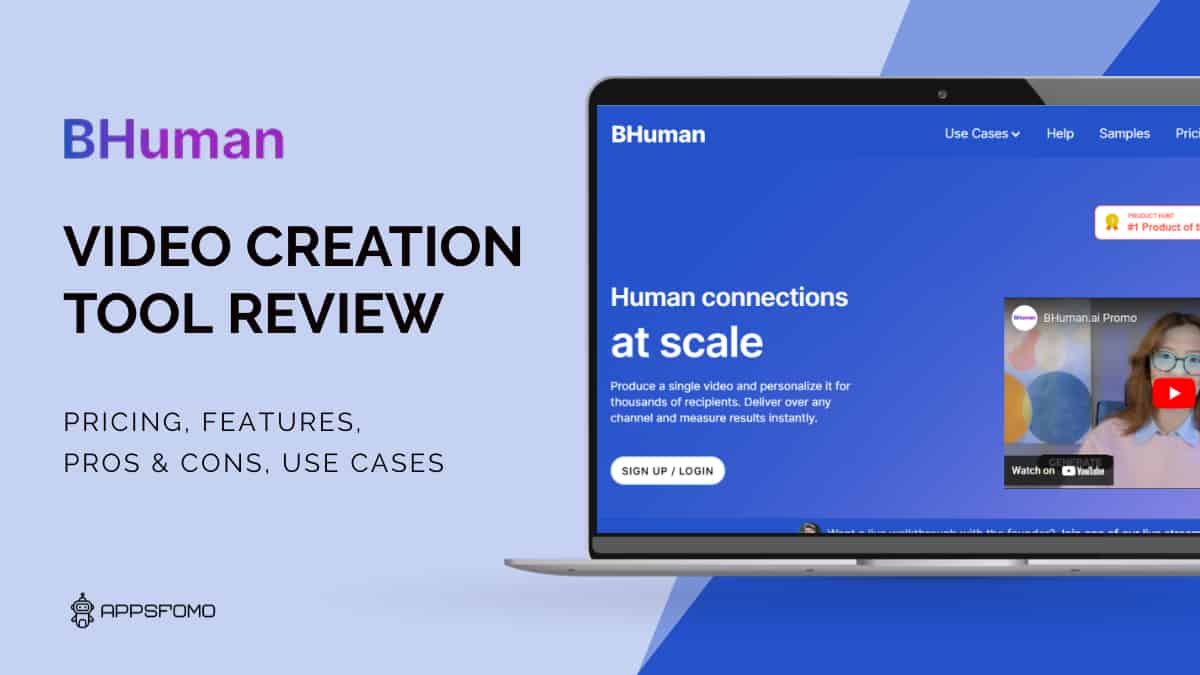 Bhuman AI: Create Personalized Videos at Scale with the help of AI
Add to wishlist
Added to wishlist
Removed from wishlist
0
Add to compare
The AI revolution is upon us and it's everywhere you look. Artificial intelligence is increasingly being used in our daily lives, from voice assistants to video games. But, the technology isn't limited to these areas – AI is also being put to use in creative industries. While it may still be a developing field, AI software has already helped artists and designers produce better work by creating content on their behalf for them.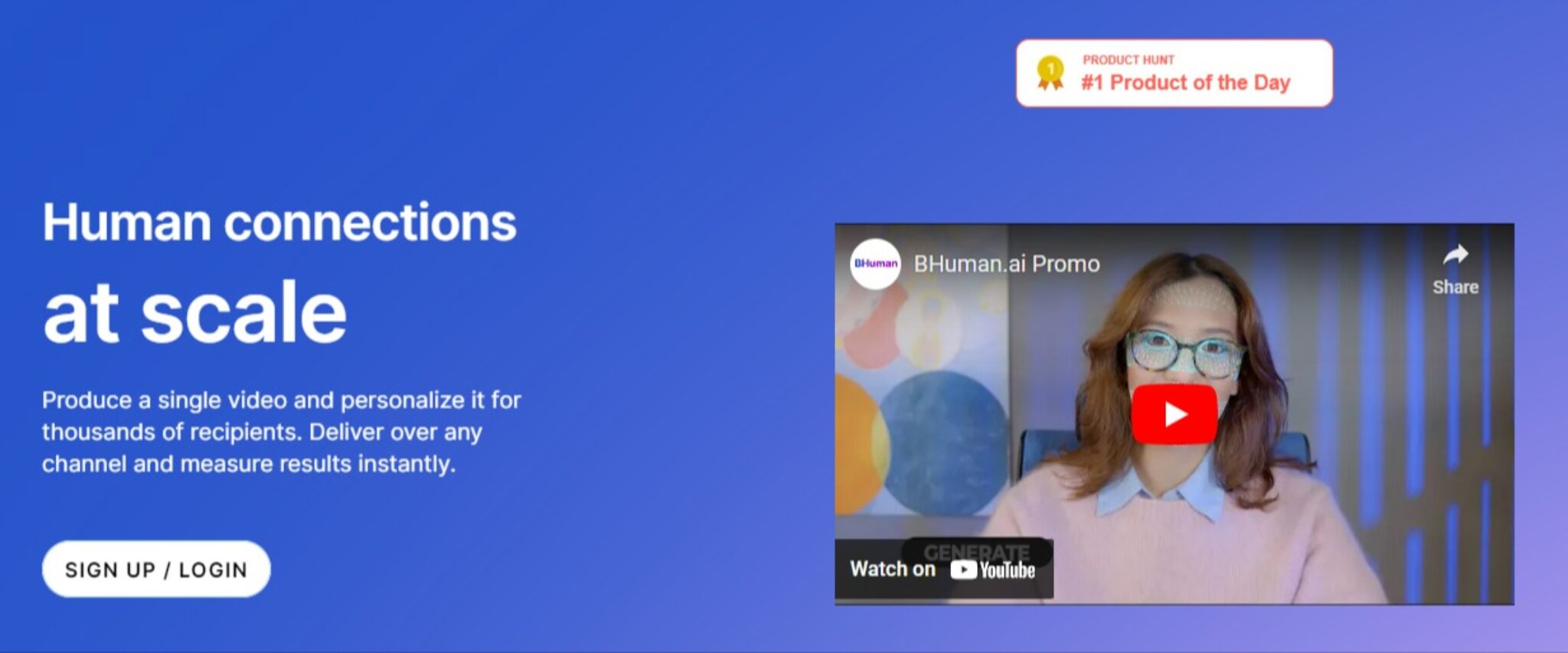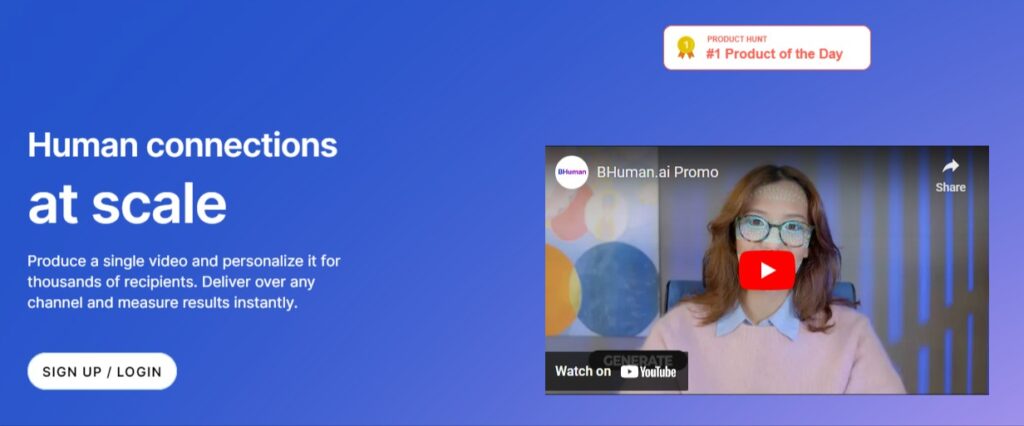 BHuman AI is an AI platform that supports human creativity and helps artists create better content for themselves. This is a great tool for any artist, whether you're starting out or have been producing work for years.
BHuman Technologies has launched AI Studio, a human-centered platform for creating personalized videos. It is a powerful tool that enables human connections at scale with accurate and engaging video content. BHuman's AI Studio has been used by organizations such as sales, politicians, and brands to create unique and engaging video assets that resonate with audiences.
With the help of AI Studio, you can clone your Face & Voice to produce amazing videos for audiences. This makes it possible to produce high-quality videos in a fraction of time compared to manual efforts. This saves both time and money while producing more efficient and effective video content.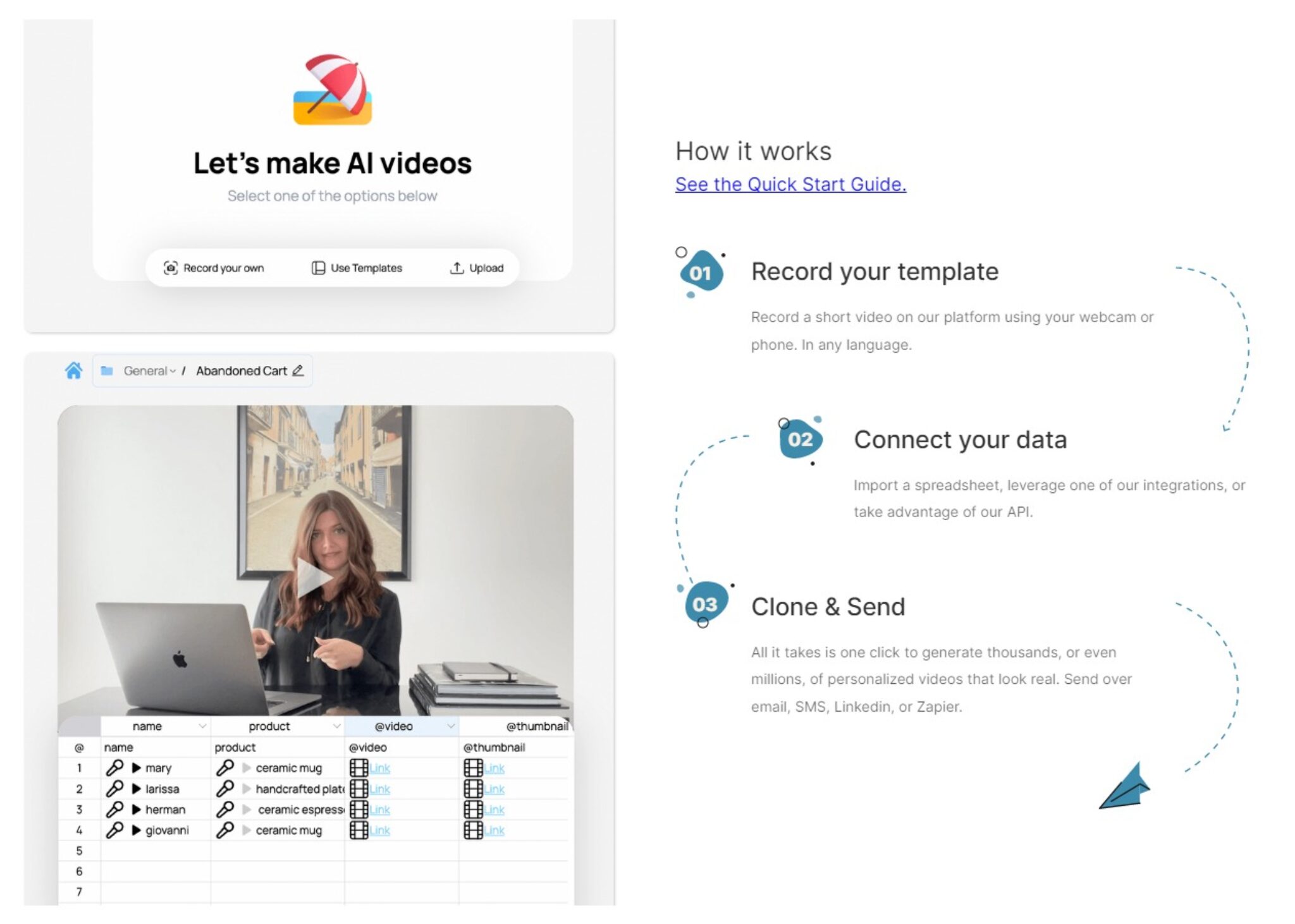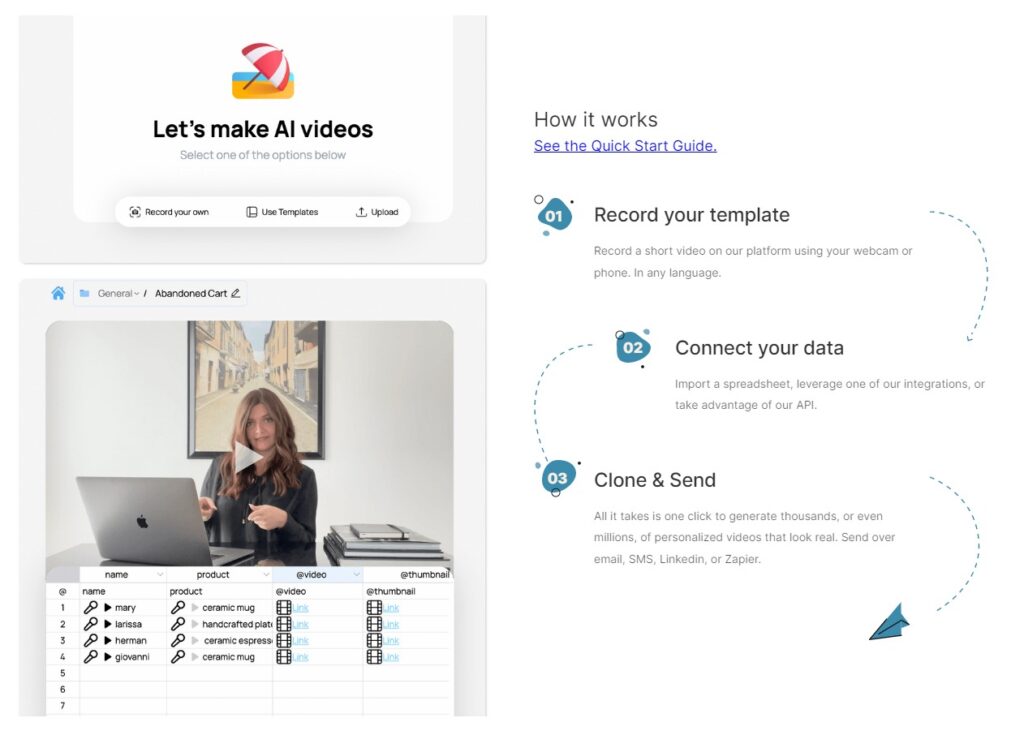 Company Details
Bhuman.ai is a technology company providing services such as valuation, funding and tracking of competitors in the AI space. BHuman raised $885,000 / Pre Seed from Mistral Venture Partners.
It was founded by Don Bosco and has experienced staff and professionals in various fields such as data science, AI and machine learning. Its flagship product, 'BHuman' is a software platform that provides an end-to-end solution for companies looking to leverage AI.
Online Presence
Features of BHuman
Basic Features
BHuman AI Studio is the world's first AI-powered video studio. It offers a range of customizable features and integrations for businesses of all sizes. The platform enables businesses to create high-quality videos on a wide range of topics, from video marketing to product demos. Its intelligent technology can quickly transform raw footage into engaging videos with automated editing features, such as cutaways, fadeouts, and titles.
A cloud-based platform
Bhuman AI Studio is a cloud-based platform for its users to produce personalized videos with its proprietary voice cloning, auto lip sync, and morphing technology. The software is used by businesses and organizations to increase their interactions with their customers, sales representatives, and colleagues.
AI-powered technology
BHuman AI Studio provides AI-powered technology to enable human connections at scale with personalized videos. The technology uses a user's facial likeness and voice to produce personalized videos in a matter of minutes. BHuman AI Studio has been used by a wide range of companies,sales teams, and politicians for marketing, sales, and political campaigns.
Customization options
BHuman AI Studio is a free video creation tool that allows users to create customized videos with their own face and voice. The software offers access to a template store with pre-made videos for users to choose from. It also offers various options for customizing the video, such as changing the background, pose, or facial expressions.
Scalability
BHuman AI Studio is a powerful solution for businesses that want to engage with their customers on a personal level. With Bhuman AI Studio, businesses can generate thousands of personalized videos that look and feel realistic. The videos can be used for a variety of purposes, including customer support, marketing, or training.
Why Choose BHuman?
Use Cases and Benefits
Lead Generation
Education and Conversion
Upsells and Cross-sells
Customer care and success
Pricing Plans
Monthly Pricing and Annual Pricing
Human AI Studio offers three pricing plans – Growth ($39.00/month), Scale ($99.00/month) and Unlimited ($150.) per month. Additionally, custom plans tailored to customer requirements are also available – starting from $49 for a 5-user plan to $299 for a 200-user plan.
Heavily discounted prices on a larger scale are a good way to incentivize usage of the platform by prospective clients.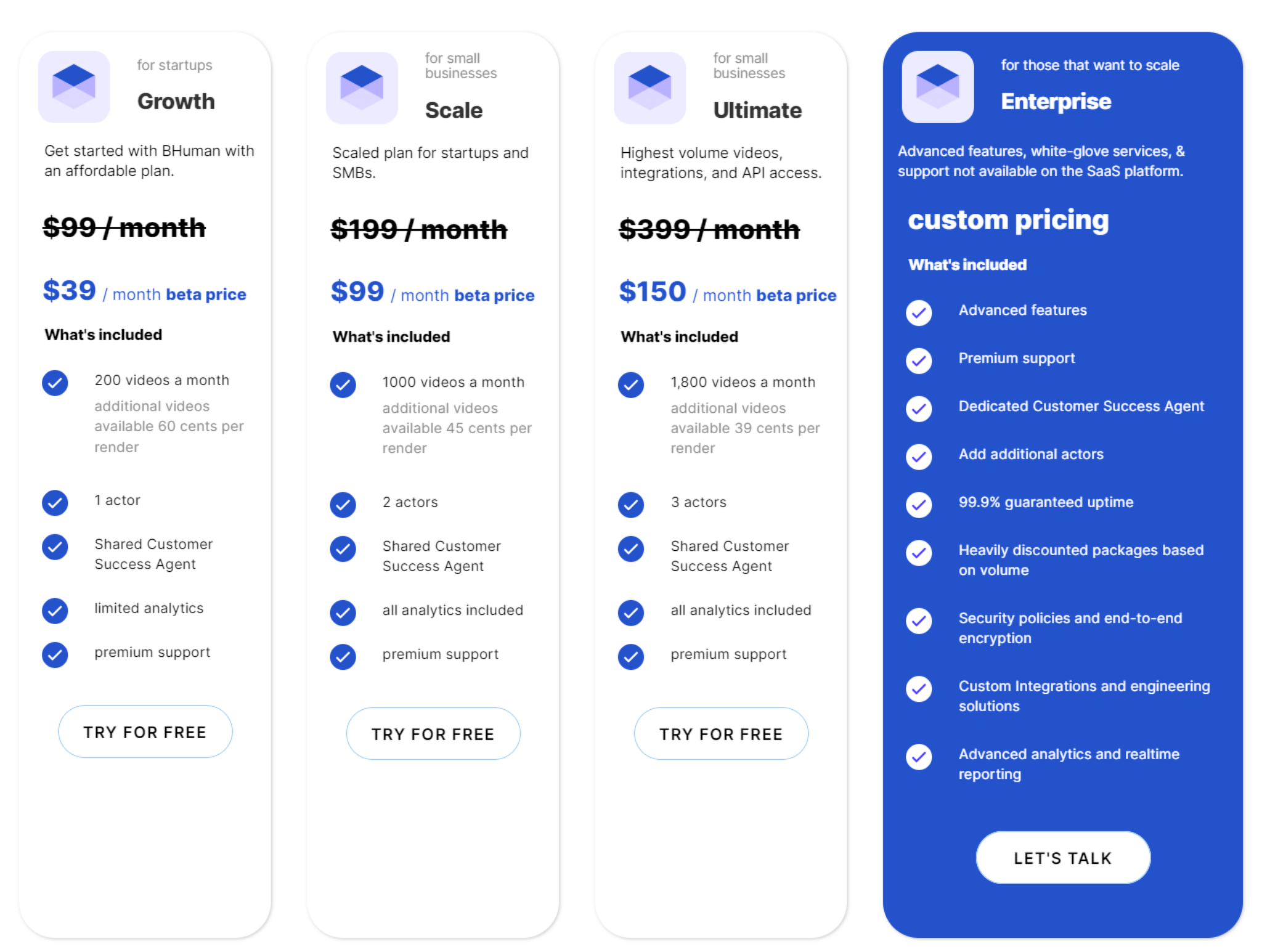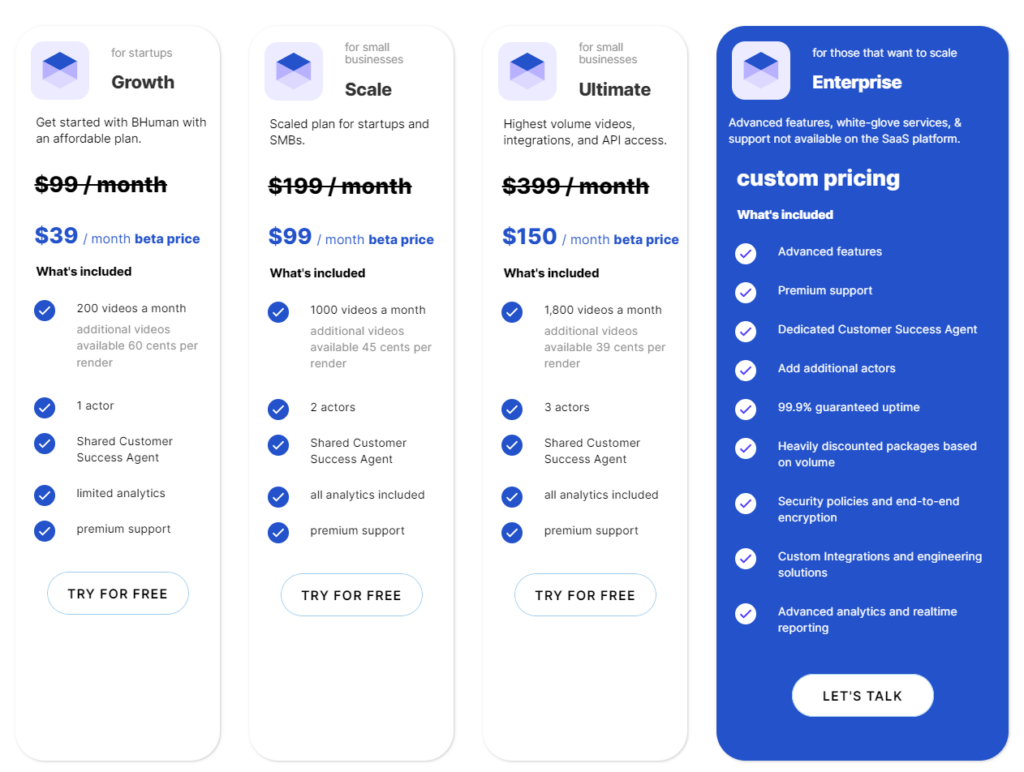 Support
Technical Support, Knowledge Base, Roadmaps, Blog
Blog
Offers Live chat, Email, and Ticketing
Alternatives
Similar Apps
BHuman offers a variety of AI Studio plugins, which can be used together to create a unique experience for your audience. Some of the popular plugins include drag-and-drop editor, photo-editing, video-editing, social media marketing, and keyword research. Each plugin is designed to help you create engaging content more easily and effectively.
These are some of the alternatives of BHuman:
Synthesia is a video platform that helps generate personalized videos at scale with the help of Artificial Intelligence (AI). It allows users to clone their face and voice to produce personalized videos.
Rephrase.ai is a video content creation platform that helps agencies, businesses and individuals to create custom videos in seconds by using AI. It uses natural language processing (NLP) to understand the user's intent and produce customized videos accordingly.
Tavus is an AI-powered creative platform that helps artists and entrepreneurs connect with their audience. It provides a suite of tools that allow users to create and share content, build a fanbase, and monetize their work.
Final Verdict
Is BHuman right for You?
To wrap up, it's evident that artificial intelligence is the next big thing in technology. AI-powered tools such as BHuman allow you to create personalized videos for thousands of recipients in three easy steps and can help companies unlock their potential by enabling better decision-making and faster problem-solving.
If you want to boost your productivity, think of AI as a way to shorten the learning curve for your team. It's no longer hype – AI is here to stay. To learn more about how AI can revolutionize your industry, Sign up today!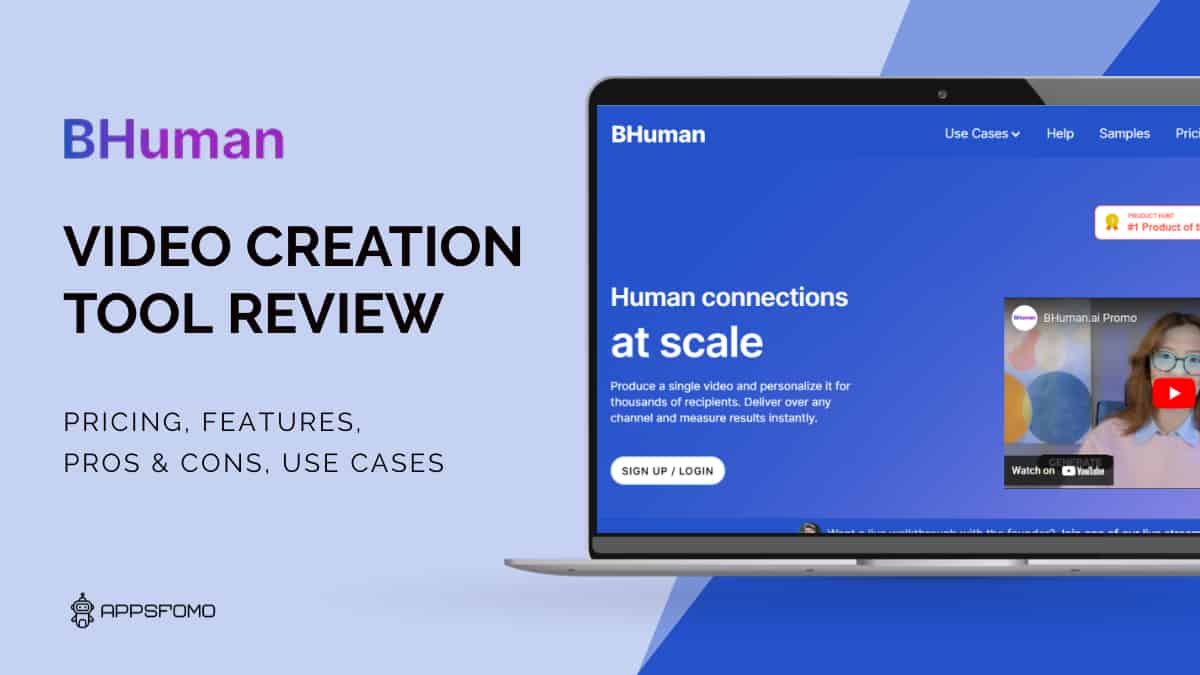 Specification:
Bhuman AI: Create Personalized Videos at Scale with the help of AI
| | |
| --- | --- |
| Review Date | February 2023 |
| Company | BHuman Technologies Inc |
| Country | USA |
| Initial Release | 2020 |
| Pricing | Monthly payment, Monthly Subscription, On Demand Pricing |
| Free Version | Free Trial |
| Lifetime Deal | Yes |
| LTD Platform | Appsumo, Lifetimo |
| Money-Back | No |
| Support type | Help center, Live Chat |
| Integrations | Yes |
| Supported Device | Browser, Web Based |
| Mobile app | Not Available |
| Affiliate Program | Yes |
PROS:
Personalized Video Content
Option to change the avatar
Ensures user privacy and cookie security
Dynamic video based on user data
CONS:
Limited Customization
User Interface are extremely difficult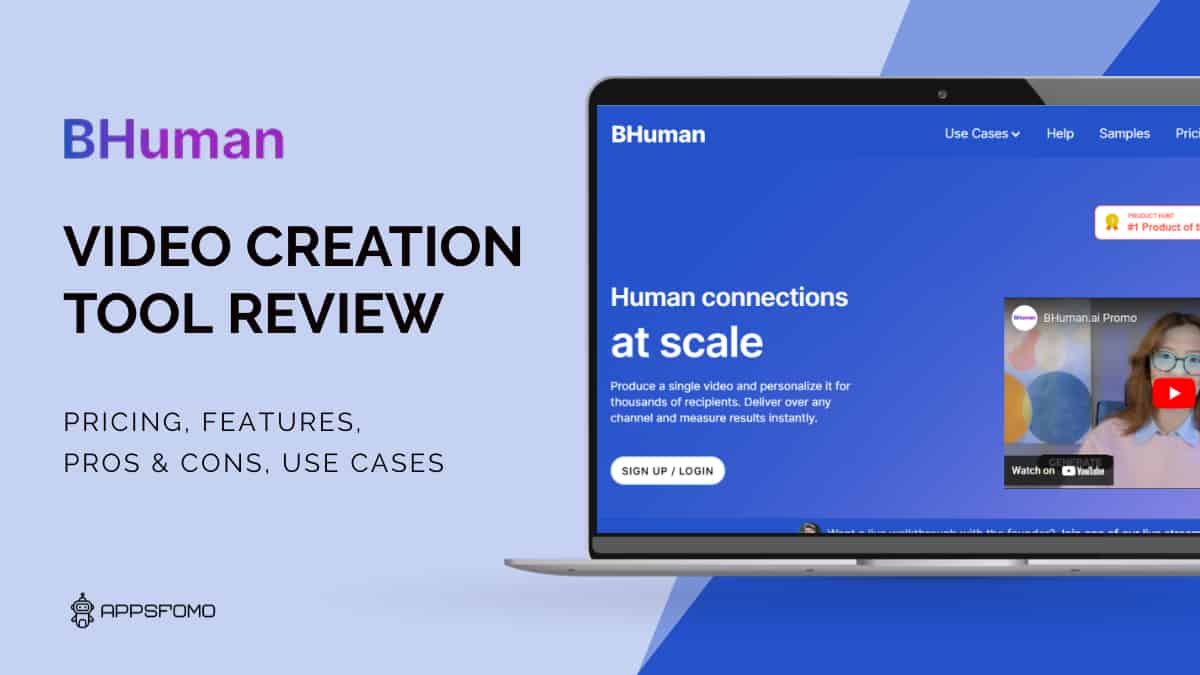 Bhuman AI: Create Personalized Videos at Scale with the help of AI