Brizy: Build Fast and Responsive Landing Pages in WordPress
Add to wishlist
Added to wishlist
Removed from wishlist
2
Add to compare
| | |
| --- | --- |
| Review Date | 15-01-2021 |
| Author | Dimi |
| Company Name | Brizy |
| Marketplace | Own Site |
| Free Verison | Available on Own Site |
| Initial Release | 2009 |
| Active Installations | 2M + |
| Niche | Design, Modern, Page Builder |
| Free Templates | 50+ |
| Premuim Templates | |
| Unique Theme Features | Powerful page builder |
| eCommerce Support | |
| Supported Page Builders | |
| One Click Demo | Yes |
| Multilang Support | |
| Pricing Options | |
| Money Back Guarantee | |
| Site Usage | 1 Site,100+ Sites |
| Support System | Email,Support Ticket |
| Competitor | Astra,Generatepress,OceanWP |
| Affiliate Program | Yes |
Brizy is a website and landing page builder that helps you create fast, high-quality websites to collect leads and convert more clients.
You will get:
Large Selection of ready Templates
Brizy Builder is very affordable.
Offers an all-in-one cloud builder
Easy To Use Interface
Global Linked Colors & Fonts
Inline Editor
WooCommerce Integration
250 Premium Designs
4k Useful Icons
Brizy : Next-gen website builder
Brizy is a website and landing page builder that helps you create fast, high-quality websites to collect leads and convert more clients.
PROS
Large Selection of ready Templates
Brizy Builder is very affordable.
Offers an all-in-one cloud builder
Easy To Use Interface
Global Linked Colors & Fonts
Inline Editor
WooCommerce Integration
250 Premium Designs
4k Useful Icons
CONS
The free version is very limited
After Uninstall you need to clean the code in the back end
Limited Popup Features
In today's fast-paced world, building websites from scratch can be expensive and time-consuming. But don't worry, we have the perfect solution for you! Say hello to Brizy Pro, the perfect tool to build your website fast and easily.
Brizy Pro is a website builder that allows even novice website owners to create beautiful, professional-looking websites with ease. In this blog post, we will take a closer look at what Brizy is, some of its key features, company details, and why it is the best choice for you. We'll also take a brief look at some Brizy alternatives that you can consider. Read on to discover how Brizy can help you build a website in no time!
Brizy Page Builder Overview
What Is Brizy Page builder?
Brizy is a top-tier website builder designed for anyone and everyone – regardless of their technical knowledge or background. Brizy enables the creation of beautiful websites and landing pages in mere minutes thanks to its no-code functionalities. The ease of use is second to none, making it ideal for non-tech-savvy individuals.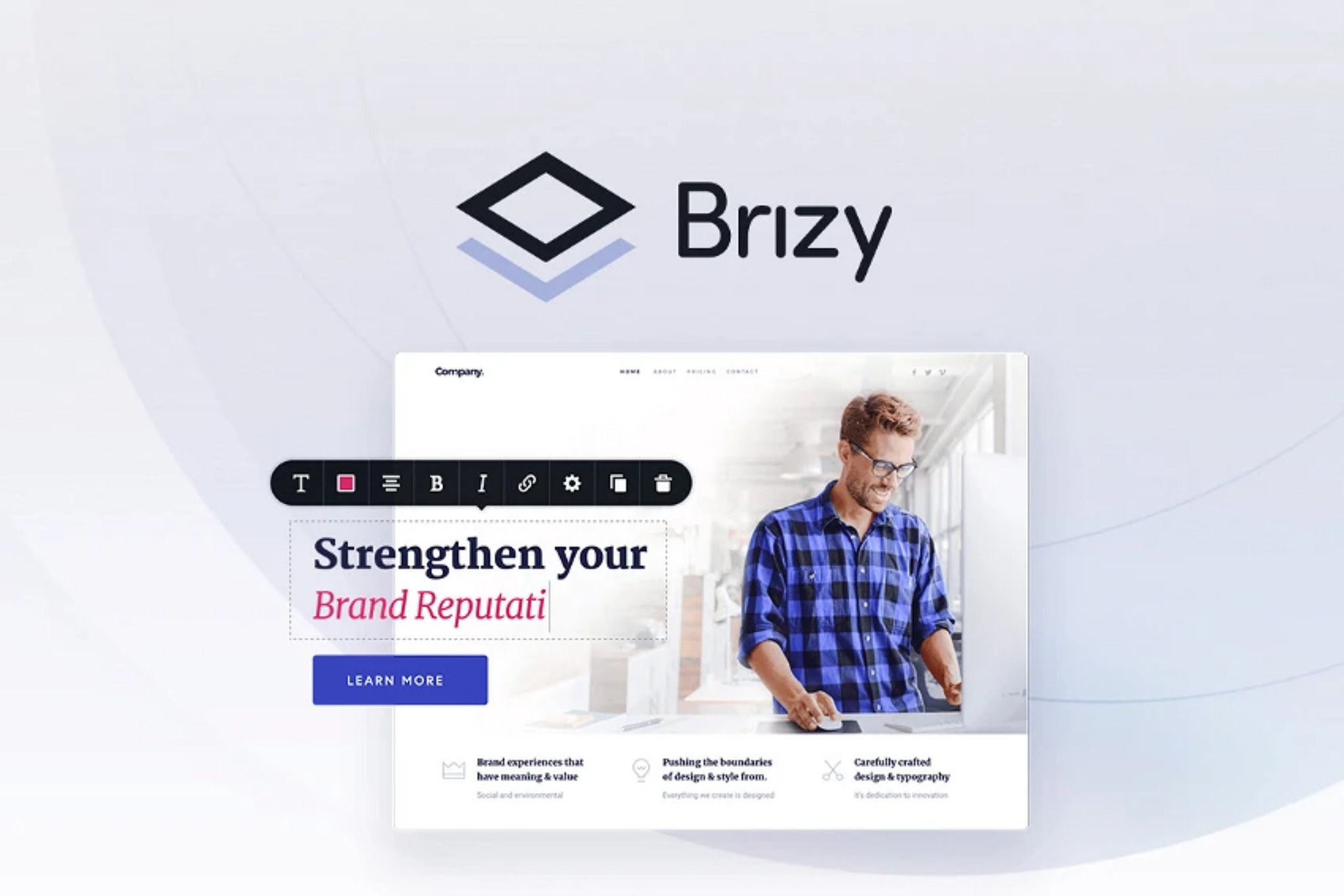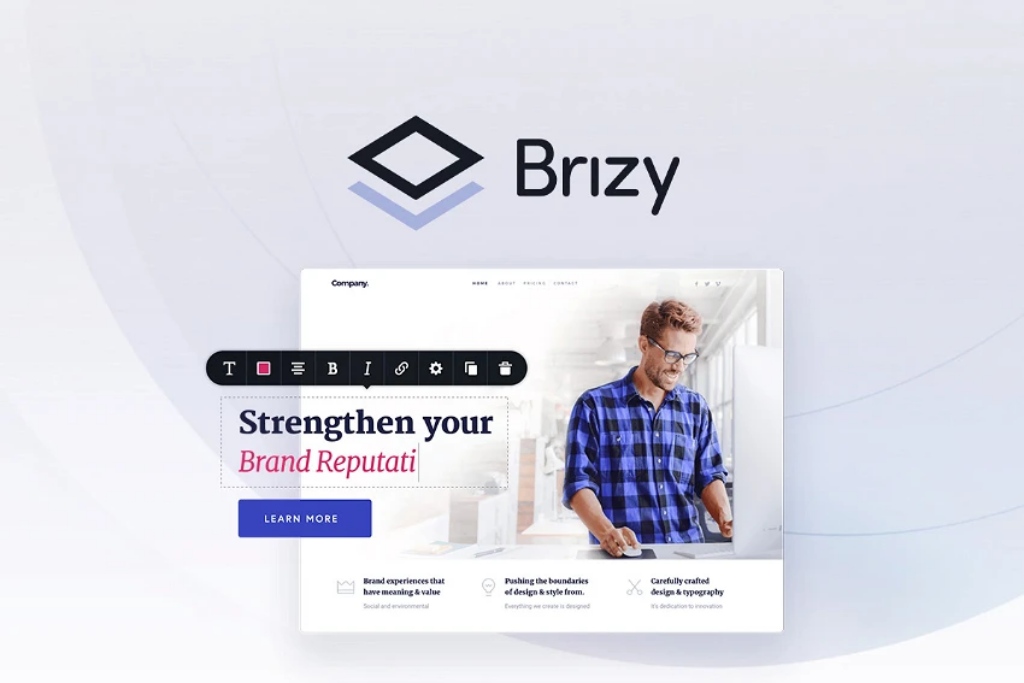 The vast library of templates, blocks, and designs also helps to build beautiful and engaging websites quickly. Brizy is the best option for creating fast and high-quality websites and landing pages that effectively collect leads and convert clients. Once you try Brizy, everything else will pale in comparison.
Brizy Company Details
The same team that built ThemeFuse also created Brizy Builder. They've been developing themes and plugins for a long time, so you may have heard about them in relation to WordPress. With fantastic outcomes and delighted consumers all over the globe, their experience in the sector stretches back more than a decade.
Since 2009, they've been developing website construction tools. They've been building web applications for the last 12 years.
Brizy's CEO and Co-Founder is Dimi. The company is headquartered in London, England, United Kingdom.
Online Presence
Brizy Builder Key features
Why Choose Brizy?
Brizy Pro is one of the most popular WordPress page builders available today, with over 3.9 M themes and plugin downloads and an intuitive interface. It comes with 250+ premium designs and a pre-installed version of Brizy Pro, which makes website building fast and easy. Brizy allows users to create web pages using drag and drop and menu functionality, and each page element has its own menu. It comes with 26 free builder elements that offer a variety of choices to customize pages to one's liking. The best part is that users do not require any coding expertise to use it; Brizy makes building your website easy and effortless.
Clutter-free
Brizy Pro provides a clutter-free approach to website building with its innovative features. Unlike traditional page builders that crowd all the options for a specific element in remote sidebars, the Brizy builder shows only what's needed front and center close to the element being edited.
This makes it easy to focus on the task at hand and prevents users from stumbling upon unneeded elements of any kind. With Brizy Pro, you can build your website fast and easily without any distractions, as the plugin just works and provides what it claims to provide.
Pre-made templates
Brizy Pro is a website builder that offers a range of features to help you create a website quickly and easily. One of the standout features is the 100+ high-converting pre-made templates, which include multipurpose templates and layouts that you can customize. If that sounds too frightening, simply import one of the available Pages, Blocks, or Pop-up designs to get started with a blank page and let your creativity take you there. This is an excellent option if you're looking to build your website fast and don't want to start from scratch.
Additionally, if you can't find a template that perfectly matches your needs, you can choose one that's close to your expectations and rearrange it to suit your requirements. For instance, you can use this feature to create a blog page by adding different sections of posts. Overall, Brizy Pro offers a wide range of templates and layouts to help you build a professional-looking website with ease.
Intuitive drag-and-drop tools
With Brizy Pro's intuitive drag-and-drop tools, building professional landing pages has never been easier. These tools allow you to effortlessly move content elements, columns, or rows to your desired position, making the creation process a breeze. With unlimited design possibilities, you can create landing pages that effectively connect with your audience, collect leads, and convert clients. Whether you're a beginner or an experienced website builder, Brizy Pro's drag-and-drop feature will make the website-building process fast and easy.
Design Elements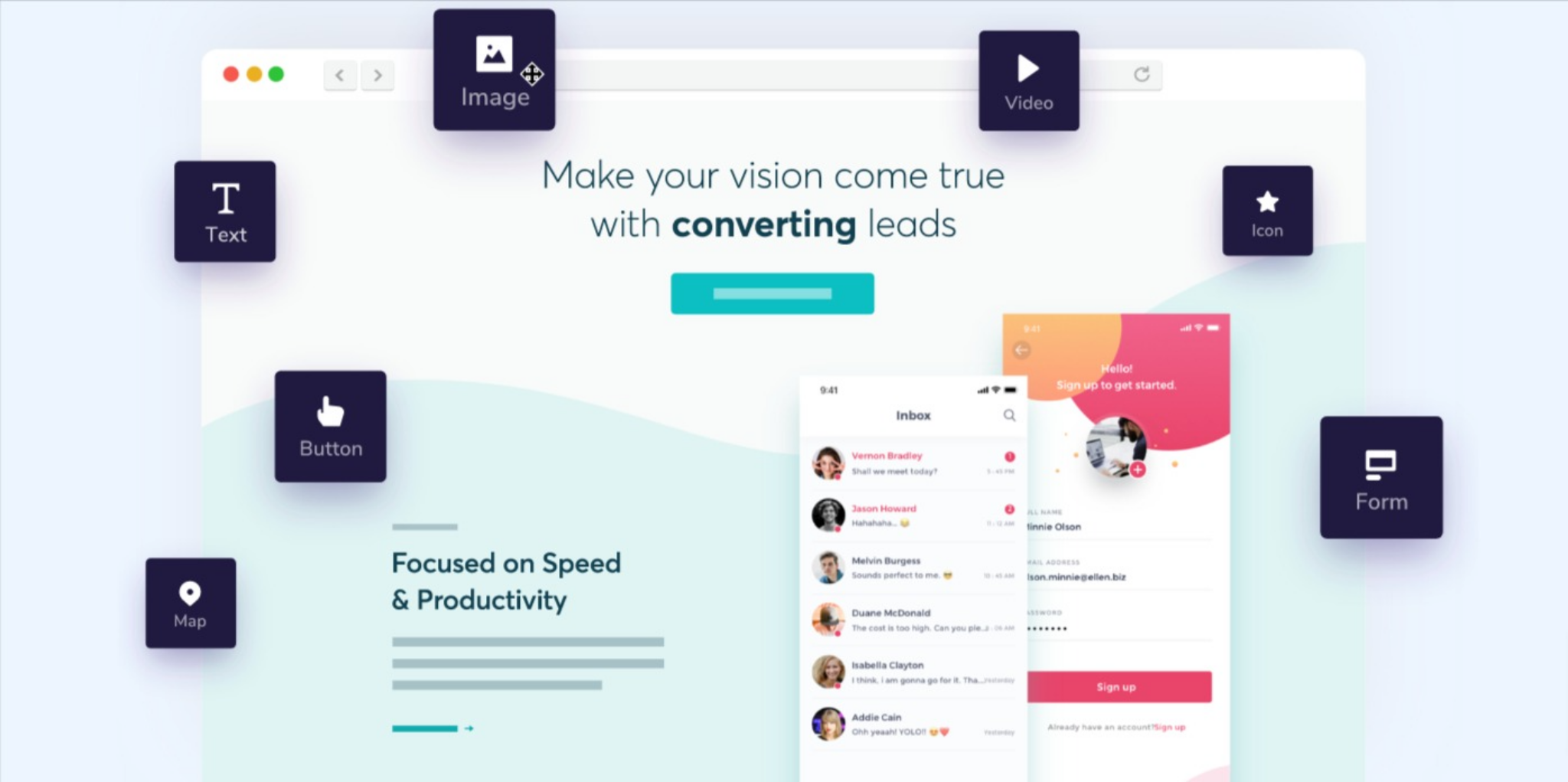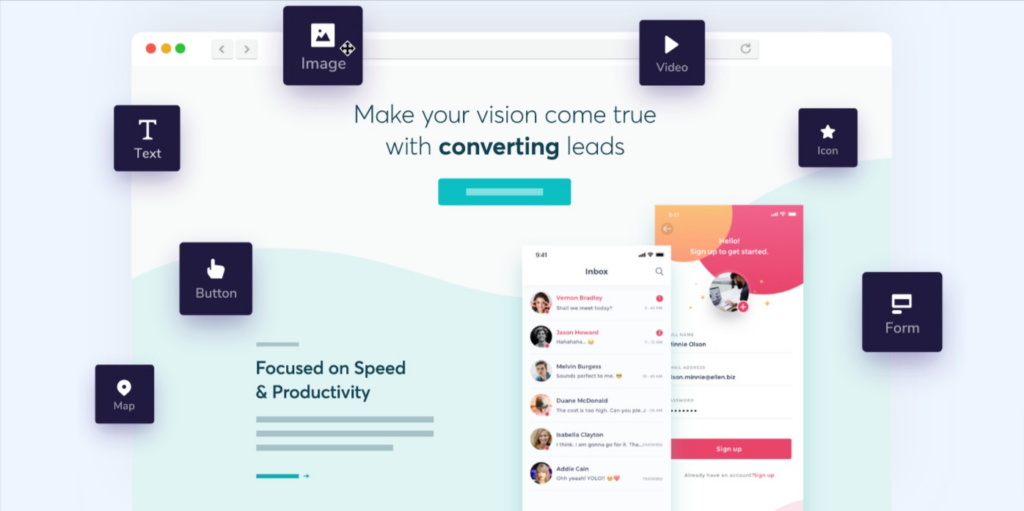 Brizy Pro offers a range of design elements that make it easy to create a professional-looking website quickly. The platform offers 26 free builder elements, including text, buttons, images, icons, video, maps, and more, that can be easily dragged and dropped onto your page.
Dynamic elements are also available to help you build WP templates. Additionally, Brizy Theme Builder functionality lets you edit and customize all areas of your WordPress site, allowing you to create a seamless design across your entire website.
Pre Made Blocks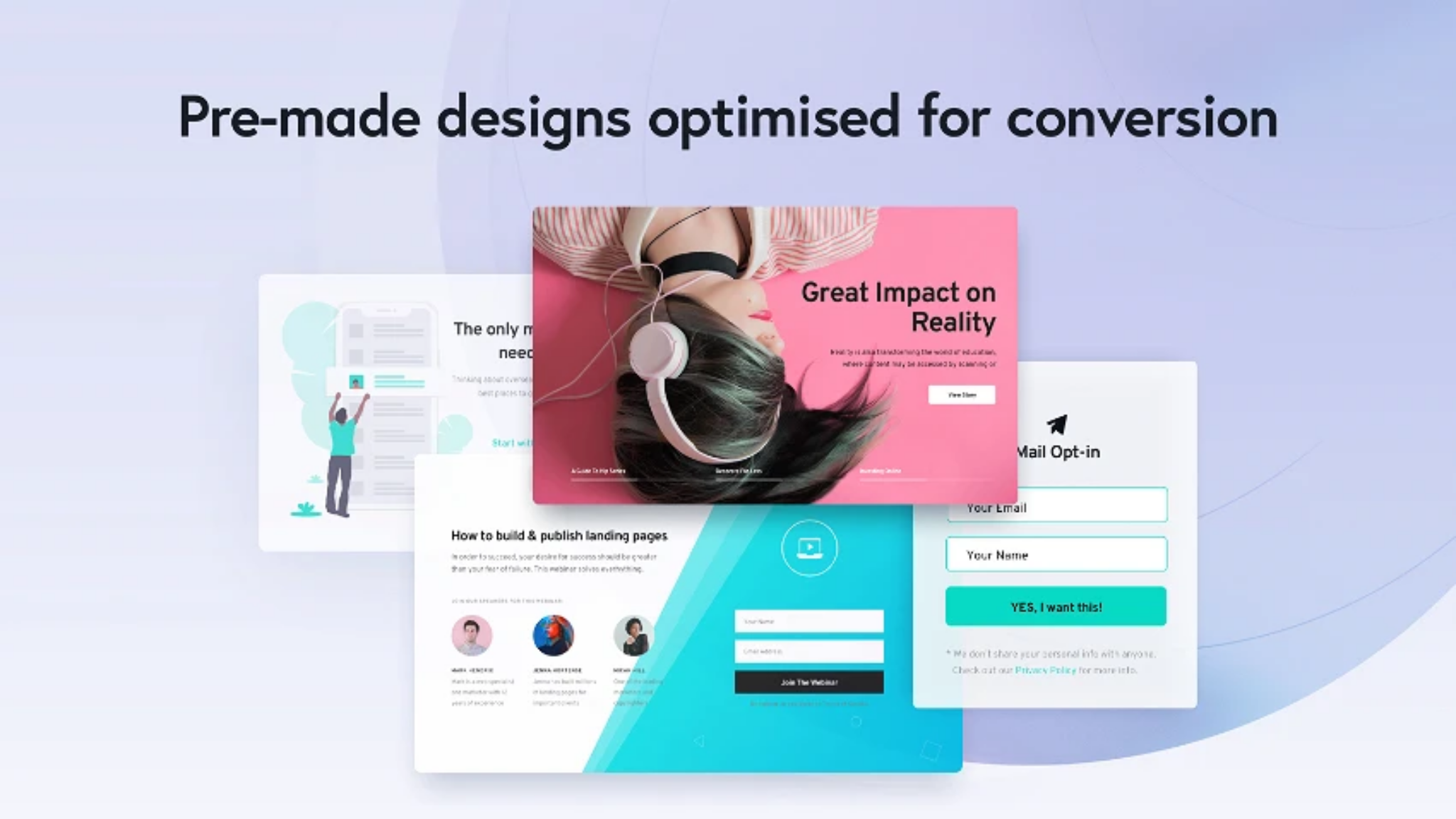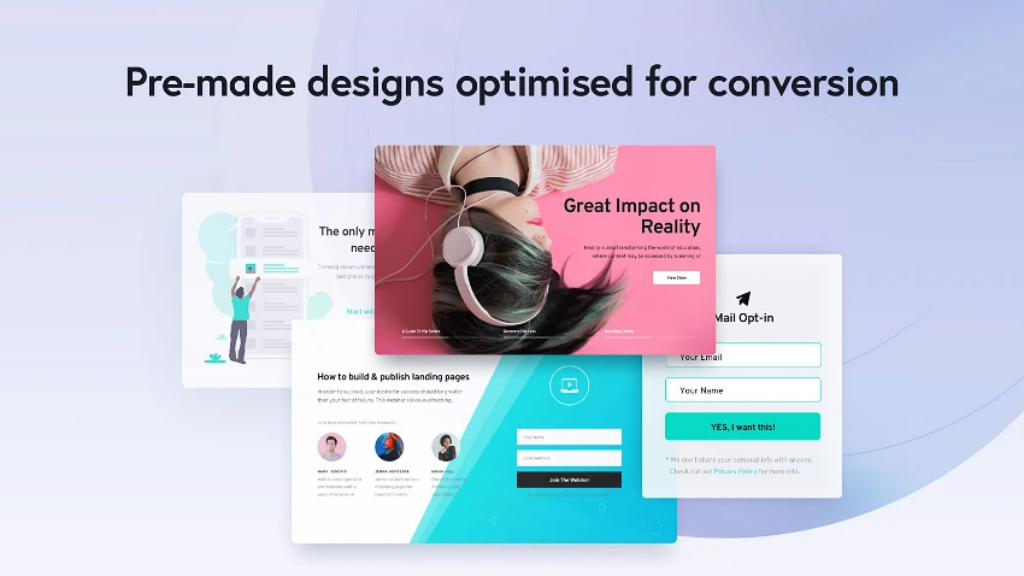 One of the notable features is the 500+ pre-made blocks that allow users to create websites quickly. Brizy PRO, the paid version of the builder, comes with 250+ premium designs pre-installed.
The pre-made blocks in Brizy Builder cover a wide range of website elements, such as Hero Section Blocks, Features Blocks, Gallery Blocks, and Team Showcase Blocks, among others. These expertly crafted blocks are designed with conversions in mind, enabling users to create websites in just a few minutes.
Overall, Brizy Builder's pre-made blocks are a great asset for those who want to build their websites quickly and easily. The variety of blocks available allows users to customize their website and create a unique, professionally-designed webpage without needing extensive web development experience.
Over 4000 Icons included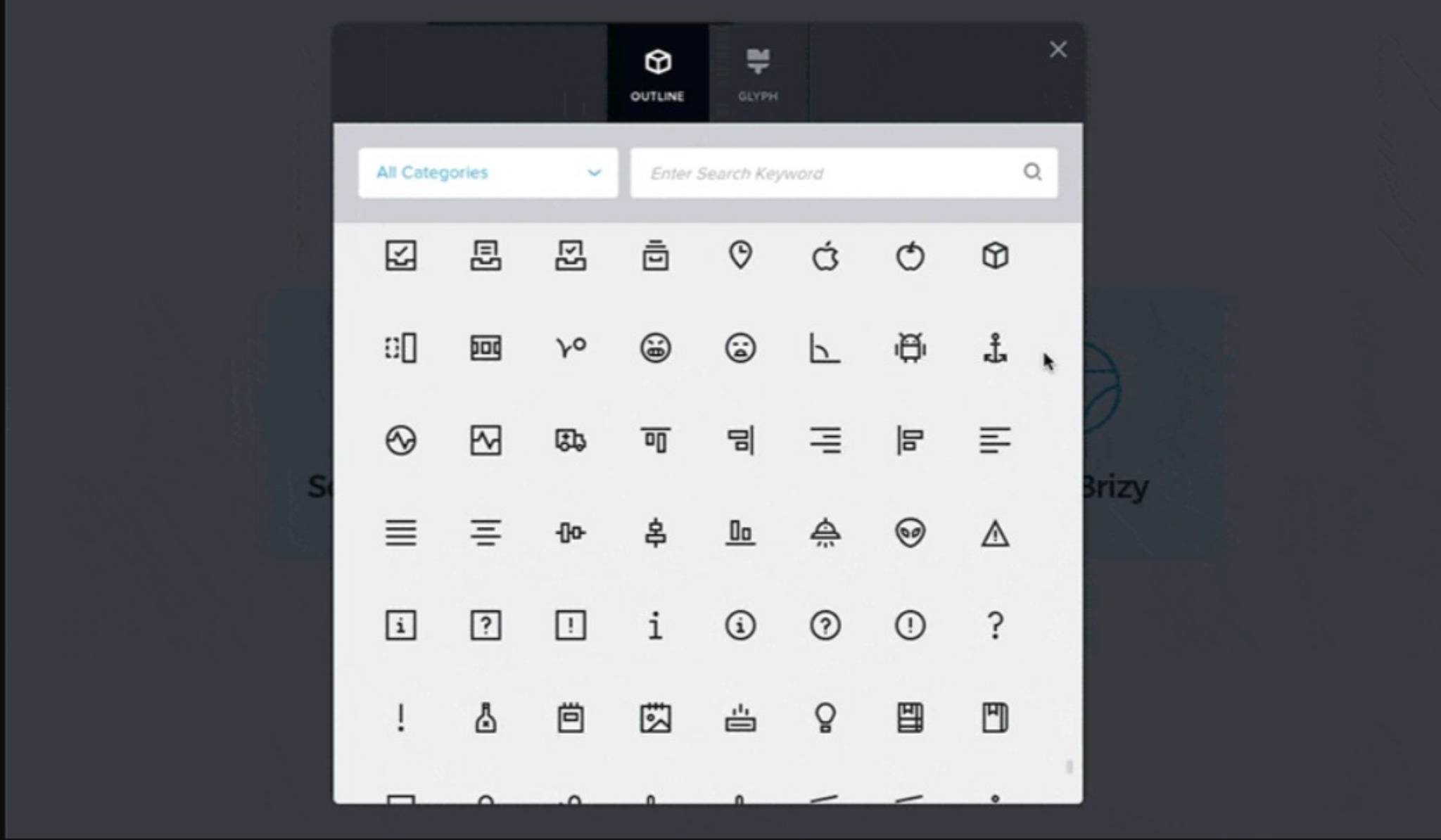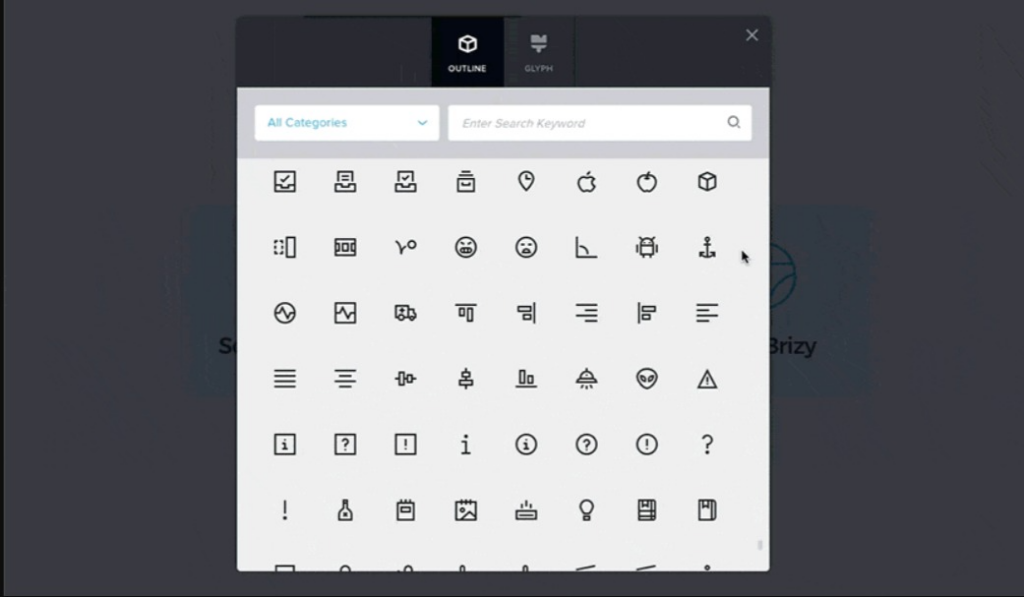 One of the standout features of the Brizy website builder is its extensive library of over 4000 icons. These icons are globally linked in colors and fonts, making it easy to create a cohesive and professional-looking website. Available in both Outline and Glyph versions, even the most demanding icon needs are covered.
The Brizy builder makes it easy to find the icons you're after, by filtering through categories or searching by keywords. Whether you're looking for simple shapes or more intricate designs, the Brizy icon library has everything you need to create a stunning website. Plus, with the ability to customize the size and color of each icon, you can truly make your website your own.
Global Styling
One of the standout features of the Brizy page builder is its Global Linked Colors & Fonts feature. This feature allows users to easily update styling across multiple pages by setting up global styles for things like colors and typography to apply by default and then editing individual blocks as needed. With this feature, you can centralize and manage all of the design elements so that they are consistent with one another.
The Global Styling option is one of the unique features offered by Brizy, allowing you to change the color, fonts, typography, and design of the whole site with just a click. This feature makes it easy to create a cohesive design across all pages of your website, saving you time and effort in the long run.
Smart Text editor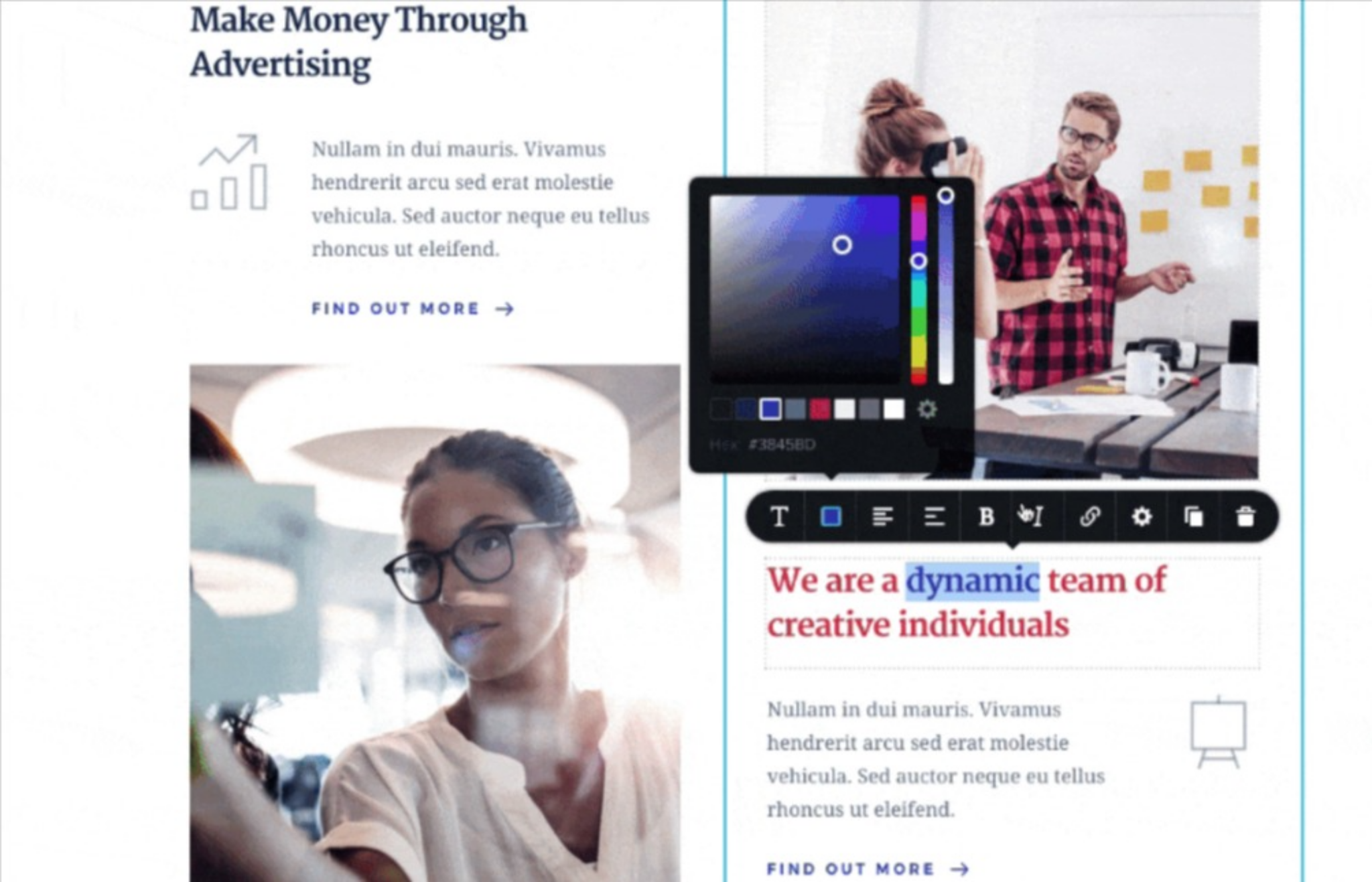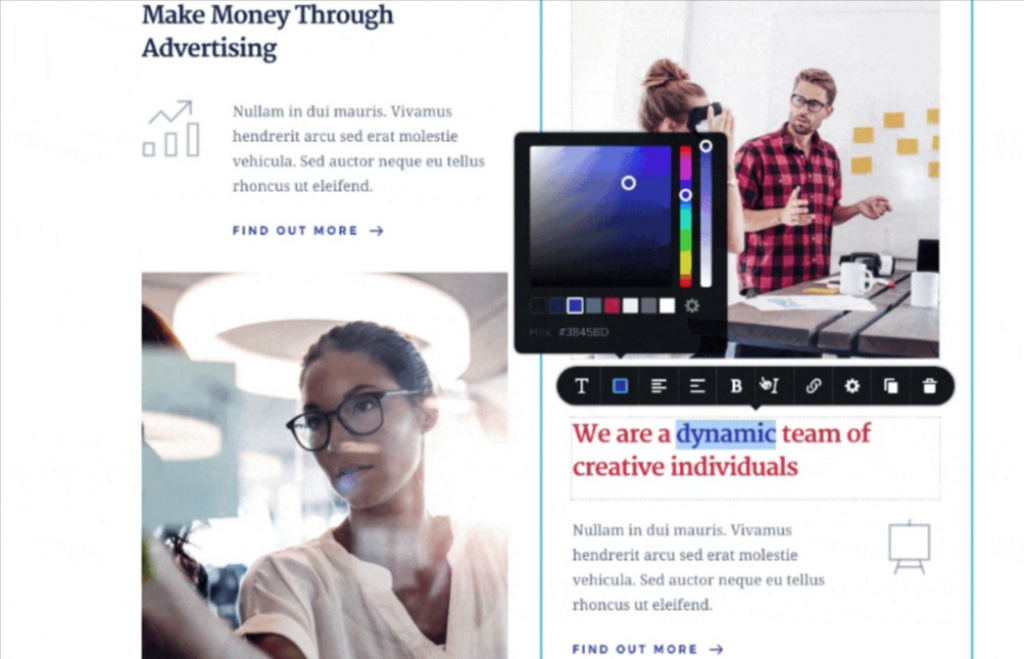 Here comes, one more amazing feature of Brizy Pro, a website builder tool, which is its smart text editor. This editor not only allows users to easily edit content and design elements but also supports form integrations and dynamic content control.
Users can simply click and type to edit all the texts in place, changing colors, fonts, and alignments right then and there. This allows for a perfect representation of how the design will look in the end, making the editing process quick and simple. With Brizy Pro's smart text editor, building a website has never been easier.
WordPress Theme Builder
Brizy Pro is a powerful website builder that offers a range of features for creating custom WordPress sites. One of its best features is the WordPress Theme Builder, which allows users to customize every aspect of their website.
With Brizy Pro, users can create dynamic templates for blog and archive pages, as well as headers, footers, custom 404, maintenance, login pages, and stylize the search results page. This means that every area of a WordPress site can be built and customized using Brizy Pro, making it a fast and easy way to create a professional-looking website.
Flexible Customization
Brizy Pro offers a wide range of customizable features to help users build their websites easily and efficiently. One of its key features is its flexible customization options, which include globally linked colors and fonts, an inline editor, and professionally designed blocks. Users can also customize headers and footers, manage roles, integrate forms, and design premium pages.
In addition, Brizy Pro offers extended design elements, dynamic content control, a pop-up builder, and an A/B testing feature. The platform also provides access to over 4,000 useful icons to aid in customization. Brizy Pro also offers WooCommerce integration and a notification sticky bar feature to enhance user experience.
With these powerful tools at their disposal, users can quickly and effectively build a professional-looking website that meets their needs without needing to have a lot of technical knowledge, helping to save time and resources in the process.
Cloud Autosave
Brizy website builder has Cloud Autosave functionality. With this feature, users can work on their website with peace of mind knowing that all their adjustments and changes are automatically stored in the cloud. This means that even if your computer crashes or you accidentally close your browser, your work will be safe and easily retrievable.
Images done right
One of the many features of the Brizy website builder is its ability to streamline image management. With its powerful yet user-friendly tools, website owners have complete control over their website's images. The builder enables users to easily upload, focus, zoom, and resize images. With just a few clicks, images can be optimized for better visual impact and faster loading times. By providing an efficient and intuitive image management system, Brizy Pro allows you to focus on creating great content while it takes care of the technical details.
Content Adjustments
Brizy Pro website builder has easy-to-use content adjustment options. With just a couple of clicks, users can adjust their content's width, height, and alignment to create a custom look that perfectly fits their needs. These intuitive options are placed where they should be, making the process of building a website fast and easy. Whether you're creating a portfolio, business website, or personal blog, Brizy Pro's content adjustment features make it simple to create a professional-looking site in no time.
Agency ready
One of the standout features of Brizy Pro is its Agency Ready functionality. This feature includes white-labeling options, allowing agencies to rebrand the builder as their own. Additionally, teams or clients can collaborate on website building by inviting unlimited team members and assigning roles for easy collaboration.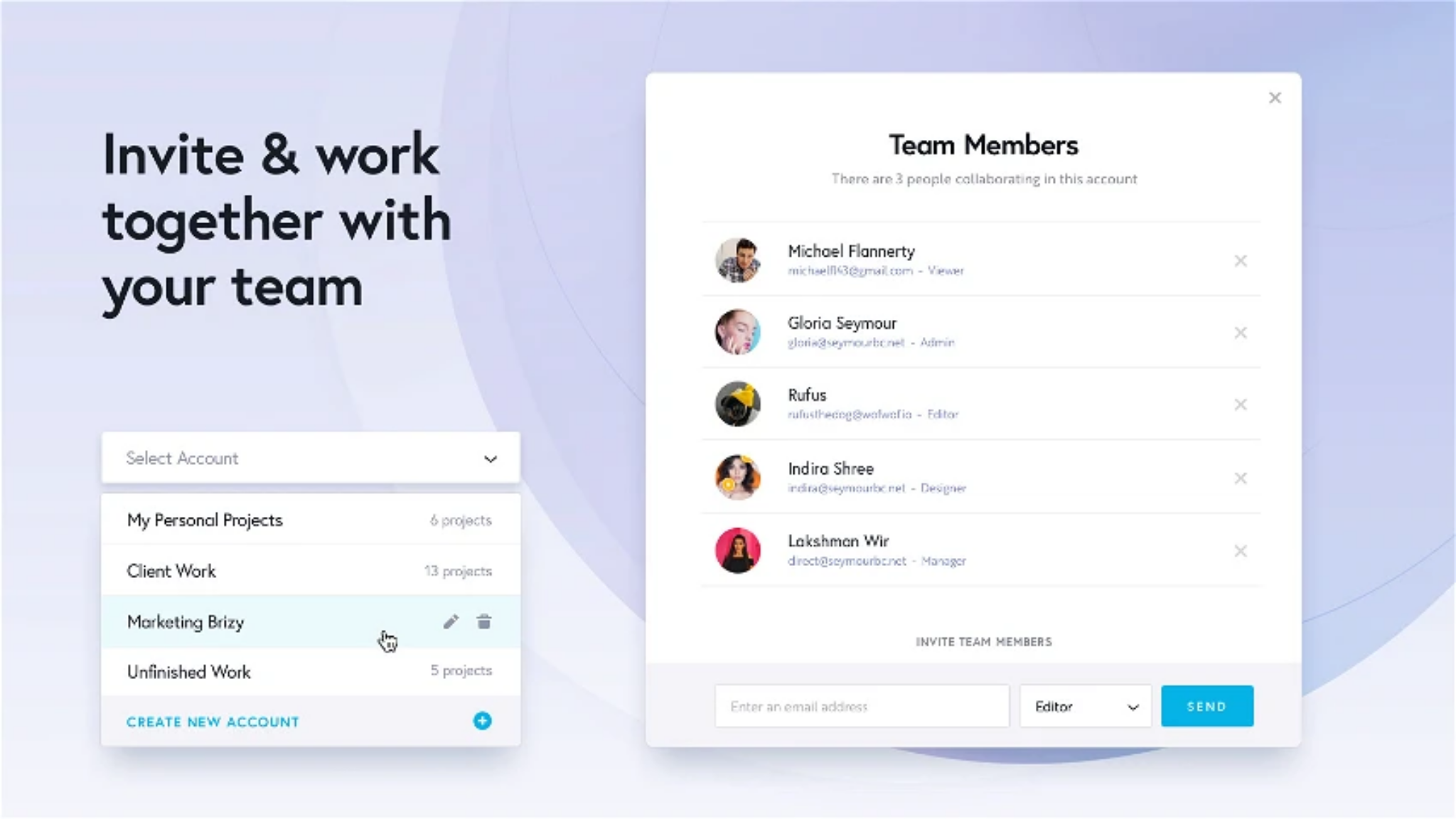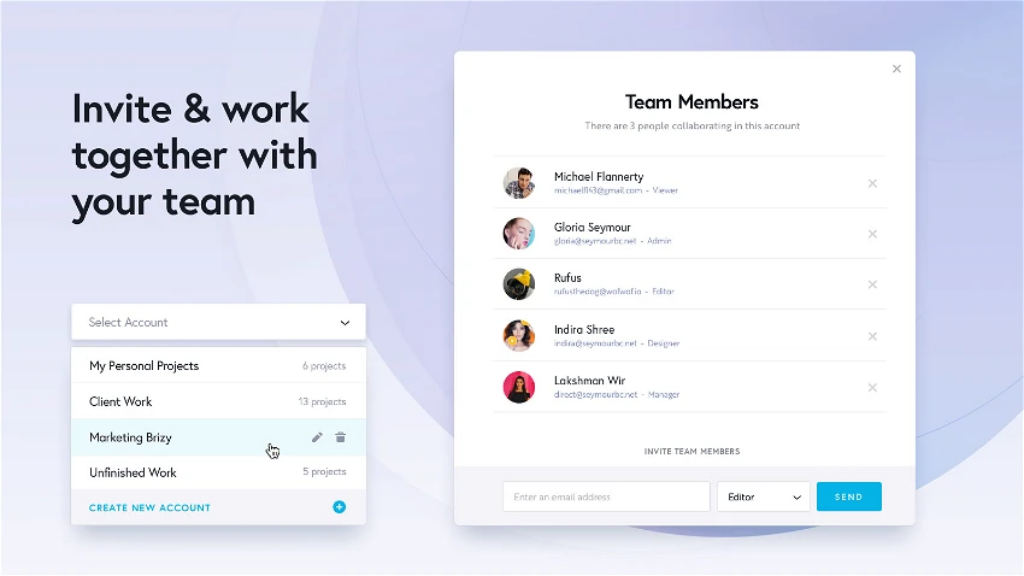 With these features and more, Brizy Pro is an excellent choice for agencies or individuals who want to create high-quality websites quickly and efficiently.
Integration with Marketing apps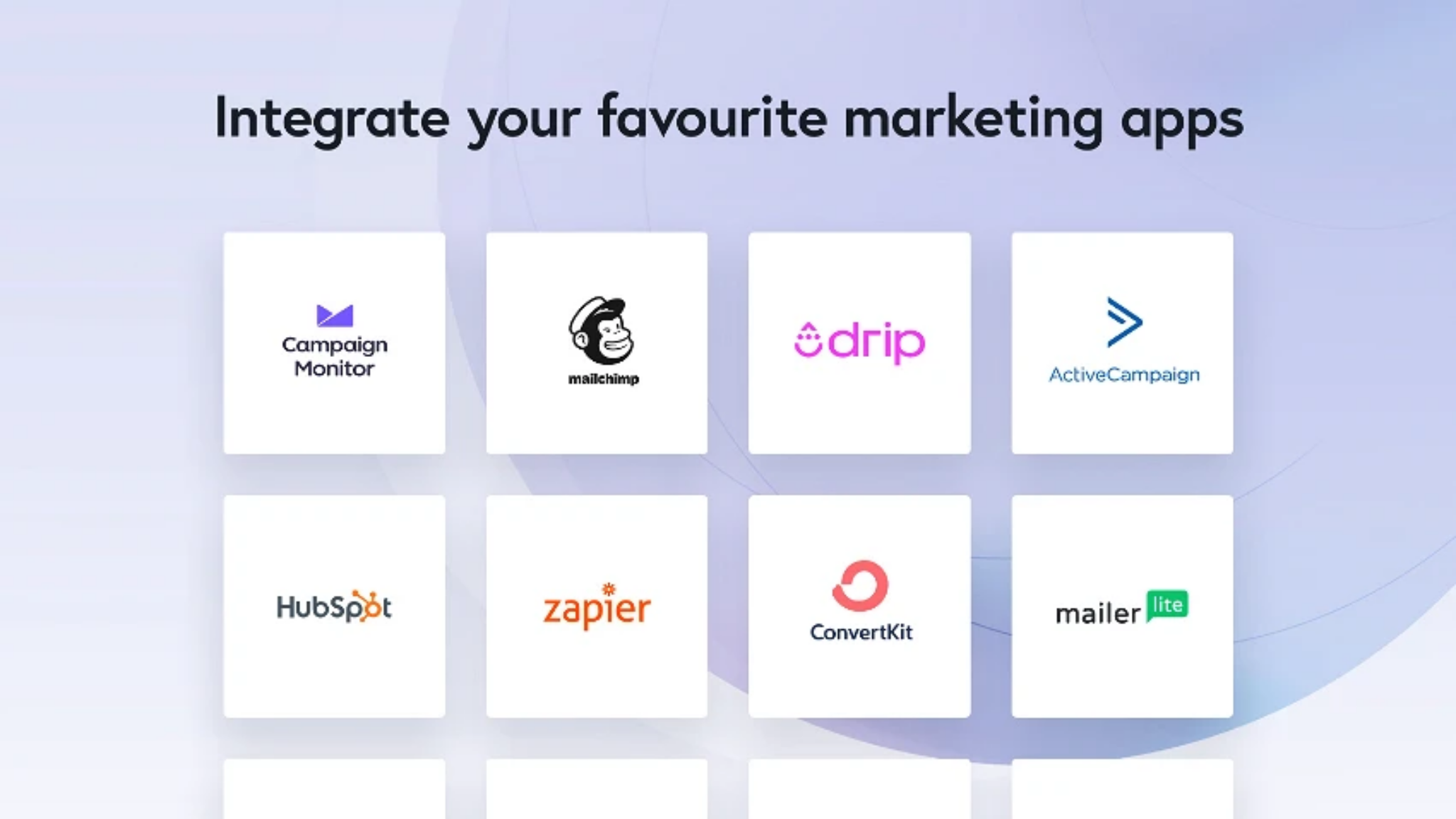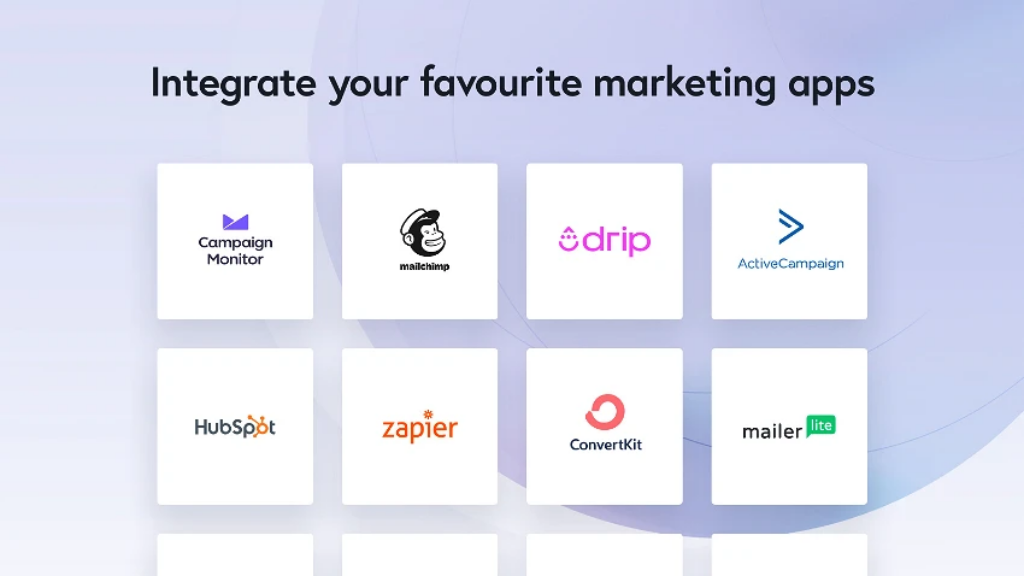 Brizy Pro allows users to integrate with a range of apps including Mailchimp, ConvertKit, HubSpot, Salesforce, WooCommerce, and Yoast SEO. In addition, Brizy provides integrations with ACF, Toolset, Pods, and Metabox.
While Brizy does not have any integrations with third-party add-ons, the Pro version offers integrations with email marketing software like MailChimp, Drip, Zapier, ConvertKit, Mailerlite, and ActiveCampaign. Brizy also has plans to integrate with Adobe fonts and Unsplash in the near future.
With these integration options, it's clear that Brizy empowers users to convert clicks into clients in no time. Whether you're looking to improve your website's SEO, increase sales through WooCommerce, or streamline your email marketing efforts, Brizy has the tools you need to succeed.
How is Brizy different from Page builder?
Unique features
Custom Fields Plugins
Navigation MegaMenu
Plugin updates and professional support
WooCommerce Builder
Role Manager
WordPress Multisite
Custom Fonts Manager
Priority tech support via email
Brizy Use-Cases
Application
Freelancers
Marketers
Agencies
SaaS and Enterprises
Hosting Providers
Brizy Pricing Plans
Brizy PRO and Free Plans for WordPress
Offers Free and Pro plan with 30 Days Money-Back Guarantee.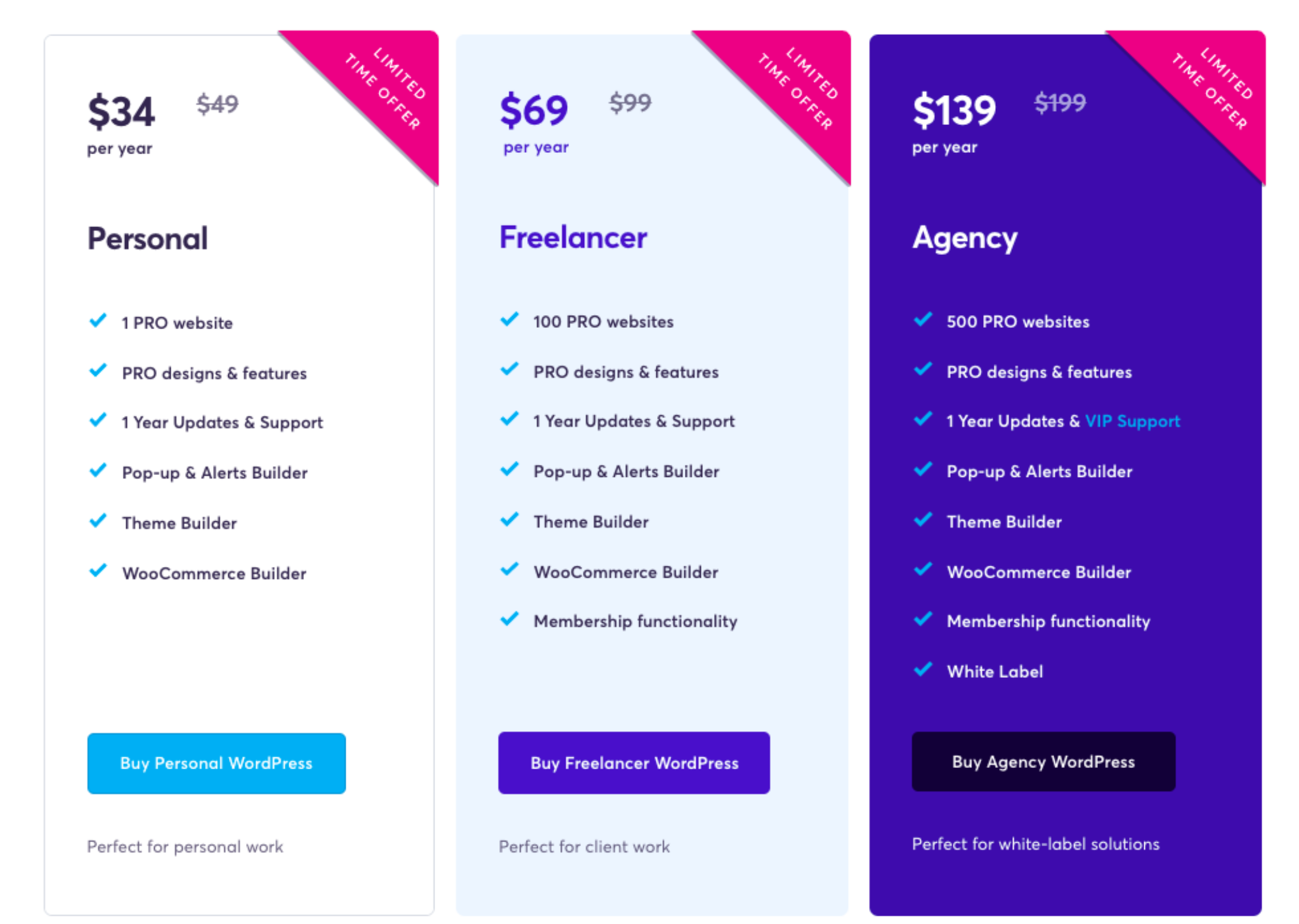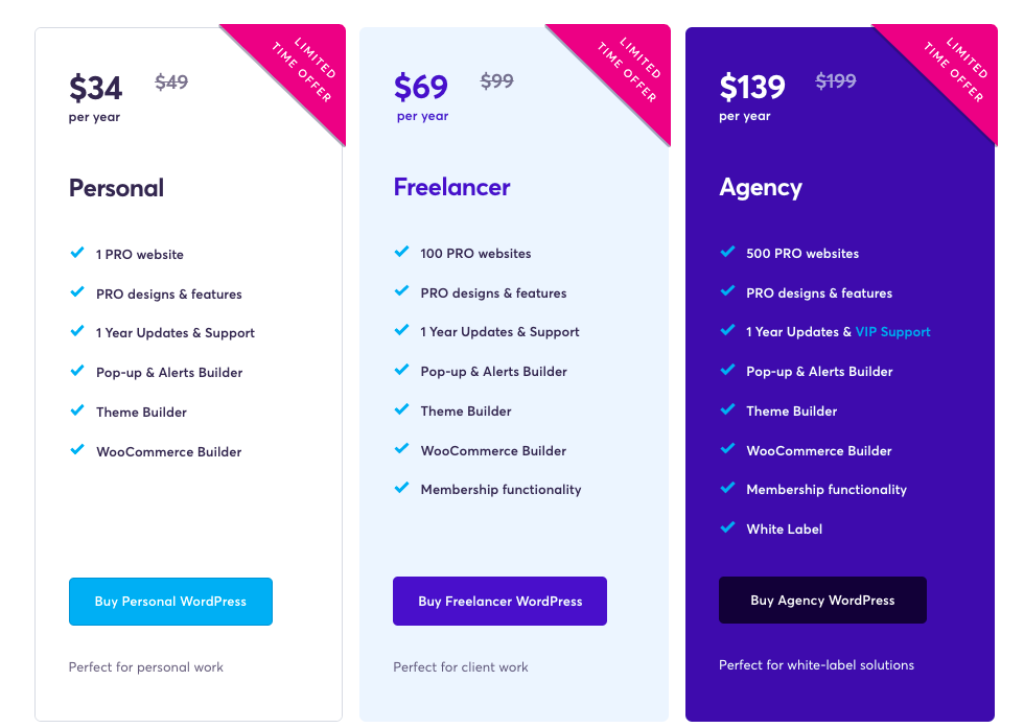 Brizy Cloud
SaaS platform hosted by Brizy.io
Brizy Cloud platform includes hosting + SSL + CDN on super-fast servers all over the globe. The all-inclusive experience!
The landing pages running on Brizy Cloud perform well and optimization is robust. Your landing pages load fast and can get more customers and leads by improving user experience.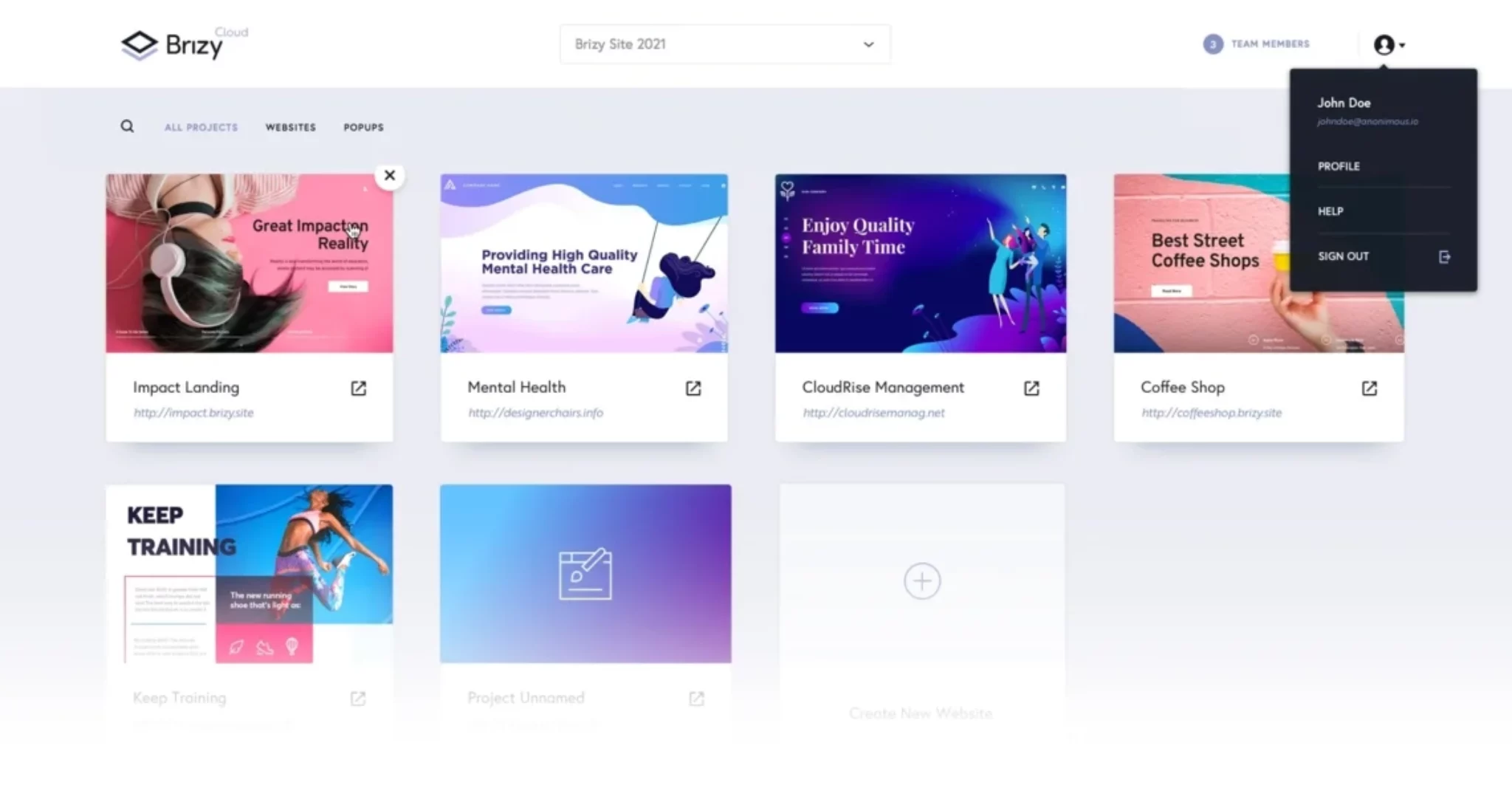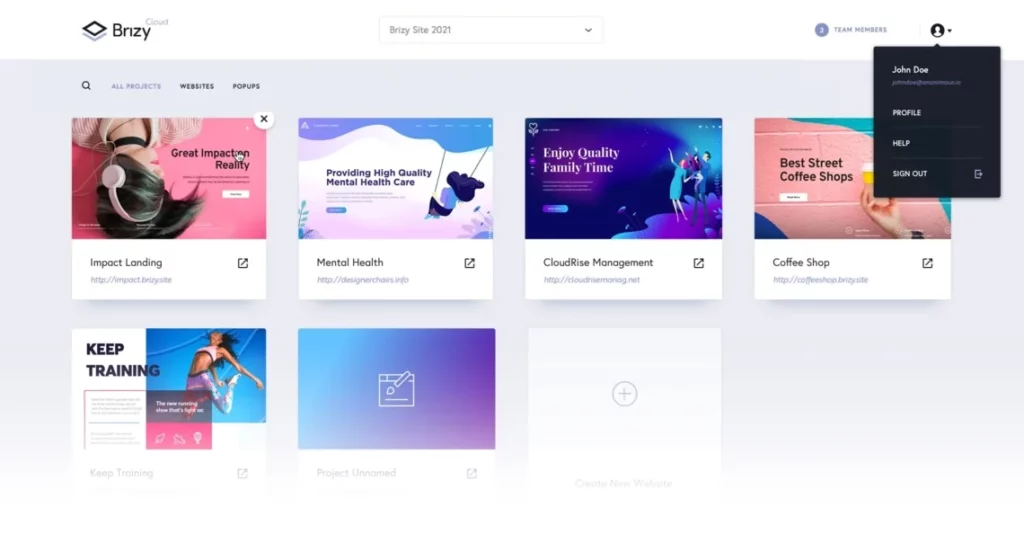 Brizy Support
Knowledgebase, Roadmap, Changelog, Contact support
Offers Live Chat, Support tickets, and email help.
Provides Support Forum
Offers YouTube Video tutorials
Brief Documentation
Public Roadmap and Changelog
Other Alternatives to Brizy Builder
Similar Plugins
Final Verdict
Is Brizy Builder worth it?
Brizy page builder is the ultimate solution for any website building needs. Its intuitive drag-and-drop tools and high-converting pre-made templates make it super easy to create a stunning website. Brizy's global styling, mobile-friendliness, flexible customization, and smart text editor, make it the perfect tool for building a professional website for your business. business.
Download the free version now and check out the tool!
Video
Check out this video to know more!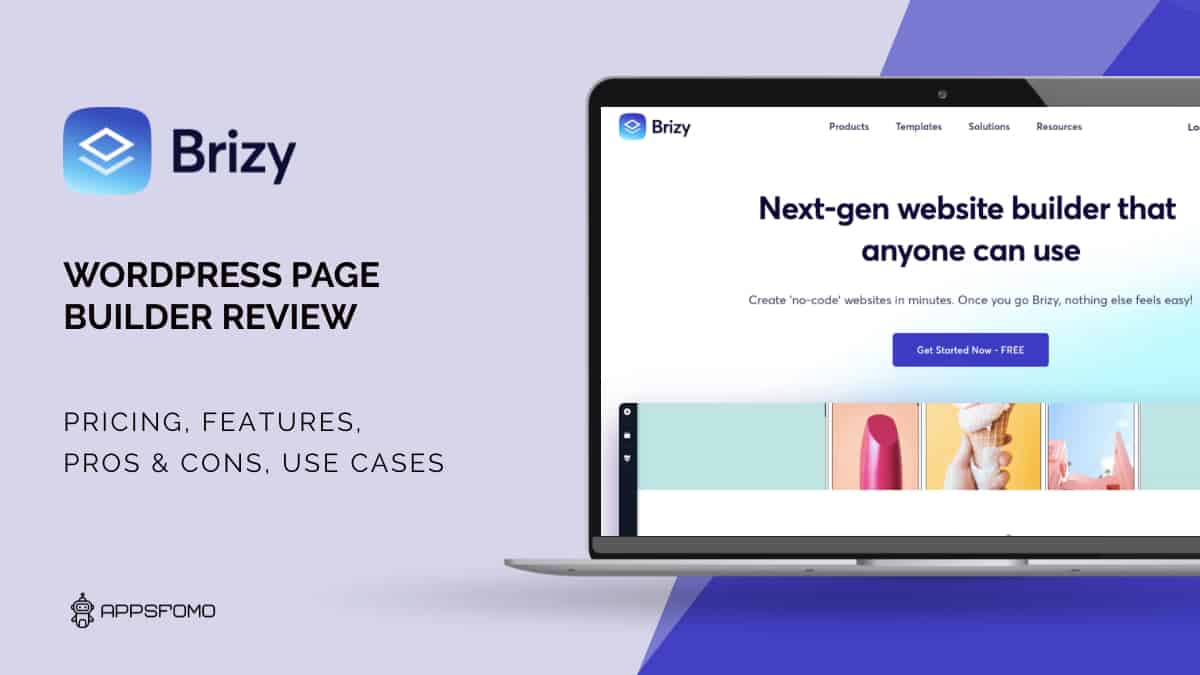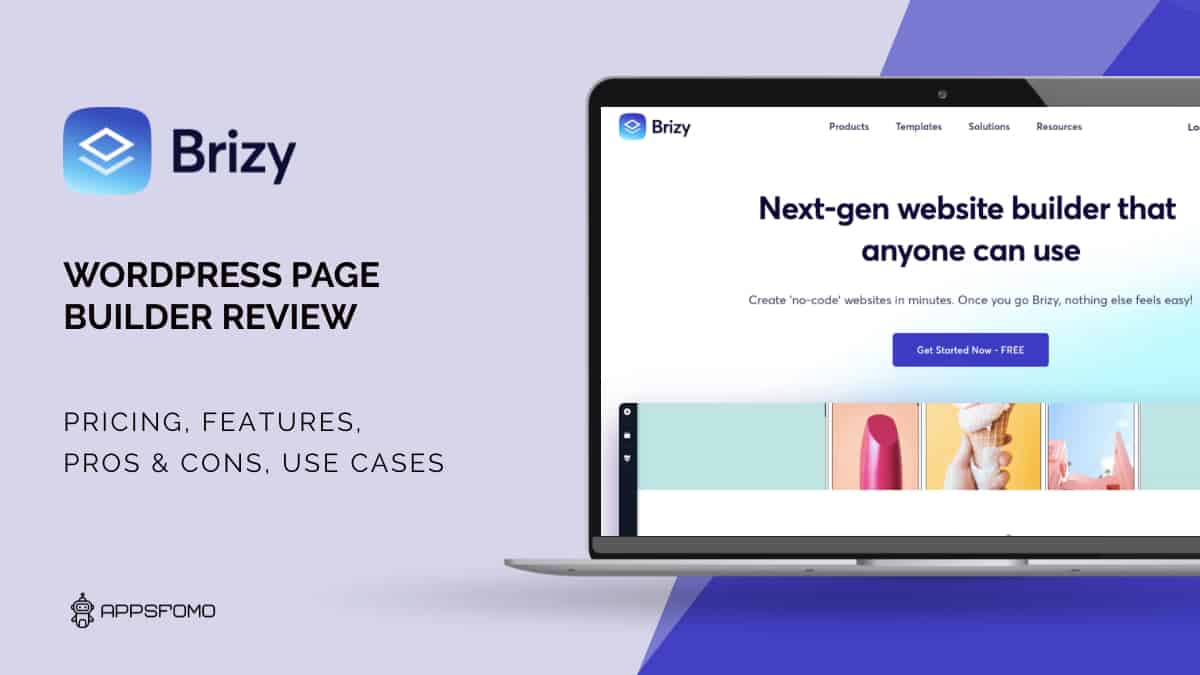 Brizy: Build Fast and Responsive Landing Pages in WordPress