Cartflows helps you build high impact sales funnels, cart and checkout pages for your woocommerce store with ease of your favourite page builder. Increse your customer interaction on your site, upsell, bump offers and re-target your potential audience
Expert Score
Cartflows is WordPress Funnel Builder for Woocommerce, with added features like custom product pages, cart abandonment recovery, up-sells and down-sells.
Cartflows – Is it effective WordPress sales funnel tool? Full Review
Cartflows helps you build high impact sales funnels, cart and checkout pages for your Woocommerce store with ease of your favorite page builder.
I have been using WordPress for last 3 years, and this was one of the game changer plugin, that was ever created. During it's launch there was no other plugin that had the level of customization cartflows provided.
That was a small intro about the plugin's capability, Now, Let's get into Cartflows.
Benefits
You have a great website but customers are not converting? Your site needs to be optimized. A WordPress plugin such as Cartflows is an effective tool that will help increase user interaction on your site and give you the opportunity to upsell or offer more products when they are about to check out their carts.
With no coding knowledge necessary this powerful WordPress plugin makes it easy for anyone who wants a professional grade site!
Let's now have a look at the features,
Custom Woocommerce Pages:
Default Woocommerce cart and checkout pages are so old and simple and the reason why all woocommerce sites look the same.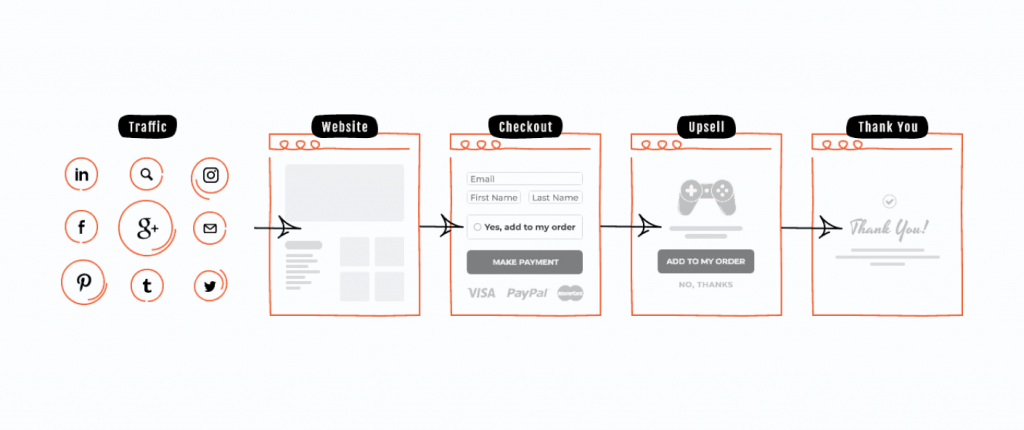 Cartflows WordPress plugin is a powerful tool that creates highly customizable cart and checkout pages for your Woocommerce store. You can use your favorite page builders like elementor to drop widgets into a page.
Cart Pages
Cartflows is a flexible plugin that lets you create custom cart pages for your woocommerce store. The Cartflows plugin comes with pre-built templates, shortcodes and template tags to help make it simple to build beautiful WooCommerce checkout pages in no time!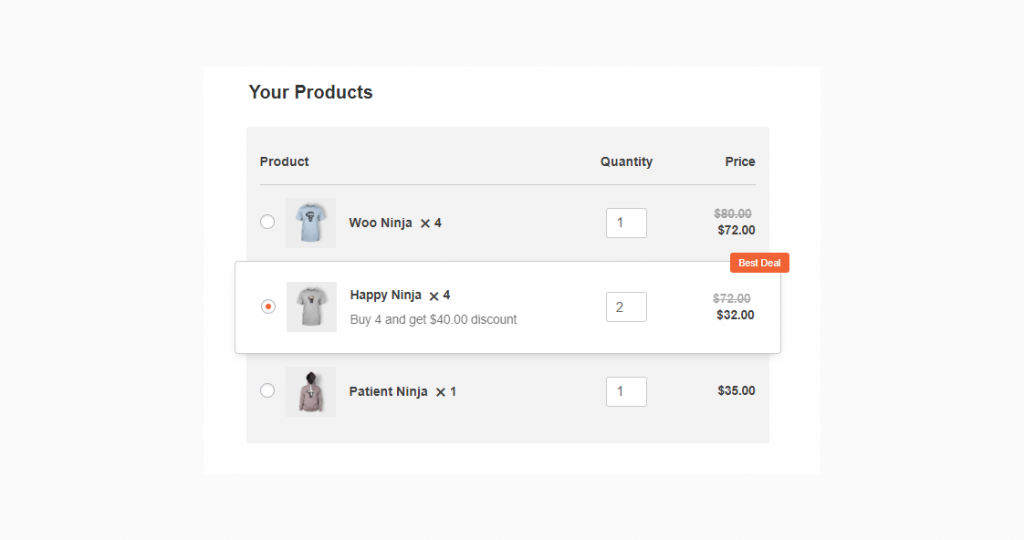 Cartflows One Page Checkout
Cartflows plugin is designed to help you turn more visitors into customers by converting them first on your main sales pages.
Woocommerce checkout process is cluttered and confuses the customers navigation. Cartflows makes it simple for users by skipping cart and directing users to checkout page, which can be fully customized using Elementor.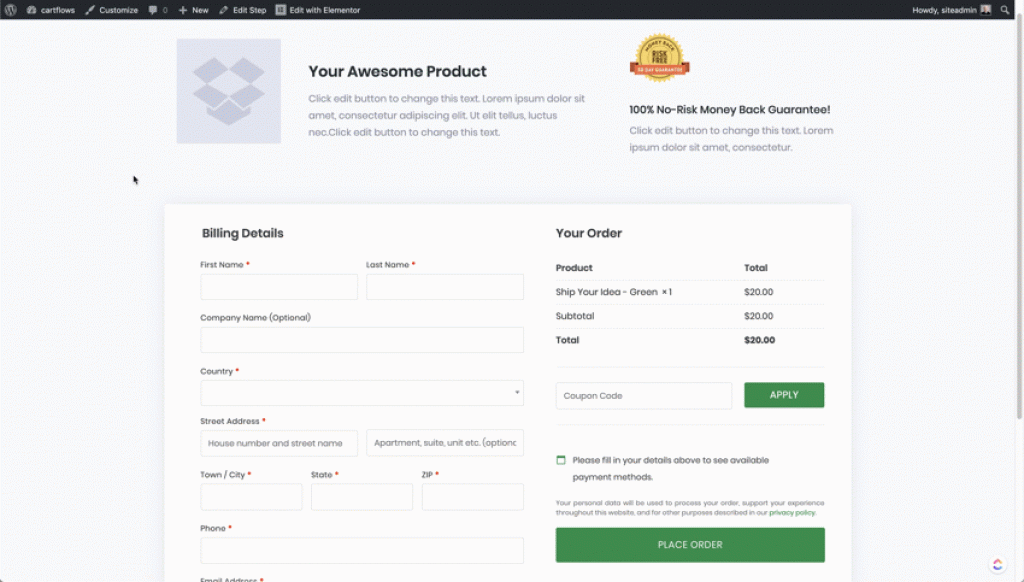 Funnel Builder for Smart Funnels:
A cartflows has a powerful eCommerce conversion funnel builder. You will be able to create several webpages where the visitor navigates along a path in order to take some specific action like signing up for email list, buying a product, downloading an eBook, watching a video tutorial etc.
Build cartflows funnels and link products from existing woo-commerce products.
Funnel Templates
Using Cartflows' template funnel building is a matter of few clicks.
Import the entire funnel from any of the 15+ available templates. All the templates are packed with a landing page, checkout page, up-sell, down-sell and a Thank you page.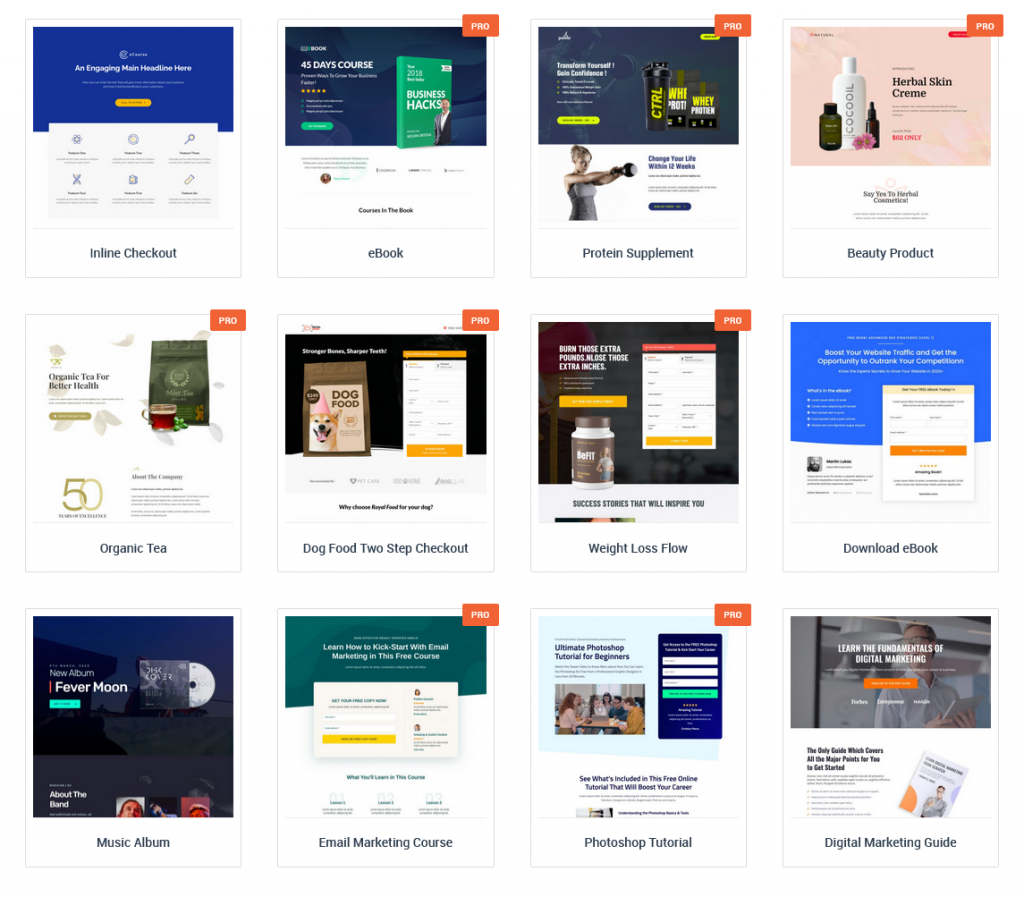 Once you Import, you can fully customize the colors, look and feel using your favorite page builder as per your linking, and change the content.
Extended Features
Cart Abandonment Recovery
It's a very common user behavior to put products into the cart and leave it abandoned. A major challenge for any website owner is to recover and re-target the customer to maximize profitability
Cartflows has a separate plugin to follow up with cart abandoners using automated emails that can help you increase sales, increase cart flow rates, grow your bottom line, and create repeated customers.
Custom Product Pages
Cartflows makes the checkout process more friendly by introducing custom product pages (landing pages) that has more impact compared to default Woocommerce product pages.
Page Builders Integration
Cartflows integrates seamless with leading WordPress page builders like Divi , Beaver Builder, Elementor and Thrive Architect. Therefore, there is no big learning curve for customizing pages in cartflows.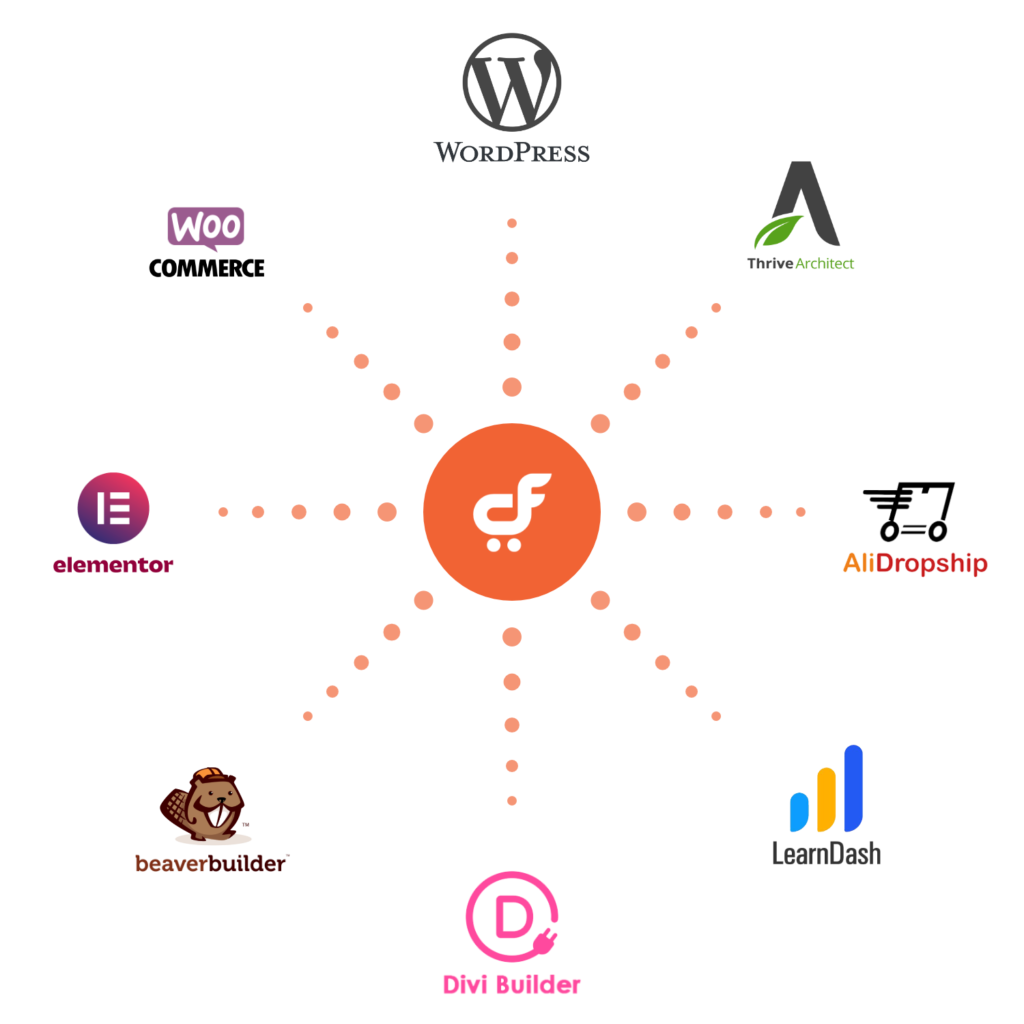 If you're already using one of the above, you can go ahead, import at template and get started with it.
A Quick Walkthrough Tutorial
Here is quick tutorial for you if you are a complete beginner, which might help you to get started with Cartflows Plugin.
Cartflows Pro Features
Free version of cartflows itself is a great system. Pro version extends it's functionality to a another level by adding new and advanced features, which they regularly update
1. Order Bumps
Order bumps is a feature allows you to present additional products or add-ons to the main product. So if you are not currently using the order bump feature, you are missing out on a significant amount of revenue.
2. Custom Fields
CartFlows Pro allows you manage the position of checkout form fields, labels, placeholder texts, and define the entire stucture of the form using columns and sections
It also allows you to add custom fields in billing or shipping forms on the checkout page.
3. Countdown Timers
Cartflows adds countdown timers, which is a very good way to convince customers to buy a product by creating a scenario of urgency, which has proven record of getting more sales and conversions.
Cartflows Free vs Cartflows pro
For Better visualization of feature, Here is a side-by-side comparison of free and pro version of Cartflows plugin.
| Features | CartFlows Free | CartFlows Pro |
| --- | --- | --- |
| Templates | 3 | 7 |
| Order Bumps | No | Yes |
| One Click Up-sells | No | Yes |
| One Click Down-sells | No | Yes |
| Custom Thank You Page | Yes | Yes |
| Two Column Checkout | Yes | Yes |
| One Column Checkout | No | Yes |
| 2-Step Checkout | No | Yes |
| Cart Abandonment | No | Yes |
| A / B Split Testing | No | Yes |
| Add Custom Fields | No | Yes |
| Field Reordering | No | Yes |
| Hide Fields | No | Yes |
| Change Field Labels | No | Yes |
| Dynamic Links | Yes | Yes |
| Countdown Timers | No | Yes |
| Facebook Pixel Integration | Yes | Yes |
Pros And Cons
Cartflows Pros
Enhances Woocommerce functionalities
Custom Woocommerce Pages
Funnel Analytics
Page builder Integration
Excellent Template Library
Cartflows Cons
Only works with Woocommerce
No monthly Premium Plans
Pro Version is Expensive
Pricing
Cartflows comes with 2 pricing plans,
Annual Plan: $239 / year
Lifetime Plan: $999 / One-time
You can use the pro license on 30 websites in both the plans, and all the pro feature included.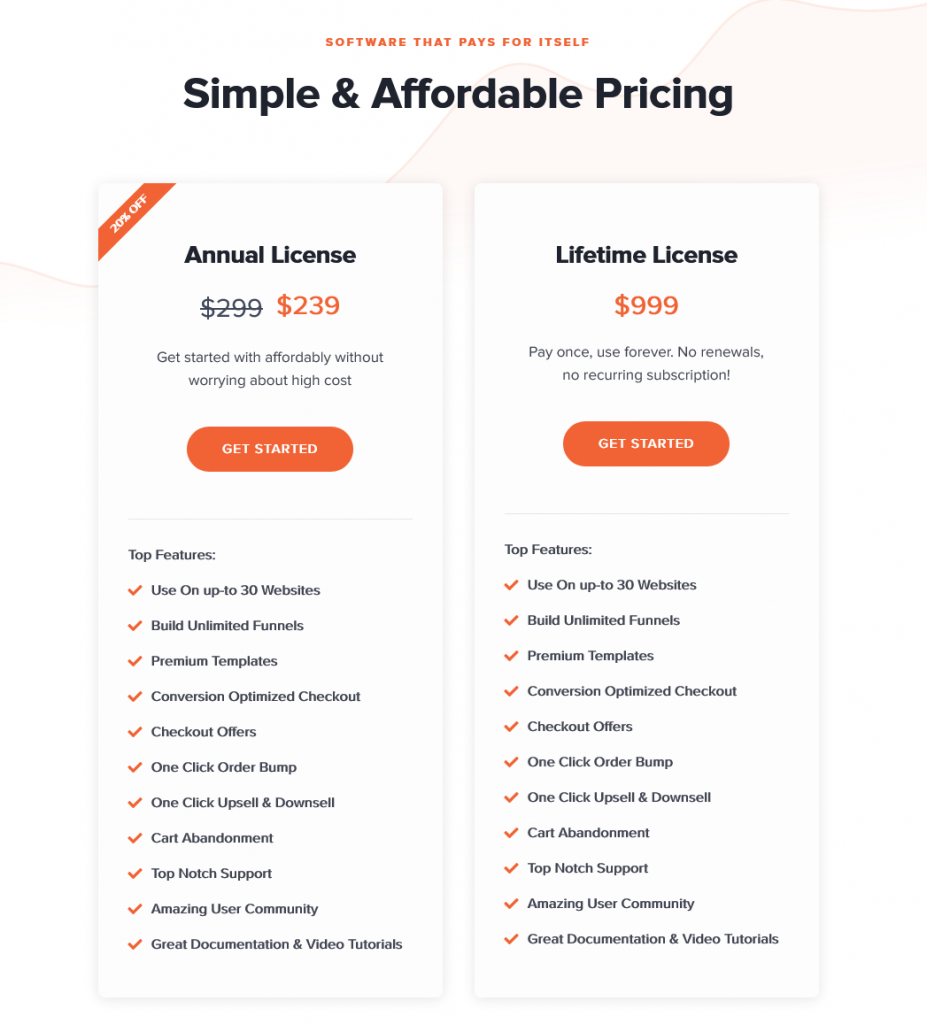 Unfortunately, there are no monthly plans. But you get a 30-day money back guarantee on both the plans, if you want to try out the plugin.
Cartflows Support
Cartflows has a responsive live chat support for pre-sales questions and help.
Both free and pro versions of plugin have a very well documented procedures and tutorials to help you with creating a masterpiece.
Cartflows' team is very active on Facebook and YouTube for tutorials and user quieries.
Cartflows Alternatives
Funnel building within wordpress in a new concept and there are only a few Cartflows alternatives out there to try:
1. Woofunnels
Woofunnels is new to the market which has recently gained popularity in WordPress space.
Recently they launched a lifetime deal on Appsumo, with a attractive one-time pricing of $499
Increase your ales by easily creating lead pages, checkout pages, one-click upsell, and downsell.
Lifetime Deal
It has a similar funnel builder with custom product, cart and checkout pages along with up-sells and down-sells.
Alike Cartflows, they also provide you funnel templates to get started with.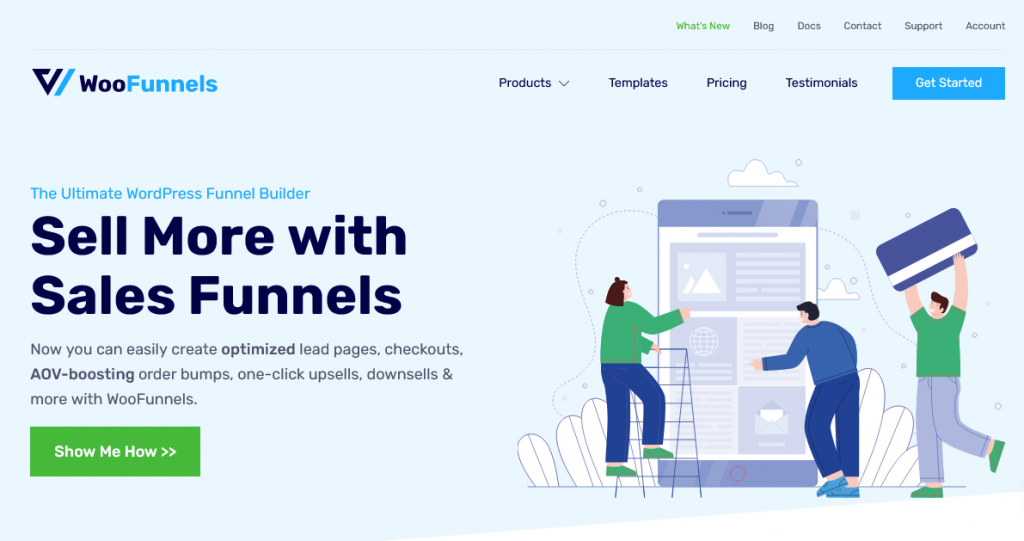 2. Optimizepress
An affordable alternative, if you have a single site. Plans start at $99 per year for single site.
Optimizepress makes it very easy to create salesfunnels and launchfunnels, with all the features cartflows provides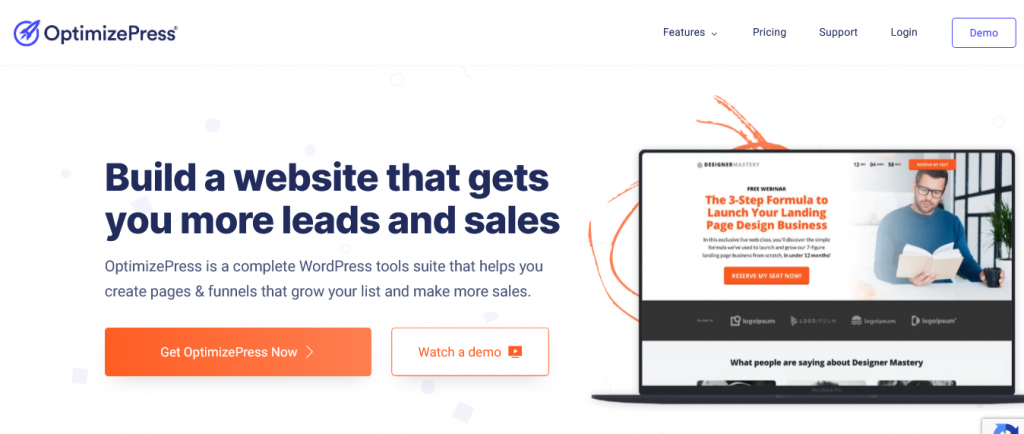 Final Verdict: Is it really worth it ?
If you are a wordpress user, Cartflows is a decent alternatives to leading funnel builders like Kartra or Clickfunnels. Templates they provide are of high quality.
Buy Now
Cartflows Pro
Increase Conversions & Maximize Profits with Sales Funnels
Considering they have a lifetime plan with unlimited funnels, it makes more affordable if you are looking for a long term use. Since it uses existing page builders build the flows, there is no much of a learning curve.
Free version itself is decent enough as a 'free plugin'.
With all that in mind, Cartflows is easy to use plugin if you are already in WordPress and Woocommerce space.