CiuisCRM: The Best Self-Hosted CRM Solution for Small Businesses
CiuisCRM is your Ultimate Tool for Perfect Customer Relationship Management! Keep track of leads, watch them progress, and engage with them at the right moment. Get the edge you need to succeed!
You will get:
Comprehensive analytics tools
Powerful automation features
Open API for custom integrations
Competitive pricing
One of the most significant difficulties that a local business owner encounters is managing their multiple jobs and also tasks. Likewise, they need to track customers as well as team tasks, strategy upcoming events, as and many more.
CRM is important for any business, as it helps them to effectively manage customer relationships and gain valuable insights into the customer experience.
Say goodbye to your productivity woes with CiuisCRM – the ultimate solution that simplifies task management and proposal creation!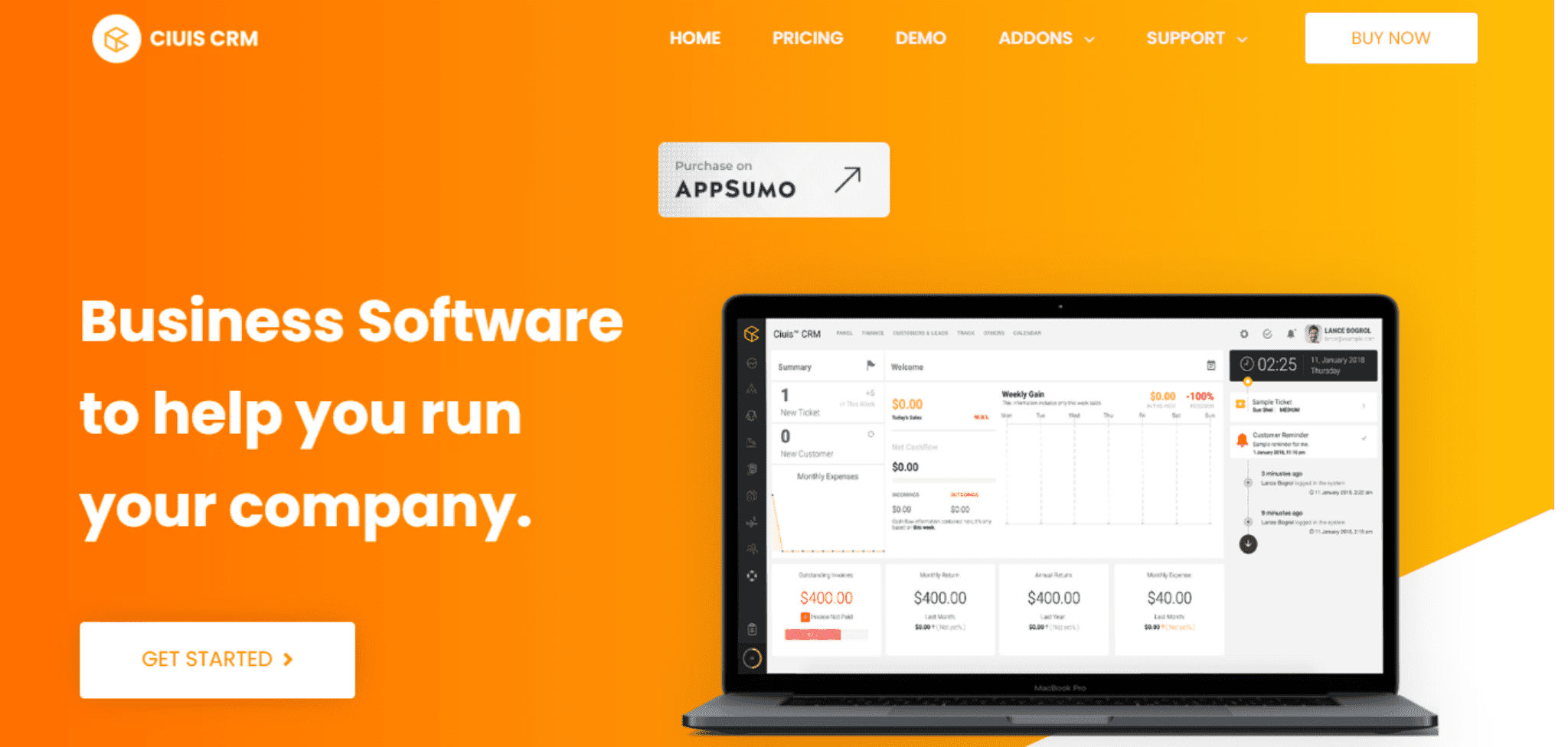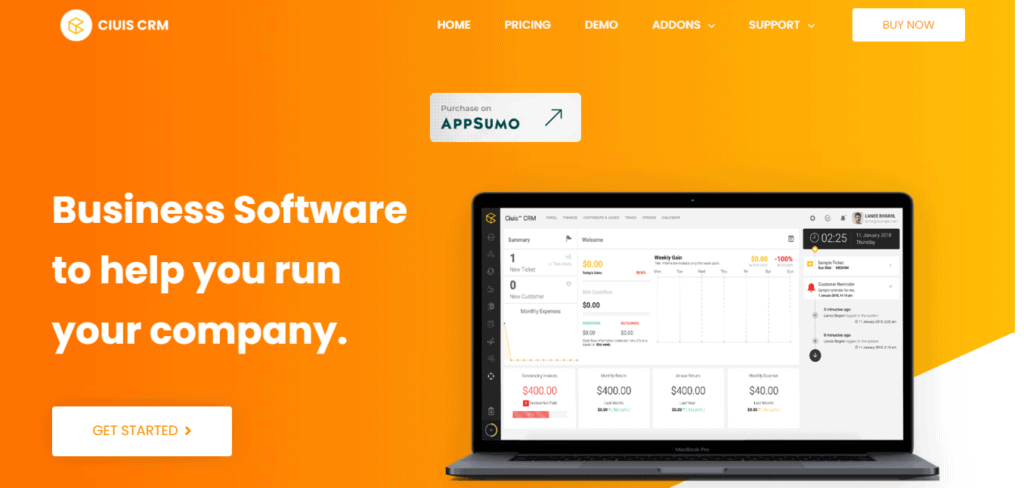 What Is CiuisCRM?
Overview
CiuisCRM is a Customer Relationship Management software specifically developed for small businesses, to be hosted on their own servers. The software provides a range of functions, including sales lead tracking, customer data storage, and feedback analysis, to support businesses.
CiuisCRM provides a customizable and cost-effective CRM solution, making it a valuable tool for businesses. The software's interface is designed to be easily navigable, featuring intuitive dashboards and effective analytics tools. The tool enables small businesses to obtain information on customer behavior, create specific marketing plans, and improve operational efficiency.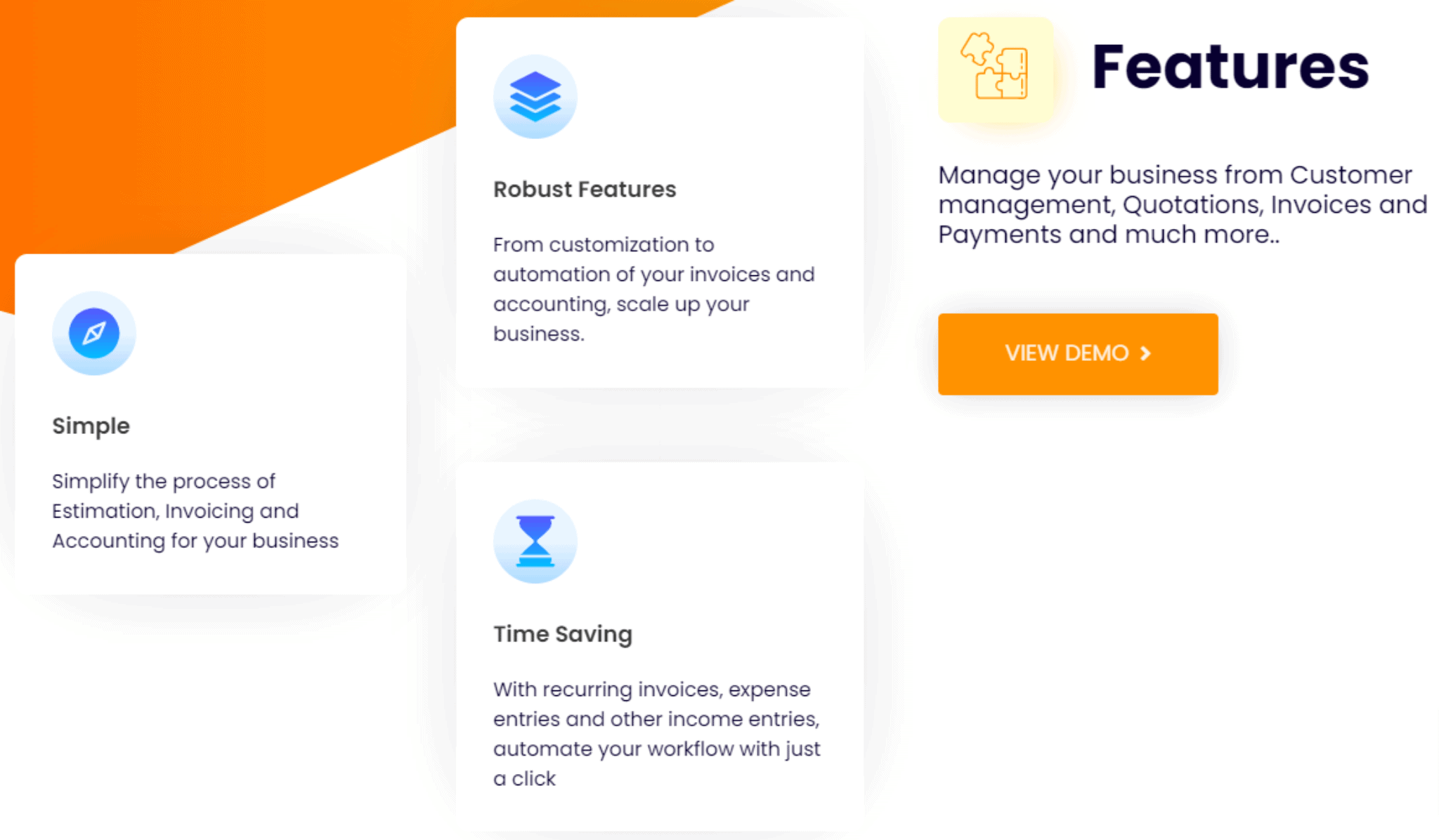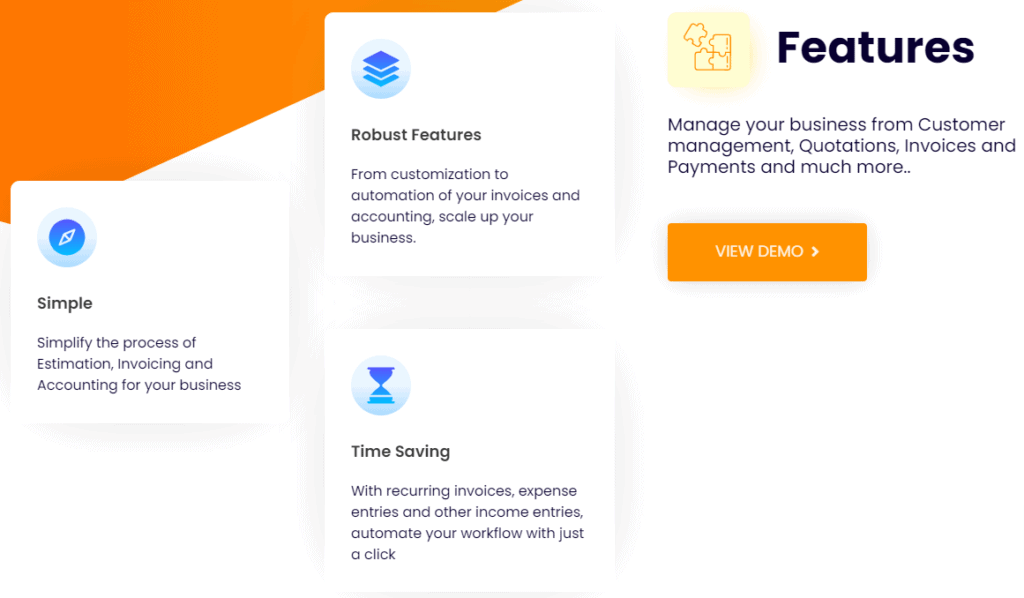 Company Details
CiuisCRM, developed by SuiseSoft, is a CRM software that is self-hosted and tailored for small businesses. The founder of the company is Rohit Sharma, and it was established in 2016.
CiuisCRM offers powerful features to help businesses manage customer relationships and sales leads, as well as comprehensive analytics tools to help them gain actionable insights into customer behavior. The company is committed to providing the best customer service experience for its users.
How to install CiuisCRM?
Follow the steps to install
CiuisCRM Installation Process
Here's a step-by-step guide on how to install CiuisCRM:
The first step is to download the CiuisCRM software from the official website. Make sure you choose the correct version for your operating system.
Upload Files to Web Server
Once you have downloaded the software, you need to upload it to your web server. You can use an FTP client like FileZilla to do this. Make sure you upload all the files to the root directory of your website.
Next, you need to create a database for CiuisCRM. You can do this using cPanel or any other database management tool. Make sure you create a user and assign them full privileges to the database.
Run the Installation Wizard
Once you have uploaded the files and created the database, you can run the installation wizard. Simply navigate to the URL where you uploaded the files and follow the on-screen instructions. You will need to enter the database details you created in the previous step.
After the installation is complete, you will need to configure the settings. You can do this by logging in to the admin panel and going to the settings section. Here, you can set up your company information, email settings, and other important details.
Finally, you can start using CiuisCRM by adding users and customers. You can do this from the admin panel by clicking on the relevant tabs. Make sure you assign the appropriate roles and permissions to each user.
CiuisCRM: Key Features
Features to Boost CRM
CiuisCRM offers a comprehensive suite of features to help small businesses manage customer relationships and sales leads. Some of the key features include:
Customer Management
CiuisCRM is equipped with Customer Management as one of its key features. This software offers users a robust set of tools for managing customer relationships, tracking customer information, and identifying sales opportunities. The intuitive dashboard interface enables easy viewing of customer data and quick access to essential details. Users can also store notes on each customer to ensure that all interactions are recorded and tracked.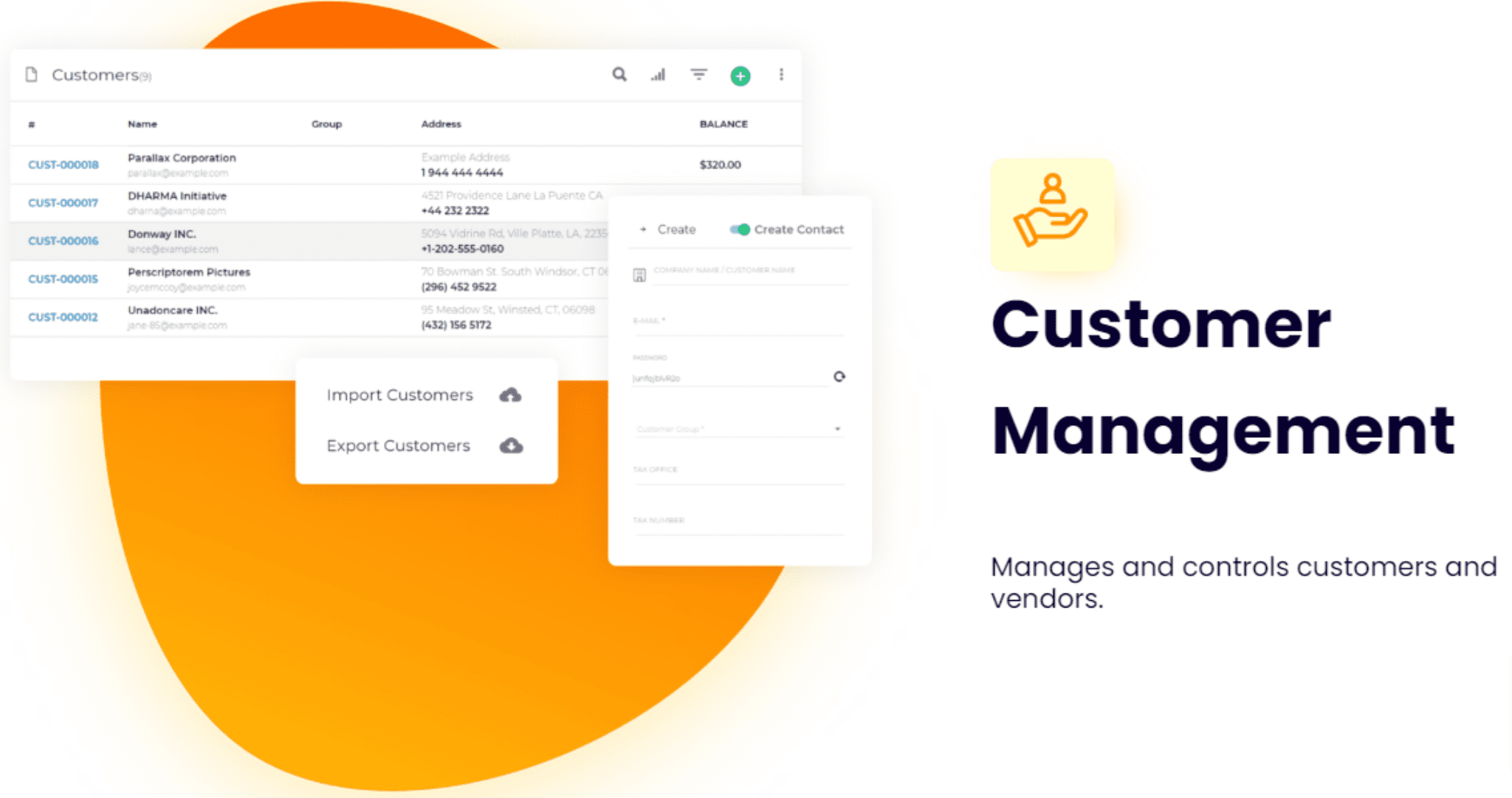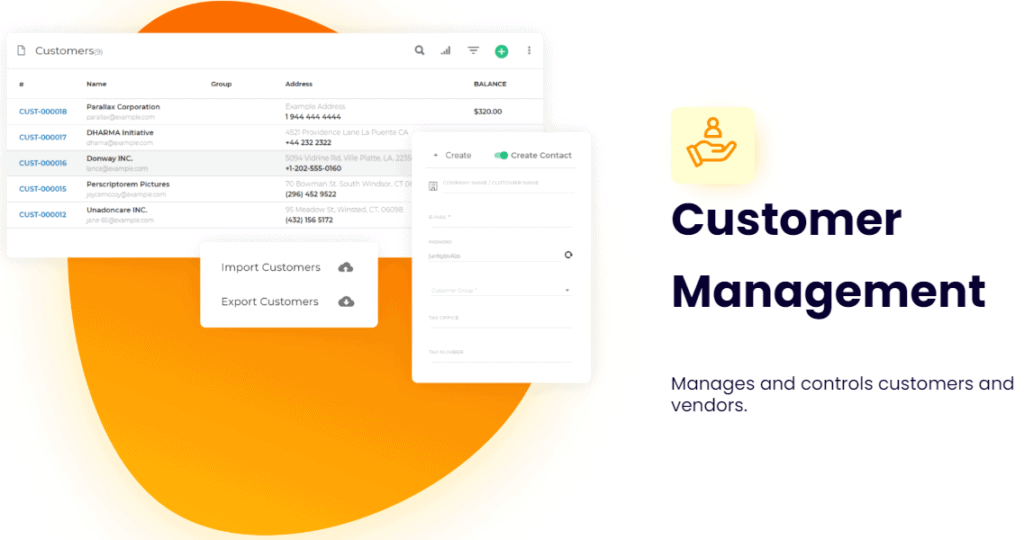 Lead Management
CiuisCRM offers Lead Management as a crucial feature. The software equips users with powerful tools for managing leads and recognizing sales opportunities. The dashboard interface is intuitive, allowing users to view lead data quickly and access vital information such as contact details and previous interactions. Automated tasks can also be set up to guarantee timely follow-up on each lead.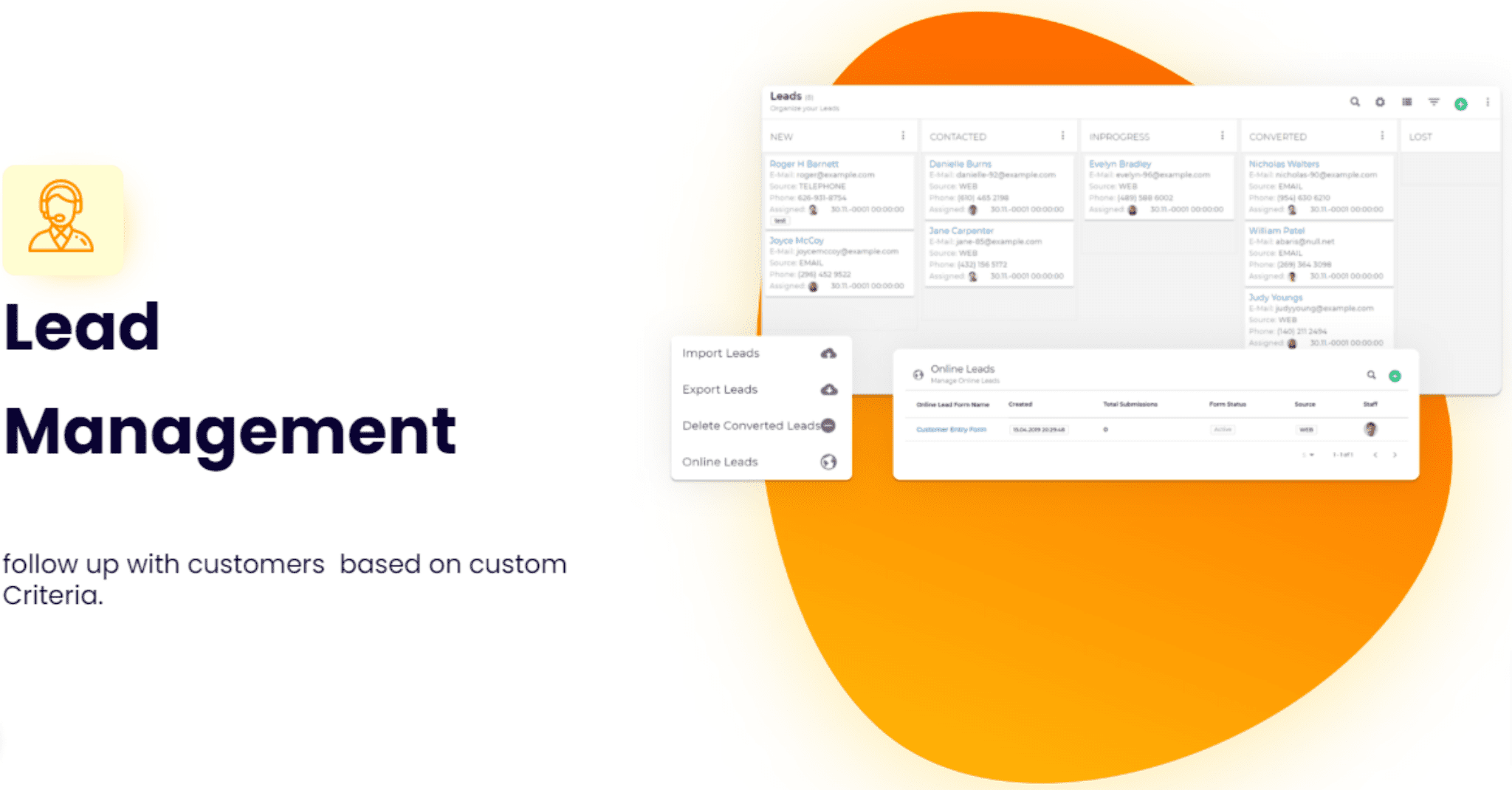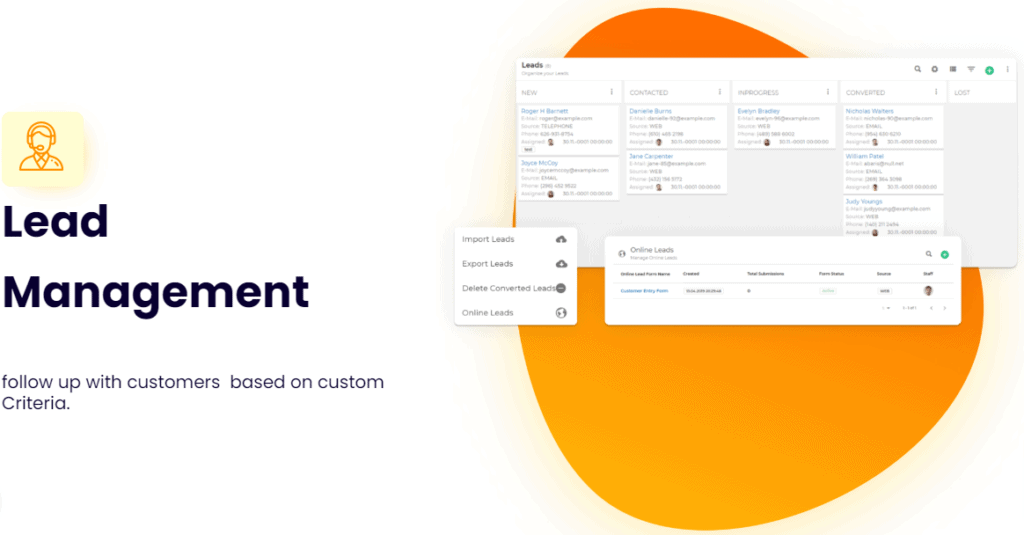 Invoicing and Payments
The software offers features for creating invoices and tracking payments in real time. It includes a payment gateway for secure credit card and online payments. Users can customize invoice templates to quickly send invoices to customers.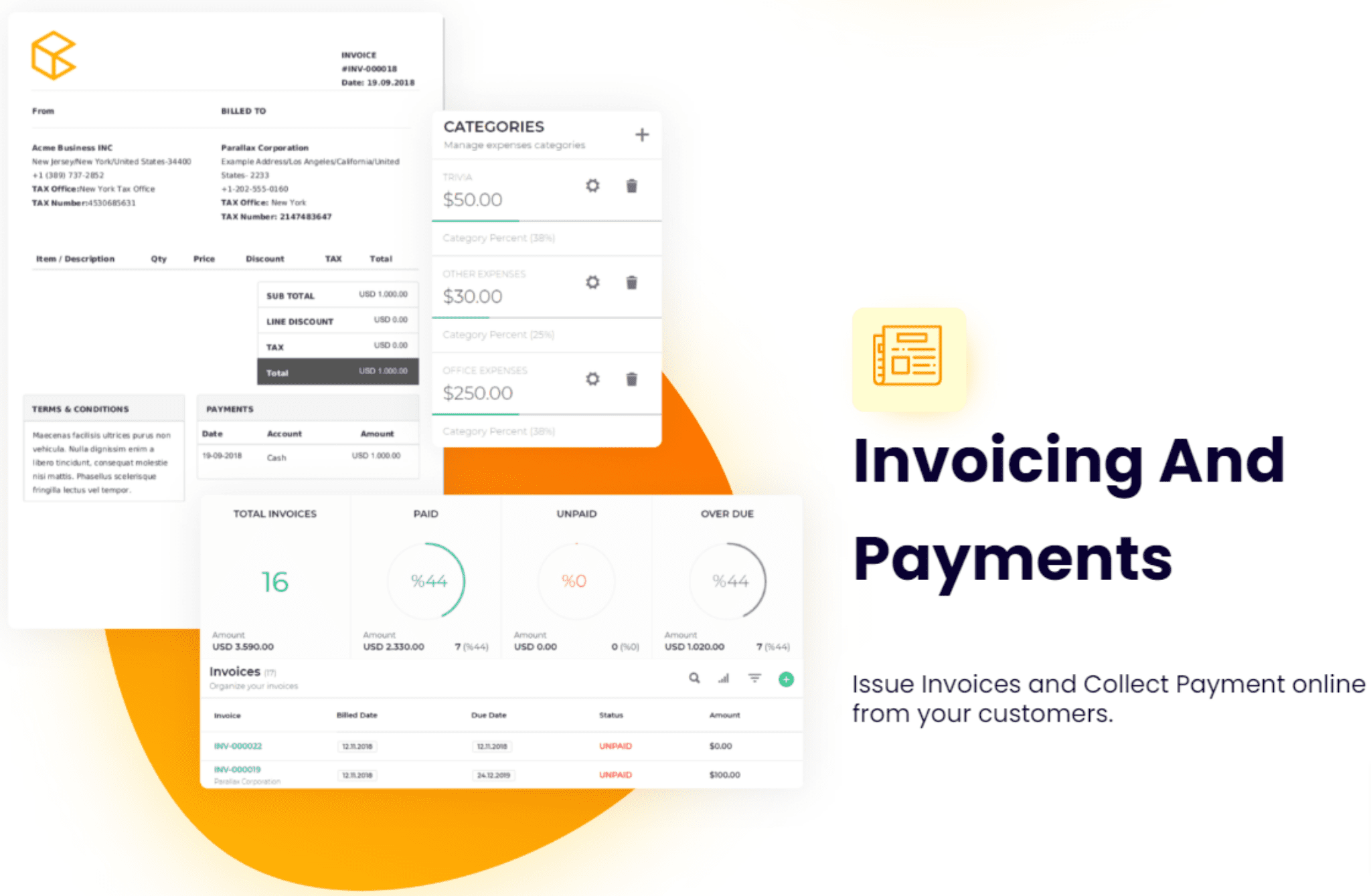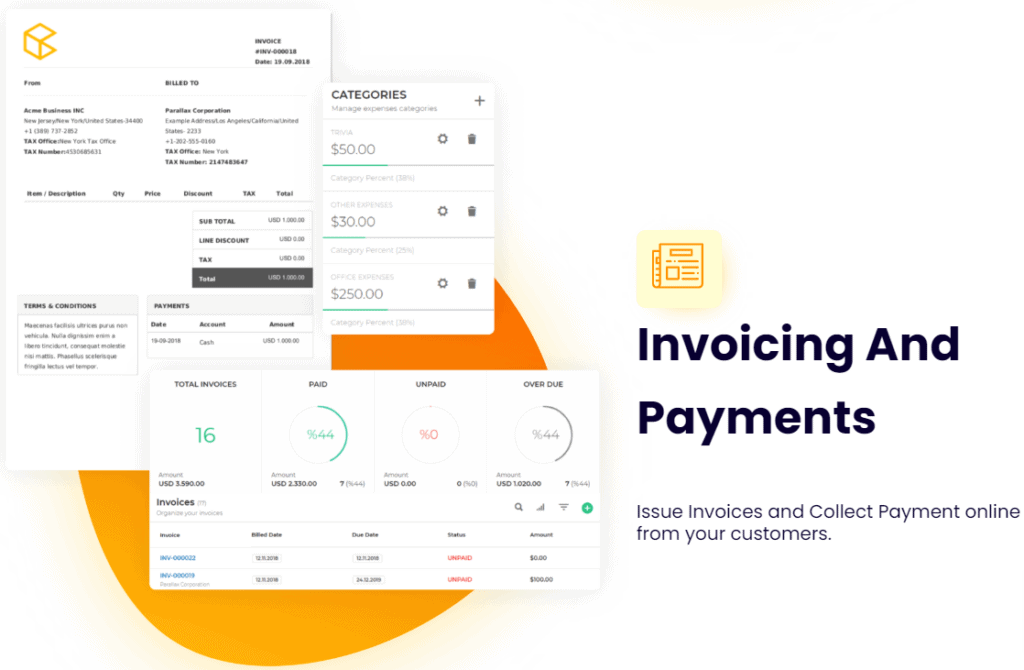 Reports and Dashboard
CiuisCRM's Reports and Dashboard feature allows users to monitor their performance and make informed decisions based on data. The software offers customizable reports that can be generated quickly, providing insights into customer behavior, sales trends, and other relevant information. The intuitive dashboard interface makes it easy to view key metrics and identify areas for improvement.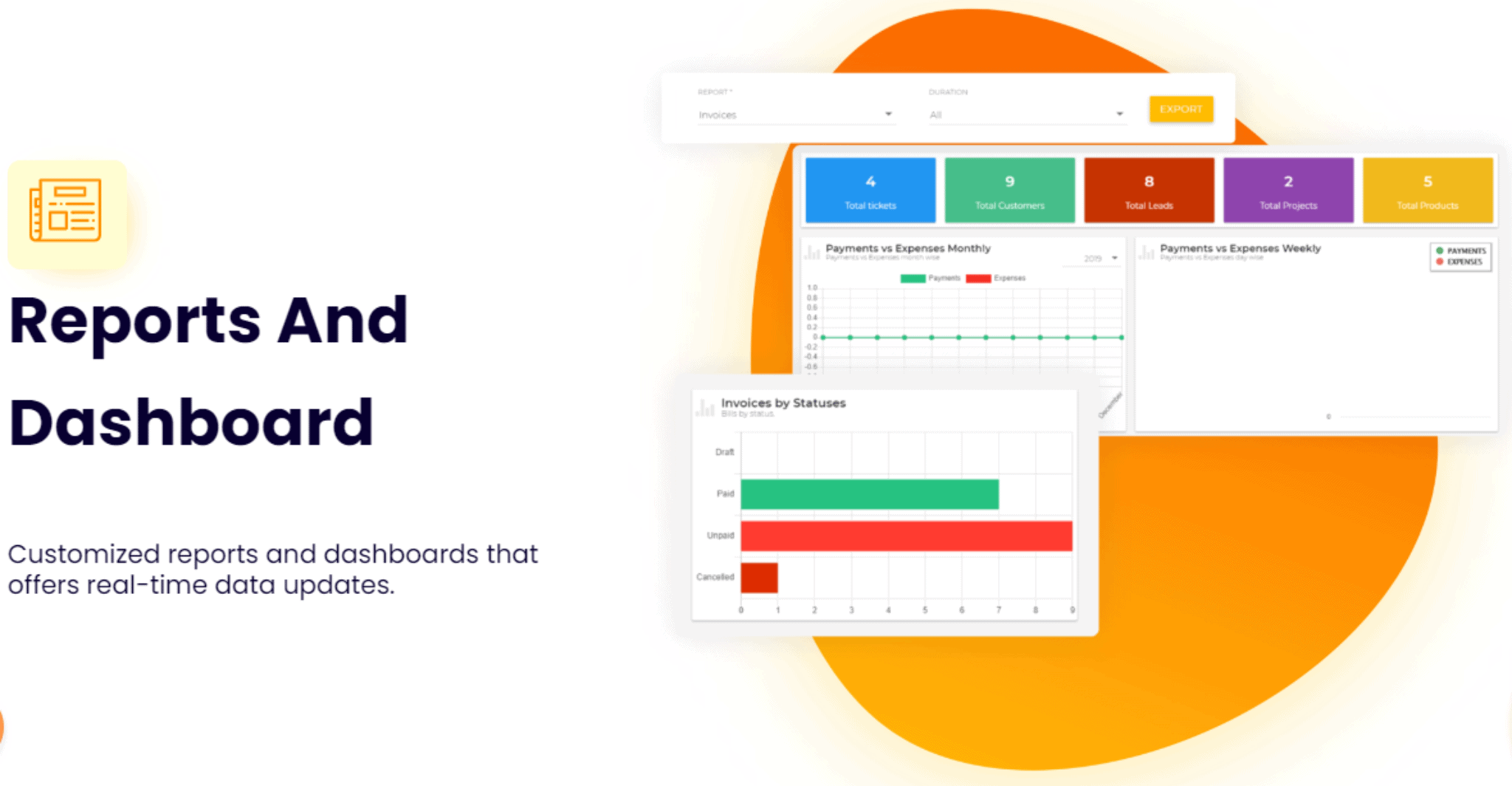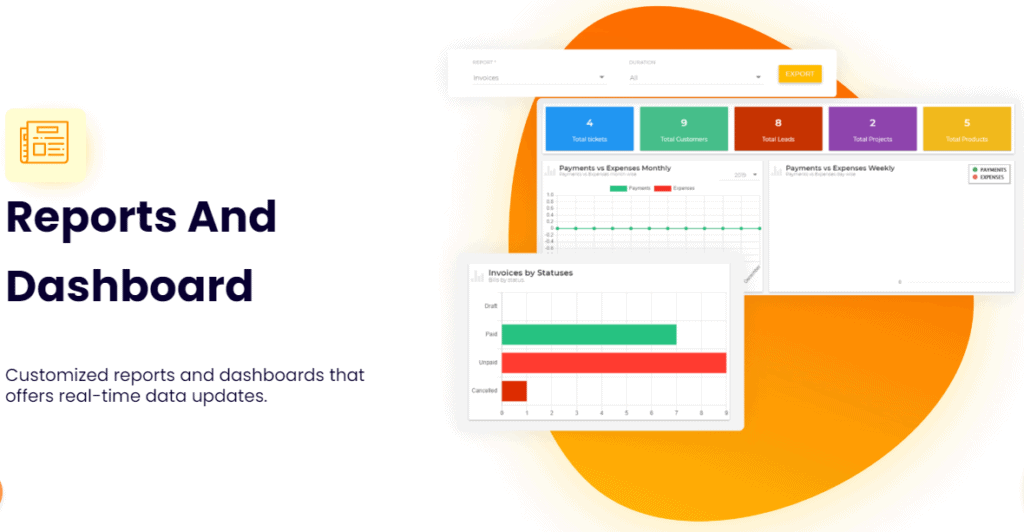 Sales Analytics
The CiuisCRM software offers users tools to analyze their sales performance and identify areas for improvement. Its dashboard interface allows for easy viewing of sales data, including customer activity, average order size, and revenue by product. Customizable reports are also available for more detailed analysis.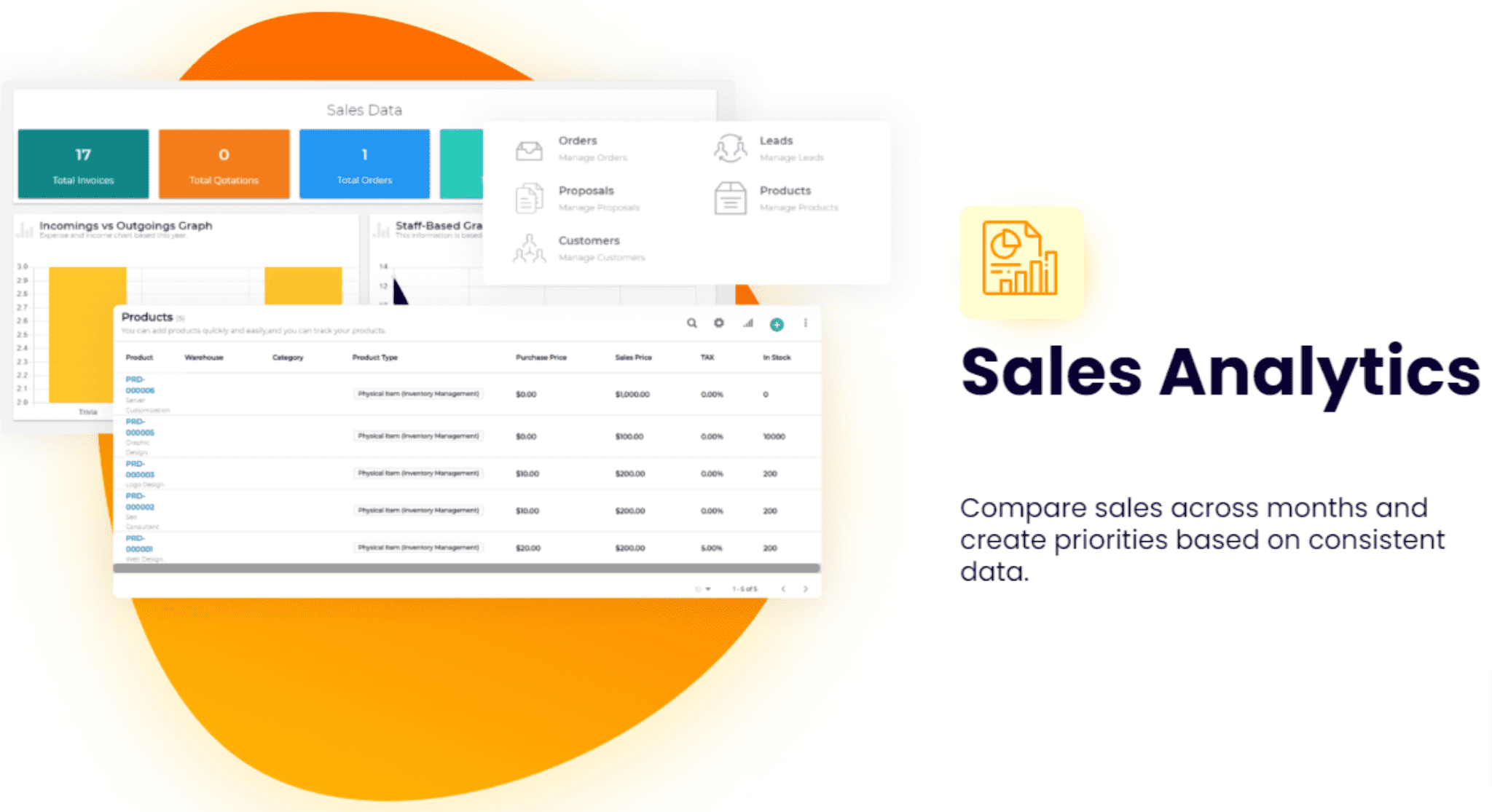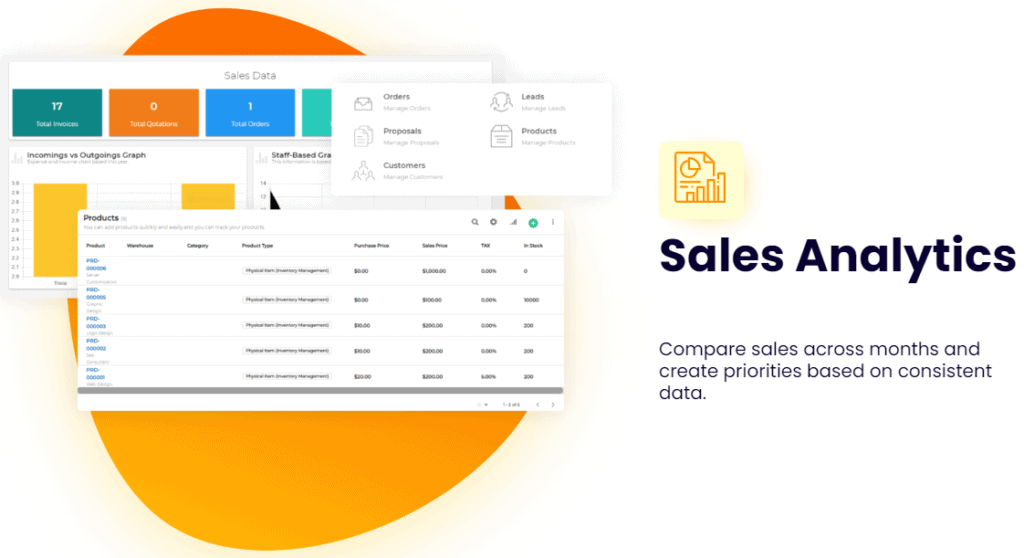 Role-Based Views
CiuisCRM's Role-Based Views feature allows for customized dashboards based on specific team member roles. Users can create custom views and easily access important information. The software also offers visual customization options for dashboard appearance.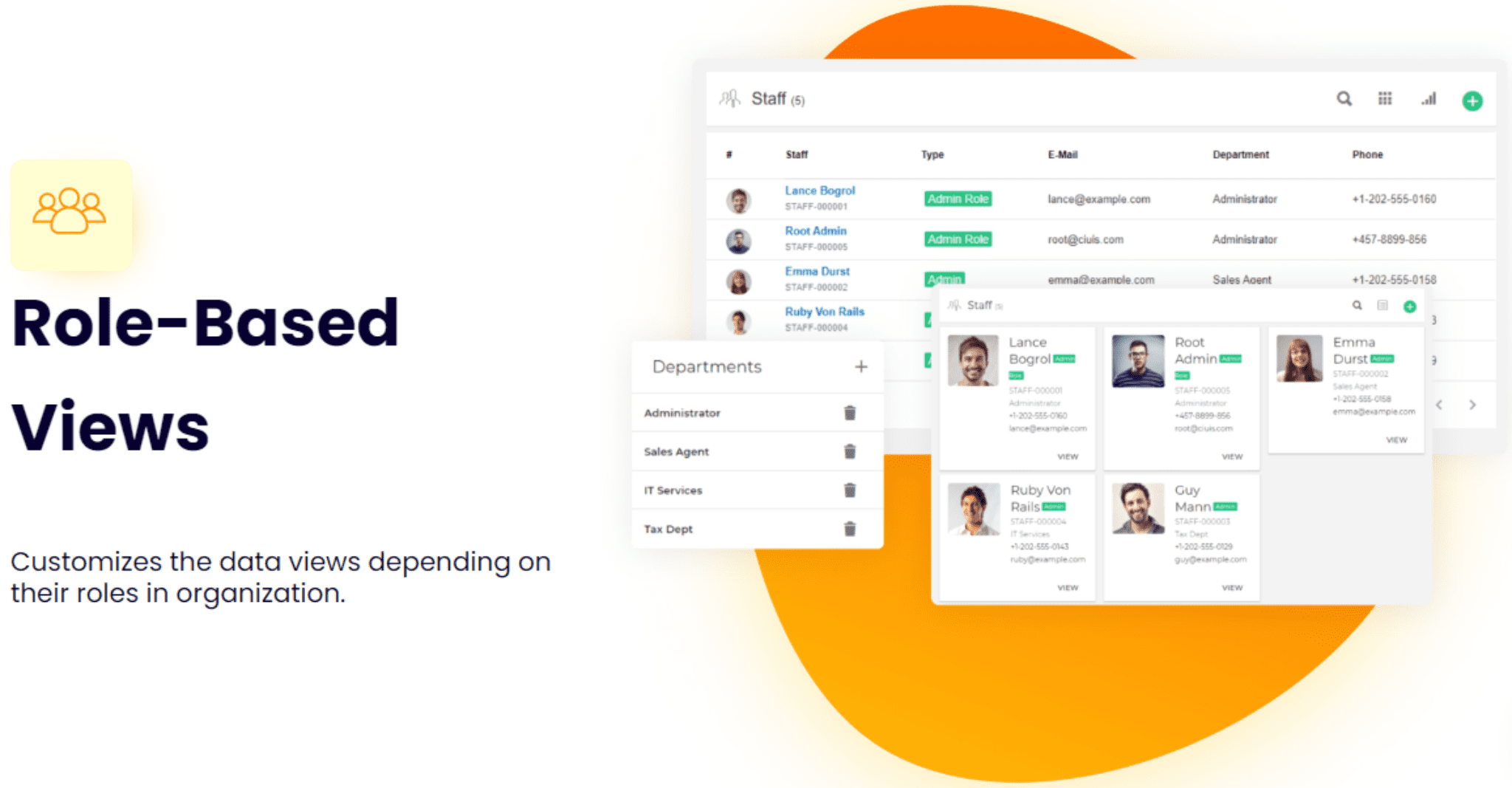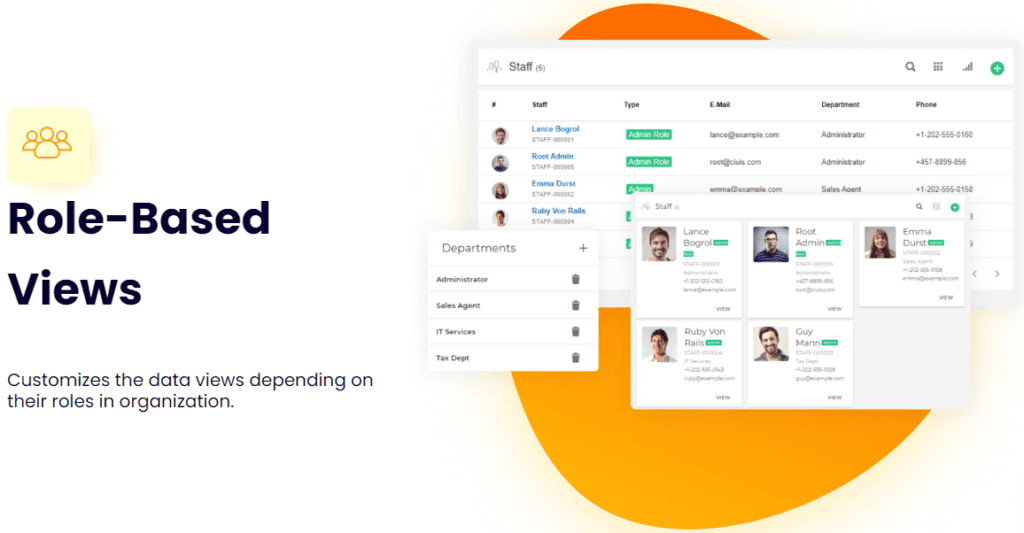 Proposal Management
CiuisCRM offers Proposal Management as a core feature. Users can create, manage, and track proposals in a centralized location. The dashboard interface provides an intuitive way for users to view proposal data and access important details like customer information, product details, discounts, taxes and more. The software also has powerful analytics tools that help users gain insights into their proposals and identify areas for improvement.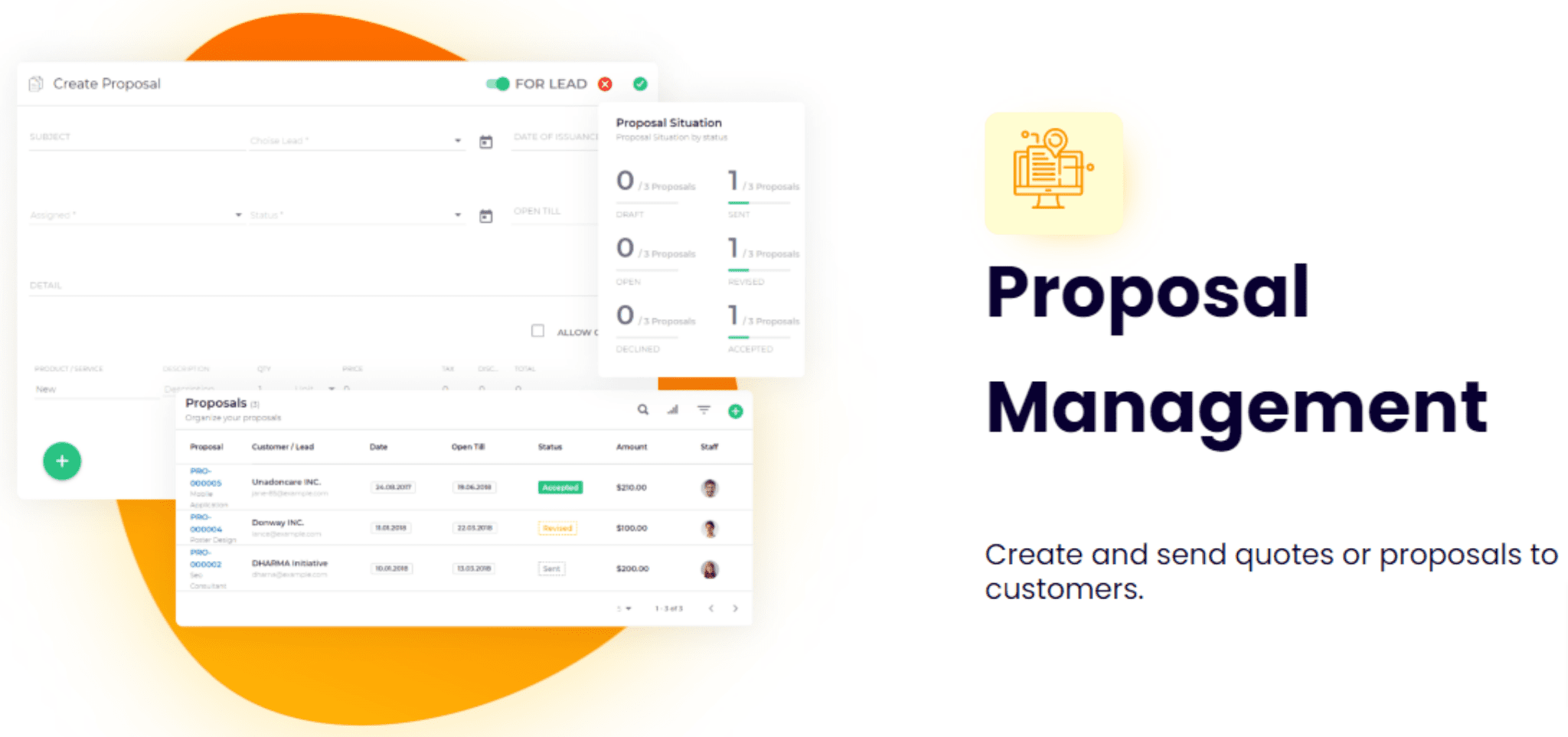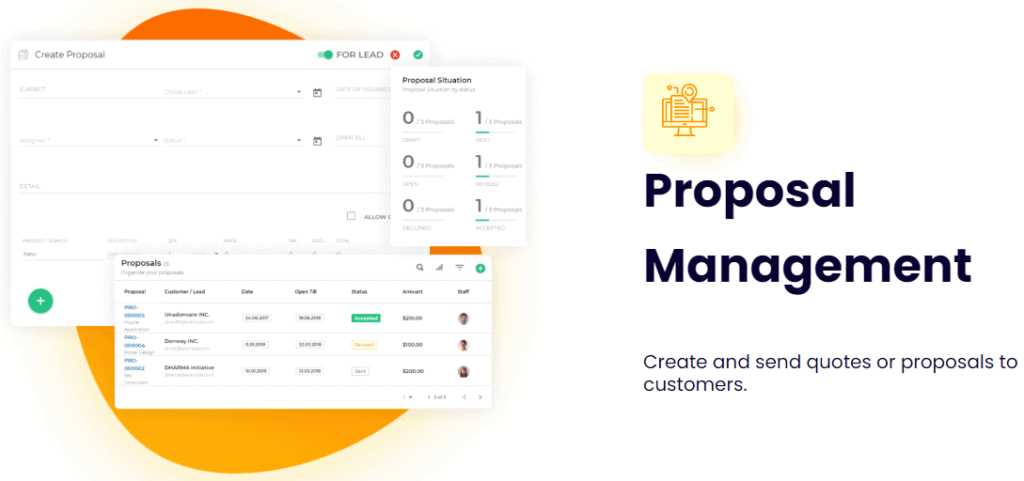 Addons
Mollie Payments Addon
CiuisCRM offers the Mollie Payments Addon as a key feature. This addon allows users to securely accept payments through their CRM software. With Mollie Payments, users can accept debit and credit card payments, direct bank transfers, and multiple currencies. It can also integrate with other popular payment gateways like PayPal, Stripe.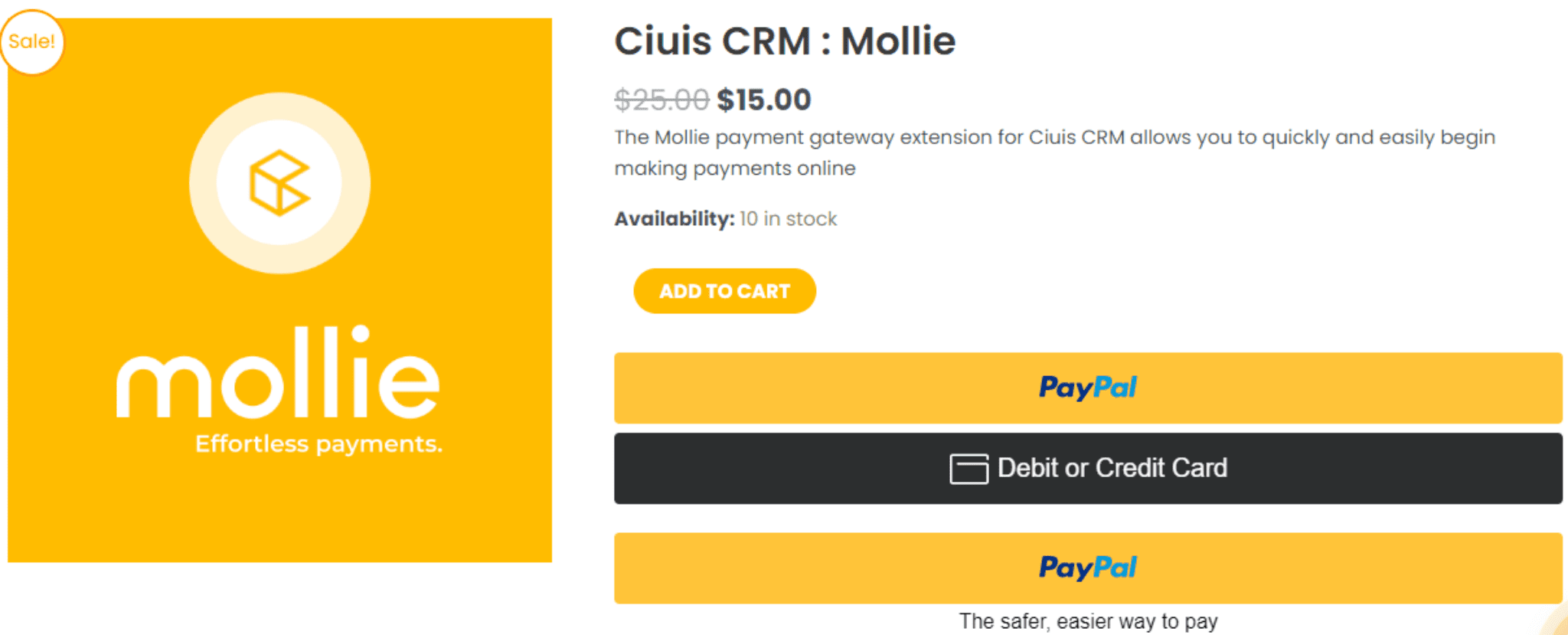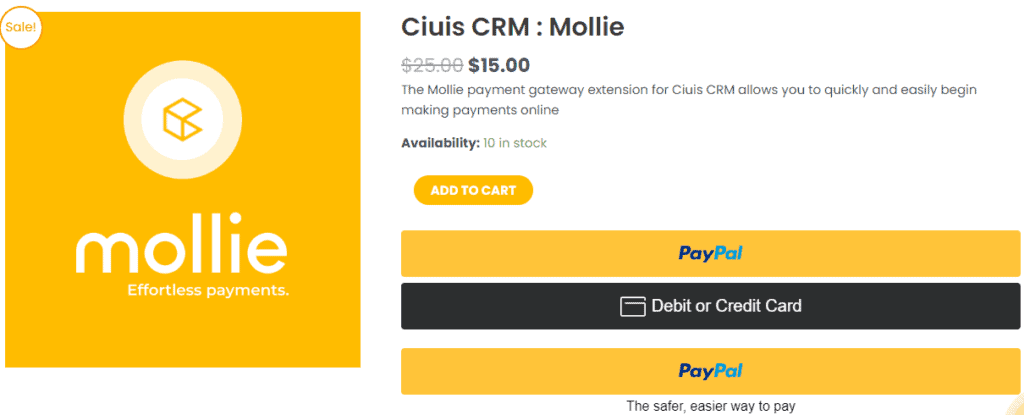 HR Module
By using HR Module, users can efficiently handle employee records, monitor attendance and performance, establish payroll and benefits, and more. The software also ensures compliance with local labor regulations and fair treatment of employees. Its user-friendly dashboard interface allows users to easily view key metrics and identify areas for improvement.


Why choose CiuisCRM?
Reasons to use CiuisCRM
Comprehensive analytics tools to track leads and measure performance
Open API for custom integrations with third-party services
Competitive pricing that makes it an affordable choice for small businesses
Addons- Mollie Payments, HR Module
Different Payment methods like PayPal, Stripe
Fully Responsive screen for mobile and tablet with user-friendly interface
Reports to keep track of your financial situation
Voice Notifications
Reports for invoices, customers, support, and sales
Whom is CiuisCRM for?
Use Cases
Small businesses
Consultants
IT/security agencies
Freelancers
Pricing Plans
Annual Pricing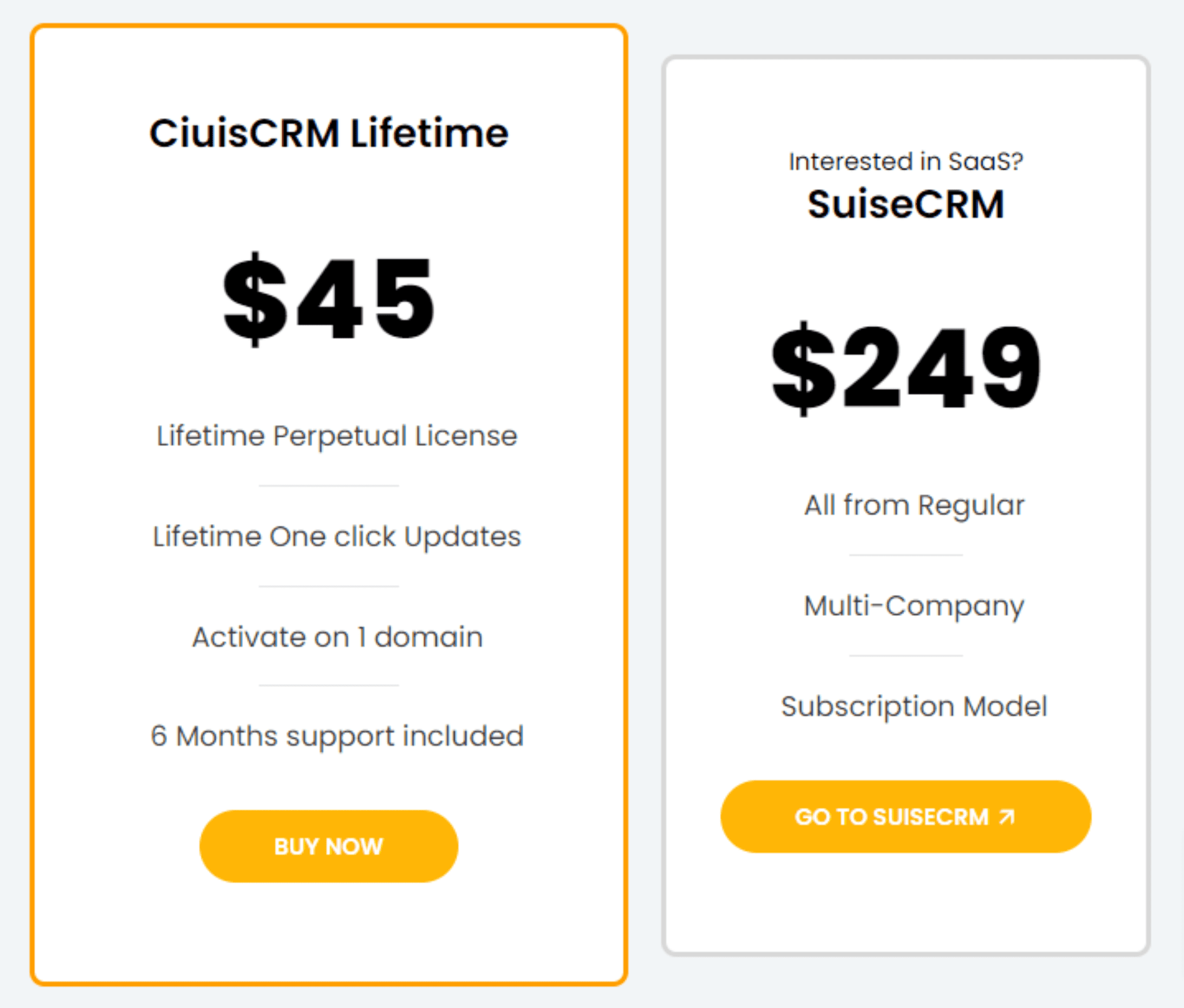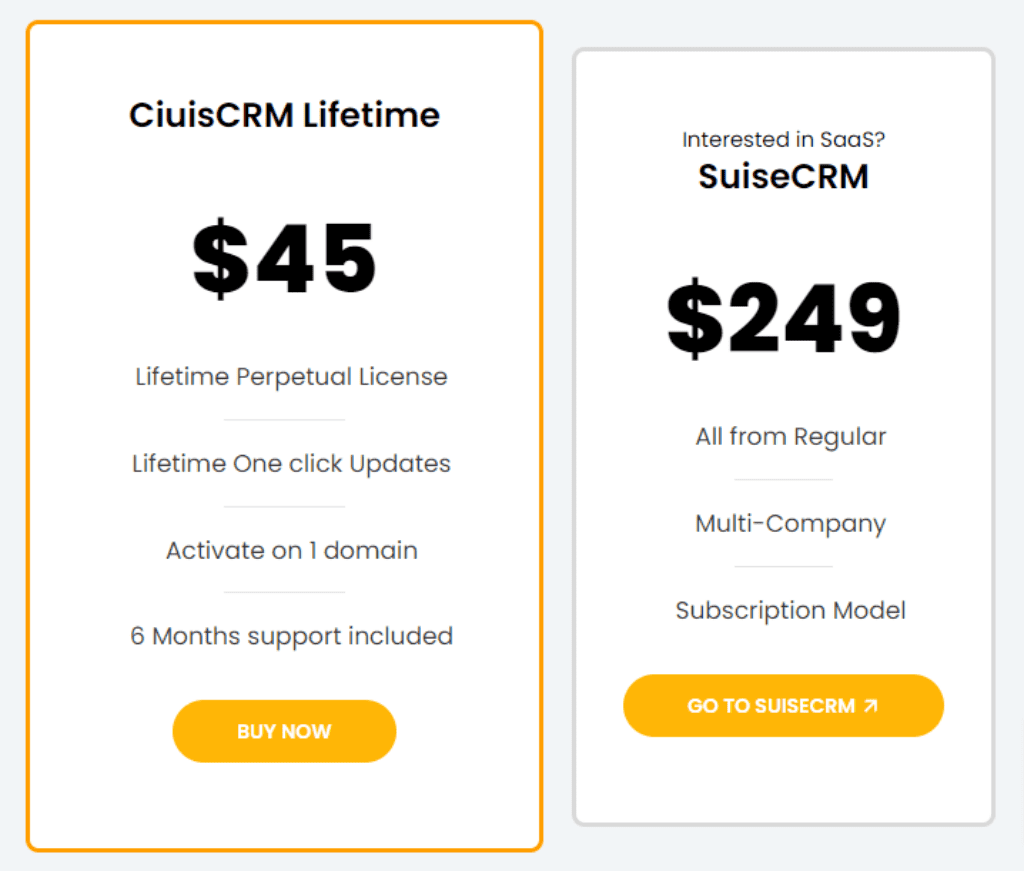 Support
Technical Support, Knowledge Base, Roadmaps, Changelogs
Alternatives
Similar Apps
Freshsales is a cloud-based CRM that provides small businesses with powerful sales and marketing tools to help them manage customer relationships more effectively. 
Zoho CRM is a comprehensive cloud-based customer relationship management solution designed to help small businesses streamline their sales and marketing activities.
Salesforce is a cloud-based customer relationship management (CRM) platform that offers features such as analytics, contact and lead management, automation tools, customer support, and more. 
Final Verdict
Is CiuisCRM right for You?
CiuisCRM is the ultimate solution for small businesses on a budget, packed with power features and self-hosted for maximum control. Say goodbye to overpriced CRMs and hello to the future of business management! It provides users with customization options and a user-friendly interface for accessing metrics and identifying areas for improvement. The Mollie Payments Addon provides a secure way for users to accept payments within their CRM software.
Empower your small business and revolutionize your customer relationship management with the innovative CiuisCRM solution! Not only does this system have an HR module that will make your head spin with its comprehensiveness, but its customer support is also so excellent, you'll feel like royalty!
CiuisCRM Rating
CiuisCRM provides a comprehensive solution for managing, maintaining, and tracking customer and vendor data, including accounts, billing, and follow-ups.
PROS
Comprehensive analytics tools
Powerful automation features
Open API for custom integrations
Competitive pricing
CONS
Limited customization options
Not suitable for large businesses with complex needs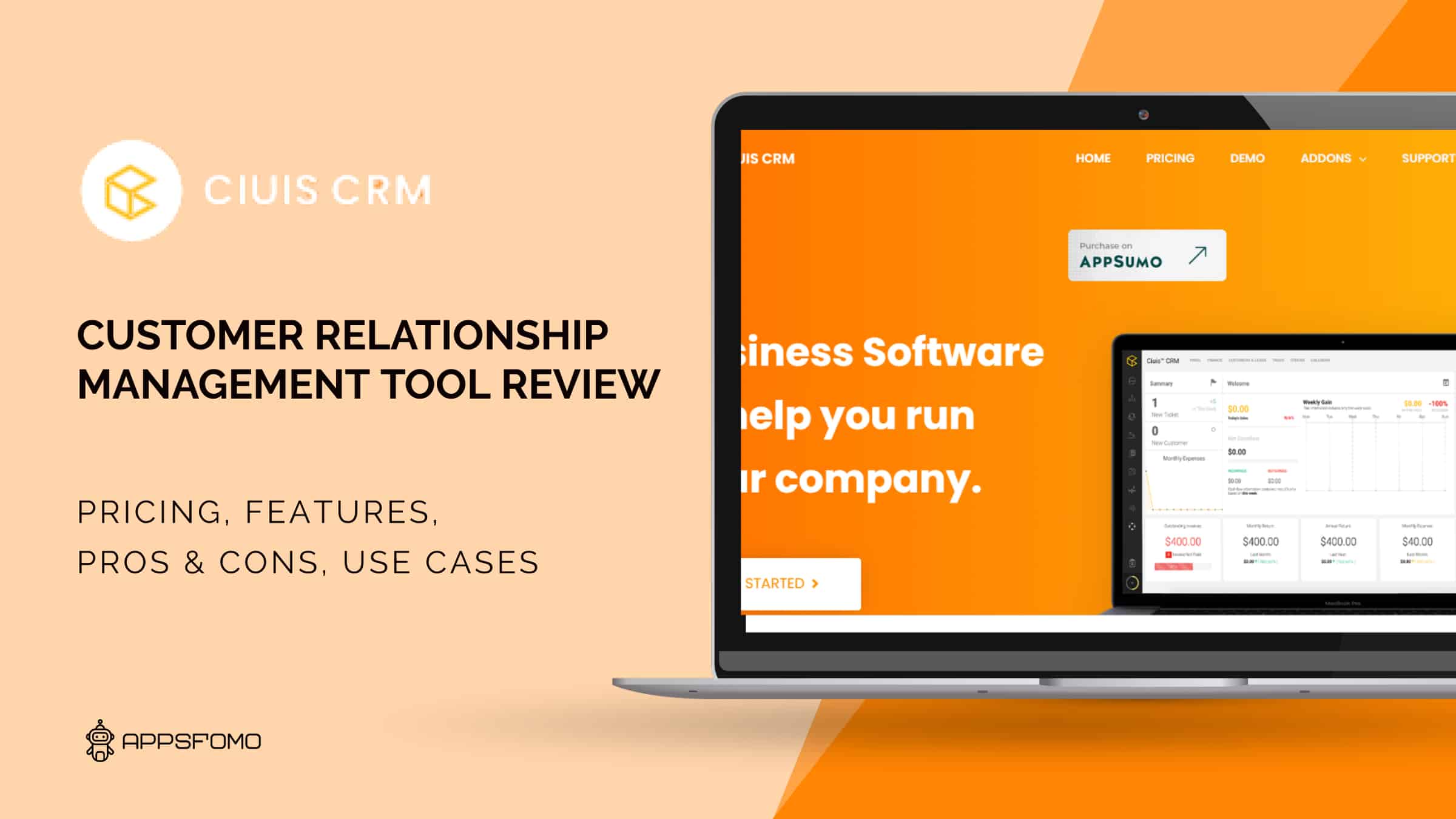 CiuisCRM: The Best Self-Hosted CRM Solution for Small Businesses