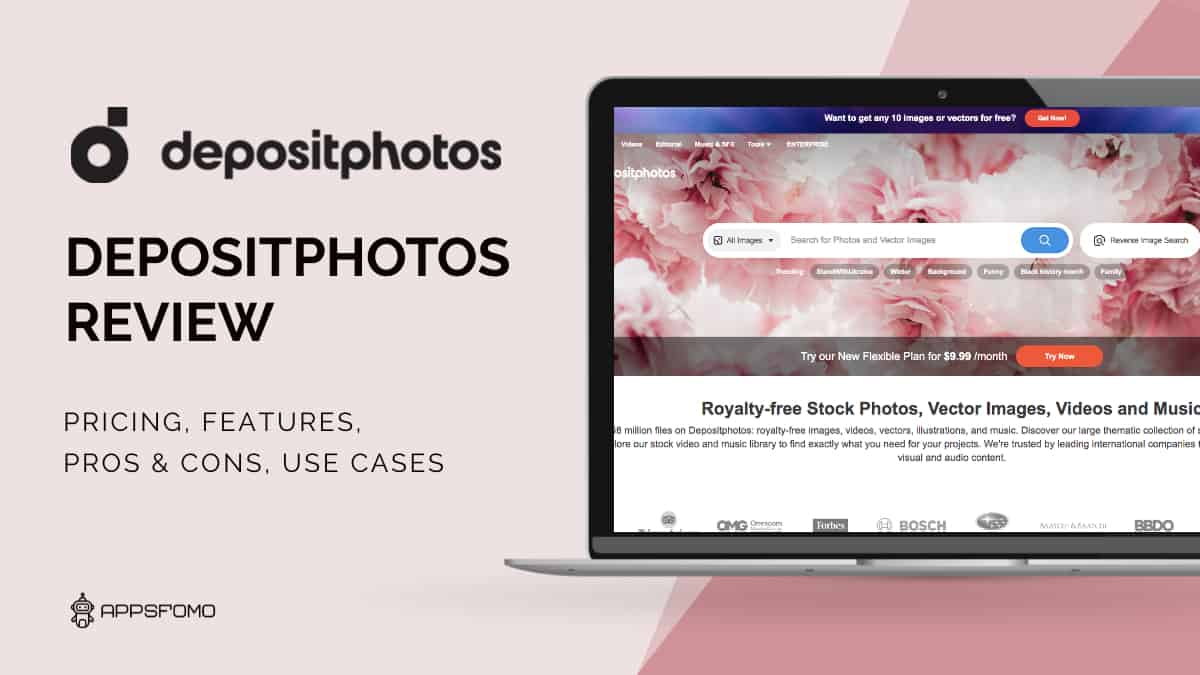 Depositphotos: Find The Perfect Image from Huge Stock Image Library
Add to wishlist
Added to wishlist
Removed from wishlist
0
Add to compare
A royalty-free content marketplace is a digital platform where individuals and businesses can purchase licenses for the use of digital content such as photos, illustrations, videos, and music. This type of marketplace provides pre-cleared, high-quality content that is licensed to customers with the right to use it without paying additional fees every time they use it.
What Is Depositphotos?
Overview
Depositphotos is an online stock photography, vector graphics, and video footage marketplace. With more than 100 million files to choose from, Depositphotos has one of the largest collections of high-quality royalty-free images, illustrations, and videos available on the web. This platform offers a variety of image options, including exclusive content from some of the world's top photographers, illustrators, and videographers.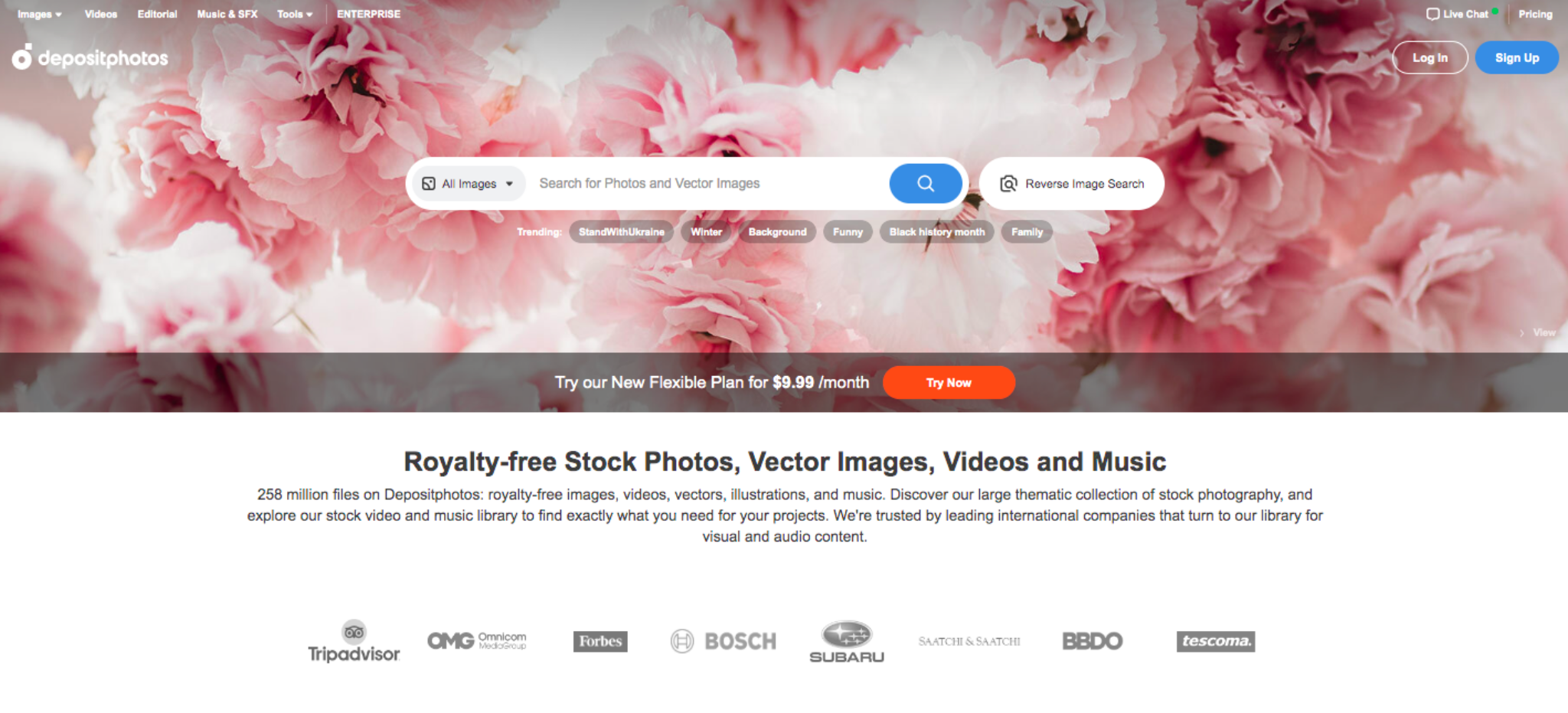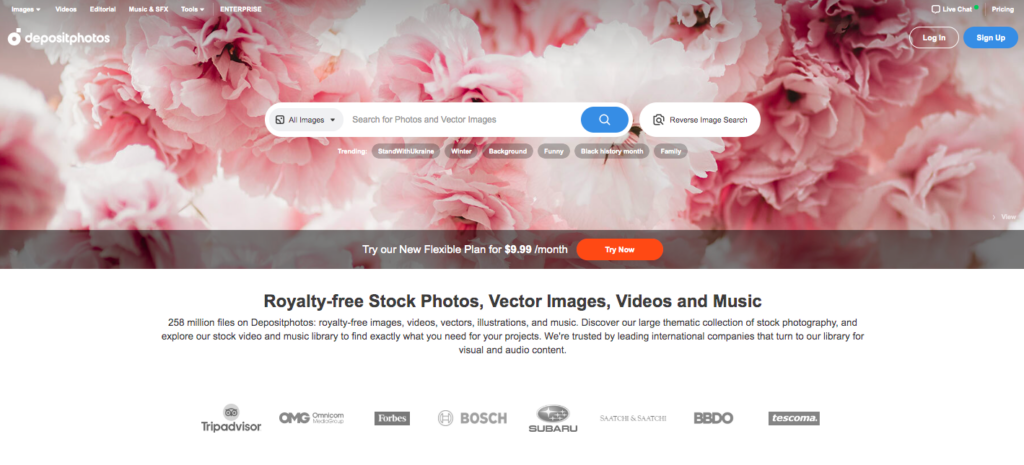 Company Details
Depositphotos was founded in 2009 by Dmitry Sergeev. It is headquartered in Fort Lauderdale, Florida with offices in the US and Europe.
Depositphotos has raised a total of $8M in funding over 3 rounds. Their latest funding was raised on Dec 17, 2015, from a Series B round. The company has received venture capital funding from several investors such as Insight Venture Partners, DN Capital, and Tiger Global Management.
The company has also developed partnerships with various companies, including Adobe Stock, Shutterstock, and Getty Images. This has allowed Depositphotos to become one of the largest providers of stock photos and images on the web.
Online Presence
What does Depositphotos do?
Basic Features
High-Quality Images
The quality of Depositphotos images is one of the main reasons for its success. Every image is carefully reviewed before it is added to the library, ensuring that only the highest quality photos are available for purchase. All images are high-resolution and feature beautiful colors, sharp details, and stunning compositions. With Depositphotos, you can get the perfect image for any project without compromising on quality.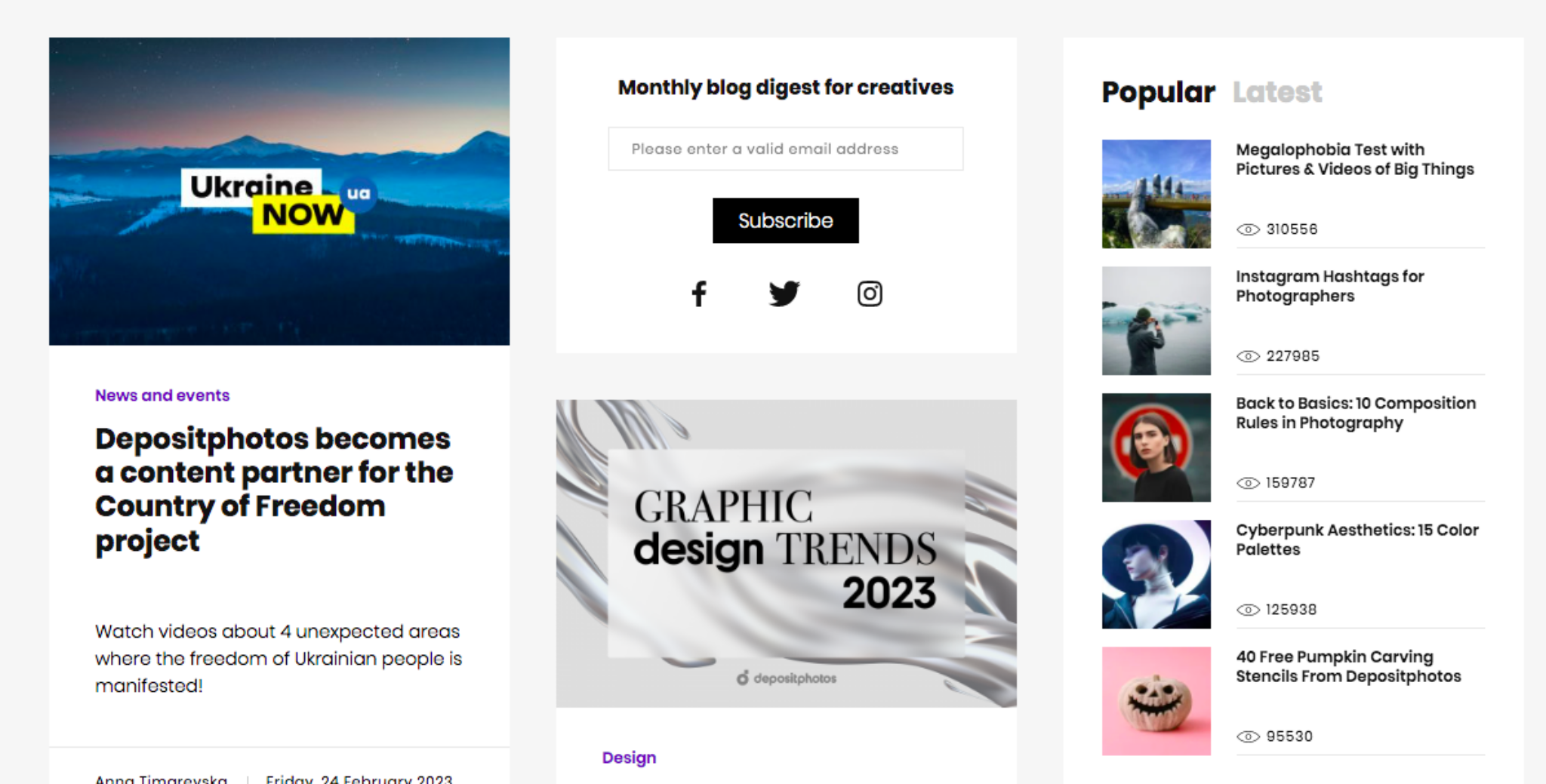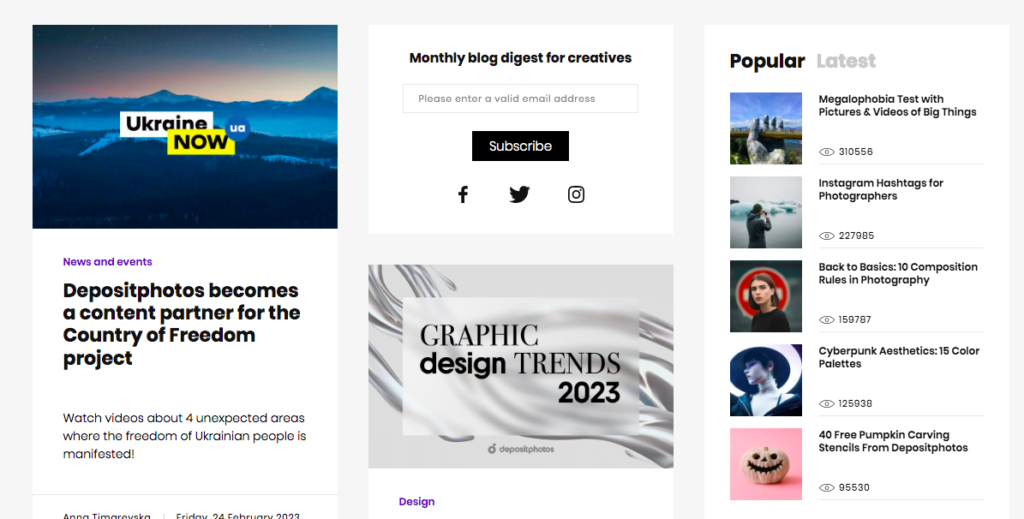 Powerful Search Engine
The search engine uses advanced algorithms to match user queries with the most relevant images from its huge library of over 130 million royalty-free assets. The search engine allows users to narrow down their searches by selecting specific categories, keywords, sizes, orientations, and more. Users can also filter results by contributor, with the option to search only for images from their favorite photographers or agencies.
Contribution Program
Depositphotos offers a generous contribution program for photographers and other content creators. Photographers and videographers can submit their work to the platform and earn royalties on any sales. This allows them to easily monetize their content and benefit from the popularity of Depositphotos. Additionally, Depositphotos also offers exclusive deals for large-scale projects that require custom visuals or videos. This ensures that photographers and content creators can always find work and get paid for their efforts.
API Program
Through the API program, developers can incorporate the images into their applications, websites, and other projects with ease. The API program is divided into two parts: the public part- which provides developers with access to all of the images in the Depositphotos library and the commercial part- which allows developers to access additional services such as content curation and custom collections.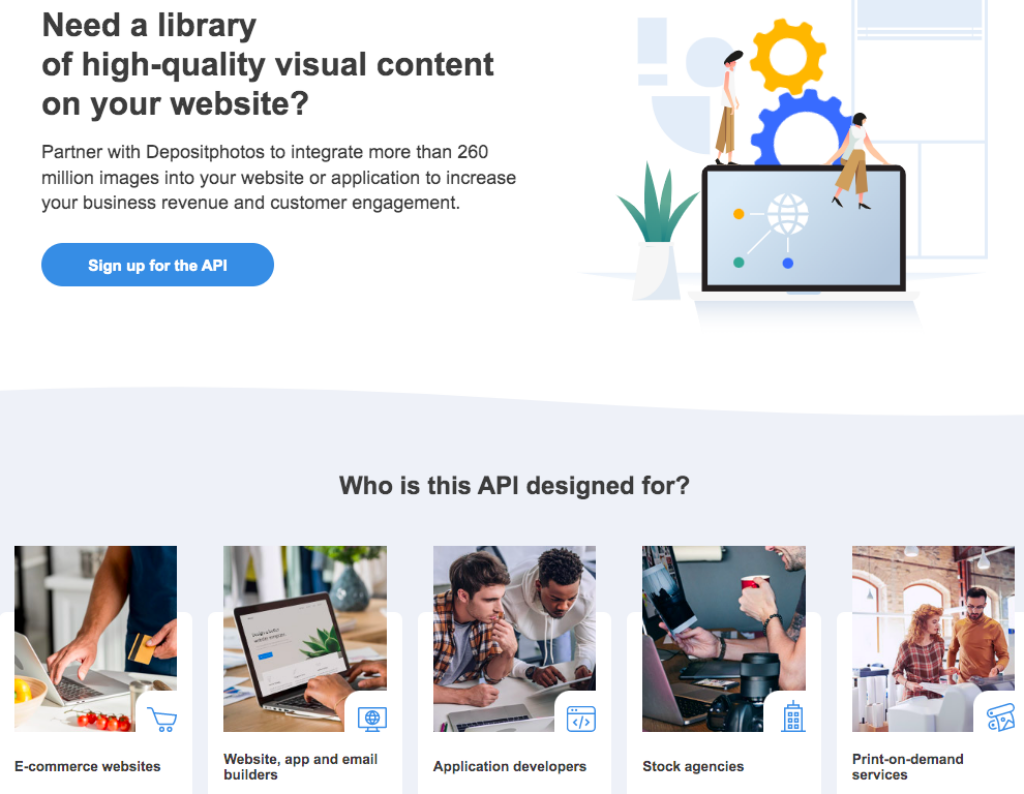 On-Demand Plan
The OnDemand Plan allows users to purchase only the images they need on an as-needed basis. Like, the standard license offered by Deposit Photos allows customers to use purchased files in one project but does not allow for use in multiple projects or redistribution. While, with an extended license, customers can use their purchased images in multiple projects, without having to repurchase additional licenses.
How Depositphotos is different from others?
Unique features
Huge Selection of Vector Graphics
Depositphotos has an impressive array of vector graphics for use in any design project. The selection of vector graphics on Depositphotos is vast and varied, including everything from simple icons to complex illustrations. The images are categorized by type and style, making it easy to find the right image for your project.
Reverse Image Search
The Reverse Image Search tool works by analyzing the content of an uploaded image and comparing it to photos already in the library. It then returns a list of related images that are similar in color, composition, and subject matter.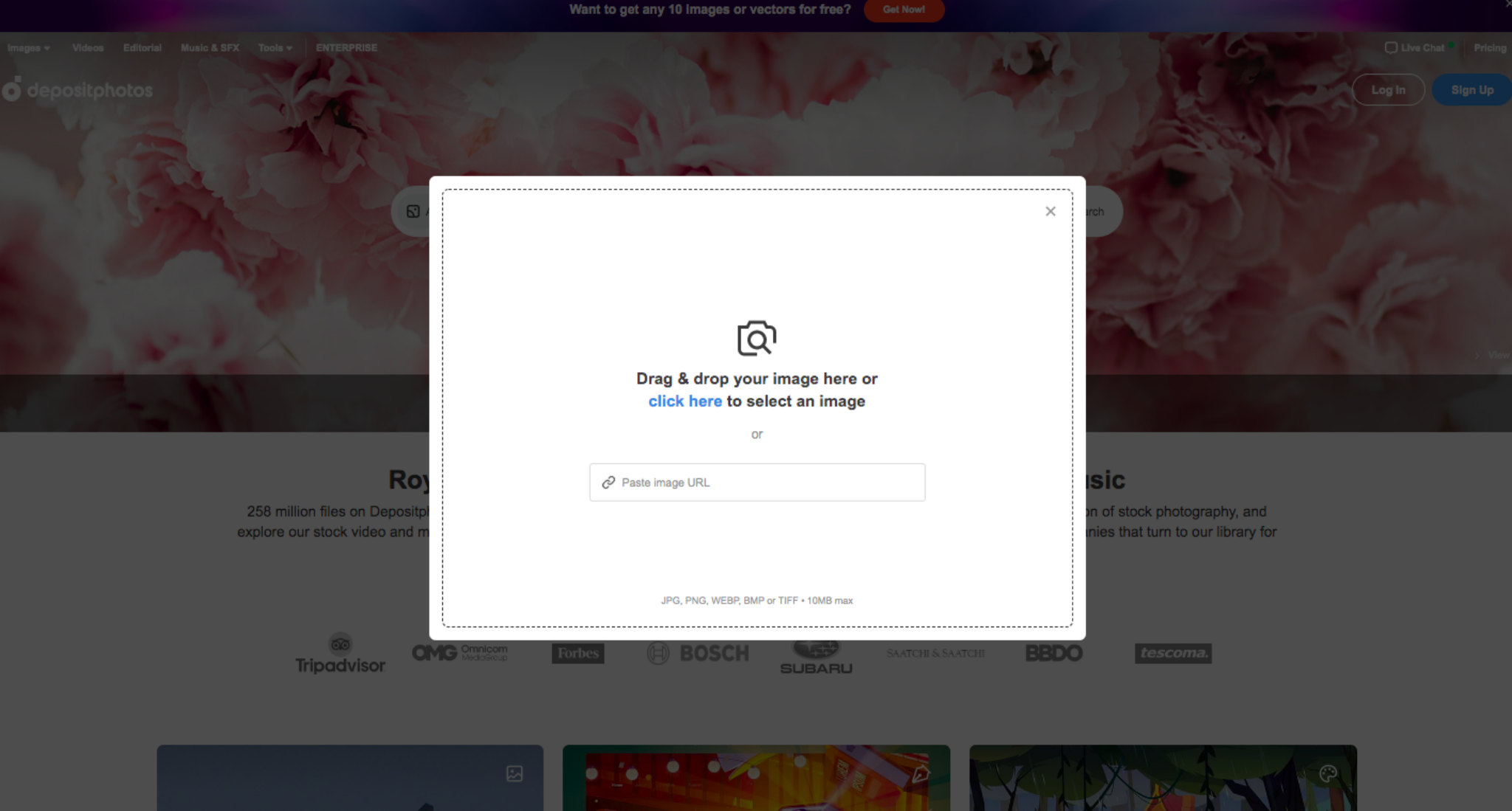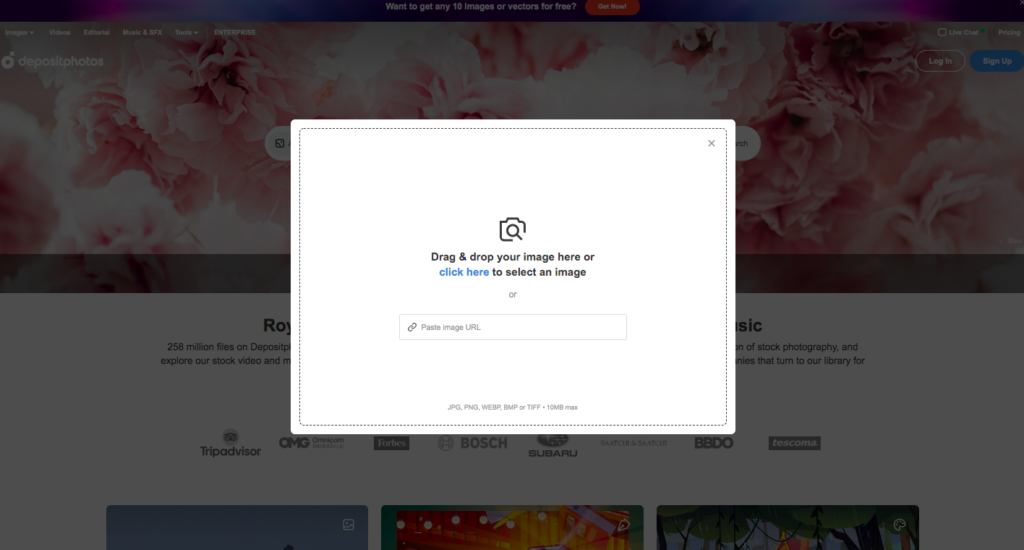 It allows users to quickly and easily find related images or download similar photos without having to manually search through the entire database. This feature can be used to identify stock photos that are similar to a particular image or even discover new images that may otherwise not have been found.
Integrated Tools for Creating and Editing Content
This feature allows users to easily create stunning visuals for their projects without having to spend time learning complex software. Additionally, it offers a range of templates, clipart, and other useful elements that can be used to enhance any project.
Top Places to Sell Photos Online List
With this feature, Depositphotos makes it easy for photographers to market their work and get paid for their creativity. It provides a comprehensive overview of the most popular stock photography sites and services for quick comparison of different stock photo agencies and finding the best option for their needs. It includes detailed information about each platform, such as pricing models, commission rates, and payment methods.
Enterprise Solution
Depositphotos offers an Enterprise Solution for businesses of all sizes to access a library of millions of high-quality photos, illustrations, and videos. With the Enterprise Solution, businesses can access a vast selection of stock images at a much lower rate than the regular subscription packages. The subscription also provides access to special services such as content curation and custom photo collections.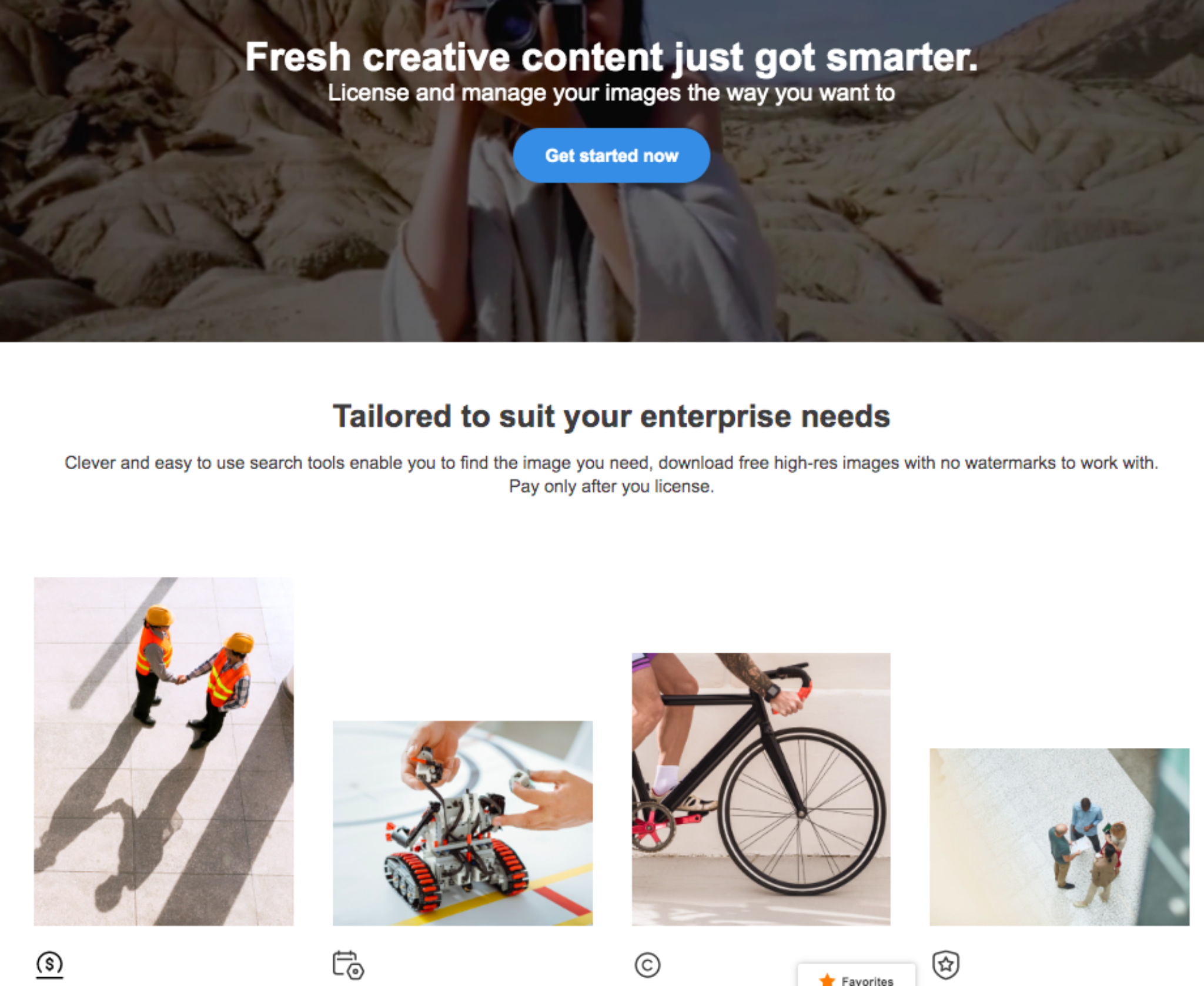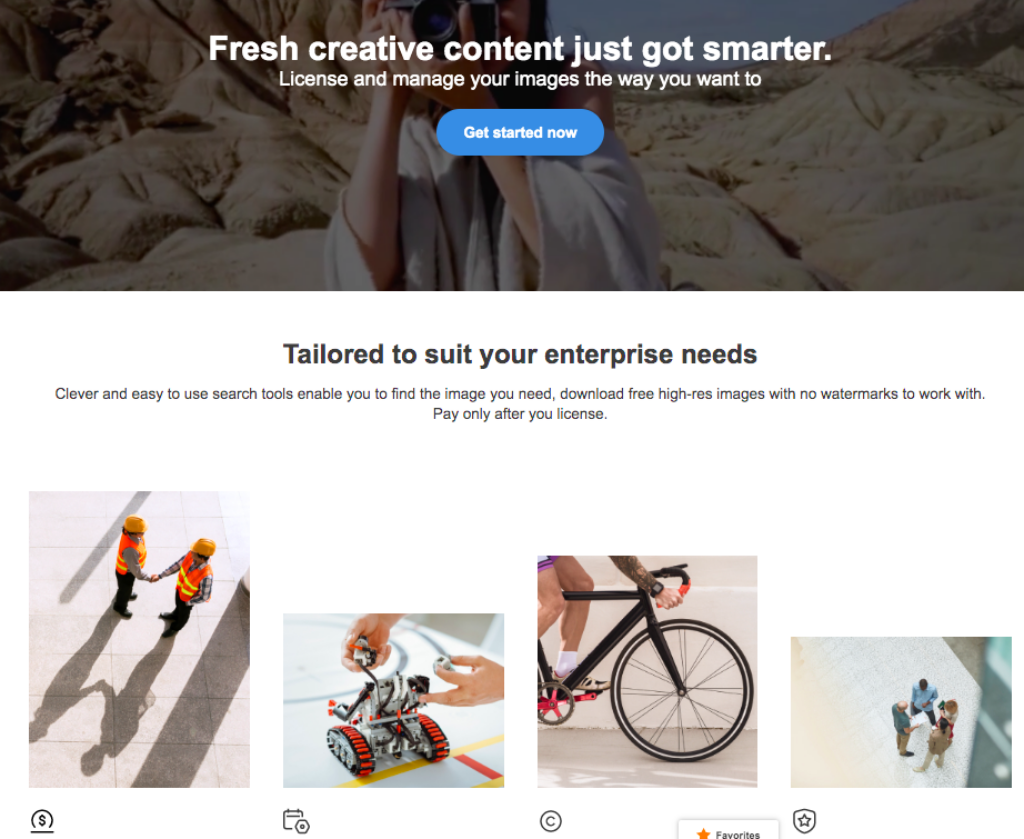 Why choose Depositphotos?
Use Cases and Benefits
All images are royalty-free and come with a Standard License.
Blogging, Advertising, etc.
Unlimited stacking.
Pricing Plans
Annual Pricing
DepositPhotos offers flexible pricing plans with options to fit any budget. These plans are tailored to fit different needs, with options for both individual and business customers. Whether you're looking for a single download or an ongoing subscription, Depositphotos has the plan to suit your needs.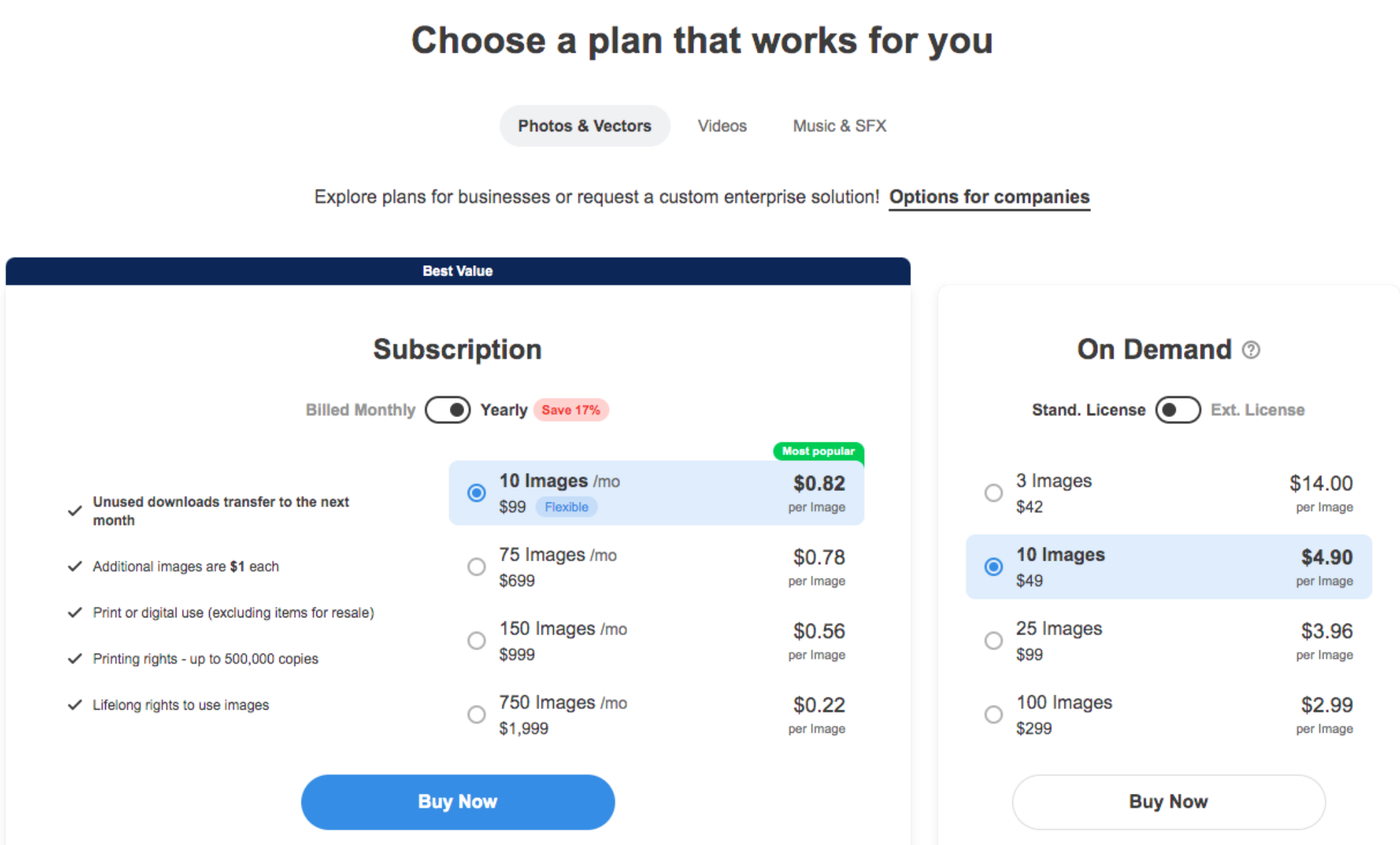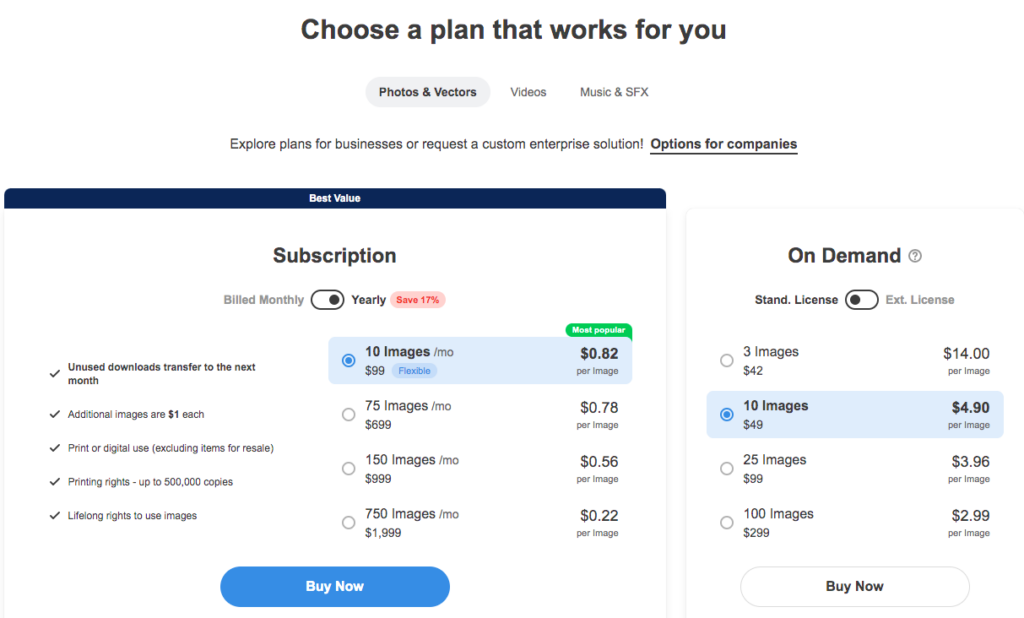 Support
Technical Support, Knowledge Base, Changelogs
Support Links/ Contact Page Links: https://depositphotos.com/contact-us.html
Documentation link: https://depositphotos.com/legal-information.html
Public Changelog: https://blog.depositphotos.com/
They provide excellent customer support via, email, phone, and live chat support on their website.
They have an extensive FAQ section about the service.
The company has created a Knowledge Hub – an extensive collection of educational materials, tutorials, and insights about digital images, video clips, and graphics.
Users can access via the website or through the mobile app, which is available for both iOS and Android devices.
Alternatives
Similar Apps
Shutterstock is a stock photo and video website that offers millions of high-quality royalty-free images, vectors, illustrations, and videos.
Adobe Stock is a stock photo library from Adobe, one of the world's leading software companies. It provides an extensive collection of high-quality images, illustrations, and videos from professional photographers and videographers around the globe.
Unsplash is a free stock photo website that offers high-resolution photos from talented photographers around the world. It is a great resource for creatives, web developers, and marketers to find quality images for use in their projects.
Final Verdict
Is Depositphotos right for You?
DepositPhotos is an excellent stock photo site option for those who wish to purchase royalty-free images for their projects. It offers a broad range of options and features to suit any budget. The user-friendly interface makes navigation easy and the wide selection of images ensures that there's something for everyone.
It is an ideal choice for photographers, content creators, and marketers who are looking to monetize their work. With its impressive selection, powerful tools, and excellent customer service, it's no wonder Depositphotos is one of the top places to sell photos online.
For high-quality royalty-free images at an affordable price, look no further than Depositphotos!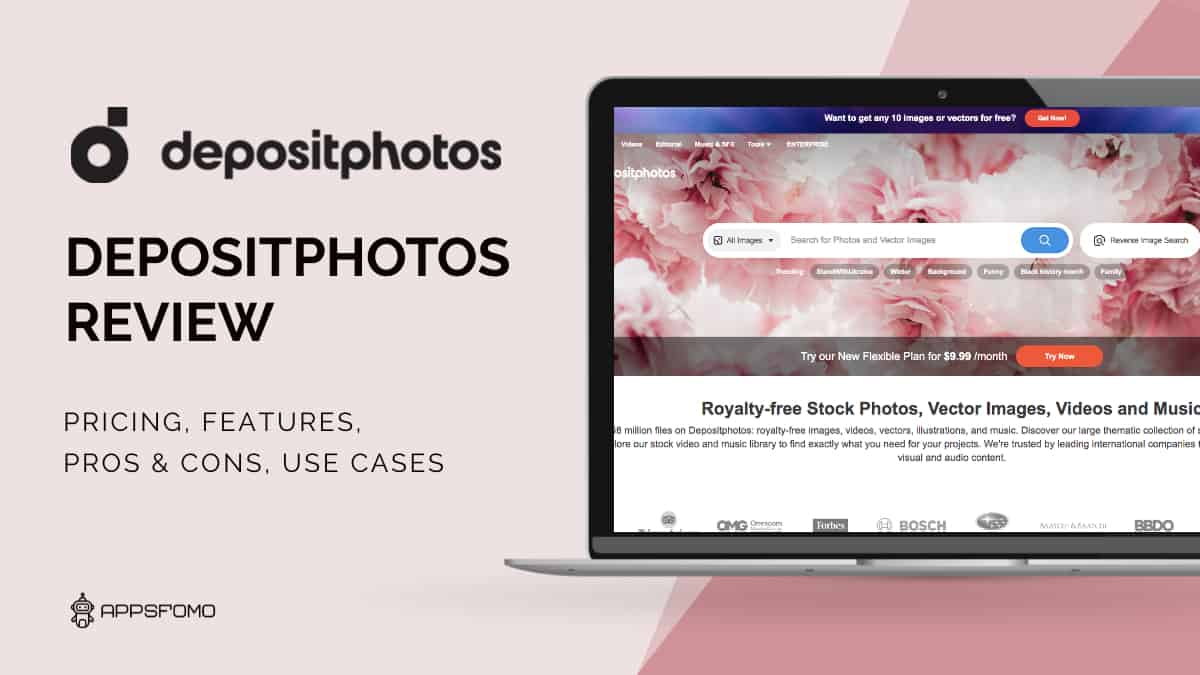 Specification:
Depositphotos: Find The Perfect Image from Huge Stock Image Library
| | |
| --- | --- |
| Review Date | February 2023 |
| Company | Depositphotos |
| Country | USA |
| Initial Release | 2009 |
| Pricing | Annual subscription, Monthly Subscription, On Demand Pricing |
| Free Version | Available |
| Lifetime Deal | Yes |
| Money-Back | 30 Days |
| Support type | Blogs, Emails, Help center, Live Chat, Phone call |
| Integrations | Yes |
| Supported Device | Android, Browser, Desktop, IOS, Web Based, Windows |
| Mobile app | Available |
| Affiliate Program | Yes |
PROS:
High-Quality Photos
Easy User Interface
Excellent Customer Service
Variety of Images
CONS:
Limited File Types
Limited Customization Options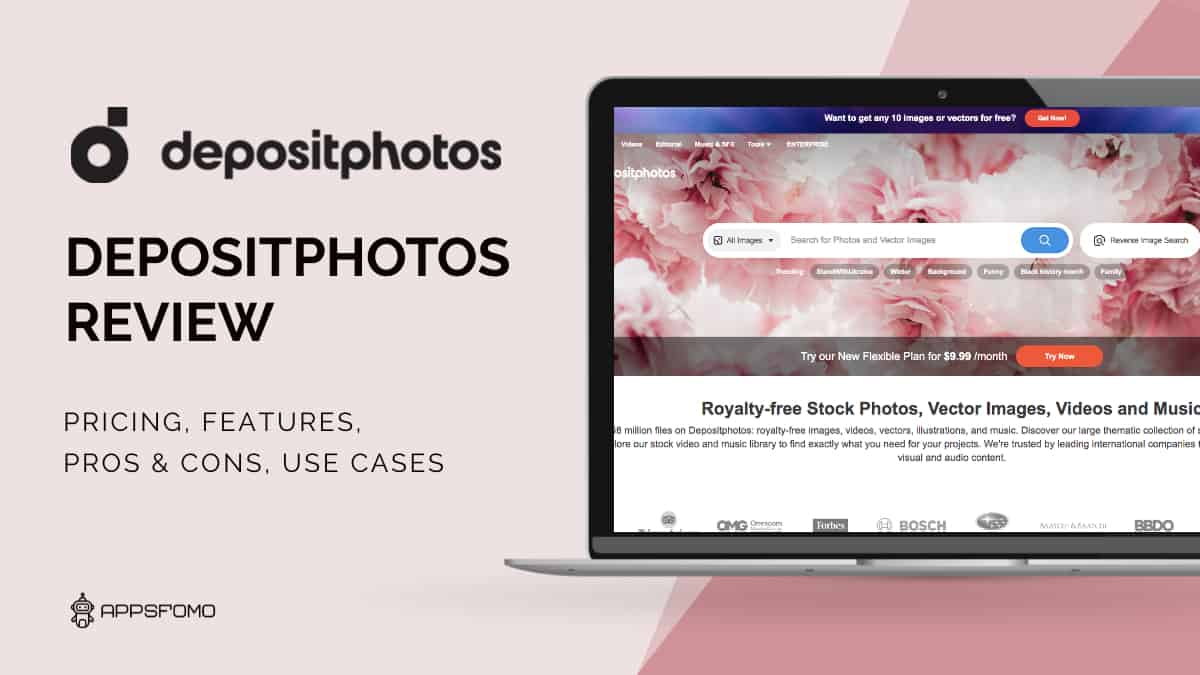 Depositphotos: Find The Perfect Image from Huge Stock Image Library