Eduma: The Best eLearning and LMS Theme for WordPress
Add to wishlist
Added to wishlist
Removed from wishlist
0
Add to compare
| | |
| --- | --- |
| Author | Tony Nguyen |
| Company Name | ThimPress |
| Marketplace | Themeforest |
| Free Verison | Not Available |
| Initial Release | 2010 |
| Active Installations | 35k + |
| Niche | Education |
| Free Templates | None |
| Premuim Templates | |
| Unique Theme Features | For LMS, Training Center, Courses Hub |
| Supported Page Builders | |
| One Click Demo | Yes |
| Multilang Support | |
| Pricing Options | |
| Money Back Guarantee | |
| Site Usage | 1 Site |
| Support System | Support Ticket |
| Competitor | EducationPress |
| Affiliate Program | Yes |
Eduma is one of the best education WordPress themes around, containing all the strength of eLearning WP but with a better UI/UX.
You will get:
Fully responsive layout.
Selling courses becomes easy.
Ready translation.
No coding is required.
Intuitive drag and drop interface.
Discount offers available.
Eduma Appsfomo Rating
Powerful WordPress educational theme with high performance and optimized for SEO.
PROS
Fully responsive layout.
Selling courses becomes easy.
Ready translation.
No coding is required.
Intuitive drag and drop interface.
Discount offers available.
CONS
Doesn't have multiple purchase offers
The additional cost is required for the 12 monthly plan
Expensive
In today's digital age, an online presence is essential for educational institutions. But how can you make sure that your website stands out from the rest? Introducing Eduma – the best WordPress theme for education websites. In this blog, we will take a deep dive into the features and benefits of Eduma that make it the go-to solution for creating an educational website. From its compatibility with LearnPress LMS plugin to its mobile-friendly design, Eduma offers everything you need to create an effective online platform.
Whether you're managing a kindergarten or a university, this theme offers multiple layout options and customization features that cater to all types of educational organizations. Get ready to elevate your online presence with Eduma!
Eduma is one of the best educational WordPress themes around, containing all the strengths of eLearning WP but with a better UI/UX.
Eduma is the ultimate WordPress theme for creating a customized education website that aligns with your vision. With its diverse range of pre-built templates and layouts, Eduma makes it easy to create a professional-looking website tailored to meet the specific needs of your educational institution. The theme's compatibility with LearnPress and WooCommerce ensures an optimal e-learning experience while providing eCommerce support for selling courses, merchandise, or any other product.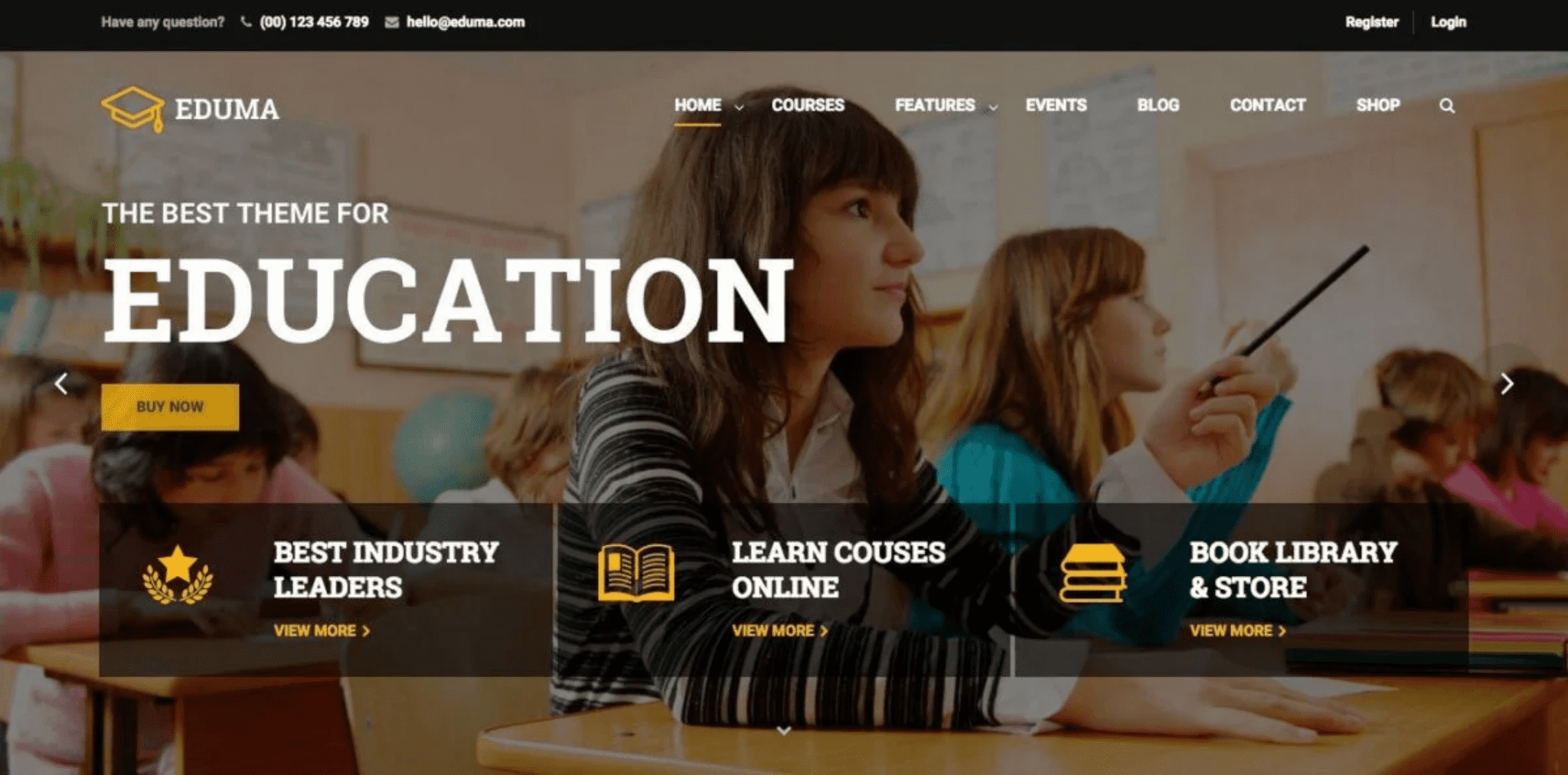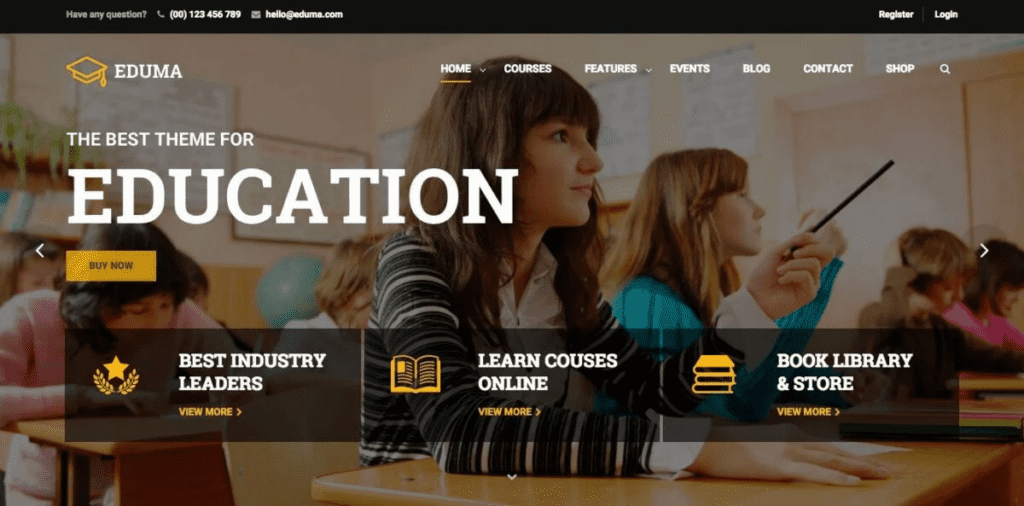 Company Details
Eduma is the product of the brand ThimPress
Since 2010, ThimPress has had engineers who are involved in developing many frameworks and technologies such as WordPress Theme, WordPress Plugin, Shopify Theme, Shopify App, Mobile App, React Native, React Js, Laravel, Magento, PHP, C#.
Some particular products have been trusted and are being used by customers, such as Eduma, Coaching, Sailing, and Shopify Themes such as Storepify, and SaleMaster.
Online Presence
How to Get Started with Eduma?
Steps after Installation and Activation
Once you successfully install and activate the Eduma theme, Eduma Dashboard will be added to your WordPress menu.
Now you can get started to set up your site with Eduma.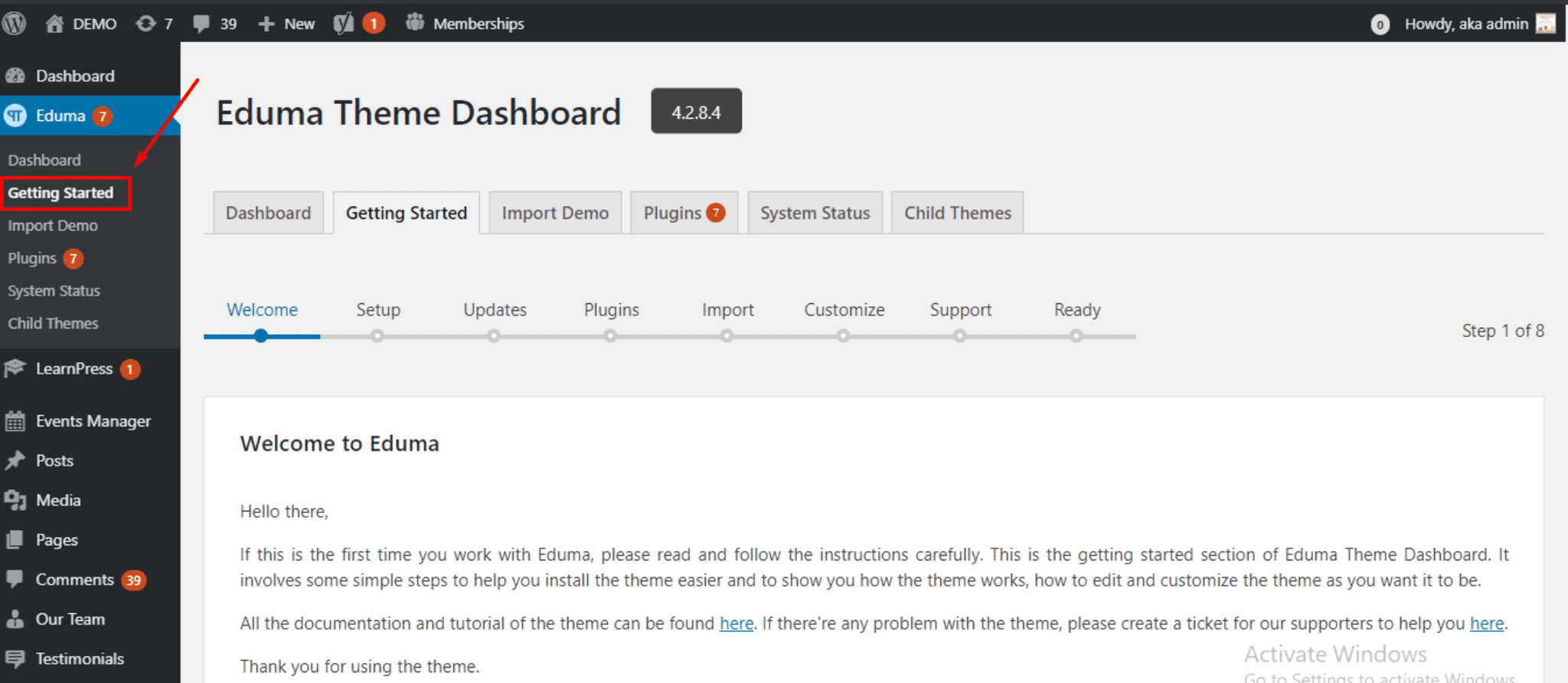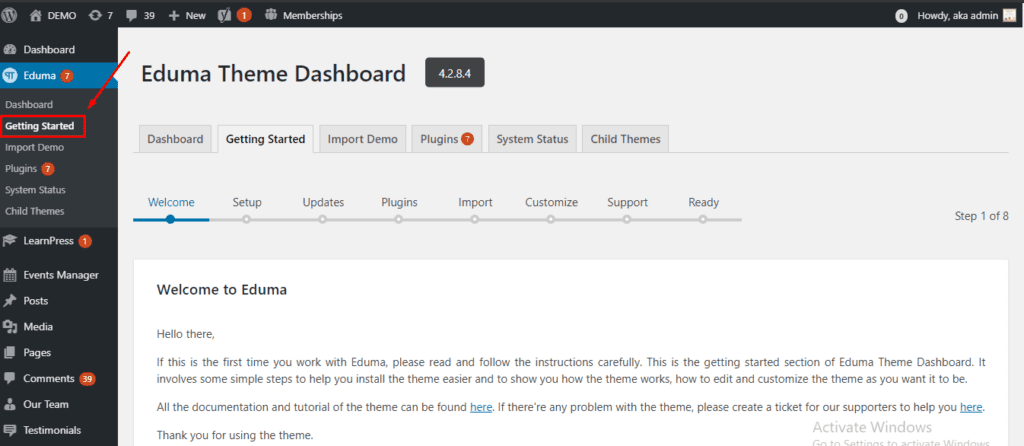 Name your website and site description
Install and activate required and recommended plugins
Import Demo Content
Sign in to your Envato account to get updates
Customize your site
Get support resources
Import Demo
Thim Core Demo Importer
Thim Core is a required plugin for the Eduma theme. This plugin is a demo importer that imports all posts/pages, sample sliders, widgets, customization, and more.
Follow the steps below to import the demo via Thim Core:
Step 1 – Visit Dashboard > Eduma > Import Demo.
Step 2 – Hover on the demo you want and click Install
Step 3 – Select what type of content you want to import and click Import.
The importing process may take up to 5 minutes.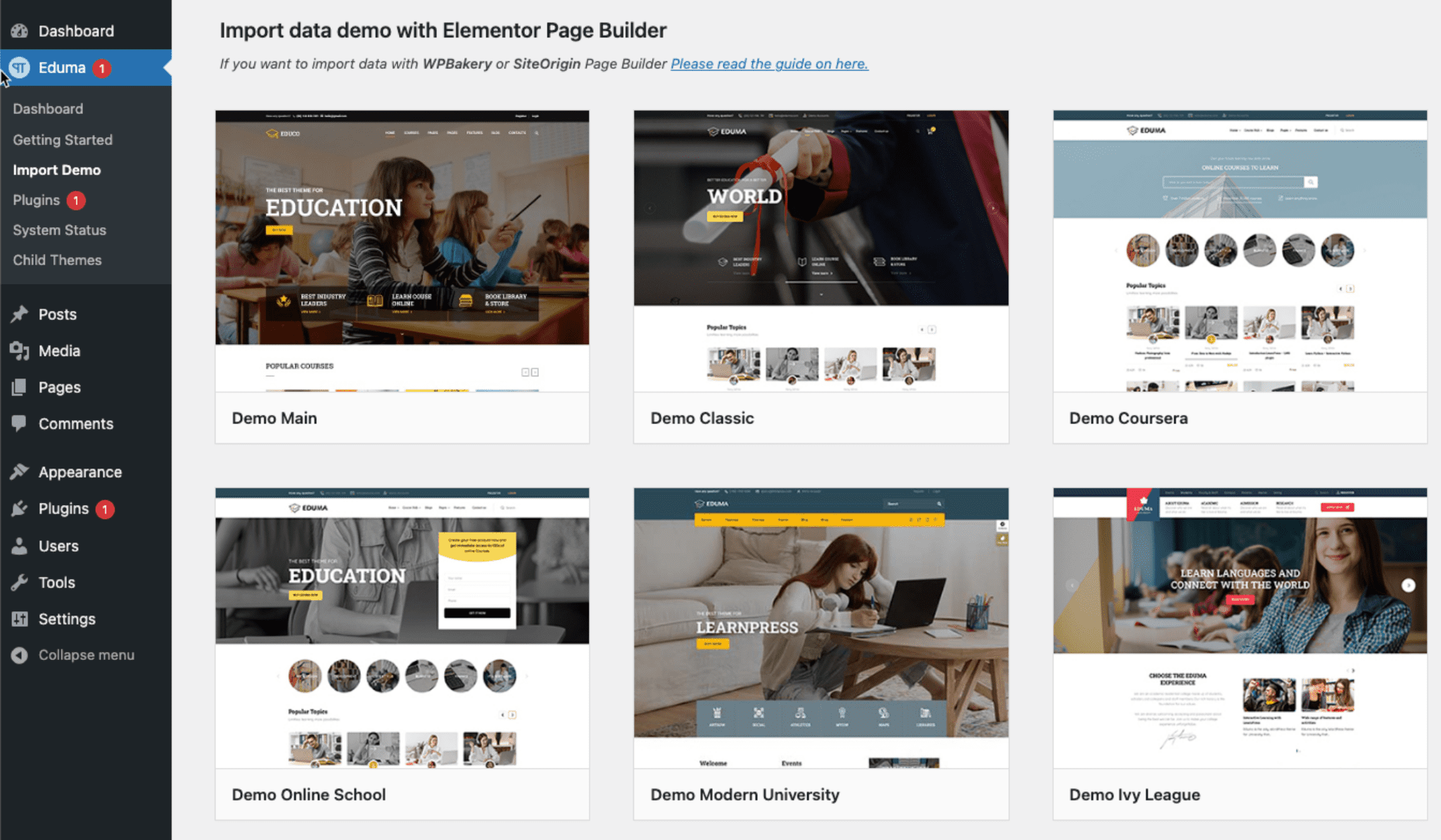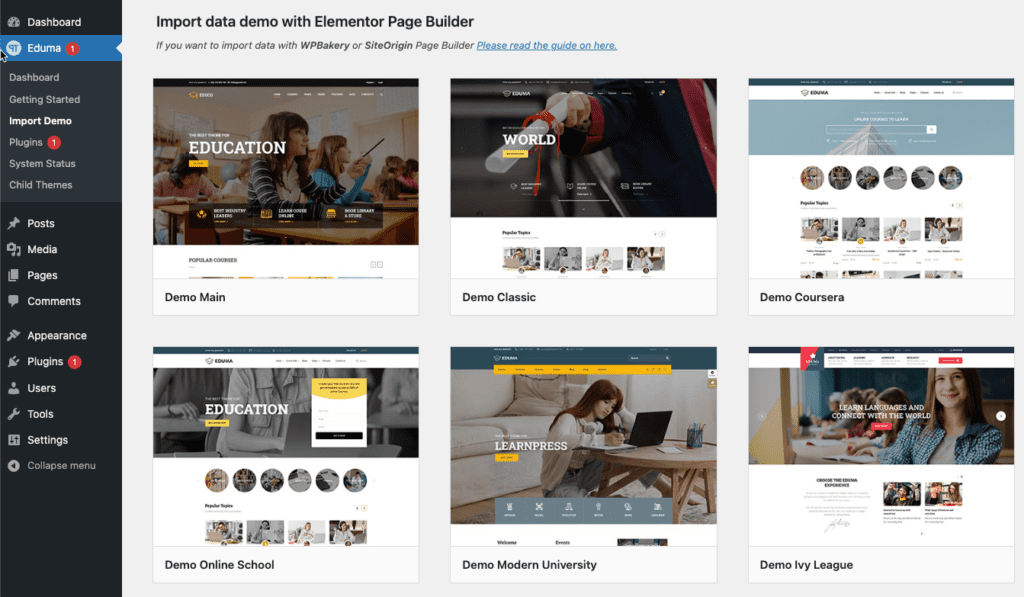 Import a specific page and blocks
You can import a specific page (like the home page, about us, FAQs…) and blocks.
Step 1 – Edit the page with Elementor page builder.
Step 2 – Click "Thim Elementor Kit"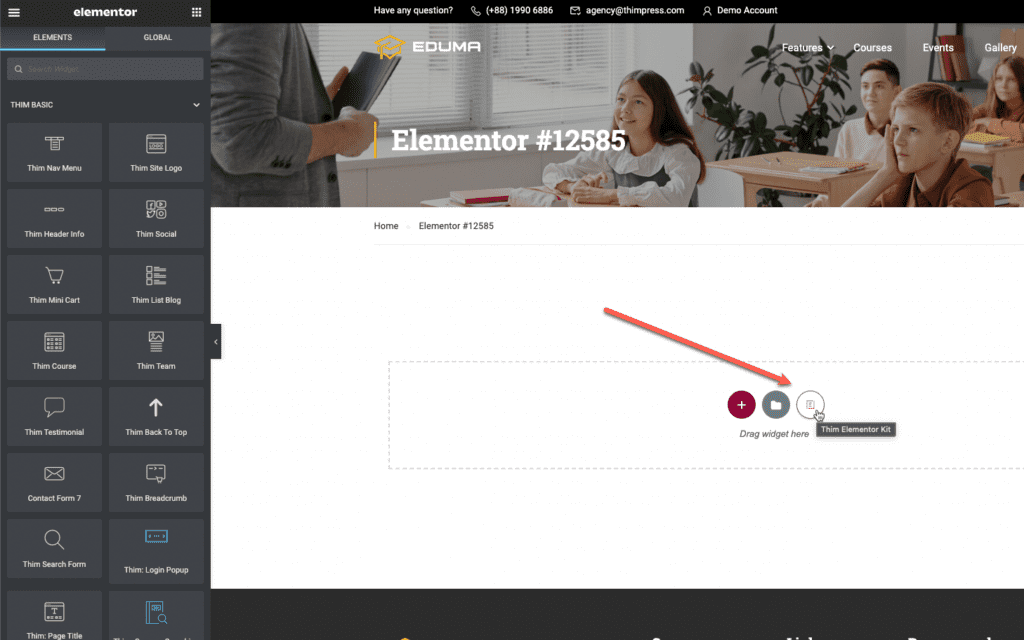 Step 3 – Click "Insert" a page or a block.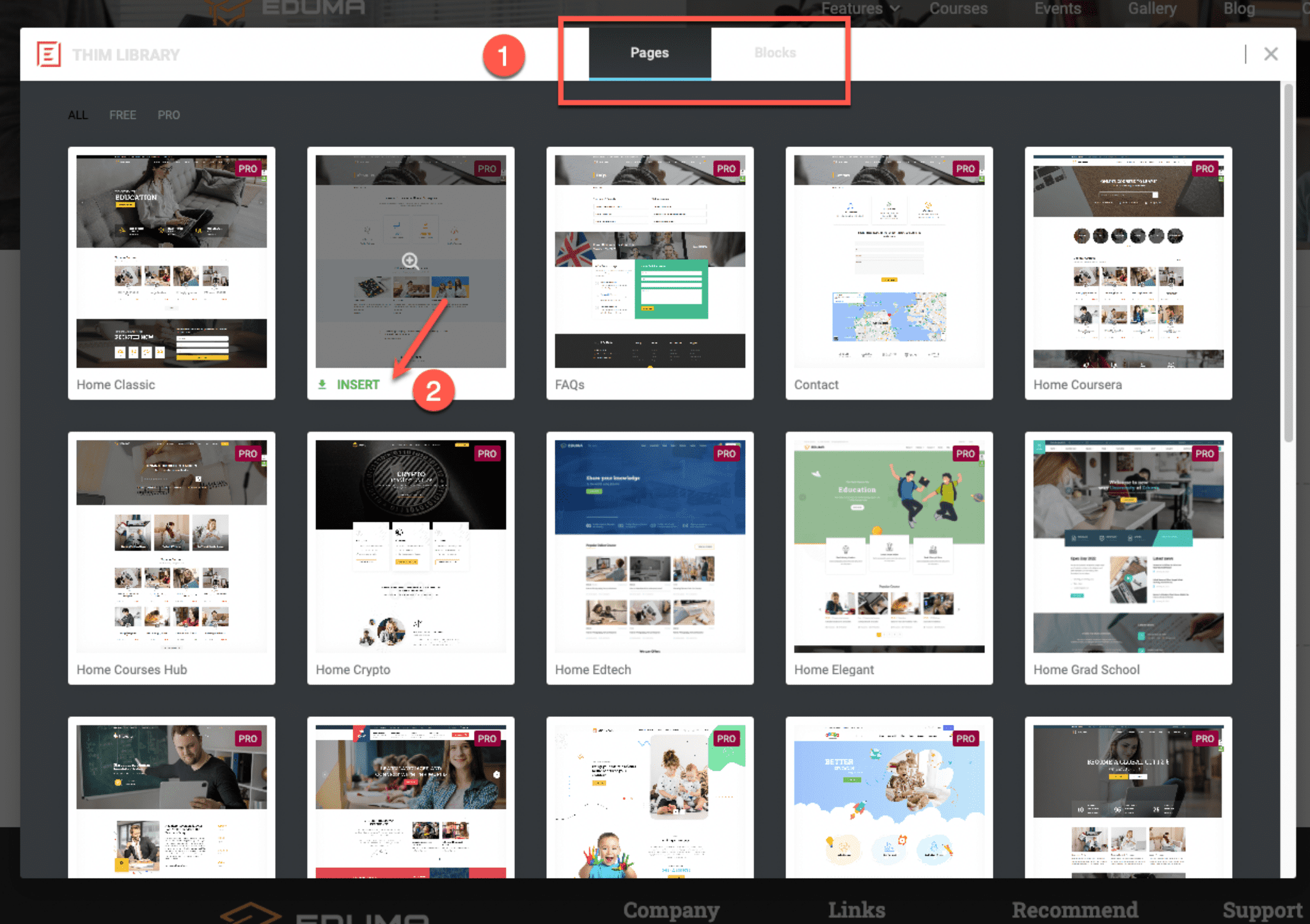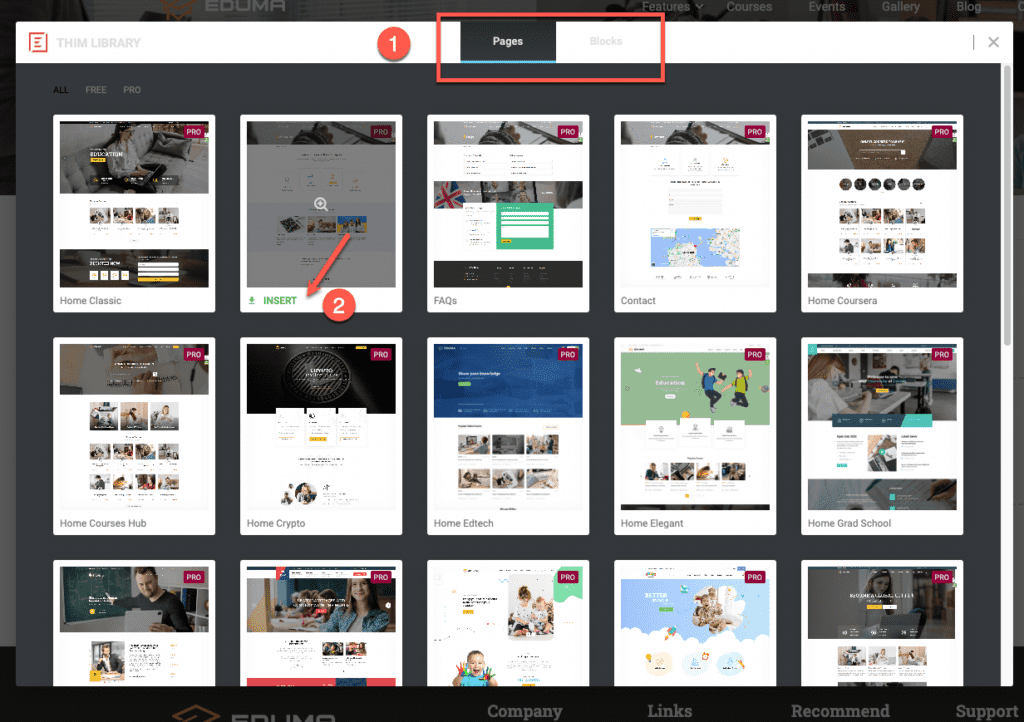 Child Theme
Follow the steps below to enter Kids Topics:
Step 1 – Go to Dashboard> Eduma> Child Themes
Step 2 – Click Install / Activate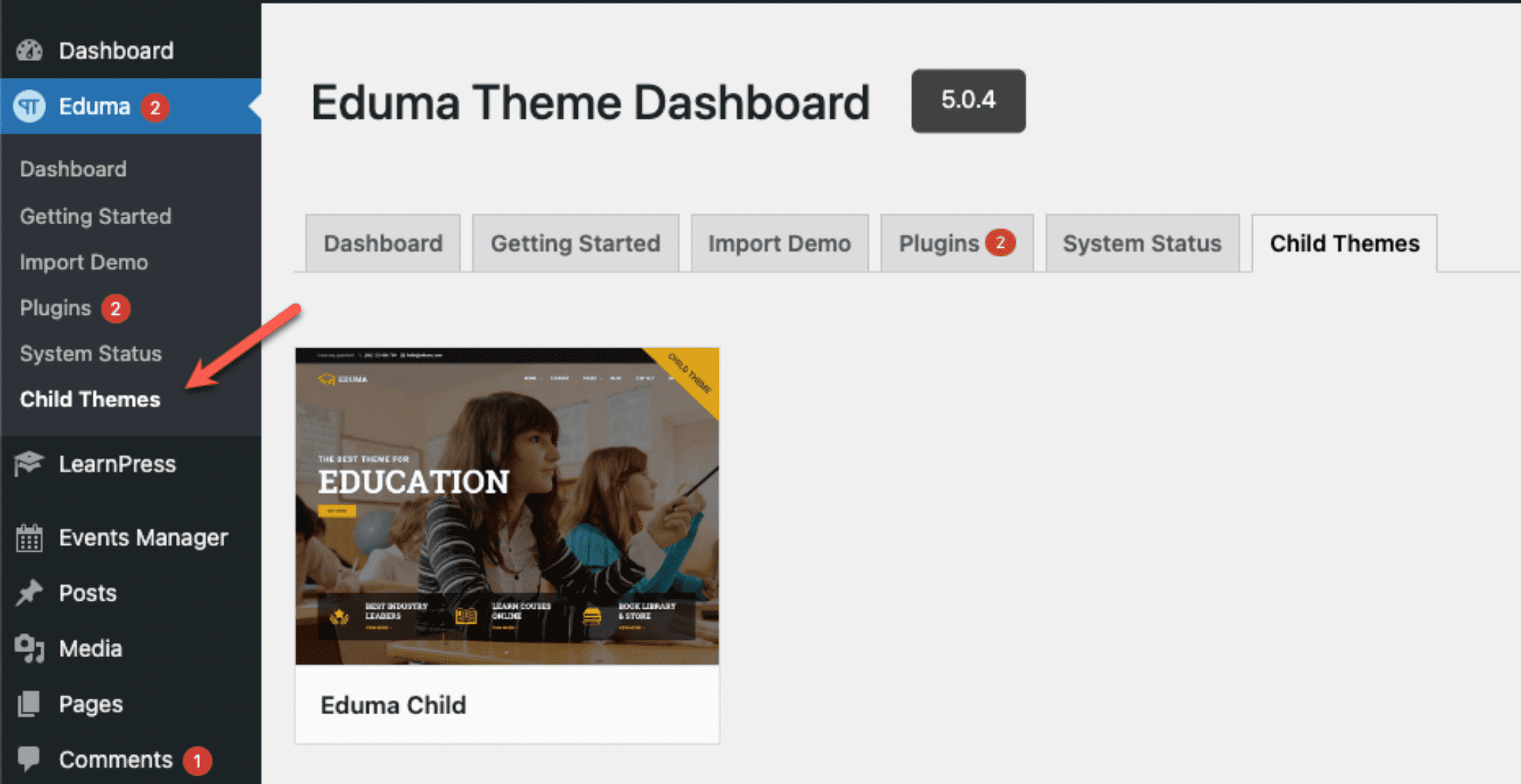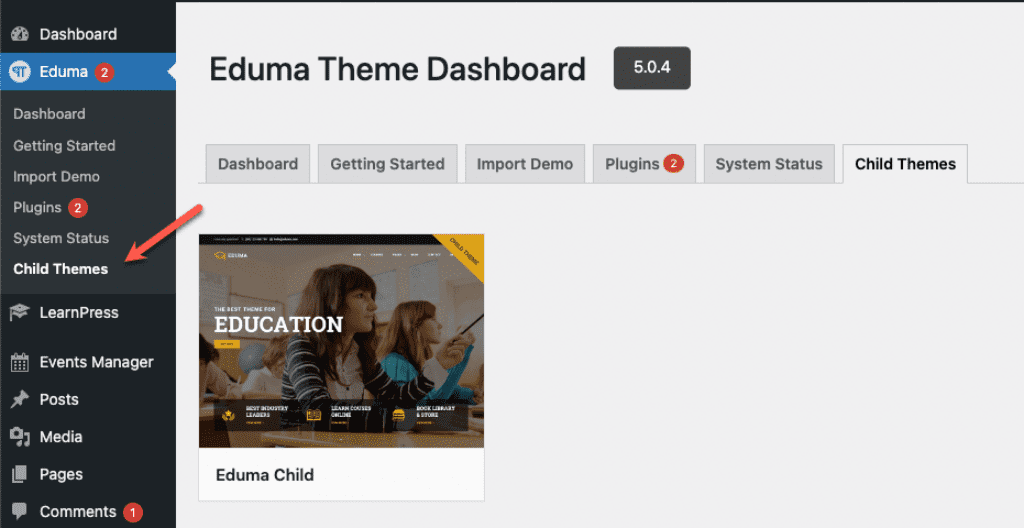 Basic Features
Why Choose Eduma?
31+ Premium Demos
Eduma offers an expansive selection of over 31 premium demos, each designed for different educational categories. These demos are not only customizable but also optimized for all devices to ensure that users have a seamless experience. Whether you want to create an online course, a language school, or a university website, Eduma has got you covered with its wide range of demos.
With so many options available, you can easily select the demo that best suits your needs and customize it as per your requirements without any coding knowledge.
Multiple Header Layouts


Eduma's multiple header layouts offer incredible flexibility and add visual interest to your educational website. With various options to choose from, you can select the header layout that fits your website's goals and needs.
A classic header with a logo and menu or a header with social media icons and a search bar are just some of the choices available. You can remove and add elements as per your preferences. The different header layouts are customizable, enabling you to create a unique look that best represents your brand or institution.
4 Layout Options for Course Archive Pages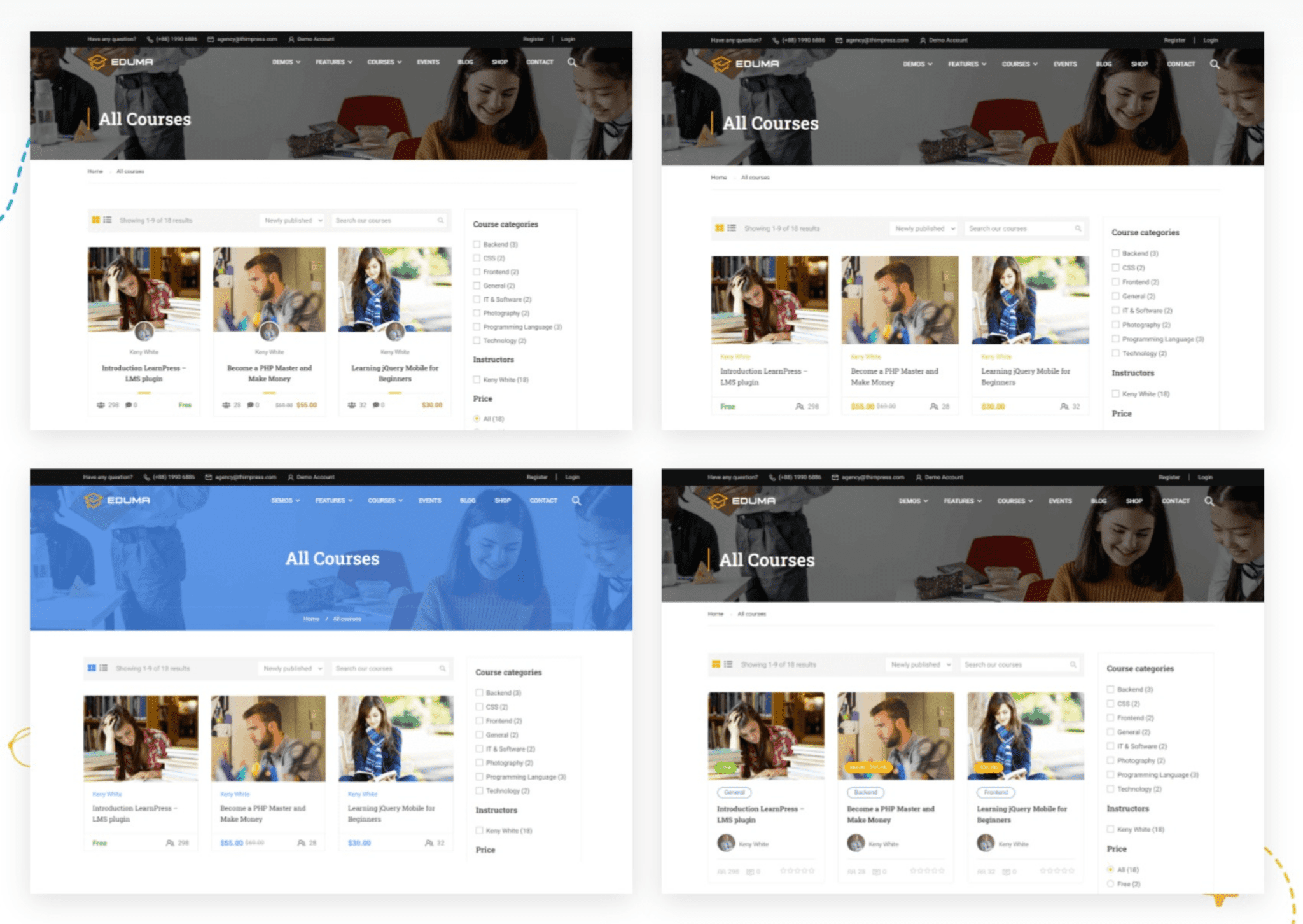 Education websites have a plethora of courses to offer. Thus, it is necessary to showcase them in an organized manner on the website. With the Eduma WordPress theme, you can choose from four different layout options for course archive pages that will best fit your needs. The Grid View layout displays courses in a grid format with images and brief descriptions, while the ListView layout shows courses in a list format with more detailed descriptions.
Additionally, the Masonry View layout arranges courses in a Pinterest-style layout for a visually appealing presentation, whereas the Slider View layout showcases courses in an interactive slider that allows users to easily browse through multiple courses.
4 Layout Options for Course Single Pages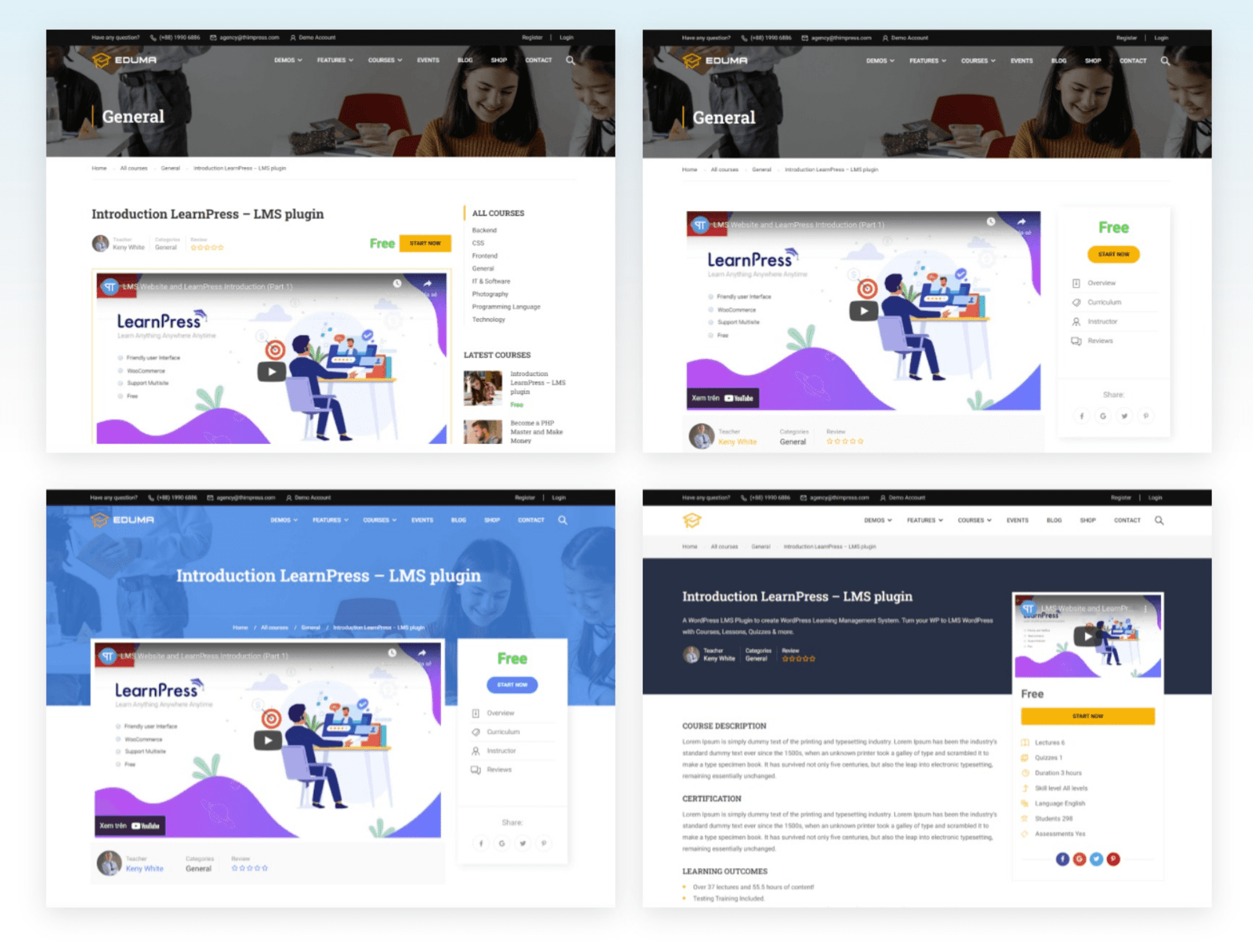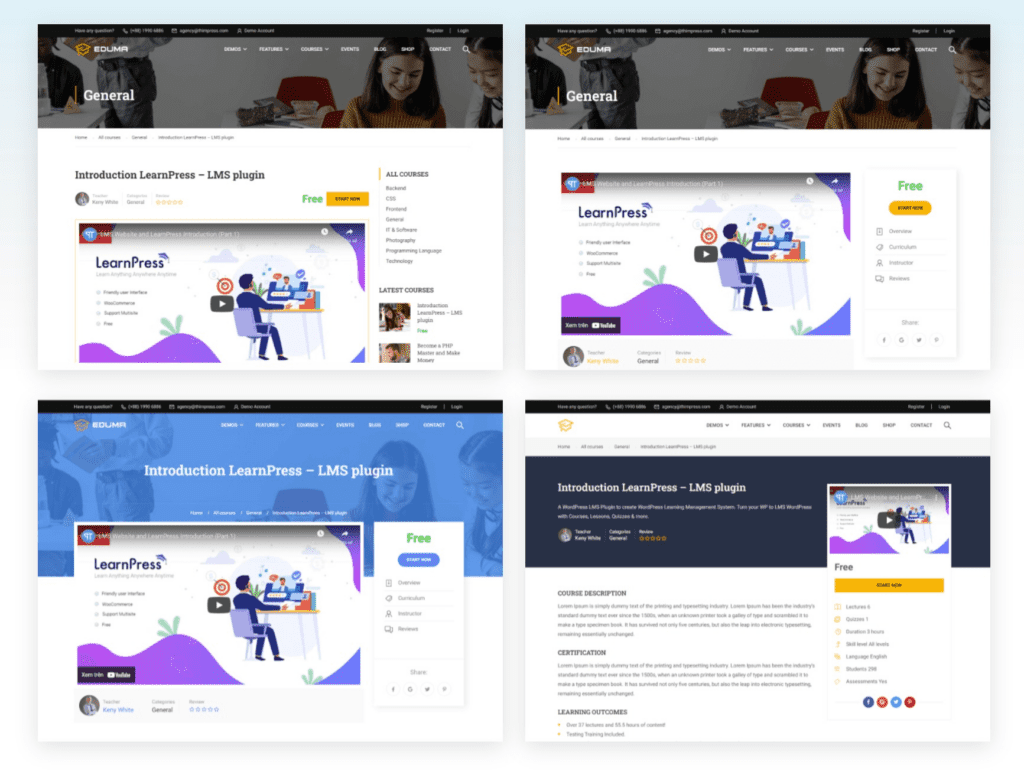 When it comes to course single pages, Eduma offers a range of options that cater to varying user preferences. With four different layout options to choose from, users can customize their education website and showcase courses in the most visually appealing way.
100+ Content blocks
Eduma offers more than 100 content blocks to help you create a unique and engaging education website. These pre-designed sections include courses, testimonials, team members, and pricing tables, among others. You can quickly customize these blocks to fit your branding and specific needs. With Eduma's wide range of mobile-responsive content blocks, creating a professional and functional education website has never been easier. Plus, their high-quality design ensures that your website looks great on any device.
Advanced Features
Unique features of Eduma
One-click demo importer
If you're new to WordPress and building websites, Eduma's one-click demo importer is a lifesaver. With just the click of a button, you can import pre-designed templates and layouts to kickstart your education website.
Not only does this save time and effort, but it also ensures that your website has a professional look and feel right from the start. The demo importer includes a variety of customizable templates for different types of educational websites, making it easy to find one that fits your specific needs.
LearnPress integration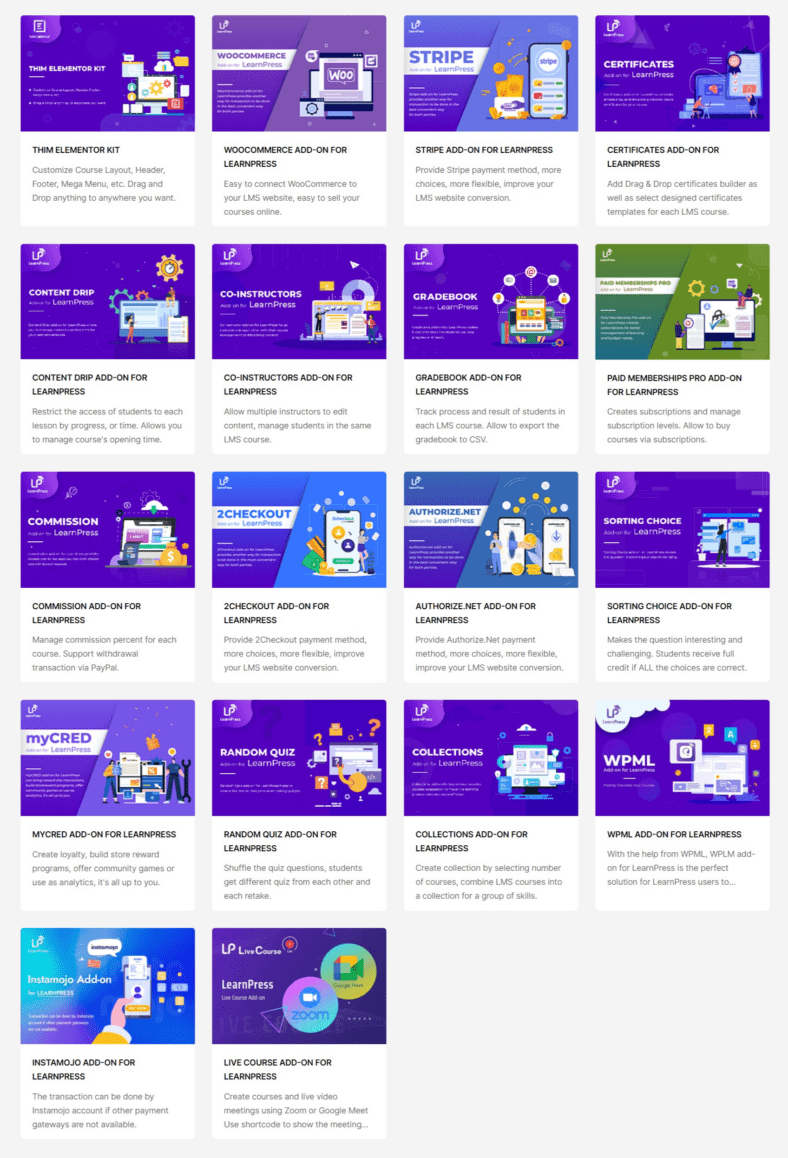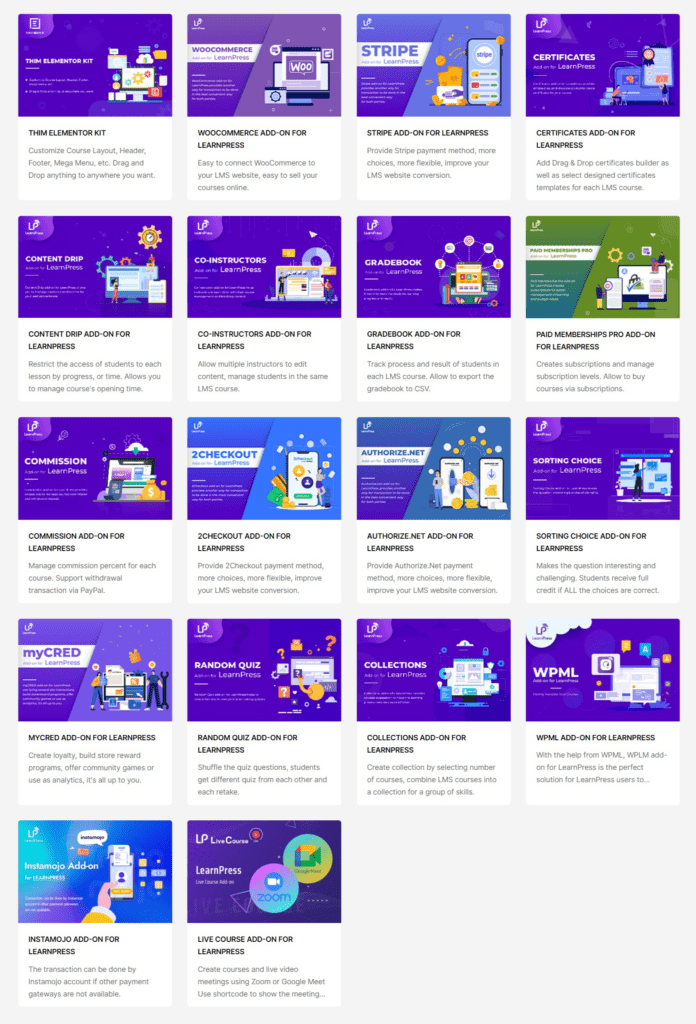 Eduma's LearnPress integration is one of its most impressive features. This powerful LMS plugin for WordPress seamlessly integrates with Eduma, making it easy to manage courses, quizzes, and assignments directly from your website. With features like student management, course analytics, and payment integration for selling courses online, LearnPress provides everything you need to create a comprehensive e-learning platform.
Drag and drop page builder
Creating a custom page has never been easier with Eduma's drag-and-drop page builder feature. Without any coding knowledge, users can choose from a wide range of pre-designed templates and elements to build their pages.
The intuitive and user-friendly interface allows for easy customization and flexibility, while responsive design options ensure that your website looks great on any device. With this feature, creating a professional-looking education website is just a few clicks away.
Premium plugins included

Eduma's inclusion of premium plugins is a game-changer for anyone building an education-focused website. WPBakery Page Builder and Slider Revolution are just two of the premium plugins that come with Eduma, making it easier than ever to create a professional-looking website without any coding knowledge.
LearnPress, another premium plugin included with Eduma, provides robust course management features such as quizzes, assignments, and certificates for students. Additionally, integration with WooCommerce allows you to sell courses or educational products online. The inclusion of all these premium plugins makes Eduma a comprehensive solution for building an education-focused website.
Premium Widgets, Post types, and Elements
Giving you pro-level widgets and shortcodes for design, layout creation, and dynamic content styling. Also provides more tools for post type, element, and more.
Pixel-perfect design
The pixel-perfect design of Eduma ensures that every element of your education website looks sharp and professional. It provides multiple pre-designed templates and layouts for different pages, making it easy to create a cohesive look.
The theme is optimized for fast loading times, ensuring a smooth user experience for your visitors. Additionally, Eduma's responsive design guarantees that your website will look great on any device, from desktops to mobile phones. These features make Eduma an excellent choice for anyone looking to create a visually stunning education website.
UI/UX optimized for the education environment
Designing a user-friendly experience for education websites is crucial to keep visitors engaged and coming back for more. Eduma's UI/UX is optimized for the education environment, meaning that students, teachers, and administrators can navigate with ease. The theme features intuitive layouts, easy-to-use navigation menus, and clear calls-to-action that allow users to find what they need quickly.
Additionally, Eduma's design provides a seamless transition from one section of the website to another, allowing users to focus on their learning rather than getting lost in a confusing interface.
Branding customization without coding knowledge
Eduma makes branding customization a breeze, even for those without coding knowledge. The theme offers an intuitive interface that allows users to easily adjust logos, colors, fonts, and layouts to match their brand identity. With Eduma's advanced integration customization options, you can even customize places that would typically be inaccessible with regular theme controls.
Not only does this make it easy to create a professional-looking website that reflects your brand's aesthetic, but it also saves precious time that can be better spent on creating high-quality content for your education site. So if you're looking for a theme that prioritizes ease of use and branding flexibility, look no further than Eduma.
Fancy events feature
Managing events on an education website can be a challenging task, but with Eduma's Fancy Events feature, it is made simple and efficient. This feature allows for the creation and management of events with customization options such as location, time, and date. Attendees can register for events through registration forms, and a countdown timer builds anticipation for upcoming events.
Additionally, the feature provides flexibility in displaying events with multiple formats such as list view or calendar view. Overall, the Fancy Events feature makes event management hassle-free and engages website visitors to sign up for upcoming events.
eCommerce support with WooCommerce
Eduma's built-in support for WooCommerce makes it an excellent choice for educational institutions looking to monetize their courses or offer merchandise related to their brand. With the ability to set up an online store and sell courses or educational products, Eduma provides a seamless eCommerce experience. The theme also includes various layout options, payment gateway integrations, and product display settings, making it easy to create an attractive and efficient online store. Whether you're looking to generate revenue from your courses or offer branded merchandise, Eduma's WooCommerce integration has got you covered.
Multilingual support with RTL support
Eduma's multilingual support, including RTL language support, is a significant advantage for education websites seeking to expand their reach. The theme's ability to display content in over ten different languages, combined with its RTL language support, makes it an ideal choice for websites catering to audiences from across the world. Eduma also includes translation tools that facilitate the easy and efficient translation of website content into different languages. With Eduma's multilingual support, you can create a truly global education website that caters to students from diverse language backgrounds.
Mobile-friendly design
In this digital age, more people are accessing the internet through their mobile devices than ever before. Hence, having a mobile-friendly website is essential for any online business or education platform. Eduma's design is optimized to be responsive and deliver a seamless experience across all devices, including smartphones and tablets.
This means that your students can easily access course materials, take quizzes, and interact with you on the go, without any hindrance. With Eduma, you can rest assured that your education website will be accessible to anyone, anywhere, at any time.
mpressive functionality of the mega menu
Eduma's mega menu feature is a game-changer for education websites. It provides an organized and navigable structure with multiple sub-level menus. The mega menu can be customized to include images, videos, or any other type of media, making it visually appealing and engaging for users.
It also allows for easy categorization of courses, events, and other content, leading to a better user experience. With Eduma's mega menu feature, you can create an intuitive and user-friendly navigation system that helps visitors find what they're looking for quickly and easily.
Ultimate SEO optimization
For educators looking to create an online presence that drives traffic and engagement, Eduma offers advanced SEO optimization features. With this WordPress theme, you can customize meta descriptions, keywords, and other important SEO elements for each page and post. Plus, the built-in analytics tools let you monitor your website's performance and make data-driven improvements to its visibility.
Additionally, Eduma's clean code and fast loading times contribute to better SEO rankings. Overall, Eduma is a fantastic choice for any education website seeking ultimate SEO optimization.
UseCases
Benefits and Applications
Education websites
LMS platforms
Training centers and courses hubs
Colleges, academies, universities, and schools
Kindergartens and preschools
Pricing Plans
Pricing plan from ThemeForest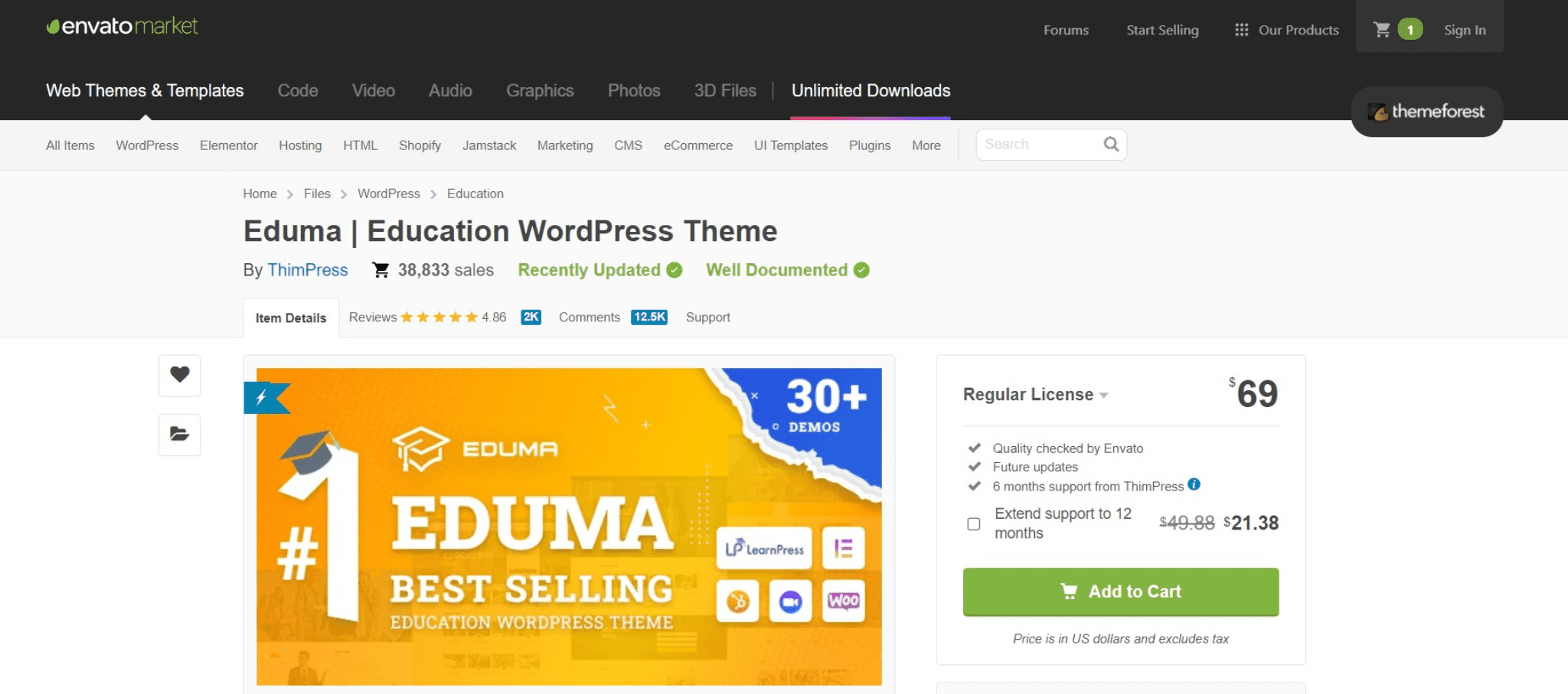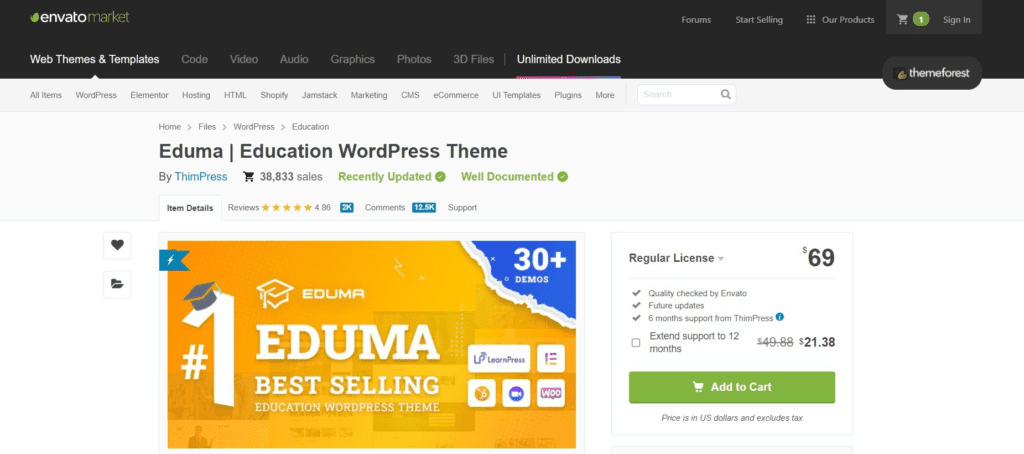 Support
Knowledgebase and Contact support
Alternatives
Similar Themes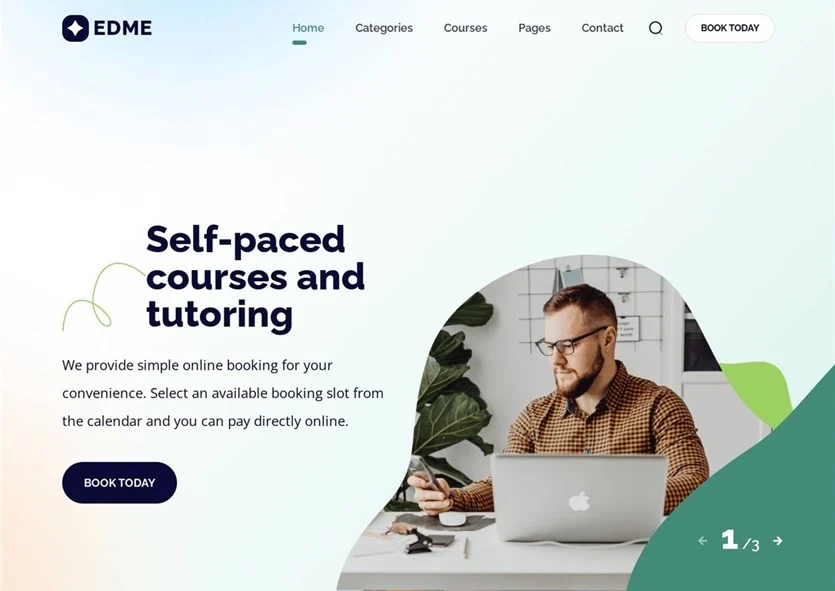 Elementor WordPress Theme for Education.
A perfect education WordPress theme for class appointment scheduling, tutor booking & remote learning.
EducationPress theme is highly suitable for colleges, universities, coaching, academies, and all such institutions which need a powerful learning and course management system.
Disclaimer text….
WPLMS is an LMS for WordPress. You can easily create and manage your School, MOOC, and Academy using WPLMS.WPLMS is a Progressive Web App that uses HeadLess WordPress with a reactJS WordPress theme.
Disclaimer text….
Final Verdict
Is Eduma worth it?
Eduma comes with a variety of add-ons that help in making a website completely dedicated to education. It has an intuitive drag-and-drop course builder interface and is integrated with PayPal, stripe, etc which makes it easy to sell courses. So why wait? Start using Eduma today to create an amazing learning experience for your students!
Review Video
Watch to know more!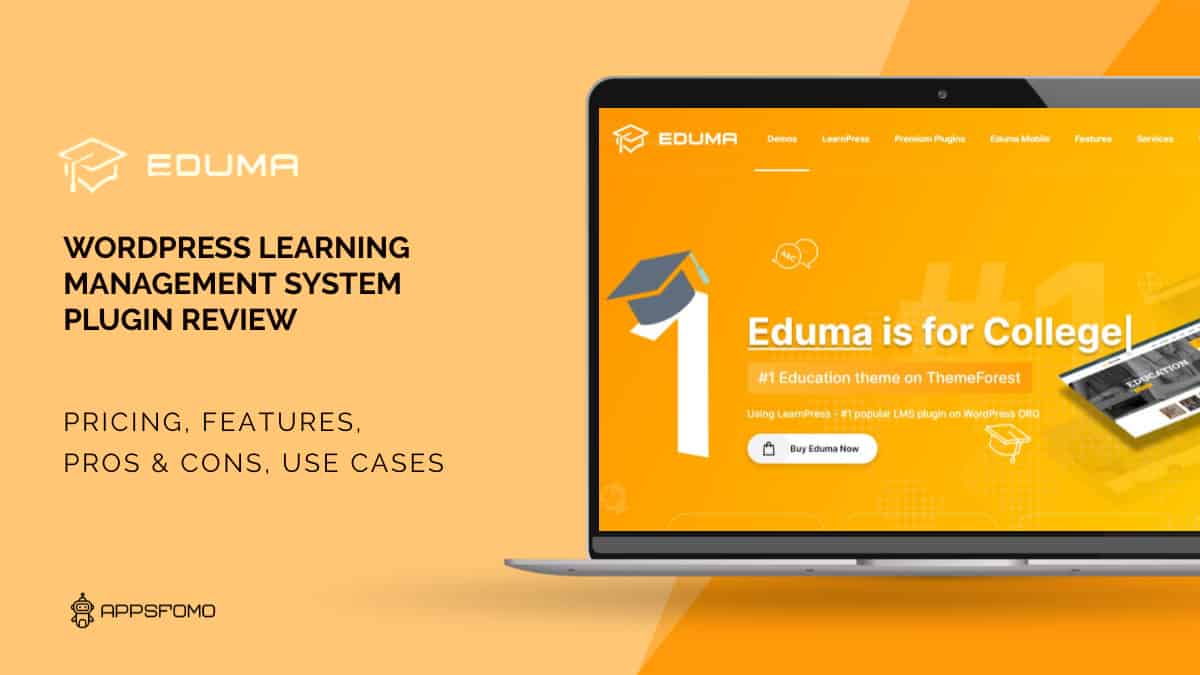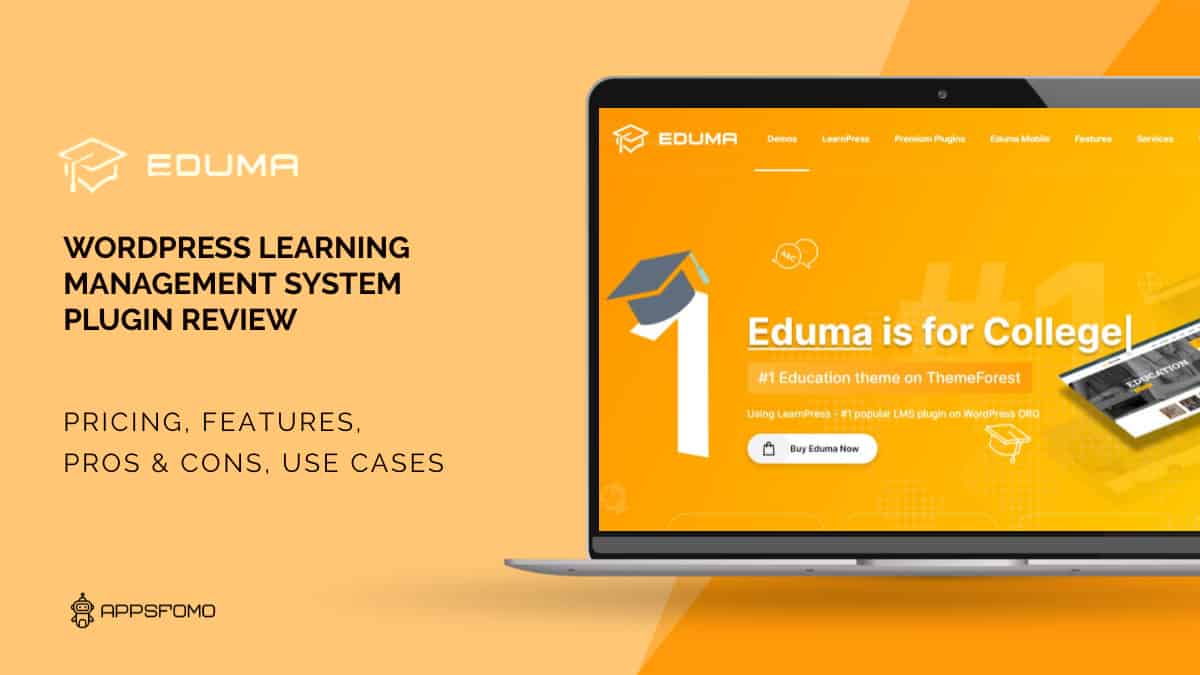 Eduma: The Best eLearning and LMS Theme for WordPress