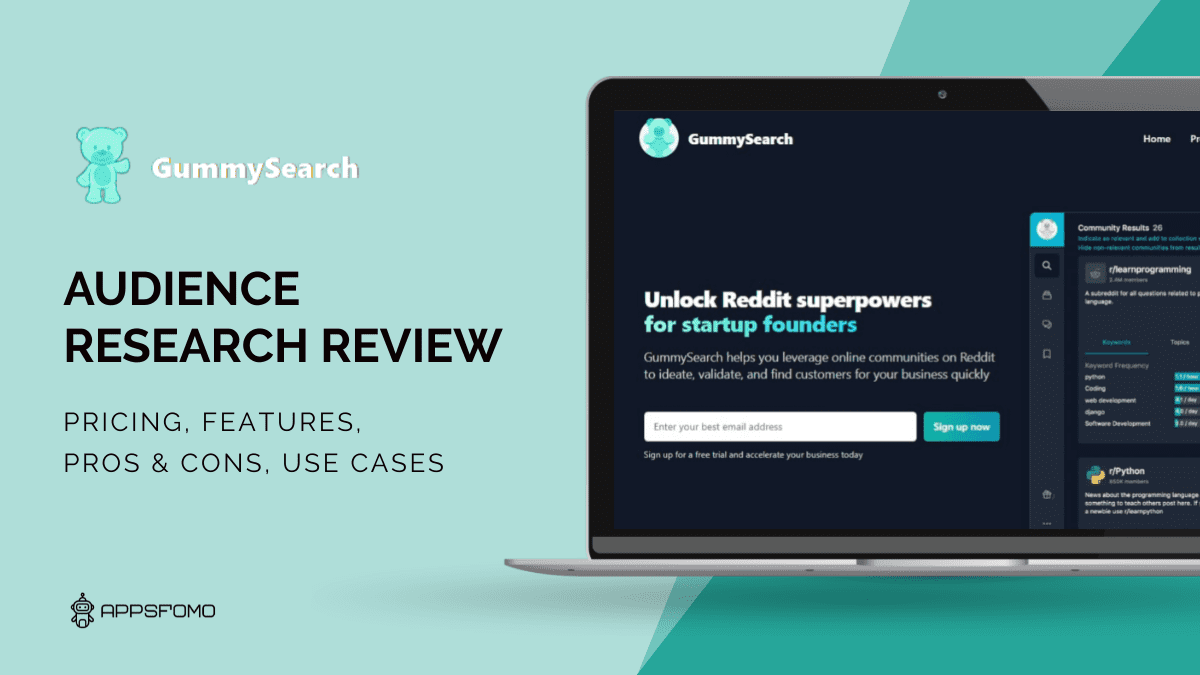 GummySearch: Discovering Potential Customers and Their Pain Points
Add to wishlist
Added to wishlist
Removed from wishlist
0
Add to compare
Are you looking for a way to research and find potential customers on Reddit? If so, then GummySearch is the perfect solution for you! With GummySearch, you can easily search for keywords, phrases, or pain points related to your business. You can also discover trending communities within Reddit and monitor your competitors' posts & comments (with their usernames redacted) to know what they are up to.
In addition to all of this, GummySearch offers features such as support, social media presence, and affordability. So why wait? Try GummySearch today and see just how effective it can be in increasing your online sales!


What Is GummySearch
GummySearch is an Audience Research tool for Reddit. It allows you to systematically research what people are talking about, and how they feel about your competition and your industry. You can use it to find pain points and solutions to be built, content ideas to create, or sales leads to connect with.
GummySearch helps you find other individuals in online communities who might be interested in your goods and services. You can use GummySearch to discover platforms and groups where your keywords are discussed by inputting relevant keywords. Set up filters to find conversations where you may contribute your own resources as soon as possible. To ensure that you're always in the right position at the appropriate time, set up custom notifications.
Gummysearch is a tool that has been created for gummy lovers. It's a search engine, which allows you to find gummy related items in different subreddits or content sites like Reddit.com, YouTube and more other sites with ease then ever before!
It is an excellent tool for finding the voice of your customer. You don't have to waste your time mindlessly scrolling through countless Reddit discussions to find out what your audience wants.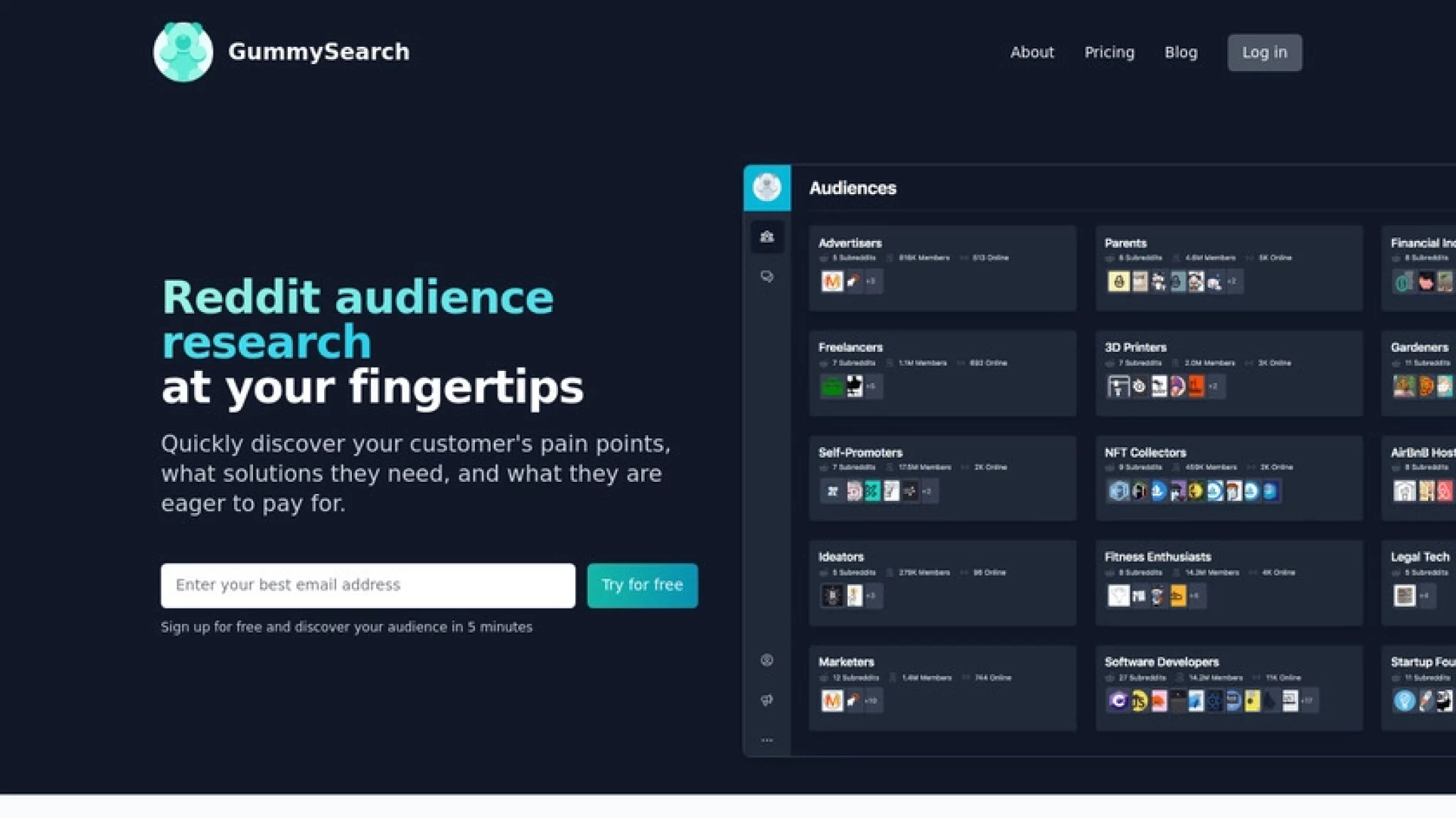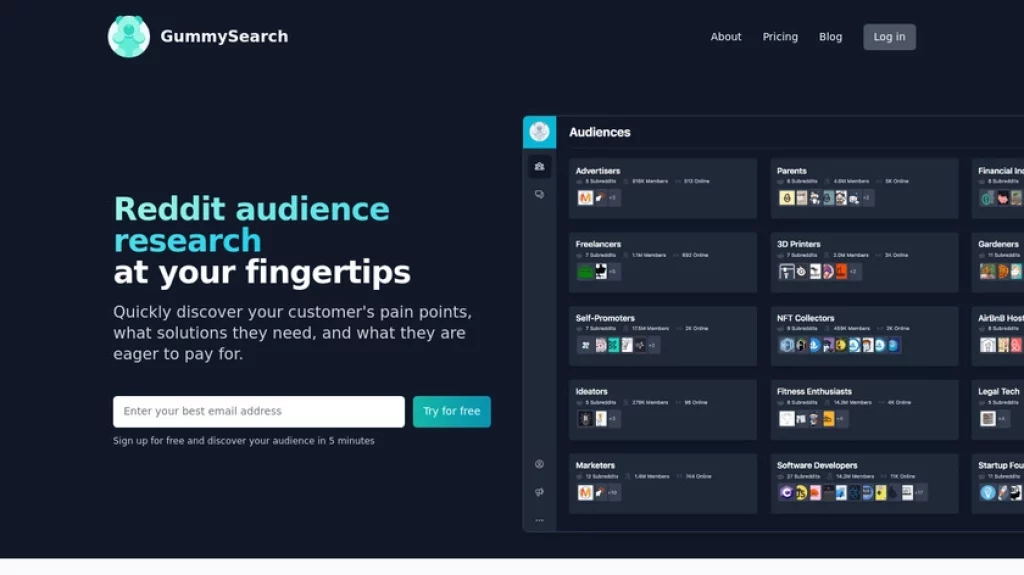 How does it work?
It has a few key components:
Ideate on ideas, assess solutions, write material, and find new customers.
The most essential threads are surfaced by GummySearch.
Track what matters, get updates on topics related to your company, and become the first to comment on them.
Company Details
GummySearch is formed by Fed (@thefedoration) on Indie Hackers.
Company was formed United States in 2022.
GummySearch Features
Audience Research tool for Reddit
GummySearch is an audience research tool that helps startup founders quickly understand the conversations happening in online communities on reddit. both products are in their early stages, but showing promise.
The audience research process is very time-consuming, as you need to hop between different subreddits. People like gummy search because this tool helps them find out what the audience talking about and how passionate they are about a certain topic on reddit before investing more resources into research. Your website will be improved with better user experience for your audience in real-time.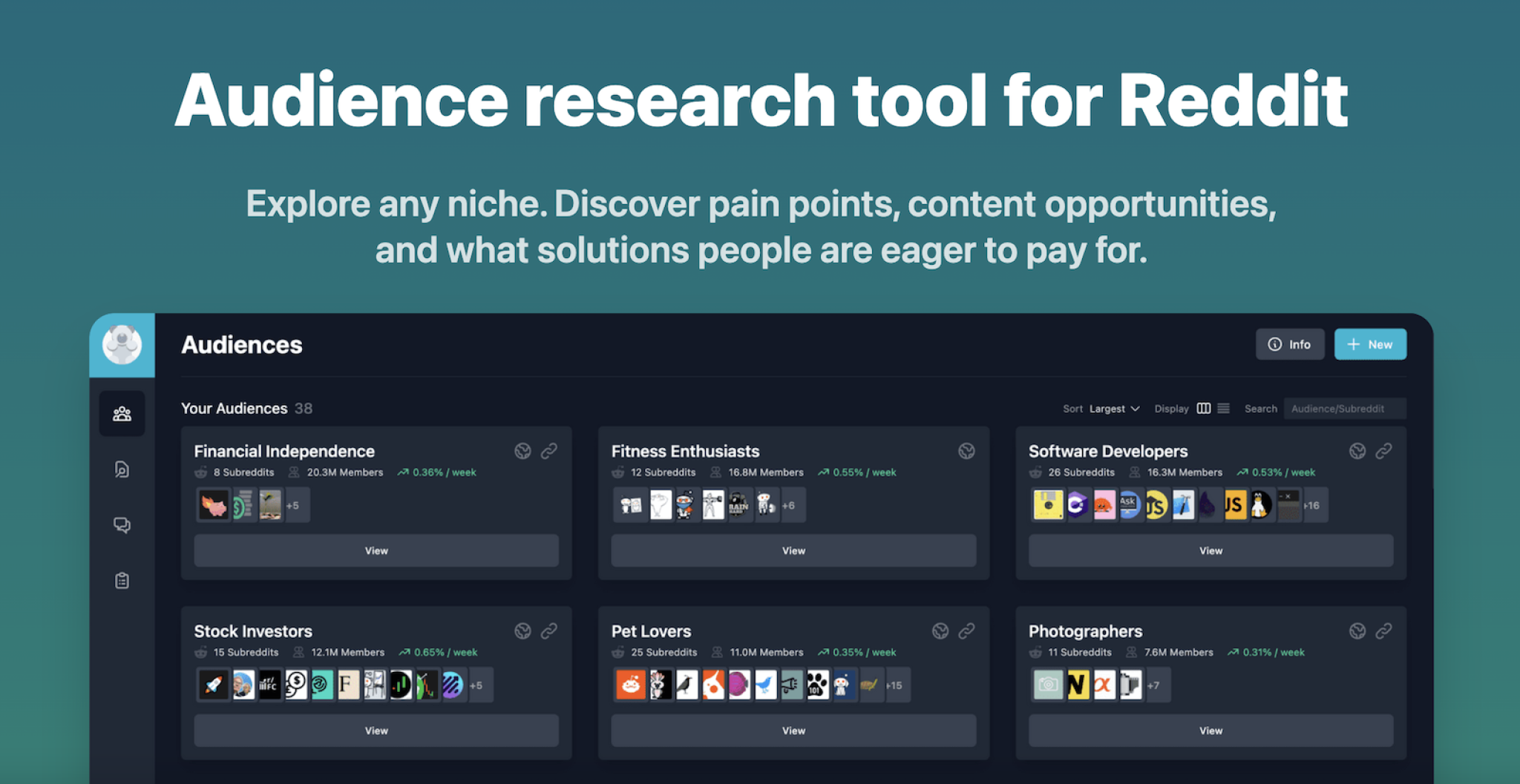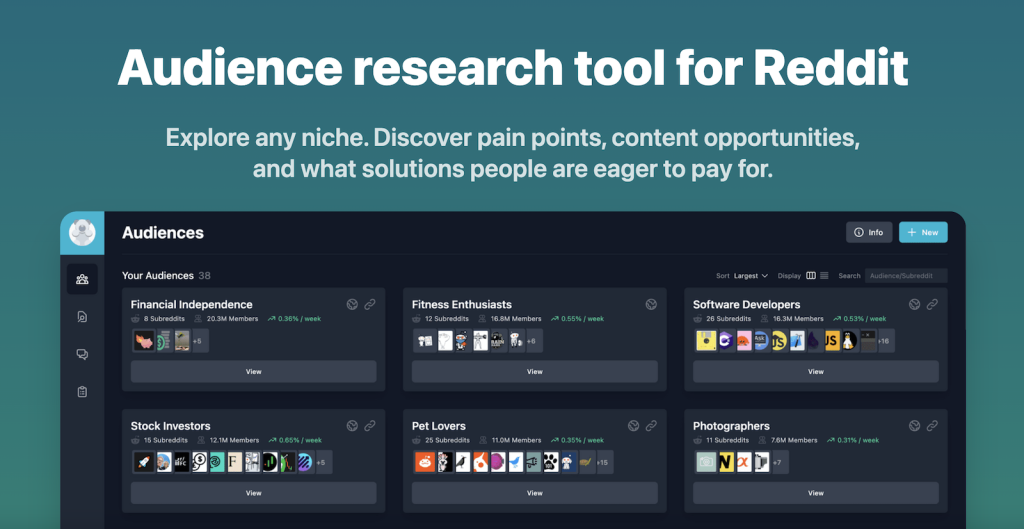 Audience research is an important tool for startup founders. reddit audience research is a great way to get data on the chat rooms and learn about the problems that people have with their products. This has helped several startups in their research of prospective customers before they release any product or service.
Social listening
The process of monitoring discussions of keywords related to your business on the internet is known as social listening. This includes the name of the company, product category descriptions, consumer pain areas, and even rival names. GummySearch can keep track of keyword mentions in relevant Reddit groups and alert when a new submission or comment is made that could lead to a new customer.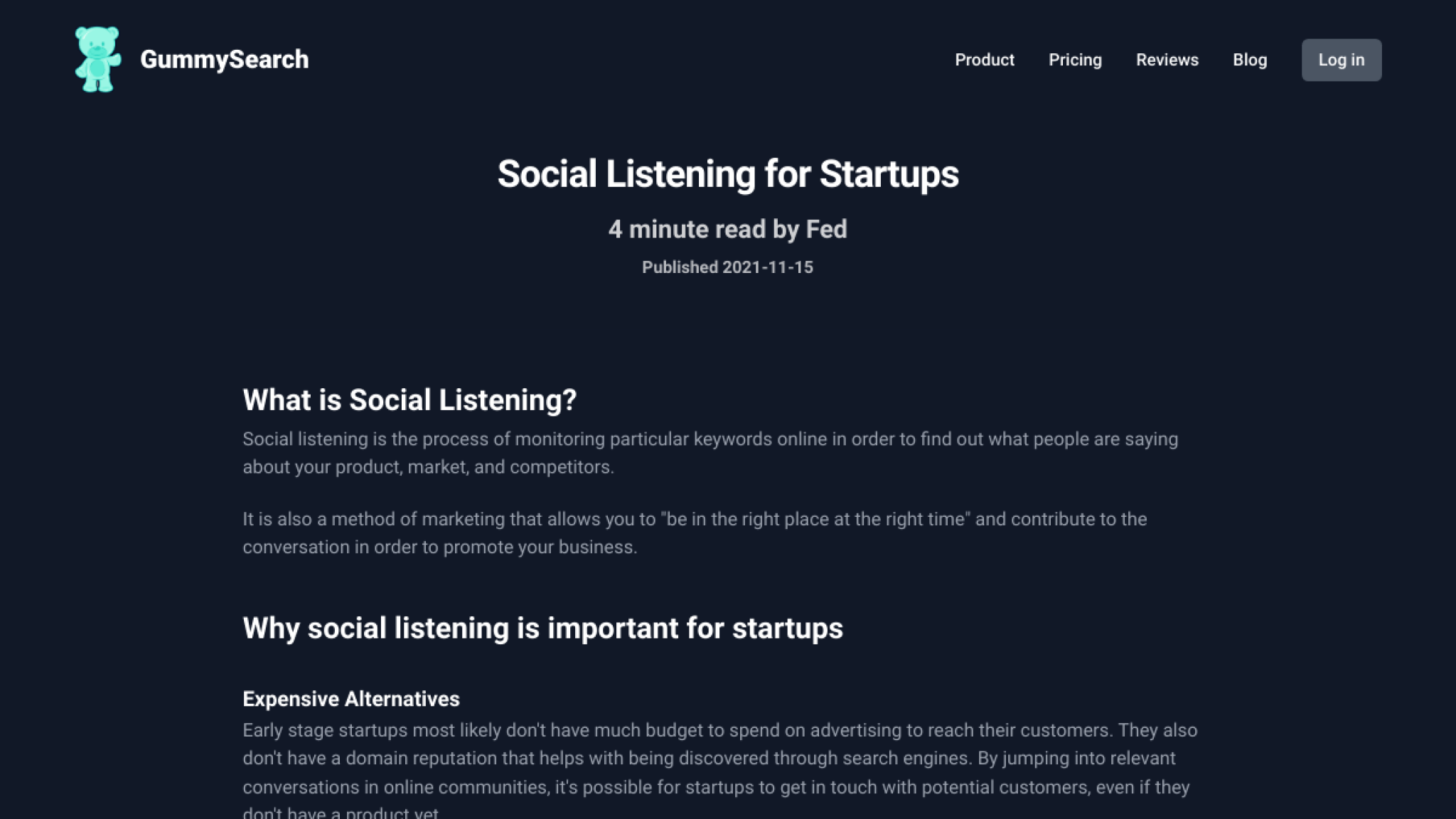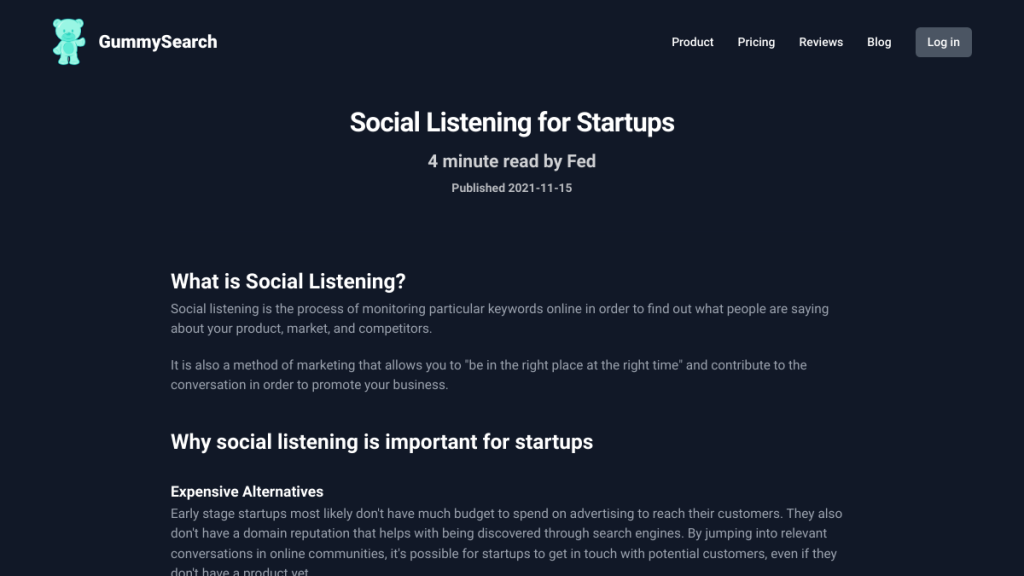 Gummysearch can be used to track keywords with various tools. You will get access to a lot of keywords, which are associated with the current category and then you can also use it for social media tracking too where you will get estimates about how many people have seen your content on certain platforms like Twitter or Reddit. By using Gumsearch, you don't even need any forms as uploading is done by directly entering in the keywords that mean something important for your business from all over world.
Most keywords in the Reddit will have billions of searches. Using keywords to track can help you find potential customers, or your niche market fans!
Finding problems to solve
Target customers gather online to discuss their issues, struggles, and solution recommendations with like-minded people. By locating these conversations, you can gain access to a wealth of information that can assist you in identifying unmet market needs, developing solution requirements, and contacting prospective consumers to validate your solution.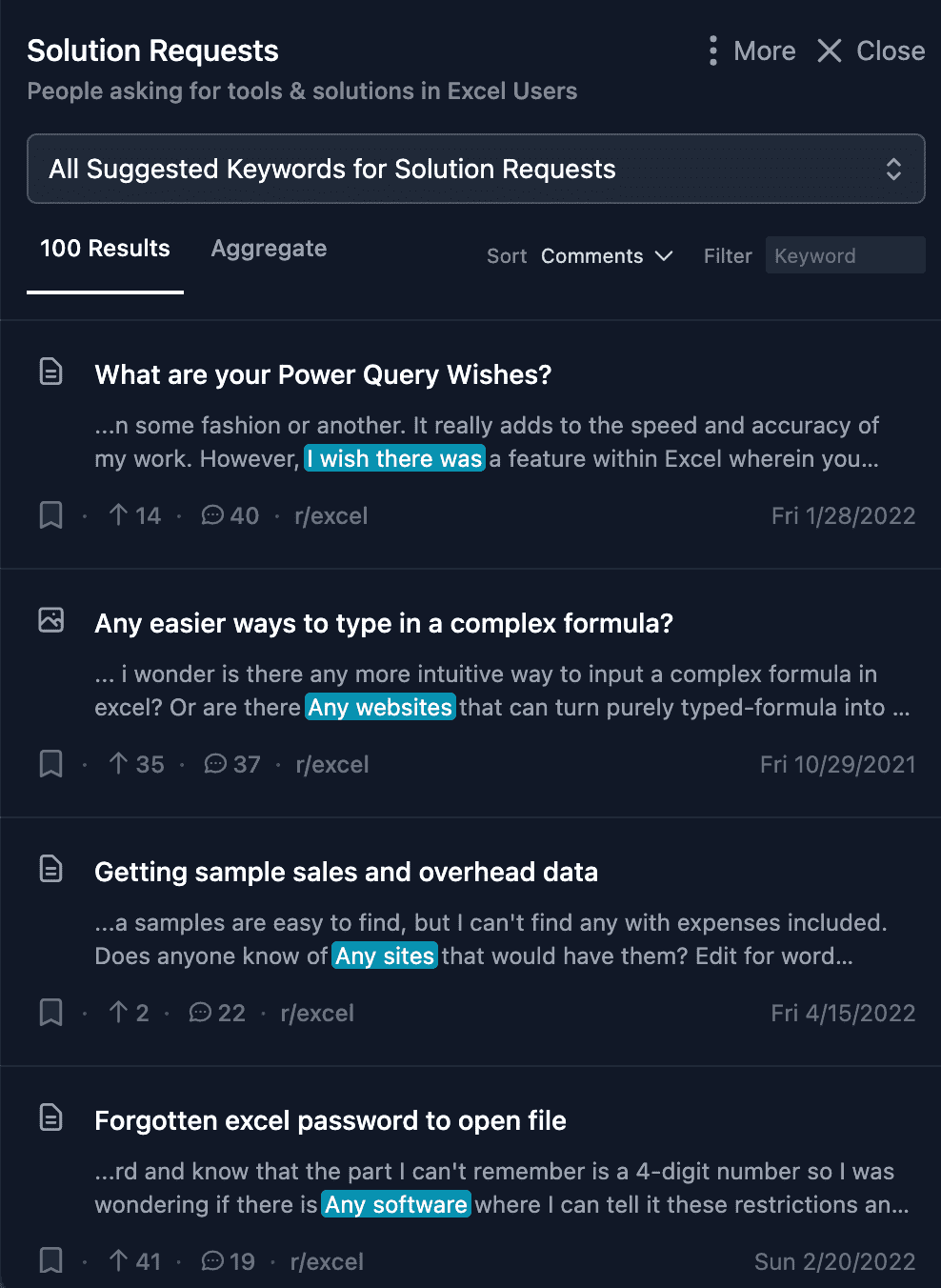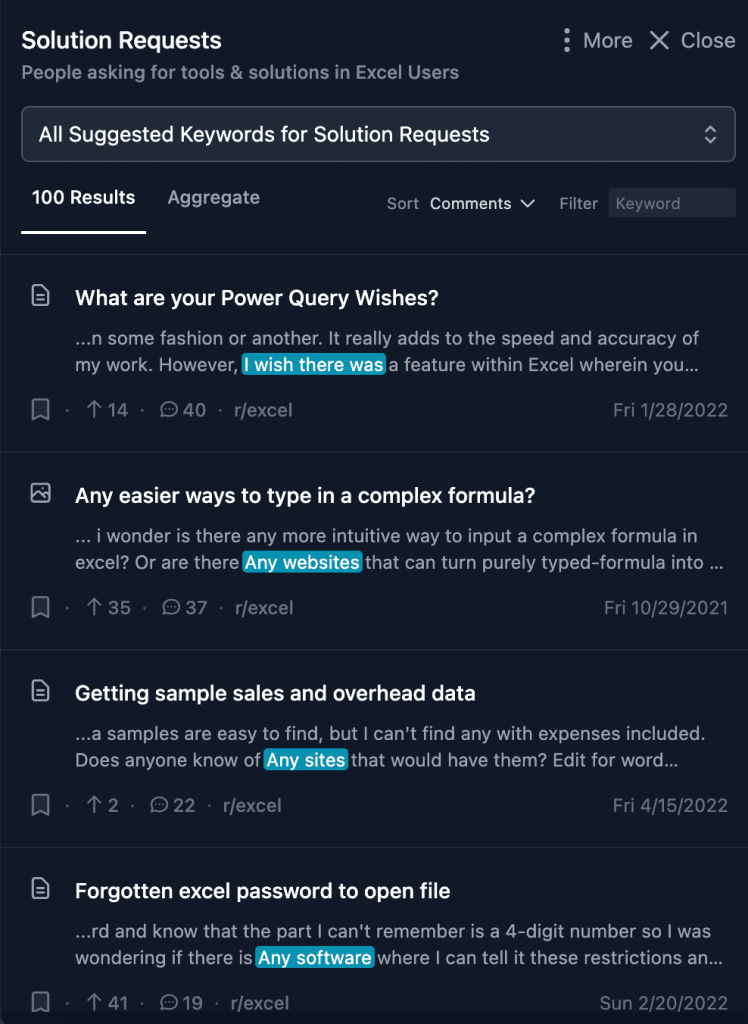 The pain points that can be addressed or fixed by the technology products developed for startup: The pain is making it difficult to have enough customers and users because of the cost of developing a product; having inaccurate knowledge about your target market from survey data are other problems faced by most start-ups. GummySearch helps solve these problems by providing real insights based on customer's actions and words through chatbots rather than surveys which helps them.
Validate ideas by interviewing target customers
GummySearch can help you validate your idea before you spend months or years constructing a product. First the problem needs to be defined and the biggest risks determined. Identify your target market using GummySearch and make an interview request. Carry out the interview and evaluate the feedback.
Before you dive into building your product, GummySearch helps you validate the problem and understand if there is demand for the solution. With Gummy Search you can build a list of target customers that match your profile, send them interview requests to get more information about their problems and validate the size of the market.
Track what matters
GummySearch is a tool to track what matters. We help you track conversations that matter to your business, so you can be there before everyone else. Track Reddit and find out what people are talking about in real-time. You'll get notified of every new conversation related to your business, and be the first one to share valuable insights with your customers.
Gummysearch is a real-time search platform with machine learning capabilities. Every day, Gummysearch learns from the conversations it sees on social media and other platforms. It then matches your search query to all these conversations, and brings you the most recent ones related to your search.
Gummysearch is a platform that helps you track, respond to and engage in conversations relevant to your business. Our AI-driven search engine monitors social media for mentions of your brand name or competitors, content about important topics and industry trends – helping you discover new opportunities and react quickly.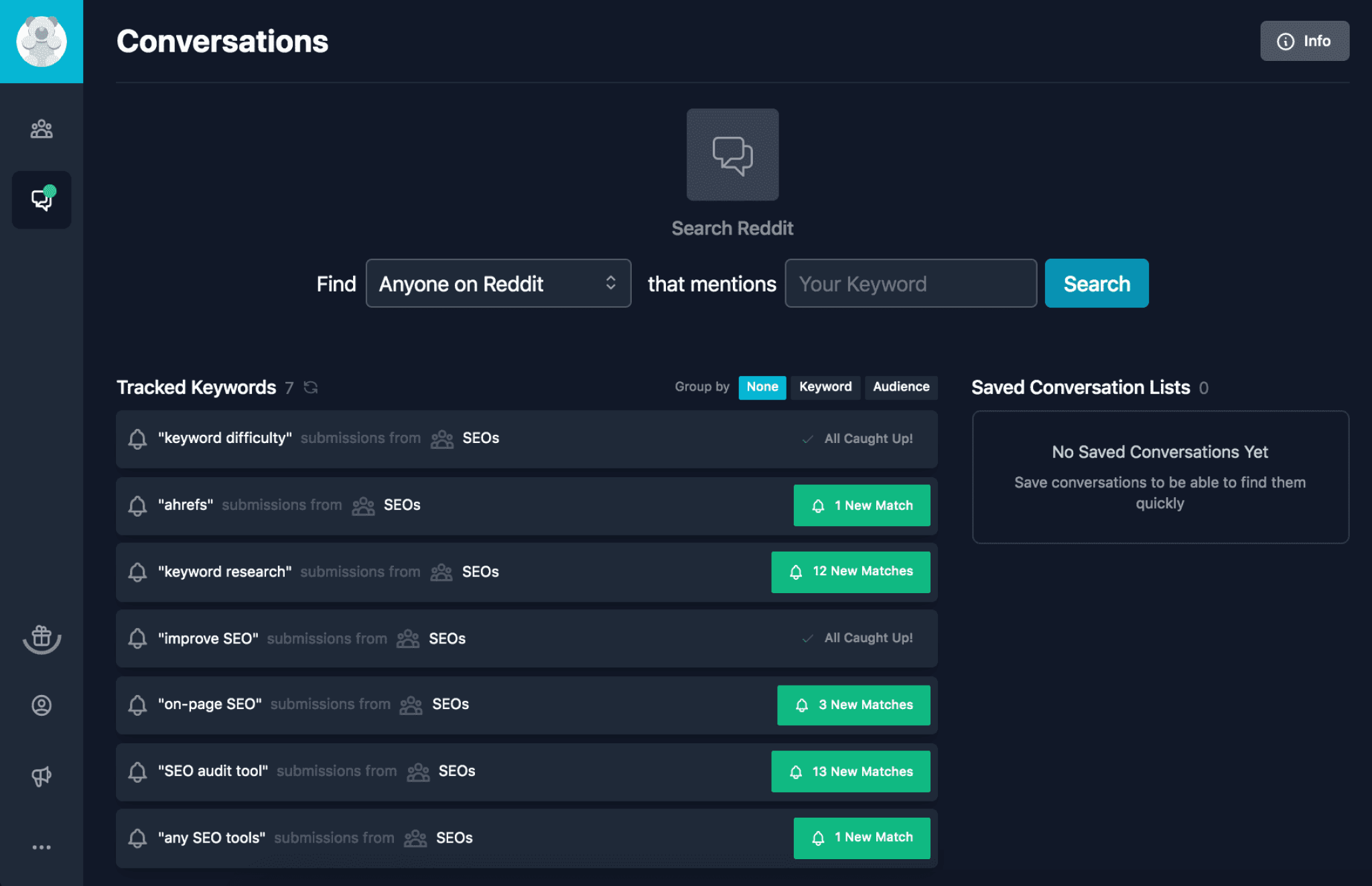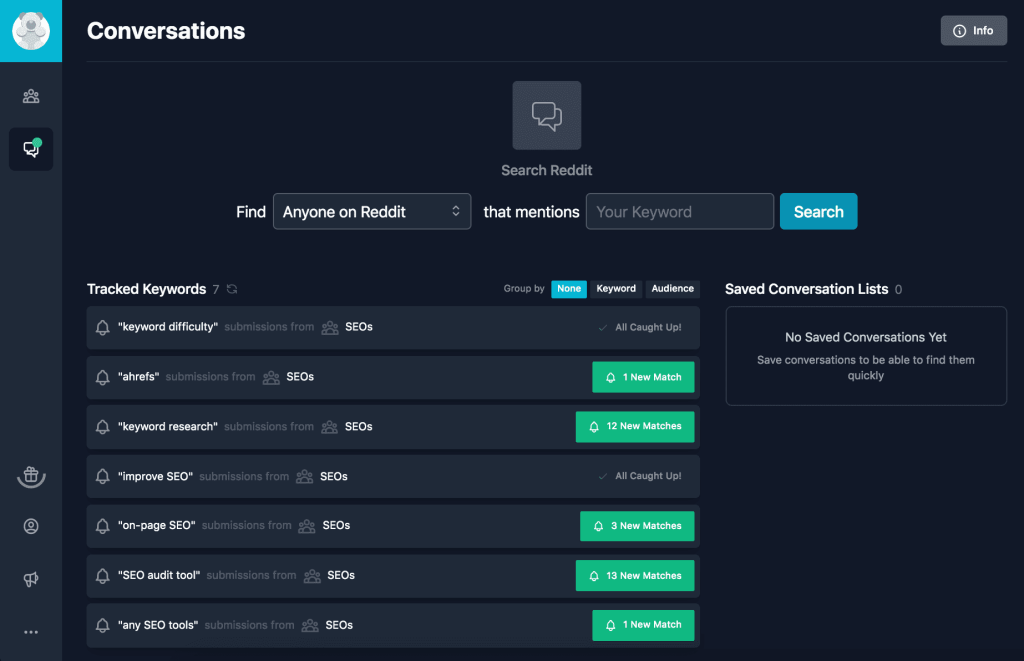 Peek into conversations
GummySearch is a research tool for Reddit. It surfaces the most important threads in a subreddit and allows you to peek into conversations. GummySearch is the easiest way to discover relevant communities, track trending topics, find new influencers, and more.
GummySearch organizes the Reddit hivemind. Search for any phrase and see the most popular comments in a few seconds. GummySearch allows you to easily find important conversations on any subreddit, or search for specific keywords in any thread. You'll never lose track of an important discussion ever again.
GummySearch Support
As support medium they offer email.
They have Blog and Video's for additional information
Public Roadmap: Feature requests | GummySearch (feedbear.com)
Public Changelog: Release Log (gummysearch.com)
Frequently Asked Questions
Reddit users seem to be harsh, according to what I've heard. Will I be banned or downvoted?
They aren't as bad as people think they are. You'll be warmly welcomed if you contribute more to the community than you take. We'll help you get through it!
I'm not sure if Reddit is where I want to reach my audience. How do I find out more information?
During onboarding, you'll be able to figure that out in a matter of minutes. If you can't locate any, contact someone for assistance.
Do I need a Reddit account to use GummySearch?
No, we insist! Without a Reddit account, you can browse public posts and comments. If you want to participate in any discussions, you'll need a Reddit account.
Why Use GummySearch
GummySearch is the best tool for customer research on reddit
Gummysearch is used for validating ideas by interviewing target customers.
finding problems to solve and monitoring discussions related to the business – social listening.
This app can be used to monitoring discussions of keywords related to our business on the internet, like name of the company, product category descriptions, consumer pain areas.
New ideas can be validated by interviewing potential customers and getting feedback from them.
With Gummysearch we can indetify problems and get an idea for developing new apps.
We can also find new customers by proposing them our solutions.
GummySearch Pricing Plans
It Offers Both Monthly and annual Subscription. Fair pricing for indie hackers, early startups, and growing teams
Free Trial is also offered by them.
All Plans include Content Library, Curated Guide and Email Support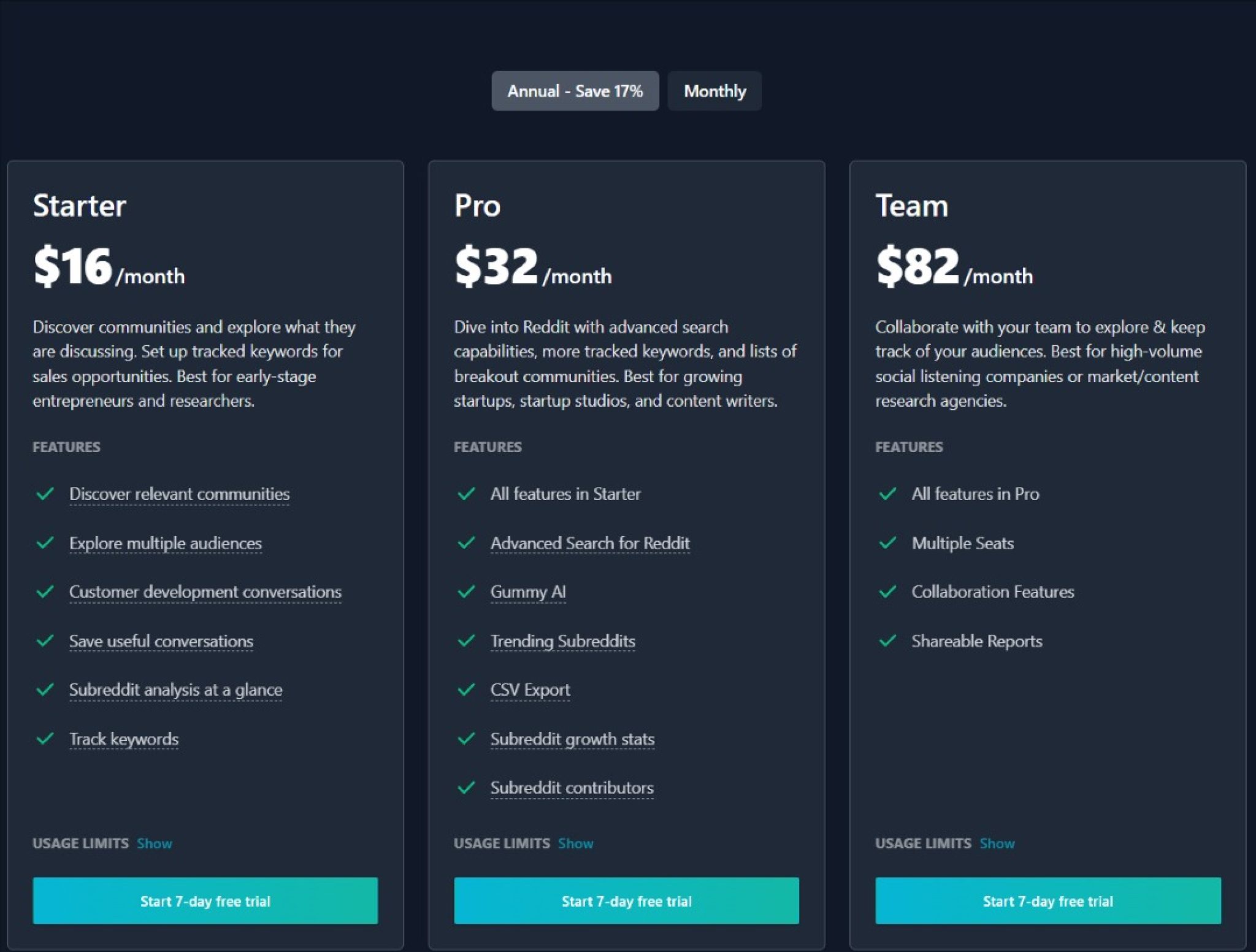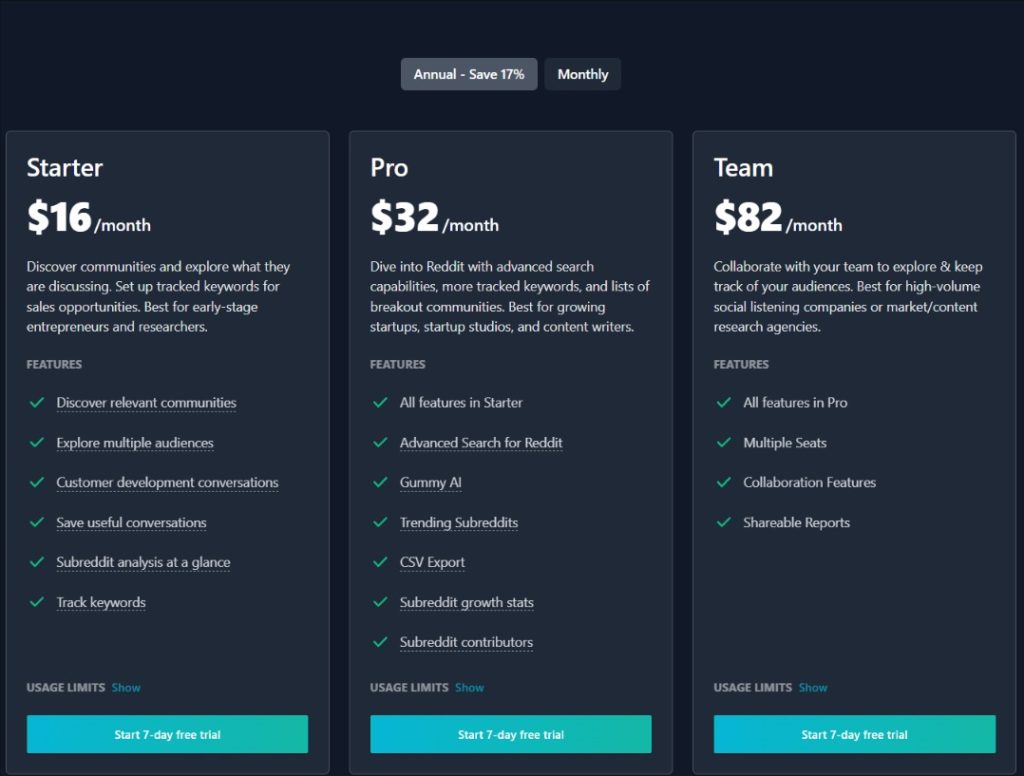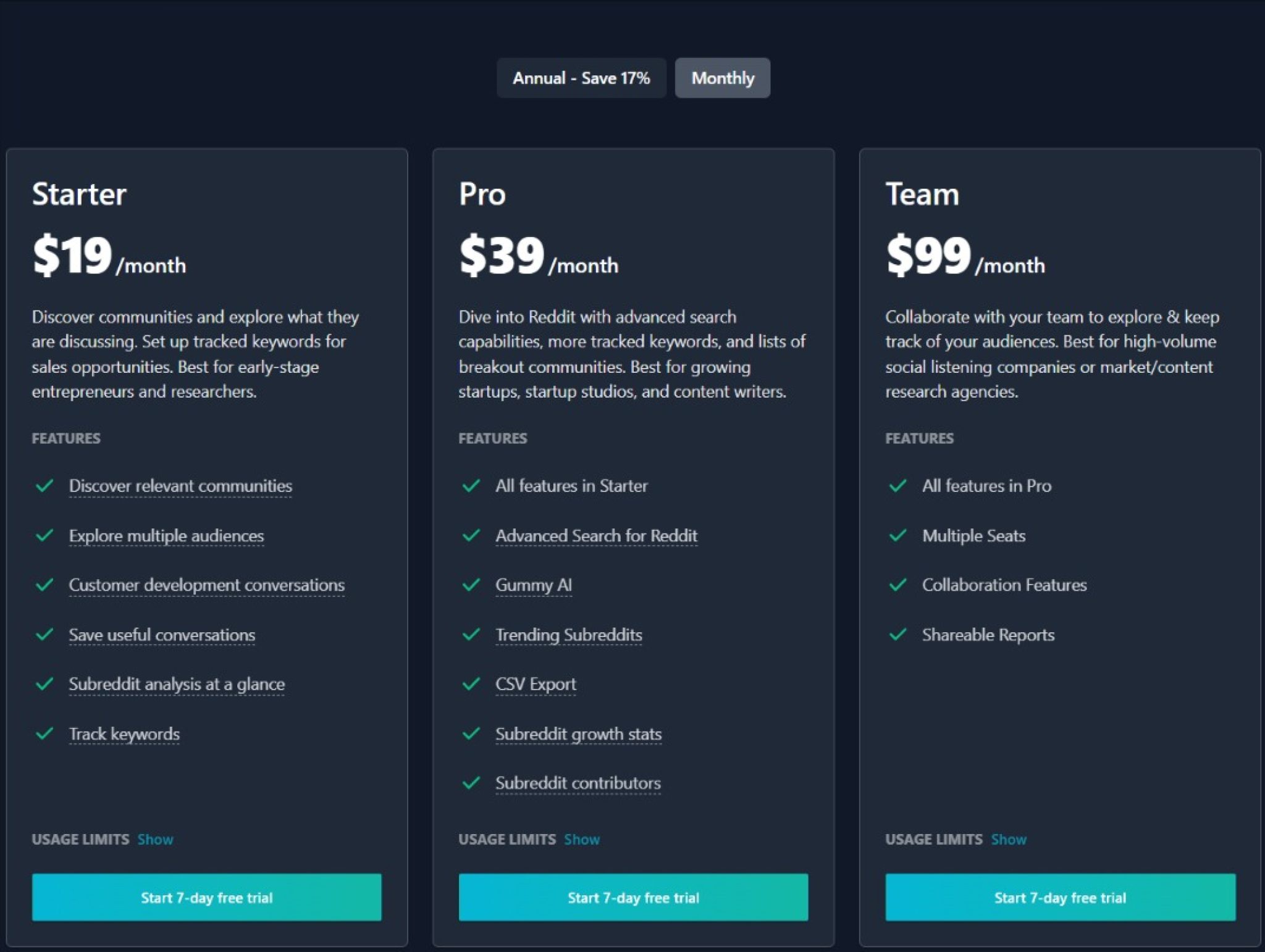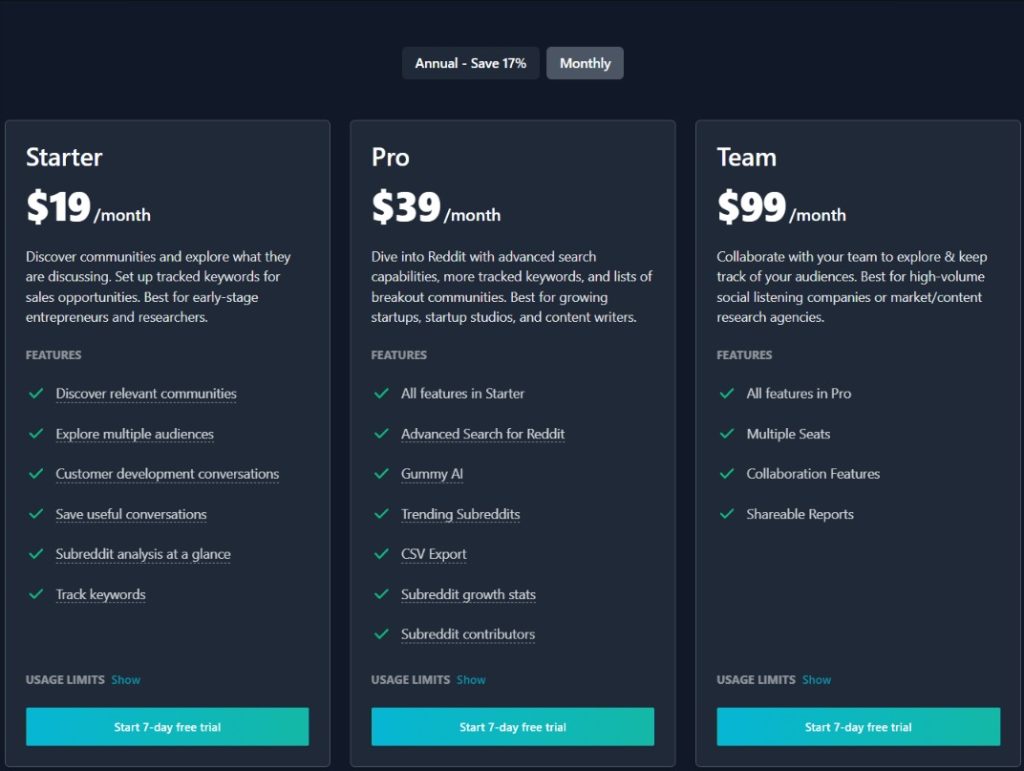 Alternatives to GummySearch
GummySearch is built specifically for those that seek insights from the millions of daily conversations happening on Reddit.
Here are a few alternatives to GummySearch, depending on what you're looking for.
Influitive is dedicated to helping brands convert their customers into the most effective advocates. Through a personalized experience, our platform makes it easy for anyone in your organization to create content and campaigns that get shared and go viral – resulting in more sales, higher customer satisfaction scores, and lifelong brand loyalty.
Khoros Communities is a digital engagement platform that enables brands to build and manage their own online community. Manage your member directory, customize the look of your site, connect with customers and peers, publish content and be visible in the community.
Social Media Presence
Their Facebook is inactive and they share information and content through Twitter.
Is GummySearch right for You ?
Gummy Search helps you to get more out of Reddit. You can discover what people are saying about your brand and services.
Reddit has a subreddit for every niche! Want to speed up the search? GummySearch shows you: Popular posts, frequent questions and complaints.
It's much easier on the eye than using Reddit itself which can help you to discover some topics that you hadn't even thought about which can fuel your content strategy.
GummySearch is a best tool for software entrepreneur. As it looks for real pain points and problems to solve for people, and GummySearch is purpose-built for this.
Overall, I think Gummy search has many helpful features. So give a try for this product today!
Video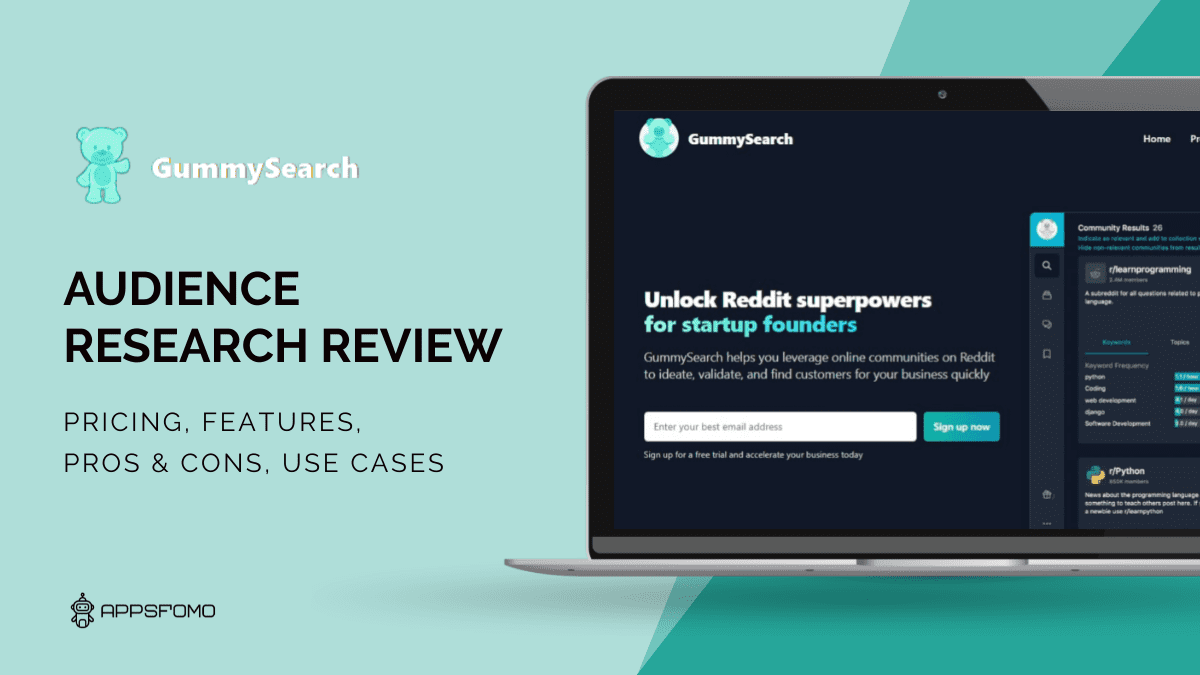 Specification:
GummySearch: Discovering Potential Customers and Their Pain Points
| | |
| --- | --- |
| Review Date | Sep-22 |
| Company | GummySearch |
| Country | USA |
| Initial Release | 2021 |
| Pricing | Montlhy, Yearly |
| Free Version | Free Trial |
| Lifetime Deal | No |
| LTD Platform | N/A |
| Money-Back | N/A |
| Appsfomo Rating | 7 |
| Support type | Email |
| Integrations | N/A |
| Supported Device | Web Based |
| Mobile app | Not Available |
| Affiliate Program | Yes |
PROS:
Finding inspiration in a short time
Easy in use
Great tool for customer research
Tracking the topics related to the product or company
CONS:
Limited tracked keywords
Limited audiences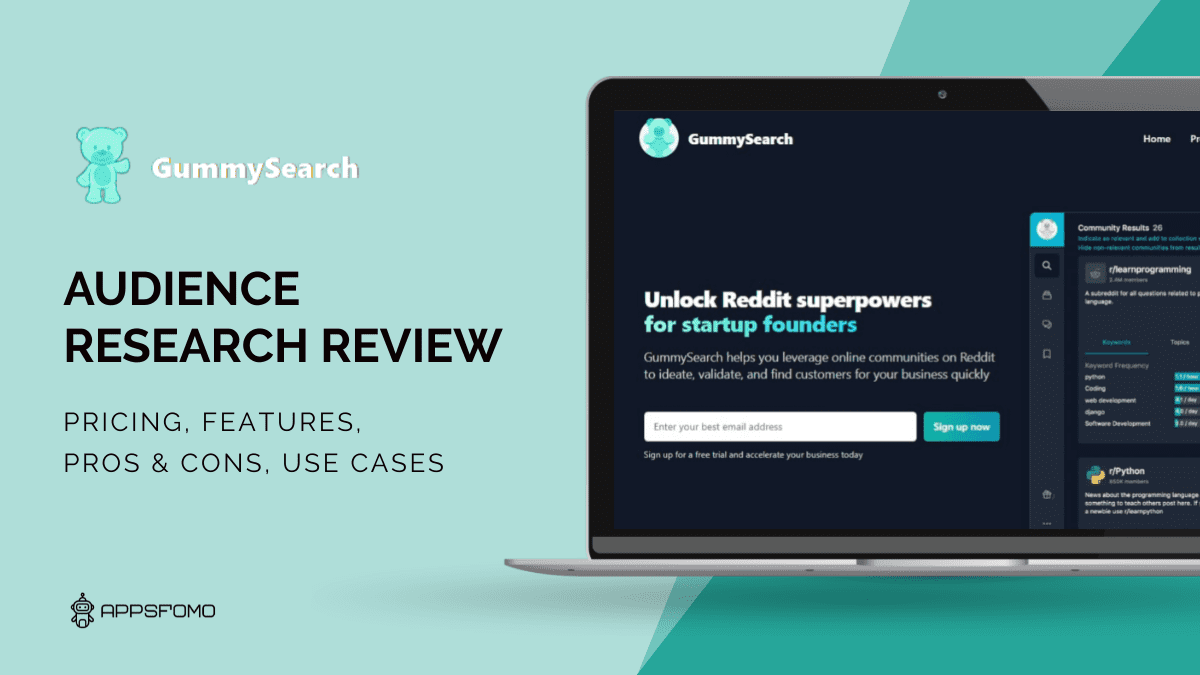 GummySearch: Discovering Potential Customers and Their Pain Points