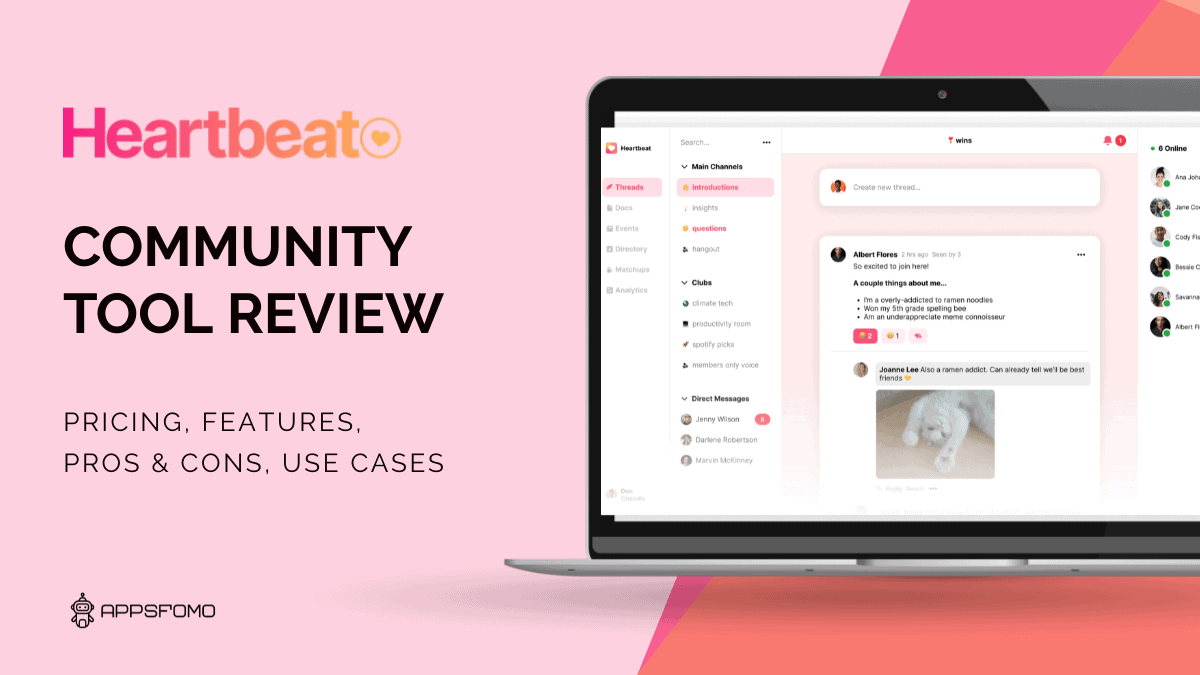 Heartbeat: The Online Community Management Software
Add to wishlist
Added to wishlist
Removed from wishlist
0
Add to compare
Are you looking for a platform that can help you build, run, and expand communities on your website? Look no further than Heartbeat. This app allows you to easily communicate with clients and develop relationships with them through dialogue. It's a fantastic approach to engaging with clients and developing relationships with them through dialogue.


Not only is it great for communication, but it's also a great way to host chats, live events, content, and courses, documentation under your own domain. What's more, Heartbeat brings your community together – so jump on board today and see just how powerful this app can be!
What Is Heartbeat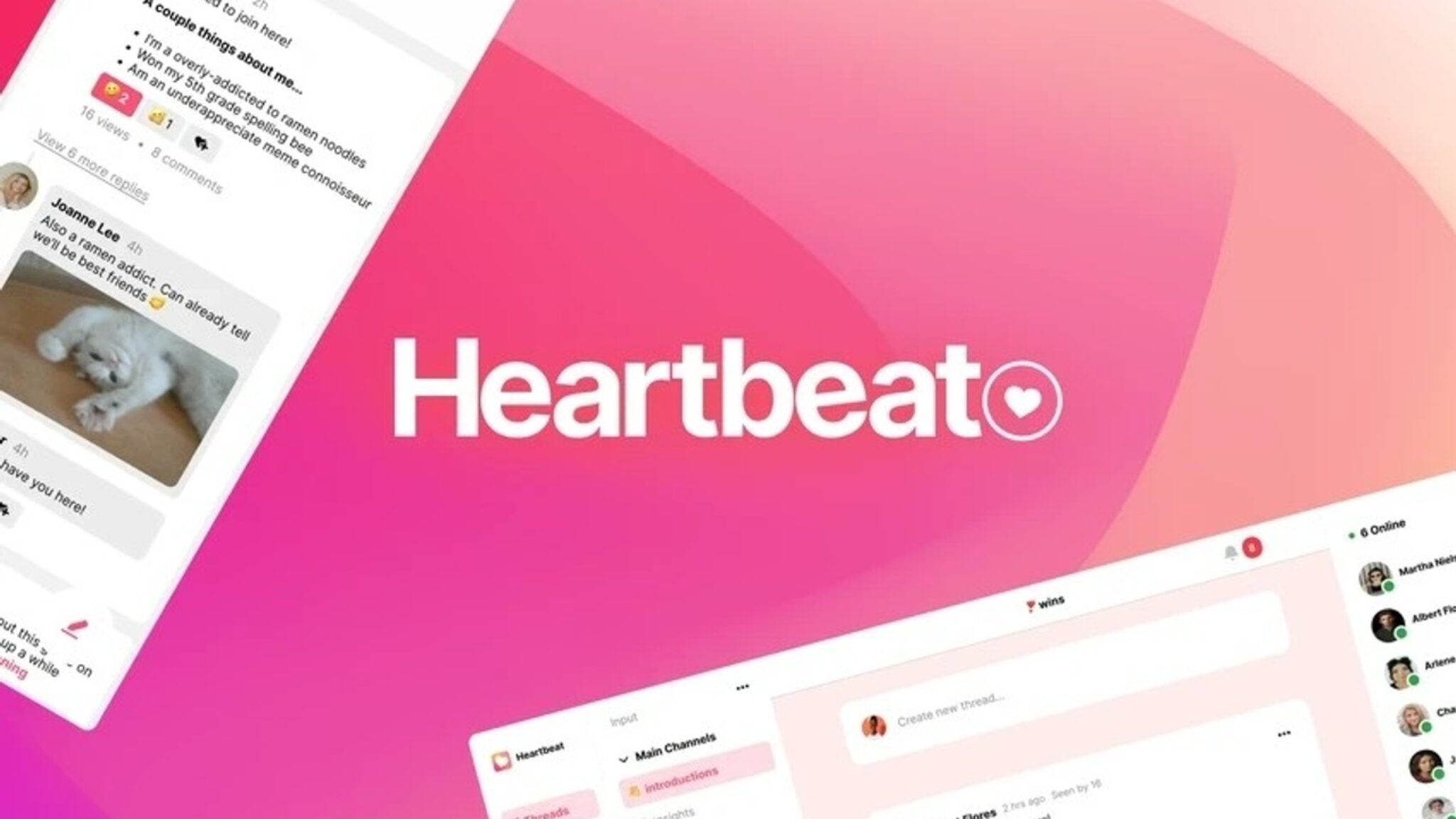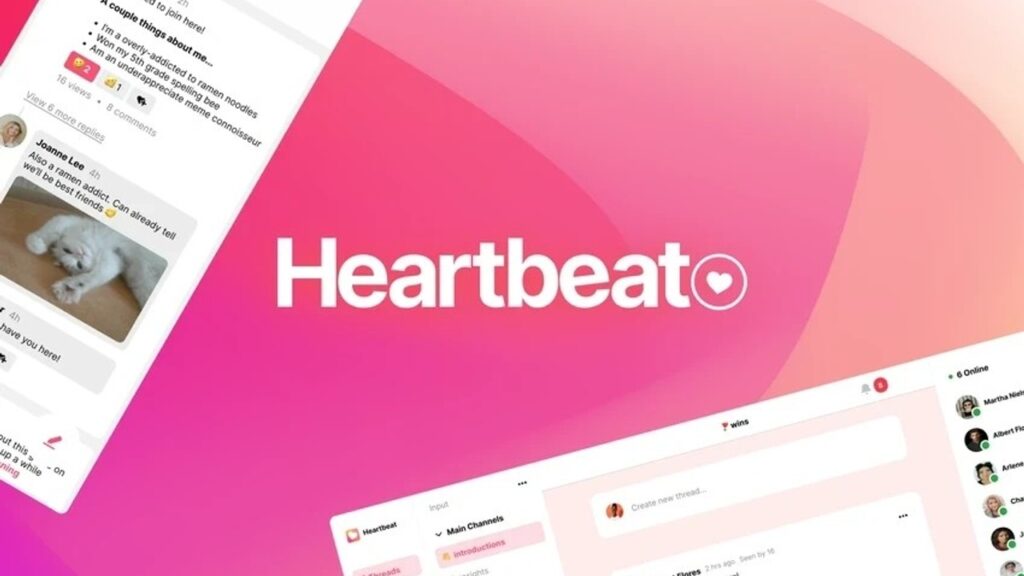 Heartbeat is a communication and sharing platform that lets you host chats, live events, content, and courses under your own domain. With heartbeat, you can easily manage all your community interactions in one place, from chat threads to live events.
Heartbeat helps you manage your community. It's the all-in-one platform for communities that brings the power of social media to your website and gives you the tools to build and maintain an active online community from your own domain. It automates tedious tasks so that you can focus on what matters most: having meaningful conversations with your members.
In addition, heartbeat provides you with a platform to monetize your community interactions. So, whether you're looking to build a community for your business, promote your content, or teach a course, heartbeat is the perfect platform for you!
How does it work?
Let's have a look at some steps to get started building your community..
Provide a name for your community and a corresponding URL to start the sign-up process.
Your community website can match your brand colors by adding your business logo and custom colors.
You may then add a profile photo, which is particularly helpful if you're developing a personal brand, and a short description of yourself and your expertise.
This will be beneficial to users in the initial moment when they see you and understand what they may attain by becoming a member of the group.
If you already have a community, you may connect to other tools like Notion, Zoom, or import the details of your existing members from other platforms like Slack, Discord, or Facebook.
Company Details
Sheer SEO was founded by Murtaza Bambot and Mayhul Arora aims in building a world where anyone can jump online and find the place they are accepted as their true self. To do this, They started Heartbeat to empower great community builders and creators focused on genuine relationship building.
Company was formed in Atlanta, Georgia, United States in Oct 2020.
Features
Threads & Chats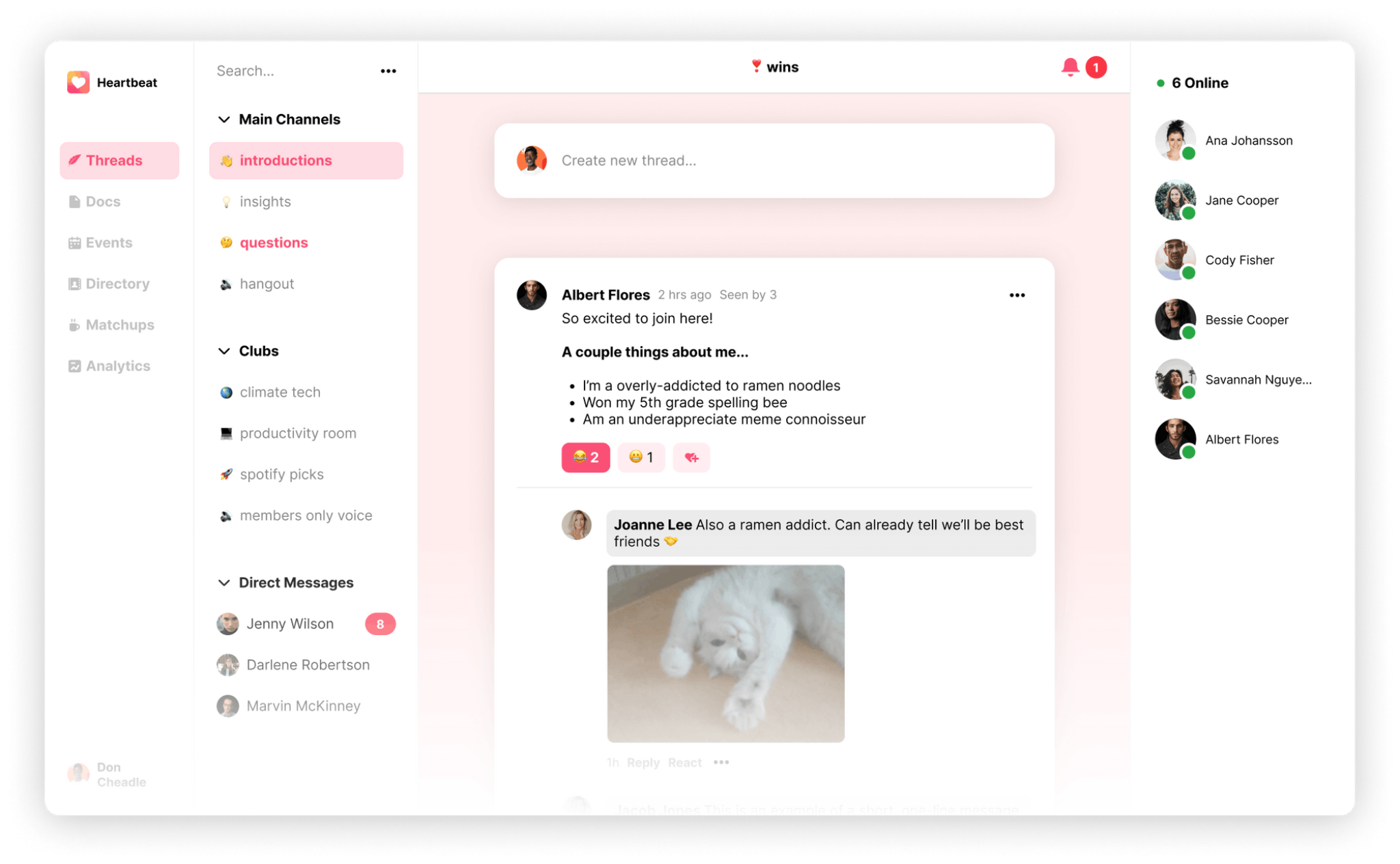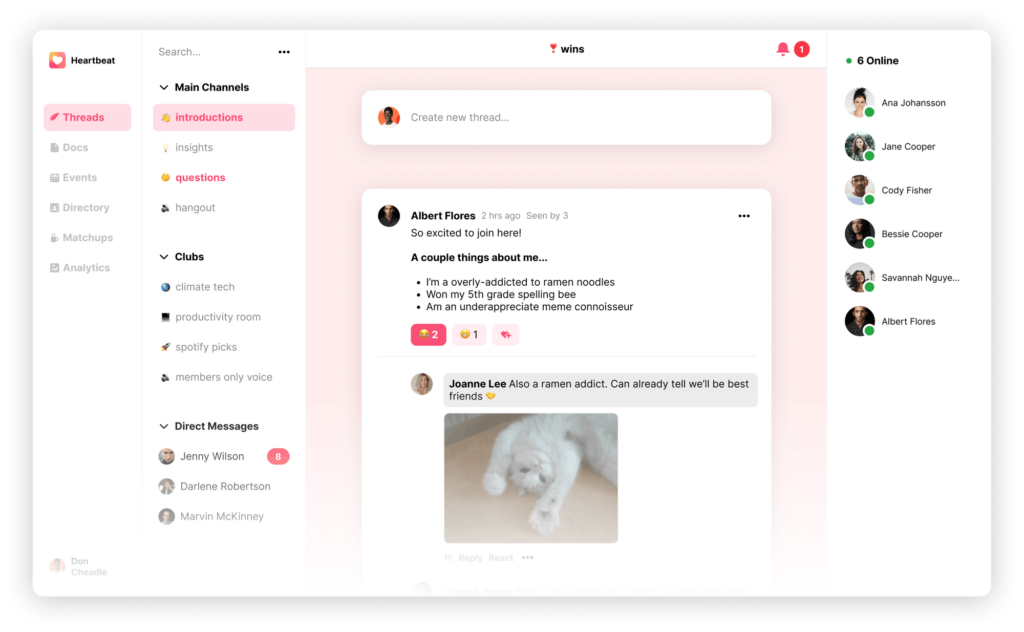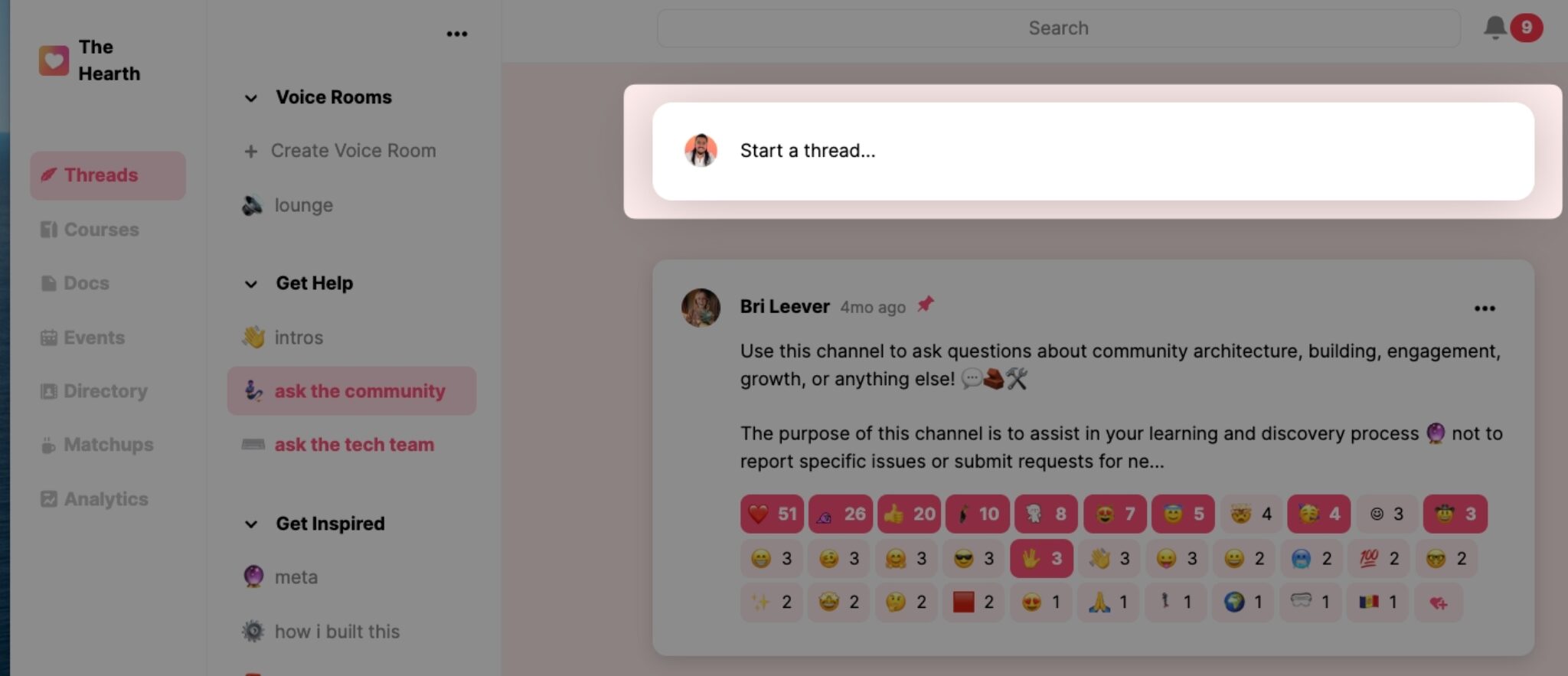 To keep the conversation going, create channels for any subject, tag members, and contribute GIFs.
With your community members, you can create threads that are extremely easy to begin and use. It lets you initiate and continue separate topics that may be categorized independently. You may conduct polls in any topic or attach files to provide additional information or share important information.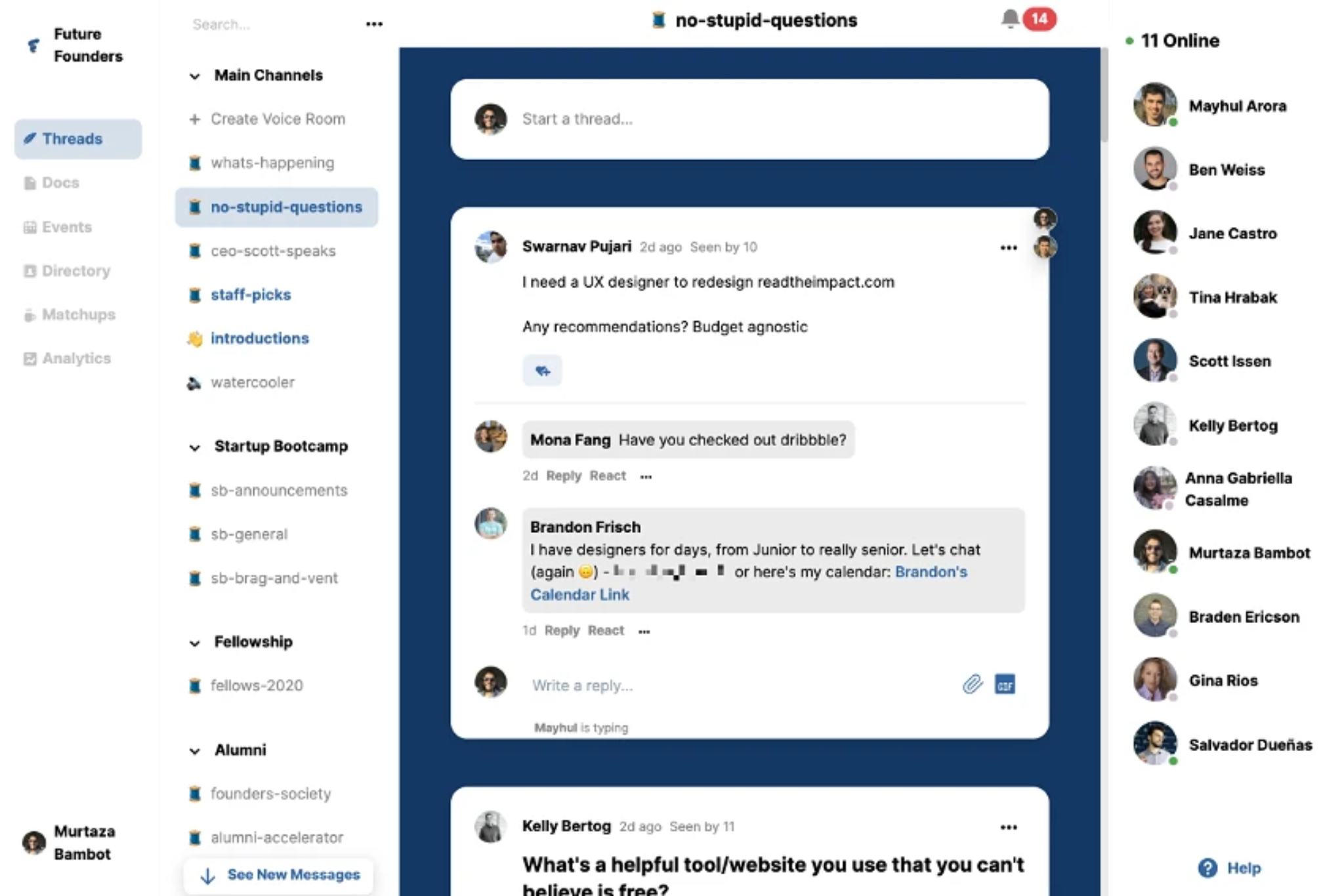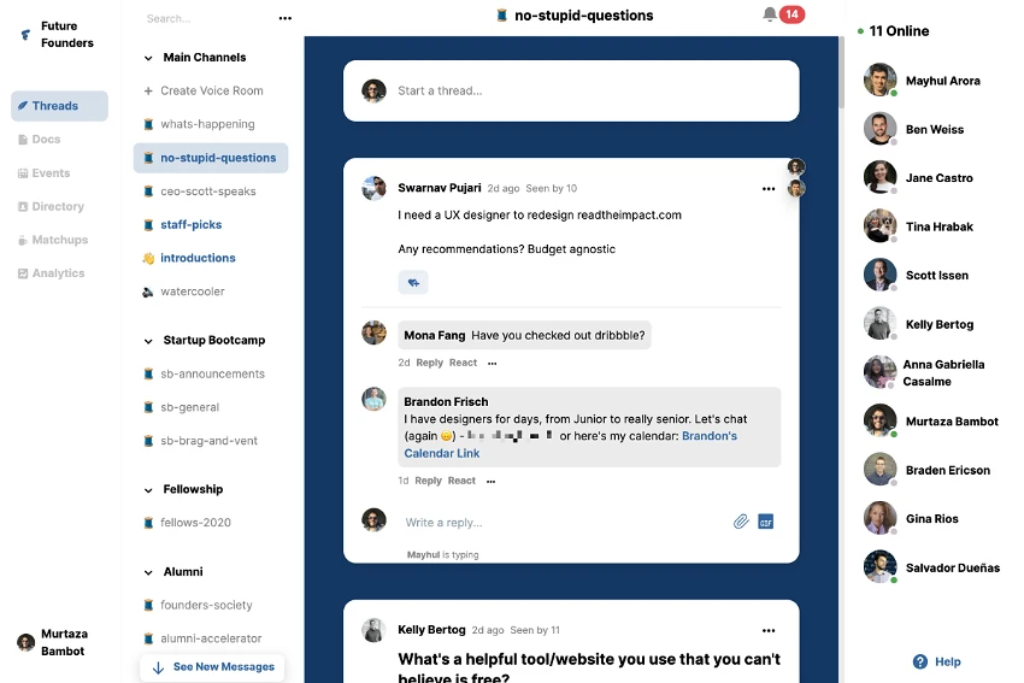 Documents & Content
With Heartbeat you can host documents, videos, links, threads that have been saved, and more. You may add each document where you may add words, attach files, and members can comment within a section called Documents.
Events
With just a few clicks, you can send event invitations, calendar appointments, and event reminders. You can even sync your Outlook or Google calendar so that events show up right on. Using the events features, In just a few clicks, you can organize your event, share invitations, and send reminders. You can even integrate with your Google or Outlook calendar to have events appear directly on members' calendars.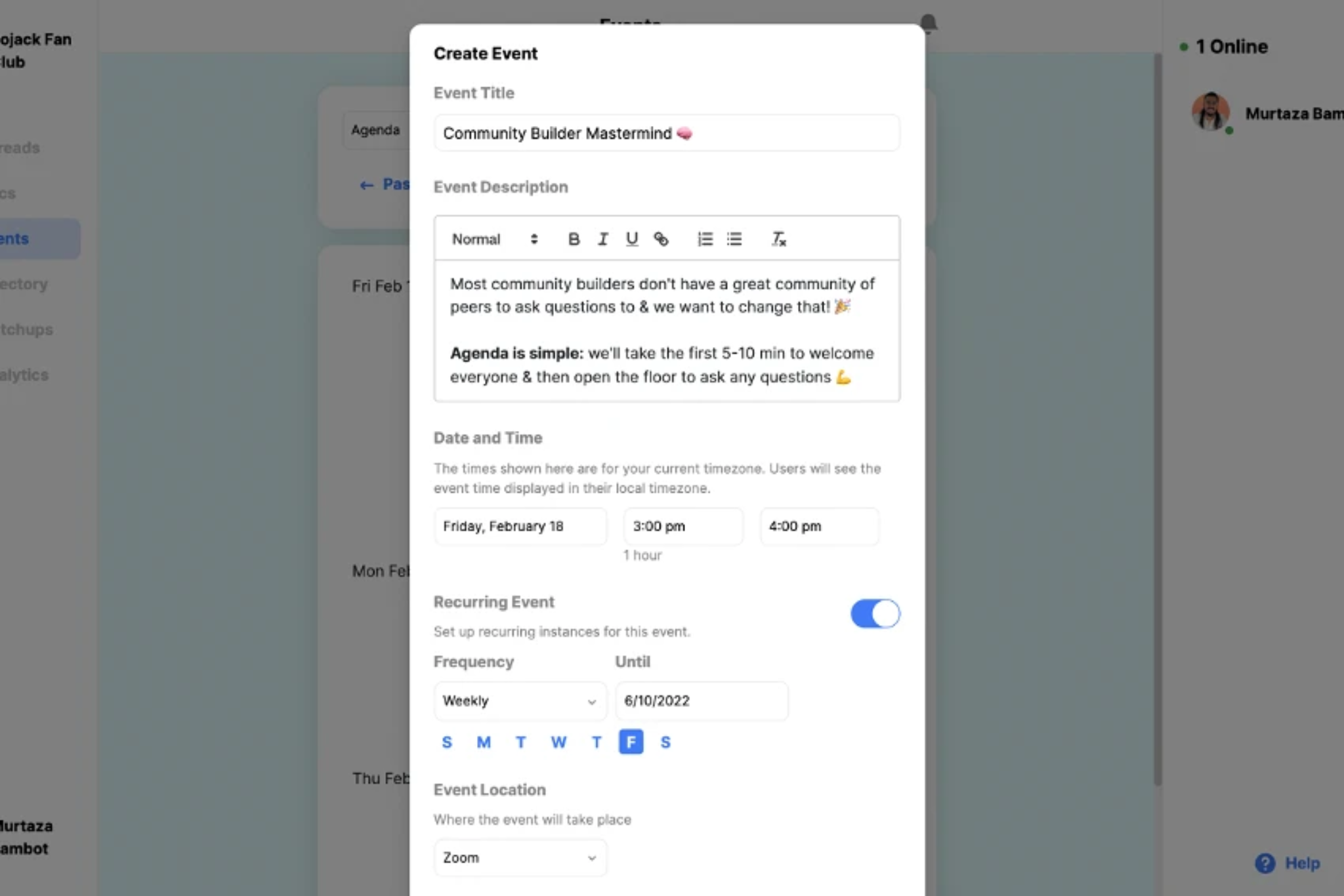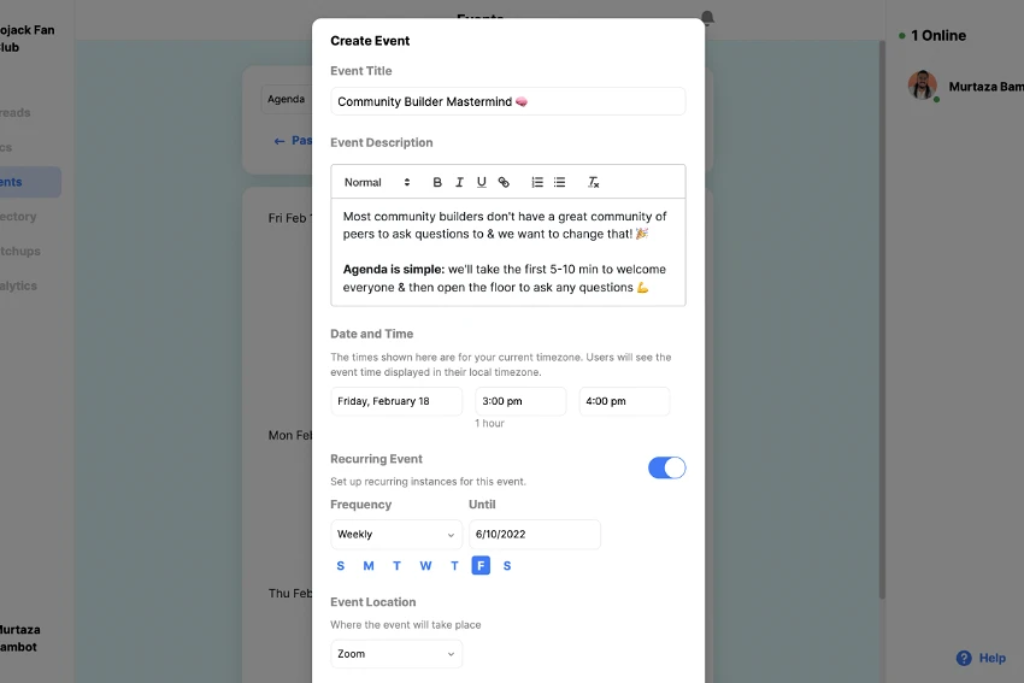 With the time and location, you can provide a title and a short description. If you host the event there, you can link your Zoom account and provide the zoom link.
Courses
Hearbeat is a learning platform that helps you design, build and launch highly interactive, engaging and experiential learning solutions. This platform has been designed with the objective to help you easily create beautiful, tailored-made and evergreen learning experiences for your employees.
Match-ups
Create personalized match-ups for your members based on their interests, location, experience, and other relevant variables. Automate the entire process so that your members get notified via email or text message when they have been matched with someone.
Voice Rooms
With 1 click you can start live voice & video rooms. It can replaces Zoom or Google Meet.
In-App Payments
This tool gives possibility to charge for one-time, recurring, periodic, or installment payments, event tickets, and more. Embedding Stripe will provide a smooth payment experience.
Analytics
How many people sent a direct message, joined on a call, read a document or watched a thread are all examples of general Analytics. This will give you an idea of how engaged your community is and how fast it is developing month by month.
Integrations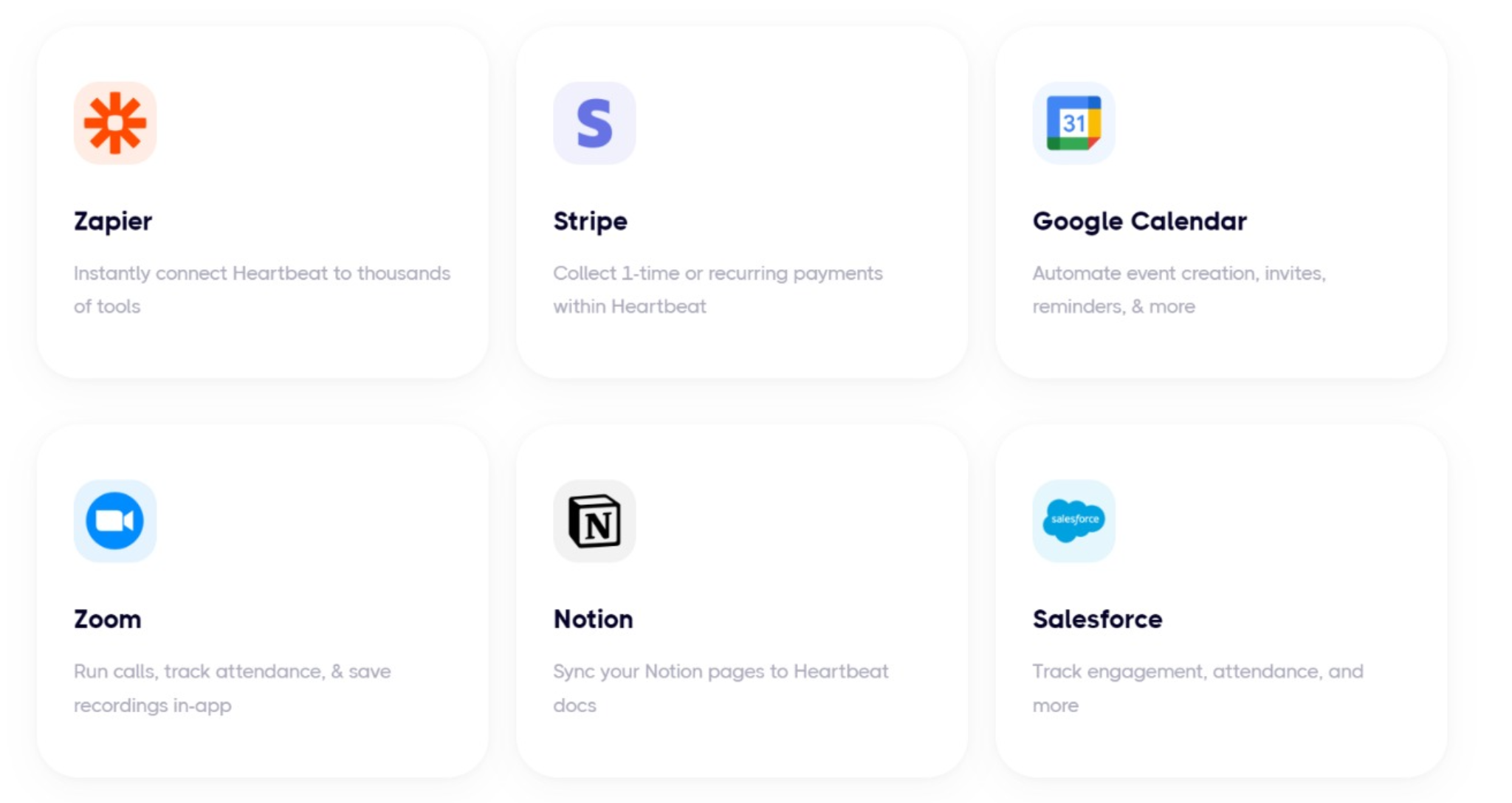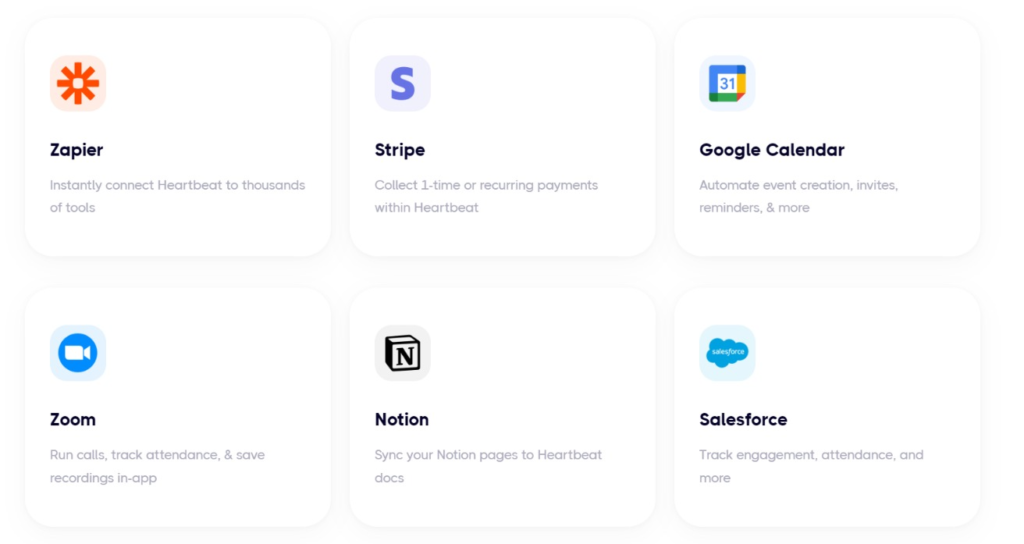 Heartbeat also has tons of useful integrations to keep your tools and communities connected.
Integrate with Stripe to charge for memberships, create paid groups, or even sell event tickets.
Best of all, you can also integrate with Zapier to connect Heartbeat to thousands of tools, including Zoom, Slack, and Salesforce.
Heartbeat Support
As a support system, Heartbeat offers email support and a ticketing system. However, live chat support is available on their main website but not within the app dashboard. Please note that the response time for their support may be poor.
They provide a substantial number of online videos that cover various features to assist users in learning more about their product.
Response time is poor.
Heartbeat has a comprehensive documentation section available at https://guide.heartbeat.chat/ that contains the necessary information for users to understand and use their platform effectively.
It's worth mentioning that Heartbeat does not provide a public roadmap or changelog for their product.
Why Use Heartbeat
The tool is used to build a community with a lot of functionalities, like threads and chats, hosting documents and content, events and voice rooms or In-App payments.
Create channel and forum structures that are dedicated to group formation.
Builds and manages active online communities from your own domain
With Heartbeat, you may develop and maintain a real-time online community.
Using shareable documents, embedded live videos, and slide presentations, it keeps your community updated.
To keep your tools and communities connected, Heartbeat comes with a slew of useful integrations.
Heartbeat Pricing Plans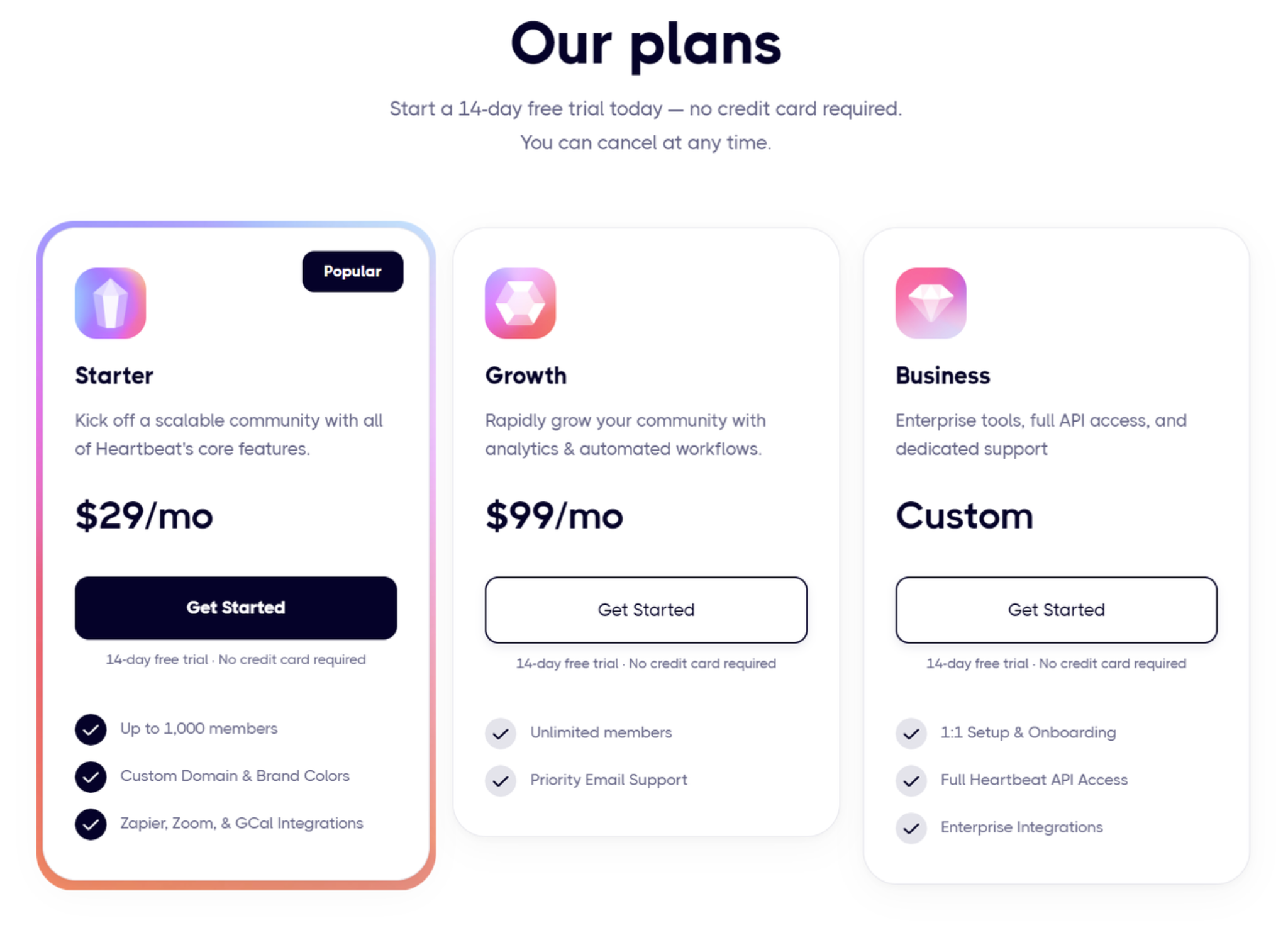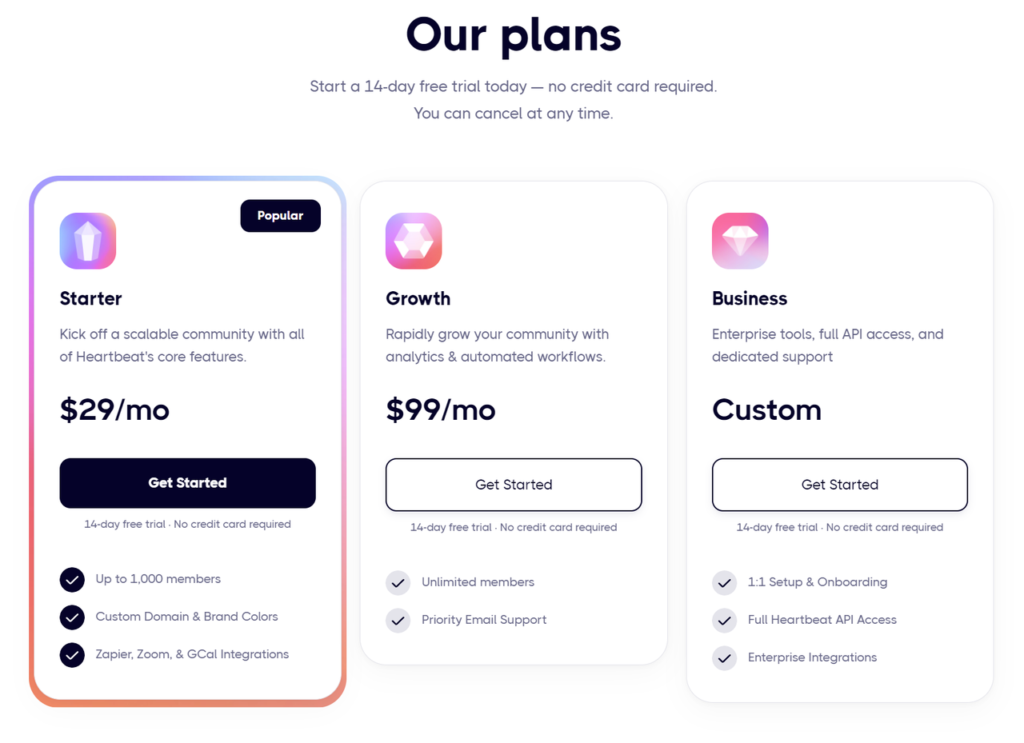 Alternatives to Heartbeat
Circle is a platform that connects you to relevant courses, discussions, members, live streams, and more. It's for anyone looking to build an engaged community.
The world's largest open source communications platform, It enables collaboration between colleagues, partners, consumers, communities, and even platforms without compromises on data ownership or customizations or integrations.
Disclaimer text….
Social Media Presence
Is Heartbeat right for You ?
Heartbeat is a great product with amazing features and a solid development team behind it. With the course feature, this app will be at the top of the list for many people looking to launch communities or launch their own courses. It's definitely worth signing up for updates from now on so that you don't miss out on any of these features!
A great app that can make an impact on the lives of its members. The user experience is well thought out and I am sure they will continue to improve upon it.
They are at a stage where their product is stable enough for customers to use, so if you're looking for a way to launch your community or business online, then check them out!
Video Review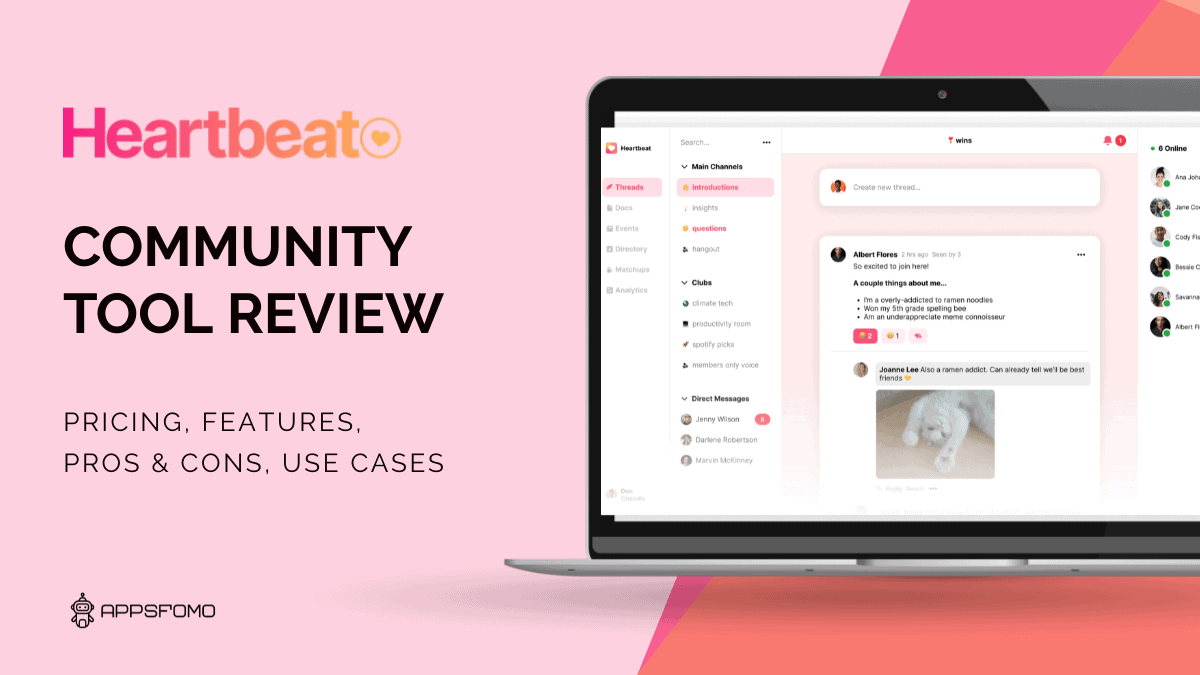 Specification:
Heartbeat: The Online Community Management Software
| | |
| --- | --- |
| Review Date | Dec-22 |
| Company | Heartbeat Chat Inc |
| Country | USA |
| Initial Release | 2020 |
| Pricing | Montlhy |
| Free Version | Free Trial |
| Lifetime Deal | Yes |
| LTD Platform | Appsumo |
| Money-Back | N/A |
| Appsfomo Rating | 6.4 |
| Support type | Email, Live Chat, Ticketing |
| Integrations | Google Calender, Notion, Stripe, Zapier, zoom |
| Supported Device | Android, IOS, Web Based, Windows |
| Mobile app | Not Available |
| Affiliate Program | No |
PROS:
Neat, user-friendly interface
A single tool to host threads, events, and documents
There are mobile apps for both iOS and Android
Excellent degree of customization
CONS:
Registration and Fees
Email cannot be sent with our domain name
No response from the support team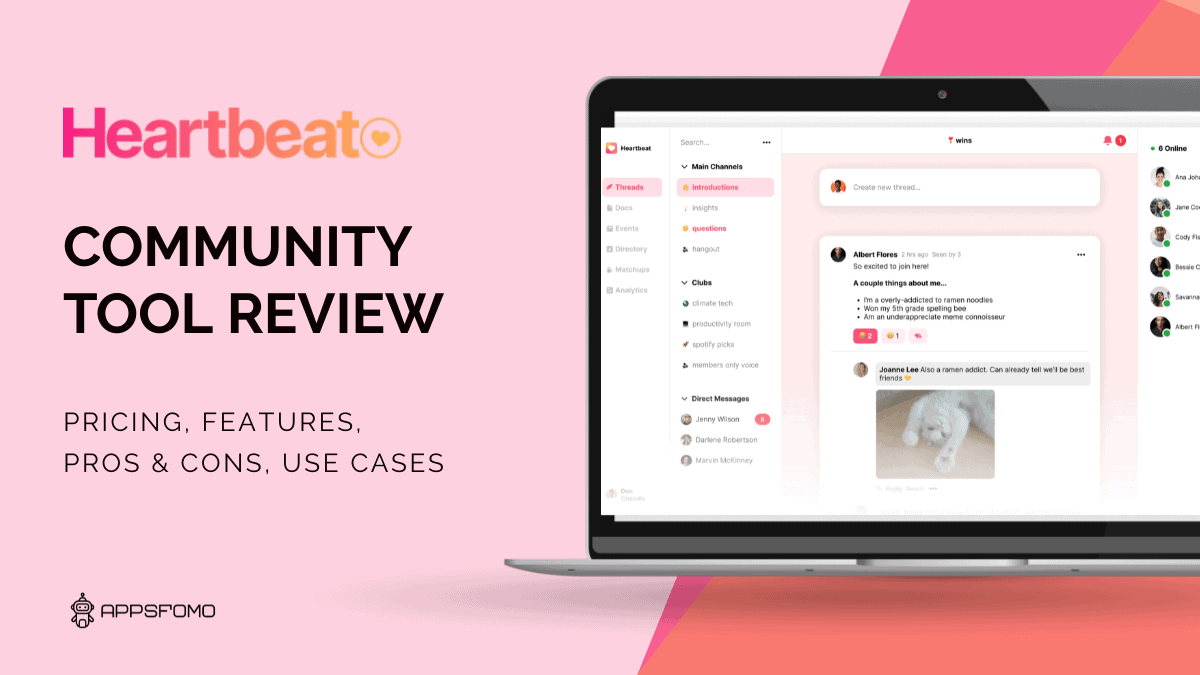 Heartbeat: The Online Community Management Software