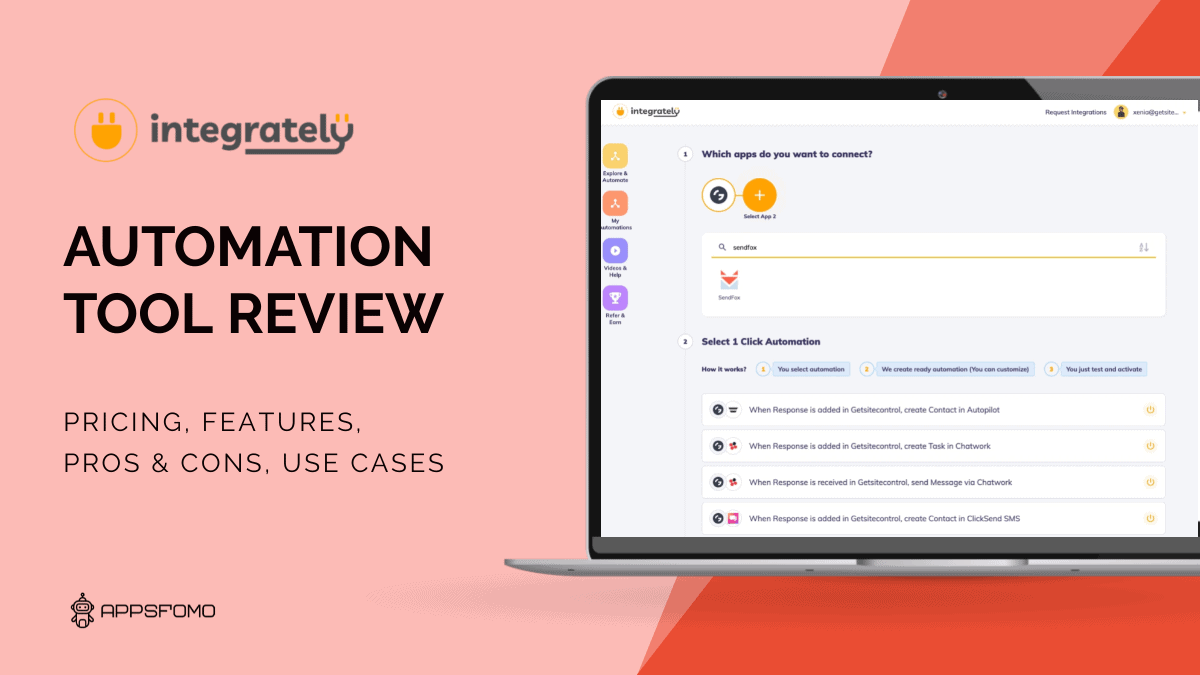 Integrately: Automate Your Business with Advanced Workflow Builder
Add to wishlist
Added to wishlist
Removed from wishlist
0
Add to compare
Automation is becoming essential for businesses and individuals, who use apps to automate their workflows. This is an undeniable truth that at first glance, everything seems simple on the Internet these days, but as an e-commerce owner, things can get difficult if you have to deal with codes, programs, and all that stuff. So, as you may be familiar with the applications that might help you to automate your website, you must know Integrately
Integrately is a automation tool that comes with an interface very similar to Zapier. Integrately offers some more advanced features than most automation tools out there like interacting with the API for integration points, creating custom actions inside integrately hub, or collaborating on workflows among team members.Integrately is an iPaaS software platform that automates manual tasks with a single click. It offers a variety of pricing plans with a free plan for those who need just a few workflows.. But if you're wondering if there are alternatives to it, read this guide first. We'll cover how it works and if there are alternative options available.
What Is Integrately?
Overview
Integrately is a no-code, one-click integration software. That allows businesses to connect their suite of software tools in order to automate processes that occur across these applications.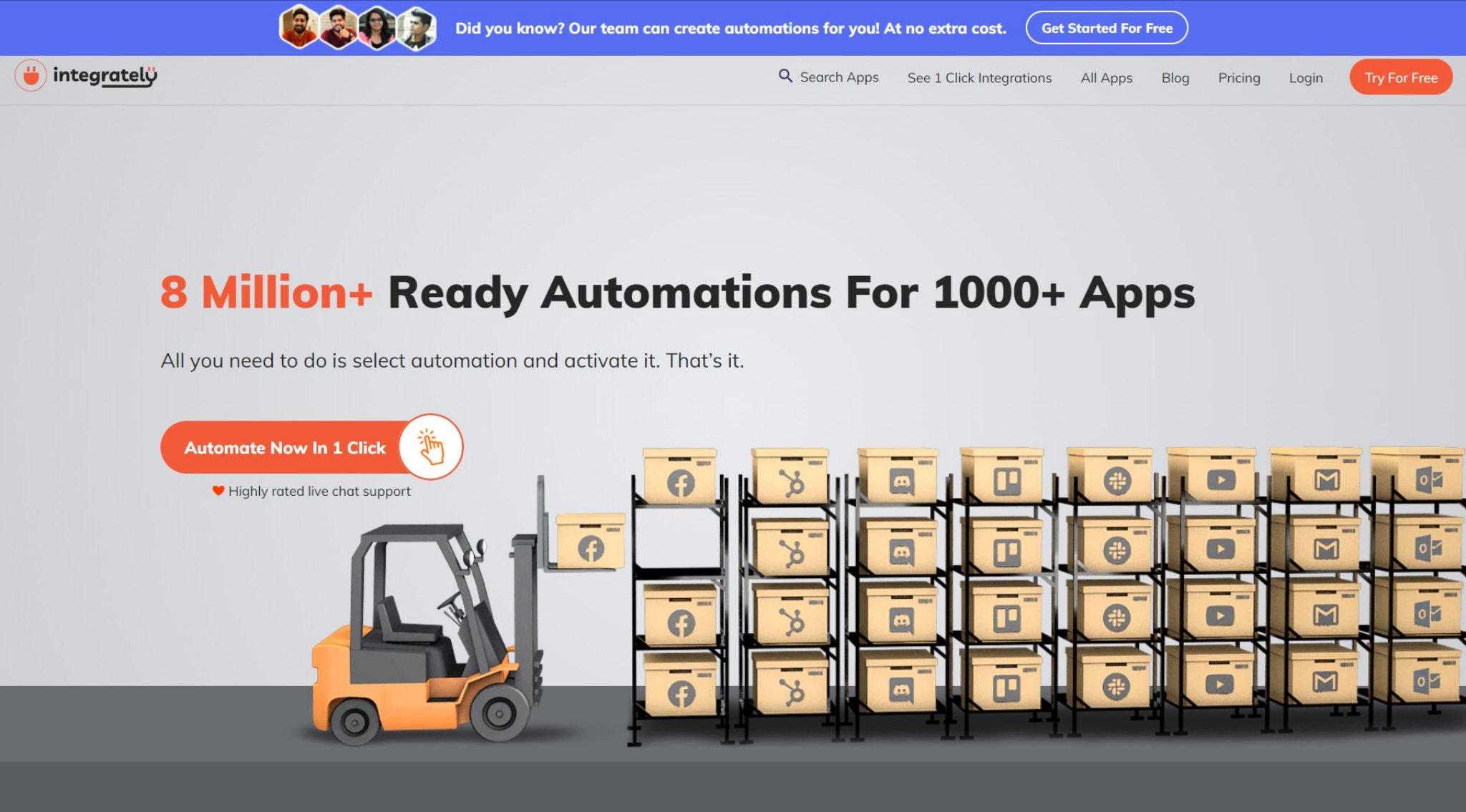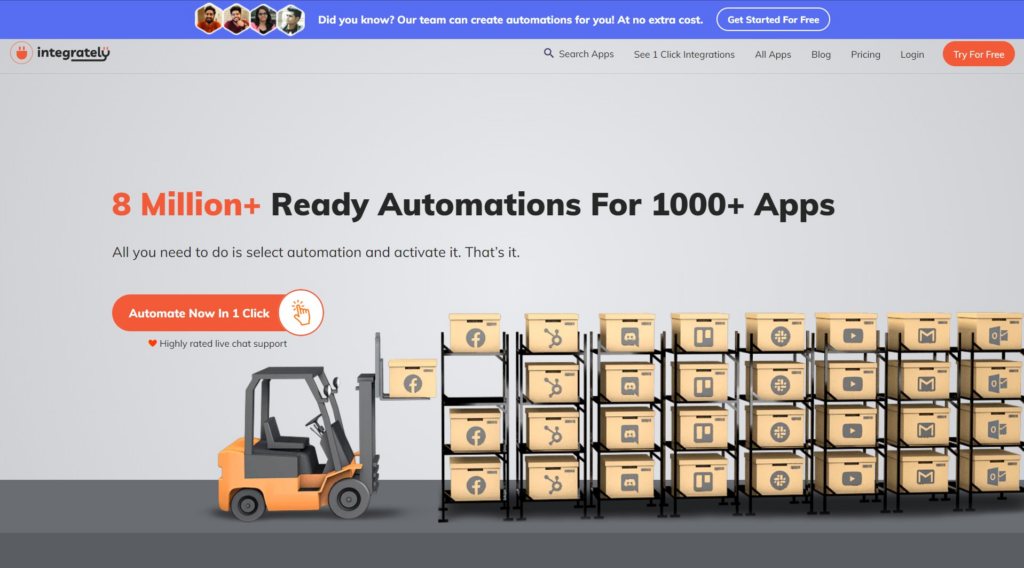 As an example, you can use integration software tools like Integrately to connect Google Drive and Gmail to automatically send an email, when a new file is created in the drive.
Integrately currently has pre-built integrations with more than 475 software applications in categories like email marketing, SMS marketing, accounting, live chat, and more
What does Integrately do?


It enables users to integrate apps like Google, Salesforce, Hubspot, and Facebook to move their data automatically. It's easy to create workflows with integrately, whether it's a simple one-to-one workflow or a complex workflow with multiple steps. Using integrately you can create workflows in minutes that are precise and efficient in your business.
Integrately enables users to send market leads to customer relationship management (CRM) systems, update meetings in Google Calendar & CRM, get notifications, add purchases or leads to spreadsheets, and create invoices using QuickBooks automatically.
Integrately is an iPaaS software platform that automates manual tasks with a single click. It offers a variety of pricing plans with a free plan for those who need just a few workflows.
Customers can access the Gistlive chat on the website for customer support. They can also utilize microservices-based solutions with light, scalable runtimes to perform the integration. These integrations support data from hundreds of platforms, such as SaaS, ERPs, data stores, and more.
With integrately's automation technology, customers can process data in bulk and quickly gain insight into their business processes. This helps them make informed business decisions and improve efficiencies across the board.
With Integrately, users can automate workflows such as ordering and payments to invoicing apps and creating and sending invoices. By automating integrations between different apps, users can free up time to focus on their core business operations. This automation helps companies save money and streamline their workflows while reducing risk and improving efficiency.
Hence, if you're looking to optimize your apps with automation technology, Integrately is one option you shouldn't ignore.
Company Details
Integrately is the Product of CompanyHub CRM a popular CRM company that lets you create sales bots and automate your sales process. It is also fully customizable for your industry.
Integrately was founded in 2015 by Abhishek A Agrawal and is currently headquartered in Nasik, India. It has around 40,000 users across the world.
Online Presence
How to use Integrately?
Work the way you imagine
Single Click Automation
Integrately helps you integrate your apps and automate your processes in 1 click!
It's so easy: You can do it in 3 simple steps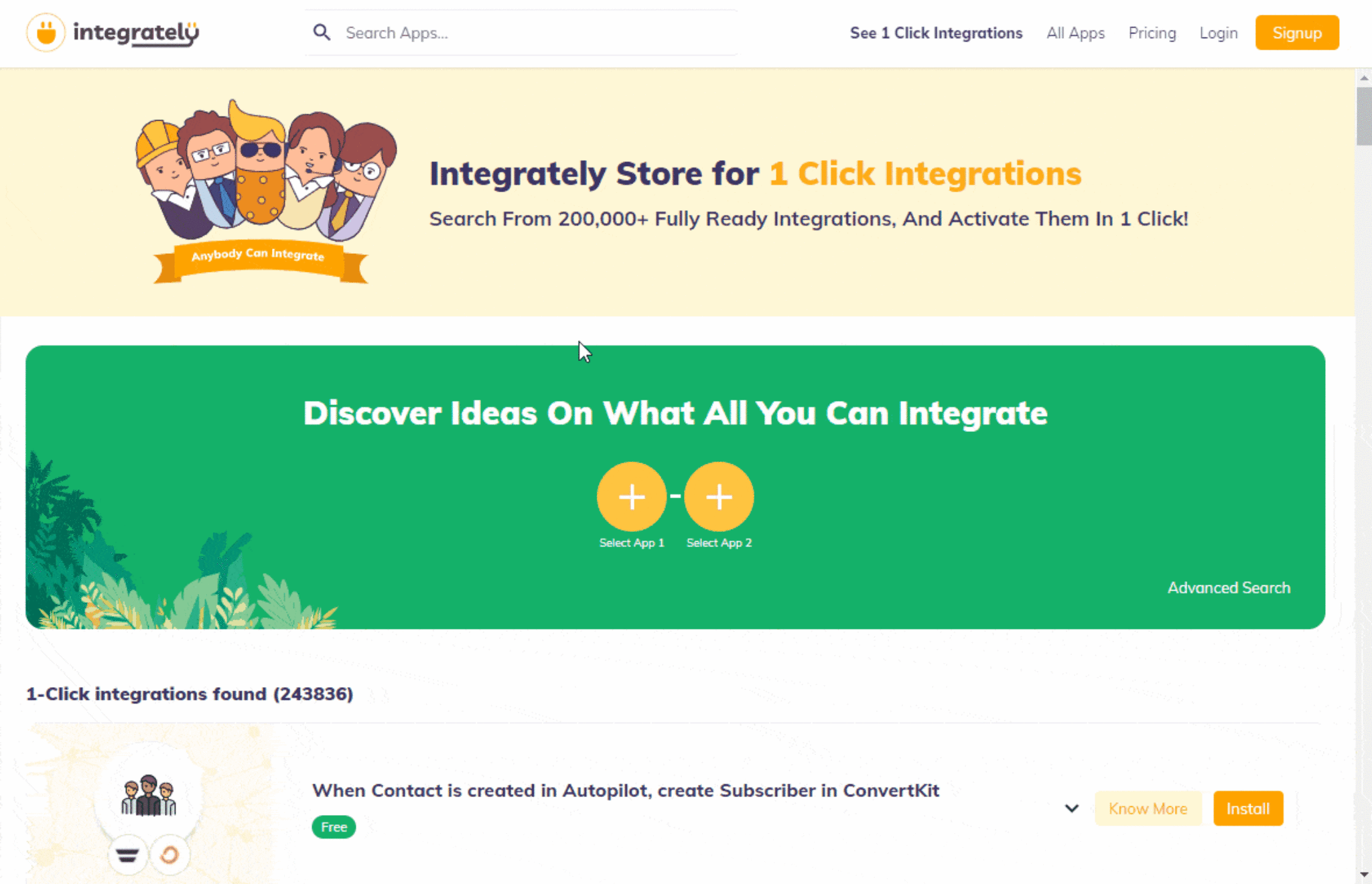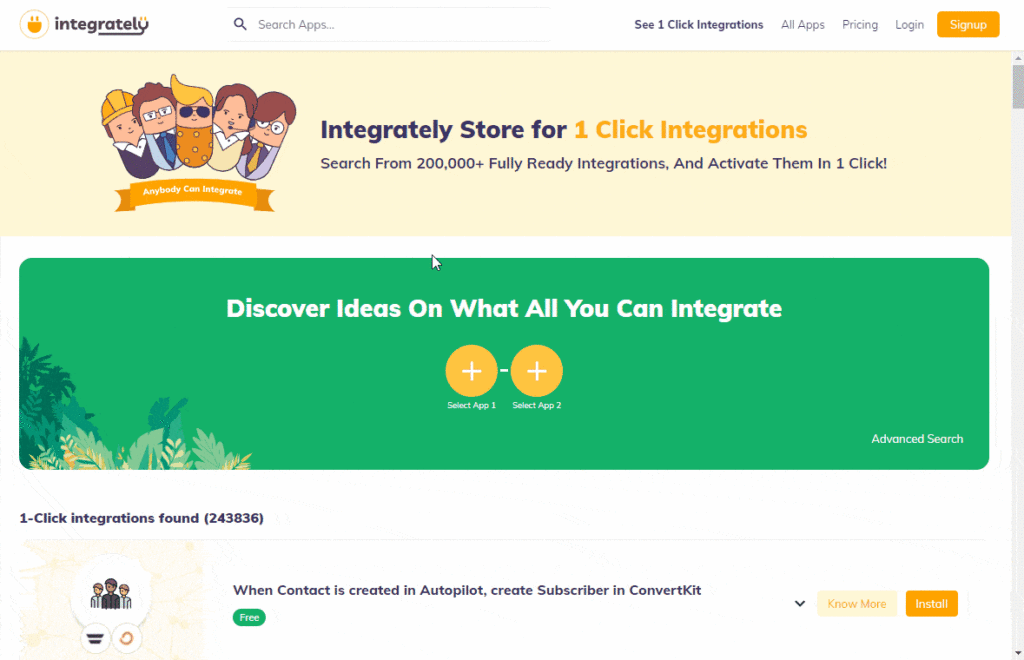 Select your automation from 8 Million+ ready automations
Customize (optional)
Test & make it live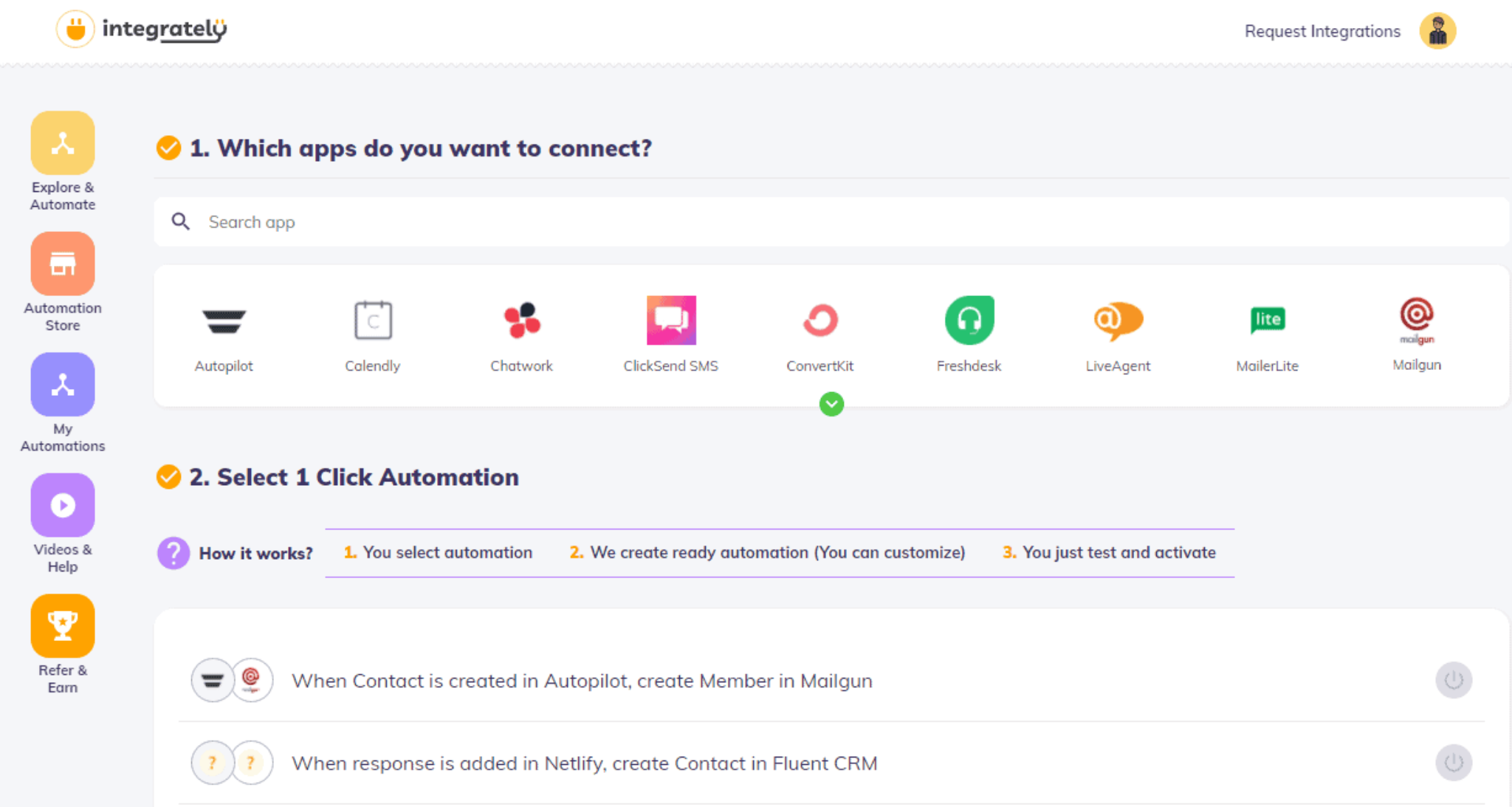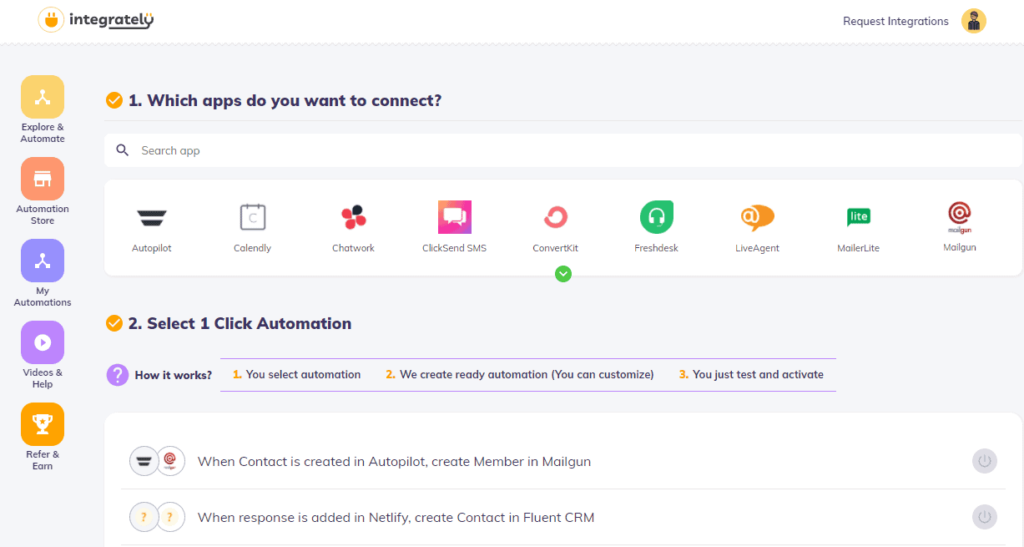 If you wish to build your own automation, then you can browse and automate.
Create own automation
Not necessary you will find all the automations readily available. Sometimes you may have a particular requirement, other than the popular ones.
With a very basic step-by-step workflow builder, Integrately's automated workflows are built. This is similarly simple to accomplish, as with the other integration software.


For instance, you'd want an automization in ConvertKit to create a deal in CompanyHub if a contact has subscribed to an email sequence. To create this automation, you need to follow 2 easy steps:
First, we'll need to identify the "when" condition that applies. Select the required condition from the drop-down menu in "when this happens.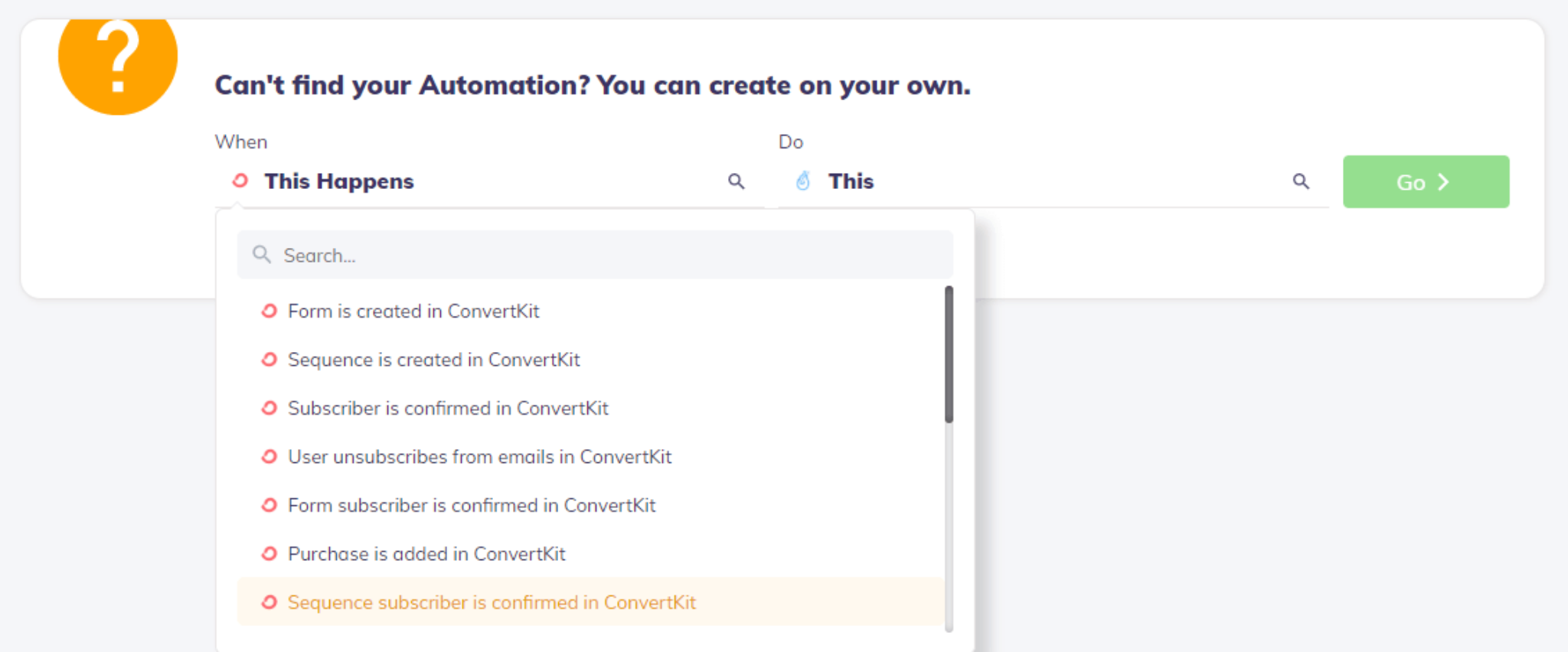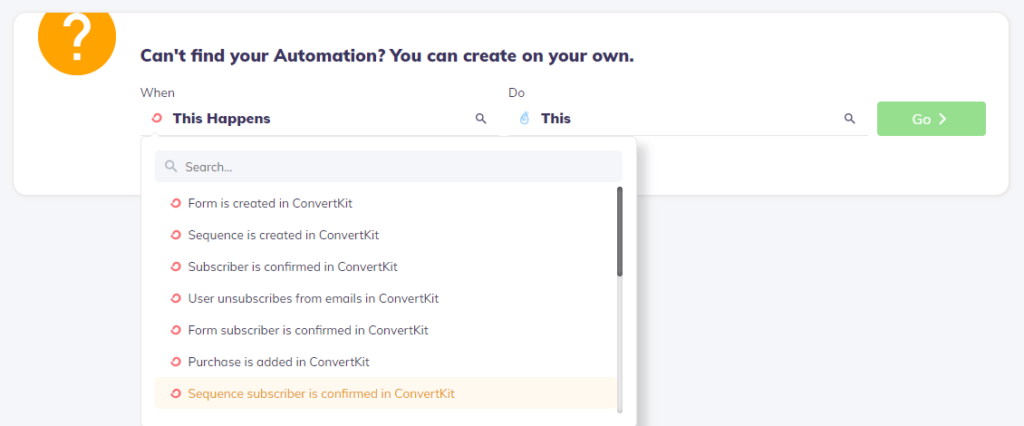 Next you need to select the "then" condition. This can be done by browsing through the drop down menu in "Do this" and selecting the relevant outcome.


You're ready to go now that you've chosen the when and then of your integration. Your integration is ready to go simply by clicking the "Go" button.
Accounts Addition
To synchronize your apps, connect them to Integrately. To integrate your apps, click on the 'Add Connection' button.


If you have already connected your apps with Integrately, just select from the list.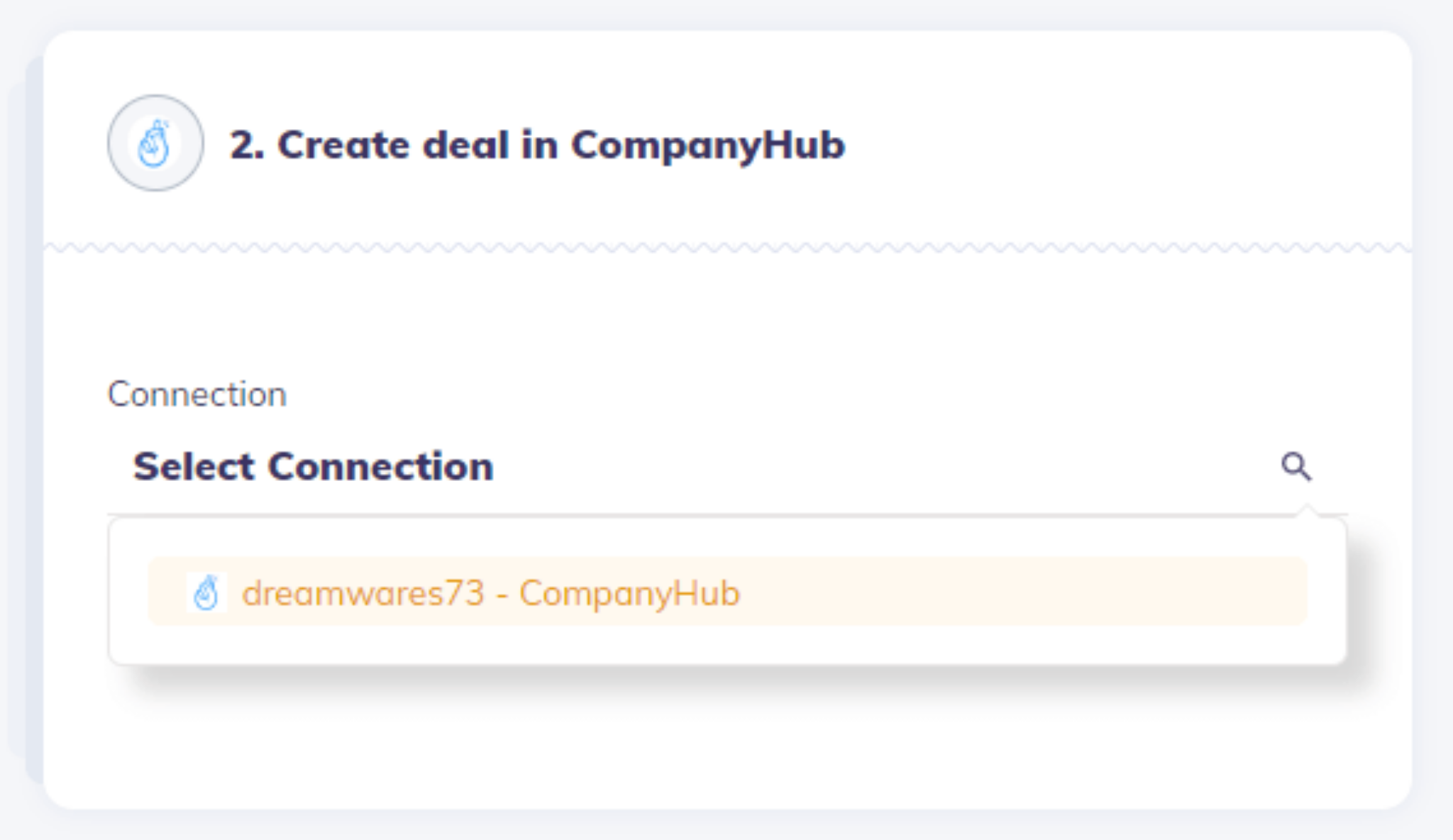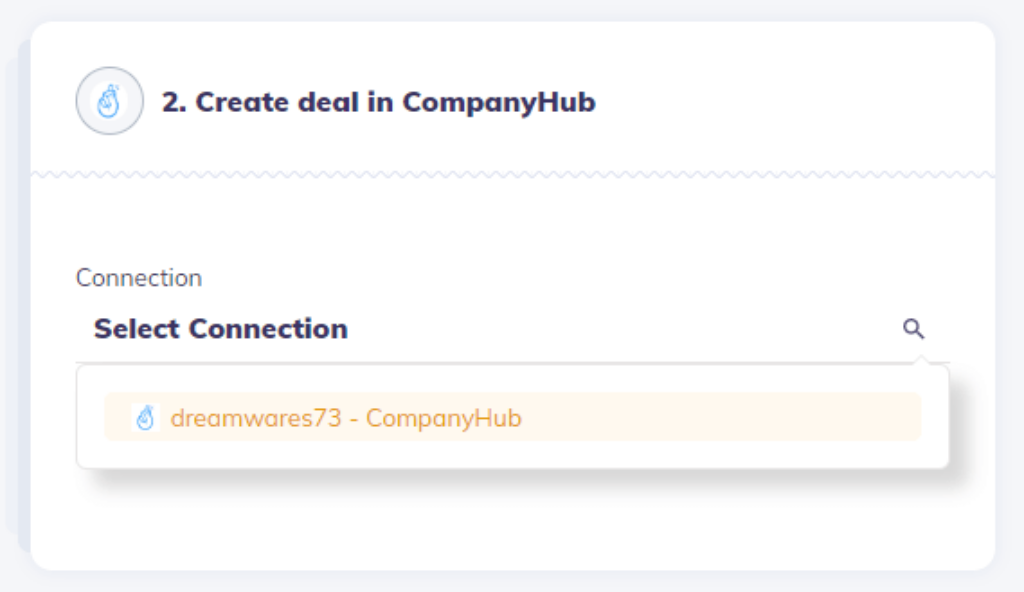 Connect your accounts by following the steps or processing. To link your account with Integrately, you'll usually find a step-by-step video or set of instructions.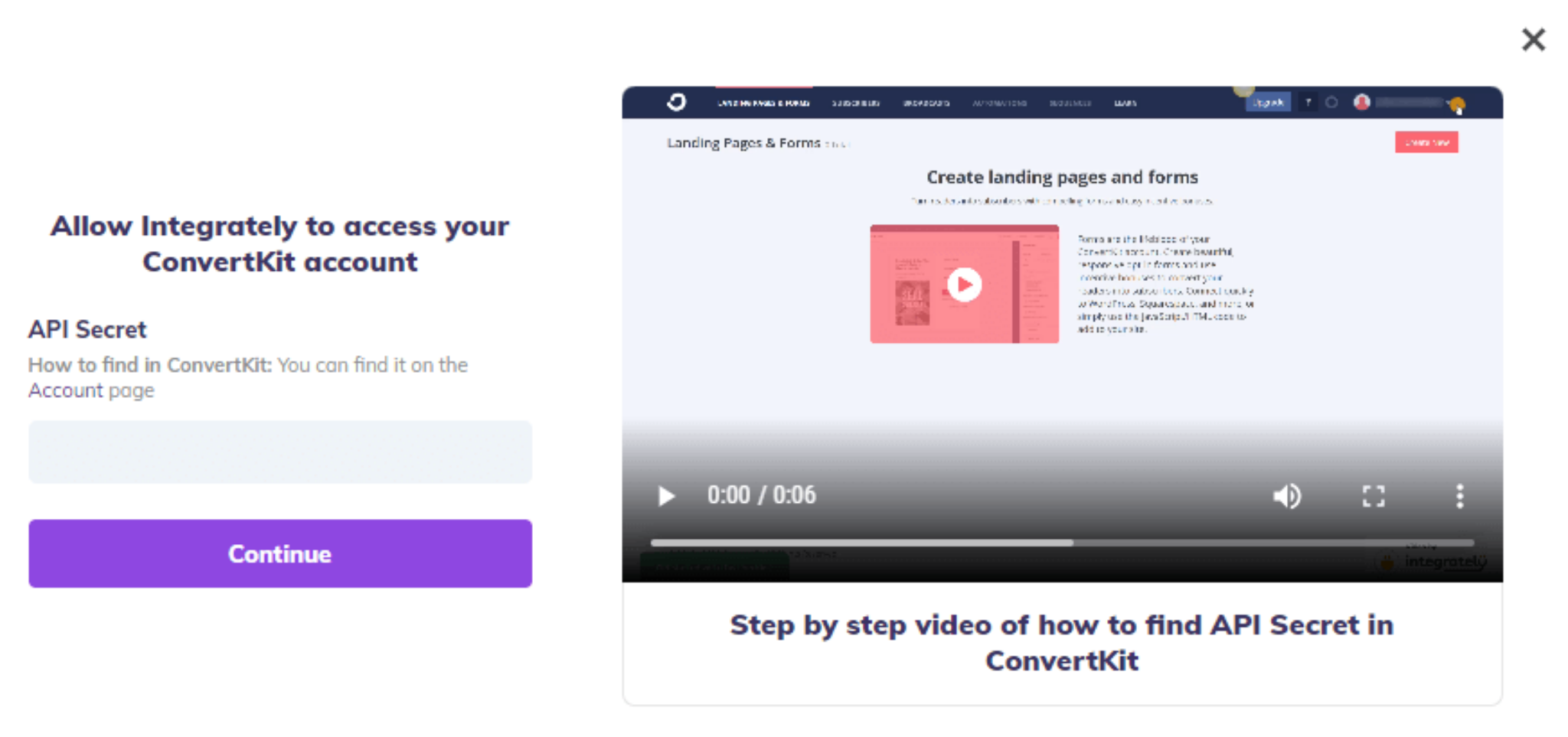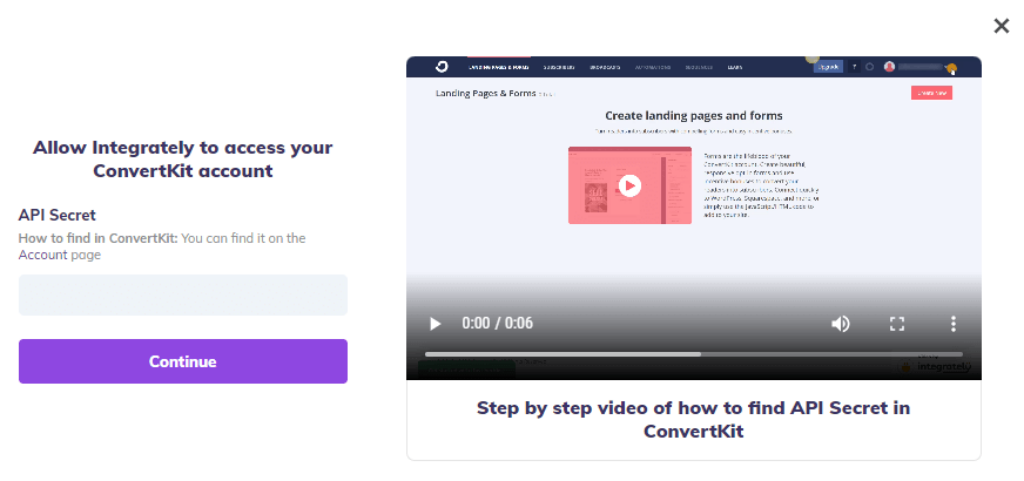 Data mapping and customization
Integrately takes data from your source app and gives it to your destination app.
However, the fields in both apps are likely to be different. You may pick the same field from both apps for each field in the destination app.
Follow these steps to map fields or make any changes to the existing mapping –
Click on the field you want to map in the destination app
There are 3 ways to map a field:
You can select the field from the source app that you want to sync with this particular field, or
You can also select from the fields in the 'Fixed' section, which will display a pre-defined list to pick from, depending on the field to be mapped, or
You can also manually set the value of the field and click 'Enter'
Modify Data
With Integrately, users can modify data and conditions in automation processes. For instance, if you want to change the data from a certain point in the process, you can easily do so. If you want to create "if-then" situations, it is feasible to include more complicated data modifiers. Each Automation may have different modifiers, as seen in this picture.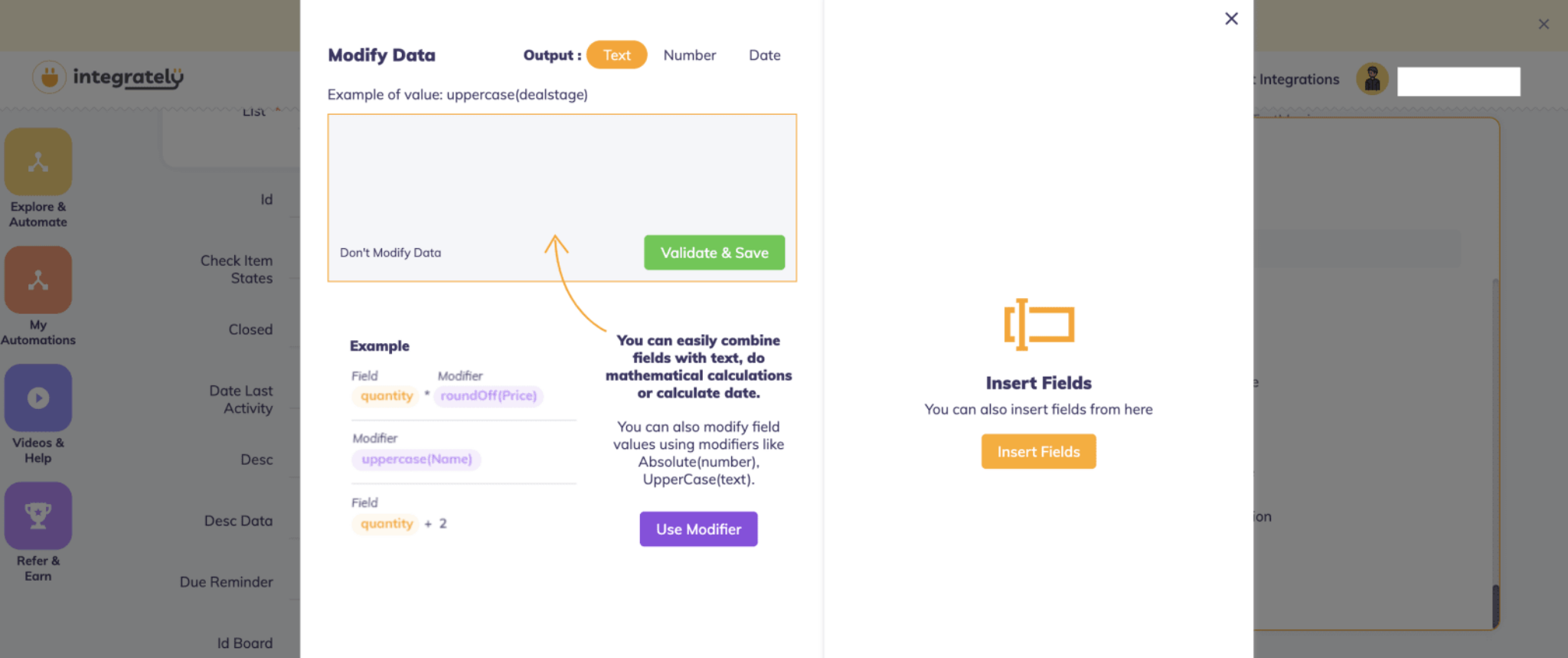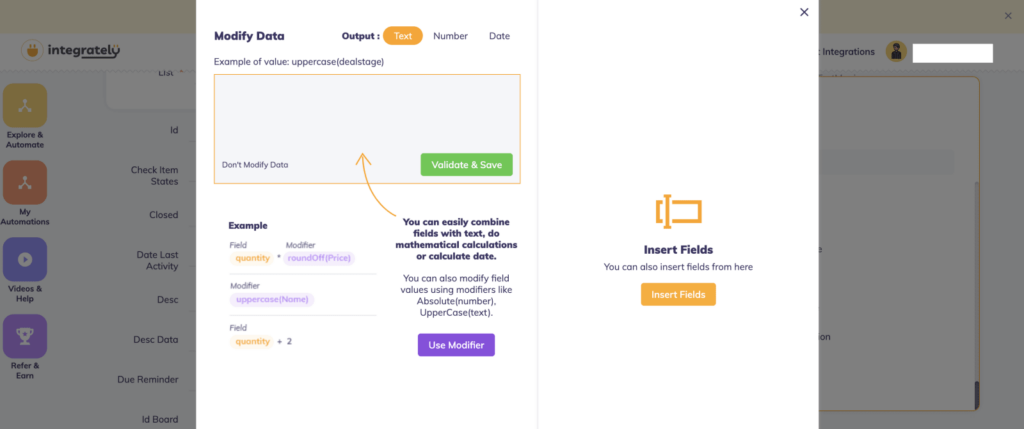 Testing
Once the mapping is complete, you will need to 'test' your automation. To check whether it is giving the desired result or not.
The Test and Go live button is located on the right. Now, by activating the automation and sending the sample to the destination program, you'll be able to create the desired report. Integrately will let you know when the automation has been successfully implemented if it is successful in doing so.
You can now check the destination app for the newly created recordConnect apps through Webhooks to Integrately


Why Use Integrately?
Benefits and Applications
Integrately is a no-code, one-click integration software that enables businesses to automate processes across multiple applications.
Users can create personalized automations or customize existing ones, adding multiple actions and conditions to suit their requirements. This flexibility makes it an efficient choice for businesses looking to save time and resources.
It offers over 475 pre-built integrations to categories like email marketing, SMS marketing, accounting, live chat, and more, making it easy for businesses to connect their apps with other workflows seamlessly.
Its user-friendly interface and library of pre-made workflows make it easy for customers to start using the tool quickly and effectively. Besides automation workflows, it also has features like applets that help businesses track conversions easily and accurately.
Besides automation workflows, integrately offers 14,000 tasks/actions per month compared to 750 from its competitor, Zapier.
This gives businesses plenty of scope to plan and prepare for important or complex integrations with relative ease.
You can also build custom workflows from scratch and configure them using Integrately's Automation Builder. However, the real magic lies in its SmartConnect feature that automatically maps out data fields for a seamless connection.
Pricing Plans
Monthly and Annual Pricing
Integrately offers a 14-day free trial to get you started. After its completion, you must upgrade to one of the paid plans with prices starting from as low as $19.99 for 14,000 tasks. You can find a detailed comparison of prices below.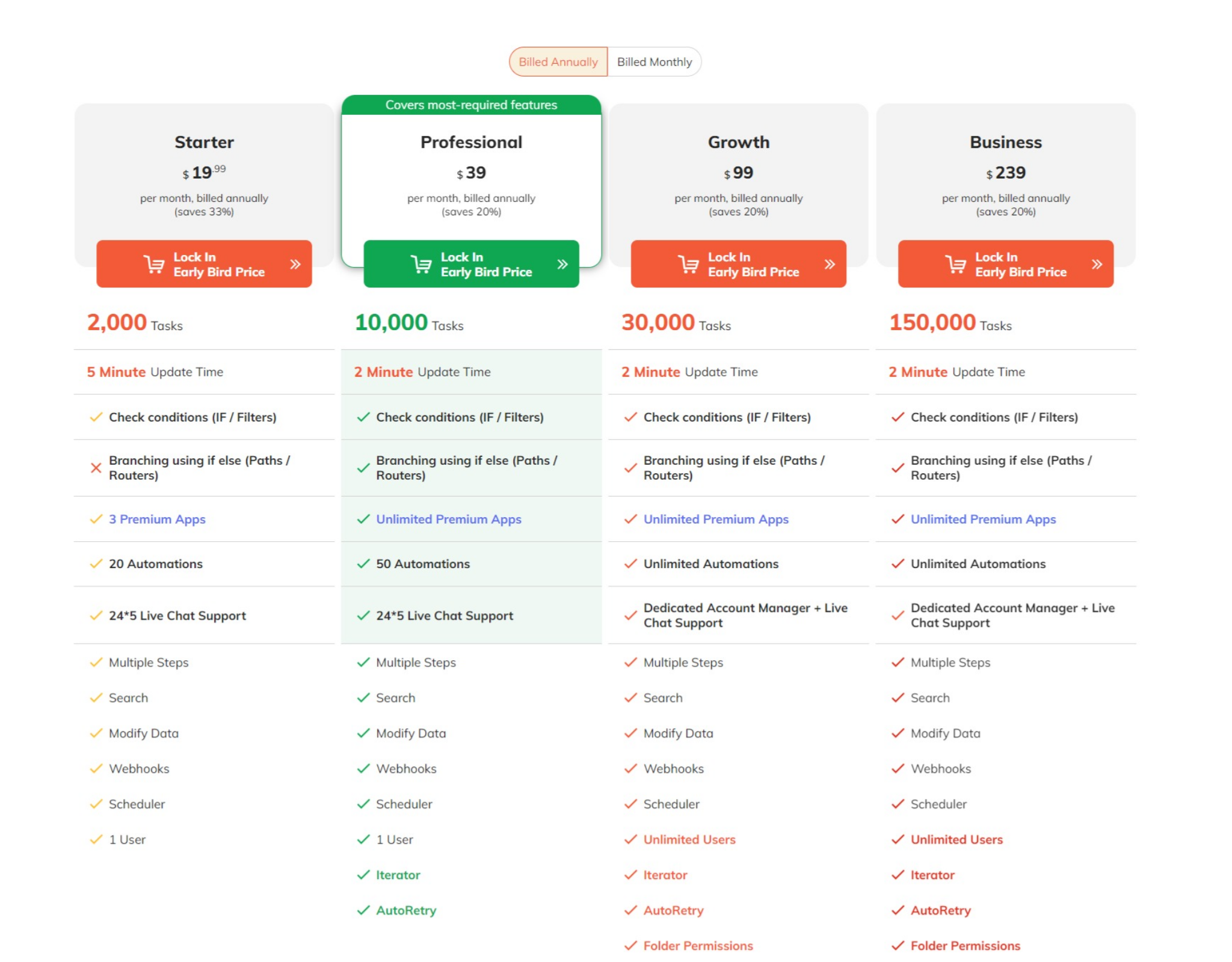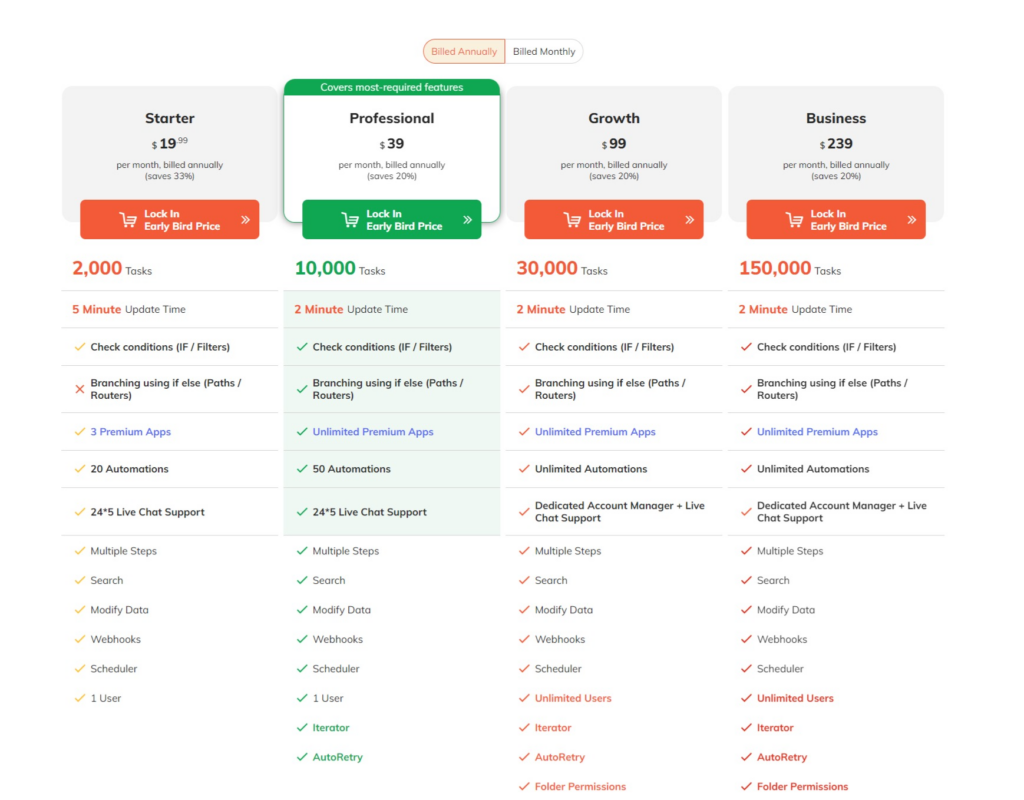 Integrately Vs Zapier
Compare to know more!
Integration platforms, namely Integrately and Zapier enable businesses to connect various software applications and automate menial tasks without writing a single line of code. While they have many things in common, each platform has its own set of unique features.
Let's compare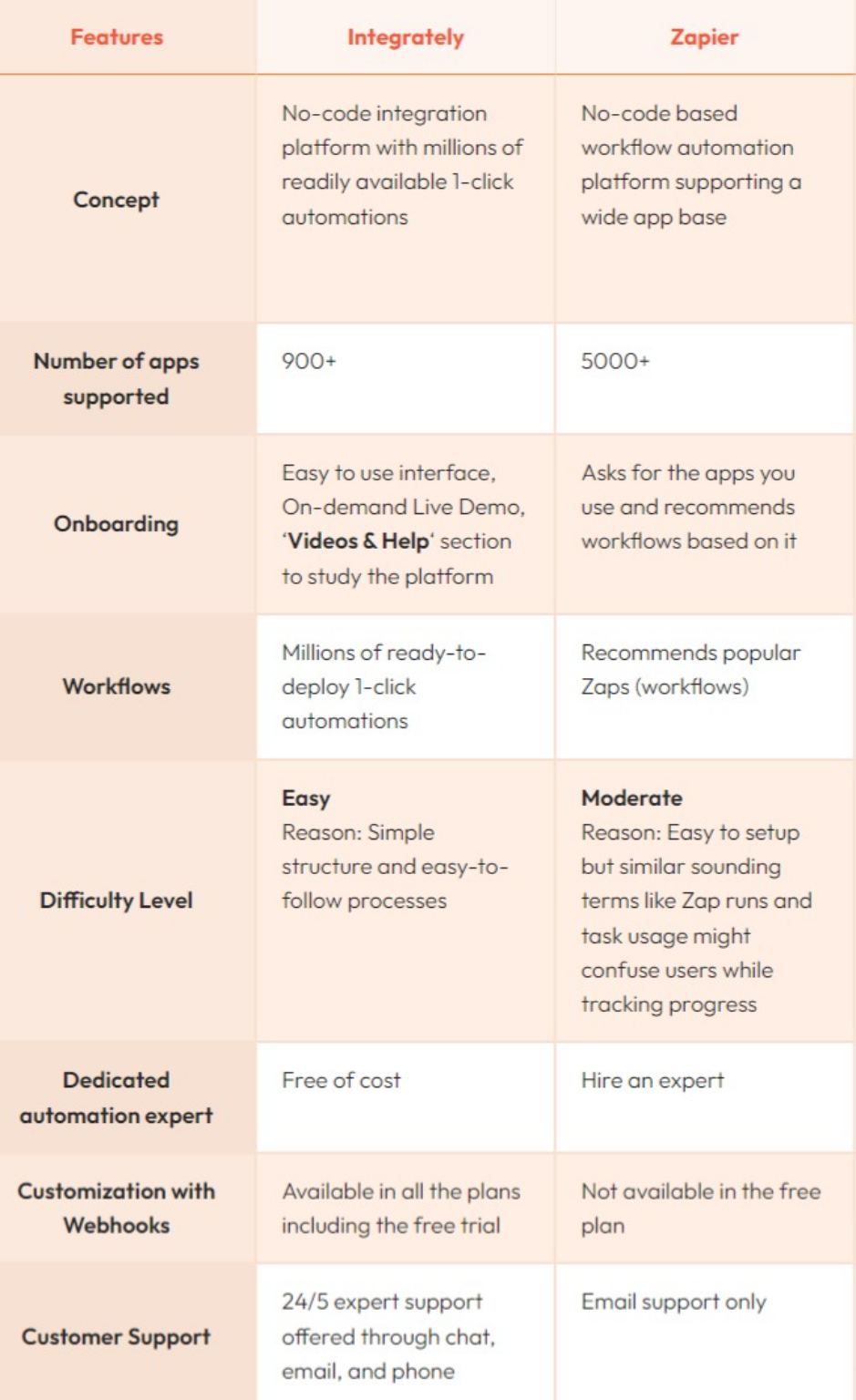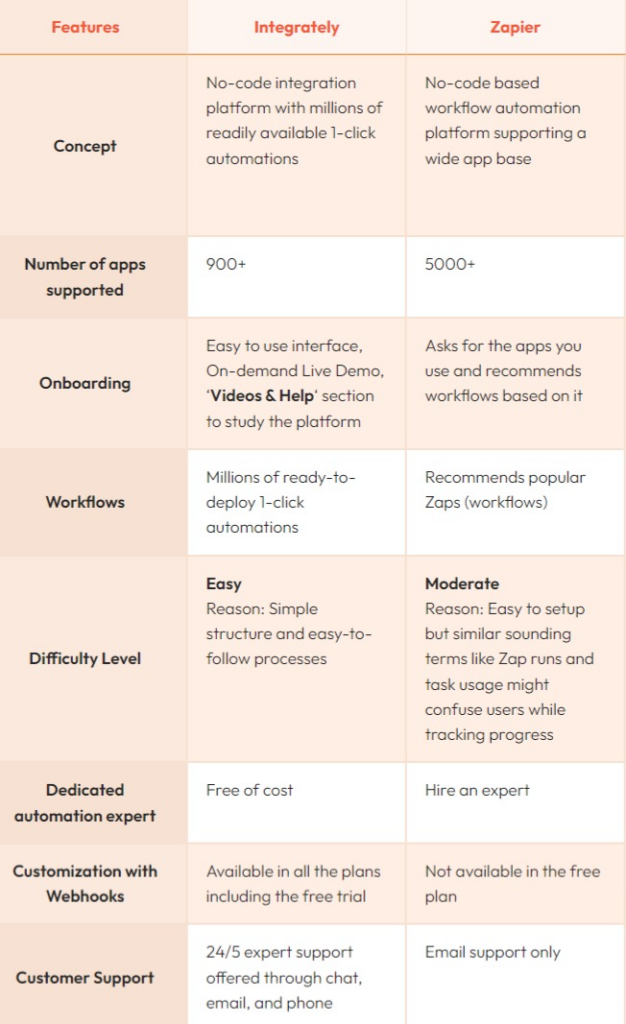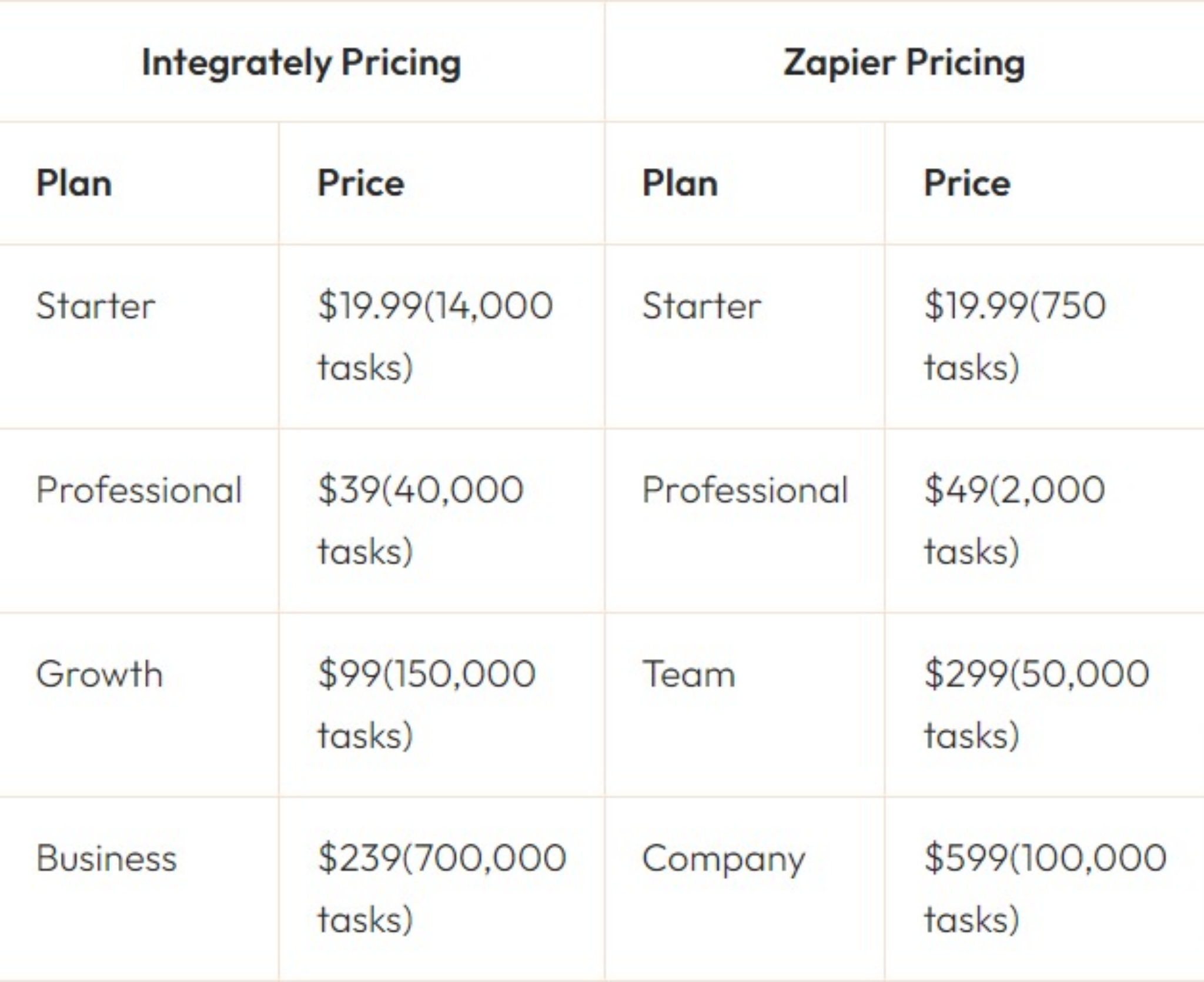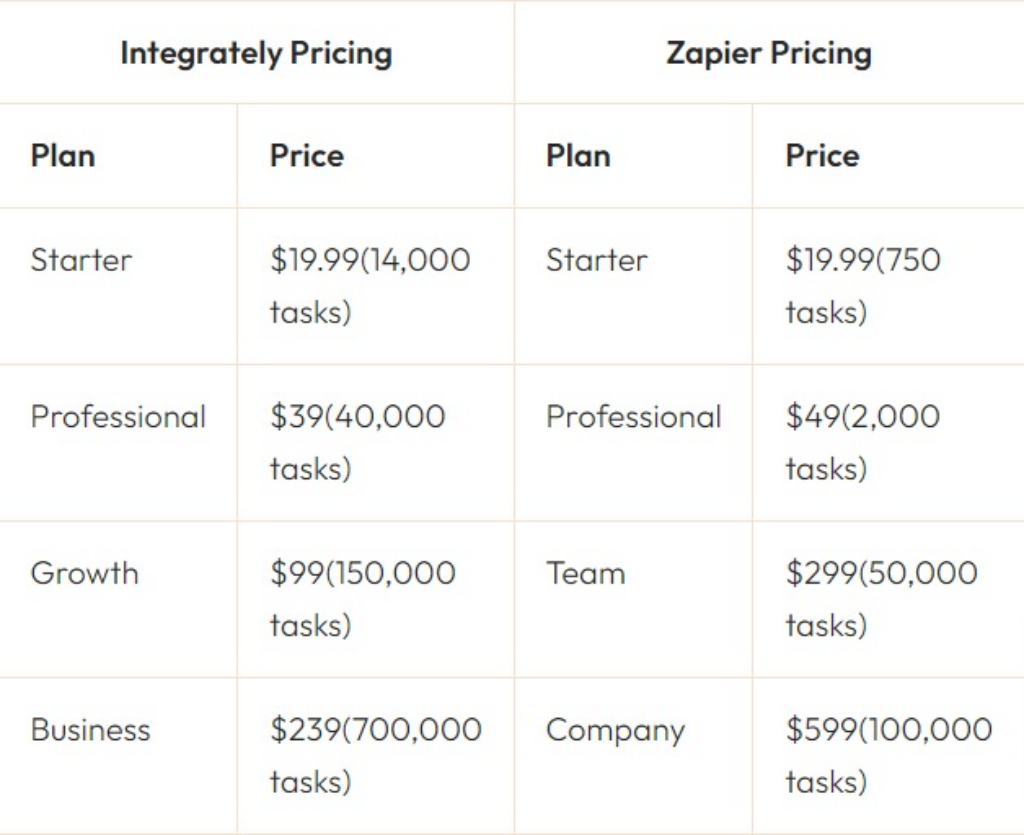 Support
Technical Support, Knowledge Base, Roadmaps, Changelogs
Offers Top Rated Live chat support, Email, and Ticketing
Good knowledgebase support
Video/documentation help guides
24/5 Support
A dedicated account manager that helps you with personalized needs free of cost.
Facebook Group
Helpful Blogs
Alternatives
Similar Apps
With Zapier, you get to connect different apps within a matter of minutes! It's really easy to create simple or complex automation tasks.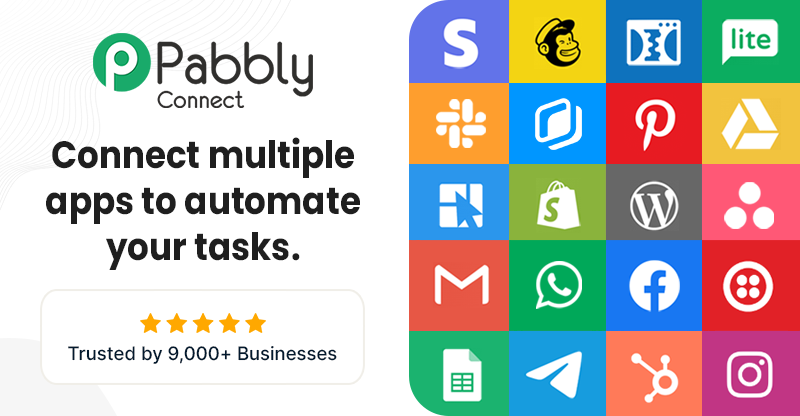 Pabbly Connect is a software automation tool that can help you connect and automate various apps and services for seamless data transfer between them.
Workato empowers business and IT teams to integrate their apps and automate business workflows without compromising on security and governance.
Final Verdict
Is Integrately Right for You?
If automation is your game plan for streamlining your business processes, Integrately is here to help. As you work with automation tools such as these, remember that a workflow must support your business processes. If the process changes, automate it again. Besides, be sure to test different automation methods and data mapping options to find what works best for you. With automation tools like these, your business processes can be streamlined in no time.
Integrately strikes the best balance between pricing, features, and user experience. This makes it suitable for everyone – from freelancers to large enterprises. Its elite features and extensive customer support make it the most value-oriented solution on the list. Overall, if you are looking for an effective automation tool with great features and customer support than integrately is the best option for you.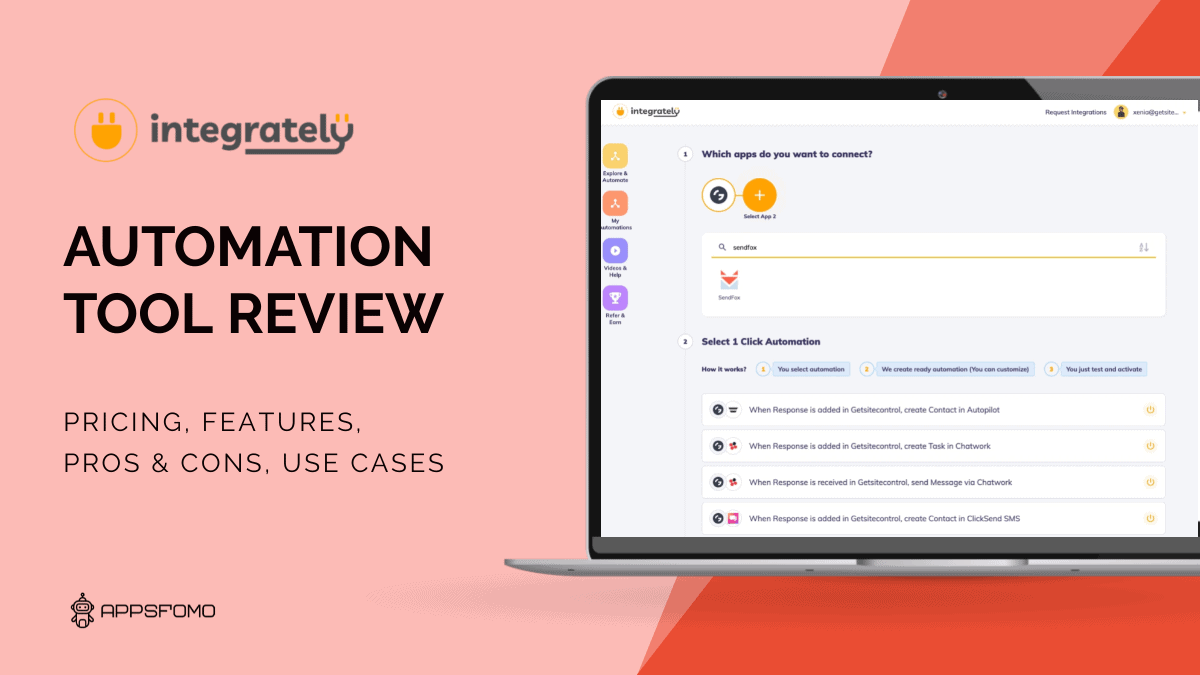 Specification:
Integrately: Automate Your Business with Advanced Workflow Builder
| | |
| --- | --- |
| Review Date | February 2023 |
| Company | Integrately |
| Country | India |
| Initial Release | 2015 |
| Pricing | Annual Payment, Montlhy |
| Free Version | Available |
| Lifetime Deal | No |
| LTD Platform | N/A |
| Money-Back | Unknown |
| Support type | Email, Live Chat, Ticketing |
| Integrations | Yes |
| Supported Device | Browser, Web Based |
| Mobile app | Not Available |
| Affiliate Program | Yes |
PROS:
Simple to use and Setup
cheaper than Zapier, the leading integration software platform
More than 475 common applications available to connect
UI is easy to navigate
One Click Automation
Great Customer support
CONS:
The advanced modifications when manipulating data can be a bit tricky.
Issues in the Notification system
Fewer applications available than Zapier
Should include more support documentaion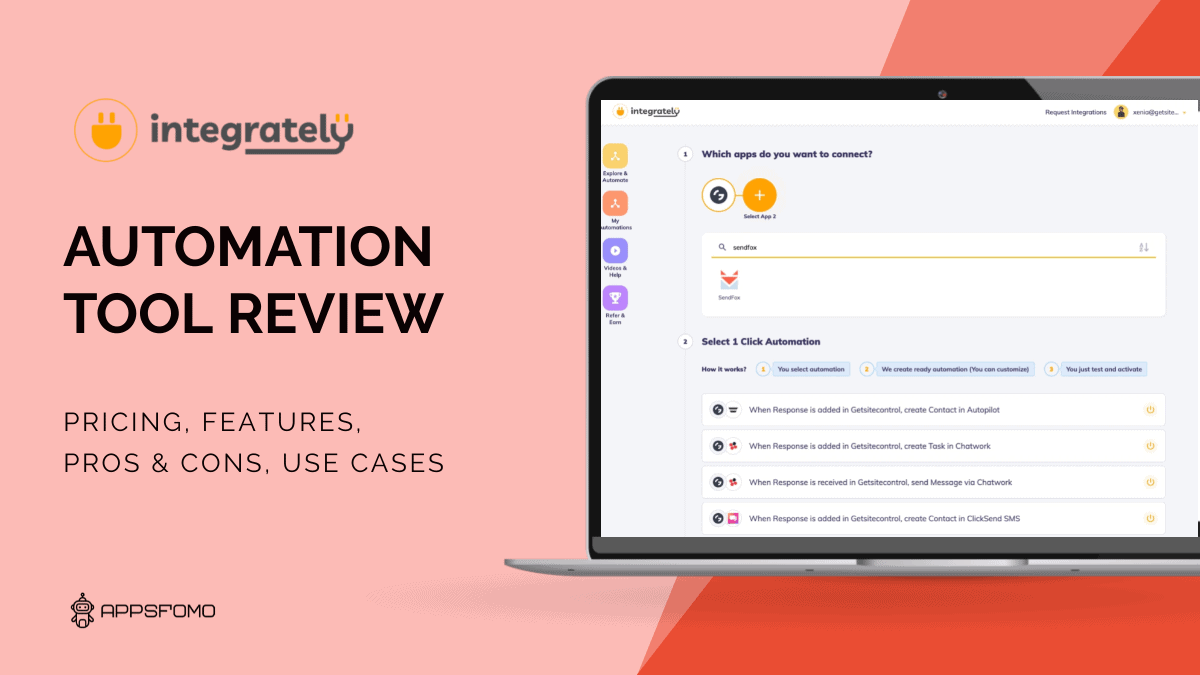 Integrately: Automate Your Business with Advanced Workflow Builder