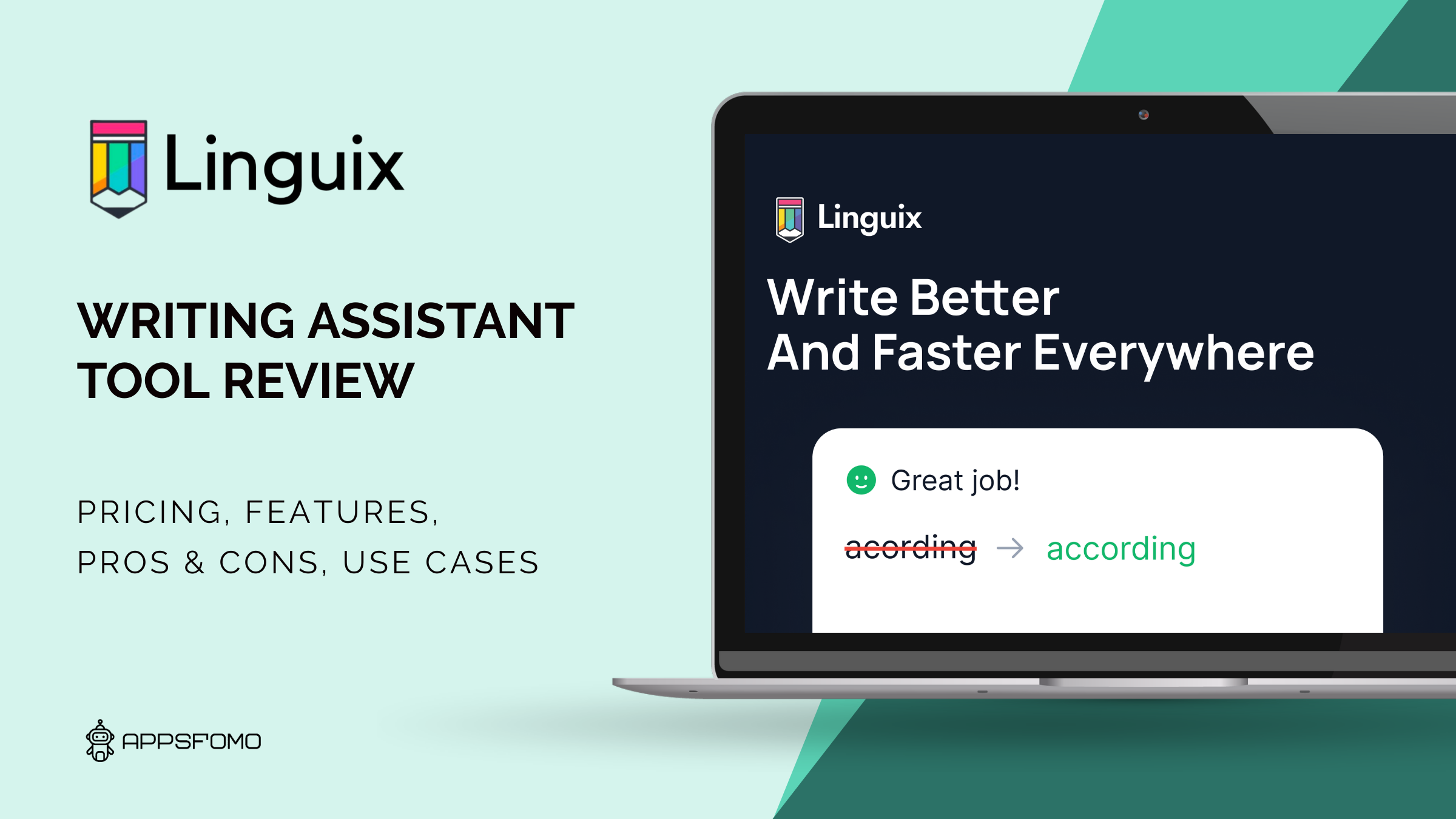 Linguix: Improve Your Writing With the AI Writing Assistant
Add to wishlist
Added to wishlist
Removed from wishlist
0
Add to compare
Are you tired of making errors in your writing and spending hours editing it? Do you wish there was a tool that could help you unleash your writing potential? Look no further! Linguix AI Writing Assistant has got you covered. In this blog, we will discuss everything about Linguix, from its features to unique offerings, as well as its pros and cons. We will also look at its pricing information and various use cases to determine if it is the right fit for you.
Additionally, we will compare it with one of its prominent competitors, Grammarly, to help you make the best choice for your writing needs. So, keep reading to discover the ultimate writing tool that can assist you in enhancing your writing skills.
What Is Linguix?
Overview
Linguix is a smart writing assistant that uses AI technology to evaluate your writing performance. It checks for errors, makes grammar, style, and vocabulary recommendations, and helps users perfect their writing skills. With Linguix, you can expect a variety of features such as a spell and grammar checker, plagiarism detector, shortcuts, and a paraphraser. It can be easily accessed on Android, Windows, and Mac devices.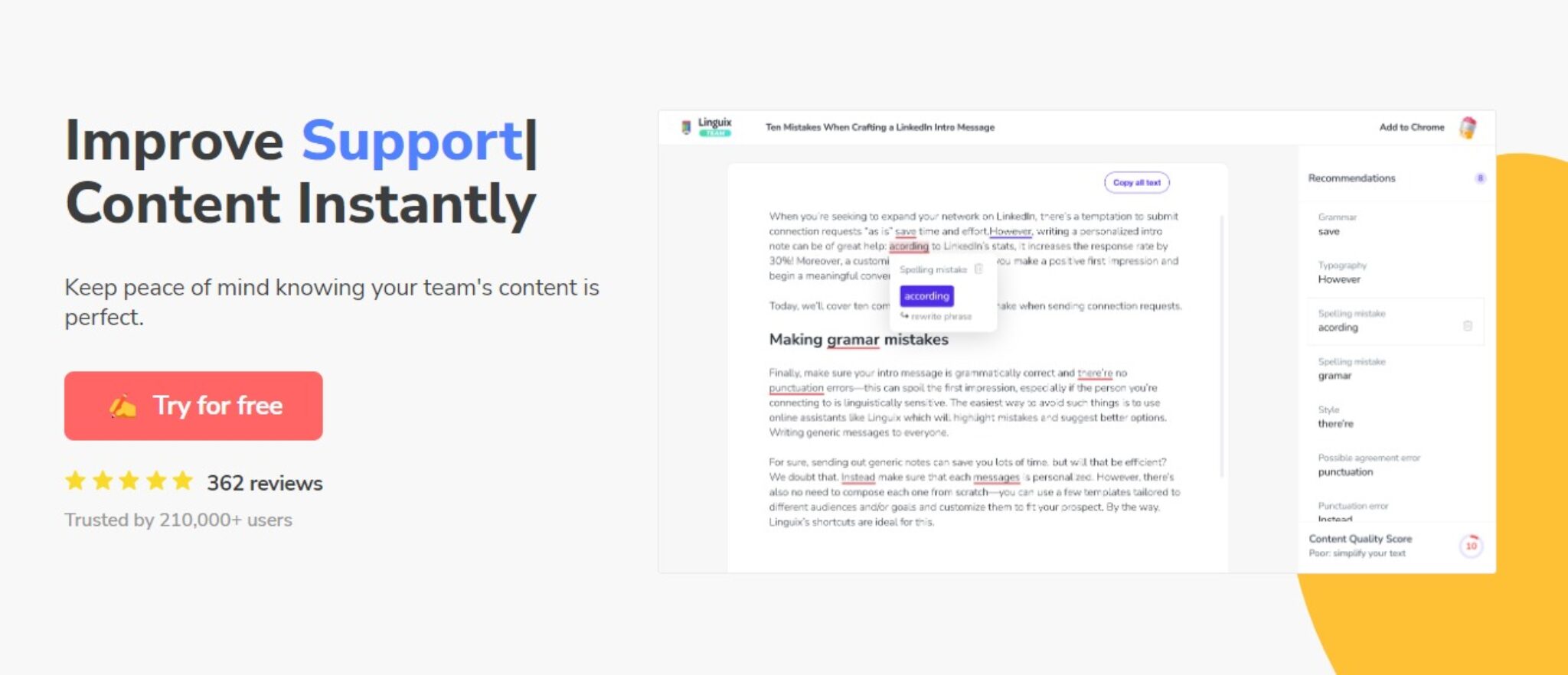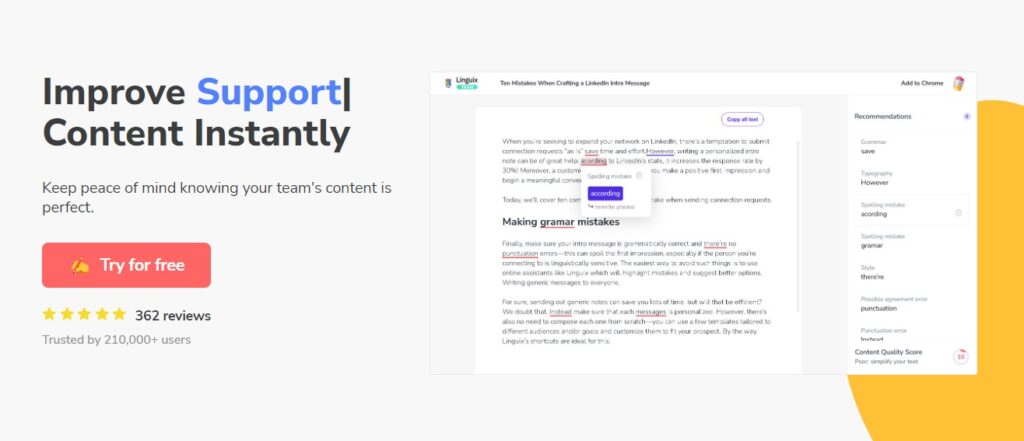 This writing assistant is ideal for users who want to save time during the editing and proofreading process. It quickly finds and eliminates errors such as typos, grammar errors, and punctuation mistakes. Overall, Linguix is an excellent tool that can help both beginner and expert writers achieve their writing goals with ease
Company Details
Linguix is an AI-based writing assistant that was founded in 2018 by Alex Lashkov, Vitaly Kukharenko, and Alex Buchmann. The company's mission is to make communication easy for everyone regardless of the device used. It's an innovative tool that helps in editing content while you type, resulting in a beautiful and readable piece of content. Linguix doesn't just offer browser integrations – it has integrated with popular software like Microsoft Word and Outlook to bring its powerful AI-based writing assistant right to your fingertips.
Online Presence
How to use Linguix as Writing Assitant?
Basic Features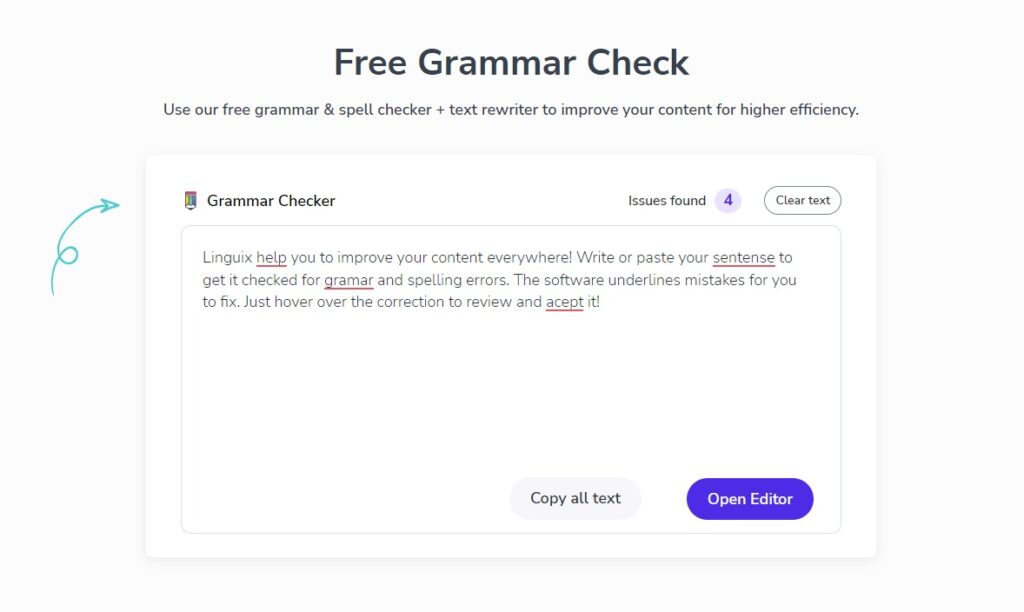 Linguix is an AI-based writing assistant that helps writers unleash their full writing potential. It offers various features like a spell checker, plagiarism checker, paraphraser, and handy shortcuts that can help speed up your writing process. Linguix goes beyond the standard proofreading, offering context-appropriate recommendations to make your content more clear and compelling.
Grammar and Spell Checker
Linguix offers a range of features aimed at improving your writing. One of its key features is its grammar and spell checker, which is powered by advanced AI technology.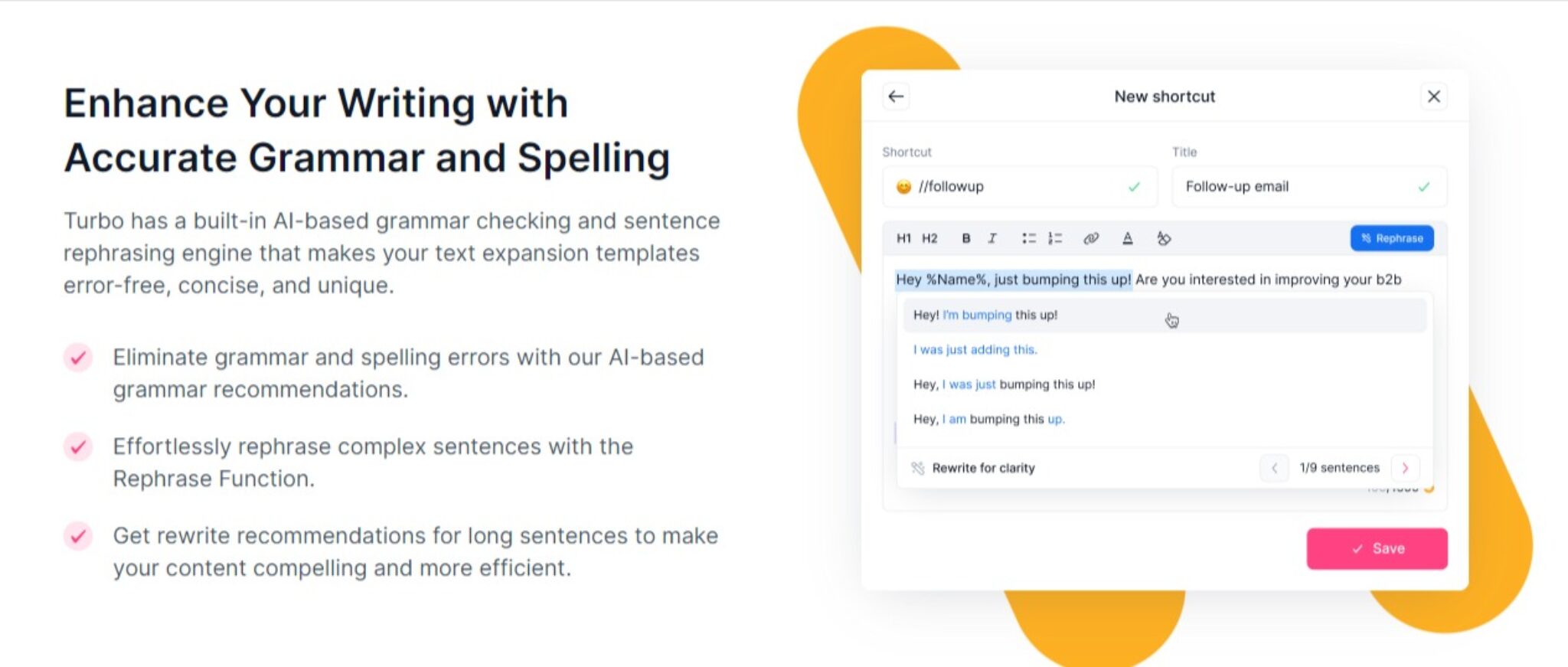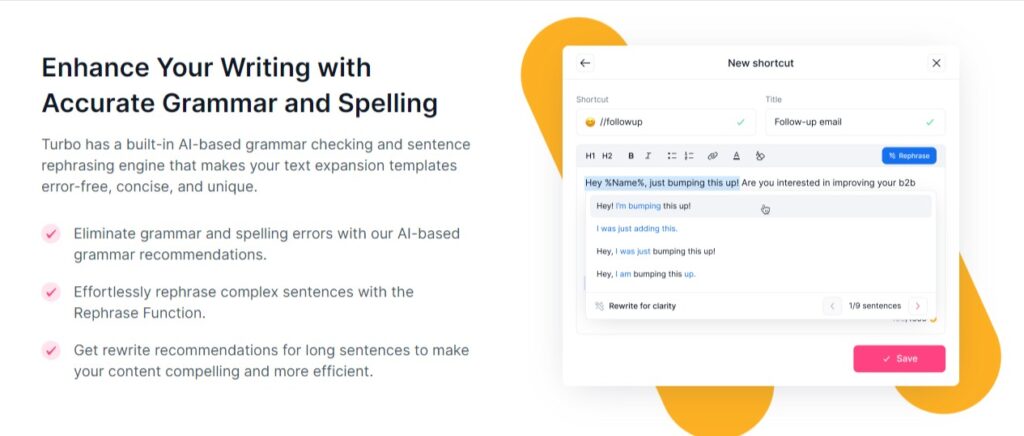 With Linguix, you can instantly find and eliminate grammar errors, punctuation mistakes, and typos while you're typing, making it a great tool for anyone looking to improve the quality of their writing. Aside from basic grammar checks, Linguix offers a range of other features aimed at improving your writing style in the English language.
Interface
Linguix AI Writing Assistant is a robust tool designed to help you unleash your writing potential. One of the main features that make Linguix so popular is its user-friendly interface. The clean interface reduces distractions and makes it easy to navigate the tool. Everything is easy to locate, making it effortless to harness all the features that the tool offers.
Style Guide
This feature help you unleash your writing potential. One such feature is the Style Guide, which allows you to tailor your writing based on your intended audience. You can choose between General, Casual, or Academic styles, depending on the level of formality required for your target readers.
Another useful feature is the ability to set writing goals, such as storytelling or promotion, and the emotion or tone that you wish to convey in your writing. This feature helps you to stay focused on the purpose of your writing and maintain consistency throughout.
Writing Templates
In addition to its powerful AI-driven grammar and style checker, Linguix AI Writing Assistant offers a variety of templates to help users improve their writing. These templates provide context-appropriate recommendations that can make written content more clear and compelling. This is especially helpful for freelance writers, website publishers, and others who need to produce high-quality content quickly and efficiently.
Dictionary
Linguix is an AI-powered writing assistant that offers a range of features to help users improve their writing skills. One of the key features of the tool is its integrated dictionary, which can help users quickly look up the meanings of words and their synonyms. This feature is particularly useful for those who are looking to expand their vocabulary and improve their writing skills.
Why choose Linguix?
Unique Features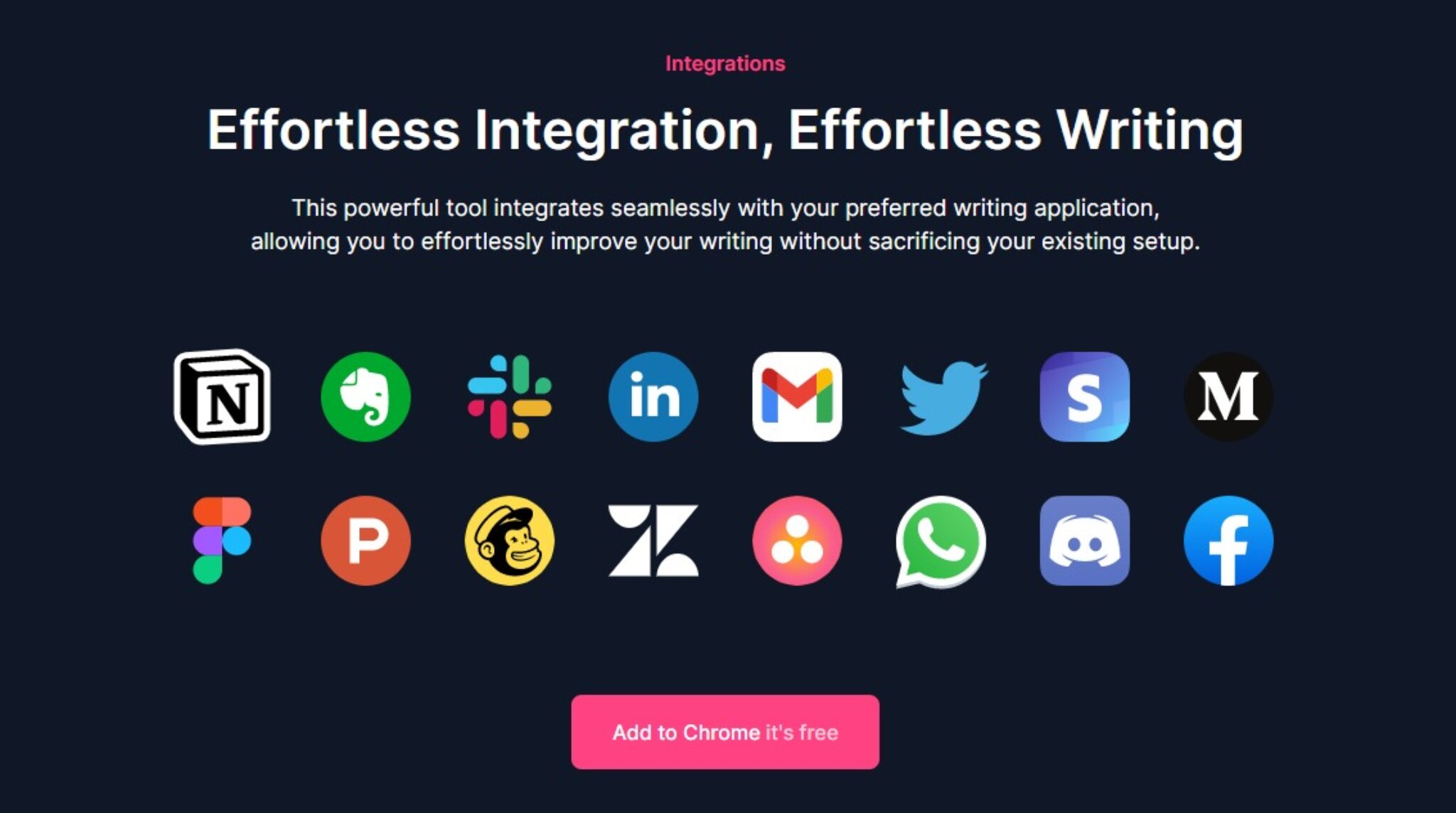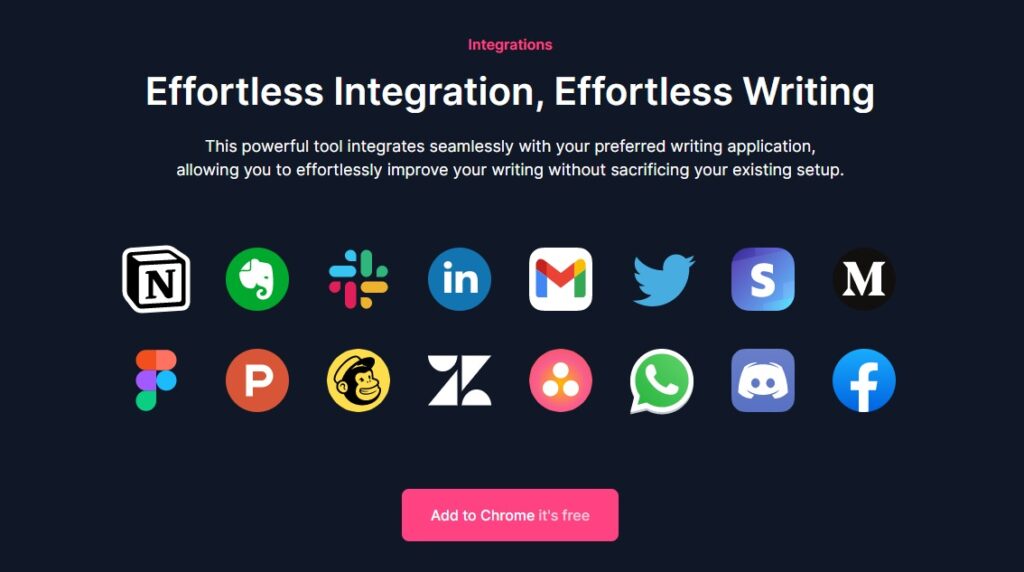 Linguix AI Writing Assistant is an excellent tool for anyone looking to be more productive with their writing. One of Linguix's best features is its secret mode, which lets you edit sensitive content with an added layer of security. Additionally, the application suggests new words and vocabulary usage that makes your writing stand out. By integrating Linguix AI Writing Assistant into your writing routine, it helps you unleash your true writing potential.
Statistics and Analytics
Linguix AI Writing Assistant offers a variety of unique features to help users unleash their writing potential. One such feature is its statistics and analytics. By tracking user output and analyzing common mistakes, Linguix can help users improve their writing skills and identify trends in their writing over time. Additionally, Linguix provides users with reports featuring a summary of the words and characters used, as well as a readability score.
Plagiarism Checker
This tool is designed to help you identify potential plagiarism in your work, ensuring that your writing is original and free from any copyright violations. In addition, our plagiarism checker also helps you to identify any errors and mistakes in your research, ensuring that your work is accurate and well-supported.
Writing Coach
One of its most notable features is the writing coach, which provides personalized suggestions and feedback to improve your writing style and delivery. Whether you are a beginner or an experienced writer, Linguix can help you create powerful, concise, and precise content for all kinds of platforms, including online, email, and formal literature.
Shortcuts


Linguix has use of shortcuts to instantly find and fix errors in your writing. These shortcuts can help identify typos, punctuation mistakes, and grammar errors with ease. Additionally, Linguix's web editor offers a pop-up feature that allows users to quickly accept suggestions by simply hovering over a word or phrase.
Privacy
Linguix AI Writing Assistant has Secret Mode, available in the Premium version. This feature allows you to interact with the tool as you edit without leaving a trace. Any text you input into the editor while in Secret Mode will be deleted and not stored on the Linguix servers.
For those who value confidentiality, Secret Mode is a great feature. It allows writers to work on sensitive content without fear of it being stored or leaked. This feature is just one of the many ways that Linguix AI Writing Assistant helps writers unleash their potential and produce high-quality writing with ease.
Linguix Use Cases?
Who can use?
Blogger or Web Publisher
Student
Social media Influencer
Freelancer
Enterprise/Team
Pricing Plans
Monthly Plan, Annual Plan
Offers Free Trial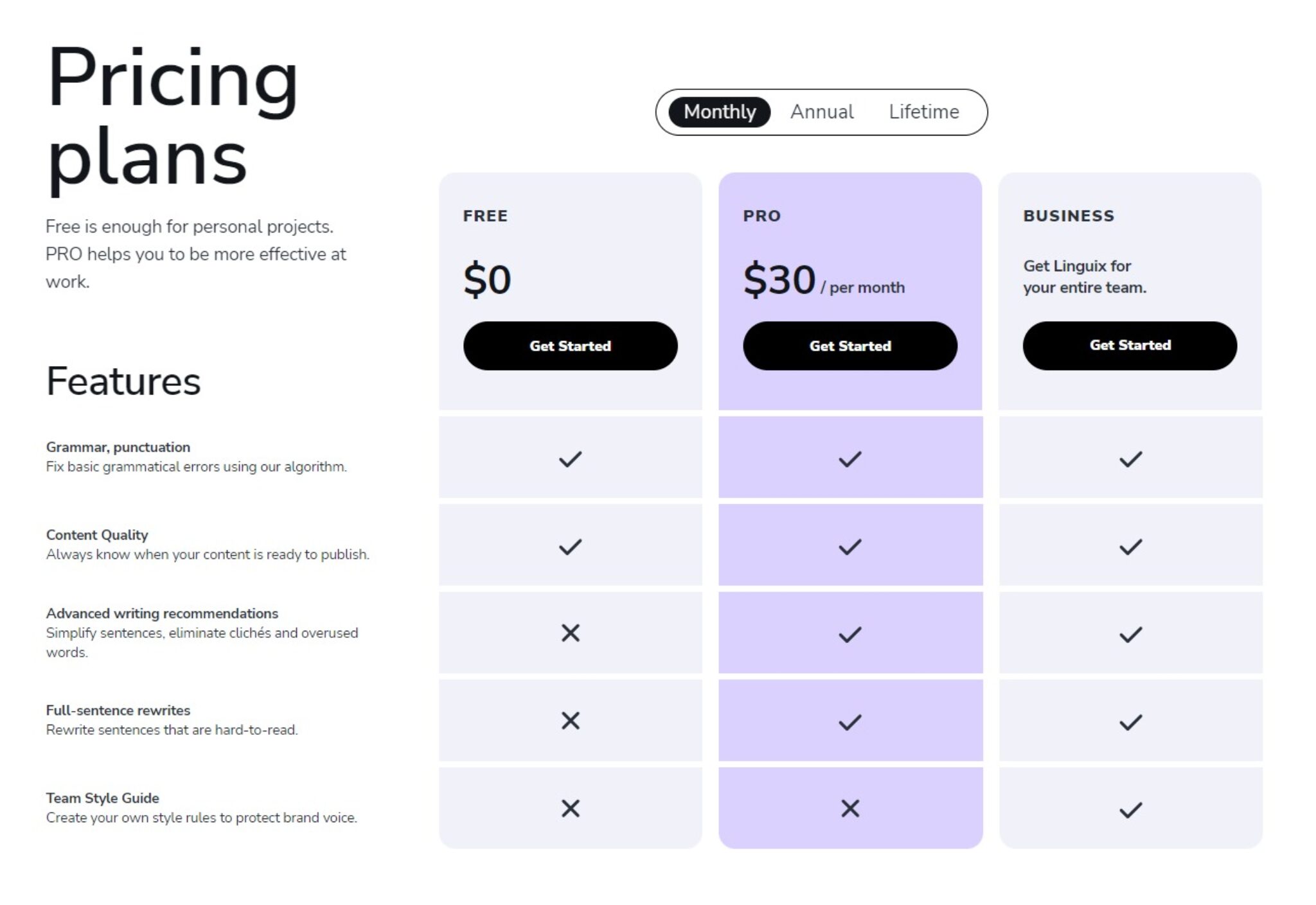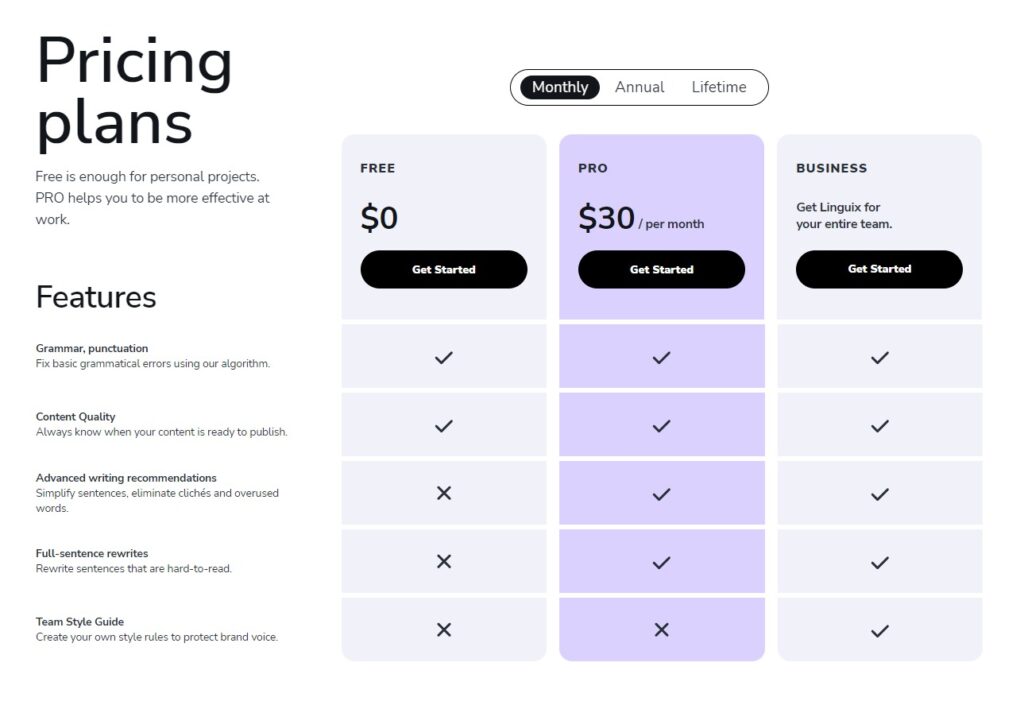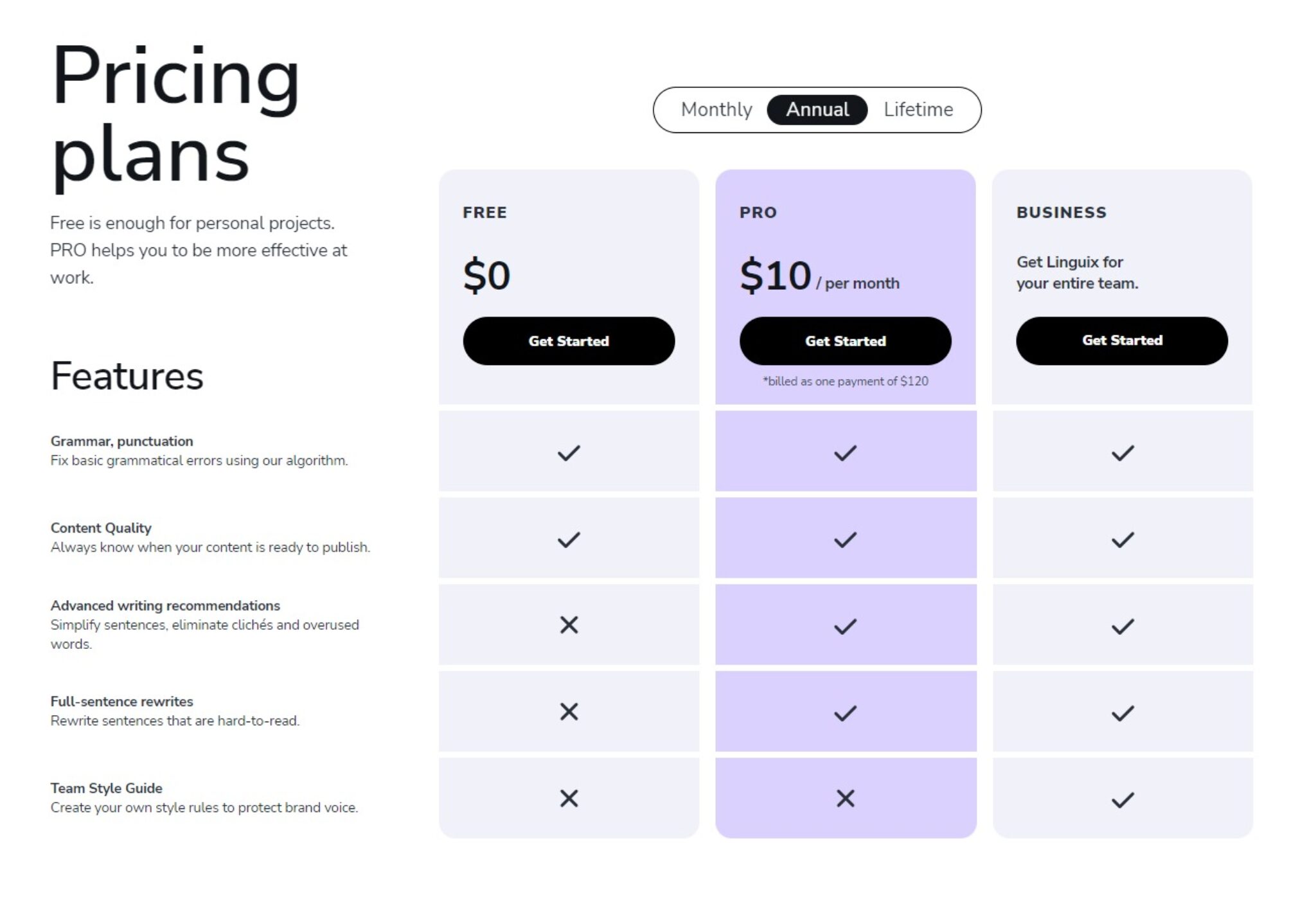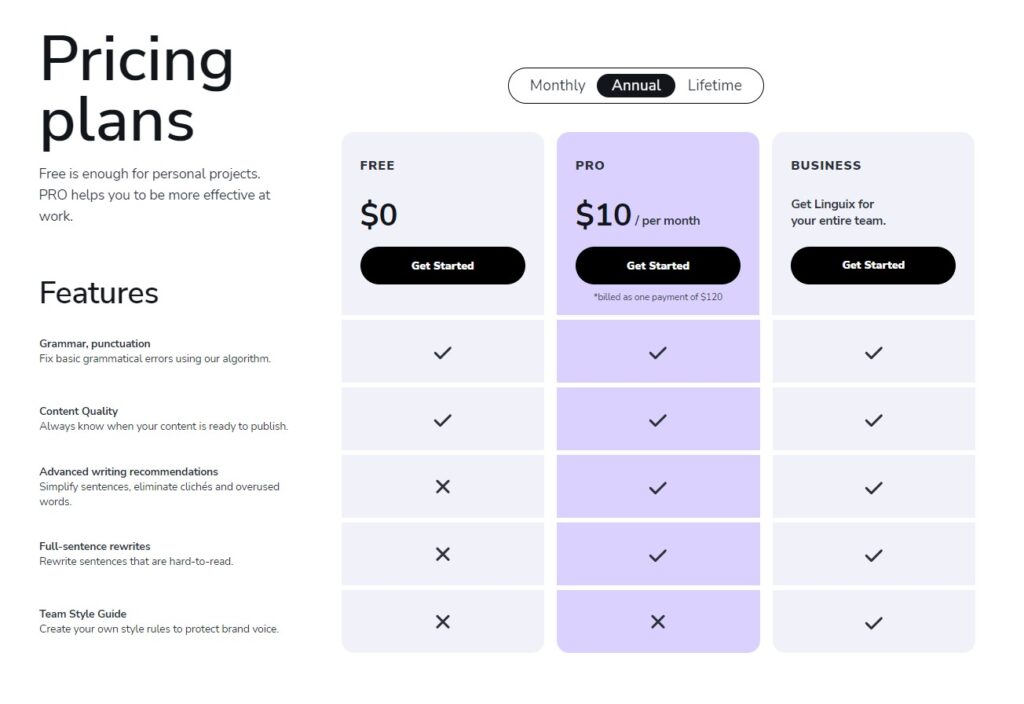 Support
Technical Support, Knowledge Base, Roadmaps, Changelogs
Alternatives
Similar Apps
Grammarly Business is a communication tool designed for teams. Grammarly Business offers error-free and professional content, with features such as engagement, clarity, and correctness.
LanguageTool is a grammar and style checker that helps writers improve the quality of their writing. However, one key difference between the two programs is that LanguageTool does not offer a plagiarism checker.
ProWritingAid is a comprehensive grammar and editing software that offers over 20 reports to help users improve their writing.
Final Verdict
Is Linguix Right for You?
Linguix AI Writing Assistant is a powerful tool to help you unleash your writing potential. Offering a comprehensive range of features, including grammar and spell checkers, style guides, and writing templates, Linguix is a go-to for those seeking reliable writing support.
With unique features, such as statistics and analytics, a plagiarism checker, a writing coach, and shortcuts, Linguix is sure to take your writing to the next level. Sign up today and gain a competitive edge with a writing assistant that understands you.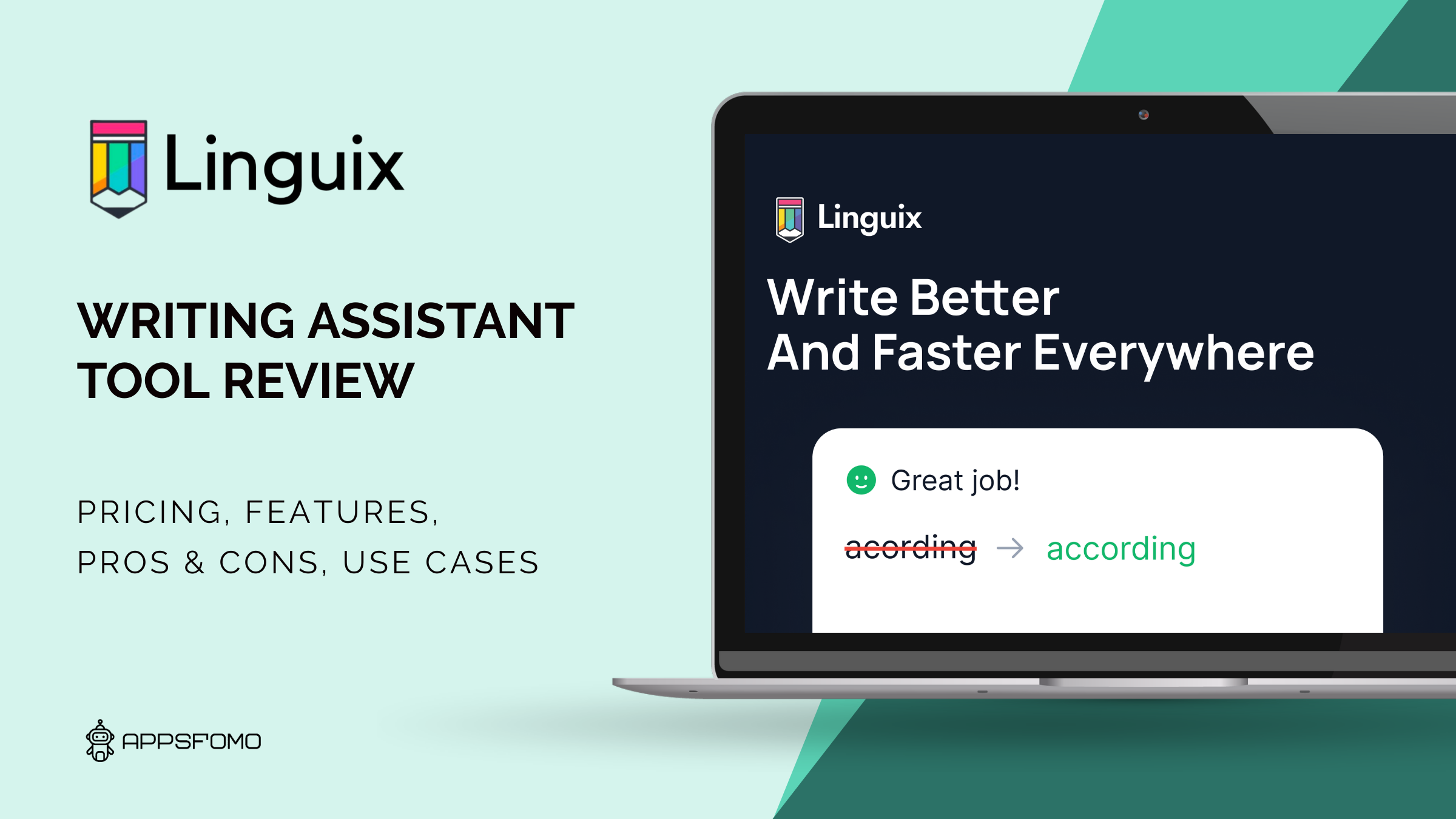 Specification:
Linguix: Improve Your Writing With the AI Writing Assistant
| | |
| --- | --- |
| Review Date | March 2023 |
| Company | Textly, Inc. |
| Country | USA |
| Initial Release | 2018 |
| Pricing | Annual subscription, Monthly payment, Monthly Subscription |
| Free Version | Available |
| Lifetime Deal | No |
| LTD Platform | N/A |
| Money-Back | No |
| Support type | Emails, Help center |
| Integrations | Yes |
| Supported Device | Browser, Web Based |
| Mobile app | Available |
| Affiliate Program | Yes |
PROS:
Customizable
Clean Interface
Real-time corrections
Pre-made Content Templates
CONS:
Hardly catches advanced mistakes such as wordy and complex sentences.
Plagiarism checker requires extra subscriptions. You need credits for every plagiarism check you run.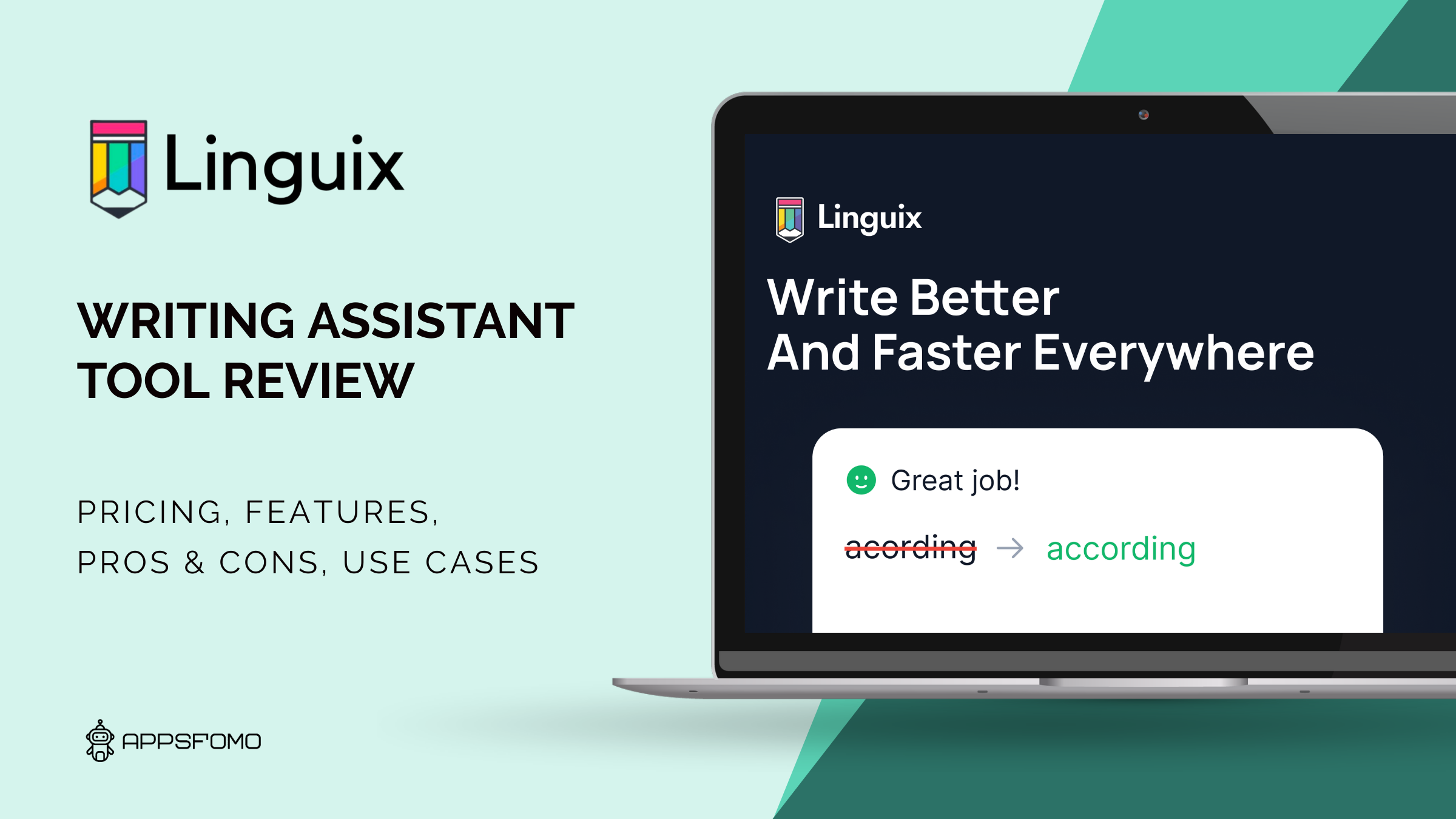 Linguix: Improve Your Writing With the AI Writing Assistant