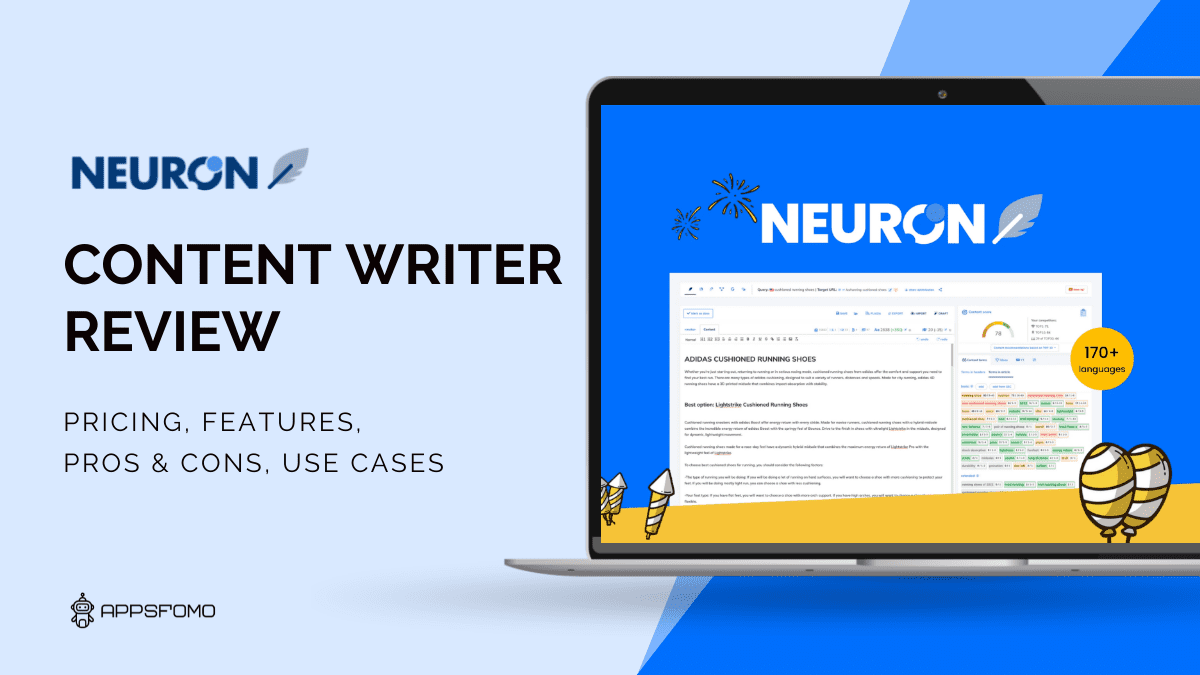 NeuronWriter: Get Superior SEO Content with Copywriting Tool
Add to wishlist
Added to wishlist
Removed from wishlist
1
Add to compare
It's no secret that content is one of the most important assets a website can possess. And Google loves content that is well-written, informative, and easy to understand. That's where NeuronWriter comes in – a content editor that makes it easy for you to create high-quality content that ranks well in search engine results.


It not only help you plan and optimize content for user intent, but it also provides strategic insights into search engine ranking factors. With NeuronWriter, you can be sure that your content is always up to date and in line with current trends. So what are you waiting for? Give Neuronwriter a try today!
Neuron writer is an ultimate content writer software that helps you to write SEO-optimized blog posts. It is the top-notch SEO writer that has helped many webmasters achieve great content marketing results. It helps you write high quality, optimized and engaging articles which rank well in search engine result pages (SERPs). NeuronWriter aids you to generate highly ranked contents for your business website among other social media sites as well.
What Is NeuronWriter?
NeuronWriter – a Google-Adored content optimizer, which takes into account user intent, identifies topical keywords and ranks your content. Based on the Google SERP analysis and competition data, it builds semantic models to help you create a high-quality content that easily beats your competitors.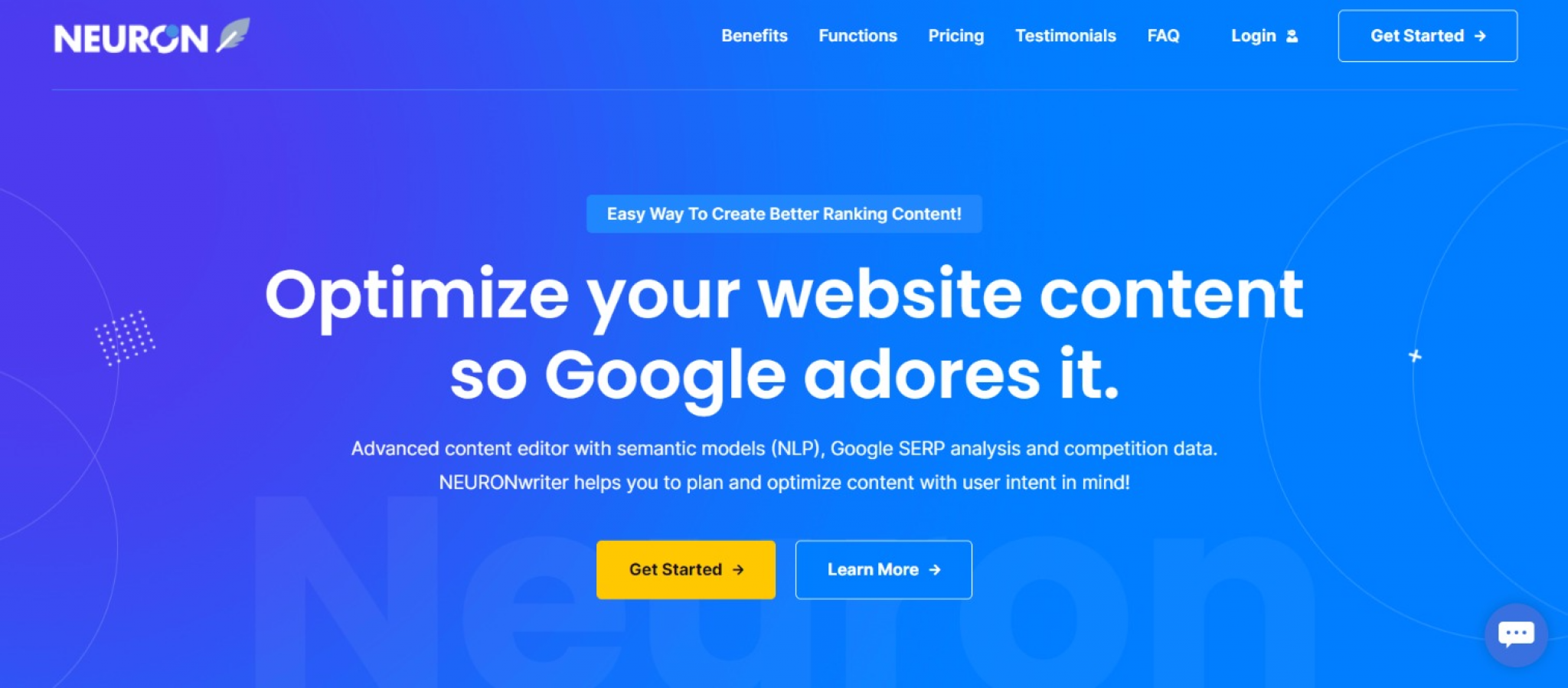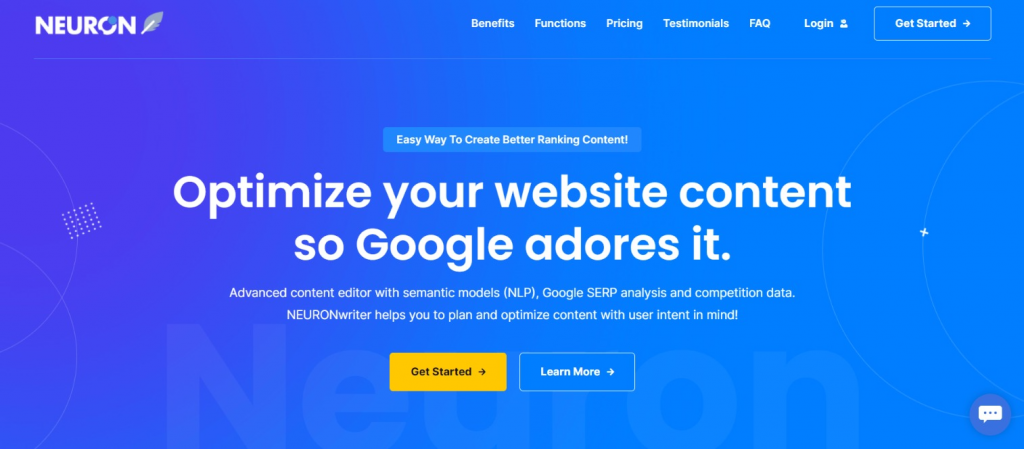 Neuronwriter allows you to create better ranking content by providing the tools needed for an efficient process of planning and optimization. You can optimize your content writing with specific objectives in mind, so that you can target the right keywords while writing content & using the right phrases at the right time. It offers advanced features like custom templates, NLP technology, Google SERP analysis, competition data analysis and more!
How does it work?
The NeuronWriter is a very powerful tool for keyword research and competitor analysis. You can use this tool to analyze the competitors' content, analyze the keywords they are using, check their top pages and related terms.
There are many ways to use this tool. You can write your own content in it or copy-paste it from other sources like Wikipedia and Yahoo Answers. This will help you make your content more readable and useful for your target audience. It also helps you develop an idea of what kind of topics people search on Google so that you can choose appropriate keywords for your website.
Few Steps involved are:
Creating a Project: These projects work like folders, You can create projects by your choice, like Project option 1: Which helps you keep all your queries irrespective of any domain or no domain. Project option 2: Helps you setup a domain and have specific queries attached for particular domain.
Creating analysis: After creating a project, you need to set a homepage link . Target : Country , select the language and you can add additional keywords. After 30 seconds your analysis is loaded.
Selecting Competitor keywords : NeuronWriter is a powerful keyword research and SERP scraping tool that fetches 30 Google search results for your target keyword. NeuronWriter is a complete content audit and analysis suite that gives you all the necessary insights into your competitors' content. It not only shows you the SERP ranking but also helps you understand the performance of their content, so that you can create your own winning pages with ease.
Anaylsis of your competitors keywords: Neuronwriter is a powerful and easy to use tool that enables you to discover the SEO potential of any domain. It provides the keyword difficulty score, which tells you how hard or easy it's to rank on top for a specific keyword. Once you find your competitors' backlink, this tool also allows you to check what anchor texts they are using. It shows Off site-SEO & On site-SEO .
Keywords : NeuronWriter is an advanced keyword research tool that helps you discover a large list of high-quality, long-tail keyword ideas based on your topic or niche. It uses a sophisticated algorithm to generate keywords from Google Autocomplete and other similar sources.
Drafting content : NeuronWriter allows you to keep your content in draft without worrying about your formatting of your content . Editor tool of neuron writer helps keep the content in draft.
AI-Content : This is more like a recommendation tool where you can "Re-phrase" your content . "Expand tool" : which helps you generate 2 or more sentences for same query. "Paraghraping Tool" : Helps you create content from where you want.
Company Details
NeuronWriter is a part of "CONTADU" founded by Pawel Sokolowski, Damian Kiełbasa in 2019. They are the team of Data Scientists and Content Specialists with over 150+ International Awards for our work in the field. Their expertise is connecting data science, psychology and machine learning to generate actionable insights for content managers, copywriters and creative directors.
Company Headquarters is in Lublin, PL
NeuronWriter Features
Generating AI Content
Generating quality content is a critical part of any online strategy. Fortunately, there are a number of platforms that can help businesses achieve this goal. Neuronwriter is one such platform that offers a wide range of features to help you create engaging and informative content. Content written in any language has the potential to reach a global audience. Plus, with Neuronwriter's artificial intelligence (AI) capabilities, it becomes easier for you to produce high-quality content quickly and efficiently.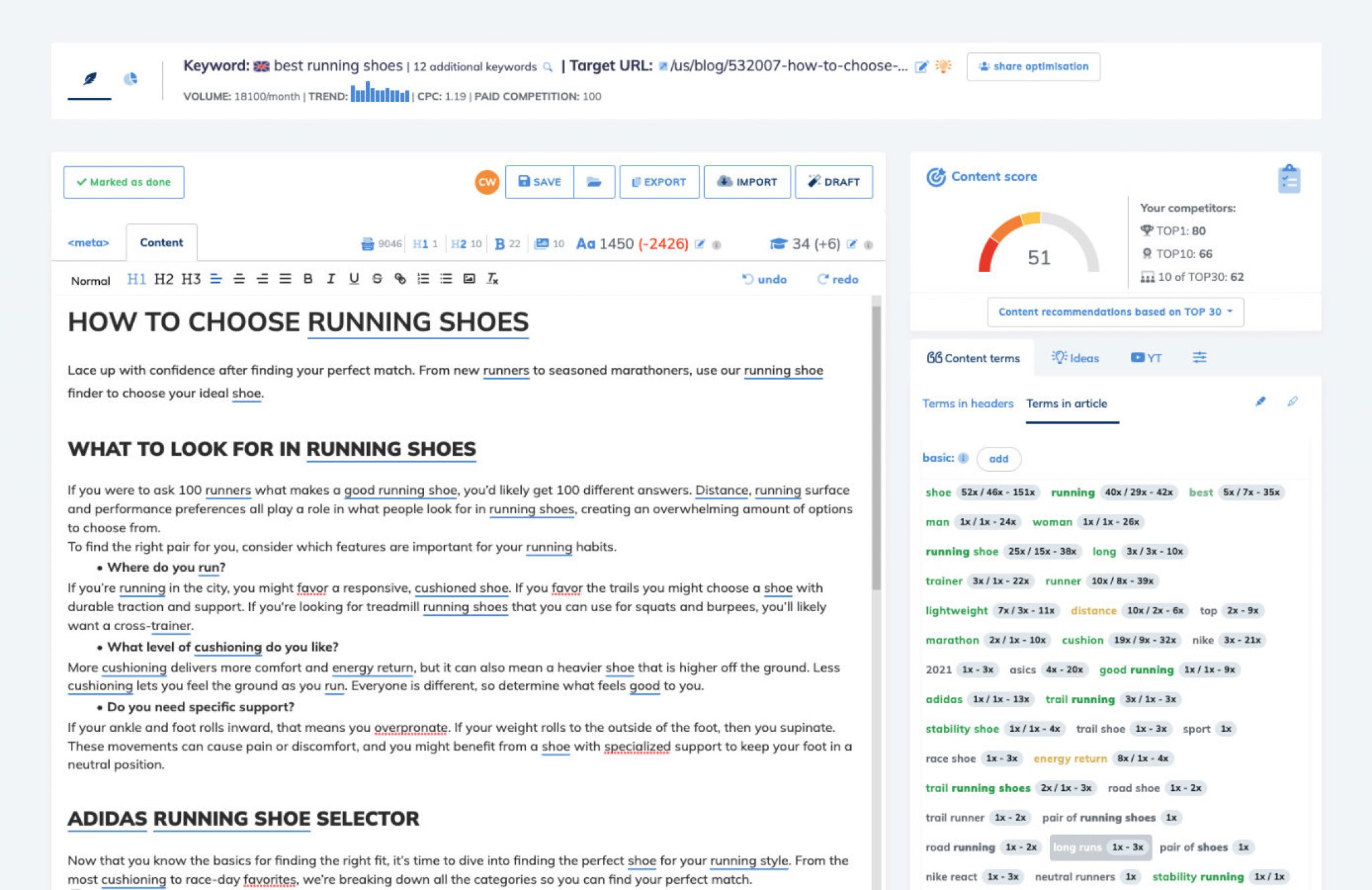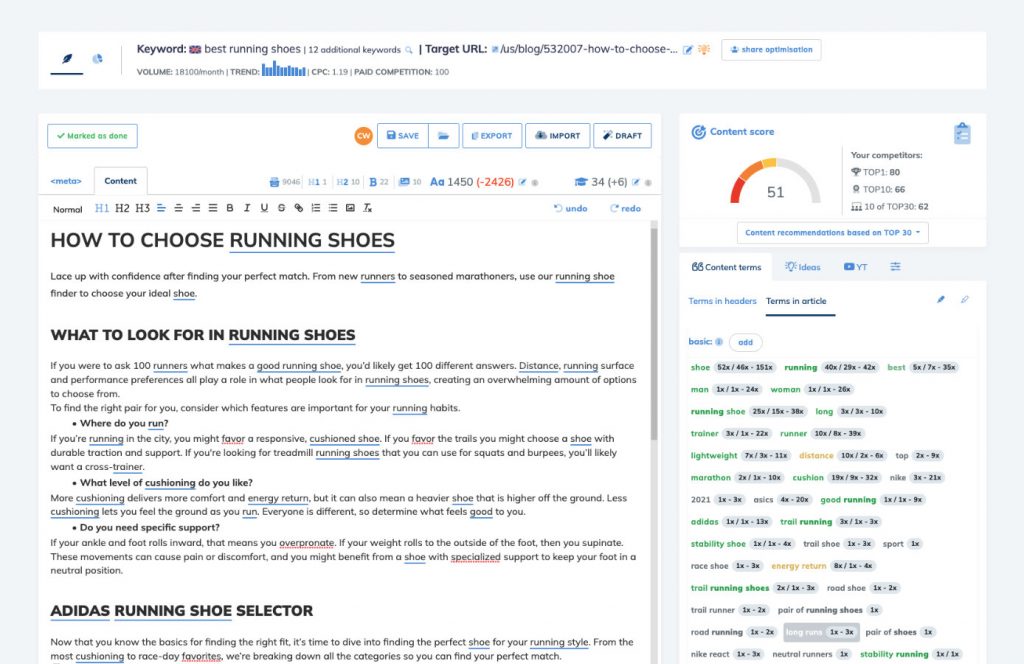 In addition, Neuronwriter makes it easy for businesses to publish their content on various platforms – from blog posts and eBooks to social media accounts and even video channels!
Easy Planning And Optimization Process
NeuronWriter is an AI-based content planning and optimization process that allows you to quickly generate optimized content for search engines. Using this process, you can also rank #1 in Google. This tool will help you understand user intent and the type of content needed. You can use it to choose direct competitors with similar type of content, which will give you ideas on how to optimize your content for better rankings.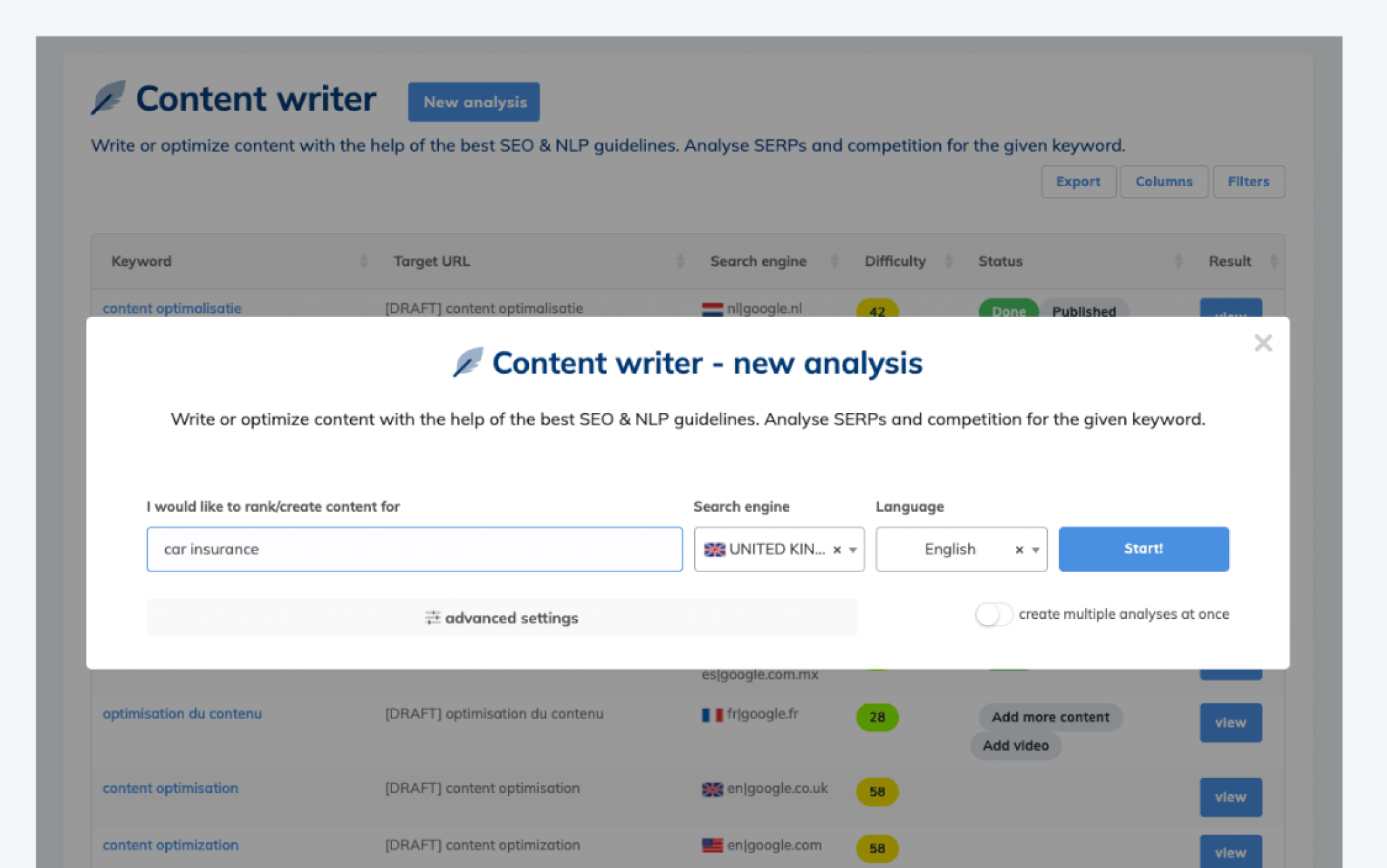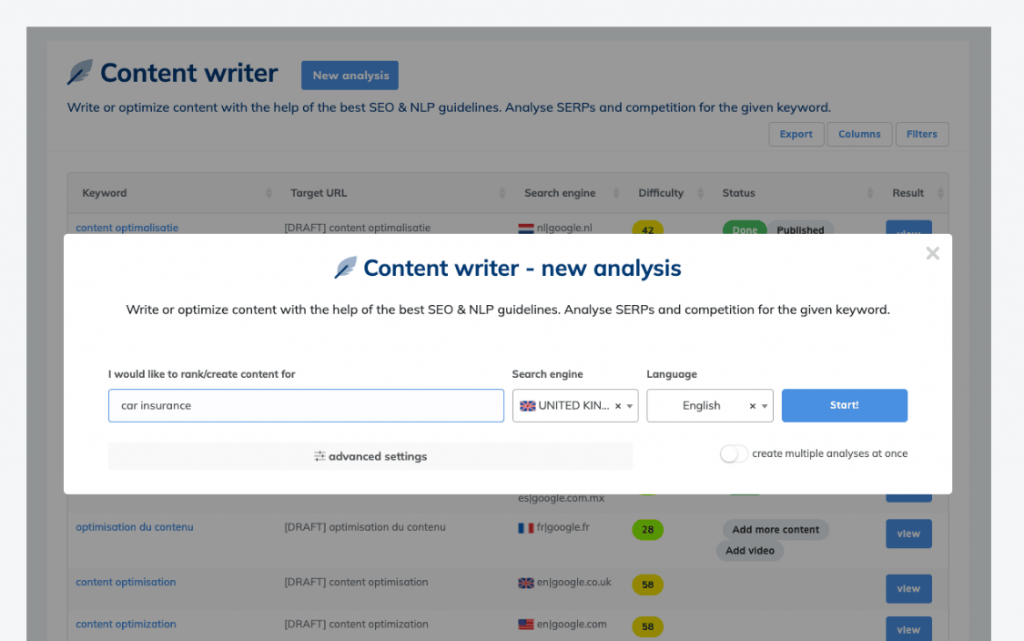 NeuronWriter is a simple and easy software tool specially designed to help you structure your content using an algorithm that creates an outline based on the actual information of your content. That is, it creates an outline based on key information such as titles, headings, subheadings, etc., which helps you build content easily and quickly.
It's focused on helping you to create SEO friendly content and plan your future writing projects. With their simple yet powerful interface, you can easily find the right information for your next document or article.
Master SEO Optimization Process
With NeuronWriter , you can master the SEO optimization process in no time. The software will help you research articles related to your niche and get the content you need with easy-to-follow recommendations. It will also analyze competitors' top-rated content, YouTube content or preferred Google SERPs and answer the problems your readers are facing.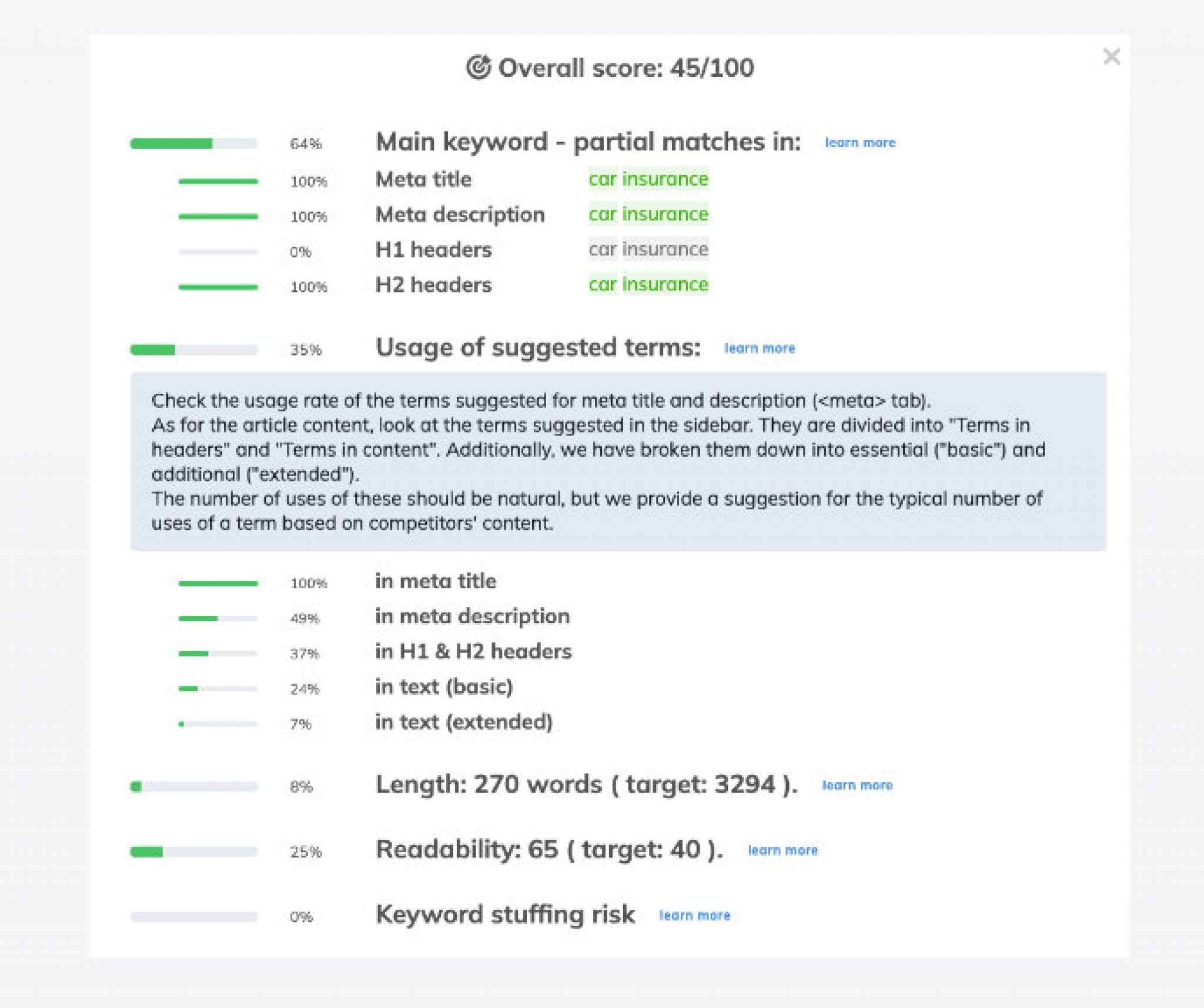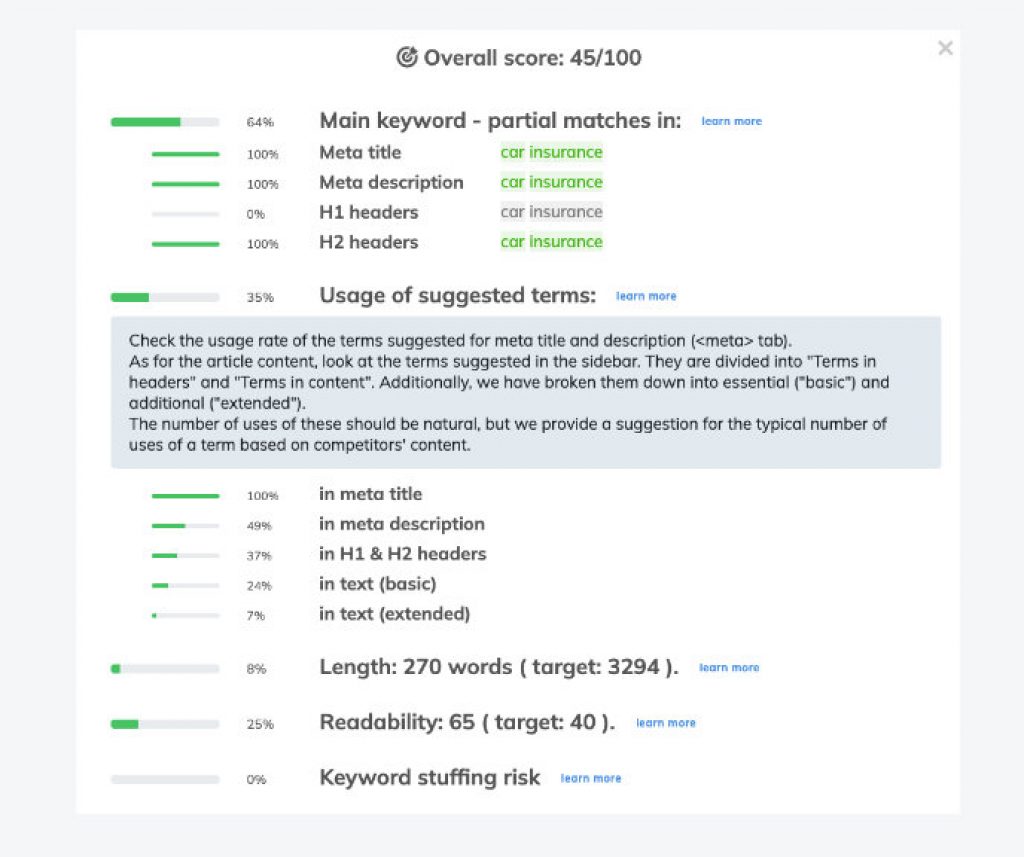 SEO Optimization is a long and time-consuming process. You can spend weeks, months or even years optimizing your content to rank high in the search results, especially when you're looking for niche keywords. Luckily, NeuronWriter will do it all for you!
Easy Document Management
NeuronWriter is an easy to use web-based, document management system that allows you to store and manage all your content in one place. This will help you plan your content based on market trends, tag and group analyses and share them with external copywriters. You can also use filters or search for documents too..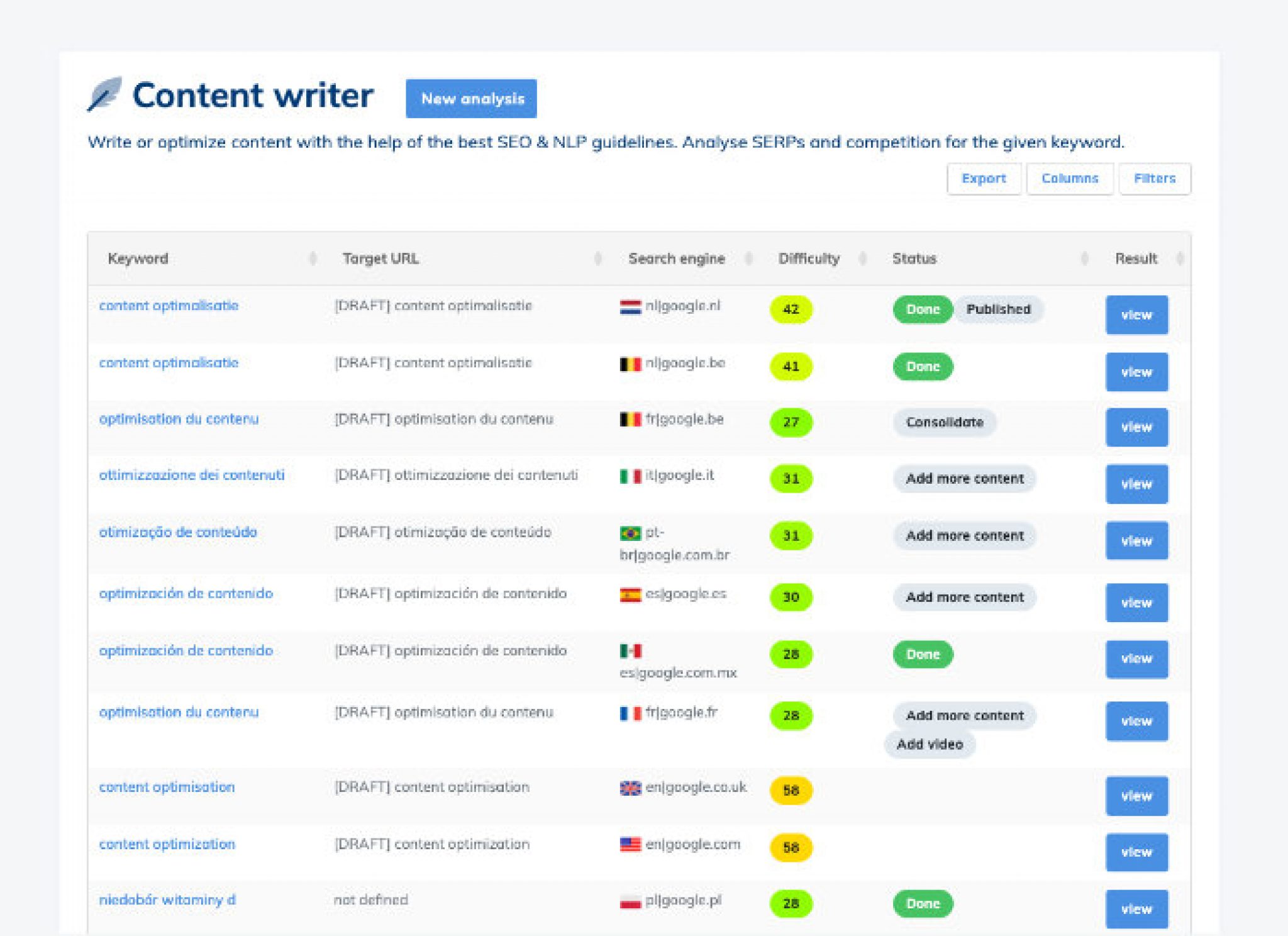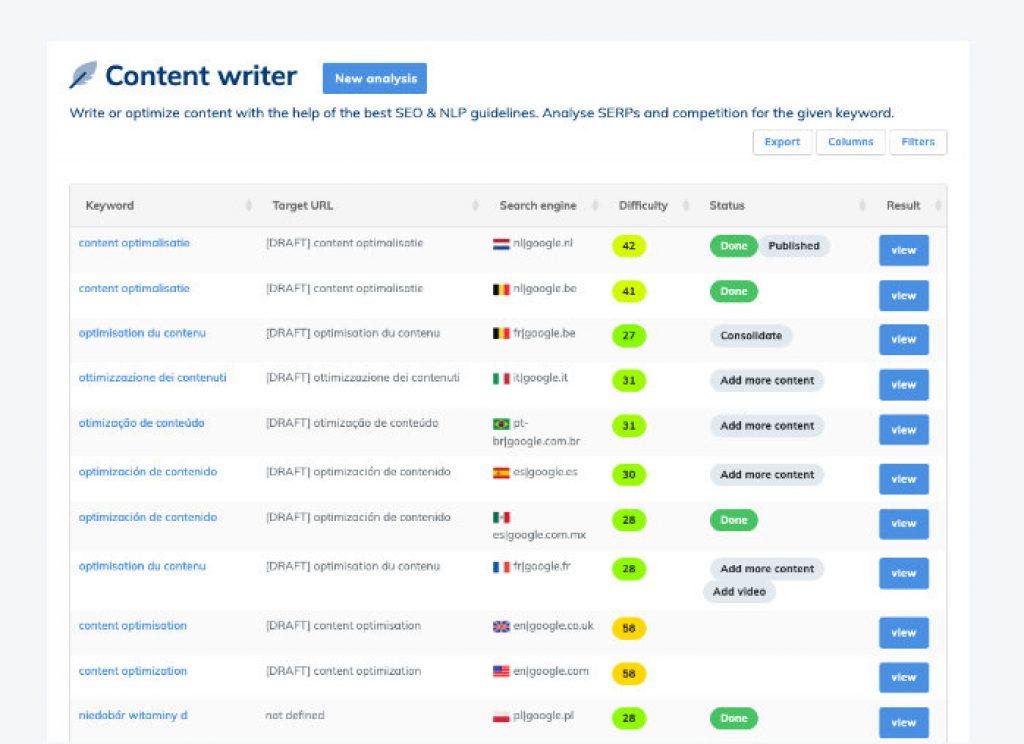 NeuronWriter is an easy way to manage all your content from a single dashboard. You can store all your ideas, plans, and analyses in one place for better organization and management. There are no limits on the number of documents you can create or share.
Internal link suggestions
This section gives you a list of all the links that were used in the competitor's content. You can use this to make sure that your content is relevant, and will attract a large number of readers.
Internal link suggestions – breakdown: It gives you a link analysis which consists of title tags, description tags, anchor text, keywords and anchors.
Internal link suggestions – structure: It shows the main page titles along with their descriptions, It provides an option to select the exact internal links from SERP results page or top 10 competitors, like H1-Headers, H2-headers and H3- headers.
Keyword ideas: This section gives you information about the keyword ideas that are used in your competitors' pages by mentioning percentages and typical usage numbers.
Content terms: This section provides you with a list of words used you can find the potential internal links in your competitor's review section.
Competitor rankings: You will get the rank of competitors along with their score, DA and PA.
NeuronWriter Support
The support team is helpful and responsive. They're always eager to help you with any issues that may arise.
They have Live Chat and Email Support , usually responds within few hours.
It is also provided with Excellent Roadmap.
Frequently Asked Questions
What is the project?
The folder where all of your analyses are kept is similar to a project. For certain projects, such as domain, country, or language, you may set defaults.
How to find keyword stuffing ?
It's a "global" metric, to use the technical term. In other words, as compared to the length of your text, you've used a lot of terms (from the sidebar). As you create more content, the probability of keyword stuffing declines.
Why Use NeuronWriter
There are many uses of Neuron Writer . It is not only a SEO tool but also an AI-Writer.
You can get keyword ideas.
AI-Content generation.
Helps with adding keywords in articles.
Helps you find potential words which your competitors are using.
Assist SMEs and startups in building an effective AI solution to aid with content and SEO.
Offers you easy suggestions that are supported by NLP (Natural Language Processing).
Allows you to track the sections of your piece that are missing
Provides you with readily understandable statistics and warnings.
Makes changes to your website's contents to address areas that Google users are looking for and incorporates fresh information provided by your rivals
NeuronWriter Pricing Plans
Get started with Bronze Plan starting from 19 Euro/month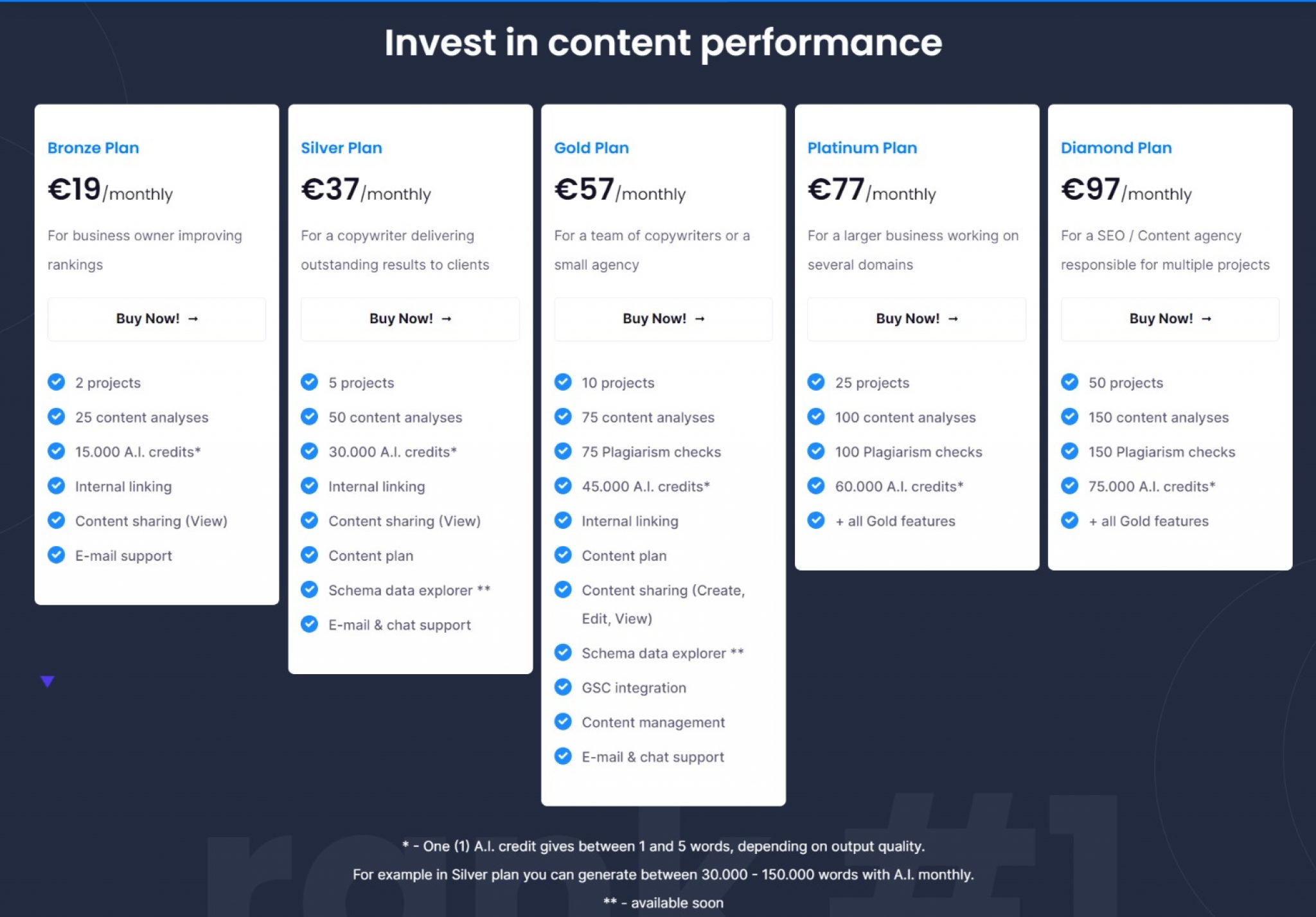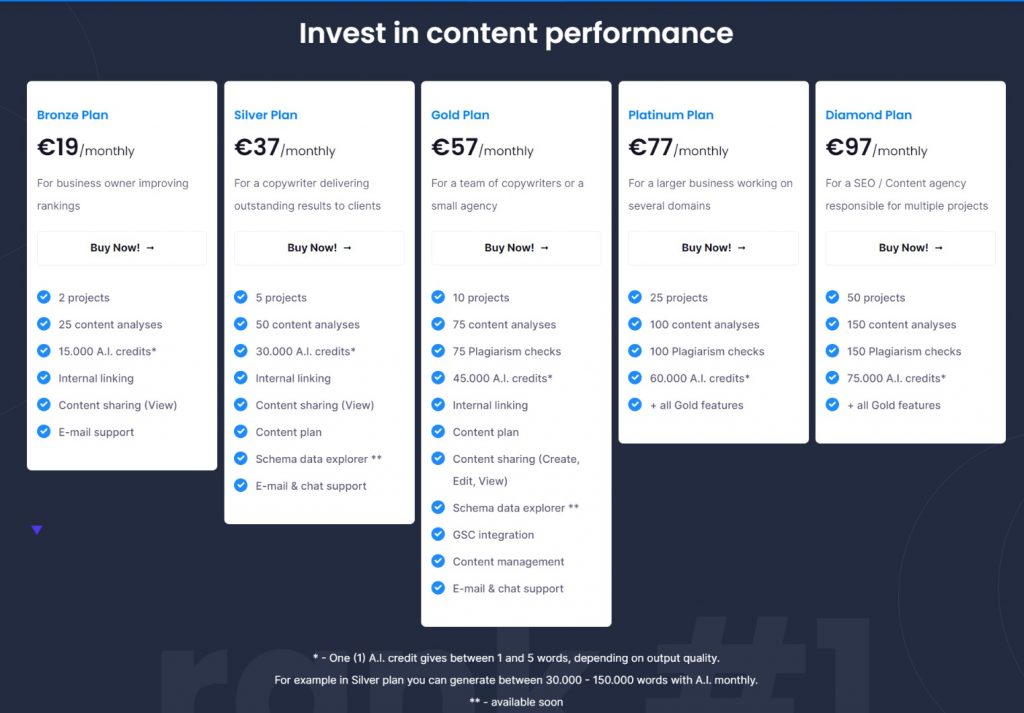 Alternatives to NeuronWriter
Surfer is a smart SEO platform that helps you increase your organic traffic, improve visibility, and boost your search engine ranking. With Surfer's step-by-step SEO workflow, you will be able to rank higher for more keywords and get more traffic to your site.
Scalenut is an AI-powered Content Marketing platform that enables you to create superior content at scale. It unifies your entire organization on a secure, single platform, providing insights into effective strategies. Utilizing its distinctive machine learning modules to enhance content sharing across social media, Scalenut ensures you consistently stay ahead of the competition.
Jasper AI is more of a full fledged Long form AI writer to create content for your blog, social media, website, and more! Jasper AI is more of a full fledged Long form AI writer to create content for your blog, social media, website, and more!
Social Media Presence
Is NeuronWriter right for You ?
NeuronWriter is definitely a great product to use. It is highly effective and it is also very easy to use. This makes it an ideal tool for any type of writer who has the need to write content that will be used on the internet.
The fact that it can save you time, allow you to focus on the quality of your content and make sure that it will rank higher in Google or Yahoo means that this program could literally change your life for the better!
NeuronWriter is a powerful content writing tool that helps business owners to easily write high-quality content that engages and converts visitors into leads and customers. If you're looking for a content writing tool that can help your business reach its full potential, then NeuronWriter is definitely worth considering! You can find out more about NeuronWriter by visiting the website today.
Video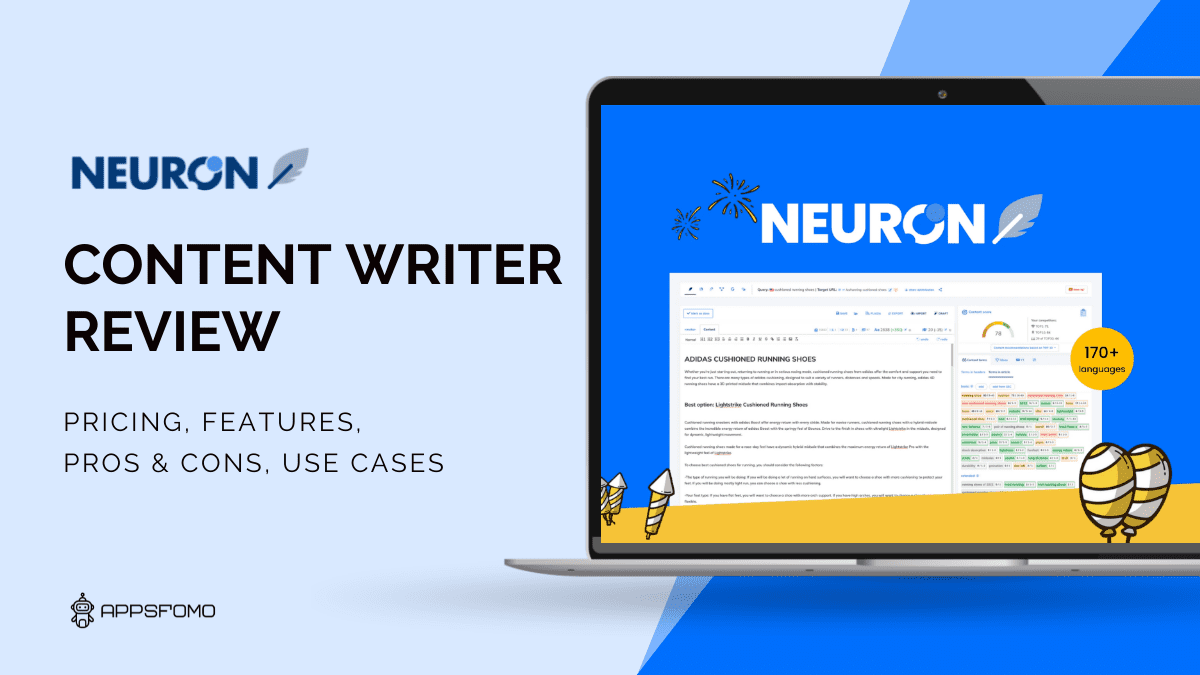 Specification:
NeuronWriter: Get Superior SEO Content with Copywriting Tool
| | |
| --- | --- |
| Review Date | Nov-22 |
| Company | CONTADO |
| Country | Poland |
| Initial Release | 2019 |
| Pricing | Montlhy |
| Free Version | Not Available |
| Lifetime Deal | Yes |
| LTD Platform | Appsumo |
| Money-Back | N/A |
| Appsfomo Rating | 8 |
| Support type | Email, Live Chat |
| Integrations | Google Search Console |
| Supported Device | Web Based |
| Mobile app | Not Available |
| Affiliate Program | No |
PROS:
Supports 170+ Languages
Content Analysis is Great
Manual Quality Setting for AI Content
Promising Roadmap
CONS:
No Plagiarism Checker
App is a bit difficult to use
Content generation is not straight forward
No Readability Suggestions
Negative
App is a bit difficult to use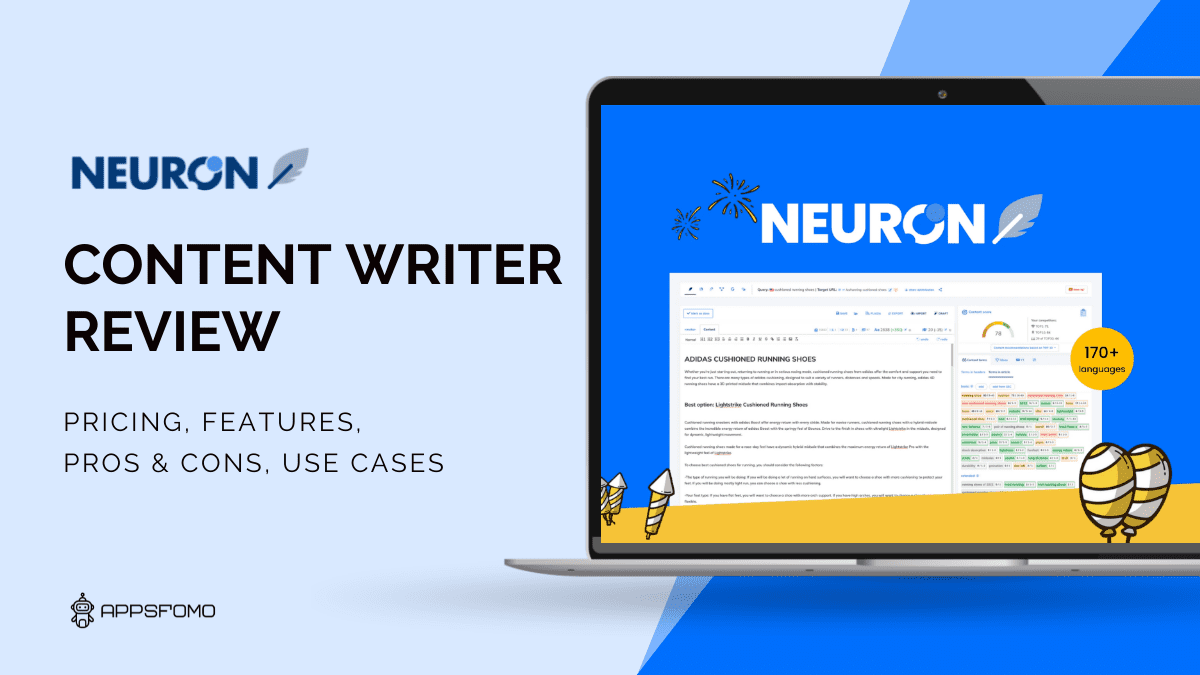 NeuronWriter: Get Superior SEO Content with Copywriting Tool