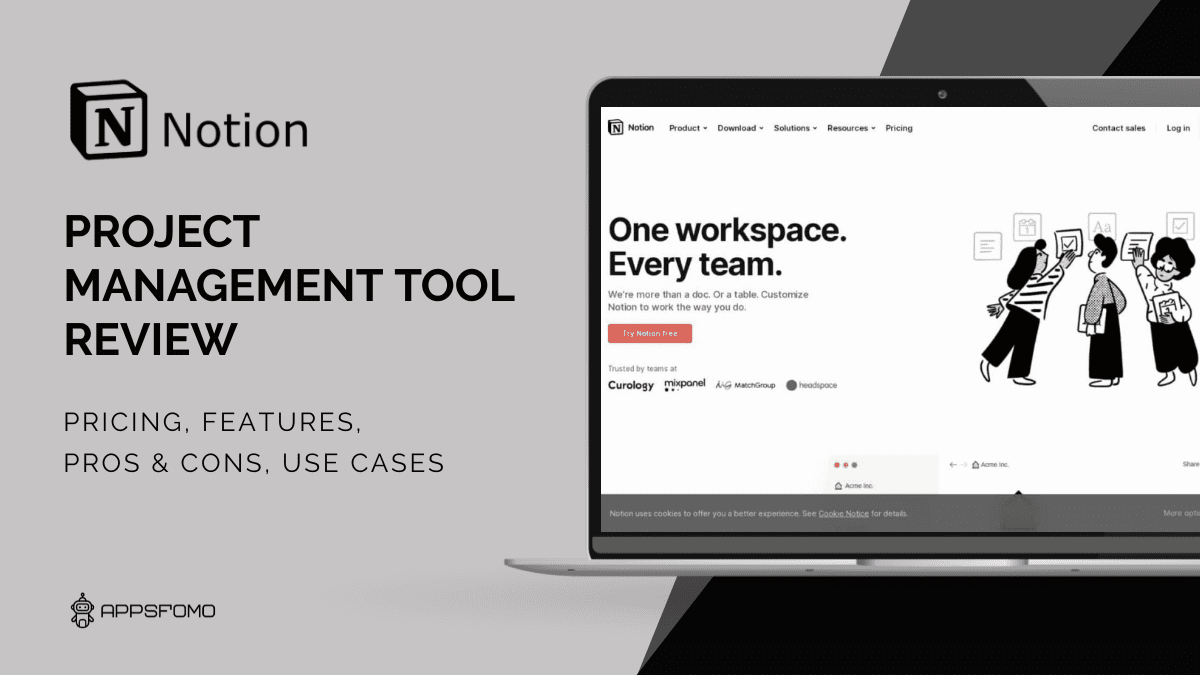 Notion: the Only Productivity App You'll Ever Need for your Team
Add to wishlist
Added to wishlist
Removed from wishlist
0
Add to compare
Technology has revolutionized workflows and has also changed the way we communicate. It is now possible to do just about anything from a laptop, phone, or tablet. The workspace of the future may be in a virtual reality that merges all of these devices into one. That workspace is called the workspace of the future. And it's called Notion.
They say necessity is the mother of invention, but what about ideation? In modern times, ideation is more likely to come from necessity than it is to be a result of innovation and ingenuity. As opposed to the past when people had to rely solely on pen and paper for making decisions, today's teams have access to endless possibilities such as technology-enabled project management tools that can help them make better decisions faster and with less effort.
What Is Notion?
Overview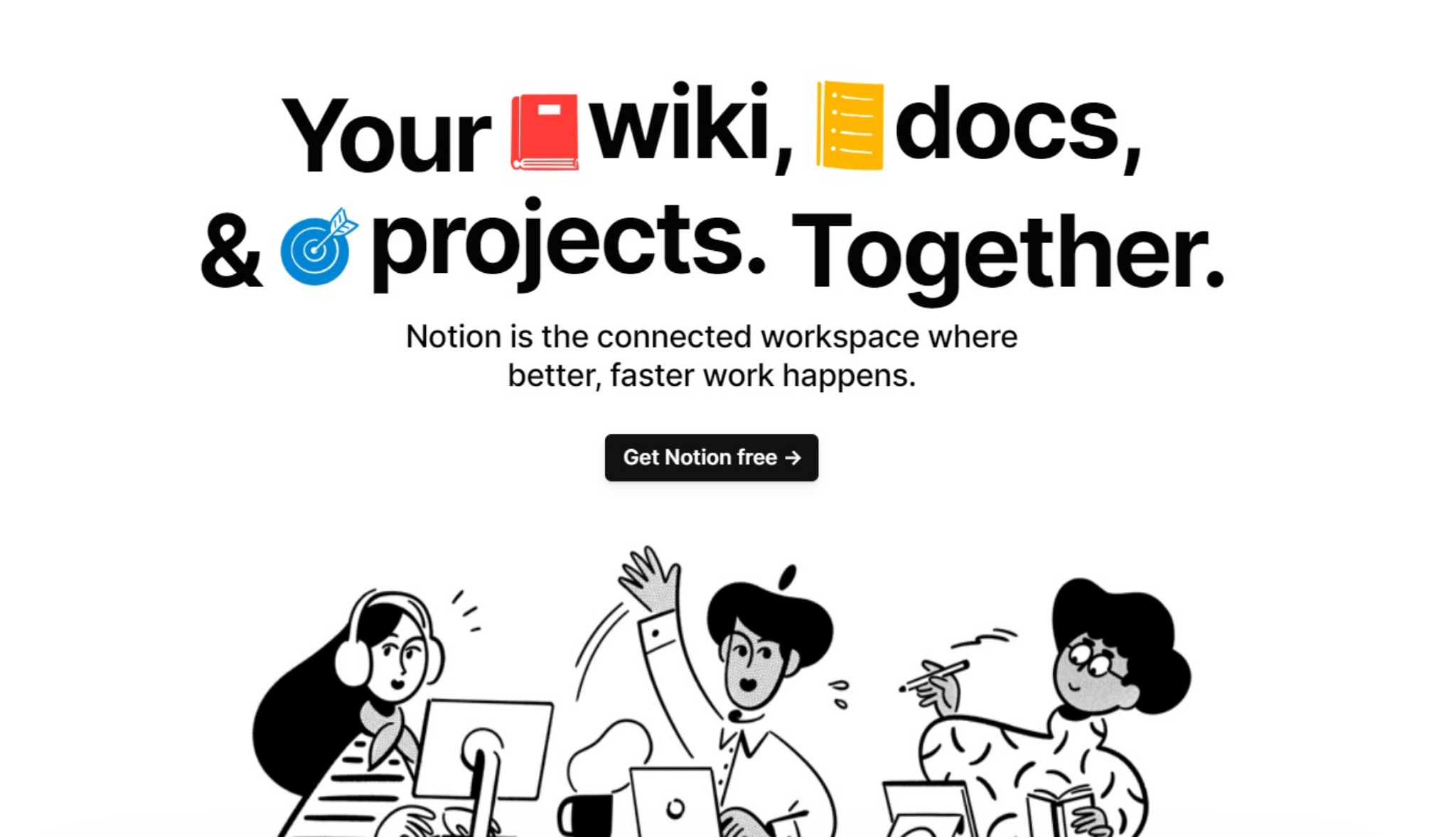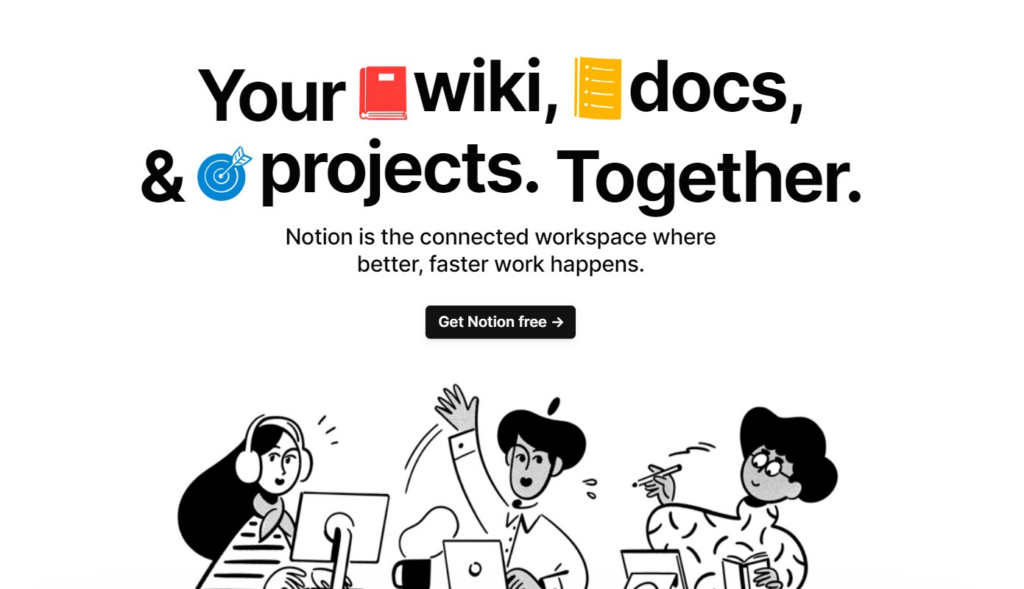 Notion is an app that helps you create, manage, and organize all types of content. It's a workspace that allows you to write, plan, collaborate, and get organized in one place. Notion provides the building blocks of writing, documents, project management, and wikis – everything you need to get your ideas down on paper or screen.
That's why tens of thousands of teams and companies around the world use it to collaborate, stay informed, and get more done. Plus, it offers a free trial for those interested in trying out the app without committing to a subscription.
If you're looking for a workspace that combines notes, docs, project management, and wikis into one customizable environment, Notion is worth checking out.
Company Details
We humans, are toolmakers by nature, but most of us can't build or modify the software we use every day — arguably our most powerful tool. But the team at Notion is on a mission to make it possible for everyone to shape the tools that shape their lives.
Notion is based in the sunny Mission district of San Francisco. They are a diverse group of people interested in computing, history, art, alternative programming languages, and skateboarding.
Ivan Zhao and Simon Last founded this collaboration tool in 2016 in California US.
Online Presence
How does Notion work?
One Workspace. Every team.
The Notion is an all-in-one app used for creating documents, managing projects, organizing content, and more. Similar to other note-taking apps, it is designed to help you capture ideas and information easily.
However, Notion goes a step further by allowing you to connect your ideas with other people and organizations in real-time. You can collaborate with others on a document or project and share your thoughts quickly and easily. This feature also makes it easy to organize content across multiple sources.
Wikis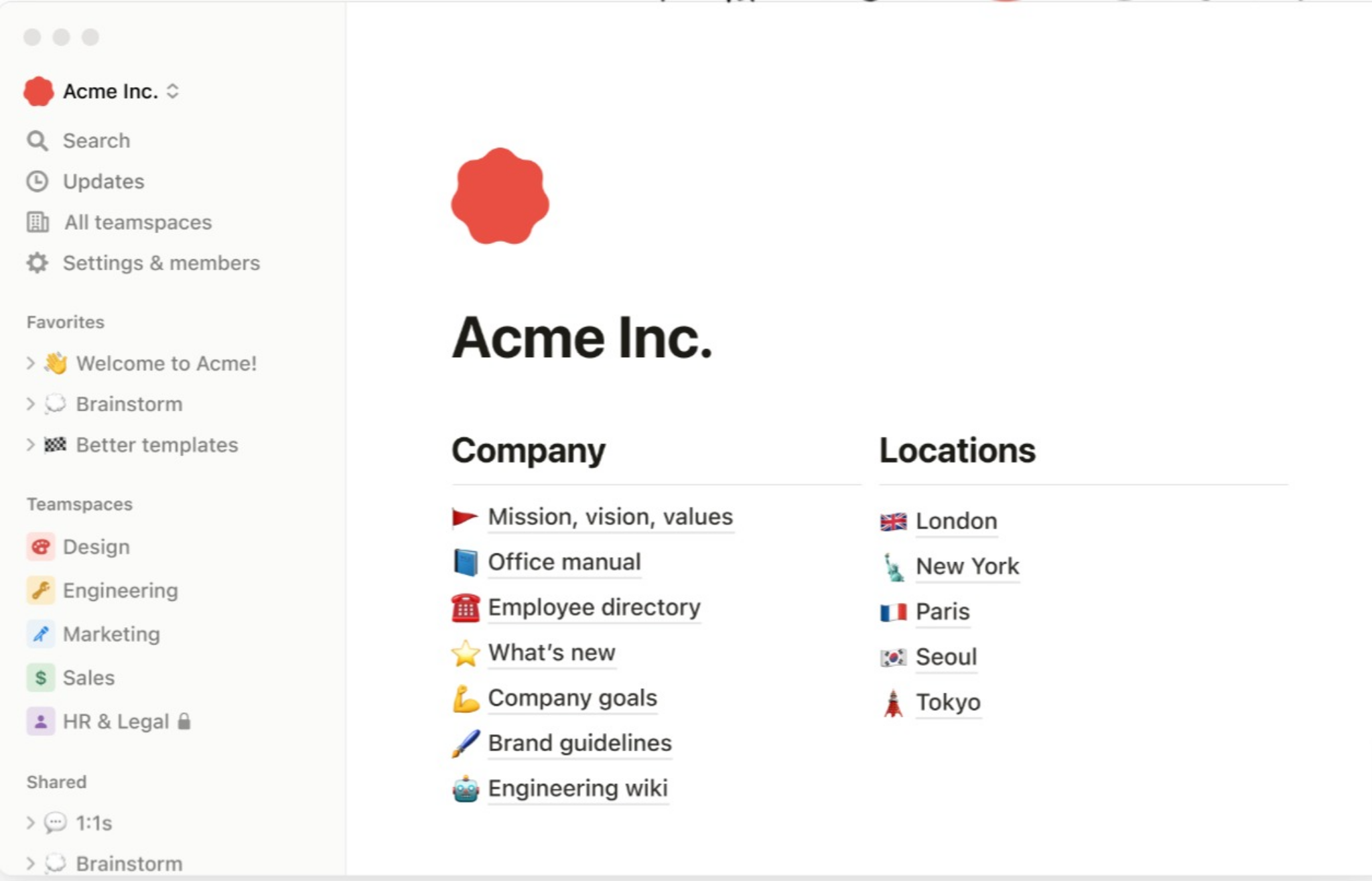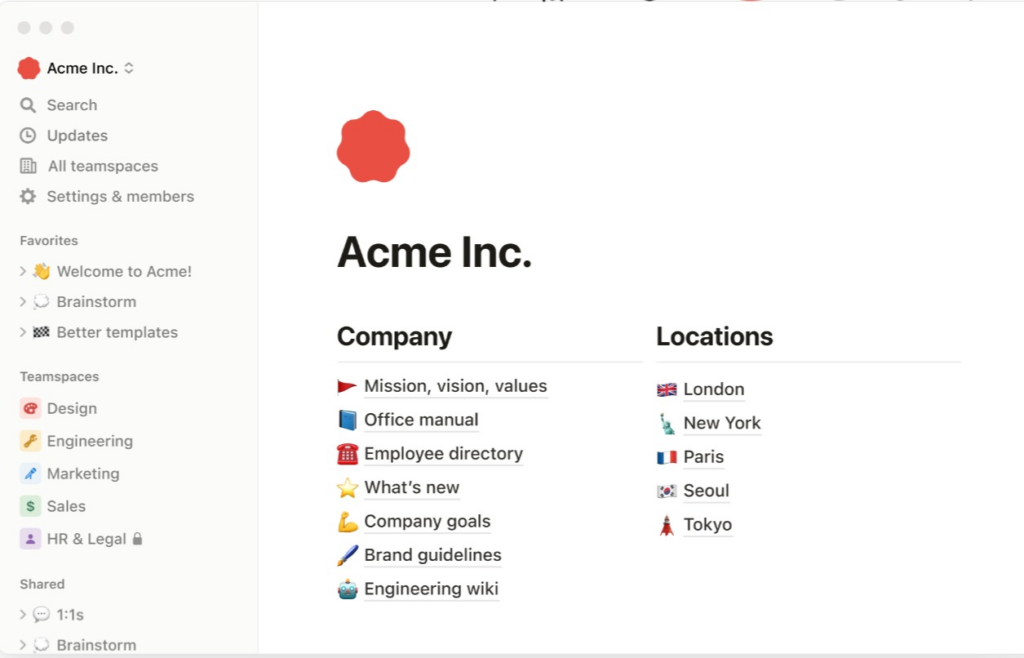 Notion is a unique application that can help teams stay organized. It combines a wiki, database, note-taker, kanban management tool, outliner, gallery, and more into one platform. It allows users to create a Wiki for their team's use that can contain standard operating procedures and other guides so that newcomers can quickly refer to them when executing tasks for the first time. This way, everyone will be on the same page and working more efficiently as a team.
Notion's sidebar keeps your workspace organized no matter how fast you grow. With its powerful filters let anyone find data and decisions across teams in seconds.
Docs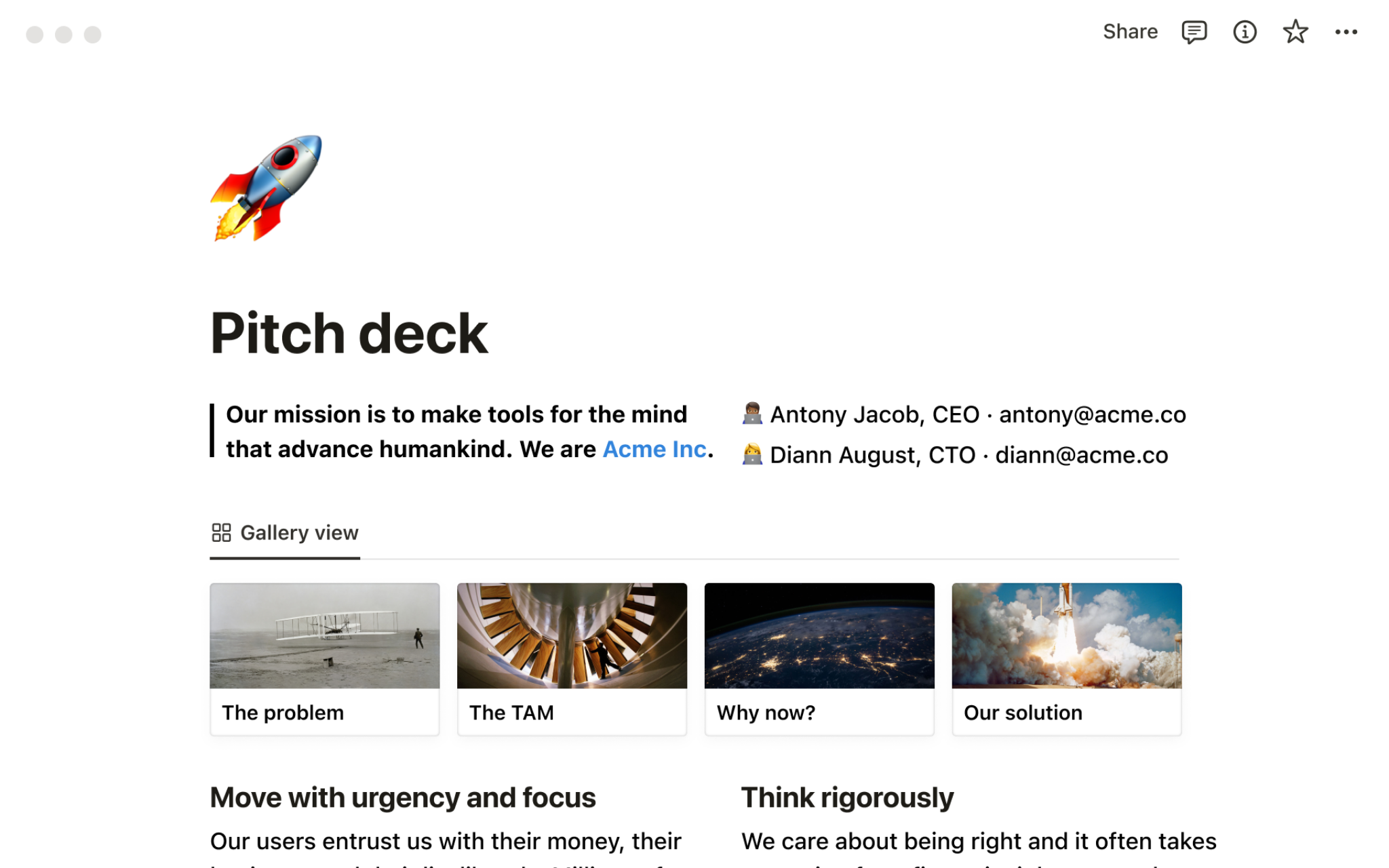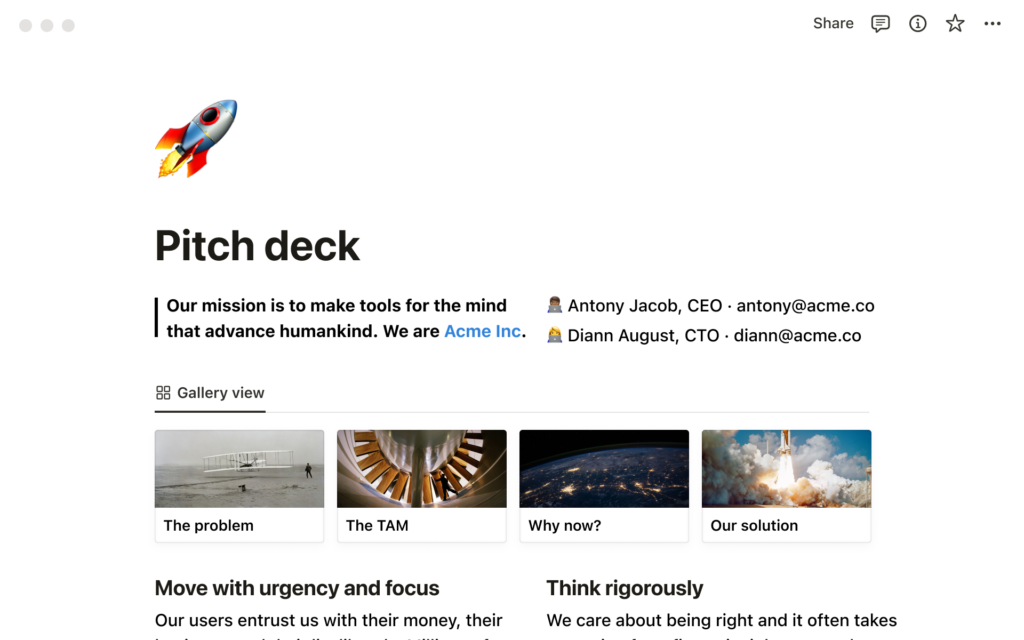 Notion is an all-in-one app that can be used to create and manage content, such as documents, projects, and presentations. It allows users to integrate Notion with other tools to automate workflows. With Notion, users can manage their content, update text, images, and other media on their pages to create a unique layout and structure for their site.
In addition to page management, Notion includes features to interact with the data programmatically and connect data to other tools or automate workflows. For example, it integrates with popular cloud storage services such as Dropbox and Google Drive to allow users to seamlessly store and sync their files from one location. Another integration feature allows users to share an excerpt of authenticated content when a supported link is shared by an authenticated collaborator. Overall, Notion is a powerful tool for creating and managing content on the web.
Projects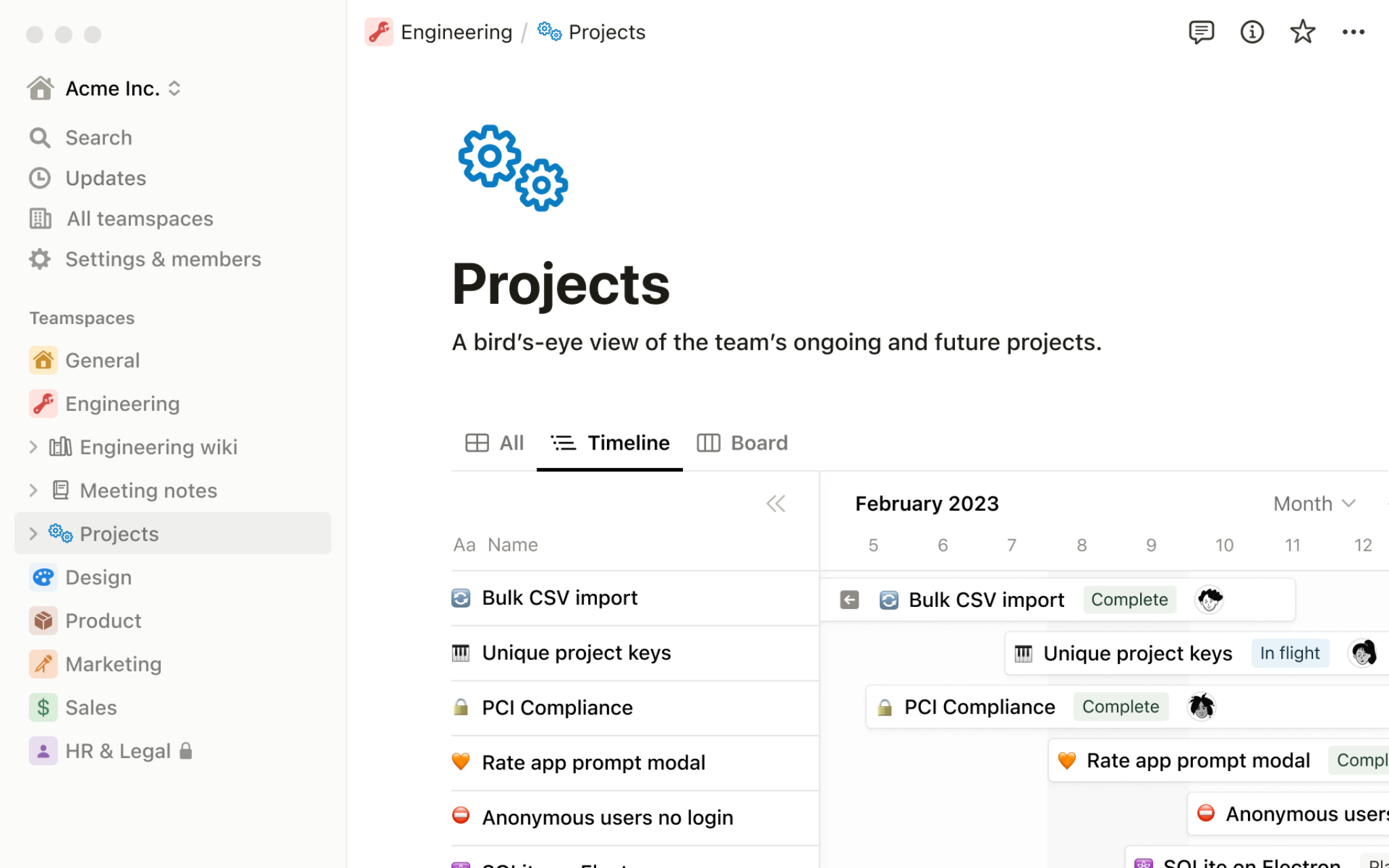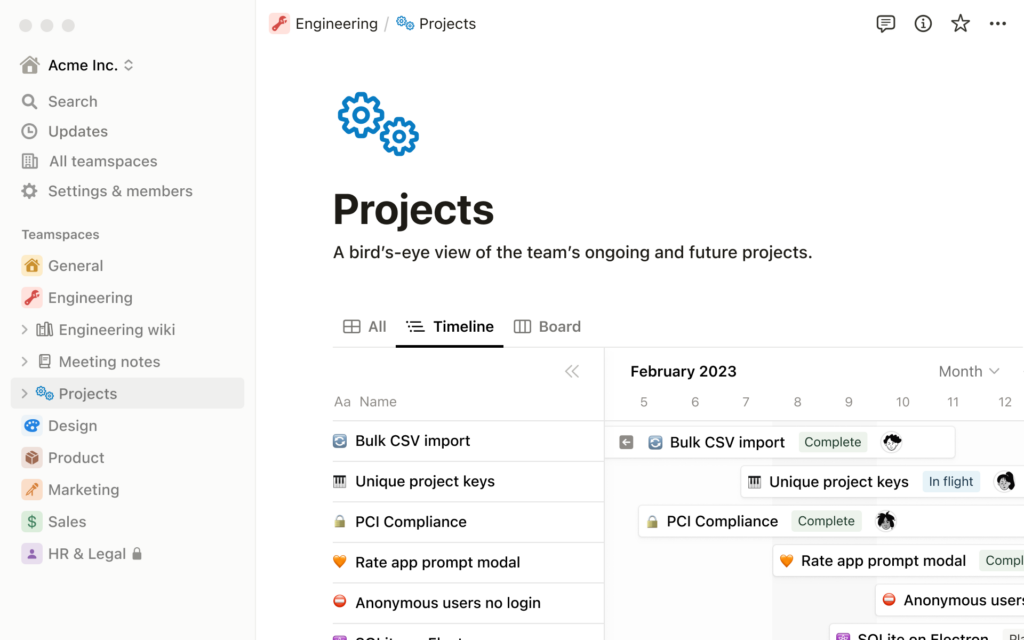 Notion is a free and easy-to-use project management tool that allows users to create lists, manage ongoing projects, and promote a brand. It can also be used to map out business plans, promote a brand, and even invoice customers. With Notion, users can create work templates to manage ongoing projects, track job applications, and create a professional portfolio to apply for new jobs. It is also useful for planning events, managing sales, marketing, coding, HR, and inventory.
The ability to create customized work templates makes it easy to manage ongoing projects and streamline the process of tracking job applications. Besides, it allows users to save time and stay organized. Overall, Notion is an efficient and versatile tool for managing personal or freelance projects.
Database blocks
A table database block is a powerful tool that allows you to create tables with columns and rows. This feature is essential for working with large amounts of data and can be extremely helpful when analyzing output from an analysis or report. It's easy to use table database blocks, as they are built into Notion's tables. You can use these blocks to create tables with various data types, such as strings, numbers, and dates. They also allow you to group related data in a single table.
Build websites and Blogs
Publishing a website with Notion is straightforward and simple. Website builders use the Notion database as a content management system to render data to a beautiful front end. This means that they can use the powerful features of Notion to dynamically generate page content without having to write any code. This saves time and effort and makes it easier for you to launch your project quickly.
You can use Notion templates and tools to build websites and blogs that meet your specific needs and requirements. This way, you don't have to start from scratch every time and can get your project up and running quickly. Whether you are creating a blog or a full-fledged website, Notion has everything you need to create professional online content in minutes.
Interactive Roadmap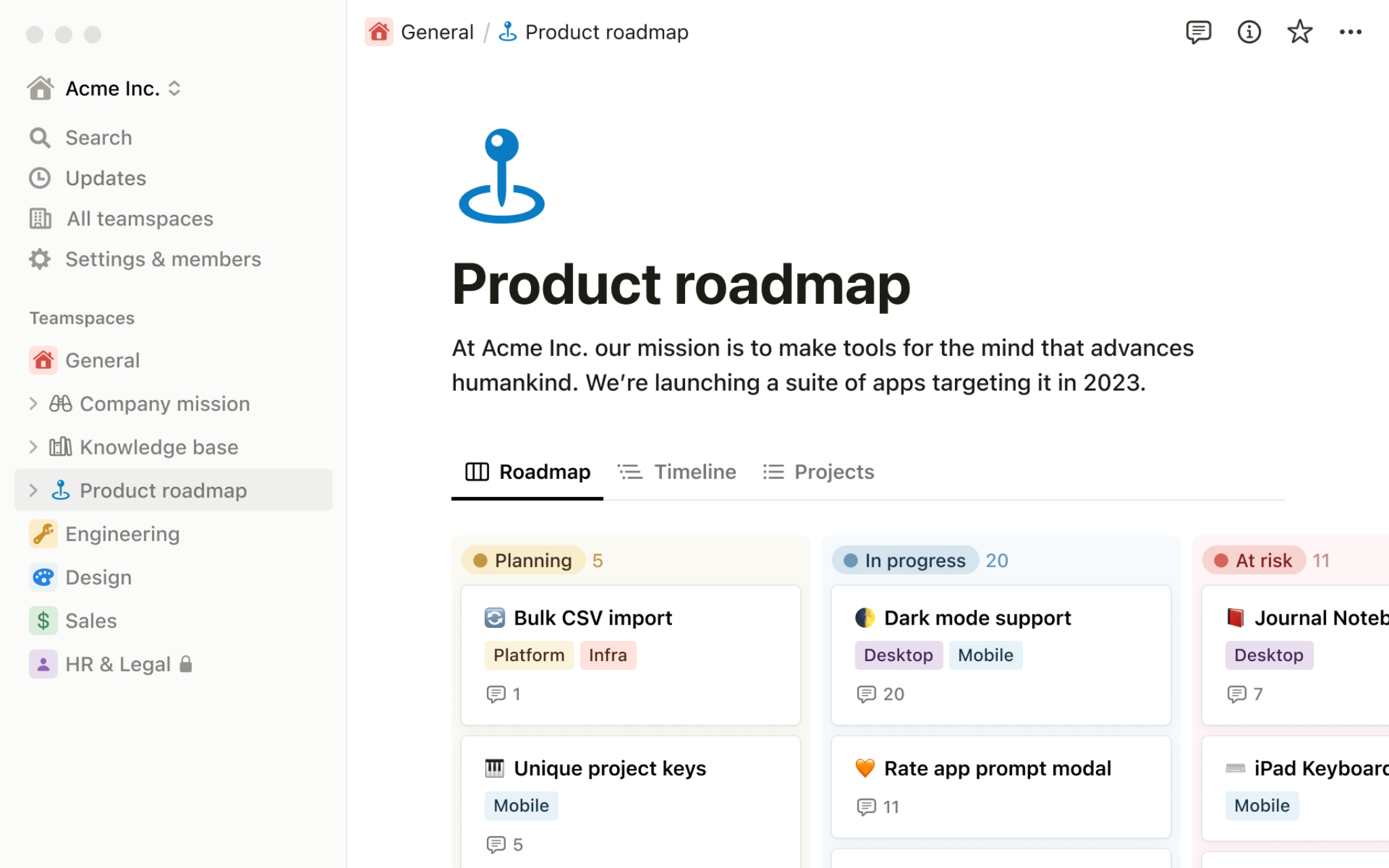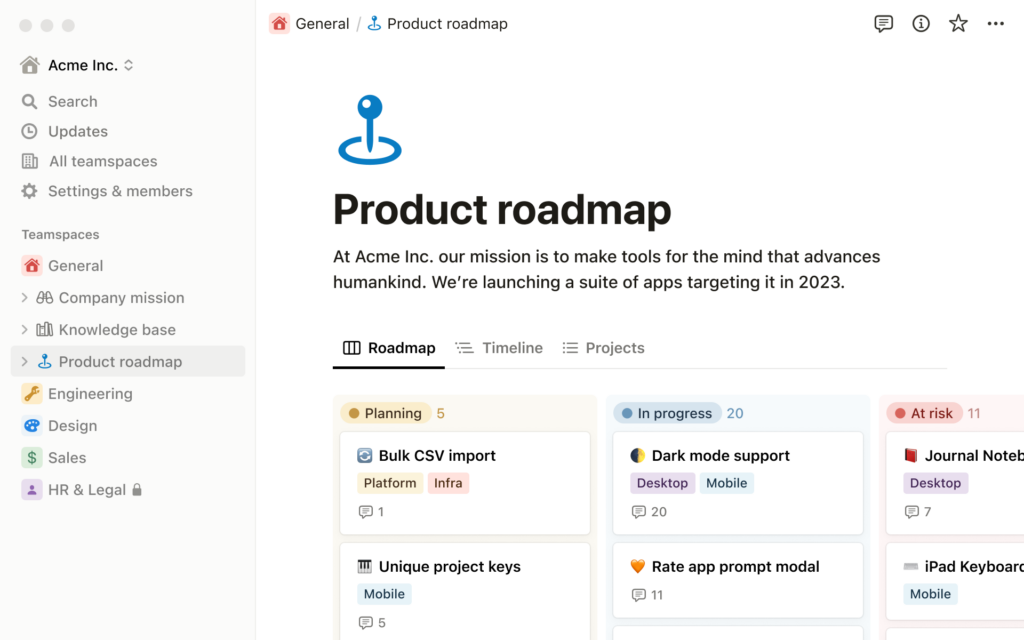 Creating interactive roadmaps is a breeze with Notion. Its user-friendly interface makes it easy to build a roadmap that shows your team members the different features you plan to introduce over the coming months and the associated timeline. You can also allow team members to share feedback on the progress of your plans.
When embedding your roadmap on a website you build with Notion, give public editing access so that current and potential customers can submit feature requests. This way, you can ensure your roadmap stays up-to-date with the latest developments in your business.
Meeting Notes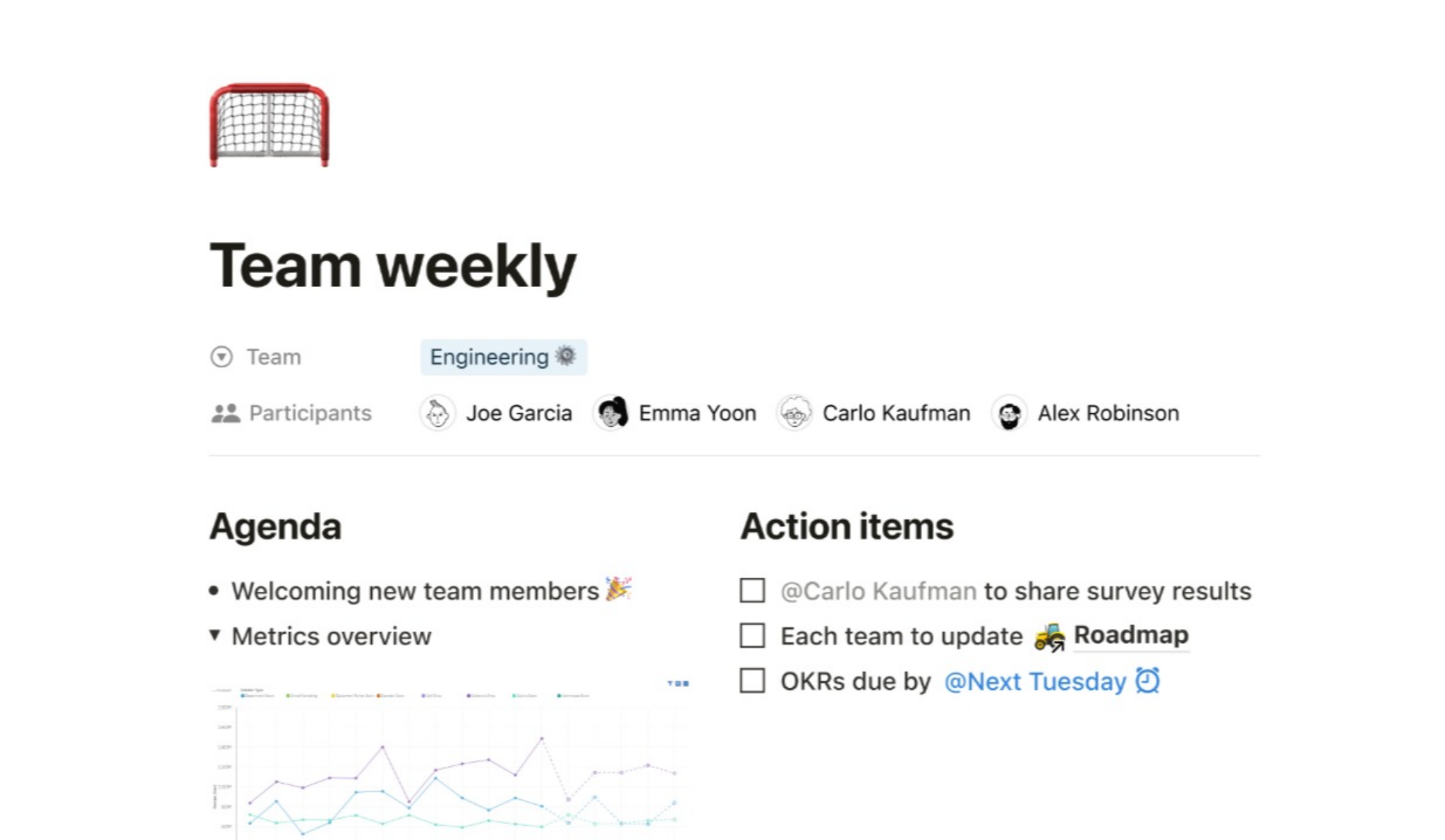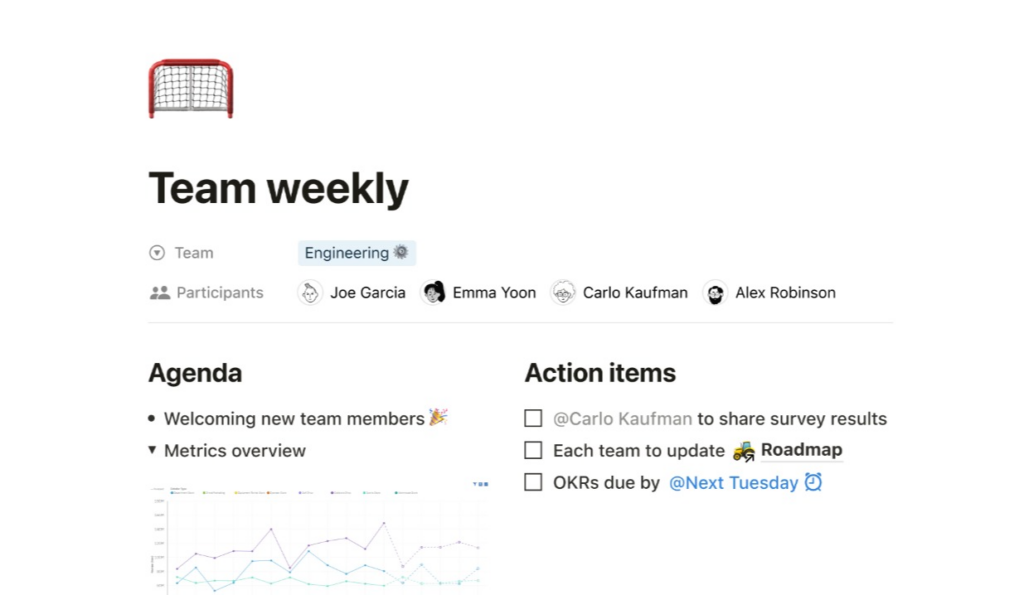 Notion's meeting notes feature allows users to take quick notes during a meeting and also keep track of meeting agendas, tasks, and action items. This can improve productivity and efficiency by ensuring that all relevant information is captured. The meeting notes page on Notion allows users to organize the notes into separate pages to make them easier to read and follow. This page can be updated as new notes are added or when a page becomes too full and needs to be updated. Users can also add images to their notes and attach files to them for a more visual representation of the information being discussed in the meeting.
Notion Key Features?
What makes Notion Special?
Template Gallery
Start with a template. Modify it however you need. Choose from thousands of free, pre-built setups — for work and life. The site also offers free tutorials on how to use the template in various ways according to your project needs.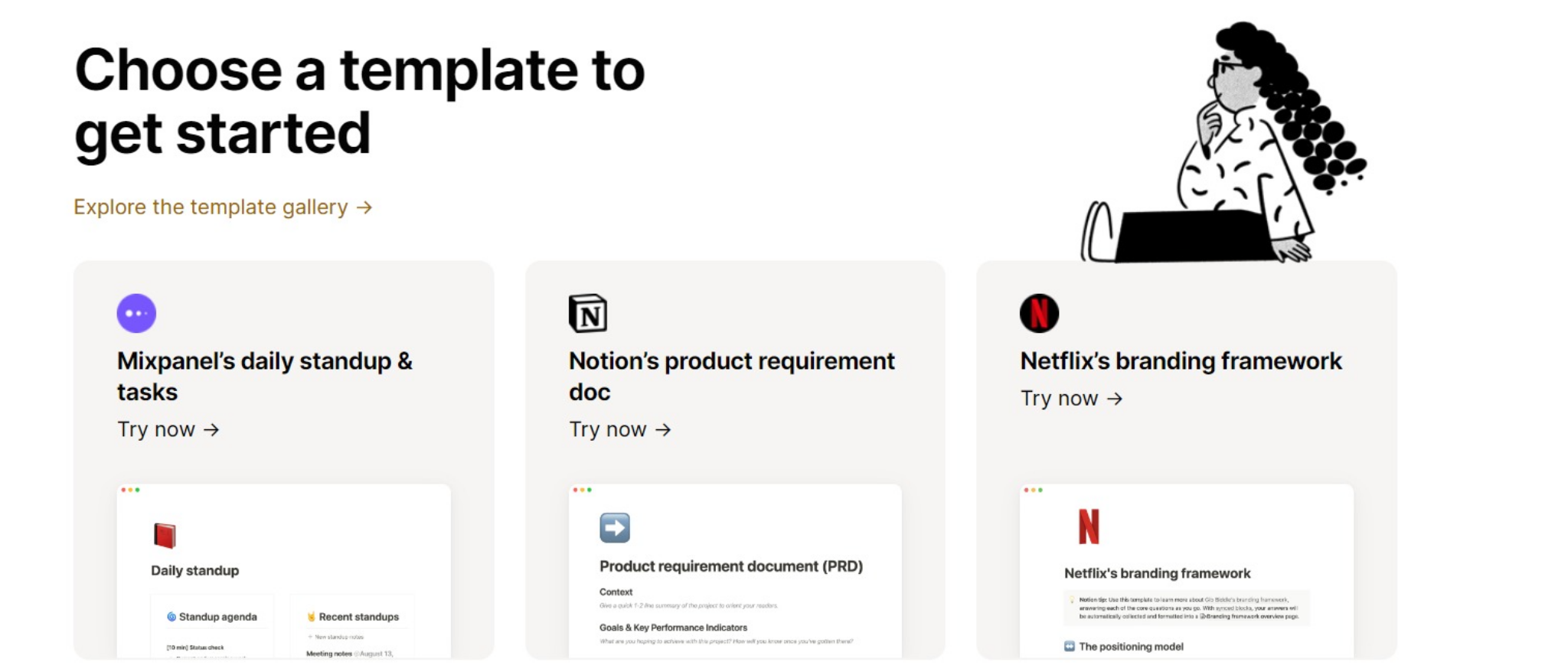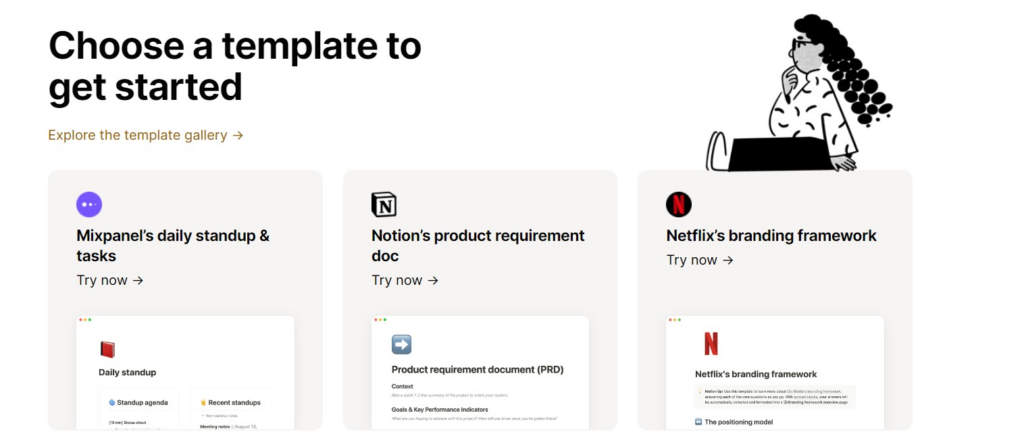 Real Notion pages made by their team and community. Try new setups or share your own. The Notion team has selected some outstanding community templates. Organizing your work and life with the most effective workflow. Then come up with new, inventive ways to utilize Notion.
Connections Gallery
Hundreds of connections are available to customize Notion. Build the exact workflow you need by exploring the full connections gallery. Don't switch programs while working. With the connections, keep information flowing in and out of Notion and reduce overhead. Connect your favorite tools to Notion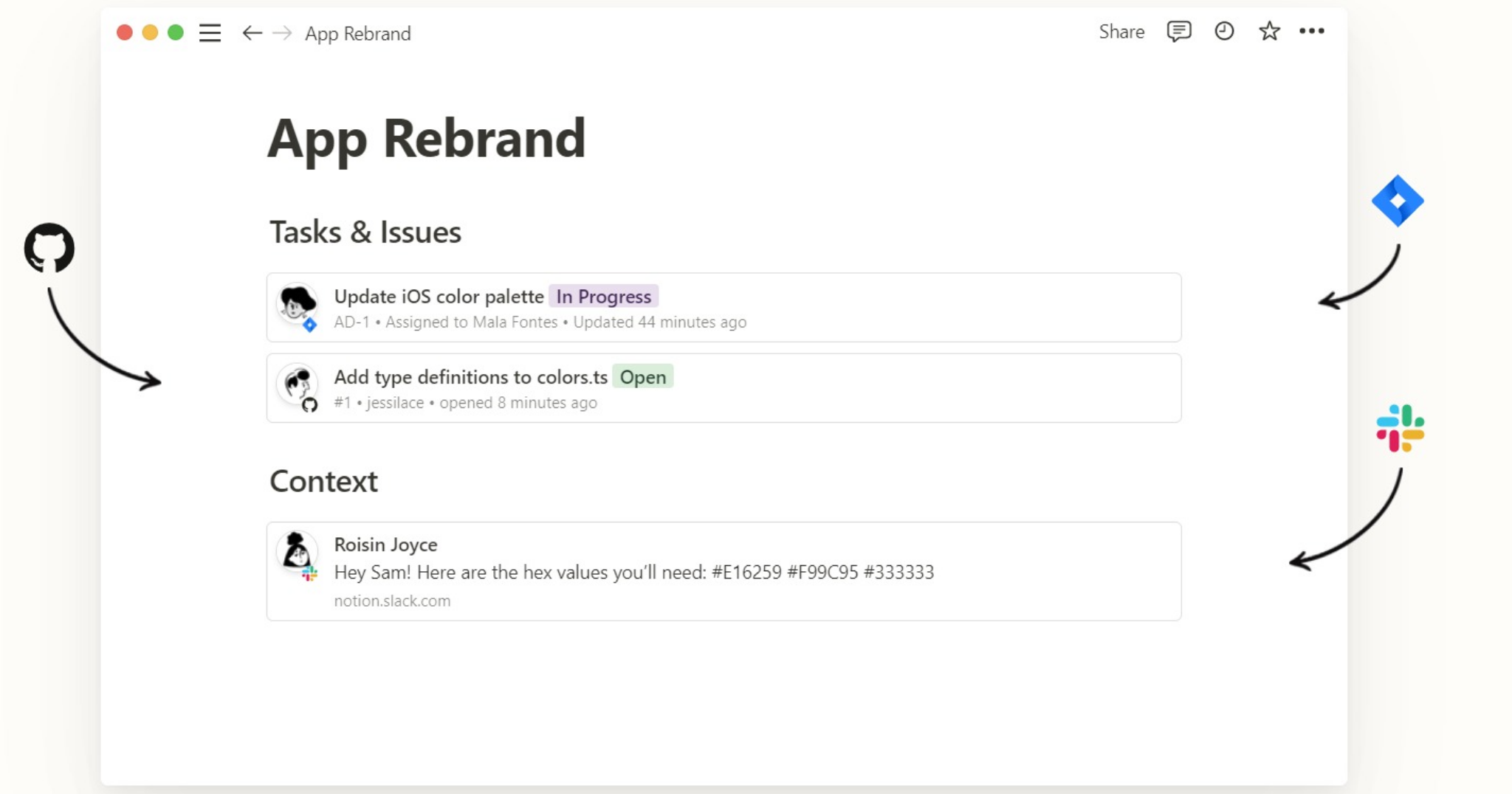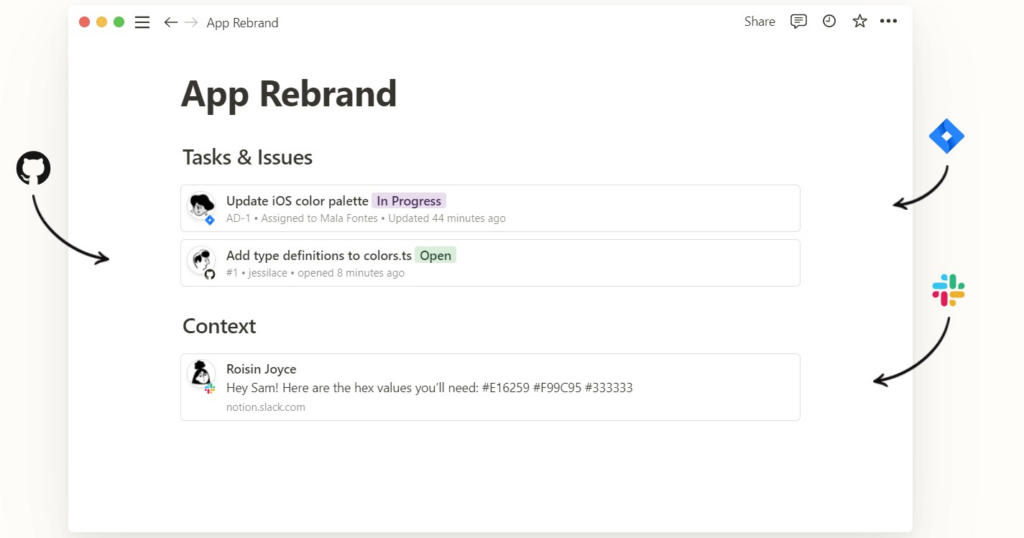 With one application, you can get the environment you need. Without leaving Notion, you may examine the state and content of Jira issues, Slack threads, and GitHub problems.
Want a live data feed for your external tools? Keep Jira and GitHub in sync. Inside any Notion database, use Synced Databases to see the status of Jira tasks and GitHub pull requests.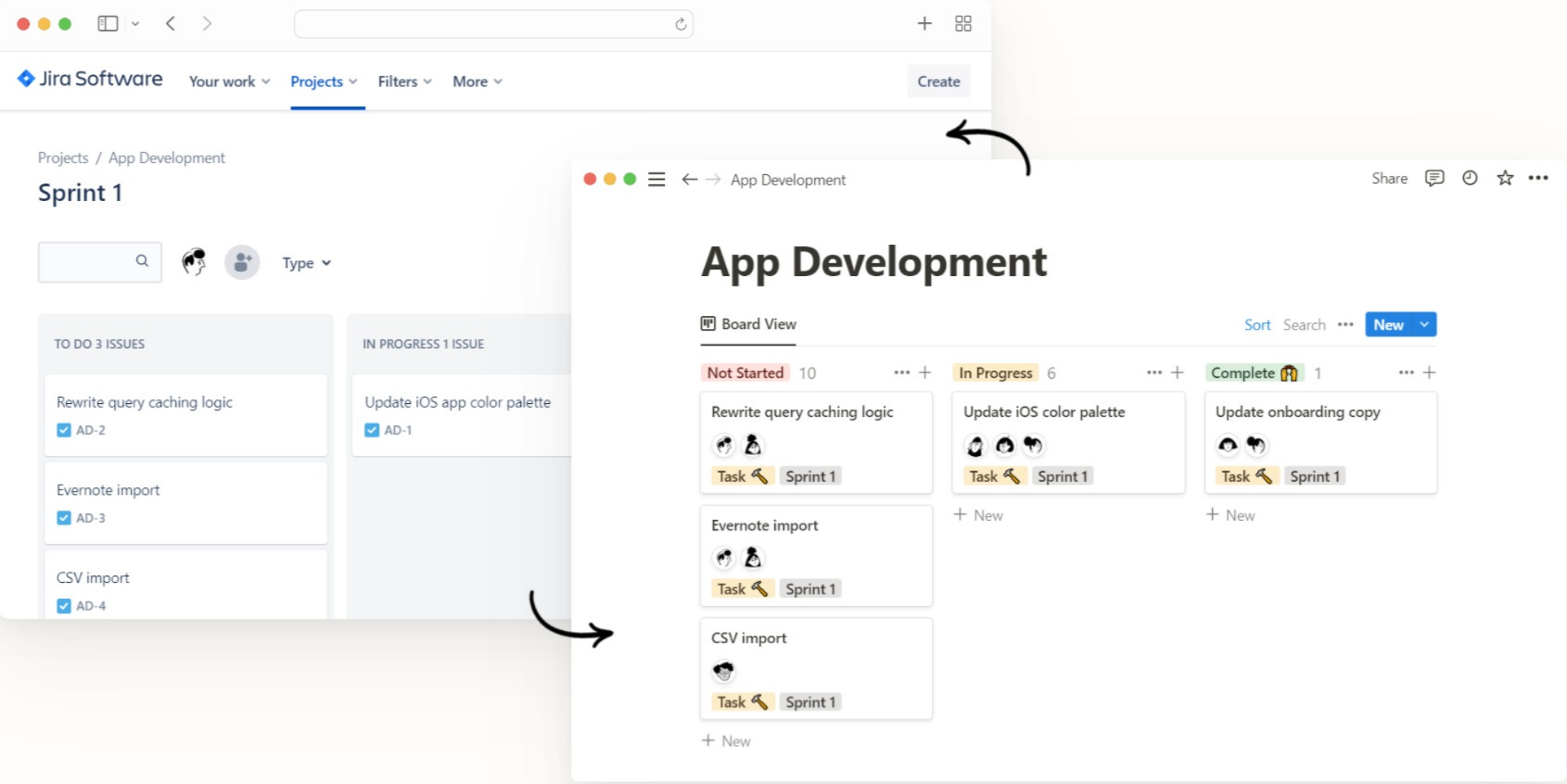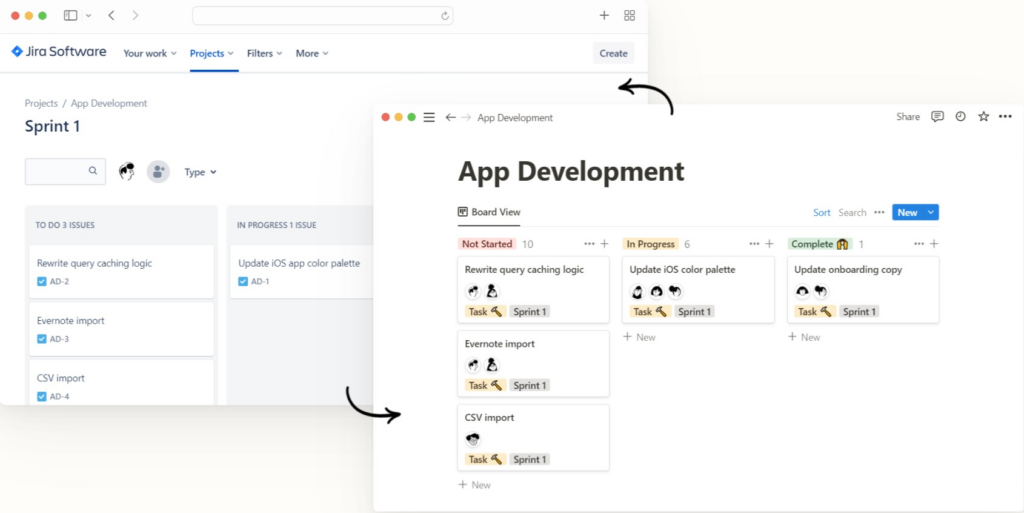 Make Notion the master brain for all of your tools. You may work more effectively by automatically updating other programs, performing actions, and maintaining data.
Notion API
Creating powerful workflows by connecting Notion pages and databases to the tools you use every day.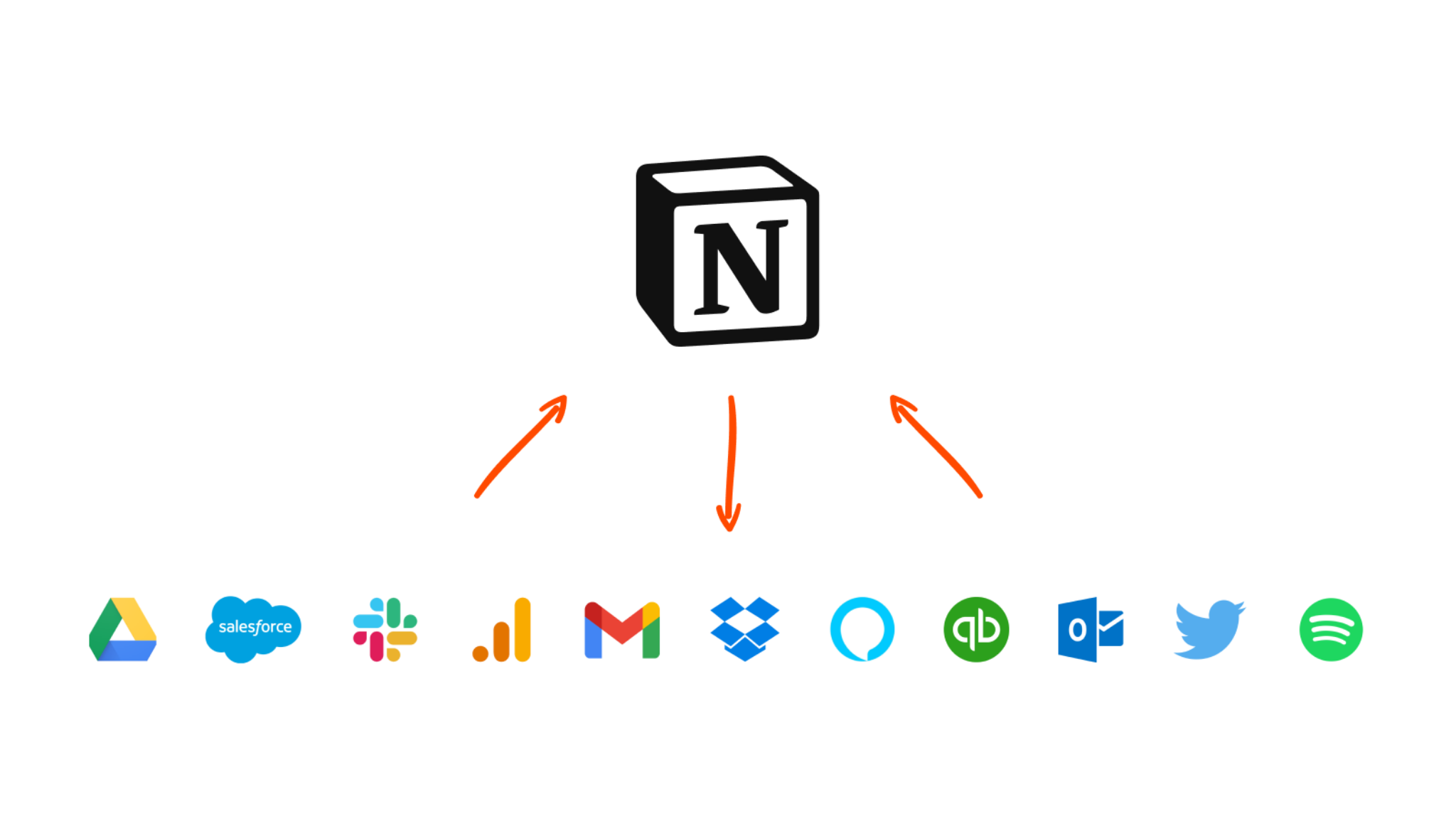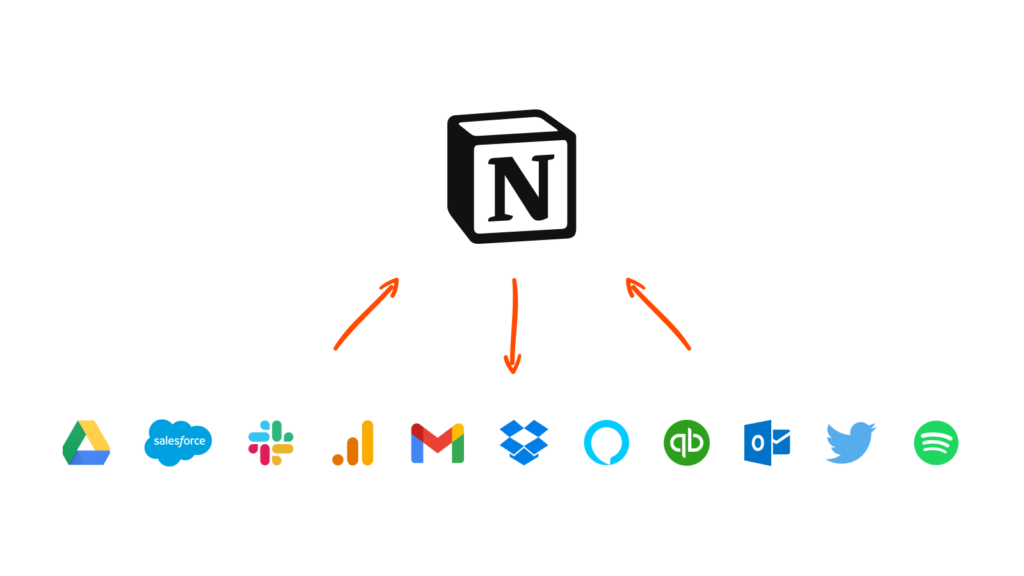 In your team's workspace, aggregate data from multiple sources. Increase awareness of the software and services you depend on by reducing the amount of time you spend context-switching.
Consider an example of sending an email from a Notion trigger
When the Status property of a page in a database is updated, this Notion integration sends an email. The is used to invoke an external activity in this example. The integration uses SendGrid's API to send emails in this scenario.
Why Use Notion?
Benefits and Applications
The all-in-one workspace for your notes, tasks, wikis, and databases.
It's a convenient and comprehensive cloud-based knowledge base software that integrates seamlessly with other tools and automation workflows.
Notion integrations can be used to connect Notion data to other tools or automate workflows, saving you time and effort.
Notion can be used to manage content and update text, images, and other media. It has an intuitive interface that makes it easy to navigate and use, whether you're creating a new document or editing an existing one.
Notion has an official getting started guide to help new users get started easily. This guide outlines essential features of the software and walks them through the steps of using it.
The best part about Notion is that it's free for individuals and small businesses. You don't have to spend money on expensive software to get a similar experience
Can get inspiration from thousands of community-made templates, integrations, and events.
Available for ios, Android, Mac, and Windows.
Pricing Plans
Monthly plans and Annual Billing
You can download this tool for Free. Upgrade to the below plans for exploring more features.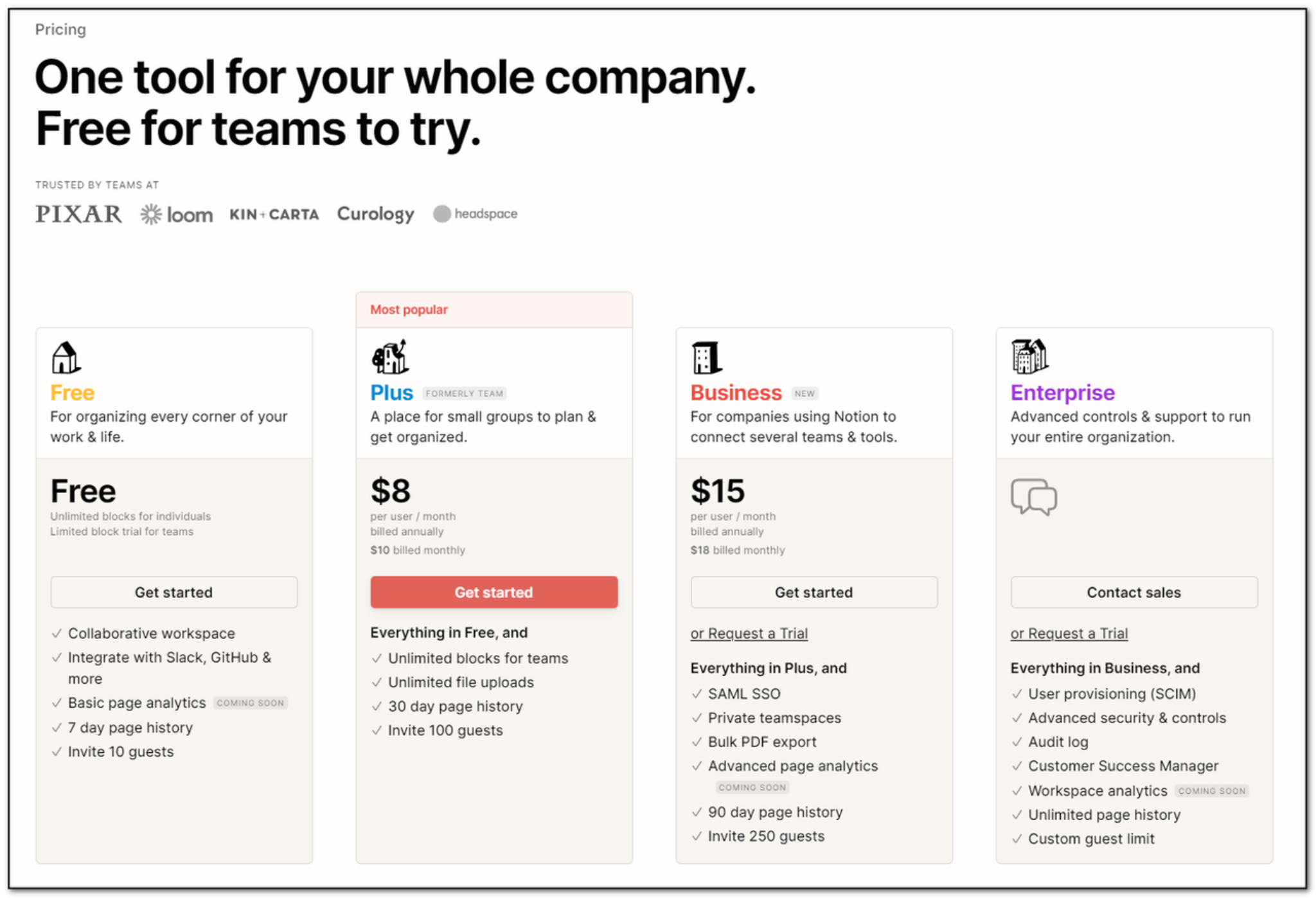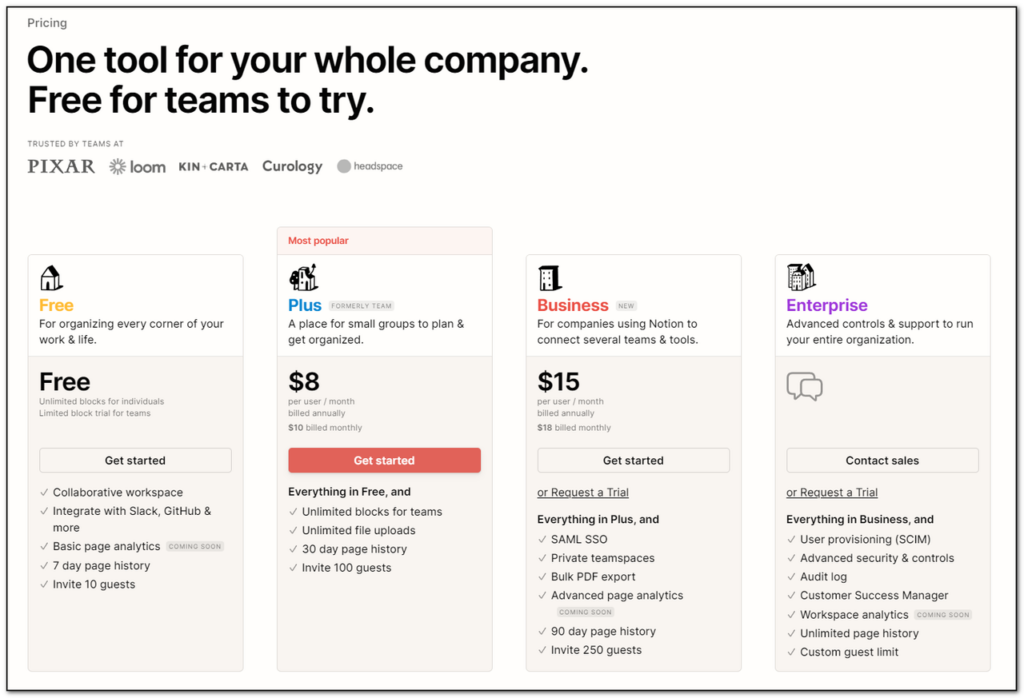 Notion use-cases
Check Whom it is best for!
Managers: Your team's dots should be connected. Planning, people, meeting notes, projects, and more are all brought together in one place with this tool.
Engineering: Build workflows that combine documentation with sprint management. Build a team that works as minimally as possible on labor
Enterprise: Another way for your entire organization to share information, develop projects, and work together.
Small Businesses: Your projects, wikis, and docs, all side by side. From small teams to huge corporations.
Personal Use: Write, plan, & get organized in one place. Now free for personal use.
Remote Work: So your team can get more done together, no matter where you are.
Startups: Your startup's scaling operating system. For the Plus plan, startups may apply for up to $1000 in credit.
Non Profits: Supports 501(c)3 organizations working to solve the world's toughest problems with 50% off their Plus Plan.
Education: Your notes, research, tasks, and more — all in one place. Free for students and teachers, with discounts for teams and schools.
Product: Bring together all the people and info you need to get new products into the world fast.
Design: House all your design assets, specs, and projects, and connect them in Notion. So your team can focus on designing.
Support
Technical Support, Knowledge Base, Roadmaps, Changelogs
Alternatives
Similar Apps
Airtable is an all-in-one collaboration platform that combines the flexibility of a spreadsheet interface with rich features like file attachments, kanban card stacks, calendars, and reporting.
Evernote Business brings your teams to work together. Create documents, collaborate on projects, and store information all in one place. Teammates can access, edit, upload, and share notes and files from any device and even if they're offline.
As an open source, Confluence can be used as a single OKR software tool by any company. At the same time, you can be responsible and transparent as you track strategies, objectives, and key results!
Final Verdict
Is Notion right for You?
Notion is an effective tool for teams looking for an easy-to-use platform to organize their work and stay productive. It provides capabilities such as project management, task tracking, and collaboration across multiple teams. This makes it an ideal solution for businesses in need of improved teamwork and organizational efficiency. It is an effective knowledge management tool with a wide range of features, notion is worth trying out.
Notion is an indispensable tool for project management. It streamlines the entire project workflow, from planning to execution and documentation. Not only does it help you stay organized and on top of your projects, but it also helps you manage your time more efficiently and set realistic deadlines. When used properly, it can undoubtedly make the job of a project manager much easier. If you are looking to start using notion or just want to learn more about the tool, here's a blog that covers the basics of notion project management software.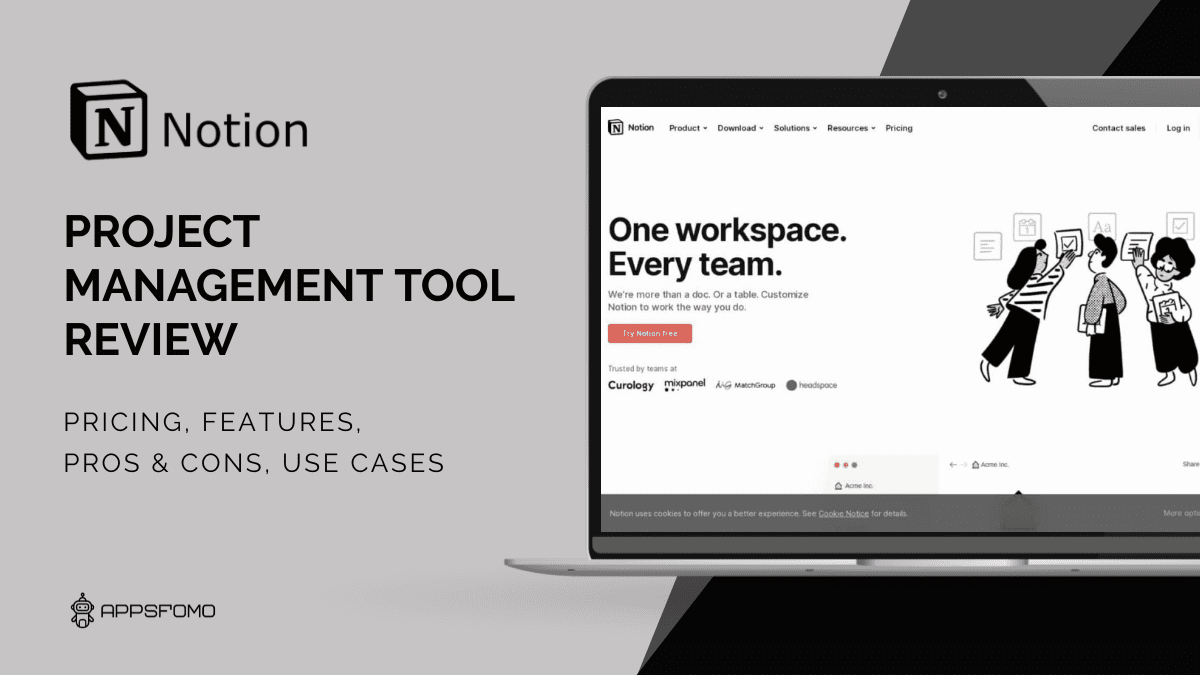 Specification:
Notion: the Only Productivity App You'll Ever Need for your Team
| | |
| --- | --- |
| Review Date | February 2023 |
| Company | Notion |
| Country | USA |
| Initial Release | 2016 |
| Pricing | Annual Payment |
| Free Version | Available |
| Lifetime Deal | No |
| LTD Platform | Appsumo |
| Money-Back | 30 Days |
| Support type | Email, Live Chat, Phone call, Ticketing |
| Integrations | Yes |
| Supported Device | Android, Browser, IOS, Mac, Web Based, Windows |
| Mobile app | Available |
| Affiliate Program | Yes |
PROS:
Great for notes & to-do lists
Integration with the mobile app
Easy accessibility to all the features and tools with shortcuts
Easy & nice layout
Decent project management
Great community
CONS:
Learning Curve
Limitations to the design and customization of pages
Missing Gantt charts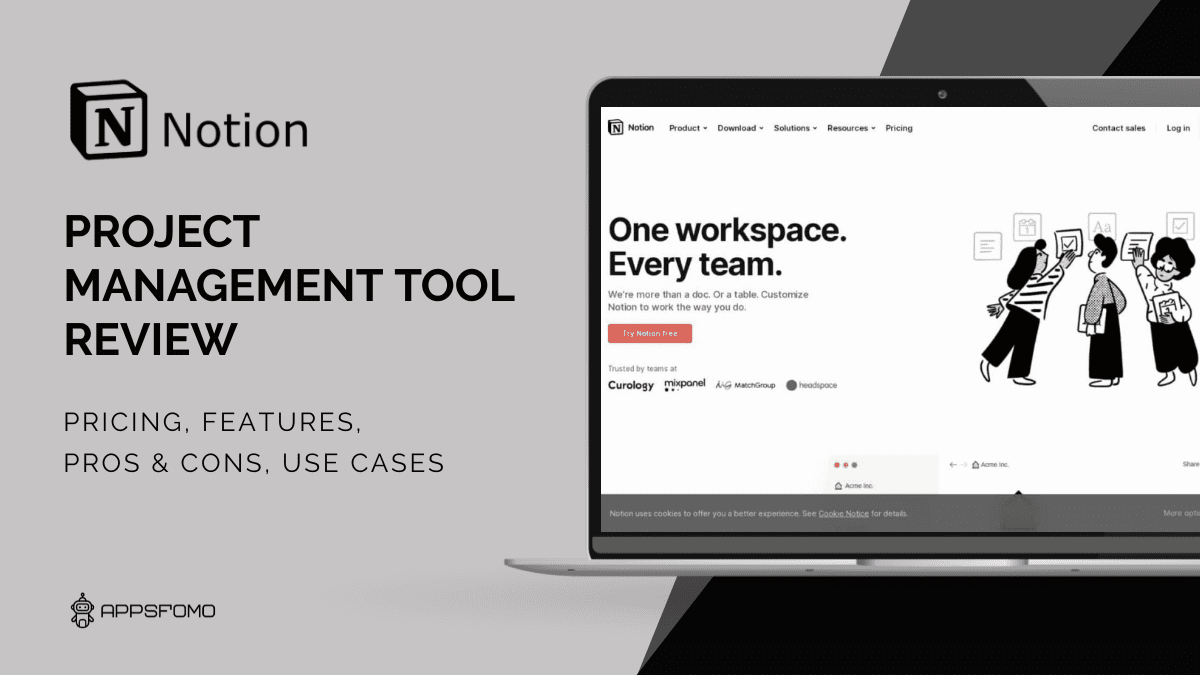 Notion: the Only Productivity App You'll Ever Need for your Team