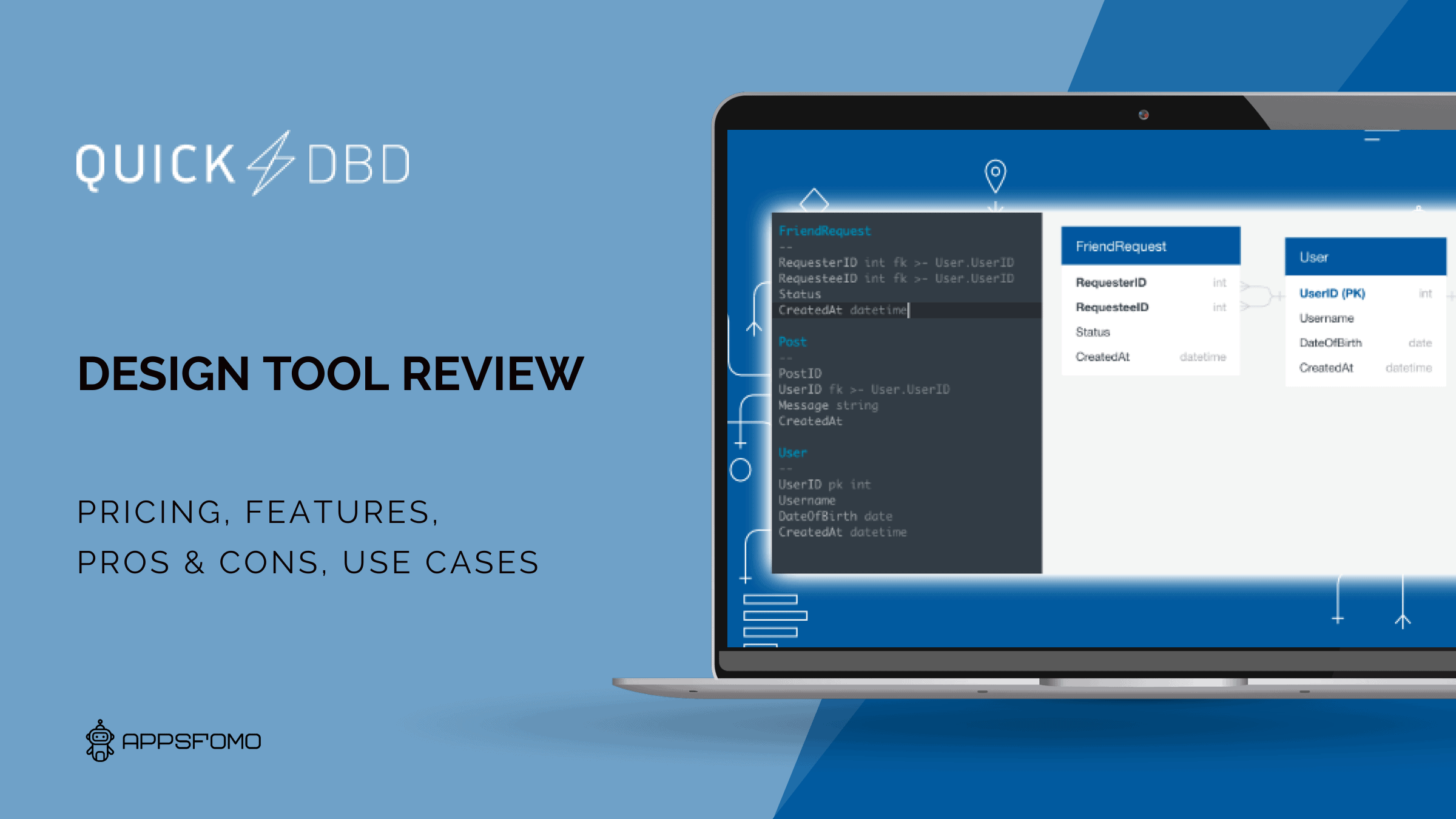 Recommended
Quick DBD: Quick and Easy Database Diagramming
Add to wishlist
Added to wishlist
Removed from wishlist
0
Add to compare
Are you tired of spending hours creating and organizing database diagrams? Look no further! In this blog, we will walk you through the process of quick and easy database diagramming. We will start by explaining what database diagrams are and why they are important in managing your data effectively.
Say goodbye to tedious database diagramming and hello to efficiency and simplicity with Quick DBD. Get ready to transform the way you visualize and manage your data!
What Is Quick DBD?
Overview
WireFlow is a powerful Database diagramming tool that draws quick database diagrams just by typing. What's more, you can draw schemas without even leaving the keyboard. With convenient features, Quick DBD makes database diagramming a breeze.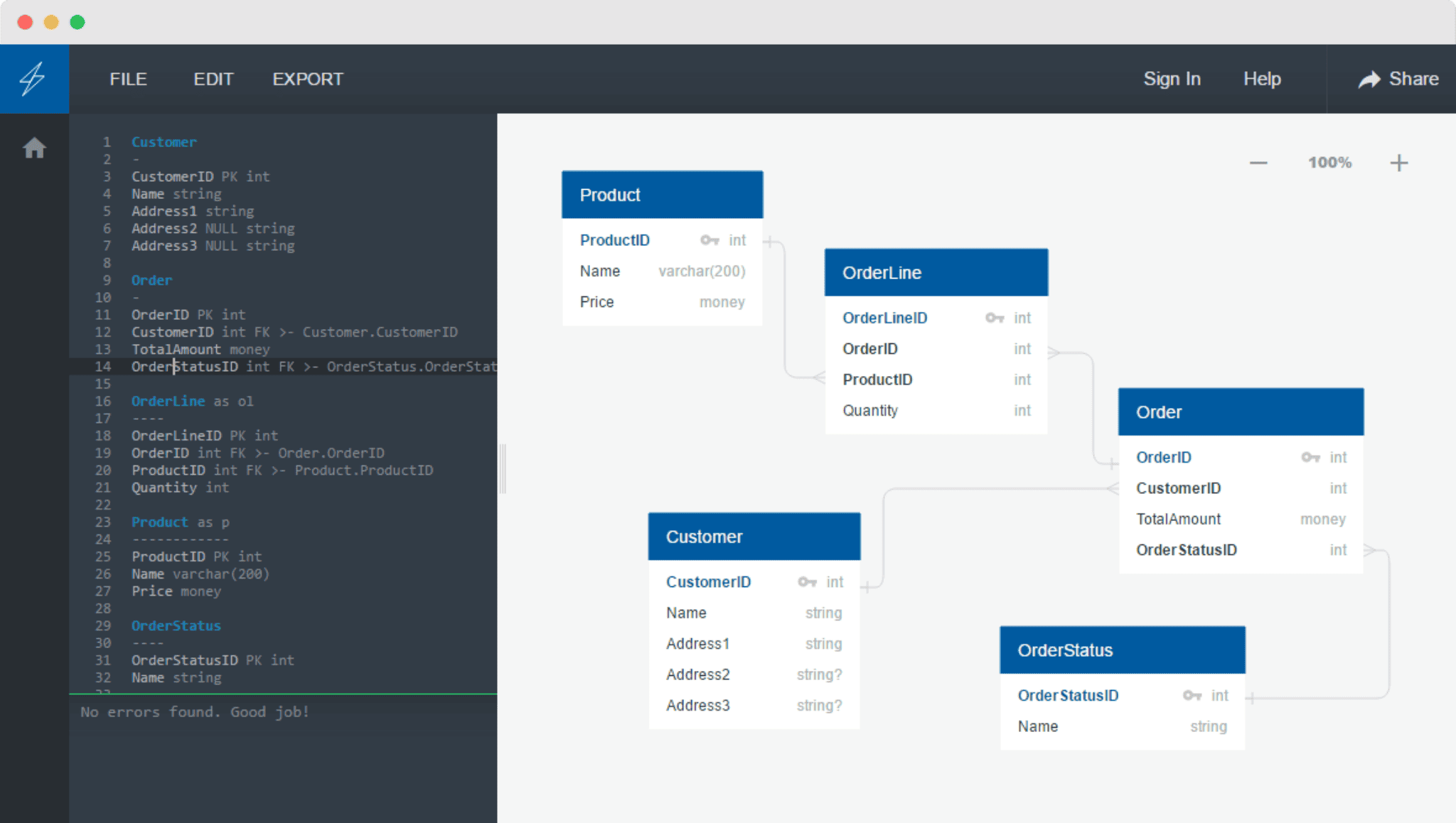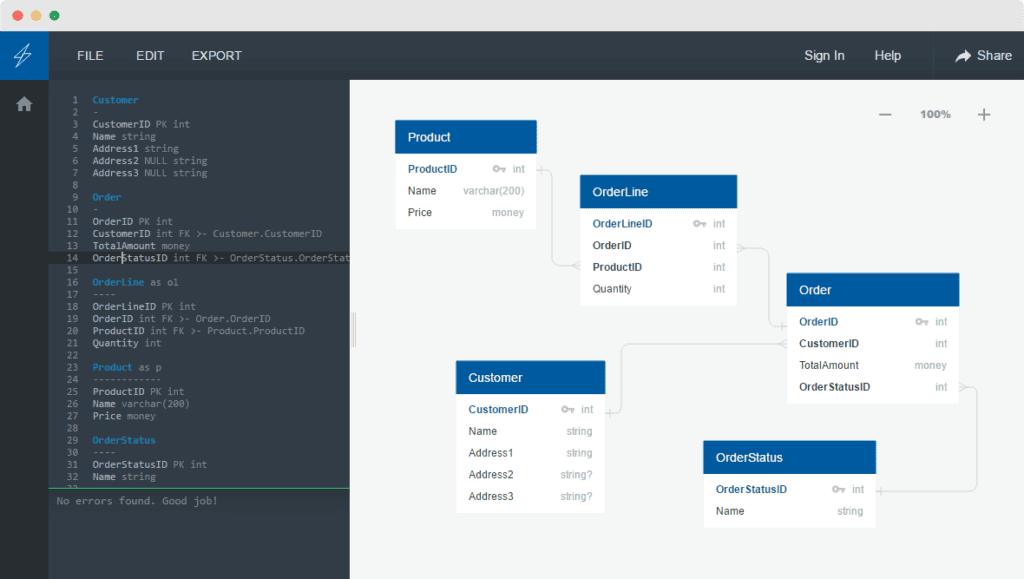 Company Details
Quick DBD Design software was developed by the brand name Dovetail Technologies Ltd. Which was established in 2002. They provide strategy, technical expertise, and support to make custom software solutions to your unique business challenges.
Online Presence
Understanding Database Diagrams
What is DBD?
Database diagrams offer a graphical representation of a database's structure and relationships, simplifying the understanding and management of complex databases. There are various types of database diagrams, including entity-relationship diagrams (ER diagrams) and UML class diagrams, each serving different purposes. To create a database diagram, entities, attributes, and relationships must be identified and represented visually. Utilizing diagramming tools and software streamlines the process of creating and updating these diagrams.
The importance of database diagrams
Database diagrams play a crucial role in understanding the structure and relationships within a database.
They provide a visual representation that helps in identifying the connections between tables and their attributes. By visualizing the database, potential issues or improvements can be easily identified.
Furthermore, database diagrams serve as documentation for developers, facilitating communication and collaboration.
Different elements of a database diagram
Tables are used to represent entities or objects within the database and contain columns for attributes or properties.
Relationships illustrate how tables are interconnected, such as one-to-one or one-to-many relationships.
Primary keys serve as unique identifiers for each record in a table, establishing connections with other tables through foreign keys.
Cardinality indicates the number of instances associated with a specific relationship. Understanding these elements is crucial for effective database diagramming.
How to Make Your Database Diagrams Look Good
Methods to improve visuality of DBD
To make your database diagrams look good, use a diagramming tool that allows you to create professional-looking diagrams. Organize your tables and relationships in a logical and visually appealing way. Enhance readability and understanding by using colors, shapes, and icons. Clearly label your tables and relationships to avoid confusion. Remember to keep your diagrams updated as your database evolves and changes.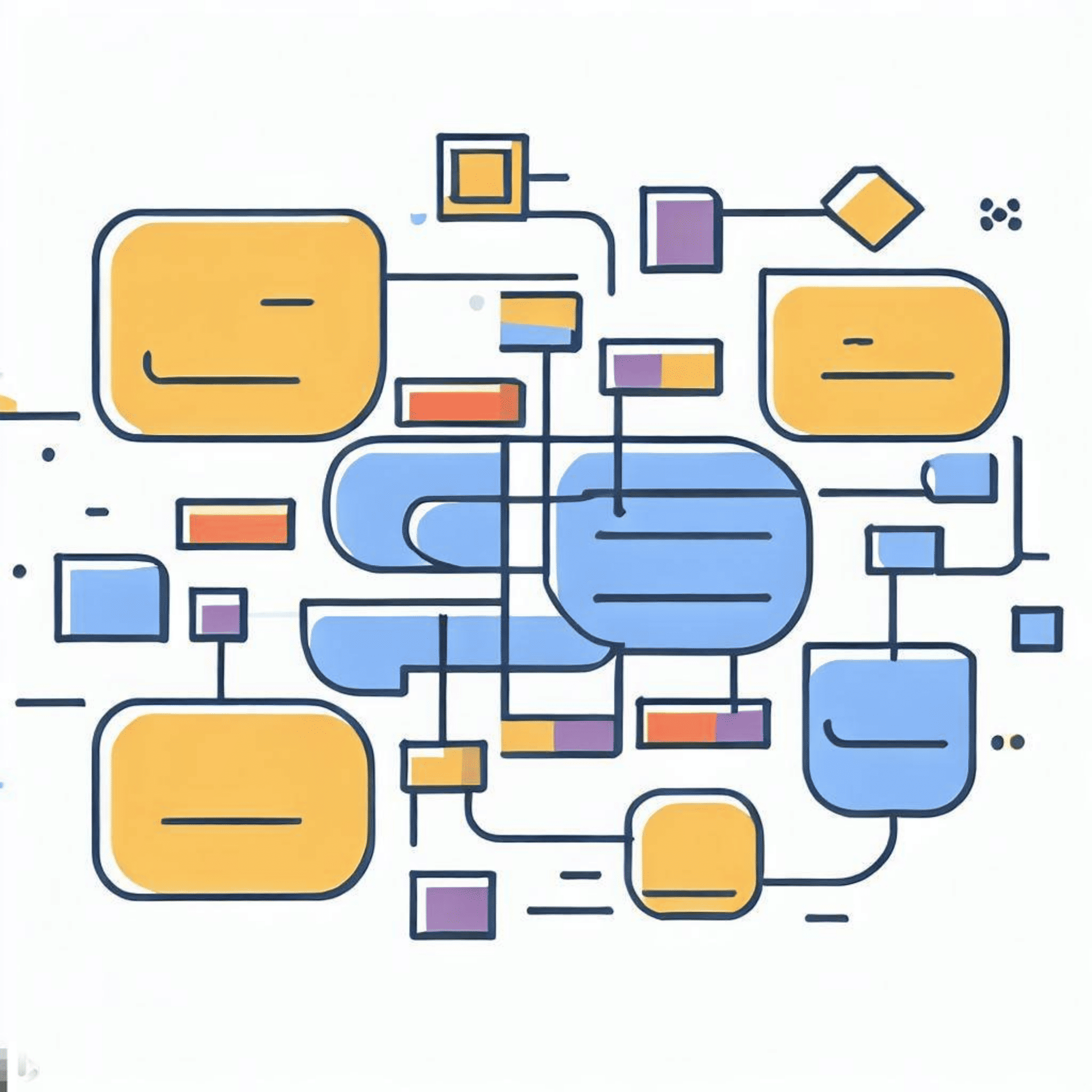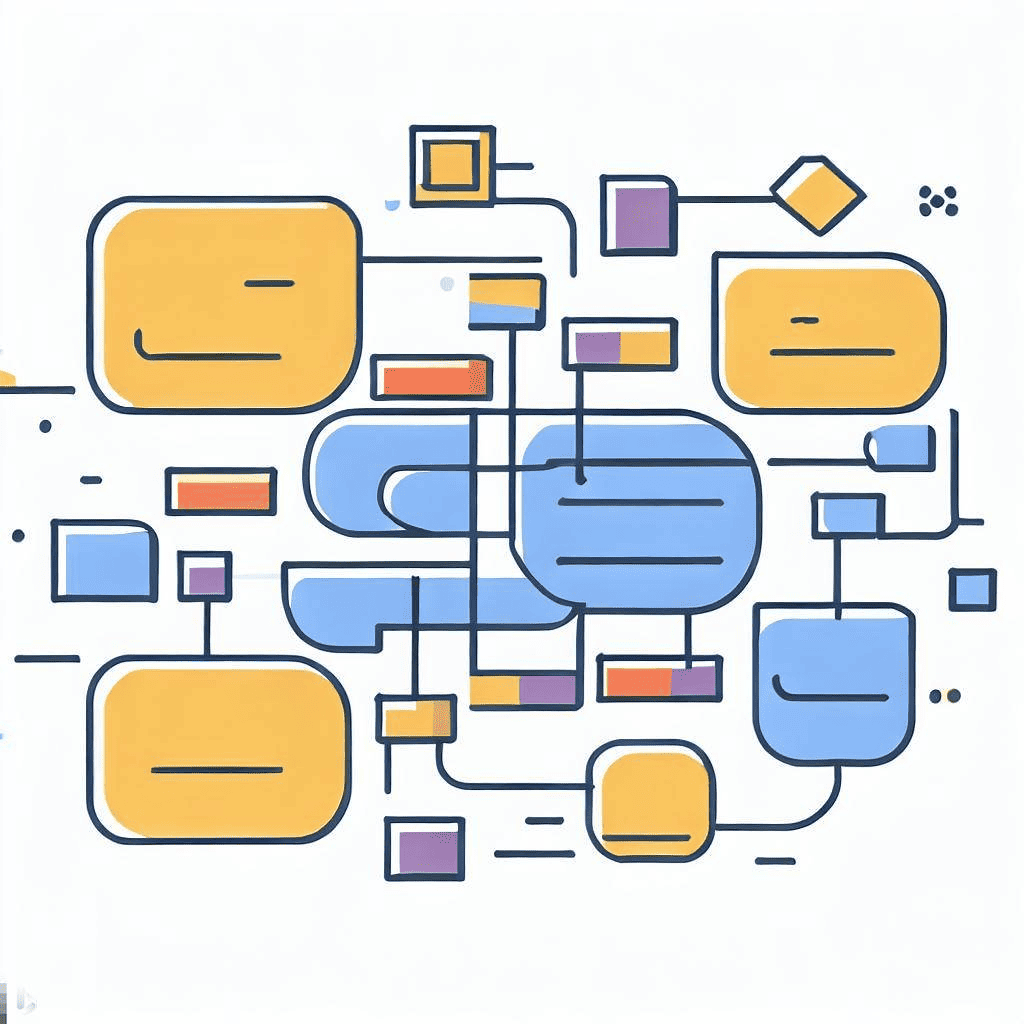 Aesthetics of a good database diagram
A visually appealing database diagram is one that is easy to understand and interpret. To create a cohesive and professional look, it is important to use consistent colors, shapes, and fonts throughout the diagram.
Organizing and aligning elements in a logical manner can help avoid clutter and improve readability. Visual cues such as arrows and labels can also enhance clarity and make the diagram more user-friendly. Striking a balance between simplicity and information-richness is crucial to ensure that the diagram effectively conveys the necessary complexity.
Tools to beautify your diagrams
To create visually appealing and organized diagrams, use a professional database diagramming tool. Look for features that allow you to customize the layout, colors, and fonts of your diagrams. Choose a tool that offers a variety of pre-designed shapes and icons to represent different database elements.
Consider tools that provide alignment and spacing options to help you create neat and symmetrical diagrams.
Lastly, look for tools that offer exporting options, so you can easily share your beautifully designed diagrams with others.
Why choose Quick DBD?
Quick DBD Key features
Quick DBD offers a range of key features that make database diagramming quick and easy. With its intuitive interface, you can effortlessly create and edit database diagrams.
Userfriendly
Quick DBD is designed with user-friendly features to simplify the process of creating and editing database diagrams. The drag-and-drop functionality allows you to add tables, columns, and relationships with ease.
Its intuitive interface ensures a smooth and hassle-free diagramming experience, even for users with limited technical knowledge.
Professional Look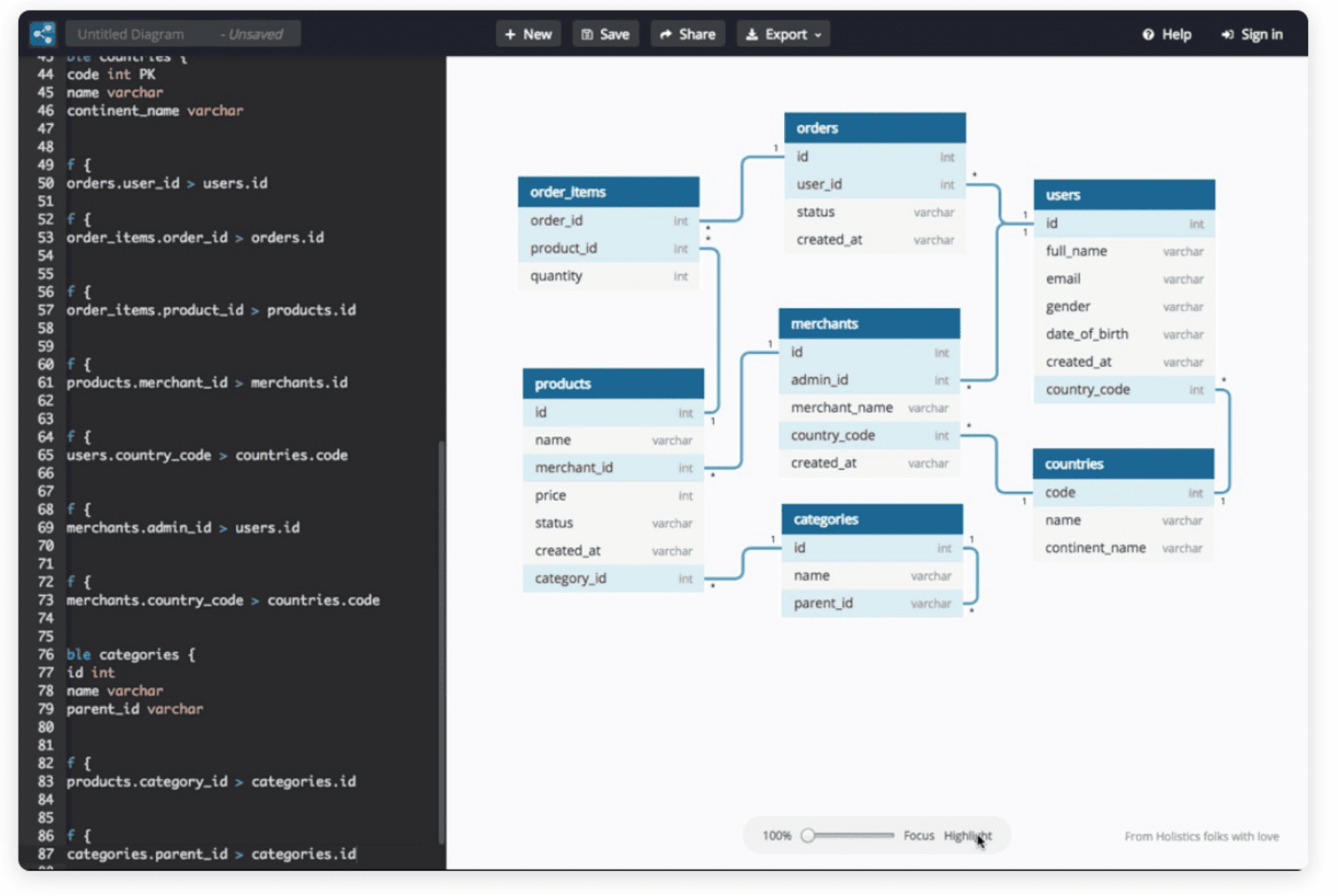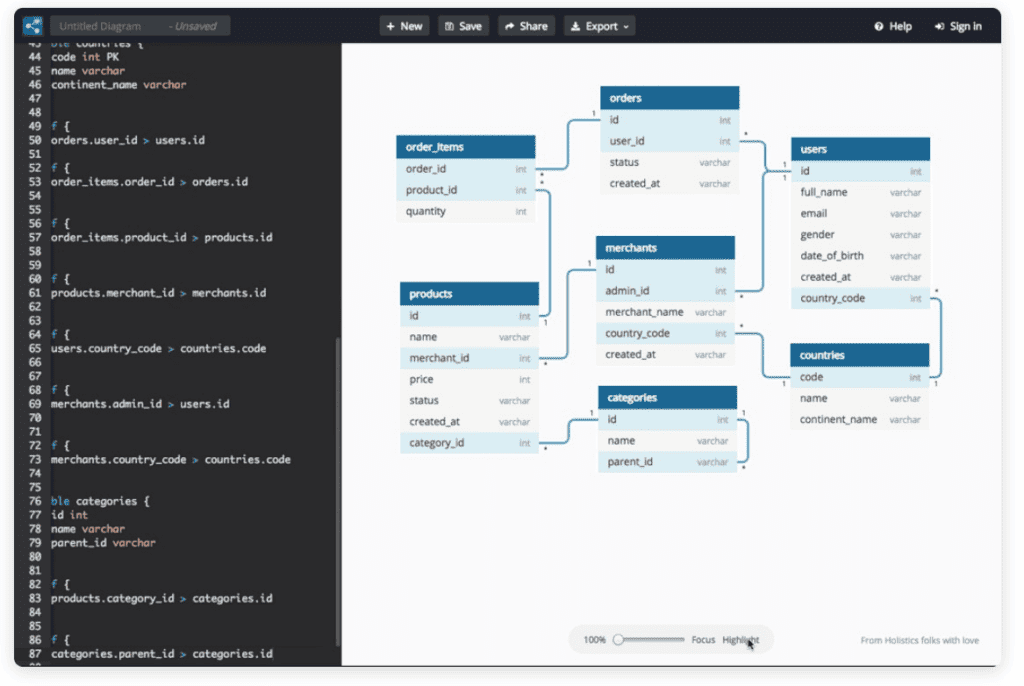 Quick DBD provides a wide range of attractive and easily understandable professional designs for your database diagrams. With just a few clicks, you can create visually appealing diagrams that enhance your documents and make communication more effective.
Whether you need a design for a relational database, an ER diagram, or any other type of database schema, Quick DBD has templates and tools to meet your needs. Impress your stakeholders and team members with professional-looking database diagrams created in minutes.
Time-saving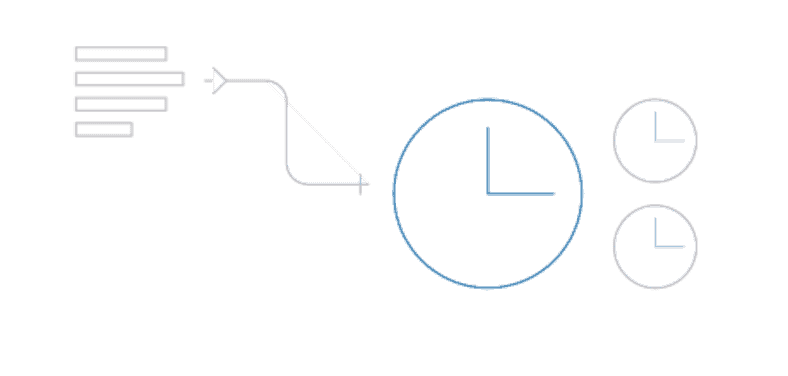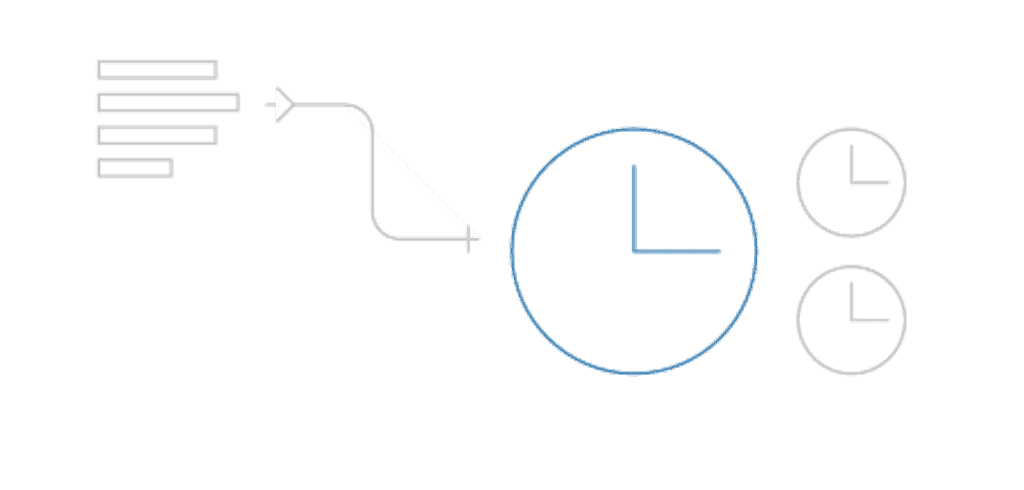 Save valuable time with Quick DBD's automated database diagram generation. No need to create diagrams manually; simply drag and drop tables using the intuitive interface. Quick DBD also offers time-saving features like automatic relationship detection and real-time collaboration.
Additionally, Quick DBD automatically generates SQL scripts based on your diagram, saving you time and effort.
Collaboration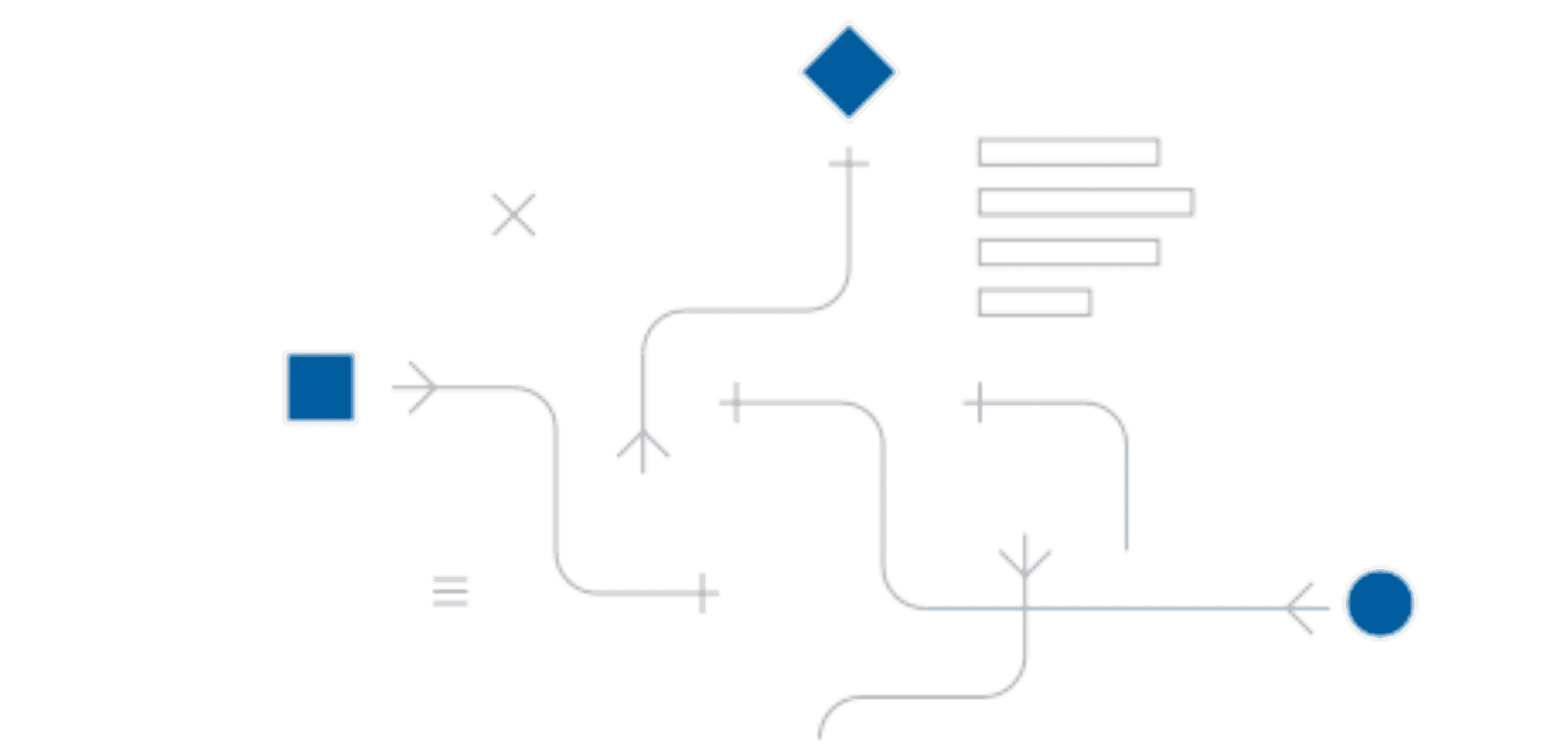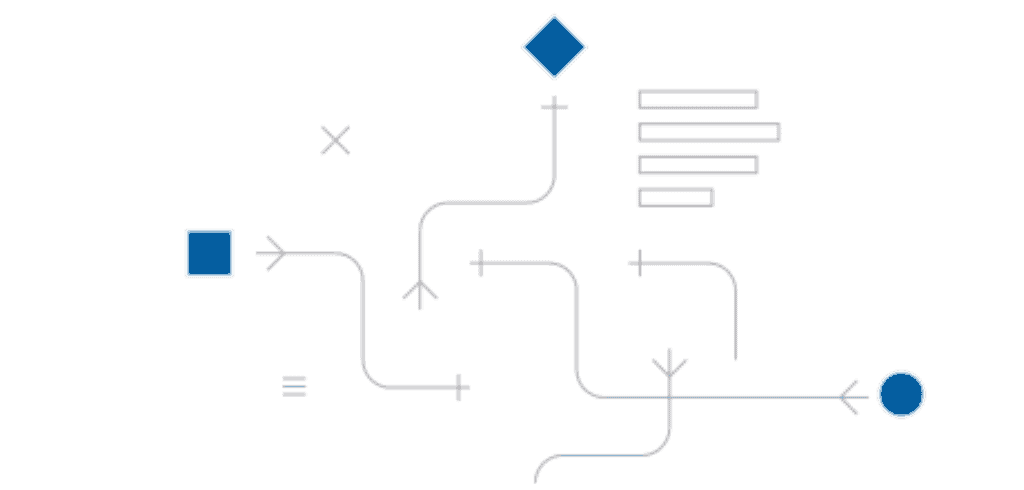 Collaborate with team members in real-time on database diagramming projects. Share diagrams with stakeholders for feedback and input. Work together on the same diagram simultaneously, improving productivity and efficiency.
Share your Diagrams Online.
Import and Export
Importing and exporting features are essential in Quick DBD. Users can import existing database schemas to save time and effort in diagramming.
Additionally, users can easily export their diagrams to various file formats such as PDF or image files for presentation or documentation purposes. Also, you can export SQL scripts.
Invoicing
The Invoicing feature in Quick DBD allows you to effortlessly generate professional invoices directly from your database. With this feature, you can easily create and manage invoices, track payments, and send reminders all within the Quick DBD platform.
Customize your invoices with your own branding and logo for a polished and professional look. Additionally, you can conveniently export or print invoices in various formats to share with
Pricing
Subscription Plans
You can Try out this tool for Free! No registration is required.
Upgrade to the Pro plan for more features…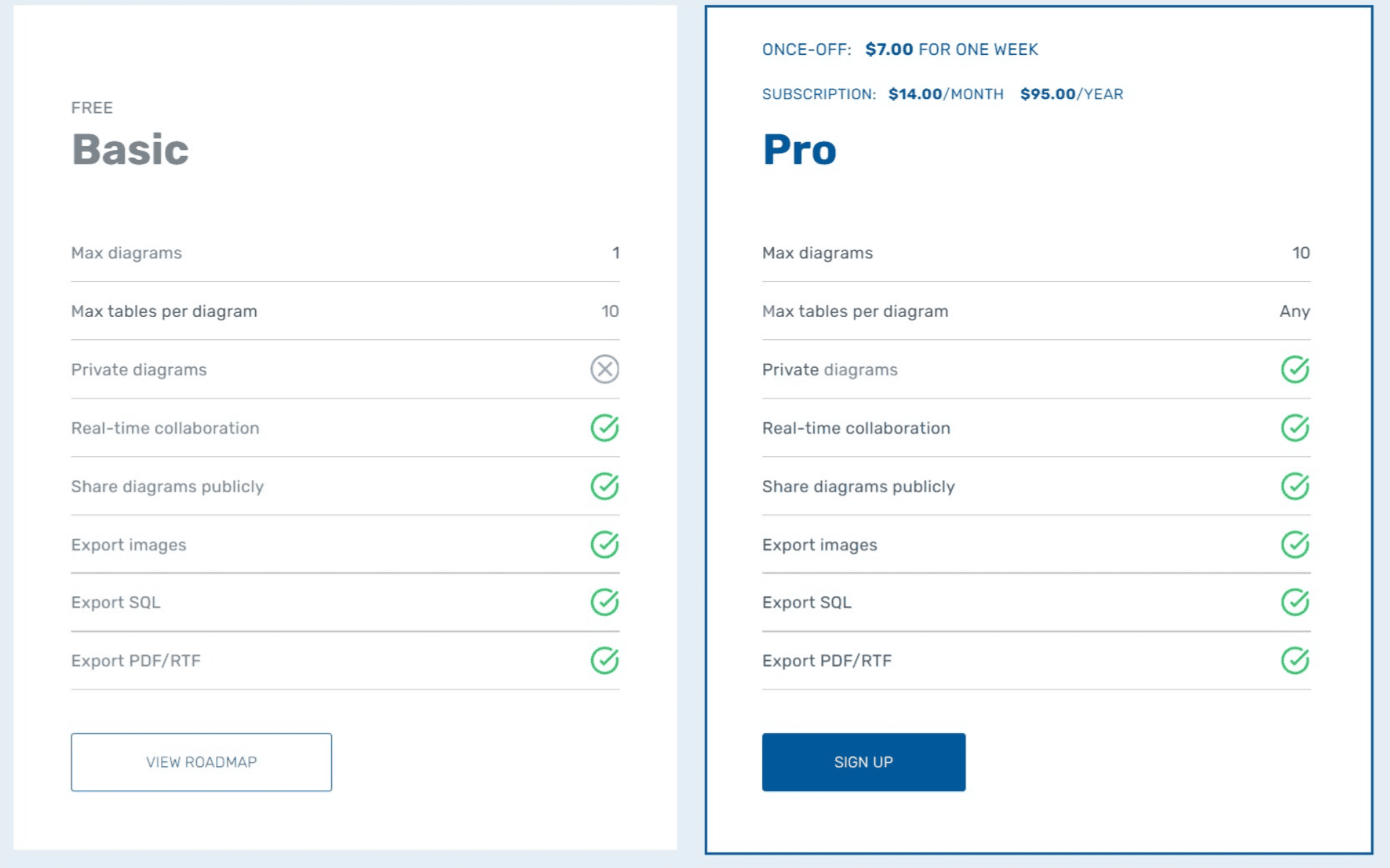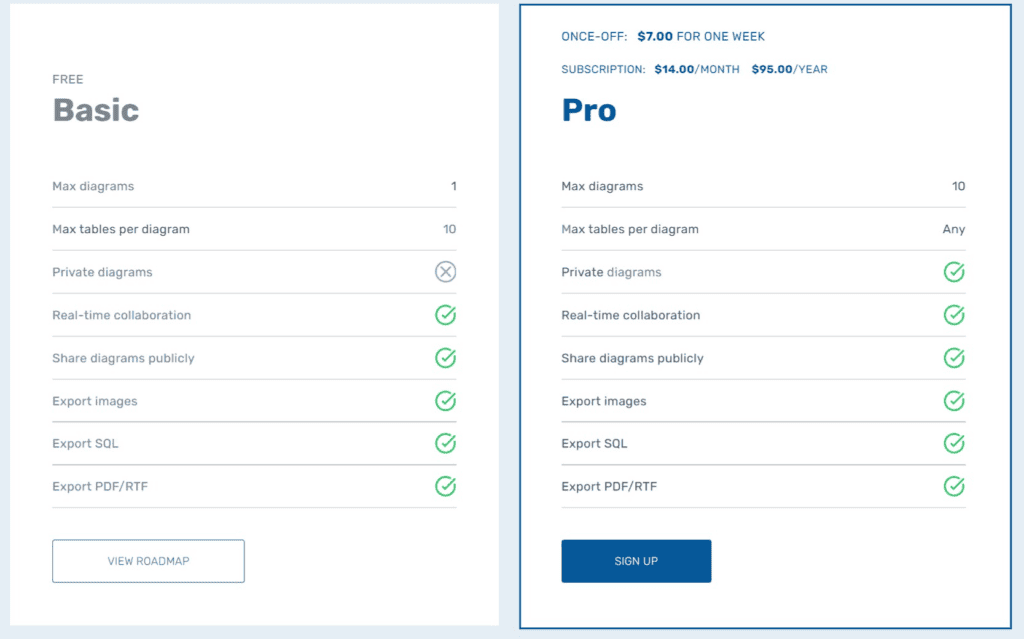 Support
Technical Support, Knowledge Base, Changelogs
Offers Live Chat, Documentation, and Video tutorials.
Alternatives
Similar Apps
Lucidchart is an intelligent diagramming application that brings teams together to make better decisions and build the future.
Design, visualize and collaborate on entity relationship diagrams for your databases.
Final Verdict
Is QuickDBD worth it for You?
In conclusion, creating well-designed and visually appealing database diagrams is crucial for effective communication and understanding of complex data structures.
By using tools like Quick DBD, you can easily create professional-looking diagrams that save you time and effort. While Quick DBD is a fantastic tool, it's always worth exploring alternative options to find the one that best suits your needs. Happy diagramming!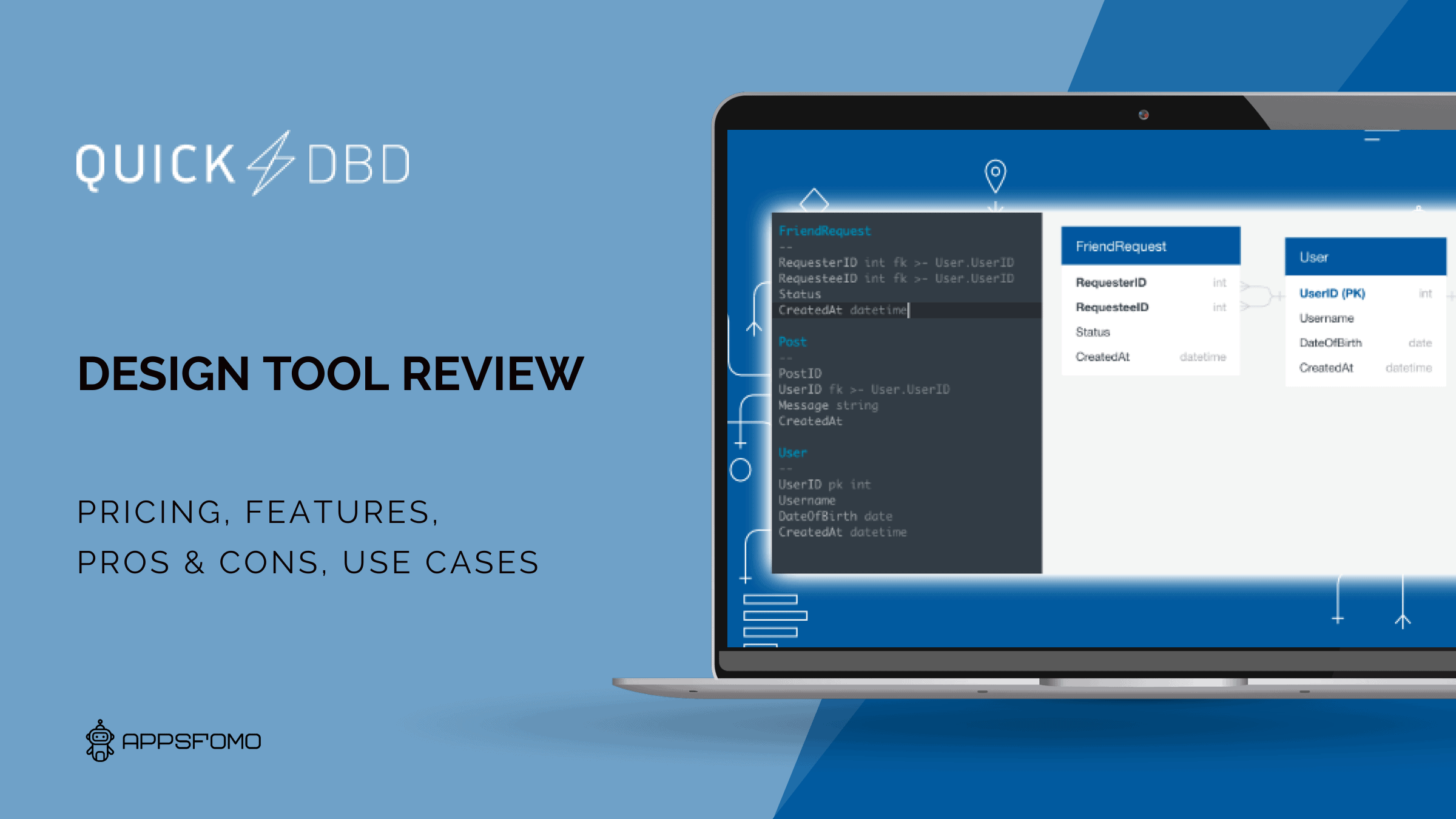 Specification:
Quick DBD: Quick and Easy Database Diagramming
| | |
| --- | --- |
| Review Date | August 2023 |
| Company | Dovetail Technologies Ltd |
| Country | Dublin, Ireland |
| Founder/CEO | Trevor Jobling |
| Initial Release | 2015 |
| Pricing | Monthly Subscription |
| Free Version | Available |
| Support type | Emails, Phone call, Forums |
| Integrations | No |
| Mobile app | Not Available |
| Affiliate Program | No |
| Marketplace | Own Site |
| Money-Back | N/A |
PROS:
QuickDBD lets to mock up database schemas quickly and easily.
Lightweight and Easy to Use.
CONS:
Cannot Integrate with other apps.
Need more Features.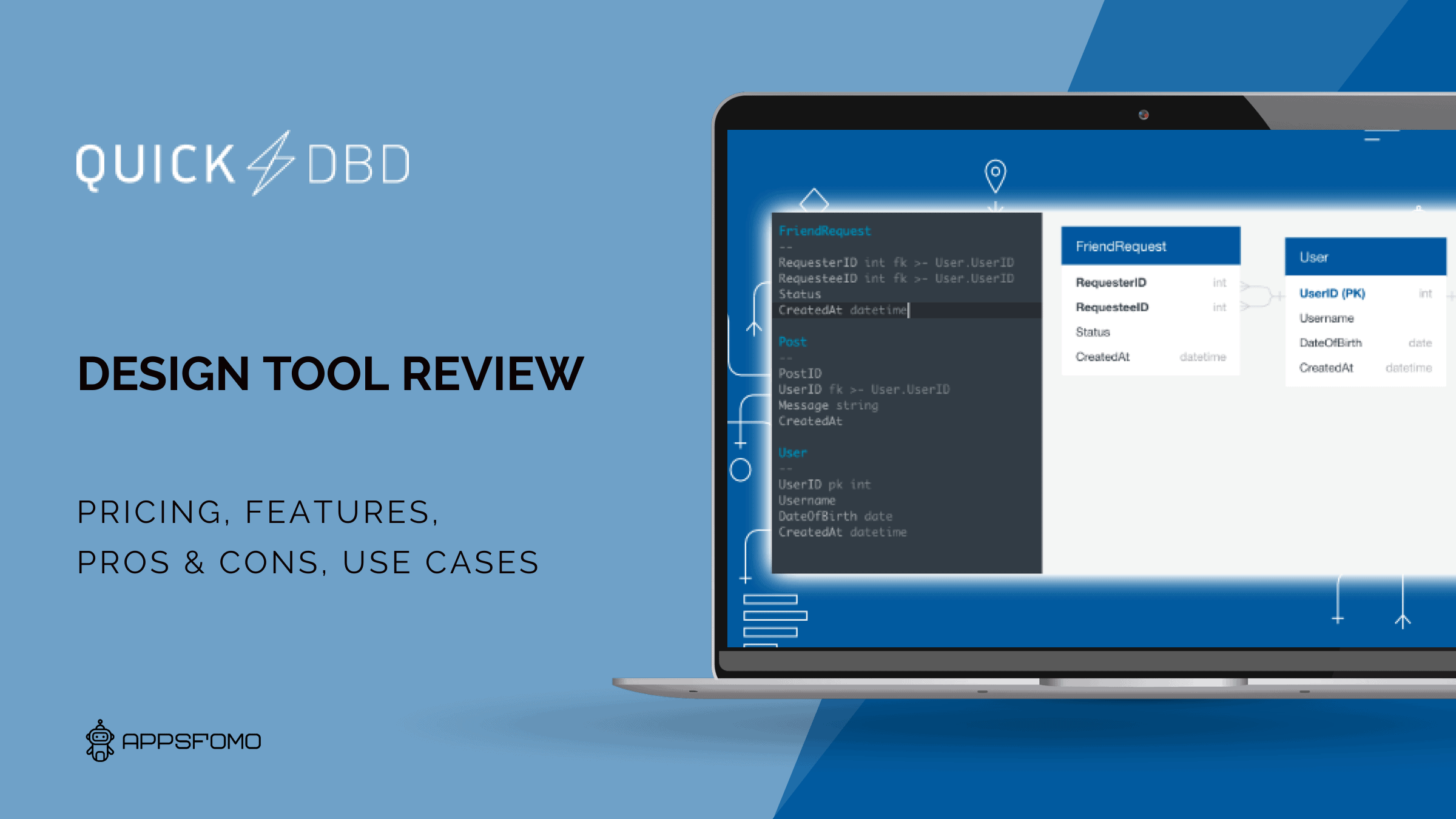 Quick DBD: Quick and Easy Database Diagramming