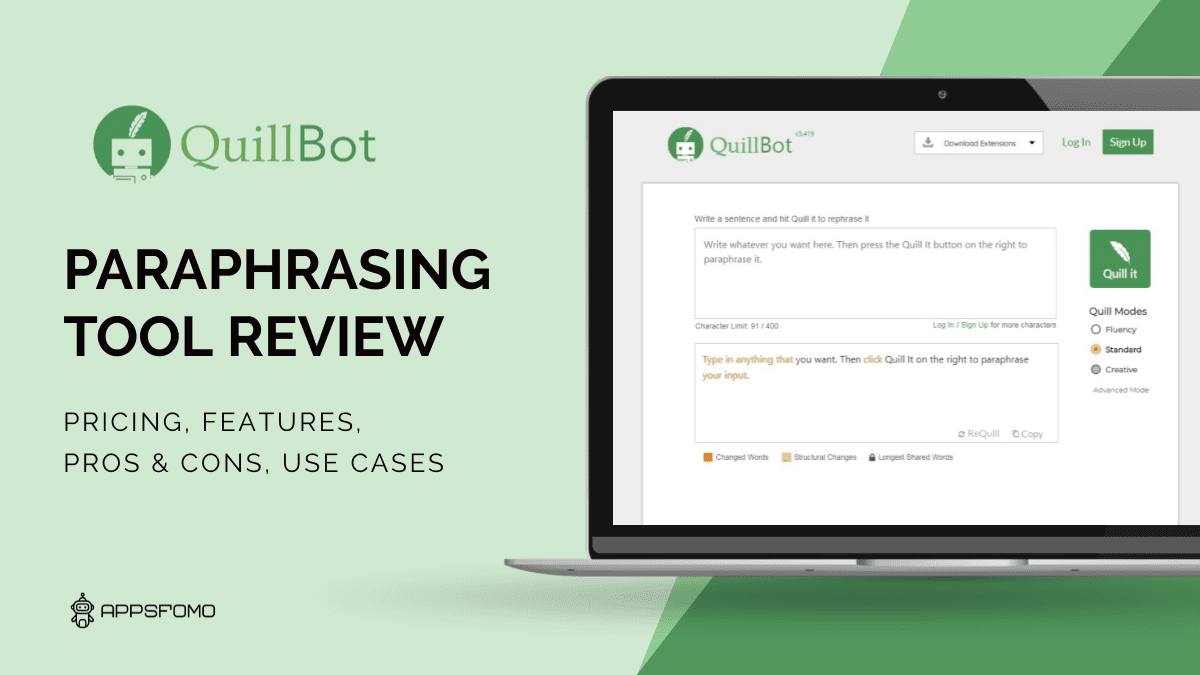 Quillbot: Paraphrase Sentences and Phrases with Advanced AI Tools
Rakshitha V
1015
SaaS, Content creation
Add to wishlist
Added to wishlist
Removed from wishlist
1
Add to compare
Writing is hard, right? With QuillBot, that's no longer the case. This AI writing collaborator takes your content and refines it until it's perfect, without any human intervention.
So, whether you need a quick blog post or a long-term project, QuillBot will help you hit your targets with ease. Plus, with its flexible writing schedule and ample resources, you can be sure that your content will be of the highest quality. Whether you're a beginner or an experienced writer, give QuillBot a try today!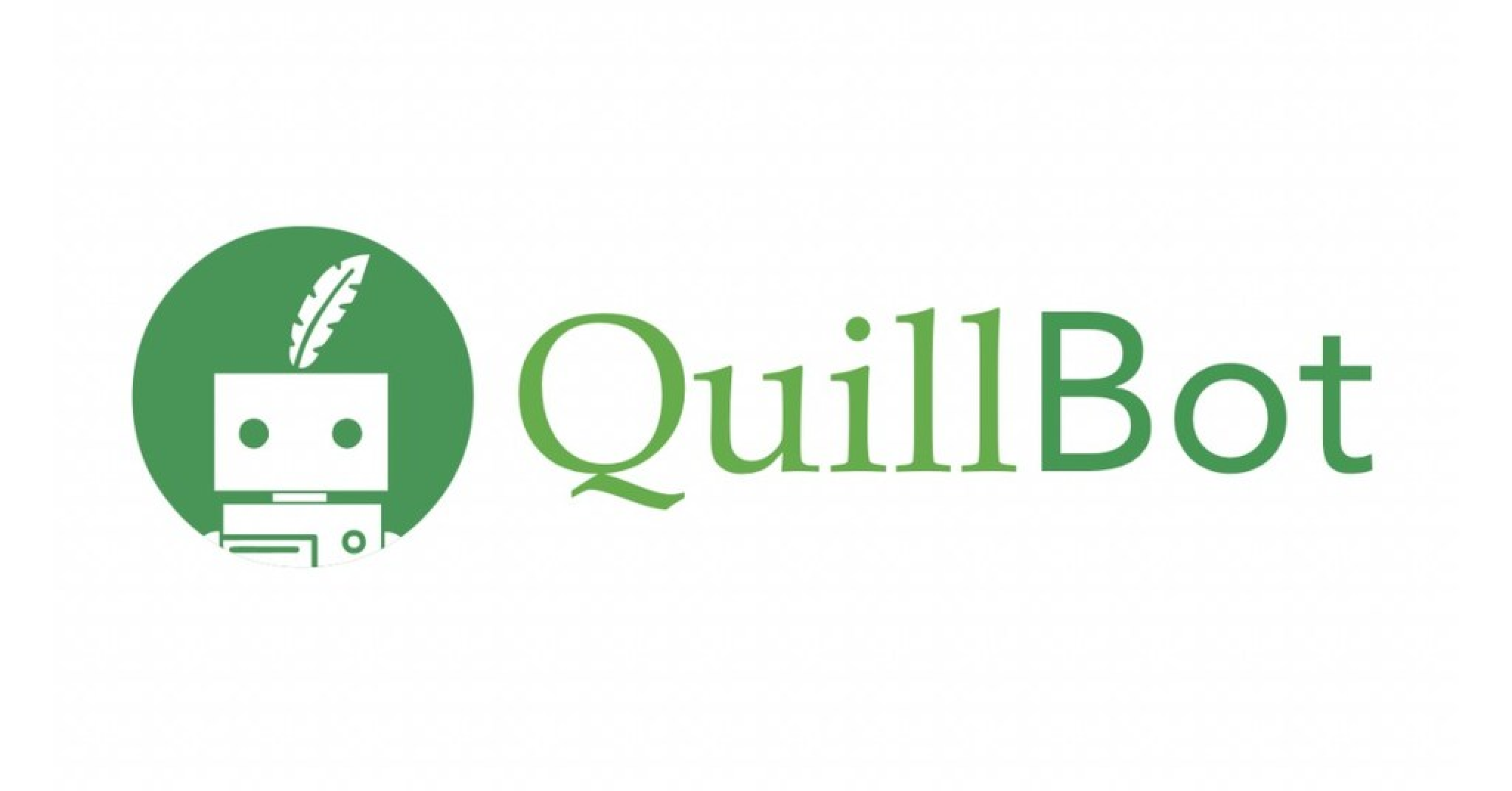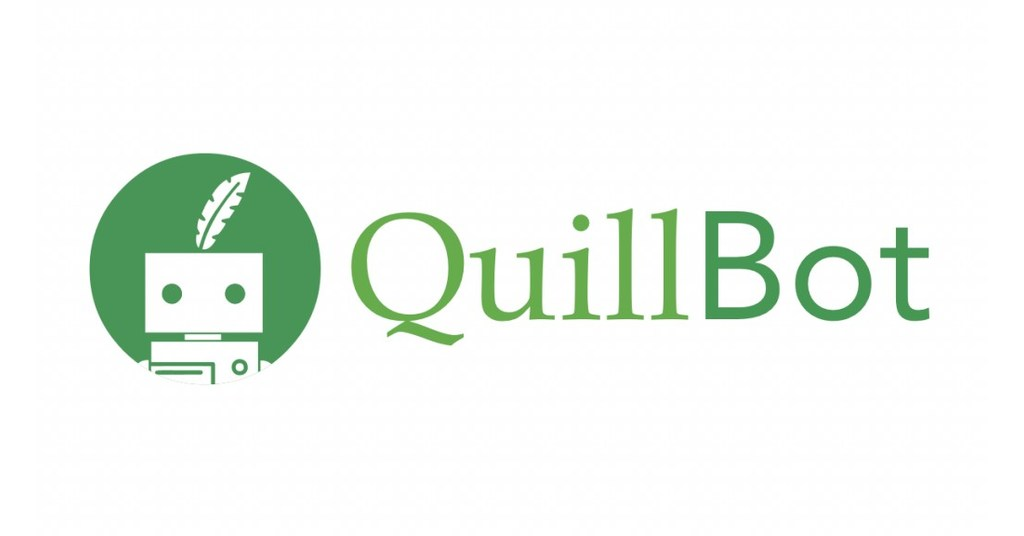 This makes for quick, quality writing for beginners or more experienced writers alike. It is very helpful and recommend it to anyone in need of a polished article.
It can be used on any Web Browser or has extensions for Microsoft Word and Chrome as an tool to re-write, paraphrase, summarize, and change the structure of content.
What Is QuillBot
QuillBot uses artificial intelligence to analyze your writing and make suggestions for improvement. This AI will help you write concise, well-organized articles. Simply enter the information that you want QuillBot to work with, and it will take care of the rest.
The quality of the articles is superior to most other similar products, and it has an extremely simple interface that anyone can use right away.
How does it work?
A QuillBot is made up of a few key components:
An AI engine that analyses text and generates sentences based on pre-determined rules,
A content moderation system that checks each sentence for accuracy and appropriateness,
A human editor who reviews the completed article for grammar, punctuation, formatting and other quality control purposes.
Why QuillBot?
No more feeling like your writing is stuck in a rut. QuillBot will help you to free up your time to do other things, and make writing painless. The tool is constantly evolving to make sure that your content remains plagiarism free and up-to-date.
Company Details
The company was formed in Dec. 2017. QuillBot is funded by 3 investors. Service Provider Capital and GSV Ventures are the most recent investors. 62 employees in the company. Rohan Gupta is the CEO and Co-Founder of QuillBot, a cutting-edge NLP startup with millions of users. He holds a B.S. in Finance and an M.S. in Computer Science from the University of Illinois at Urbana-Champaign. He is passionate about technology, philosophy, and changing the world.
Company is registered in United States, Chicago.
QuillBot Paraphraser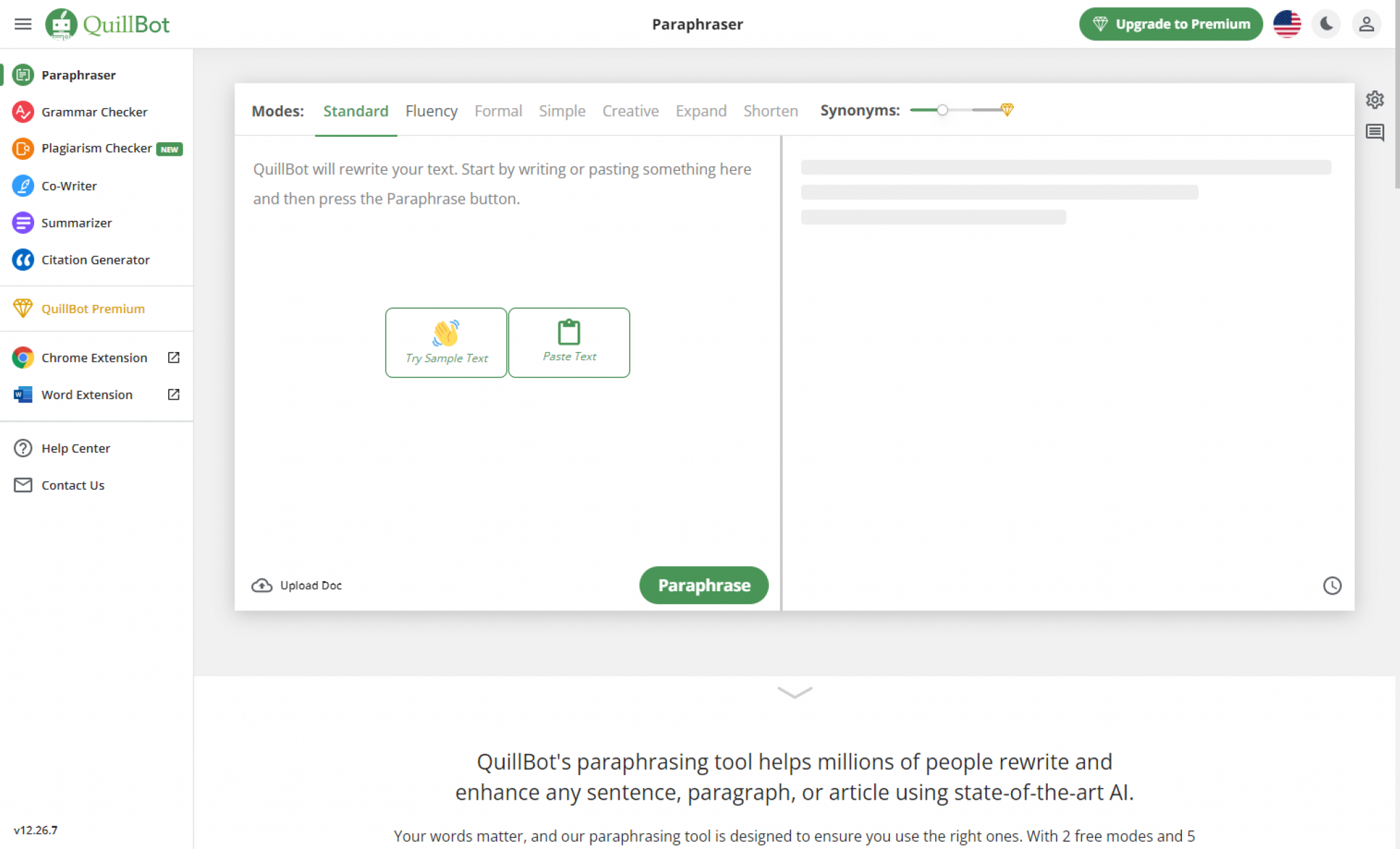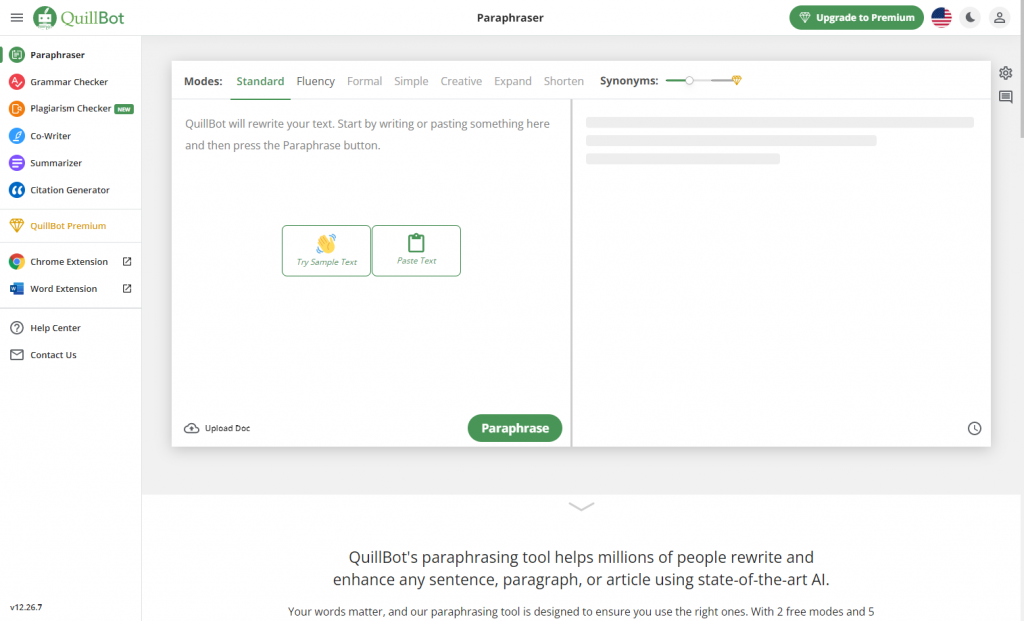 QuillBot's most popular feature is its Paraphraser.
The Paraphraser is a powerful tool that enables users to rewrite any text in many different ways.
This can be used for a variety of purposes, such as expanding on ideas, correcting mistakes, or creating new sentences.
The Paraphraser is also very helpful for those who are not great spellers. It will automatically correct any spelling errors in the text and provide alternative words if necessary.
Standard Mode
This is the default mode. It will do the phrasing without changing the meaning of the sentence. Ideal for students, writers, and anyone who wants to make their written work sound more professional, this tool can help you to avoid common errors and improve your overall writing style.
This mode will be helpful when you want to avoid causing offence or when you are trying to be diplomatic.
Fluency Mode
This is a good choice when you want to make your writing more natural.
Fluency mode is the most popular setting. It is best used when you want to create a paraphrase with a better flow and rhythm. The AI changes your sentences in a way that makes them easier to read and understand. This means the phrases will be shorter, more concise, and more interesting than before.
Fluency mode can be used by anyone looking for an effective way to publish their content online.
Formal Mode
The bot will only use words that are commonly used in formal writing, so there is no risk of losing the meaning of your sentence.
In Formal mode, the bot changes your sentence structure and word choice. It is best used to convey a message in a formal tone.
It can also be used to give a unique flair to your writing.
Formal mode can be useful for both academic writing as well as business documents and academic reports.
Simple Mode
In Simple mode, the bot uses simpler language to express your thoughts. The AI will also check for common errors like passive voice and unclear sentences. This is the best mode for people who want to share your thoughts on a subject in an easily-accessible way.
Simple mode is useful for writing informal and casual emails, tweets, or Facebook posts. Also useful for learners who are starting out with written English. It is also perfect for those who want to improve their grammar skills.
Creative Mode
Creative mode is designed for creative writing. It enables the bot to express itself in a more creative way. The AI can be used to make your text more expressive and imaginative. Best used when you want to write in a poetic or figurative way. It can also be helpful if you want to create metaphor.
Creative mode can be helpful when you want to write a story, poem, or essay. It is perfect for people who want to use their writing skills in a unique way.
Expand Mode
Sentence mode offers another way for the bot to change your sentences by adding extra details and using alternative words in place of synonyms. Expand mode is best used when you want to add more information or detail to your sentence. It can also be helpful if you need to use different words that are not typically found in a sentence.
Best for people who have difficulty summarizing their thoughts into a few clear sentences. This can be useful when writing for a blog or news website where you start with limited characters available.
Shorten Mode
Shorten mode is perfect for breaking up a long paragraph into shorter sentences. It's not as powerful as the other modes, but it can still be useful in certain circumstances.
Shorten mode is ideal for blog posts, product descriptions, and other text that you want to shorten.
This mode cuts out unnecessary words and rephrases them in a shorter form. It also removes any punctuation or formatting to make your writing more concise.
If you use this setting, make sure to double-check your work for accuracy and grammatical errors.
Quillbot Tools
Along with praraphraser, quillbot offers a number of different tools for writing.
Grammar Checker
The Grammar Checker checks your text for grammatical errors. The Grammar Checker can be found under the Quillbot menu > Tools > Grammar Checker.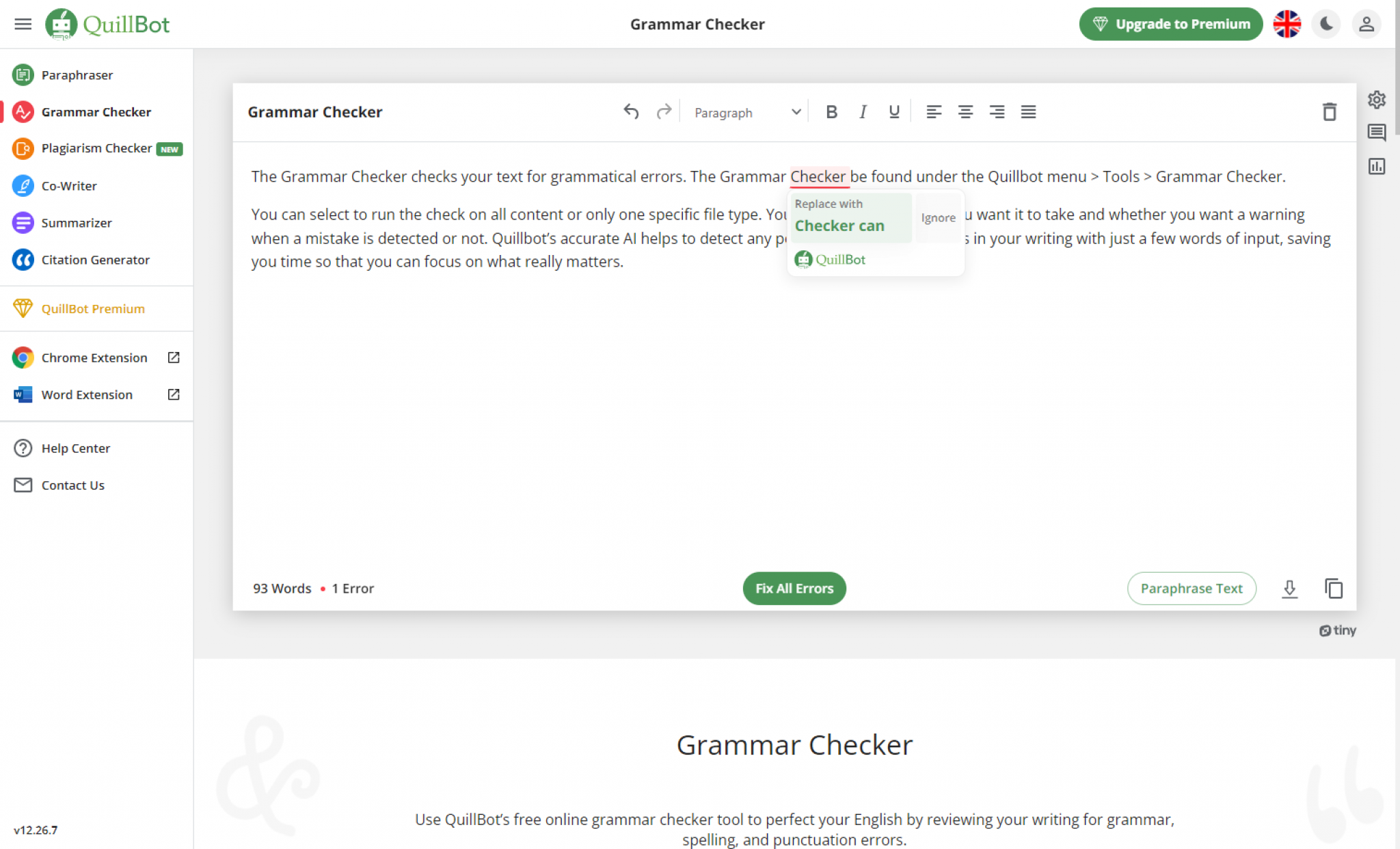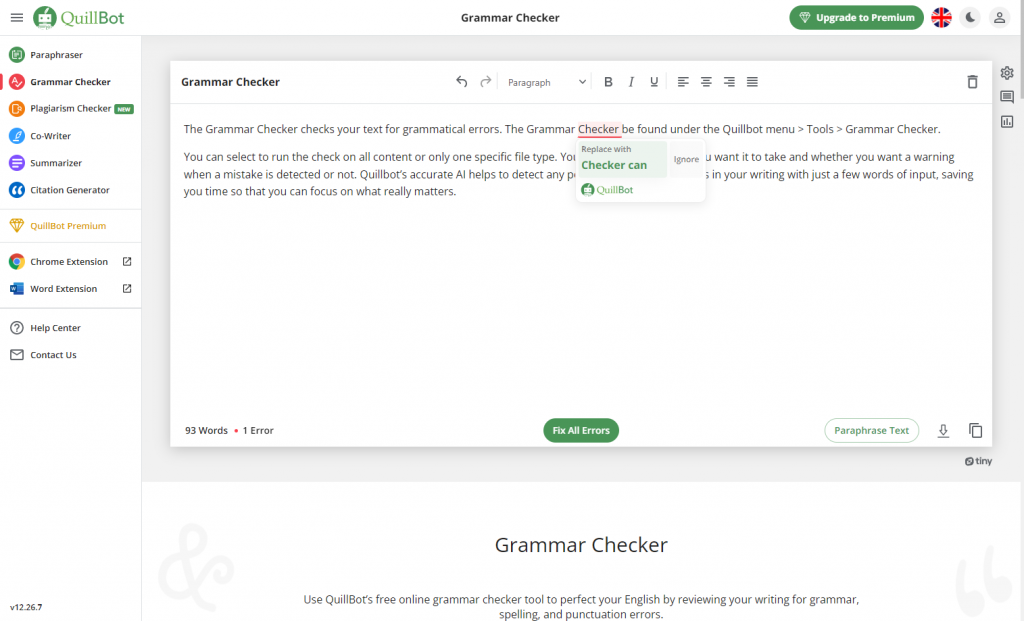 You can select to run the check on all content or only one specific file type. You can also set how long you want it to take and whether you want a warning when a mistake is detected or not. Quillbot's accurate AI helps to detect any potential grammar mistakes in your writing with just a few words of input, saving you time so that you can focus on what really matters.
Plagiarism Checker
The plagiarism checker checks your text for any signs of plagiarism. It also includes a check for common sources of quotes, such as online articles or books.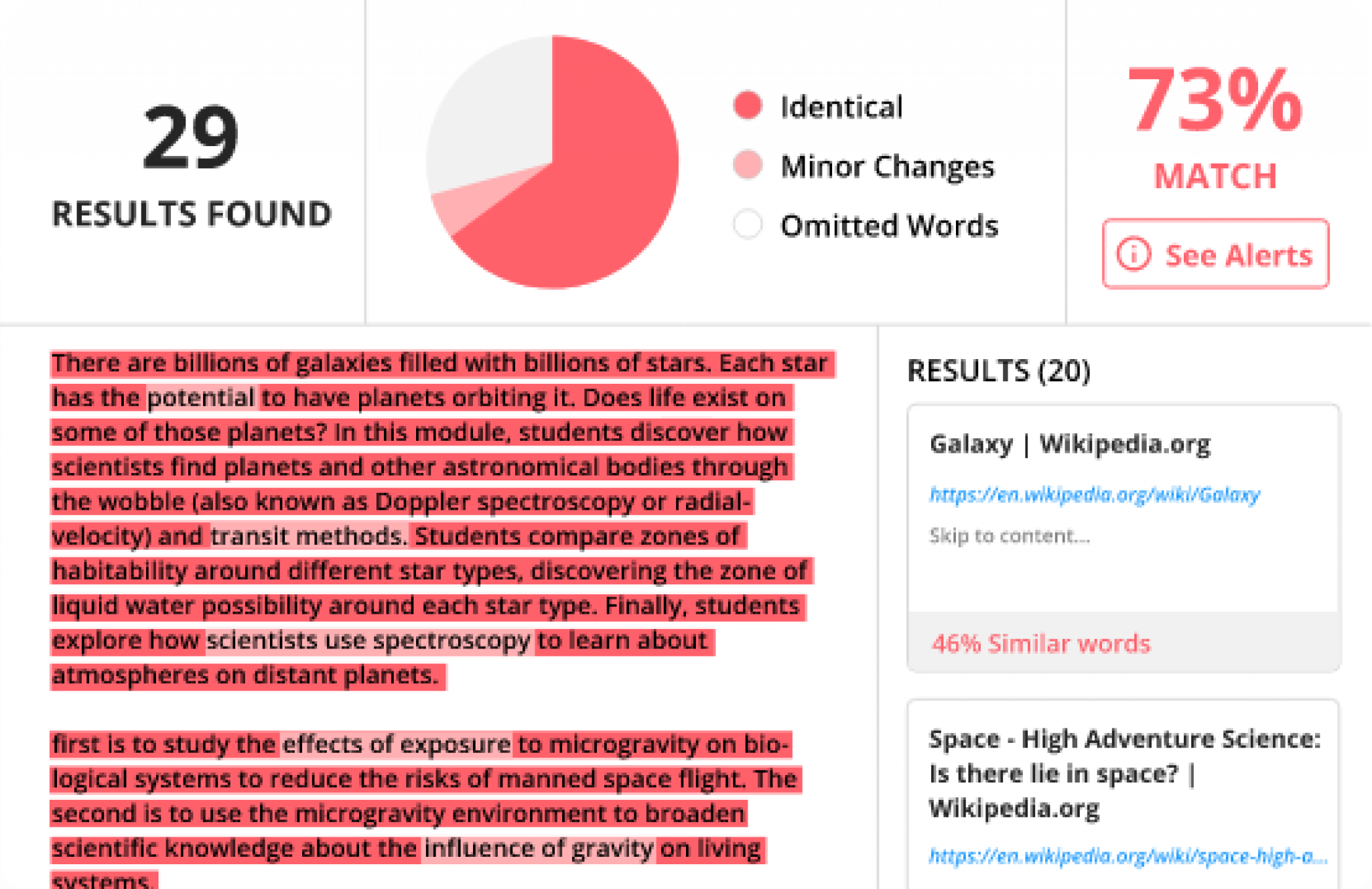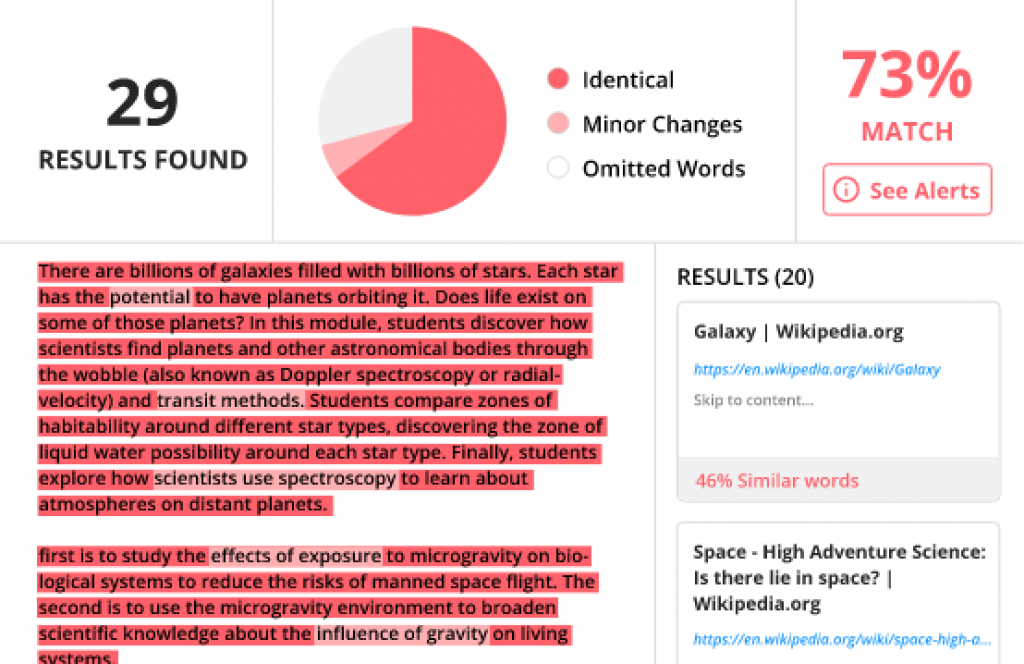 You can select to run the check on all content or only one specific file type. You can also set how long you want it to take and whether you want a warning when a mistake is detected or not. Quillbot's accurate AI helps to detect any potential plagiarism in your writing with just a few words of input, saving you time so that you can focus on what really matters.
Co-Writer
QuillBot is a very well designed writing suite. One of the things I like about it the most is that it has an all-in-one approach to helping you with your writing workflow. You can use QuillBot to do online research, take notes, and compose a paper using AI assisted composition.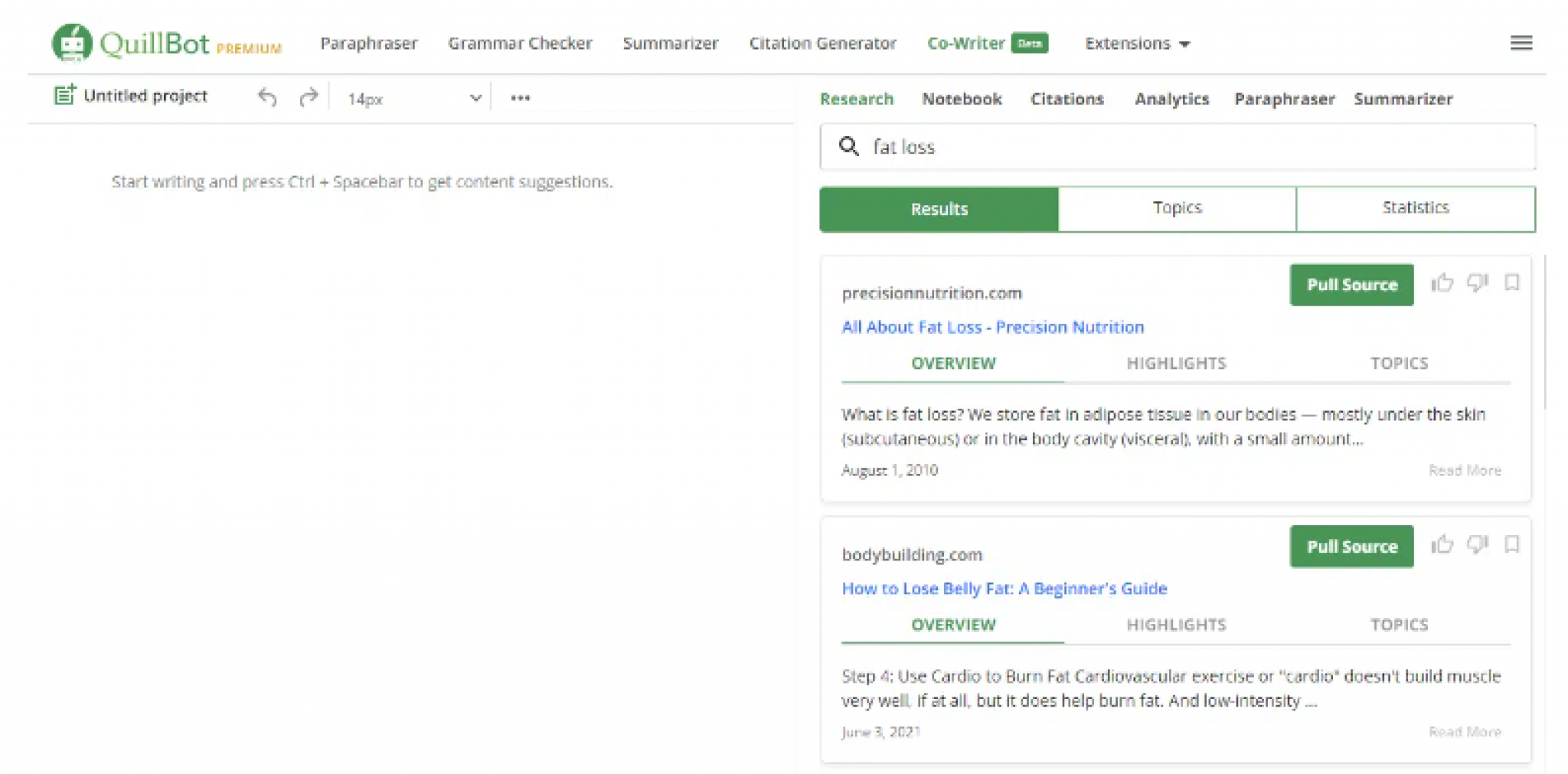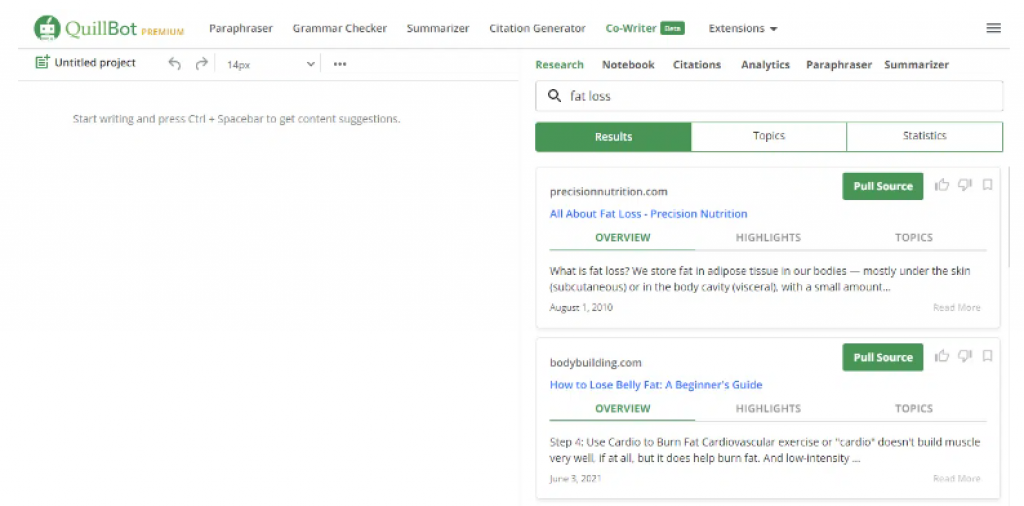 One downside to Quillbot is that its search capabilities are not as good as they could be. If you're looking for a writing suite that has everything you need and nothing you don't, then Quillbot is definitely worth checking out. With its helpful AI features and easy-to-use interface, it'll make your writing process a lot smoother.
Summarizer
The Summarizer feature is a part of QuillBot Premium. It can summarize a block of text, including long documents and lists, in seconds.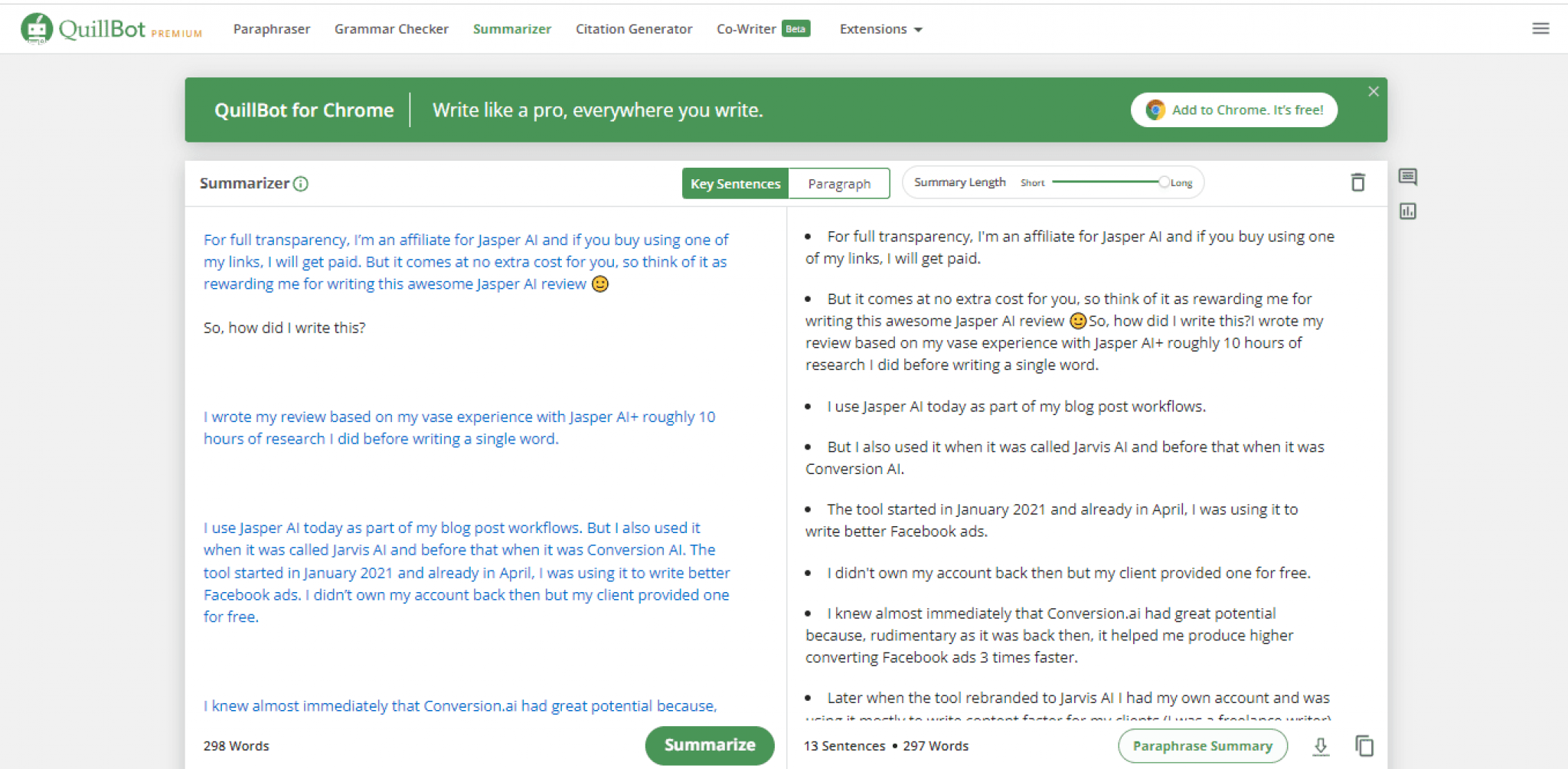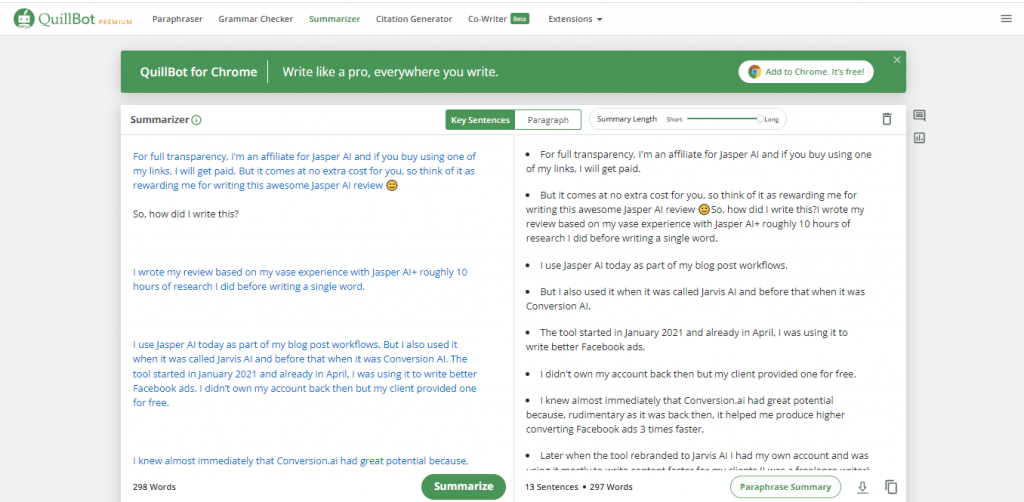 It automatically detects sentences and paragraphs and will group them into bulleted or numbered lists to save you time when writing summaries.
When using the Summarizer feature, you may use your own sentence as an example sentence for the summarization process. You may also select whether or not you want any extra information about each item in the list to be included in the summary report as well.
Citation Generator
The Citation Generator is a tool that automatically generates citations for your work. When you input information into the Citation Generator, it will automatically generate citations based on the MLA style and cite them to their sources.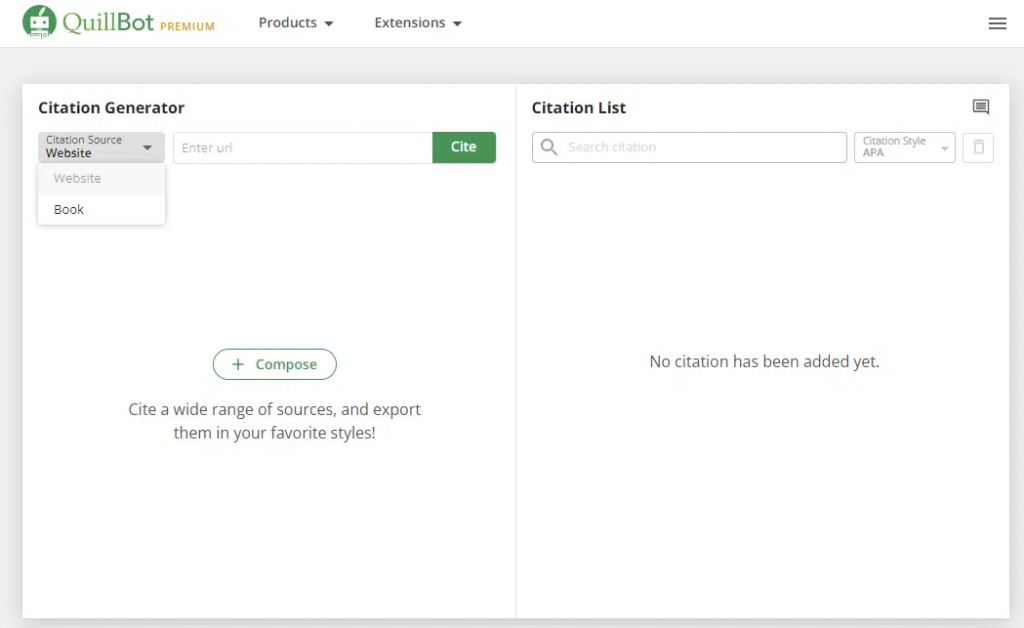 If you're ever unsure of how to format a citation, the Citation Generator is there to help. It includes instructions on how to include bibliographic information and source URLs for your citations.
QuillBot Support
The QuillBot support team is helpful and responsive. They're always eager to help you with any issues that may arise.
QuillBot Premium comes with a 30-day money back guarantee as well as a 3-day grace period after which you can request a refund if you are not satisfied with the service.
I think it's worth it! I have used this tool to get better at my writing skills and am happy with the results so far!
Frequently Asked Questions
Is it safe to use a paraphrasing tool for a thesis?
There is no definitive answer to this question as, depending on the specific tool or service being used, there may be certain risks associated with its use. However, generally speaking if a paraphrasing tool is used in a responsible manner and with caution – i.e. by researching the tool before using it to ensure that it complies with applicable safety standards – then there should be little to no risk involved in using such a service for thesis writing purposes.
Can Quillbot (a paraphrase tool) help get around Turnitin?
The short answer is yes, but there are a few caveats. Quillbot can help you check your work against a variety of sources (including Turnitin), and it has some features that make it particularly helpful for formatting and checking citations. However, because quillbot relies on online sources to function, it isn't always 100% accurate – so use it with caution if you're submitting high-stakes assignments.
Why Use Quillbot
Improve your writing skills.
Learn how to write more effectively.
Learn grammar and punctuation rules.
Improve your writing skills.
Save time with your work every day by using CoWriter's features.
It helps students write better essays and saves teachers' time, thus making it a perfect tool for all students.
Easily and securely manage your writing projects.
Create a draft of your document, then export it to Word, PDF or just about any other file format you can think of.
Quickly search the web for writing tips and inspiration.
Keep up with the latest trends in the English language.
Create a unique resume that's better than anyone else's.
Get hired more easily by covering all bases when applying for jobs or scholarship programs, etc.
Quillbot Pricing Plans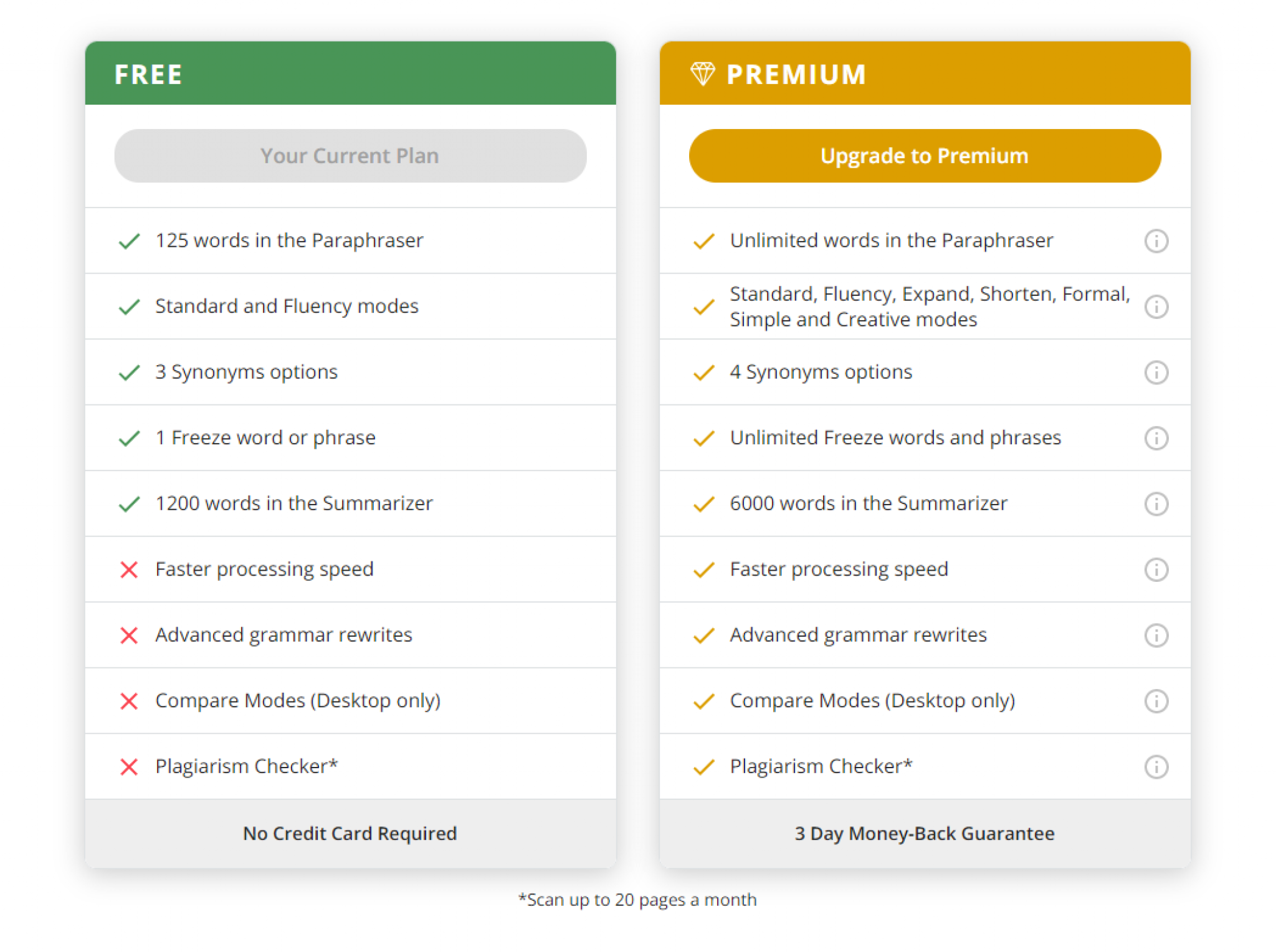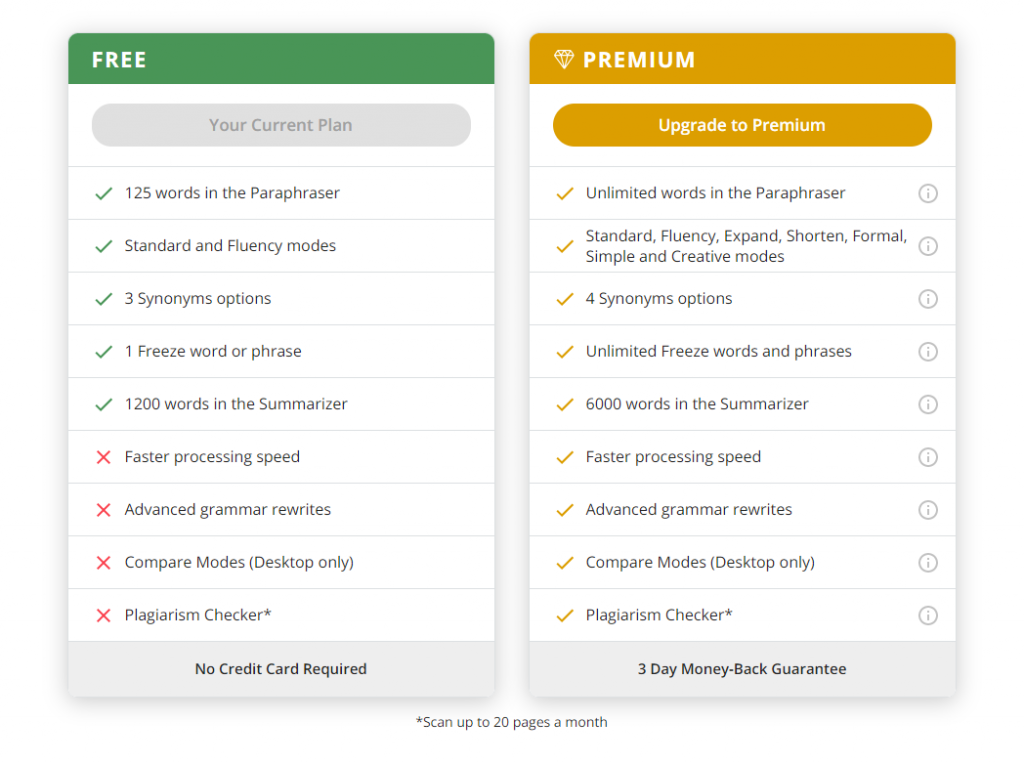 Free Plan
125 Paraphraser word limit
2 Writing modes
3 Synonyms options
1200 Summarizer word limit
2 Sentences processed at once
1 Freeze Word or phrase
Google Chrome & Doc Extensions
Pro Plan
Unlimited words in the Paraphraser
7 Writing modes
4 Synonyms options
Unlimited Freeze words and phrases
6000 words in the Summarizer
Faster processing speed
Advanced grammar rewrites
Compare Modes (Desktop only)
Plagiarism Checker
Alternatives to Quillbot
Quillbot is a great tool for improving your writing skills. It's easy to use and has plenty of features to help you produce high-quality content. There are many other tools that can help you improve your writing skills.
Here are a few alternatives to Quillbot, depending on what you're looking for.
Paraphraser.io is one of the most promising AI rewriter out there. It uses state of the art artificial intelligence to produce readable, sensible content without any plagiarism. Thanks to its ability to understand complex idioms and figure out what you really mean, it can always produce quality content for your website or blog.
Spinbot is the ultimate article spinner. It uses a sophisticated algorithm to understand human language and create content that is engaging, readable, and unique. Moreover, Spinbot accurately identifies paragraphs and separates them, ensuring that your content is easily readable without any complications!
Social Media Presence
Facebook: https://www.facebook.com/thequillbot/
LinkedIn: https://www.linkedin.com/company/quillbot/
Twitter: https://twitter.com/thequillbot
Instagram: https://www.instagram.com/thequillbot/
Is Quillbot right for You?
Quillbot is a great tool for content creators of all levels. It's easy to use and has plenty of features that can help you produce high-quality content. If you're looking for an AI-powered writer to help with your writing, Quillbot is a good option!
QuillBot is a fantastic paraphrasing tool that could greatly benefit you if you're writing frequently and want to become more efficient at it. It's also great for students who need to do a lot of work in a short amount of time and don't have the luxury of taking their time with every word they write.
Overall, I think QuillBot Premium is a good writing suite that has many helpful features. Its search capabilities could use some improvement, but overall it's an easy-to-use tool that'll make your work smoother and faster.
Video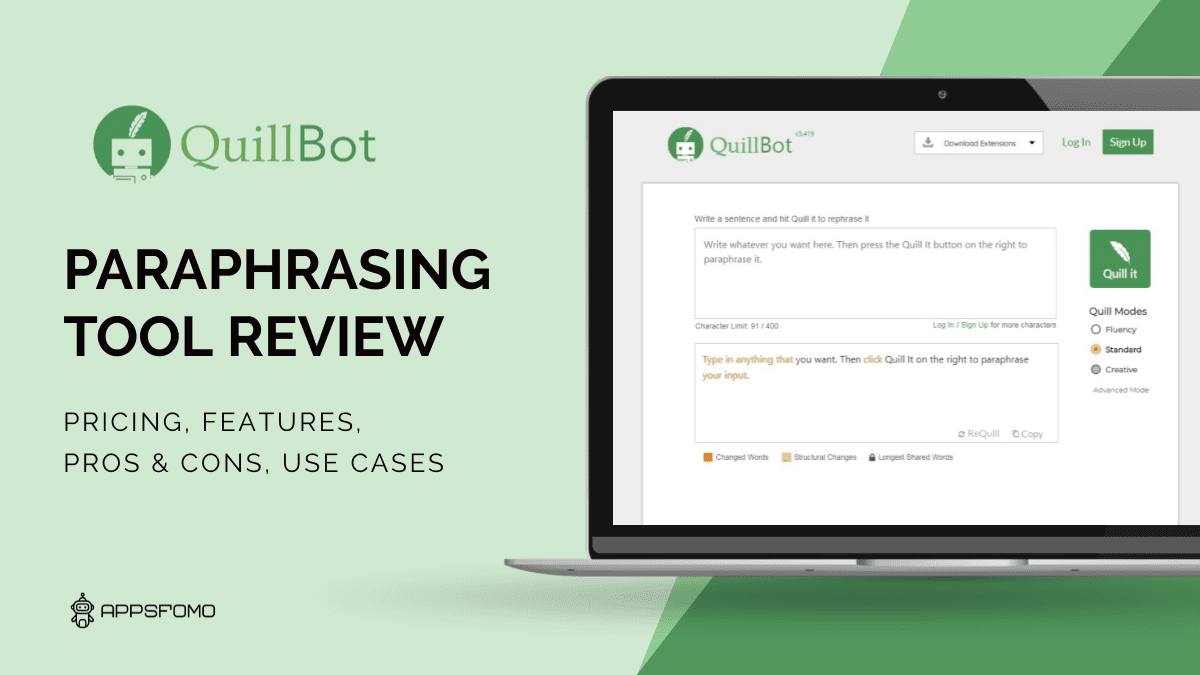 Specification:
Quillbot: Paraphrase Sentences and Phrases with Advanced AI Tools
| | |
| --- | --- |
| Review Date | Aug-22 |
| Company | Quillbot |
| Country | USA |
| Initial Release | 2017 |
| Pricing | Montlhy, Yearly |
| Free Version | Free Tier |
| Lifetime Deal | Yes |
| LTD Platform | Other |
| Money-Back | 30 Days |
| Appsfomo Rating | 8.8 |
| Support type | Email |
| Integrations | Chrome, Gmail, Linkedin, Word |
| Supported Device | Web Based |
| Mobile app | Not Available |
| Affiliate Program | Yes |
PROS:
QuillBot has a very user-friendly interface, which makes it easy to use.
The Free plan offers decent features.
The service is fast and efficient.
It's affordable with a free trial.
A very versatile paraphrasing tool.
CONS:
Pro version might be a bit expensive for some people.
There are limitations on the amount of pages you can export and import in each month.
There's no built-in spellchecker, which means you need to install one separately if you want it.
Supports only 3 English dictionaries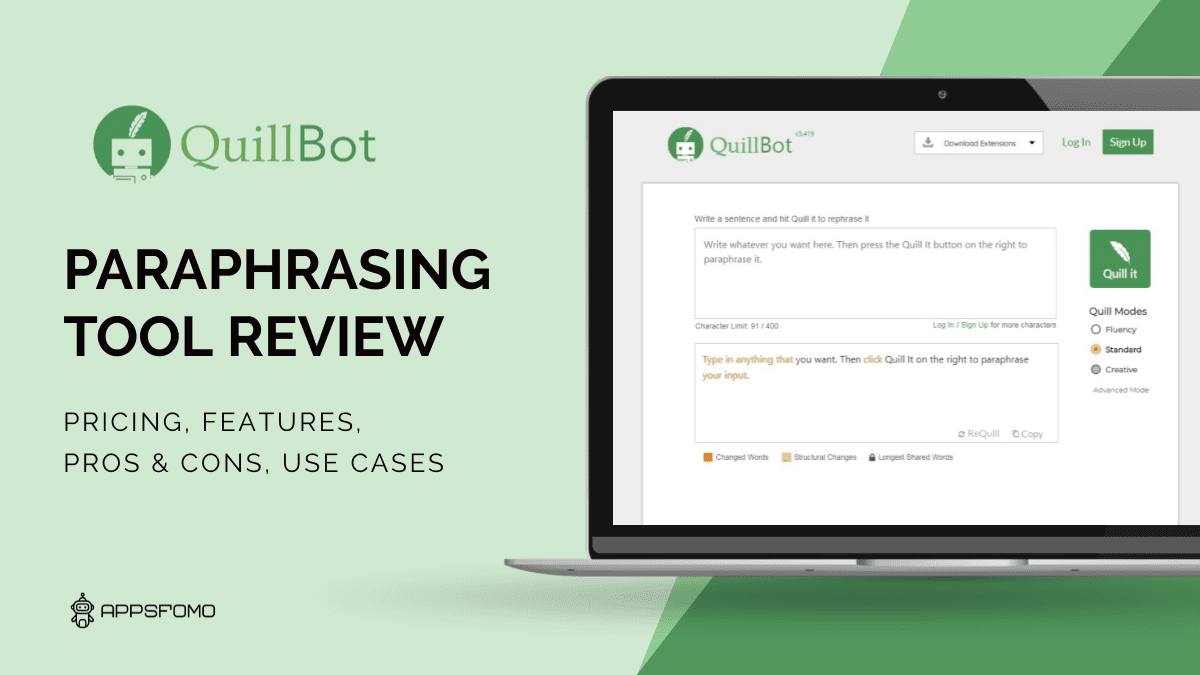 Quillbot: Paraphrase Sentences and Phrases with Advanced AI Tools