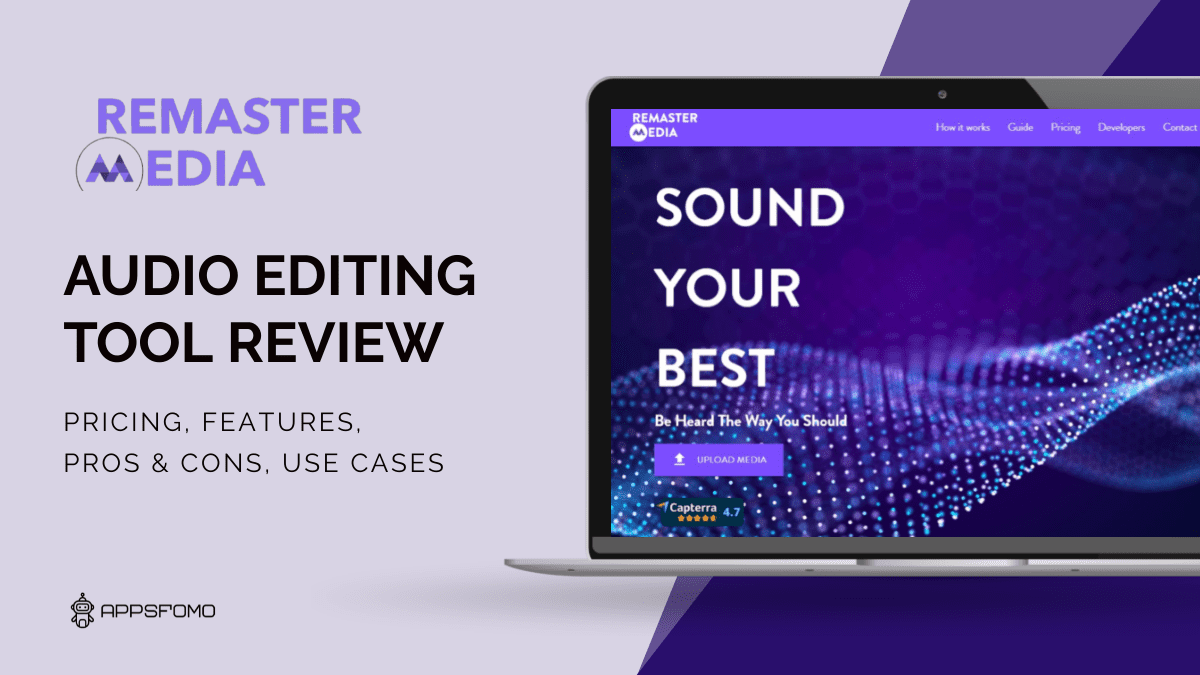 Remastermedia: Optimizing Your Audio and Video Content
Add to wishlist
Added to wishlist
Removed from wishlist
0
Add to compare
Audio mastering is an important step in the audio production process. It can make a big difference in the sound quality of your audio and video, which means that it's worth taking the time to get it right. That's where ReMasterMedia comes in – a professional sound mastering studio that offers unmatched sound quality for your audio and video. From television and radio commercials to online videos and music tracks, it delivers maximum impact with audio that is optimized for streaming media.
ReMasterMedia is a web application tool/service where users can upload their wonderful audio/video media content to optimize their audio for any platform for pennies rather than hundreds of dollars in a professional studio. If you're looking to get the most out of your audio recordings, then ReMasterMedia is the perfect choice for you!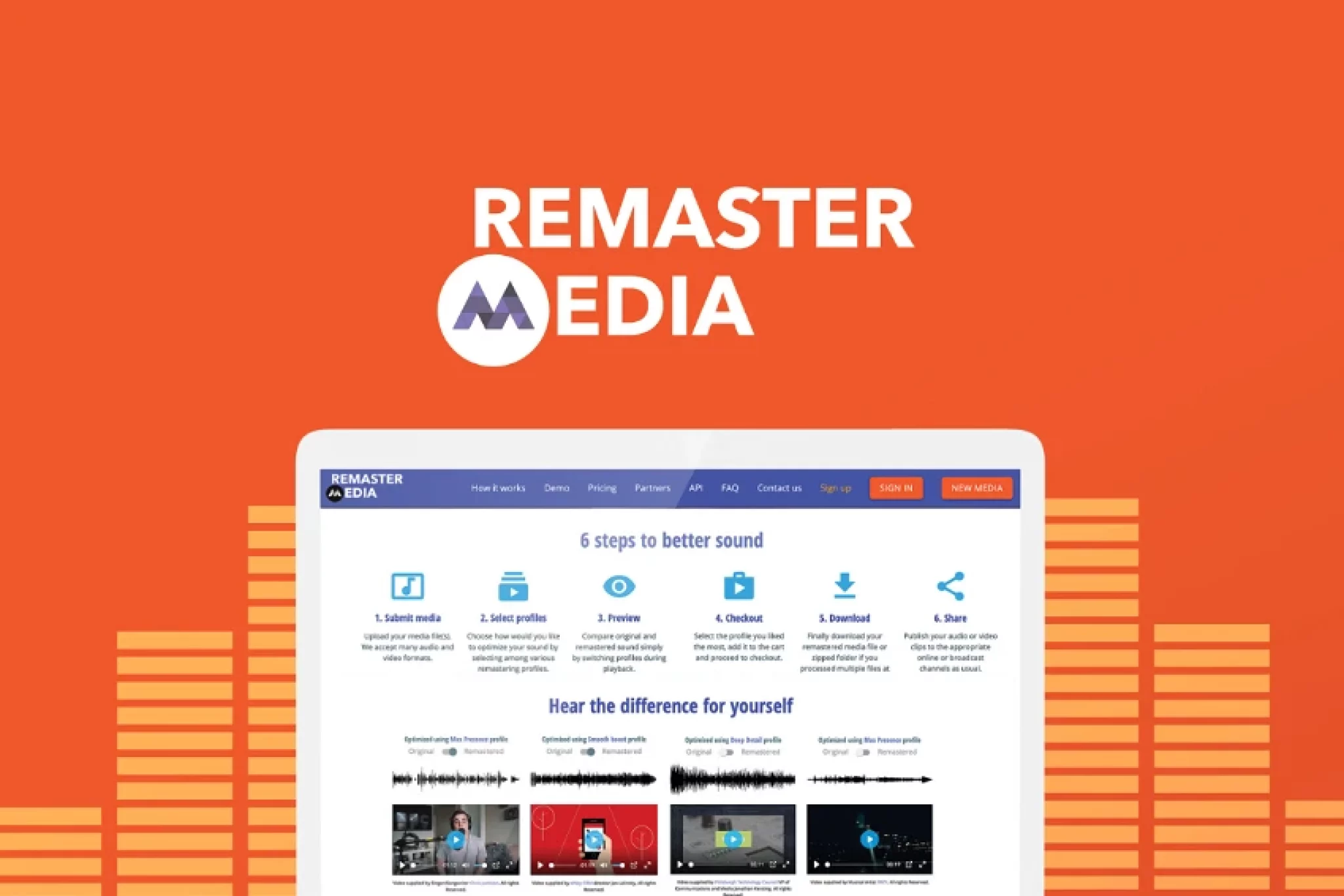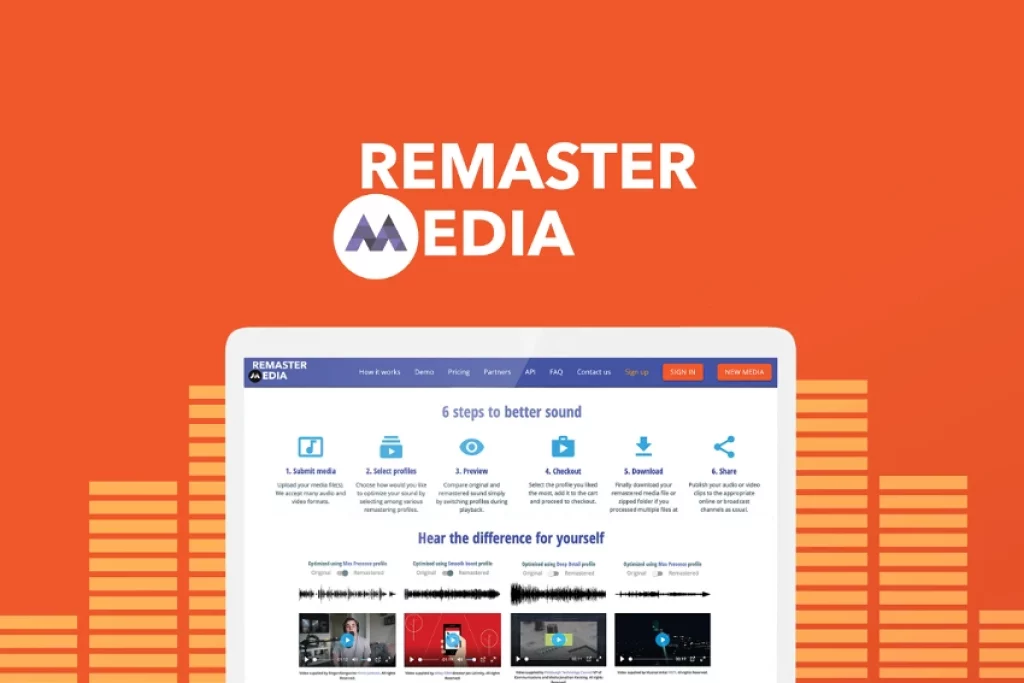 What Is RemasterMedia?
Video advertising is an increasingly popular way to reach customers, and ReMasterMedia is the perfect platform for businesses of all sizes. It provides robust analytics so you can see how your campaigns are performing. Additionally, it offers an easy-to-use system that allows you to target your audience quickly and easily. With features like automatic video optimization and instant video playback, you can be sure that your videos will be seen by your target audience.
RemasterMedia is the one-stop shop for all your audio and video mastering needs. It offers complete control over every stage of the audio lifecycle – from recording to finalization. With their proprietary AI-enabled platform, they are able to provide you with professional sound mastering services that help you get the maximum impact from your content across all streaming media platforms. So, if you're looking to increase your reach and increase your business, then look no further than ReMasterMedia!


How does it work?
There are Six Steps involved for better sound
Submit Media: Upload your media file(s). It accepts many audio and video formats.
Select Profiles: By selecting from various remastering profiles, you may choose how you want to optimize your sound.
Preview: Compare original and remastered sound simply by switching profiles during playback.
Checkout: Select the profile you want to purchase, then go to checkout.
Download: Finally download your remastered media file or zipped folder if you processed multiple files at once.
Share: Just like usual, post your audio or video recordings to the appropriate online or broadcast networks.
Company Details
ReMasterMedia, LLC was founded in the year 2019 by Peter Greco and provides you with everything you need to make your material sound terrific when distributed digitally.
The company is registered in Pittsburgh, US
Features
Deliver maximum impact with audio optimized for streaming media.
RemasterMedia is a state-of-the-art sound mastering service that optimizes audio for streaming media. This online application allows you to upload your audio or video file(s), select the desired output, and generate your custom-mastered file in just a few minutes! Start optimizing your audio today!
ReMasterMedia is a professional sound mastering service for delivering audio and video optimized for streaming media.
Delivers the highest quality audio possible at a fraction of the cost of traditional methods. Streamline your workflow with our innovative tools.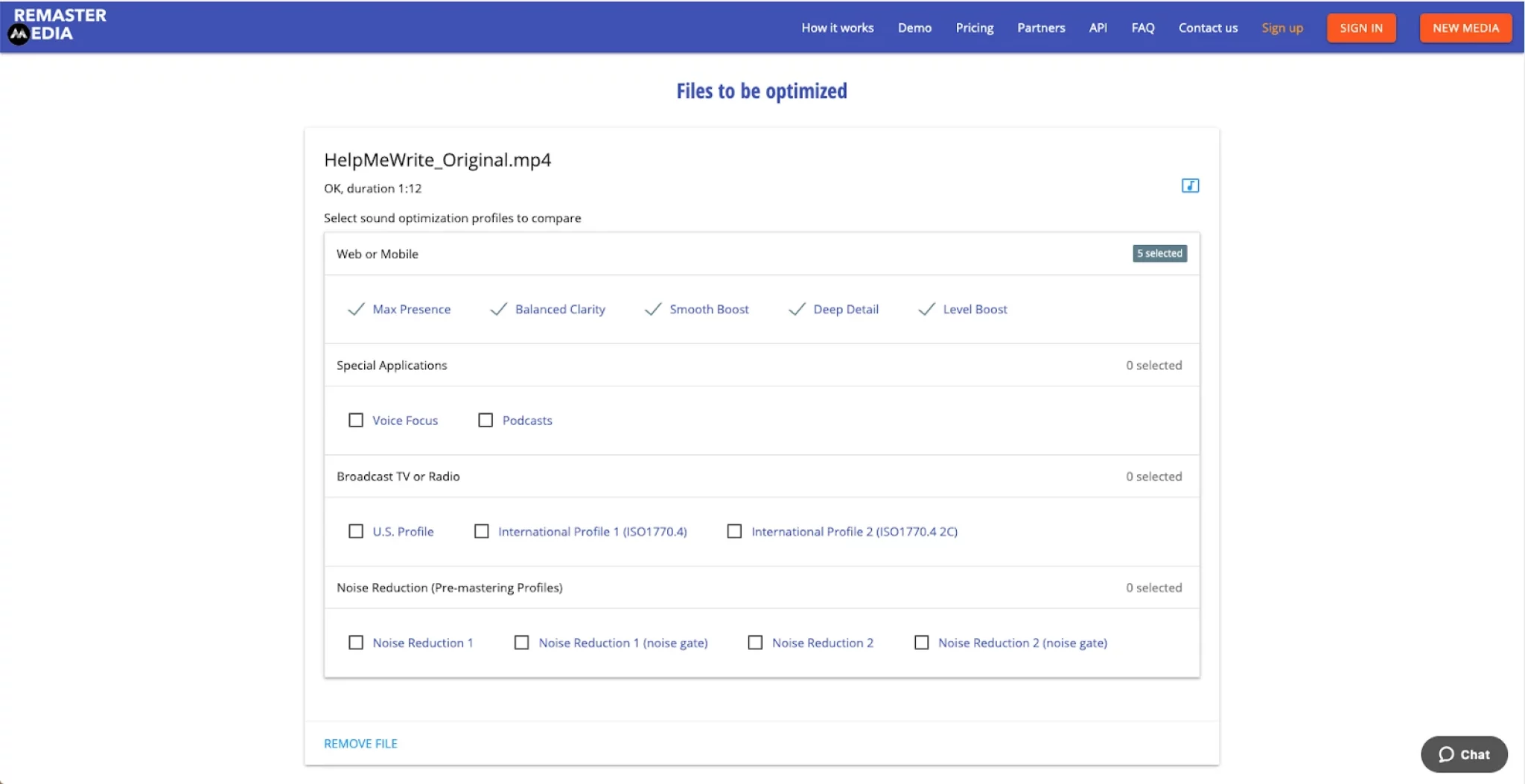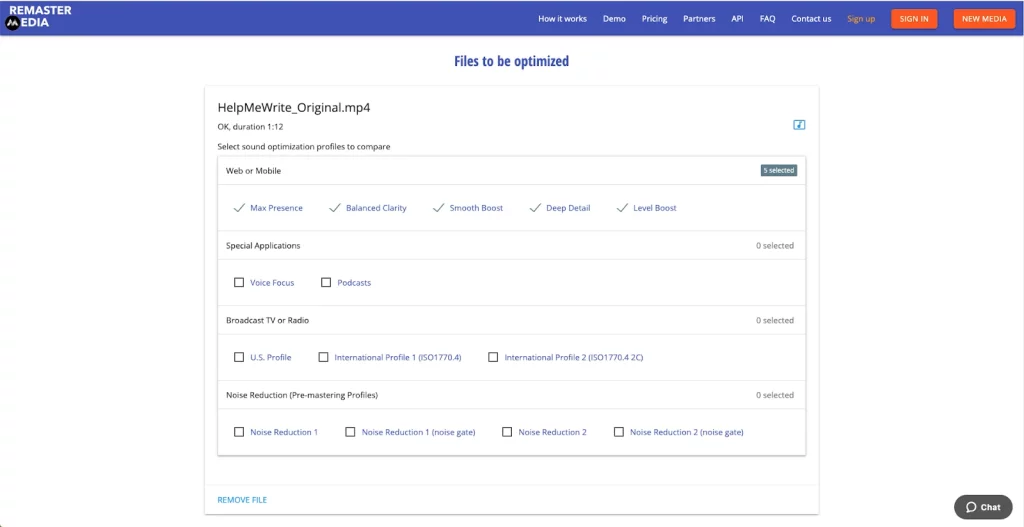 Noise Reduction
RemasterMedia's noise reduction feature is designed to take your recordings to the next level, so you can capture crisp, clear audio that is perfect for publishing or broadcasting. You'll be able to reduce noise in both digital and analog recordings, making them more manageable and easy to listen to.
The clarity of your live-streaming is the one thing that can take your broadcast from average to extraordinary. The ReMasterMedia™ technique provides a well-balanced audio quality, which everyone should have in their broadcasts.
RMPro has made a breakthrough technology that makes clarity and clarity perfect. All subscribers can test this amazing tool for free in their own audio/music, song, or album.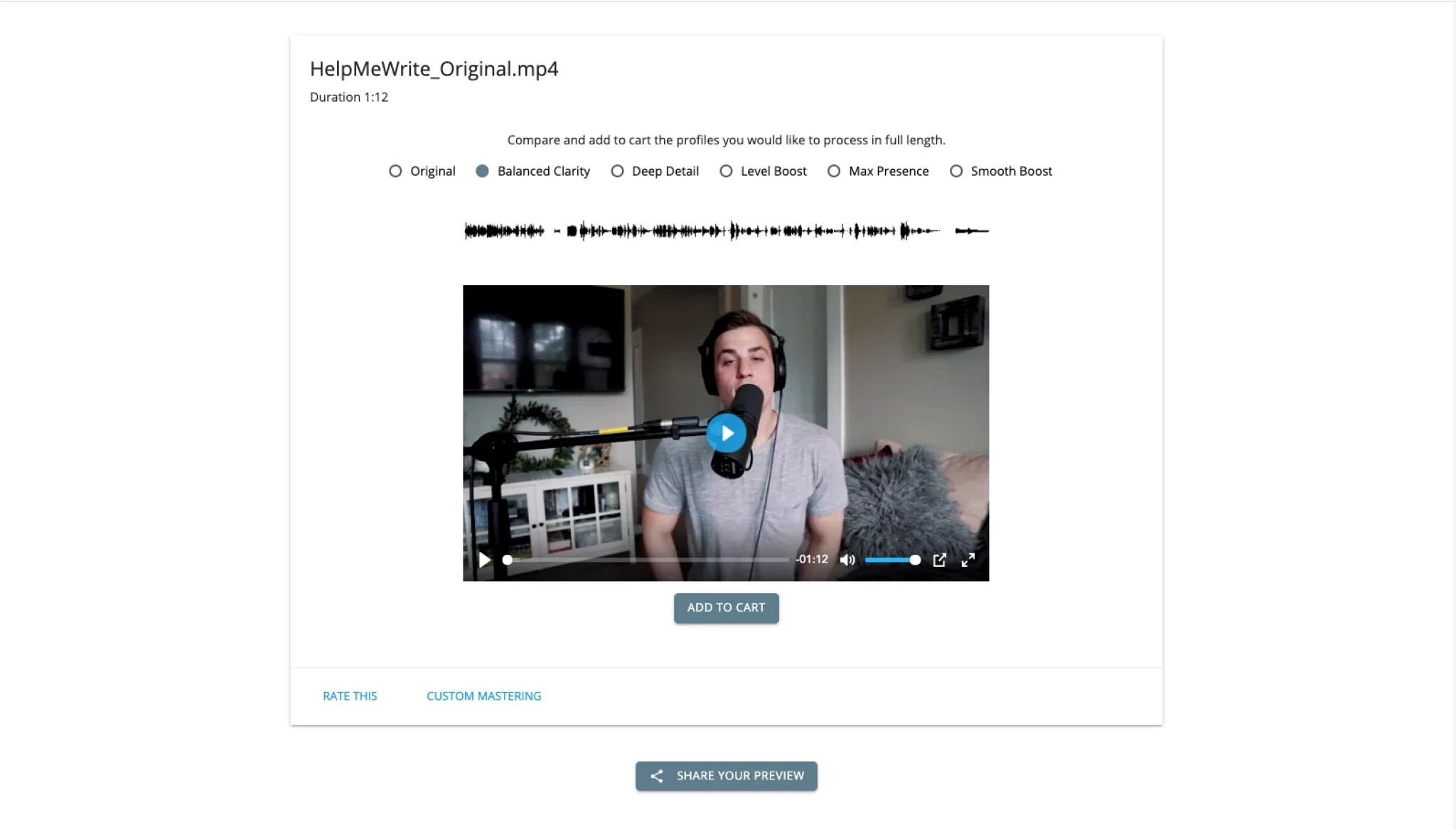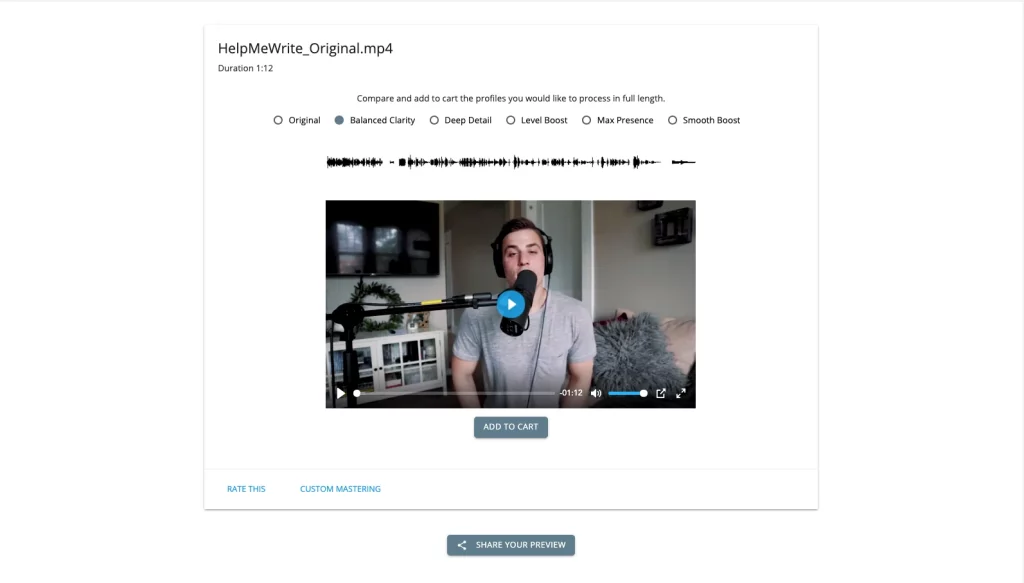 Audio Boosting and Enhancement
Boost your audio quality and enhance your listening experience, from enhancing low-quality audio files to restoring degraded audio recordings. It is one of the best ways to get the most out of your device.
The audio mastering tool that helps you and your clients sound amazing! with this audio mastering service, the client can get professional audio mastering at the best price. I have had an incredible experience working with the team at Remaster media. My sessions were always on time and they do everything to make my job easier so I could focus more on producing great content for my clientele instead of spending all day troubleshooting issues in order to deliver quality work production.
ReMasterMedia is an audio mastering and noise reduction software developed to help you make sure the audio of your videos sounds right. We provide access to all necessary tools in one app, which makes it easy for you and your clients.
ReMasterMedia Pro DAW plugin
You may now have our mastering technology at your disposal if you employ audio or video editing software on your computer. Just a touch of the RMPro button brings your mixes to life. RMPro doesn't "color" your mix, it simply brings out all of the depth, dynamics, detail, and dimension you put into it. It's true Sound Mastering.
Rmpro is a new audio processing plugin that enables you to have better sound quality for streaming media. rmpro can make your music, movies, and video games come alive for your audience.
Rmpro is the world's most advanced audio plugin platform, giving you professional quality and control to deliver maximum impact with your music, videos, or games. rmpro integrates seamlessly into any recording applications including pro tools (lates), ACID, Logic X/Xp/9 Complete Pro as well as Ableton Live 9 Suite and FL Studio 12 Ultimate. rmpro will also work in Final Cut Pro for MacOSX 10.4-10.12 , Avid MC5 8.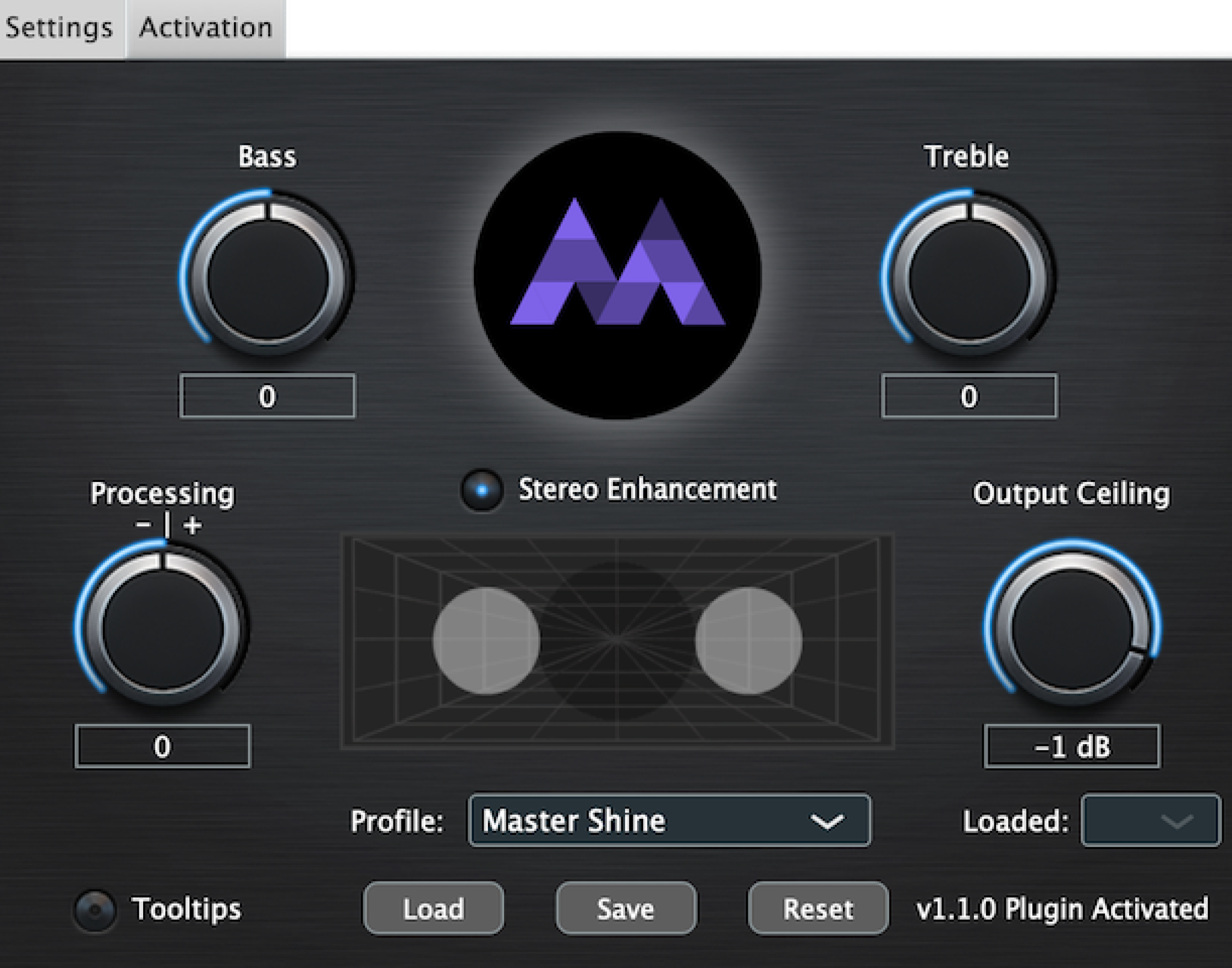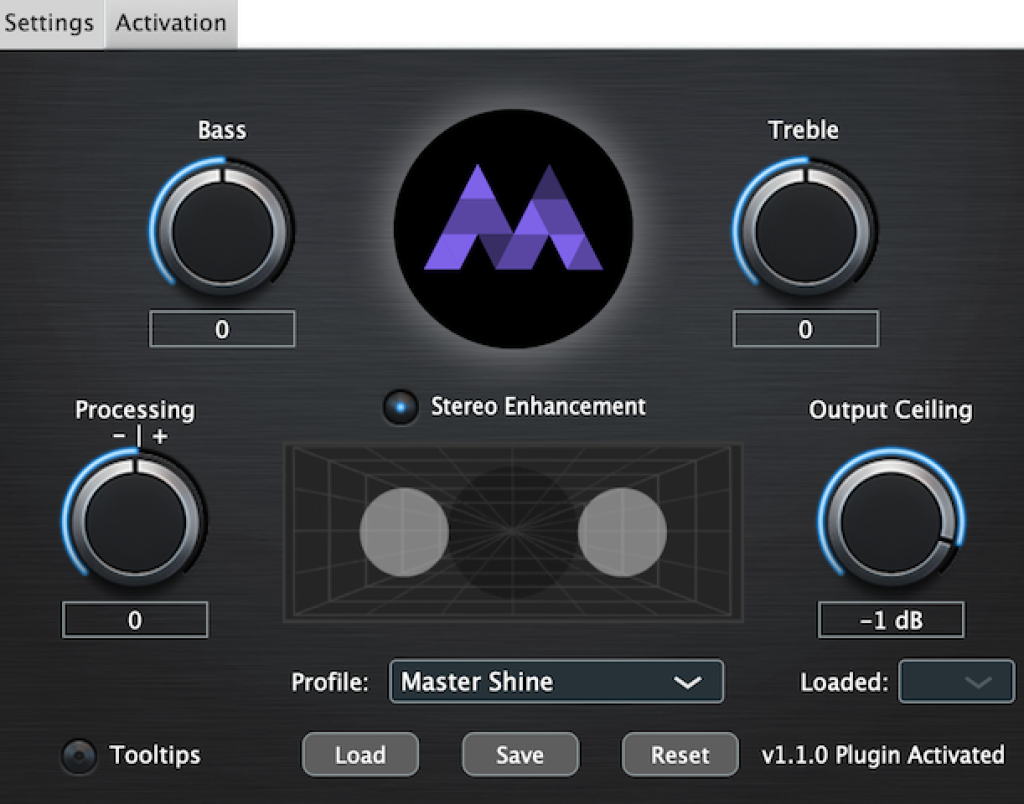 RemasterMedia Support
There is a public forum for discussions, help from the community, and feature requests.
There is chat support and additionally, Email Support is Available from the team.
Frequently Asked Questions
My audio has static and weird background sounds, will your system remove it all?
Compare the sound quality of your audio using one of their Noise Reduction profiles. Always attempt to take the greatest possible sound for your media by capturing clean audio. While ReMasterMedia can enhance the overall message, it will not eliminate all of the unpleasant background noises in your recording. Please contact them today if you'd want us to attempt to clean up or restore your audio for a fee.
To be mastered, how loud should my mix be?
For best results, avoid limiting and other post-processing (after) effects on the mix, your mix must have at least 6dBs of peak headroom, and -18dBFS RMS average will create the best results, and your mix should not be louder than -12dBFS RMS. If you still have doubts, you are free to contact them anytime.
What happens when I see this error – "Media container has multiple audio streams"?
Several audio tracks are embedded in certain video files. Only one audio track can be processed by our system. It produces this error code when it sees numerous audio tracks. When you're working with online audio/video editors, this happens all the time. They do not "render" your files before you export them in an effort to save money on their cloud servers. You have to "render" your video/audio before uploading it to ReMasterMedia.
We suggest that you use video software to reconvert or render the video file again, combining all of the audio tracks into a single track. This is recommended if you only have one mixed audio track available. If this happens, you may utilize iMovie or another pro video editing application. you can share your video fill if you cannot fix it, they will reconvert it for free.
Why Use RemasterMedia?
simple, easy-to-use interface
RMPro Plugin is Perfect for Podcasters and Musicians.
Has different noise reduction profiles
GDPR Compliant
No special audio engineering expertise is necessary.
It can seamlessly integrate with web, mobile, or other applications.
RemasterMedia Pricing Plans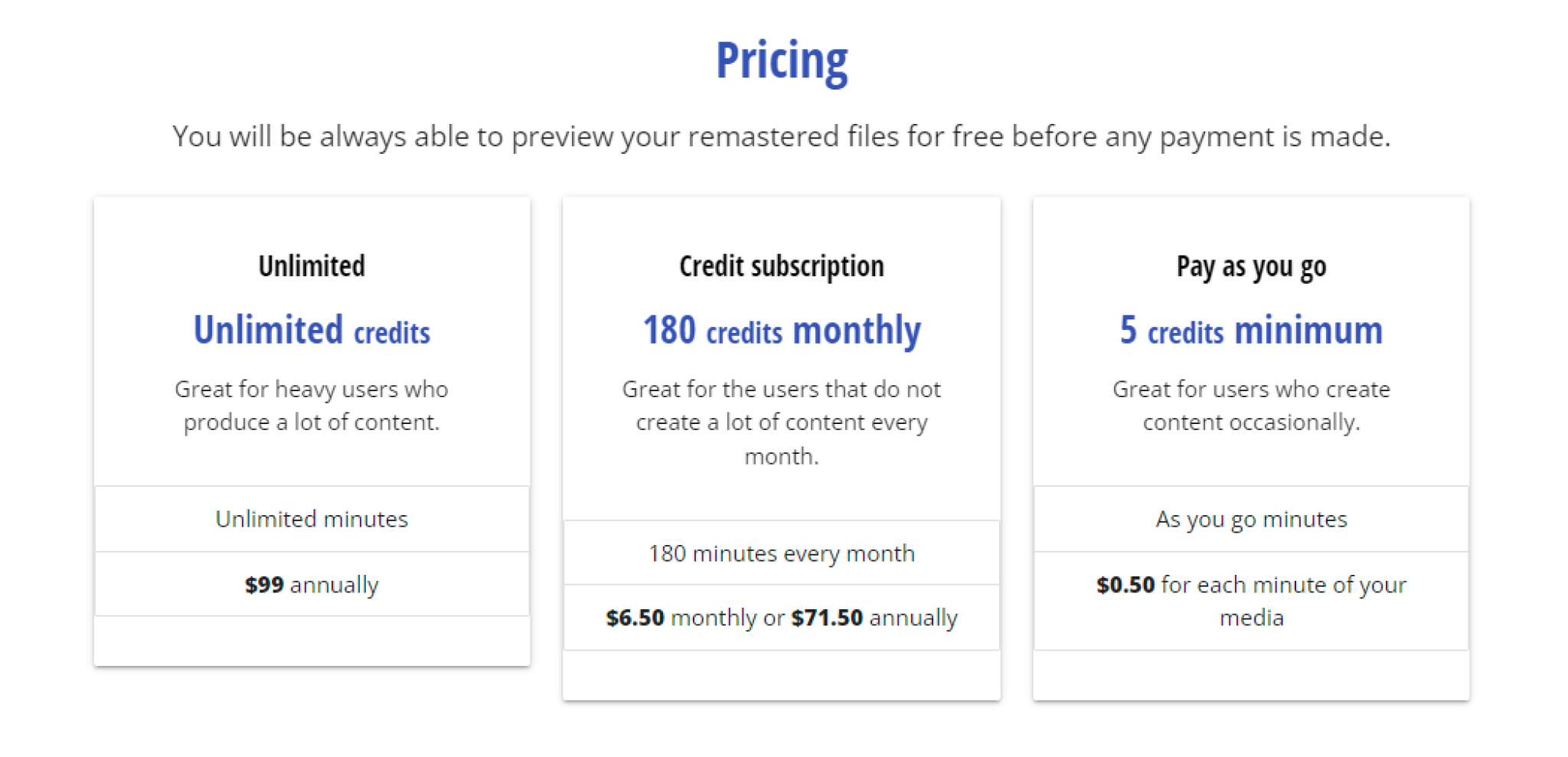 1 credit = 1 minute of remastered media.
Subscriptions can be stacked. Unused subscription credits do not roll over at the end of each month.
As you go credits never expire.
Alternatives to RemasterMedia
Audacity is an easy-to-use, open-source multi-track audio editor that is used to record and edit audio.
It is an easy-to-use drag-and-drop interface with AI features that revolutionize how audio is processed and edited today.
Social Media Presence
Is RemasterMedia right for You?
If you wish to include audio remastering functionality in your own application then ReMaster media is best suited for you! because It thoroughly optimizes your audio and video files for a high-quality result.
This software is ideal for podcasters, musicians, and content creators who need professionally produced audio.
RemasterMedia offers professional sound mastering services that deliver maximum impact with audio that is optimized for streaming media. From noise reduction to sound enhancement, we have the tools and expertise to bring your media to life in ways you never thought possible.
So what are you waiting for? Contact ReMasterMedia today to learn more about how we can help your business grow!
Video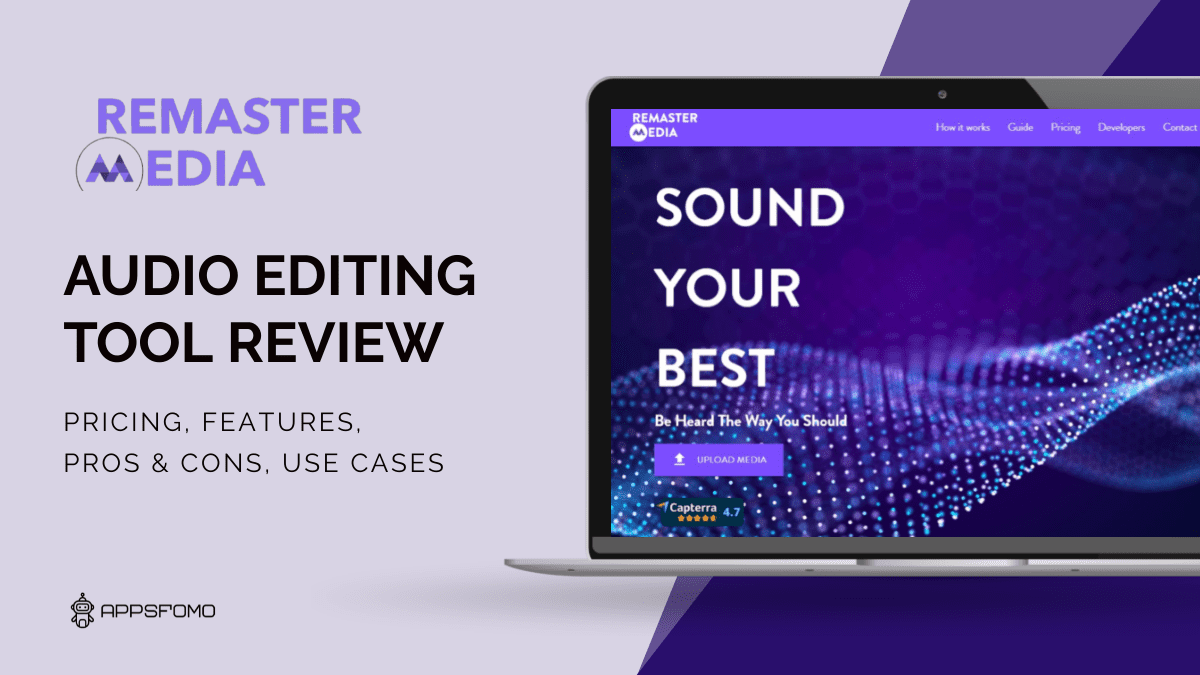 Specification:
Remastermedia: Optimizing Your Audio and Video Content
| | |
| --- | --- |
| Review Date | Oct-22 |
| Company | RemasterMedia |
| Country | USA |
| Initial Release | 2019 |
| Pricing | Montlhy, Pay as you Go, Yearly |
| Free Version | Not Available |
| Lifetime Deal | Yes |
| LTD Platform | Other |
| Money-Back | N/A |
| Appsfomo Rating | 7 |
| Support type | Email, Live Chat |
| Integrations | Mobile, Other apps, Web |
| Supported Device | Web Based |
| Mobile app | Not Available |
| Affiliate Program | Yes |
PROS:
Easy and straightforward to use
Very Fast processing
You can preview before it consumes the credits
CONS:
UI is not the great to use. Can be improved.
There is no option adjust the levels manually incase you need to.
Noise Reduction is not the greatest.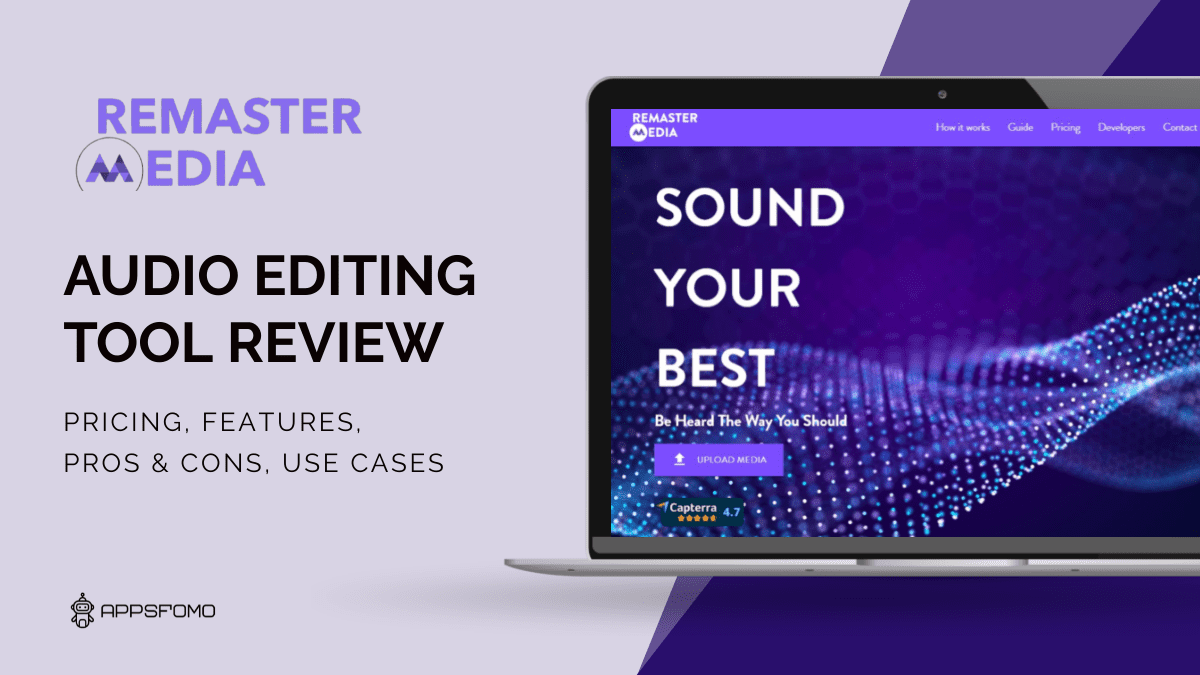 Remastermedia: Optimizing Your Audio and Video Content