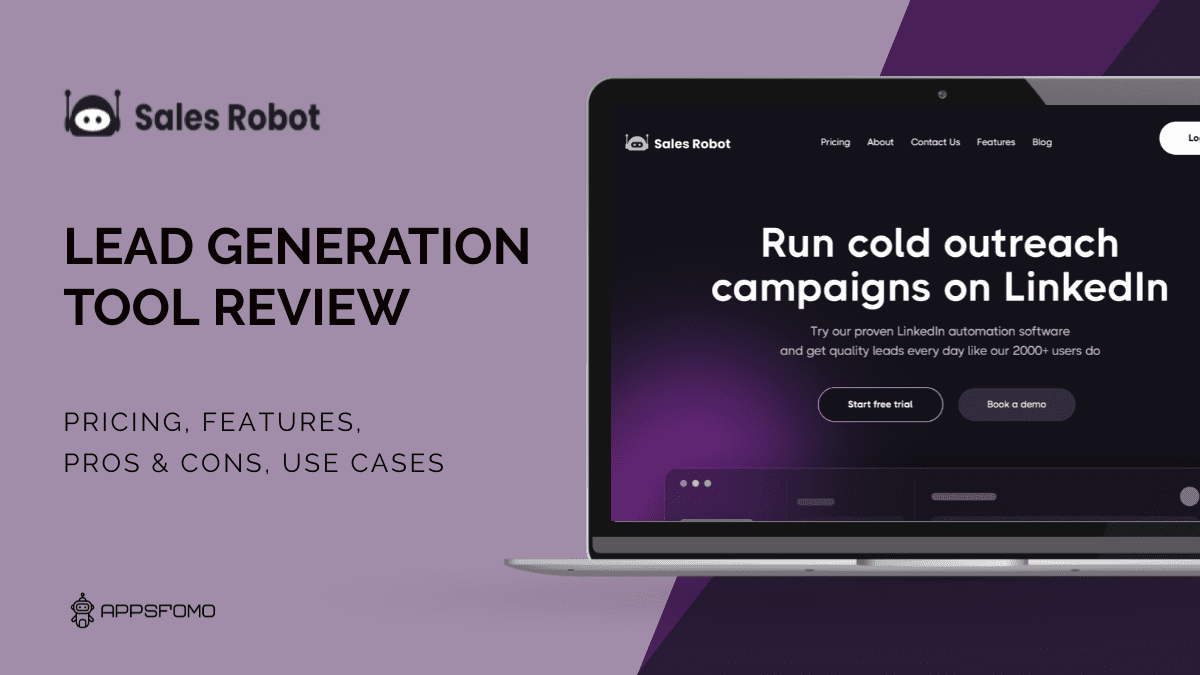 SalesRobot: How Can it Help Boost Your Lead Generation Efforts
Add to wishlist
Added to wishlist
Removed from wishlist
0
Add to compare
Failing at outreach is a common sales pitfall. With competition always on the lookout for sales opportunities, it becomes harder and harder to close sales. The constant pressure to deliver results can be mentally draining.
If you're feeling the pressure of delivering sales results and need an assist in getting more prospects in your sales funnel, we have the answer for you. In this blog, we'll tell you what is SalesRobot, how does it work, and why should you use it? Let's dive into that!
What Is SalesRobot?
Overview
SalesRobot is a hyper-personalized LinkedIn automation tool designed to help SMBs and marketing agencies reach out to potential customers on LinkedIn.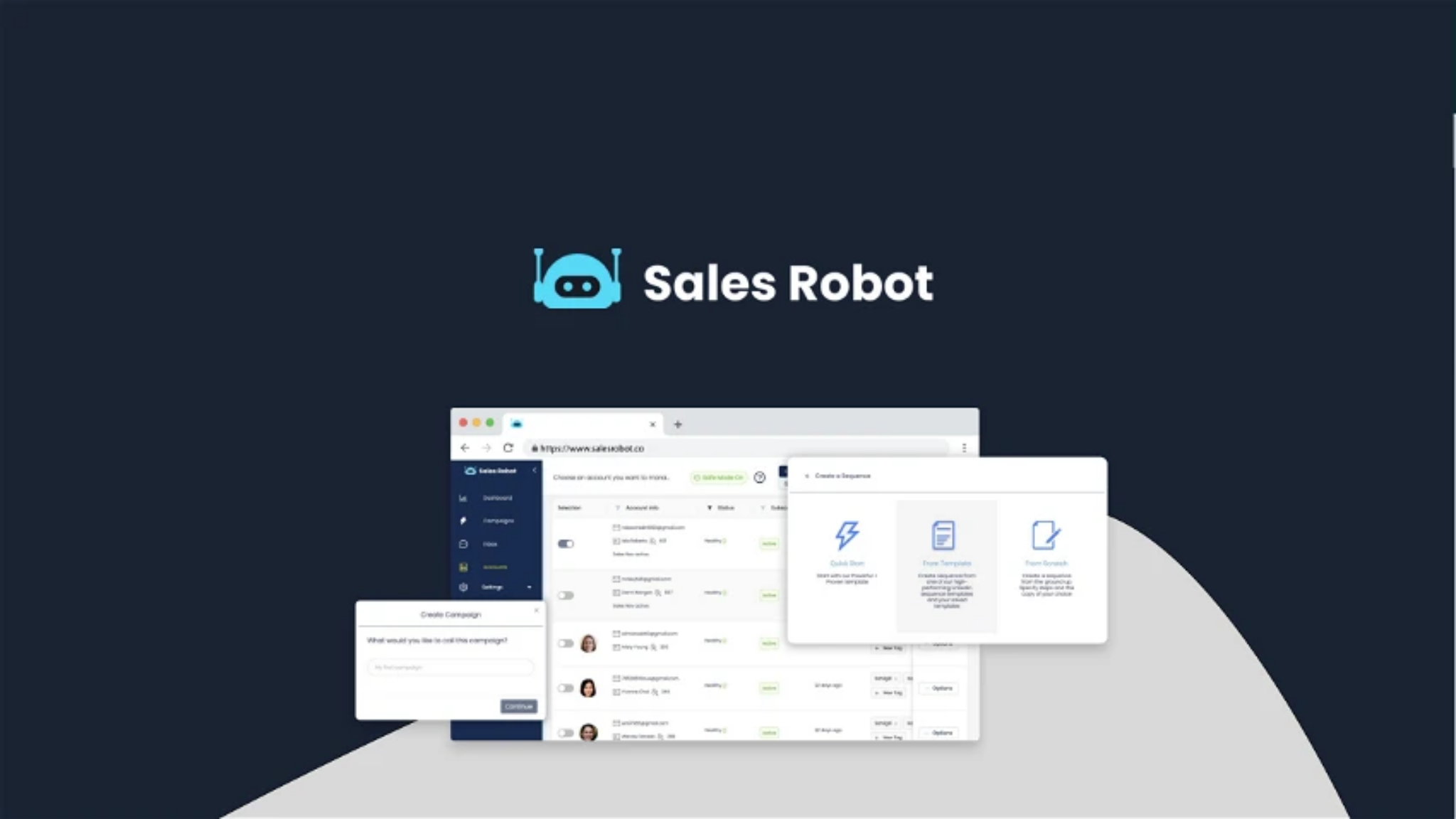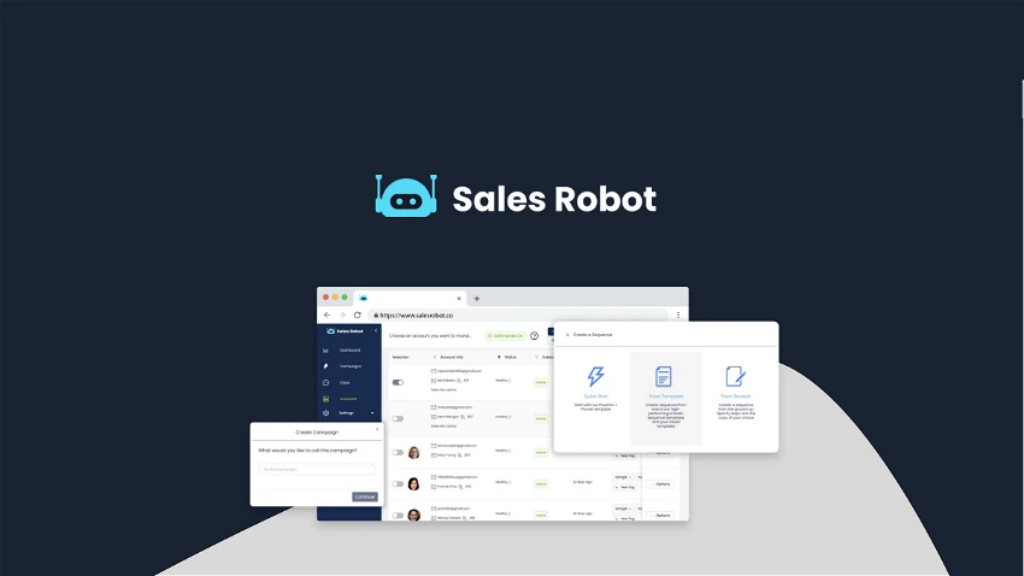 With the software, businesses can reach out to people who are likely interested in their product or service via automated messages on LinkedIn. The tool helps businesses convert more than 40 out of every 100 people contacted, generating more leads than ever before.
In addition to lead generation, it also provides features for lead tracking and analytics, allowing businesses to track how their outreach campaigns are progressing. It can integrate with various CRM systems and can be used in a variety of industries. SalesRobot is easy to use and has a low learning curve, making it an ideal tool for businesses of all sizes.
How to get started with SalesRobot?
If you are planning to use Salesrobot for outreach, you can start by creating an account on the platform.
You can do that by entering your email address, username, and password to complete the registration process.
After creating an account, you can add your LinkedIn account to the Salesrobot platform. This will help you connect with potential leads based on your professional experience and interests.
Once you have added your accounts, it's time to start a campaign! Search for your ideal leads on the Sales Nav and go from there. You can select the lead type and other relevant details to start a successful outreach campaign.
Company Details
SalesRobot is a sales automation software provider that specializes in lead generation and lead tracking. Founded in 2017, it utilizes cutting-edge technology to help businesses optimize their sales processes and increase revenue.
Arun Singh and Saurav Gupta are the Company founders. Founded in Delhi, India, by Alice Camera Private Limited.
Online Presence
How does SalesRobot Work?
features
With SalesRobot, sales teams can save time and effort by automating tedious tasks such as email campaigns, lead generation, and appointment setting.
Automate Cold Email Outreach
SalesRobot helps sales teams launch cold outreach campaigns with ease. It automates email outreach campaigns, integrates with LinkedIn to attract leads, and lets you personalize outreach emails and follow-up sequences. After launch, SalesRobot allows you to track campaigns and prospects from one dashboard, so you always know how everything's performing. With SalesRobot, automation takes cold outreach to the next level, helping sales teams build stronger relationships with potential customers.
It also helps streamline your outreach efforts by allowing you to run multiple campaigns across both LinkedIn and email. This means you can maximize lead generation from every outreach effort.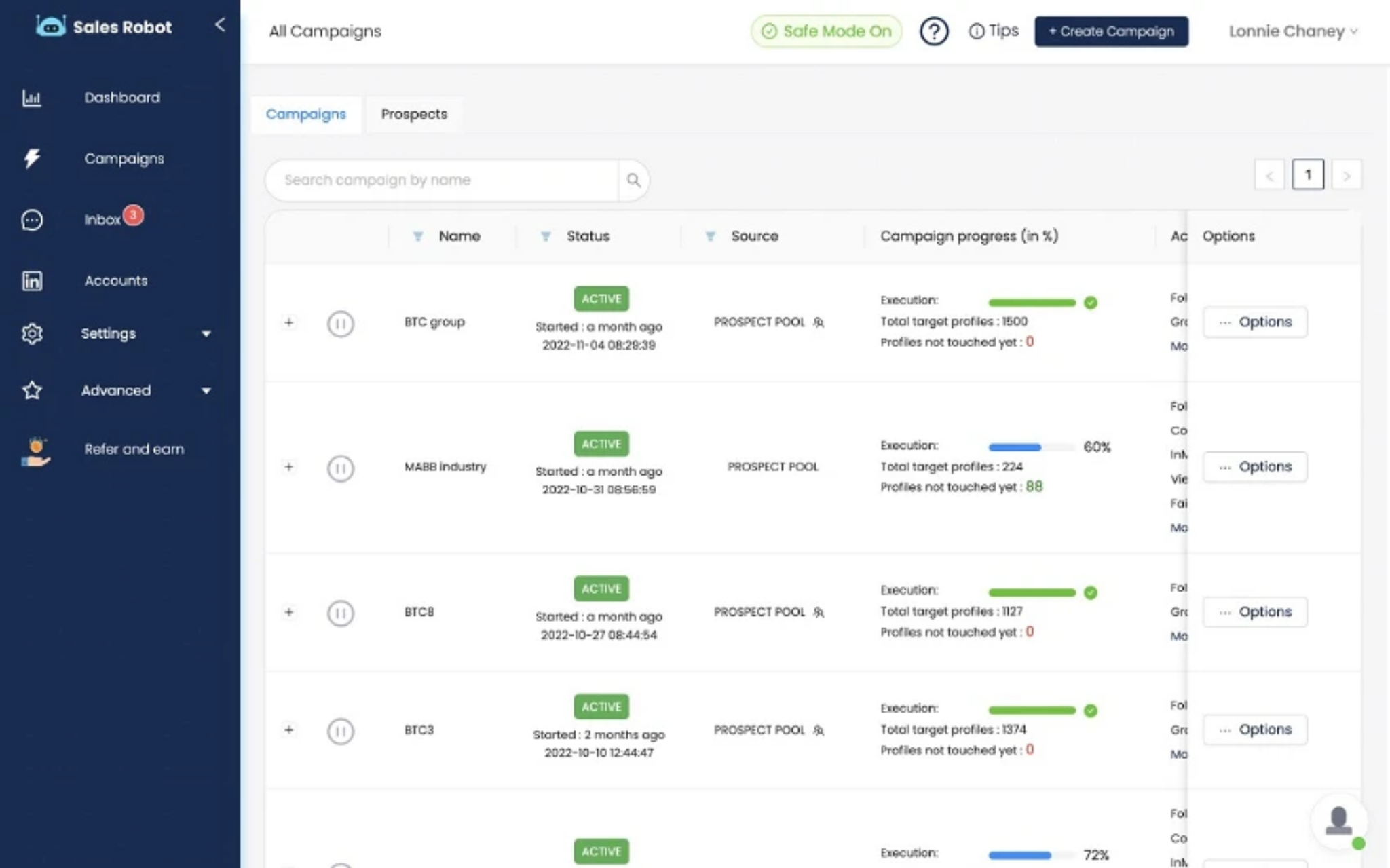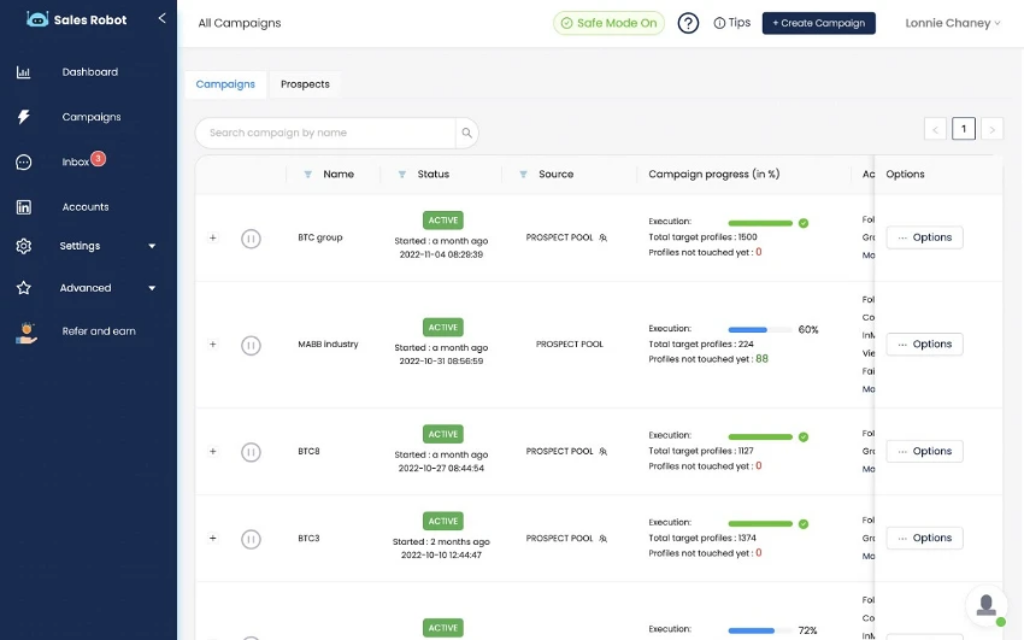 Message Personalization
SalesRobot provides a personalized sequence of messages to promote your brand on social media channels. These sequences can be created using a variety of templates and parameters, allowing you to personalize your outreach and stand out from the crowd. These sequences can also be modified or updated easily, allowing you to stay relevant and up-to-date with the latest trends in your industry.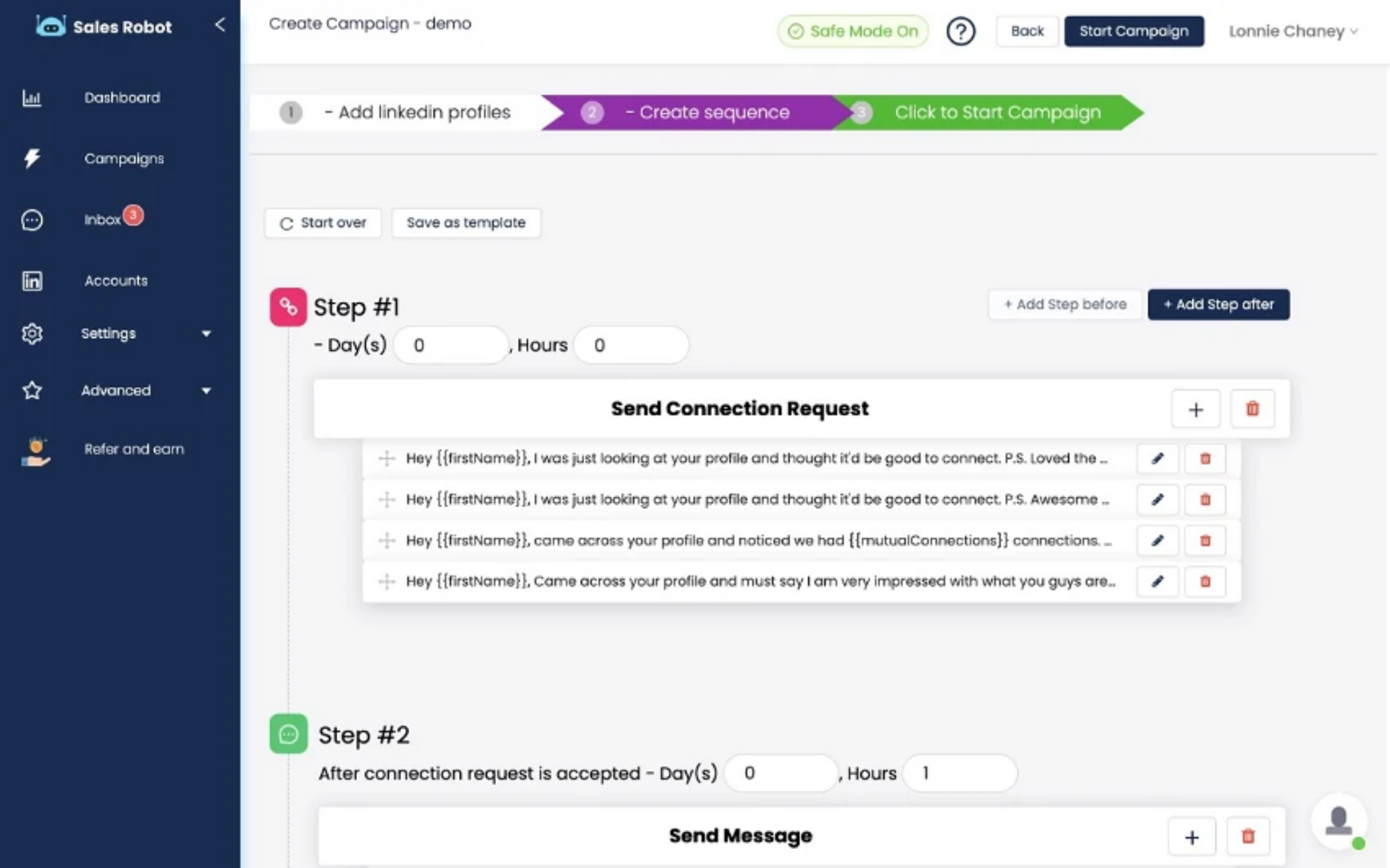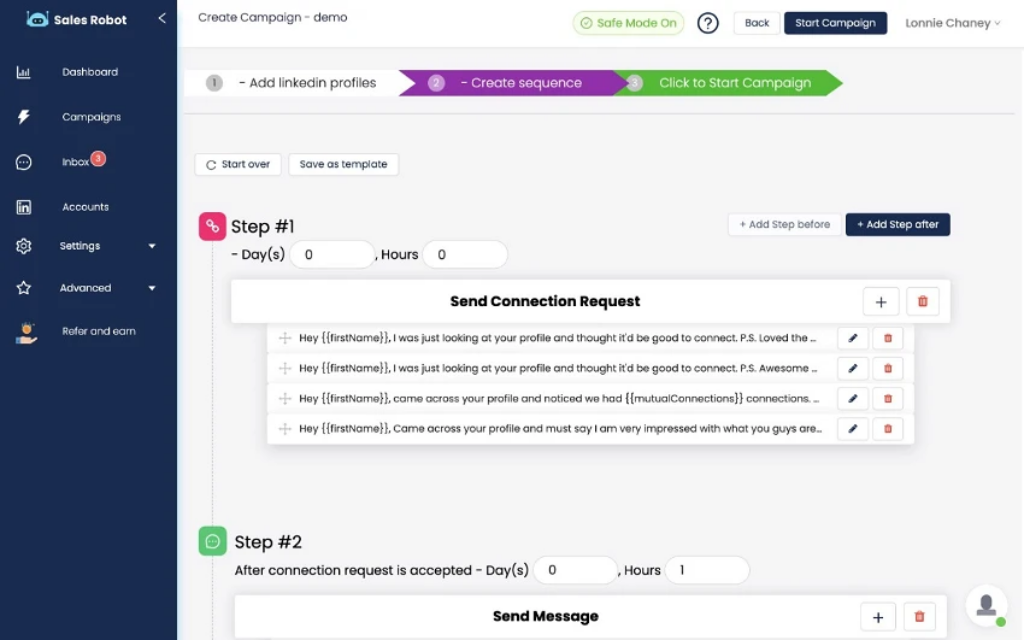 When creating an automation sequence for social media outreach, SalesRobot provides filters that allow you to target users based on their interests and past interactions with your company. This means that you can customize your message to be relevant to specific audiences.
In addition, SalesRobot allows you to add images and GIFs to personalize your messages. This can help increase engagement with your social media accounts and create visually appealing content that will stand out in crowded inboxes. This feature creates warm, human-like interaction that softens even the toughest prospects.
All communications will be handled by Mini-CRM.
SalesRobot is a mini-CRM that can manage customer data and automate repetitive tasks for sales reps. The tool helps sales teams stay organized and efficient by tracking and organizing email conversations, sharing documents, and scheduling follow-ups from interactions. It also allows sales teams to easily track progress against sales goals and identify opportunities for improving performance.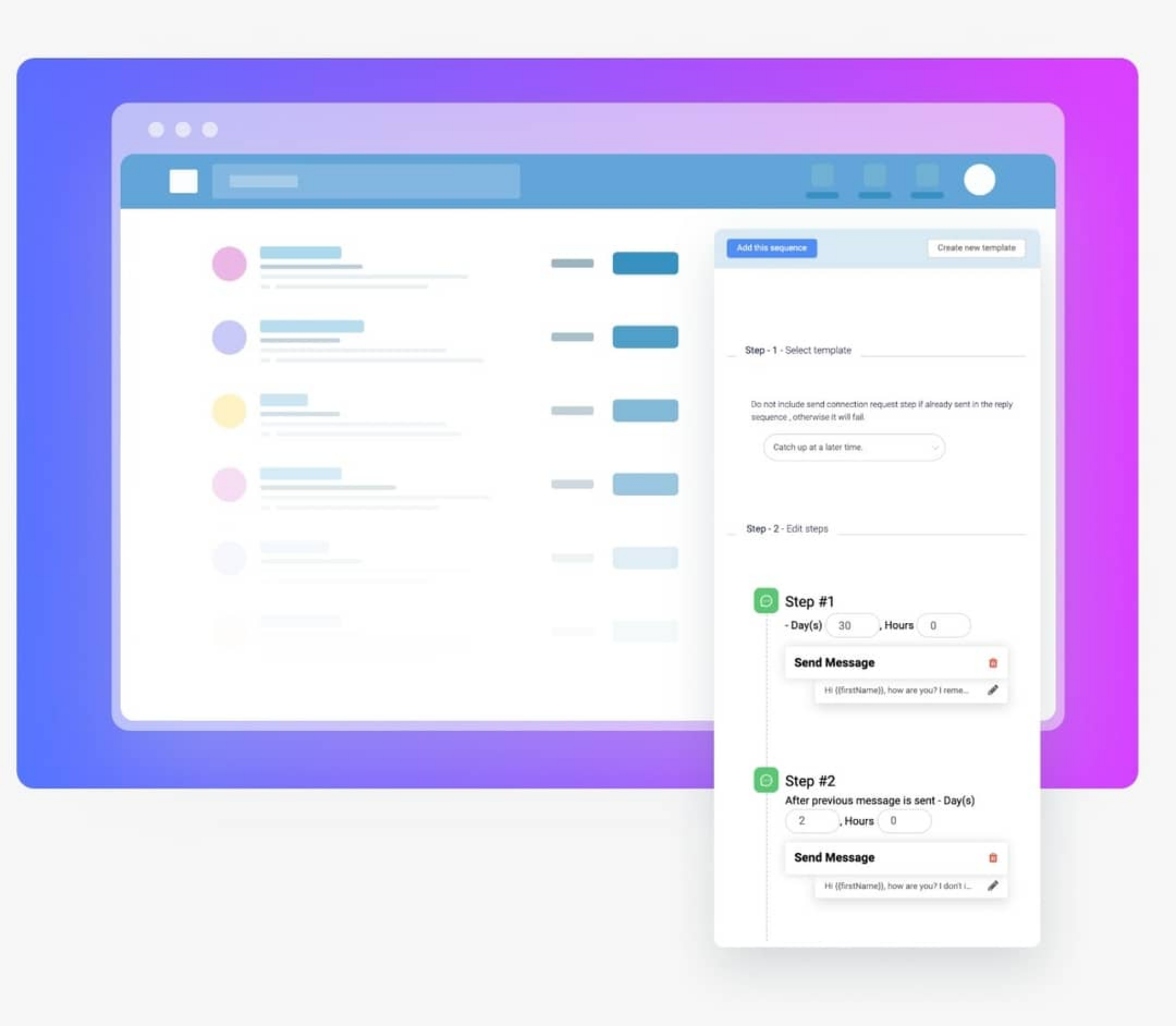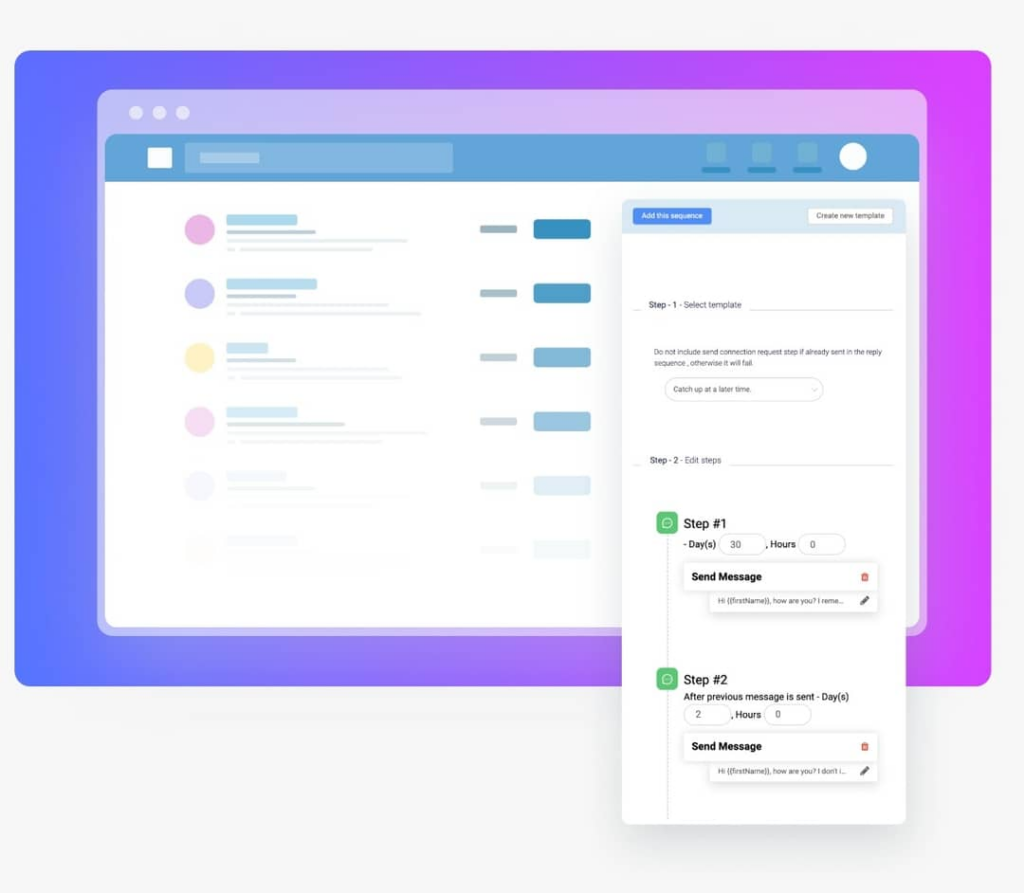 With SalesRobot, sales team members can tag conversations and schedule follow-ups from any device, allowing them to focus on the most important interactions.
Plus, the tool comes with a built-in chatbot that helps automate some of the more tedious aspects of sales work. This means sales reps can spend time building rapport with customers and completing tasks without constantly checking their email inboxes.
SalesRobot Key Features
properties
Event Campaigns
Events on LinkedIn are a great way to target specific audiences, and SalesRobot makes it easy to manage event campaigns. You can build up a few sequences, and Salesrobot will deliver your message to event participants on your behalf. This way, you're sure to have enough people at your event.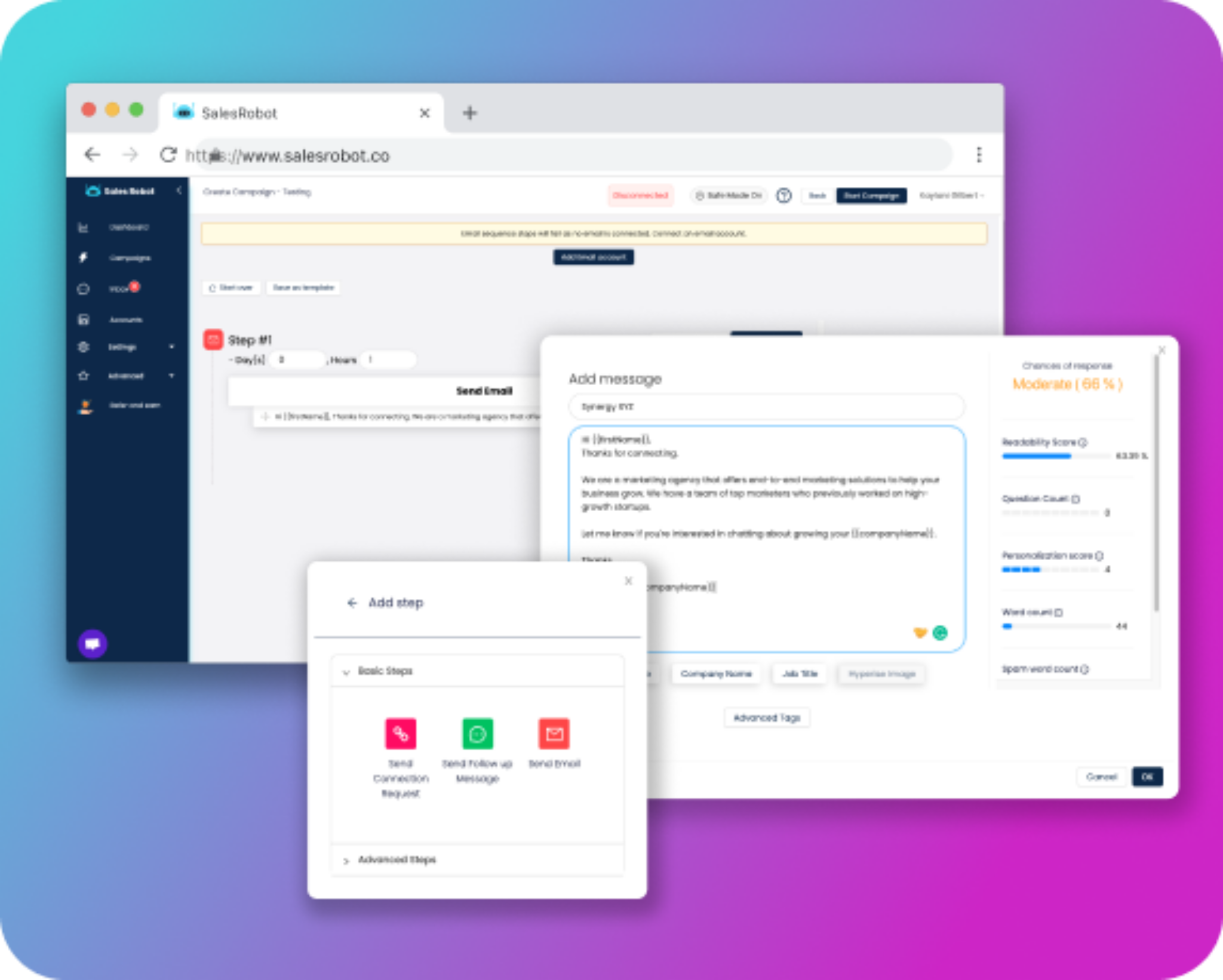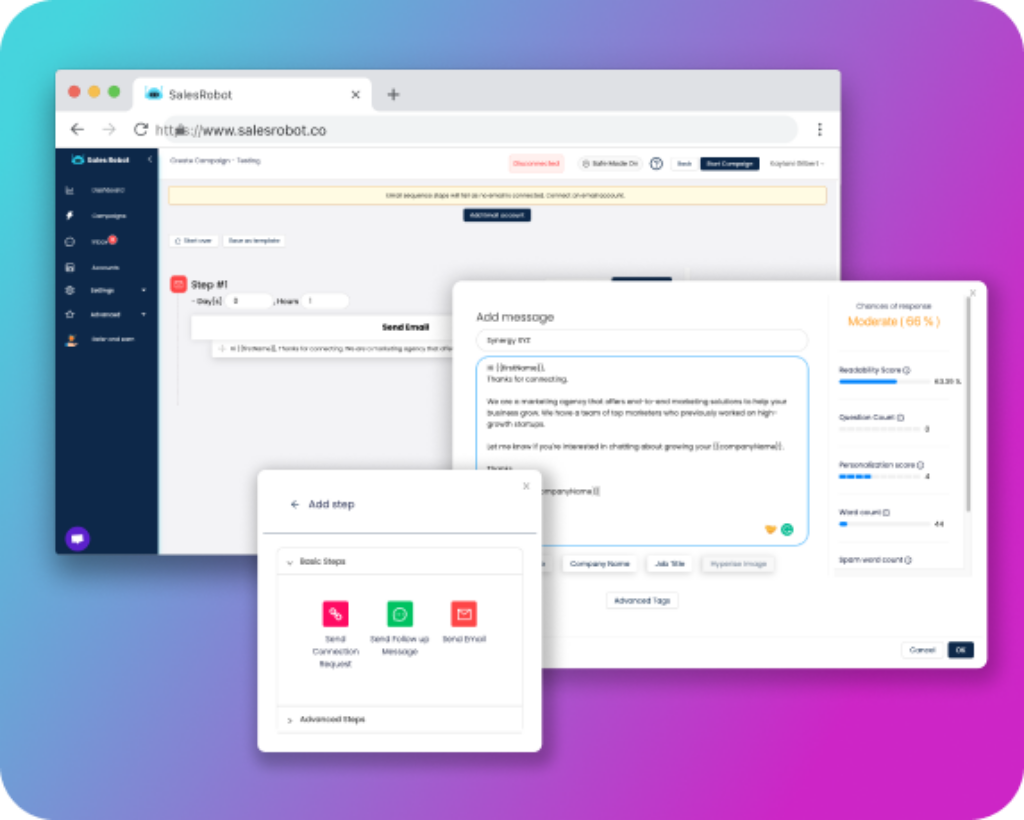 This feature makes it easy for sales professionals to monitor campaigns and stay engaged with potential leads over the course of an entire sales process. Furthermore, SalesRobot offers detailed analytics to track progress and measure success.
Automated follow-ups
Automated follow-ups are an essential tool for any salesperson. SalesRobot automates the follow-up process, saving time and ensuring consistent follow-up with customers. By automating the follow-up process, SalesRobot can automatically remind salespeople to follow up with customers after sending them an email or phone call.
Advanced charts
SalesRobot allows sales teams to create detailed reports on their sales pipeline, including data about the companies, jobs, and people being targeted. These reports can be used to create a targeting strategy that is data-driven and tailored to the needs of a specific sales team or business. With SalesRobot, sales teams can gain critical insights into their sales pipelines, enabling them to make faster and more accurate decisions about who to prioritize or close.
Safe Social Accounts
SalesRobot allows sales teams to send direct messages on social media within the prescribed limits and keep their accounts safe.
It allows sales teams to post status updates, share media, and engage with customers all within the confines of their social media profiles. This provides sales teams the flexibility to stay in touch with customers, share updates, and build relationships without violating any social media policies or guidelines.
SalesRobot also helps sales teams streamline their outreach strategies by providing automated sales reports that provide key metrics for tracking performance over time.
Sky high response rates
SalesRobot helps sales teams achieve high response rates with the help of Artificial Intelligence (AI). It uses AI to write personalized sales messages and outreach content, along with images and GIFs. This helps sales teams to stand out from the competition and close more sales. Salesbot allows sales teams to tailor their outreach efforts based on the unique needs of their target audiences. It also helps sales teams stay organized, compliant, and efficient.
Highly configurable
SalesRobot is a sales automation tool that allows you to manage the access of your teammates (or clients if you're an agency) and set daily activity limits. It also provides insights into their performance, such as their average response time and percentage of completed sales. With SalesRobot, you can easily implement automation into your sales process and focus on growing your business rather than spending time on repetitive tasks.
It has a highly configurable interface that allows you to tailor it to suit your needs and ensure it is efficient in executing your sales strategy. Overall, SalesRobot helps teams stay productive and achieve their sales goals rapidly and effectively.
Various integration options
SalesRobot provides a wide range of integration options so businesses can easily integrate with other leading tools. Some of their key integrations include A/B testing, audience targeting, batch permissions and access, brand management, calendar management, contact management, contact sharing, conversion tracking, CRM integration, customer management, data export, data import, data visualization, email integration, employee training, expense tracking, external integration, forecasting, google apps integration, inventory tracking, lead management lead scoring marketing automation and referral tracking.
Sales Robot integrates with popular tools like Zapier, HubSpot, Salesforce, and Hyperise, so you can easily export relevant data to your CRM or database of choice.
Why Choose SalesRobot?
Benefits and Applications
To maximize lead generation and conversions, you can run multiple outreach campaigns across LinkedIn and email.
With salesRobot as a tool, sales professionals can use automation to send lead-winning email campaigns, schedule follow-up calls, and track leads through its easy-to-use dashboard.
The tool helps sales professionals effectively manage their sales pipeline and track leads. This helps them identify opportunities and prioritize them accordingly.
Best for Marketing teams, Sales Managers, and Small businesses.
Helps to personalize messages, automate custom message sequences, and bypass LinkedIn's message limitations.
Furthermore, it integrates with various CRM systems, making it easy to manage leads and customer data. This way, sales teams can analyze insights from multiple sources and optimize their campaigns accordingly.
Pricing Plans
one plan, all features.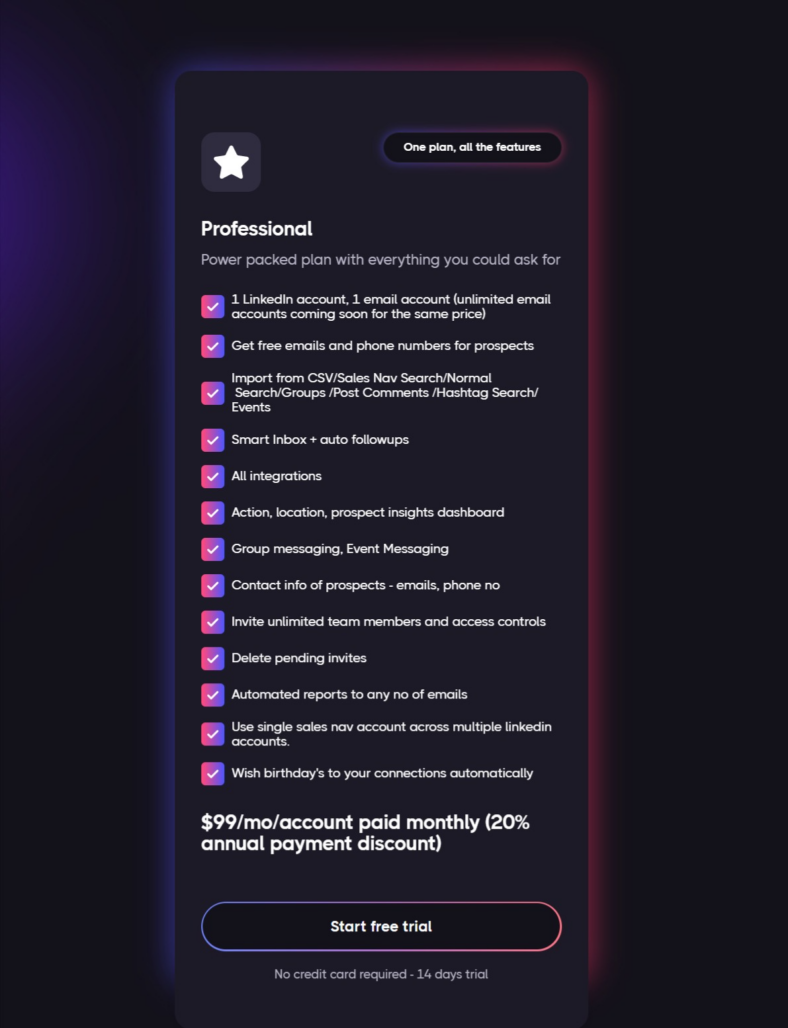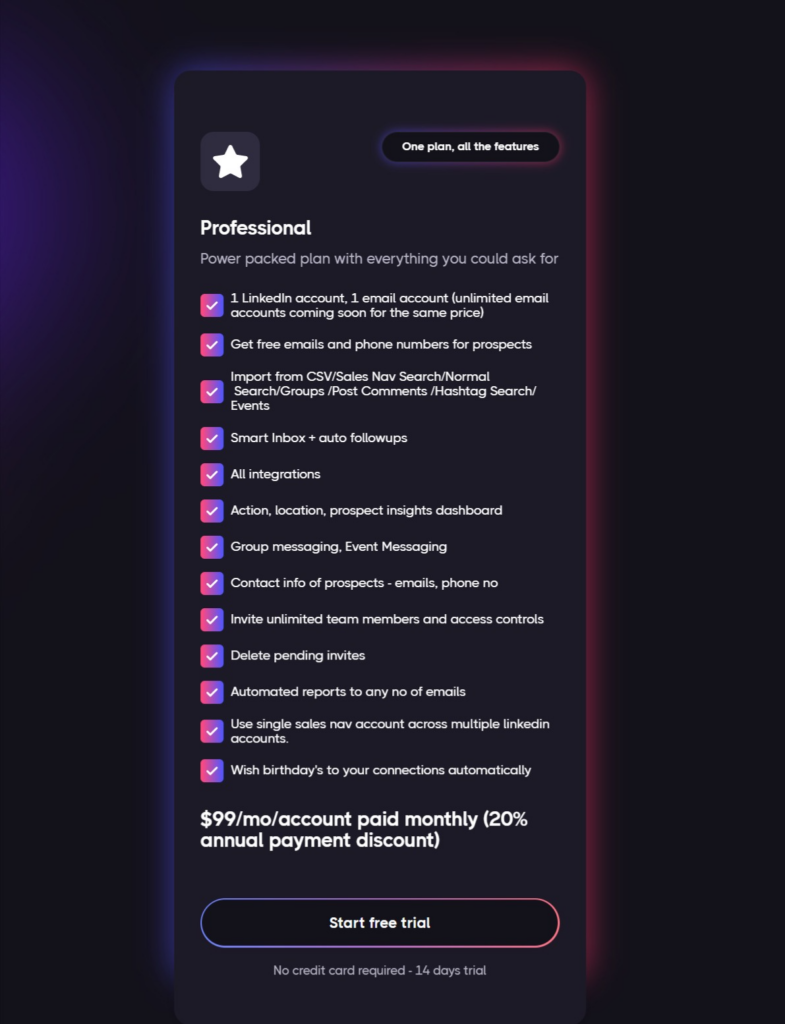 Support
Technical Support, Knowledge Base, Roadmaps, Changelogs
Email and Live Chat support
Documentation support
offers Product Demo
Alternatives
Similar Apps
Expandi is a Cloud-based LinkedIn automation tool that allows users to outreach leads using an omnichannel approach, prospect sequencing, targeting, A/B Testing & More
Lemlist is a conversational platform that enables you to initiate conversations and get responses from prospects. Lemlist is used by sales teams of all sizes, startups, lead generation agencies, and ambitious entrepreneurs to grow a profitable company and create win-win relationships with their consumers.
Cleverly uses outbound B2B campaign data to send verified, customized messages to your target customers on LinkedIn, resulting in favorable responses delivered directly to your inbox.
Final Verdict
Is SalesRobot right for You?
In today's competitive market, sales automation tools help sales teams automate their prospecting and outreach processes. Sales automation tools help sales teams automate repetitive, time-consuming tasks such as data entry, email automation, and scheduling.
But each tool has a unique set of benefits that vary from user to user. After reading this blog, you should be able to select the tool that best suits your team's automation needs and start streamlining your outreach strategies with it. For more insights on how sales automation tools can boost your sales efforts, connect with us here.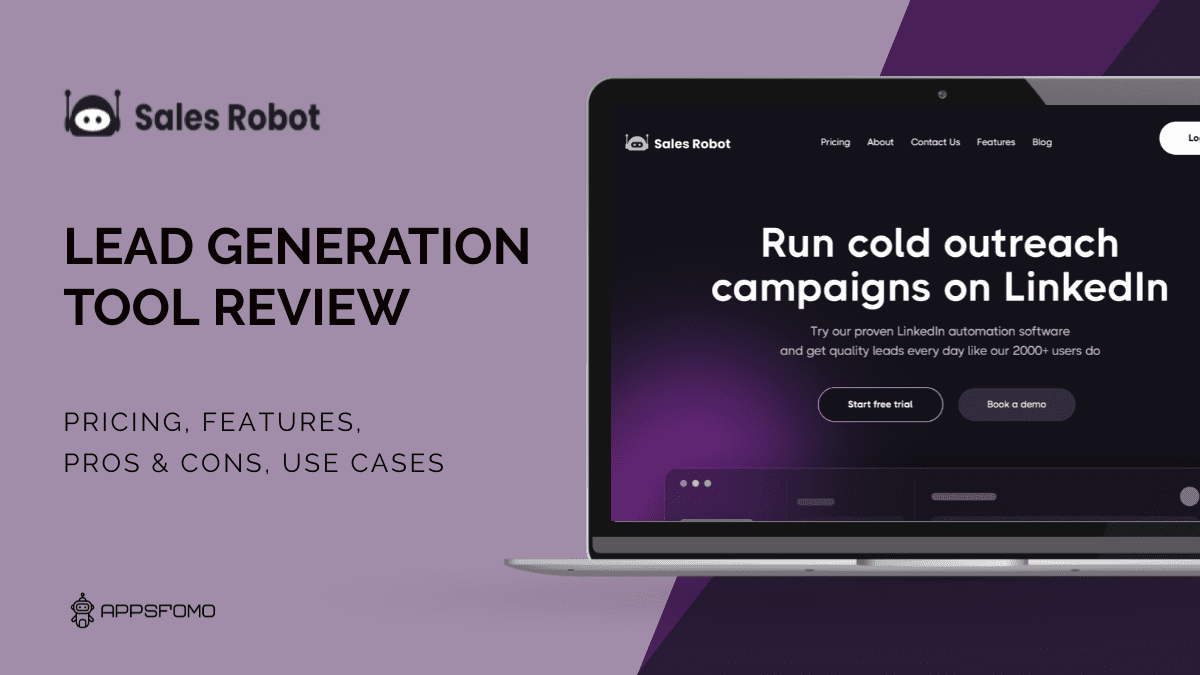 Specification:
SalesRobot: How Can it Help Boost Your Lead Generation Efforts
| | |
| --- | --- |
| Company | SalesRobot |
| Country | India |
| Initial Release | 2017 |
| Pricing | Montlhy |
| Free Version | Available |
| Lifetime Deal | Yes |
| LTD Platform | Appsumo |
| Money-Back | Yes |
| Support type | Email, Live Chat |
| Integrations | Yes |
| Supported Device | Browser |
| Mobile app | Not Available |
| Affiliate Program | No |
PROS:
Easy to use and intuitive
Eliminates the manual process of sending out connection requests and follow-ups.
Easy to navigate and execute automation tasks.
Good Support system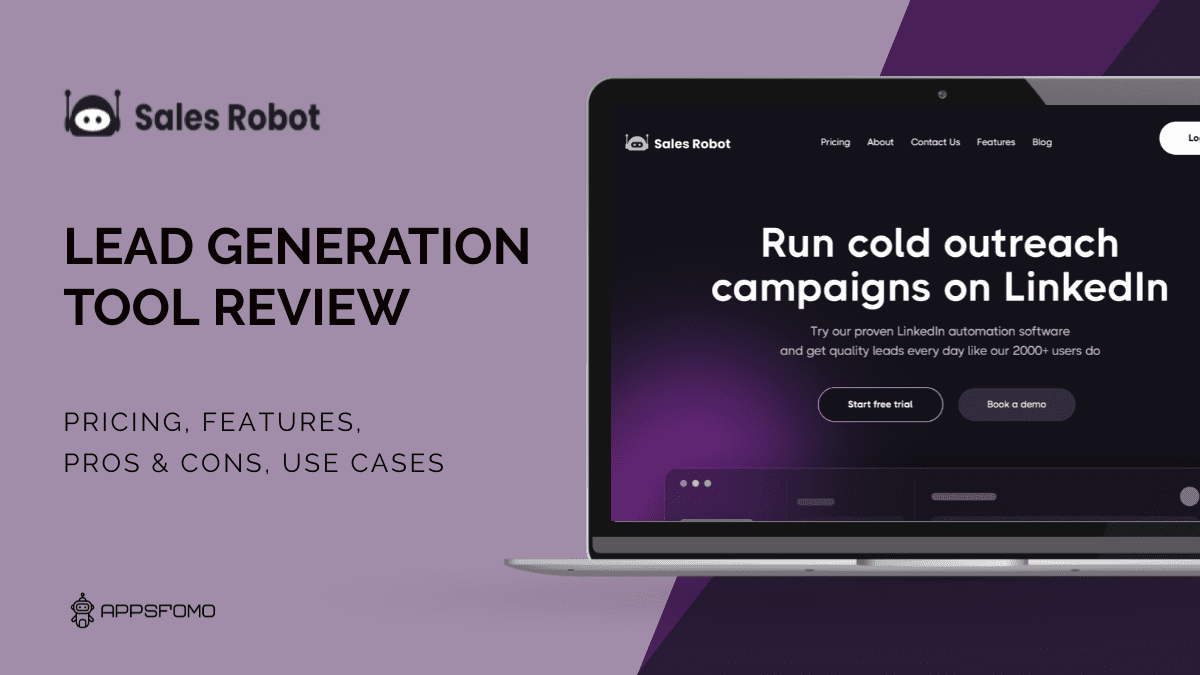 SalesRobot: How Can it Help Boost Your Lead Generation Efforts