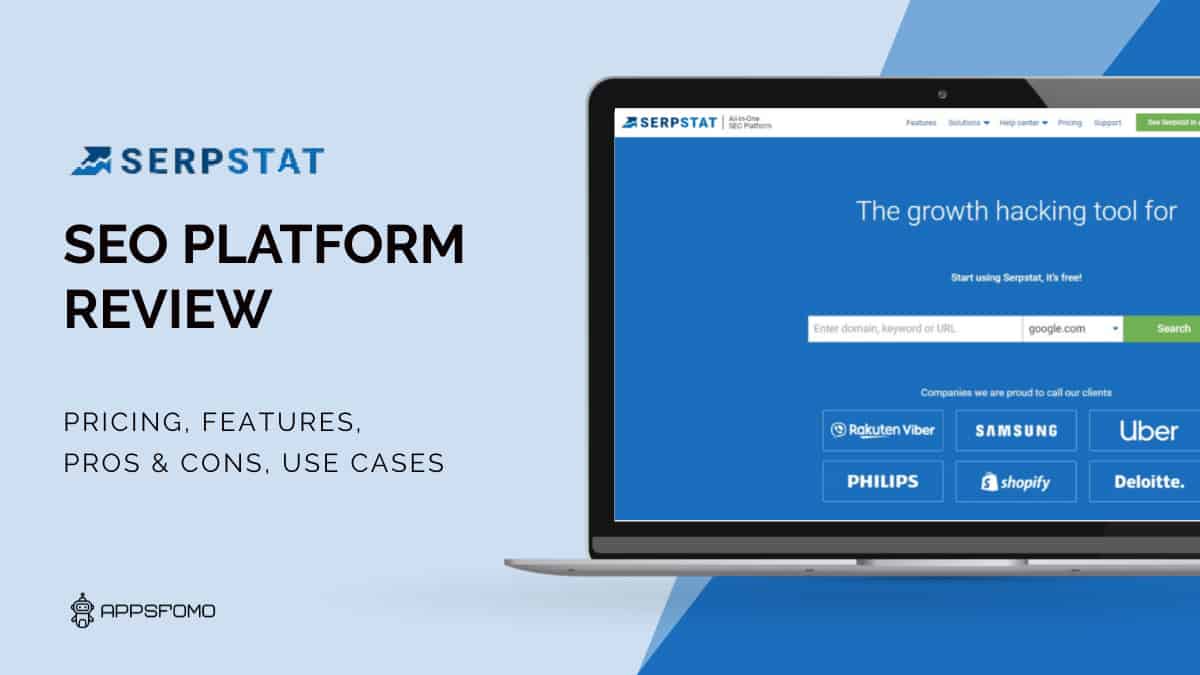 Serpstat: Maximizing Your Online Presence With Comprehensive SEO Toolkit
Add to wishlist
Added to wishlist
Removed from wishlist
0
Add to compare
SEO is a vital part of any digital marketing strategy. While it often gets neglected or underestimated, it's arguably the most important way to drive traffic and increase sales.
In the world of digital marketing, search engine optimization (SEO) is an essential way to attract people to your website. It helps search engines determine the relevance of your content and the authority of your website. This in turn improves organic traffic and rankings for your site, thereby driving more customers toward making purchases and boosting ROI.
What Is Serpstat?
Overview
Serpstat is an all-in-one SEO platform that offers features such as keyword research, backlink analysis, and rank tracking. It has been designed to make it easy for website owners to analyze their backlinks and keywords in one place.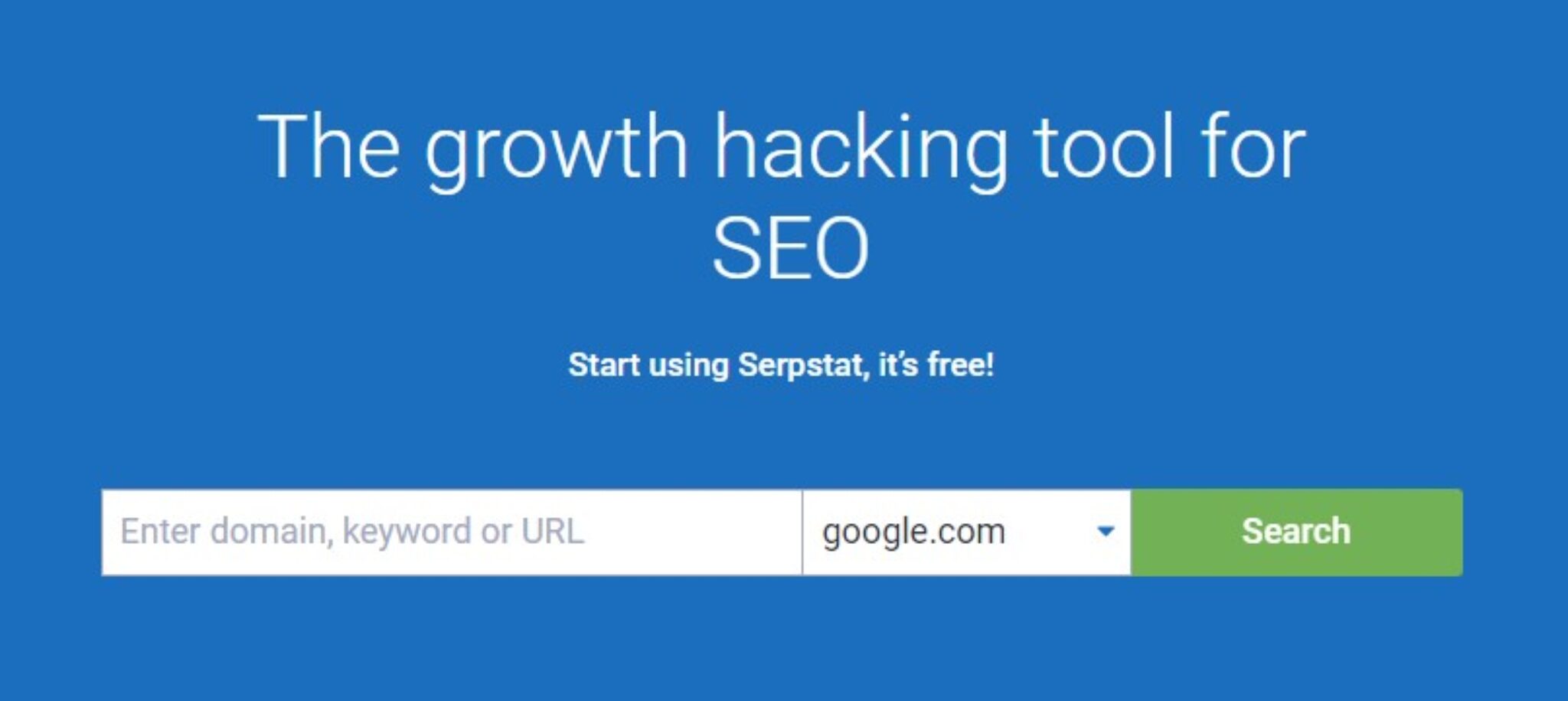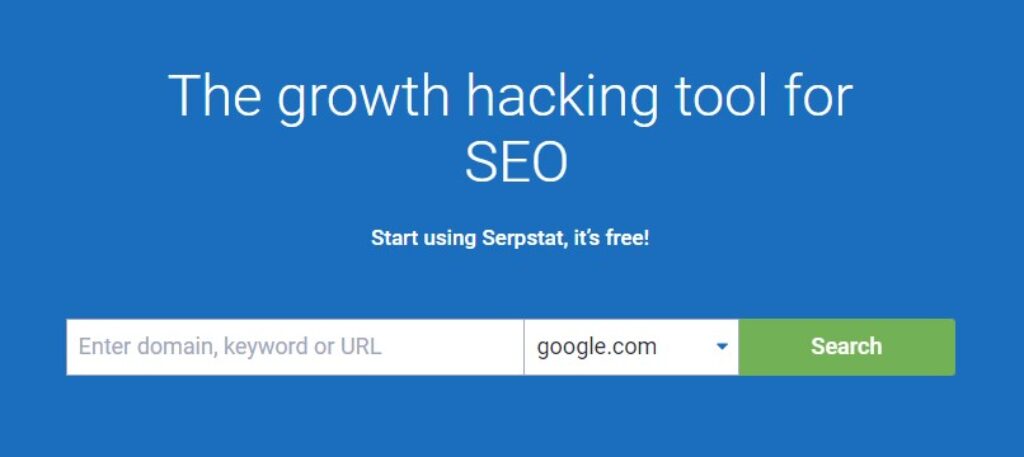 Serpstat is a powerful tool for website analysis, keyword research, backlink analysis, rank tracking, and competitor analysis. It includes features like keyword research and analysis, backlink analysis, rank tracking, and competitor analysis that can help with the overall health of your website.
Company Details
Serpstat, the backlink analysis tool, was founded by Artem Borodatyuk and Oleg Salamaha in 2013. The startup has raised $250K in funding over 1 round of seed investment from Digital Future. It provides a powerful tool for backlink analysis, rank tracking, keyword research, and competitor analysis.
With Serpstat's wide range of features, it surely is a valuable tool for SEOs and digital marketers who want to stay ahead of their competitors in the race for top positions on search engines.
Online Presence
How does Serpstat work?
Basic Features
Serpstat features a range of tools for keyword research, backlink analysis, keyword rank tracking, and competitive analysis. The product includes features such as keyword rank tracking, A/B testing, batch permissions & access, customer management, and Google analytics integration.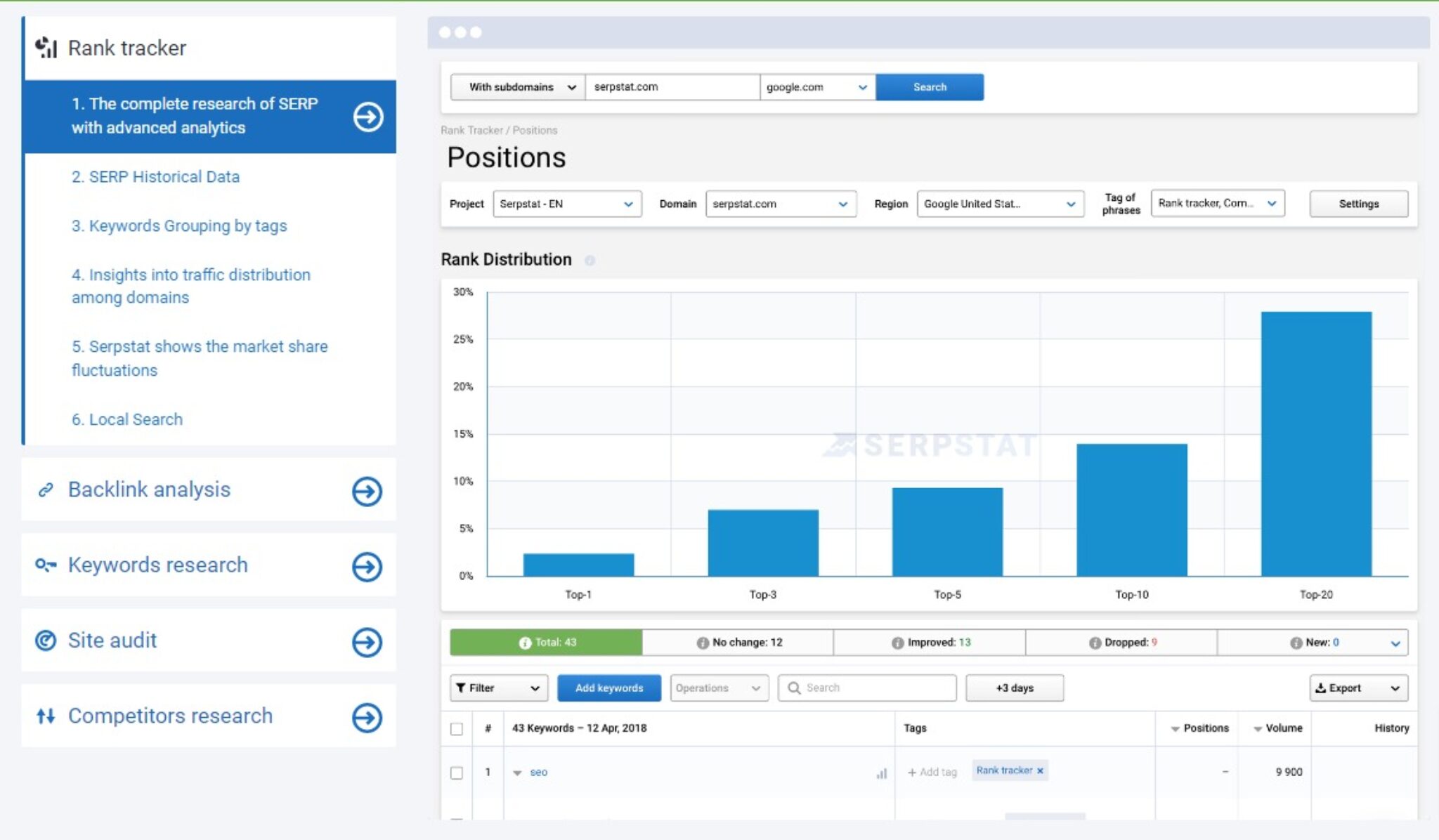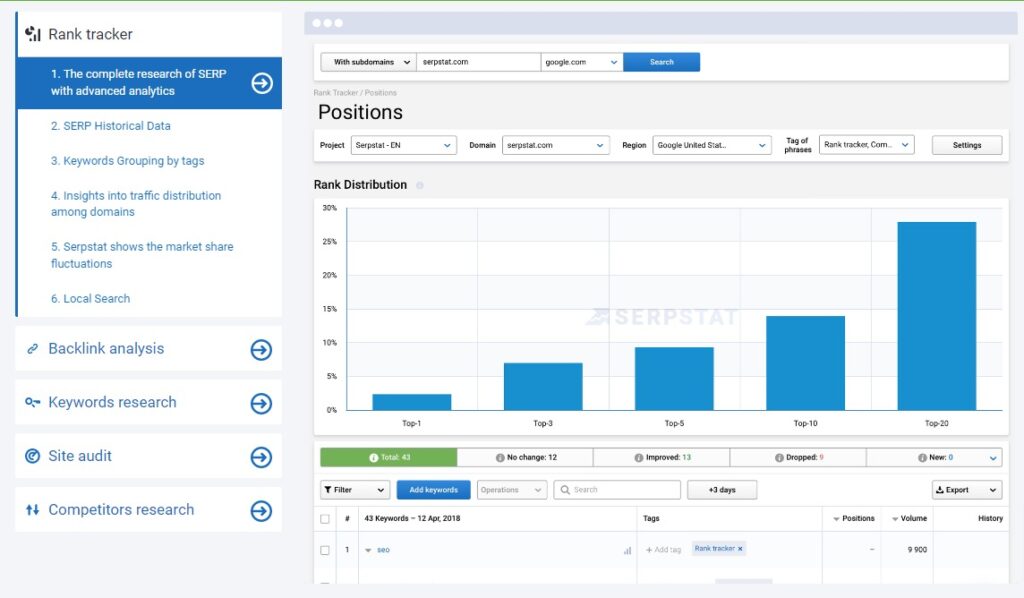 Find more keywords
Serpstat is a keyword research tool that can help you find keywords related to your website's content. In addition to the main keyword report, the tool also provides a "Related keywords" report which lists keywords that are related to the main keyword. This can be useful for finding keywords with similar topics or niches. It also has a "Search suggestions" report which will provide search query suggestions based on the keyword analysis of your website.
Track website rankings
Serpstat offers a tool to track website rankings in different cities, which can help businesses measure their performance. It also performs audit management to identify technical issues that might harm the website's rankings. The Serpstat tool can be useful for tracking the progress of website optimization efforts over time and identifying the impact of changes.
Create content
Serpstat has a variety of features to help you quickly identify the strengths and weaknesses of your content. It has a keyword search tool that can find keywords relevant to your page or site; an analysis tool that shows the distribution of keywords across various pages or sites; an export feature that allows you to save the keywords and metrics you select in one place; and more.
Find on-page SEO issues
Serpstat offers comprehensive site audits using tools to detect on-page SEO issues. The audit tool can help identify any potential on-page SEO issues, including keyword stuffing, missing analytics, and broken links. In addition to the audit tool, Serpstat has a keyword research tool that can help identify potential on-page SEO issues.
Why is Serpstat best for users?
Unique Features
These are a few unique features of Serpstat.


Group related keywords
Serpstat can group related keywords together to identify potential opportunities for website optimization. This feature is useful for identifying pages that could be optimized for specific keyword phrases, or groups of related keywords.
Competitor Analysis
Competitor analysis tools can help you analyze the performance of your competitors and discover their sources of traffic. Using SEO and PPC data, it's possible to identify the source of traffic for any website, niche, or search term. Additionally, competitive analysis tools from Serpstat can be used to research all of the competition for a particular topic, keyword, or ad campaign.
Analyze trending queries
Serpstat can help you identify the most popular queries being used to search for information on the internet. This feature is useful for gauging which topics and keywords are generating the most interest among website visitors.
Increase backlink profile
Backlink analysis is a powerful feature of SEO tools that can help identify potential link opportunities in a website's backlinks. It allows you to examine the quality and competitiveness of the website backlinks and determine whether or not these links are desirable for your SEO campaign.
Serpstat is an SEO software tool that competes primarily with SEMrush. It offers keyword research, position tracking, backlink analysis, and competitive analysis. Users can analyze their website's performance in terms of keywords, rankings, traffic, and backlinks.
Semrush is an SEO tool that offers keyword research, backlink analysis, position tracking, social media monitoring, and website analytics. Users can analyze their website's performance in terms of keywords, rankings, traffic ( organic search + paid search ), and backlinks.
Serpstat vs Semrush
Epic battle


Why Choose Serpstat?
Use Cases and Benefits
SEO
PPC
Content Marketing
Marketing
Pricing Plans
Monthly Pricing and Annual Pricing
Serpstat is a tool designed to help your site rank higher in search engines. The service offers a variety of features, from keyword research and analysis to audit and optimization. The pricing options are suitable for all kinds of businesses and budgets.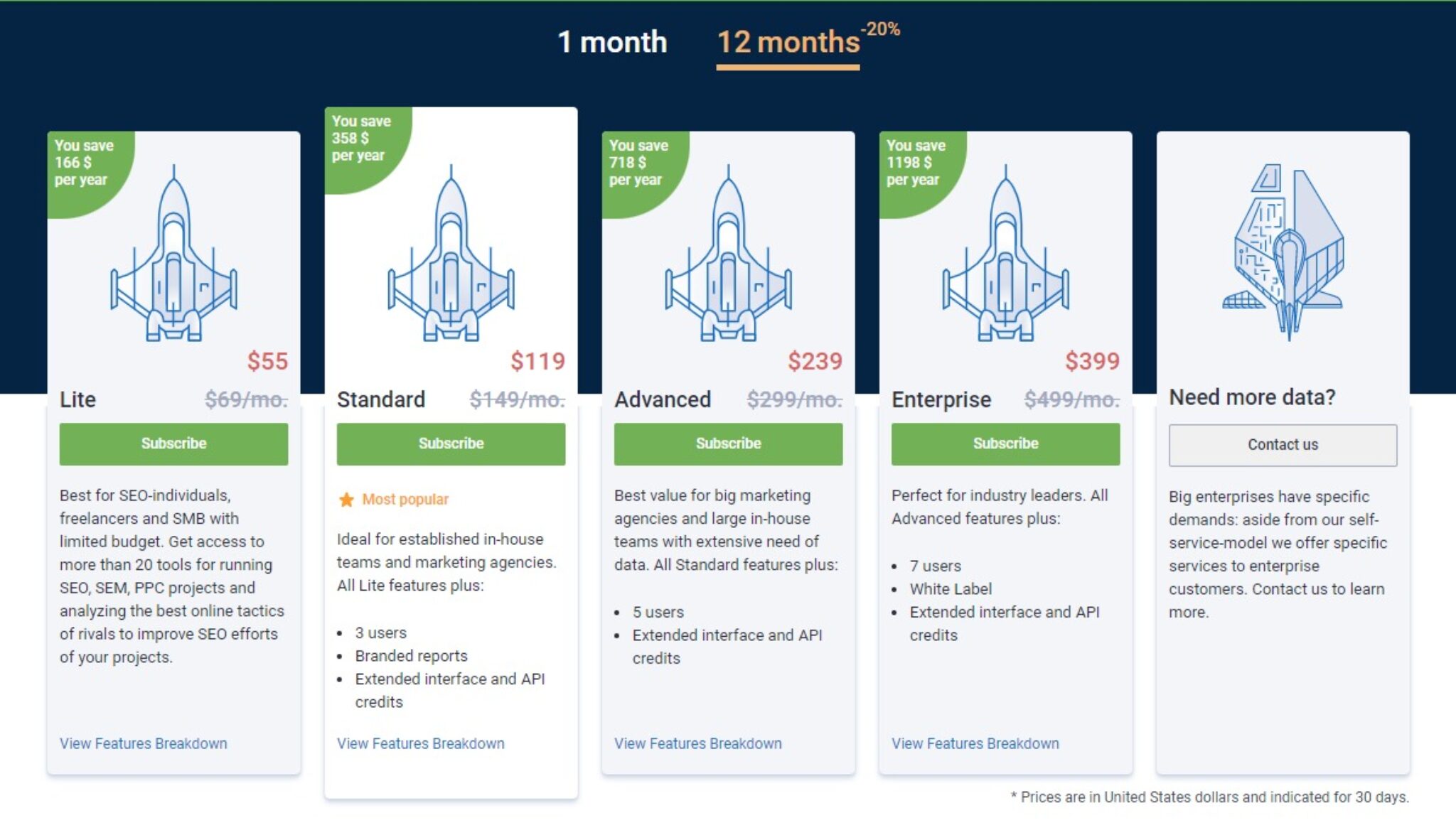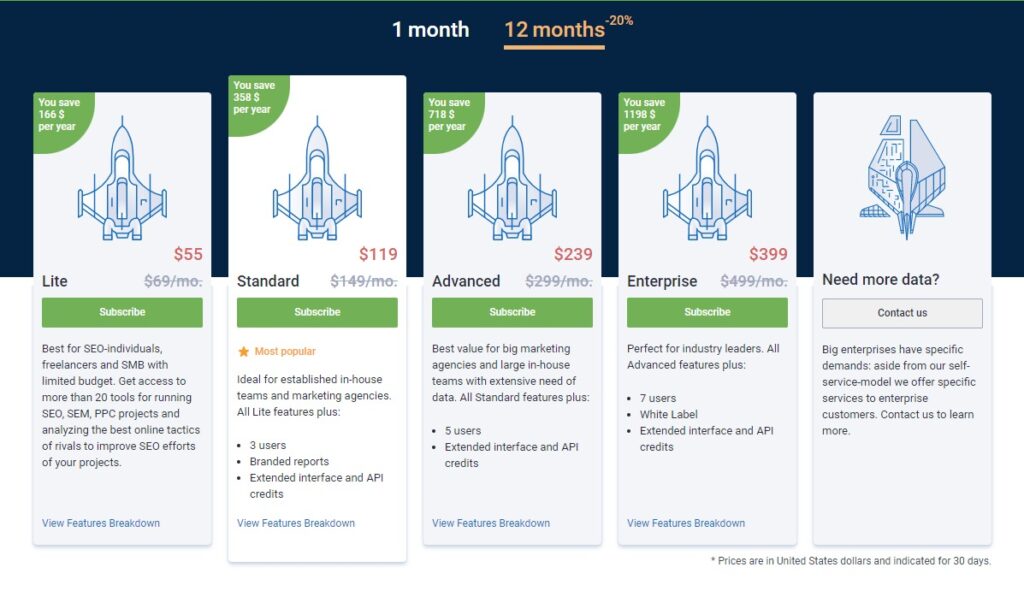 Support
Technical Support, Knowledge Base, Roadmaps, Changelogs
Alternatives
Similar Apps
The top-rated Serpstat alternatives will help you make an informed decision. After analyzing the features and pricing of each of these products, you'll be able to choose the best option for your needs.
Semrush is a popular tool used by businesses in the SEO and PPC space. It is capable of providing keyword analysis, website monitoring, and other features. However, it is generally more expensive than other options, such as Serpstat.
SE Ranking is a comparatively new tool that offers features with an emphasis on search engine optimization. It tracks keyword trends across major search engines to analyze keyword opportunities and provide actionable insights.
Conductor is one of the most affordable options for starting off with keyword analysis. While it lacks some of the features of the other two products, it has become a go-to tool for many organizations because of its simplicity, ease of use, and affordability.
Final Verdict
Is Serpstat right for You?
As you can see, the above-mentioned tools help you analyze the keywords you should use on your website and the way to optimize them to rank higher. They also give you the chance to research your competitors and plan a strategy accordingly so that you don't lose the digital war. If you're looking for a way to boost organic search engine rankings, try our webinars – they're packed with actionable tips to help you succeed! Sign up for Serpstat now!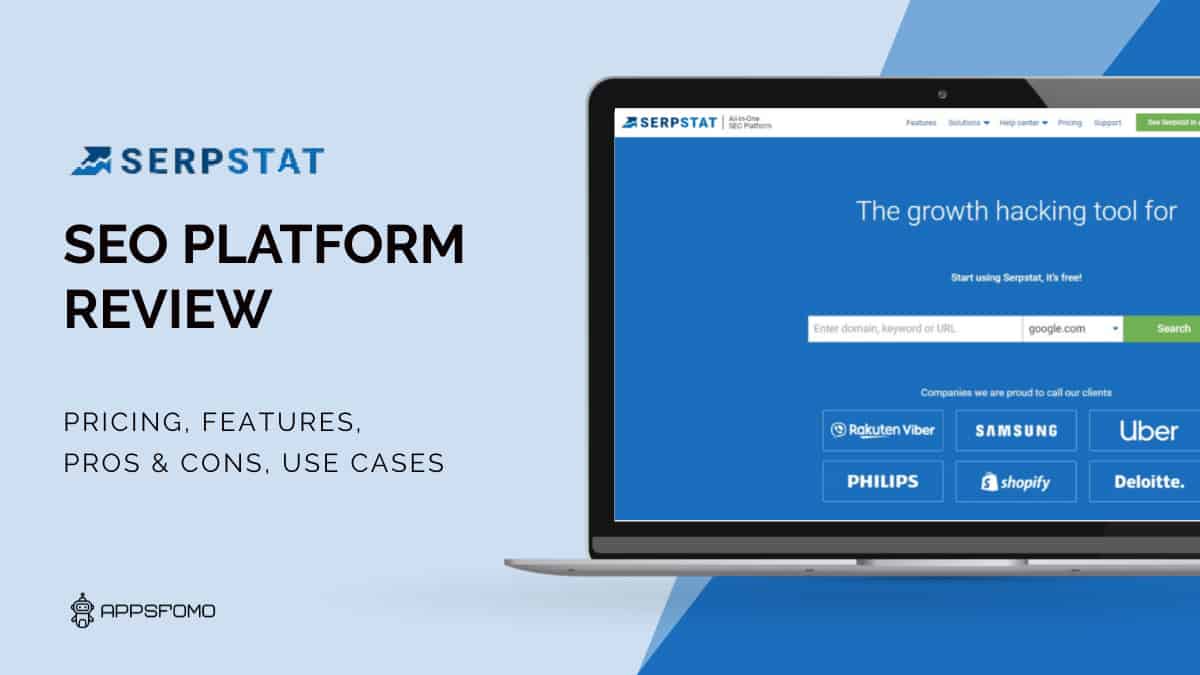 Specification:
Serpstat: Maximizing Your Online Presence With Comprehensive SEO Toolkit
| | |
| --- | --- |
| Review Date | February 2023 |
| Company | Netpeak Group |
| Country | USA |
| Initial Release | 2013 |
| Pricing | Annual Payment, Monthly payment |
| Free Version | Free Trial |
| Lifetime Deal | No |
| LTD Platform | N/A |
| Money-Back | 10 days |
| Support type | Help center, Live Chat |
| Integrations | Yes |
| Supported Device | Browser, Web Based |
| Mobile app | Not Available |
| Affiliate Program | Yes |
PROS:
Audit Reports are well-made and detailed
User interface is easy to navigate.
Domain analysis has been great for creating a baseline.
CONS:
Traffic estimates are too high.
Some of the usage tutorials are outdated.
Some competitor research data seems to be inaccurate.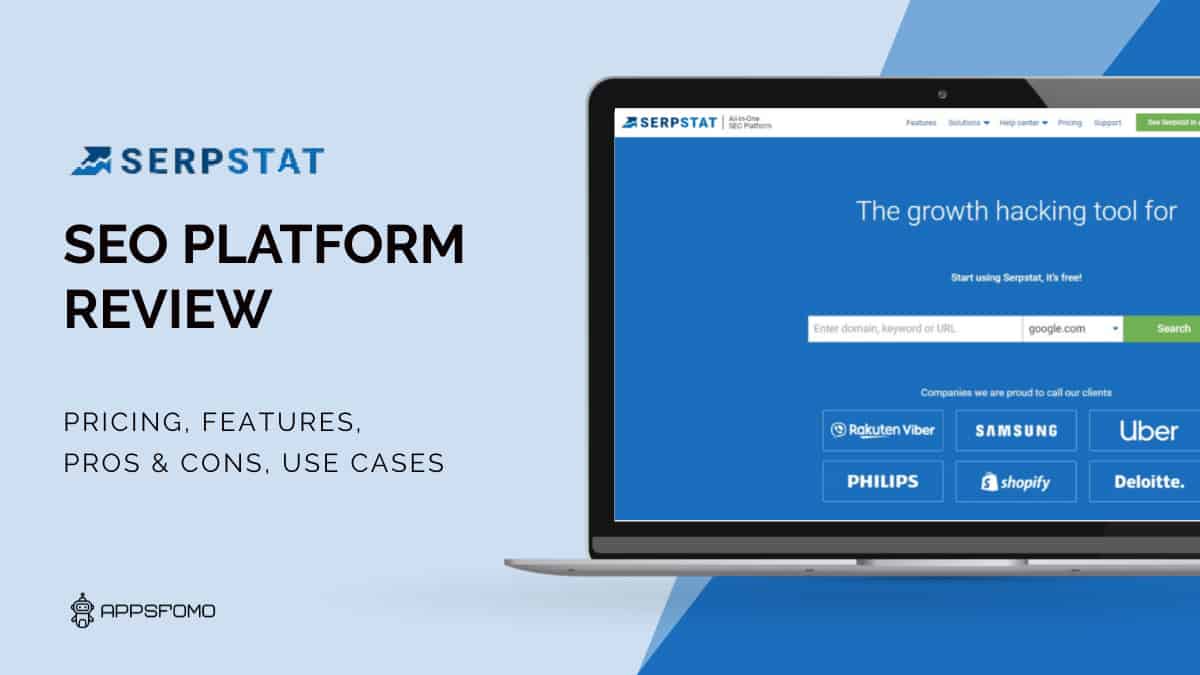 Serpstat: Maximizing Your Online Presence With Comprehensive SEO Toolkit