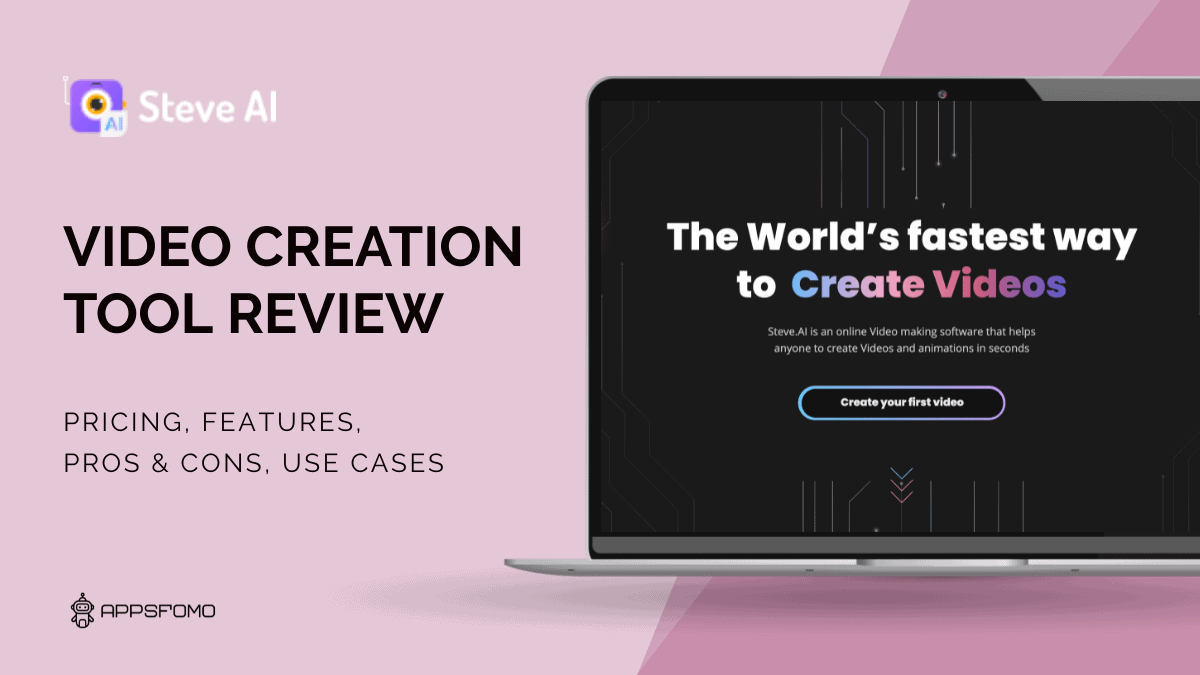 steve.ai: Revolutionize Your Video Creation with the best AI-Powered Platform
Add to wishlist
Added to wishlist
Removed from wishlist
0
Add to compare
The era of video content creation is here. When a video goes viral, it's usually because of the video content. Video content gives a visual representation of a message and allows for a closer look at its meaning. It's a tool that has a unique way of communicating a message or idea to an audience.
In fact, videos have become one of the most effective means of communication. Unlike text content, videos can be easily shared across social media platforms and mobile phones. Also, videos make better eye candy that keeps people hooked. To create an effective video content strategy for your brand, you need to have a video editing tool at your disposal. But with so many options available in the market today, choosing the right one can be tough. That's why we've created this guide on how to use the Steve.ai video editing tool – all you need to do is write a blog post and transform it into a video! Let's get into it.
What Is Steve.AI
Overview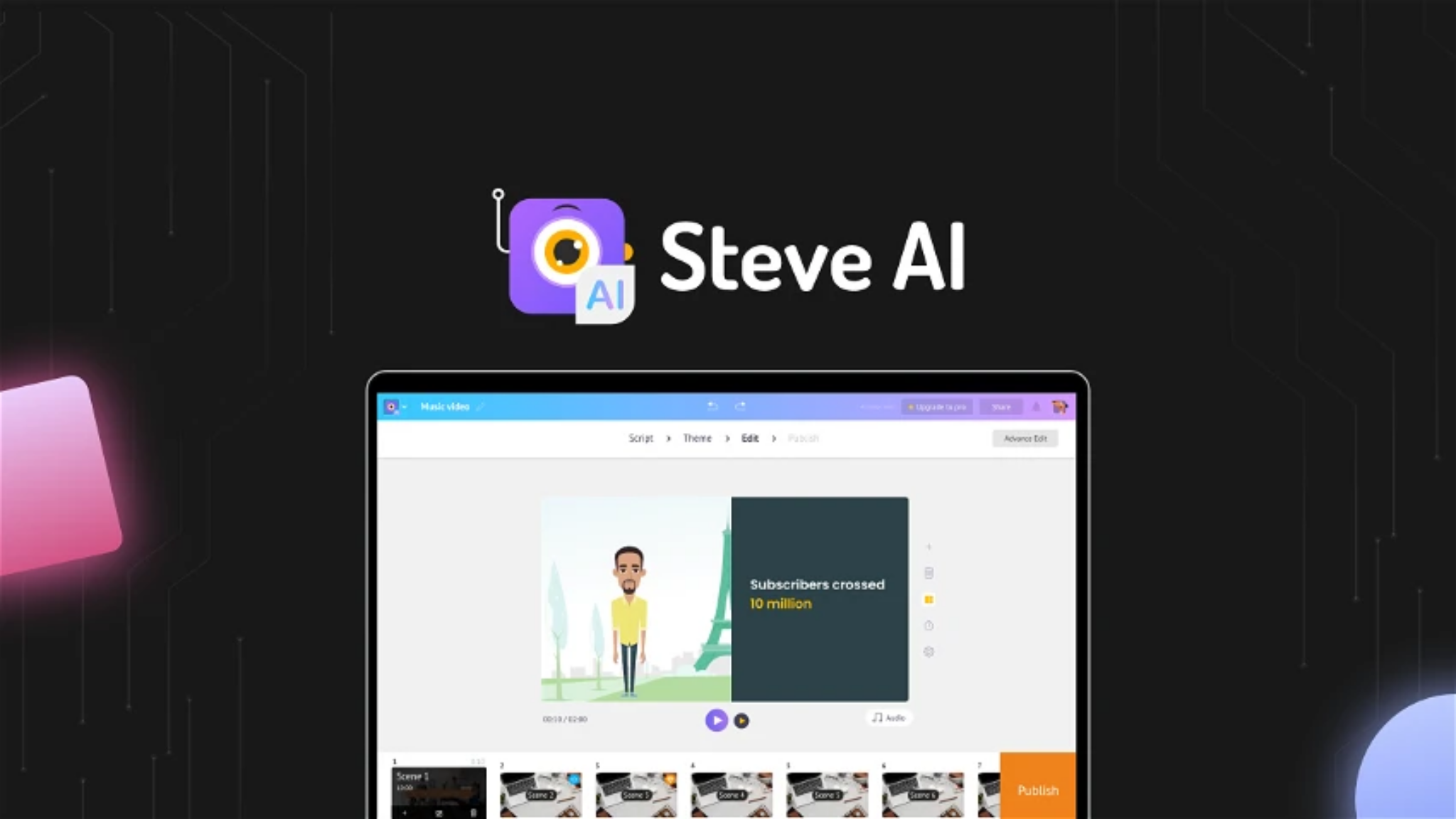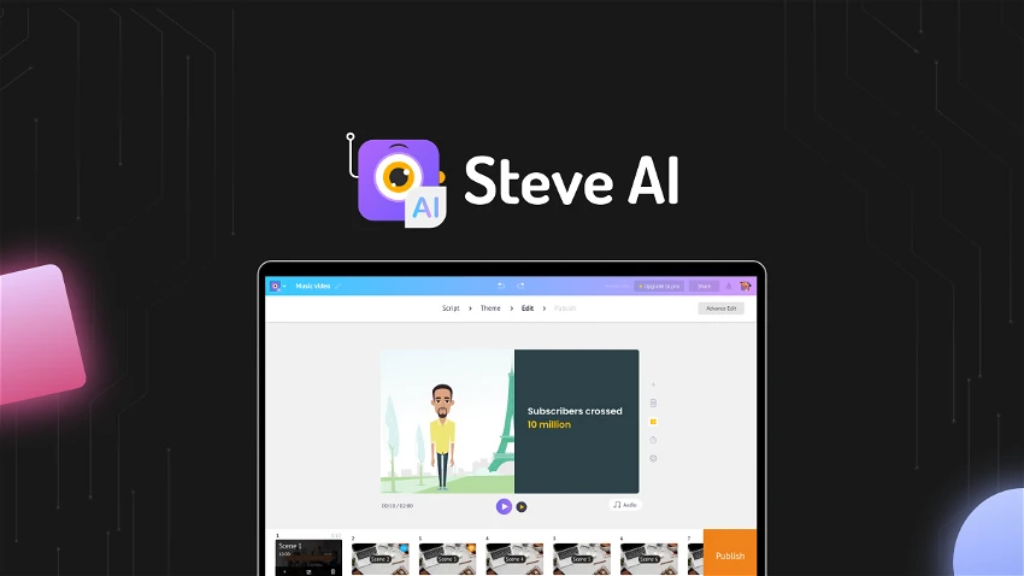 Steve.AI is a video creation platform that utilizes Artificial Intelligence (AI) to help users create engaging videos quickly and easily. The platform helps brands and businesses create videos for social media, advertising, storytelling, and more. With the help of AI-powered editing features and other video-making tools, brands can save time and money while creating high-quality videos.
One of the main advantages of using Steve AI is that it can convert scripts into captivating videos in a matter of minutes. Unlike conventional editing software, which takes a great deal of time to process a video, Steve AI can do the same job in a fraction of the time. This makes it an ideal video creation tool for businesses looking to save time and money on their video projects.
The company's mission is to enable anyone to create high-quality videos without having to put in much effort or spend a lot of money. With its easy-to-use editing features and powerful AI technology, customers can create engaging videos quickly and efficiently with minimal effort and cost.
Company Details
Steve.Ai is from the makers of Animaker, The world's best DIY video creation tool. Raghav is the CEO, and Founder of Animaker Inc.
Users loved it when Animaker transformed video production time from weeks to hours. They, on the other hand, didn't stop there. Wanted to take the limits even further and shorten the video production process even more(Second Hurdle). As a result, They created a smart video-making assistant that leverages the abilities of artificial intelligence.
Thus, Steve AI was created, an artificial intelligence assistant that could substitute for you with video production by understanding human thought processes.
Steve.Ai was founded in 2013 in San Fransico, United States.
Online Presence
Steve.AI Features
World's fastest way to create videos!
Steve AI is an AI video maker for social media and content marketers for creating Live and Animated videos in minutes(You heard that right!)
With Steve AI's assistance, you can turn any blog, script, or text content into bite-sized videos for social media. With video-making taken care of by Steve AI, content creators can now create consistent, high-quality content and get more and more creative with all the saved time!
Transform Blog into Videos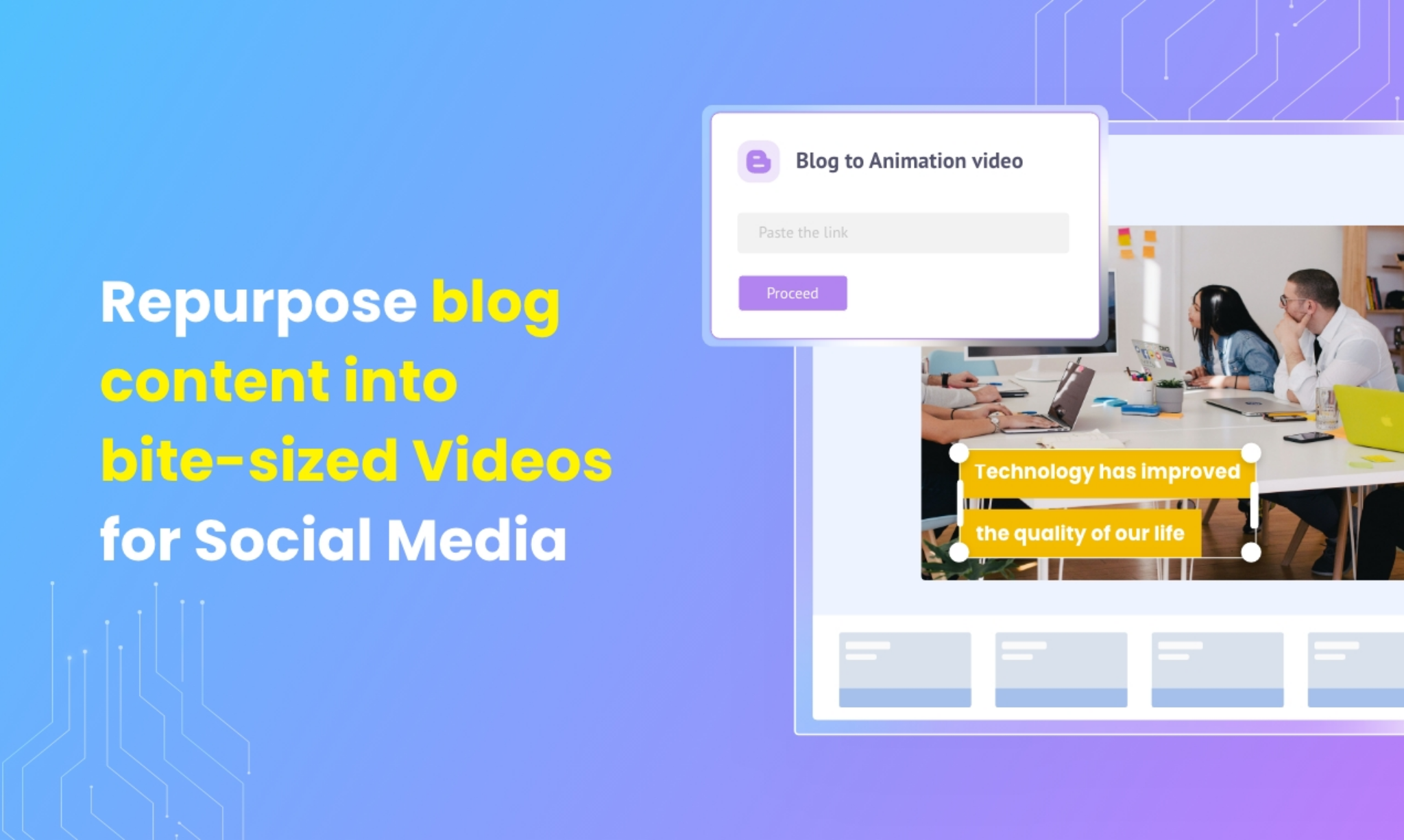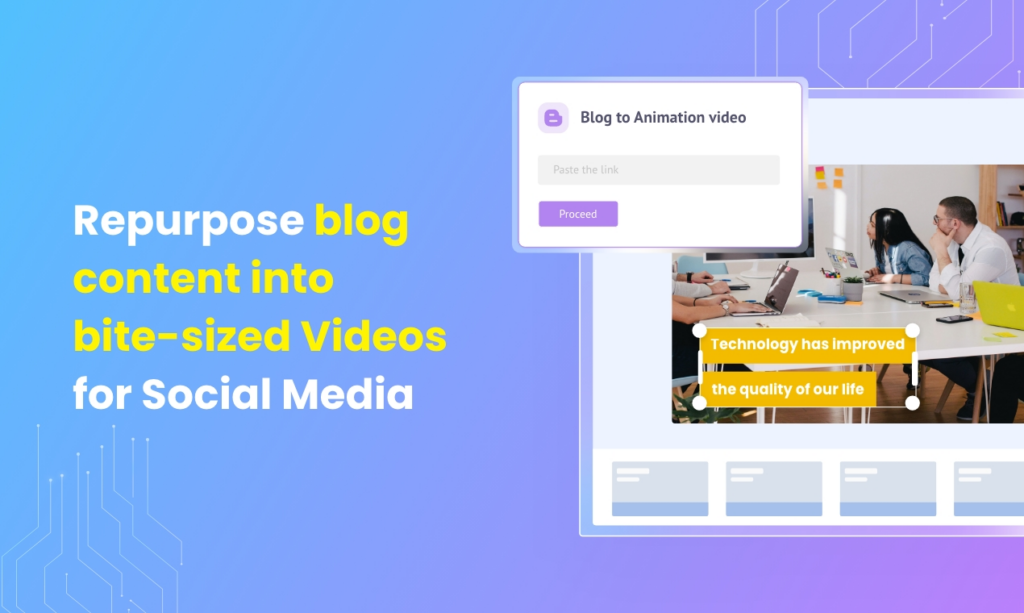 With Steve.AI, you can turn blog posts into videos automatically by simply copying and pasting a blog URL. The tool automatically extracts text right from the blog URL, so you can choose which portions of a post to use in your video. The video will play like a Humming bird's wing beat, moving from one section of text to another as it narrates the post. With Steve.AI, you can transform your written content into a video and reach a wider audience instantly.
Transform Photos into Videos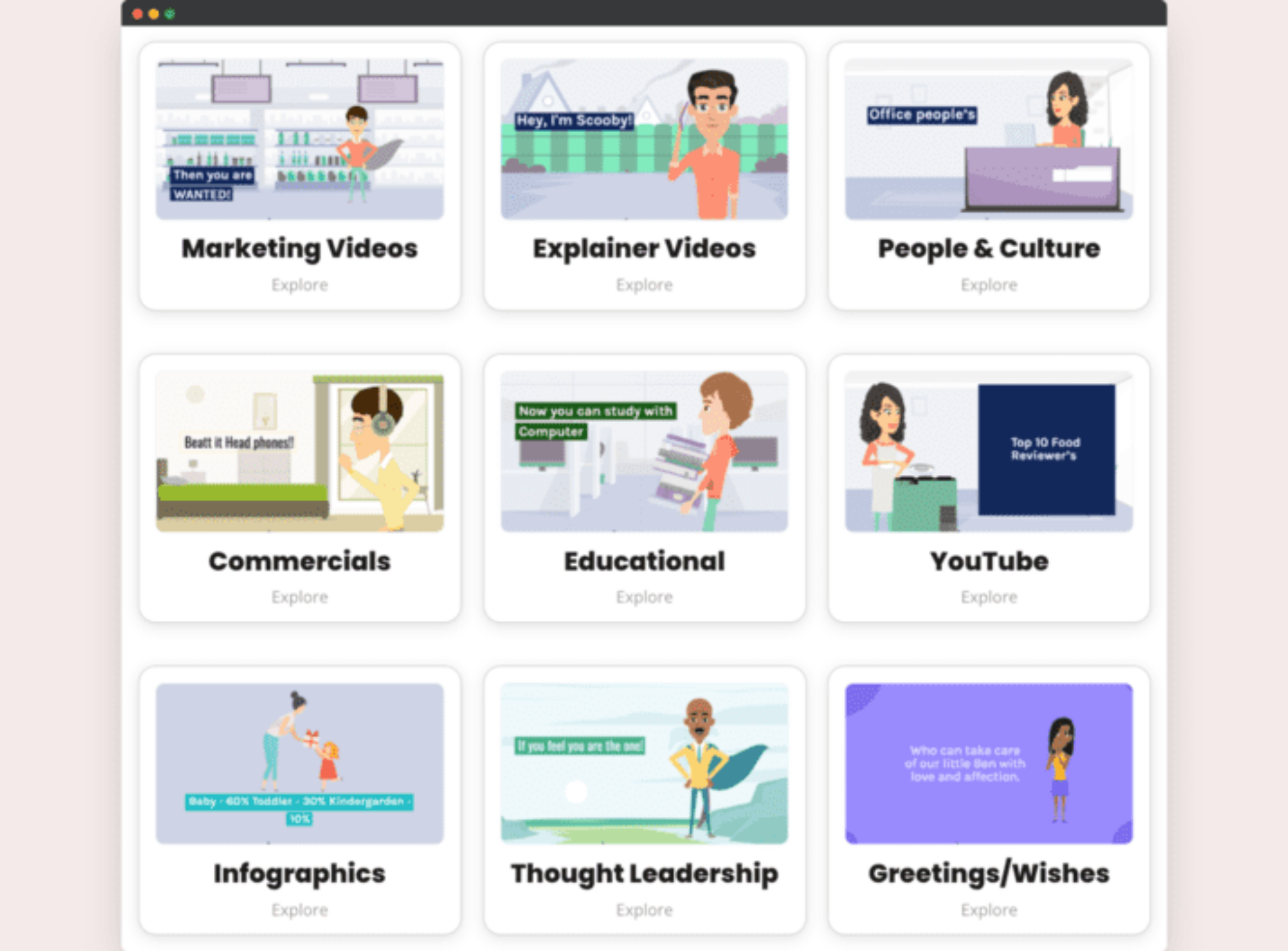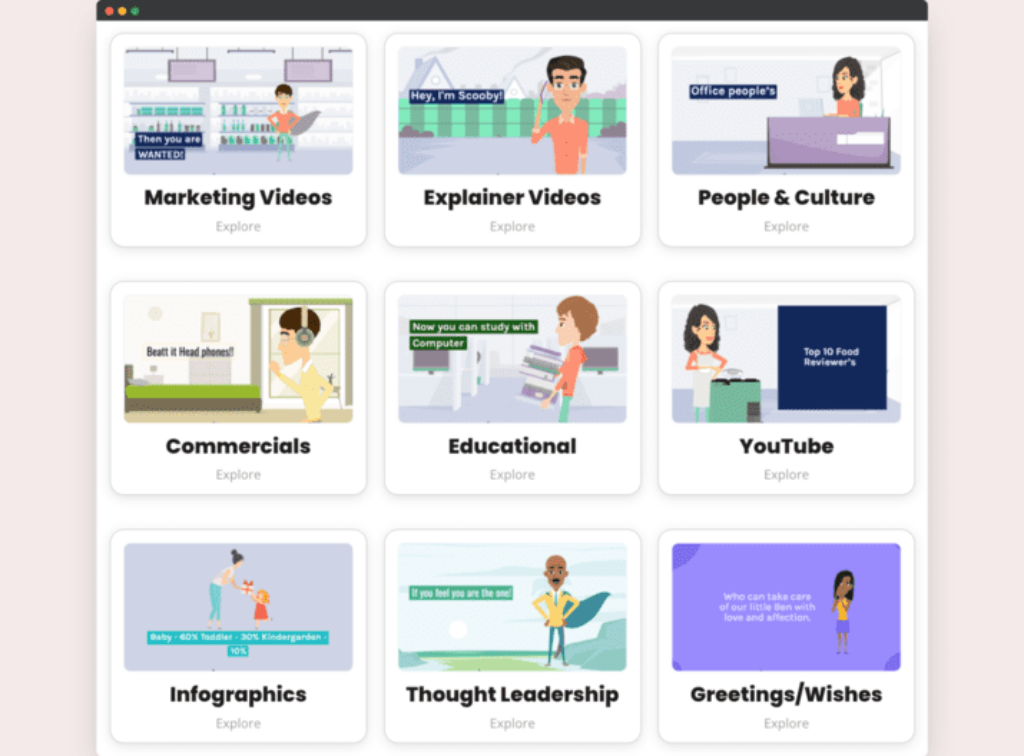 With Steve AI, you can easily create videos with your photos in minutes. The platform has a range of editing and creation tools to help you turn your favorite memories into a video. You can choose from 100+ templates to create stunning-looking videos from your photos. Plus, you can upload your photos and clips and customize the look and feel of the video on the dashboard. Once you are done editing, save and share your videos from the project page on the website. With Steve AI, it is easy to turn your memories into a video with just a few clicks.
Repurpose Text to video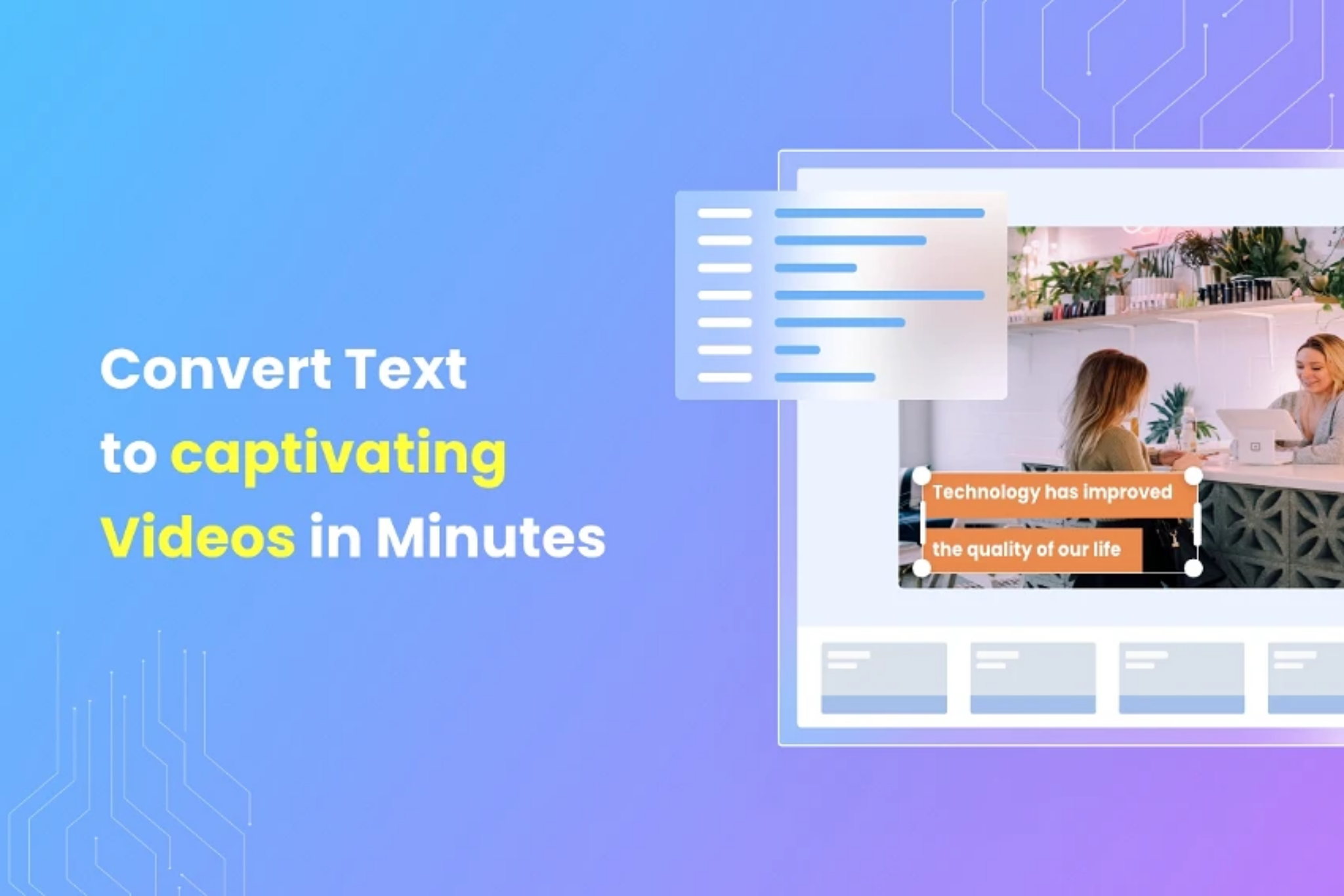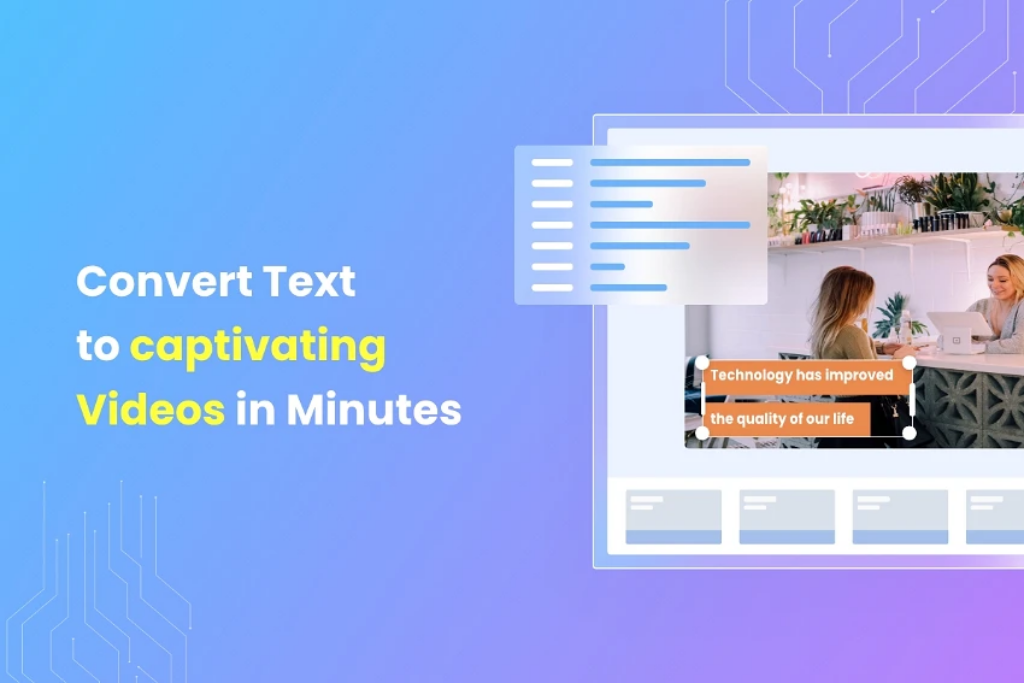 Steve.ai is a video editing and creation tool that can help you create professional-looking videos from any text. It has several features that make it a great editing and creation tool. One of the features is its ability to automatically pick the most relevant assets for a particular video without breaking a sweat. It does so by analyzing the content of a particular video and automatically selecting the best assets to use.
This makes it possible to produce engaging videos from just a few selected quotes or sentences. Simply paste your text into the Script editor and produce engaging videos.
Repurpose Audio to Video
Audio to video
Have you ever wanted to create a video from audio but found it time-consuming or difficult? With Steve.ai, it can be easy and fast. You can convert audio files into videos by extracting the text and adding context. If the audio requires a narrative, you can add a storyline that follows the audio file. You can also add music and effects to give your video a unique look and feel. With this tool, it is easy to transform plain audio into a visually appealing video in no time.
Create YouTube Videos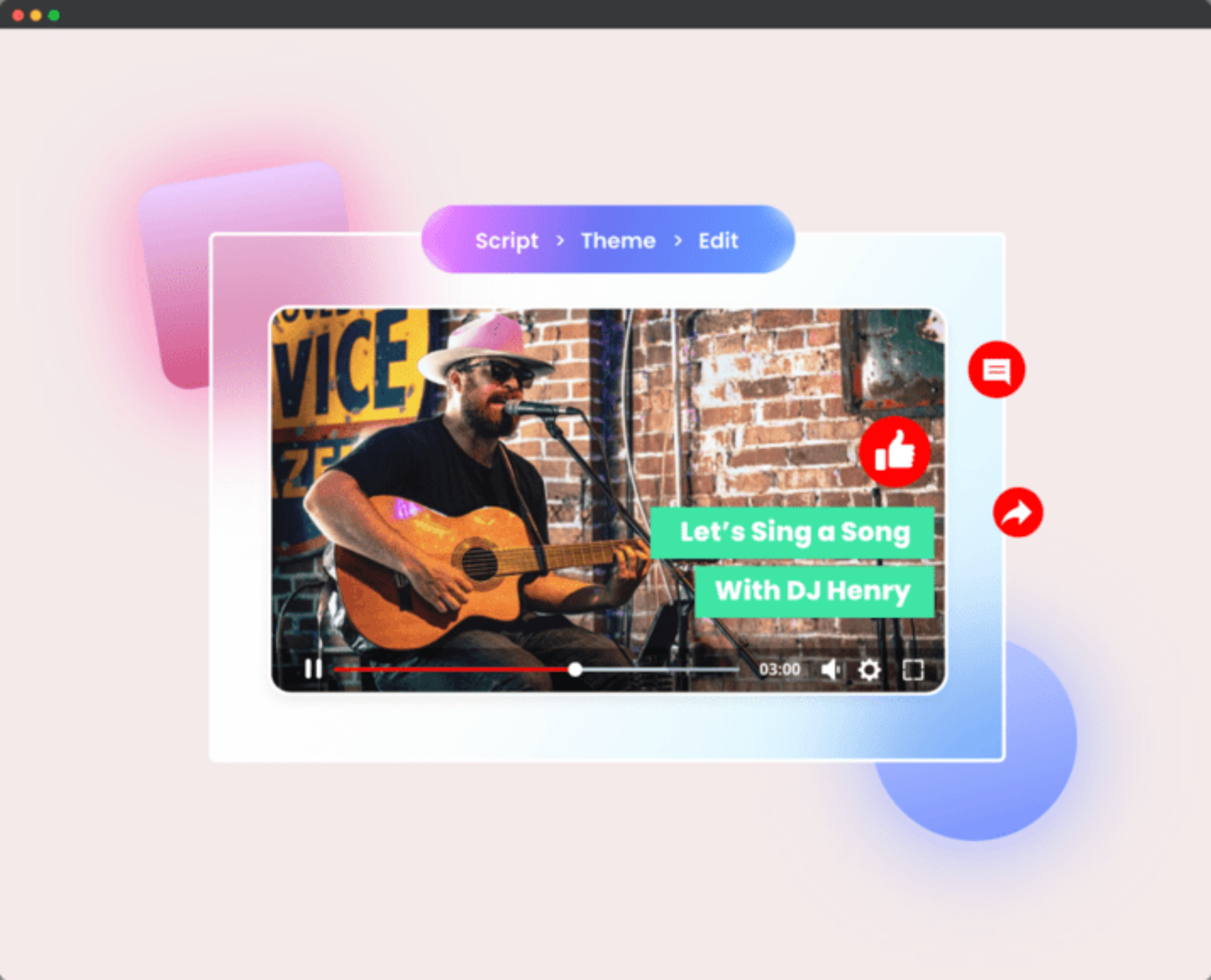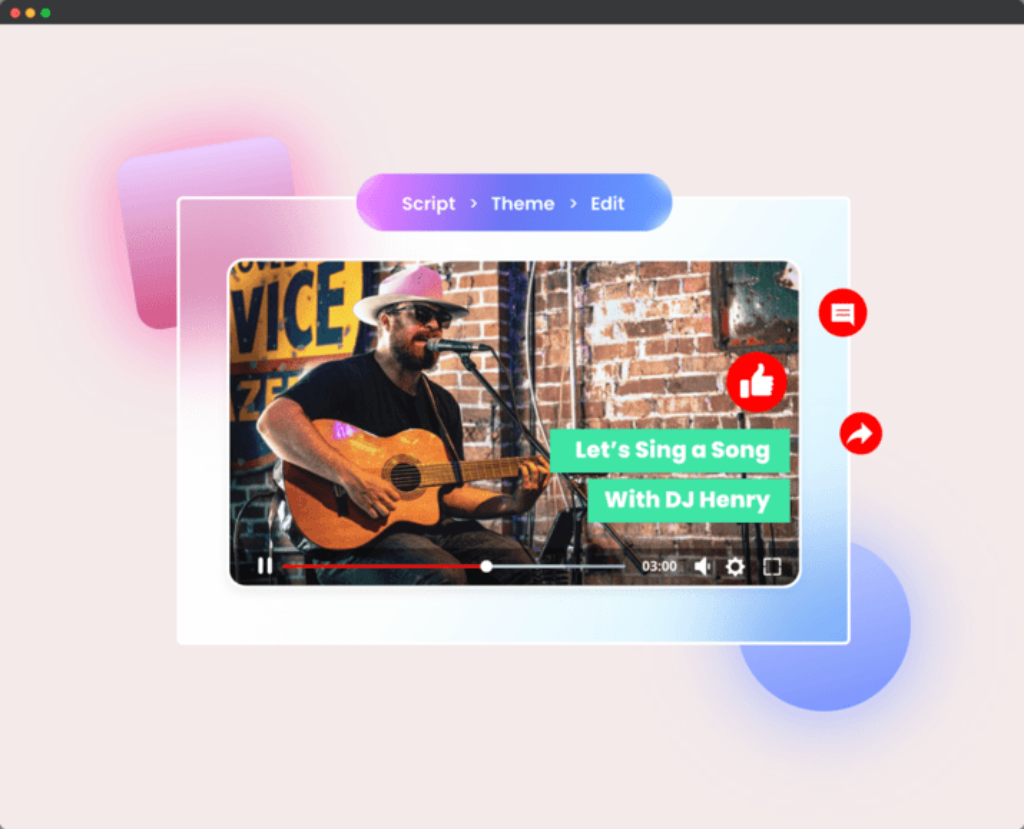 Whether you're creating a Youtube intro, an outro, an ad, or a longer video, Steve AI's video maker has a range of different effects and editing tools that will allow you to create a professional-looking video in a short amount of time. Additionally, the intuitive design of this tool allows users to focus on creating high-quality content rather than spending time navigating the interface. If you're looking for a unique and effective way to increase your social media visibility and promote your brand online, look no further than Steve AI's video maker.
Create Social Media Videos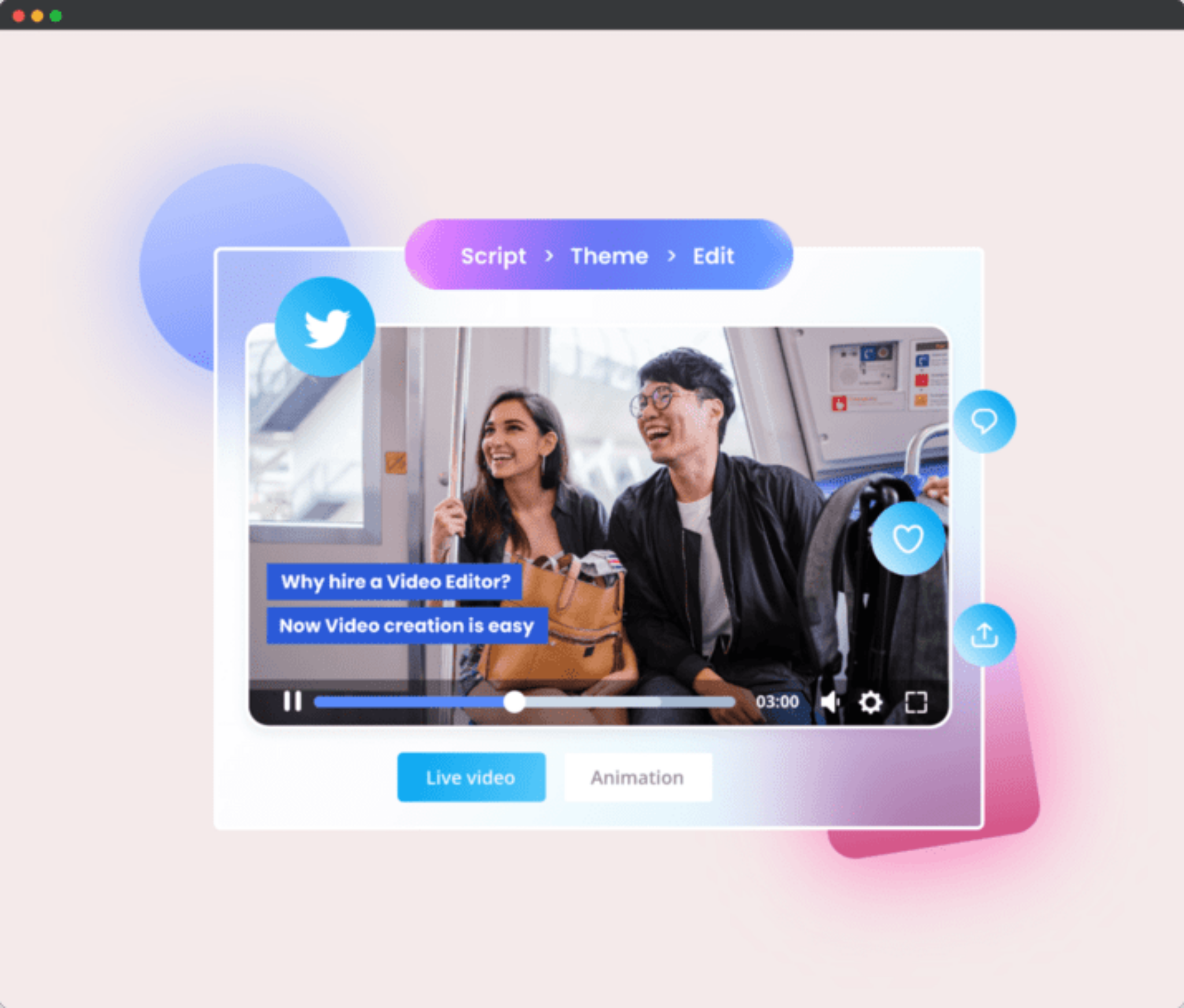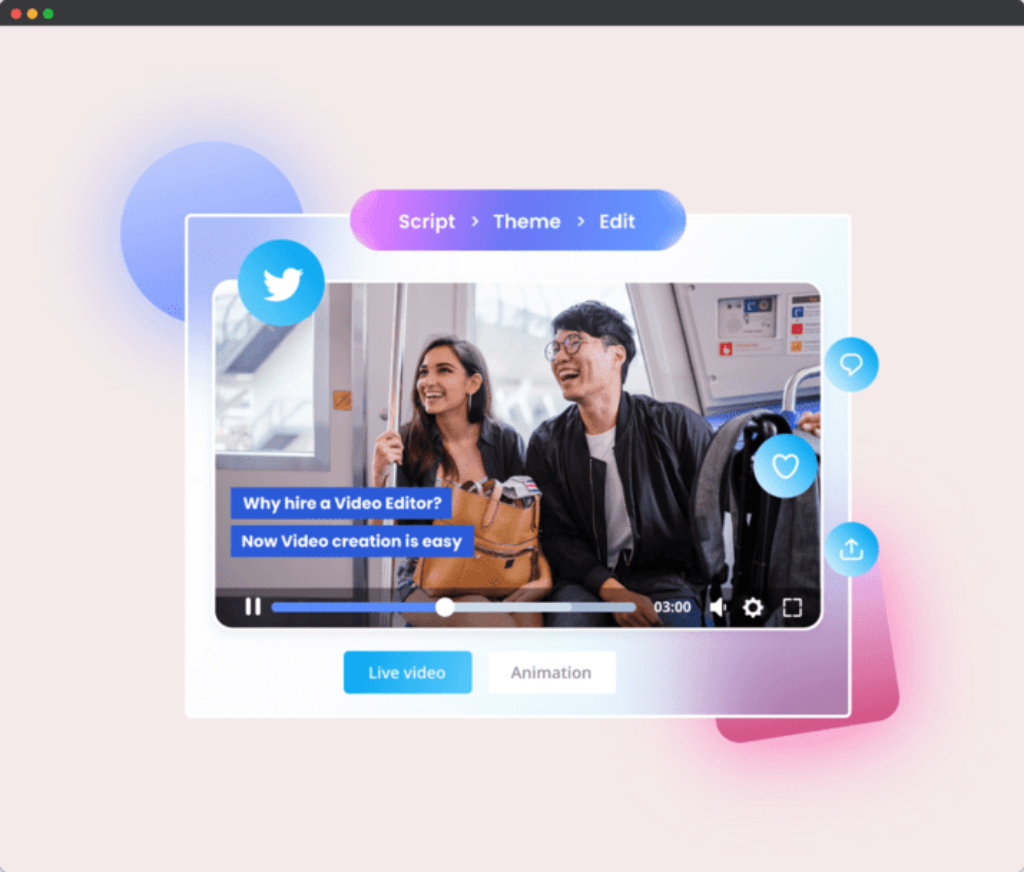 Creating social media videos is more engaging than writing any social media posts. They take a more creative and engaging approach to content marketing by using video to promote your business. If you want to engage with your audience, videos are a great way to do so. By creating video content, you can provide valuable information about your services, company mission, or products in a short and easily shareable format. These videos can be shared on social media platforms such as Facebook, Twitter, Instagram, and to expand the reach of your message.
Create Instagram Reels that attract more engagement…just pick a template, adjust your spec, quickly look at how the output will look, and export…voila! Your eye-catch wow-like video is ready.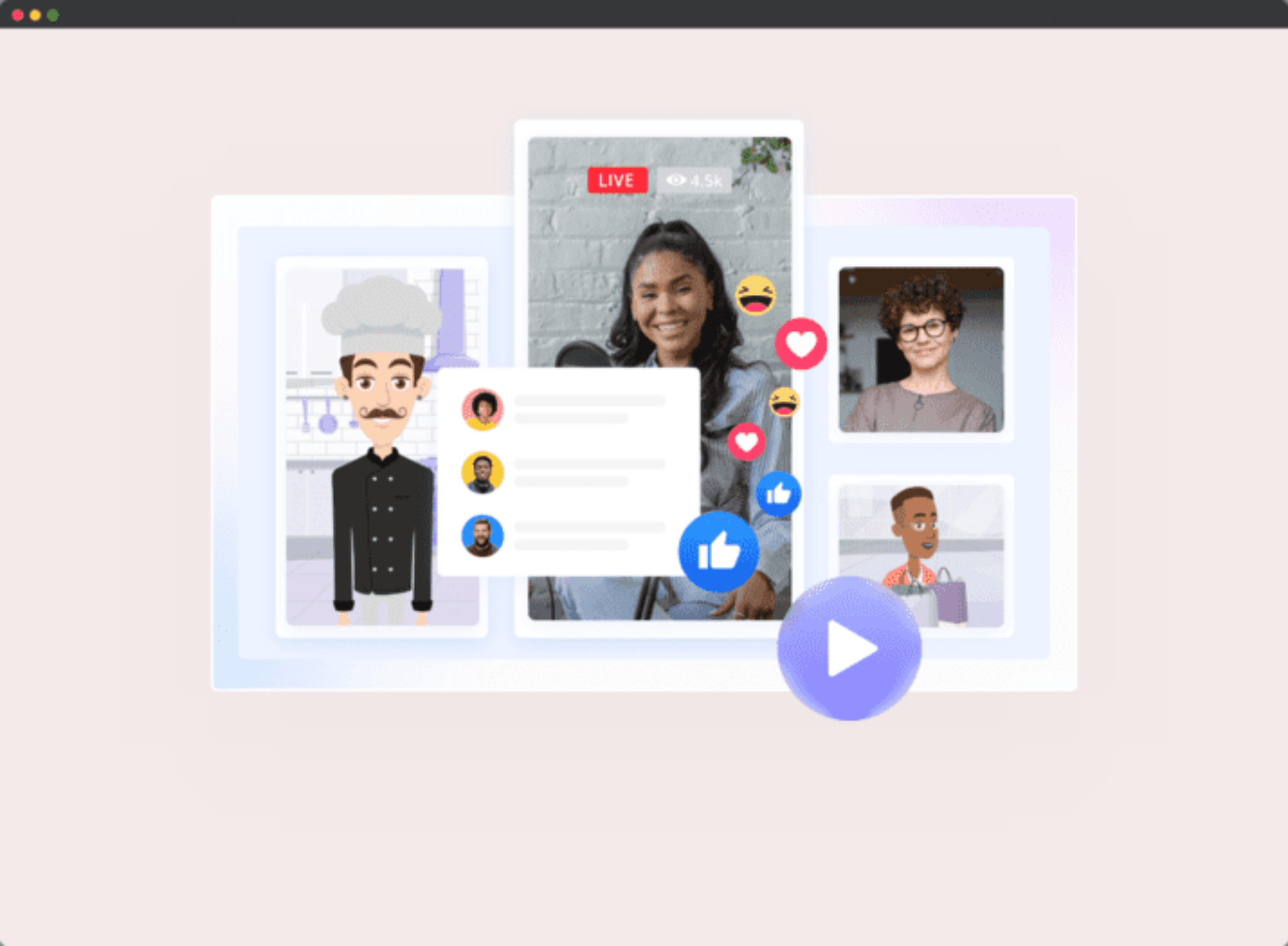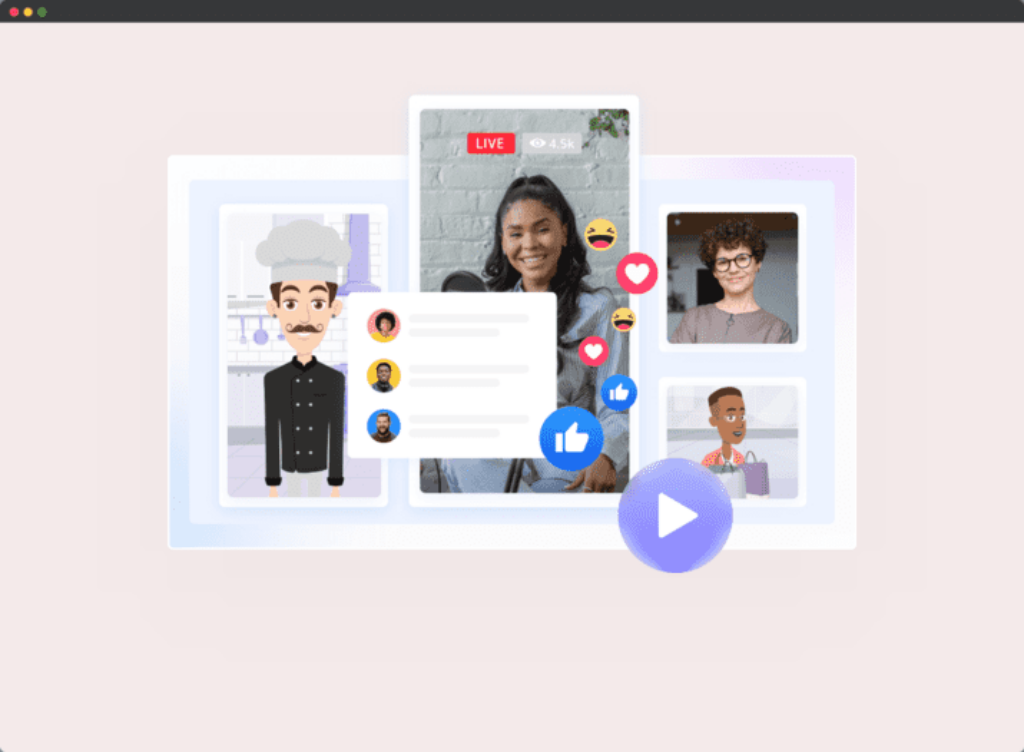 Media Libraries and Animated Characters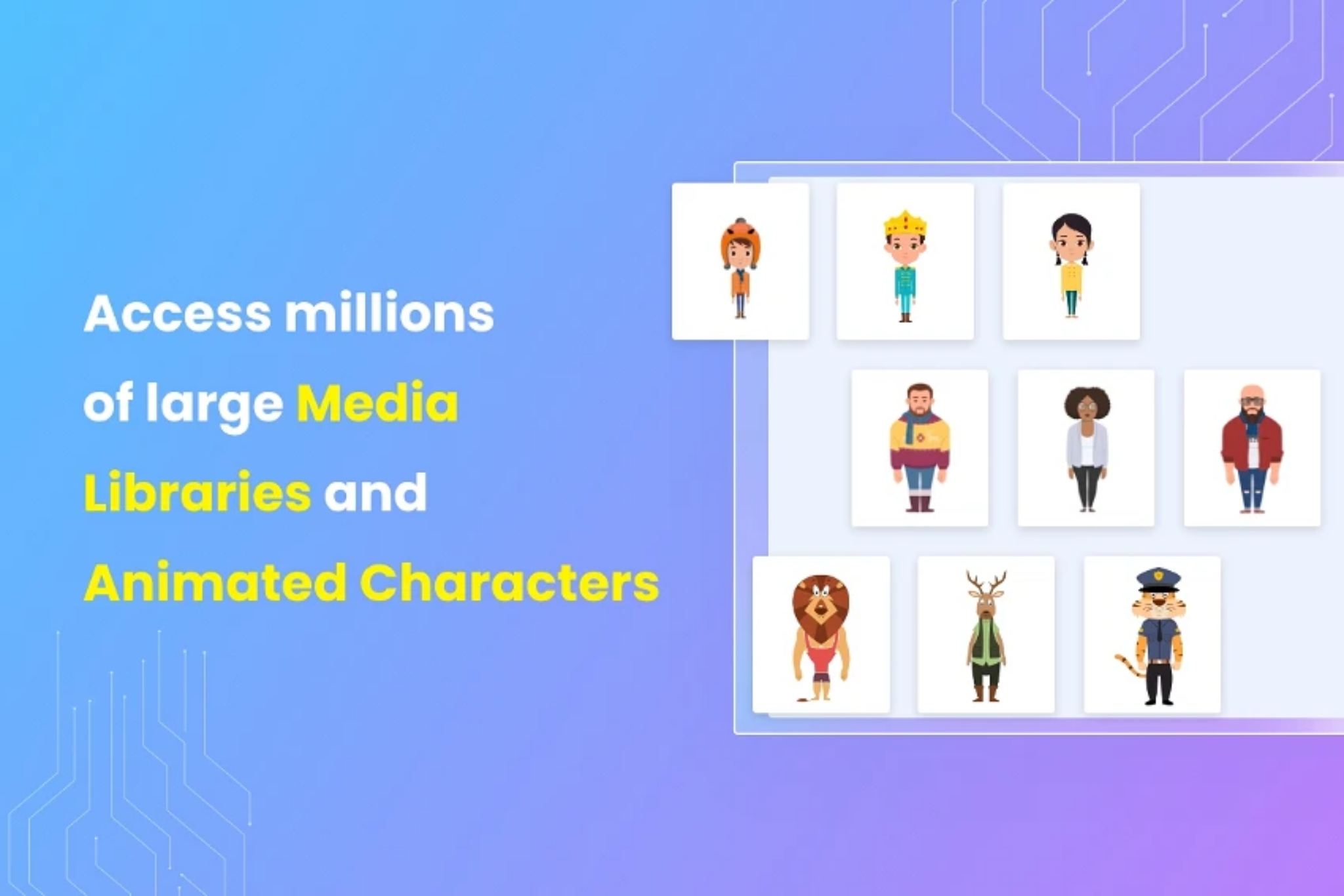 Steve.AI offers a wide range of human and animal characters, actions, expressions, and backgrounds for your animated videos. With over 1,000 options to choose from, you can create videos that are truly unique and engaging.
You can use characters for a range of purposes, from creating a customized video to promoting a product or service. Each character has a unique set of facial expressions and expressions that can be used to convey a specific message. You can also add music, text, and audio effects to your videos. It's easy to find and add characters from the pre-built library or create your own custom character.
Animation and Live Videos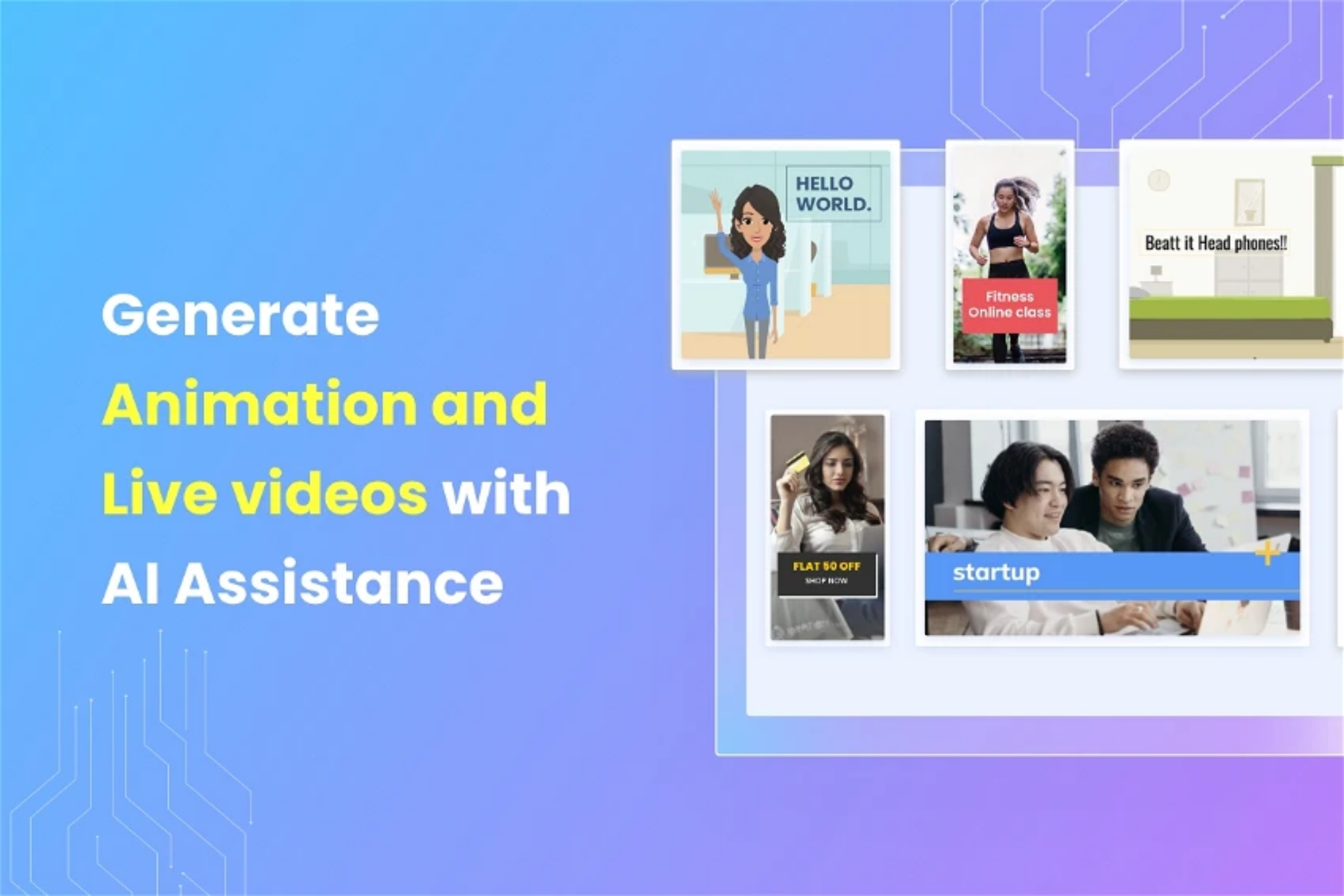 Steve.AI is the perfect tool for creating high-quality animated or live-action videos, regardless of your skill level or experience. With a wide variety of themes and templates to choose from, you can produce videos for different purposes like educational content, promotional videos, or even how-to guides. Plus, with integration into popular media libraries like Pexels, Getty Images, and Unsplash, you can easily find the perfect visual content to complement your vision and bring your ideas to life.
With Steve AI, you can transform content into compelling cartoon videos using their patented AI technology. Steve AI lets you create cartoon videos with just your script in a minute. Easily make professional animated videos for Content marketing, brand awareness, and thought leadership.
Video Ad Maker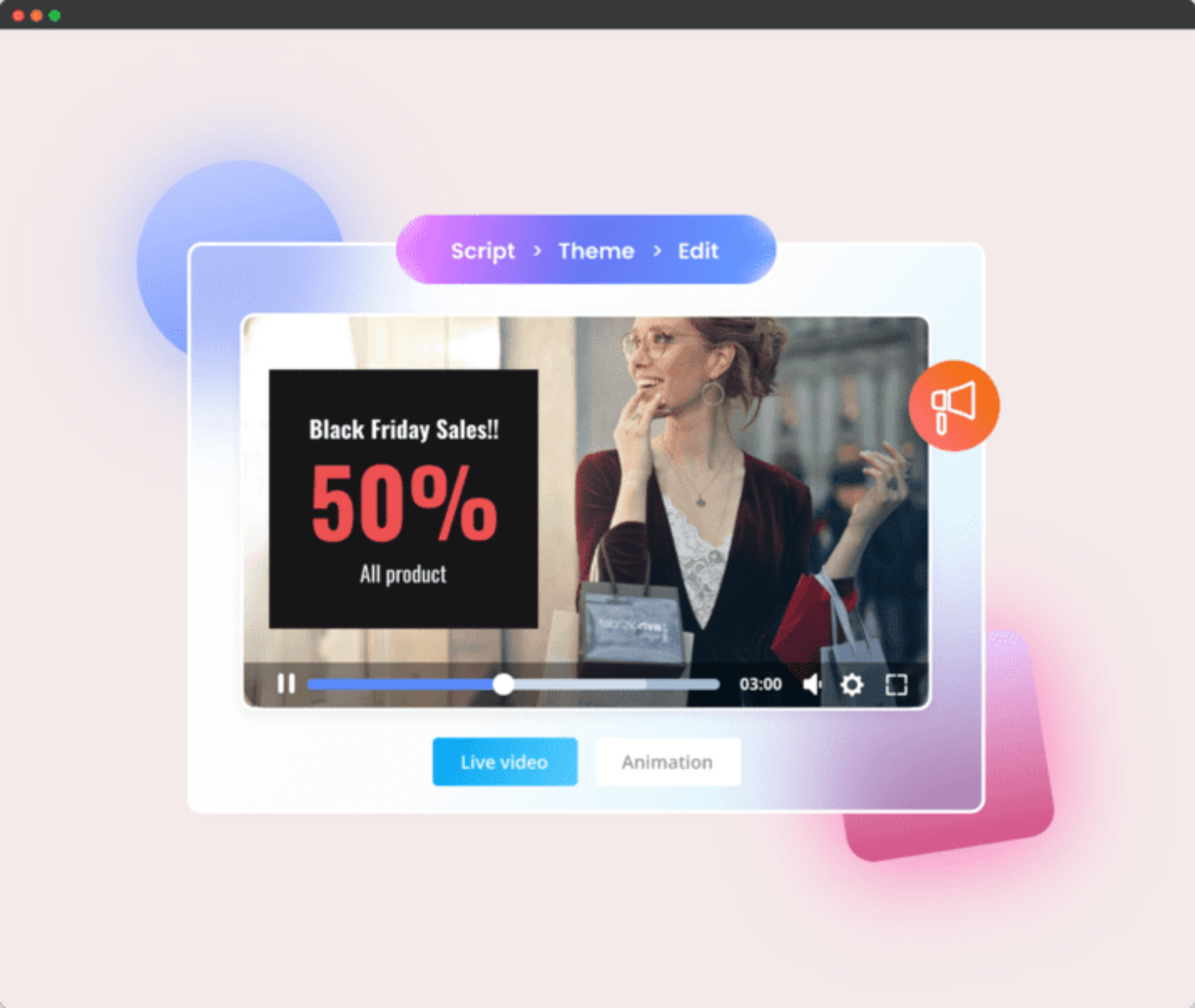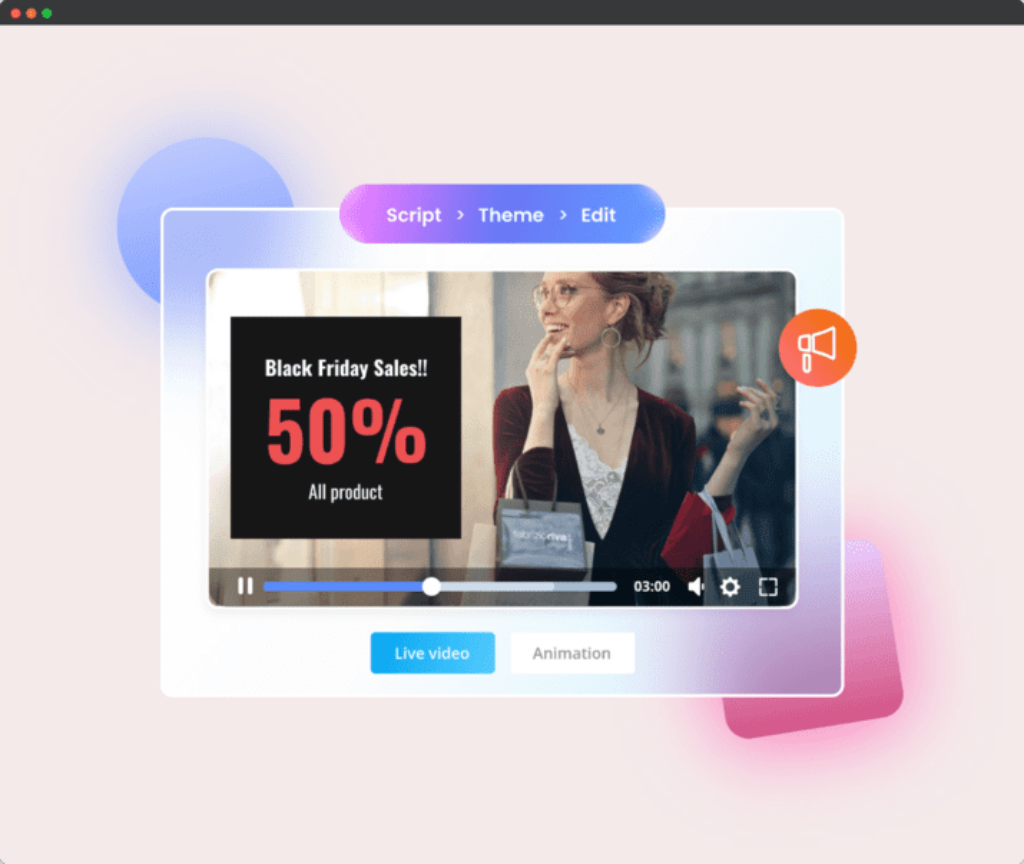 You'd like to produce a video Ad but don't have the resources. When creating a video commercial, it's difficult to know where to begin. Quality footage, an exciting script, and a skilled editor are all required. They are costly and time-consuming to get.
Steve.AI is a video creation tool with a focus on ease of use. It allows users to create professional-looking videos in just a few quick steps.
To create a video, users only need to upload their footage and choose a style and music. They can then let Steve.AI do the rest. The tool has many other features, including the ability to add text and effects to their videos. It is a great tool for businesses looking to create engaging content or individuals looking to promote their business or hobby.
Customizable video templates
steve.ai offers unique customizable and trending Animated templates and Live-Action templates. Choose any of them to get started.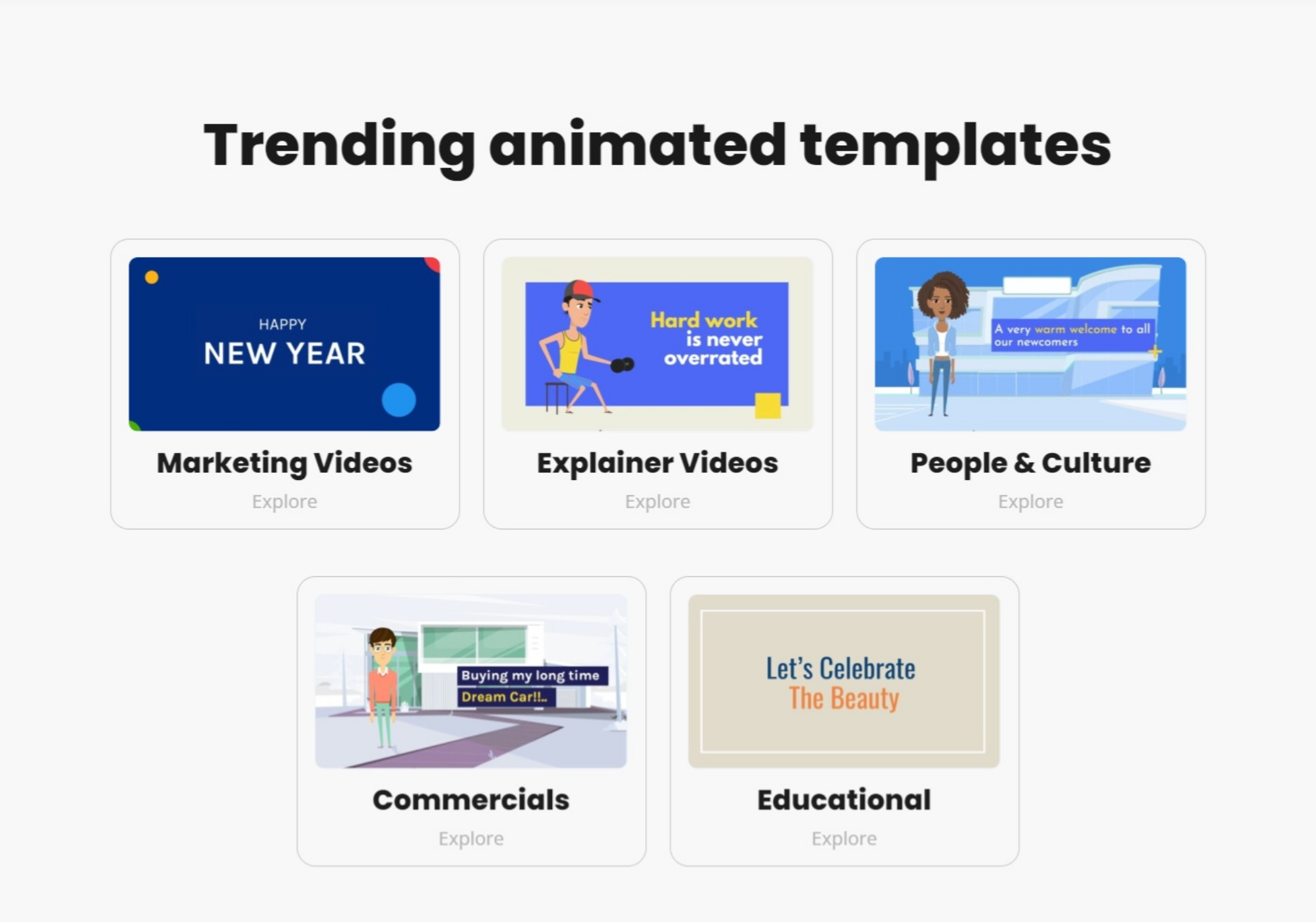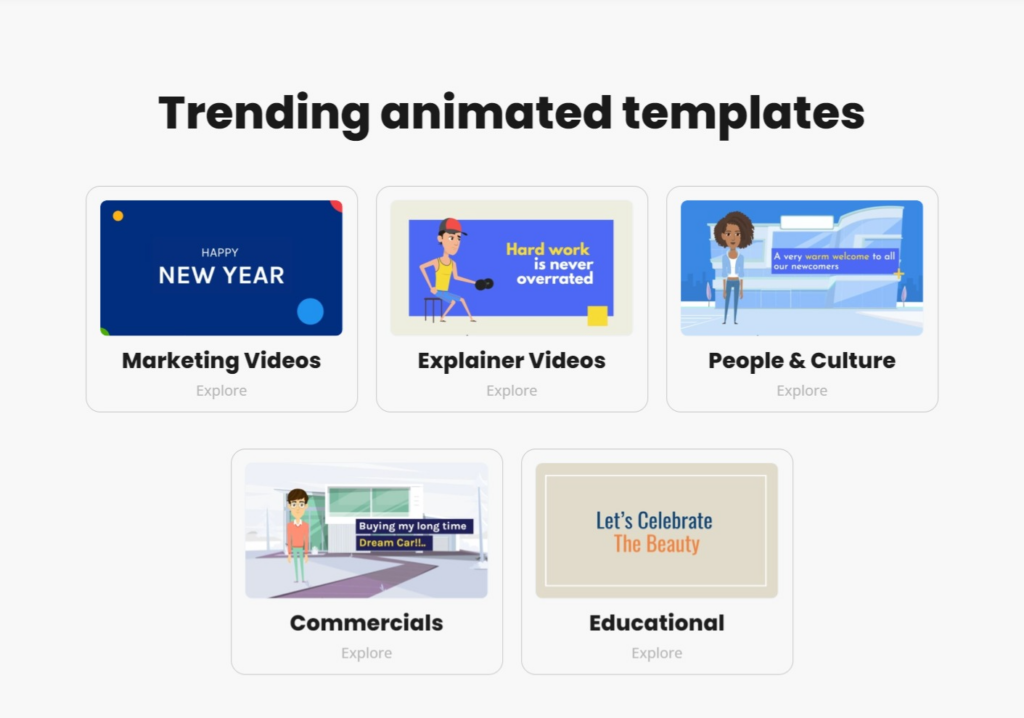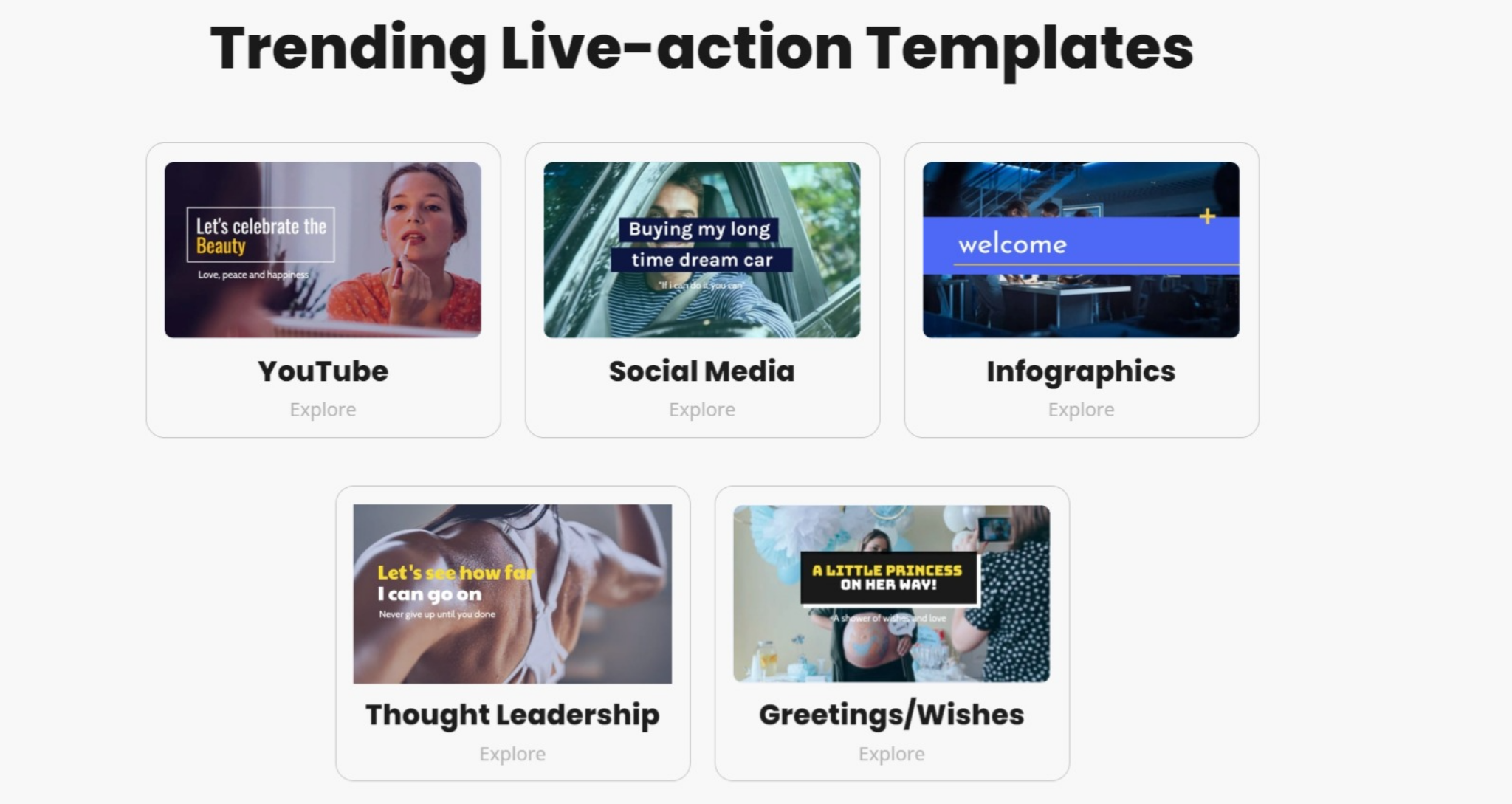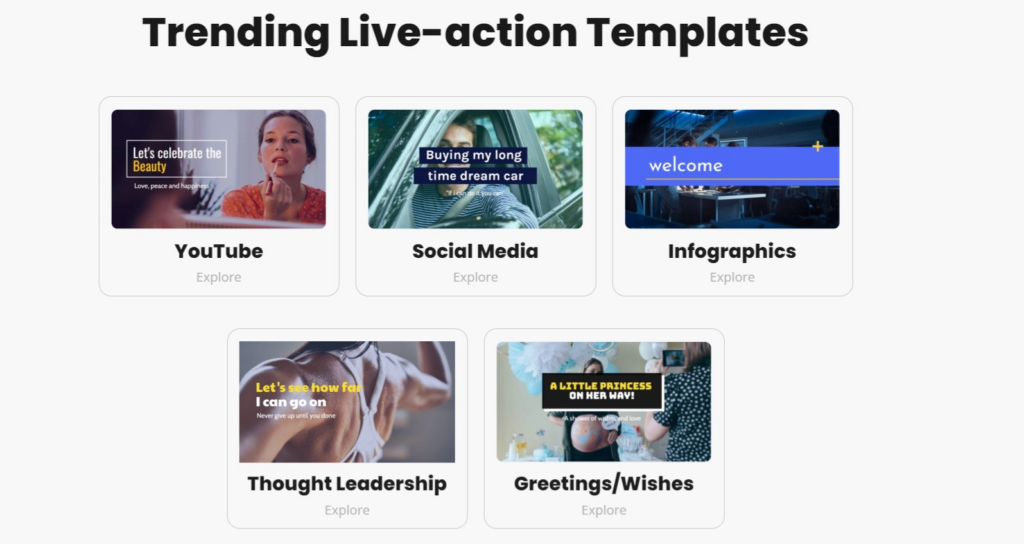 Custom video templates are a great way to save time and money when creating videos for business purposes. They allow users to focus on the content without worrying about the technical aspects of editing a video. This makes Steve.ai a powerful and efficient option for creating high-quality videos quickly and easily.
Why Use Steve.AI
Use Cases and Benefits
Corporate Video Maker
Promo Video Maker
Product Video Maker
Linkedin Video Maker
Marketing Video Maker
Educational Video Maker
Explainer Video Maker
Slideshow Video Maker
Unlimited library access, super-fast rendering, access to future updates, beautiful looking U/UX. 
For Instagrammers, YouTubers, Solopreneurs, freelancers, small businesses, medium-sized businesses, and agencies that want to expand their video creation game.
Pricing Plans
Monthly Pricing and Annual Pricing
It offers Monthly and Yearly pricing. Pay yearly and save up to 25%. That's equal to 3 months free.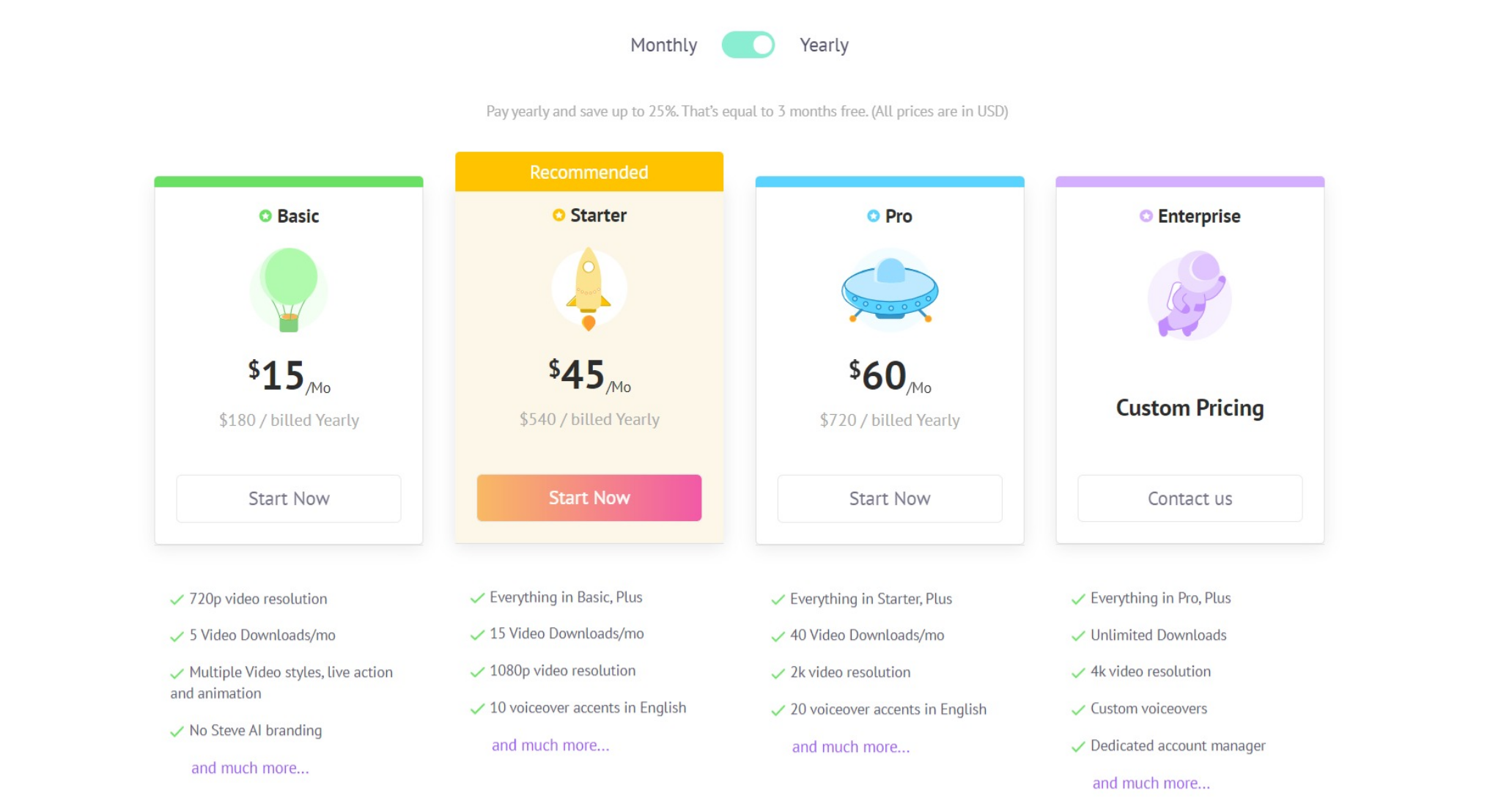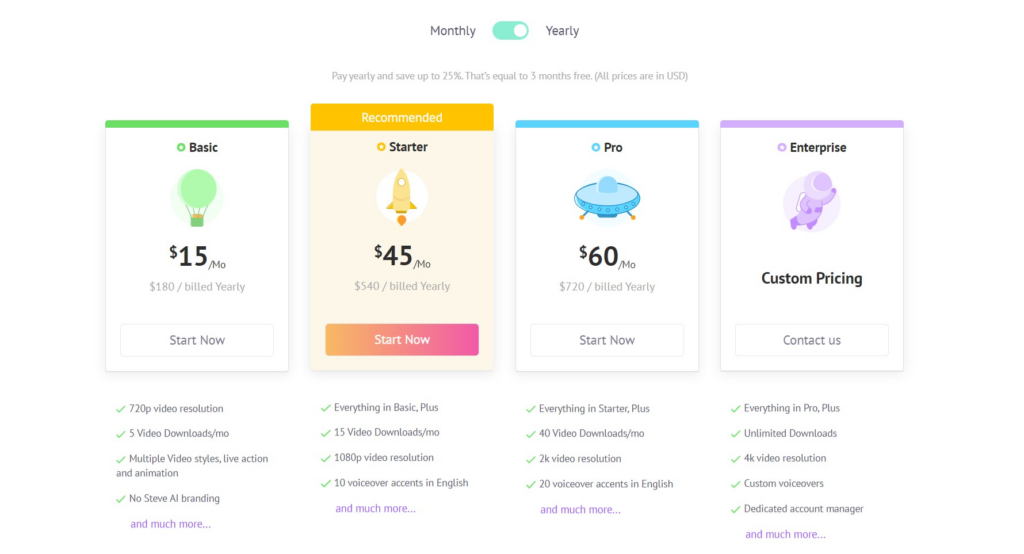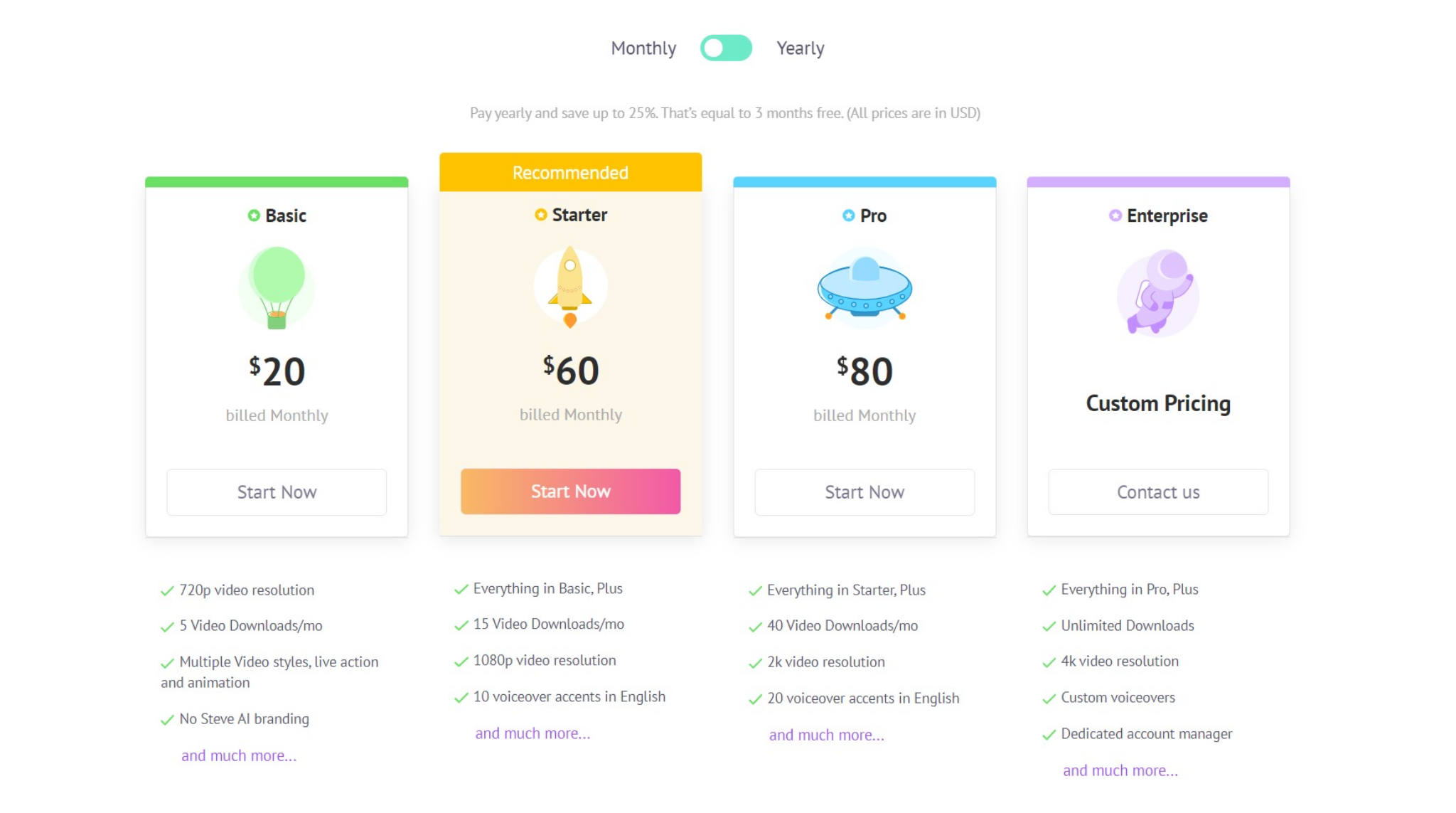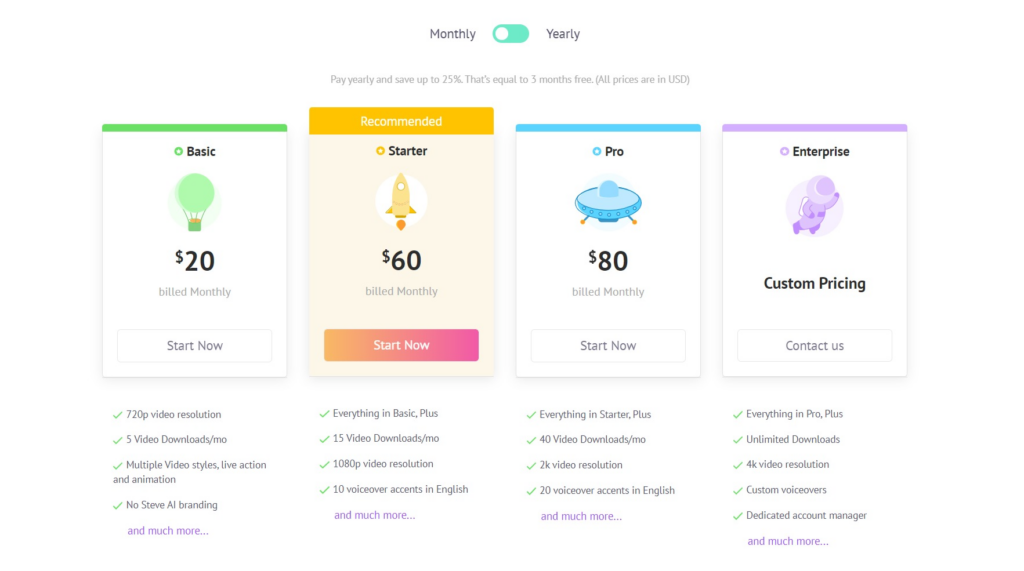 Support
Technical Support, Knowledge Base, Roadmaps, Changelogs
They offer Email and Live chat support
Alternatives
Similar Apps
Lumen5 gives your worldwide team the tools to develop social media posts in minutes. They make highly engaging videos that produce results by working with brand names, businesses, and creators.
WeVideo is a video editing app with a host of features. The software allows you to create your own videos, as well as edit other people's work. The interface is very intuitive and simple so it can be used by beginners and professionals alike.
Videoshop is another good video editor for creating marketing content or corporate videos. The software has various capabilities that enable you to create professional videos in just minutes without any technical skills required.
Final Verdict
Is Steve.AI right for You?
Steve AI works to automate the creation of video content for social media platforms like Facebook and YouTube. With a click of a button, Steve AI creates high-quality videos for you and helps you get more likes, shares, and followers. Steve AI is a cutting-edge tool that can help businesses across all verticals harness the power of video marketing. Want to try it for yourself?
Download the software and design your first video animation today!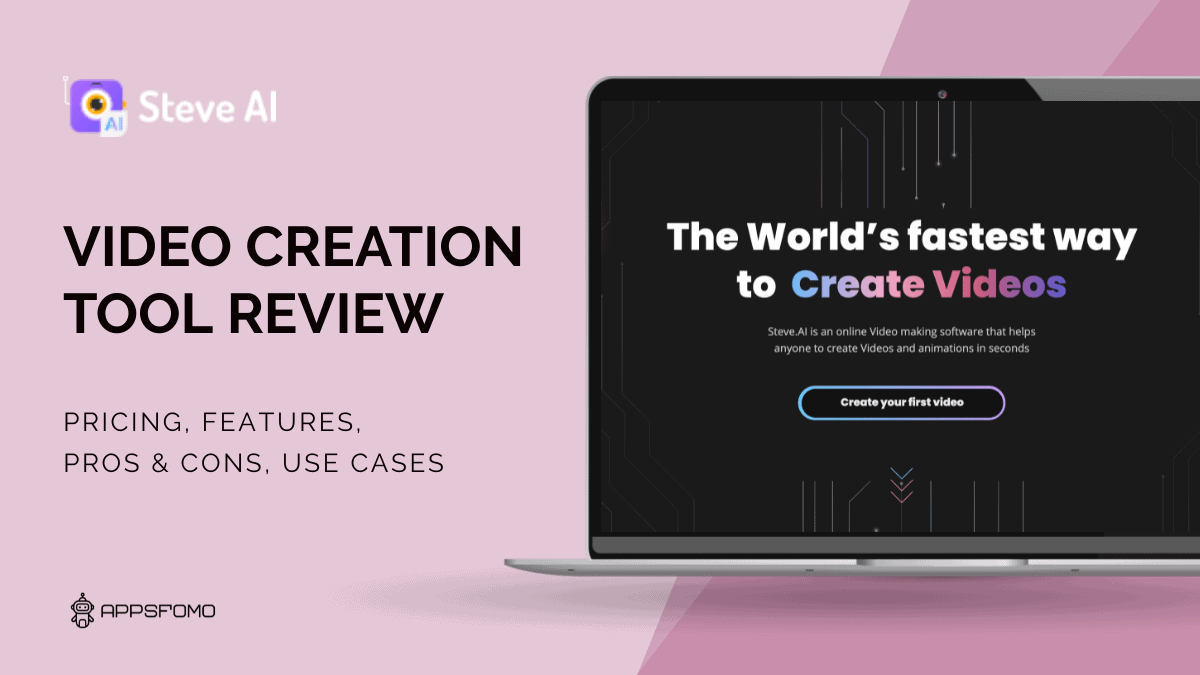 Specification:
steve.ai: Revolutionize Your Video Creation with the best AI-Powered Platform
| | |
| --- | --- |
| Review Date | January 2023 |
| Country | USA |
| Initial Release | 2013 |
| Pricing | Annual Payment, Montlhy |
| Free Version | Not Available |
| Lifetime Deal | Yes |
| LTD Platform | Appsumo |
| Money-Back | 60 |
| Support type | Email, Live Chat |
| Integrations | Yes |
| Supported Device | Browser, Web Based |
| Mobile app | Not Available |
| Affiliate Program | No |
PROS:
The platform is intuitive, simple, fast, and easy to navigate
Fast video creation
A lot of templates and themes
Wide range of human and animal characters
CONS:
No Mobile Application
No AI Voice Over Only Standard Voiceover
Limited Customization Of Layout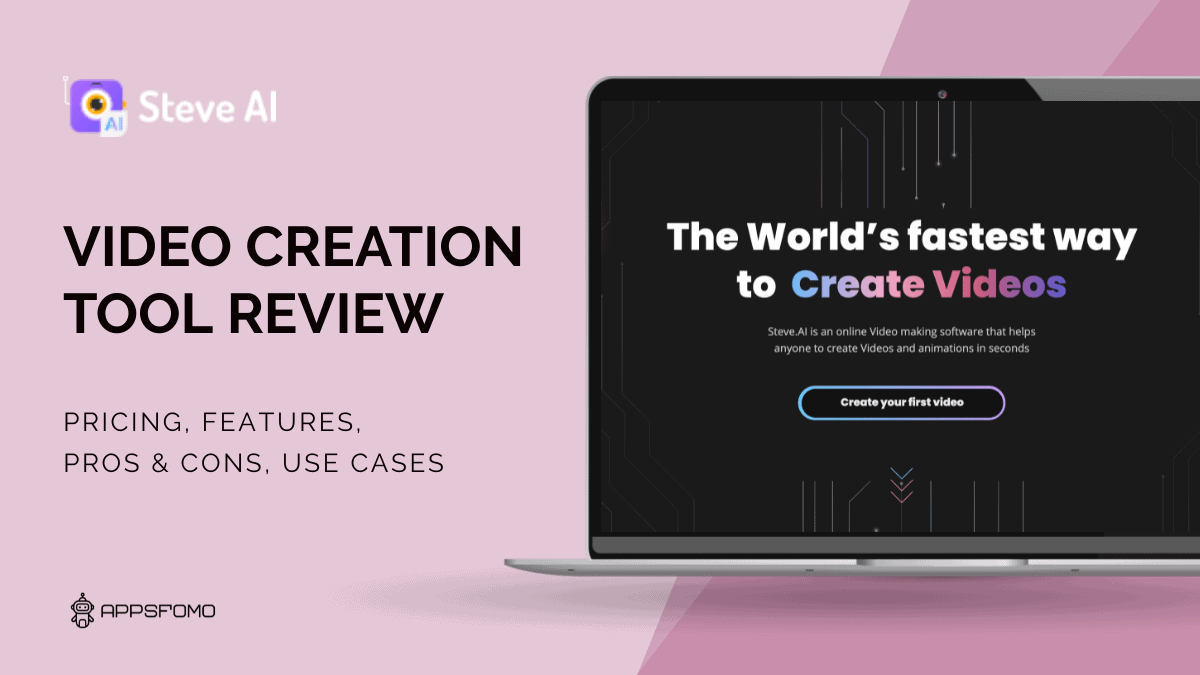 steve.ai: Revolutionize Your Video Creation with the best AI-Powered Platform