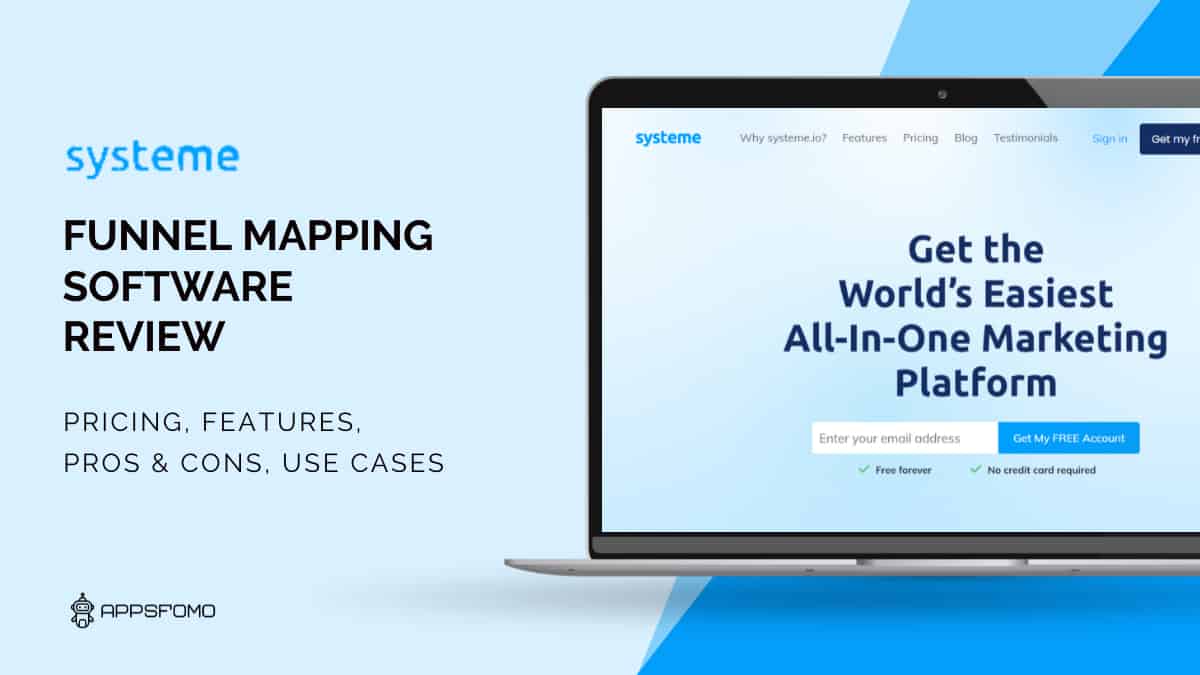 Systeme.io: Maximizing Your Online Marketing Potential With Automation
Add to wishlist
Added to wishlist
Removed from wishlist
0
Add to compare
Systeme.io is a platform that caters to online course creators, affiliate marketers, and online business owners. It's a platform with numerous features that help business owners make sales and create high-quality content for their websites.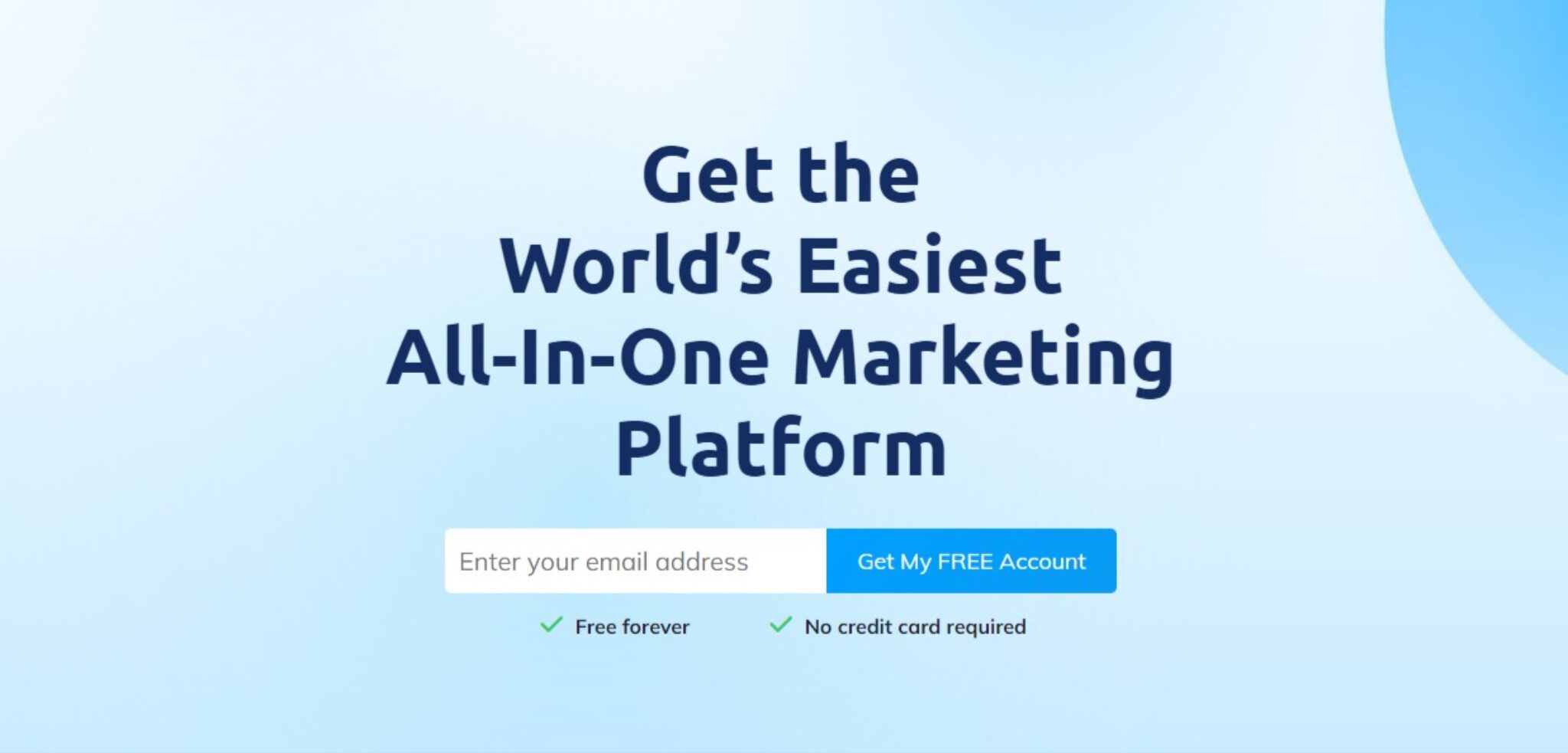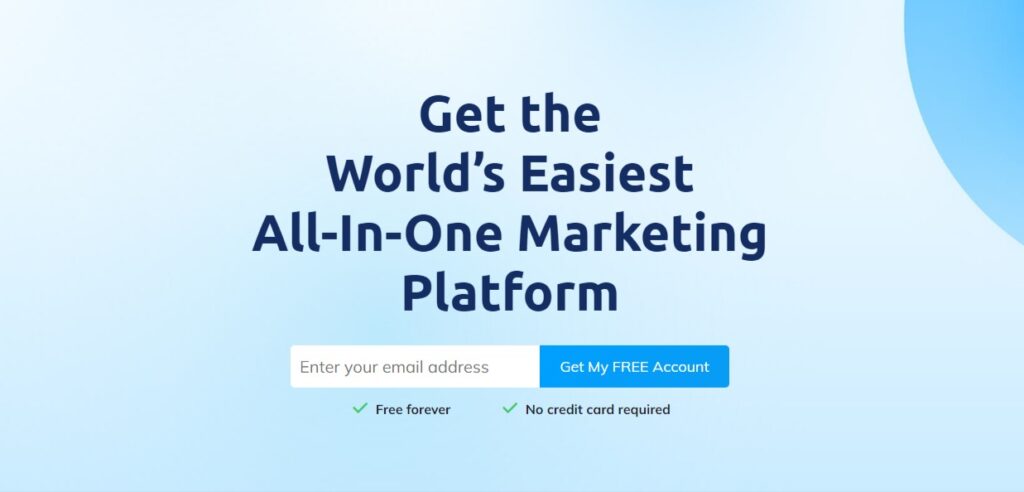 With the use of automation tools, it is much easier for business owners to scale up their online businesses in an affordable way. Read this blog to get a comprehensive understanding of the product and whether it is worth considering for your online business.
What Is Systeme.io?
Overview
Systeme.io is an online marketing platform that helps online businesses launch, grow, and scale faster. With the platform, you get a suite of marketing tools such as website creation, email marketing automation, sales funnels, and customer data management. These tools help businesses reach out to customers globally and create engaging experiences for them. The platform also provides business owners with intelligent digital marketing strategies tailored to their business needs.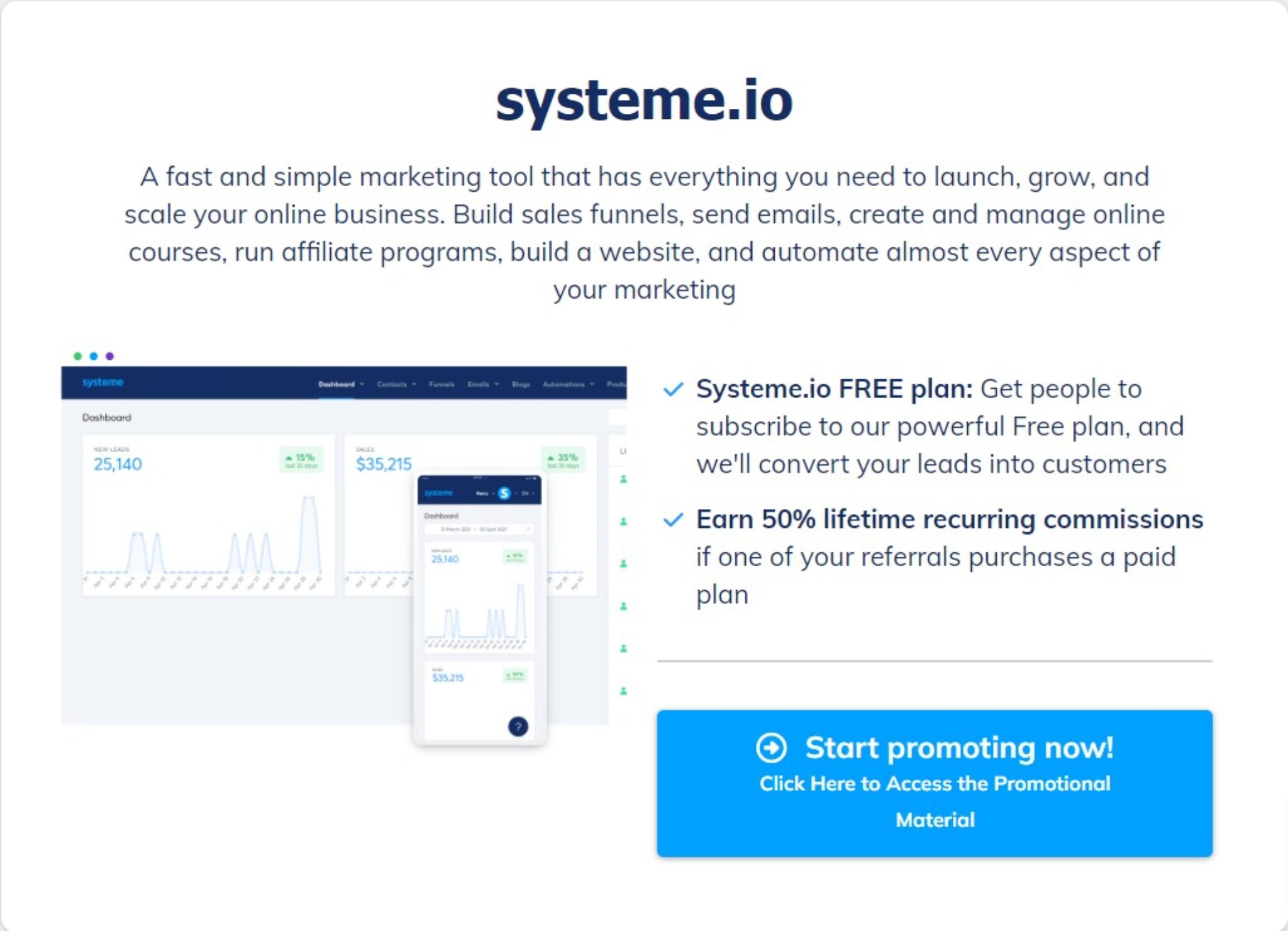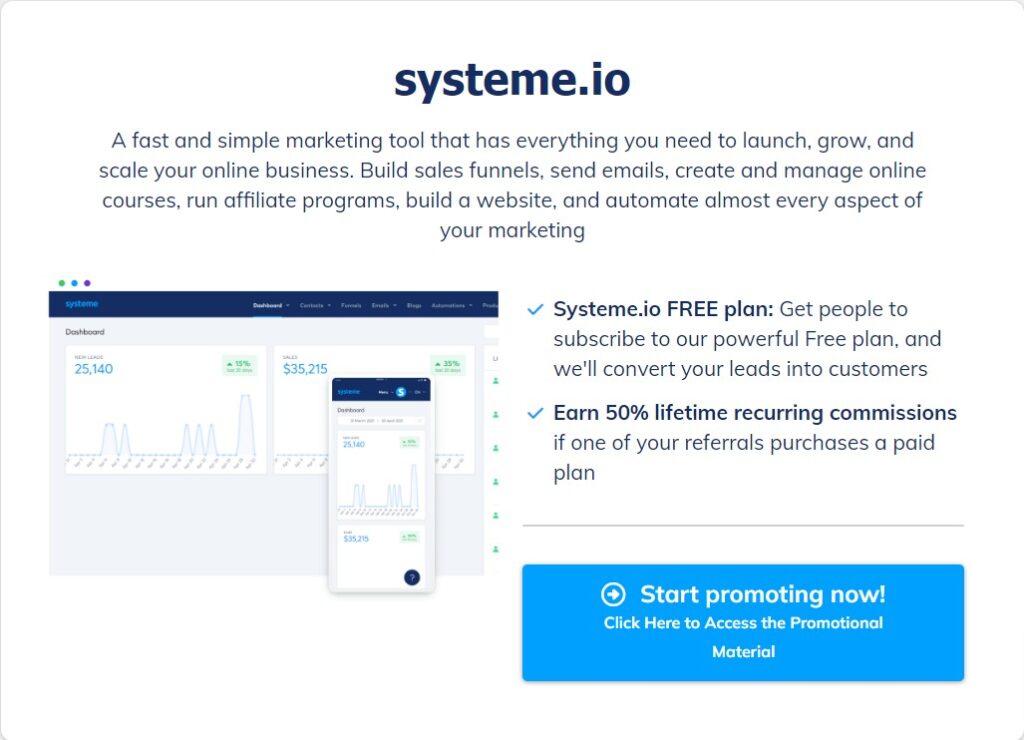 This way, they avoid spending money on digital marketing strategies that aren't effective. Plus, it automates processes and makes them efficient. Systeme.io provides businesses with automatic tools that assist them in building websites and product pages, creating sales funnels, email marketing, workflow automation, and other essential elements of their business online. This makes marketing easier and more efficient.
Company Details
Aurelian Amacker is the founder of Systeme.io, a platform that provides affordable solutions for course creators across various platforms. He found the platform in 2017 after he realized there was a gap in the market for affordable solutions for course creators. Amacker had experience as a software engineer and knew how to build products. Besides, his passion for online education made him want to work on a platform that helps course creators monetize their online courses quickly and efficiently.
Online Presence
How does Systeme.io work?
Basic Features
It offers features such as landing pages, sales pages, sales funnels, and email automation software to nurture leads. It also provides course creation features such as web course authoring and course hosting. Its courses can be designed to be interactive and engaging. The platform is easy-to-use and comes with a Help Center those answers any of your questions.
Sales funnels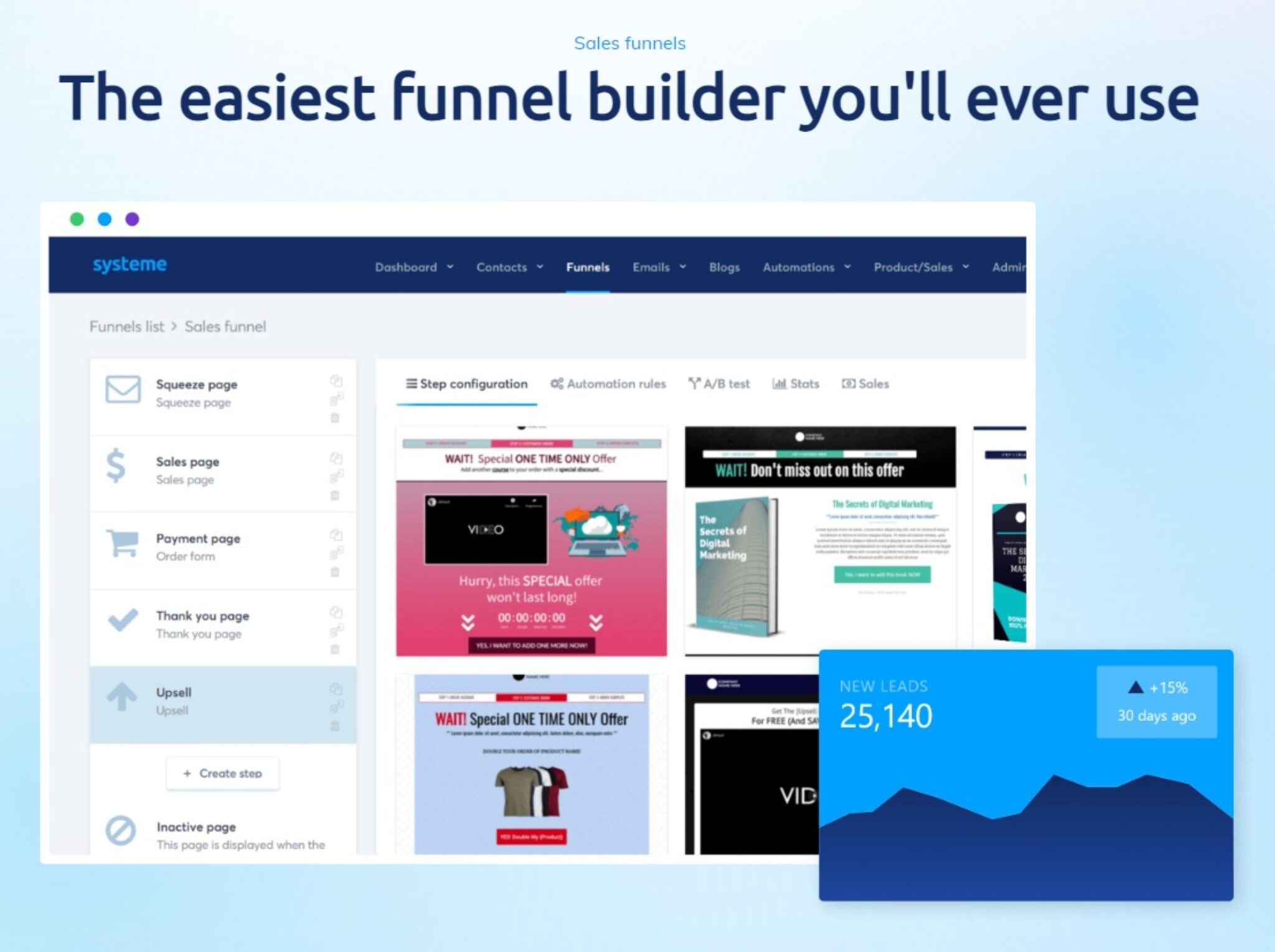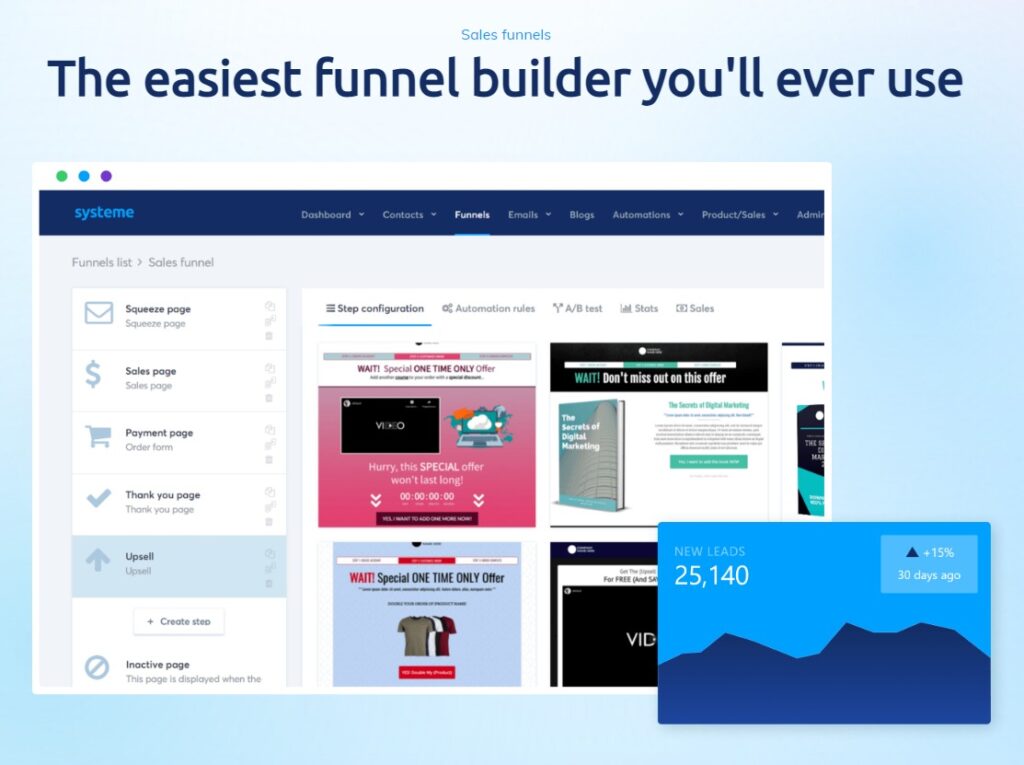 Systeme.io is a platform that helps build sales funnels for online businesses. It offers services such as single page website and Shopify sales funnel to help businesses build their sales processes. It allows users to easily create and manage their online sales processes in a simple and effective way. Their platform also allows users to track the performance of their sales funnel and make adjustments as necessary.
Email marketing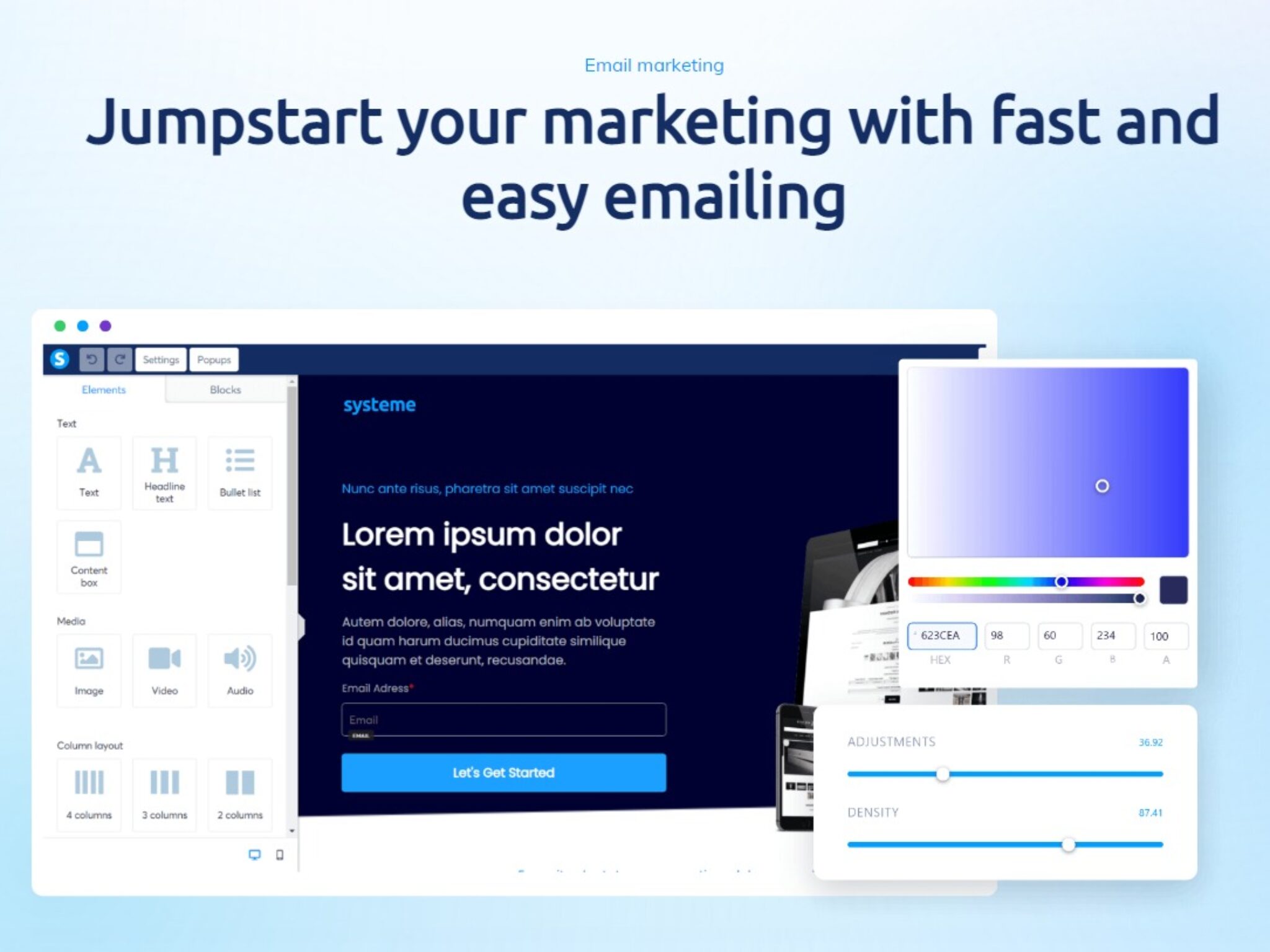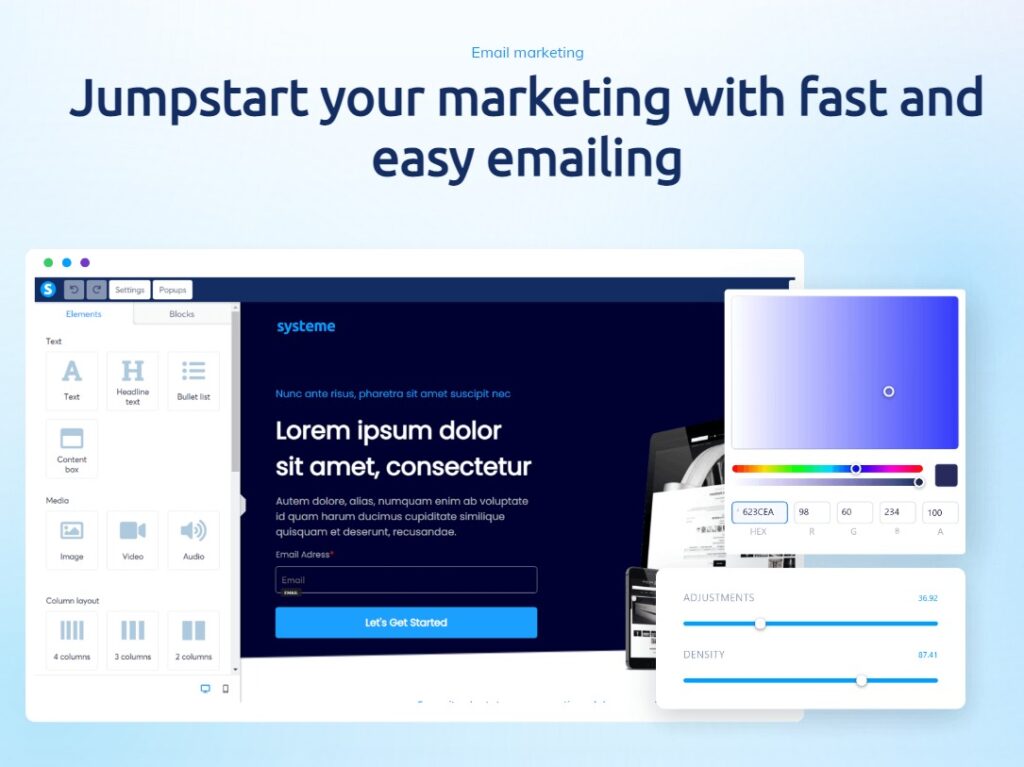 Email marketing features that are limited in their functionality and scope, making it challenging for users to fully express their creativity with email marketing campaigns. For example, email marketing services provided by Systeme.io only allow users to use a few merge field options in their email editor, which can lead to misalignment of data within the email marketing message.
Affiliate program management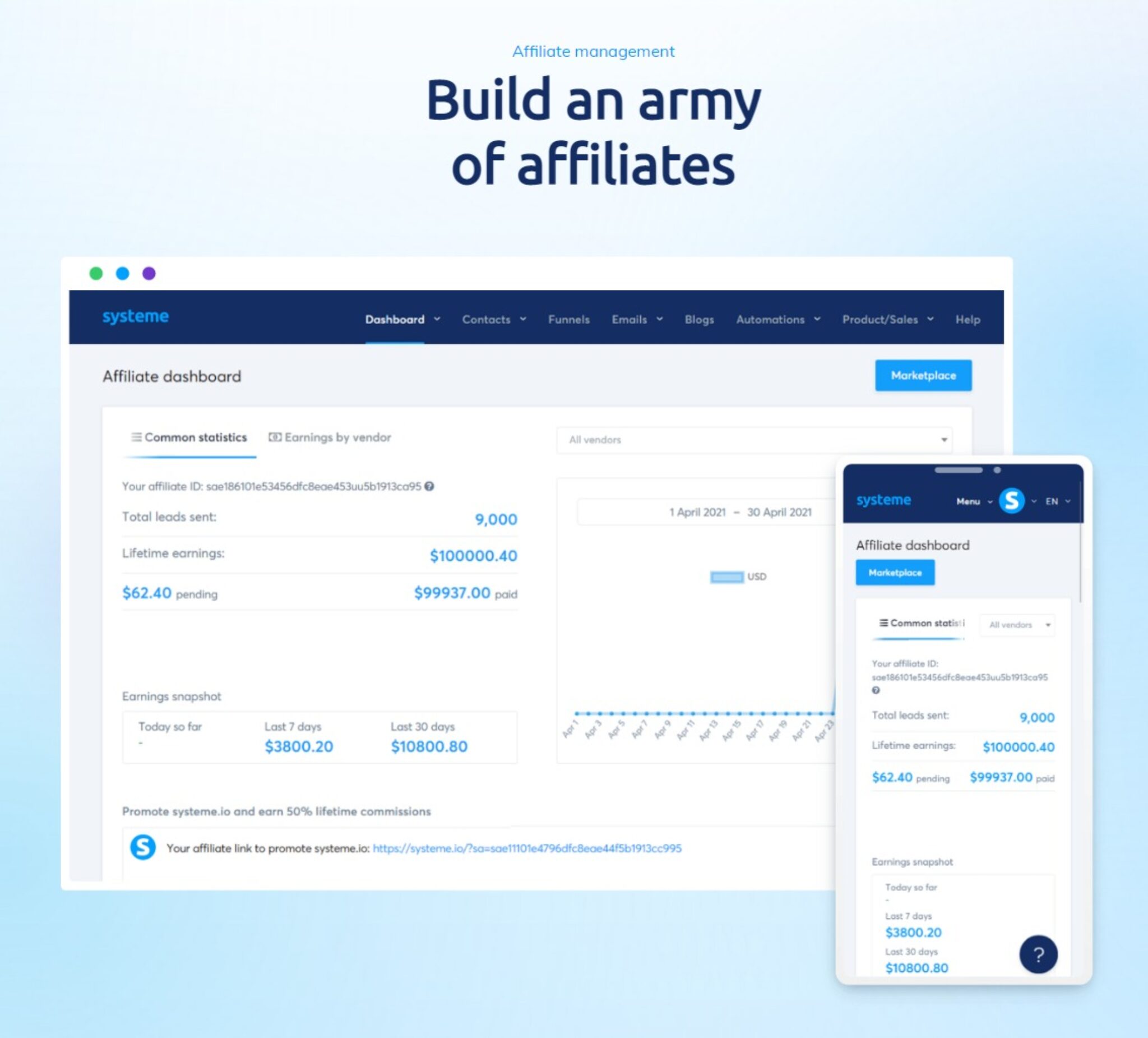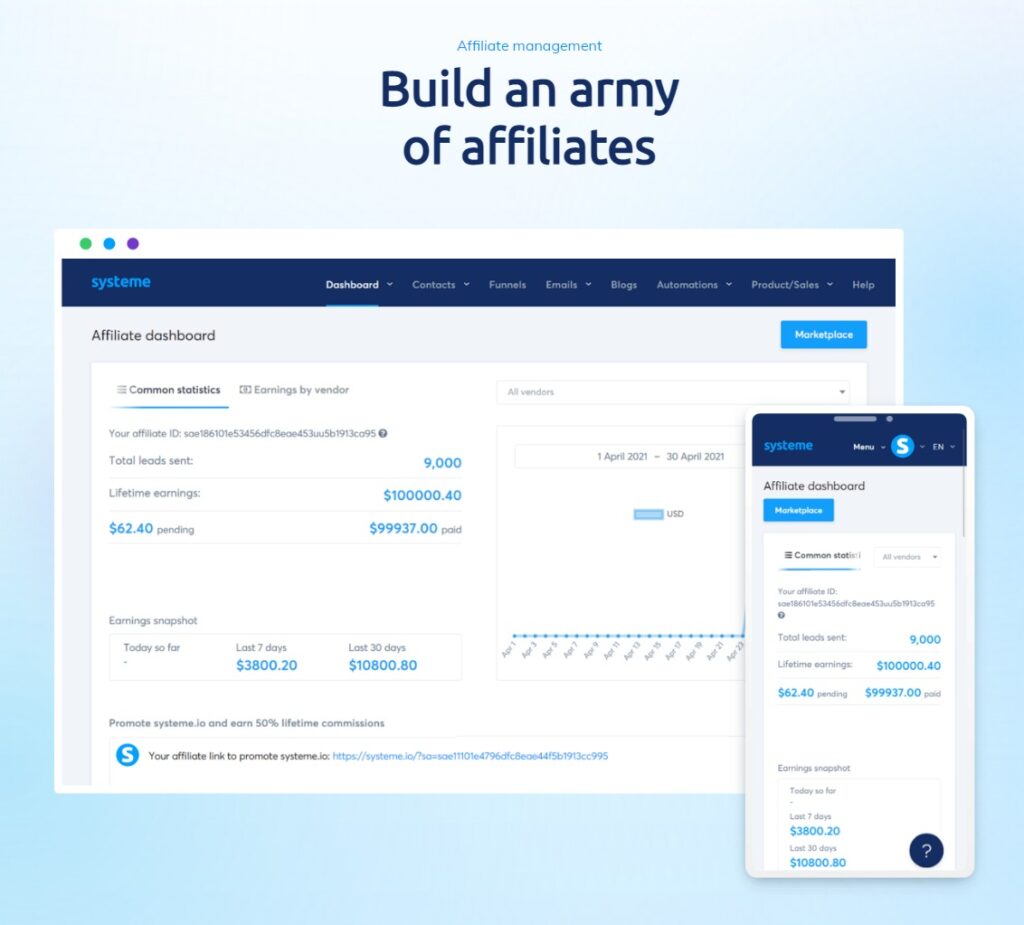 Systeme.io and Kajabi have partnered to provide customers with the opportunity of running their own affiliate program. This means that customers can use Systeme.io to sell their own products online without having to pay commissions to systeme.io or Kajabi. This saves the customer money while also providing them with increased business flexibility and autonomy. By automatically creating a unique affiliate ID for each subscriber, Systeme.io ensures that users can reliably track their earnings and sales.
Evergreen webinars
Evergreen webinars are web-based training sessions that can be updated, modified, and tailored to meet the needs of their audience. They are a great way to establish a relationship with target markets and generate leads for business growth. This feature makes systeme.io an ideal platform for course creation and marketing. It allows users to create evergreen webinars in just a few clicks, allowing them to save time and effort.
Sell products
Sellers on Systeme.io can easily sell digital and physical products online. They can upload pictures of their products to add a visual appeal and specify their size, color, and other details. This makes it easy for customers to buy online. Product details such as size, color, and price can be easily customized online. Sellers can also set up a checkout page on systeme.io where customers can easily purchase a product online.
How is Systeme.io different from other Funnel Mapping software?
Unique Features
With its diverse features, systeme.io makes it easy for online course creators to launch, grow, and scale their online business with ease. Some of the unique features of systeme.io include its customizability, security, and automation capabilities. It provides customers with a choice of platforms and support options, from which they can choose the one that best suits their needs.
Business automation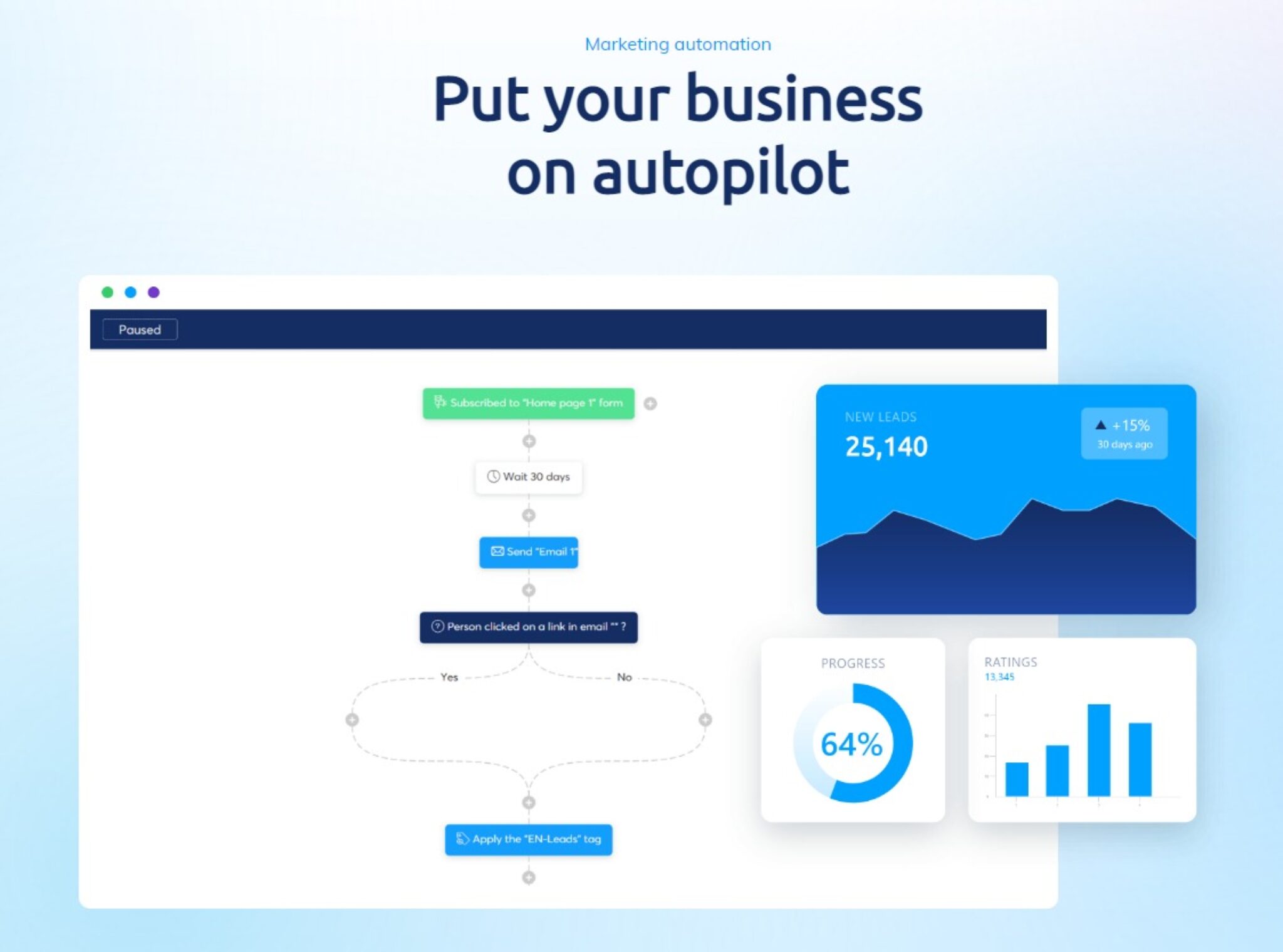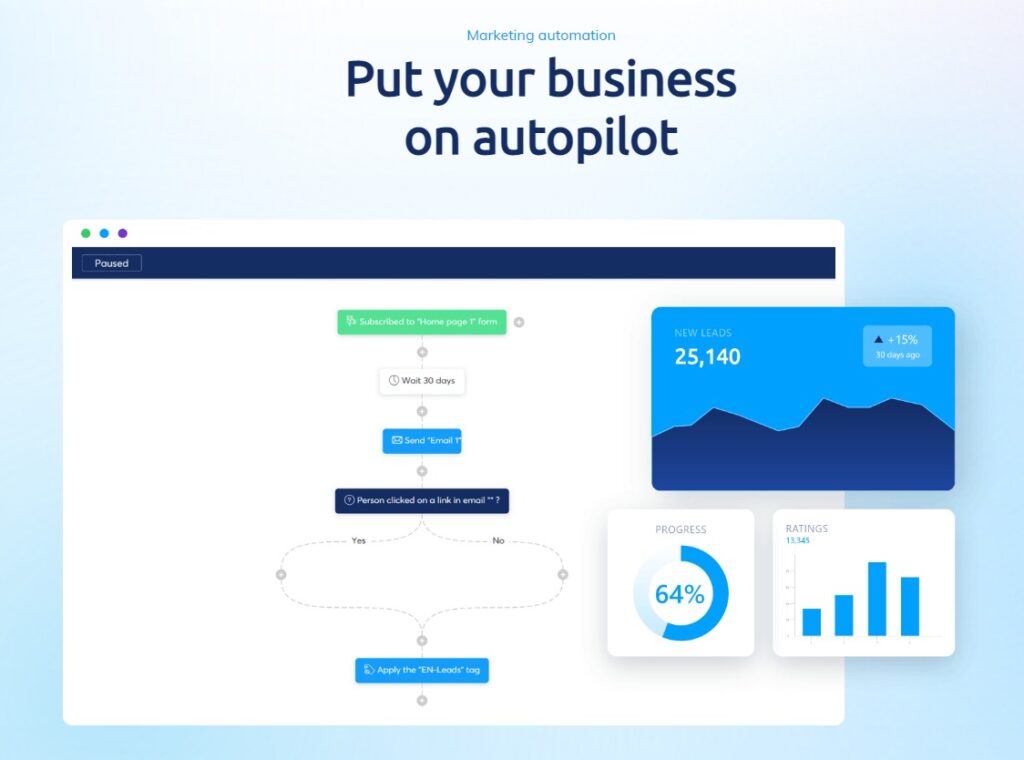 Systeme.io is an online service that provides business automation services, allowing users to automate online business launches, communication, lead collection, project management, and sales. It features trigger email sequences for online marketing and allows users to choose from multiple advanced features and rules with custom tags and lists.
Website builder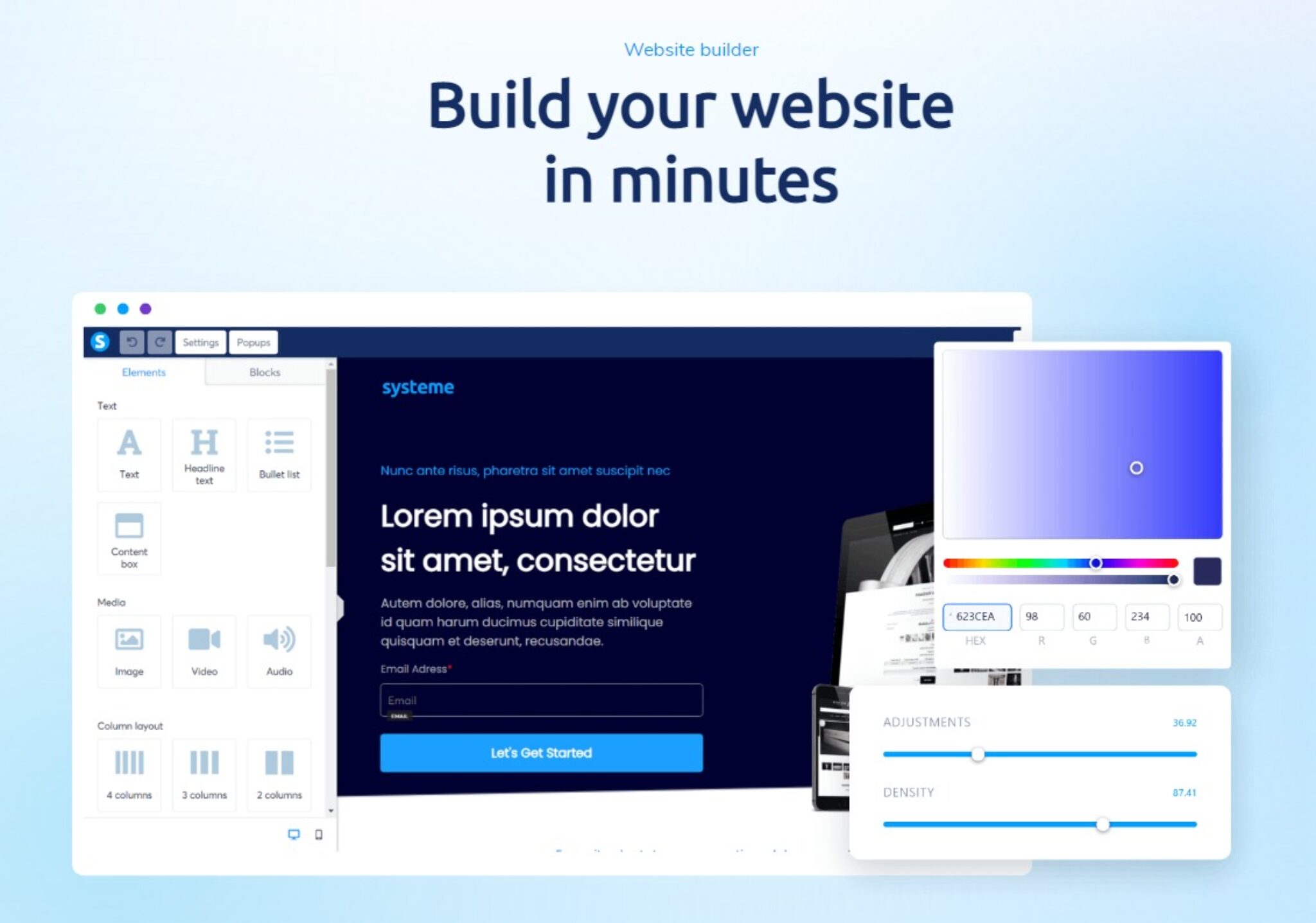 Systeme.io is a sales funnel and CRM tool that helps businesses run their business online. It provides the ability to create a traditional website along with unlimited pages. The website builder in Systeme.io lets users build unique websites quickly and easily with a variety of options to improve the user experience. It also includes marketing automation tools that help businesses track and manage online marketing campaigns in real-time. This allows businesses to stay on top of their online marketing efforts and ensure they are getting the most out of their online marketing efforts.
Blogging
Blogging feature allows users to create blog posts and track their online successes in real-time. The free trial allows users to test the blogging feature and see how it would work for their business. Overall, Systeme.io is a powerful tool for businesses looking to improve their online marketing efforts in a cost-effective way.
Online courses
It enables business to create and deliver courses to their customers. It has features like setting up course content, designing the enrollment page, and managing course participants. It allows course creators to market and sell digital products with a funnel builder, checkout system, and email marketing. systeme.io makes it easy for business to create engaging online courses that can be maintained online.
Why Choose Systeme.io?
Use Cases and Benefits
Coaches u0026amp; Trainers
Business Owners
Digital Marketers
Pricing Plans
Monthly Pricing and Annual Pricing
Systeme offers a variety of pricing plans for its services.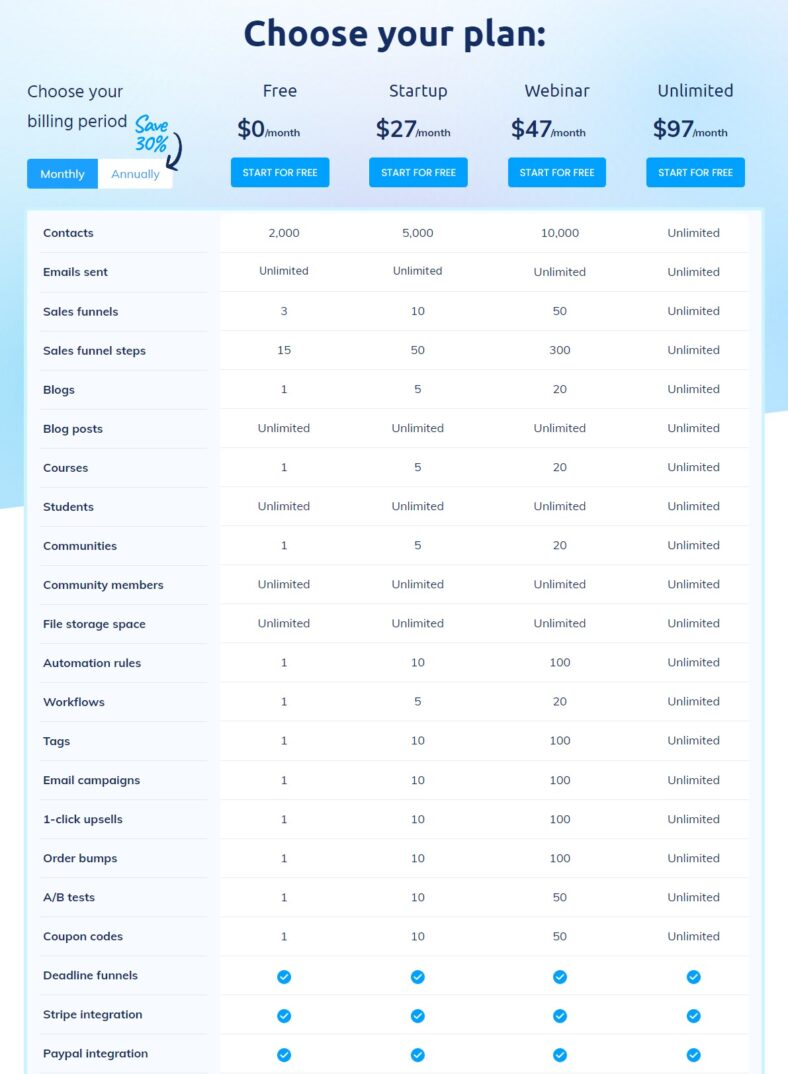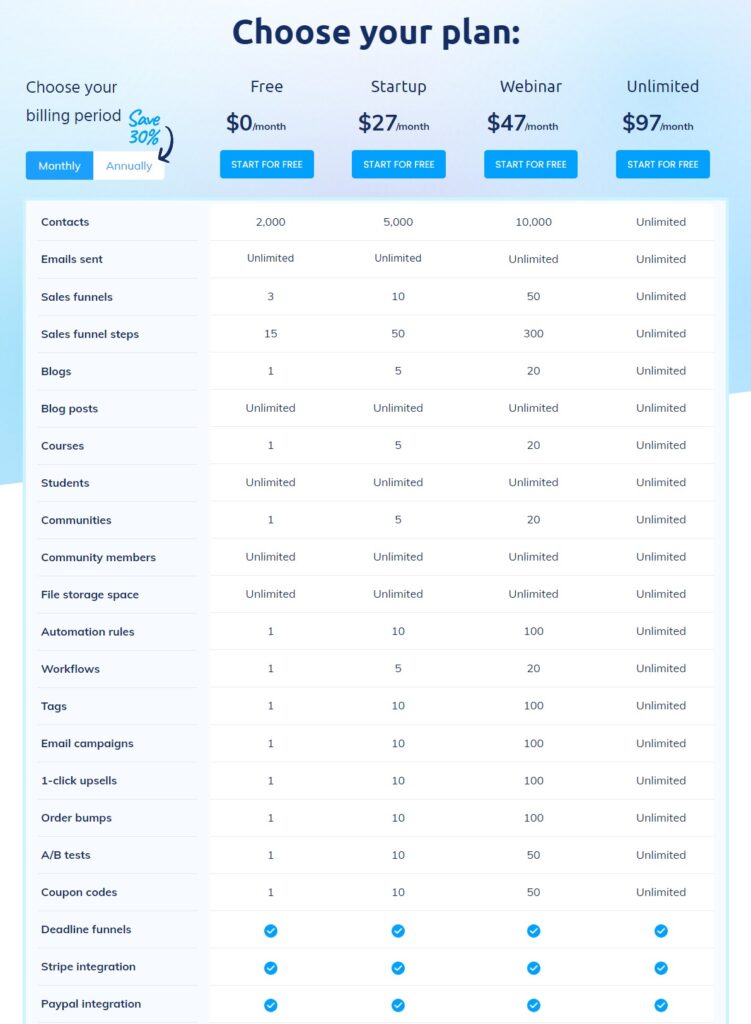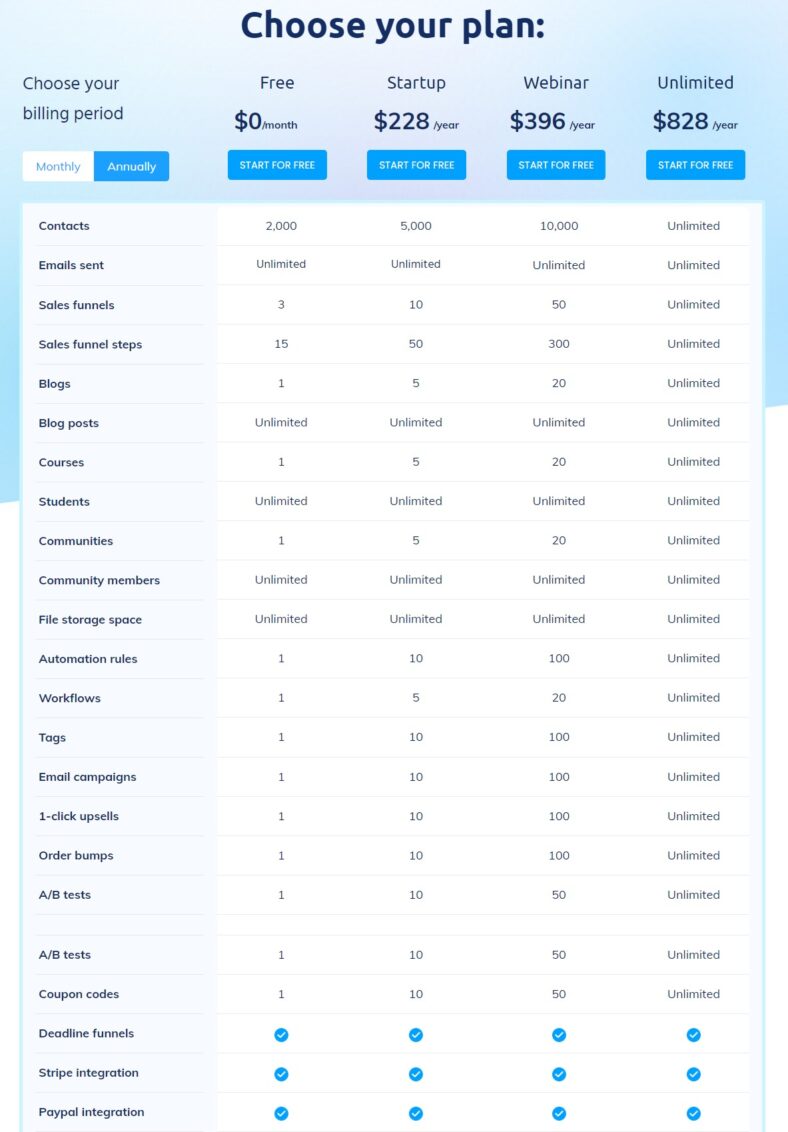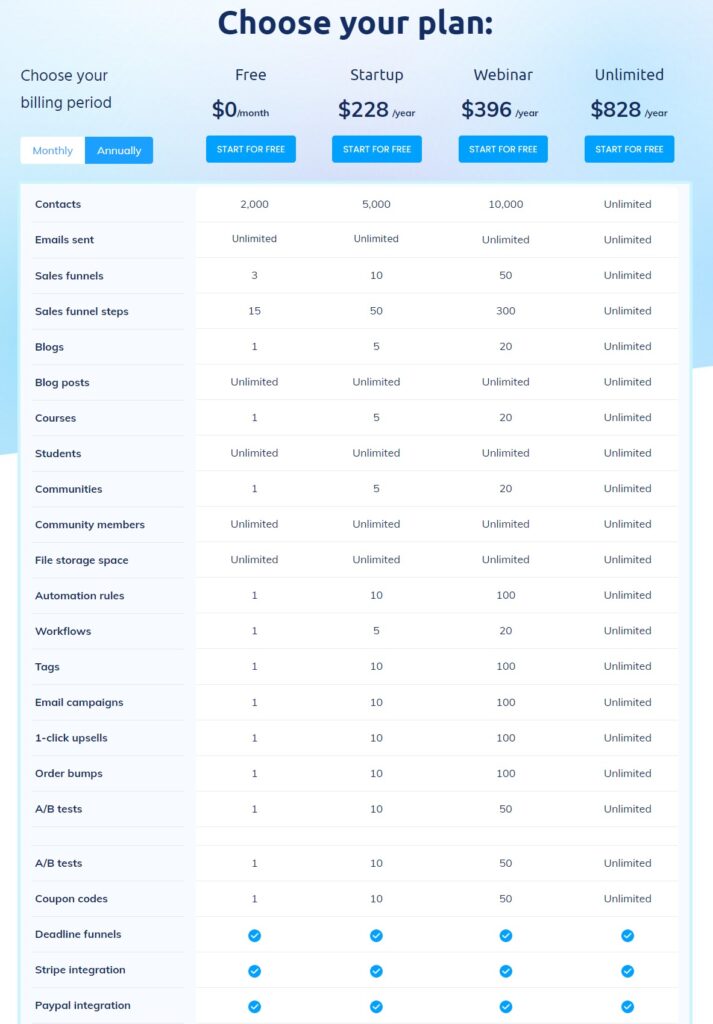 Support
Technical Support, Knowledge Base, Roadmaps, Changelogs
Support Links/ Contact Page Links: u003ca href=u0022https://systeme.io/en/support/contact-usu0022u003ehttps://systeme.io/en/support/contact-usu003c/au003e
Documentation Link: u003ca href=u0022https://systeme.io/affiliate-agreementu0022u003ehttps://systeme.io/affiliate-agreementu003c/au003e
Blog Link: u003ca href=u0022https://systeme.io/blogu0022u003eSysteme.io | Blogu003c/au003e
Alternatives
Similar Apps
Systeme.io is an alternative to other course marketing software such as JVZoo, Amazon Associates, Udemy, and more. These options can cost you $10-20 per month for each course, but Systeme.io's all-in-one platform costs $10 per month with no extra fees or charges. With a Systeme.io account, you can easily create courses and track your marketing efforts without having to worry about any complex technicalities. You can also access the software from anywhere in the world and start marketing your courses instantly.


JVZoo is an online platform that helps course creators create, market, and sell their courses. It offers a variety of features to help course creators succeed, including a built-in customer service team. JVZoo also offers a variety of tools and resources to help course creators get started.


Amazon Associates is a popular choice of software for businesses and individuals due to its efficient platform for online transactions. The program offers a variety of features, including virtual shopping, web solutions, and affiliate marketing.


Udemy is an online course platform that offers a wide range of courses on a variety of topics. Users can access Udemy's library of courses to learn new skills or to expand their knowledge base. Courses are available in a variety of formats, including video, audio, and text. Udemy also offers a course marketplace where users can find and purchase courses from other users
Final Verdict
Is Systeme.io right for You?
If you are looking for an online marketing platform that is easy to use and comes with a variety of features, then systeme.io is the perfect option for you. It offers functionalities such as email automation, A/B testing, and click funnels, all at an affordable price. Additionally, its features make it the perfect choice for anyone looking to launch or grow their online business with ease. Sign up now!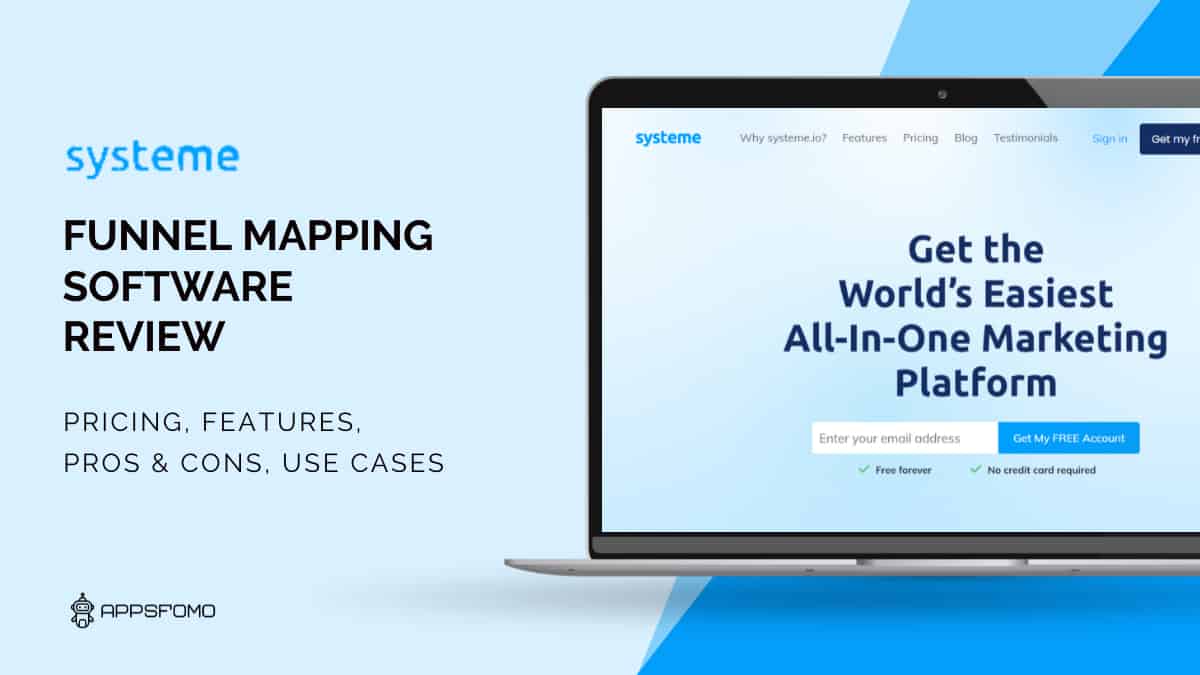 Specification:
Systeme.io: Maximizing Your Online Marketing Potential With Automation
| | |
| --- | --- |
| Review Date | March 2023 |
| Company | ITACWT Limited |
| Country | Europe |
| Initial Release | 2017 |
| Pricing | Annual Payment, Monthly payment, Monthly Subscription, Yearly |
| Free Version | Available |
| Lifetime Deal | No |
| LTD Platform | N/A |
| Money-Back | No |
| Support type | Emails, Help center |
| Integrations | Yes |
| Supported Device | Browser, Web Based |
| Mobile app | Not Available |
| Affiliate Program | Yes |
PROS:
Customer service is helpful.
Automate your tasks with marketing automation features.
You are able to build a profitable sales funnel with Systeme.
CONS:
Doesn't have integration with external tools and services.
Beginner's need to spend time and play with features in order to use all the features effectively.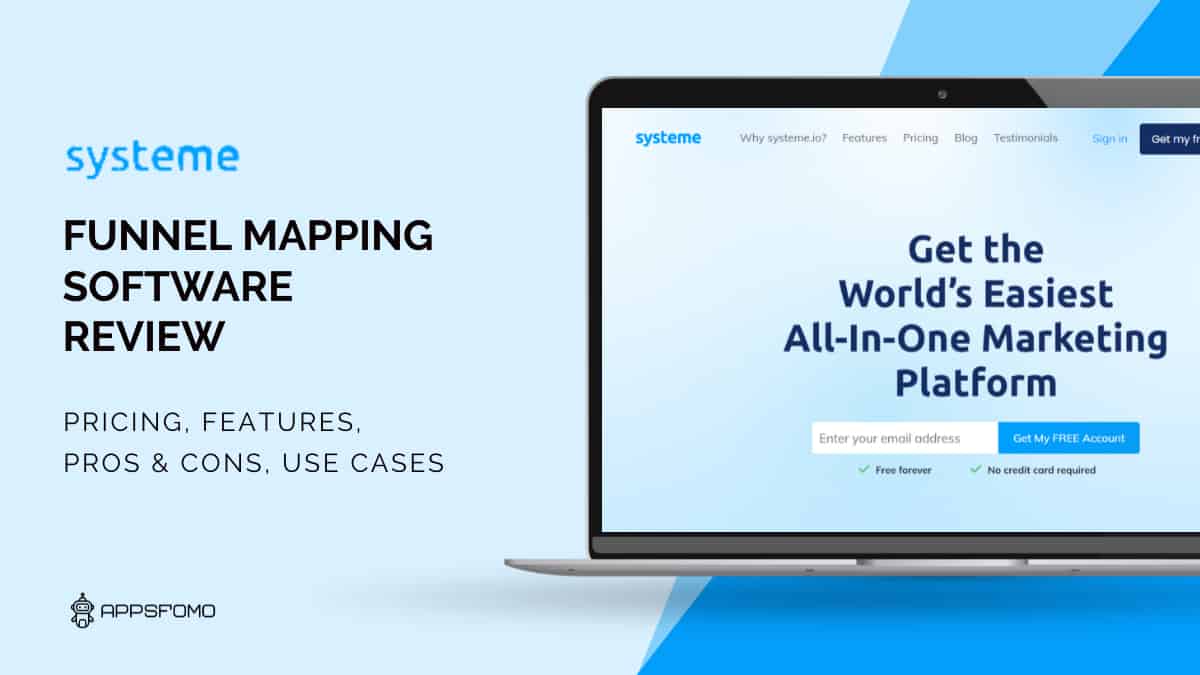 Systeme.io: Maximizing Your Online Marketing Potential With Automation