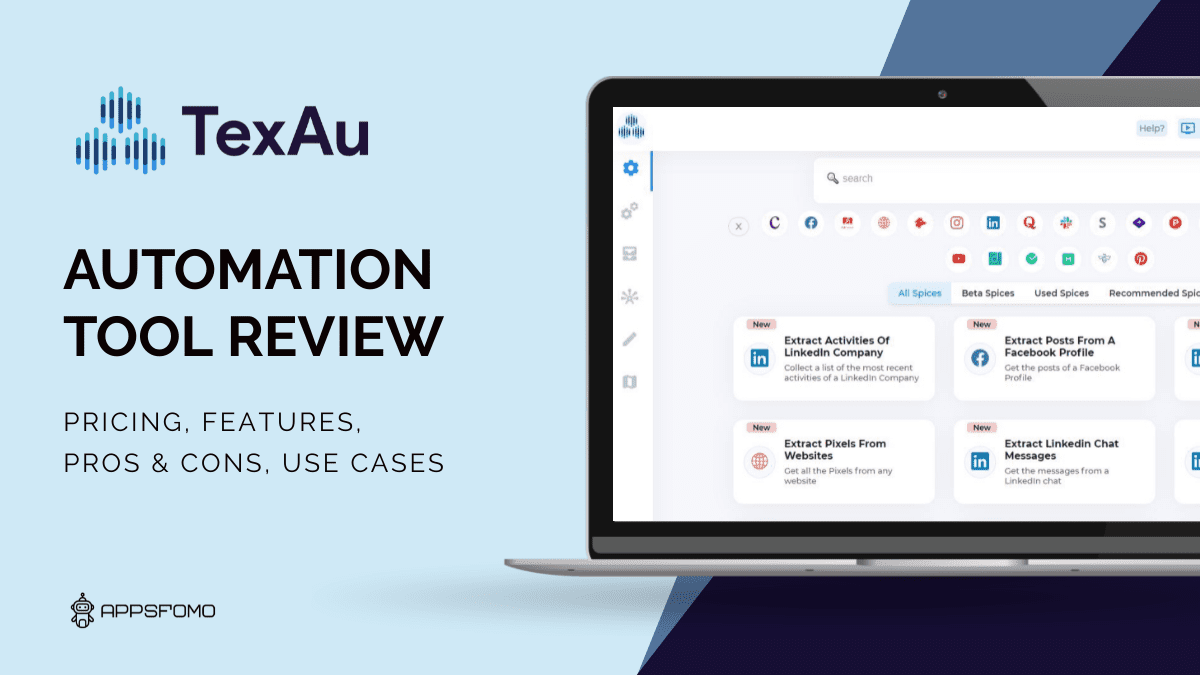 TexAu Review
238
SaaS, Business Tools
Add to wishlist
Added to wishlist
Removed from wishlist
0
Add to compare
Overview
Searching for leads and reaching them manually consumes more time, and sometimes you won't end up with correct leads, So TexAu automates this for you using social media platforms.
TexAu is an automation tool that automatically scrapes leads from across the social media platforms and makes easier to connect them and gives the option to maintain day to day task in there CRM. With the help of TexAu you can save a lot of money and time that you are spending to get leads.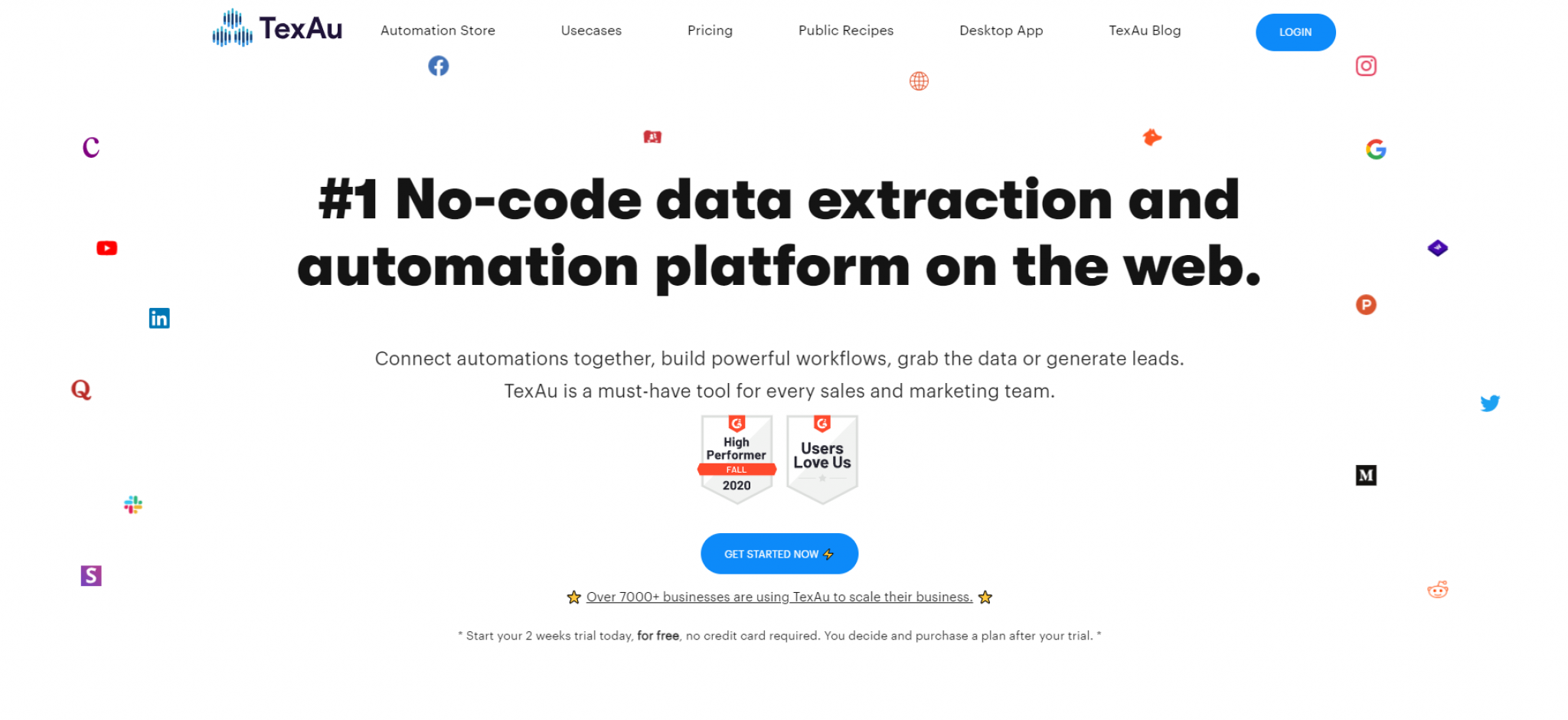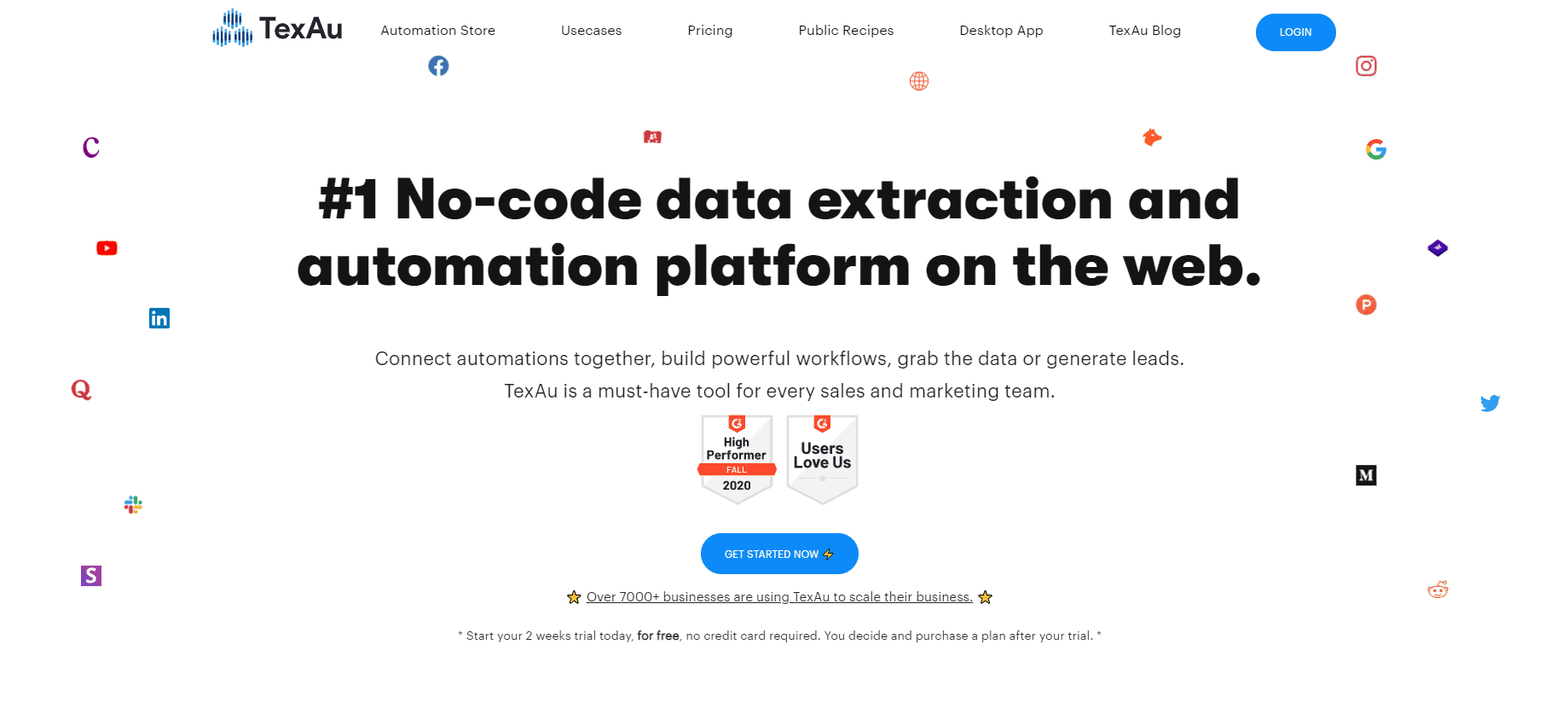 TevAu helps to grow any business by finding the best leads and increasing followers in social media, This reduces the time to find leads and you can invest this time in talking to them.
Why Is TexAu Essential?
With TexAu spices( automation script that runs on different platforms ) you can get leads from across the social media platform like Facebook, Twitter, LinkedIn, Slack, Medium, Reddit, Instagram, and many others. With detailed logs on the result page, you will get all of the information when you run the spice.
TexAu gives unique features to automate some complex things using Recipes. for example, you can extract your competitor Facebook group members and can invite them to your group. Based on who liked the post you can send the friend request to them like this Recipe helps to combine across the platforms and to get targeted leads to your business.
On the results page, you can see all the extracted results in CSV format you can download this to your local system and what is happening after running Spice or Recipe in the logs section.
CRM gives the list of all tasks you are finished with how much time TexAu took for each automation.
TexAu provides an extension to get the cookies of your browser, when you want to connect your social media accounts to TexAu then you can use this extension
Features
Automation using Spices
Creating workflow using Recipies
The result can be downloaded as CSV or you can automate this to Google sheets
Using Proxy and getting cookies made easy
Zapier Integration and Webhook support
Inbuilt Email finder and verifier
Unlimited Spices and Recipes you can use
Best video tutorials and Customer support
Easily maintaining the workflow
You can take help from the TexAu team to make any automation for your business
Pricing Details
TexAu gives you a free 2 weeks of trial, in this time you can check all the functionalities of the app, and if you liked that you can purchase the app.
TexAu provides two variations, Cloud + desktop app and only desktop app the price of both of these is showed below.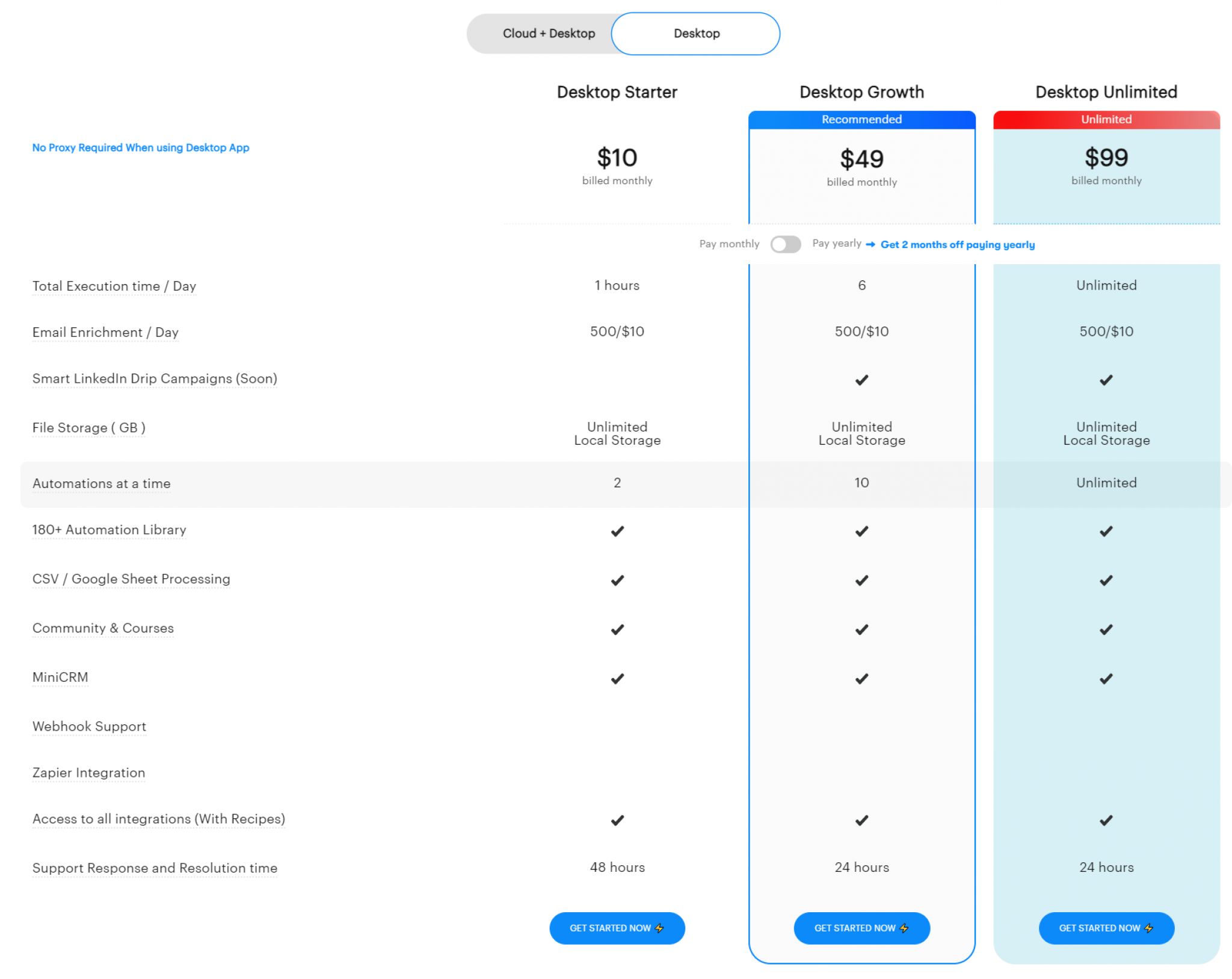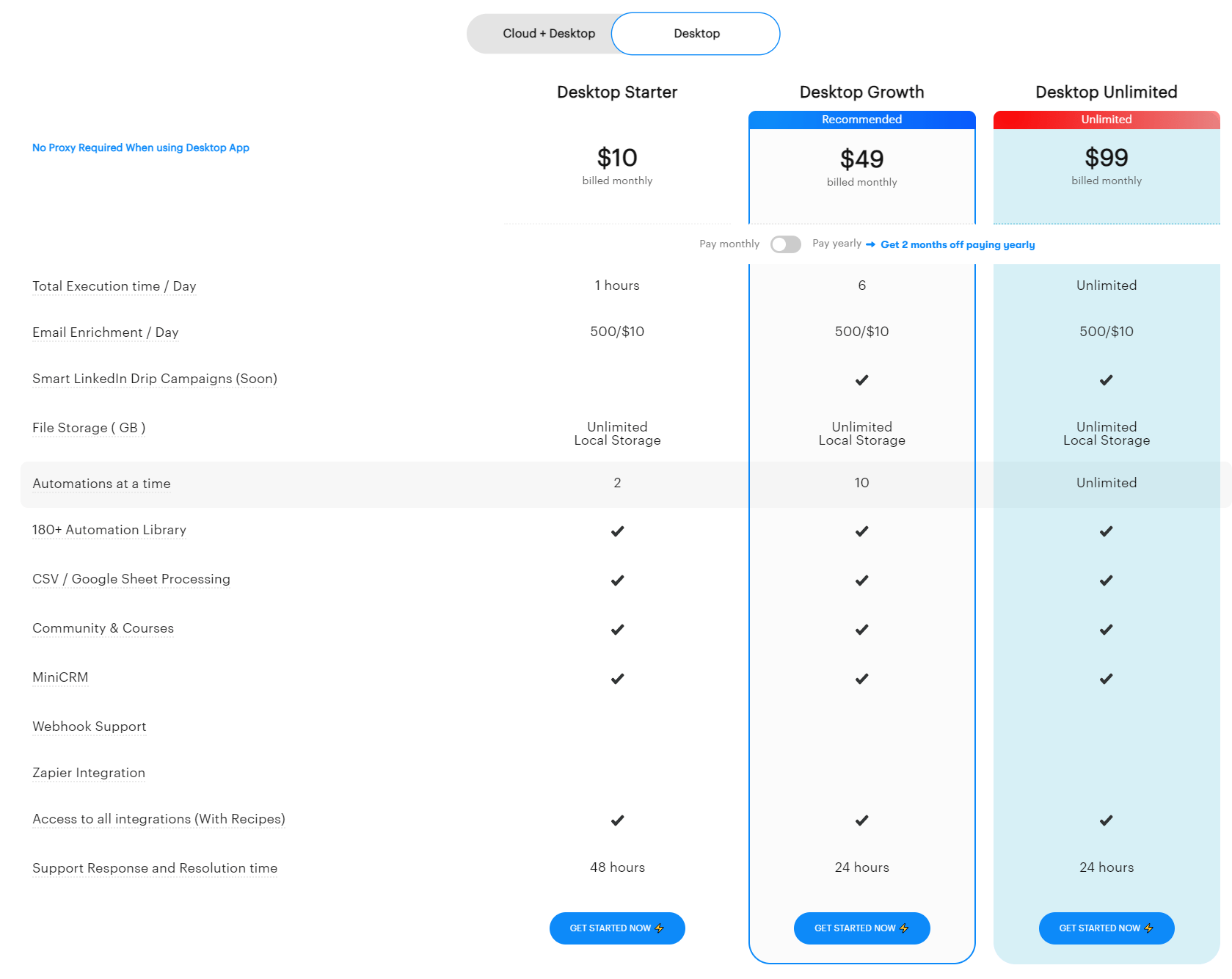 For Cloud + Desktop version it cost around 29$ per month for the started package, check out the detailed pricing option on the official website
Final Verdict
When it comes to finding the leads and managing them properly TexAu helps you in every step. with there spices and recipes you can gather N number of lead, now the only task is pending is you need to convert them as you contact to growth your business. Try the 2 weeks of trial version if satisfied with go and purchase the app and increase your business growth.
Video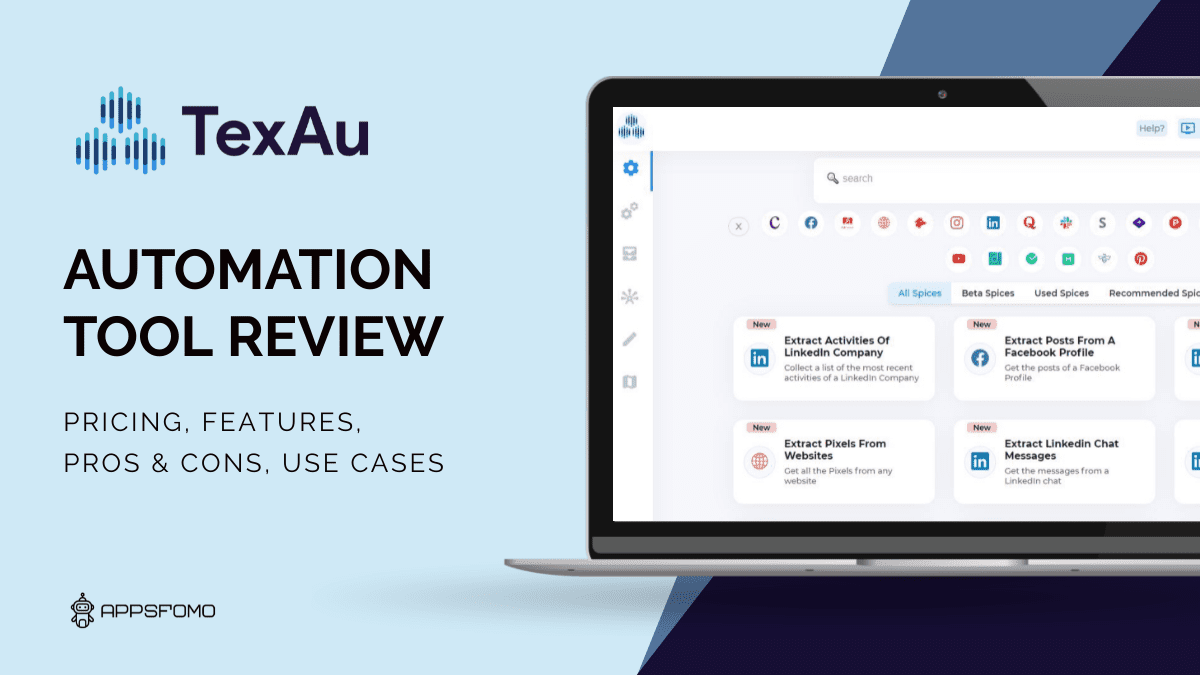 Specification:
TexAu Review
| | |
| --- | --- |
| Review Date | Mar-21 |
| Company | TexAu |
| Country | USA |
| Initial Release | 2020 |
| Pricing | Montlhy, Yearly |
| Free Version | Free Tier |
| Lifetime Deal | Yes |
| LTD Platform | Appsumo |
| Money-Back | N/A |
| Appsfomo Rating | 8.4 |
| Support type | Email, Live Chat |
| Integrations | Zapier |
| Supported Device | Android, Web Based, Windows |
| Mobile app | Available |
| Affiliate Program | Yes |
PROS:
Ability connect multiple platforms
For small automation spices for each platform
Creating complex workflow easily
Best platform to get contacts of targeted leads
CONS:
Adding Proxy can be made simple for non tecgnical users
User interface can be better