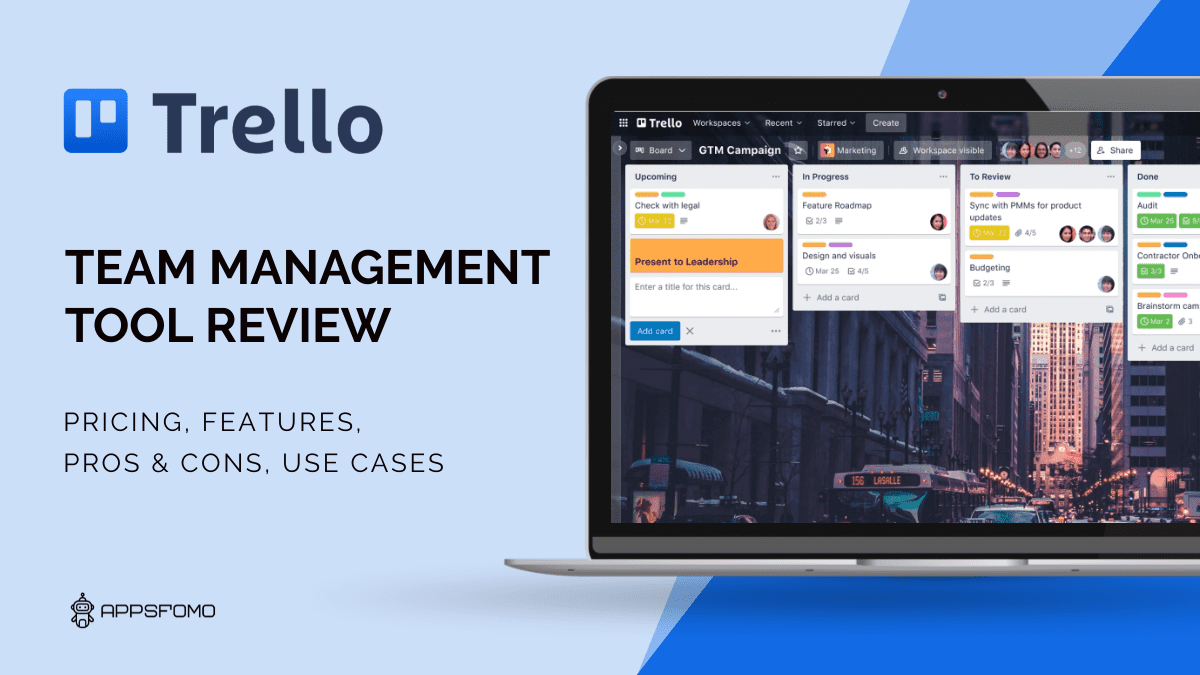 Trello: The All-in-One Real-Time Workspace for Teams
Add to wishlist
Added to wishlist
Removed from wishlist
0
Add to compare
In today's fast-paced world, it is necessary to have a workspace tool that brings together all the tasks, teammates, and tools in one place. That is where Trello comes in.
Trello is an all-in-one real-time workspace for teams that can help streamline workflows and enhance productivity. In this blog, we will take you through everything you need to know about Trello- from understanding the concept of Trello to setting up your workspace, organizing tasks, and assigning them to team members.
What is Trello?
An Overview
Trello, the all-in-one workspace for teams, is designed to bring tasks, teammates, and tools together in one place for seamless collaboration. Its concept revolves around creating visual task boards that help teams manage projects effectively. By serving as an all-in-one workspace, Trello enables teams to stay organized and productive. This visual work management tool empowers teams to ideate, plan, manage, and celebrate their work together in a collaborative, productive, and organized way.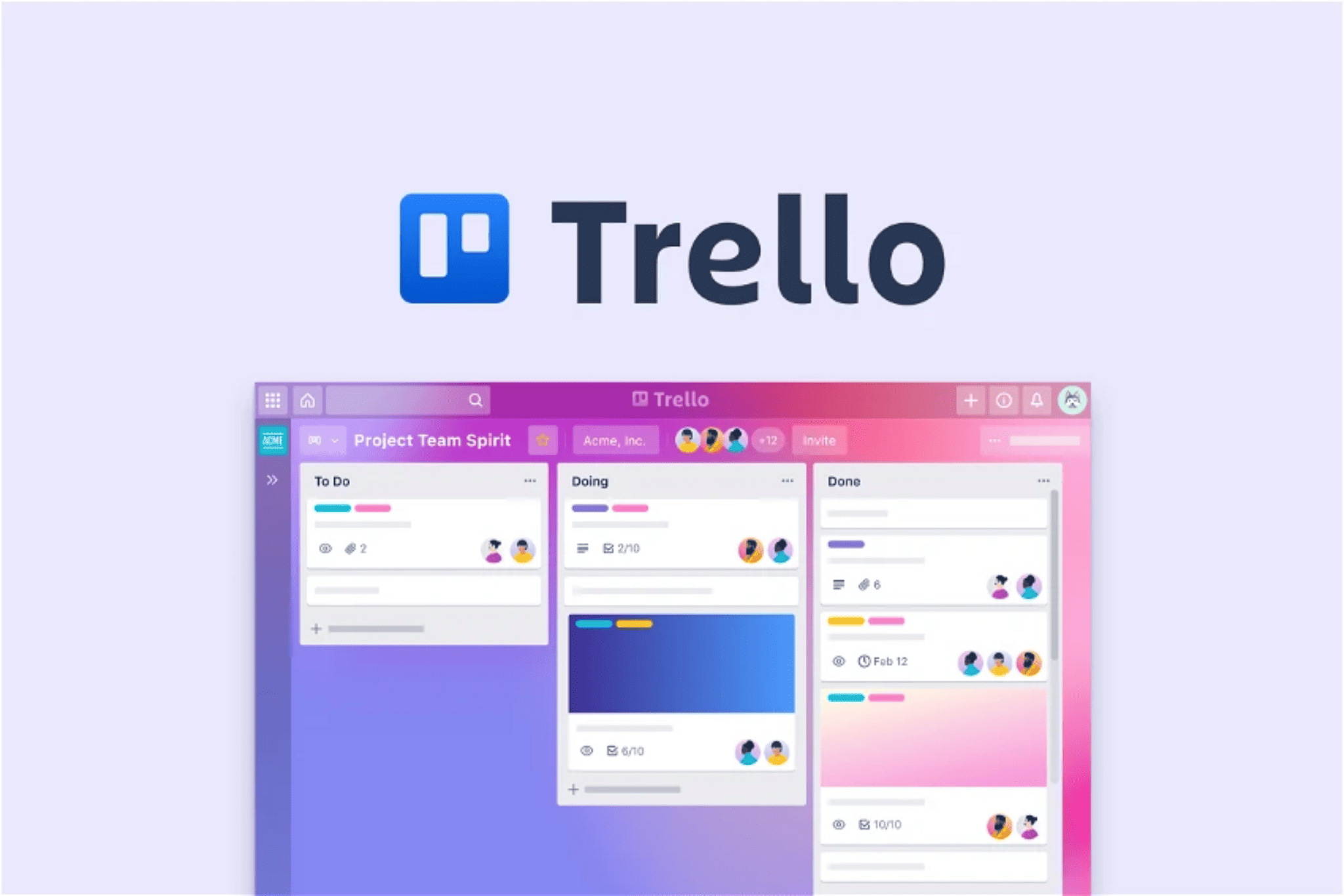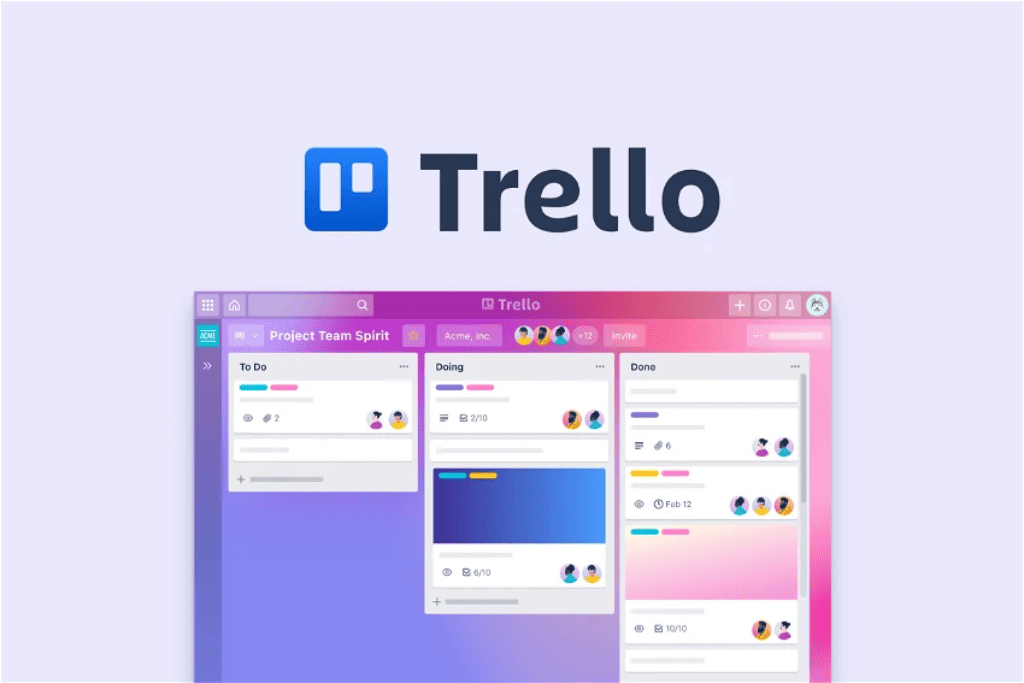 Trello is a job administration tool created to aid individuals and also groups to team up much better and also keep their jobs organized. They offer a freemium model that lets individuals work with a limitless number of boards, checklists, and cards. It can additionally be integrated with cross-functional divisions.
Company Details
Trello is the product of a brand named Atlassian.
Around the summer of 2010, Fog Creek Software starts doing regular Creek Weeks, internal explorations for potential products. In January 2011, a prototype that hopes to solve some high-level planning issues is pitched. It's called Trellis. Full-time development begins soon after.
Trello, Inc. was formed in July 2014 when it spun off from Fog Creek. Michael Pryor, co-founder of Fog Creek, became the CEO. The company raised $10.3 million in a Series A funding round led by Spark Capital and Index Ventures.
Trello currently has over 4.75 million users. In May 2015, Trello expanded internationally by offering localized experiences for Brazil, Germany, and Spain. In early 2017, Atlassian acquired Trello, marking a new chapter in its mission to empower teams globally.
Online Presence
Step-by-Step Guide for Using Trello
How does it work?
To begin using Trello, set up your workspace by creating an account and inviting team members. This ensures that everyone has access to the collaborative features offered by the platform. Next, create boards to represent different projects or departments within your organization. This allows you to establish a clear structure and organization for your work. Within each board, you can further organize your tasks by creating lists and adding cards for specific tasks. Trello utilizes a Kanban-style system, allowing teams to visually represent tasks and workflows.
Creating Boards, Lists, and Cards
Easily initiate new boards in Trello to represent the diverse projects or areas of work. Within each board, you can create lists to categorize tasks into different stages or categories. A board provides a designated space to keep track of information, making it ideal for large projects, teams, or intricate workflows.
Setting Up Your Trello Workspace
Customize your workspace in Trello to optimize your team's productivity. Add descriptions, due dates, and labels to boards and cards, allowing for clear communication and organization.
Take advantage of Trello templates to save time and maintain consistency across projects. Whether you're managing a project or acting as a project manager yourself, setting up notifications and reminders keeps you updated on your team's progress.
Organizing and Assigning Tasks
Use the power of Trello's organizational features to streamline your team's workflow. With labels and colors, you can categorize and prioritize tasks, ensuring that everyone knows what needs to be done. Assign tasks to team members by adding them as card members, enabling seamless collaboration and accountability. Keep track of progress and stay on top of deadlines by utilizing due dates and checklist items.
Key Features of Trello for Enhanced Productivity
Basic Functionalities
Trello Boards: Your Project Dashboard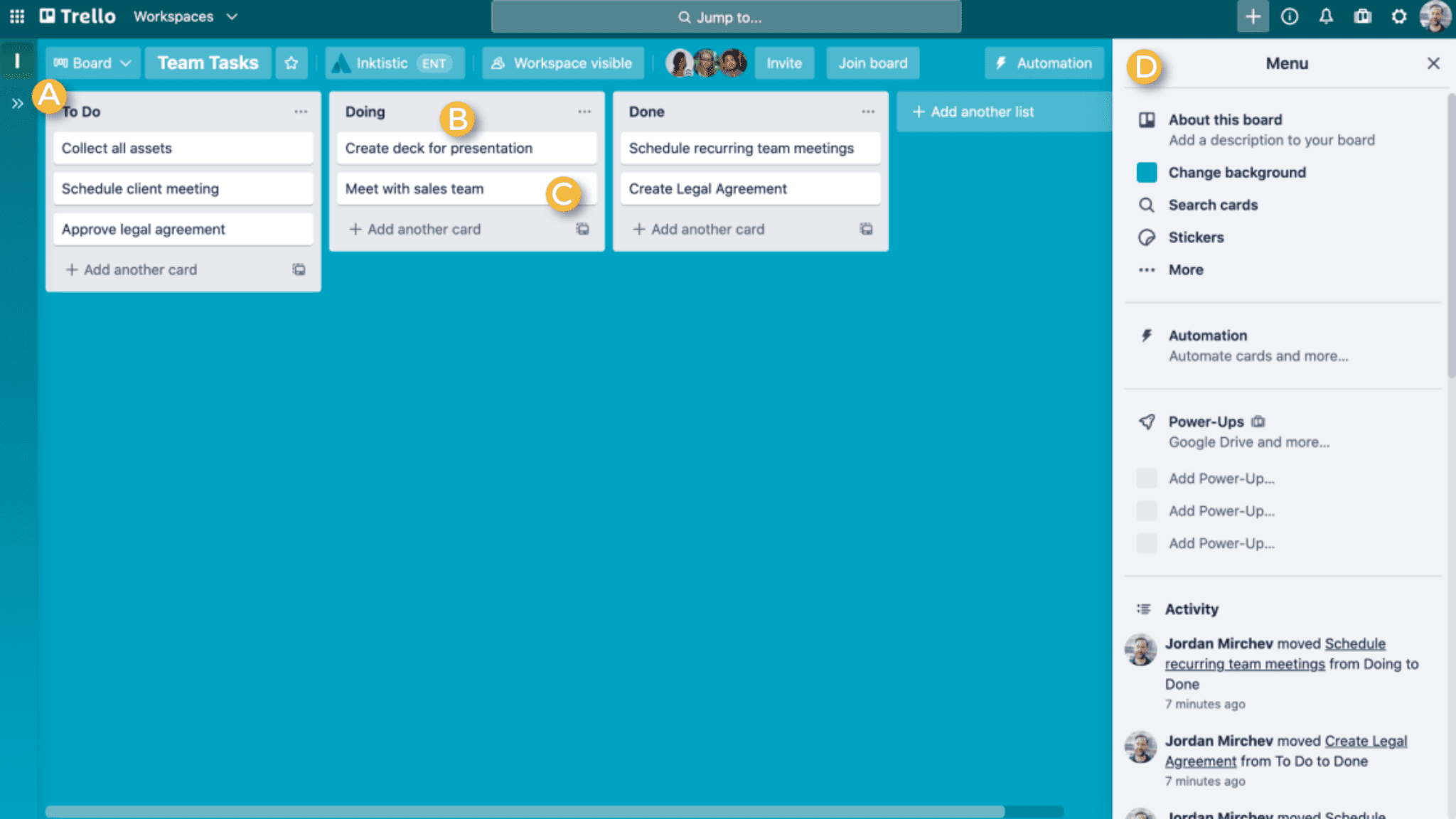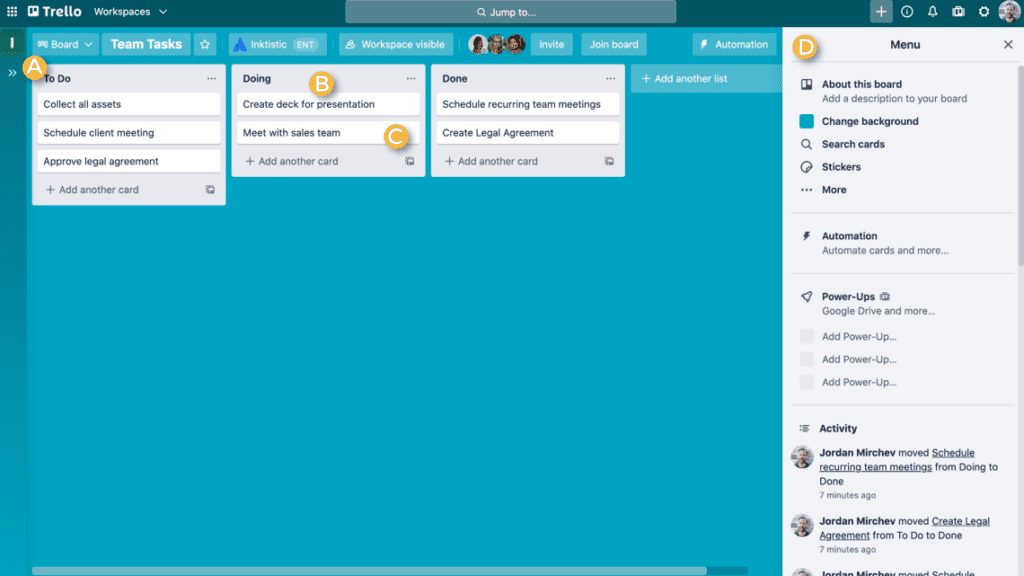 Trello boards serve as an effective project dashboard, consolidating all the pertinent information in one place. They provide a designated space to manage and track information for large projects, teams, or workflows.
No matter the nature of your endeavor, be it launching a website, monitoring sales, or planning an office party, Trello boards offer a centralized hub to organize tasks, document crucial details, and most importantly, collaborate seamlessly with your colleagues.
Lists and Cards: Breaking Down the Work


Lists in Trello help organize your work into different stages or categories. They serve as a way to break down complex tasks into manageable steps. Cards, on the other hand, are used to represent specific tasks or pieces of information. They can be anything that needs to be done or remembered.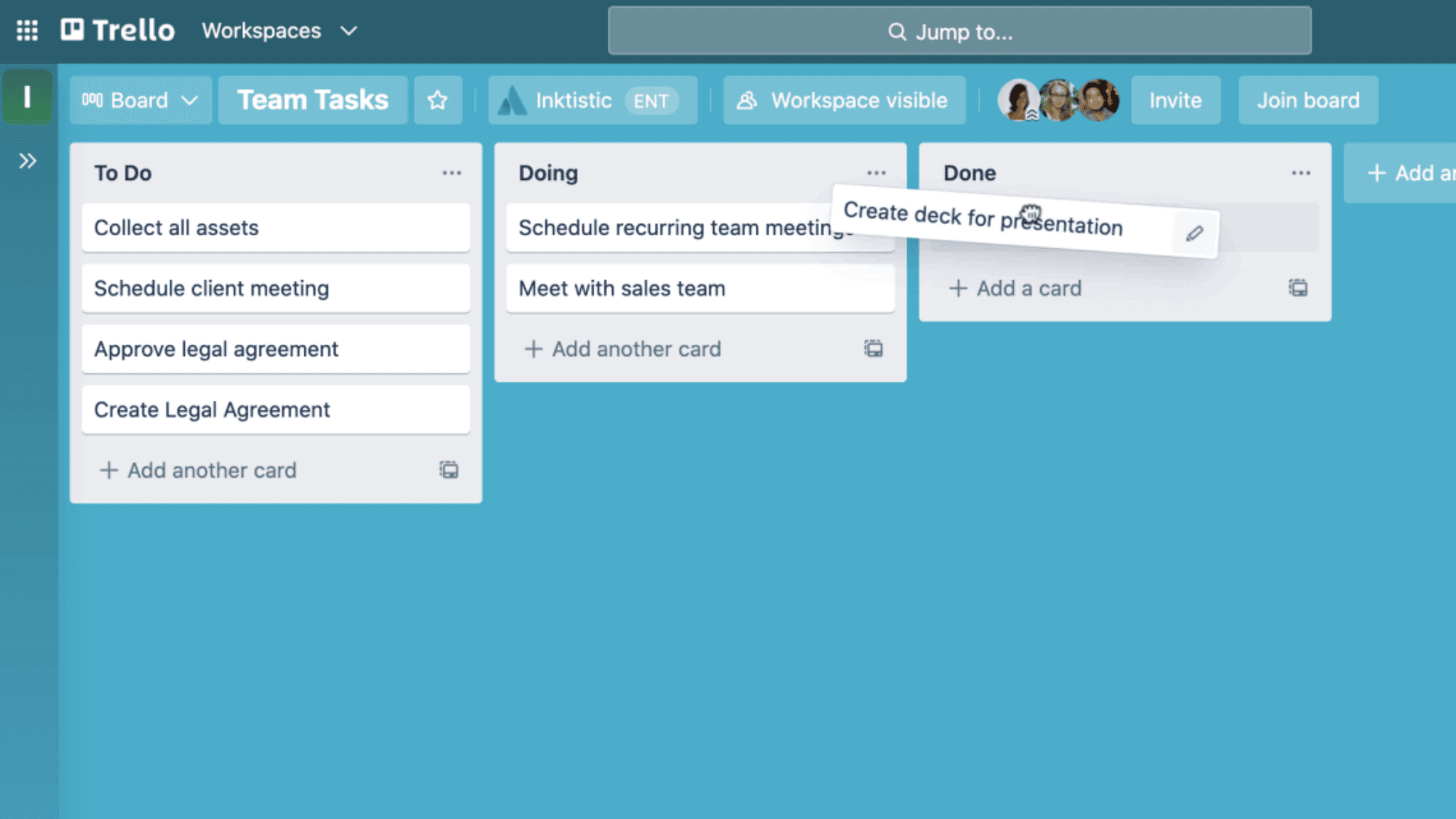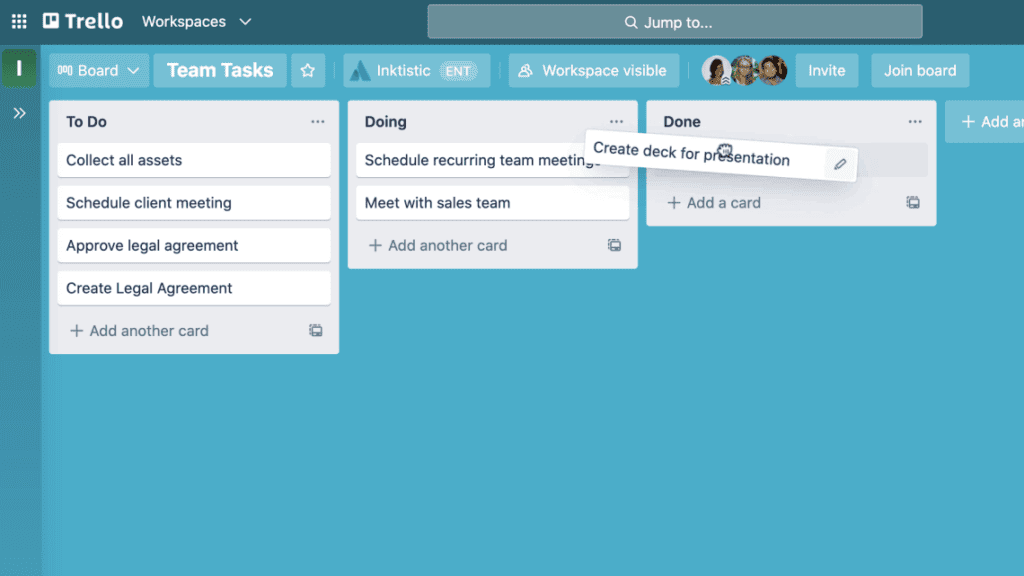 The beauty of lists is that they can create a workflow where cards are moved across each step in the process or they can simply act as a place to keep track of ideas and information. There's no limit to the number of lists you can add to a board, allowing you to customize your workspace to your liking.
Trello's Playbooks: Jump-start Your Workflow
Powerful templates across different industries and use cases are available in Trello's Playbooks. These ready-made workflows save time and effort by providing you with a starting point for your projects. What's more, the playbooks are customizable to fit your specific needs, allowing you to tailor them to your team's requirements.
By using pre-built boards, you can streamline your team's progress, ensuring everyone is on the same page. The predefined tasks offered by Trello's Playbooks accelerate project management, making it easier for you to stay organized and complete your tasks efficiently. With Trello, you can jump-start your workflow and achieve your project goals effectively.
How Does Trello Foster Team Collaboration?
Advanced Features
Trello fosters team collaboration with its centralized workspace, ensuring seamless teamwork. Real-time updates and notifications keep everyone informed, promoting effective communication. The platform streamlines project management through task assignments and due dates, enhancing productivity.
Additionally, Trello's efficient task management features such as checklists and attachments contribute to smooth workflows and onboarding for new team members.
Centralized Workspace for Remote Teams
In today's dynamic work environment, having a centralized workspace for remote teams is crucial. With Trello, you can access your workspace from anywhere with an internet connection, allowing you to collaborate and communicate with team members in real time. The platform enables you to effortlessly share files and documents, keeping everything in one place for easy access.
Real-Time Updates and Notifications
Real-time updates and notifications are essential features of Trello that enhance team collaboration and productivity. With instant notifications, team members are kept informed about any changes or updates within the Trello board. This ensures that everyone is on the same page and can respond promptly.
Additionally, Trello allows users to see changes and updates in real time, providing a clear and transparent view of the team's progress.
Project Management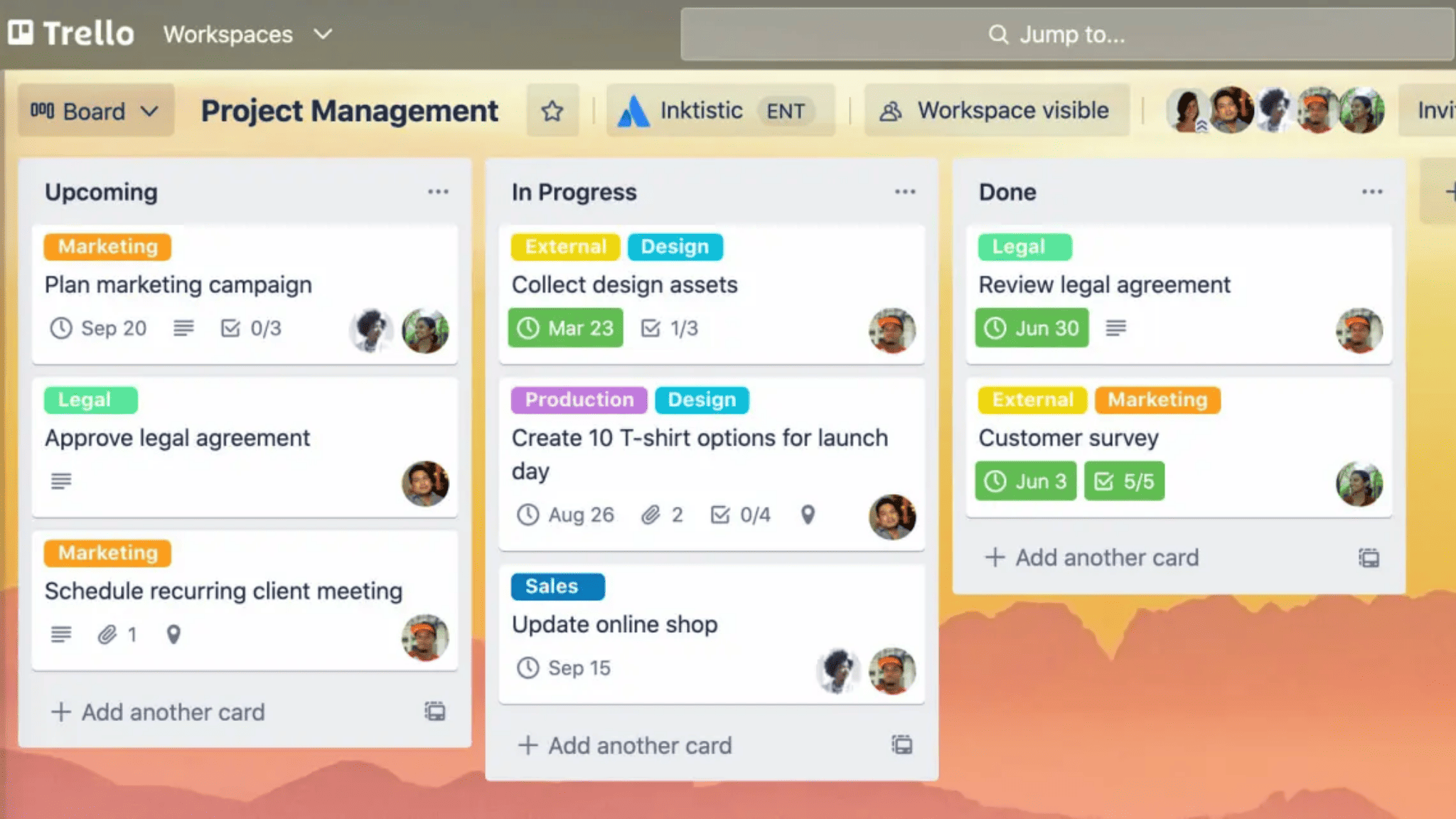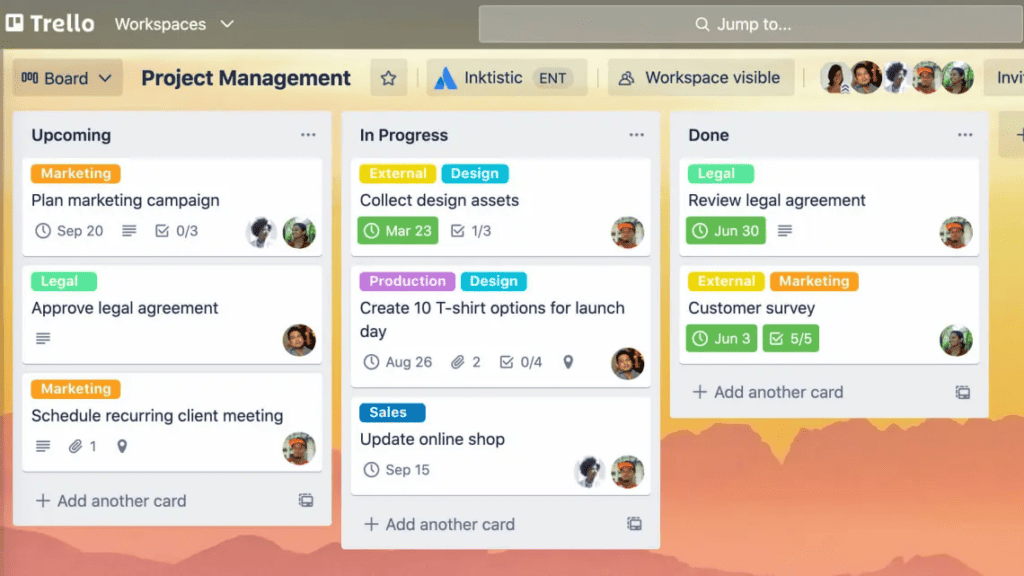 Easily manage projects from start to finish with Trello's project management features. Create, assign, and track tasks in one place, ensuring that nothing falls through the cracks. Visualize project progress using the timeline view and calendar view, allowing for easy monitoring and adjusting of deadlines.
Streamline communication within your team by leaving comments and attaching relevant files directly to tasks. With Trello, you can gain real-time insights into the status of your projects and identify bottlenecks that need attention. Stay organized and on top of your team's progress with Trello's advanced checklist items and unlimited cards. Trello is the easiest way to streamline your project management processes and ensure smooth collaboration across your team.
Task Management
Stay organized and stay on top of your tasks with Trello's task management features. With checklists and due dates, you can easily keep track of what needs to be done and when. Assign tasks to team members for accountability and ensure that everyone knows their responsibilities. Attach files and documents directly to tasks, keeping all relevant information in one place.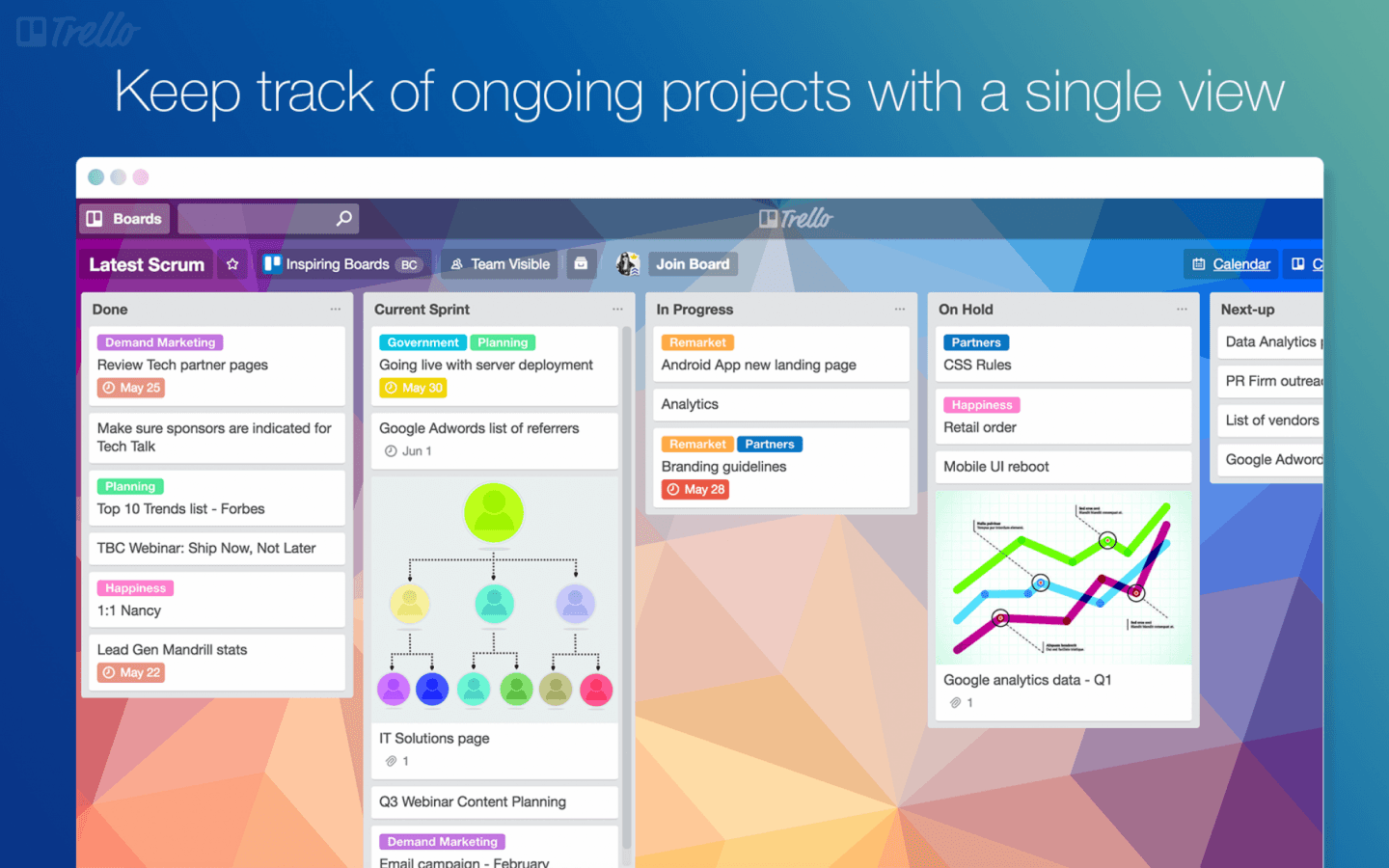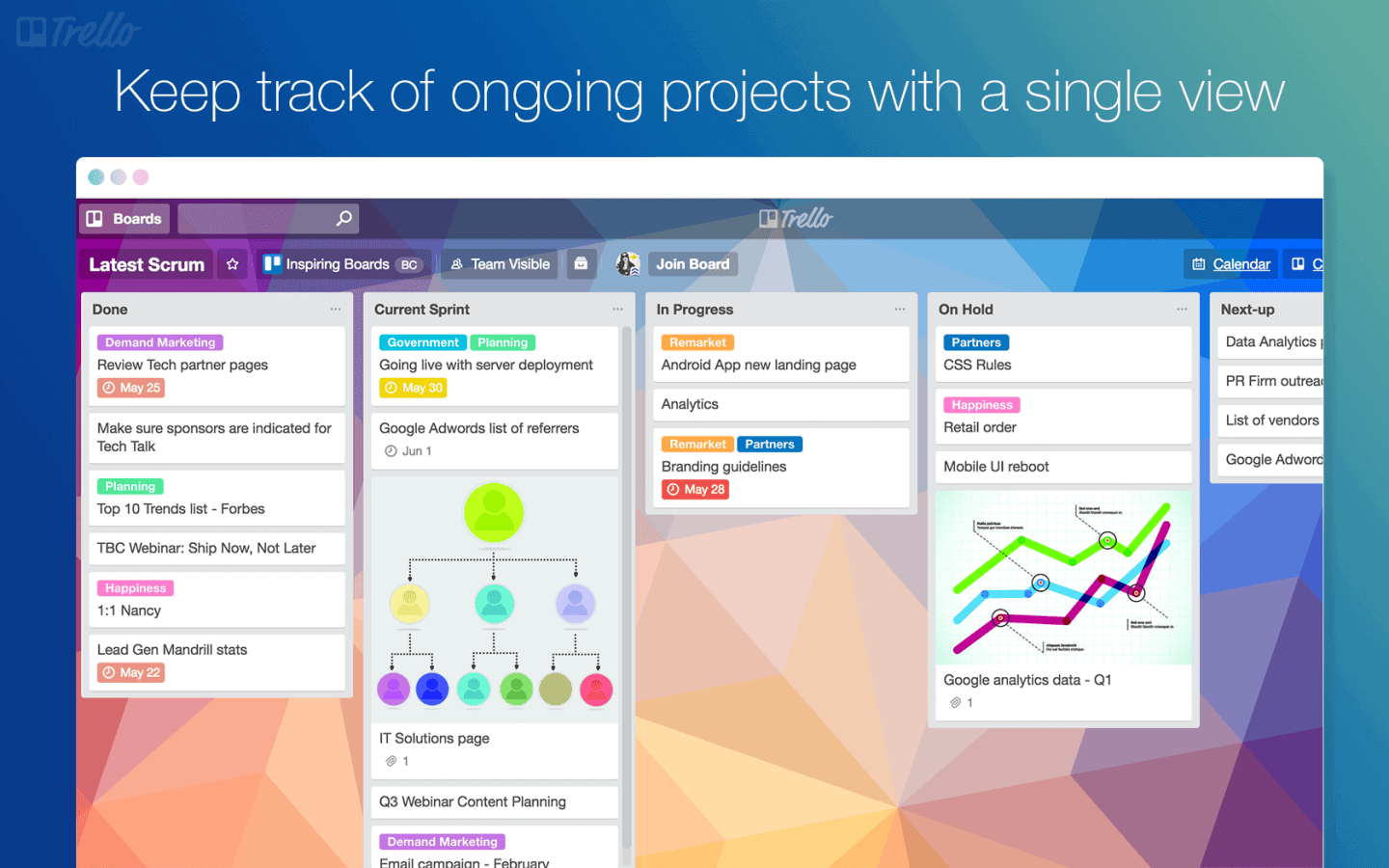 Prioritize tasks using labels and deadlines, ensuring that the most important tasks are completed first. And with Trello's intuitive interface, tracking task completion and progress is a breeze. Stay organized, stay accountable, and stay productive with Trello's powerful task management capabilities.
Onboarding
Smoothly transition new team members onto Trello, taking advantage of its intuitive interface. Assign tasks and provide resources to ensure a successful onboarding process. Through real-time collaboration, facilitate learning and integration within the team. Streamline training by utilizing checklists and setting due dates. It's essential to make new team members feel supported and informed throughout their onboarding journey.
Meetings
Plan and coordinate meetings effortlessly with Trello's versatile features. Easily assign agenda items and action items to team members, promoting accountability and collaboration. Seamlessly collaborate on meeting notes and post-meeting follow-ups, streamlining communication and ensuring all team members stay informed.
Trello's scheduling capabilities allow you to efficiently schedule and track recurring meetings, saving time and effort. With
Brainstorming
Unleash your team's creativity and foster a collaborative environment with Trello's brainstorming features. By utilizing the timeline view and map view, you can keep ideas visible and organized. The spreadsheet-style list allows for easy tracking and prioritization of tasks, while the advanced checklist items ensure no detail is overlooked. With Trello, your team can easily contribute and collaborate on ideas in real time, making the brainstorming process seamless and efficient.
Resource Hub
Save time and improve productivity with Trello's well-designed Resource Hub. Designed to help teams easily and quickly find information, the Resource Hub is a valuable tool for streamlining workflows.
Trello's Flexibility and Power
Why choose Trello?
Views
Bring a fresh perspective to the task at hand with Trello's versatile views. Whether you prefer a timeline view, spreadsheet-style table, or map view, Trello has got you covered. With the ability to switch seamlessly between Board, Table, Calendar, and Dashboard views, you can see your projects from every angle.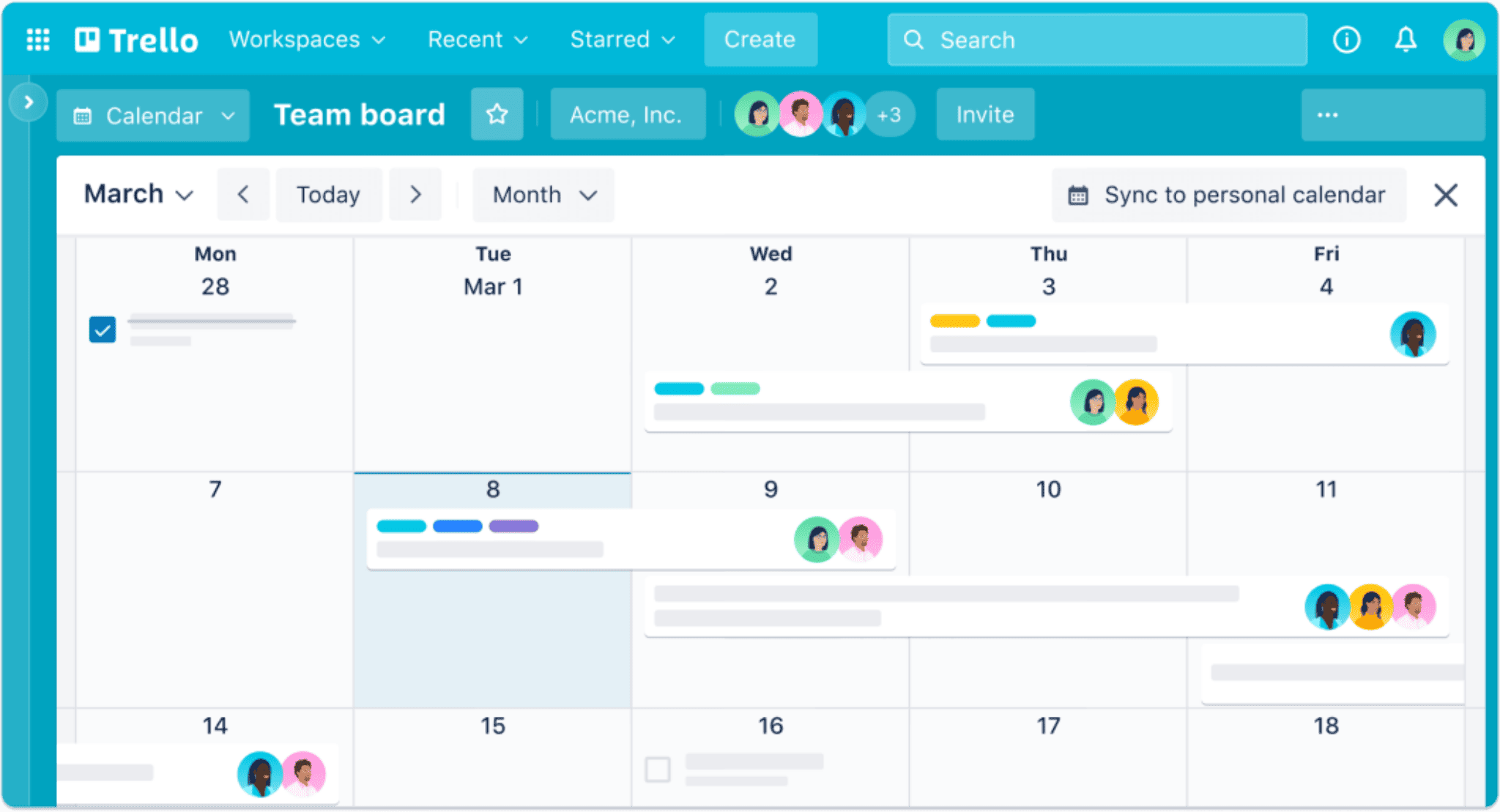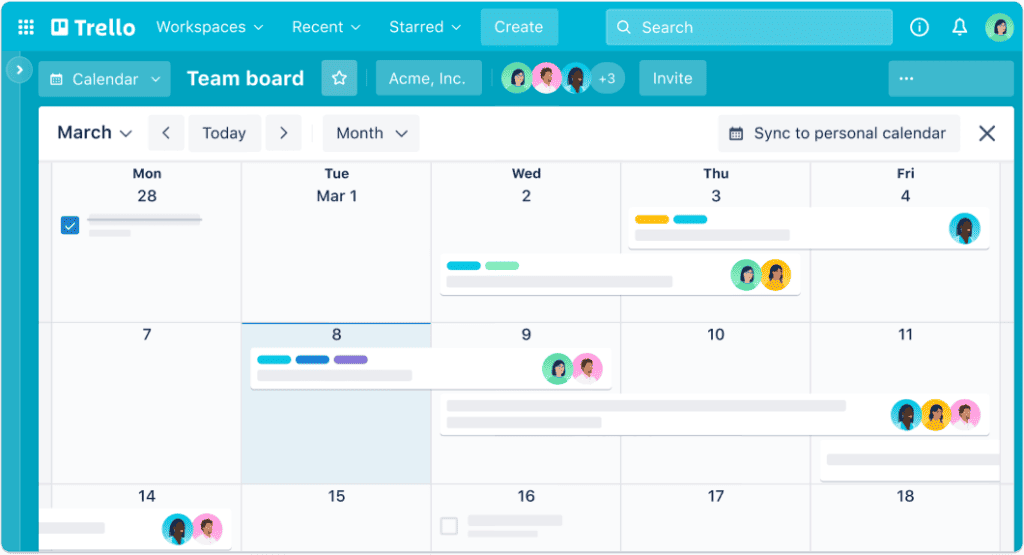 Need a visual representation? Try the Map view to visualize your team's progress geographically. The Workspace view provides a comprehensive overview of all your boards, making it easier to manage moving parts across different projects. With unlimited cards and advanced checklist items, Trello's views empower project managers and teams to streamline workflows and stay on track.
Automation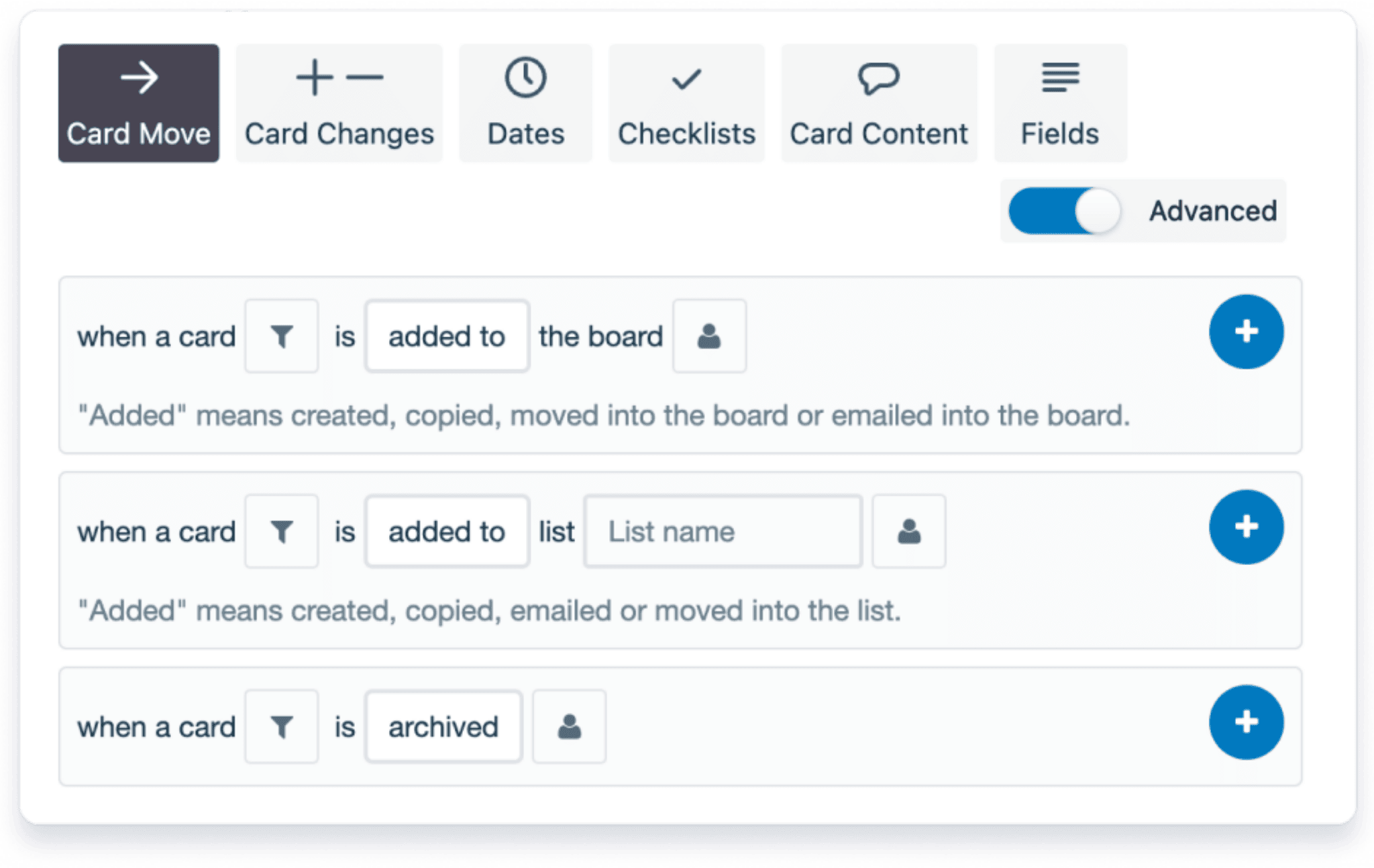 Automations are a key feature of Trello that can greatly enhance your team's productivity and efficiency. By automating repetitive tasks, you can save time and effort while letting Trello handle routine actions. With Trello's automation capabilities, you can create rules and triggers to automatically update cards and move them across lists. This streamlines your team's processes and improves workflow efficiency by reducing manual tasks.
Power-Ups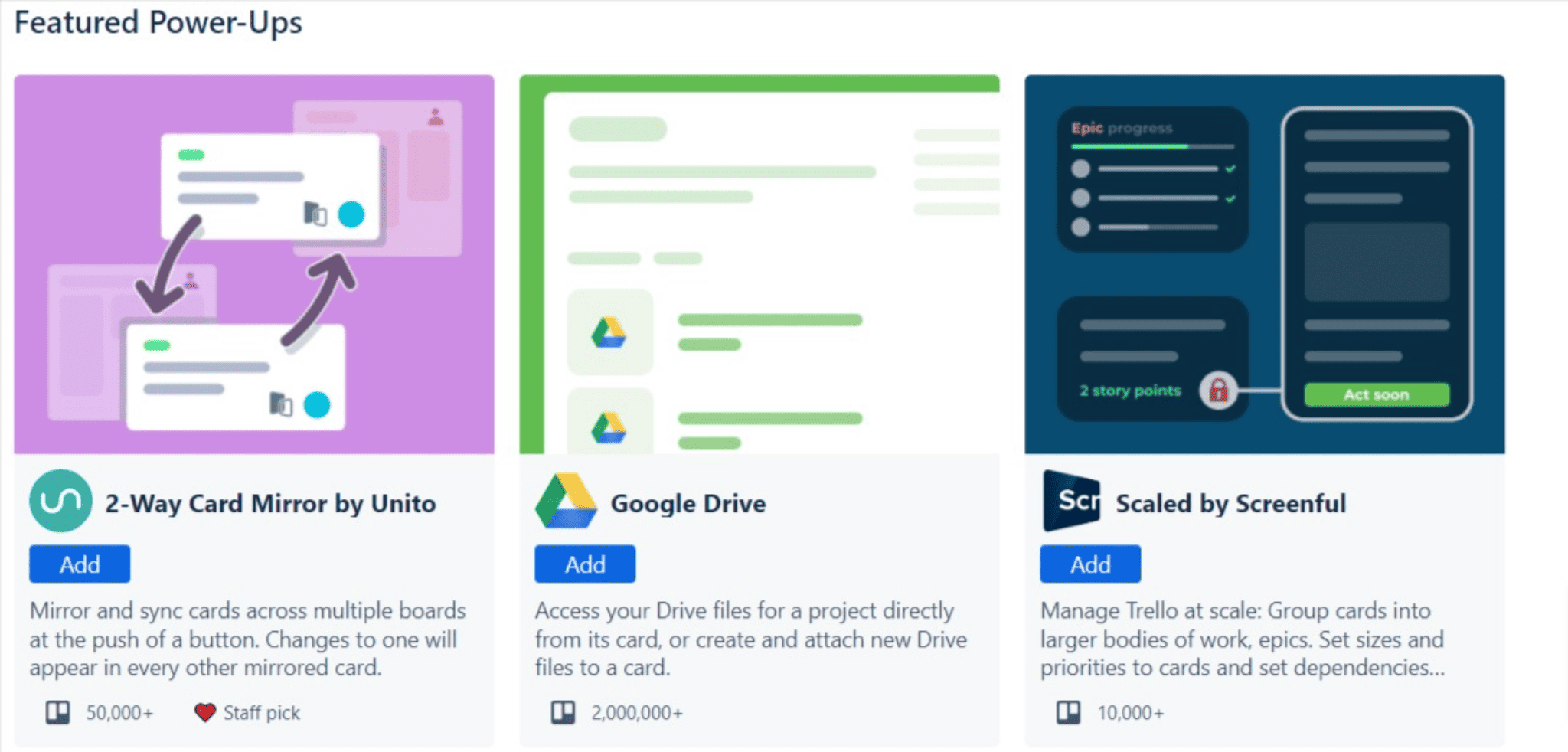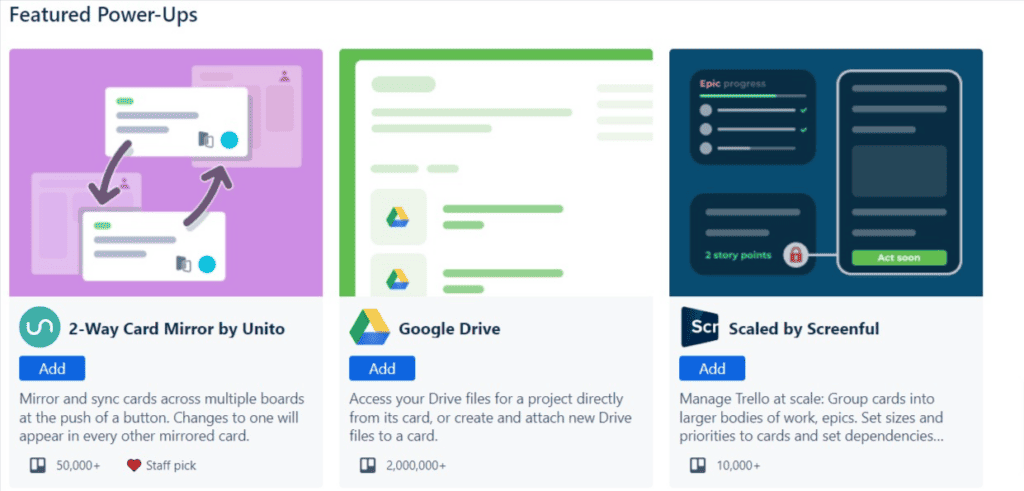 Enhance the functionality of Trello with a wide range of available Power-Ups that add extra features and integrations to tailor Trello to your team's needs. Boost productivity by utilizing Power-Ups for specific tasks or industries, and explore Trello's marketplace for a variety of options to choose from. Take advantage of unlimited Power-Ups available with certain Trello plans and power up your teams by linking their favorite tools with Trello plugins.
These Power-Ups allow you to integrate with tools like Google Calendar, automate code, and view your workspace in different ways, such as timeline view, spreadsheet-style list, or map view. With Trello's Power-Ups, you can customize your Trello board and make it the easiest way to manage your team's progress.
Templates
Save time and effort with Trello's pre-built templates for various projects and workflows. Choose from a selection of templates designed for various categories of industries and tasks. Customize them to fit your team's specific requirements.


Trello's true templates allow you to get started quickly, providing a blueprint for success. As your project progresses, easily adapt and modify the templates. No more starting from scratch! Give your team the advantage of tried-and-true templates from Trello.
Copy, customize, and start collaborating in no time. With Trello's Templates, you can streamline your team's processes and boost productivity.
Integrating with Other Tools and Apps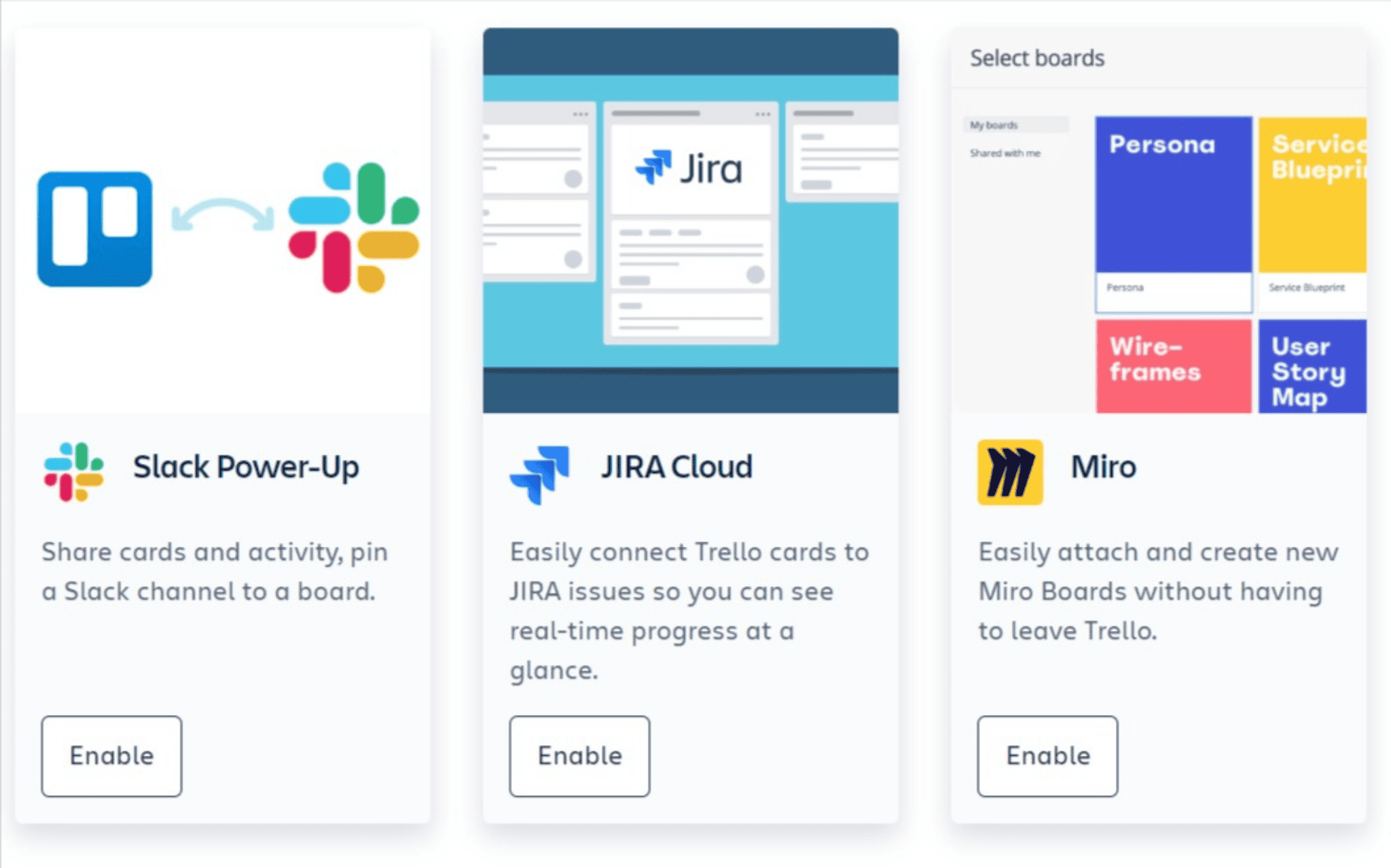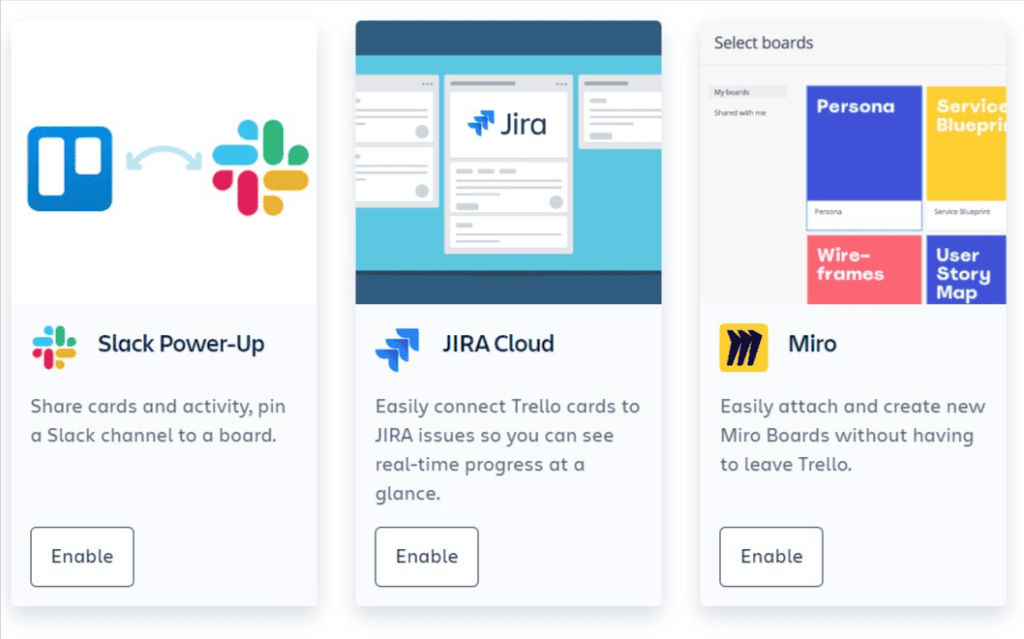 Trello simplifies collaboration by seamlessly integrating with popular tools like Google Drive, Microsoft Excel, and Salesforce. By syncing data across platforms, teams can streamline their workflow and ensure everyone is on the same page. Notifications and updates from integrated apps are delivered directly within Trello, keeping users informed in real time. It offers a total of 191 integration
With Trello's integrations, team members using different tools and apps can collaborate seamlessly, eliminating the need for constant switching between platforms. By leveraging Trello's integrations, teams can enhance productivity and efficiency, utilizing features like timeline view, spreadsheet-style lists, and advanced checklist items. It truly is the all-in-one workspace for teams to effortlessly connect and work together.
Use-Cases
Who can use Trello
Product Management
Startups
Remote teams
Engineering teams
Design teams
Marketing teams
Pricing Plans
Subscriptions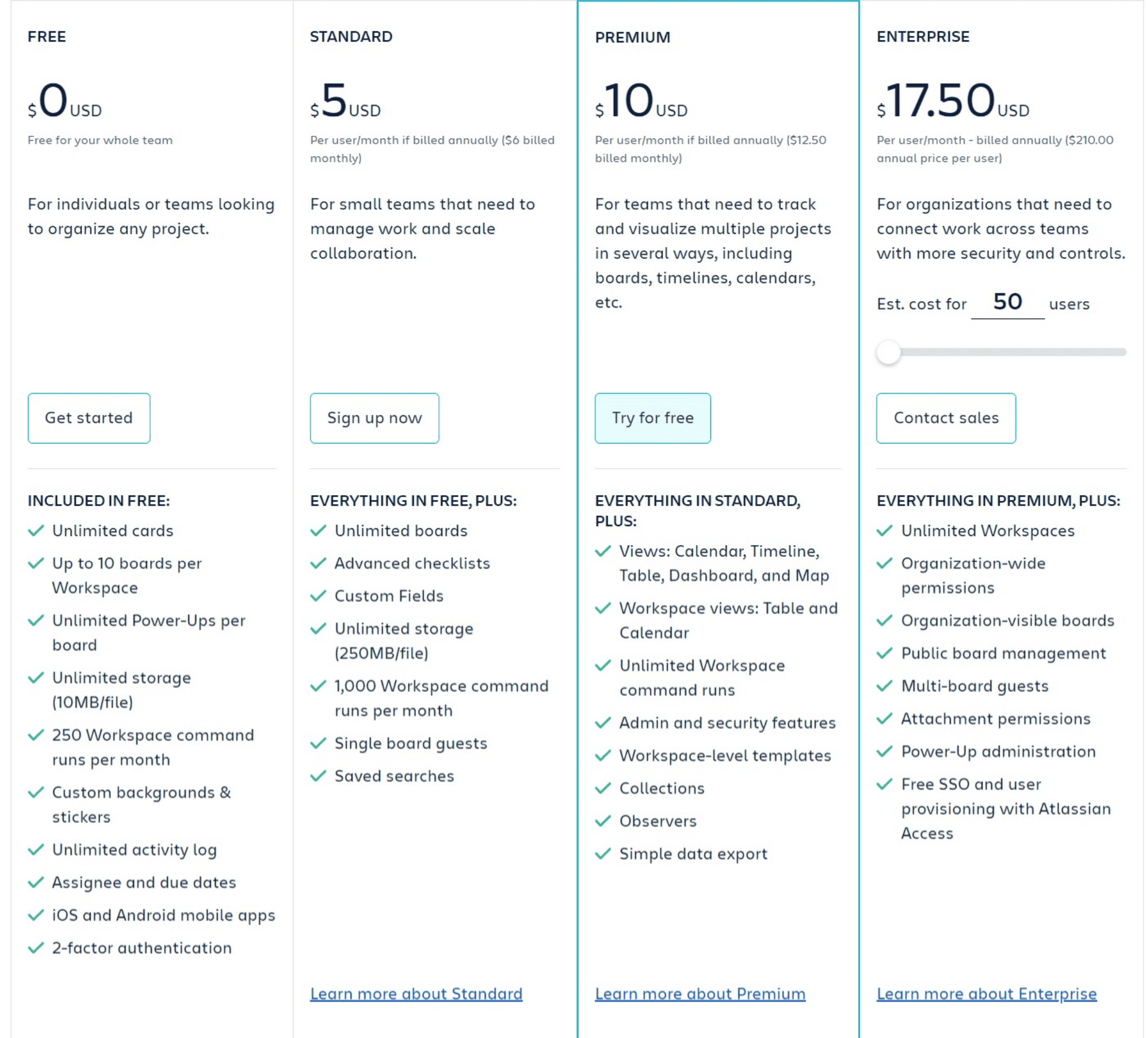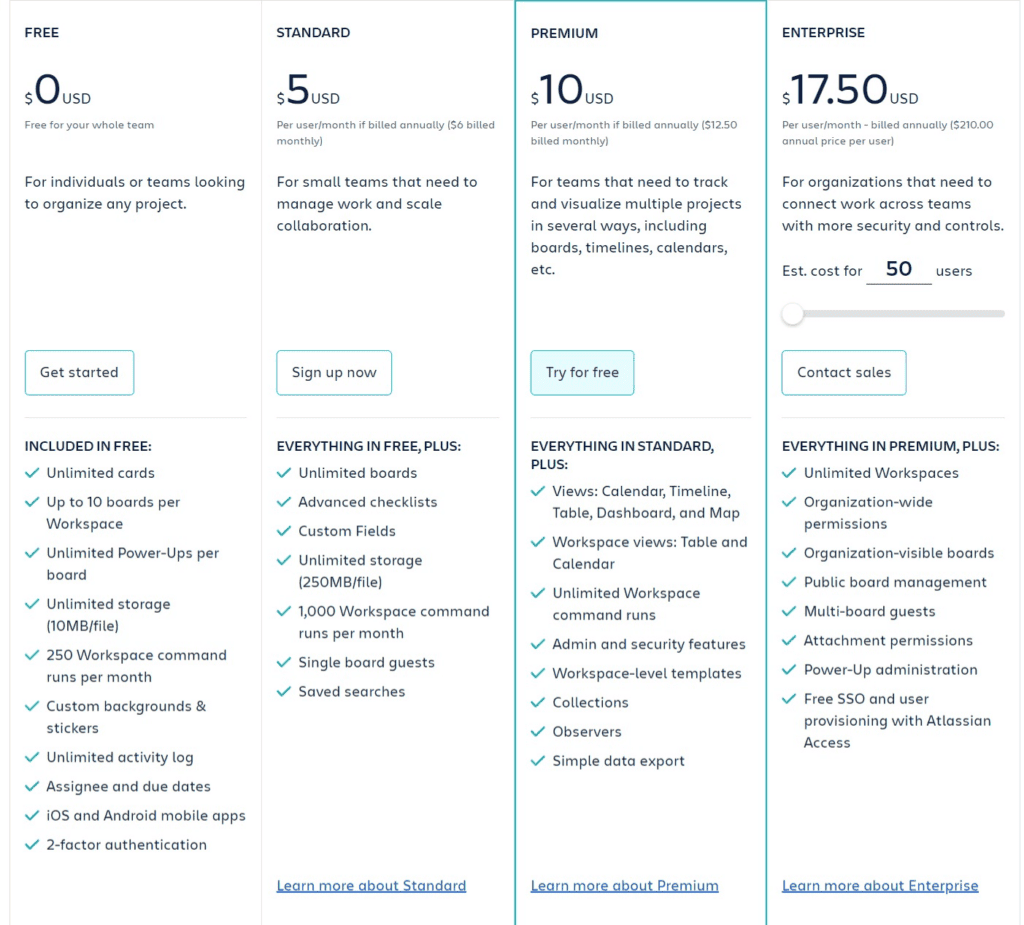 Support
Technical Support, Knowledge Base
As a support medium, they offer live chat, Ticketing, Email
They offer Webinars, Community, and Documentation support
Alternatives
Similar tools
Effortlessly organize any project with Ora. This platform allows you to easily bring your team together and streamline tasks with the use of cards.
The modern project management tool for your business. Asana helps teams focus on what counts, see what everyone's working on, and stay on track without all the emails and meetings.
Final Verdict
Is Trello for You?
In conclusion, Trello is a powerful and flexible real-time workspace that brings tasks, teammates, and tools together. It streamlines project and task management, enhances team collaboration, and boosts productivity. With features like boards, lists, cards, and playbooks, Trello provides a centralized workspace for remote teams and fosters seamless collaboration. Its flexibility allows it to adapt to various team needs and workflows, while its integrations with other tools and apps make it even more powerful.
Whether you're managing projects, organizing tasks, onboarding new team members, or brainstorming ideas, Trello is designed to meet your needs. If you're looking for an all-in-one workspace tool, Trello might be the right choice for your team.
Review Video
Watch this quick review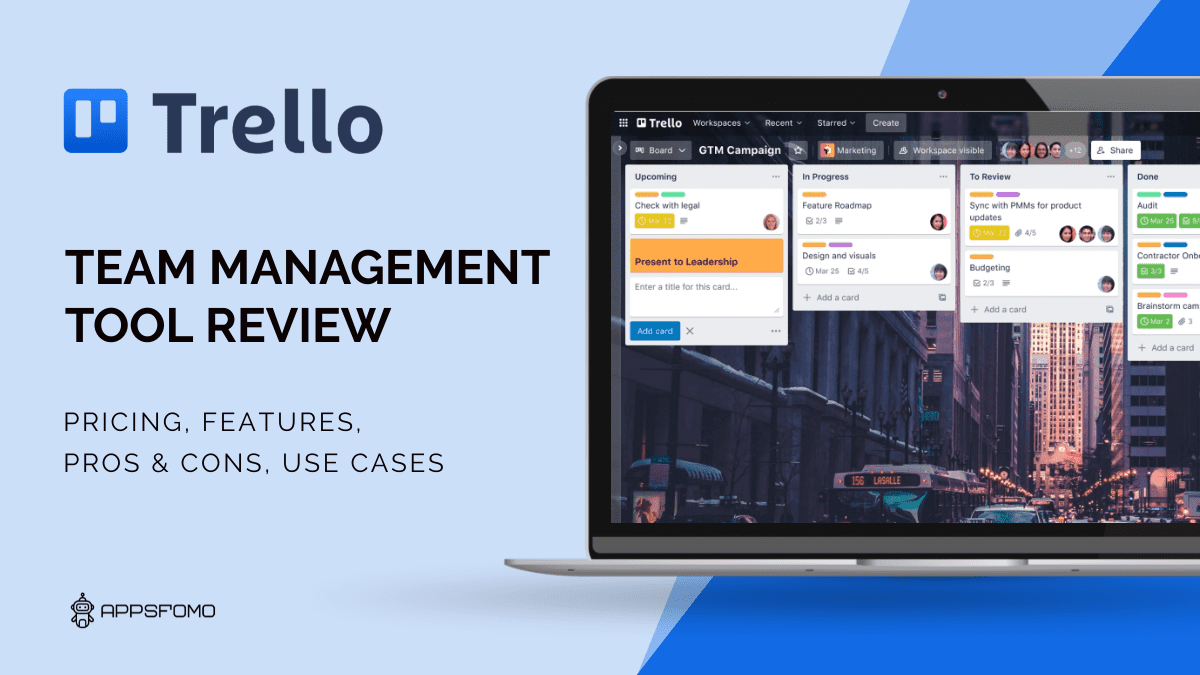 Specification:
Trello: The All-in-One Real-Time Workspace for Teams
| | |
| --- | --- |
| Review Date | Febraury 2021 |
| Company | Trello |
| Country | USA |
| Initial Release | 2011 |
| Pricing | Montlhy |
| Free Version | Free Tier |
| Lifetime Deal | No |
| LTD Platform | N/A |
| Money-Back | 60 Days |
| Appsfomo Rating | 8.6 |
| Support type | Email, Live Chat, Ticketing |
| Integrations | Jira cloud, Miro, Slack, Zapier |
| Supported Device | Android, Web Based, Windows |
| Mobile app | Available |
| Affiliate Program | No |
PROS:
Trello uses real-time. Members can work on the projects without causing any type of disruption to the updates. As soon as an upgrade is made to the system, it shows immediately with no delay.
Adding members is very easy.
Responsive design.
It includes the Kanban system.
An e-mail notification is sent for every upgrade, a comment made, and jobs eliminated, while a press alert goes to phone users.
Straightforward User Interface.
CONS:
As an on-line software application, Trello depends on the availability of data for it to work which is likewise the very same issue that similar software application has.
Trello's commenting function needs enhancement.
Trello has actually limited storage.
it is suitable for small Business.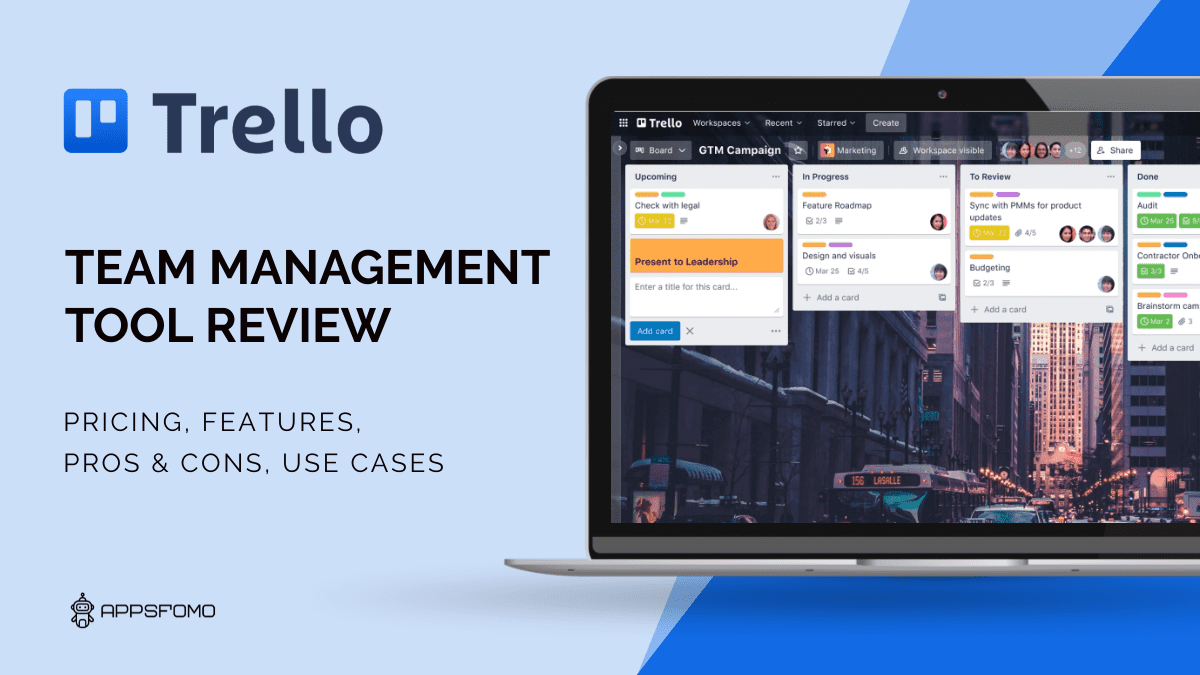 Trello: The All-in-One Real-Time Workspace for Teams