Trust: How to Collect and Manage Testimonials Effectivelly
Add to wishlist
Added to wishlist
Removed from wishlist
0
Add to compare
| | |
| --- | --- |
| Review Date | Semptember 2022 |
| Author | Carsten Schaefer |
| Marketplace | Own Site |
| Pricing | Annual subscription, Monthly Subscription |
| Type | Marketing, Testimonial |
| Money-Back | 14 |
| Support type | Emails, Live Chat |
| Payment Options | Credit Card |
| Subscription Type | Monthly, Yearly |
| Supported Device | Browser |
| Mobile app | Not Available |
| User limit | Unlimited |
Trust gives you a platform to easily collect, manage and display testimonials. It is not just about getting reviews with the help of trust but also making it easier for your customers to write their feedback on your products or services. With this application, you can get more users and win the trust of other potential buyers.
Do you want to boost your online sales and credibility? If so, then you'll need to consider using Trust. This innovative website platform allows users to collect and display real customer feedback in a simple and easy-to-use format.
This is great for boosting customer loyalty and conversion rates, as customers can easily showcase and capture testimonials and ratings on their websites. You can also use Trust to improve social media presence and provides support for all your customer feedback needs. So why wait? Start using Trust today and see the difference it makes!
What Is Trust?
Trust is an online customer feedback platform that helps you get real customer feedback in minutes. Video testimonials and reviews are a great way to build trust, improve credibility, and boost sales. Trust is the easiest way to create video testimonials and customer reviews for your business.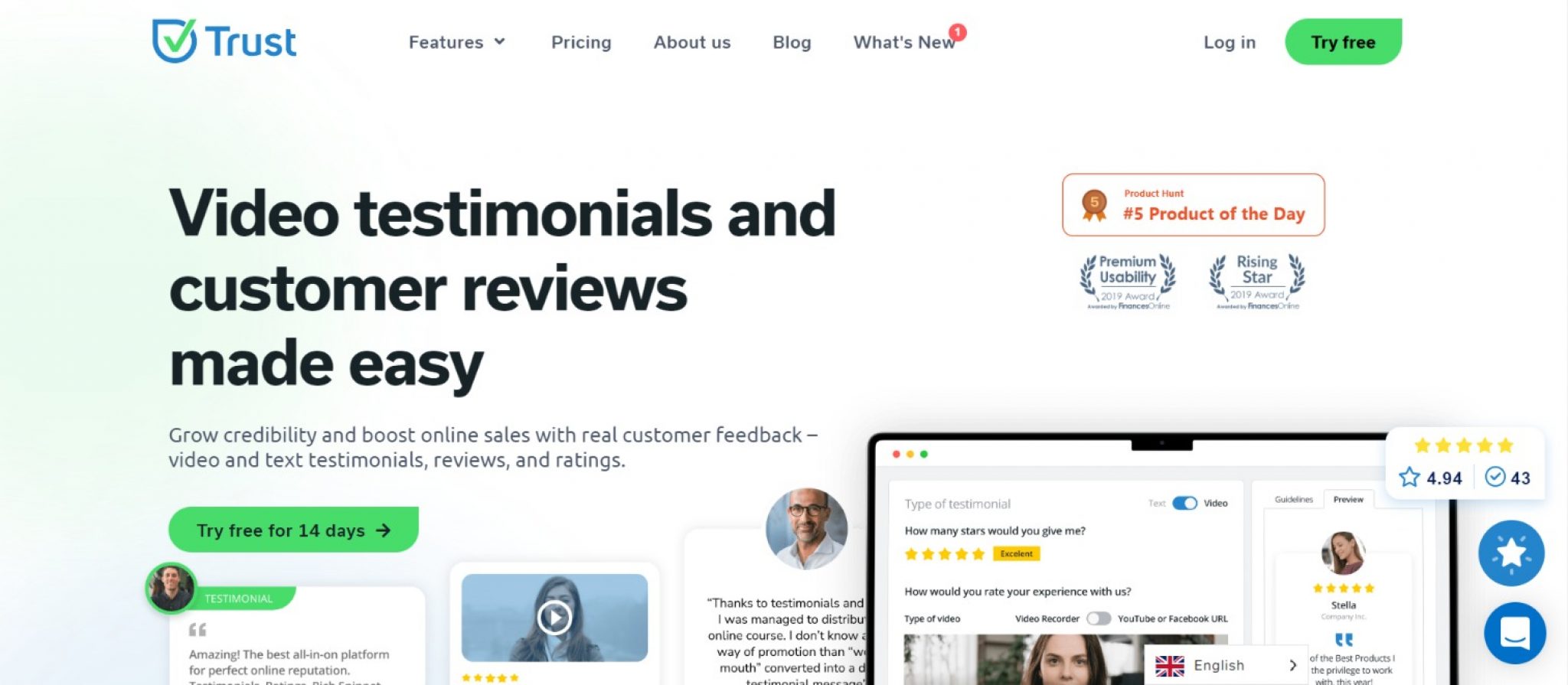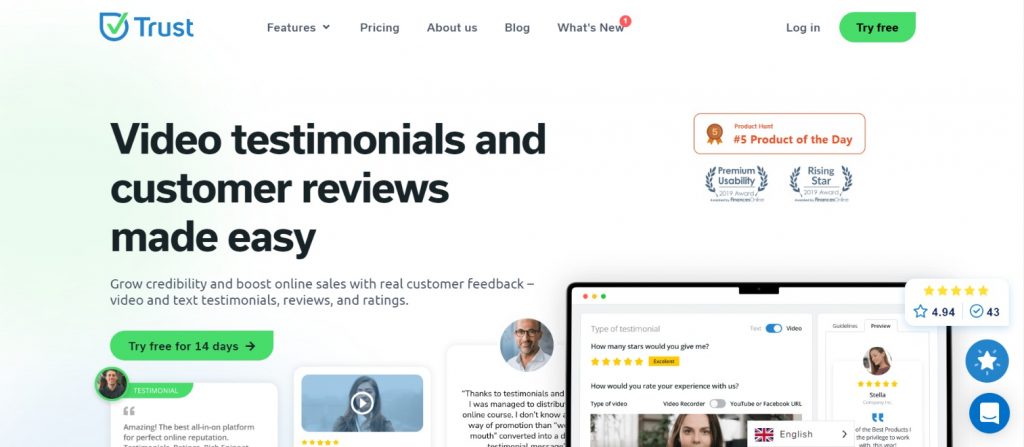 Trust helps you grow credibility and boost online sales with real customer feedback – video and text testimonials, reviews, and ratings. It's the best way to showcase all your happy customers' praise of your business. Get started for free and get more customers!
Getting reviews and manually posting testimonials on your website is made easier with the help of Trust. This user-friendly but feature-rich application enables you to forge closer ties with customers, learn what they think of your goods or services, and win the trust of other potential customers.
How does it work?
Get started
Trust has an intuitive design and offers detailed step-by-step onboarding guides.
After signing up and adding your website's URL, install Trust in three simple ways right from your dashboard:
1. Copy the Trust snippet and paste it into the code of your website.
2. Download a WordPress plugin and upload it to your WordPress account.
3. Ask the Trust support team to do that for you. Once done, you'll never need to do it again
Capture testimonials
Do you find that completing tеstimonial request surveys takes time? This isn't the only way it can be. Utilizing Trust, you may build stunning testimonial request forms with ease. If you want to display your client's data on your site and e-sign a GDPR-compliant contract with them, simply adjust a predefined Trust contract and add it to the form. Are you working with individuals from other nations? To appeal to every one of them, create surveys in different languages.
Run rating surveys
What if your work could be assessed on a variety of factors? The outcomes are likely to astonish you. With 5-star or NPS surveys, you can get rich feedback from your customers with ease. Ask detailed questions to identify and remedy hidden flaws in your process, as well as measure and improve customer satisfaction. Trust can also automatically request a client to leave a testimonial if they are satisfied and provide you with a high rating.
Search for feedback
When it's time to collect feedback, just copy & paste the survey's URL to email and message texts, or embed it to the website, and you're good to go.
Also, from your Trust dashboard, you may send out emails immediately and soliciting customers to write reviews. Additionally, including a gift (e.g., a bouquet of flowers) makes it easier to achieve sky-high response rates. mentioning it in the testimonial request text and using a discount, promo code) to the survey's "Thank you" page.
Track results
You get an instant email notification after a client has completed the form. Without interrupting your workflow, the dashboard helps you keep track of customer testimonials and ratings. Edit texts with typos, post testimonies and ratings on your website, delete old ones, export reviews for future use in marketing and advertising initiatives.
Shows up testimonials and ratings
Trust displays your testimonials as pop-up notifications and widgets.
Select one of the many templates to modify them, choose a font for your website, and pick colors that match the design. Widgets and other tools may be used to rate your site, as well as displaying aggregated ratings from various review sites. In addition, you may use the Rich Snippet tool to boost your website's position in Google search results. This improves your site's visibility, making it easier to find and attract new clients, as well as boosting traffic.
Company Details
Trust was founded by Carsten Schaefer. He now assists small businesses in increasing their conversion rate and attracting more customers online after a long career in consulting and software development.
Company was founded in Katzweiler, Germany in 2020.
Features
Video Testimonials
Trust is the first video platform that lets you add proof to all your marketing and sales campaigns. Customers want to see who you are and what you do, and testimonial videos are a great way to show them. You can also use Trust to create high-quality explainer, product demo, or training videos that give your customers more insights into your business.
Trust is a platform that enables the creation of testimonial videos in minutes, at scale. It's easy to use and integrates with your marketing automation platform. With Trust, prospects are empowered to share their story and you get the data-driven insights you need to convert more leads into high-quality customers. They move prospect consumers down the sales funnel in an authentic and credible manner, from paid advertisements to landing pages.
Testimonials and External Reviews
Trust is a software that allows you to use customer testimonials on your website in a way that builds trust and credibility. This will increase conversions, sales, and the overall value of your brand. You can show real, honest reviews or display a curated list of highlights from customer emails.
'Trust' allows you to showcase customer reviews, using their social media profile photos and links back to the source of the review. Reviews are displayed in a grid with user-generated images and a link to their Twitter or Facebook. A clear 'trust badge' label at the bottom of each testimonial displays your trust rating and lets users know what we do with reviews (in case they want to opt out).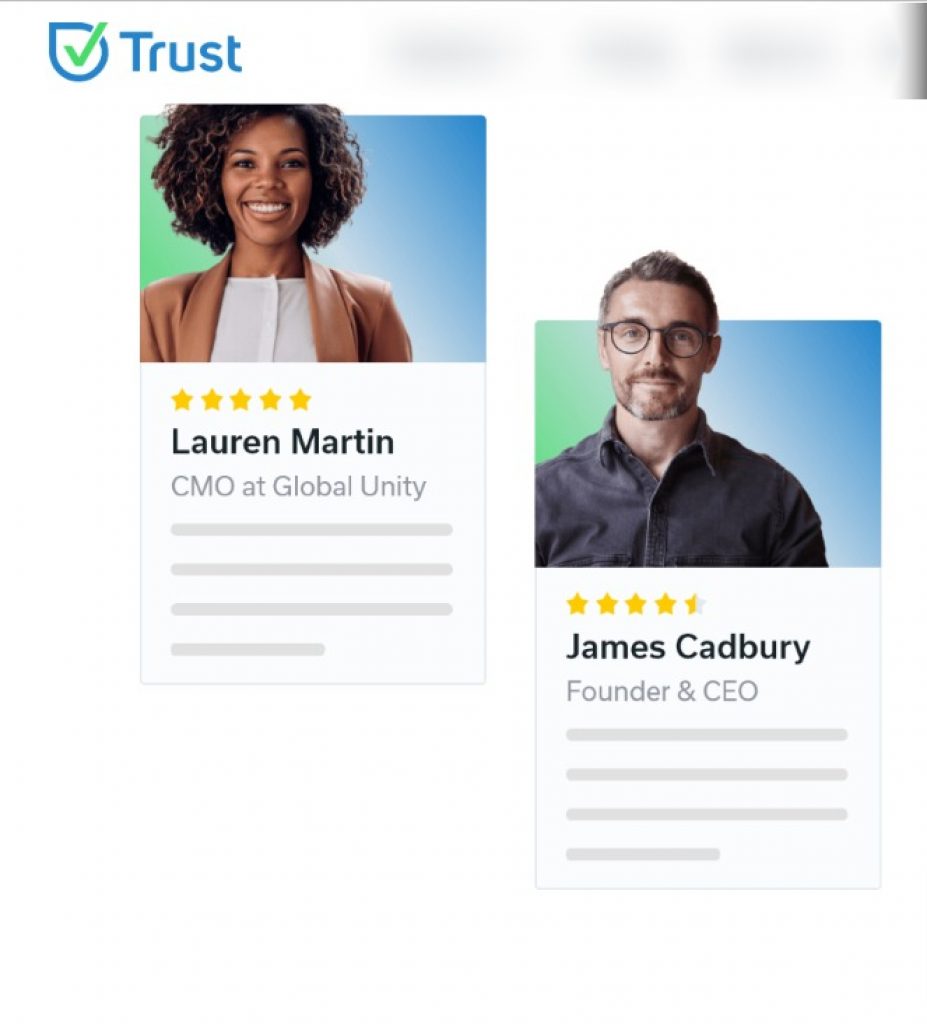 Rating
Collecting and displaying clients' testimonials is not the only strategy to increase sales, If asked correctly, customer feedback in the form of ratings can be a highly effective tool that will guide you to building a better business.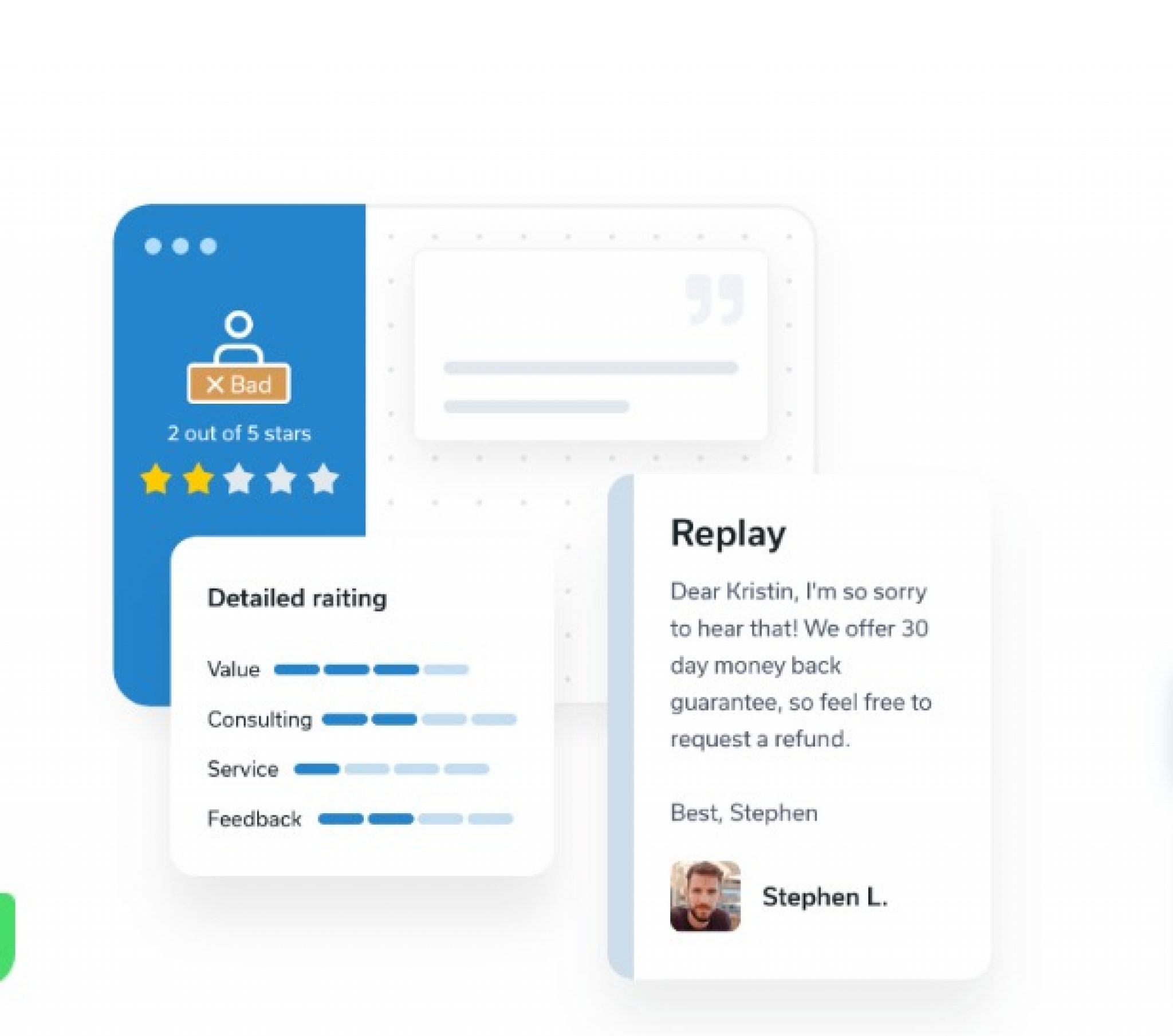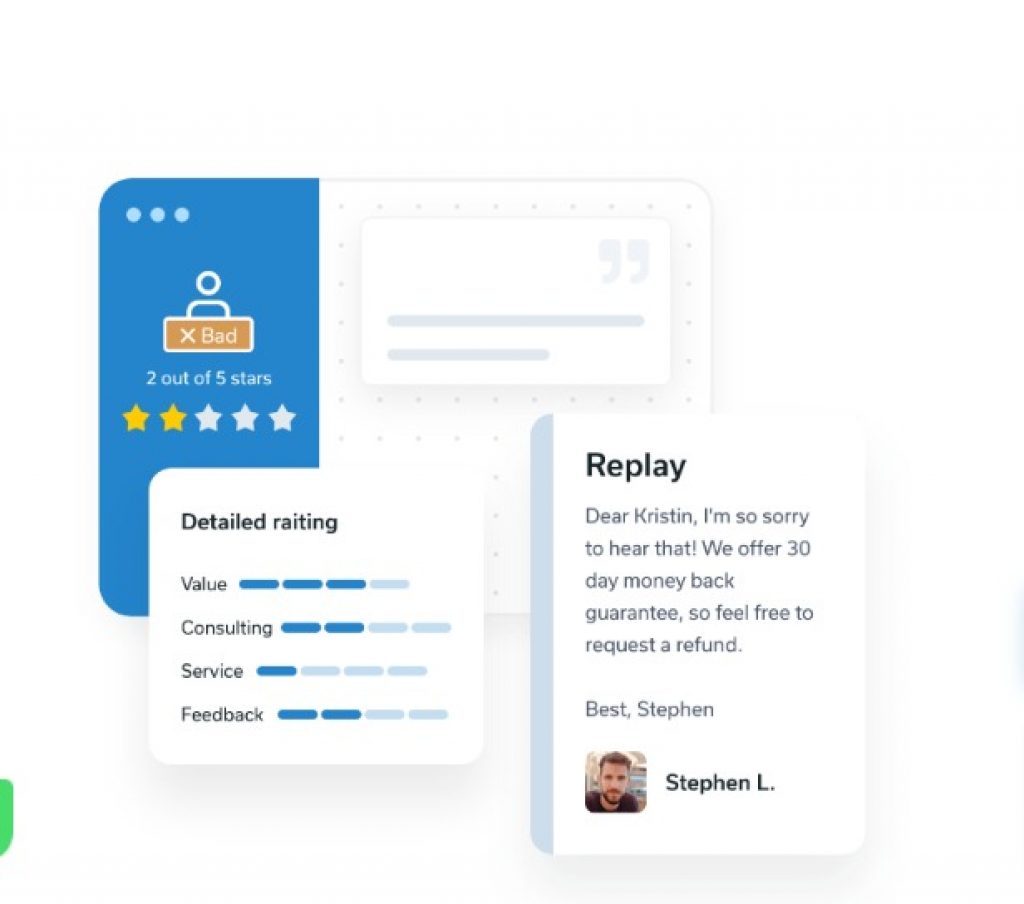 At Trust, They believe that products and services should be built around people. That is why they help you build customer-centric businesses. With a combination of NPS Surveys and 5-star ratings, you get to know your customers better than anyone else. This helps you build better relationships with them and create more value for them..
Integrations to other rating platforms
On all rating platforms that matter, Trust increase online visibility and enhance search performance for your business.
Get more reviews on autopilot by asking your customers to share their feedback on other rating platforms like Google My Business, Facebook, Trustpilot, or ProvenExpert.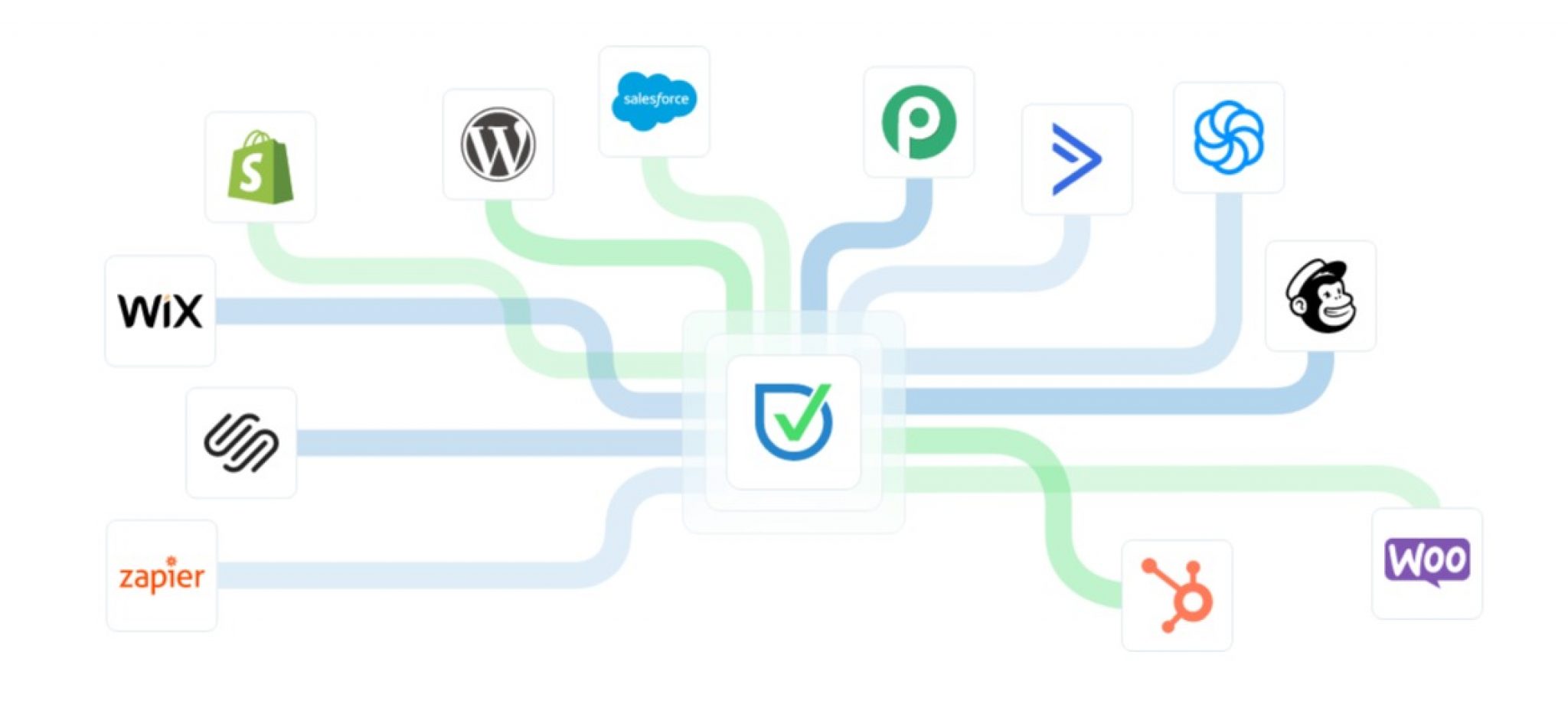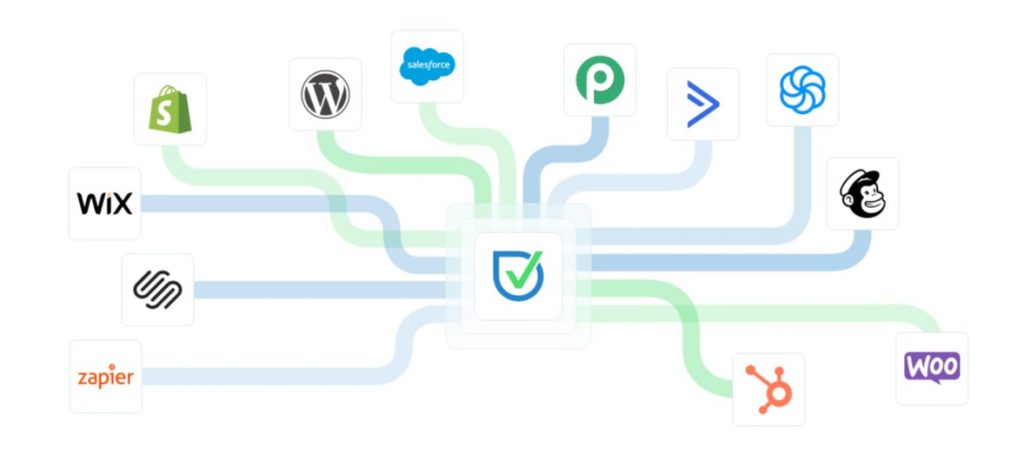 Customized & ready-made templates.
With the aid of Trust, you may completely personalize reviews and ratings to match the style and feel of your website, or you can choose from one of the lovely predefined templates to save time. Additionally, a notification widget is available that enables you to show customer reviews as vibrant popups that are difficult to ignore.
Built-in email services and e-Signing contracts
You won't have to constantly move between programs when using Trust to complete tasks. Simply add client email addresses to Trust, choose the day and time, customize your message, and send it straight from the Trust dashboard. To build a relationship with consumers that comply with GDPR, trust enables you to create online agreements with them regarding publishing their testimonials on your website.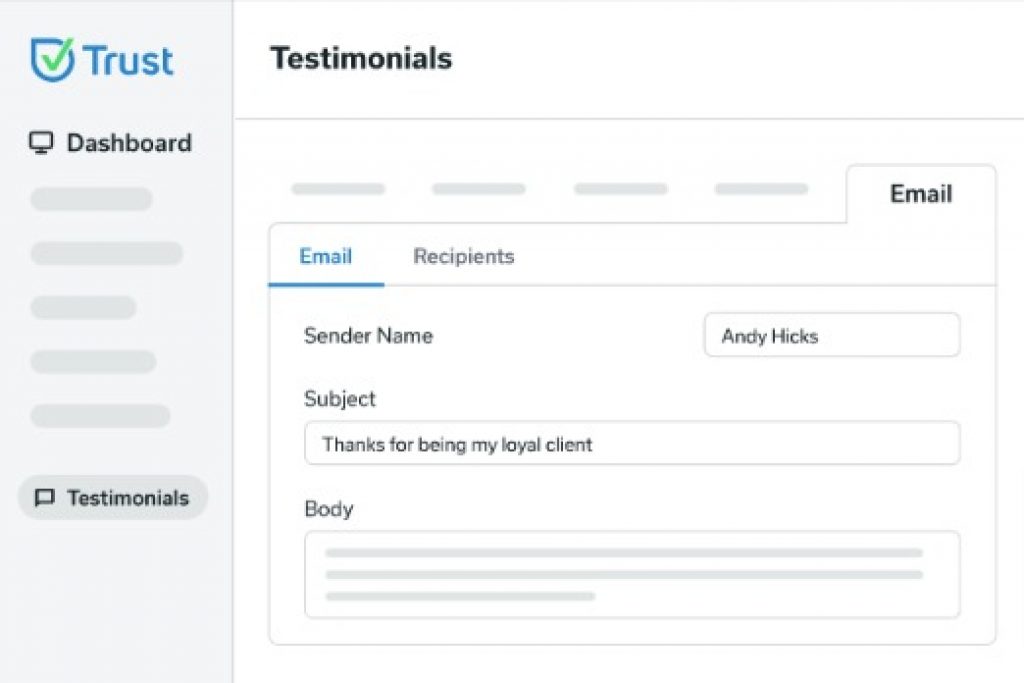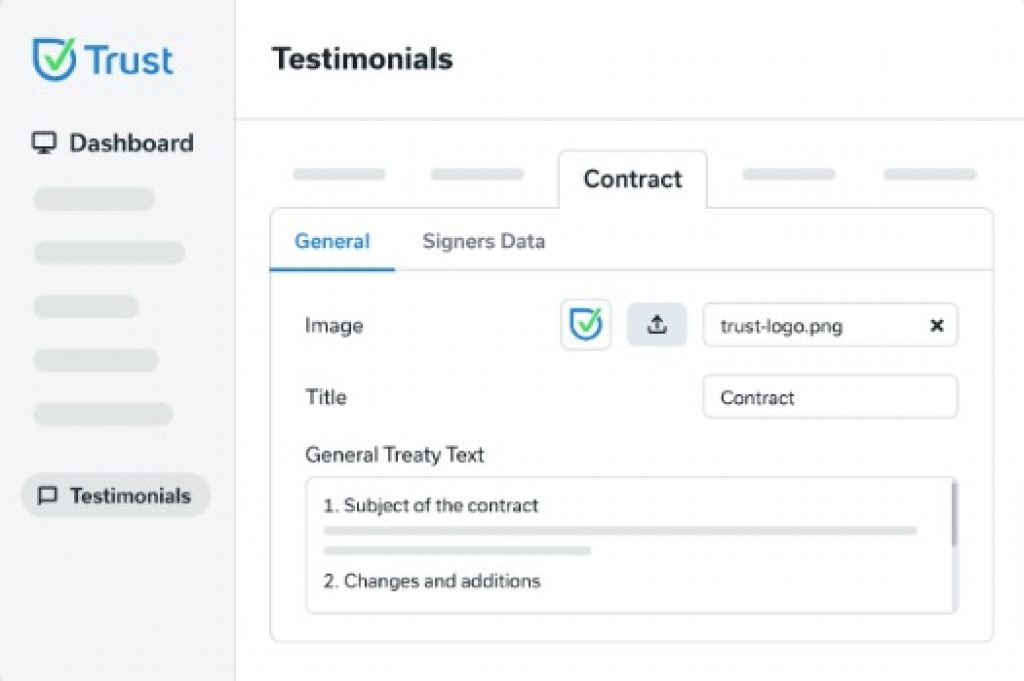 On-brand web surveys and comprehensive video testimonial solution
To gather feedback from customers and maintain their satisfaction, Trust enables you to develop personalized, white-labeled testimonial forms or rating (5 Stars & NPS) surveys and share links. Simply publish the testimonials you've gathered. You can request that your customers record or upload their video testimonials using the built-in Trust questionnaires, or you can use pre-existing videos from Facebook, YouTube, etc. As a consequence, attractive video reviews are added to spice up your website.
Trust Support
Their help center has support articles that are well documented.
Support is only via Live chat and Email
They provide Public Roadmap
Support System is Responsive and active to clear your questions.
Trust Pros and Cons
Are you still unsure is the right option for you? Now, let's take a look at some of it's Pros and Cons.
Pros:
User Interface is very clean and functional
Unique features
An excellent support service
Easy way to collect and display reviews
Simple way to capture customer feedback via text and video.
Cons:
It's vital to % review a questionnaire that wasn't created the way you want, such as font or font size.
On mobile devices, the website's trust icon is excessively huge.
Need some additional features
Why Use Trust?
Simple and Easy to use tool
Collect and display real customer feedback with ease.
Can be used by couches and consultants, owners of online courses and SaaS companies.
The finest testimonial & rating platform for showcasing your online presence without the hassle of technical difficulties.
Helps to improve customers' conversion rates
Help businesses to achieve growth through social proof.
Trust Pricing Plans
Offers Monthly and Annual Subscription. It has free trial too. For large businesses They will provide you a custom pricing.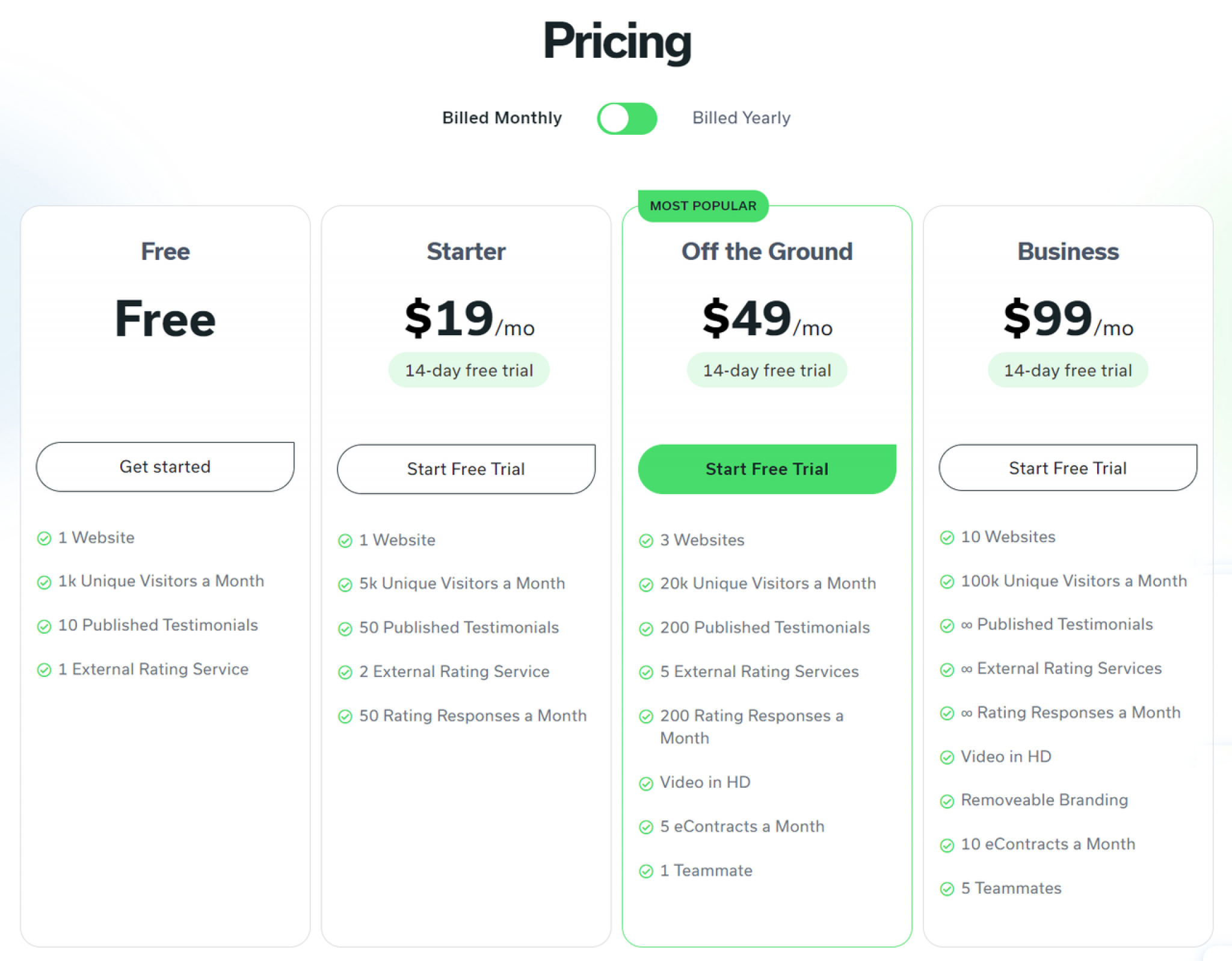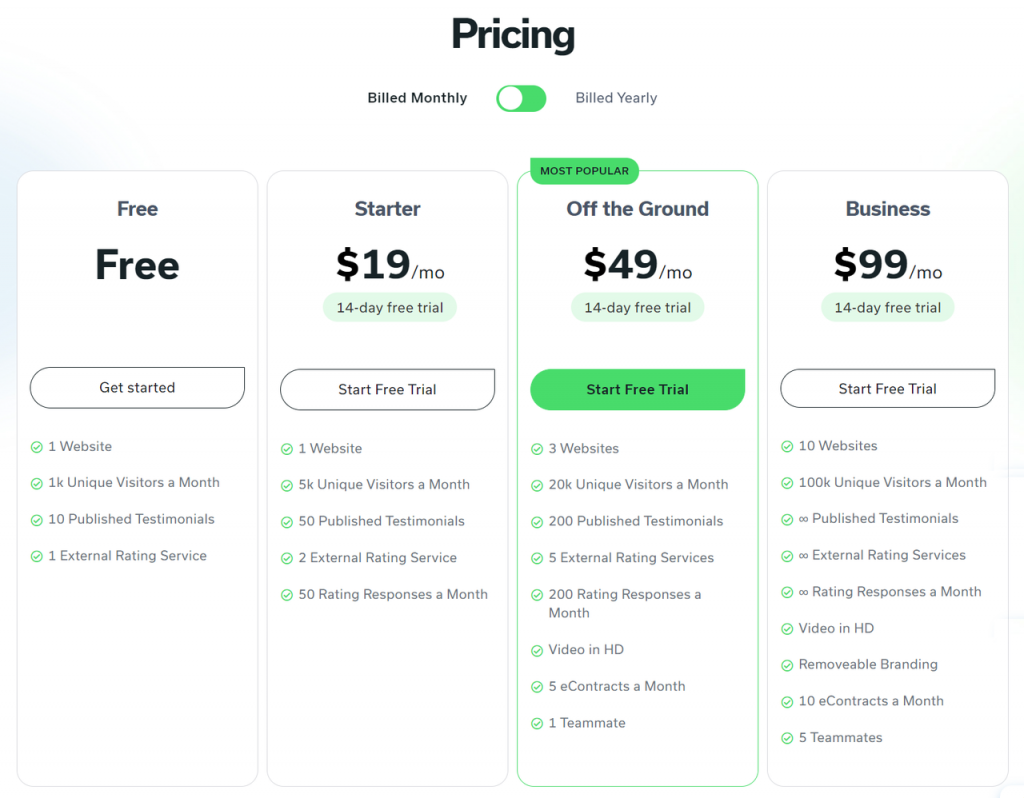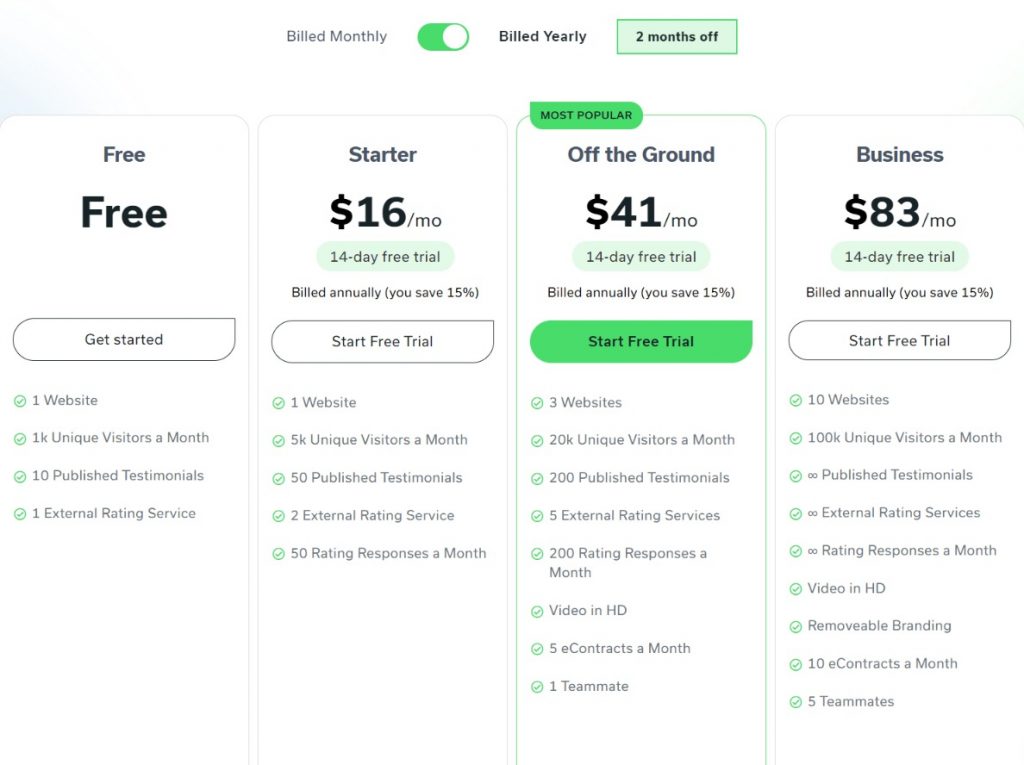 Alternatives to Trust
Endorsal
Endorsal is a platform that enables you to collect and publish high-quality testimonials from your customers. It connects directly with your website, so no more back and forth is needed. The automated process also saves you time and money, which means more saved for your business.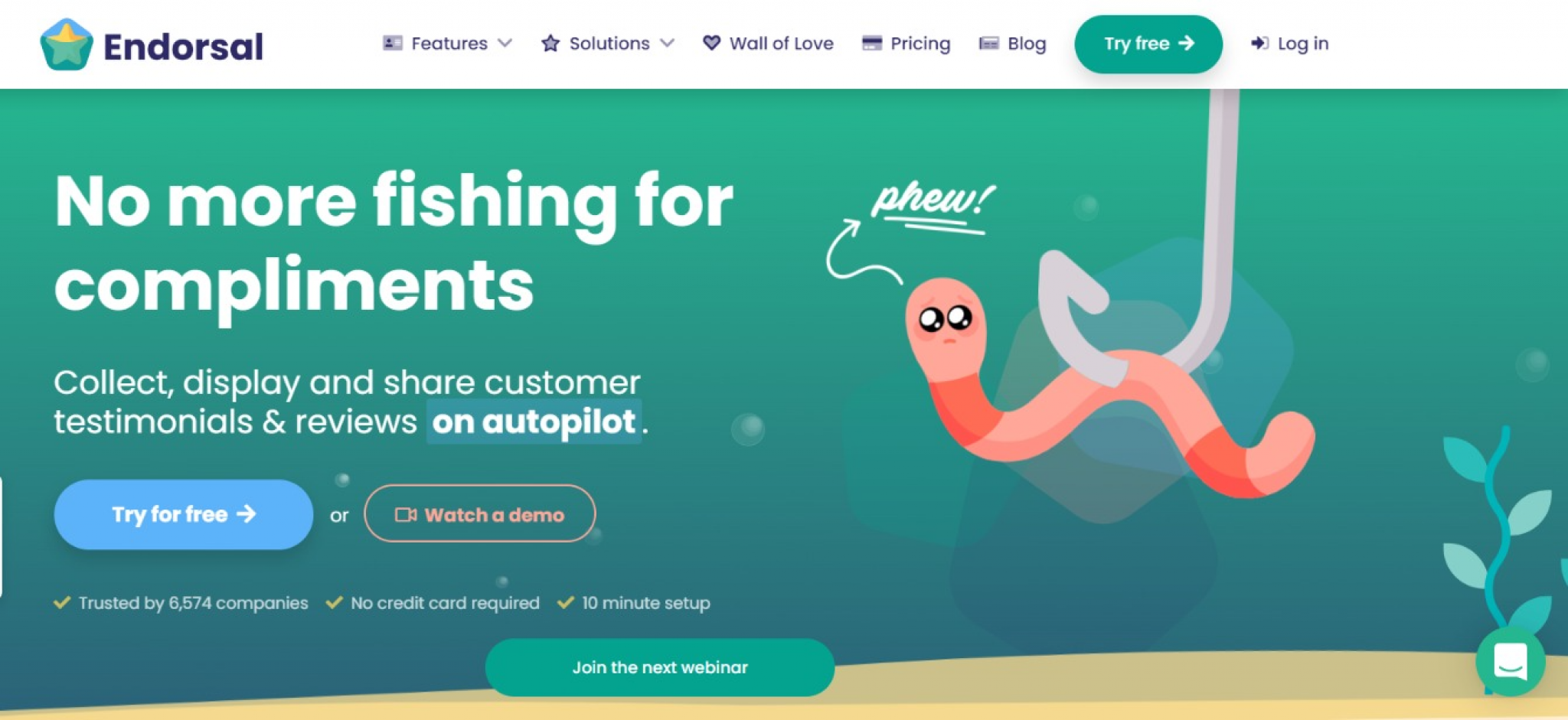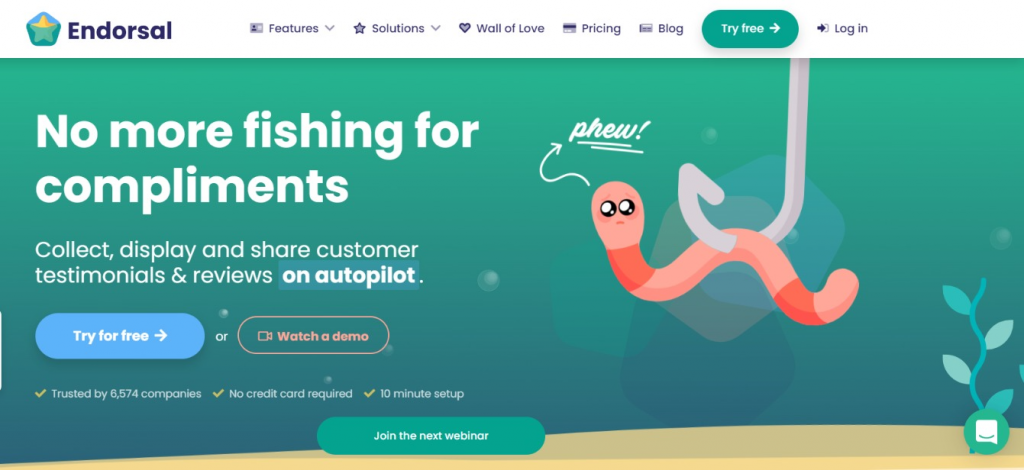 Endorsal is a powerful automated tool that allows you to collect customer reviews, display all your testimonials & feedback, and share them across social media channels on autopilot. Simply set the system up and watch it grow your business with endless stream of new customers.
ProvenExpert
All of your reviews (quantity and overall score) are bundled in one place with ProvenExpert, thanks to a few clicks. Use their industry-specific survey templates and modify them to fit your needs to get the feedback you need. You may see how satisfied your clients are through survey analytics. On your company profile (complete with a Google star rating that may be incorporated into your website's search rankings), publish ratings and reviews. Attracting new business has never been easier!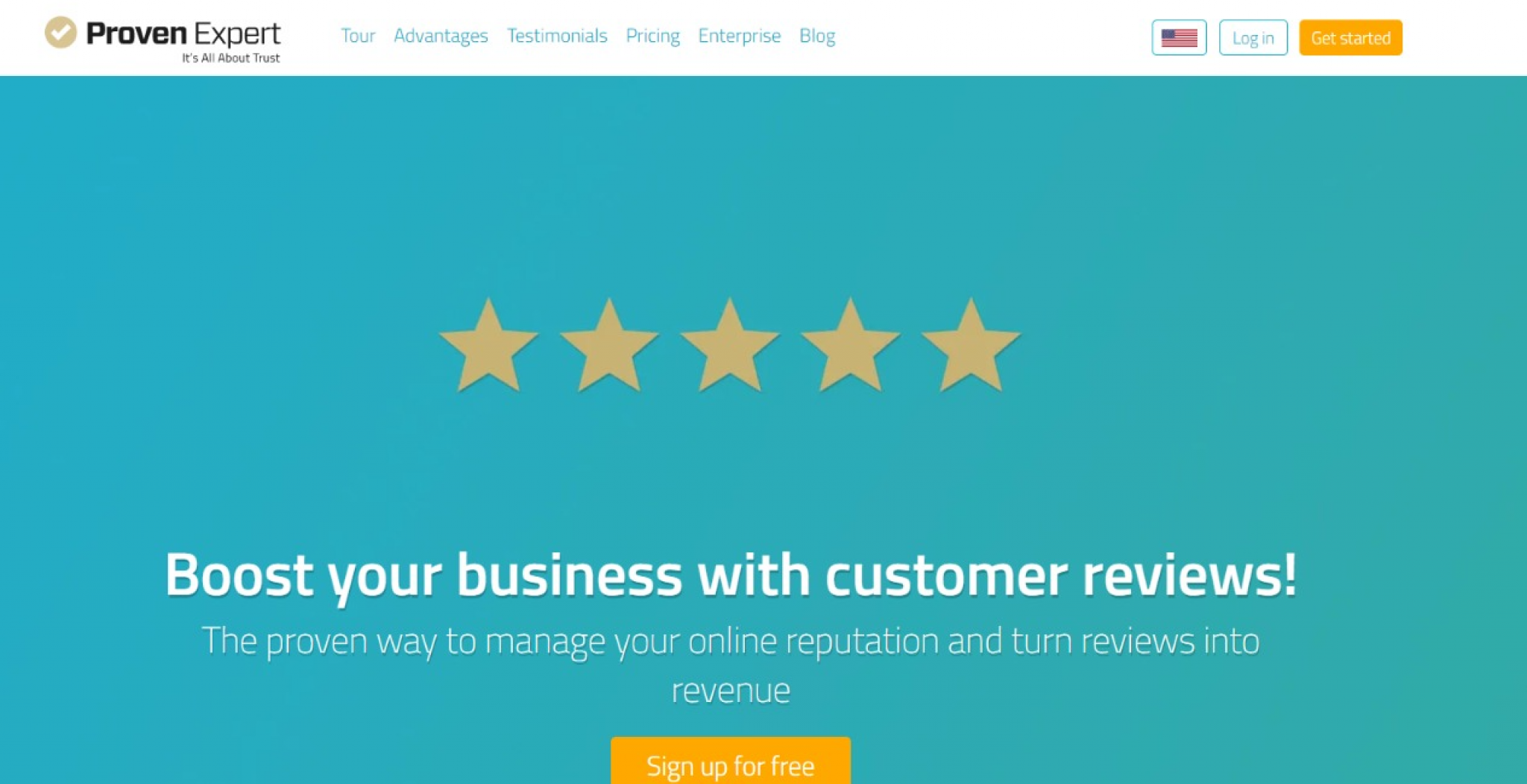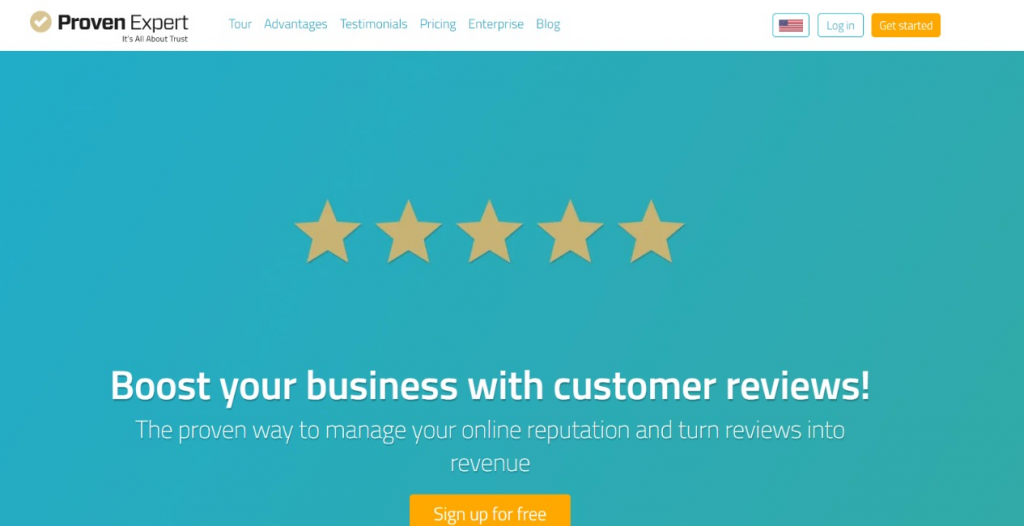 Trustpilot
Trustpilot is a customer review management tool that helps businesses engage and build trust with their customers. It gives brands the ability to provide an all around better experience, increasing LTV, conversion rates & ROI. Easily collect, manage & display reviews to stand out in Search where it matters most.


Social Media Presence
Is Trust right for You ?
Trust improves customers' conversion rates by helping them to show and capture testimonials & ratings on their websites. Also builds an easy-to-use platform that helps our customers.
Trust offers simple yet effective tools to collect reviews. Moreover, you can do everything without having to leave the platform.
It is all in one tool helps in creating testimonial request forms, collecting ratings, making video testimonials and displaying reviews on your website.
Try this product now!


Trust: How to Collect and Manage Testimonials Effectivelly