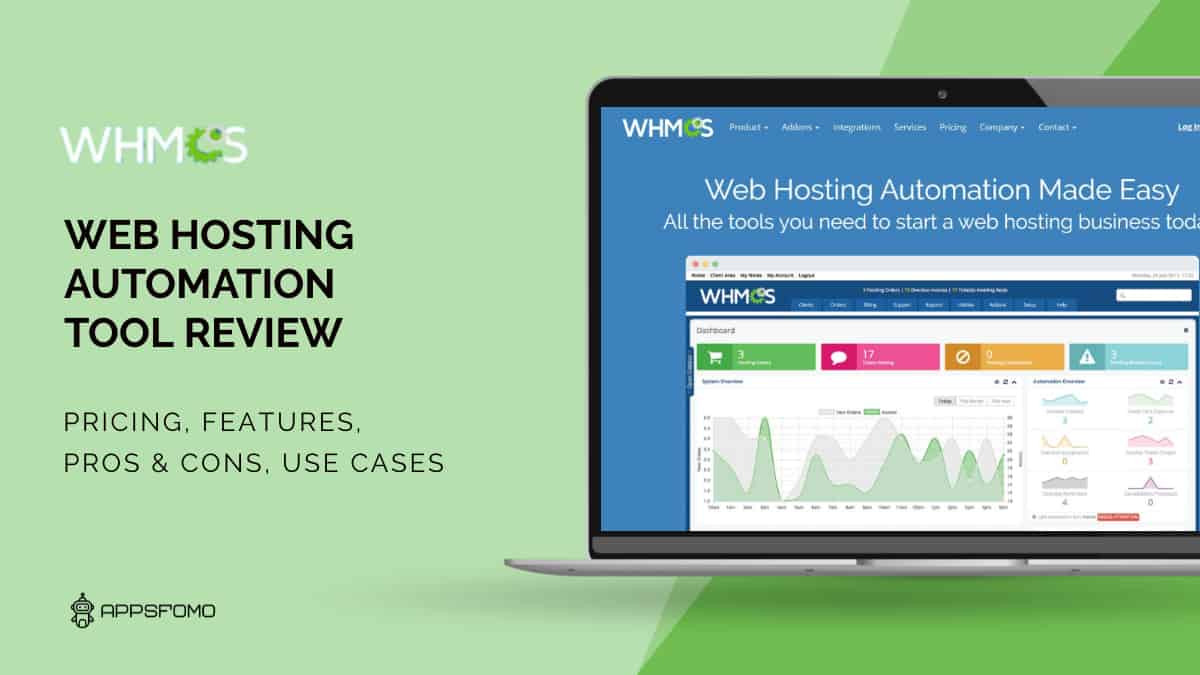 WHMCS: 5 Key Features Of For Effective Web Hosting
Add to wishlist
Added to wishlist
Removed from wishlist
0
Add to compare
Automating web hosting management is one of the most important tasks for a successful company. It is vital that your hosting company can provide you with reliable customer support, fast customer delivery, and a great user experience.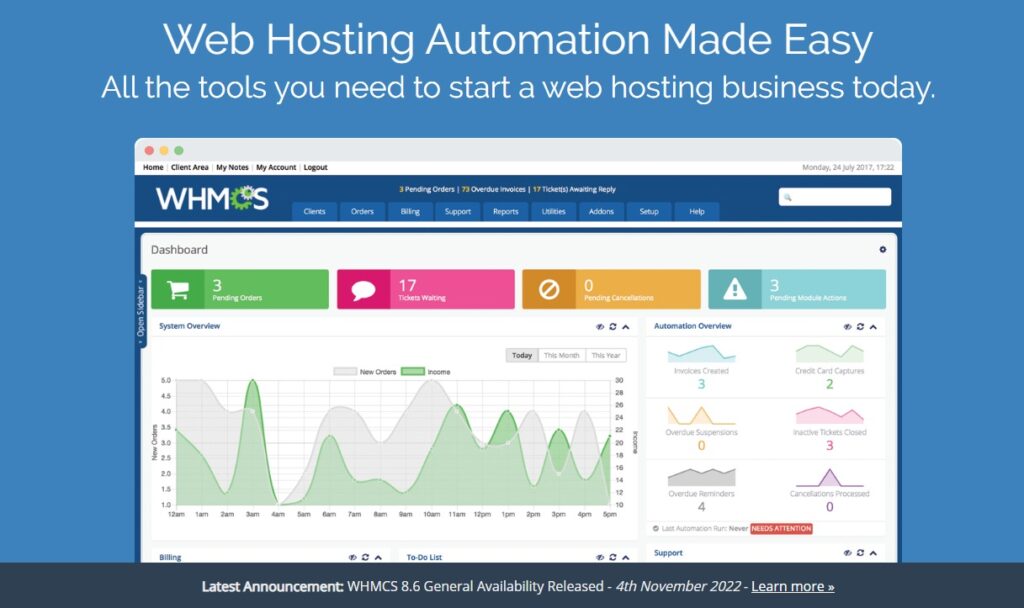 WHMCS is a web hosting management system that can be used to automate many routine tasks, such as backups and updates. In its free version, users can manage up to five domains with WHMCS' easy-to-use interface. The paid version offers more features, such as access to more automated services and more control over OS platforms.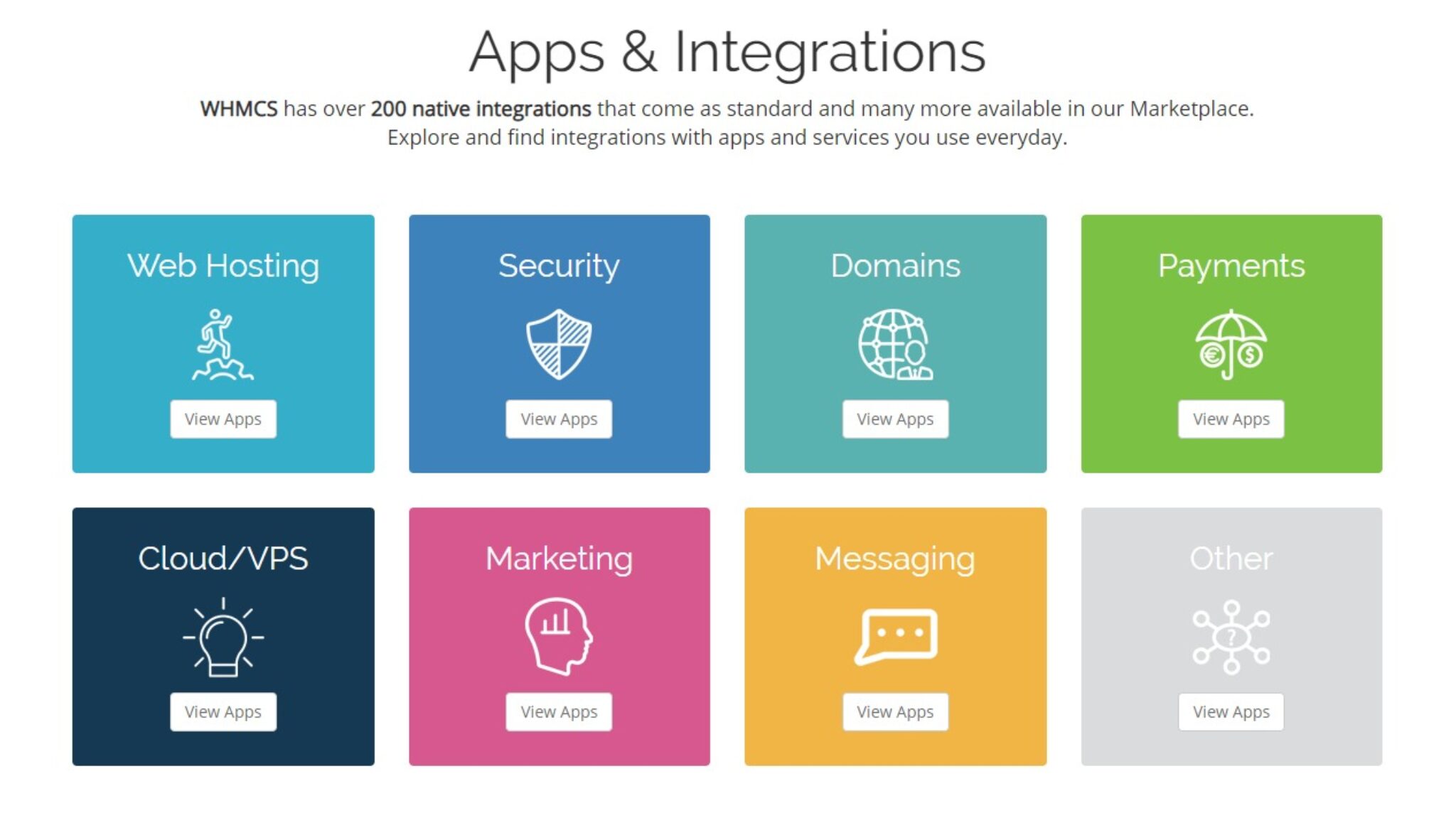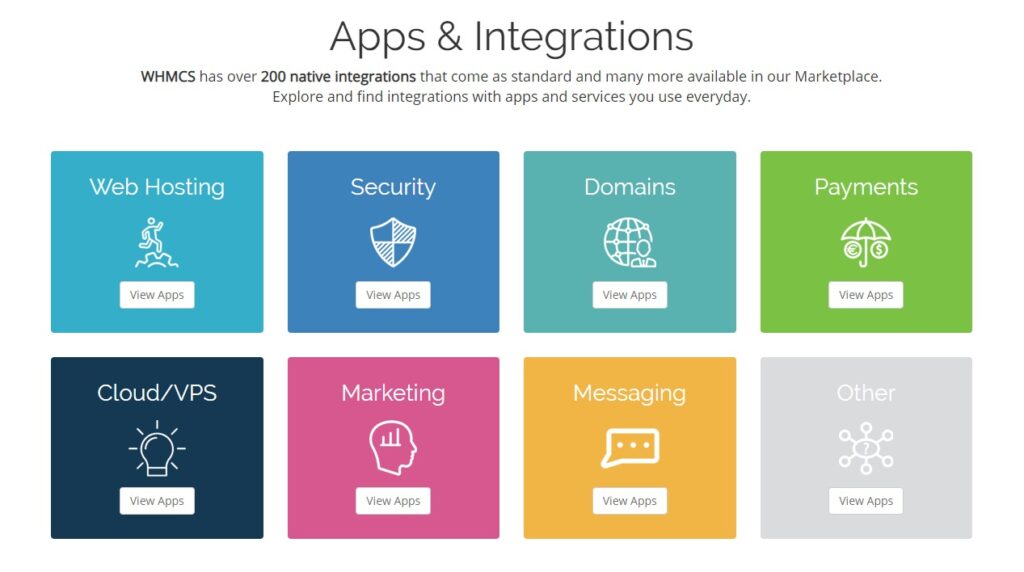 Additionally, WHMCS can be used by both beginners and professionals alike. It's a one-stop shop for all web hosting management activities. And the ability to search for domains, and VPS sliders, and compare prices with ease makes it the ideal choice for everyone from small businesses to enthusiasts.
Company Details
If you're an online business owner, you must have heard of WHMCS. It is a trusted name in the world of client management, billing & support solutions for online businesses. This all-in-one client management, billing & support tool allows users to easily handle their clients and check on their accounts from one place. SWH's Founder, Matt Pugh, has been working on this project since 2005.
Online Presence
How does WHMCS work?
Basic Features
WHMCS automates and simplifies daily tasks and operations, enabling businesses to focus on their mission and not the day-to-day operation of their business. With WHMCS, businesses are in control of their business without worrying about the technicalities of managing it. It offers a host of features such as email hosting and SMTP verification. With its vast features, businesses can easily manage various aspects of their business with ease.
Web Hosting Automation


WHMCS is the #1 choice in web hosting automation for several reasons. First and foremost, it is a comprehensive system that allows you to automate many tasks involved in running a web hosting environment. Some of the key features of WHMCS include support for backups, updates, security, and much more.
Web Hosting


Web hosting is a vital part of any website. It is responsible for storing the website's content and ensuring that it is accessible to the public. However, managing web hosting can be time-consuming and difficult. This can lead to errors in content delivery or a slow response time for visitors.
Billing Automation

Billing automation in web hosting management is possible with WHMCS software. The software can offer a variety of billing types and customers can view the specifics of ordered licenses in the client area. Automated billing with WHMCS can save time and money while providing more accurate and consistent billing. It also helps organizations track their expenses more accurately.
Support Tools


The WHMCTeAM module supports automation of daily tasks and operations with WHMCS. It includes a configurable dashboard to track the status of pending orders and saved products, as well as an email notification feature to keep users updated on the progression of their orders. The module also supports improved saving product configuration in the admin area for more flexibility in managing various configurations for product variations.
How is WHMCS different from other Web Hosting Automation Tool?
Unique Features
WHMCS provides a service that simplifies and automates the processes of domain management, web hosting, email and security. With the help of WHMCS, businesses can save time and money while managing their websites effortlessly.
These add-on feature makes WHMCS an indispensable choice for businesses looking to automate their business operations.
Domain Reselling


WHMCS is a powerful tool for hosting providers looking to resell domain names. It allows users to easily and efficiently manage domain orders from a single interface. With WHMCS, resellers can configure pricing and other details for each domain they order and transfer the domain to their customers automatically when it is fully activated. Additionally, WHMCP features an advanced domain synchronization feature that allows resellers to automatically keep all the settings of their domains in sync.
WHMCS & cPanel


Cpanel Manage2 for WHMCS is a powerful automation tool that allows customers to sell cPanel licenses in an automated way. With this software, customers can manage their user accounts and assign licenses to individual users with ease. They can also view license specifics in the client area, such as expiration dates or usage limits. It offers several features to help streamline operations and save time and money while achieving business goals.
Project Management


Project management features such as creating tasks and tracking progress on a project. By organizing your projects into separate work streams, you can focus on specific areas of work while delegating other tasks to lower-level staff. With this feature, you can manage customers, invoices, payments, and more efficiently. WHMCS also helps streamline the project management process by managing communication between team members and providing access to shared resources.
SSL Automation


WHMCS simplifies the process of SSL automation, making it easy to set up and maintain SSL certificates for multiple websites and servers. It offers a range of automation tools to simplify web hosting operations and daily tasks, including SSL automation. With WHMCS, users can issue and manage digital certificates and SSL keys. It also enables the automated installation and renewal of SSL certificates for servers and websites.
Why Choose WHMCS?
Use Cases and Benefits
Web Hosting: This system can be used to manage all your web hosting, email hosting, and DNS services in one place. It can help you save time by automating tasks like billing, customer support, and account management.
Domain Registrars: Domain registrars provide a range of services that can be used to automate web hosting management. They typically offer domain registration, DNS management, and email forwarding services.
Software Developers: With WHMCS, software developers can easily add and manage WordPress instances, browse and install plugins, clone installations, create backups, and make bulk changes to their applications with ease.
Cloud Hosting: WHMCS is a powerful and versatile software for managing cloud-based applications and websites. It can be used to automate the setup of applications such as Amazon Web Services (AWS) or Google Cloud Platform (GCP).
Web Developers: WHMCS can be used by web developers to automate routine tasks. It can be used to manage web hosting, email accounts, and DNS Servers.
ISP Billing: ISP billing is a common use case for WHMCS, and it can automate the entire process of billing and invoice management for your web hosting provider.
Pricing Plans
Monthly Pricing and Annual Pricing
WHMCS offers a variety of pricing plans for its services.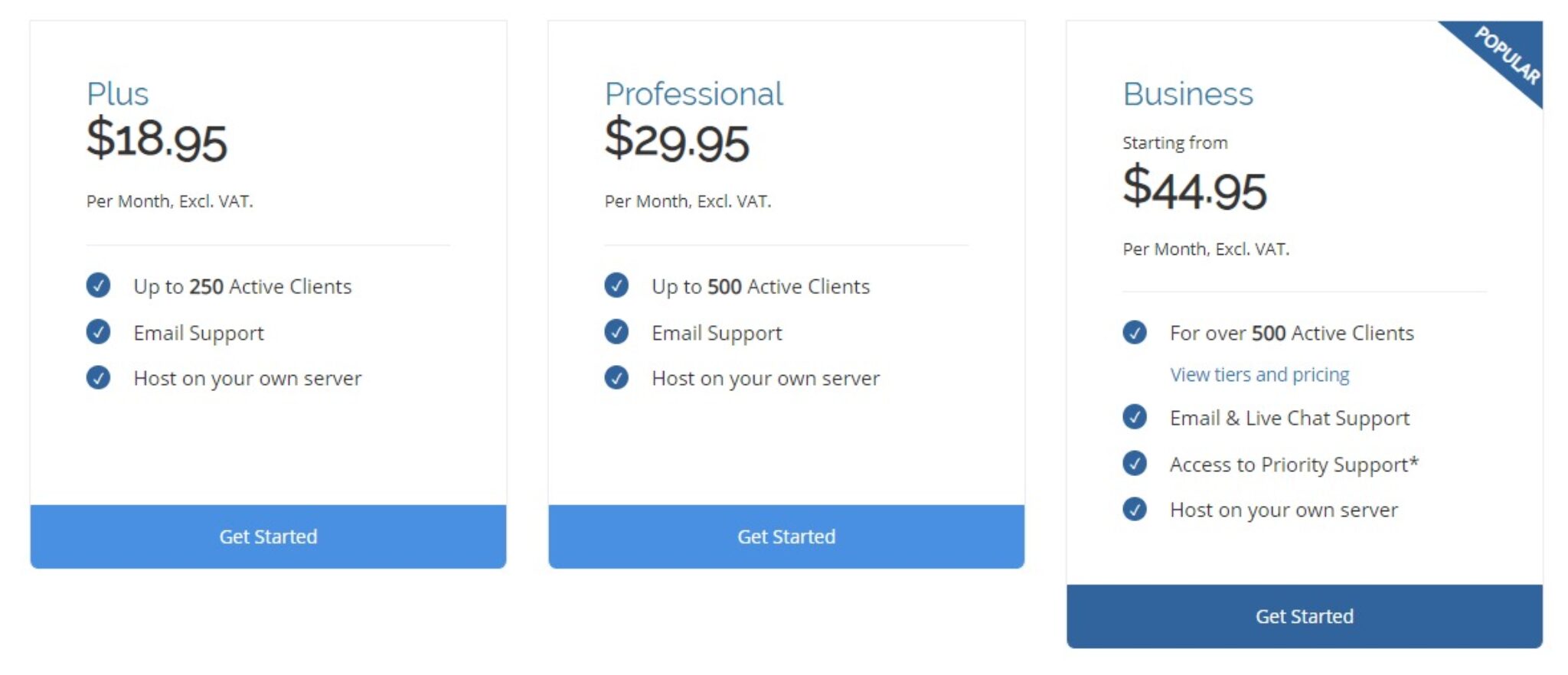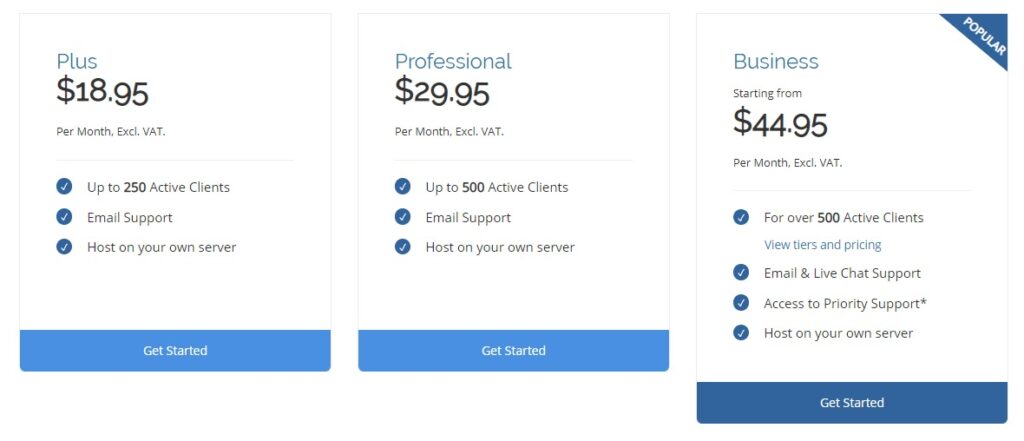 Support
Technical Support, Knowledge Base, Roadmaps, Changelogs
Alternatives
Similar Apps
If you are looking to automate your web hosting management tasks, there are many alternative / competitor software options available:
HostBill is a powerful, flexible, all-in-one automation, billing, client management and support platform for sysadmins for hosting, cloud services, and domain name and SSL reselling businesses.
Clientexec automates your web hosting company with the all-in-one web hosting billing system integrating a variety of plugins, domain registrars, payment processors and hosting platforms
Final Verdict
Is WHMCS right for You?
With WHMCS, you can easily manage your web hosting, email accounts, and DNS Servers from a single interface. This makes it easy to switch between multiple sites without having to save any data, and it also enables you to schedule automatic actions such as backups and updates for your websites. Overall, WHMCS is a powerful system that can help system administrators save time and effort while maintaining their websites.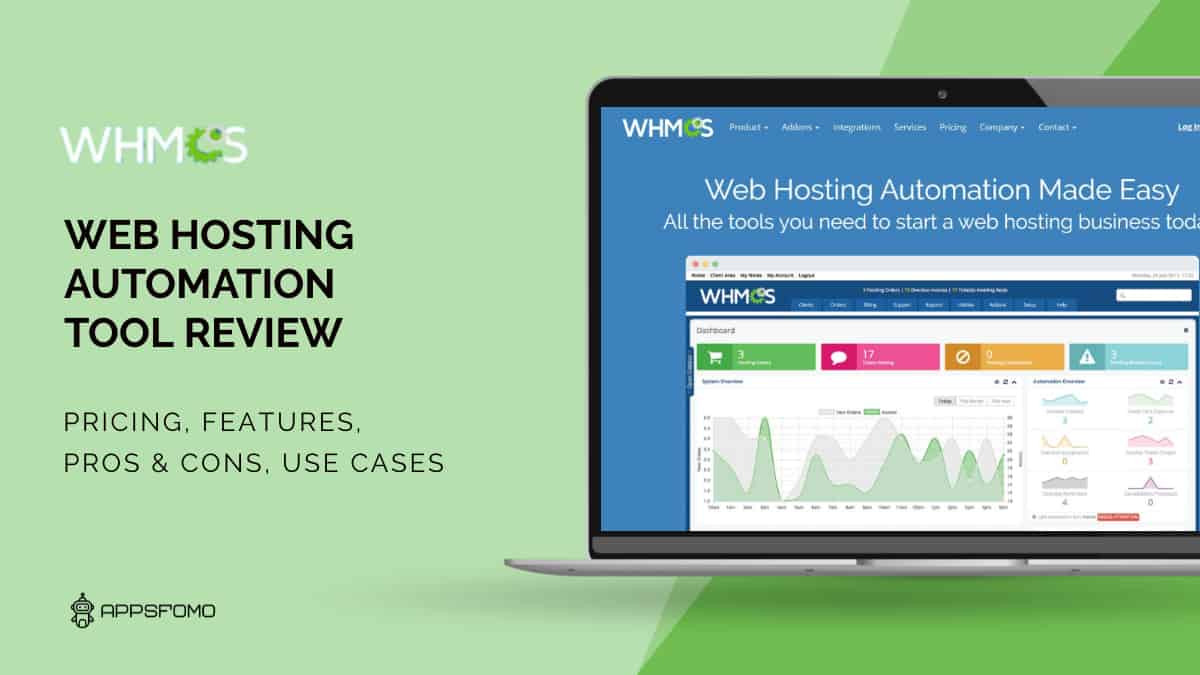 Specification:
WHMCS: 5 Key Features Of For Effective Web Hosting
| | |
| --- | --- |
| Review Date | March 2023 |
| Company | WHMCS Limited |
| Country | UK |
| Initial Release | 2005 |
| Pricing | Monthly payment, Monthly Subscription |
| Free Version | Not Available |
| Lifetime Deal | Yes |
| LTD Platform | License Farm, own website |
| Money-Back | 30 Days |
| Support type | Live Chat, Ticketing |
| Integrations | Yes |
| Supported Device | Browser, Web Based |
| Mobile app | Available |
| Affiliate Program | Yes |
PROS:
Integrates well with cPanel, Plesk, and Domain Registries.
Highly customizable with templates and modular extensibility features.
Very efficient, easy-to-use Accounting
Good knowledge base as built-in support.
CONS:
Poor customer service
Minor Bugs All over the place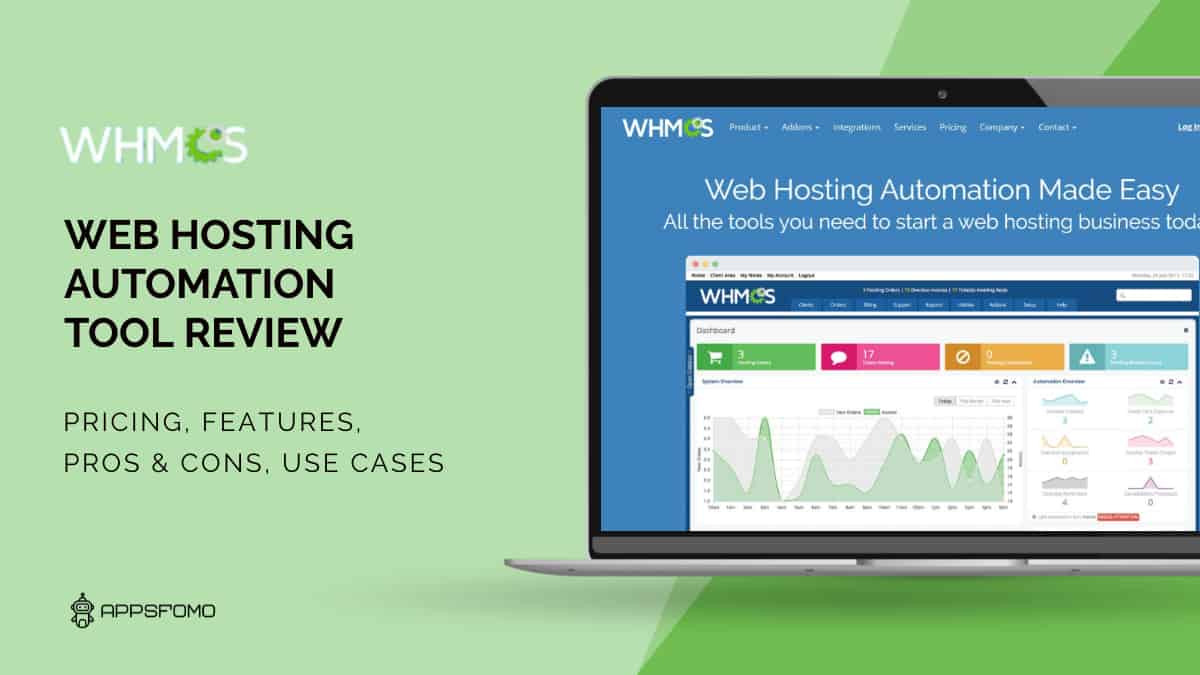 WHMCS: 5 Key Features Of For Effective Web Hosting