WordPress Real Media Library Review
Turn your WordPress media library to the next level with folders / categories.
---
Overview
WP Real Media Library is one of the most wanted media WordPress plugins. It is easy to use and it allows you to organize your thousands of images in folders. It is similar to WordPress categories like in the posts. Use your mouse (or touch) to drag and drop your files. Create, rename, delete or reorder your folders If you want to select a image from the "Select a image"-dialog (e. g. featured image) you can filter when inserting media. Just install this plugin and it works fine with all your image and media files. It also supports multisite.
Pro's & Con's
---
PROS:
Using this plugin, you'll be able to organize the thousands of images, audio, video, and PDF files in your media library in folders.
Create shortcuts of files. Shortcuts doesn't need any physical storage. Note also that the fields in the shortcuts can be different to the original file, for example "Title", "Description" or "Caption".
Full control for your folders in one toolbar (create, rename, delete, rearrange)
Filter in insert media dialog
Foldersfor the WordPress media library
Drag & Drop your files
CONS:
It is not possible to add a new folder at Media>Add New. You first have to go to the Media library. It is a small issue but if you often add many different libraries, you are definitely losing unnecessary time.
Product doesn't create folders and its description implies it does.
---
Benefits
Improved uploader
Upload files directlyto a folder
Create dynamic gallery from folder
Custom image order for the dynamic galleries (drag & drop)
Compatible with Revolution Slider
Compatible with touch devices
Supports multisite
6 months support Included
Forever free updates
Pricing
Price: 24$
Pricing model: One-time payment
Free Trial: Free version available.
Competitor Plugins
Summary/Conclusion
Organizing your blog media files with WP Real Media Library plugin is as easy as dragging and dropping the files into folders. Then you can rearrange the order of your files by dragging them around to bring the important files to the top of the list for quicker access. The Tree View of your folders will also make things easier for you to quickly find specific folders in a split-second. In addition, you can use the WP Real Media Library plugin to insert media galleries to your posts directly from the WordPress New Post Editor. This will allow you to insert an entire media folder into your WordPress posts as a customizable gallery. WP Real Media Library is a must-have WordPress plugin that will help save you a ton of time that goes into managing your media files.
Main Features
Drag and drop your files
Folders for the WordPress media library
Filter in insert media dialog
Works also great in list-mode
Custom image order in galleries
Upload files directly to folder
Competitors/Similar Products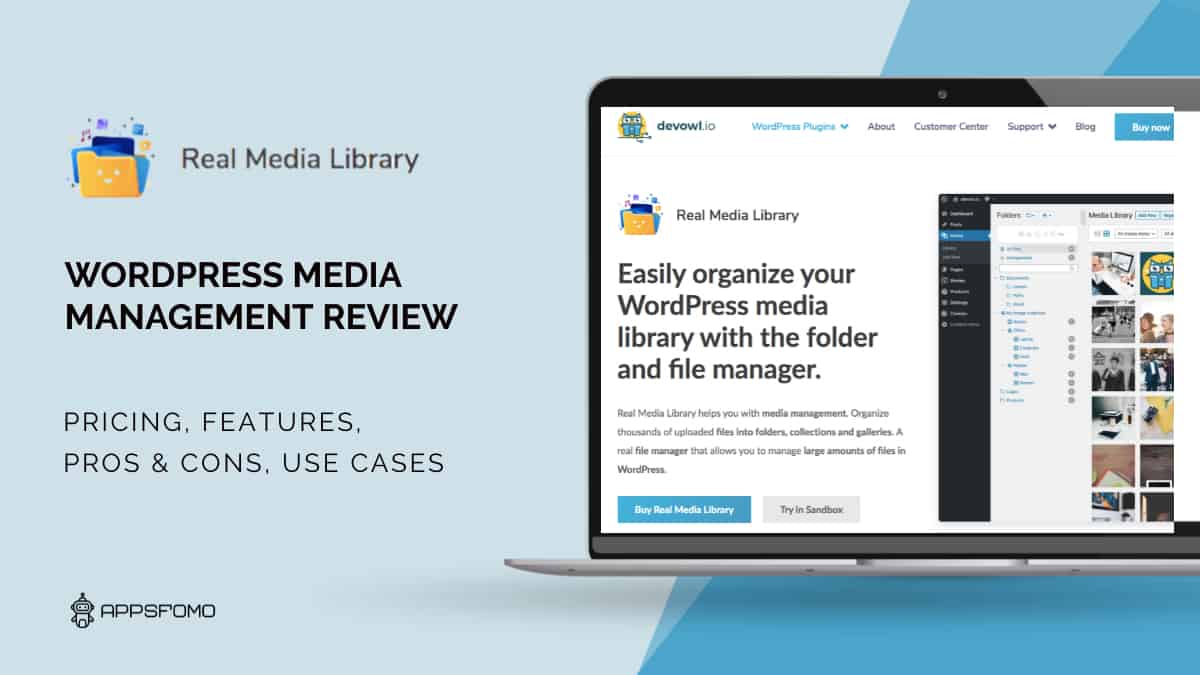 WordPress Real Media Library Review