WP Force SSL: All in one Plugin to Fix SSL Problems in WordPress
WP Force SSL fixes SSL problems & monitor the site in real-time to improve SEO & user experience.
You will get:
Easy to set up, lightweight, powerful SSL plugin
Search SSL issues in hundreds of pages and links in few clicks
WebFactory is a well-known plugin provider
Real-time SSL certificate and site monitoring.
WP Force SSL Rating
Fix SSL on any WordPress Site
PROS
Easy to set up, lightweight, powerful SSL plugin
Search SSL issues in hundreds of pages and links in few clicks
WebFactory is a well-known plugin provider
Real-time SSL certificate and site monitoring.
SSL (Secure Sockets Layer) is an encryption protocol that secures the communication between your browser and the website you're visiting.
It's one of the most important aspects of any site and is especially important for SEO – providing a more secure environment for your visitors. Unfortunately, many sites don't have an SSL certificate, which can lead to problems.
WP Force SSL solves all these problems instantly, by providing a real-time monitoring system for your site's SSL certificate and ensuring that it remains valid.
In addition, it provides valuable benefits like automatic redirection and improved security rules thereby providing a more secure user experience.
What Is WP Force SSL?
Security is paramount when it comes to online transactions, and that goes double for your WordPress website. WP Force SSL is a plugin that will help you secure your site against potential attacks and improve your SEO.
The WordPress plugin fixes common SSL problems and monitors the site in real-time to improve SEO & user experience. It also provides alerts when any SSL issues are detected, so you can fix them right away.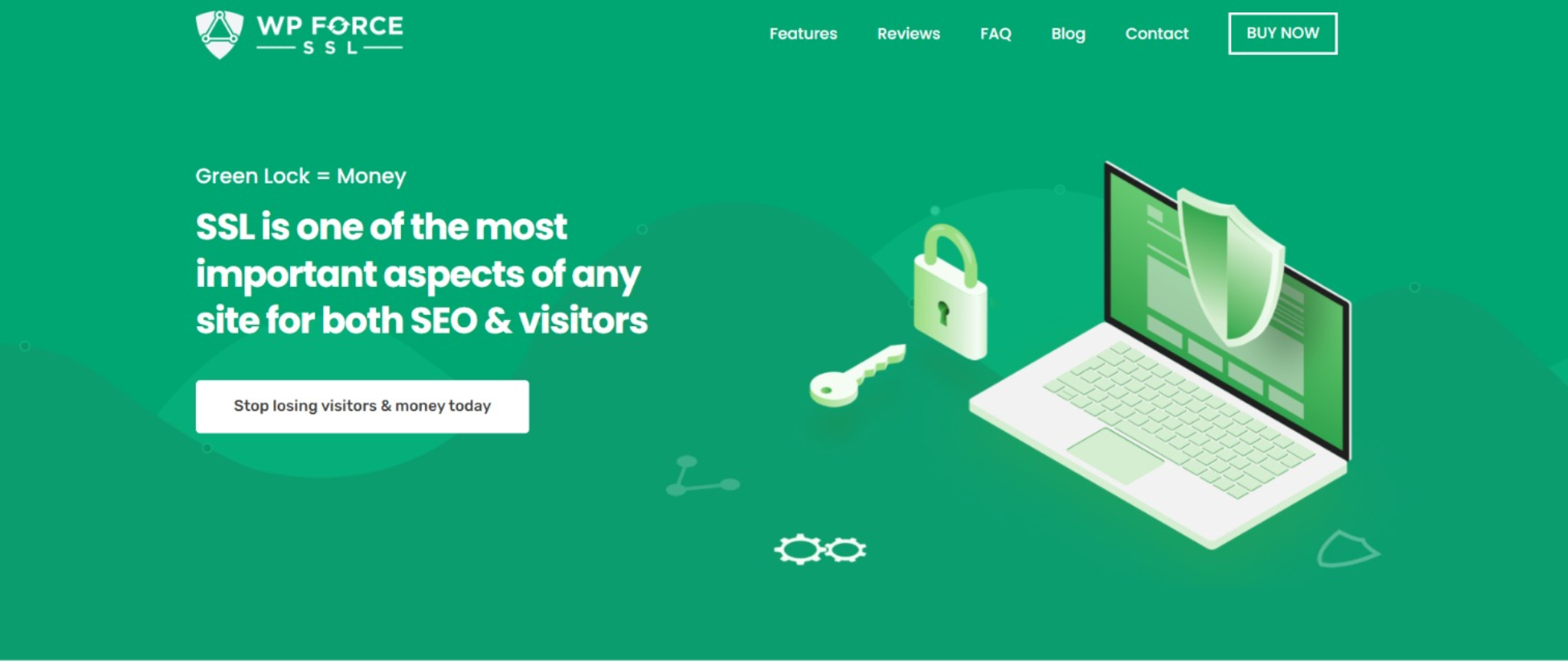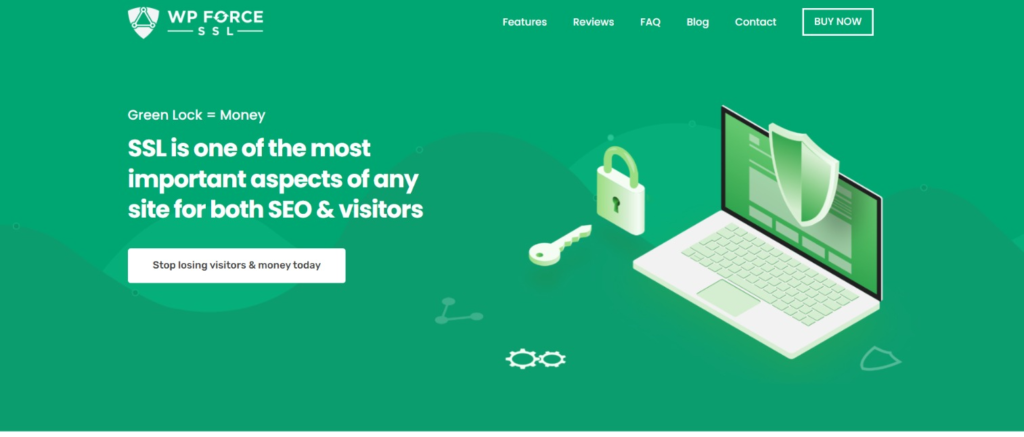 All SSL issues are instantly resolved with WP Force SSL! It also gives real-time monitoring of the SSL certificate and the website, so you'll be notified if anything is wrong or your certificate is about to expire.
How does WP Force SSL work?
WP Force SSL redirects insecure HTTP traffic to secure HTTPS and fixes SSL errors by doing nothing more than clicking a button.
All settings and SSL enabled will be set when you Activate Force SSL. Using your SSL certificate, the whole site will be moved to HTTPS.
It works with any SSL certificate. It can be a free SSL certificate from Let's Encrypt or a paid SSL certificate.
Most hosting companies support the free SSL certificate from Let's Encrypt, so log in to your hosting panel and add an SSL certificate.
You'll see a button labeled "Add SSL Certificate" or "Add Let's Encrypt Certificate" and after that, it's 1 click to have the SSL enabled on your site with WP Force SSL.
If that doesn't work get WP Force SSL PRO and it'll generate a free SSL certificate for your site. And will regenerate the SSL certificate every 90 days.
Access WP Force SSL settings via the main Settings menu -> WP Force SSL.
Company Details
WP Force SSL is a product from one of the known plugin developers in the WordPress space called WebFactory Ltd, founded in 2009.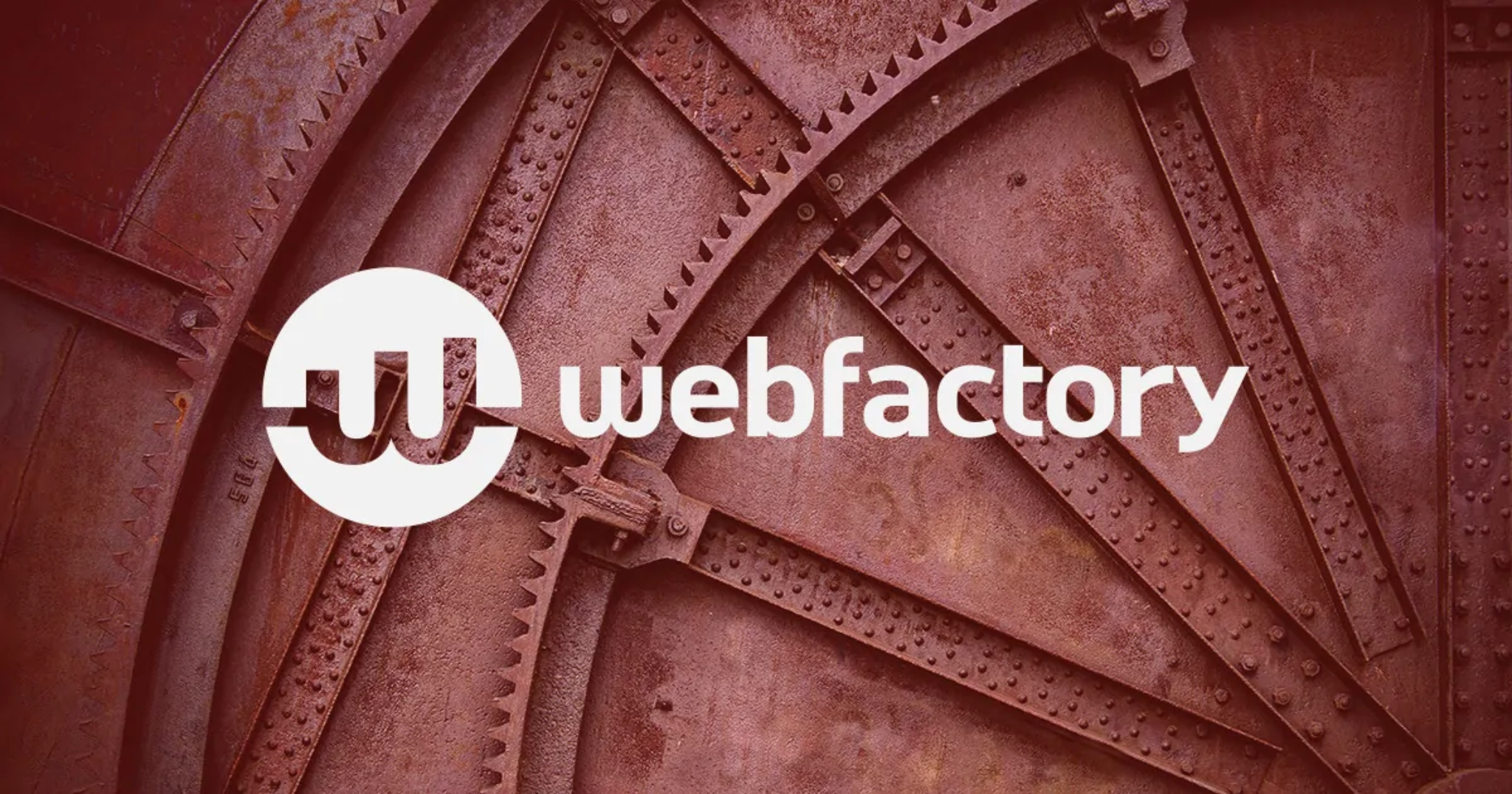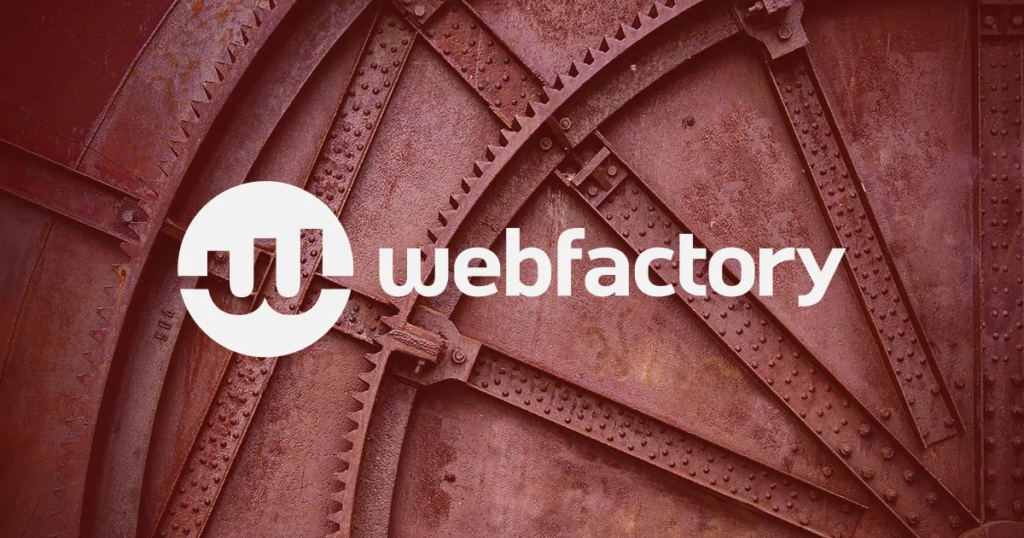 They have been developing high-quality WordPress plugins for over a decade and are best known for their maintenance. Some popular ones include WP Reset Plugin, UnderConstructionPage Plugin, Minimal Coming Soon & Maintenance Mode Plugin. Every plugin is designed with simplicity and ease of use in mind.
Gordan Orlic is the founder of WebFactory Ltd and has a team of 25+ people, and this plugin was recently released in 2022.
Features
Security is essential for any site, and that includes your WordPress site. That's why WP Force SSL offers the best possible protection for your site with its encryption and automatic updating.
With WP Force SSL, you can be sure that your data will remain safe from unauthorized access. In addition, the plugin's strong encryption will keep your site secure from any online threats. So, why wait? Get this today and secure your WordPress site with the best possible security!
Everything for SSL
WP Force SSL works flawlessly with all plugins and themes, giving you all of the functionality you need.
Boost your site's security with the help of SSL. With a ForceSSL-enabled site, all communication between your visitors and your server is encrypted, protecting you and your data from unauthorized access.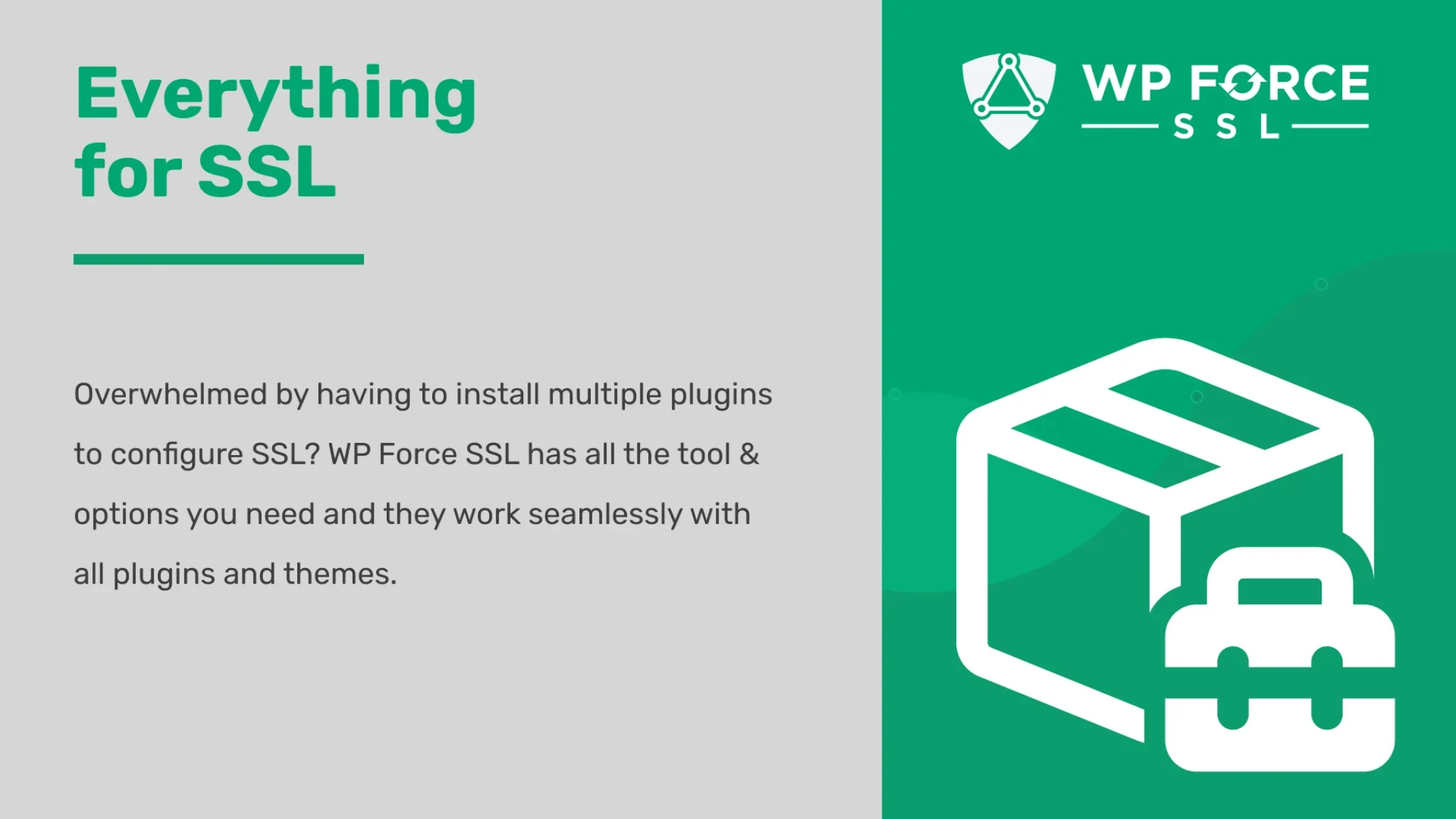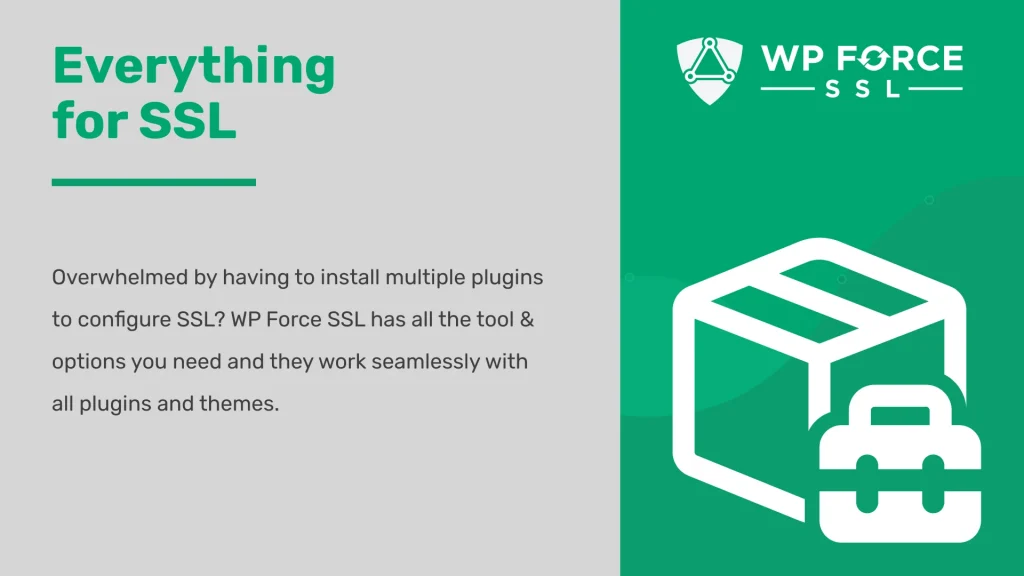 SSL Monitoring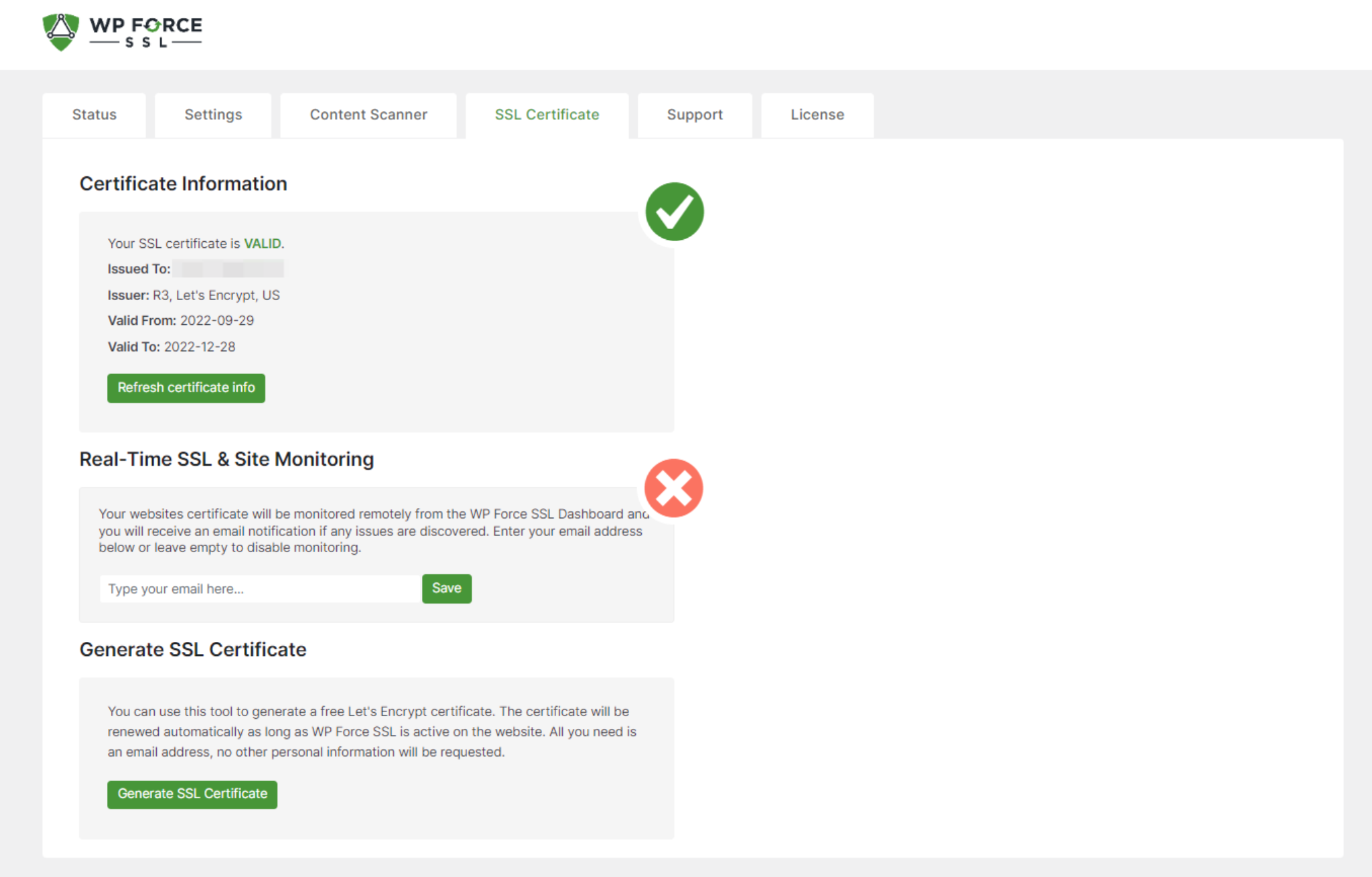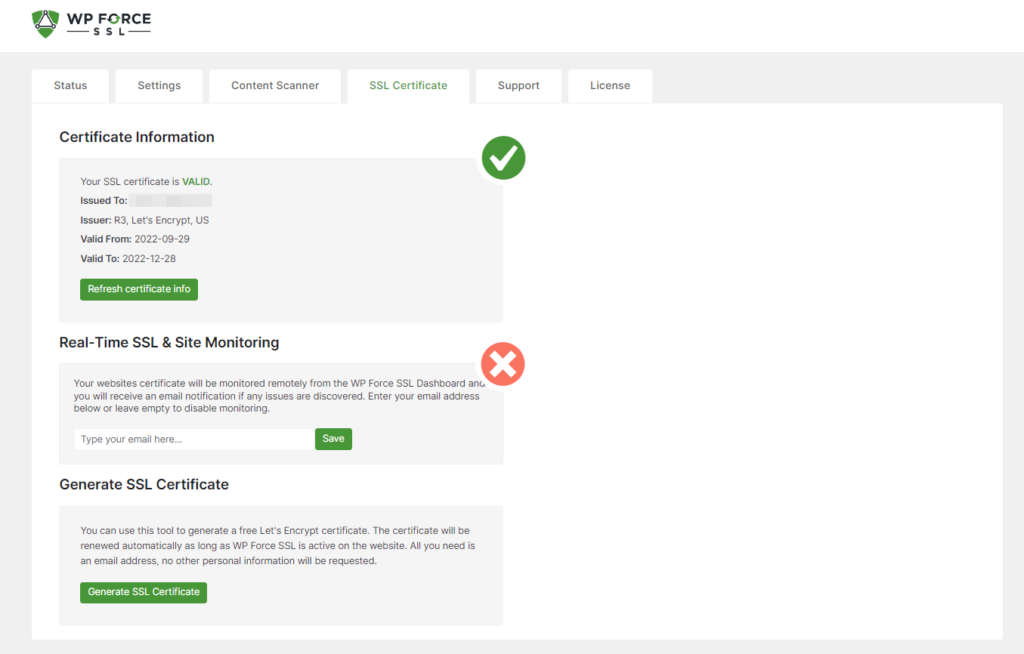 It isn't the end of the world to get your SSL certificate set up correctly once. What if you fail to renew it on time? As a result, the real-time SSL monitor inspects more than 50 errors each time it reviews your site.
SSL monitor uses a variety of heuristics to detect problems that might indicate an issue with your site's security, such as expired or revoked certificates. You can also use the SSL monitor to keep track of changes made to your website's HTTPS configuration.
Content Scanner


The content scanner is a handy scanner that checks every resource on every page of your site for mixed content, such as duplicate or incorrect images, Flash files, and more.
Once detected, the tool will prompt you to remove the offending elements.
Manual checking of each page on your site for mixed content is difficult. Use the content scanner, to detect mixed content in minutes and it will give you a detailed report that you can use to prevent mixed content problems.
Centralized Dashboard
One of the great advantages of using WP Force SSL is that it provides a centralized dashboard where you can manage and monitor all SSL/TLS settings.
The Dashboard is a consolidated view of all your client sites and their security monitoring. You can quickly and easily access information on site licenses, purchases, SSL monitors, etc.
Control all your purchases, licenses, sites & SSL monitors from a single location. Save time by having all your client sites in one place.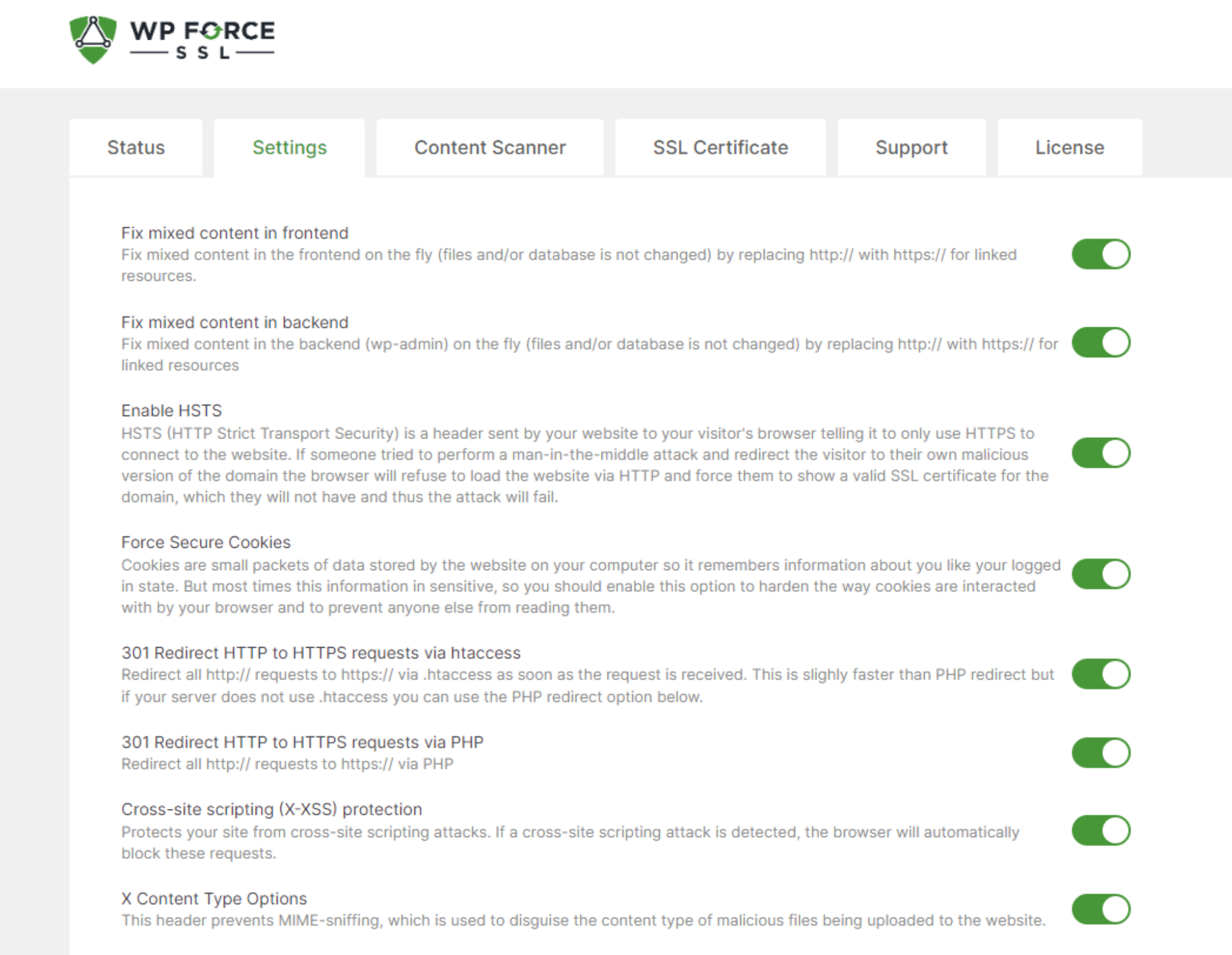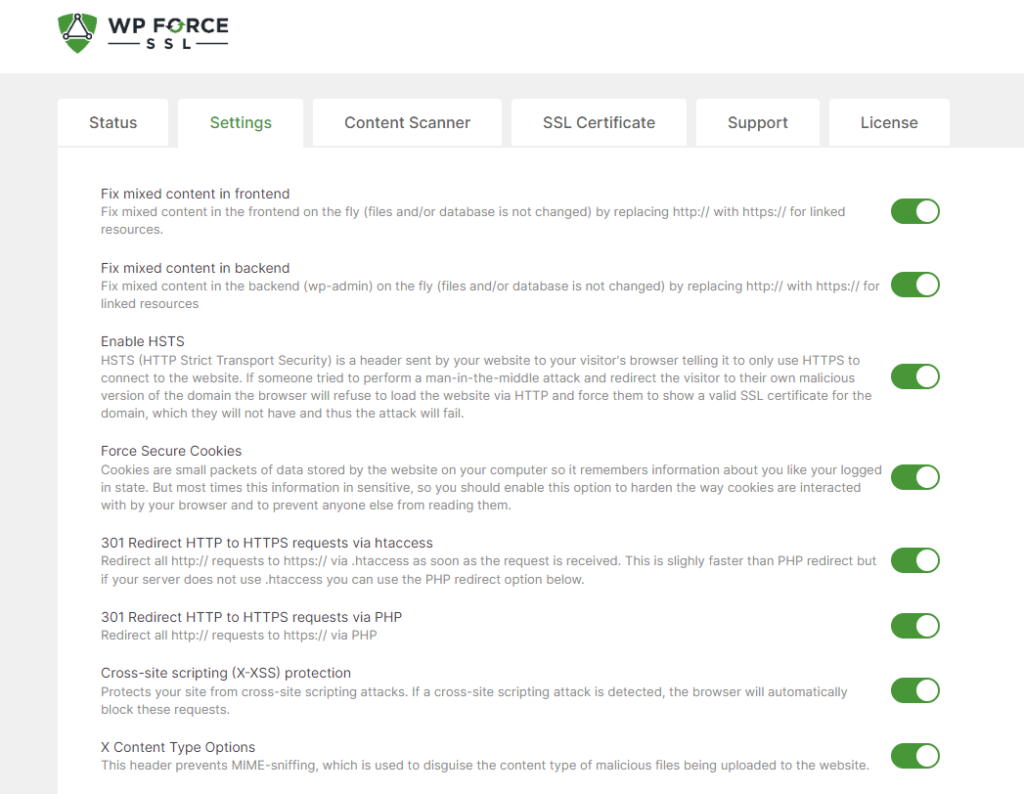 Why choose WP Force SSL over others?
It is an easy-to-use plugin that helps protect your site against security threats. It enables you to secure your site with an SSL certificate, keeps connections between your browser and the site secure, and monitors for any potential security issues.
Installation is simple and takes just a few minutes – making it ideal for busy website owners. All tools and options are user-friendly and straightforward to use.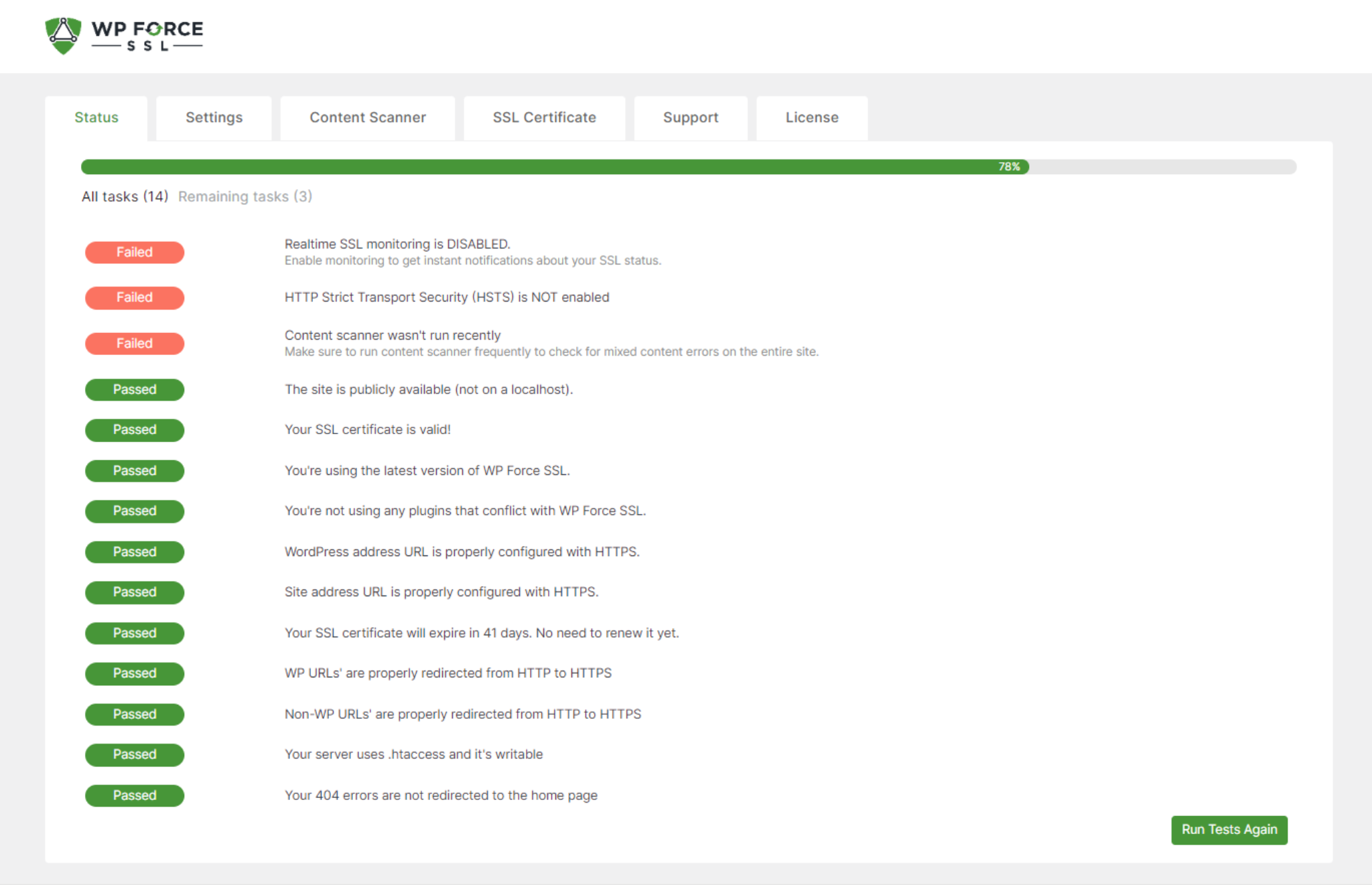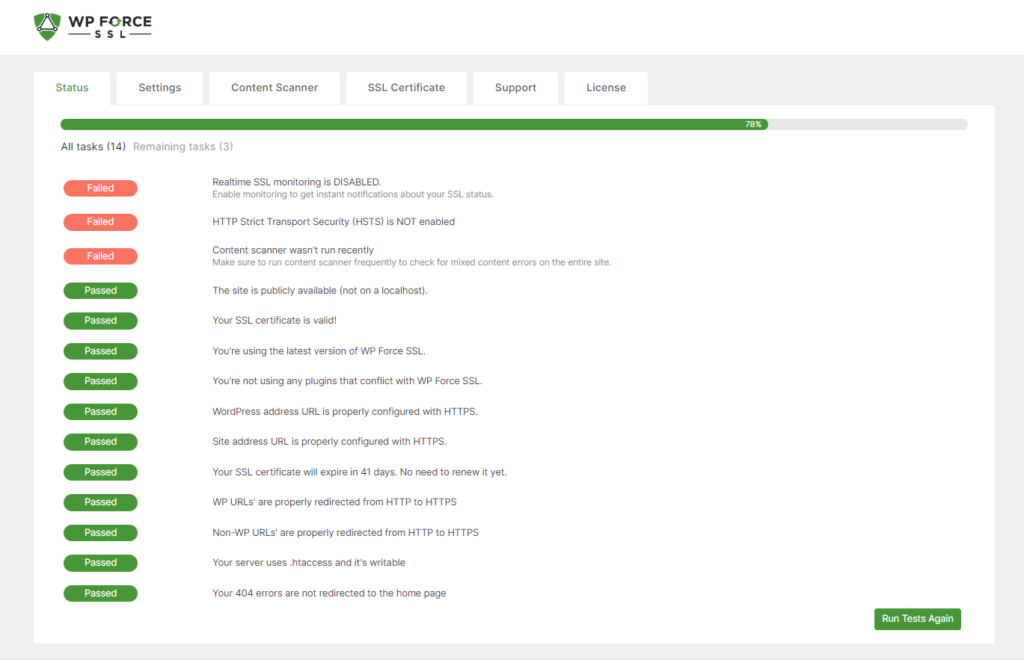 License Flexibility
The plugin offers you the option to upgrade your license at any time. This means that you can change your mind and go for a premium version of WP Force SSL whenever you want to.
The license is only tied to one domain, which makes it easy for the plugin to work with all of your sites in just a few clicks.
You also have the option to convert an unlimited number of sites from HTTP to HTTPS within 24 hours.
Premium Support
They never source their assistance externally! Developers who created the plugin account for the vast bulk of tickets. You can be sure that you're in good hands
WP Force SSL Support
As a support medium, they offer Email and Ticketing.
They Provide the Necessary Documentation.
They provide Public Changelog.
Why Use WP Force SSL?
WP Force SSL encrypts your traffic and protects your WordPress site from threats such as hacking.
It also fixes all SSL problems, improves SEO and user experience, and monitors the site for potential vulnerabilities.
Content Scanner checks every resource on every page of your site to find any potential security issues.
WP Force SSL works with all plugins, themes, and hosting providers.
Checks the certificate, verify if security headers are working, and so on. Also, it Redirects HTTP content to HTTPS.
It also has a scanner to check for non-secure URLs in your database and inside posts.
Best for Web Developers, Web designers, and Small business groups.
It makes both visitors and Google feel comfortable on your site, and it's really simple to use.
Pricing Plans
The free version is available on the WordPress repo: https://wordpress.org/plugins/wp-force-ssl/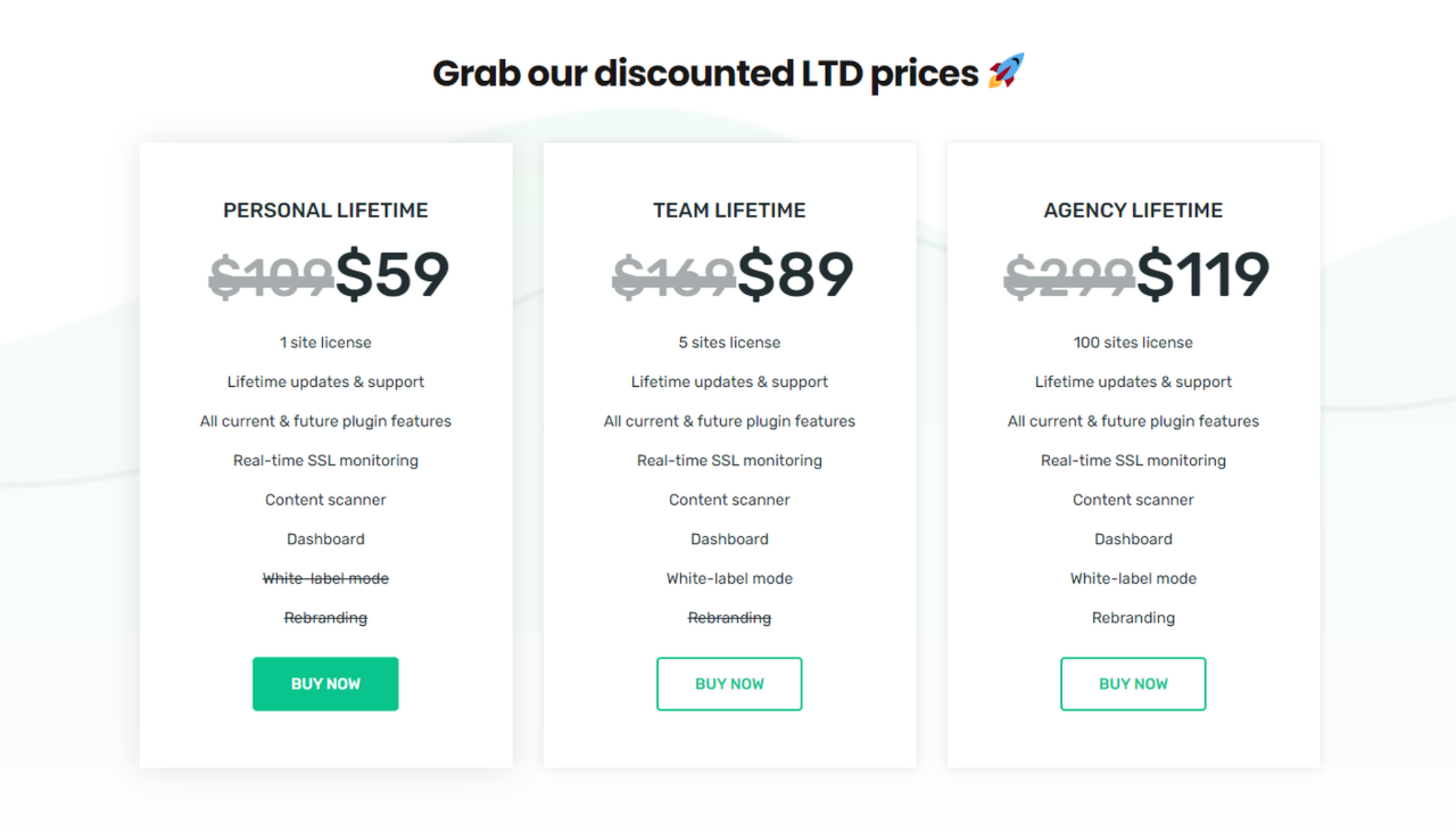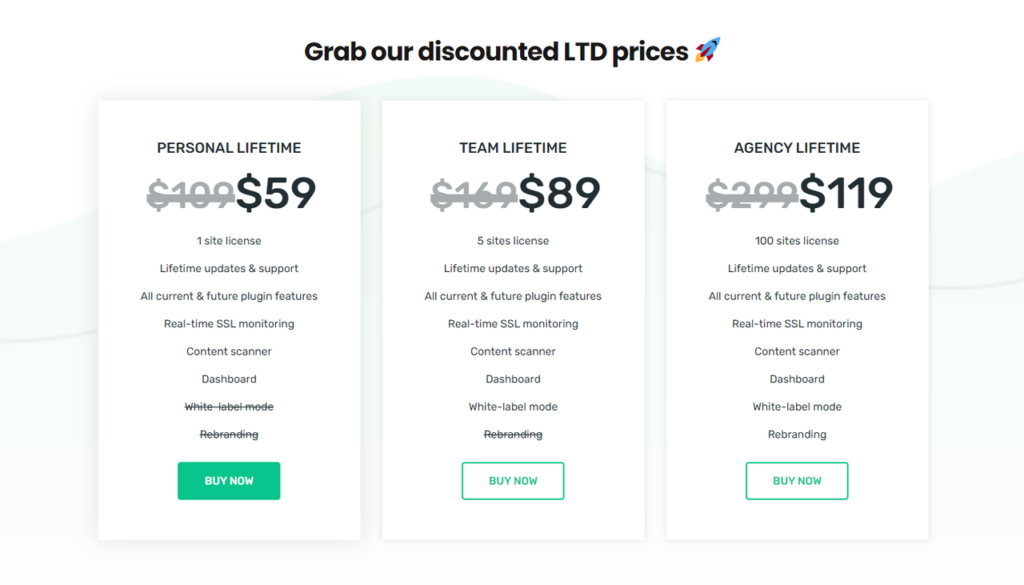 Alternatives to WP Force SSL

Clean up your WordPress website's HTTPS insecure content and mixed content warnings.
Installing the SSL Insecure Content Fixer plugin will solve most insecure content warnings with little or no effort. The remainder can be diagnosed with a few simple tools.

Automatically enable HTTPS on your WordPress blog or website. This plugin requires you to have an SSL certificate such as Let's Encrypt (Open certificate authority) installed on your web server and access to your server via SSH.
SSL Zen is the easiest way to secure your WordPress website with a free SSL certificate. In three easy steps, we help you secure your WordPress.
Social Media Presence
Is WP Force SSL right for You?
I think that WP Force SSL is a perfect solution for any WordPress site owner. It will provide you with an opportunity to make all your customers feel safe and secure while using the website.
It is one of the best SSL plugins for WordPress because of its ease of use and the numerous benefits it offers.
It encrypts your website traffic and provides an added layer of security for your website. WP Force SSL is a plugin that is available as a free and premium version, so you can choose the one that best suits your needs. Give it a try Now!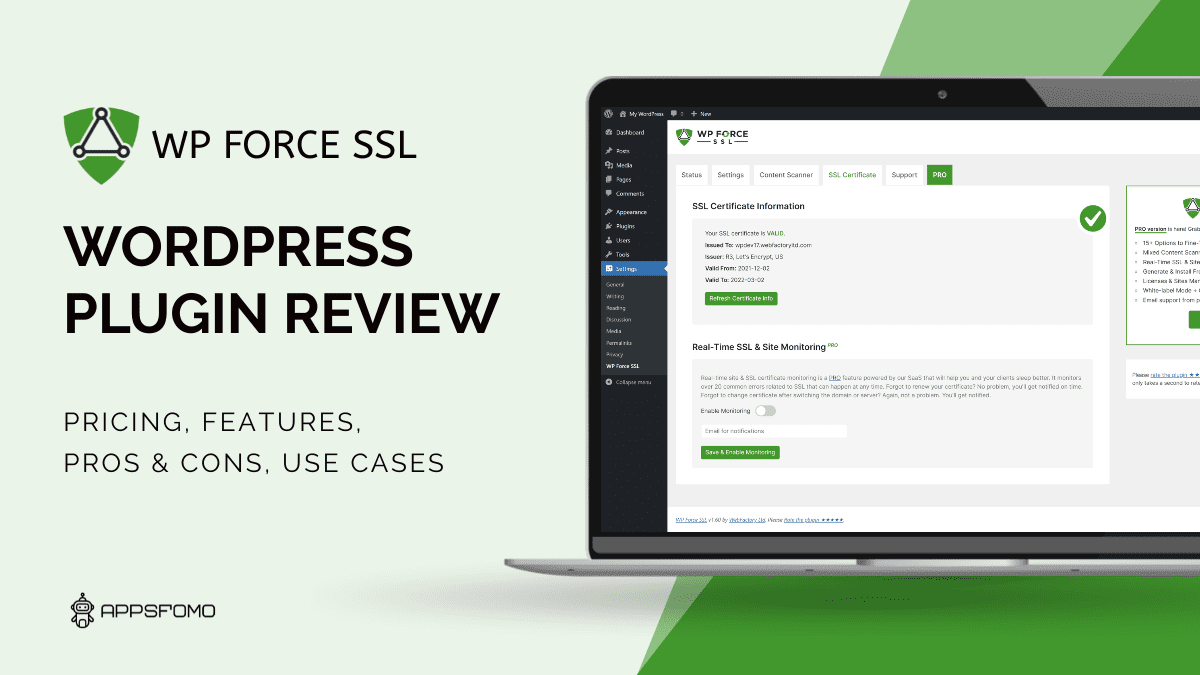 WP Force SSL: All in one Plugin to Fix SSL Problems in WordPress