WPML: Breaking the Language Barrier in WordPress with Multilingual Website
Add to wishlist
Added to wishlist
Removed from wishlist
0
Add to compare
| | |
| --- | --- |
| Review Date | March 2023 |
| Author | Amir Helzer |
| Company Name | onTheGoSystems |
| Country | Hong Kong |
| Marketplace | Own Site |
| Free Version | Available on WP.org |
| Initial Release | 2007 |
| Other Products | Toolset, Adelance |
| Active Installations | 1M + |
| WP.org Ratings | 4 |
| Free Extensions | None |
| Premium Extensions | 5+ Pro Addons |
| Multilang Support | Yes |
| Pricing Options | Yearly |
| Past LTD | No |
| Money Back Guarantee | 30 Days |
| Support System | Forum |
| Site Usage | 1 Site,3+ Sites,Unlimited Sites |
| Documentation | Good |
| Competitor | Polylang, TranslatePress |
| Affiliate Program | No |
WPML makes it easy to build multilingual sites and run them. It's powerful enough for corporate sites, yet simple for blogs. It powers more than 1 million sites and is compatible with all WordPress themes and plugins.
You will get:
Compatible with all WordPress themes.
No coding skills are required.
Available across 65 languages.
Makes the web better.
Easily configurable.
Appsfomo Review
WPML is the most popular and complete solution for translating your WordPress website.
PROS
Compatible with all WordPress themes.
No coding skills are required.
Available across 65 languages.
Makes the web better.
Easily configurable.
CONS
Better features are available in the costlier version.
No good support for agency customers.
In today's global world, having a multilingual website is not just a luxury anymore but a necessity. It helps to reach out to international audiences and improve the user experience for non-native speakers. WordPress Multilingual Plugin (WPML) is one of the most popular and effective ways to create multilingual websites on WordPress.
In this post, we will take a deep dive into WPML and explore its benefits, features, and how to use it to translate content. We will also look at some of the advanced features of WPML like translation management, multilingual SEO, and e-commerce integration. Additionally, we will discuss the performance and cost of using WPML and provide alternatives for those who may not want to use it. If you're ready to expand your website's reach beyond borders, read on!
WPML (WordPress Multilingual Plugin) is a powerful tool that makes creating multilingual websites easy. With over 65 supported languages and compatibility with most WordPress themes and plugins, WPML offers a wide range of features to help you build and run a successful multilingual site.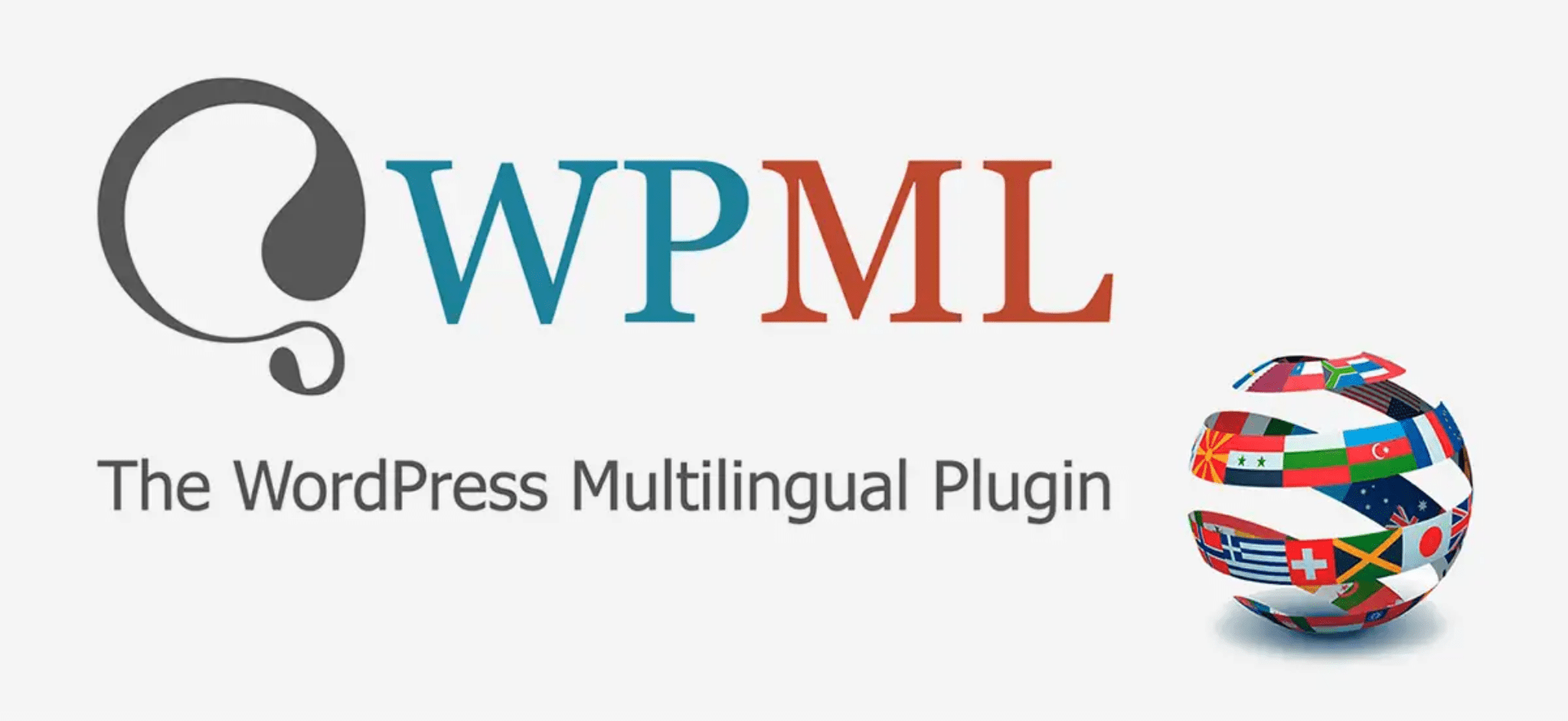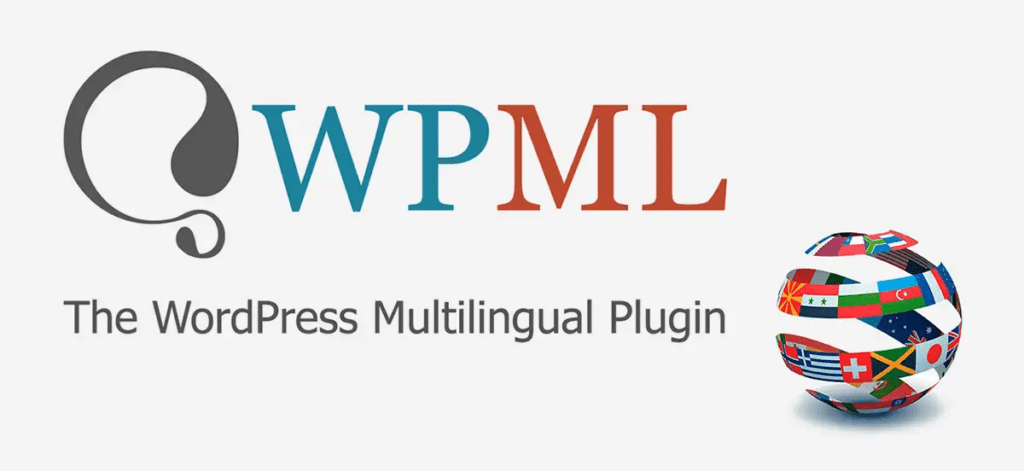 From language switchers to automatic redirection based on user location or language preference, WPML has everything you need to expand your website's reach and improve user experience. Whether you're a small business owner or a large corporation, WPML can help take your website to the next level.
Company Details
WPML is the product of OnTheGoSystems a remote team of tech enthusiasts, innovators, creatives, and engineers. They build products that allow businesses of all sizes to go global.
In 2007 Amir Helzer founded WPML, which is now the market-leading multilingual WordPress plugin. Today, WPML is installed on over 1,000,000 WordPress sites and makes it possible to translate your site into 45+ languages.
Online Presence
Getting Started with WPML
How to begin?
Installing & Configuring WPML
Starting to use WPML can be a bit overwhelming at first, but with the right approach, it can be quite easy. WPML lets you translate every part of your site and also allows you to choose who will translate it and how.
Clients with Multilingual CMS and Multilingual Agency account types will find this guide very helpful. With WPML, translating content is no longer a tedious task, giving you the freedom to focus on other important aspects of your website.
If you want to purchase and install WPML, make sure your site meets the minimum requirements. After that, download and install the main components, including WPML Multilingual CMS and String Translation. They are available from your account's Downloads page.
When you first activate WPML a setup wizard will help you specify the essential settings you need to prepare your site for multilingual content.Follow the wizard to:Choose your site's languagesChoose your URL formatRegister WPMLChoose your translation mode (see the next section for more details)After setting up your site, you can also customize your site's language switcher, which is added to the footer by default.
Translating Content with WPML
How WPML Works?
Translating content with WPML is a breeze, and it allows you to run a multilingual website using just one WordPress installation. With over 65 available languages and the option to add your own language variants, WPML lets you translate everything from posts and pages to custom post types, widgets, menus, taxonomy, admin texts, and media.
You can choose your site's languages and begin translating content immediately with a variety of translation mode options available. Plus, WPML automatically adds customizable language switchers to your footer for easy navigation between translated content.
Translation Mode Options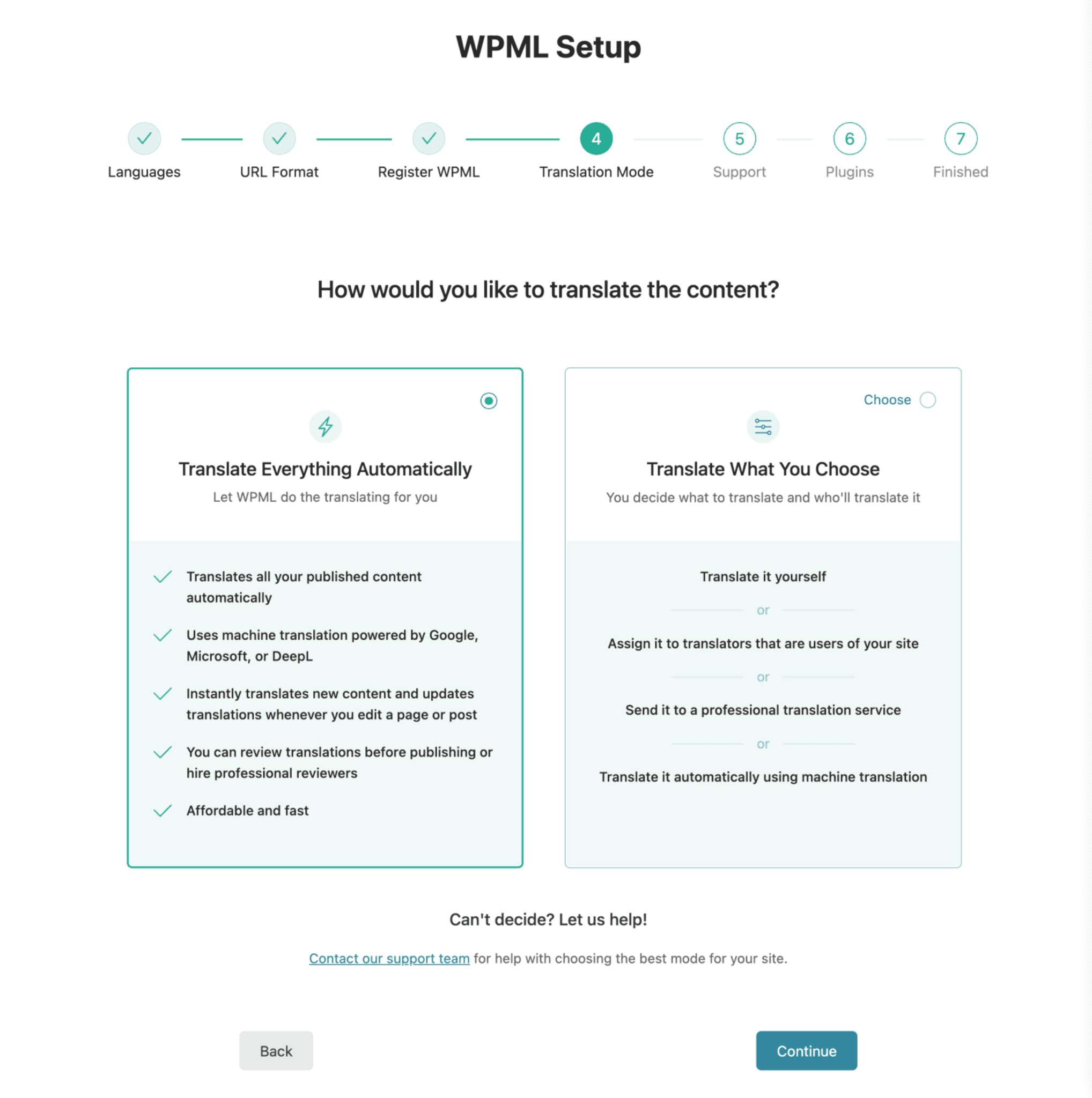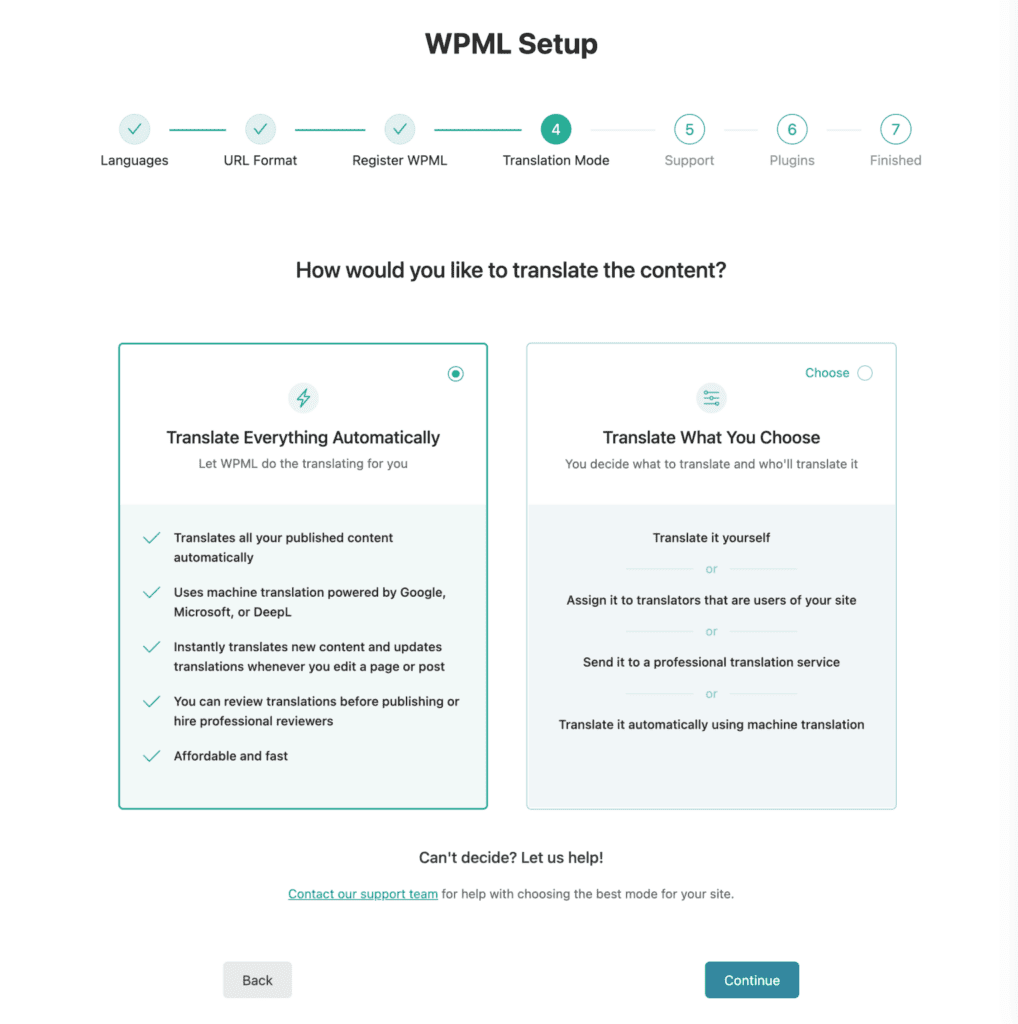 When it comes to translating your website with WPML, you have two options: Translate Everything Automatically or Translate What You Choose. The WPML setup wizard will try to choose the best option for you depending on how much content is on your site. Both of these options are fully compatible with the WordPress Gutenberg block editor, making it easy for you to translate your content regardless of which mode you choose.
Translate Everything Automatically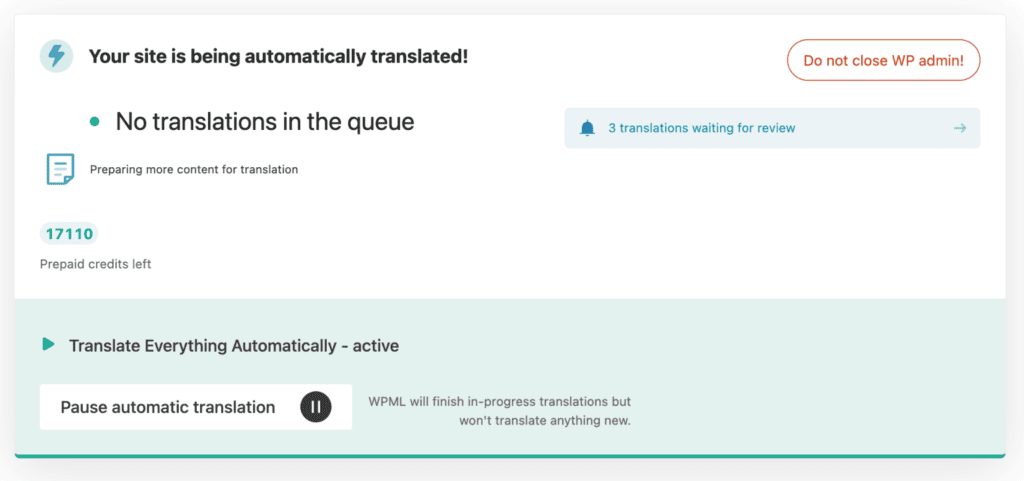 Using WPML's 'Translate Everything Automatically' option can significantly reduce translation time for your website. As soon as you publish new content, this feature automatically translates it, and the translations are updated whenever you edit the original content. In addition to saving time, WPML's automatic translation feature offers convenience and accuracy.
You can review translations before or after publishing them on your site, and even hire a translation reviewer to ensure the translations sound natural and accurate. This functionality works for posts, pages, and taxonomy terms assigned to them.
Translate What You Choose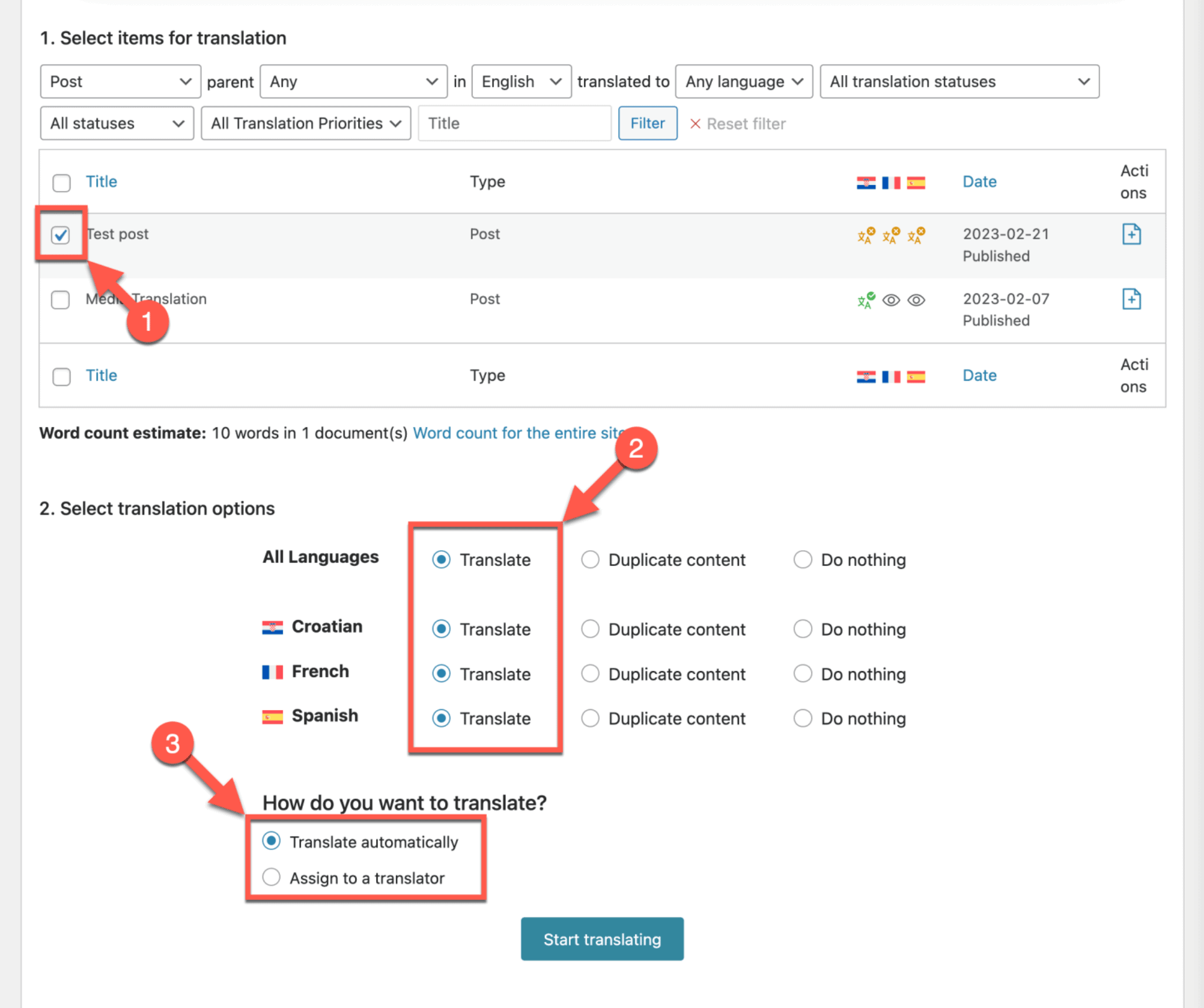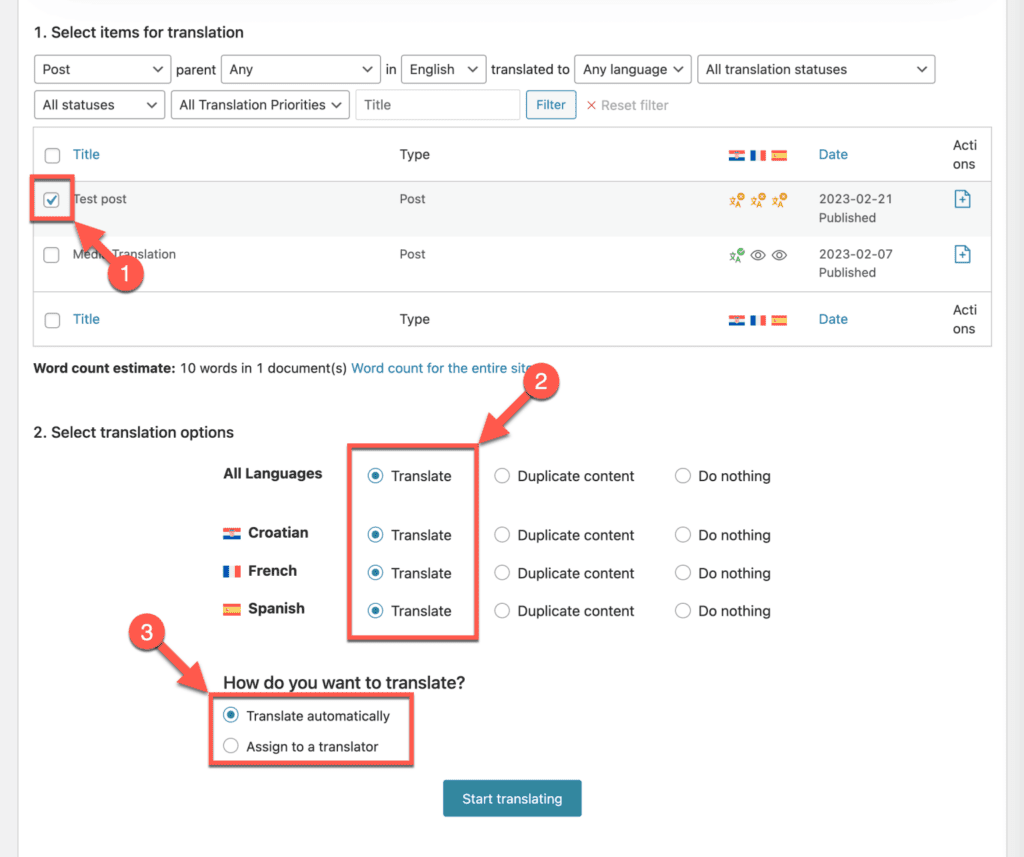 If you don't need to translate your entire site or want more control over what gets translated and who translates it, "Translate What You Choose" is the way to go. This option allows you to select specific pages or posts for translation, and you can hire translators to work on your site if you prefer.
If you have a WPML Blog account or you're the only one translating your content, translating individual pages or posts is as simple as clicking the plus icon.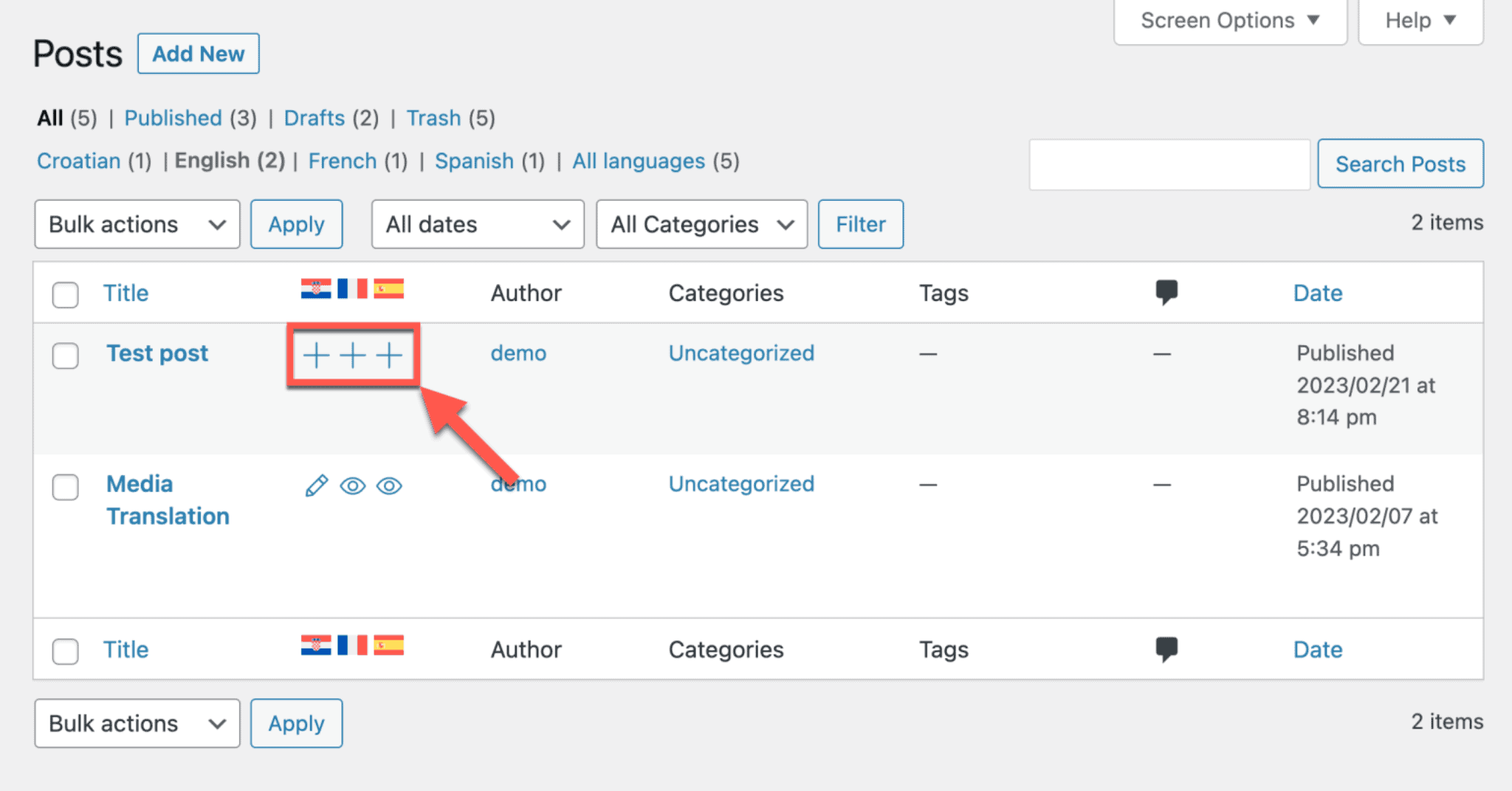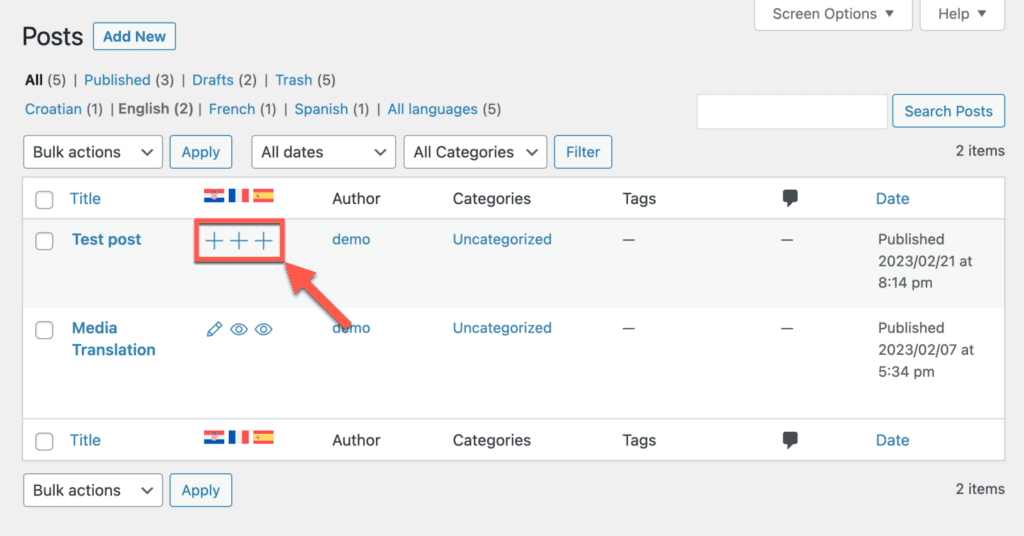 Translation Icons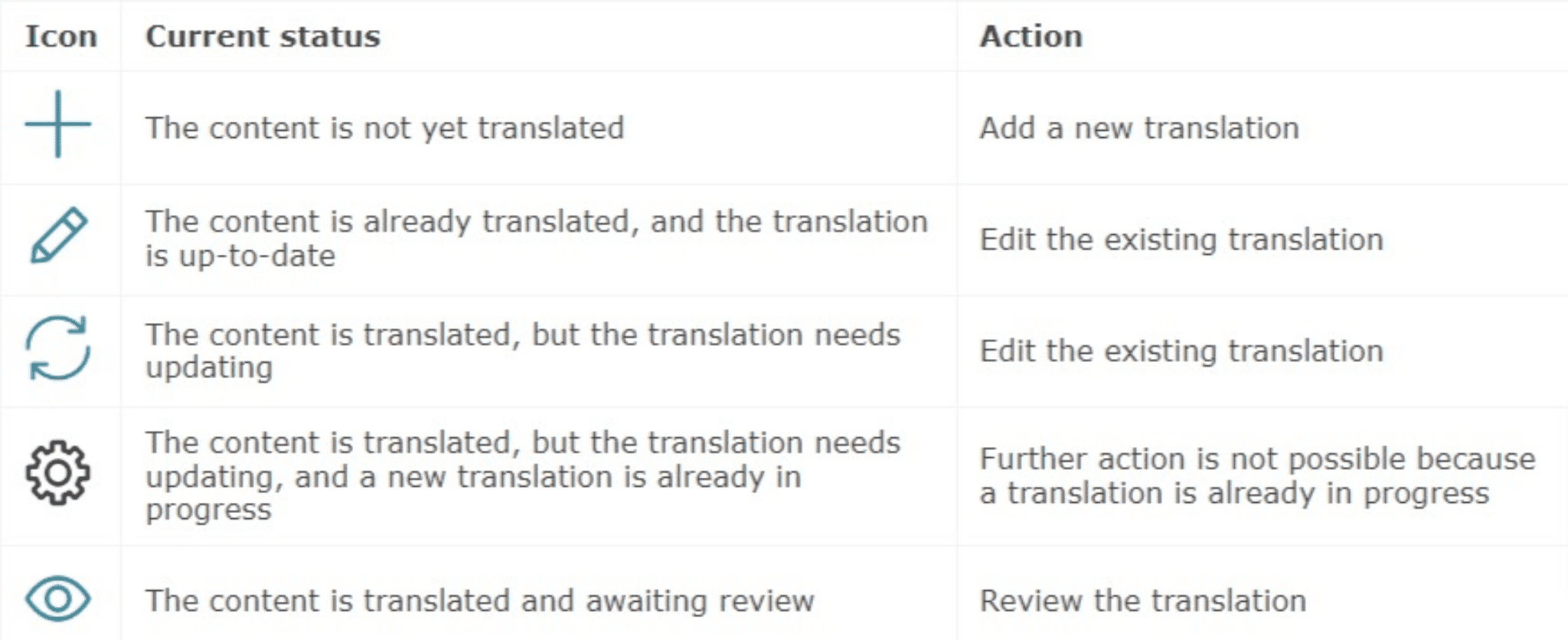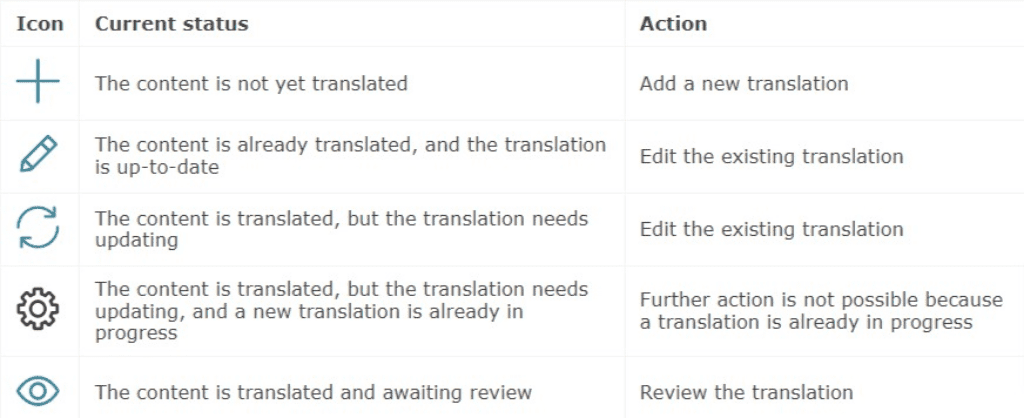 Creating Translation Pages and Posts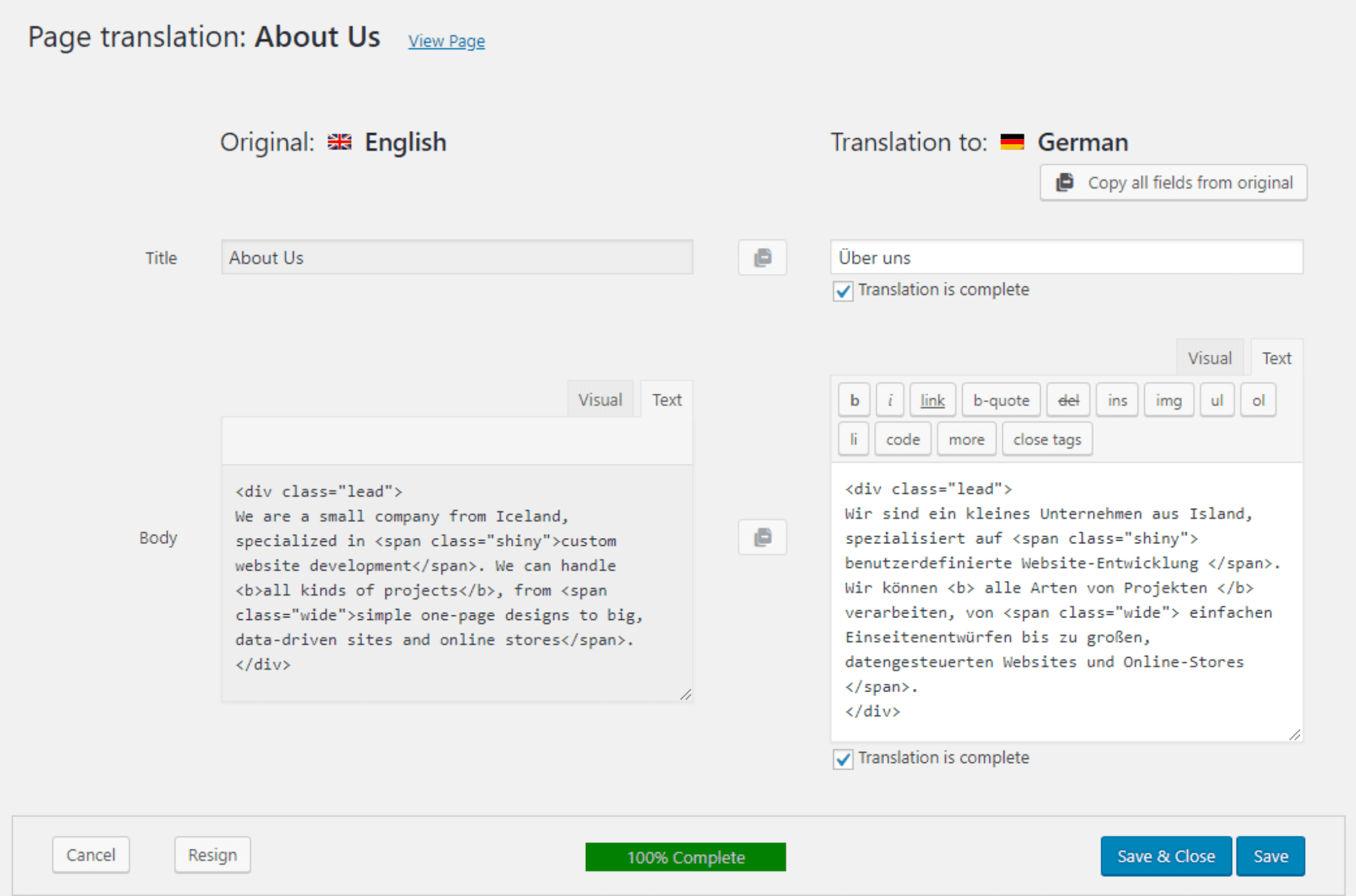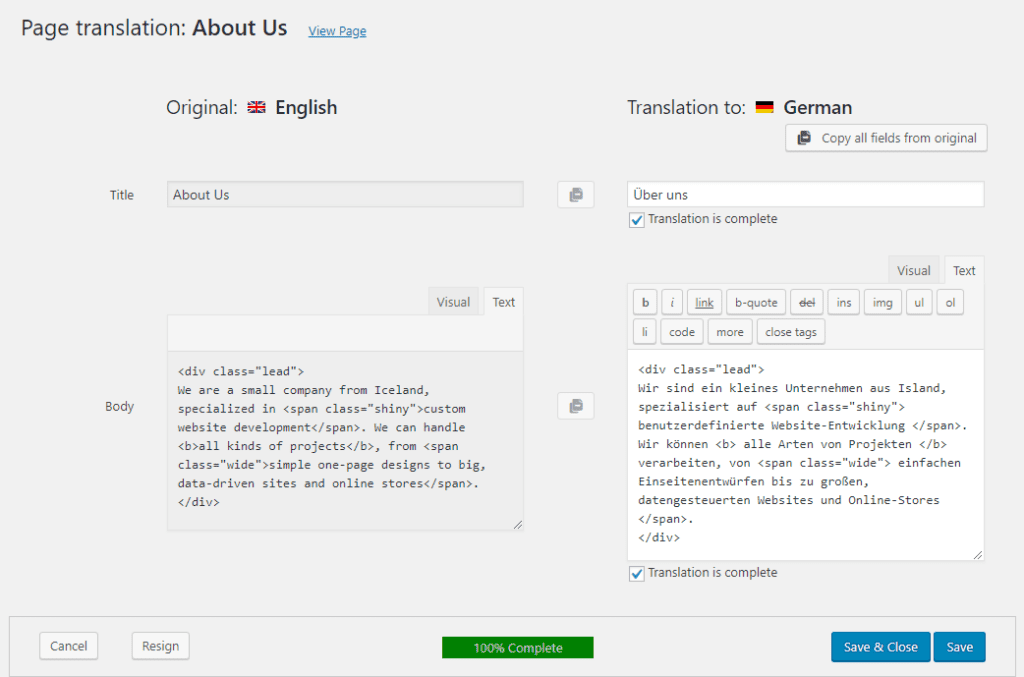 When it comes to creating translation pages and posts, WPML makes the process seamless. You can choose to manually translate your content or take advantage of automatic translation tools. The plugin also supports custom fields and taxonomies, ensuring that all aspects of your website can be translated into multiple languages.
Translating Custom Post Types and Taxonomies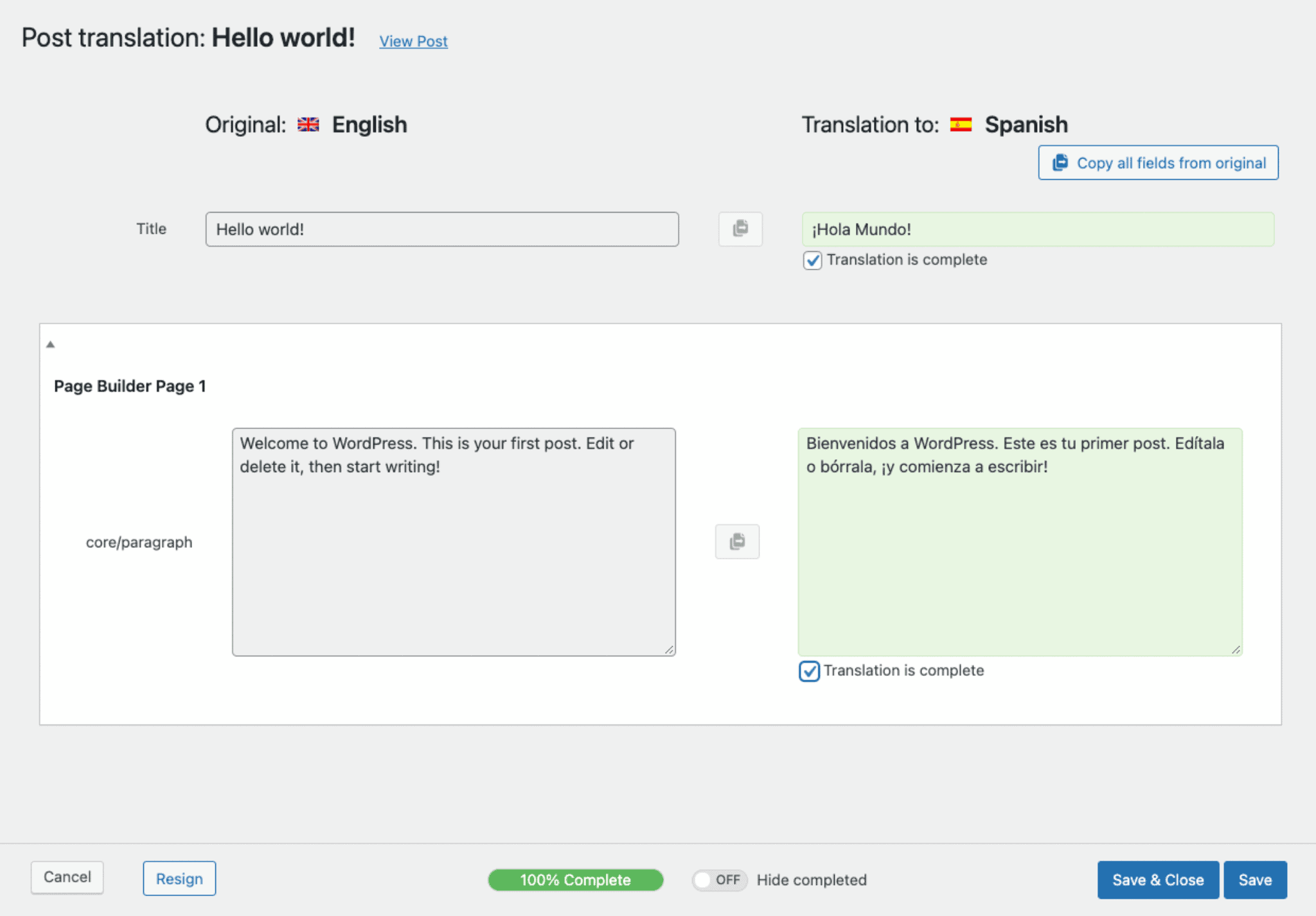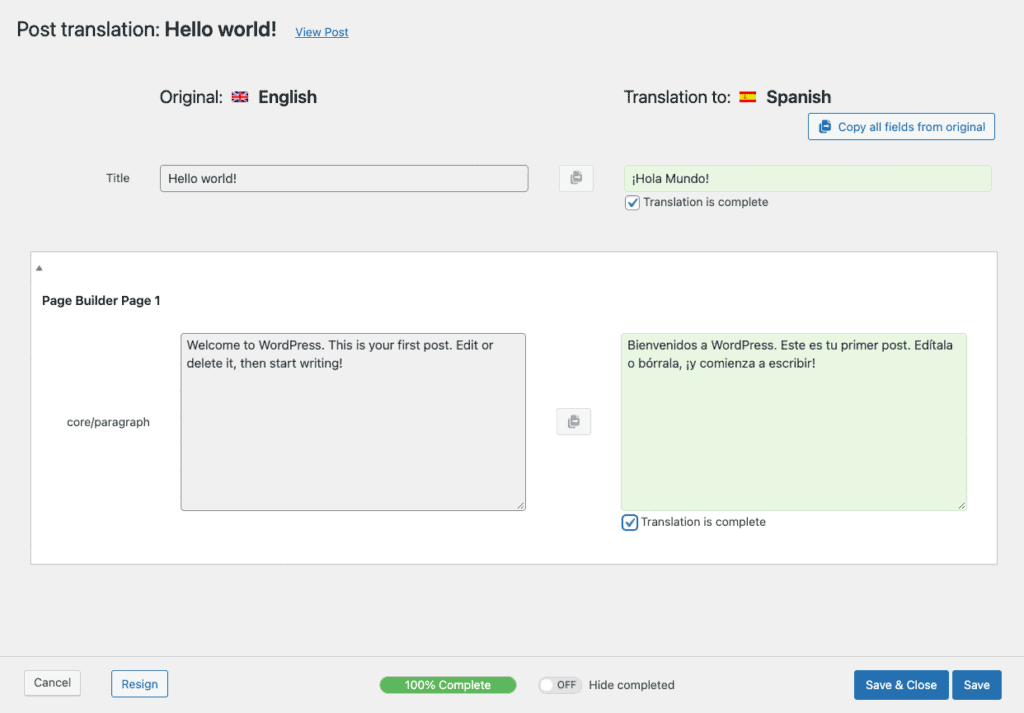 Custom post types and taxonomies are essential components of many websites, and their translation is critical for a seamless multilingual experience. With WPML, you can quickly translate these elements, ensuring that visitors in different languages have full access to your website's content.
The WPML interface makes it easy to manage and translate custom post types and taxonomies, giving you complete control over your multilingual website's content. Additionally, translating custom post types and taxonomies can improve your website's SEO by allowing you to target multiple language markets.
WPML Key features
Why choose WPML?
Translation Management with WPML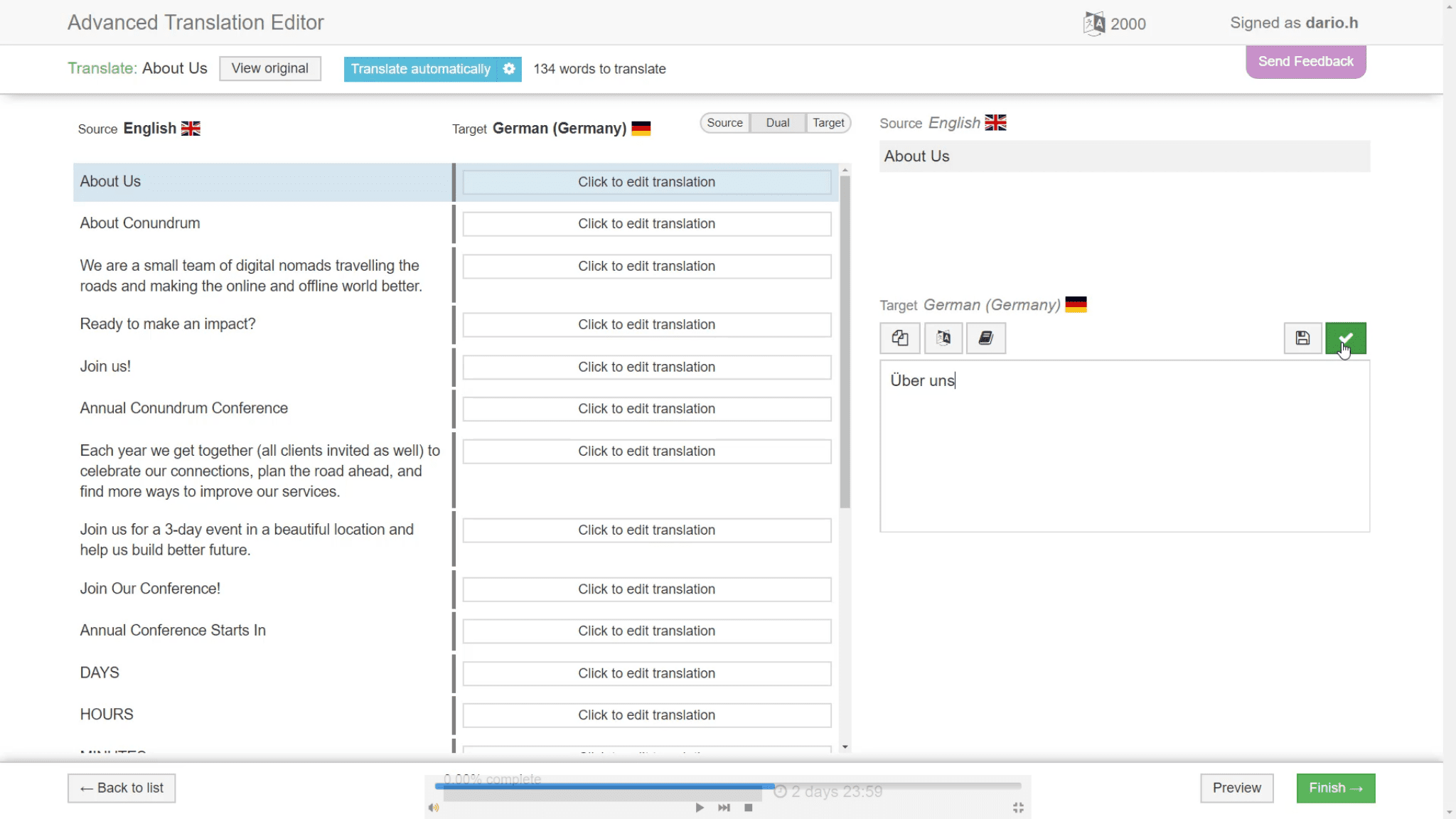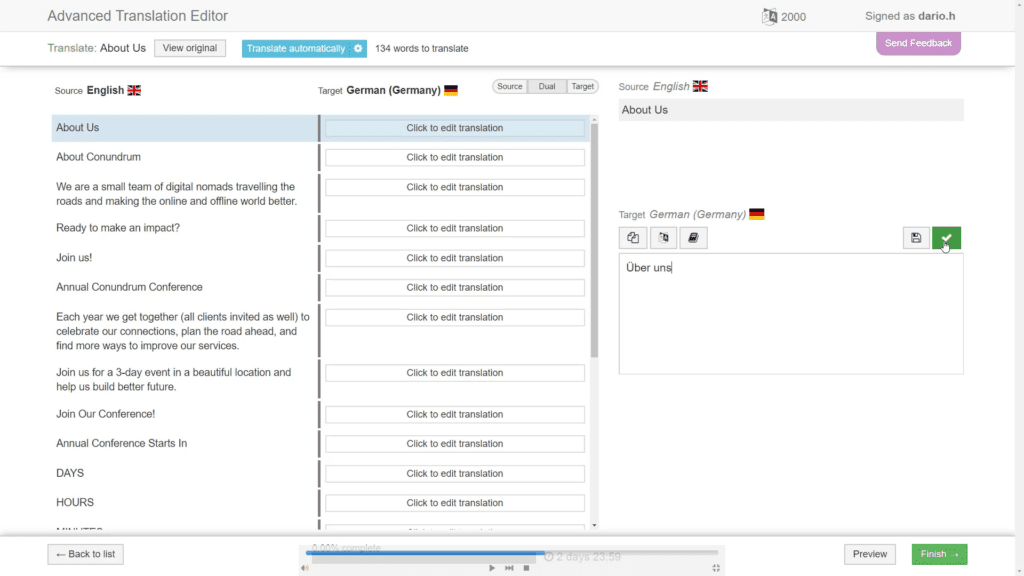 Whether you are developing and translating websites individually or constructing extensive sites for institutions, WPML provides a translation process that caters to your requirements.
Quality Automatic Translations
WPML's Automatic Translation offers an ideal blend of speed, affordability, and quality. By utilizing automatic translation, you could save up to 90% of your time. Afterward, you can use WPML's review process to add a human touch to the machine translations. Google, DeepL, and Microsoft power WPML's automatic translations.
Translation Workflow Control
WPML's Translation Management lets you control what you translate and how you translate it. Translate your entire site automatically, use the automatic translation for specific posts and pages, or translate your site's content yourself.
Professional Human Translation
To have your content translated by humans, you have the option to either assemble your own team of translators for your website or utilize the services of any of the numerous professional translation companies that collaborate with them.
Multilingual & Multicurrency E-Commerce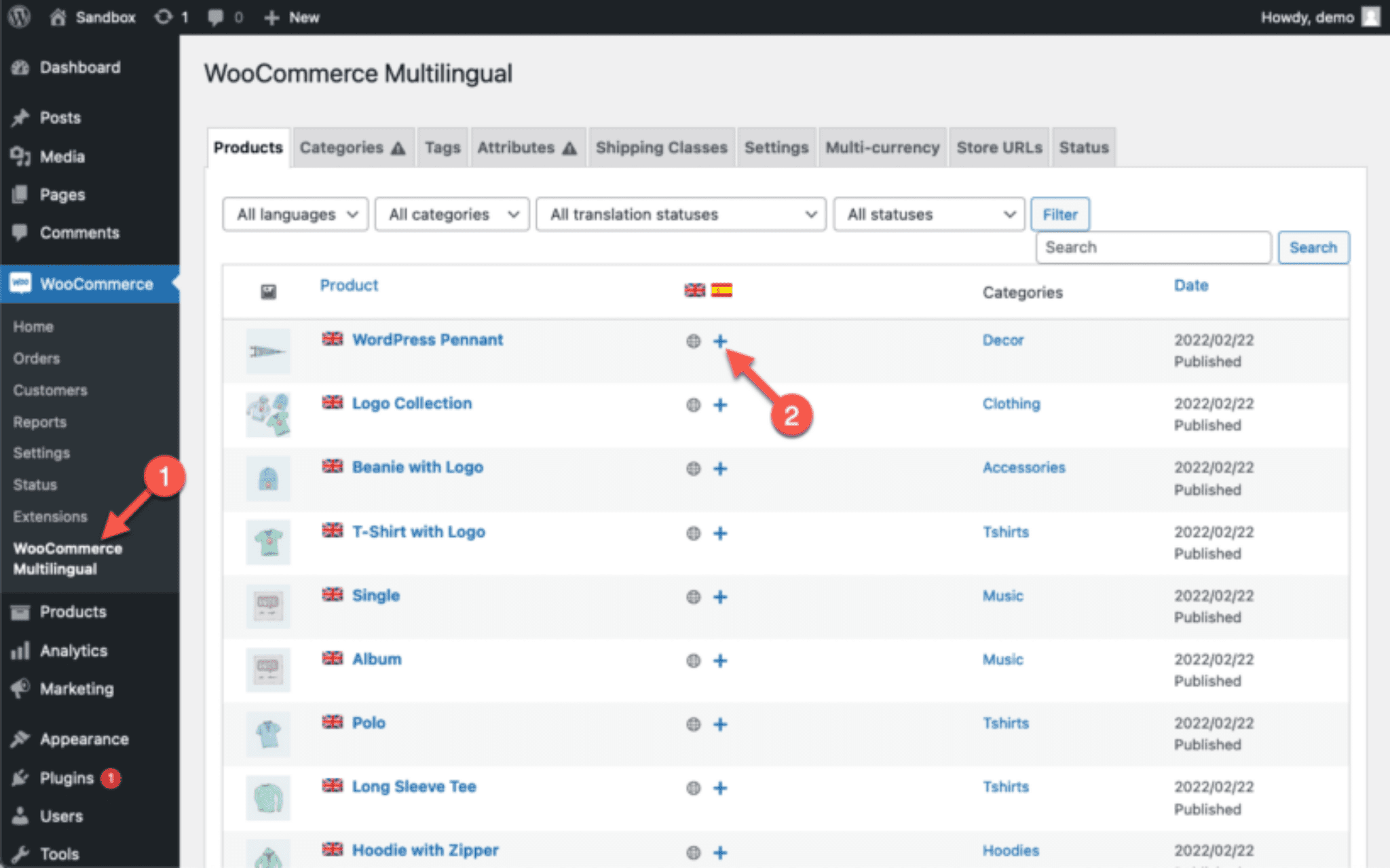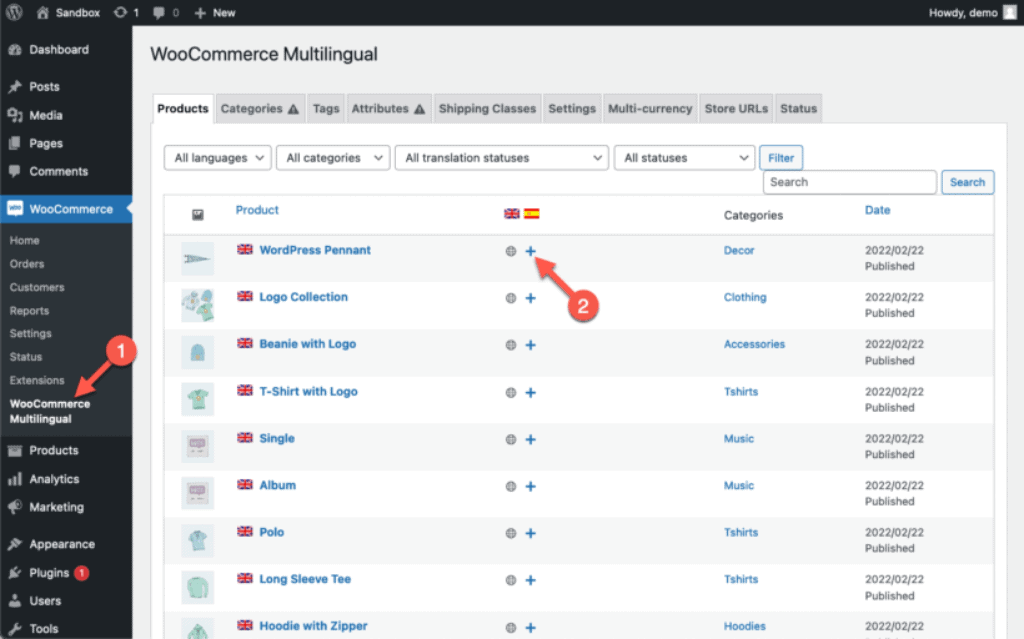 WPML enables you to create multilingual and multicurrency e-commerce sites with the WooCommerce Multilingual plugin, including support for simple and variable products, related products, sales, and promotions.
Multilingual SEO
WPML optimizes your site for searches in multiple languages. You can arrange language any way you choose with WPML (TLDs, subdomains, folders, and language arguments). It also allows you to translate page slugs, SEO meta, and titles.
WPML integrates with all popular SEO Plugins so that you can check your SEO results in each language.

Enhancing WPML Functionality with Add-Ons
Unique features
Media Translation Add-On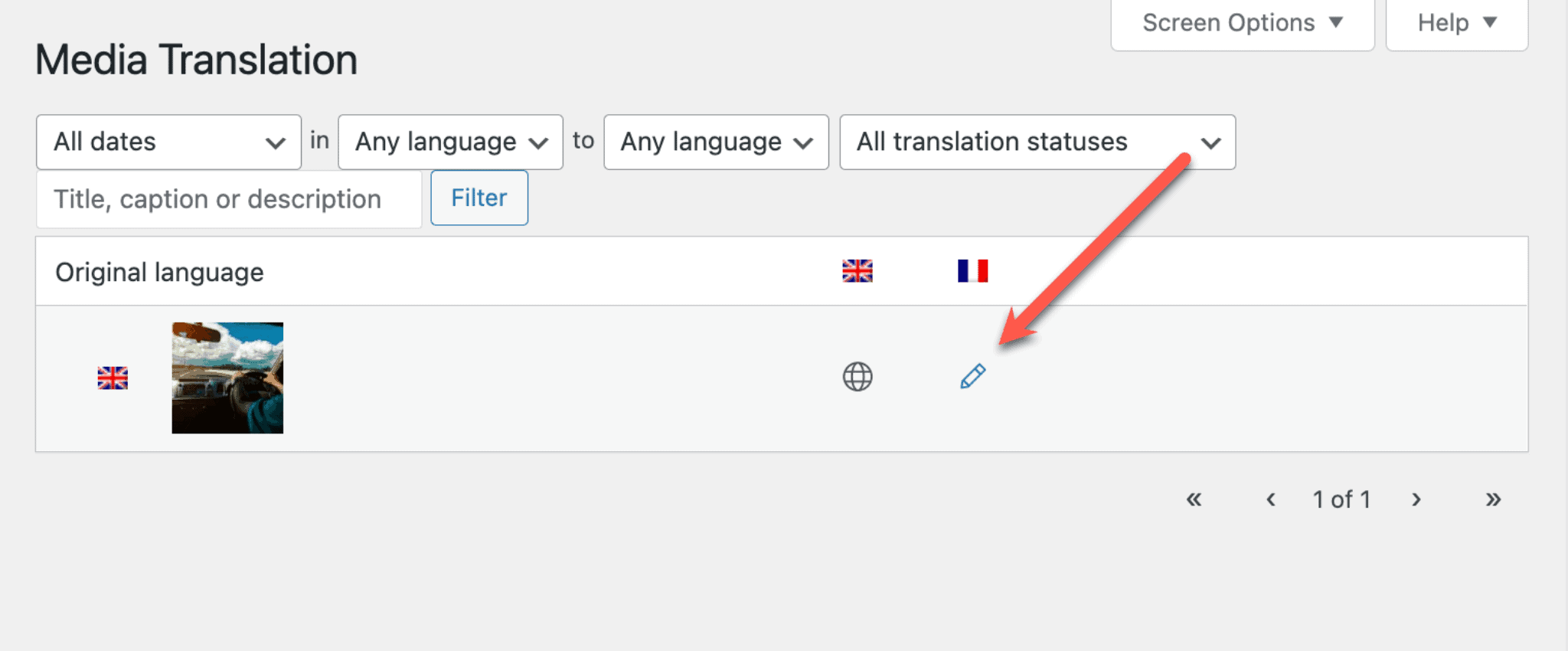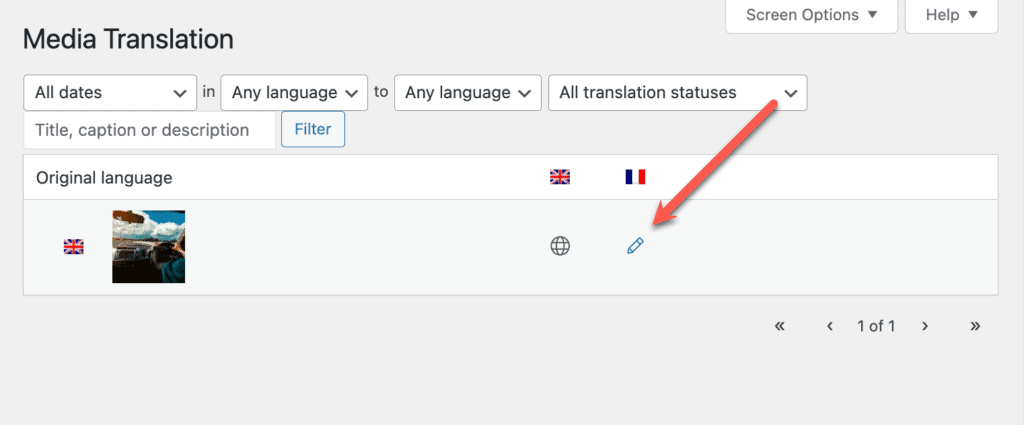 Images are a vital part of website design, but it can be challenging to display them correctly in different languages. This is where the WPML Media Translation Add-On comes into play. With this add-on, you can quickly and easily show different images across posts, pages, and post types in different languages. This means that your website will look consistent and professional in all languages, providing an excellent user experience for visitors regardless of their language preferences.
String Translation Add-On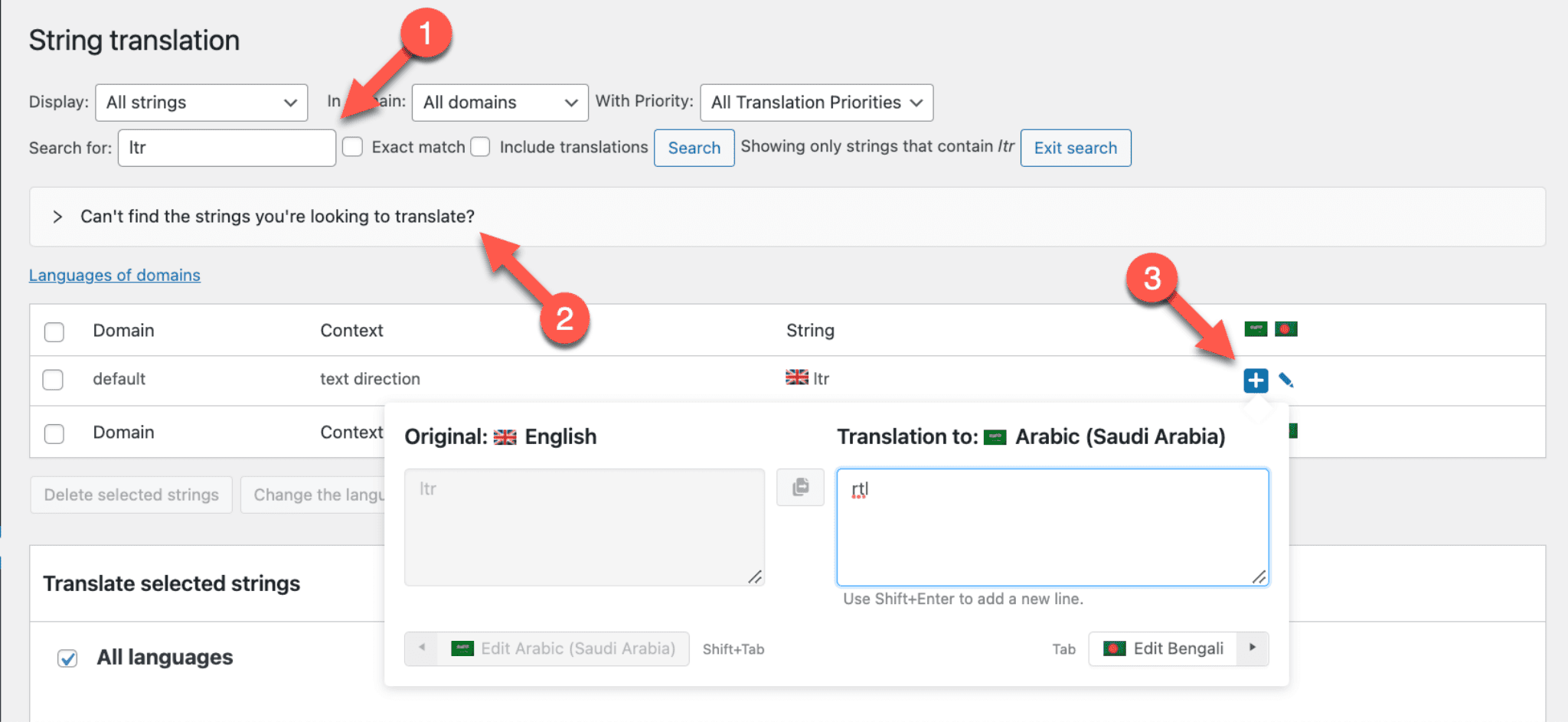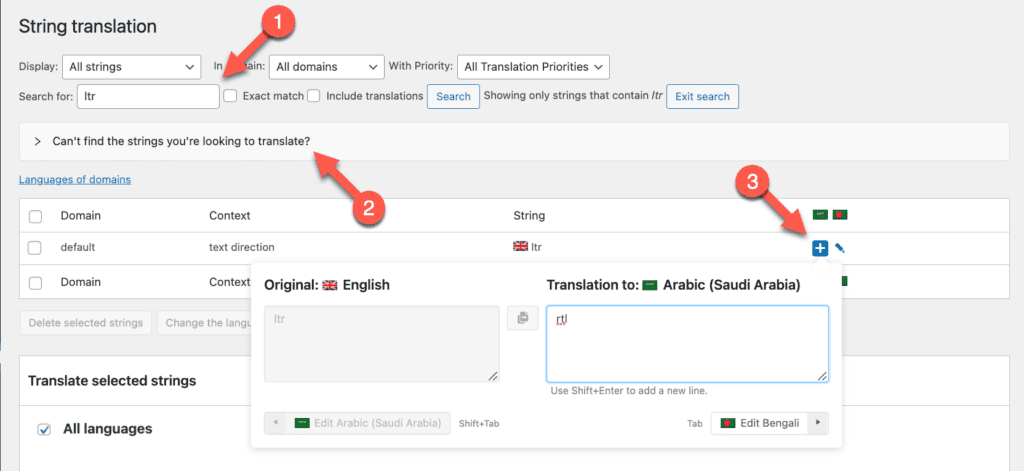 When it comes to creating a multilingual website, translating the interface strings is just as crucial as translating the content. This is where WPML's String Translation Add-On shines. By enabling you to translate interface strings directly from within WordPress, you can effortlessly localize your website's user interface in all supported languages.
The plugin allows you to do more than just translate static texts – you can also translate user-generated text such as taglines and SEO data. With the String Translation Add-On, you can ensure that all aspects of your website are fully localized for your target audience.
Sticky Links
With the Sticky Links plugin, you can prevent internal links from being broken. This plugin diligently monitors all linked pages on your website and ensures that all incoming links remain current. Even if you modify your permalink structure, hierarchy, or page slugs, the system promptly updates all incoming links.

CMS Navigation
The CMS Navigation plugin adds navigational elements which you can use when building the site. This includes a breadcrumbs trail, drop-down menus, and sidebar navigation.
Benefits of WPML
Uses and Applications
Compatible With Your Favorite Themes, Plugins, and Page Builders
Runs multilingual e-commerce sites with woocommerce.
Responsive to all themes and plugins.
Easily customizable pages
Stable, Reliable, and Secure
Satisfaction Guarantee
Pricing Plans
Lifetime Pricing Plan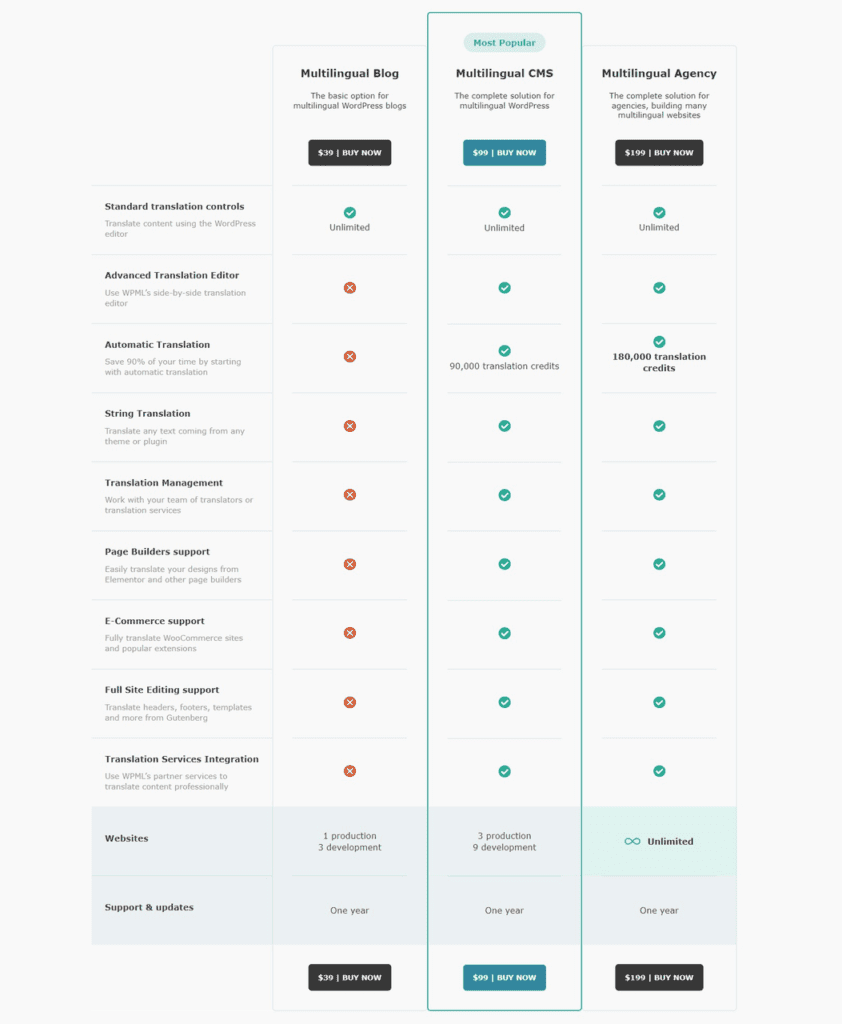 Support
Knowledgebase and Contact support
Best KnowledgeBase support
FAQ's
Blogs and Tutorials
Alternatives
Similar Plugins
Polylang is a WordPress plugin that allows you to create a multilingual website.
It is one of the most popular multilingual plugins for WordPress with over 700,000 installs. 
Grow multilingual traffic and reach more people
A proven way to grow your website traffic and convert more customers.
Disclaimer text….
The right way to build a multilingual WordPress site!
Run each language in a separate site of your WordPress multisite and connect the content in a lightweight user interface.
Disclaimer text….
Final Verdict
Is WPML Worth it?
WPML is an excellent solution for creating multilingual WordPress websites. It offers numerous benefits, including reaching a wider audience, enhancing user experience, and improving SEO.
If you want to create a multilingual website that speaks to your global audience while maintaining your brand identity and message consistency across languages, consider using WPML today.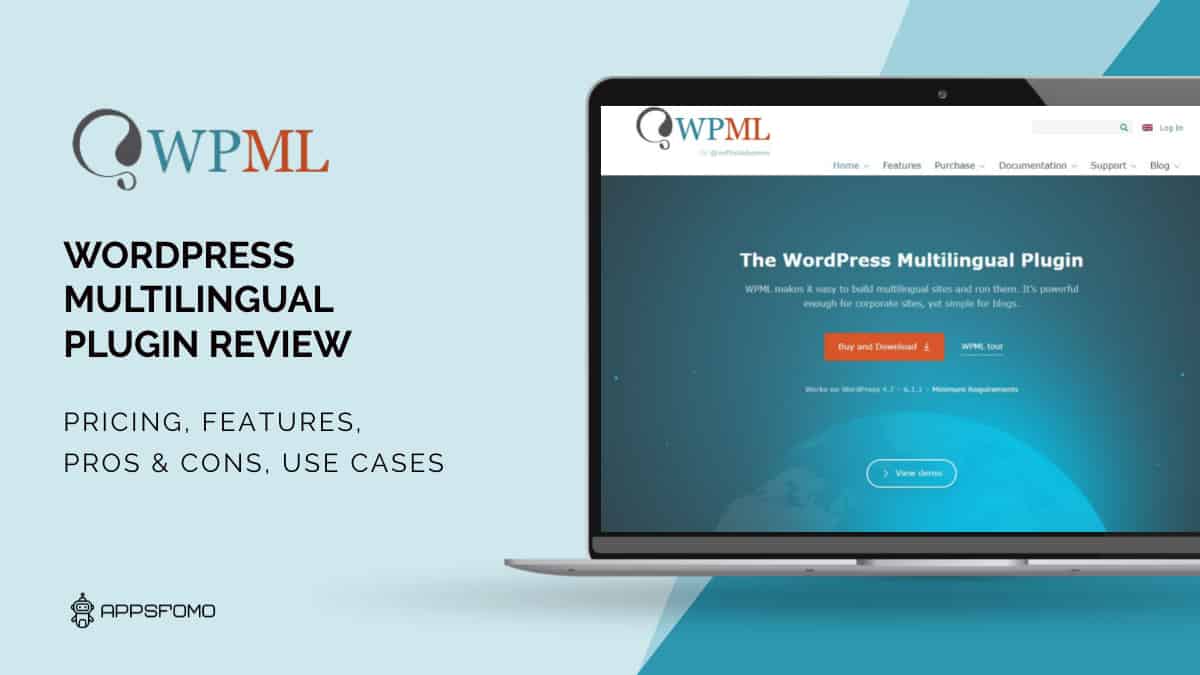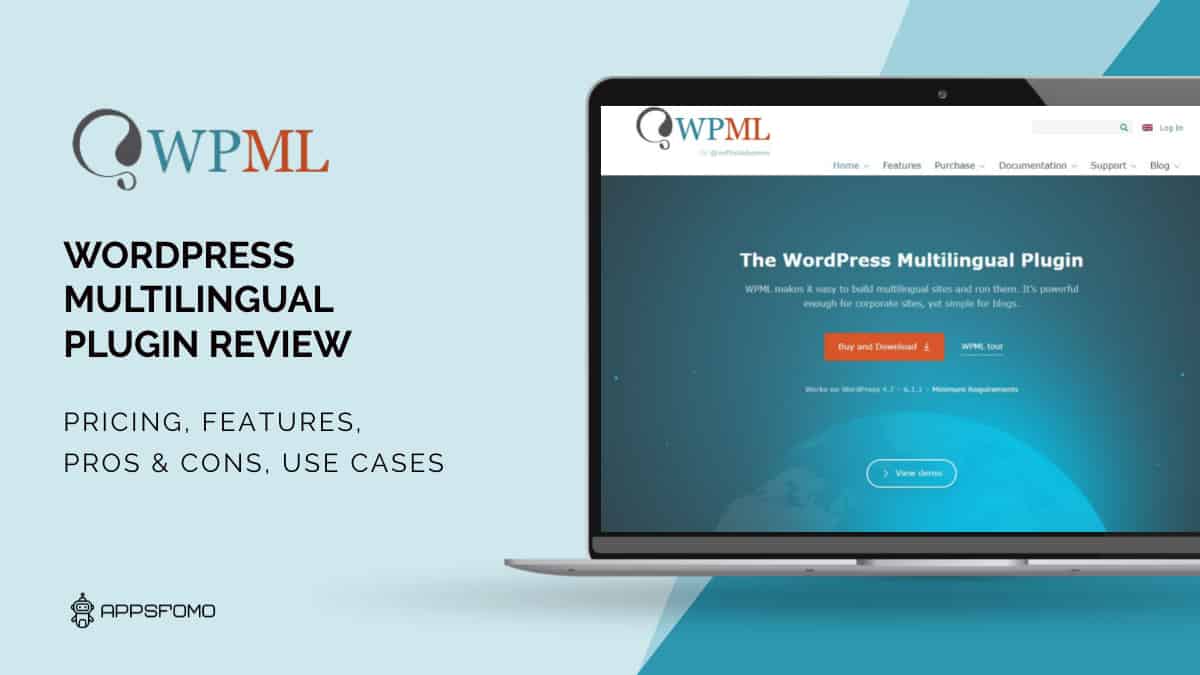 WPML: Breaking the Language Barrier in WordPress with Multilingual Website