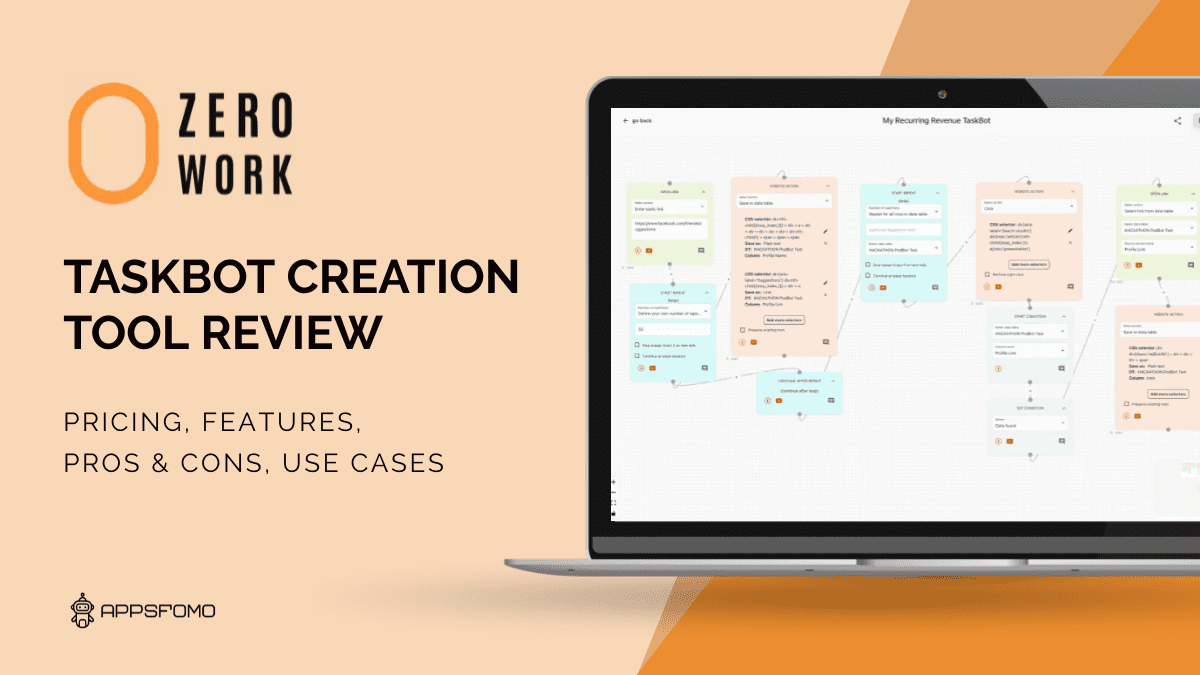 ZeroWork: No-Code Solution For Automated Web Tasks
Add to wishlist
Added to wishlist
Removed from wishlist
0
Add to compare
We all love coding and making things easier for ourselves. That's why we have coding apps today. But these apps are only limited to coding languages and programming languages. Wouldn't it be great if you could code without coding? Yeah, that too without reading a single line of code? Sounds like science fiction, but it isn't as far-fetched as it sounds. In fact, app-building tools like the Zero Work Creator app are already here to make life easier for us non-coders.
Let's get into how such an app works, its pros and cons, alternatives, and use cases that will help you decide whether to use it or not.
What Is ZeroWork Creator App?
Overview
The ZeroWork Creator App is a free trial app that allows you to build TaskBots with no code. This means that you can easily create bots for social media automation, email automation, and more with no coding skills required. With the Creator app, you can create maps and perform spatial analyses, send direct messages on Instagram using the bot, and much more. You can even use it to generate leads on social media without any coding skills required.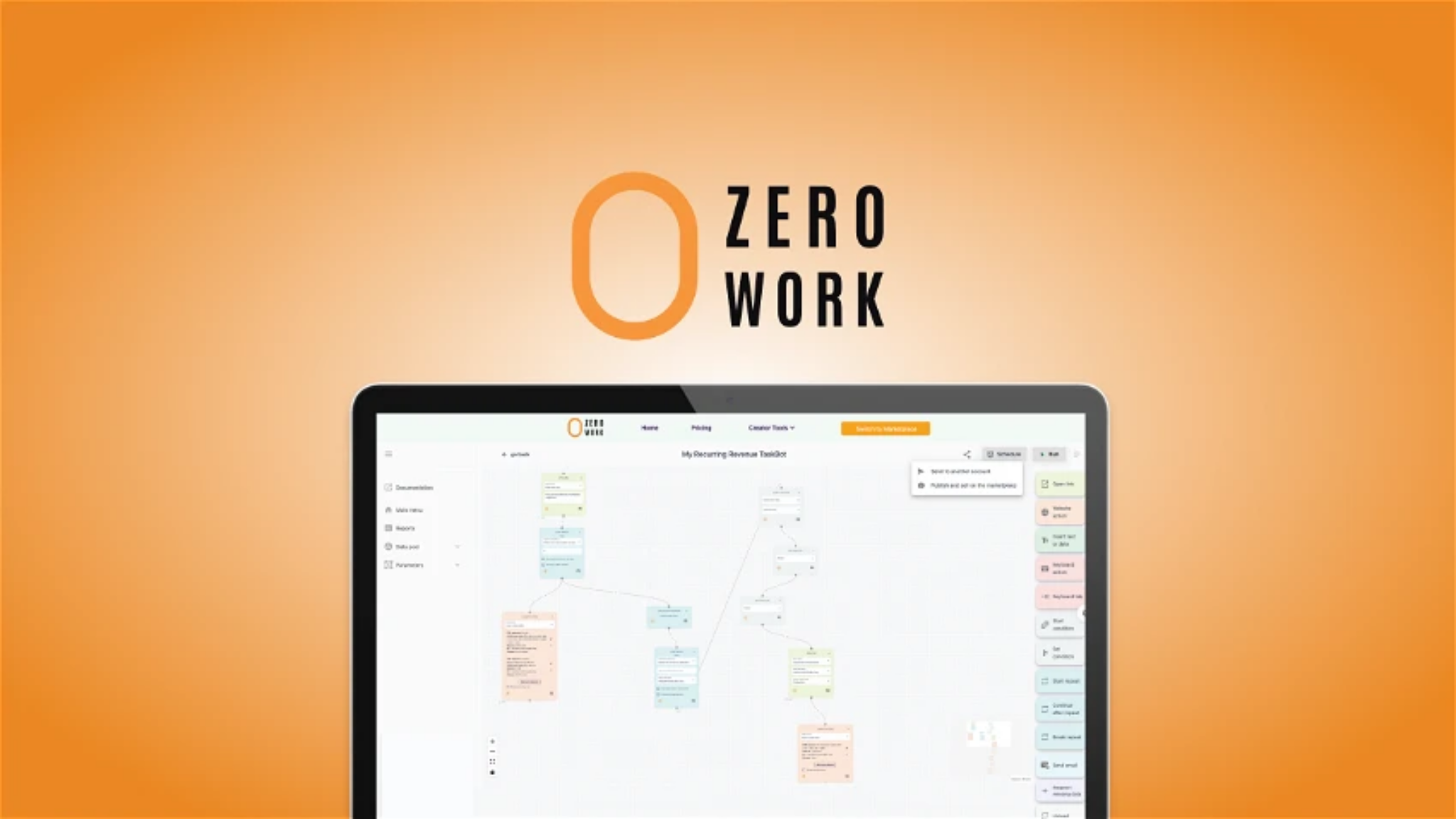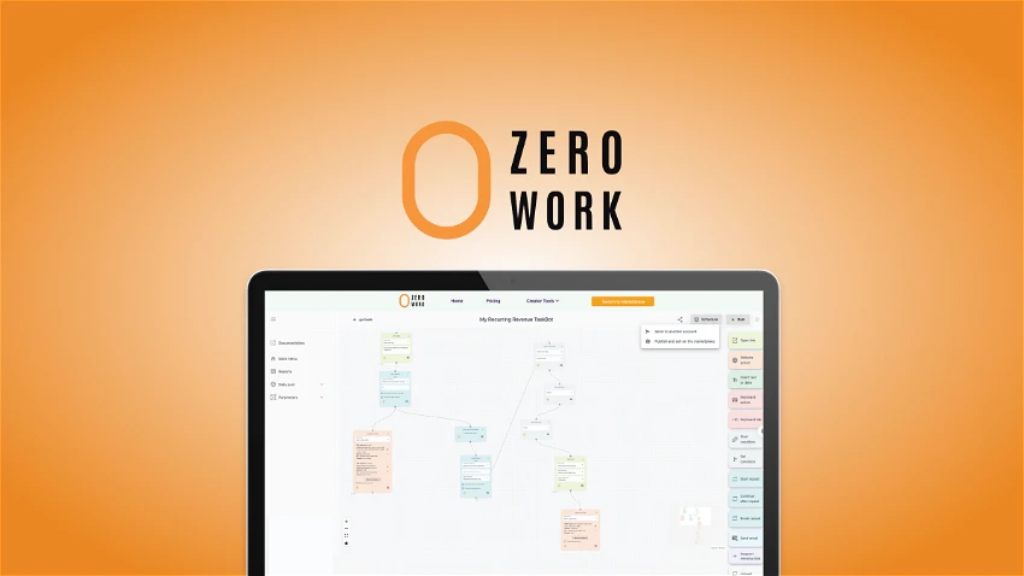 The new way to safely and securely generate leads on any social media platform on auto-pilot with a Taskbot is possible with the Creator app.
Build your own SaaS business, earn recurring revenue, and help your users save money and time when they subscribe to your ZeroWork TaskBot.
Subscribers to TaskBots cannot see any of the building blocks in valuable workflows, ensuring that valuable workflows are protected from unauthorized access. The app is designed for ease of use, making it easy for anyone to start automating tasks.
Company Details
Diana Rees is the CEO and Founder of Zero Work, founded in 2018.
Funded by Venture Capital-Backed.
Online Presence
How does the ZeroWork tool Work?
how can be used?
ZeroWork Creator app is a web-based platform that provides tools to create maps and perform spatial analyses. It enables users to build their own TaskBots for their own needs or publish them on the marketplace to generate recurring revenue. Through the "Send TaskBot to another account" feature, users can share their TaskBots with other users, thereby saving time and effort. Users can also keep data tables and parameters private and secure using the app's advanced features.
Creator App to build TaskBot
The ZeroWork Creator app allows users to create TaskBots using no coding and conditional logic. The ZeroWork Creator app is dedicated to creators who want to automate lead generation, engagement, and connections on social media channels that initiate the relationship-building processes.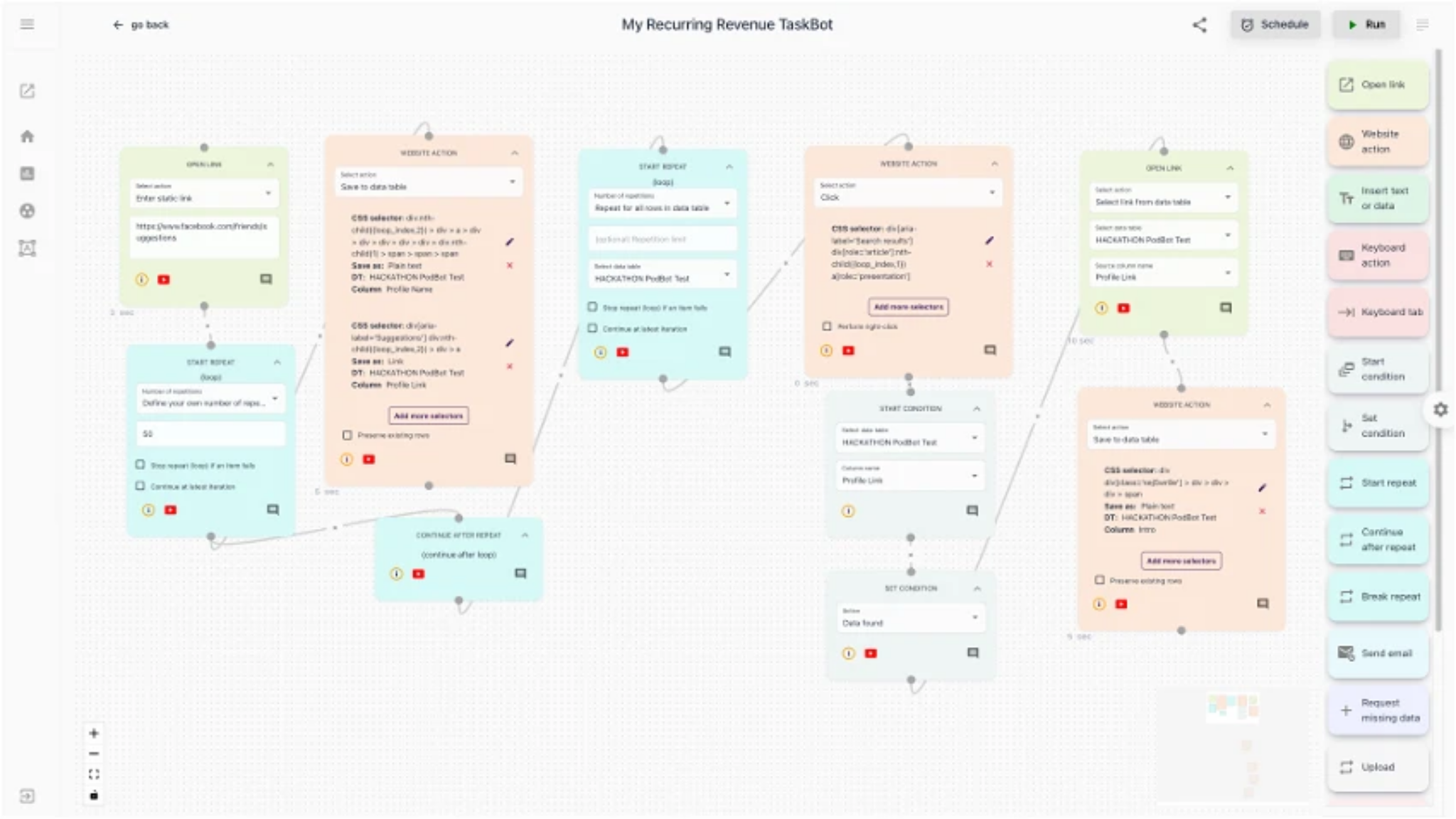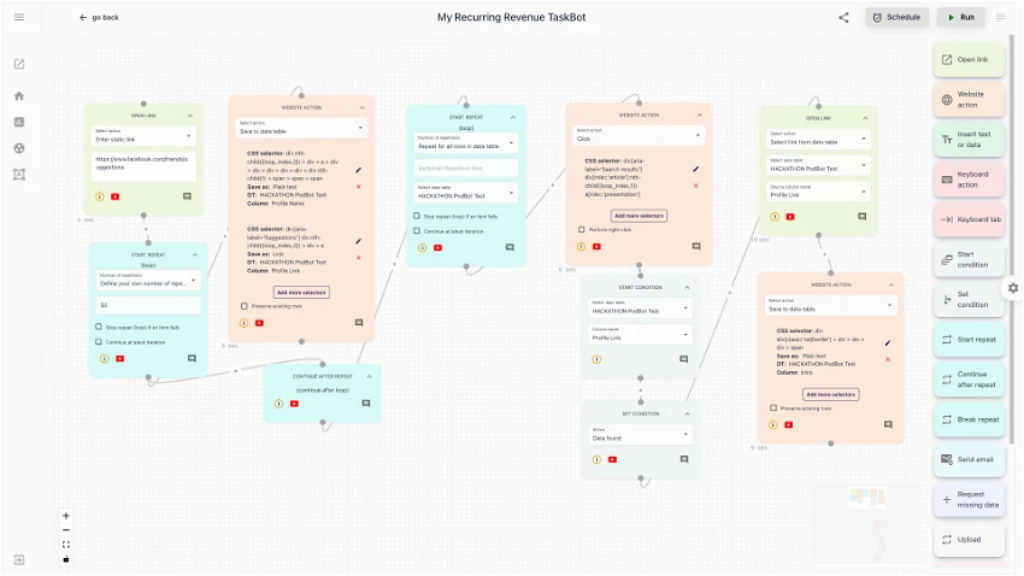 Once a Task Bot is published, the building blocks are kept private to ensure privacy for the creator. Users can access ZeroWork Agent to enable Task Bot publishing and further build their TaskBot. The creator app also offers resources such as documentation, a Facebook group, and a Discord channel to help creators build their task bots.
Sell TasKBot in the ZeroWork marketplace
Zero Work Creator app allows users to create TaskBots and publish them in the ZeroWork marketplace to start earning recurring monthly revenue from subscribers.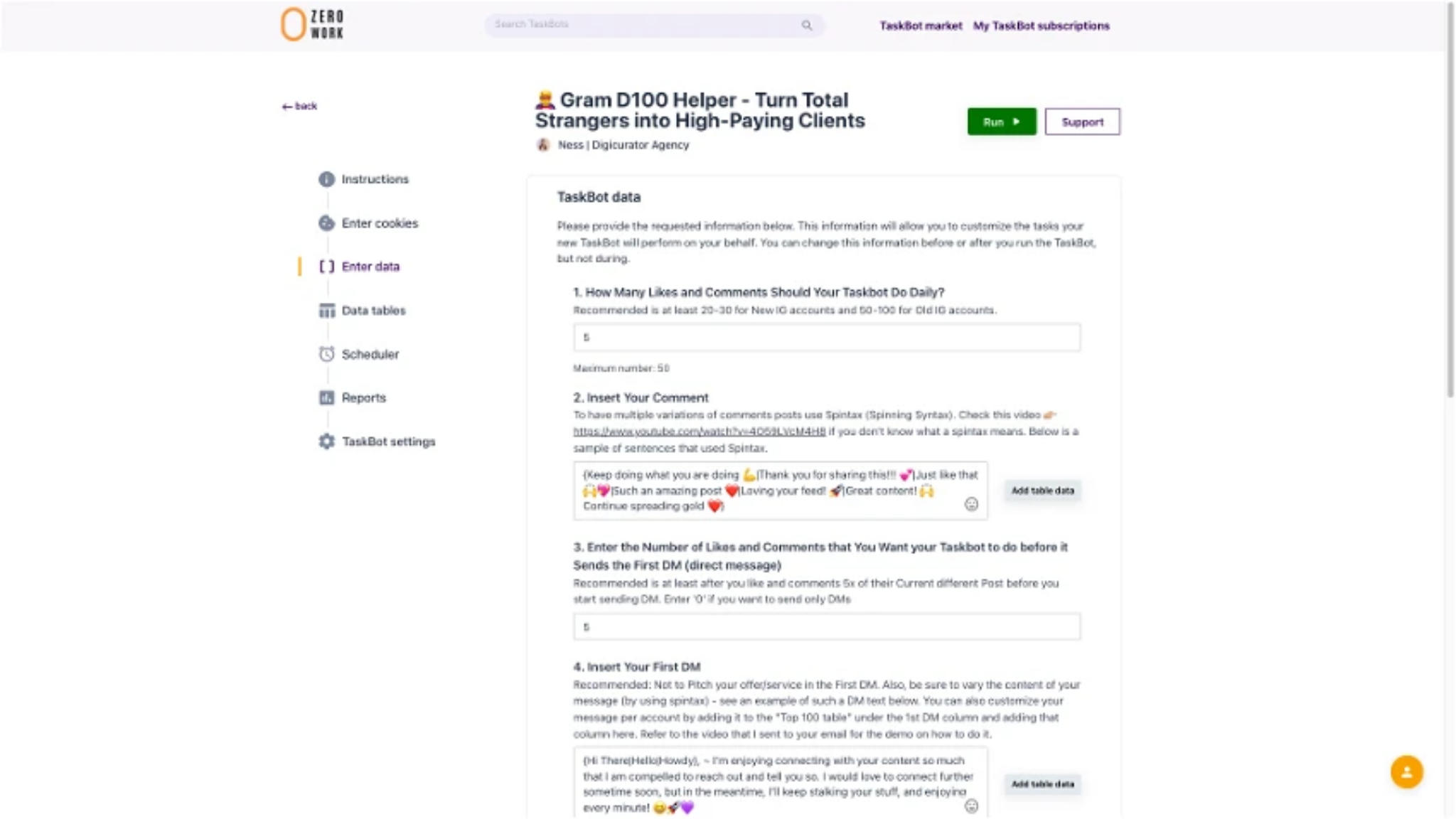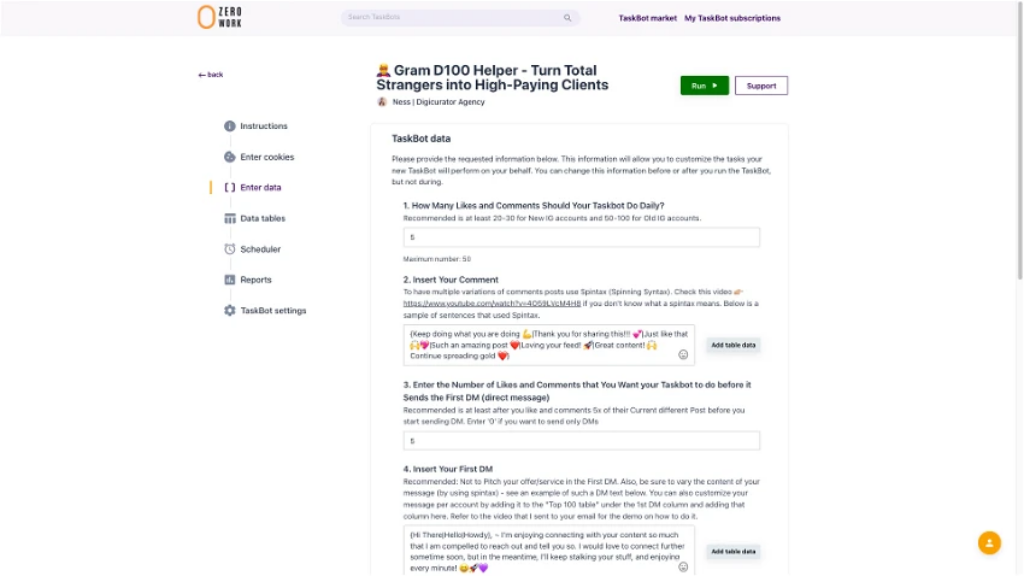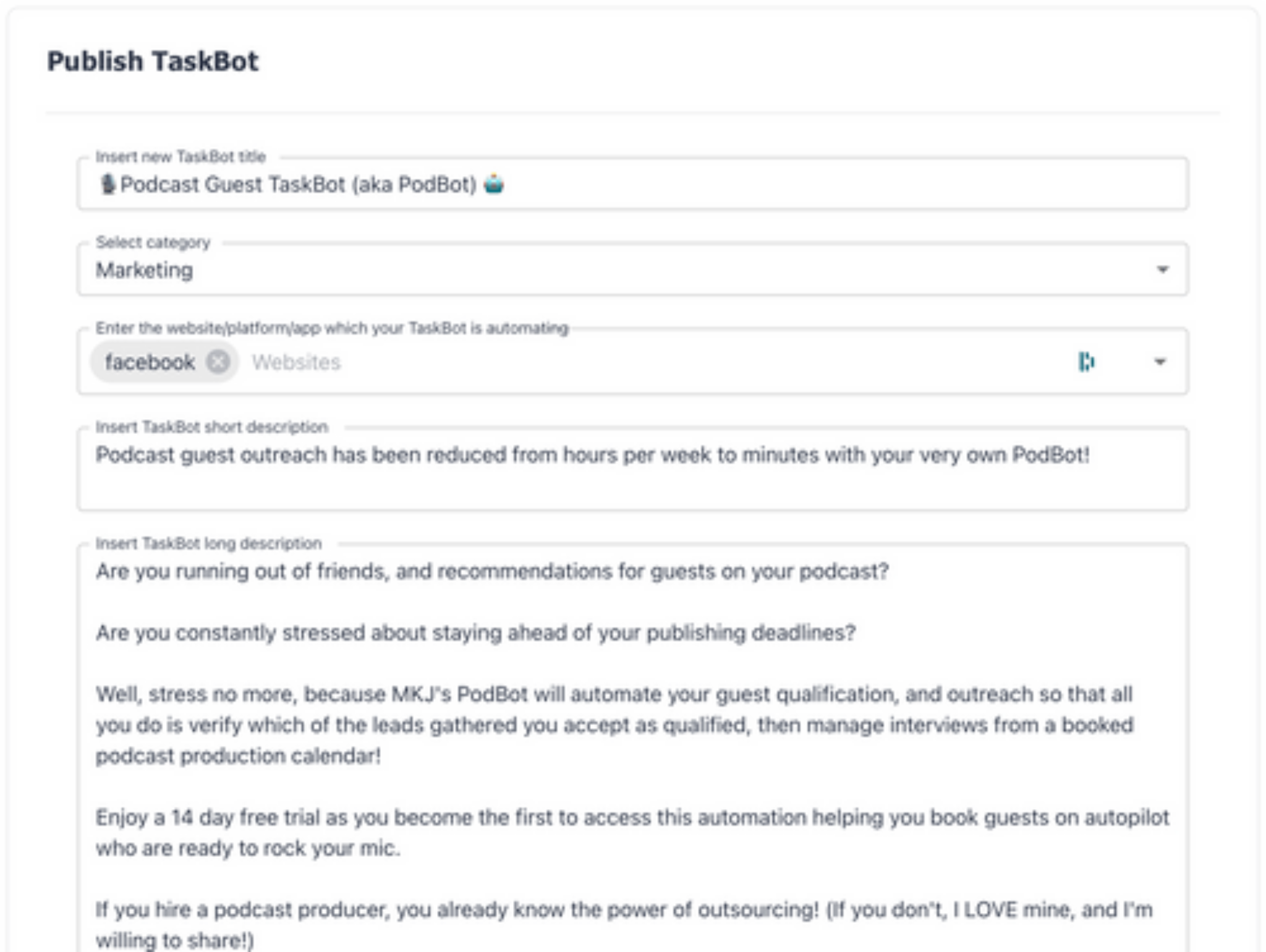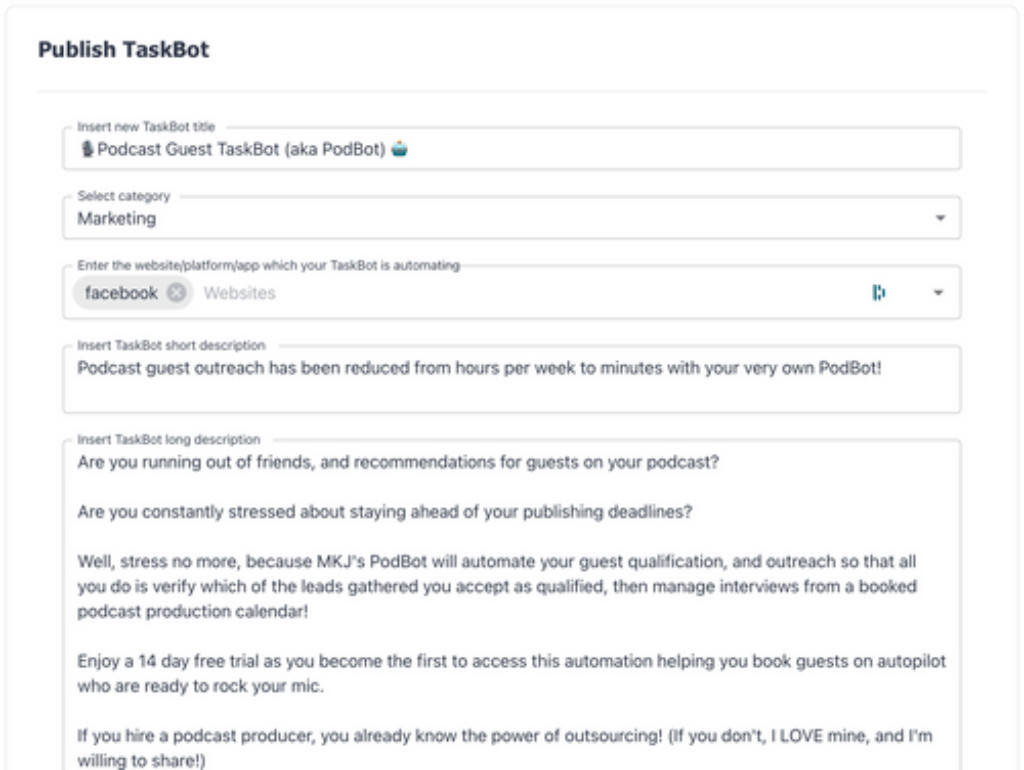 The app has a free trial of up to five free minutes of task automation for creating, testing, and approving new TaskBots.
To build and test your TaskBot, you will need to sign up for a free trial of the ZeroWork Creator app. This app allows you to automate tasks from within the ZeroWork portal and store data securely in the cloud.
Besides, it also requires you to abide by the required features, demonstration video requirements, general requirements, and approval process to keep your TaskBot on the marketplace. Overall, the Zero Work Creator app is a handy tool for creating automated workflows and automating tasks for professional and personal use.
What Kind of No-Code TaskBot Can You Create and Sell?
different scenarios
Any Taskbots that utilize websites may be built. Just check out what's available on the TaskBot market. For example, Create a TaskBot to save LinkedIn search results to a CRM. Create a TaskBot that sends DMs on Instagram.
Create Taskbot to Auto-Collect & Qualify Leads
Create Taskbot to Auto-Like, Comment & Follow
Create Taskbot to Auto-Connect & DM
ZeroWork Key Features
properties
Easy-to-use interface
The app is designed with a user-friendly interface that makes it easy to create, test, and deploy TaskBots.
Customizable TaskBots
Users can create TaskBots that cater to their specific needs and requirements, allowing them to automate tasks in a way that suits their work style.
Marketplace integration
Users can easily sell their TaskBots in the ZeroWork marketplace, where other users can purchase them for their own use.
ZeroWork Creator App connects you to a world of possibilities – including a marketplace where you can make money by selling your TaskBots to others. With ZeroWork Creator App, you'll be able to automate tasks within your social media platforms, like Facebook, Twitter, and Instagram – efficiently and with success!
Automated task execution
TaskBots can be programmed to run automatically, freeing up time for users to focus on more important tasks.
In the ZeroWork Creator App, you can schedule task bots and use spintax to vary social media text inputs. Task bots can take care of menial tasks around the clock, so you no longer need to hire or train a virtual assistant. You can use spintax to diversify text inputs made by task bots, keeping your social media accounts safe.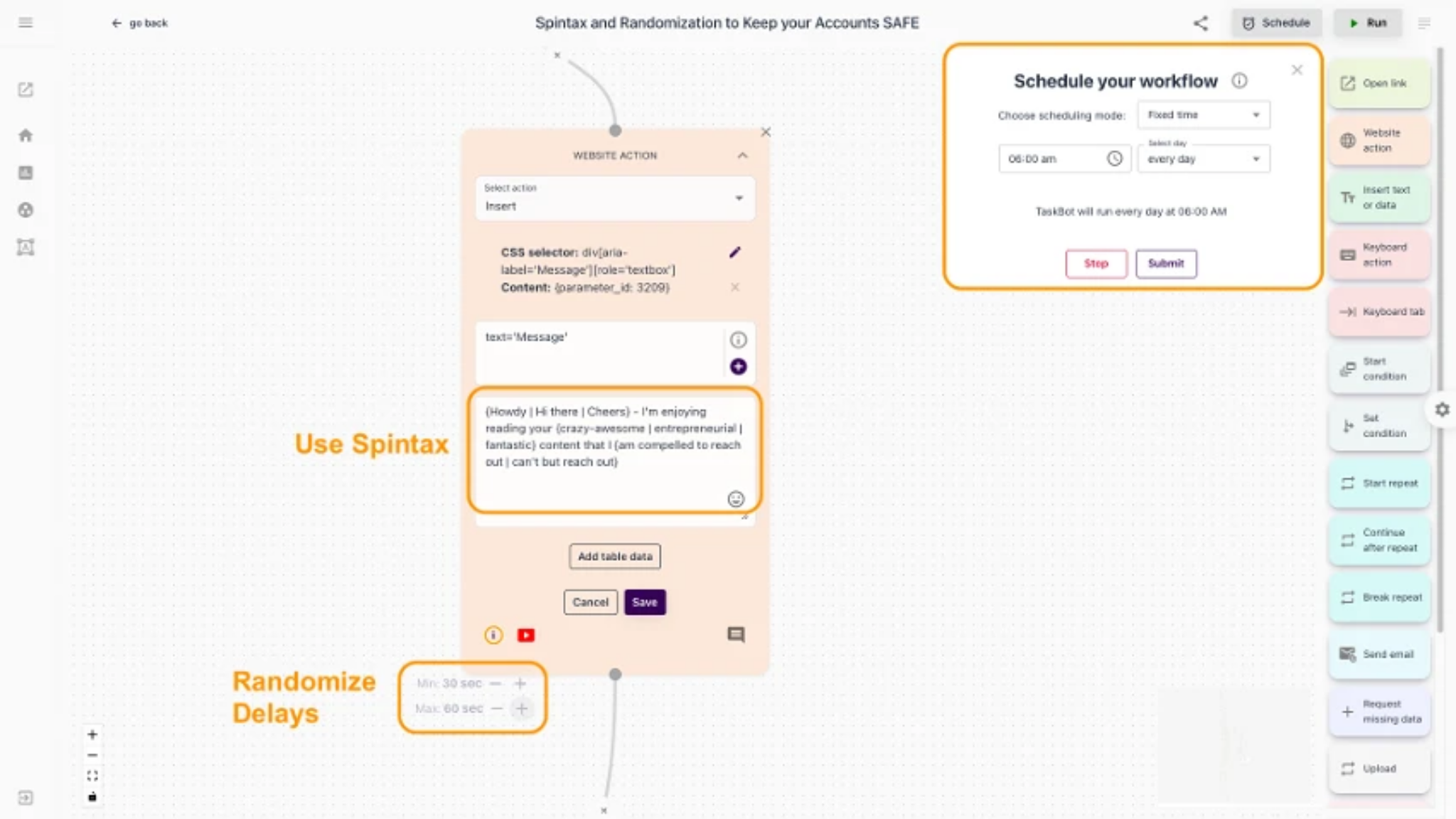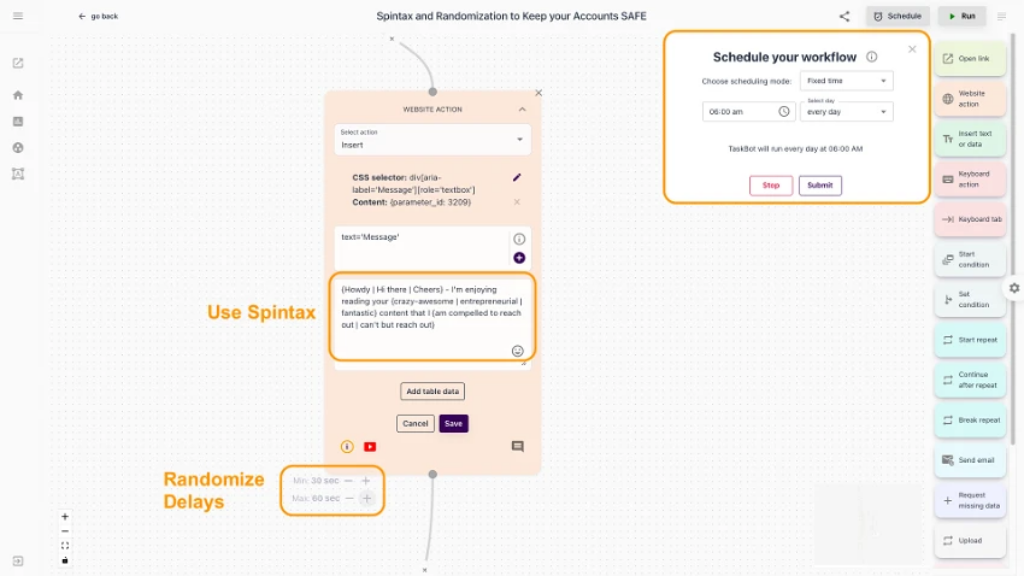 Robust security
The app uses cutting-edge security measures to ensure that users' data and TaskBots are protected at all times.
Analytics and Reporting
Users can track their TaskBot's performance with real-time analytics and reports, helping them to optimize their automation processes.
Events on LinkedIn are a great way to target specific audiences, and SalesRobot makes it easy to manage event campaigns. You can build up a few sequences, and Salesrobot will deliver your message to event participants on your behalf. This way, you're sure to have enough people at your event.
Why Choose ZeroWork?
Benefits and Applications
The ZeroWork Creator App allows users to build their own TaskBots with no coding required. These TaskBobs can be used to create maps, perform spatial analyses, and share results with stakeholders.
Users can even create TaskBobs that send direct messages on Instagram or add items to Amazon shopping lists. To get started, users just need to select a template and customize the bot's features and functionality.
With ZeroWork Creator App, you can automate repetitive tasks with logic-based workflows that mimic human actions.
TaskBots can automate searching, typing, clicking buttons, collecting data, and performing basic site actions.
"You'll be able to gather feedback from users, iterate the product, and automatically push out new updates with the click of a button."
Users have sole ownership over their data, as well as the actions they perform with your solution.
Pricing Plans
monthly pricing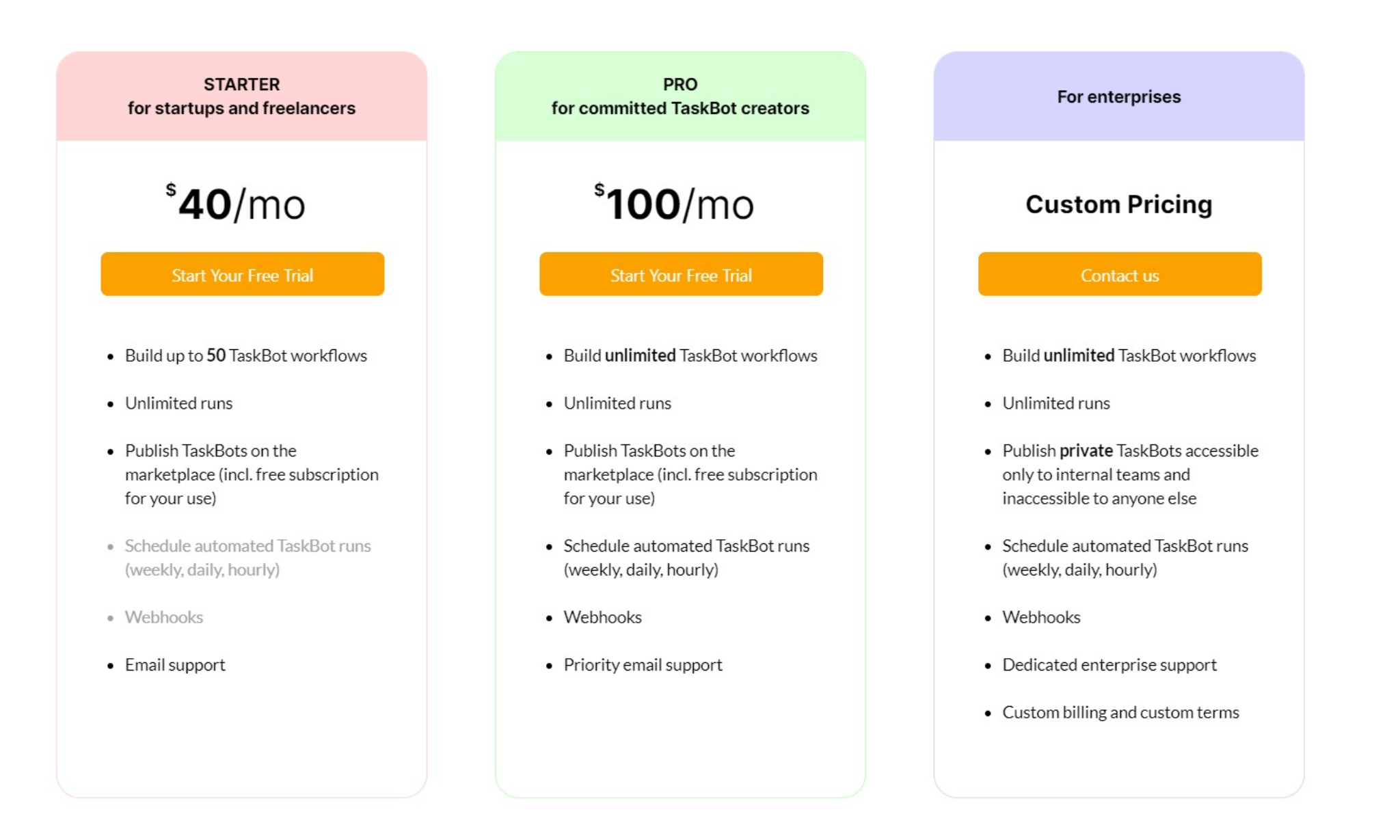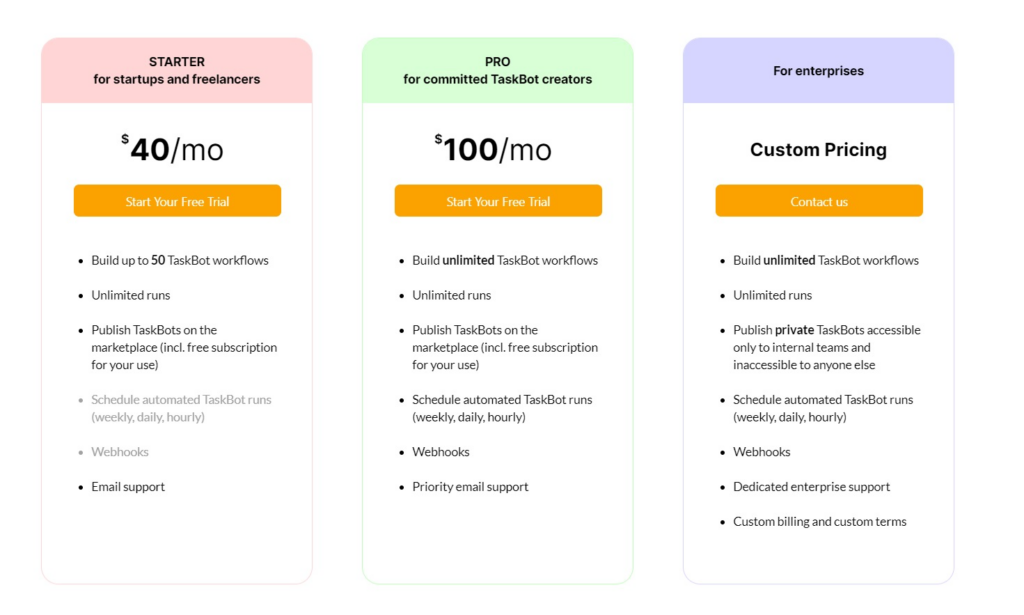 Support
Technical Support, Knowledge Base, Roadmaps, Changelogs
Email and Ticketing support
Documentation support
Offers Facebook Group and Discord channel
Offers public roadmap and changelog
Alternatives
Similar Apps
PhantomBuster is a technology company that offers data scraping and automation tools for all major websites and social media networks.
The no-code platform helps developers utilize drag-and-drop elements and create and connect databases while building apps.
AppMaster.io is a no-code platform designed to help businesses create production-level applications with code generation: backend, web, and native mobile apps.
Final Verdict
Is ZeroWork right for You?
In conclusion, ZeroWork Creator App is a powerful tool that provides users with the ability to automate repetitive and time-consuming tasks. With its easy-to-use interface and customizable TaskBots, users can create automated tools that cater to their specific needs and requirements. By selling their TaskBots in the ZeroWork marketplace, users can earn additional income, making it a win-win situation.
Whether you're a freelancer, small business owner, or simply someone looking to increase your productivity, ZeroWork Creator App is the perfect tool for you. So why wait? Get started today and experience the power of automation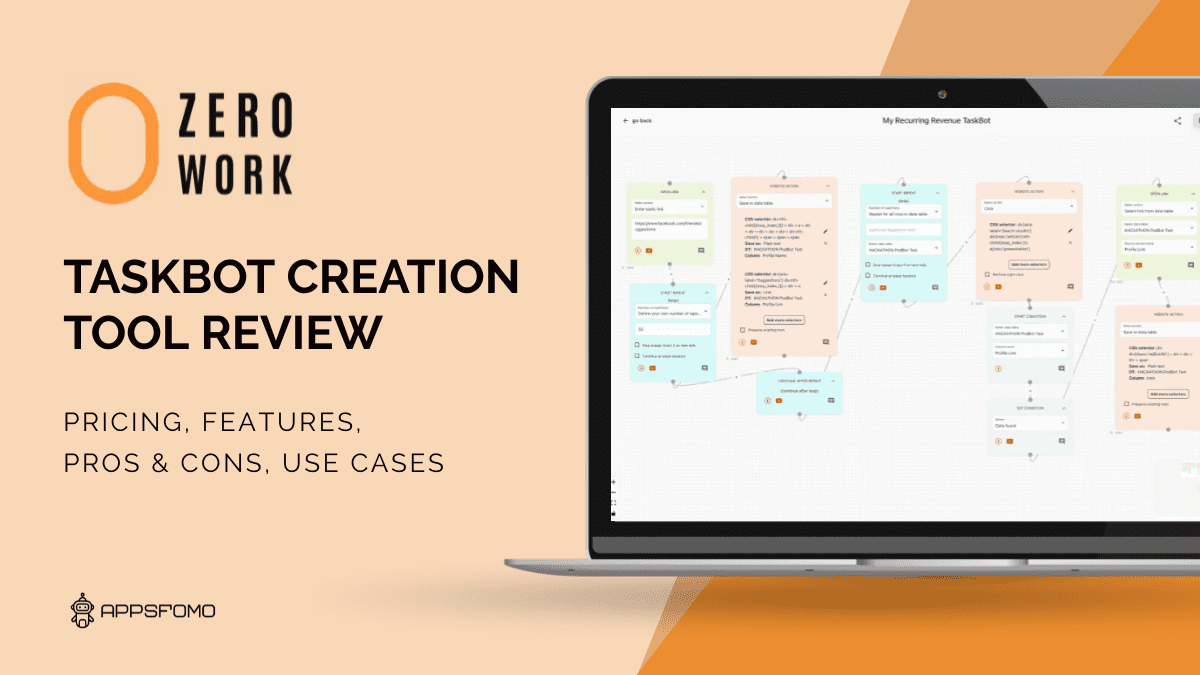 Specification:
ZeroWork: No-Code Solution For Automated Web Tasks
| | |
| --- | --- |
| Company | ZeroWork |
| Country | N/A |
| Initial Release | 2018 |
| Pricing | Montlhy |
| Free Version | Available |
| Lifetime Deal | Yes |
| LTD Platform | Appsumo |
| Money-Back | Yes |
| Support type | Email, Ticketing |
| Integrations | Yes |
| Supported Device | Browser |
| Mobile app | Not Available |
| Affiliate Program | Yes |
PROS:
Easy to get started, simple to use
Decent documentation and tutorials
UX/UI is really good
Great support system
CONS:
No pre-built Task-bot
1 User only
More work can be done in CSS selectors and visual pointers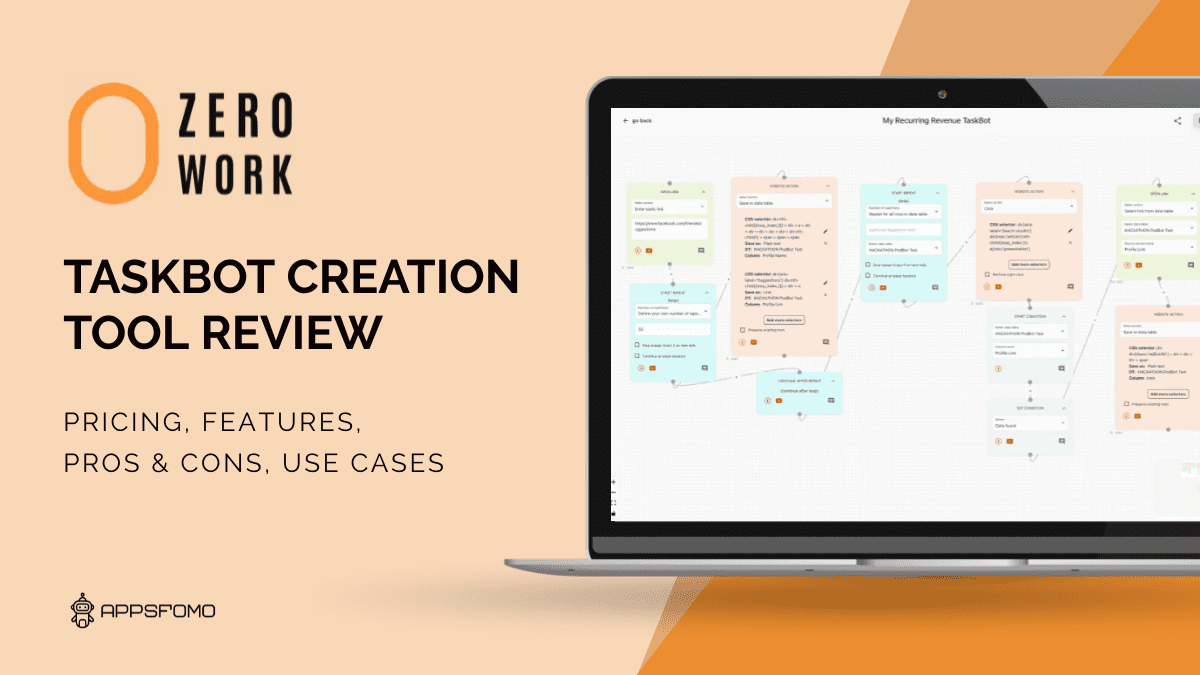 ZeroWork: No-Code Solution For Automated Web Tasks