If you're a user of Sparrow, the online feedback collection tool, you may have noticed that the website and Appsumo deal page are no longer available.
Sparrow was a startup that provided a platform for collecting user feedback. It was founded in 2019 that helped businesses make data-driven decisions by gathering customer insights. The Sparrow platform allowed users to create and distribute surveys, track responses, and analyze results.
In 2020, Sparrow launched a lifetime deal (LTD) on AppSumo, a popular online platform for tech deals. The LTD gave users access to all of Sparrow's features for a one-time payment.
However, over time, users started to notice issues with Sparrow. Links on the website stopped working, and eventually, the entire website went offline. The AppSumo archive for the LTD also disappeared, leaving many customers frustrated and confused.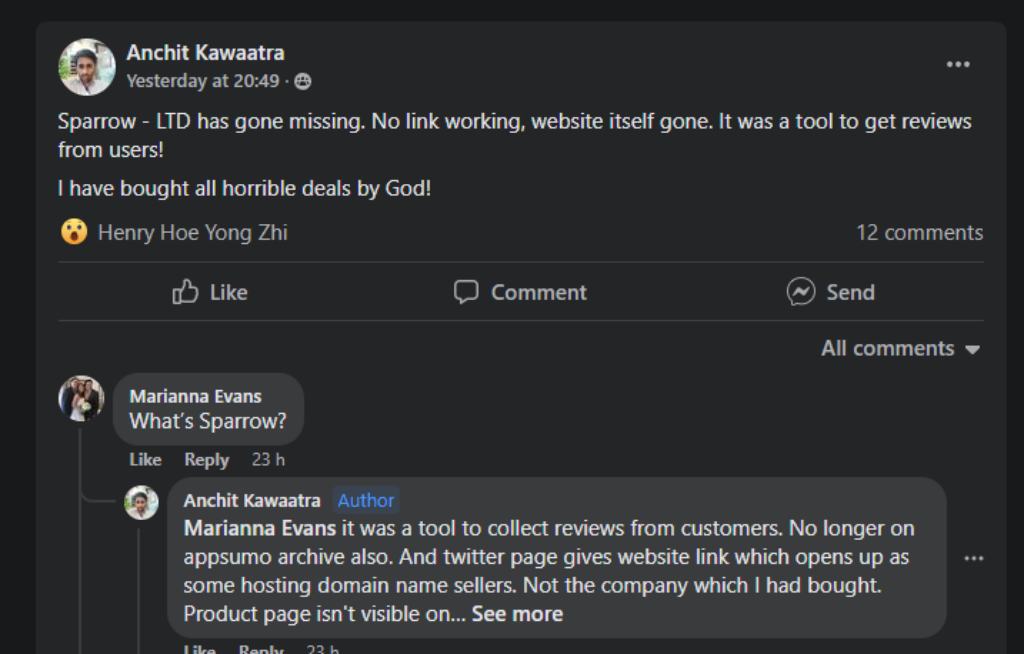 Sparrow was a popular tool for collecting feedback from customers and users, with an easy-to-use interface and a range of features to help businesses improve their products and services. However, it seems that the company behind Sparrow has shut down, with no warning or explanation to its users.
The disappearance of Sparrow highlights the risks of investing in lifetime deals. While they can offer great value, they also come with uncertainty and the potential for loss if the company goes under or stops supporting the product. It's important for buyers to do their due diligence and assess the long-term viability of any product or company before making a purchase.