Avada Theme: Design and Build Custom Websites in WordPress
Add to wishlist
Added to wishlist
Removed from wishlist
0
Add to compare
| | |
| --- | --- |
| Review Date | Default |
| Author | Luke |
| Company Name | ThemeFusion |
| Marketplace | Themeforest |
| Free Verison | Not Available |
| Initial Release | 2012 |
| Active Installations | 100k + |
| WP.org Ratings | 5 |
| Niche | Multi-Purpose |
| Free Templates | None |
| Premuim Templates | |
| Unique Theme Features | Highly Customizable |
| Supported Page Builders | |
| One Click Demo | Yes |
| Multilang Support | |
| Pricing Options | |
| Money Back Guarantee | |
| Site Usage | 1 Site |
| Support System | Support Ticket,Live Chat |
| Competitor | Astra,Divi |
| Affiliate Program | No |
Avada: Website Builder. Design Anything Build Everything. Trusted by beginners, marketers & professionals; Built with usability and performance in mind.
You will get:
Drag and Drop Editor
90+ professionally designed websites
Feature-packed demo importer
SEO friendly
Translation and RTL Ready
Avada Theme Appsfomo Review
Avada Theme is a dynamic and flexible WordPress theme packed with unlimited features.
PROS
Drag and Drop Editor
90+ professionally designed websites
Feature-packed demo importer
SEO friendly
Translation and RTL Ready
CONS
Leaves Shortcodes If Deactivated
Can Be Bloated, Has Many Extra Plugins To Function
Are you looking for a powerful theme that can help you create stunning websites with ease? Look no further than the Avada theme, the most downloaded WordPress theme on Themeforest. In this blog post, we will take an in-depth look at everything you need to know about the Avada theme.
From its history and popularity to installation and setup, options and settings to design and customization, security, and support to its target audience and user base. We will also explore the amazing features that make Avada the go-to choice for web designers looking for a versatile and intuitive platform. Whether you are a novice or an experienced developer, the Avada theme is the perfect tool to take your website to the next level. So, let's dive right in!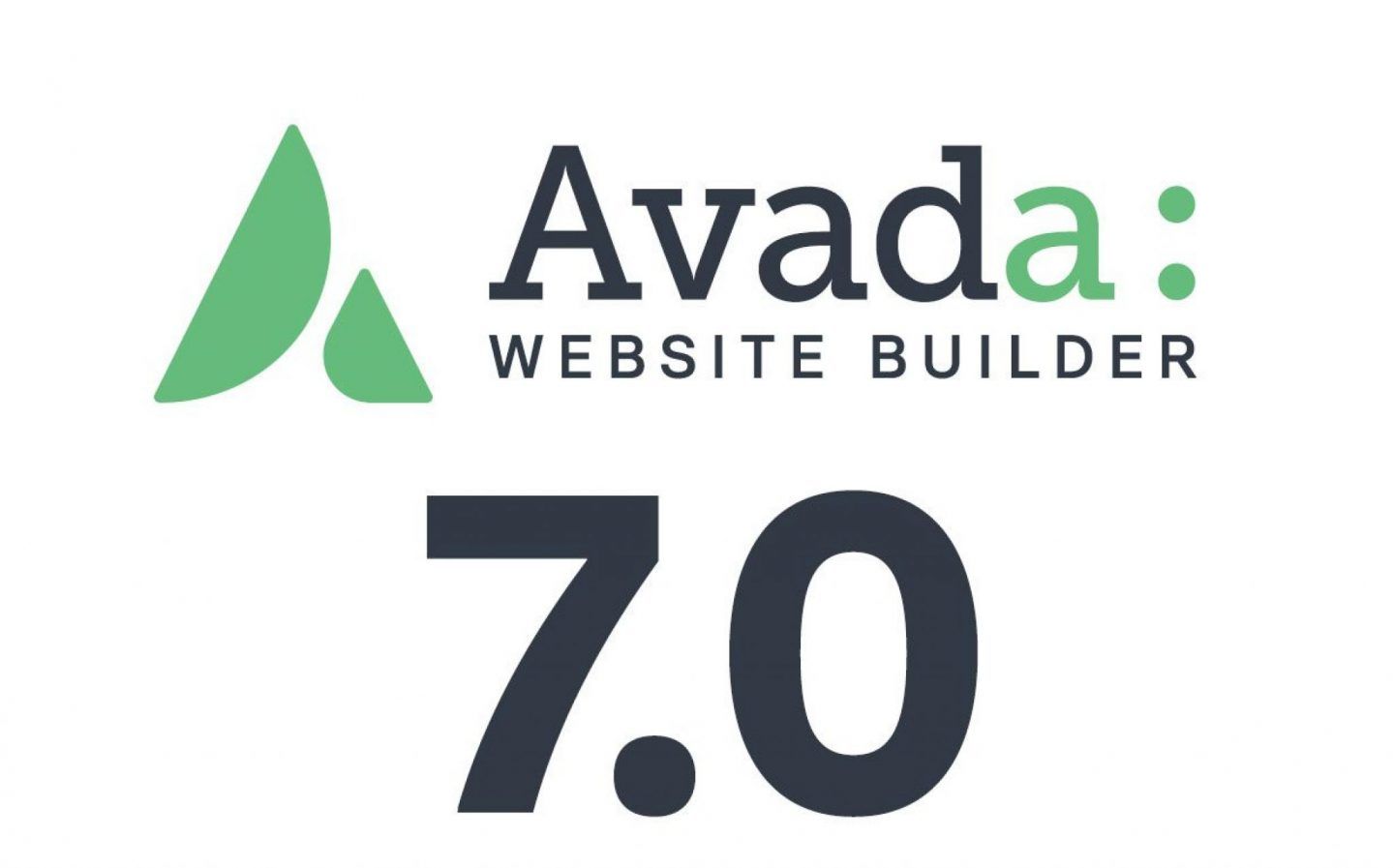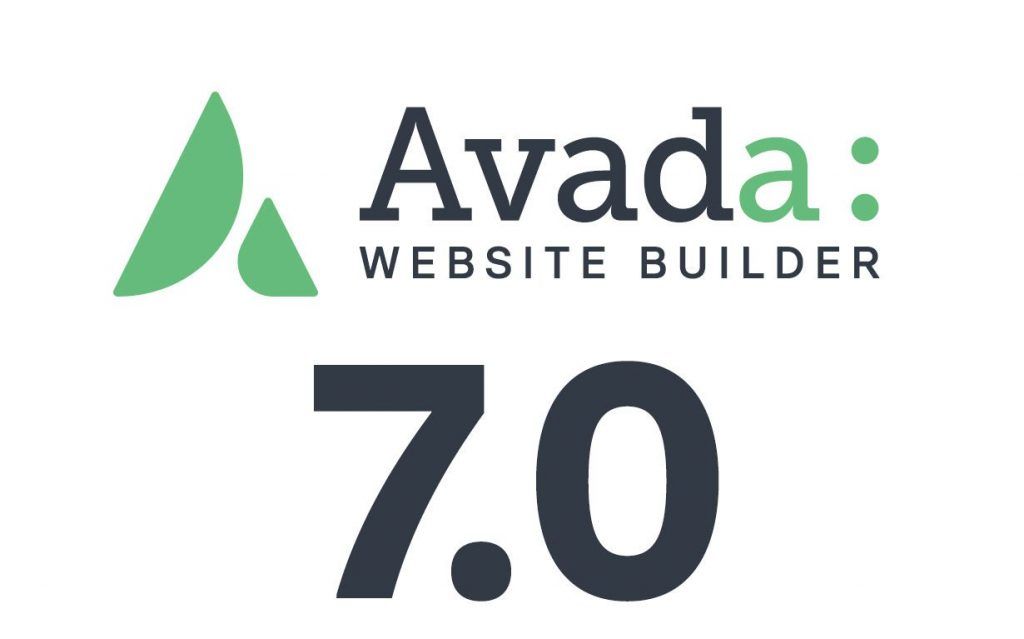 What Is Avada Theme?
Overview
Avada Theme is a versatile and highly customizable WordPress theme that has been downloaded over 700,000 times. Avada is a WordPress Website Builder trusted by 889,061 beginners, marketers & professionals and created with usability and performance in mind.
It offers a wide range of customization options to create unique and professional-looking websites, making it perfect for businesses and individuals alike. With its drag-and-drop page builder, Avada allows users to easily design pages without any coding knowledge. The theme is also SEO optimized and mobile-friendly, ensuring that your website looks great on all devices.
History and Popularity
Avada Theme was initially launched in 2012 and has since become the most downloaded WordPress theme on Themeforest, powering over 700,000 websites. Its popularity can be attributed to its user-friendly interface, customizable design options, and regular updates.
It is the product of ThemeFusion and is all about amazing design with simplistic, perfect code that creates an awesome user experience.
Avada offers pre-built website templates across various industries, which makes it easy for users to create a professional-looking website quickly. The trust of web developers and designers worldwide has made Avada Theme an industry leader when it comes to building eye-catching websites that deliver results.
Online Presence
Installation and Setup
How to get started?
Before installing Avada Theme, it's important to ensure your hosting environment meets the minimum system requirements. The theme requires PHP version 7.3 or higher, MySQL version 5.6 or higher, and WordPress version 5.0 or higher. This will help ensure compatibility with new versions of WordPress and other plugins that you may want to use in the future. To make the installation process even easier, Avada Theme offers a one-click demo importer and extensive online documentation for troubleshooting any issues during installation or setup.
Avada Theme: Installation Process
Installing the Avada theme is a straightforward process that can be completed in a few simple steps. Firstly, purchase and download the theme file from Themeforest. Next, you can either upload it directly to your WordPress site or via FTP.
After activating the theme in the WordPress dashboard, import the demo content, customize the settings, install any required plugins, and update permalinks for optimal performance.
The theme also offers extensive documentation and customer support to help you resolve any issues during installation and setup.
Avada Theme: Demo Installation
Avada Theme's demo installation option is a game-changer for users who want to create a professional-looking website in minutes. With pre-built pages and content available in various categories, such as business, blog, or e-commerce, users can select a demo that suits their requirements and customize it further.
The process of installing the demo is straightforward and easy to follow. Once installed, users have access to a wide array of customization options that can help them personalize their website without any hassle.
Key Features
Why Choose Avada?
Live Visual builder
The Live Visual Builder is one of the standout features of Avada Theme. It empowers users to take complete control over their website's design without any coding knowledge. The builder provides an intuitive workflow that allows users to create any design style they desire, making it perfect for both beginners and advanced users alike.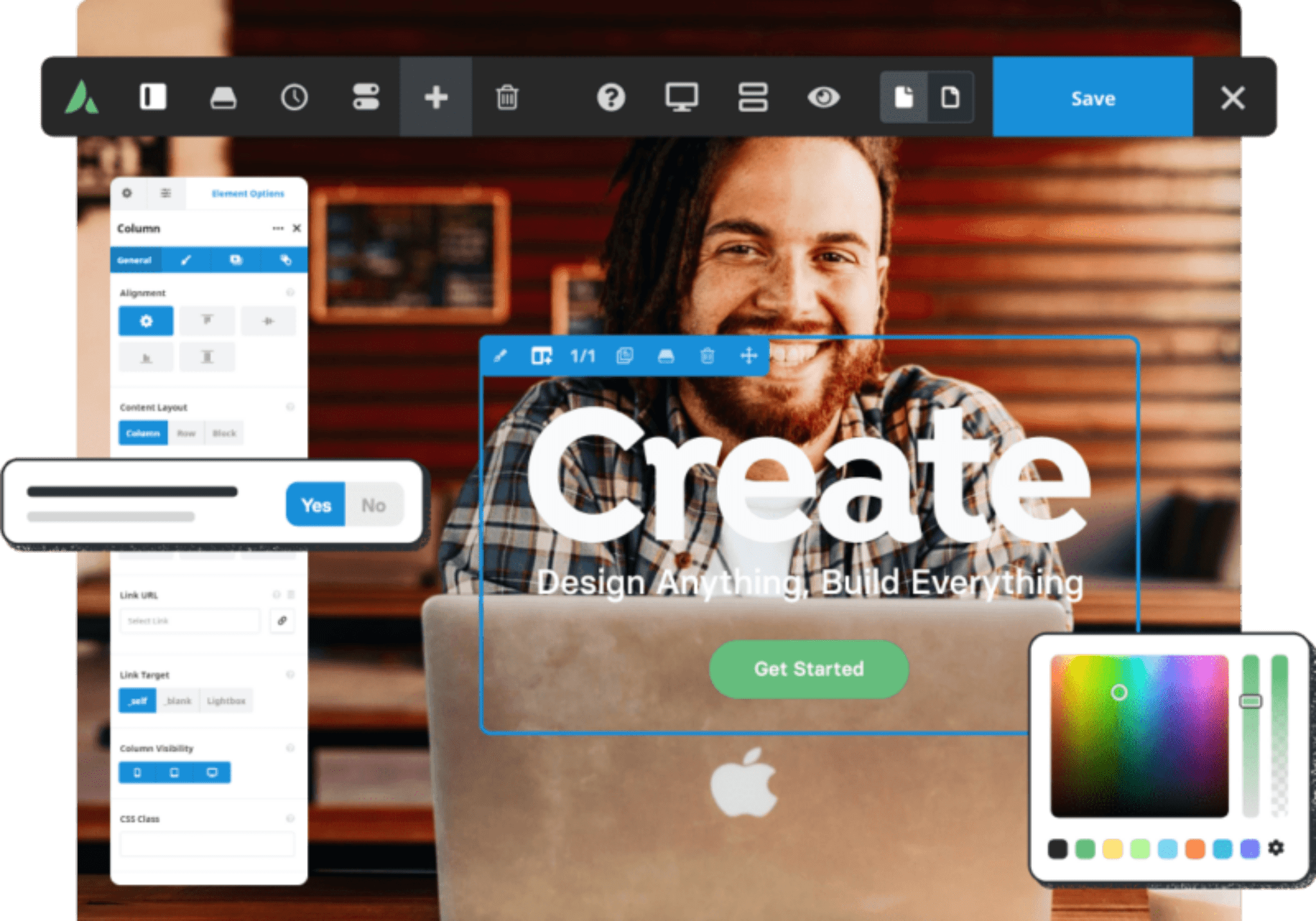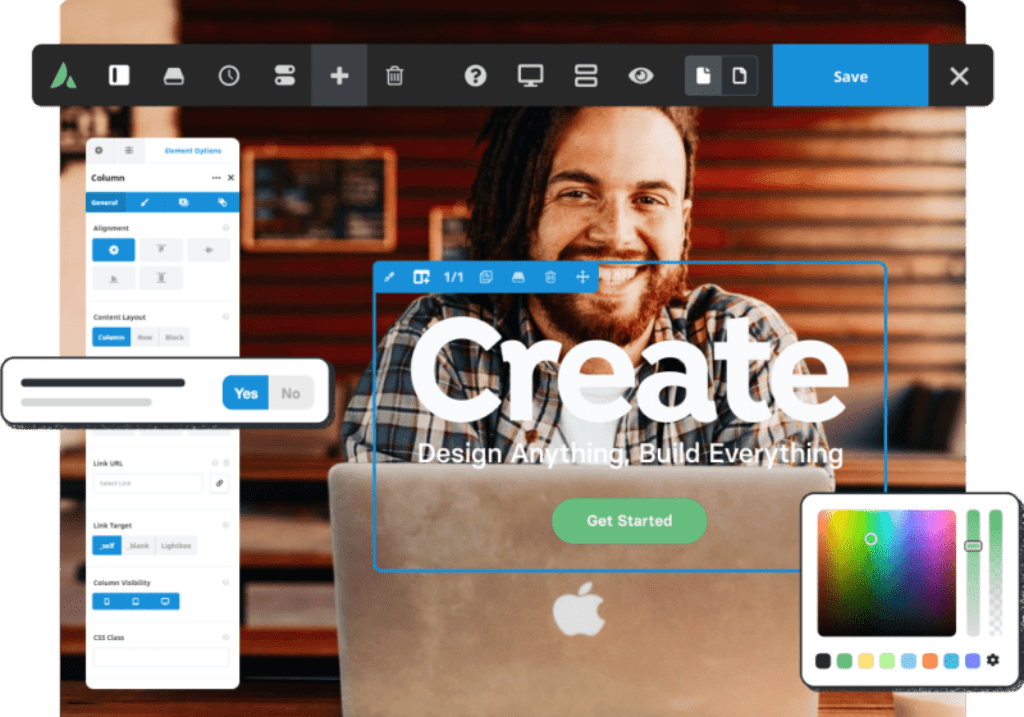 With 120+ design and layout elements, customization options are seemingly endless, and its mobile-friendly and responsive design ensures that the website looks great on all devices. Overall, the Live Visual Builder is an excellent tool for anyone looking to create a unique and professional-looking website quickly and easily.
Layout Builder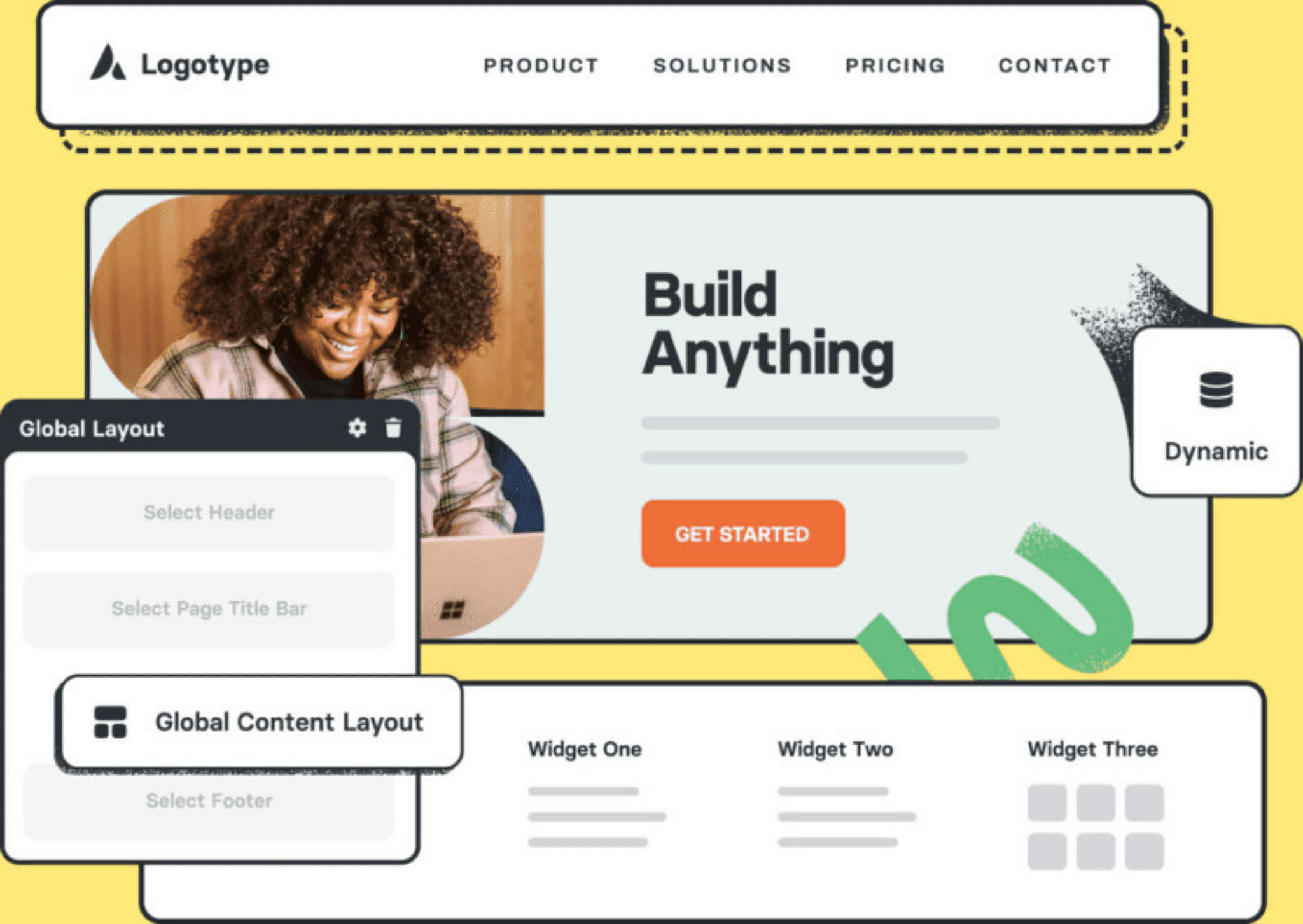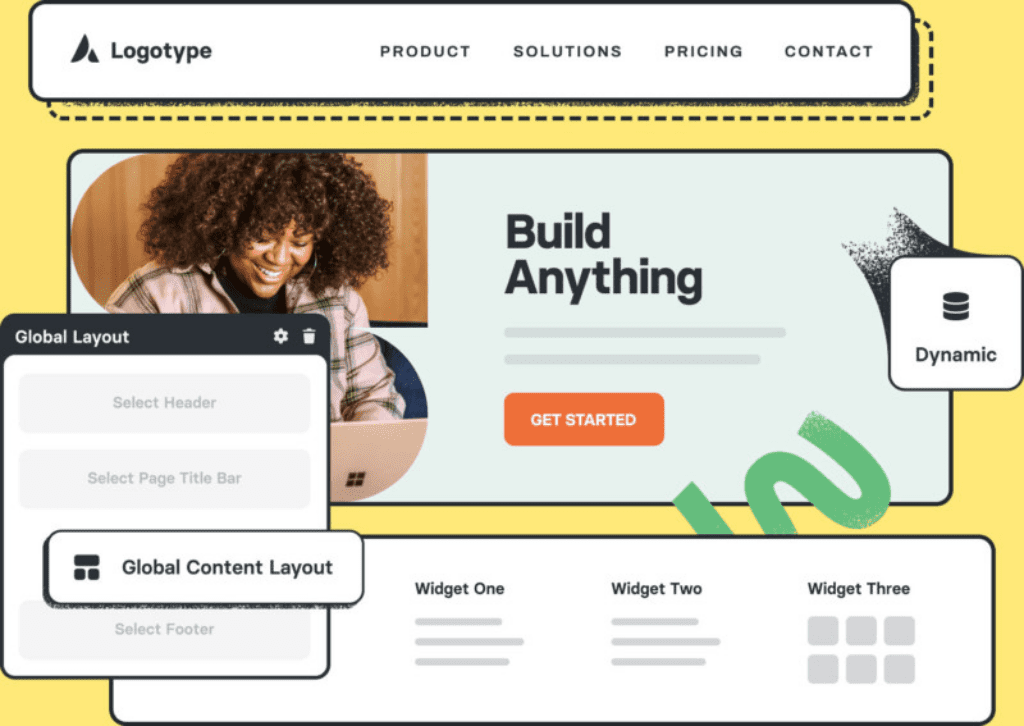 Building custom layouts with Avada Theme is made easy with its intuitive workflow tools. Design anything and build everything! The power of Layouts, Layout Sections, Conditional Logic, and Avada's massive range of design elements allows for complete design control over website styling, layouts, and management.
With the sky as the limit, Avada empowers users to create a unique website that stands out from the competition. Plus, the header builder, footer builder, mega menu builder, WooCommerce builder, off-canvas builder, form builder, and setup wizard make building custom layouts a breeze.
Header builder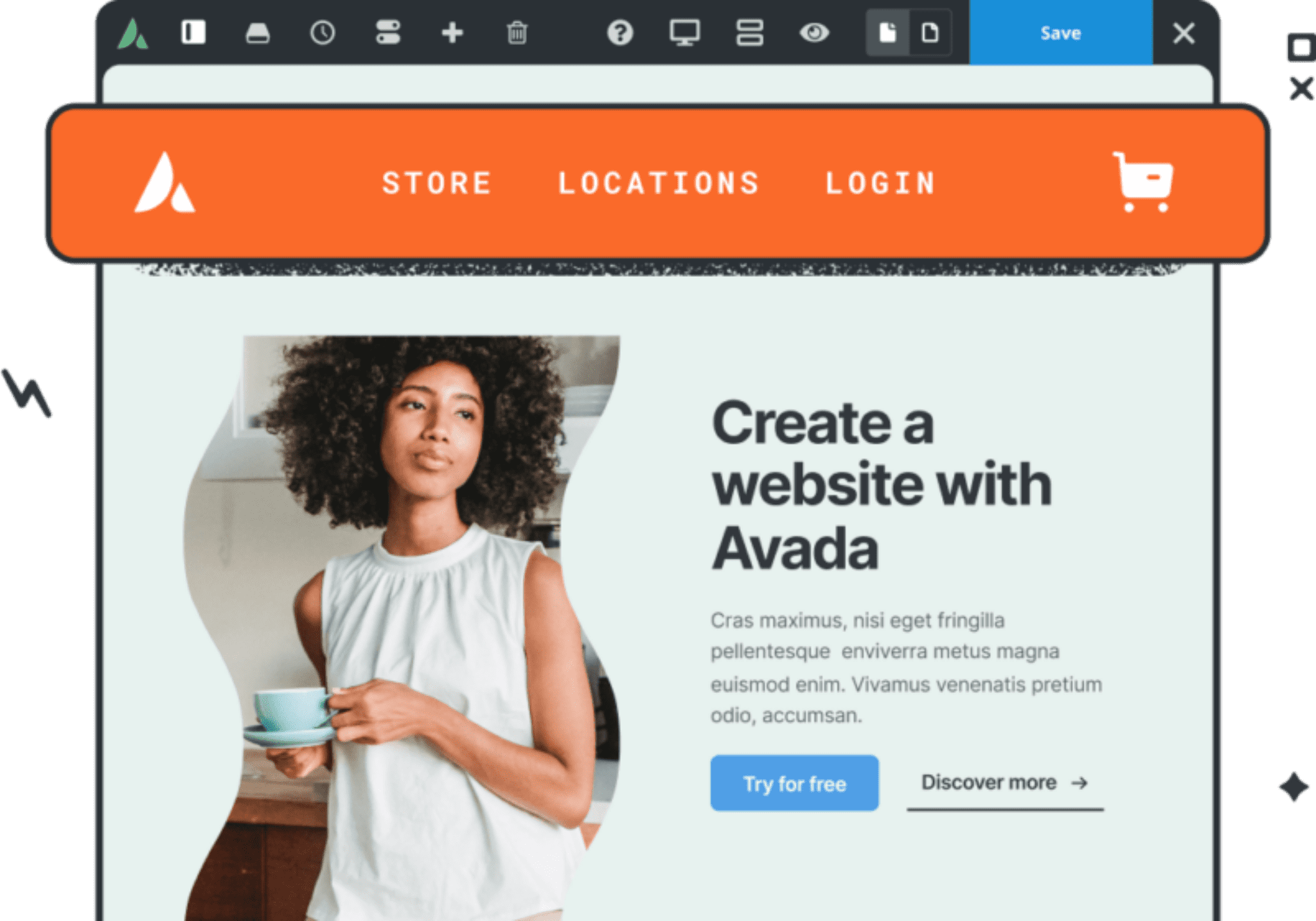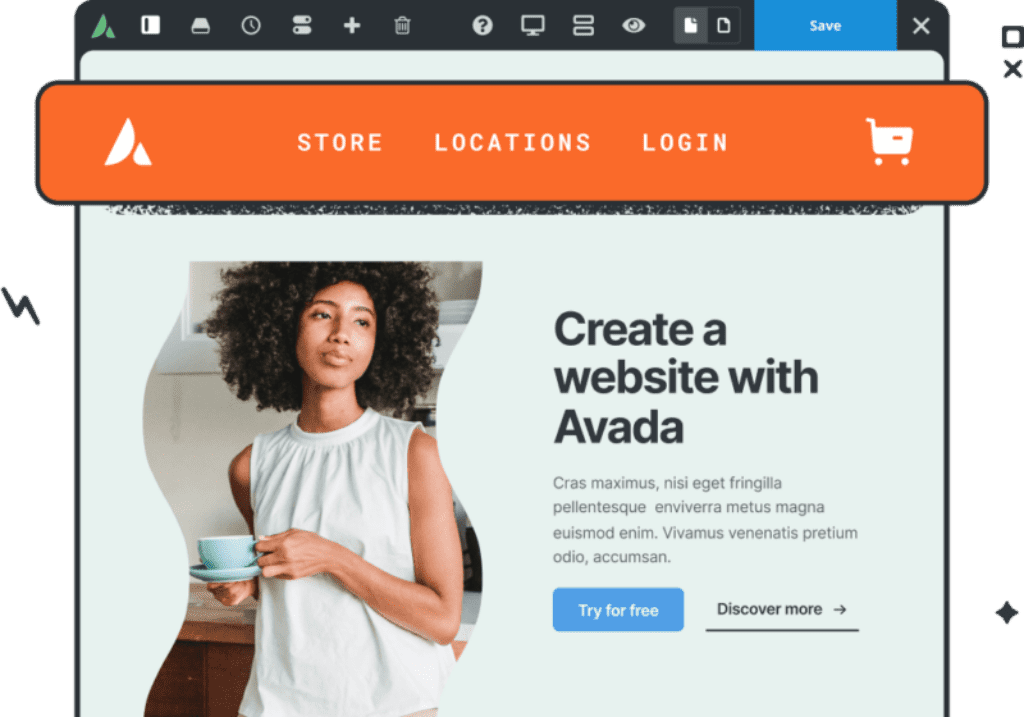 This intuitive tool allows you to customize your headers with ease using a drag-and-drop interface. With the ability to structure and organize columns, you can create the ideal header or design multiple unique headers to suit specific pages.
Plus, importing pre-built headers from Avada Studio only takes a click, saving valuable time that could be focused on other tasks. Take advantage of this powerful tool and create stunning website headers that will elevate your brand image above the competition.
Footer builder
A well-designed footer can make all the difference to a website, providing valuable information and enhancing user experience. With Avada Theme's Footer Builder, creating the perfect footer design is easy. Choose from an array of styling and layout options to create a footer that suits your needs perfectly.
Additionally, the ability to import pre-built designs with a single click saves time and effort, making it simple to deploy multiple unique footers on a single website or even individual pages.
Mega Menu builder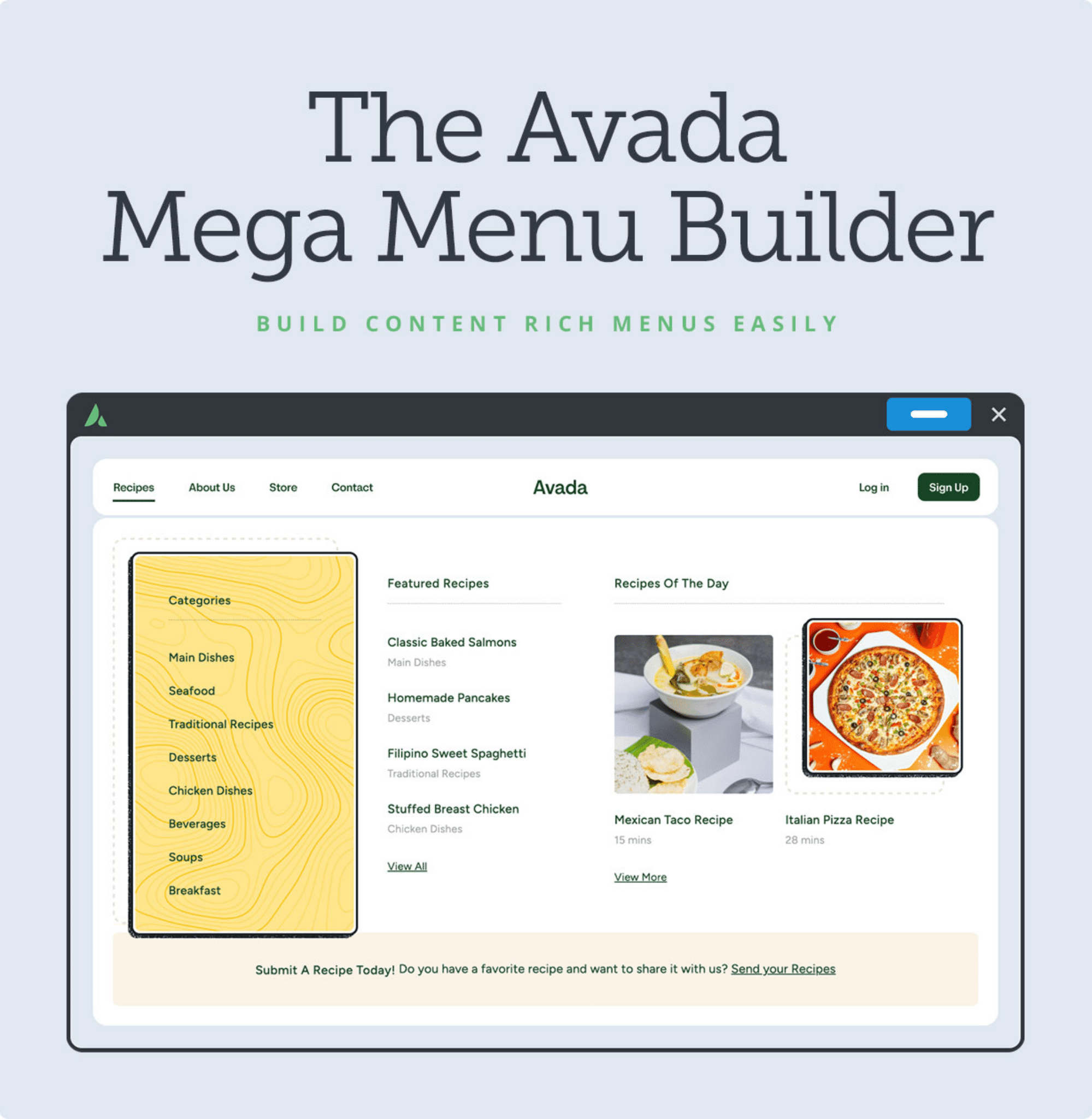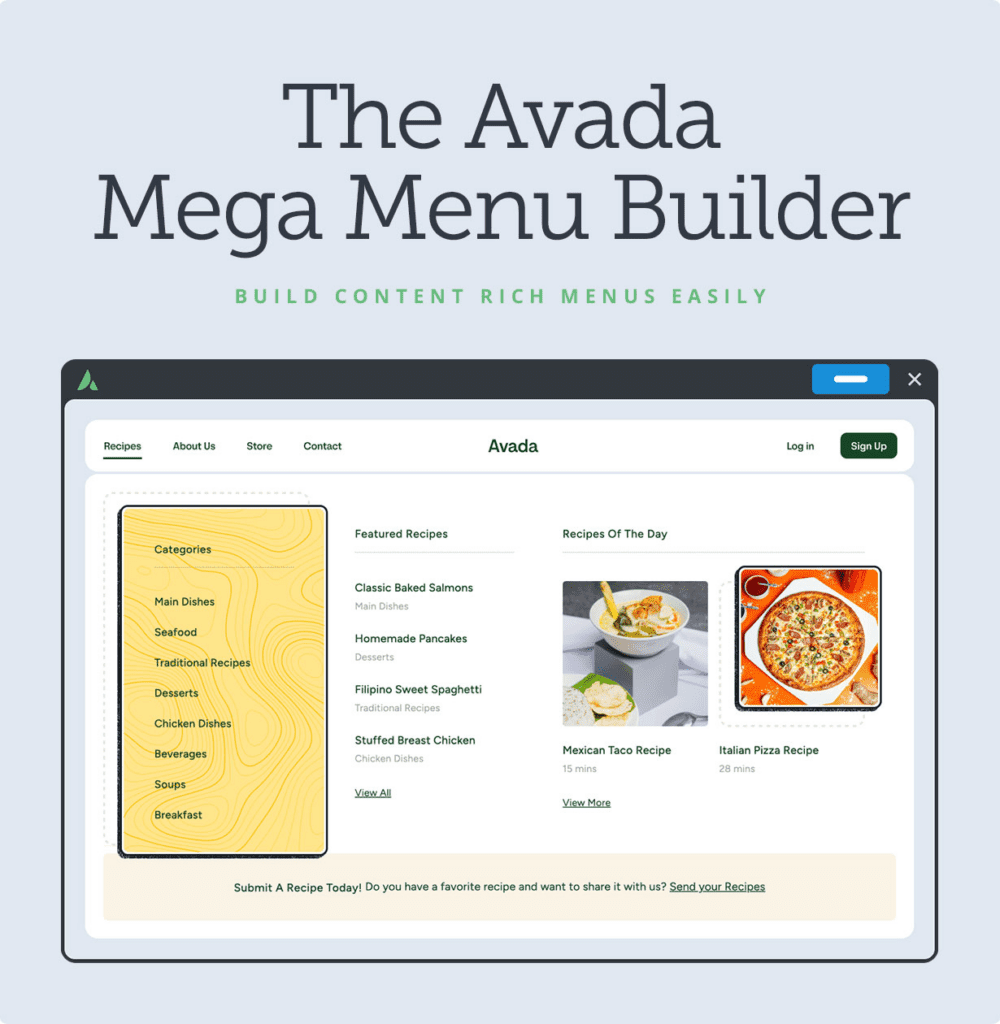 Creating a user-friendly and easy-to-navigate menu is crucial for any website. This is where the Avada Mega Menu builder comes in, providing an expanded, mobile-friendly dropdown menu that can display multiple levels of navigation.
With a wide array of tools and features at your fingertips, designing the perfect Avada Mega Menu has never been easier. Both horizontal and vertical menus display flawlessly across all mobile devices, ensuring that your visitors have a smooth and intuitive navigation experience. Make it easier for your users to access your content with the power of Avada's Mega Menu builder.
woocommerce builder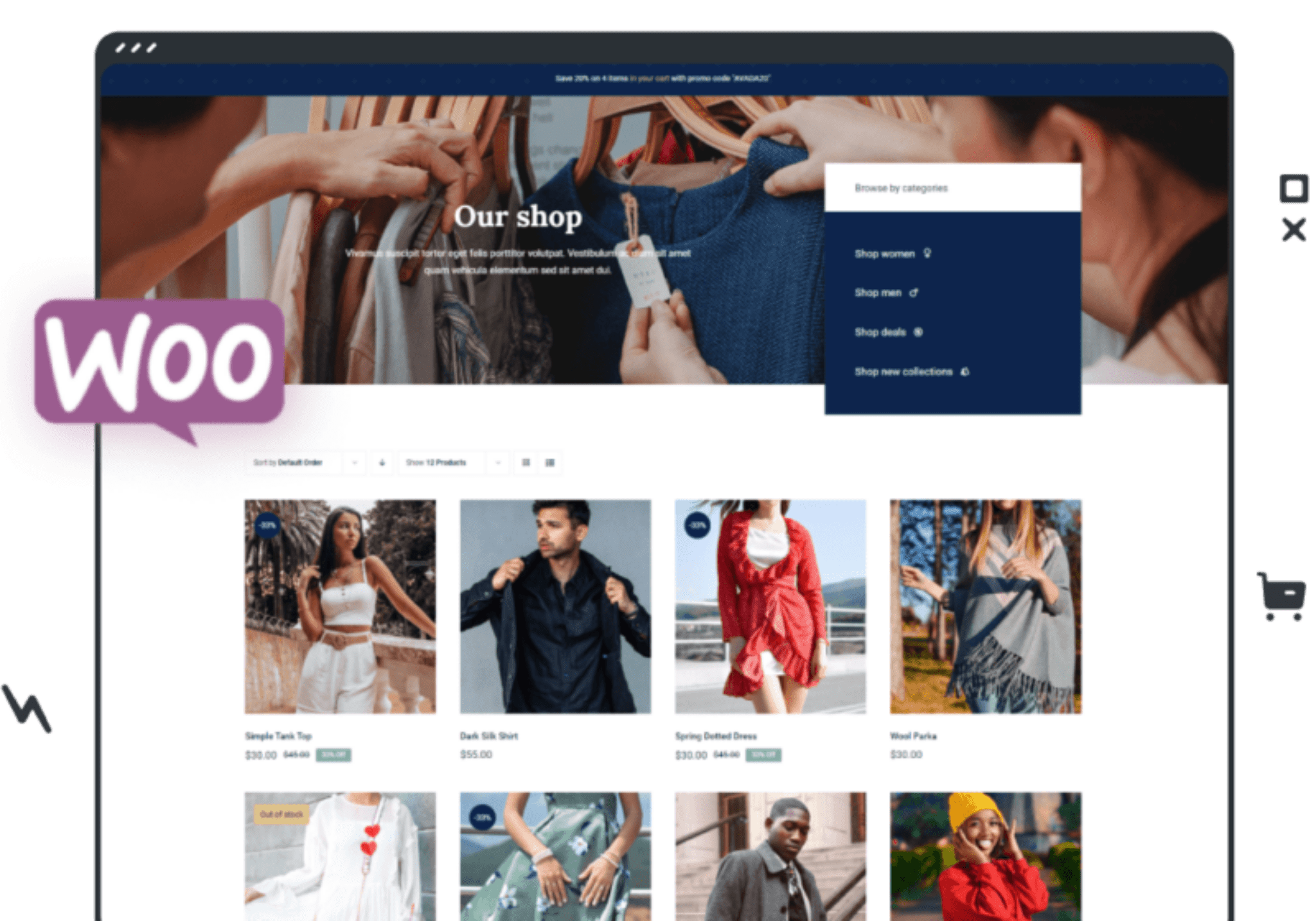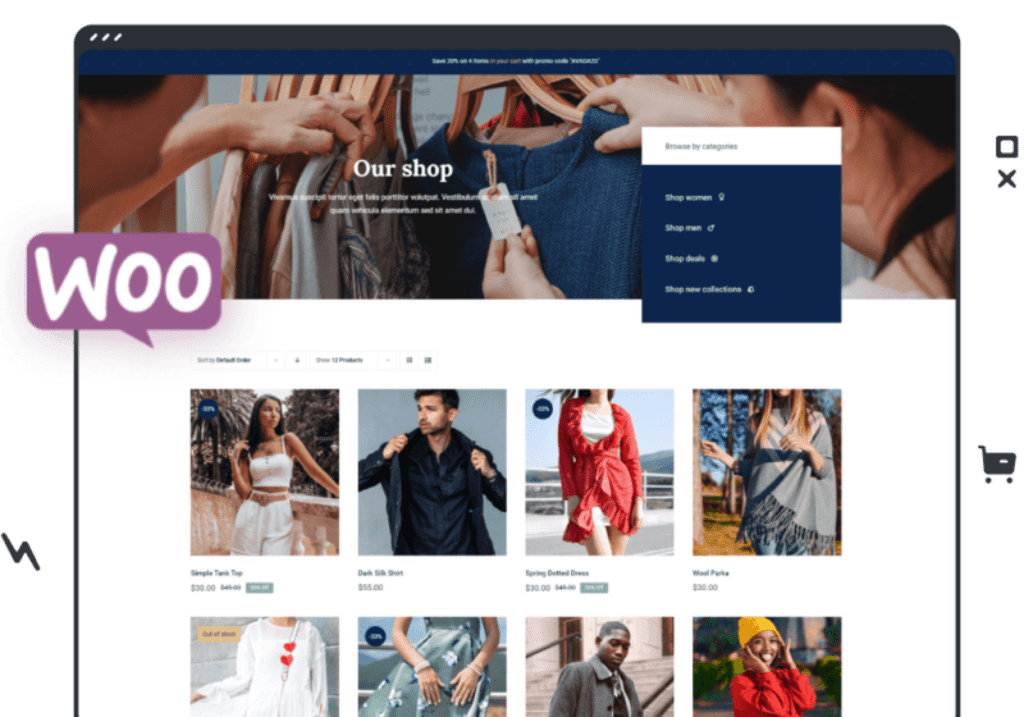 Avada Theme's integration with the WooCommerce platform provides users with powerful eCommerce solutions, giving them the ability to sell products and services with ease. With Avada's intuitive design tools and complete creative freedom, building custom online shops has never been easier.
Users can take advantage of prebuilt shop websites or create custom layouts to bring their brand's vision to life. With WooCommerce Builder and Avada Theme's versatility, scaling an online business is an achievable goal, backed by successful marketing tools and promotional platforms for WordPress.
Off-Canvas builder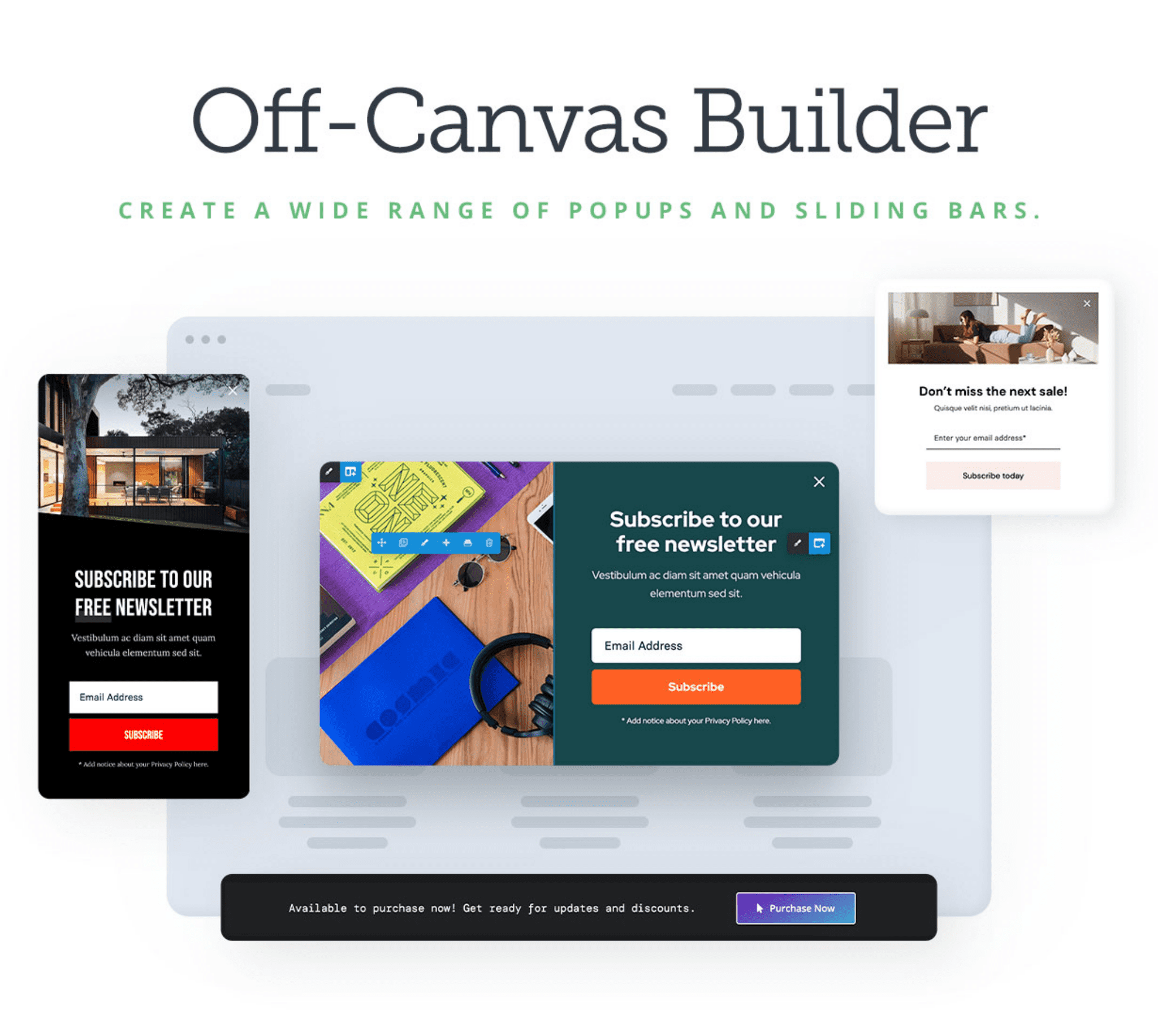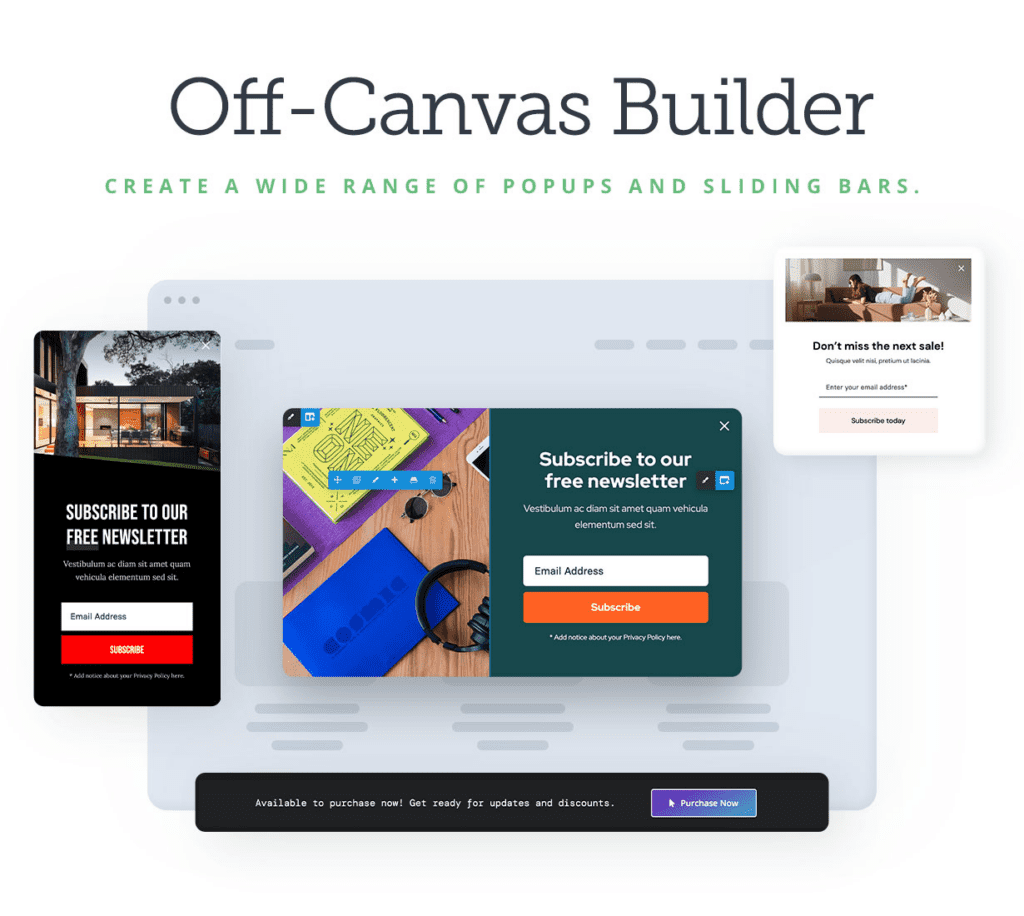 Off-Canvas builder is one of the standout features of Avada Theme, allowing you to display popup, slide-out, or overlay content that captures visitors' attention. With the Off-Canvas builder, website owners can choose from a wide range of pre-built off-canvas content and customize it with flexible options to suit their needs.
Moreover, the feature allows setting conditions, triggers, and rules to control behavior and interact with visitors in a tailored way. Importantly, Off-Canvas content can be easily customized for different devices to ensure that it displays perfectly across all mobile devices.
Form Builder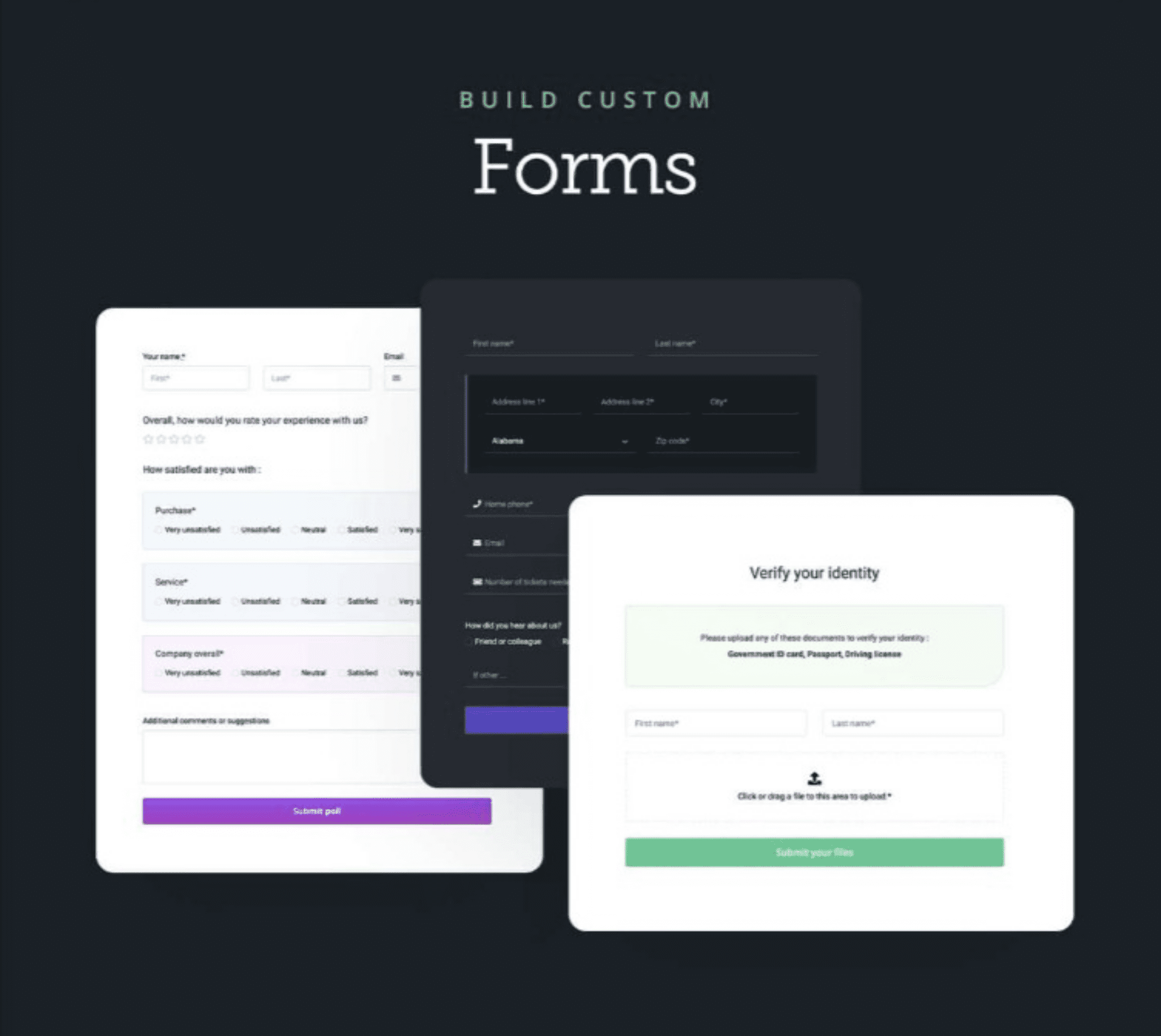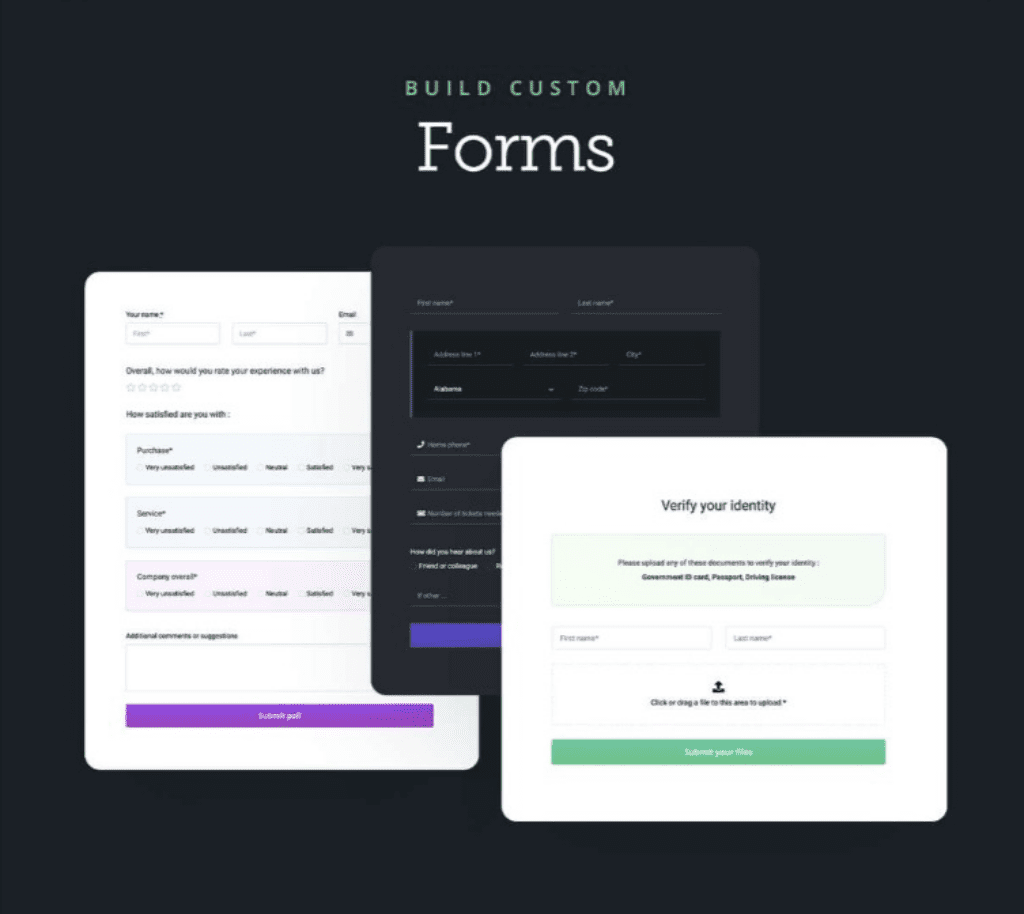 Creating forms that work effectively is essential for any website, and Avada Theme's Form Builder makes it simple. With a vast array of styling and configurable options, you can design stylish and visually appealing forms that are easy to use and work for you.
Whether it's for marketing campaigns, customer surveys, opinion polls, or reservations, the Form Builder provides full control over form submission data, making data control, storage, and data privacy easy to manage. Avada Theme's Form Builder is an excellent choice for anyone looking to create professional-looking forms quickly and efficiently.
Setup Wizard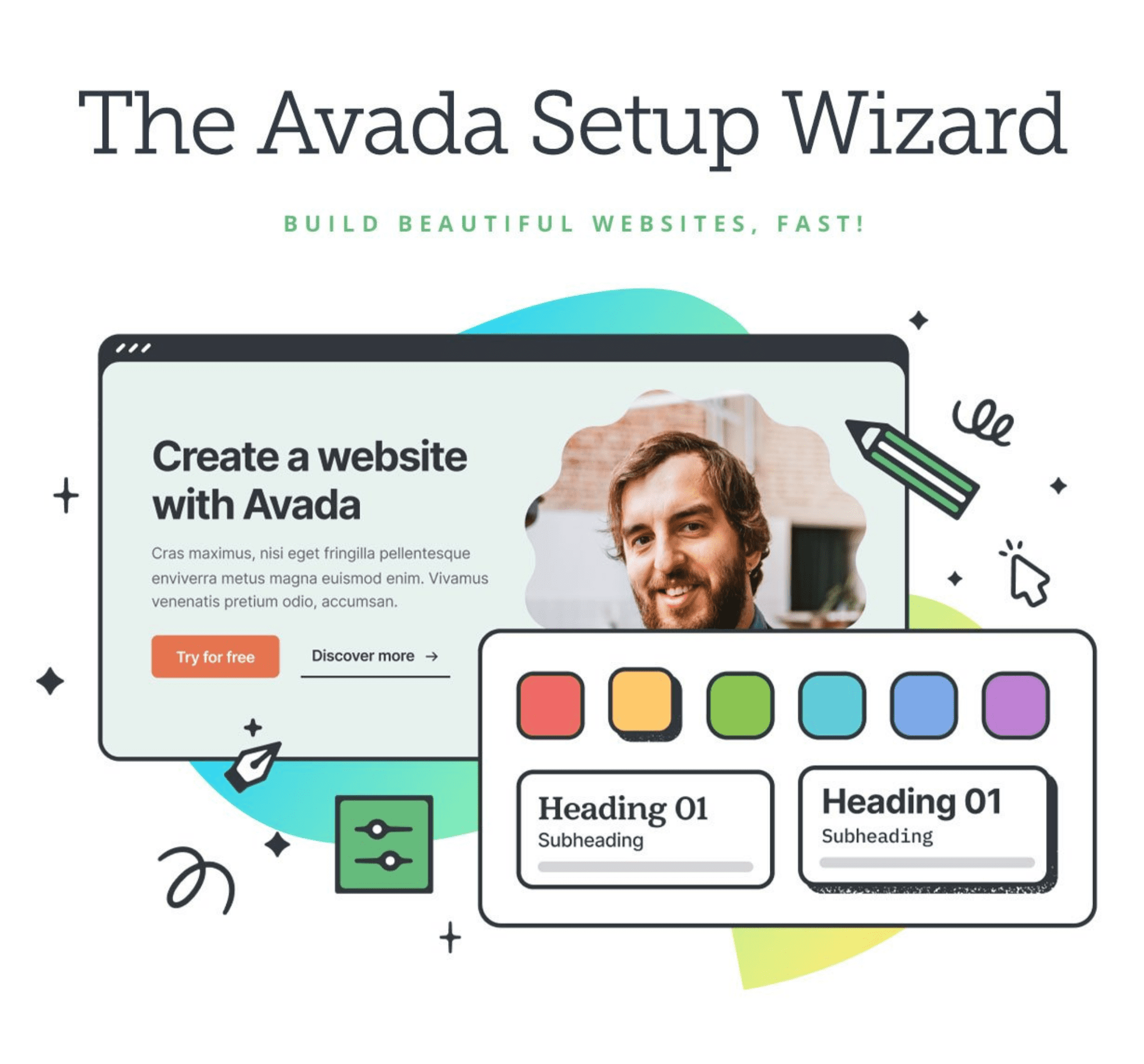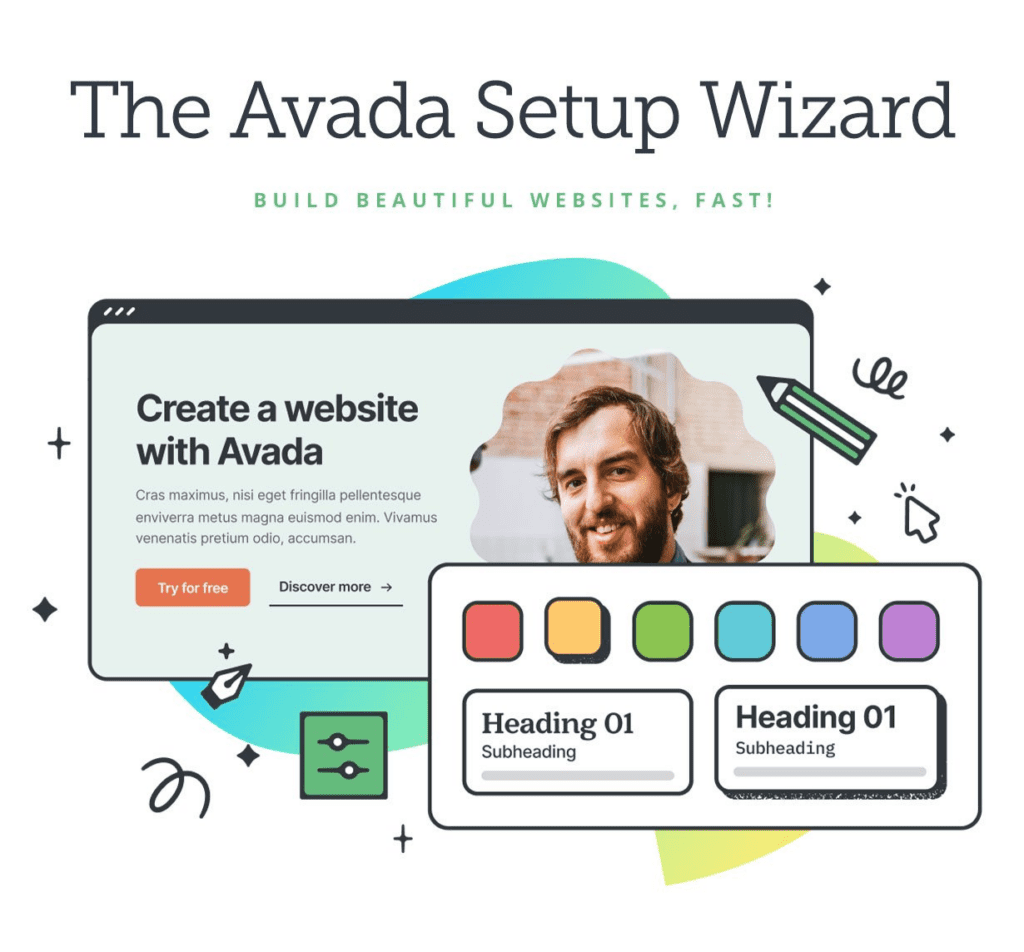 The Avada Theme Setup Wizard is designed to simplify the website creation process for users at all levels of experience. This tool guides users through the setup process step-by-step, from choosing color palettes and typography to creating pages and posts.
The predefined options make it easy to quickly create a custom-designed website without needing advanced technical knowledge. Additionally, the Setup Wizard saves time, making it a valuable feature for both beginners and experienced web designers looking to streamline their workflow.
Performance Wizard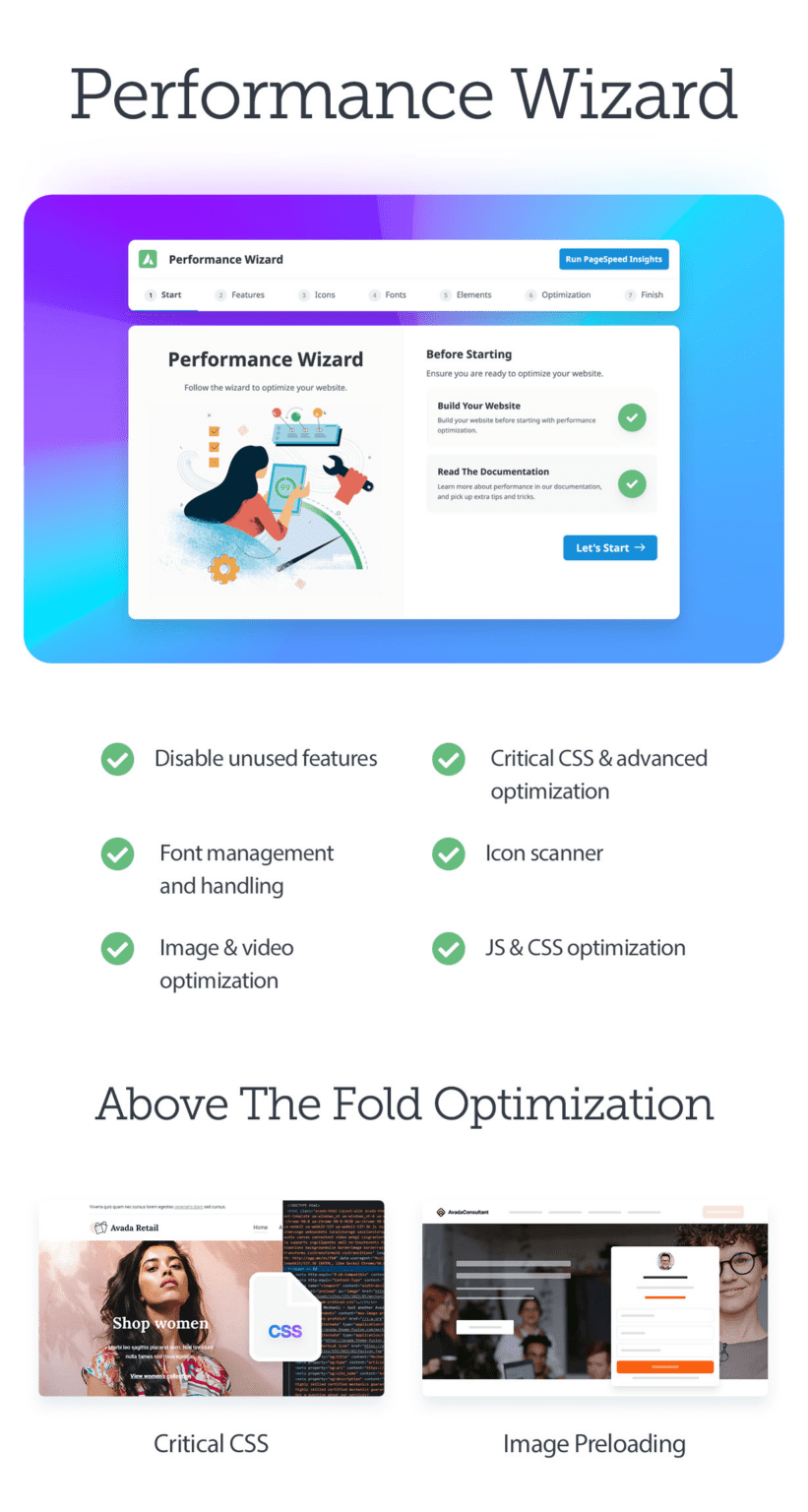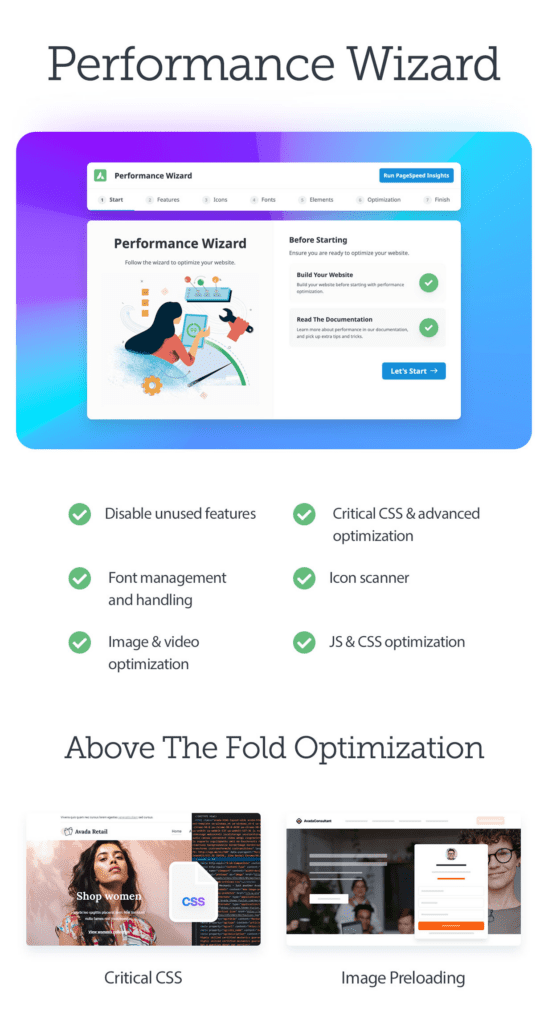 Website performance is critical to the overall success of any website, and Avada Theme's Performance Wizard makes it incredibly easy to manage. This important feature includes a step-by-step process for scanning and analyzing your website features, enabling you to disable unused features to reduce HTML markup.
Furthermore, you can review fonts, generate critical CSS, defer or enable video facade, and manage image quality and size with ease – all with just a few clicks. The Performance Wizard is an essential tool for improving page load and renders times, ensuring that your visitors have a seamless browsing experience.
Dynamic Content Option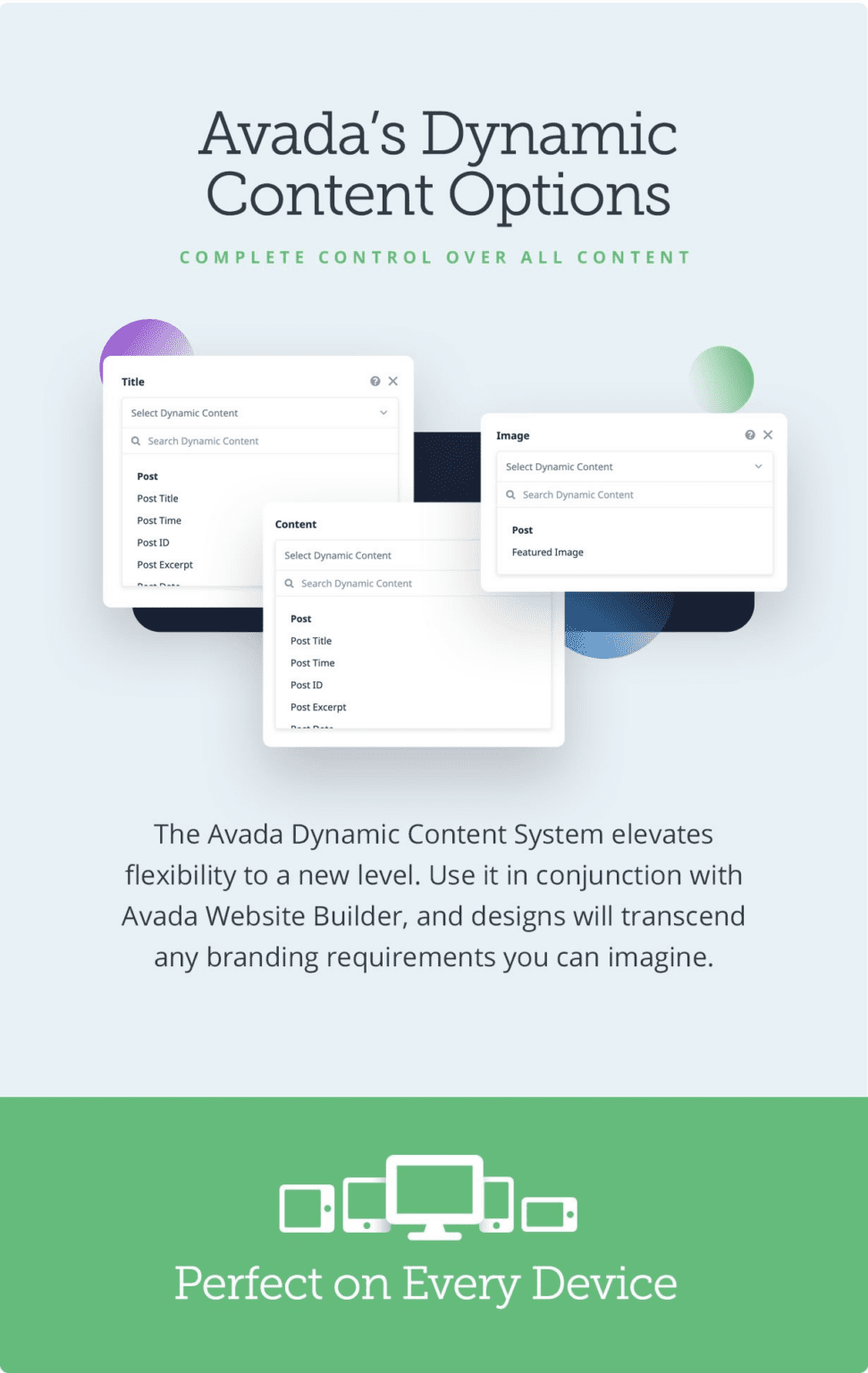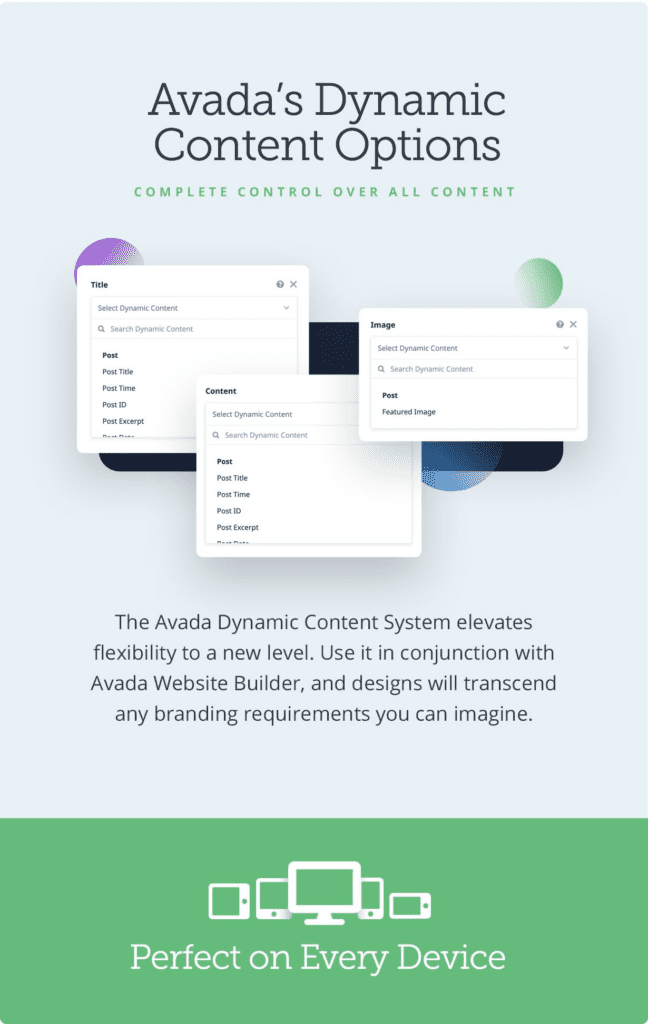 Avada Theme Design and Customization
Why Choose Avada?
The Avada Website Builder provides you with extensive customization choices and complete creative freedom to build any website without the need for coding knowledge.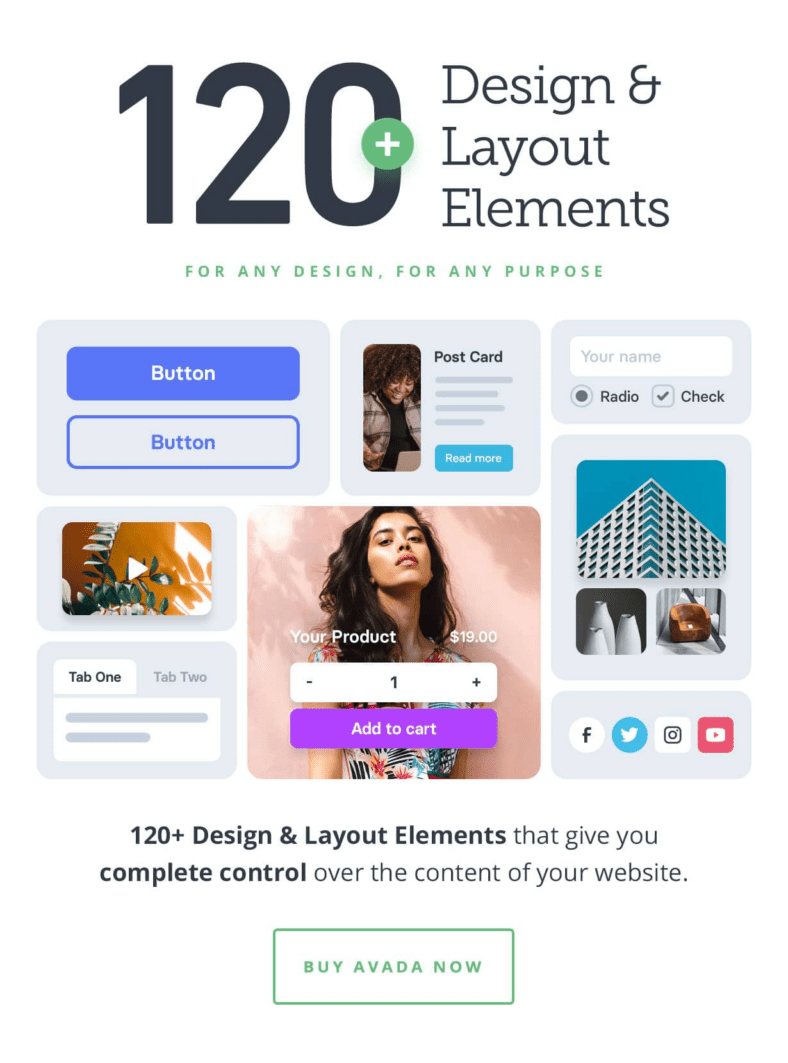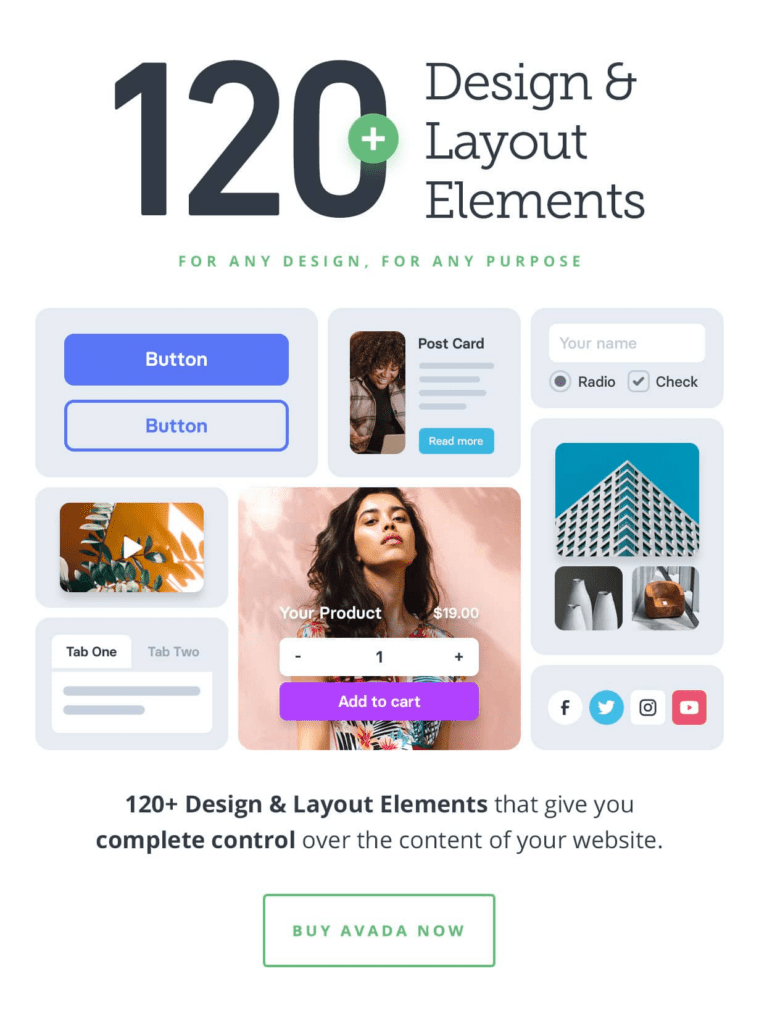 Avada Theme comes bundled with over 120+ pre-designed layouts and demos, making it easy for users to get started quickly.
Avada has 93 prebuilt websites designed for beginners, marketers, and professionals alike. With a focus on usability & flexibility to improve your workflow and will save you time.
Avada Studio has an Expansive library of currently 441 multi-use content items, professionally designed to speed up your workflow. Get a head start with prebuilt headers to footers, containers to elements, and everything in between.
Pricing Plans
Pricing plan from ThemeForest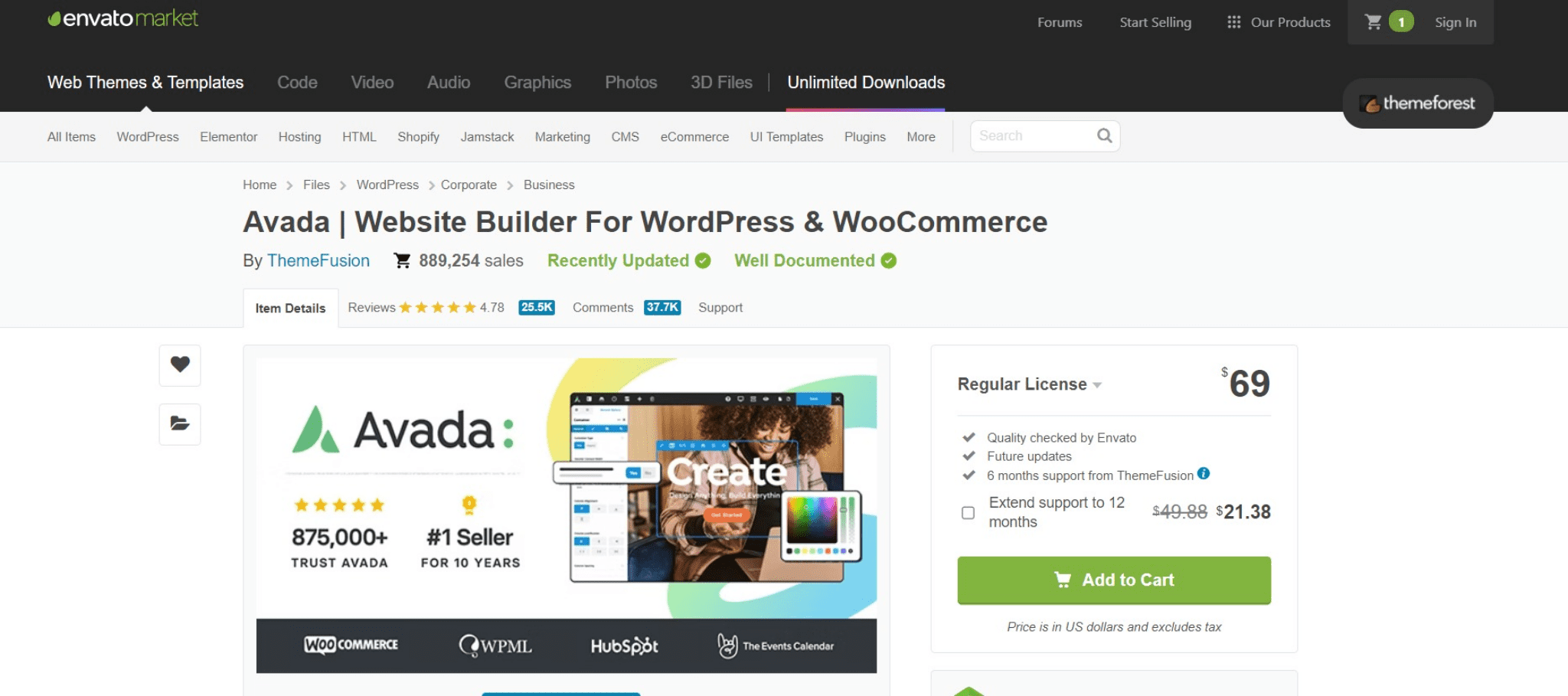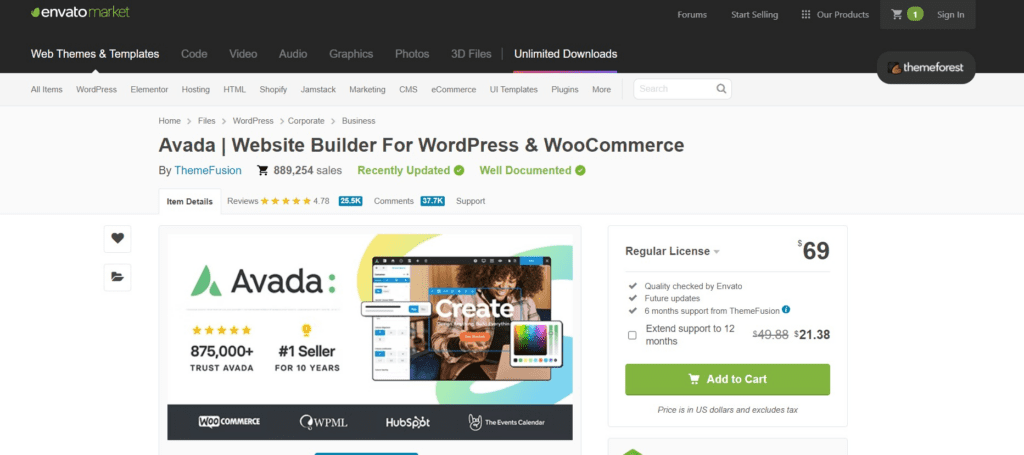 Support
Knowledgebase and Contact support
Offers LiveChat, Ticketing, and email support
Video tutorials, community, and blog support
Public Roadmap and Changelog
Alternatives
Similar Themes
Divi from Elegant Themes is a strong contender. With its extensive library of pre-made templates, users can easily create custom layouts and designs without any coding knowledge. The theme is also optimized for SEO and e-commerce capabilities.
BeTheme is a versatile WordPress theme that offers over 650 pre-built templates, making it easy for anyone to create a professional-looking website.
Bridge is an incredibly versatile WordPress theme. It offers users a range of customization options, including font styles, colors, and background images. Along with that, Bridge also features premium plugins like Visual Composer and LayerSlider for added functionality.
Final Verdict
Is Avada worth it?
Avada Theme is the most downloaded WordPress theme on Themeforest for a reason. With its user-friendly interface, easy installation process, and extensive customization options, it caters to every user's needs. From novice bloggers to expert web developers, Avada Theme has something to offer everyone.
It's perfect for those looking for a professional-looking website without investing too much time and effort into the design process. With its advanced security features and professional support team, you can rest assured that your website is in good hands. Explore all the features and benefits of Avada Theme by downloading it today!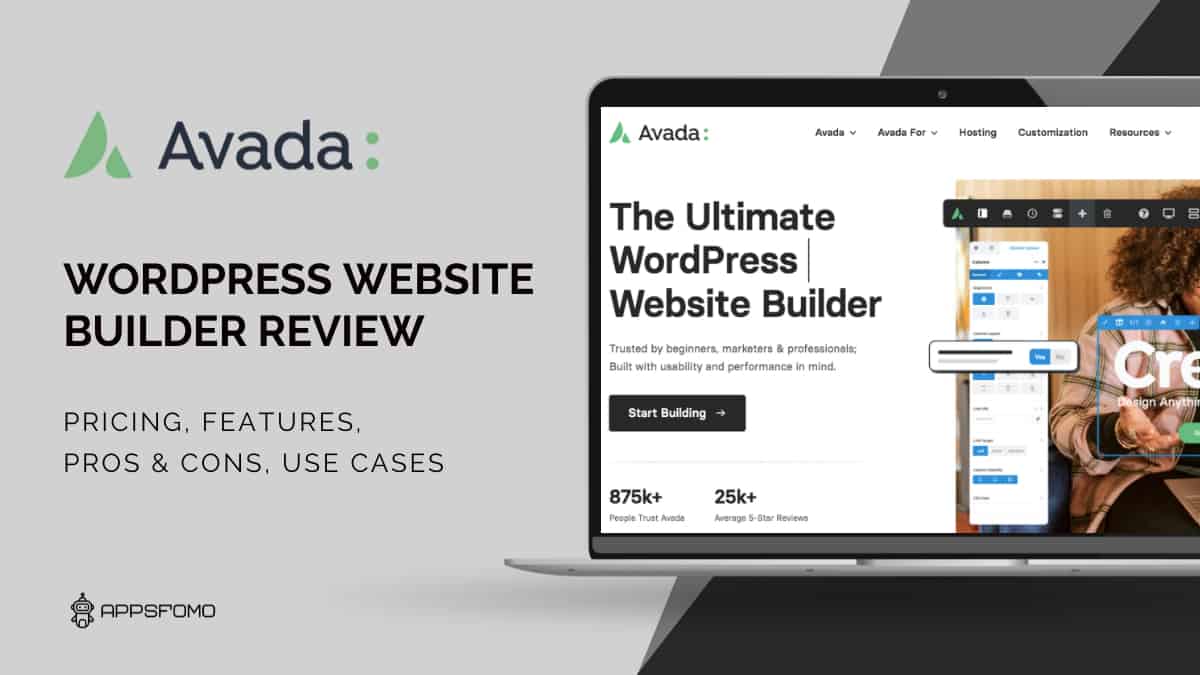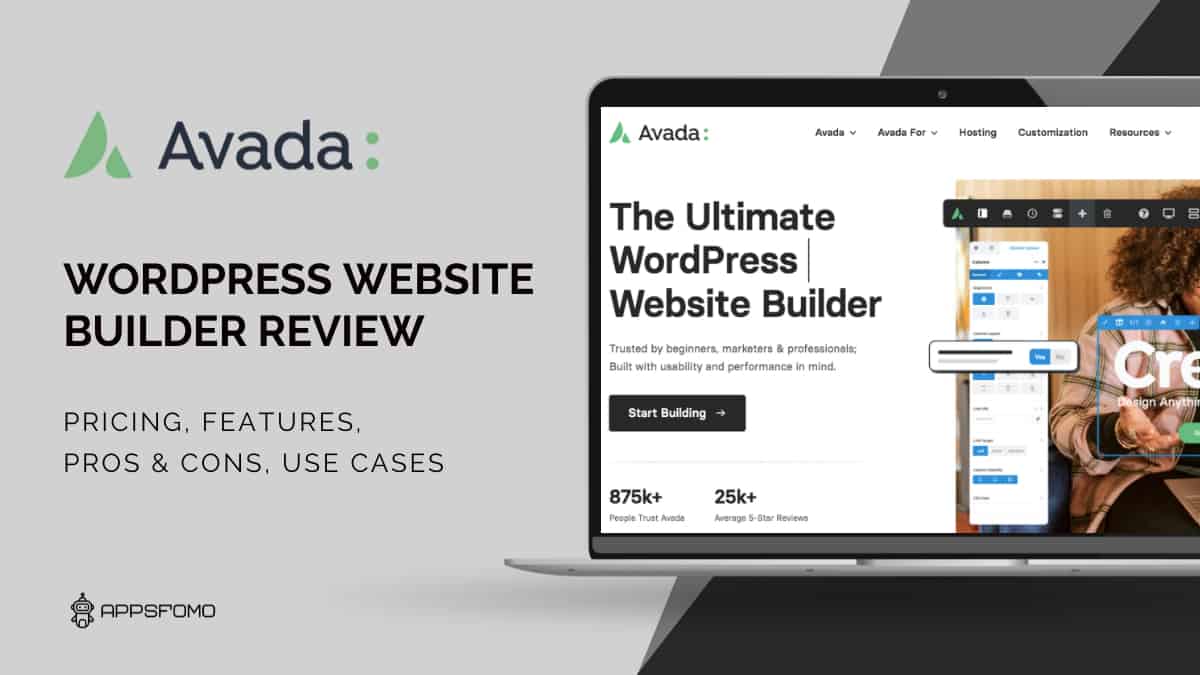 Avada Theme: Design and Build Custom Websites in WordPress