Bellevue: The Best WordPress Theme for Automating the Booking Process
Add to wishlist
Added to wishlist
Removed from wishlist
0
Add to compare
| | |
| --- | --- |
| Review Date | 19-11-2020 |
| Author | Ben Sibley |
| Company Name | Themovation |
| Marketplace | Themeforest, Own Site |
| Free Verison | Available on Own Site |
| Initial Release | 2008 |
| Active Installations | 10k + |
| Niche | Hotel |
| Free Templates | None |
| Premuim Templates | |
| Unique Theme Features | Hotel Booking System |
| Supported Page Builders | |
| One Click Demo | Yes |
| Multilang Support | |
| Pricing Options | |
| Money Back Guarantee | |
| Site Usage | 1 Site |
| Support System | Support Ticket,Live Chat |
| Competitor | Zante |
| Affiliate Program | No |
The Bellevue Hotel WordPress Theme is the best choice for your next website project and we think you'll love using it. 
You will get:
Responsive touch swipe slider.
Woo Commerce integration.
No coding is required.
Built-in forms and pages.
One-click demo import.
Bellevue Theme Review
Launch your Hotel or Bed and Breakfast website quickly, and efficiently with premium designs powered by the world's most popular website builder.
PROS
Responsive touch swipe slider.
Woo Commerce integration.
No coding is required.
Built-in forms and pages.
One-click demo import.
CONS
An extra amount has to be paid for 12 months of membership.
No multiple purchase options.
Are you looking for a WordPress theme that caters to all your hotel booking and rental needs? Look no further than Bellevue. With its exceptional features, customizable widgets, and an automated installer, Bellevue is the perfect solution for hotels, vacation rentals, and B&Bs. In this blog post, we will take you on a tour of Bellevue WordPress Theme's features and explain how it can benefit your business.
Join us as we explore Bellevue's advanced booking system, live page builder, and responsive design that make it a must-have for any hotelier.
What Is Bellevue?
Overview
Bellevue is an exceptional WordPress theme that has been designed specifically for hotels, rentals, and hospitality businesses. With its user-friendly interface and customizable options, Bellevue is a popular choice among beginners and professionals alike.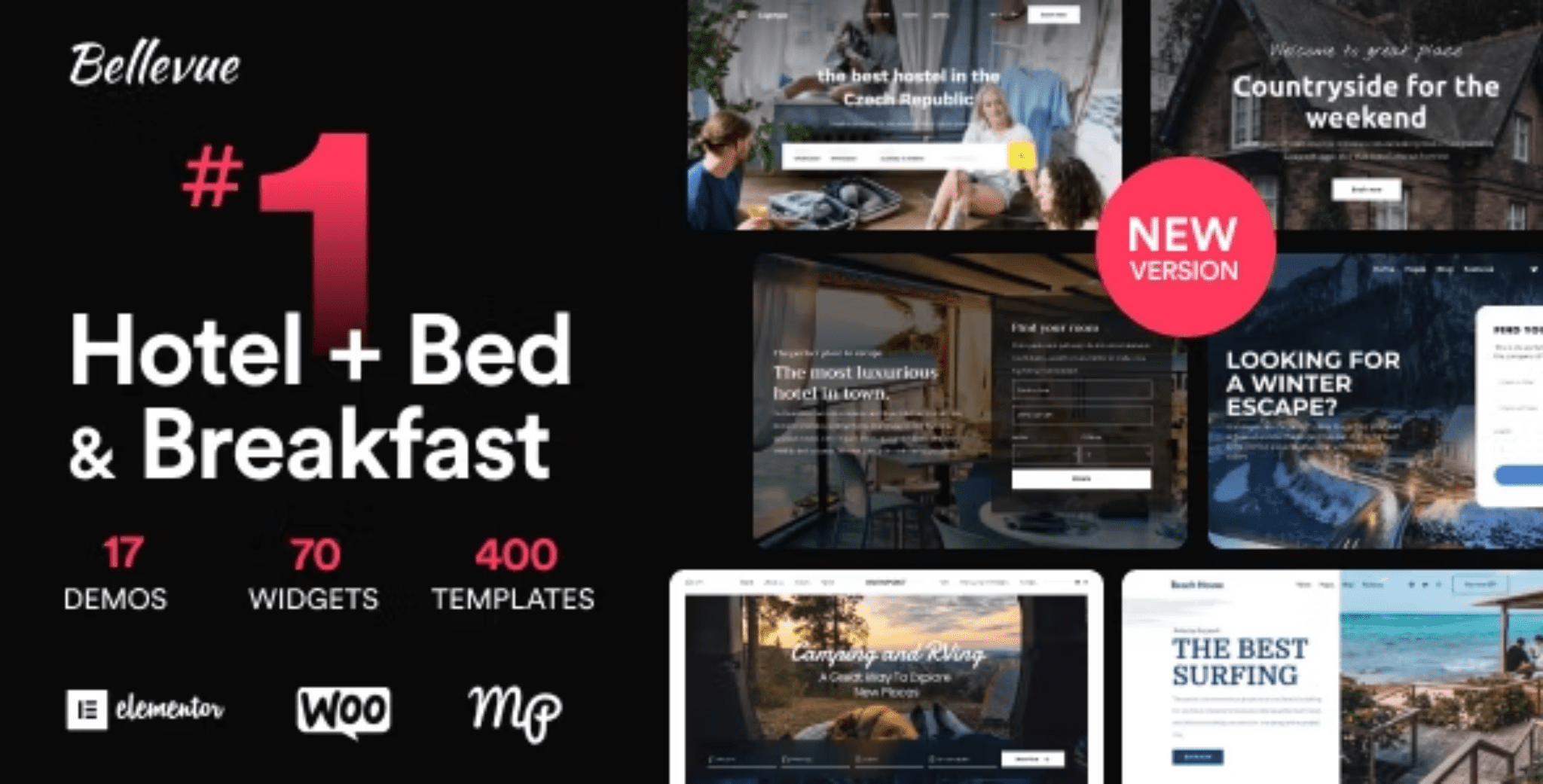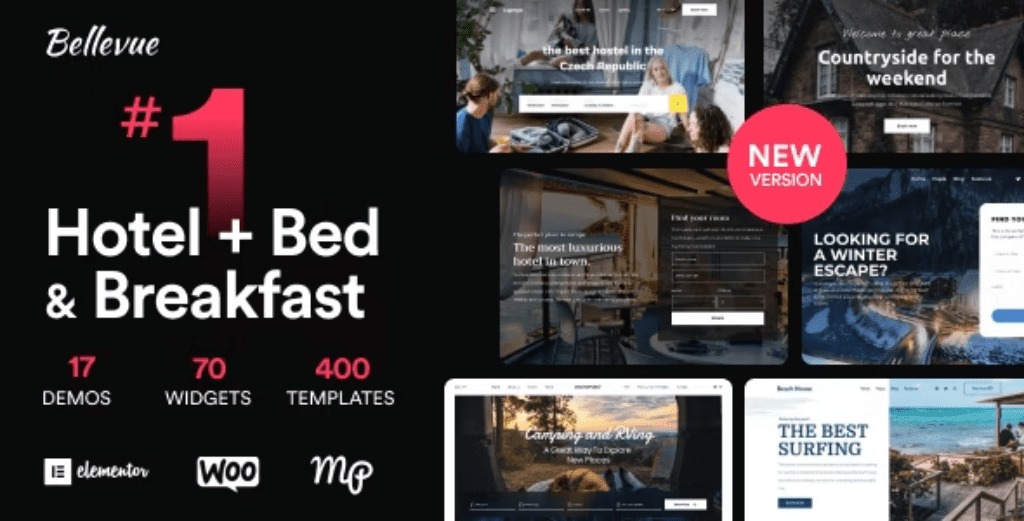 Bellevue WordPress theme will help you simplify and automate the booking process, impress your visitors with beautiful design and convert customers with availability calendars, built-in forms and buy pages. It includes everything you would expect from a premium WordPress theme and it will help you to build an awesome Hotel or Bed and Breakfast website. It converts customers with availability calendars, built-in forms and buy pages.
Company details
It is the product of Themovation themes founded in 2008. Located in Victoria BC.
They create beautifully simple WordPress themes that are well thought out and easy to use.
Online presence
How to Get Started?
Installation and Activation
How to Install Bellevue?
Step 1: Download the theme zip file from ThemeForest / Envato.
Sign in and download from YOUR ThemeForest dashboard. Choose 'Installable WordPress File Only' and save it to your computer.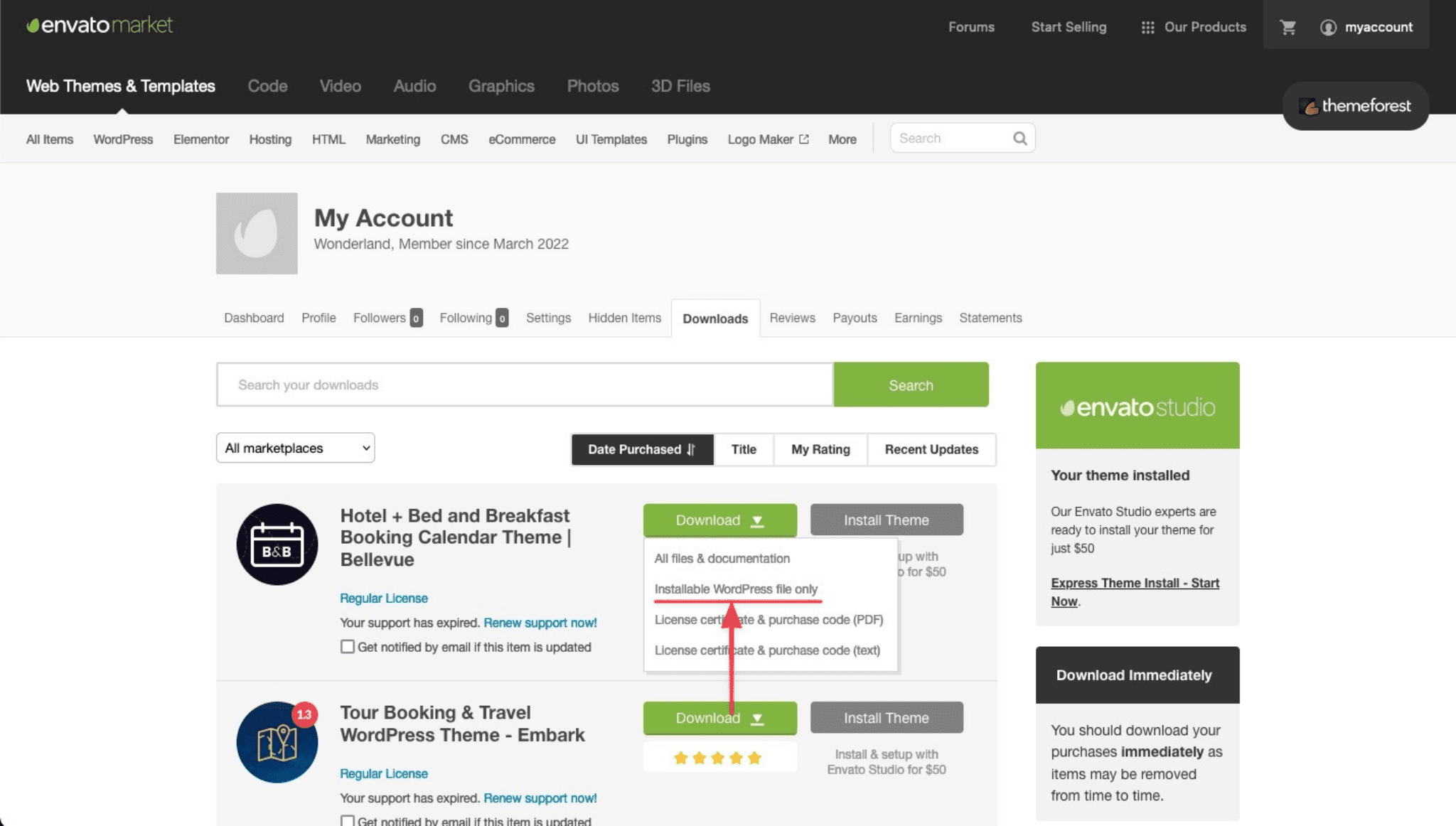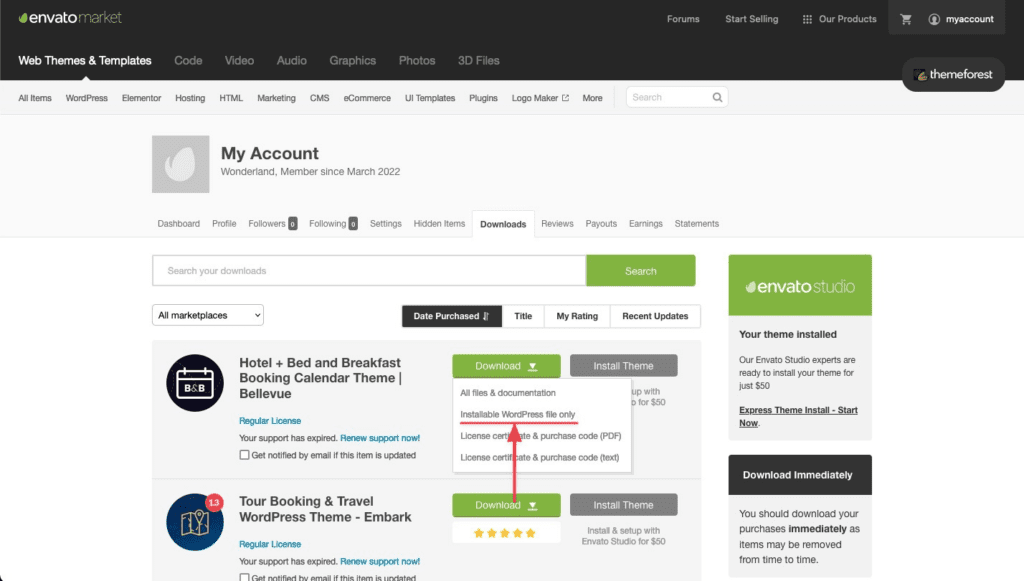 Step 2: Upload the theme zip to your website (2 ways)
WordPress Upload (screenshot below)

Log into your WordPress site navigate to Appearance > Themes > and click on the Install Themes tab.
Next, click on Upload and then Browse…, and select the zipped theme file. (Make sure this is the 'installable WordPress Only' zip from ThemeForest or else it will error)
Click "Install Now" and the theme will be uploaded and installed.

Manual FTP:

Using an FTP program, upload only the unzipped theme folder (not the .zip file or all of the folders) into the /wp-content/themes/ folder on your website server.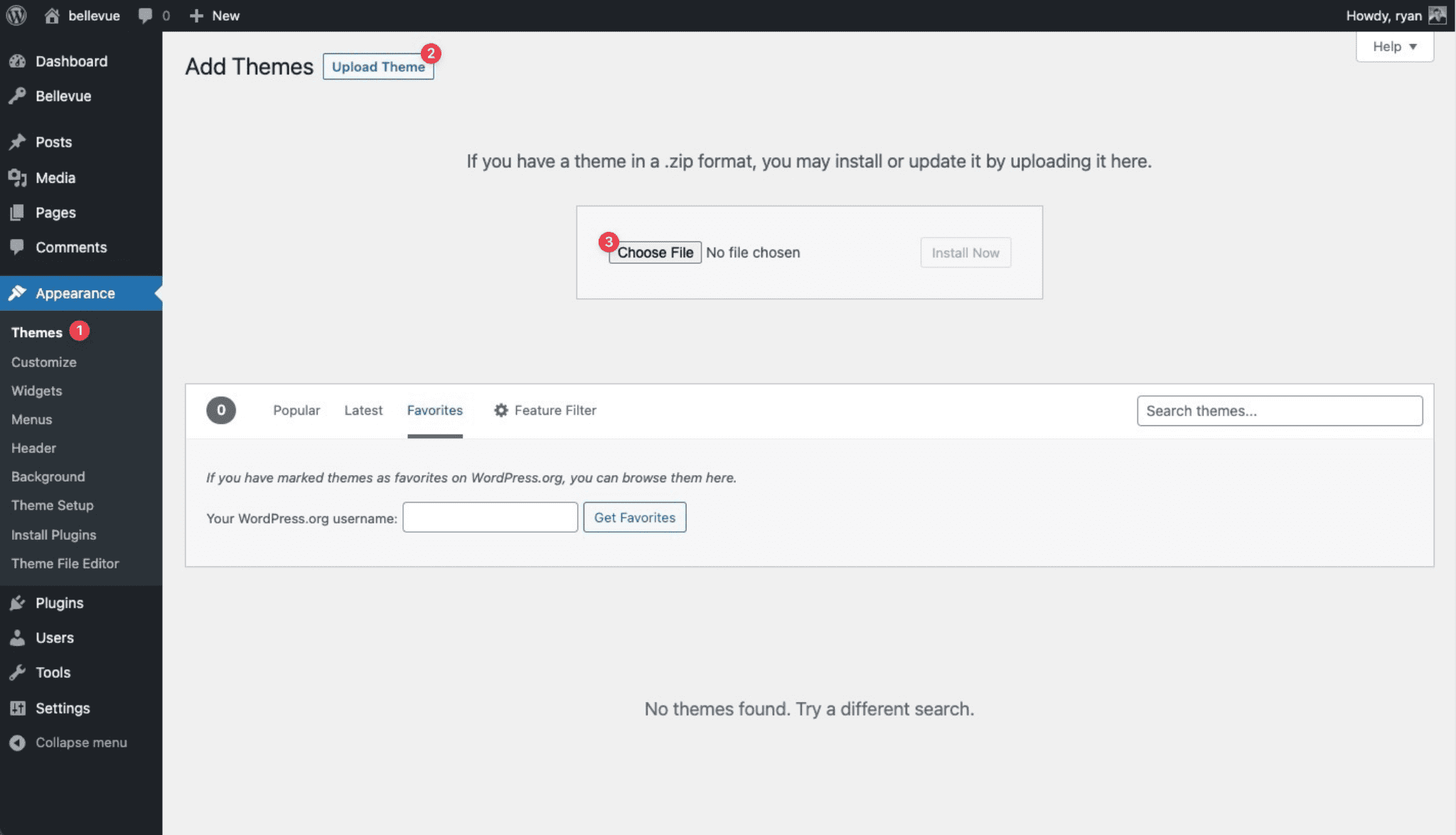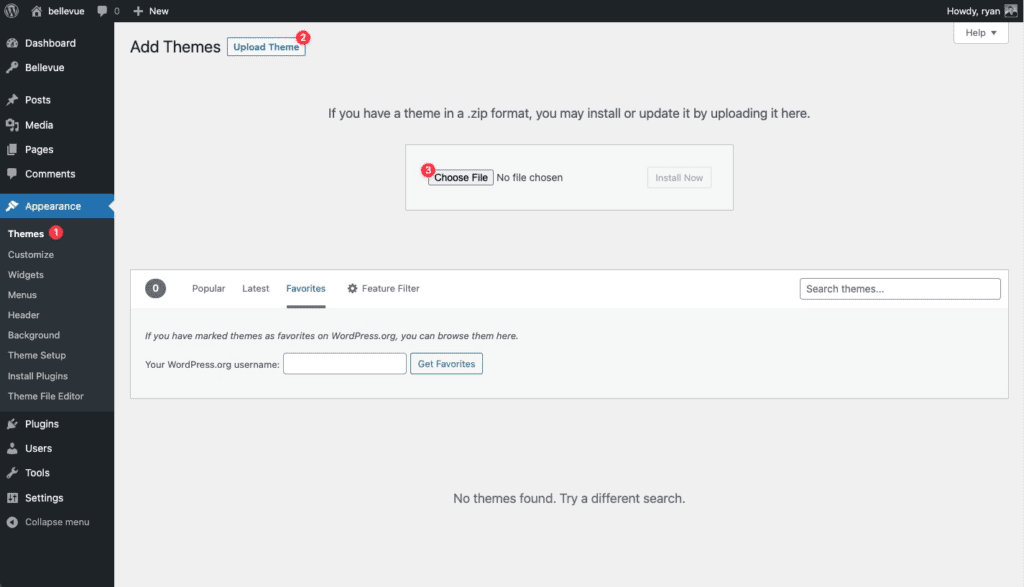 Step 3: Activate the theme
Once the theme is uploaded, you need to activate it. Go to Appearance > Themes and click activate below your newly uploaded theme.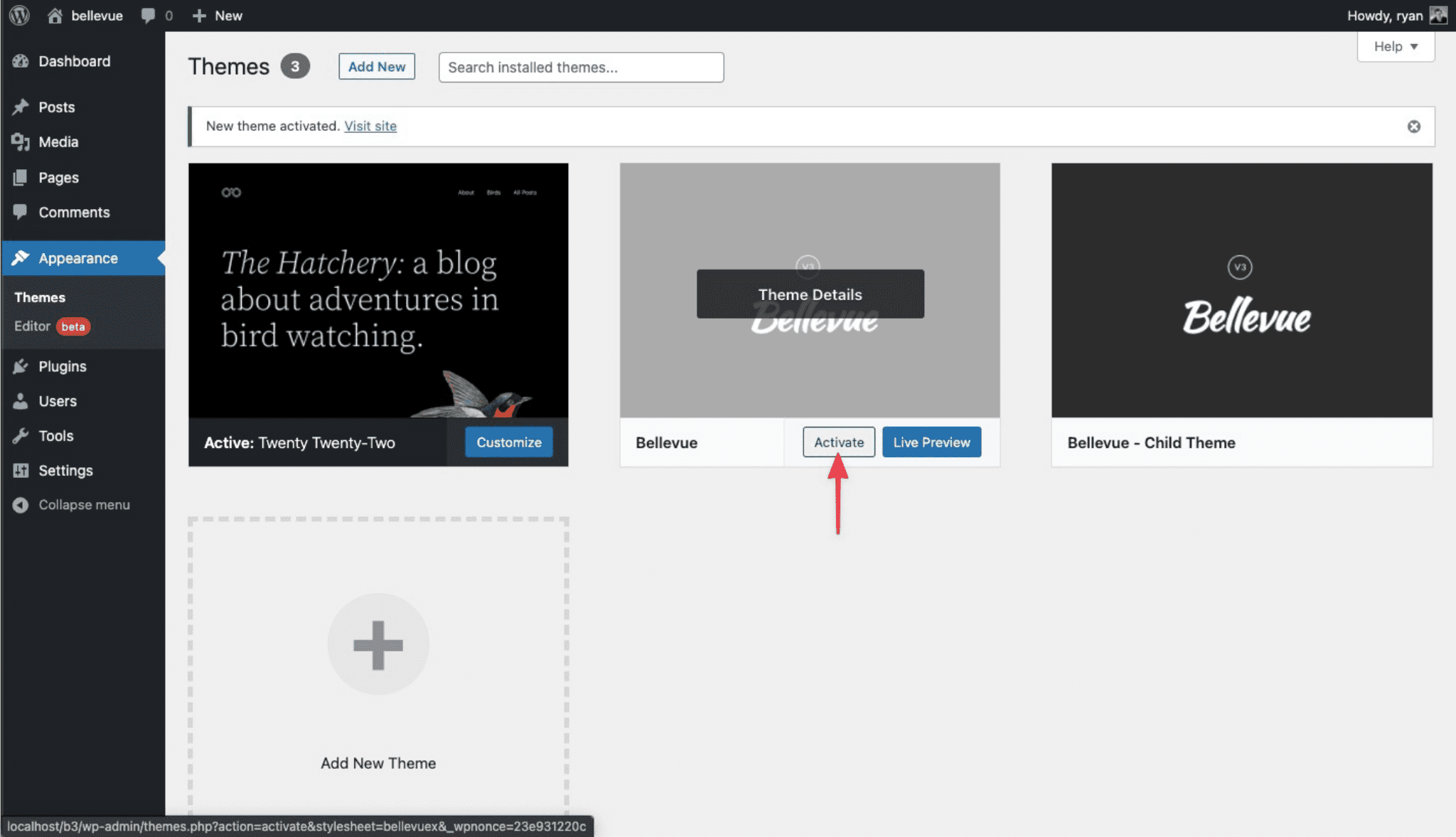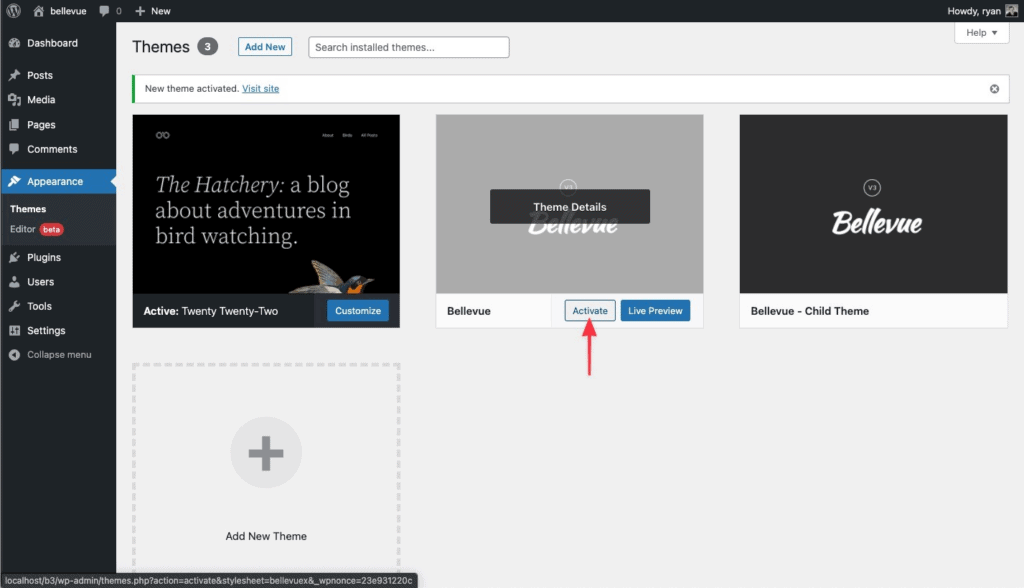 Key Features
Why Choose Bellevue Theme?
1-Click Setup Guide
Bellevue WordPress theme is the perfect solution for hotel booking and rental websites. With a 1-click setup guide, getting started with the theme is easier than ever. The theme is fully customizable, allowing you to tailor your website's colors, fonts, and layouts to match your brand's unique style.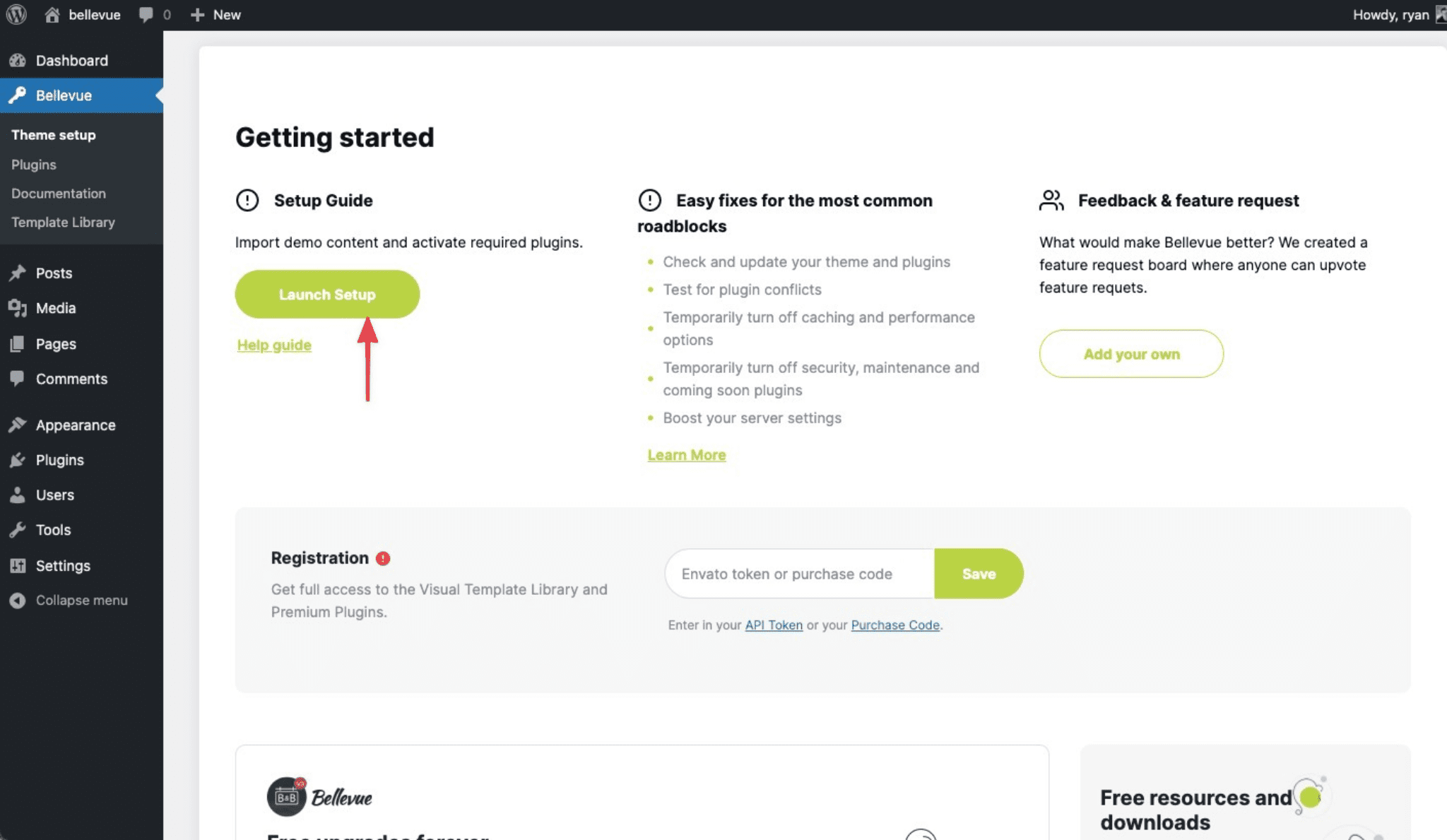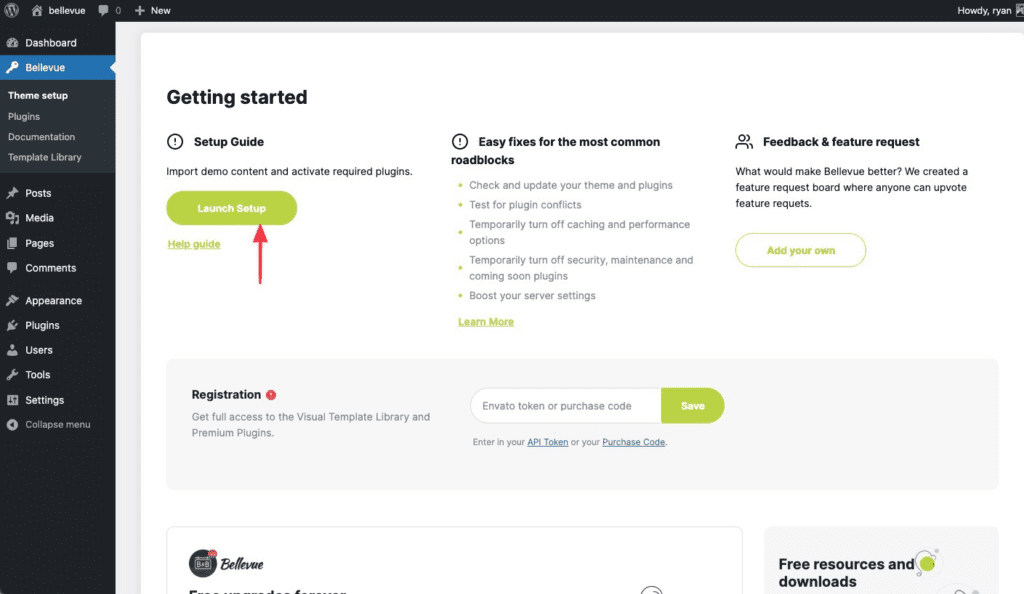 Multiple Homepage Layouts
When it comes to creating a hotel booking or rental website, having multiple homepage layouts can make all the difference. Bellevue WordPress Theme offers just that – a variety of homepage layouts specifically designed for hotel businesses.
Each layout is customizable and easily modified to match your brand's unique style. With Bellevue's user-friendly interface, you can set up and manage your homepage with ease, giving your customers an inviting and professional first impression of your business.
Variety of Page Layouts
The variety of page layouts offered by Bellevue WordPress Theme makes it an ideal choice for hotel owners and rental property managers. With room listings, galleries, and booking forms available, you can customize your site to meet your specific business requirements.
The theme's flexibility extends beyond its built-in tools; with customizable colors, fonts, and design elements, you can create a professional-looking website that reflects your brand's identity. Additionally, Bellevue is compatible with popular plugins like WooCommerce and WPML for added functionality.
Built-in Mega Menu
Bellevue WordPress theme is designed to enhance website navigation and organization with its built-in mega menu. It offers a clear and concise way for visitors to find what they are looking for quickly. The mega menu can display images, links, sub-menus, and more, allowing you to customize it according to your hotel or rental property's branding.
Moreover, the booking system in Bellevue is integrated with the mega menu. Guests can check availability, book reservations, and make payments online without leaving the website. The responsive design ensures that the mega menu performs well on all devices, providing a seamless user experience for your guests. With Bellevue WordPress theme's built-in mega menu functionality, you can create a user-friendly website that enhances your business's online presence.
Customizable Widgets
Bellevue WordPress Theme offers a range of customizable widgets that cater to the specific needs of hotel owners and rental property managers. The booking widget allows guests to check availability and book directly from your website, streamlining the booking process for both the guest and the host.
On the other hand, the testimonials widget is an excellent tool for showcasing positive reviews from previous guests, which helps build trust with potential customers. These widgets can be easily customized to match the look and feel of your website, ensuring a cohesive brand experience for your guests. With Bellevue, online presence management has never been easier!
Booking System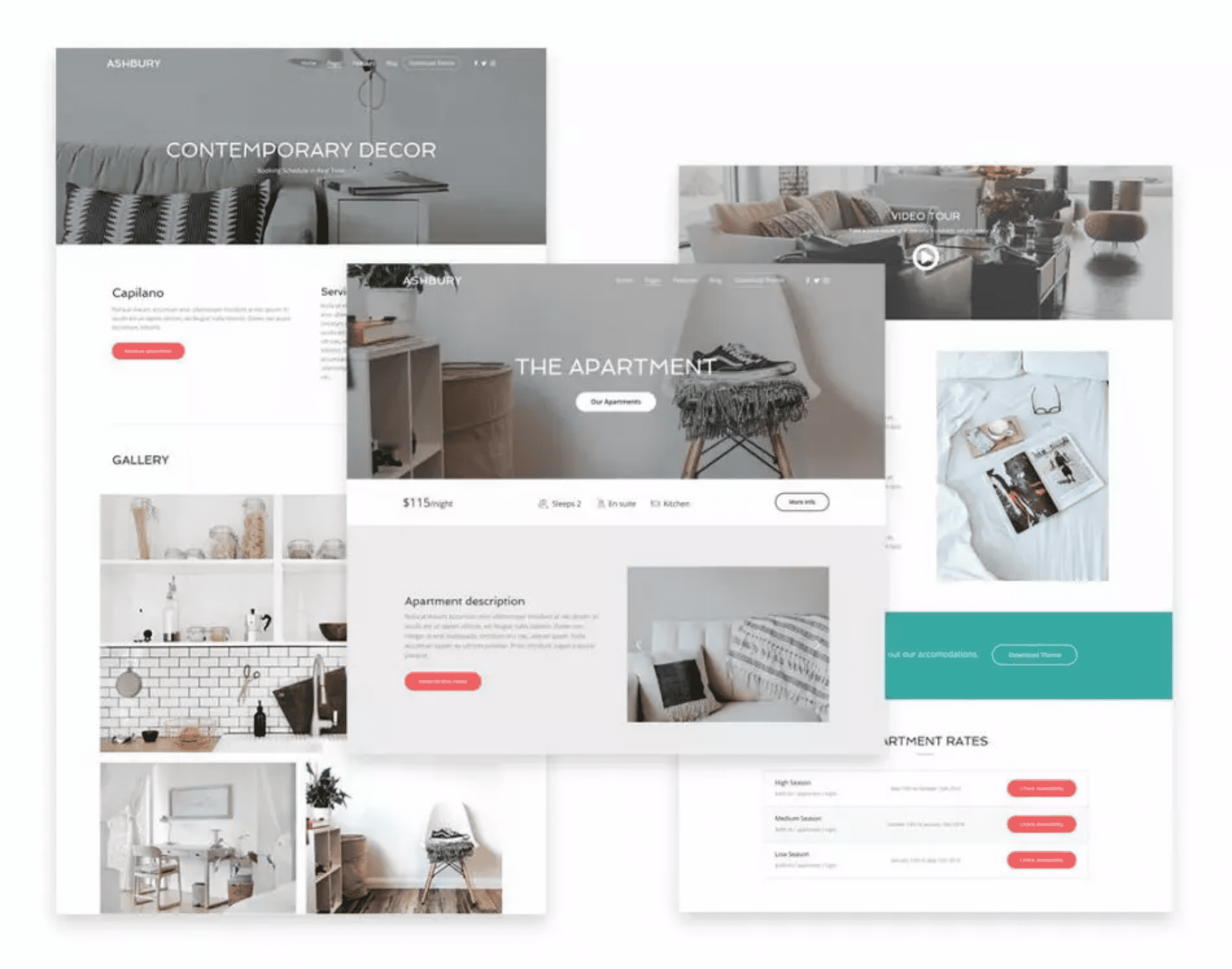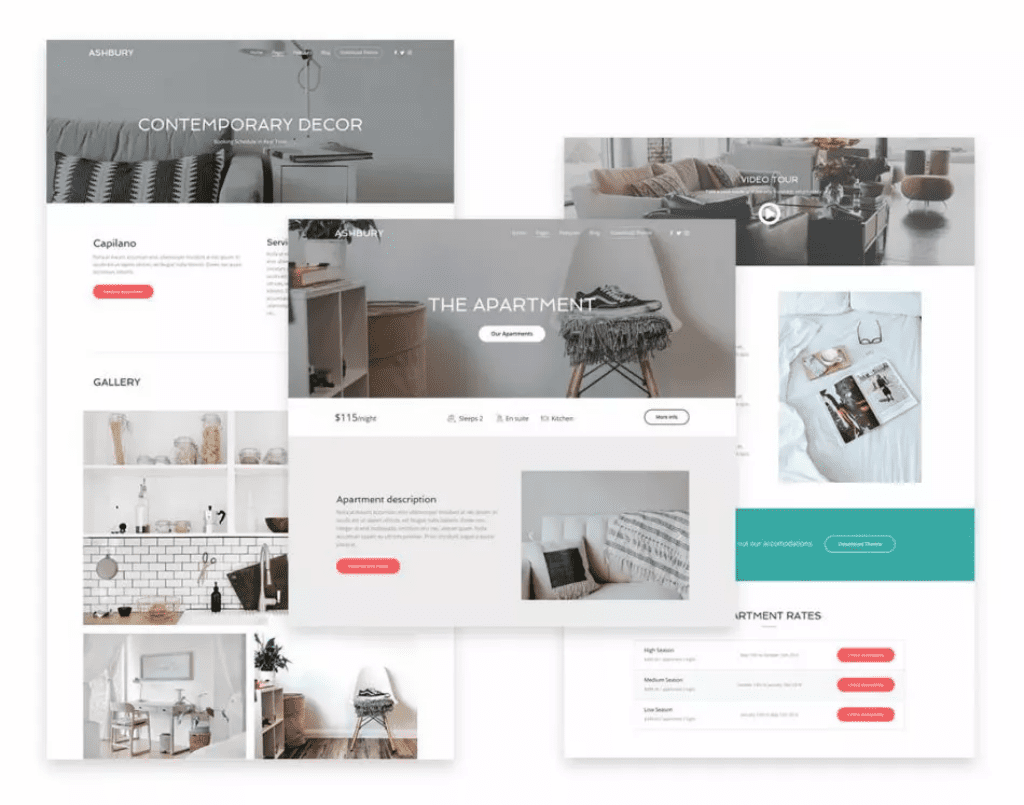 Bellevue WordPress theme offers a powerful booking system that simplifies the process of managing reservations. With features like availability calendars, pricing options, and payment processing, guests can book rooms or properties with ease. The intuitive interface allows you to customize the booking system according to your needs and preferences.
Includes: Hotel Booking Plugin, Hotel Booking WooCommerce Payments, Hotel Booking PDF Invoices, Hotel Booking Payment Request, Hotel Booking Reviews
Live page builder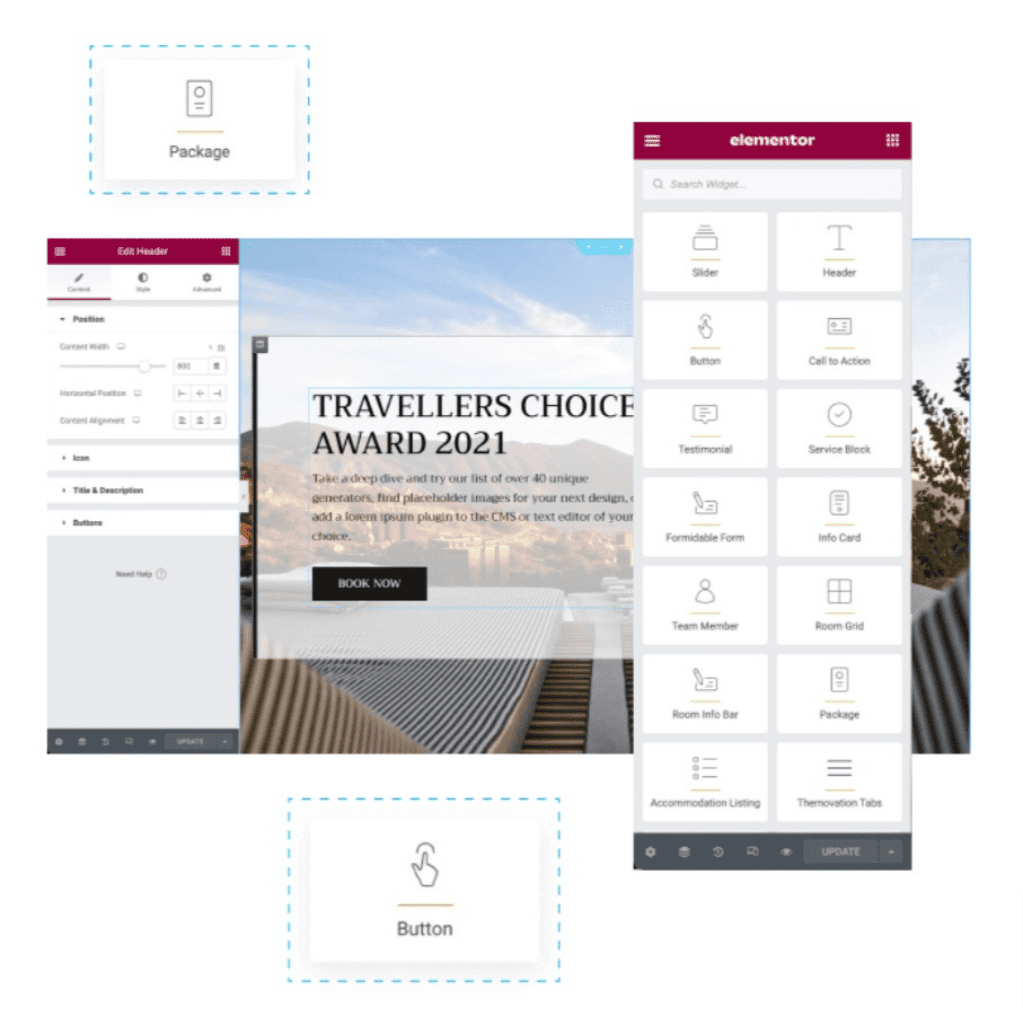 Creating custom pages and layouts has never been easier with Bellevue WordPress Theme's live page builder. The drag-and-drop interface of the page builder allows you to add elements such as text, images, and videos to your pages seamlessly. You can choose from a variety of pre-designed templates or create your own custom template from scratch.
Adjust your website's style and layout for every screen. Customize breakpoints for desktop, mobile, tablet, and more.
Template Library
Create your own or jumpstart from any of the 25 beautifully crafted page templates for Hotels, B&Bs, and Vacation Rentals. Save and reuse your designs anywhere on your website.
Save page designs as templates to speed up your workflow. Export and import them for use on other websites, and share them with other designers.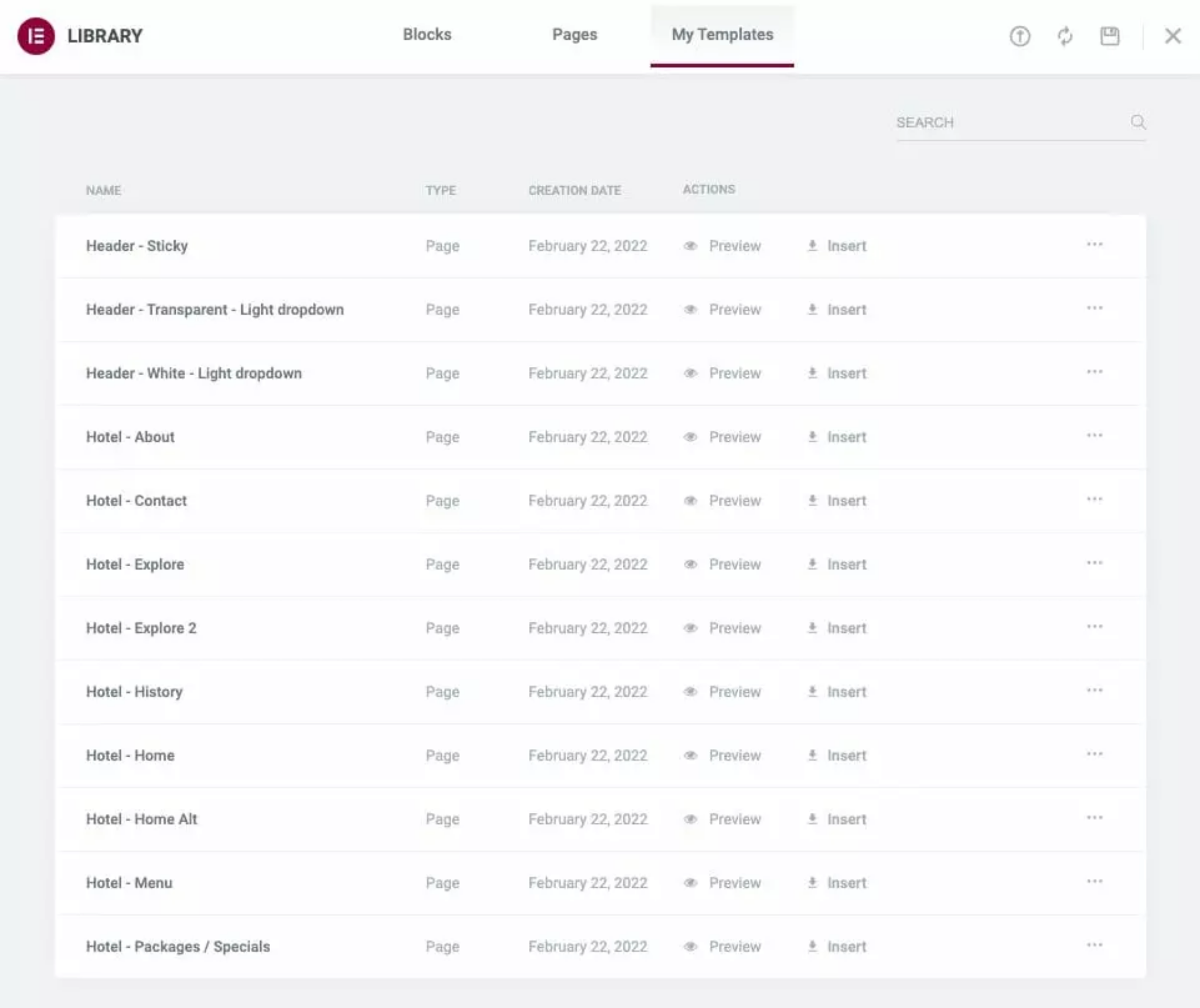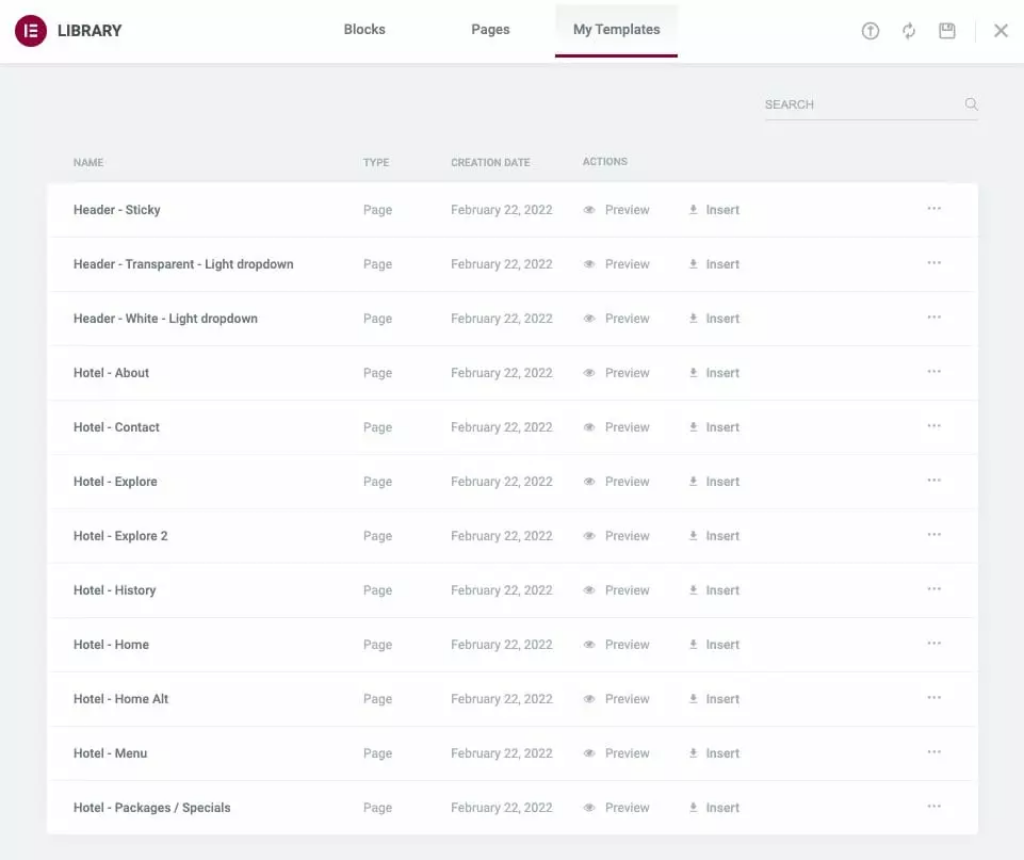 Elements and Designs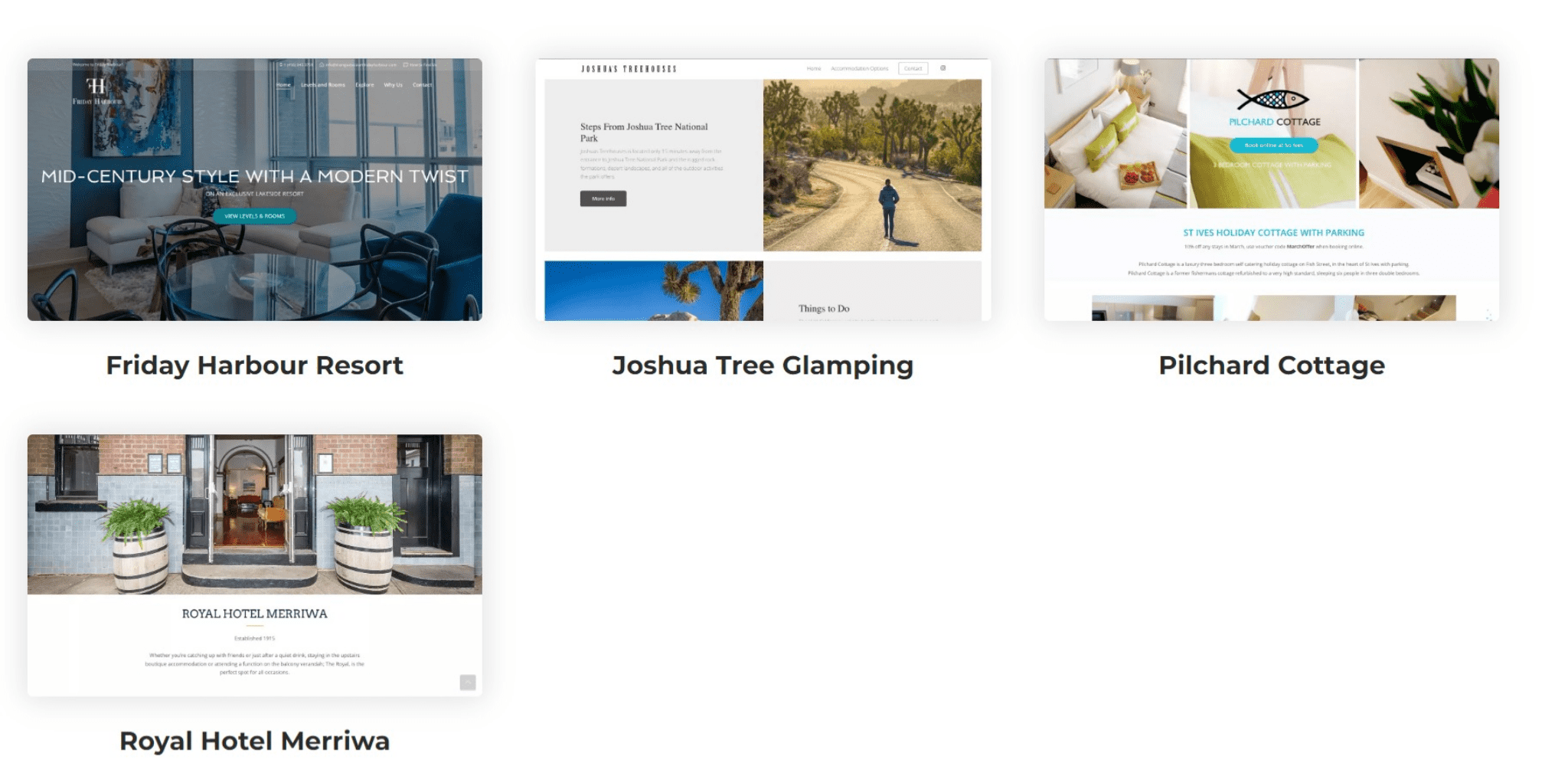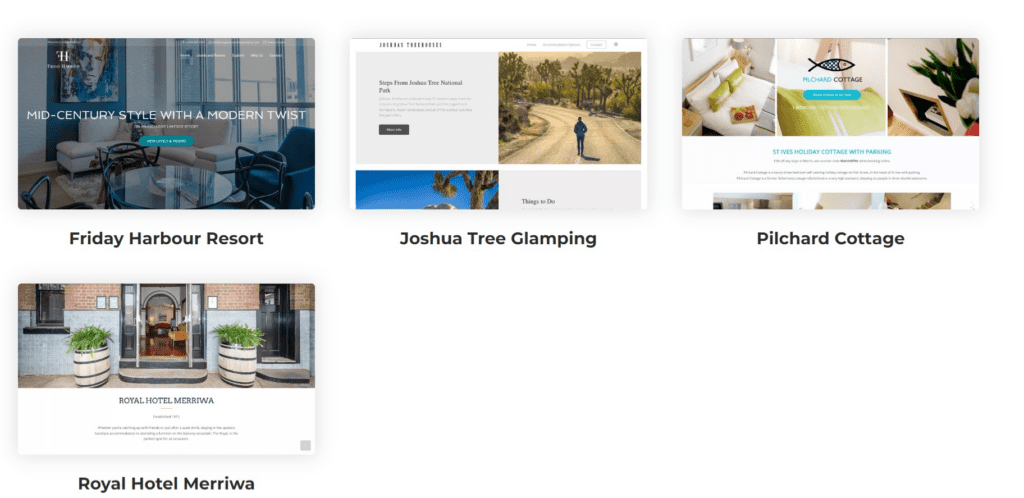 Bellevue WordPress theme is specifically designed for hotels and rental businesses, offering 80 Designer Widgets Elements. Additionally, Bellevue offers multiple design options, including different color schemes, fonts, and layouts. The responsive design ensures that your website looks great on any device or screen size. Moreover, custom widgets and features can be easily added to further personalize your website according to your requirements.
Automated Installer
The installer guides you through the entire process, from installing the theme to importing demo content and customizing the design. With pre-designed templates available for the homepage, room listings, and booking forms, you can have your website up and running in no time. This feature saves you both time and effort in setting up your website, allowing you to focus on other aspects of your business.
Integrations
It Integrates with Elementor Pro, WooCommerce, MotoPress, Formidable Forms Pro, Groovy Menu, Master Slider Pro, Slider Revolution, and Booked.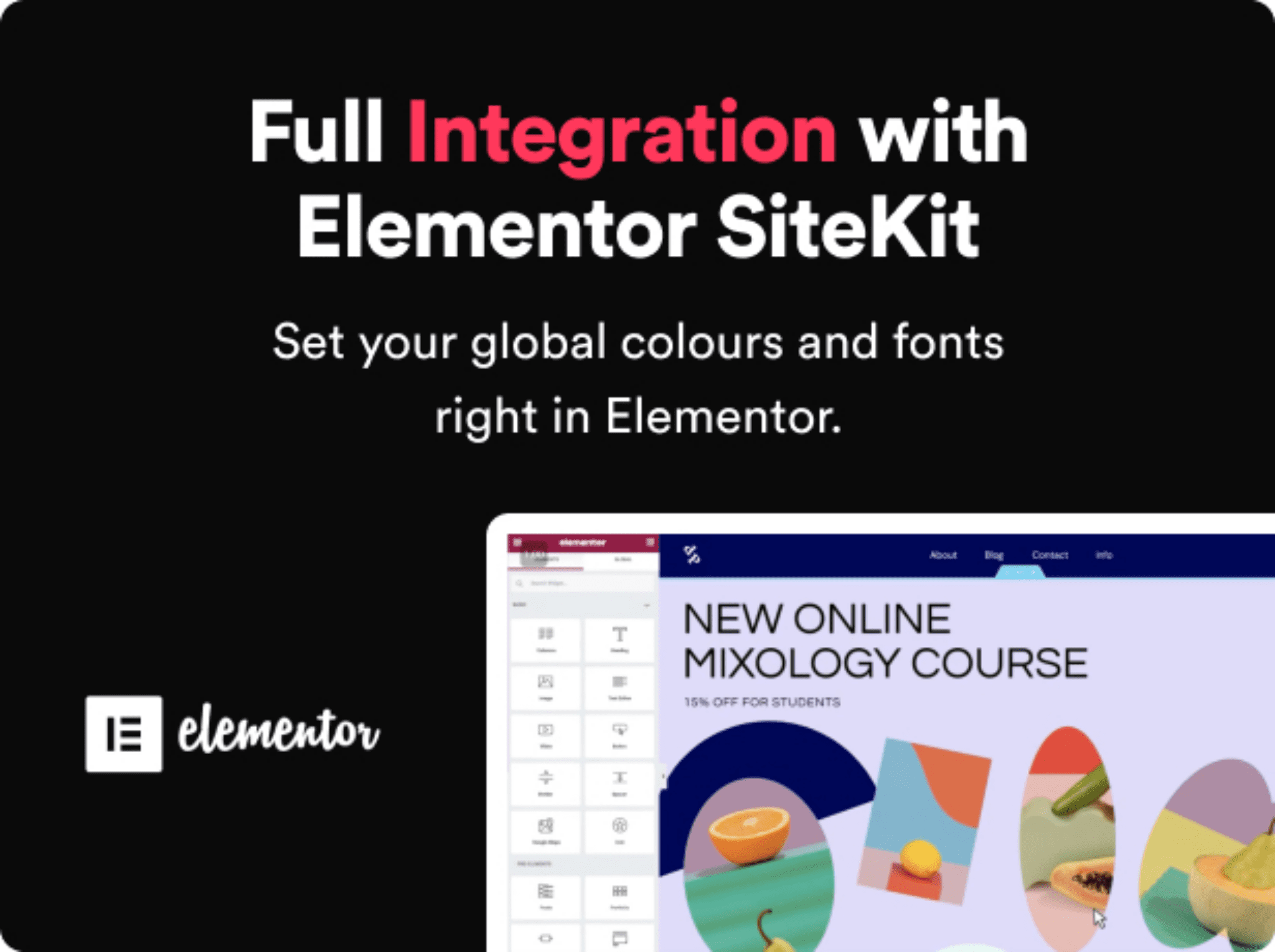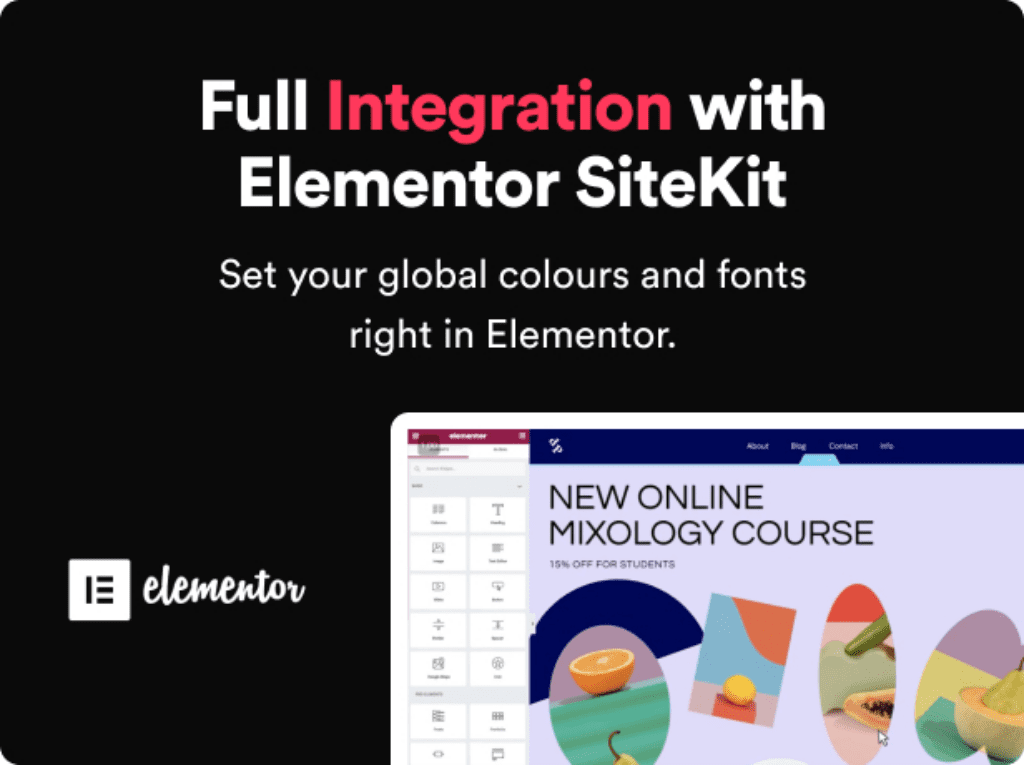 Advanced color and typography options
Bellevue WordPress Theme offers advanced color and typography options that allow users to create a unique and personalized website for their hotel booking or rental business. The theme provides a wide range of pre-designed color schemes, as well as the option to customize colors according to your brand identity.
Additionally, the typography options include several fonts, sizes, and styles that can be used to enhance the visual appeal of your website. With these advanced customization options, you can make sure your distinct online presence stands out from other hotel booking and rental websites.
Benefits of using Bellevue for Hotel Booking and Rental
Why use Bellevue?
With its user-friendly interface, customizable reservation forms, availability calendars, and payment gateways, Bellevue makes it easy to set up and customize your website according to your specific needs.
The theme offers built-in support for popular third-party booking services like Airbnb and Booking.com, making it a time- and cost-effective solution for launching your business online.
25 New layout and Listing Styles
Bellevue is packed with variety. It is actually 14 WordPress Themes coupled into 1. That's upwards of 400 unique Hotel and Vacation Rental page layouts.
$938 Freebies are included with 11 new add-ons.
Pricing Plans
Pricing plan from ThemeForest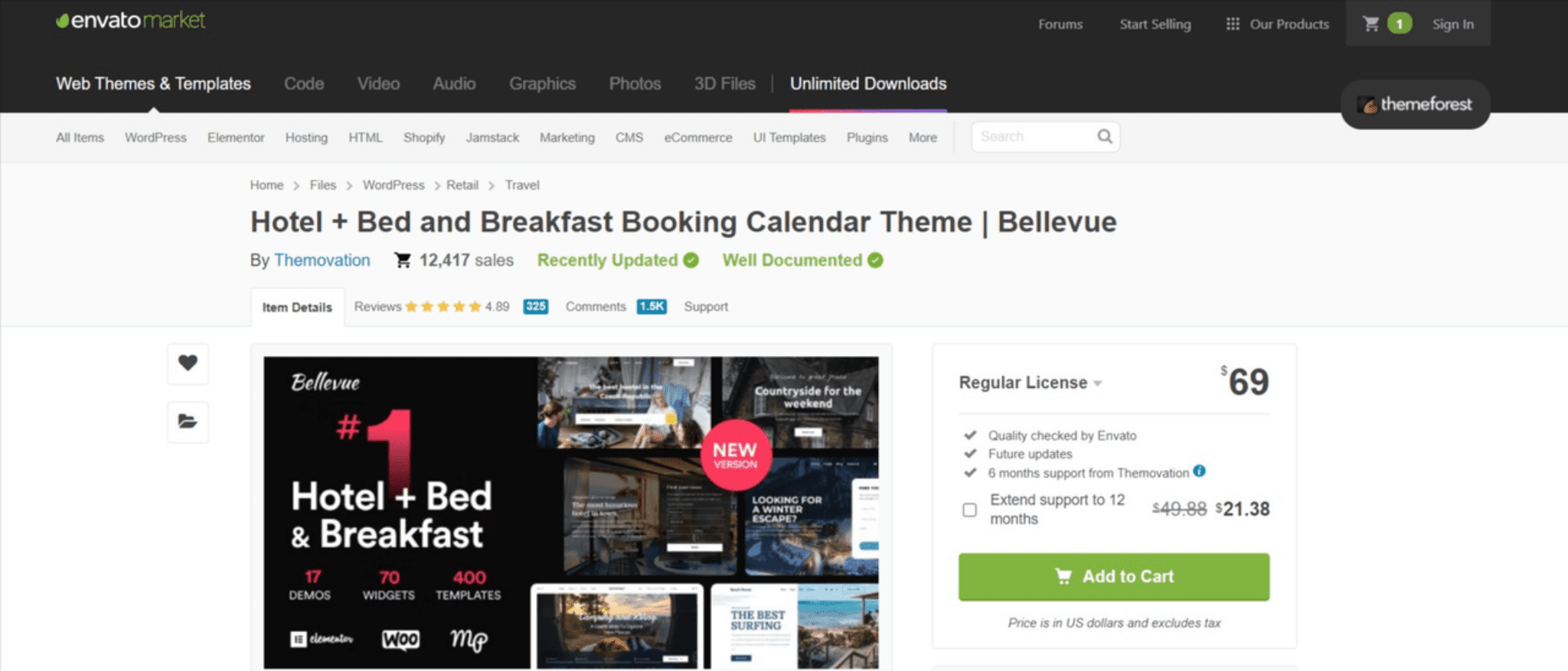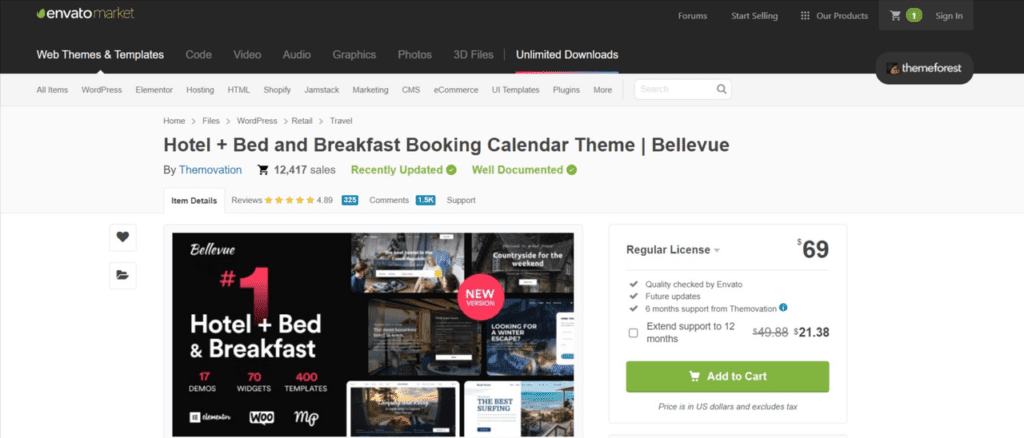 Support
Knowledgebase and Contact support
Offers Live Chat, Email, and Ticketing support
Brief Documentation
Pre-Sales Questions and FAQs
Changelog
Alternatives
Similar Themes
Hotello is a professional WordPress theme for hotel businesses. Visitors of your hotel website can take advantage of the advanced booking system to check for availability and then complete the booking form and send payments directly from your website.
Lava is a high-quality WordPress theme for hotel, hostel, resort, and vacation room/apartment rental services. The theme is fully integrated with a powerful Hotel Booking system, you'll be able to manage room listings, customer bookings, payments, coupons, etc.
Disclaimer text….
Riorelax – Luxury Hotel WordPress Theme.This theme is made with currently best features where you can get details about a hotel facilities including rooms and suits details with booking process only information base. 
Final Verdict
Is Bellevue worth it?
Bellevue theme is perfect for hotel booking and vacations. It has Full WooCommerce support for secure payments. It has fully customizable colors, fonts, page builder, transparent header, sticky header, parallax, sidebar, widgets, etc.
It has in built shortcodes and is touch optimized. It is SEO friendly with extensive documentation. It has an excellent support team which solves all the queries and problems. It has CSS3 animation options and customizable HTML codes. o learn more about how Bellevue compares to other hotel booking and rental WordPress themes, check out our comprehensive comparison guide.
Video
Watch to know more!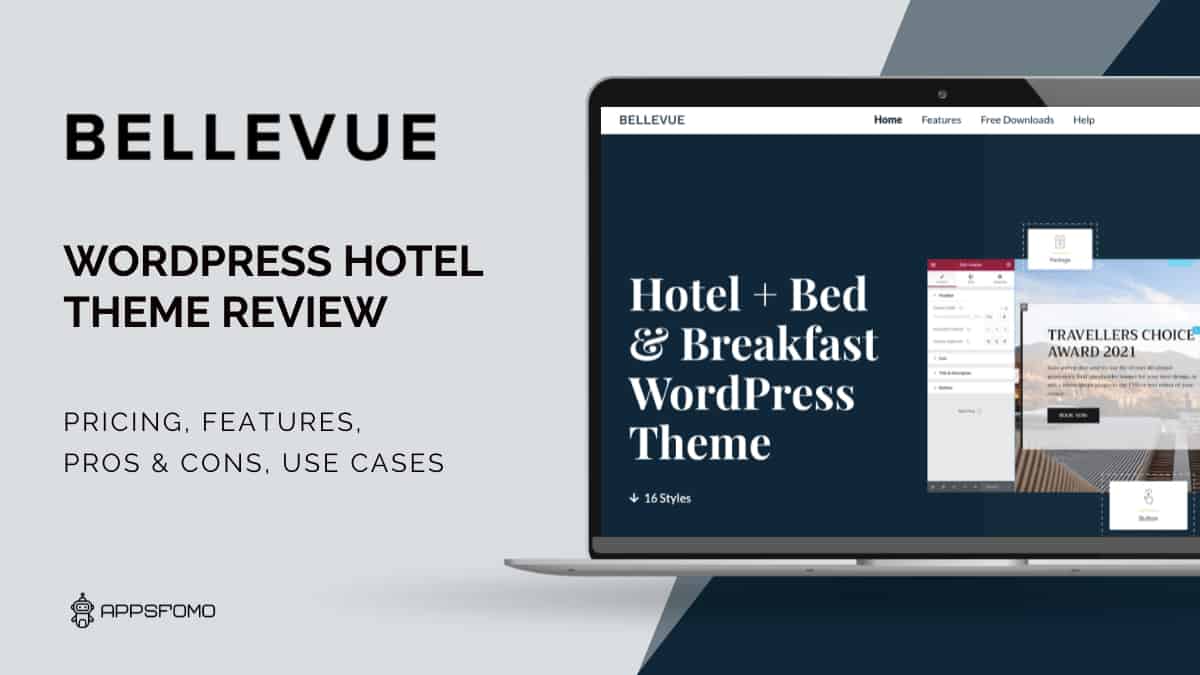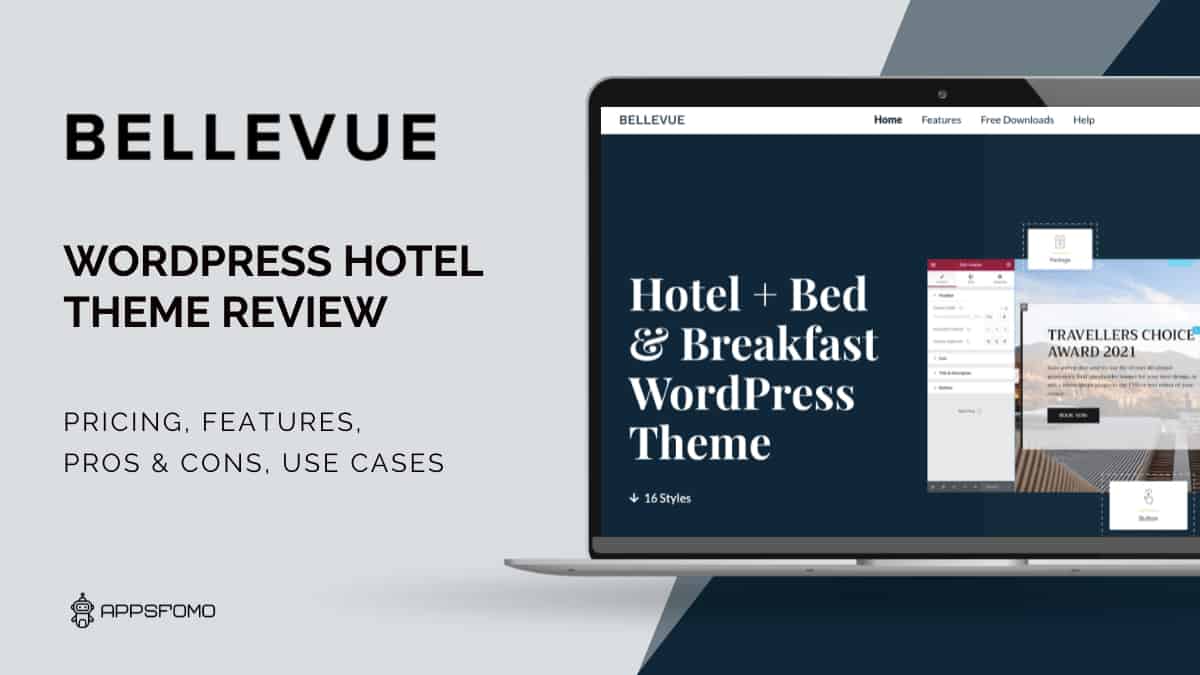 Bellevue: The Best WordPress Theme for Automating the Booking Process