The7: The Ultimate Multipurpose WordPress Theme for Business
Add to wishlist
Added to wishlist
Removed from wishlist
0
Add to compare
| | |
| --- | --- |
| Review Date | Default |
| Author | Myroslav |
| Company Name | Dream Theme |
| Marketplace | Themeforest |
| Appsfomo Rating | 7.5 |
| Free Verison | Not Available |
| Initial Release | 2012 |
| Active Installations | 100k + |
| Niche | Business |
| Free Templates | None |
| Premuim Templates | |
| Unique Theme Features | Best for Woocommerce |
| Supported Page Builders | |
| One Click Demo | Yes |
| Multilang Support | |
| Pricing Options | |
| Money Back Guarantee | |
| Site Usage | 1 Site |
| Support System | Support Ticket |
| Competitor | Theme X |
| Affiliate Program | No |
The7 WordPress theme is a highly customizable and flexible theme that can be used for any type of business website. It comes with over 40 pre-built websites, including niche-specific demos for industries such as finance, creative agency, e-commerce, and more. The7 offers a powerful visual editor that allows you to create beautiful pages and layouts without touching a single line of code.
You will get:
Compatible with Elementor
Highly customizable
Design Wizard included
1000+ theme options and 250+ page options
1 click Installer
Gutenberg Integration
SEO optimized
Premium plugins included etc…
Appsfomo Rating
Appsfomo Rating
PROS
Compatible with Elementor
Highly customizable
Design Wizard included
1000+ theme options and 250+ page options
1 click Installer
Gutenberg Integration
SEO optimized
Premium plugins included etc…
CONS
Performance is Medium
It can be complicated for a person who does not have some technical knowledge.
Are you searching for a multipurpose WordPress theme that can cater to all your business needs? Look no further than The7! This amazing theme is perfect for businesses of all sizes, whether you are a startup or an established enterprise.
In this blog post, we'll dive deep into what makes The7 so special and why it has become the go-to choice for many businesses worldwide. We'll explore its features, customizability, and how it can help boost your SEO rankings. Not only that, but we'll also take a look at the pros and cons of using The7 and provide pricing information. Lastly, we will share some use cases of The7 and compare it with some of its closest competitors like Kadence WP, WPBakery, and BeTheme. So buckle up and let's explore why The7 should be your ultimate choice for a WordPress theme.
The7 is a multipurpose WordPress theme that has gained popularity worldwide due to its extensive features and customizability. It is designed to cater to businesses of all sizes, from startups to established enterprises. The theme offers over 40 pre-built website designs, making it easy for businesses to find one that suits their brand's style. The7 prides itself on its optimization for SEO and fast page loading speeds, which ensures that your website remains secure and user-friendly at all times.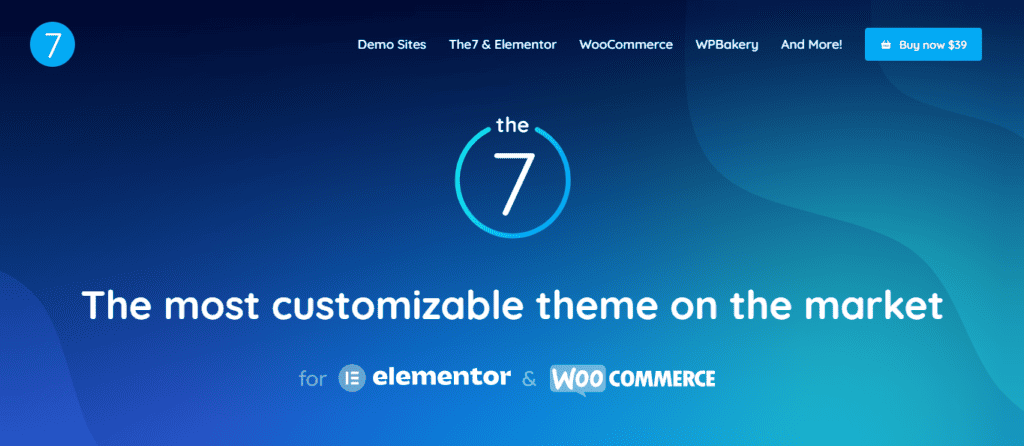 With regular updates and reliable customer support, The7 is an excellent choice for any business looking for an all-in-one solution
Company Details
The7 WordPress theme was launched in 2013 by Myroslav and Irina, with Dream-Theme Team as its developer. Since then, it has sold more than 196,000 times, generating more than $7.6 million in value. The theme's focus on ease of use and flexibility has made it a popular choice for businesses looking to customize their website design.
As a Power Elite Author in ThemeForest Marketplace, Dream-Theme provides excellent customer support and regular updates to keep the theme up-to-date and secure.
Online Presence
Basic Features
Why Choose The7?
Customizability
The7 WordPress theme offers over 1000 theme options and 250+ page templates, allowing users to create personalized layouts without any coding skills. With six premium plugins and a visual page builder, users can also customize headers, footers, sidebars, widgets, and more for a truly unique look. Plus, the flexibility of The7 theme ensures that you won't be limited to just one design – change things up as often as you like!
Multipurpose Design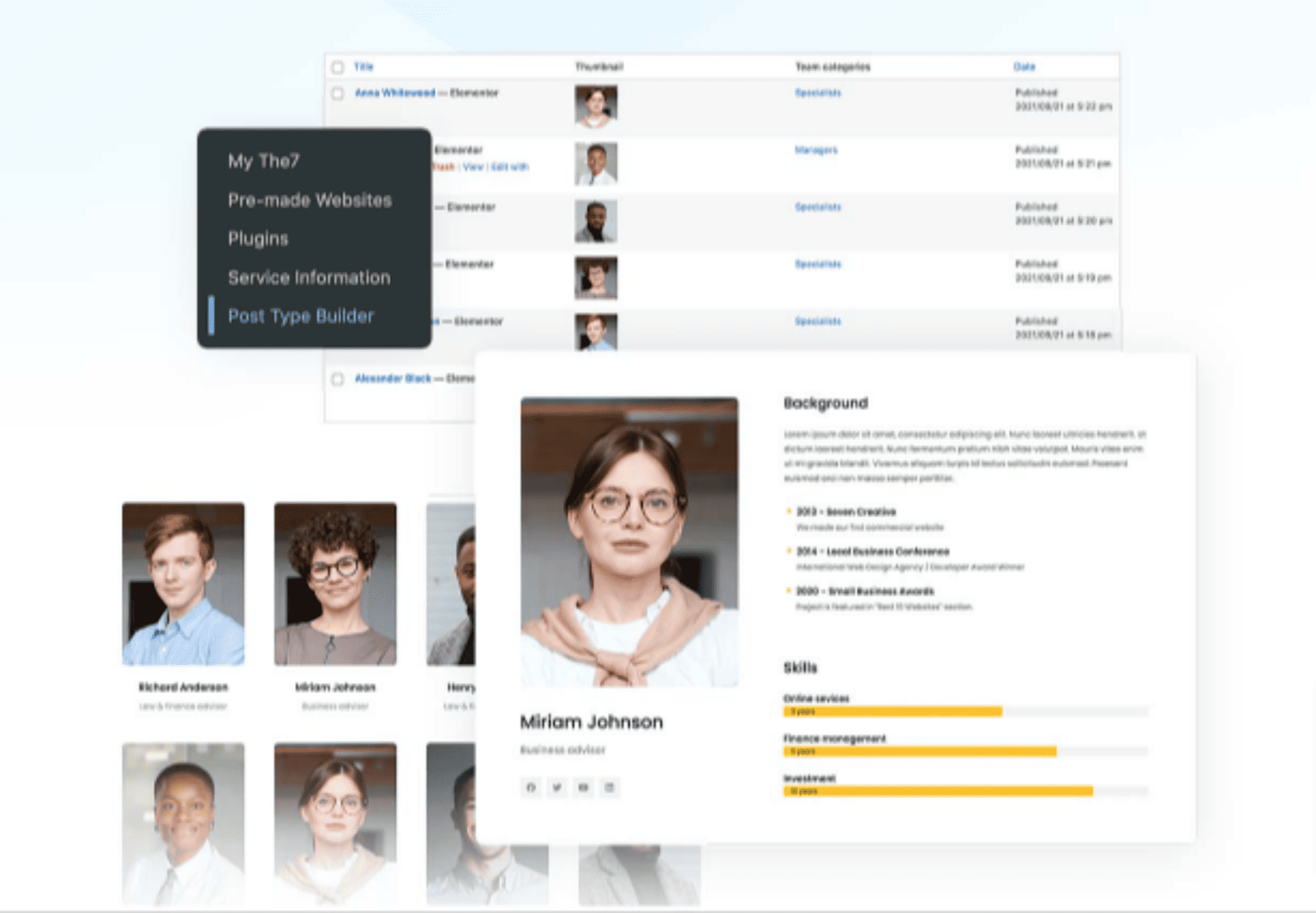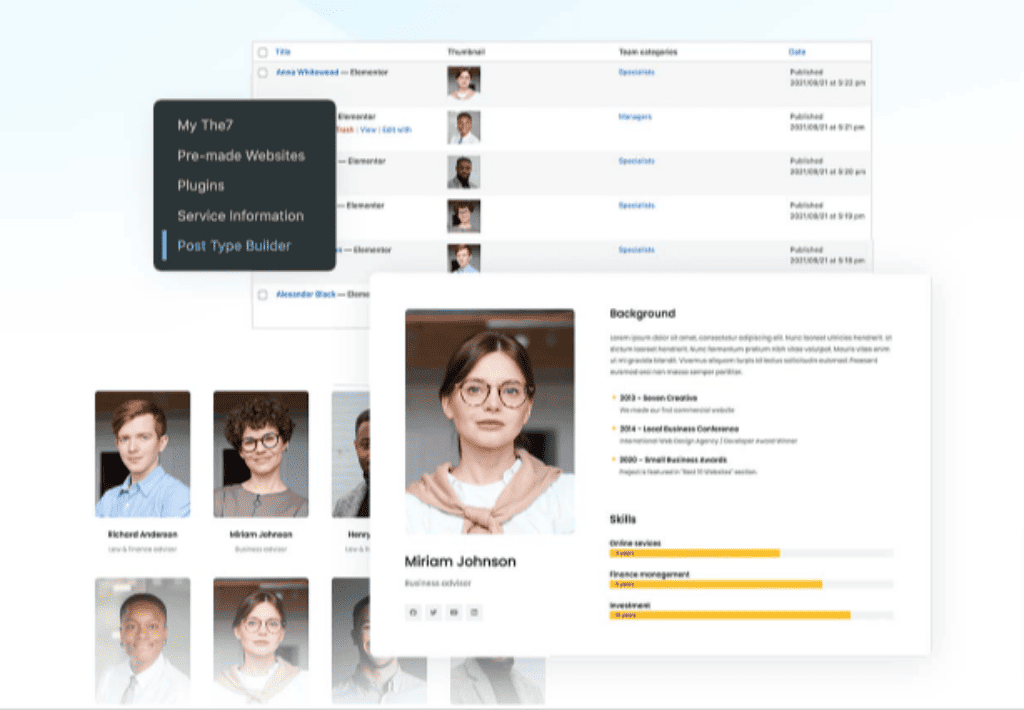 The7's multipurpose design makes it an excellent choice for any type of website. Whether you're creating a personal blog, a business website, or an online store, The7 has got you covered. The theme is not only responsive but also retina-ready and guarantees that your website will look great on any device. The pre-built websites and demo content make it easy to get started quickly, while the design system allows you to create custom layouts that fit your unique brand.
Pre-Made Websites
With over 40 pre-built websites available, The7 theme offers a quick and easy solution to get your site up and running in no time. These pre-made websites are fully customizable, allowing you to tailor them to your specific needs. Each website has been designed with a visually appealing and user-friendly interface, providing a great experience for your customers.
Site Builder and Design System
The site builder and design system of The7 theme allows users to easily create custom pages and layouts without any coding knowledge. With over 1000 pre-built page templates, you can jumpstart the design process. The Design System feature lets you customize every aspect of your website's appearance, from fonts to colors and backgrounds.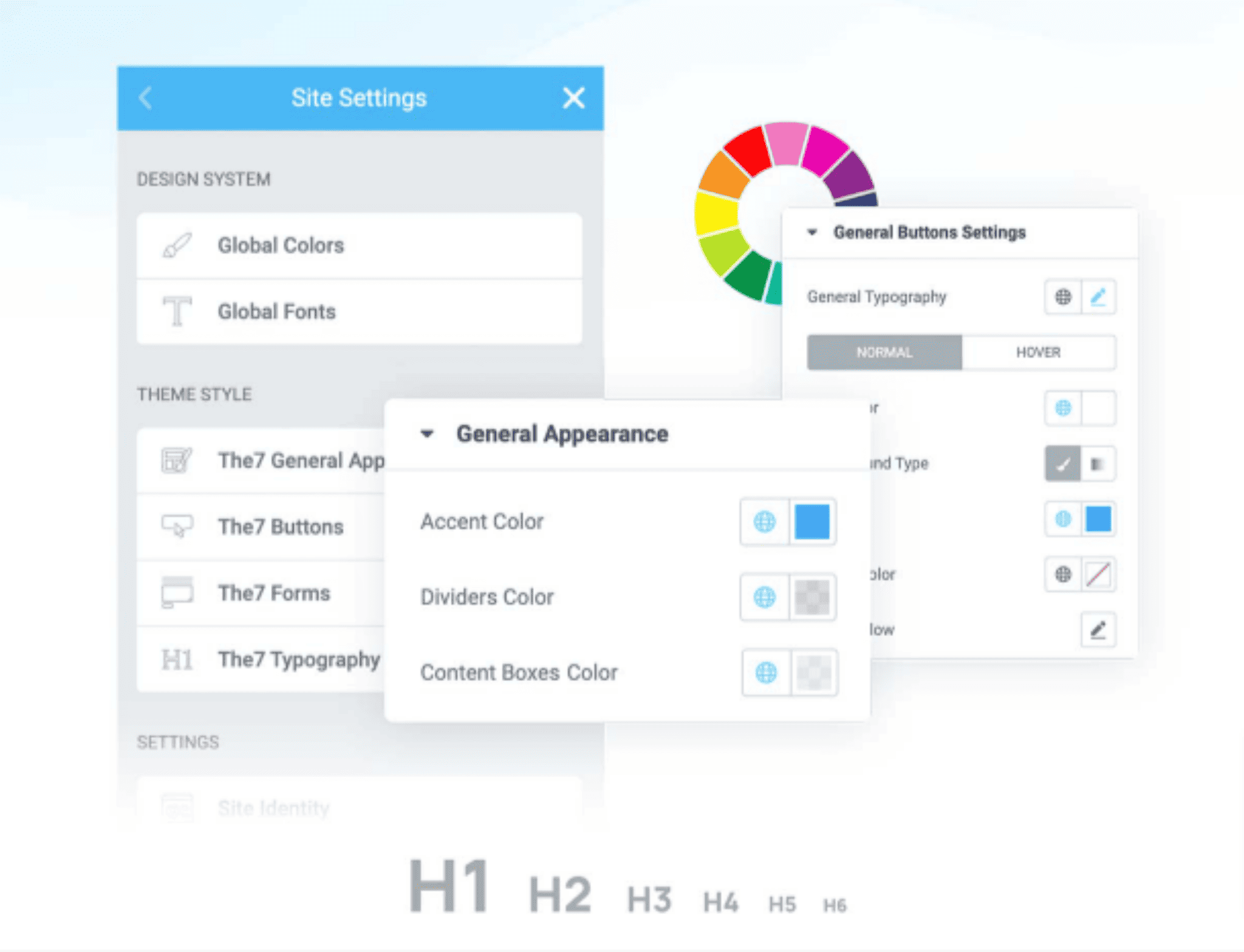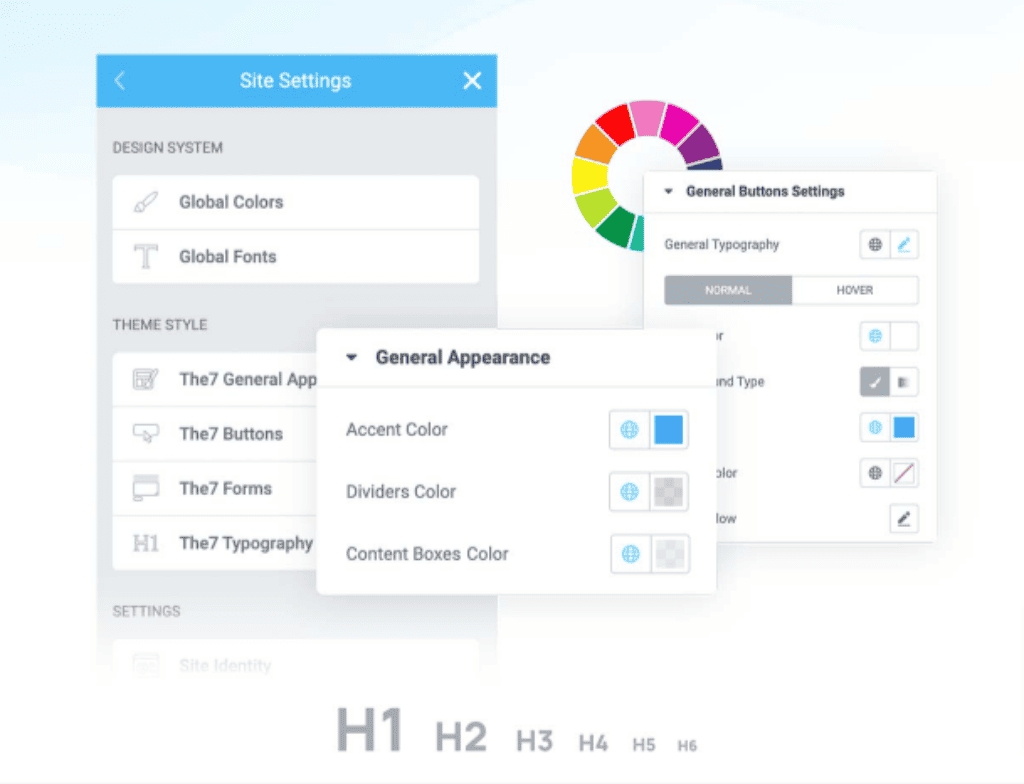 This intuitive system is a game-changer for businesses looking to create a professional online presence quickly and easily. The responsive design and SEO optimization built into The7 makes it an excellent choice for those seeking versatility, functionality, and ease of use all in one package.
SEO-ready and Mobile Friendly
Maintaining a strong online presence is crucial for any business looking to succeed in today's digital age. The7 theme offers excellent SEO optimization, which can help improve your website's ranking on search engines. The clean and well-organized code of the theme ensures that search engines can easily crawl and index your site, improving its visibility and reach.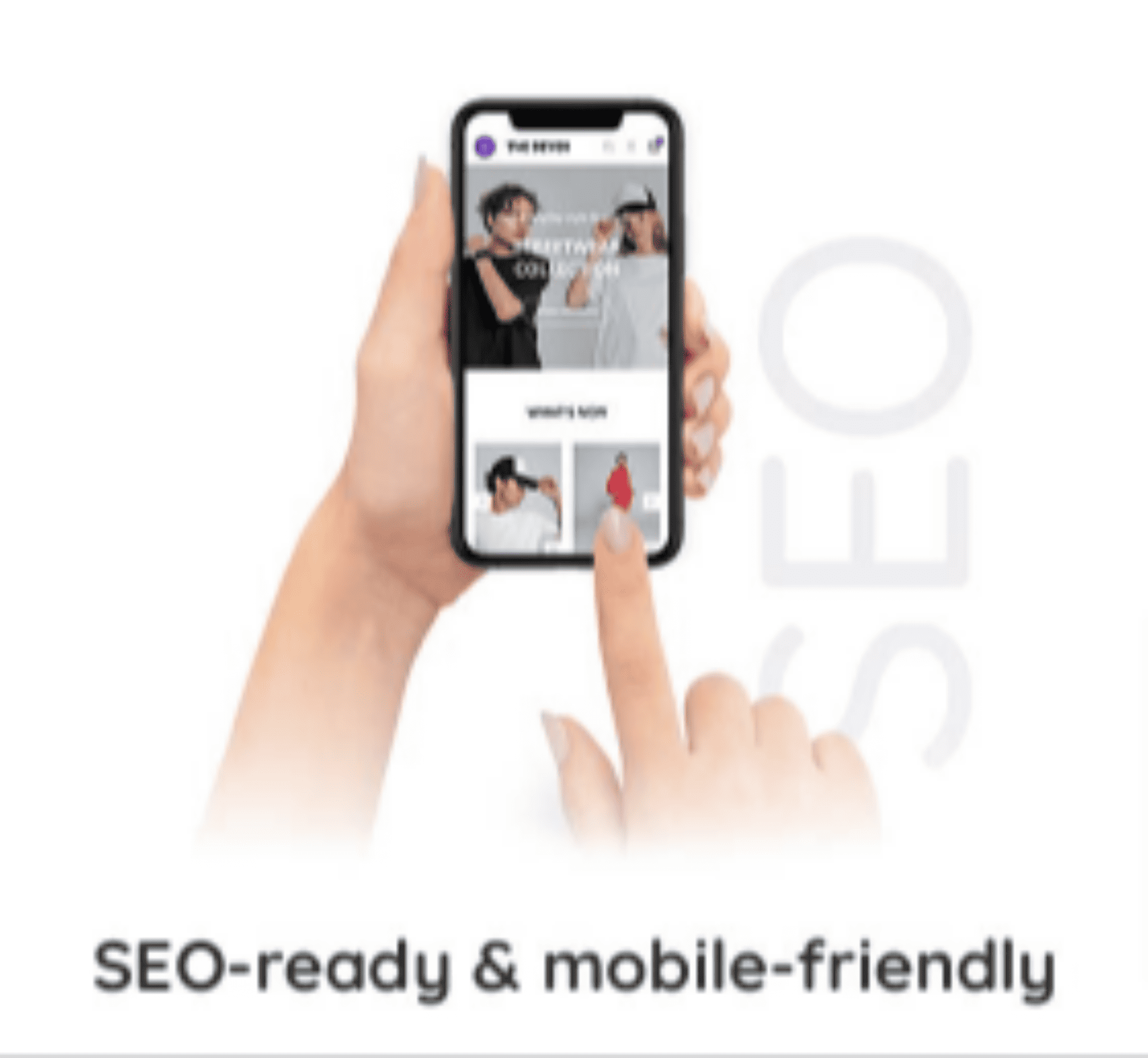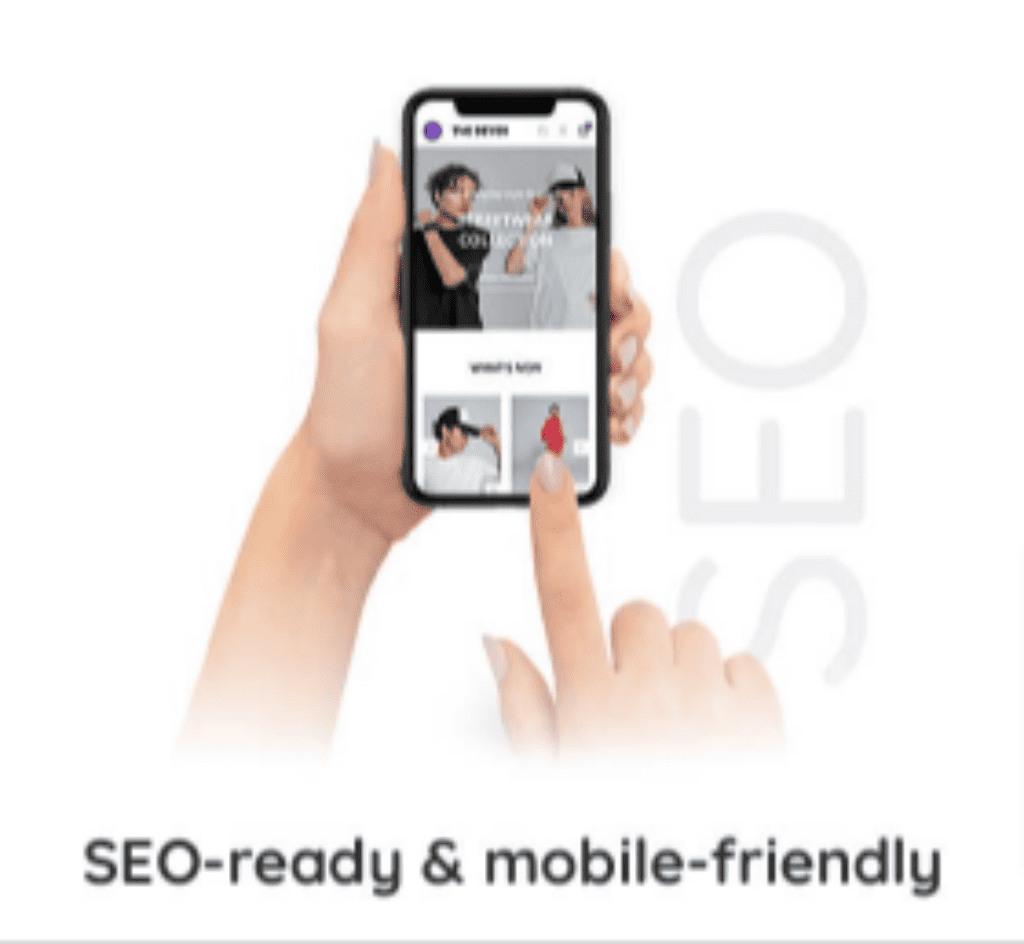 Additionally, The7 theme is mobile-friendly and responsive, adapting to different screen sizes and devices, providing an enjoyable user experience for your visitors. With customizable design options, you can create a unique layout that aligns with your brand's image and values.
Multilingual and Translation Ready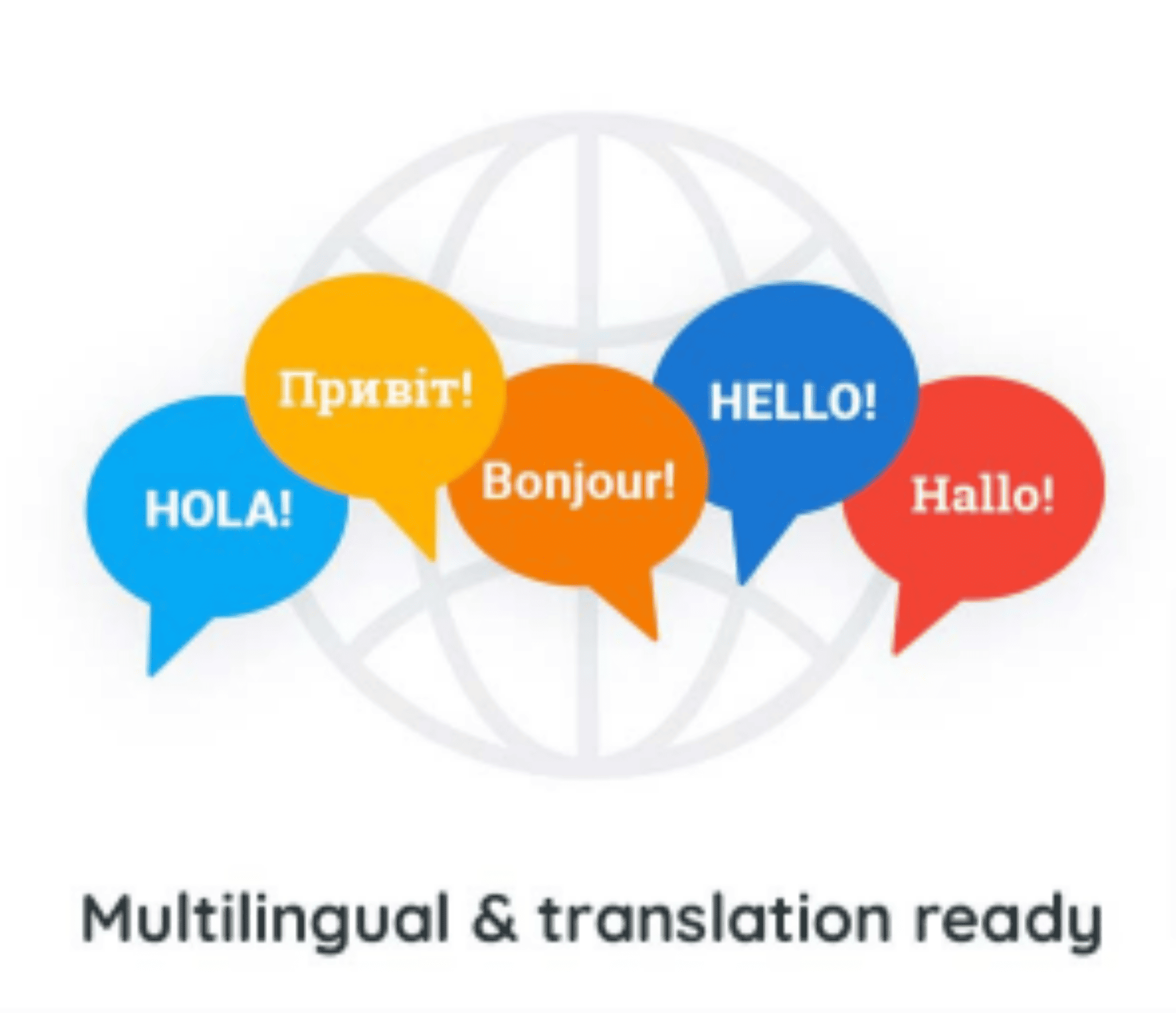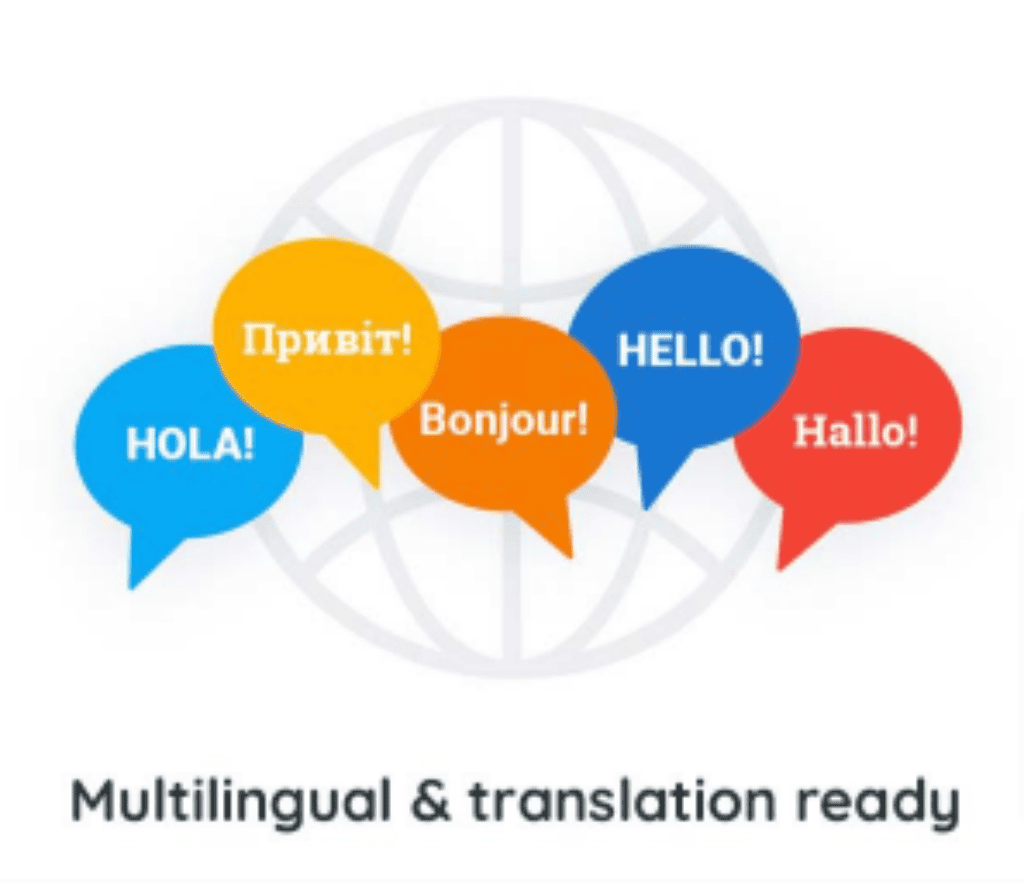 Expanding your business globally is easier with The7 WordPress Theme's multilingual and translation-ready features. With support for popular translation plugins like WPML and Polylang, you can easily create a website in any language. This feature also includes .pot files for easy translation of all theme texts to reach a wider audience, opening up opportunities in new markets. Multilingual capabilities can also improve search engine optimization by targeting specific languages and regions.
Advanced Features
Unique features of The7
Bespoke Widgets
Bespoke Widgets are a unique feature of The7 WordPress theme that allows for complete customization of widgets using the Visual Composer drag-and-drop builder. With Bespoke Widgets, you can create any type of widget imaginable, from interactive maps to product sliders, making it easy to tailor your website to meet your specific needs.
Simple Custom Post Type Builder
Managing custom content types has never been easier with The7. Its simple custom post type builder allows you to create and organize your content in a more efficient and personalized way. You can easily create custom post types for anything from team members to portfolio items, add custom taxonomies, and fully integrate them with your website's design options. Save time while creating a unique website experience for your business with The7's simple custom post-type builder.
WooCommerce Integration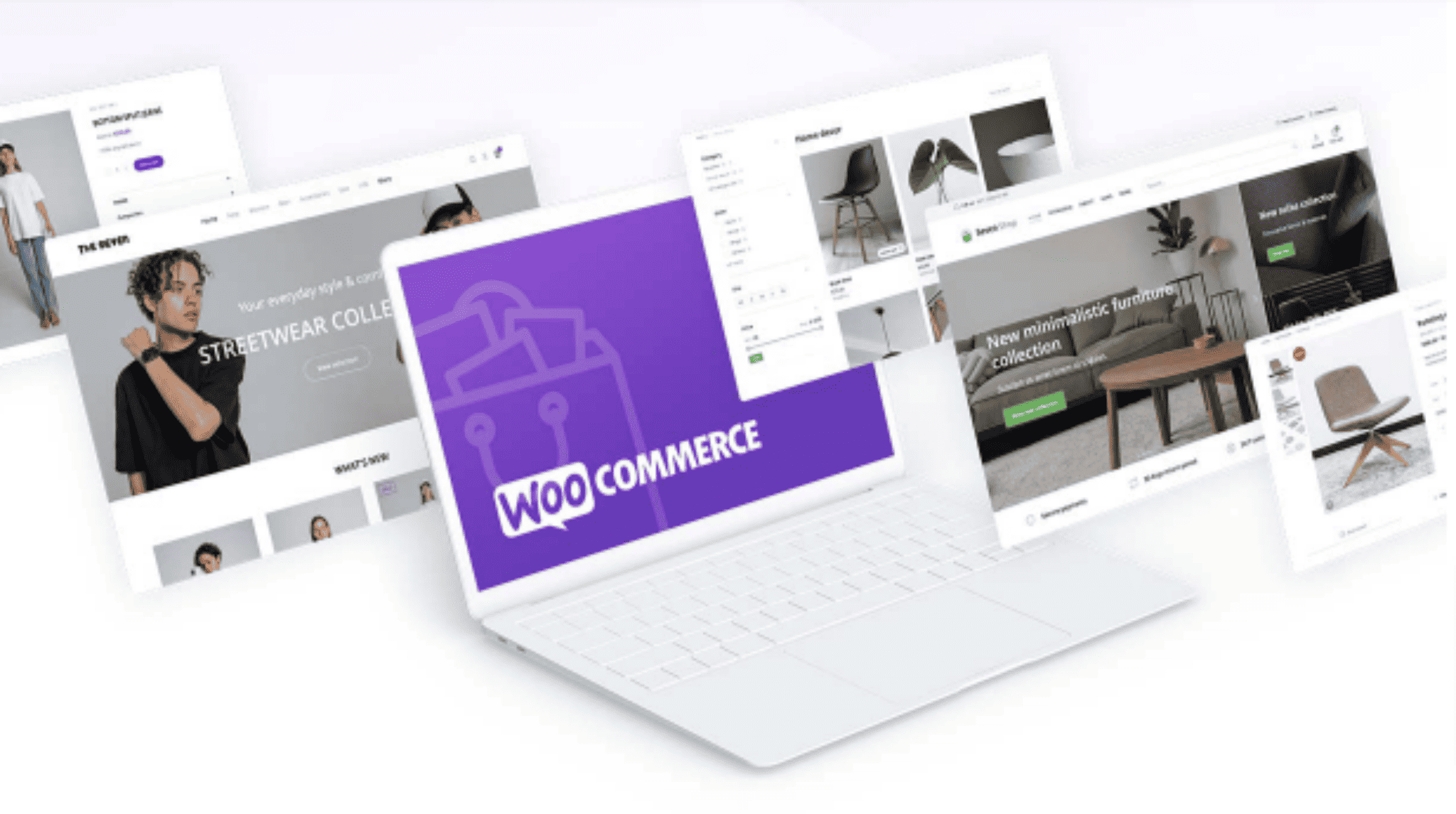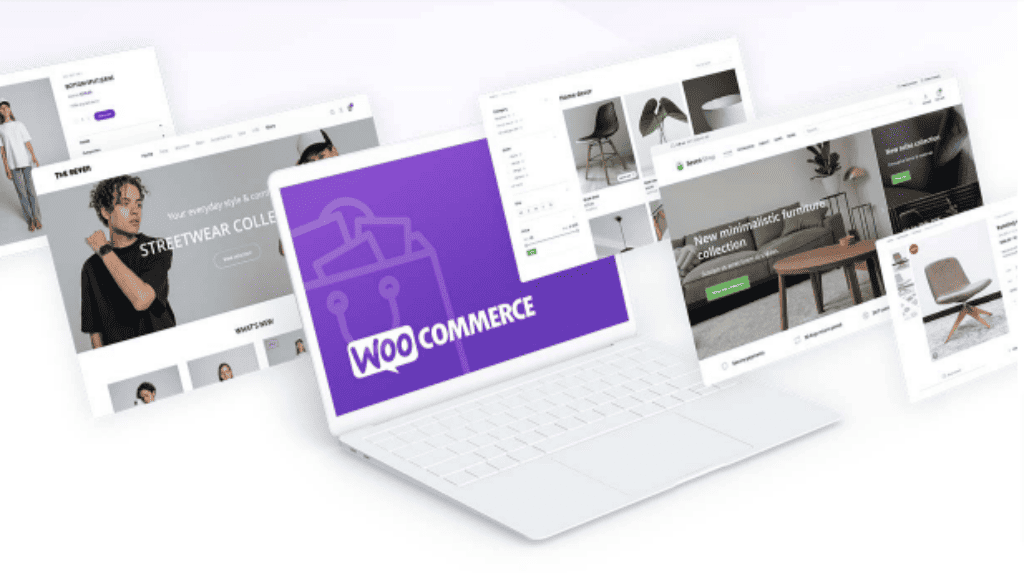 One of the most significant advantages of The7 Theme is its seamless integration with WooCommerce. With this feature, you can easily set up an online store for your business and present your products or services in a visually appealing and user-friendly way. The theme's compatibility with WooCommerce ensures that all e-commerce features are streamlined and responsive, from product pages to checkout processes.
WPBakery Page Builder and Ultimate Addons Integration
The integration of WPBakery Page Builder and Ultimate Addons makes The7 theme an excellent choice for those looking to create a dynamic online presence. Without any coding knowledge, these tools allow you to customize your website's layout and design with ease. The drag-and-drop interface of the WPBakery Page Builder ensures that elements can be added and arranged without complexity.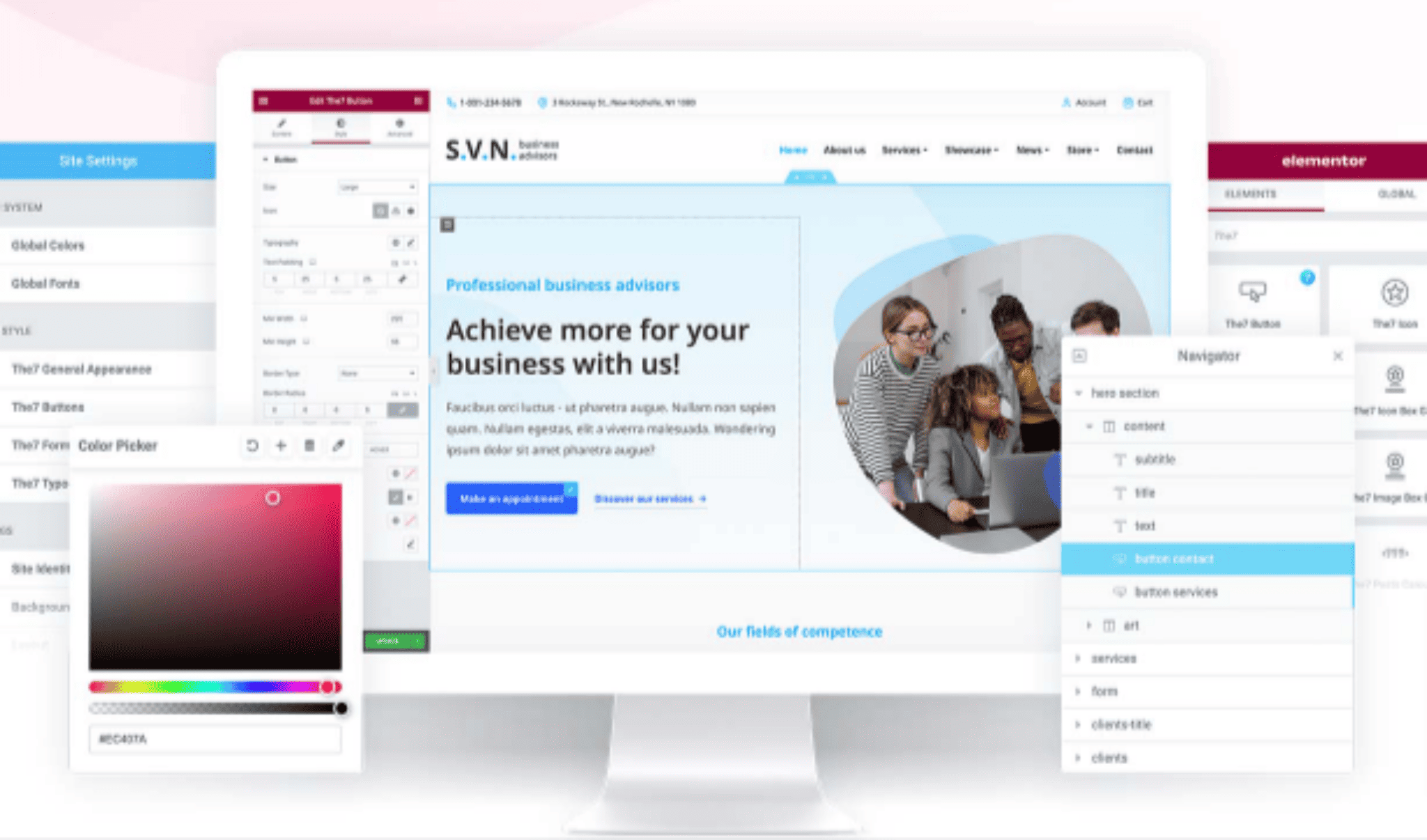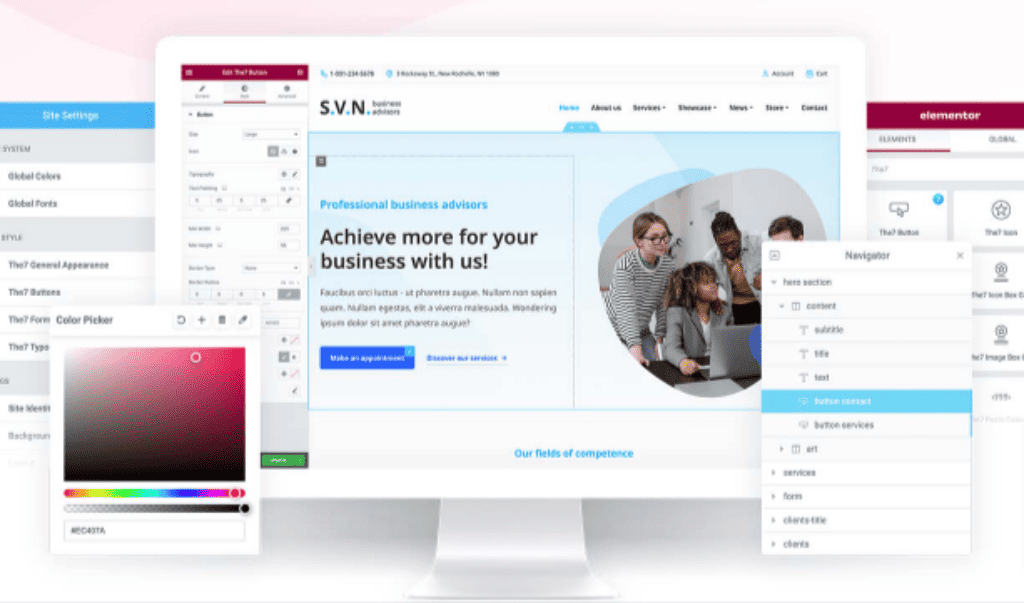 Additionally, the Ultimate Addons offers over 100 unique widgets and elements that can enhance your website's functionality, making it stand out from competitors.
UseCases
Benefits and Applications
Web designers and developers
E-commerce
Bloggers
Content creators
Businesses
Photographers
Pricing Plans
Lifetime Pricing
The7 offers One Time Payment for Lifetime Access.


Support
Technical Support, Knowledge Base, Roadmaps, Changelogs
Alternatives
Similar Themes
Kadence WP theme offers a range of customization options and pre-designed templates that can be easily customized without any coding knowledge. Additionally, Kadence WP has a responsive design, fast loading speeds, and excellent customer support, making it a top choice for SEO optimization.
WPBakery is a page builder plugin for WordPress that provides a simple drag-and-drop interface to create custom pages and layouts. It includes an extensive library of pre-designed templates and elements to help create different types of websites without any coding knowledge.
Disclaimer text….
BeTheme is a popular WordPress theme with over 500 pre-built websites, making it a great choice for businesses looking to get started with their website quickly. Its drag-and-drop page builder allows for easy customization, and its compatibility with popular plugins like WooCommerce and Contact Form 7 makes it versatile.
Disclaimer text….
Final Verdict
Is The7 Right for You?
The7 is a versatile and flexible WordPress theme that offers an array of features to cater to all your business needs. With its pre-made websites, customizable design, and integrated plugins, you can get your website up and running in no time. Additionally, it is SEO-ready and mobile-friendly, making sure that your site ranks well on search engines and looks great on any device. While there are a few cons to consider, the pros outweigh them by far.
If you're looking for a reliable WordPress theme for your business website, sign up for The7 today.
Video
About how The7 works?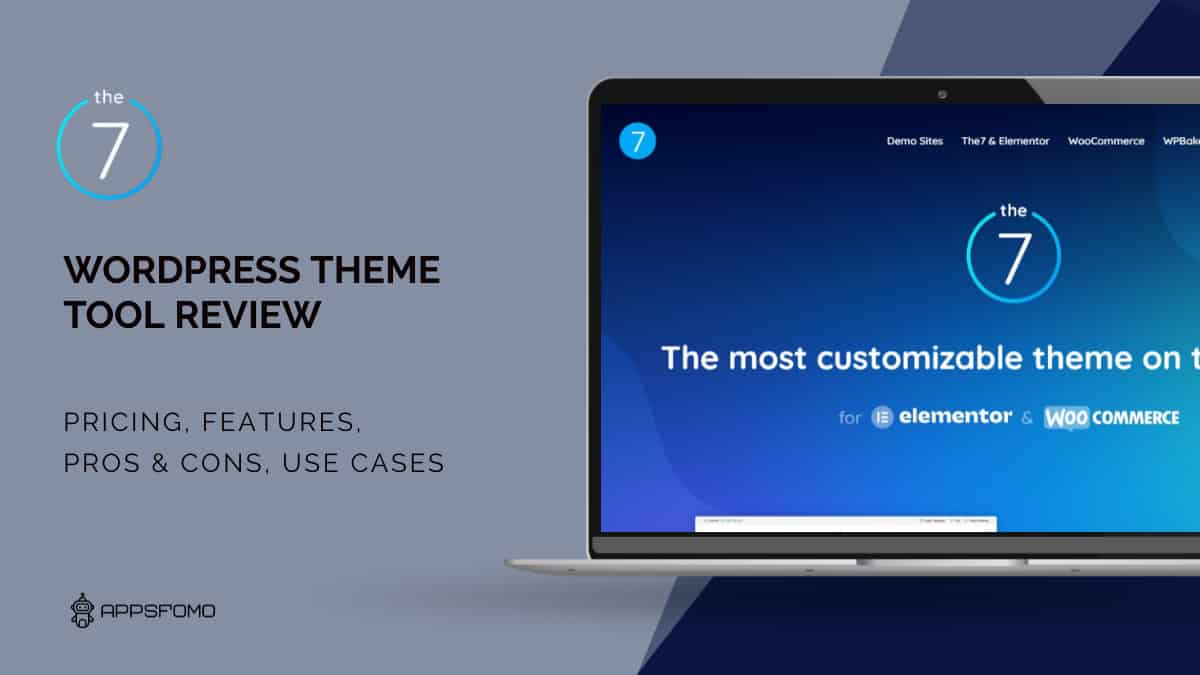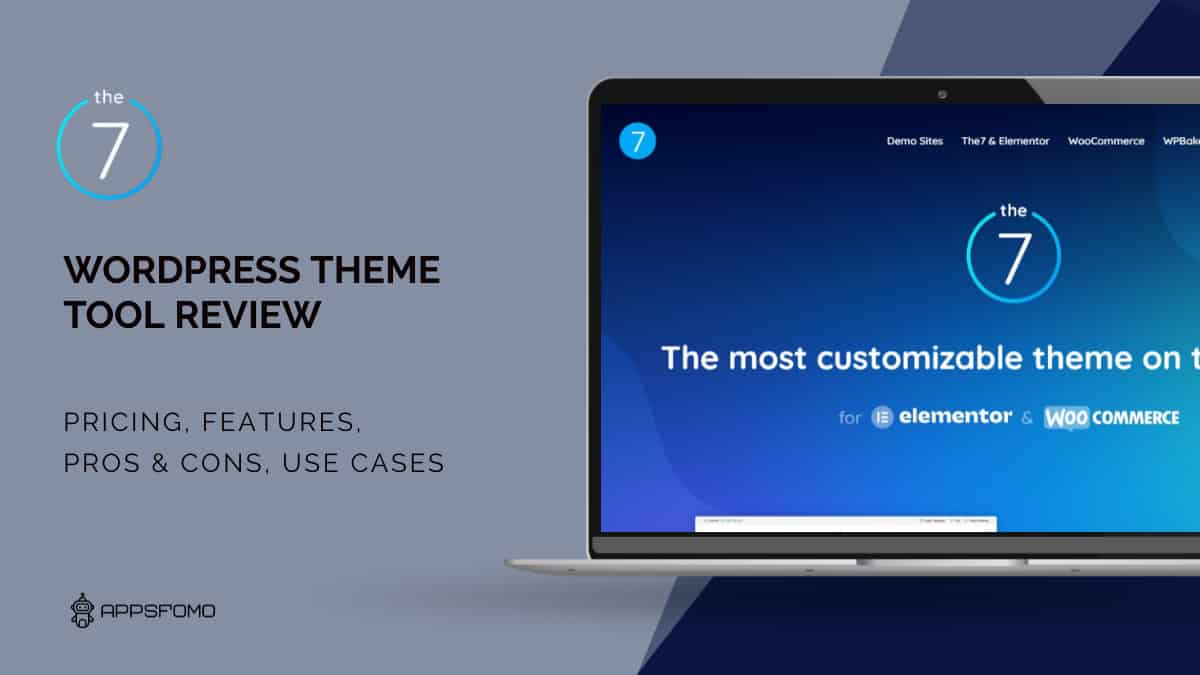 The7: The Ultimate Multipurpose WordPress Theme for Business