BackupGuard: A Backup Plugin for Secure Website Protection
The best backup plugin that will keep your website protected from hackers, human errors, with secure backing up process & one click restoring.
Expert Score
Backup guard plugin is the easier way to backup your website and restore at any point of time with no struggle.
The Backup Guard WordPress plugin Helps you secure your WordPress site from hackers and any unauthorized access, Also with the help of this plugin backup your WordPress files, Database files, or both, and restoring made easy .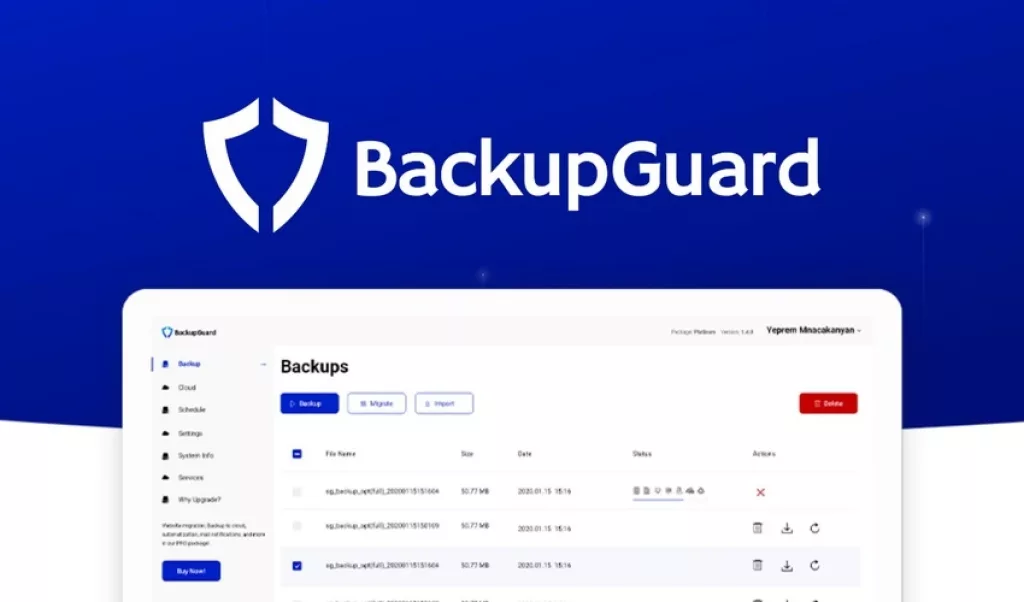 Why Backup Guard WordPress Plugin?
The best backup plugin that will keep your website protected from hackers, human errors. This is the trusted backup plugin by thousands of users, which helps you take backup of the WordPress website easily and also helps you restore it in an easy and quick way.
In this Review we will, how to install the plugin, having use of both Free and Pro versions its advantages and disadvantages also some more clear ideas about this backup guard plugin.
How to install Backup WordPress Plugin?
Follow these steps to install this plugin
Dashboard > Plugins > Add New.
In the search bar, type "Backup guard". You can see the plugin in the list below, click on "Install Now".
After you click on install, please wait while the plugin is being installed, then click on "Activate". This will make your plugin ready to use.
The Backup Plugin will now appear in the side menu.
You can also follow the picture representation below to install this plugin
This installation procedure is to install the FREE version of the Backup guard.
Installation steps for backup guard
To install the Pro version please uninstall the free installed version of the backup guard.
Dashboard > Plugins > Add New.
Press the Upload Plugin button to upload the Backup Guard Pro zip file.
Press the "Choose File" option and locate your Pro zip file.
Press "Install Now".
Click on "Activate".
How to use the backup guard plugin after installation. ?
Click on the Blue button "Backup".
Select the backup type from the drop-down and click on the Blue button "Backup."
Filename: The name was given to the backup file.
Size: Size of the backup file in MB.
Date: The date when the backup was initiated.
Status: This gives the status of your backup if it's "V" it means the backup is completed.
Actions: These are a set of actions that can be taken after the backup is completed, "X" deletes the created backup. The " Download shape icon" will help you download the backup file. The "Reverse shape icon" helps you "Restore" the backup.

Backup Guard WordPress Features.
One-Click WordPress Backup: Perform the Full backup where full backup means, WordPress files including your Database files. or your custom backup where you can select what you want to back up either the WordPress file or the Database files only.
One-Click WordPress Backup: Easily perform a full backup encompassing both your WordPress files and database files. Alternatively, customize your backup to choose between WordPress files or database files alone.
Restore: Effortlessly restore your website to any point in time. Backup Guard ensures your site is quickly back up and running.
Site Migration: Utilize Backup Guard's migration feature to restore your site to any other WordPress instance, domain, or server.
Upload: The Backup plugin empowers users to take backups locally and upload them to various cloud storage options. These include Dropbox, Google Drive, Amazon, OneDrive, Box, and Pcloud.
WordPress Security Check: Safeguard your website against attacks. This feature monitors traffic, blocks unwanted IPs, tracks bandwidth, thoroughly scans for infected iframes, and prevents infected redirects.
Why choose the Backup guard Plugin?
For WordPress Users Only: Exclusively tailored to WordPress developers, this plugin facilitates effortless backup and restoration of websites or blogs.

Restore & Migrate Anytime: Once a complex task, migrating and restoring your site is now simple. With the Backup plugin, migration to any other WordPress site is seamless. Restoring is equally easy with just a single click. You can even schedule automated backups.

Emergency Support Available: Given the unique server setups of various WordPress instances, Backup Guard offers personalized backup tech support. Whether you encounter obstacles during restoration, migration, or face failures, dedicated assistance is available. They can aid in website recovery if the restoration process encounters disruptions.
Pro's and Con's
Pro's
Notifies when the backup is completed.
Cloud backup service.
Scan feature.
Firewall feature.
Monitoring feature.
Restoring and emergency support by a backup guard.
Con's
The free version has limited access.
lack of direct support.
The older PHP version is more compatible.
What are the pricing levels?
backup guard pricing and features ultimately convening to go with Backup Guard plugin over other backup plugins.
Similar Plugins
WPvivid WordPress Plugin is Free to use , its has good amount of features.  This Plugin easy your jon of taking backup also helps your schedule your …
| | |
| --- | --- |
| Review Date | April 2023 |
| Author | N/A |
| Company Name | WPvivid Backup |
| Country | N/A |
| Marketplace | Own Site |
| Free Version | Available on WP.org |
| Initial Release | 2018 |
| Other Products | None |
| Active Installations | 280k + |
| WP.org Ratings | 5 |
| Free Extensions | None |
| Premium Extensions | 3+ Pro Addons |
| Pricing Options | Yearly,One-time Payment |
| Past LTD | Yes |
| Money Back Guarantee | 30 Days |
| Support System | Email,Support Ticket |
| Site Usage | 10+ Sites,50+ Sites,Unlimited Sites |
| Documentation | Good |
| Competitor | Updraftplus, Duplicator Pro, Jetpack Backups |
| Affiliate Program | Yes |
Final Verdict
The free version of the backup guard seems to be limited, if you are looking for a WordPress backup plugin then this one is for you which has a supportive backup plan and also allowing you to store it locally and with the cloud's storage support, google drives, and automatic backing up websites and also help easy migration.

BackupGuard: A Backup Plugin for Secure Website Protection