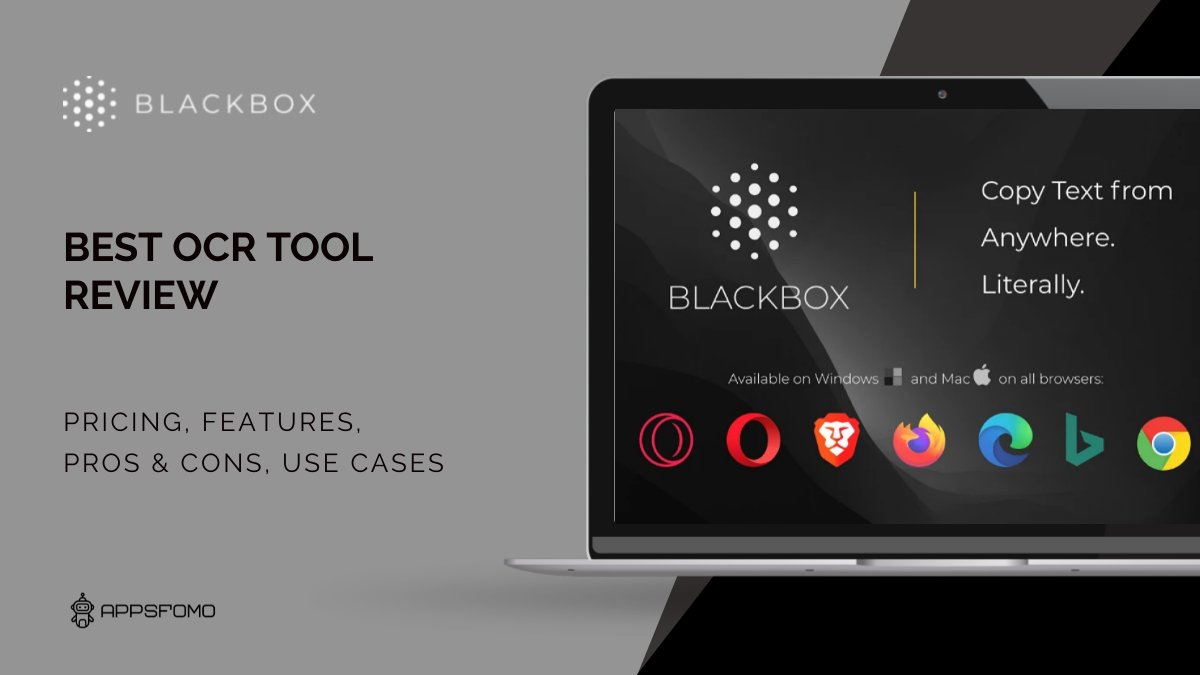 Blackbox: The Best OCR Ever for Copying Text from Videos, Images, PDFs
Rakshitha V
1440
SaaS, Business Tools
Add to wishlist
Added to wishlist
Removed from wishlist
0
Add to compare
BLACKBOX is the quickest way to copy text from videos, images, PDFs, and anything… ever! We know it's a pretty insane idea. But you'll be surprised at what Blackbox can do for you.
This is a must-have tool for students. This is even more appealing to developers. And, if you spend a lot of time looking at videos, webinars, and meetings, you'll love this tool!
Moreover, if you've ever wanted to grab a piece of text from a video, picture, or shared screen on Zoom/Teams/Meet, etc., then you know what I'm talking about. You can't, though. So now you must retype the whole thing after taking a screenshot.
But not anymore, because Blackbox allows you to select text from anywhere on your screen.
What Is Blackbox
Overview
Blackbox is an AI-Powered Coding Assistant that allows you to code in a fast and better way. It is the best solution to instantly capture speech and turn it into a written transcript.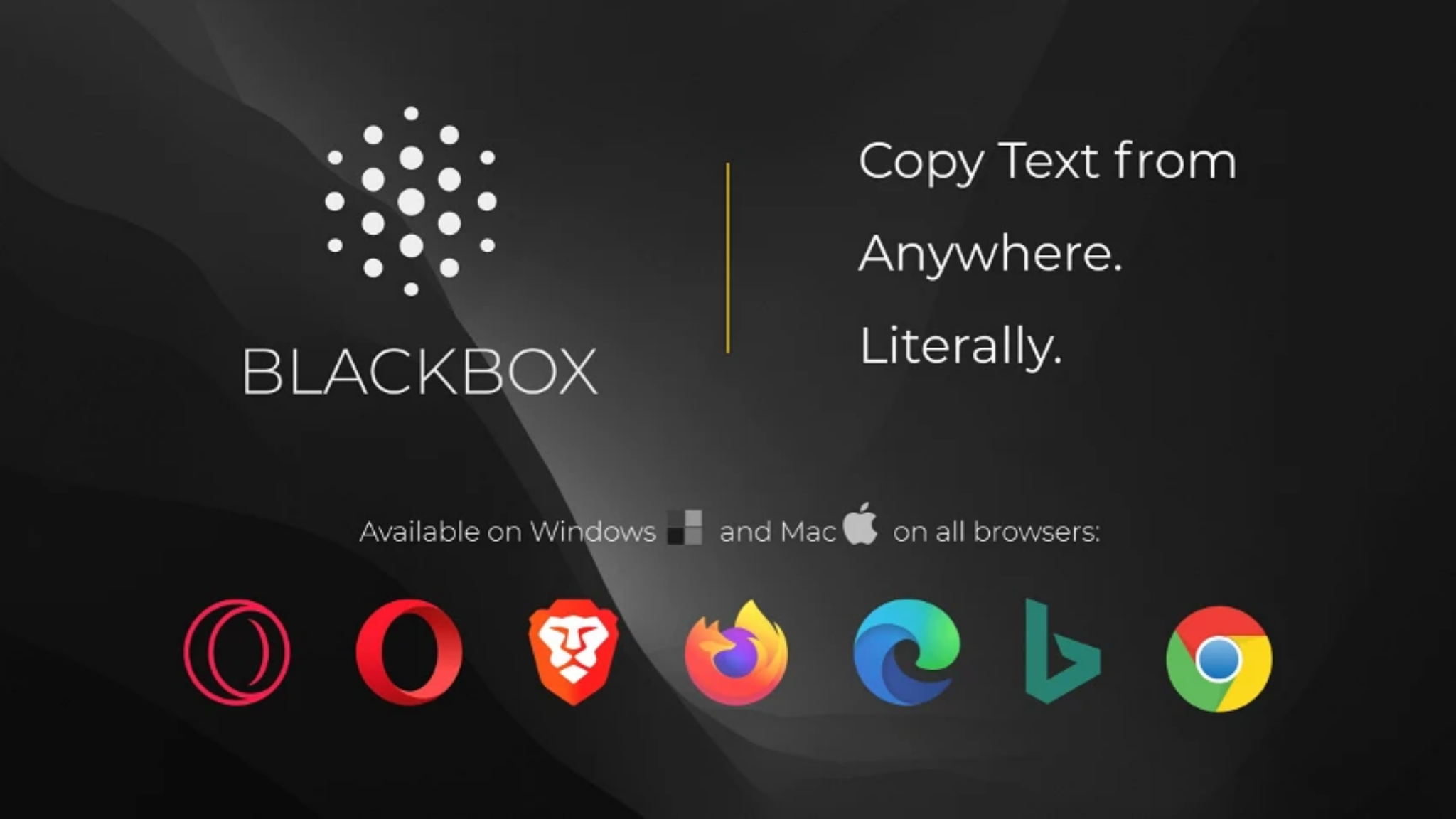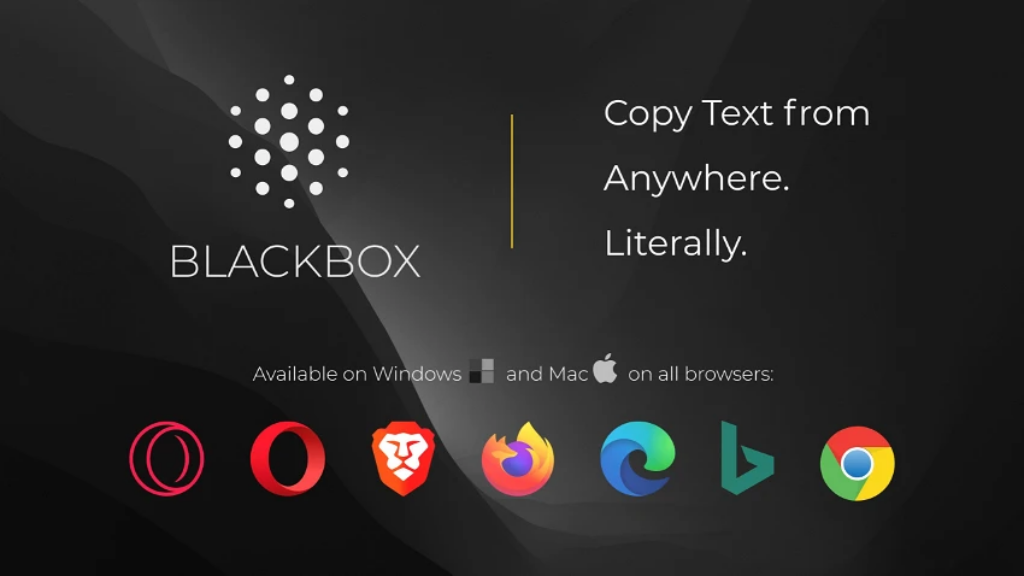 It is a complete productivity tool that makes your coding skills more efficient and saves you time in thinking or writing code.
Blackbox makes it seamless for you to find the right code snippet to use without you having to jump from your environment, open multiple tabs, and scroll through pages of documentation and resources.
Company Details
Blackbox is funded by Cours Connecte, inc. Cours Connecte, inc. is a business registered with Gouvernement du Québec, Registraire des enterprises.
The company was formed in 2020 in Quebec, Canada. Co-founded by Robert Rizk and Richard Rizk.
Online Presence
Basic Features
Copy text from anywhere!
Turn any Questions to Code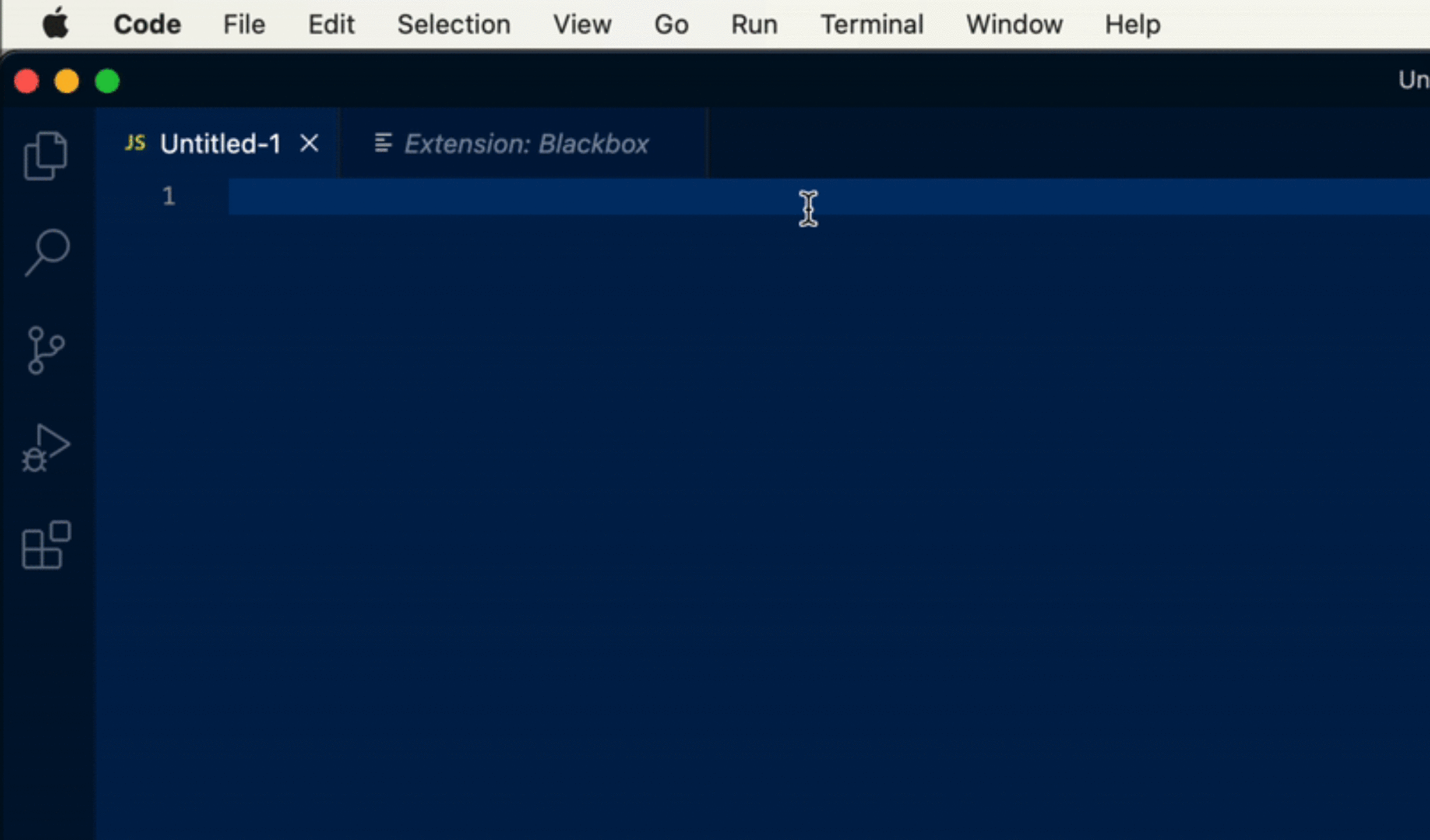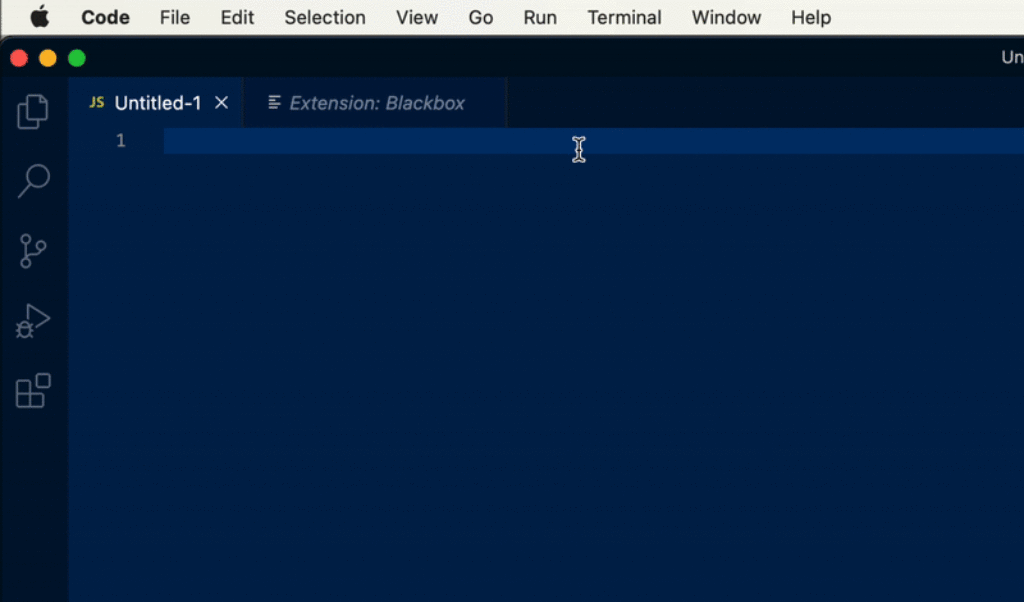 Blackbox code search is a feature that allows developers to search and find the best code snippets to use while developing their awesome products. This helps save a lot of time as it lets you easily find the right code piece for a particular task.
Blackbox gives you the power to search and code in a wide range of programming languages, including Python, Java, C, C++, JavaScript, SQL, PHP, Go, TypeScript, Kotlin, MATLAB, R, Swift, Rust, Ruby, Dart, Scala.
With a single search box, you can quickly find how a specific function is built in any of these languages. This saves a lot of time as you no longer need to leave your coding environment to search for a specific function. With Blackbox, you can focus on building your applications without worrying about the underlying code.
To ensure you have a fantastic experience using Blackbox, follow these four easy steps!
Step 1: Start the line with "//"
Step 2: Write your question for example: "//how to get the stock data of Tesla in python?
Step 3: Once you press the "?" question mark, Blackbox will return the code snippet
Step 4: Press Tab to keep the suggested code snippet
Blackbox Code Search on Jupyter Lab & Jupyter Notebooks
Developers and Data Scientists can now use the BlackBox code search functionality in Jupyter to discover the best code pieces for constructing fantastic apps! To guarantee that you have a positive experience using Blackbox, follow these four simple steps.
Step 0: Download the Blackbox Chrome Extension
Step 1: Start the line with the comment symbol depending on which programming language you are using //, #, etc…
Step 2: Write your question for example: " #connect to MongoDB in python?"
Step 3: Once you press the " ? " question mark, Blackbox will return the code snippet
Step 4: Press on the "Right Key" to accept the suggested code
Code Autocomplete made easy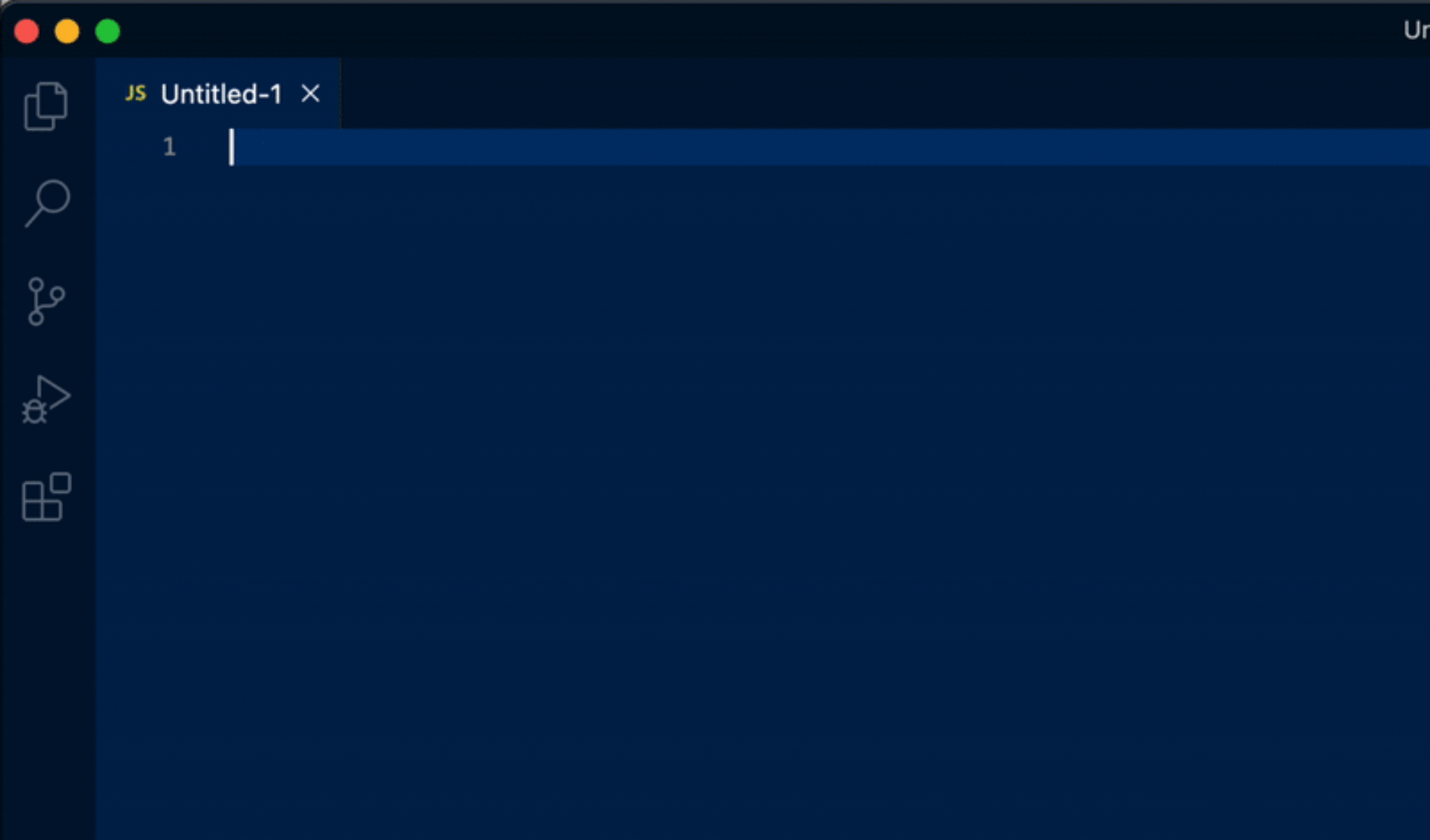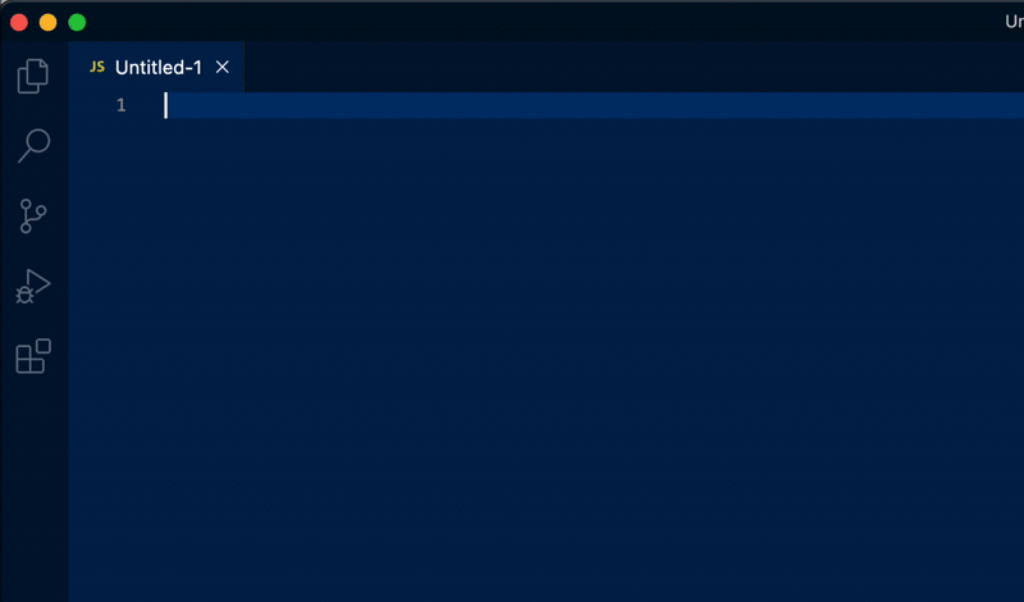 The Blackbox code autocomplete feature makes it easier for developers to write readable and maintainable code. Blackbox code autocomplete is available in 20+ programming languages including Python, JavaScript, TypeScript, Go, and Ruby. VS Code, GitHub Codespaces, Jupyter Notebook, Paperspace, and other IDEs are available.
It helps developers by suggesting a range of possible code snippets that can be easily integrated into a function. These code suggestions are based on a set of data, such as the function name and inputs. The suggested code should be well-commented to improve the accuracy of the suggestions. It is also a good practice to start with a comment on the function you want to build and Blackbox suggestions will improve over time.
When using Blackbox code autocomplete, developers should take care not to over-rely on it, as it can lead to sloppy or unmaintainable code. Instead, use it as a helpful tool in your development process that can help speed up your coding and improve the quality of your work.
Here are the 3 simple steps to make sure you have a great experience using Blackbox.
Step 0: Download the Blackbox Chrome Extension
Step 1: Open the command palette (command + shift + p)
Step 2: Turn on Blackbox Autocomplete by clicking on the toggle at the bottom of your IDE
Step 3: Start coding and Blackbox will provide code suggestions each time you hit Enter
Extract Code from any Video
With Blackbox, you can select the code you want to copy from any video and simply paste it into a text editor. The program works with all programming languages and will keep the indentation of the code consistent. This means that you can easily copy and paste the code from one source and paste it into another.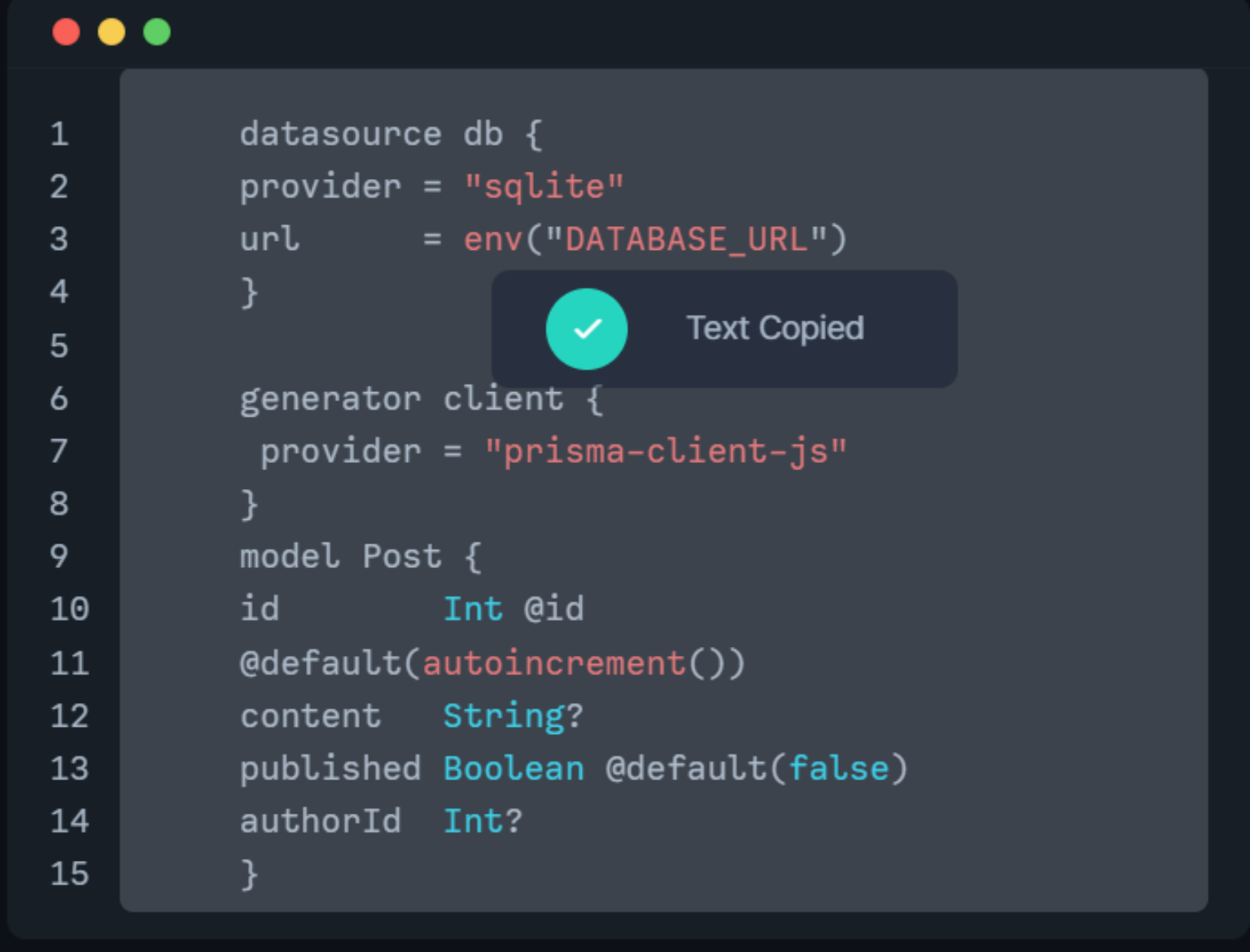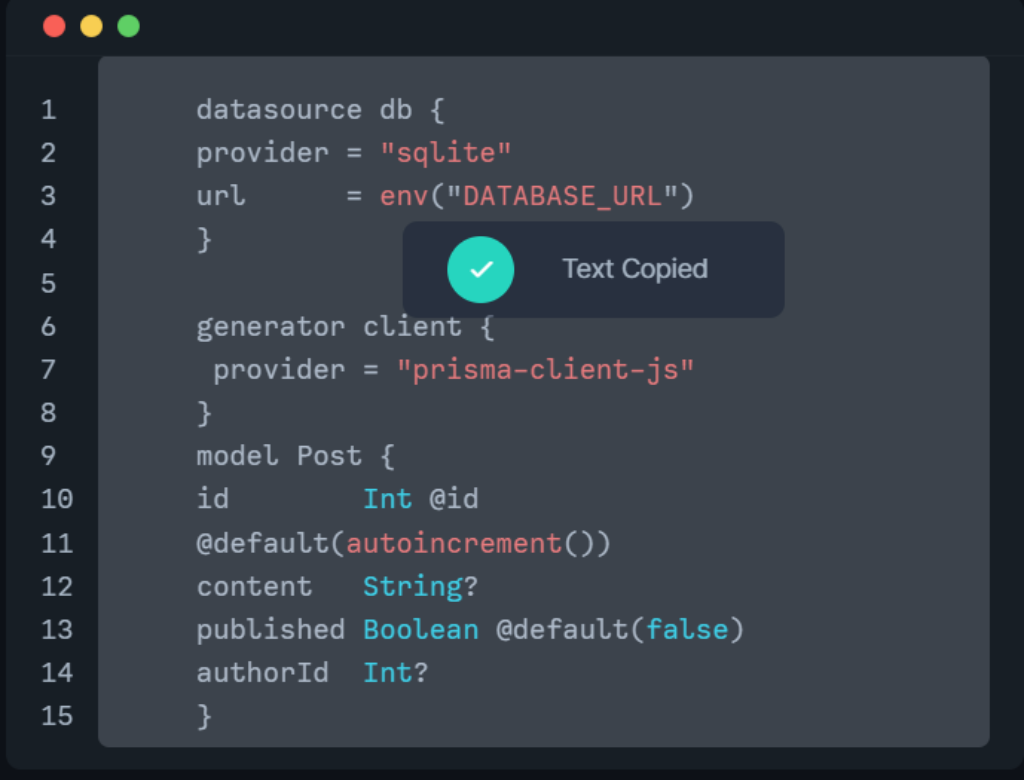 You can use Blackbox to extract code from a presentation or a YouTube video in a few simple steps. First, Click on Blackbox Extension as shown below.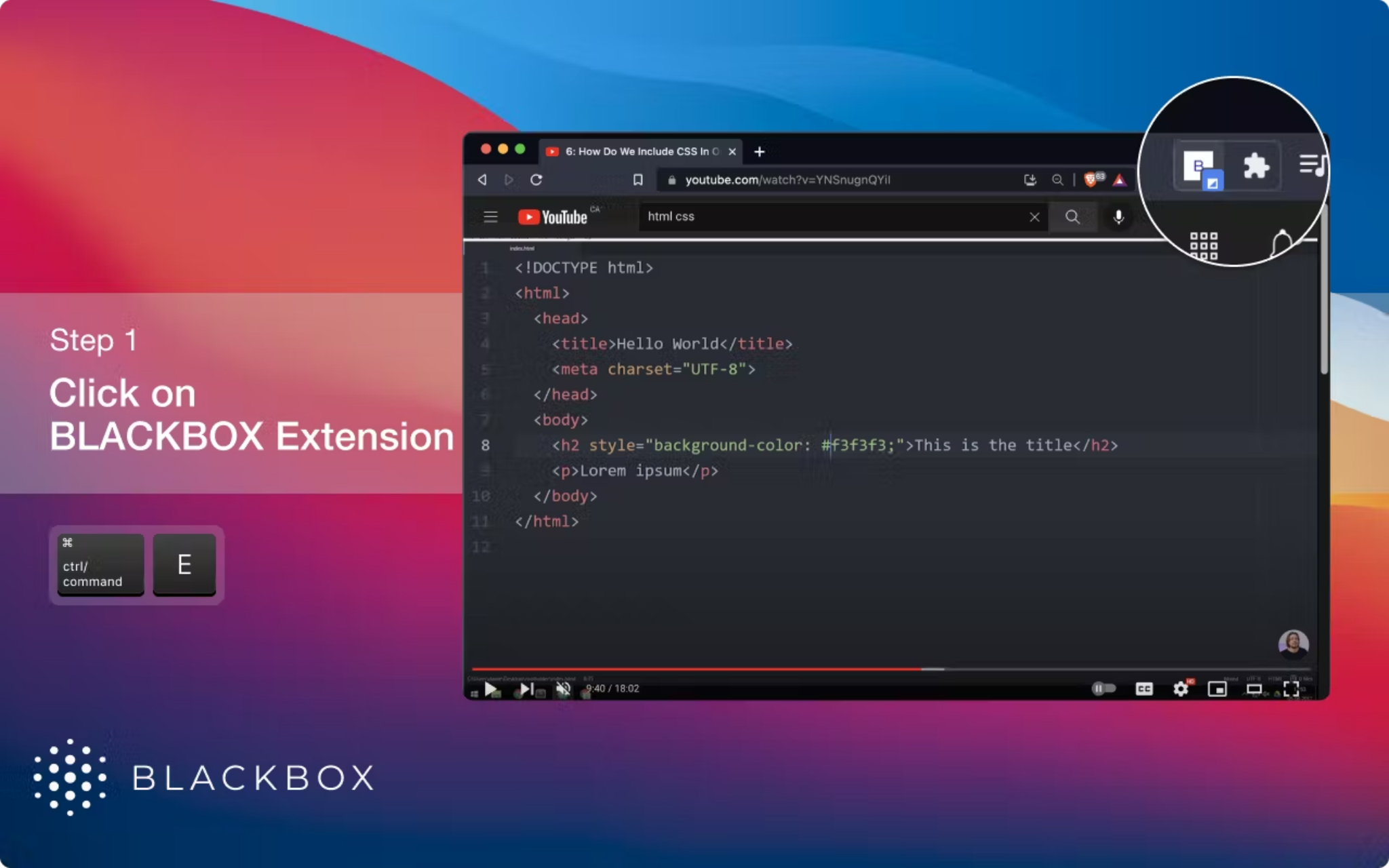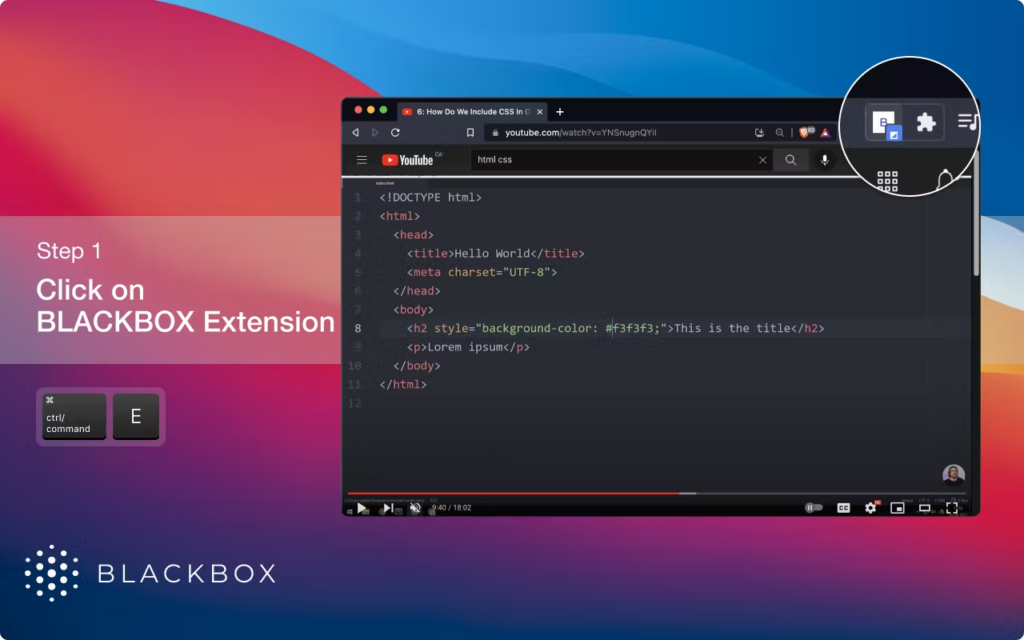 Then select the code you want to copy from the video. Then, click Next to move on to the next step.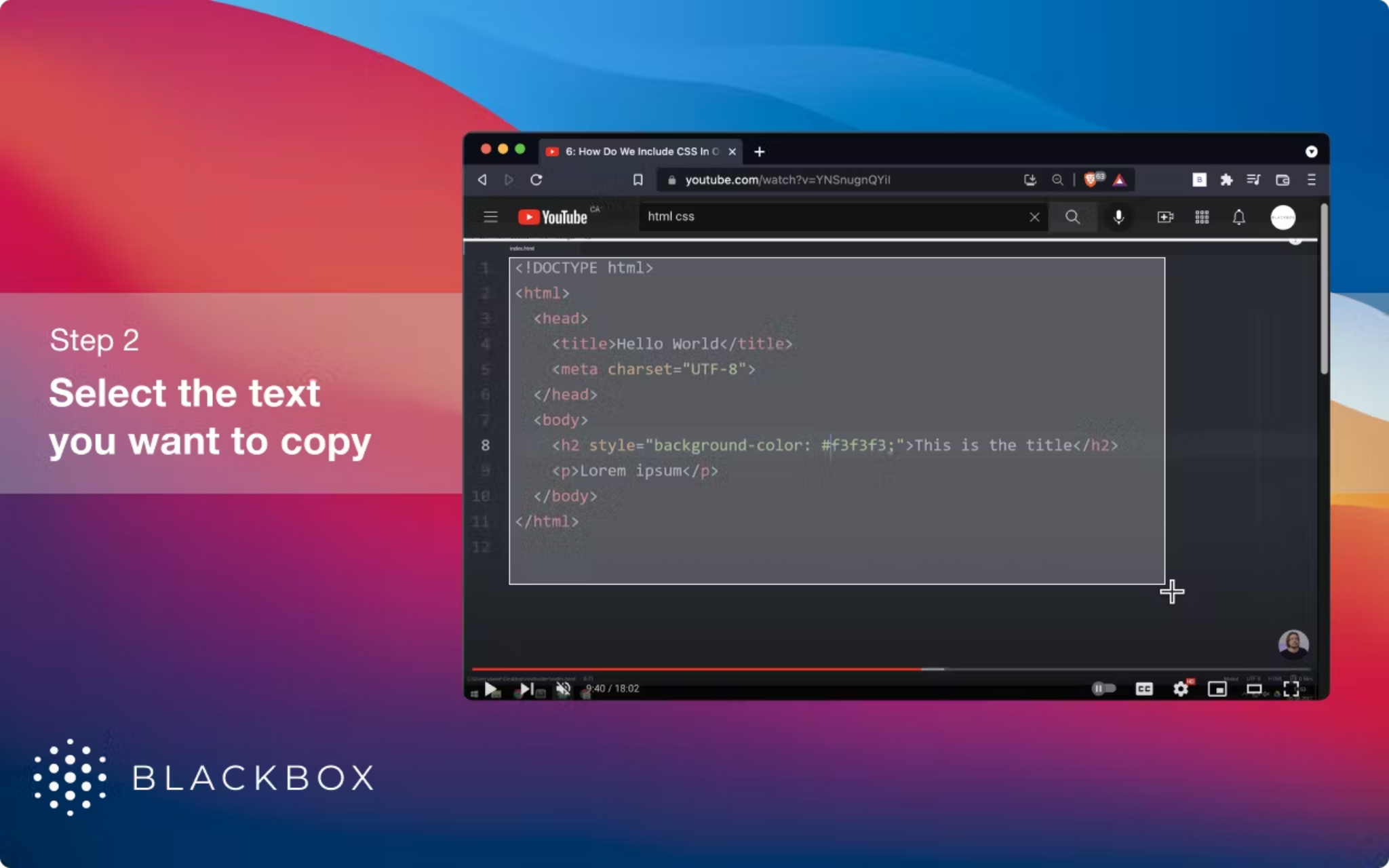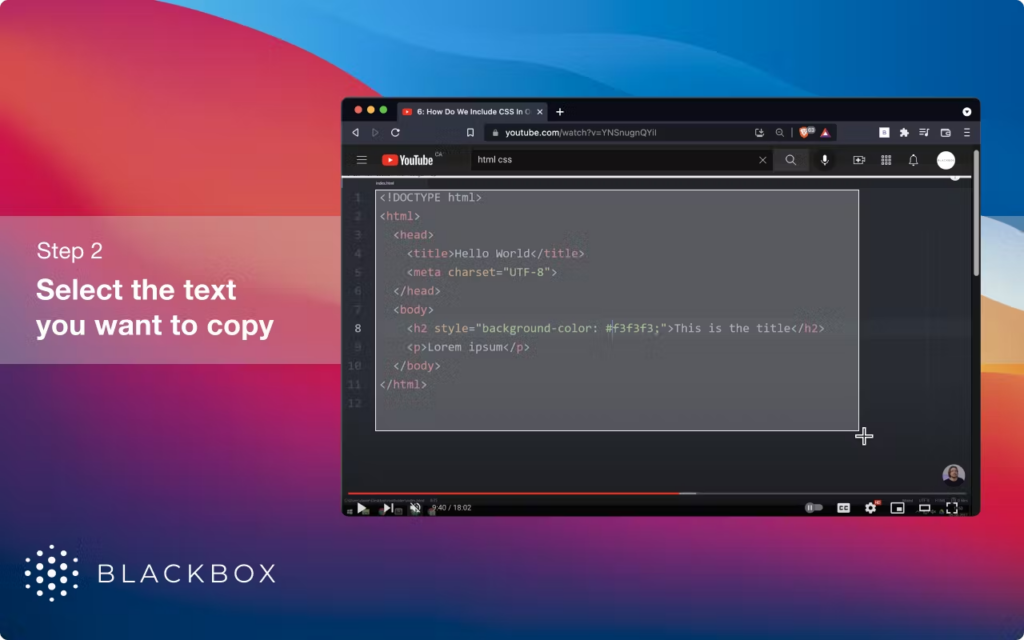 Next, use a text editor to paste the code copied from the video into your document. Finally, save and close your document once you have finished copying the code.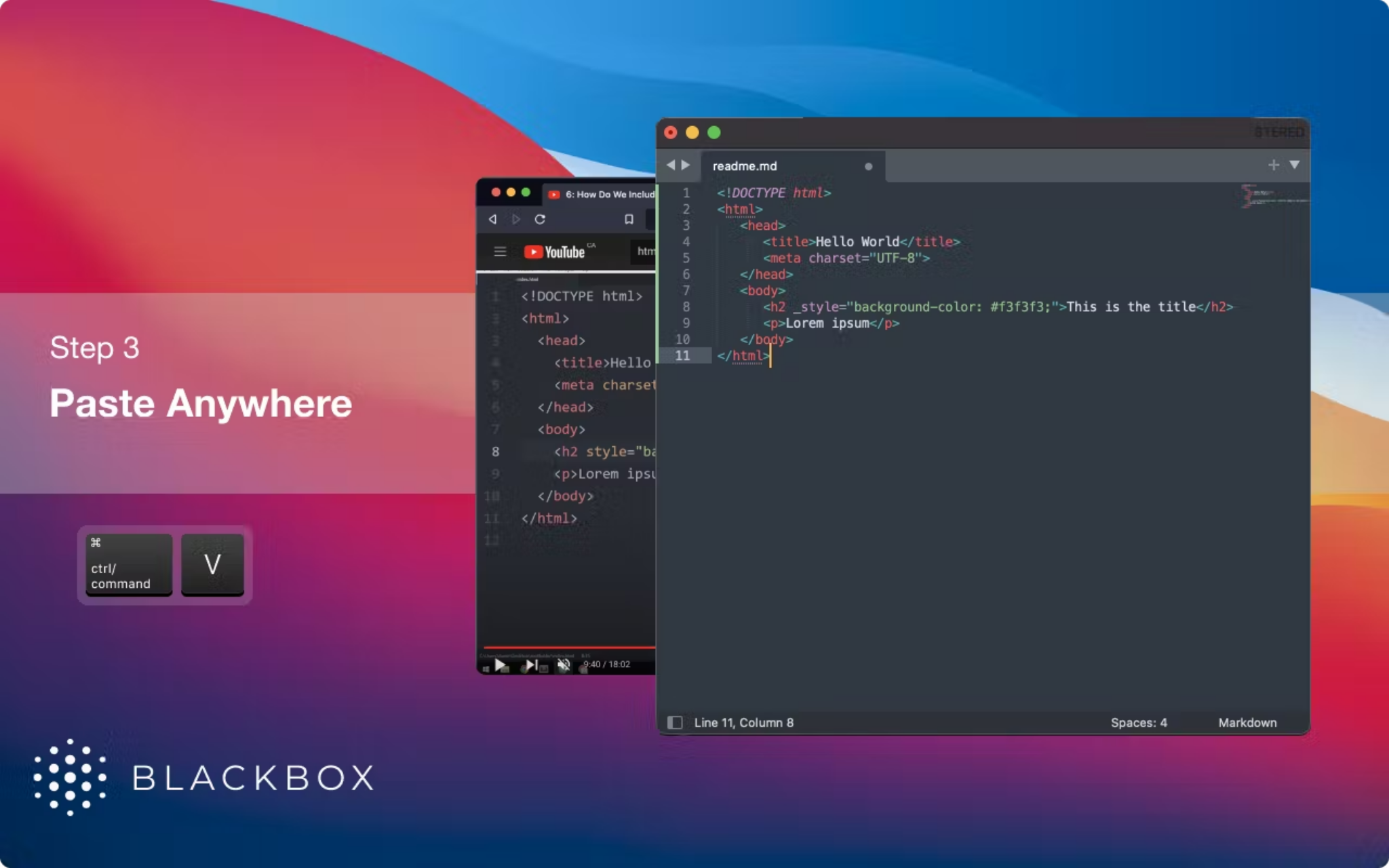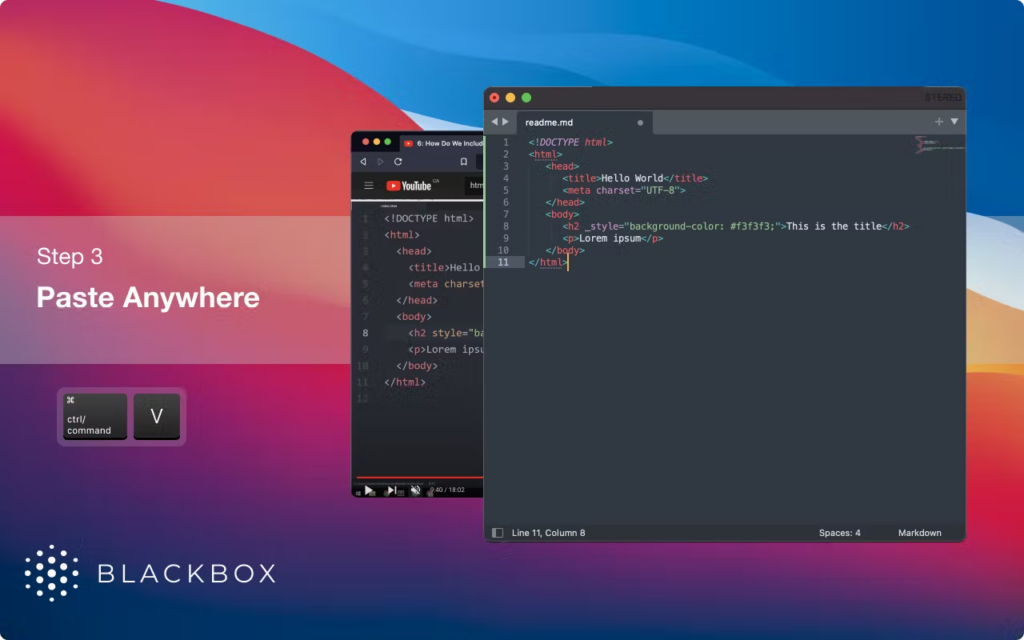 Why Use Blackbox for Development
Use Cases and Applications
Simple and Easy to use interface.
Powerful Chrome Extension
Blackbox integrates with GitHub, Google Colab, Jupyter Notebook, Stack Overflow for Teams, and Visual Studio Code.
Unlimited Text copied from videos, images, PDFS, articles
There's no need to retype any text that comes from pictures or upload anything
Blazingly fast.
Supports All languages.
Preserves formatting and indentation (if you're copying code)
Support 24/7 and great response time.
Works with every Text Editor, IDE, Web Browser, literally anything..
100x your Productivity and Saves time.
Best for Developers, Software engineers, Digital marketers, and Students
A free Trial is offered.
Pricing Plans
Upgrade Options
You can copy code from videos & search for code snippets with their free tool.
However, if you want to have a faster and more accurate experience, you will need to upgrade to the Pro plan.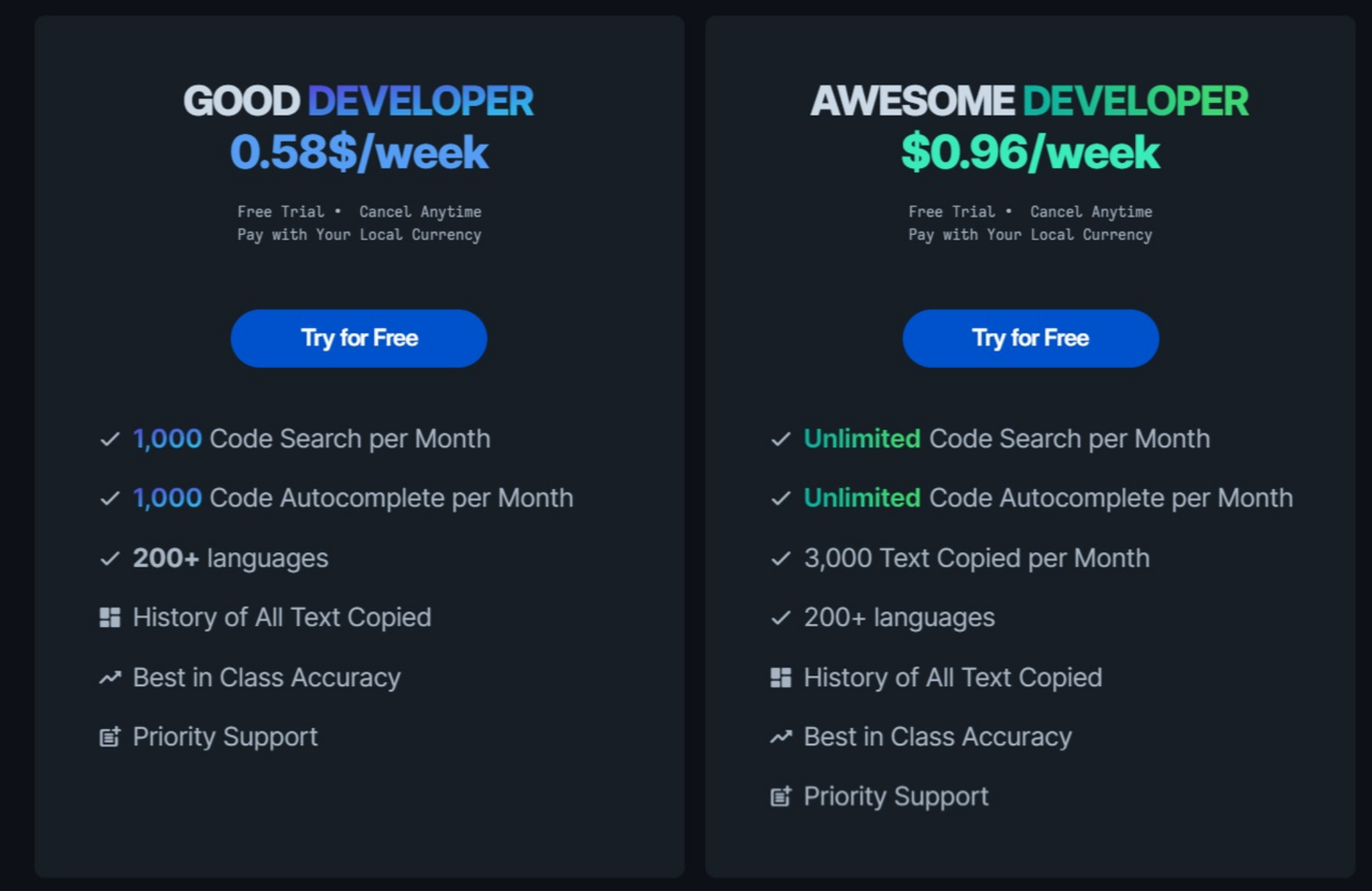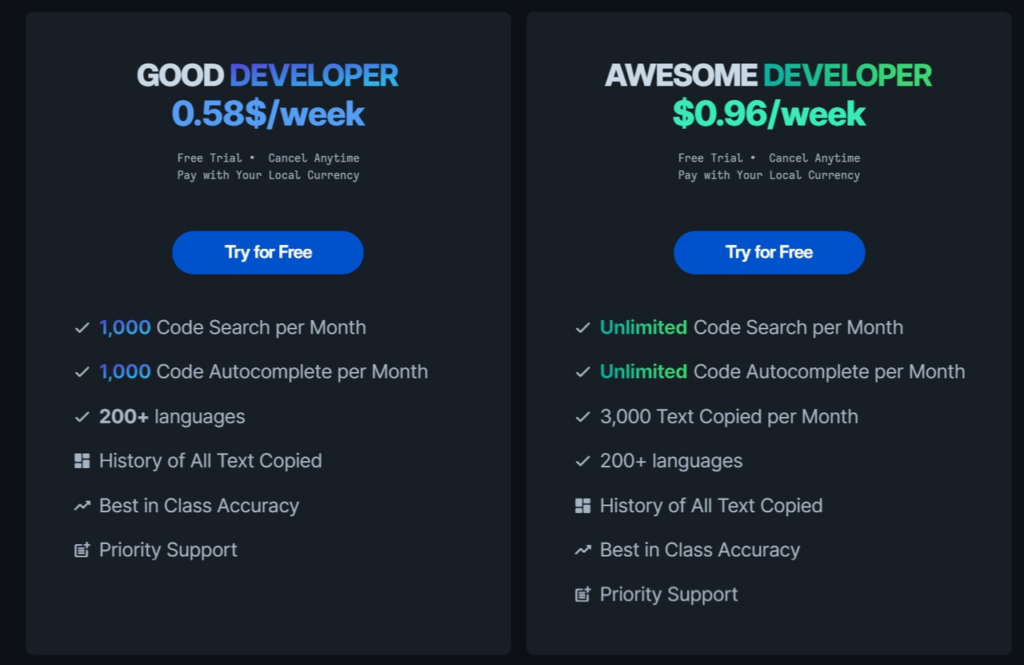 Support
Technical Support, Knowledge Base, Roadmaps, Changelogs
Blackbox offers support via 24/7 live support and online.
Blackbox provides training in the form of documentation, live online, webinars, in-person, and videos.
Good Response Time.
Offer Demo Videos to users on request.
Alternatives to BlackBox
Similar Apps & Extensions


Nanonets uses advanced OCR and Deep Learning to extract relevant information from unstructured text and documents. Digitize documents, extract data fields, and integrate with your everyday apps via APIs in a simple, intuitive interface.
Using Optical Character Recognition software online, this picture-to-text converter can extract text from an image or convert PDF to Word, Excel, or Text. You may convert files from mobile devices (iPhone or Android) or PC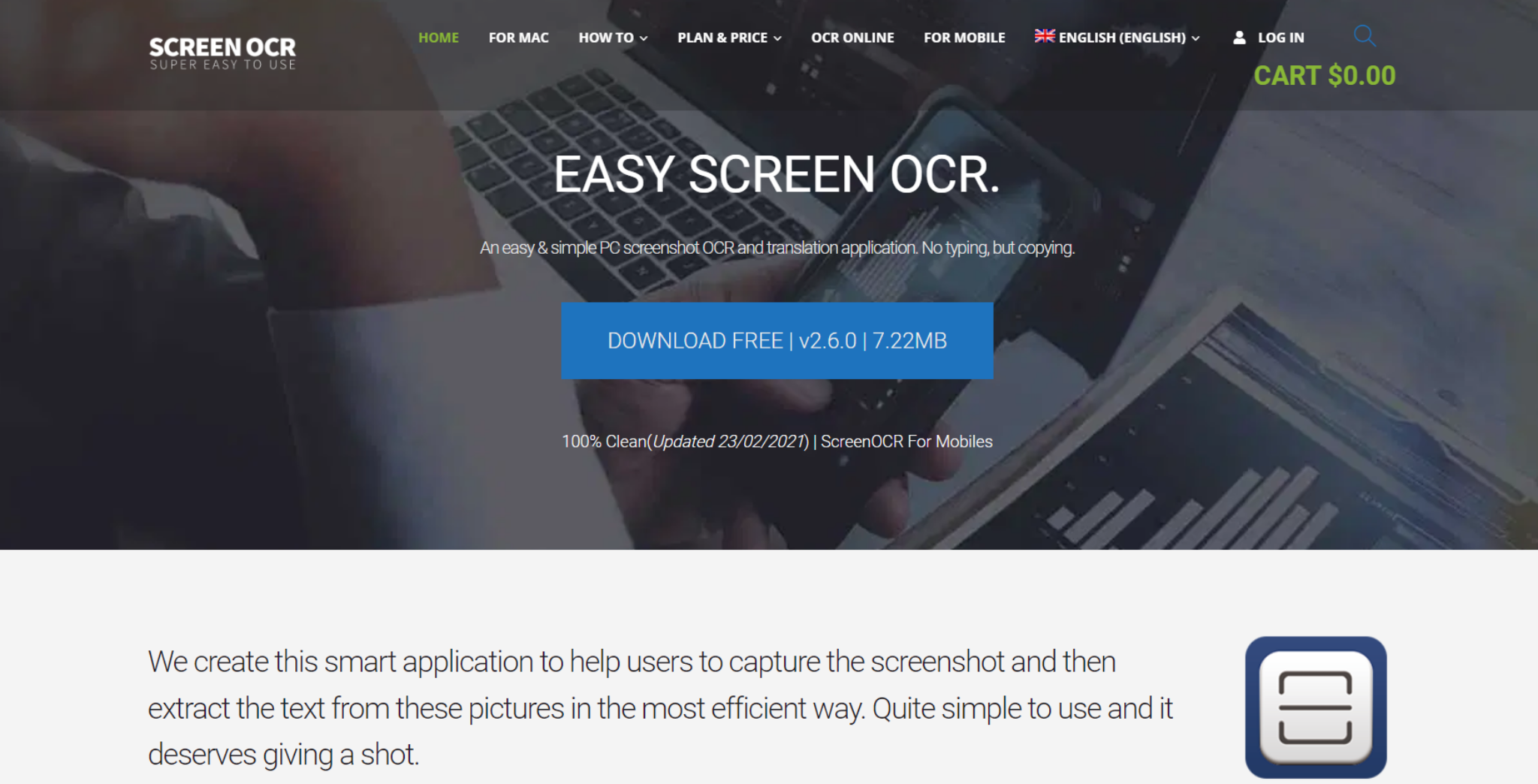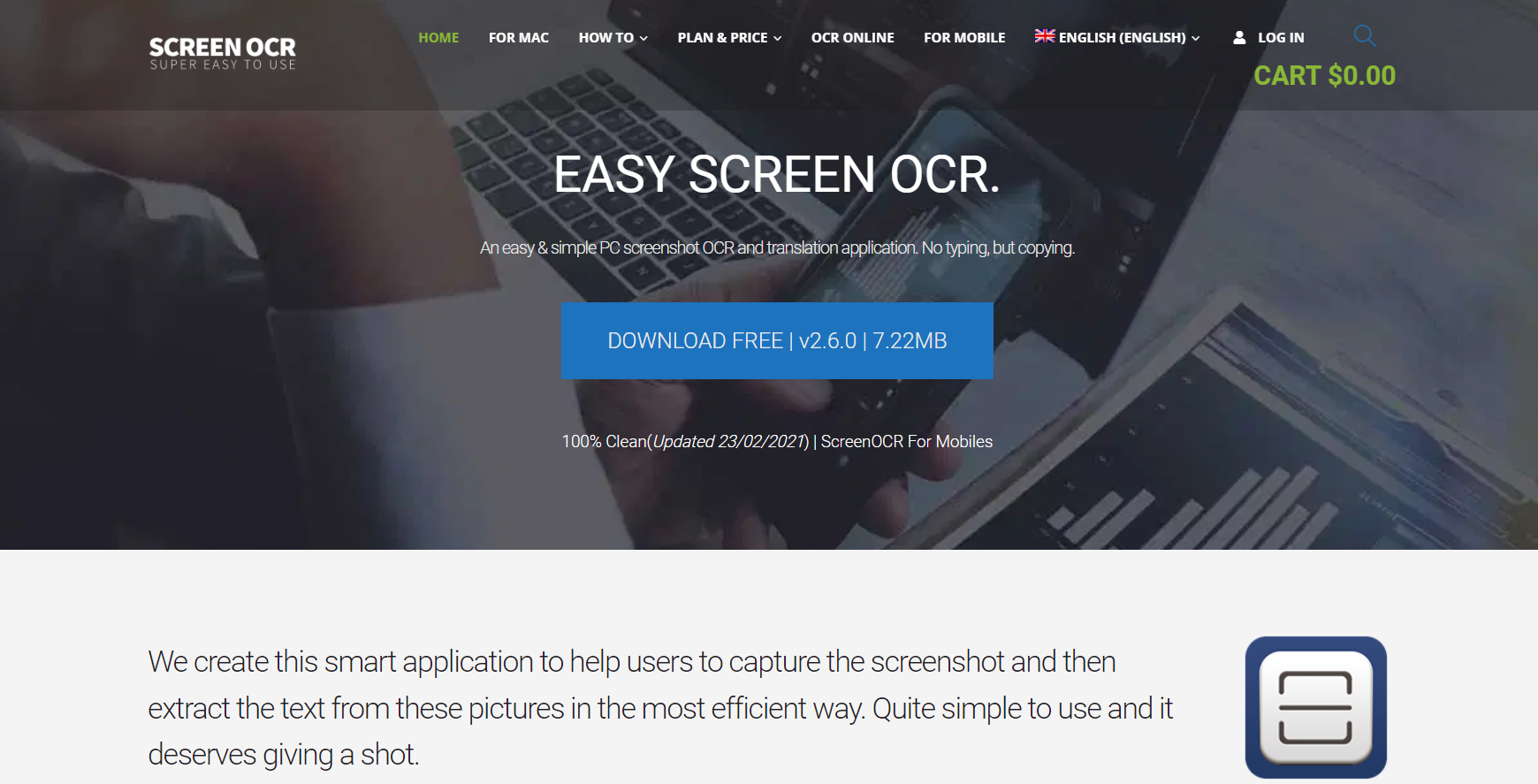 A simple and straightforward PC screenshot OCR and translate tool. It is a helpful program that allows users to take a screenshot and then extract the text from the images in the most efficient way. It's quite simple to use, and it deserves a try.
Final Verdict
Is Blackbox right for You?
It's really simple. Having to type manually code or text showing in a video or an image is really a pain and a waste of time. You can get rid of this with this simple solution. Use its Chrome extension and avail all its features to the maximum.
Blackbox.ai is an advanced OCR tool, best for content creators, and helps in saving their time. Blackbox works with the users and organization types like Mid Size Businesses, Small businesses, enterprises, Freelance, nonprofits, and the government.
It's a Perfect OCR solution for all your needs, It can integrate with various applications and brings out the best results. Hence Worth buying. So try this out now!
Blackbox review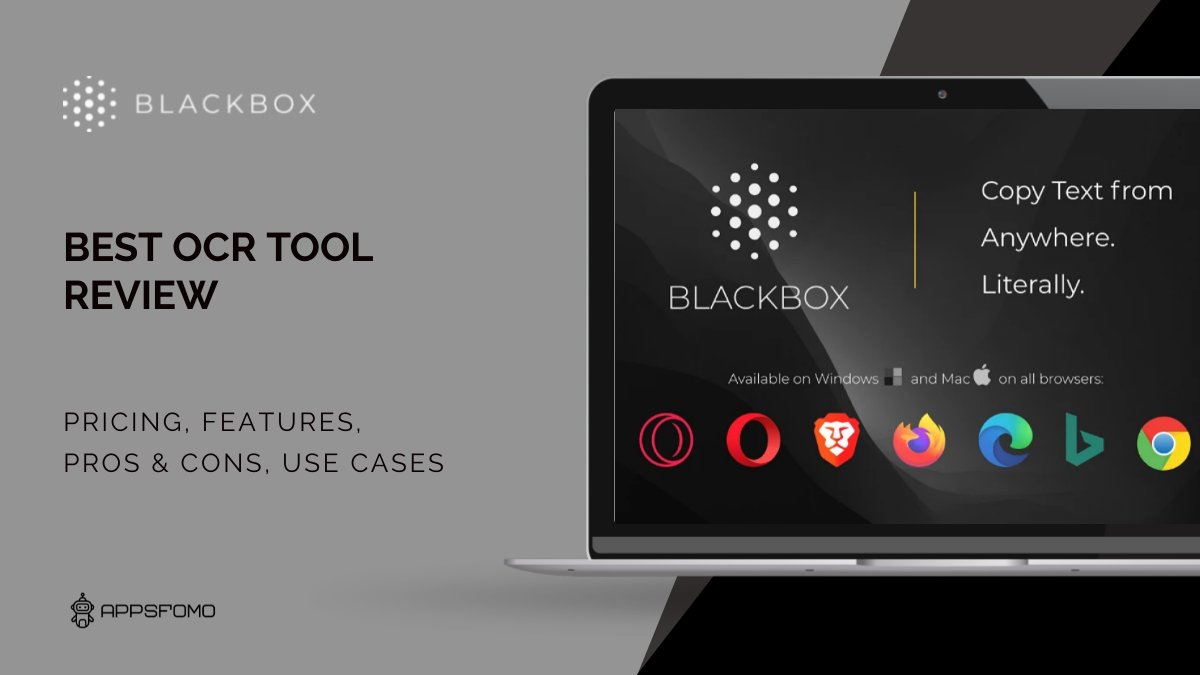 Specification:
Blackbox: The Best OCR Ever for Copying Text from Videos, Images, PDFs
| | |
| --- | --- |
| Review Date | January 2023 |
| Company | Blackbox.ai |
| Country | Canada |
| Initial Release | 2020 |
| Pricing | Weekly Payment |
| Free Version | Available |
| Lifetime Deal | Yes |
| LTD Platform | Appsumo |
| Money-Back | No |
| Support type | Email, Live Chat, Ticketing |
| Integrations | Yes |
| Supported Device | Browser, Mac, Web Based, Windows, Chromebook |
| Mobile app | Not Available |
| Affiliate Program | No |
PROS:
Accurate and Easy to use.
Almost flawless OCR capability
Transferring data from scanned documents.
Helps in capturing text from an image.
Best app for Windows extension for multiple browsers.
CONS:
Takes time to copy texts sometimes.
TextSniper had issues with copying some text.
Need to OCR PDF multipages.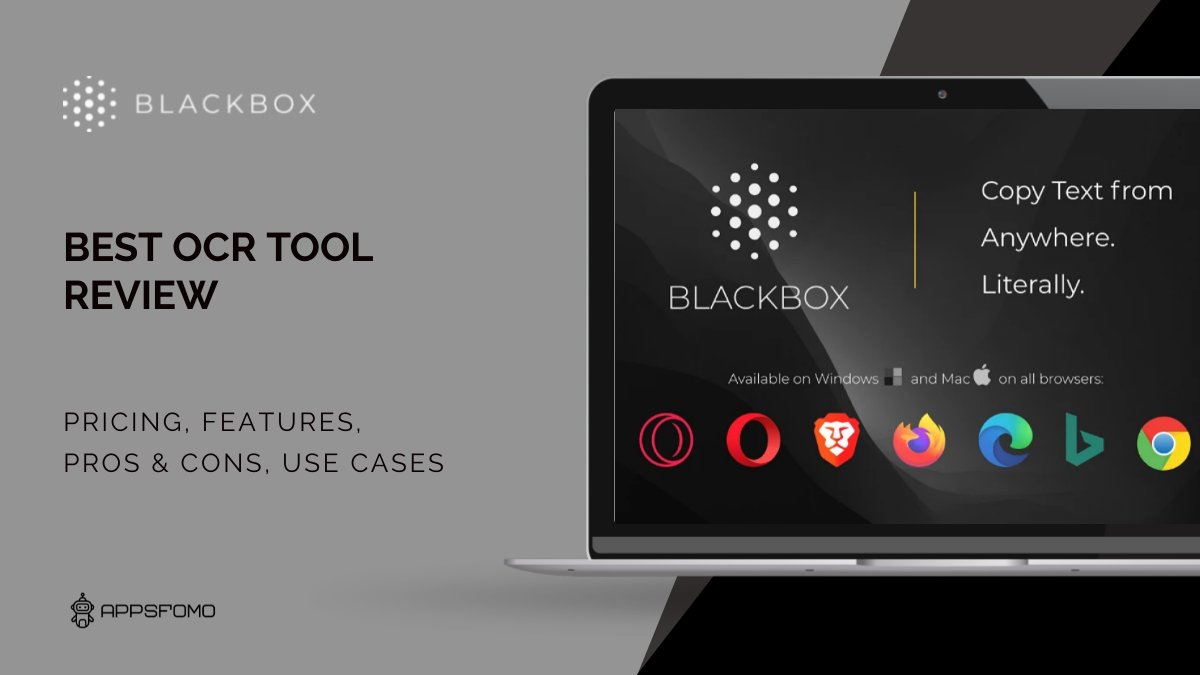 Blackbox: The Best OCR Ever for Copying Text from Videos, Images, PDFs