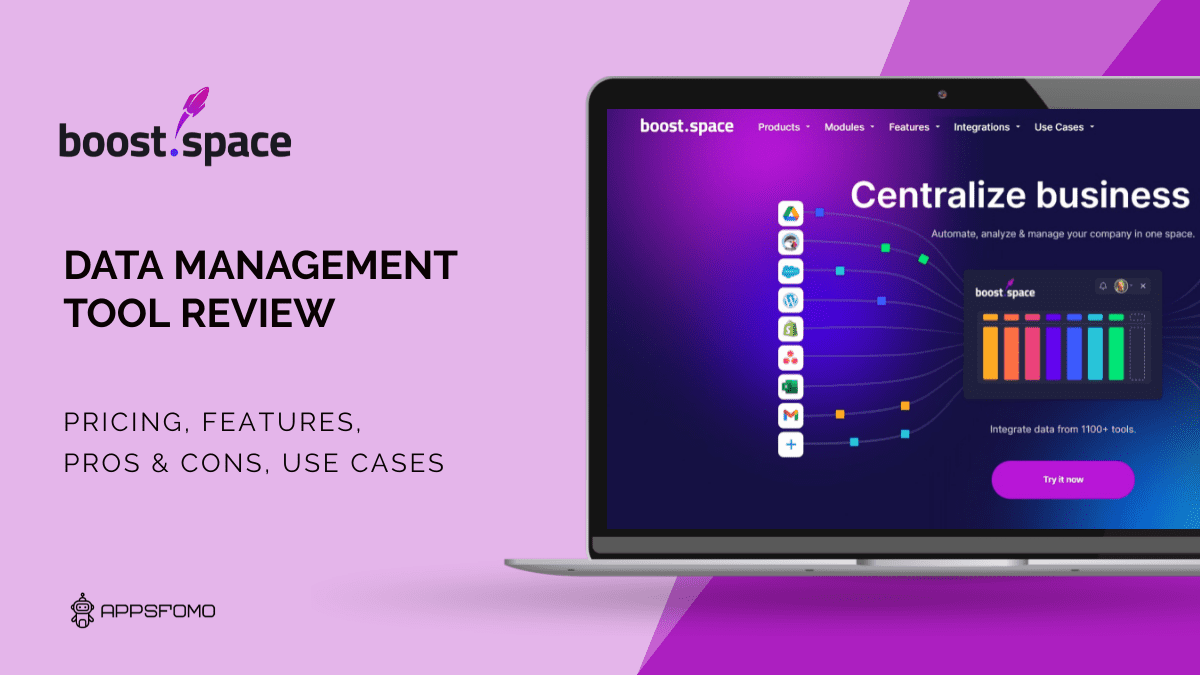 Boost.space: The Best Platform to Sync Data between Applications
Add to wishlist
Added to wishlist
Removed from wishlist
2
Add to compare
Many people are unaware of the power of data centralization and the benefits it can provide. By connecting various tools and integrating them into one place, you can make better business decisions, save time and money, and even unleash the true potential of your data.
Boost.space is a data centralization platform that allows you to connect any number of tools quickly and easily, without having to worry about any coding.
This makes it the ideal platform for standardized data like contacts or whatever you need. As seen in this comprehensive review, Boost.space offers numerous features that make it the perfect choice for businesses of all sizes. Get started today and change everything without changing anything!
What Is Boost.space ?
Data management is essential for any business, and Boost.space is a platform that can help make this process easier.
Boost.space is a data centralization platform for building business data management. Using it you can Automate, Analyze, Manage and Organize all your data into a single database, making the whole team work on one master data set to create new features, better processes and optimization of existing products/services. The platform help to automate & manage any type of software / integration made within boost service with ease.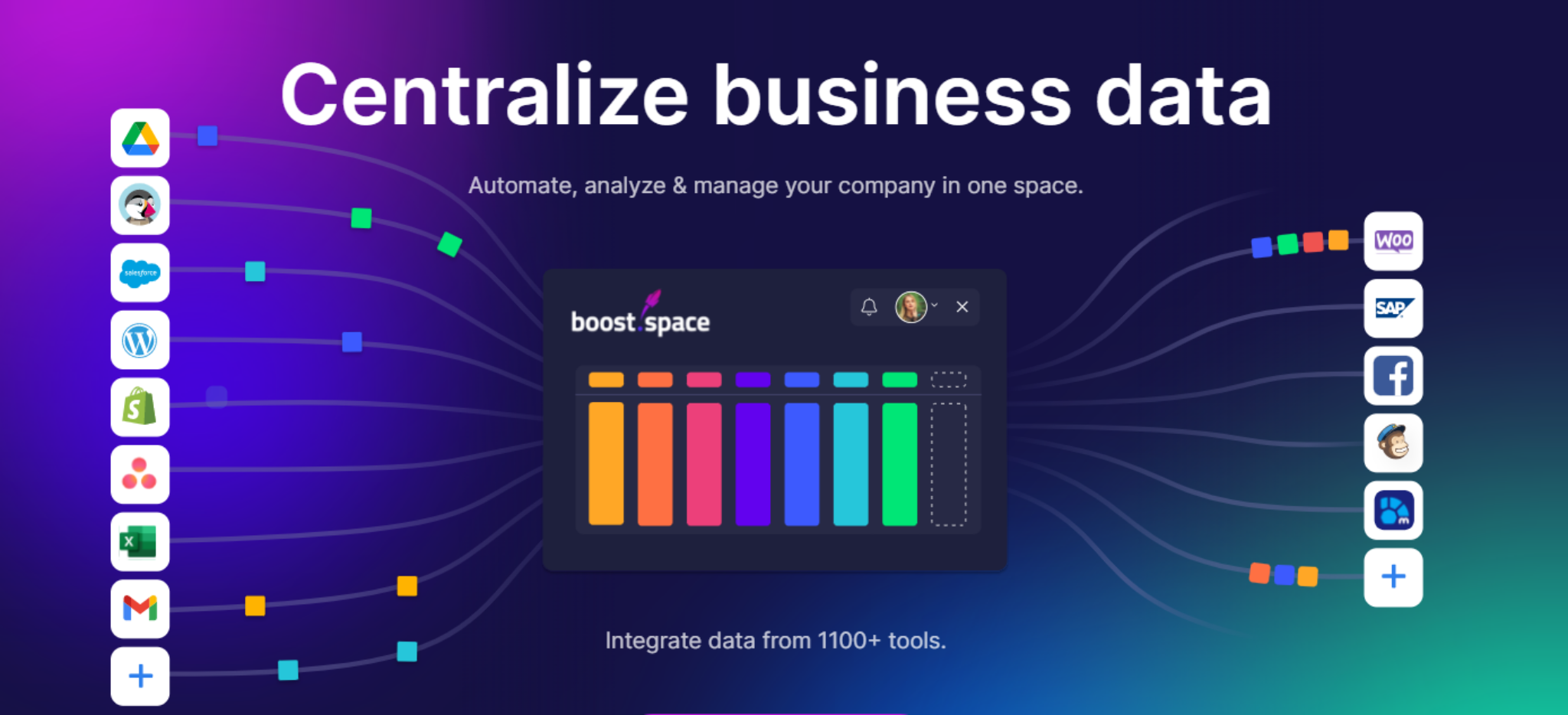 It allows you to integrate data from more than 1100+ IT tools and gives companies the ability to work with this data directly centrally, create automation workflows and analyze it. Centralized data can also be shared with other IT tools, giving them the ability to leverage aggregated central data for their functions.
Company Details
Company Boost.space s.r.o. was formed in 2017 in Praque, Czech Republic.
How Does It Work?
Data is the lifeblood of any business, and it's crucial that businesses have a way to store, manage, and analyze their data. That's where Boost.space comes in – a data centralization platform that helps businesses unlock the potential of their data. With Boost.space, businesses can collect data from various sources and sync it into one central location. This way, every digital operation in your business can be streamlined and managed effectively. Here are some steps involved to get started!
To streamline every digital operation in your business, collect and synchronize all your data from third-party tools into one single source of truth.
Get central access to all your data
Create automation workflows across many tools
Build your aggregation databases with no-code database builder or choose pre-made modules.
With unique encryption for each client, They have built a distinct cloud on a secure part of the server. This will make your business into an impenetrable digital fortress, along with an SSL connection and multilayered antivirus gate.
Boost.space Products
Boost.collaboration
Streamline Collaboration with Gantt Chart and Kanban Board and Manage Project in agile way..
Boost.sales
Centralize your business contacts, build product database and Leverage business data in marketing.
Boost.production
Manages Production and Warehouse, Central warehouse and Purchasing Management.
Boost.analytics
Makes data-driven decisions, Visualise company data, Analyse data from third party tools.
Features
Data centralization is a big problem for businesses today. This is because data is constantly moving between different systems and platforms, making it difficult to keep track of and manage. Boost.space is a platform that aims to solve this problem by providing a solution for data management and data sharing. Some core features are listed below:
Data management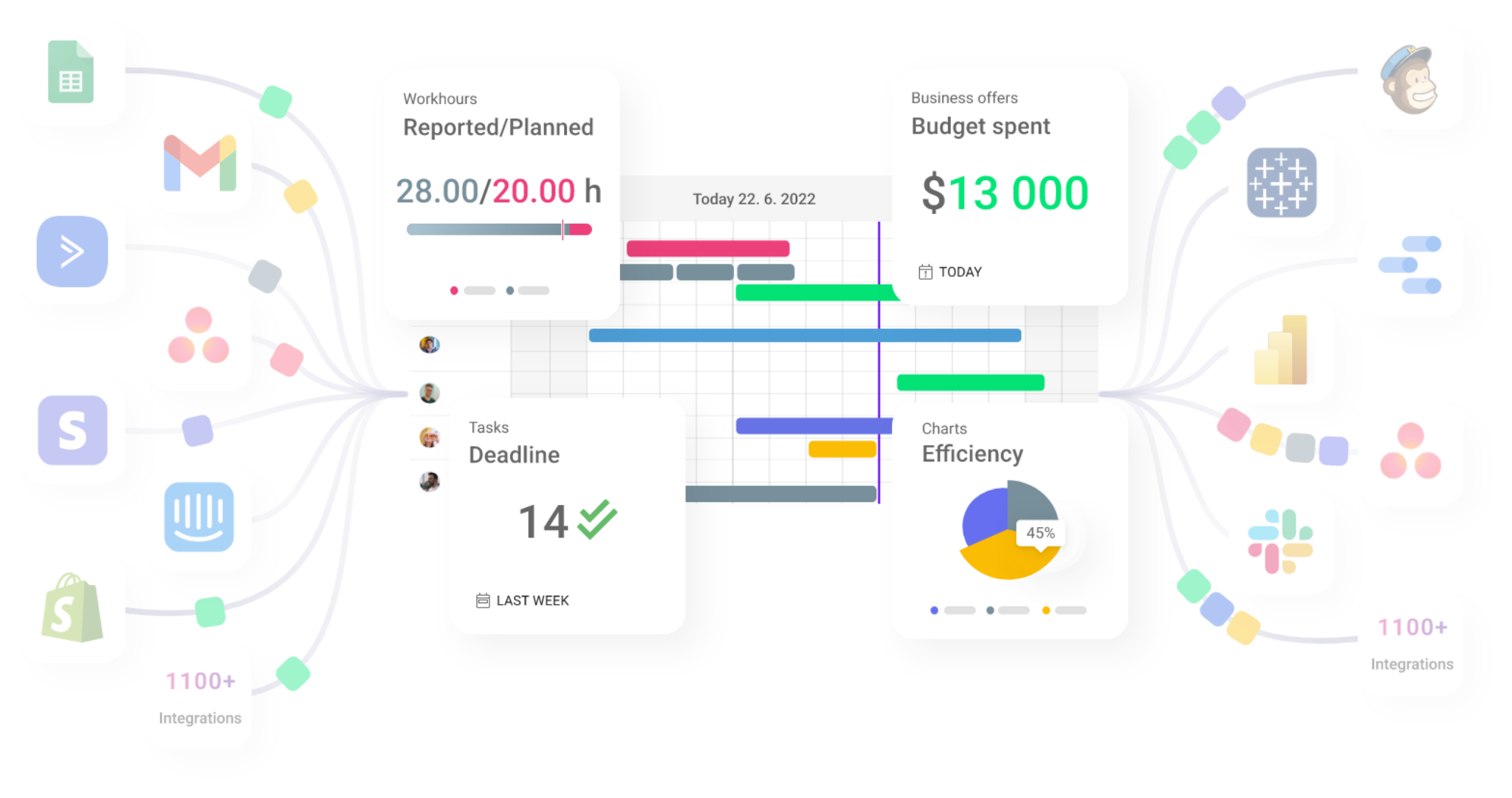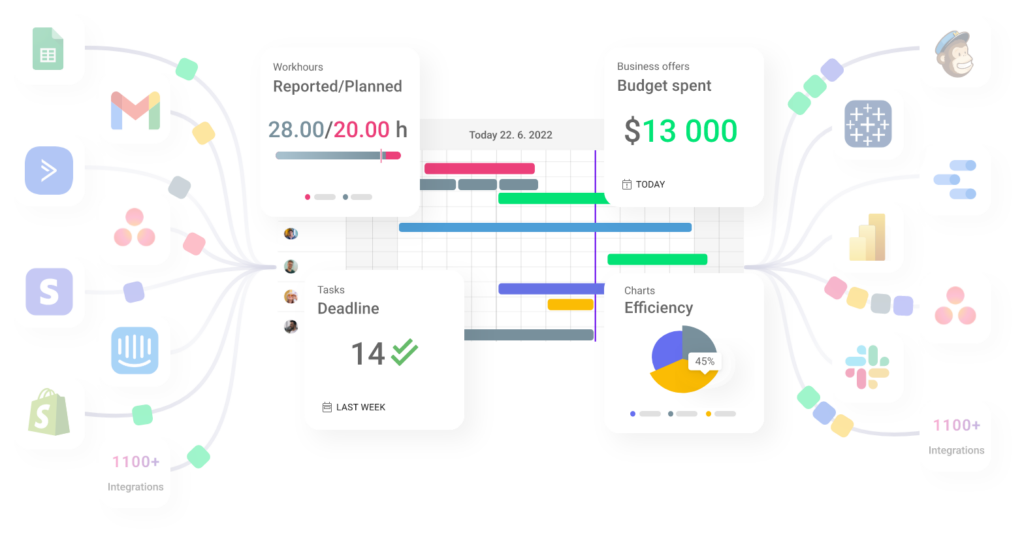 Data management is essential if you want to stay ahead of the curve and optimize your business processes. Boost.space provides a data centralization platform that makes it easy for you to manage, unify, analyze and enrich your data in whichever tools you choose.
Get the data into Boost.space, manage it, enhance it, and send it back to your tools in a straightforward manner. Moreover, there are a slew of capabilities like prioritization, statuses, custom fields, automation, and advanced permission configurations available in the manage-section. And there's a lot more to it.
Automations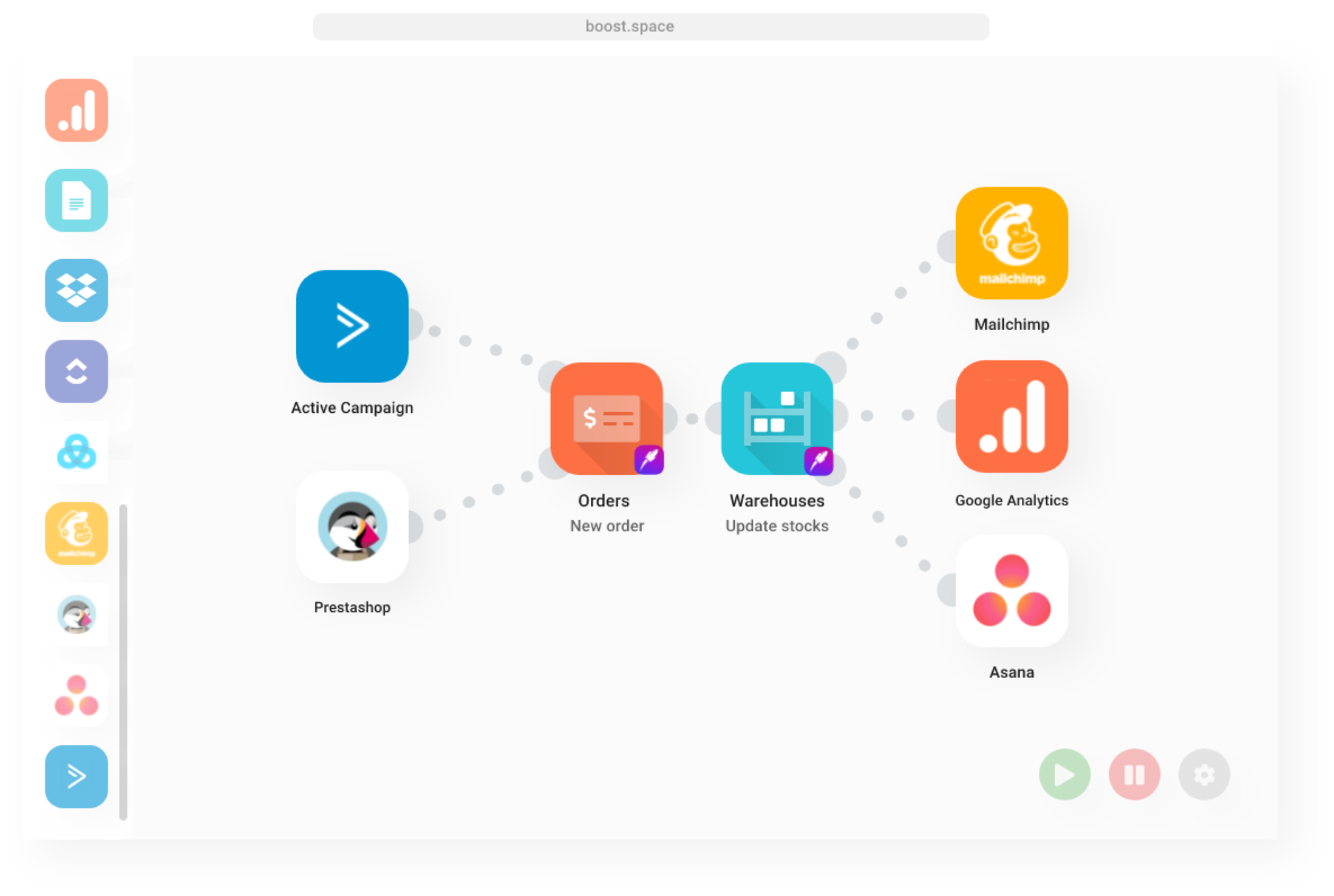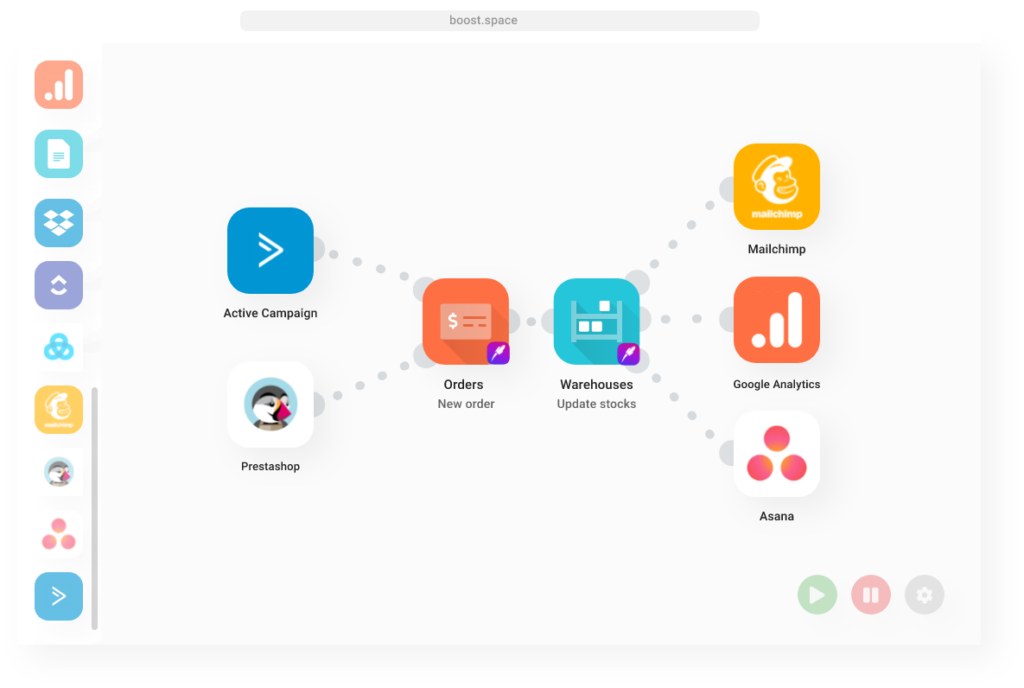 With so many tasks and responsibilities being juggled at work, it can be hard to stay on top of everything. But with the right automation tools, you can easily streamline your workflow and make every day more efficient.
From marketing tasks such as tracking email campaigns or managing social media accounts, to development projects or sales leads – all of this can be handled quickly and efficiently with the help of an automation tool.
Integrations (1100+)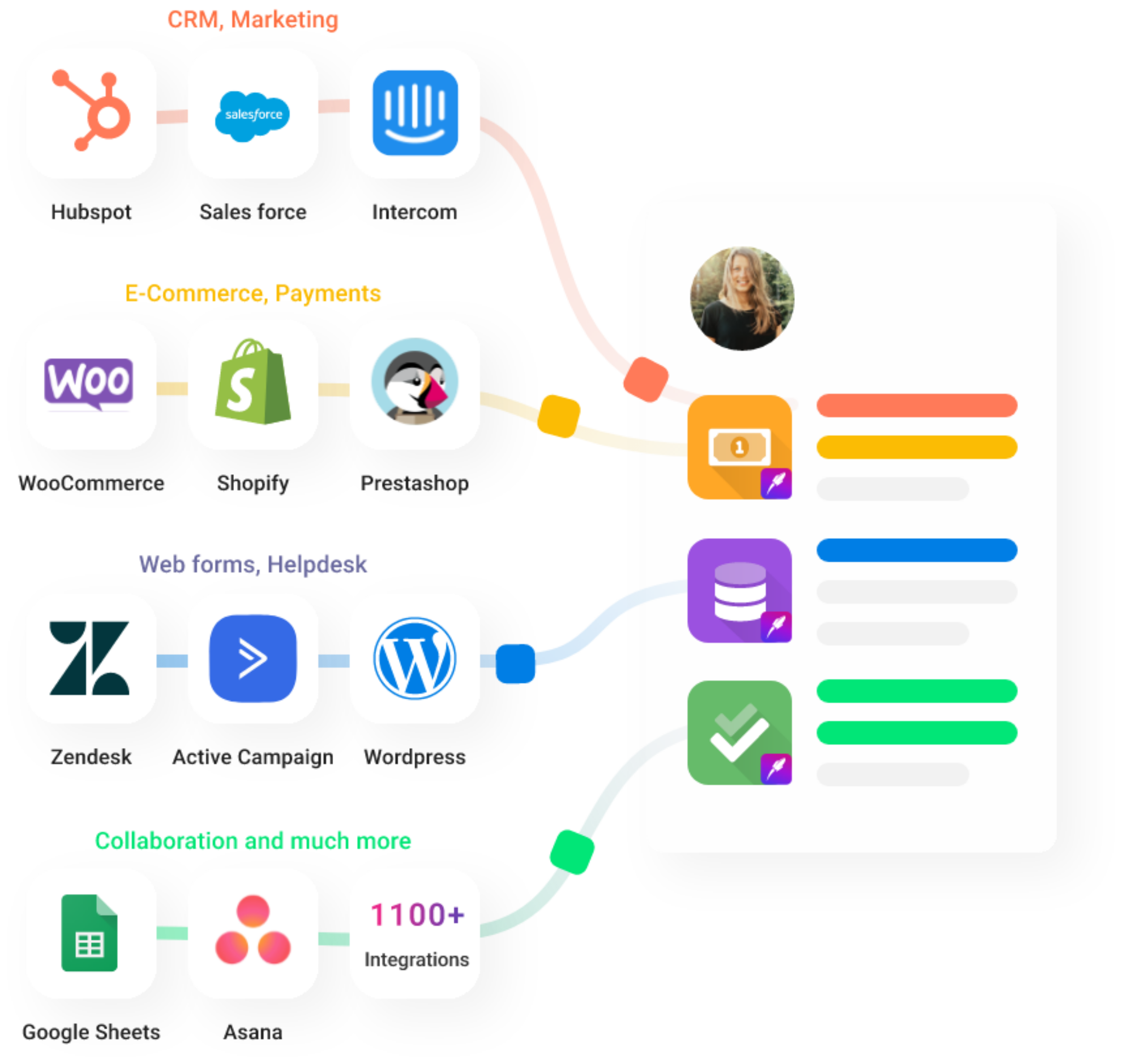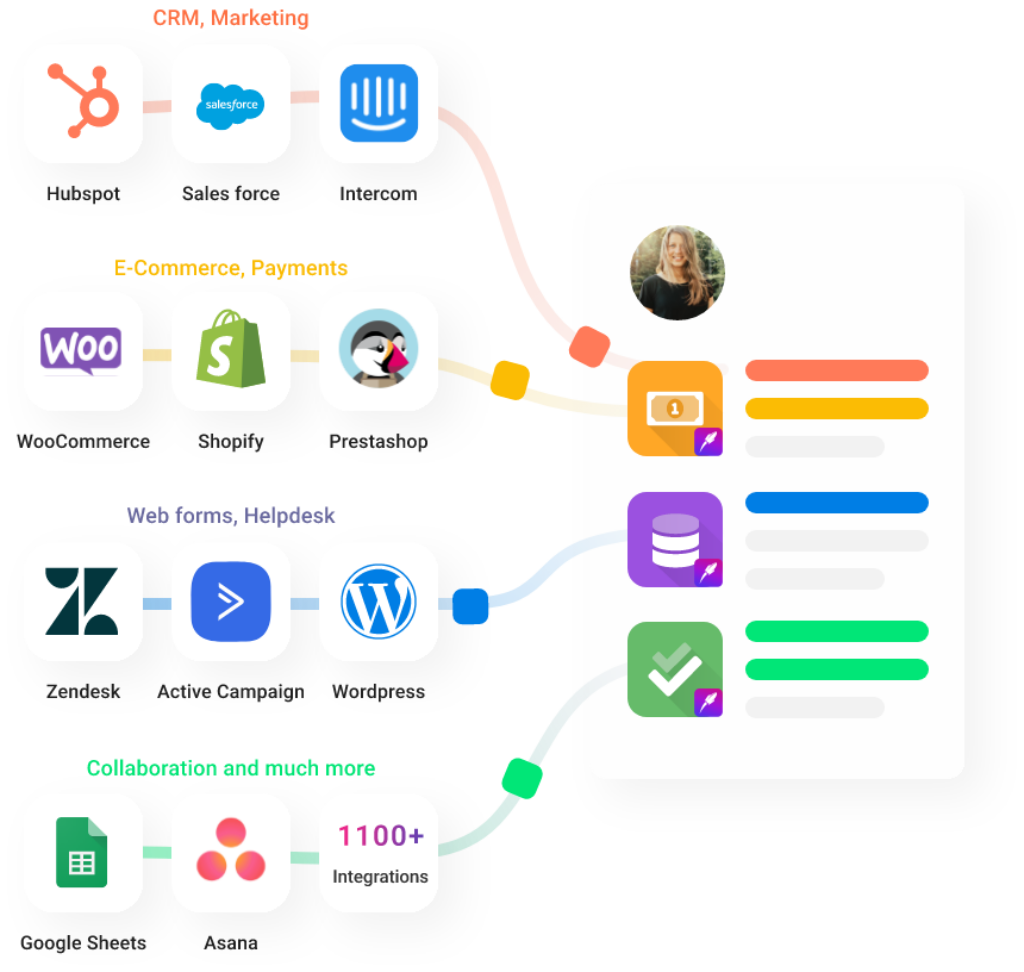 Data integration is a critical part of any successful data-driven marketing operation. However, many data Integrations platforms are time-consuming to use and require coding skills.
Not with HubSpot! Our codeless and visual builder makes it easy to integrate data from all your favorite tools into one unified file – no coding required. This makes it easier for you to work with different sources of company data, making sure that everything is in sync and ready for effective analysis or Campaign optimization.
CRM, Marketing, E-Commerce, Helpdesk, Payments, Web forms, Collaboration, and other internal systems – all of your data is centralized in one place.
Custom branding
Custom branding is a great way to stand out from the competition and attract more customers. By creating a unique and individual look for your business, you can capture the attention of potential customers and create an emotional connection with them. This will help you build loyalty towards your brand and make sales easier.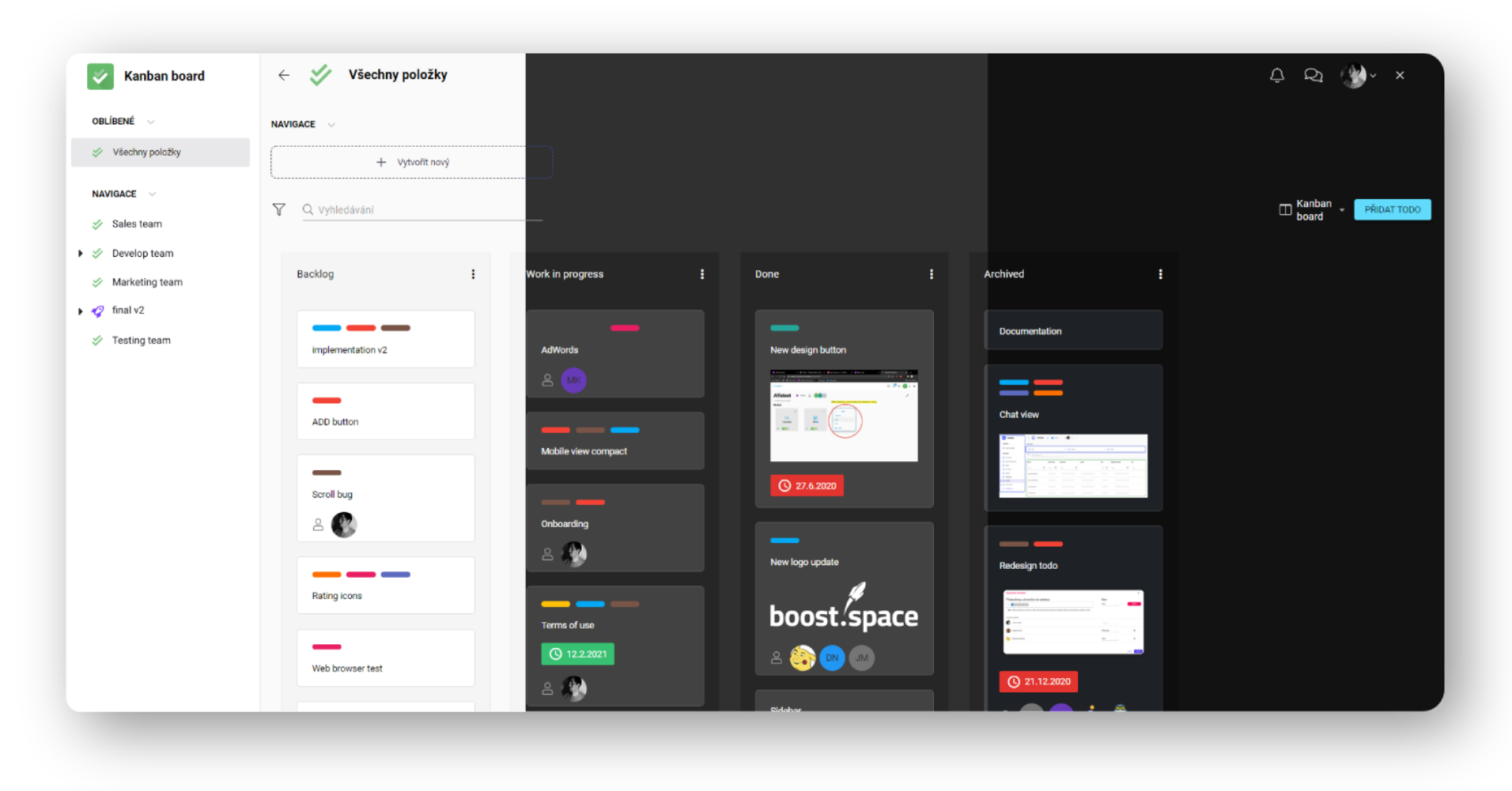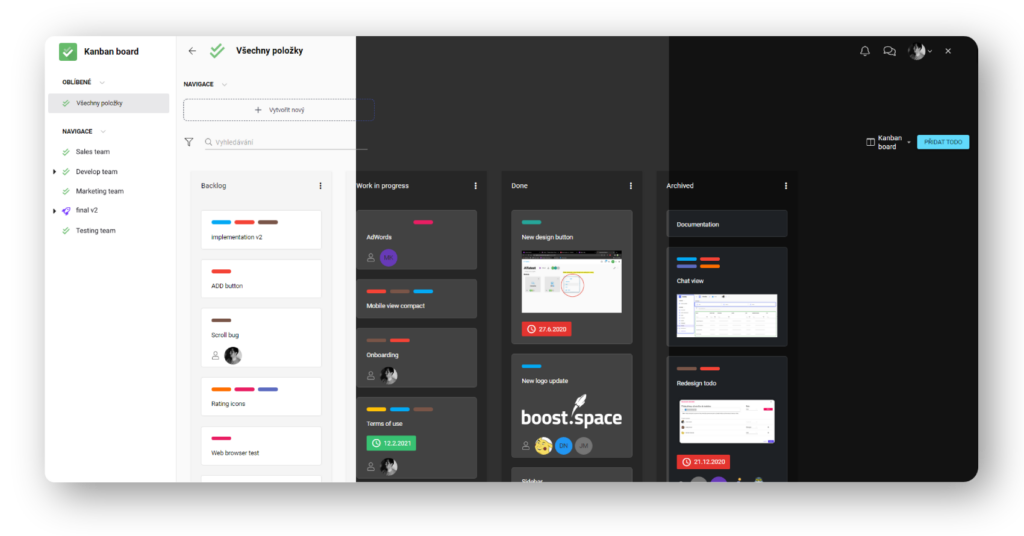 Without squinting, it offers several pre-designed solutions that are functional and meet current design standards.
Automated notifications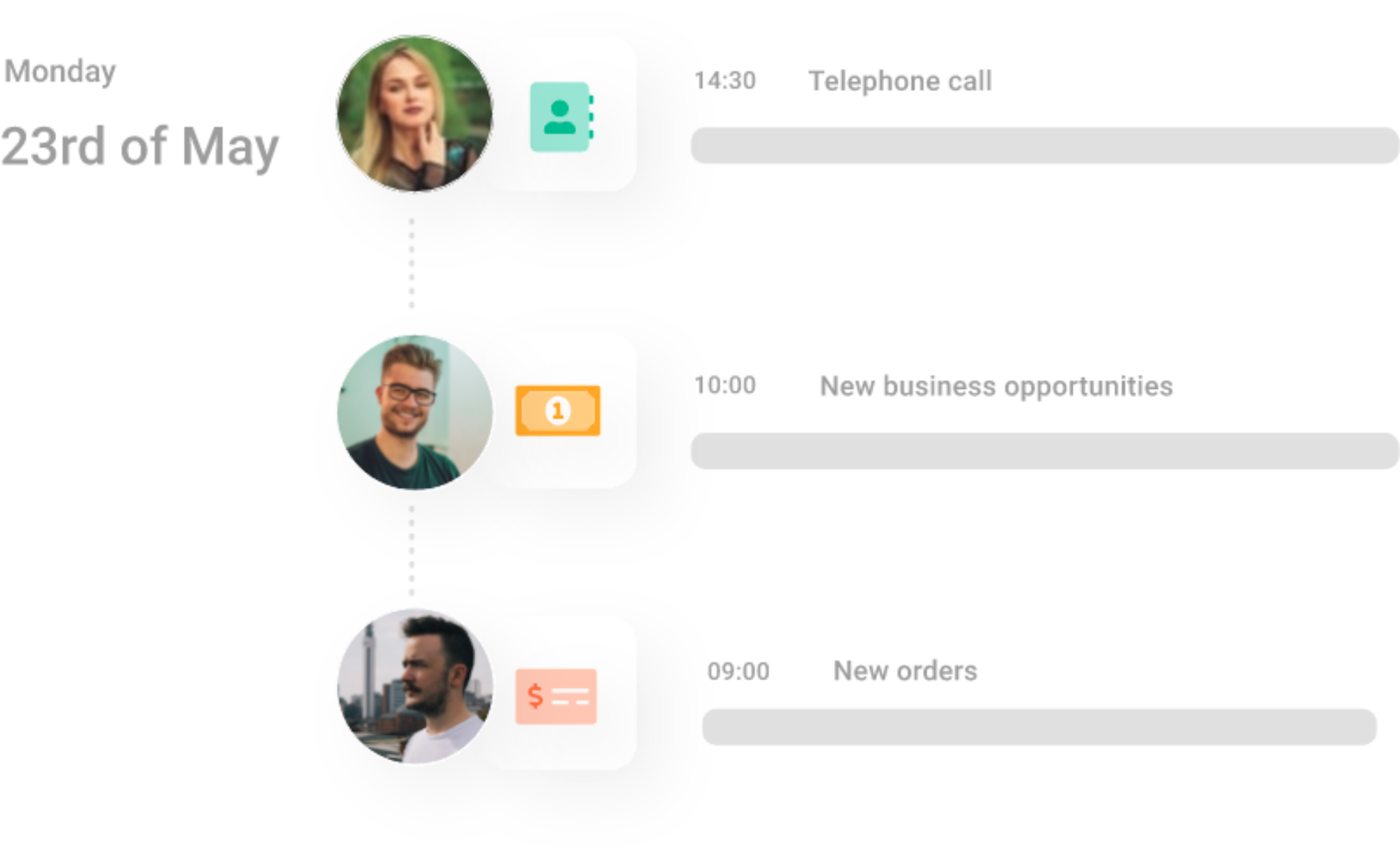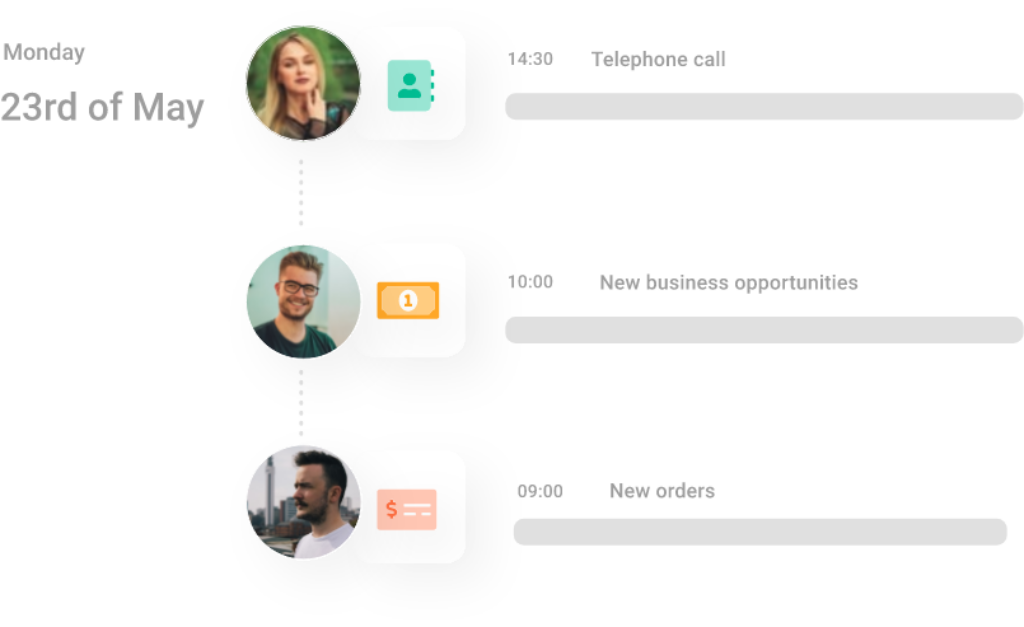 If you want your team to be productively engaged, the best way is to set up automated notifications that will notify them when important updates are available. .
Don't bother with ordinary tasks, establish automated notification rules, or create the perfect working environment for your employees to thrive and stay current. You'll save time and energy by using automated notifications, which you can use to do a better job.
Create automated notifications that notify you of key information in your data, such as changes. In-app, by email, or via webhooks, you can receive notifications.
Labels and statuses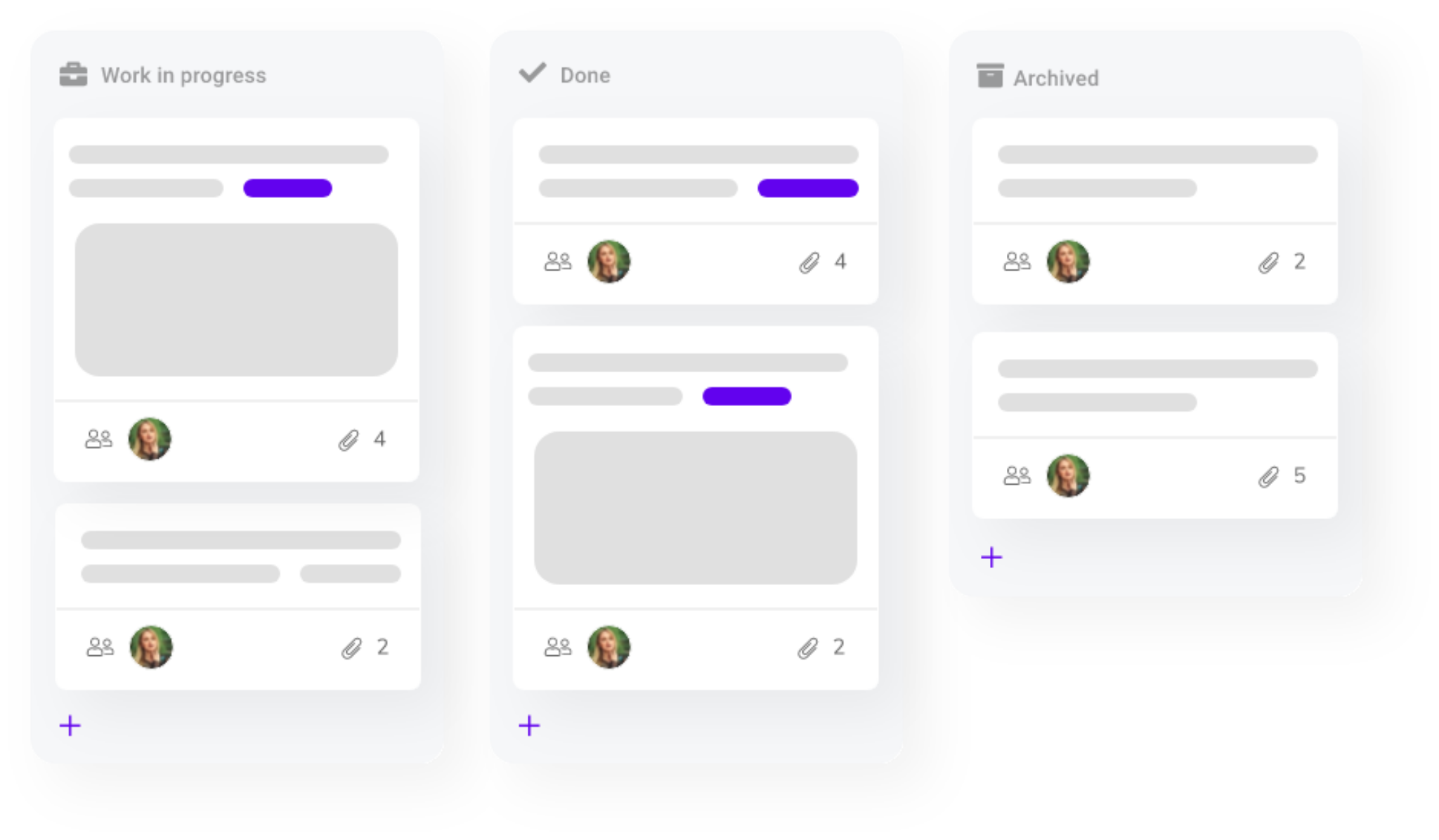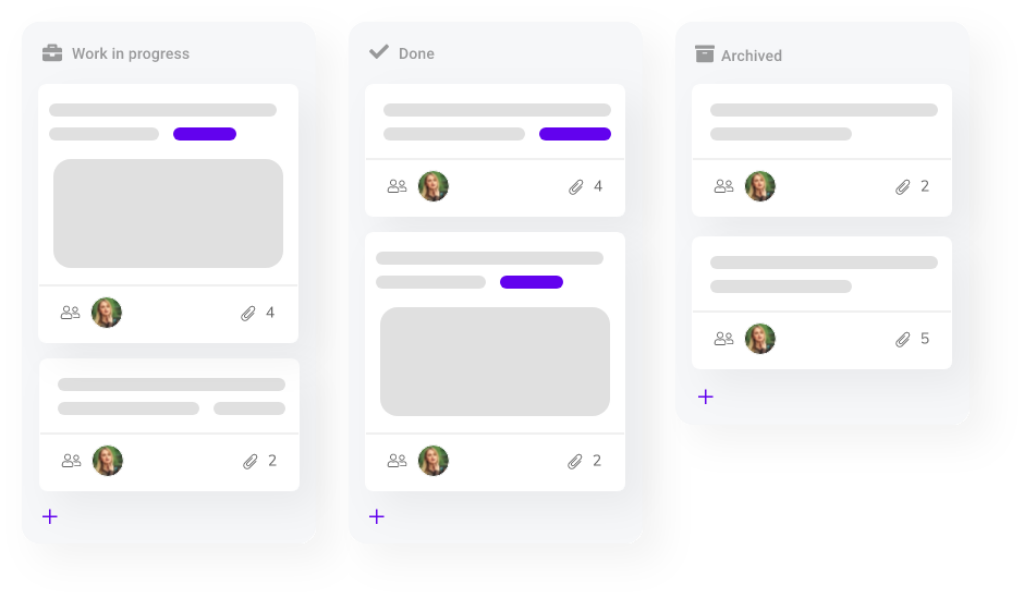 When it comes to success, labels and statuses can be tricky things. They give us a false sense of security and often times don't reflect our actual work performance.
Don't rely on lucky coincidences and develop success as a routine by using efficient and consistent processes. Easy-to-use statuses and labels are the versatile key to success for numerous teams, so they all need distinct strategies.
It's really simple to customise any workflow for any team in any module since labels and statuses may be utilized inside pre-made or your own modules. Things get done quicker when they're properly organized.
Custom fields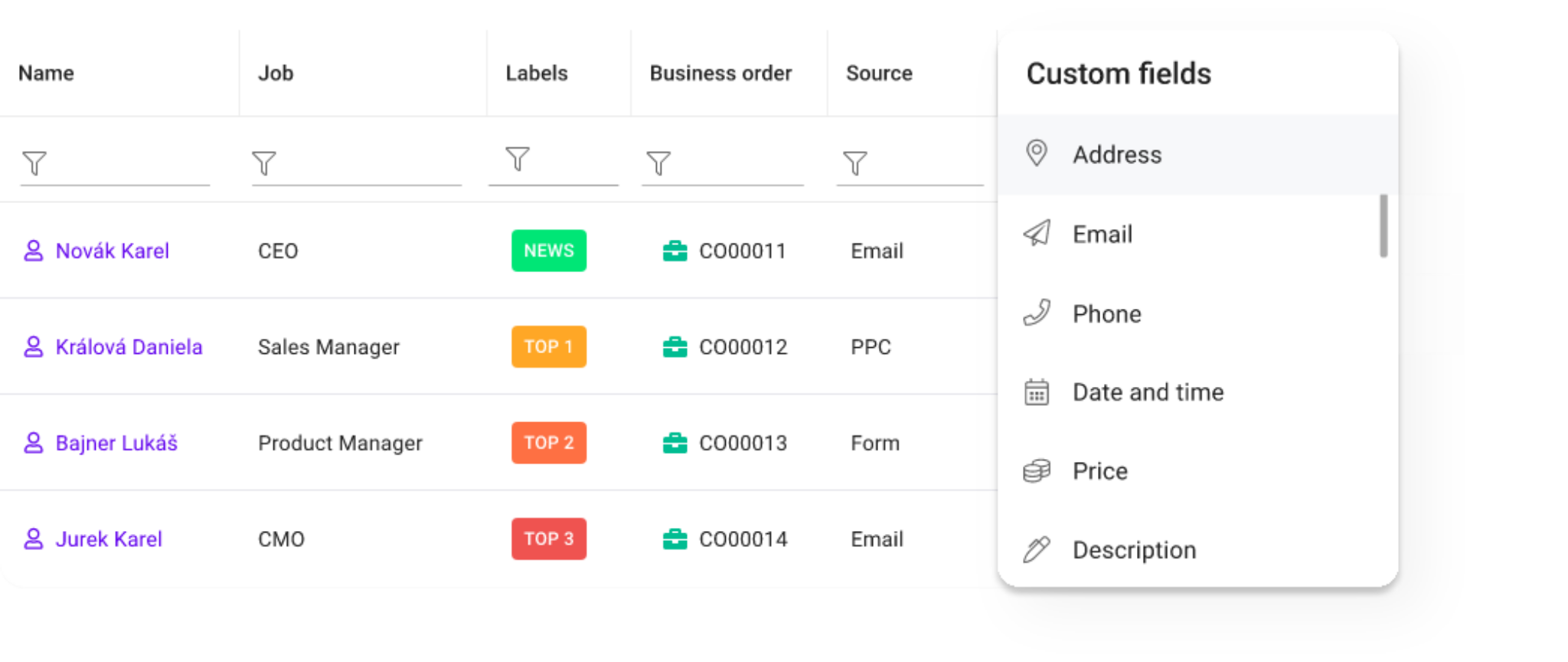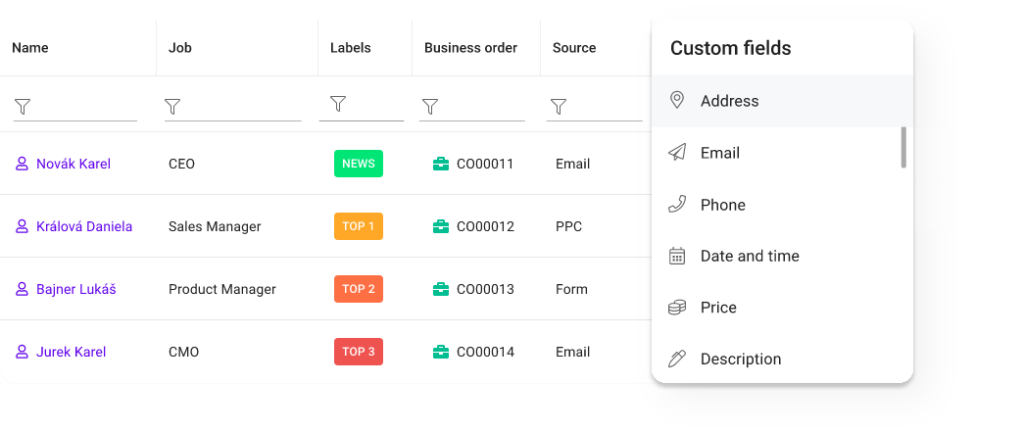 Configuring a custom content management system is not just about having the right features – it's also important to have a design that reflects your company culture and brand. This way, everyone working with the system will feel like they're part of one big team!
You may collect and store information in Boost.space to meet your needs. You may specify which data should be included in each module, such as texts, numbers, addresses, dates, and so on using custom fields.
Build your own modules from the ground up, or modify theirs. You can centralize, manage, and automate any of your data in Boost.space and then bulk send it to your favorite tools in exchange for whatever you're selling, manufacturing, or doing.
Menu editor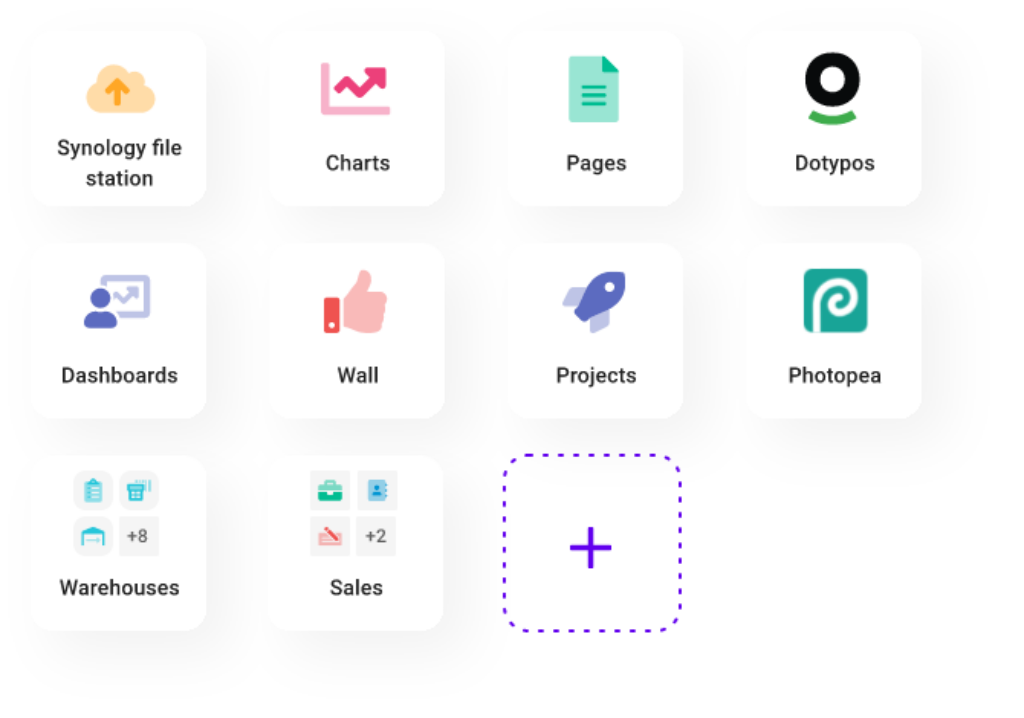 A cloud-based company platform is a great way to streamline the workflow of your business. With an unrestricted number of teams and access to all related data, you can manage everything in one place. This makes it easier for everyone in the company to work together seamlessly and keep track of projects as they progress.
Employees must use a variety of tools, switch between them, seek data in them, and at the same time be as efficient as possible. However, this strategy is doomed to fail. To make work with company systems and data easier, Boost.space provides different workspaces for distinct teams or individuals.
Mobile and desktop app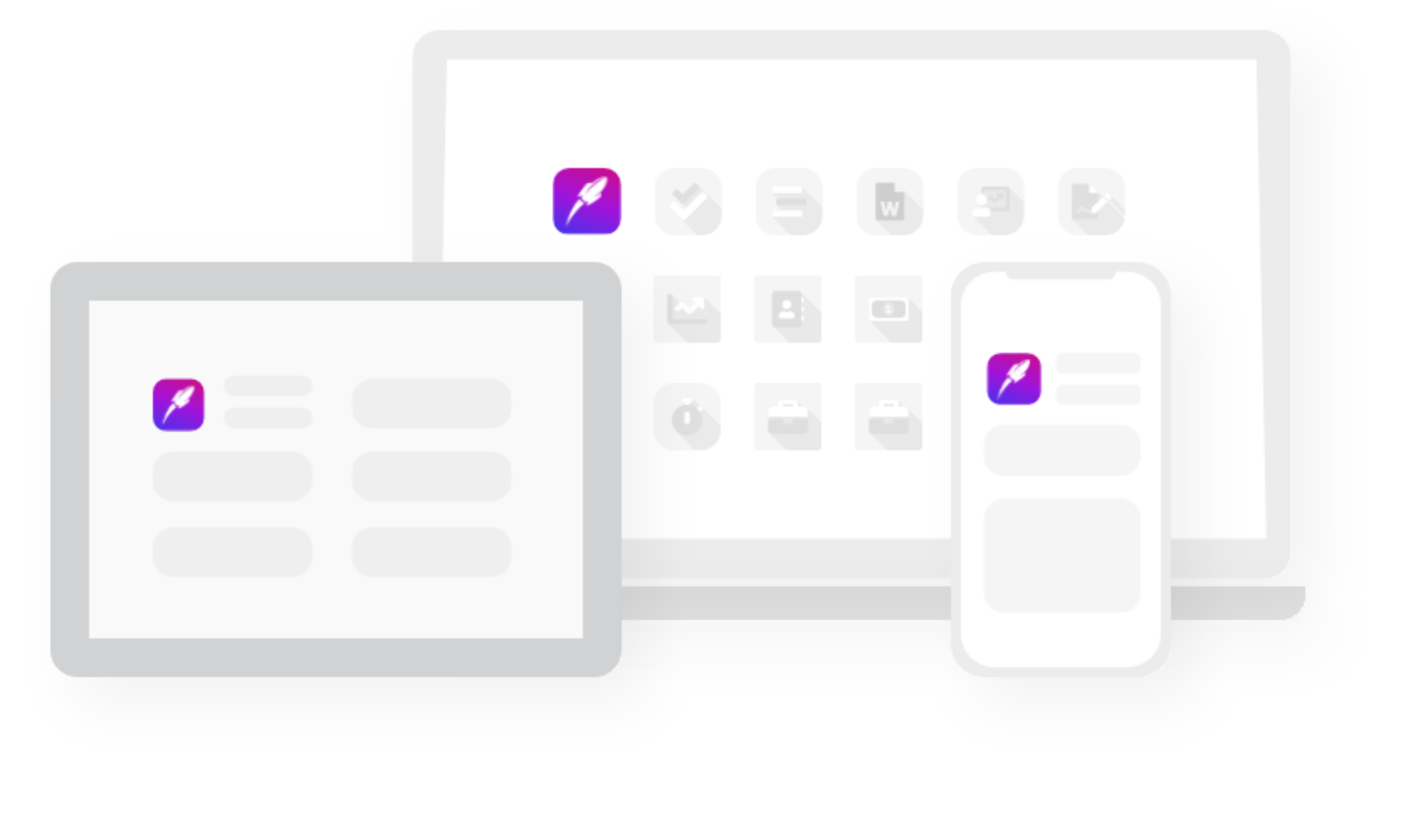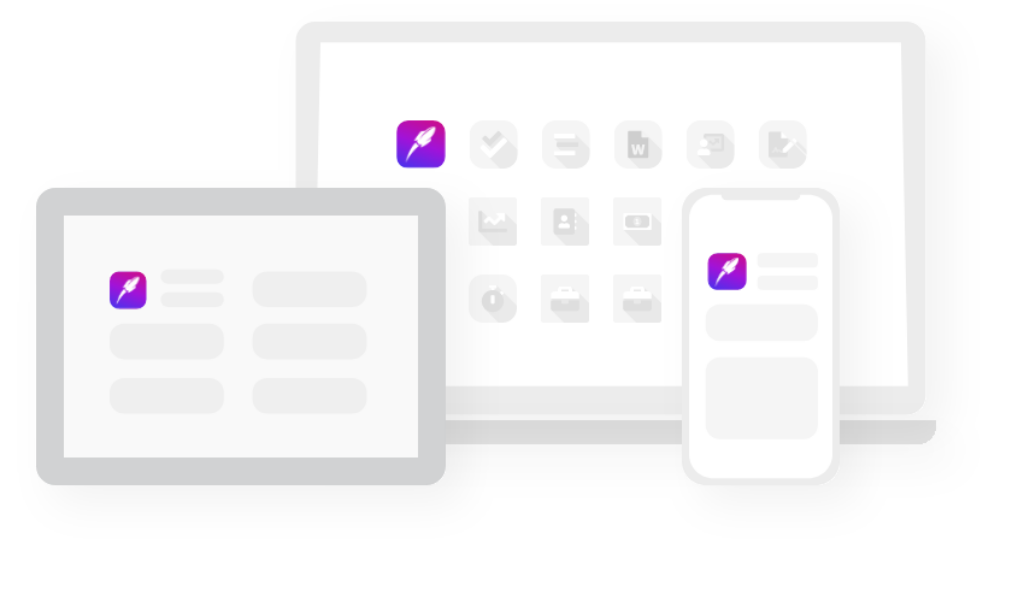 Employees working remotely have a lot to gain from using mobile and desktop apps. By planning, organizing, and collaborating with colleagues from anywhere, they can work more productively and efficiently.
A great example of such an app is the Boost.space application which offers all the company tools right at your fingertips without any need for extra downloads or installations. This saves time as well as headaches in terms of having to search for files throughout different folders on your computer or smartphone-saving you both time and trouble!
Support
Benefits Of Boost.space
Automated collection of invoices, receipts, orders.
Connecting in-store and e-commerce sales.
Creating graphs and dashboards using the data you've gathered from your IT systems to get a complete picture of your company.
Managing contacts from one place.
Calculating project costs and working hours.
ERP Add-on
Dealer network management
Digital platform for the entire company
Integration with the Dotykačka POS system
Integration with POHODA accounting system
Boost.space Pricing Plans
It Offers Monthly and Annual payments.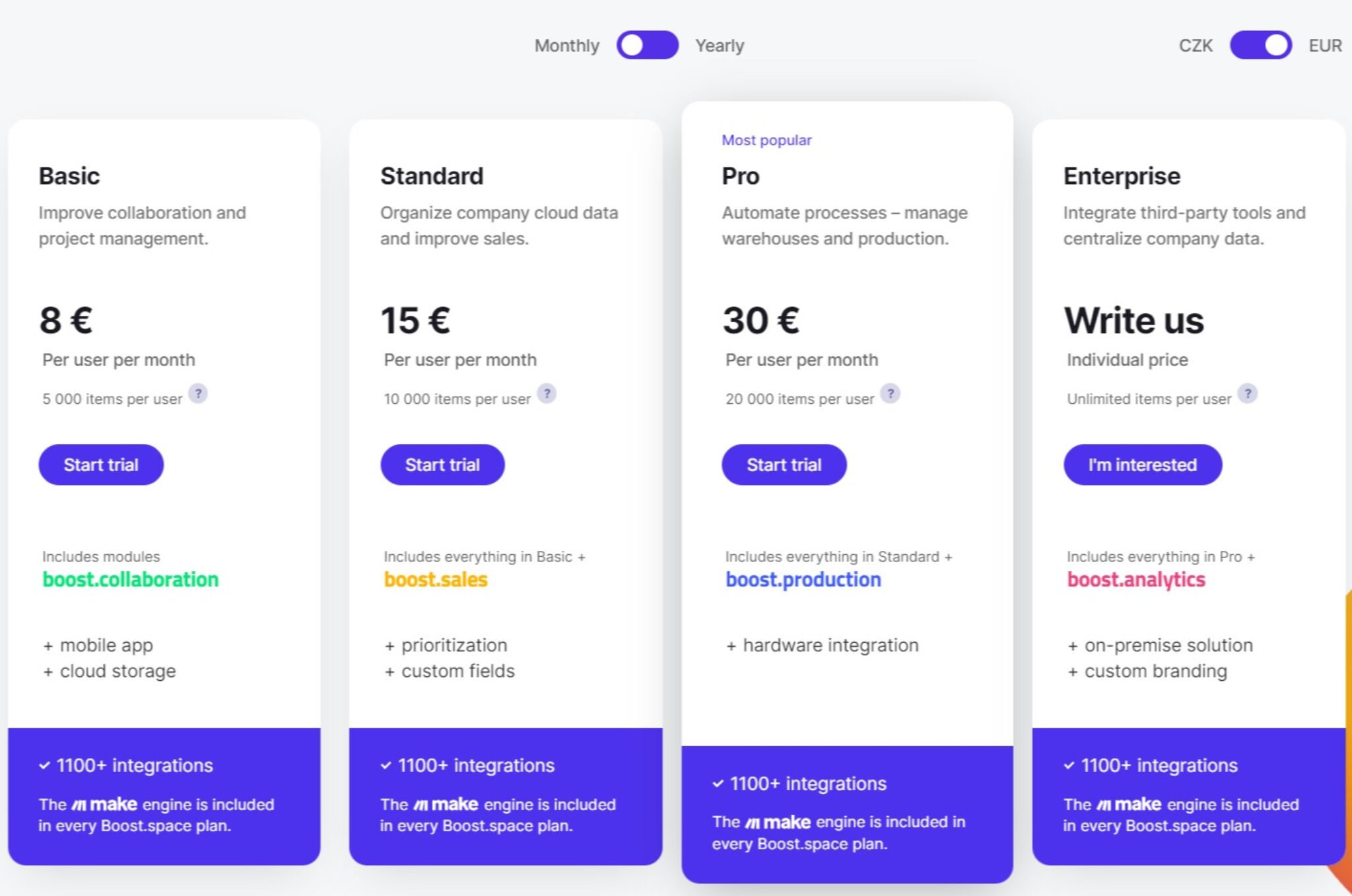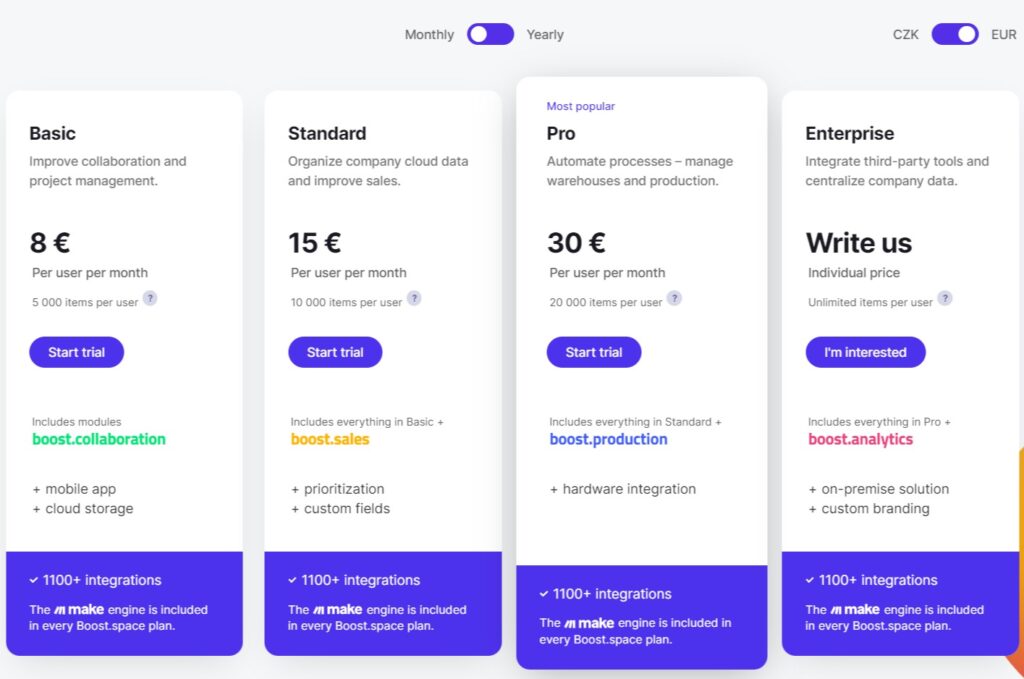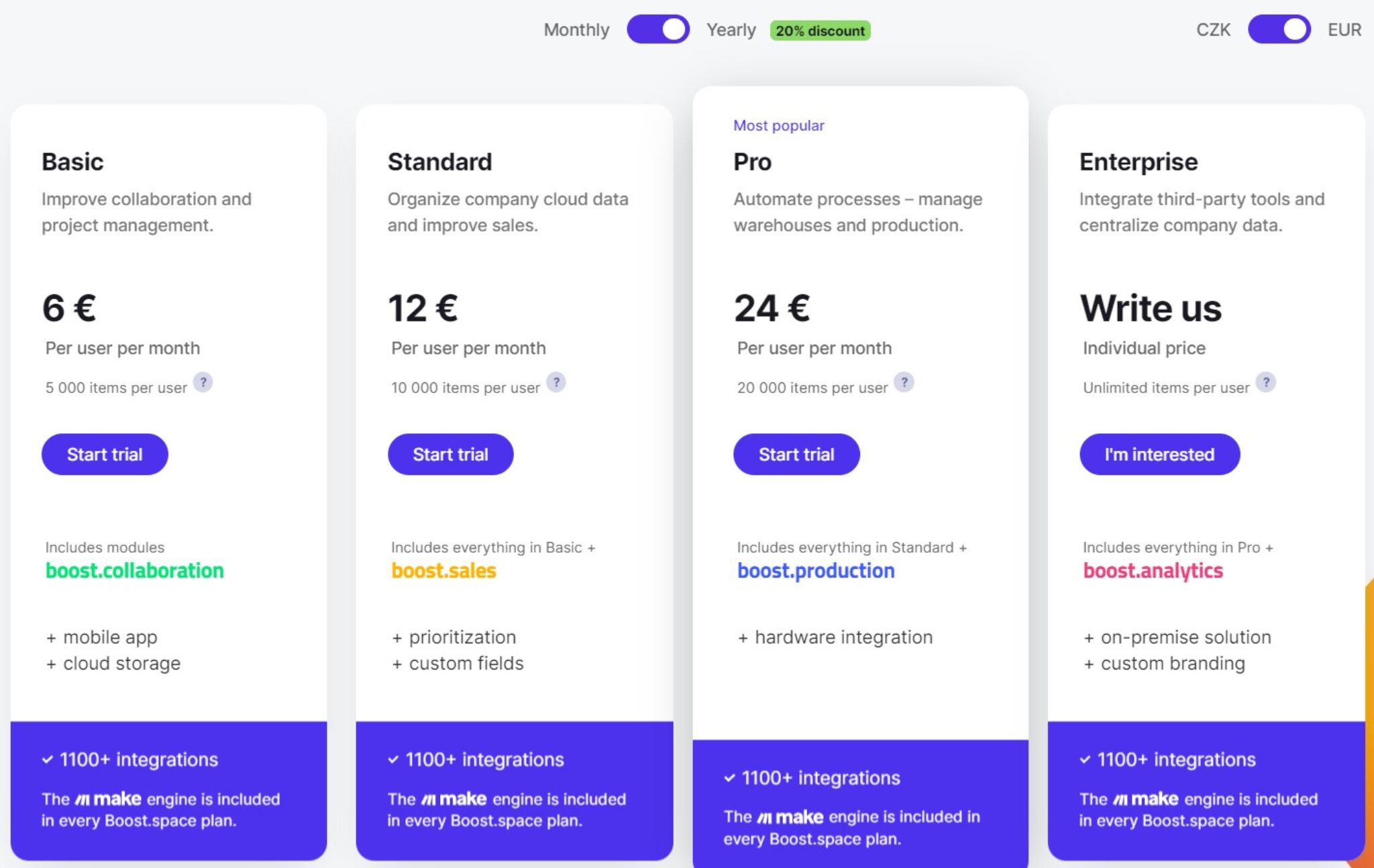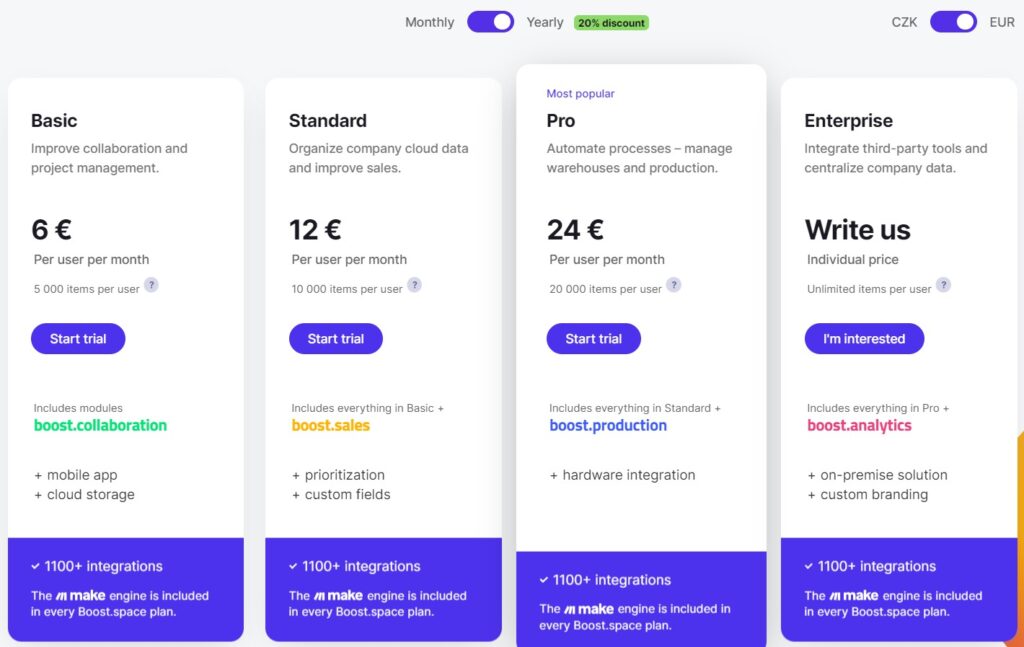 Alternatives to Boost.space
Airtable is the best way to connect, organize and make sense of anything. It's a simple way to build powerful apps that automate routine tasks and enable collaboration across your entire organization. With no-code apps that perfectly match your team's agility and scale, you can create solutions that mirror your business.
The global leader in Customer Data Platforms (CDPs), Twilio Segment, The data foundation that businesses need to put their consumers at the center of every decision is available on the platform, which has 25K+ users. By loading customer data into a warehouse in minutes using Segment, businesses will have more time to improve performance and cost by cleansing and customizing the data.
Social Media Presence
Is Boost.space right for You ?
Cloud-based software called Boost.space enables businesses to manage all of their data from a single location. Its features provide project management, remote collaboration, analytics, and sales growth.
Boost.space CRM is an exciting tool which serves the users with a high quality customer support, data management, and sales automation solutions to help boost business in the market.
Boost.space is a platform that allows for new possibilities, and it's worth exploring. Boost.space can be used to eliminate inefficiencies and repetitions in the apps you use every day.
Video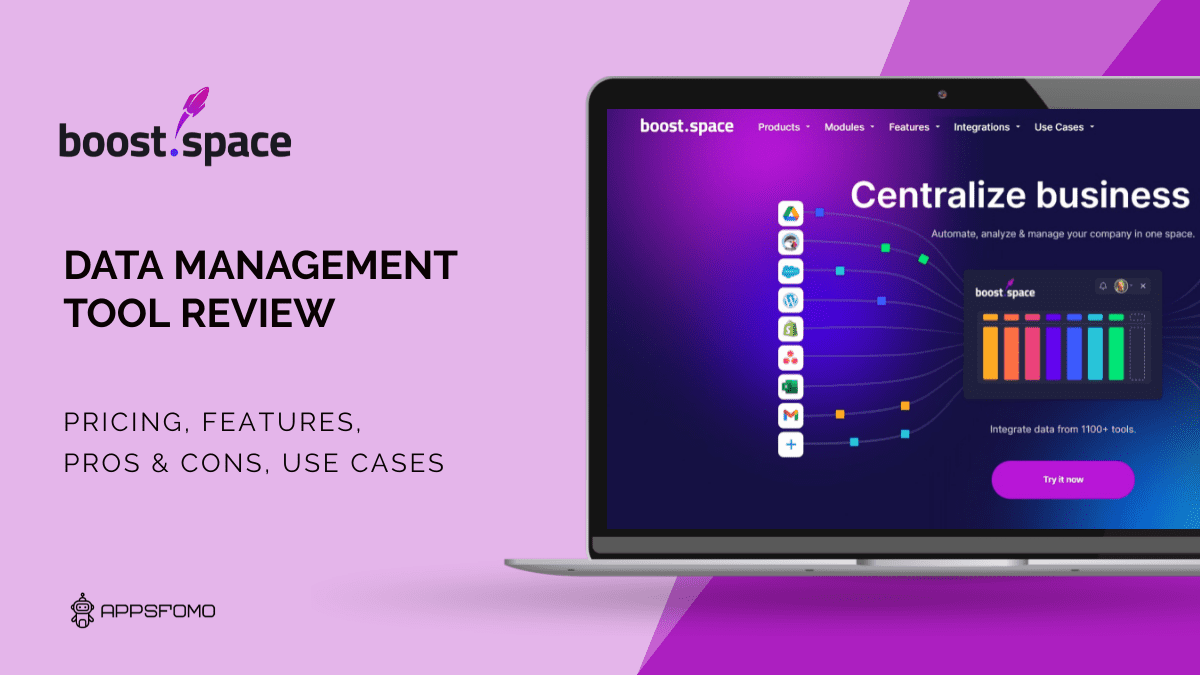 Specification:
Boost.space: The Best Platform to Sync Data between Applications
| | |
| --- | --- |
| Company | Boost.space |
| Country | Prague, CZ |
| Initial Release | 2017 |
| Pricing | Annual Payment, Monthly payment |
| Free Version | Not Available |
| Lifetime Deal | Yes |
| LTD Platform | Appsumo |
| Money-Back | Unknown |
| Appsfomo Rating | 8.9 |
| Support type | Email, Live Chat, Ticketing |
| Integrations | Gmail, Google Analytics, Google Drive, Hubspot, Mailchimp |
| Supported Device | Web Based |
| Mobile app | Not Available |
PROS:
SAP Automation
There is everything in one place so your work is much more effective.
The UI of the platform is very clean and intuitive.
Everything is easy to understand and navigate.
The platform is built on top of the already massive make.com engine.
It has a lot of flexibility in terms of customization.
CONS:
Sometimes there are some software issues, but people in customer support are always very friendly and helpful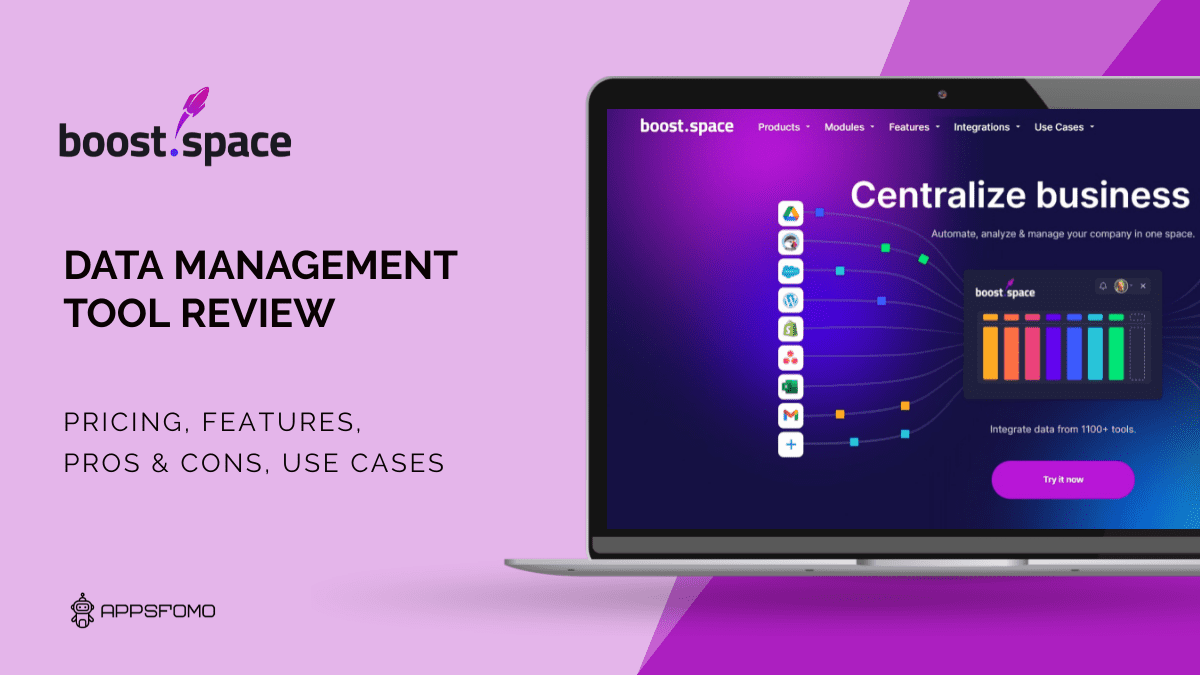 Boost.space: The Best Platform to Sync Data between Applications