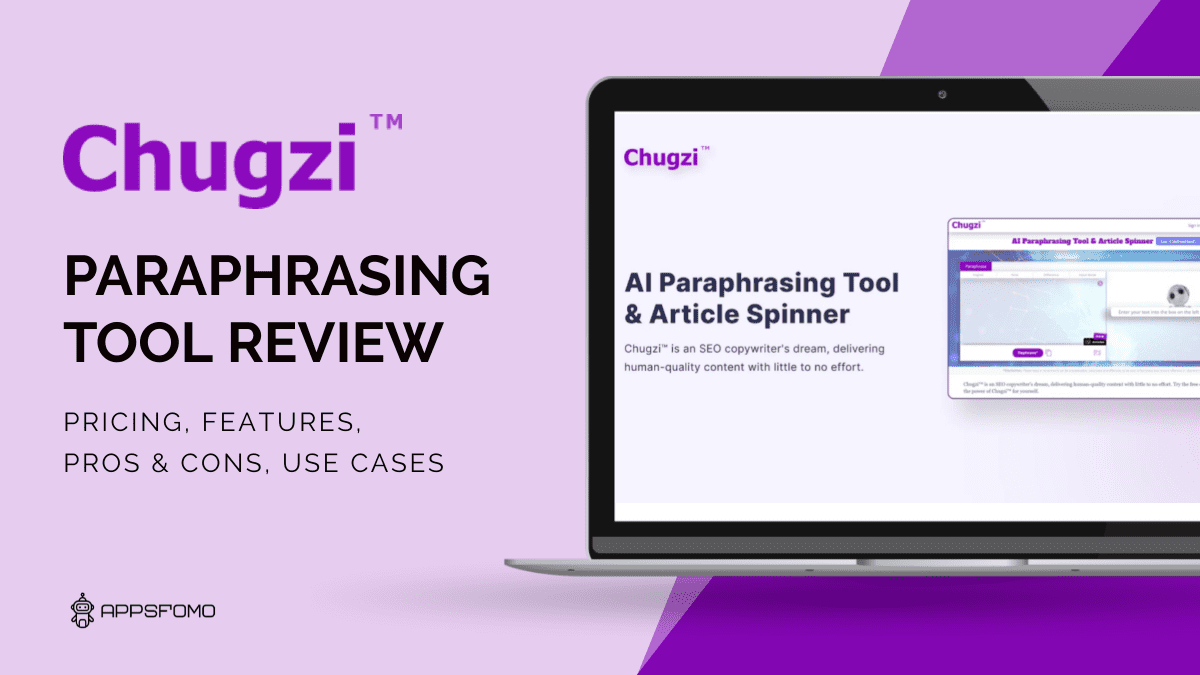 Chugzi: Paraphrase, Enhance and Rewrite Articles with AI
Add to wishlist
Added to wishlist
Removed from wishlist
1
Add to compare
Content is key. Content that is interesting, engaging, and human-quality. That's why Chugzi been created- A content generation tool that uses artificial intelligence to rewrite articles, sentences, and paragraphs for you. With just a few simple keywords, Chugzi can turn your content into high-quality articles that are both engaging and useful.
Not only does this save you time and frustration, but it also results in better results – more clicks, more shares, and more readers. So if you're looking for a way to improve your blog content quickly and easily, Chugzi is the tool for you!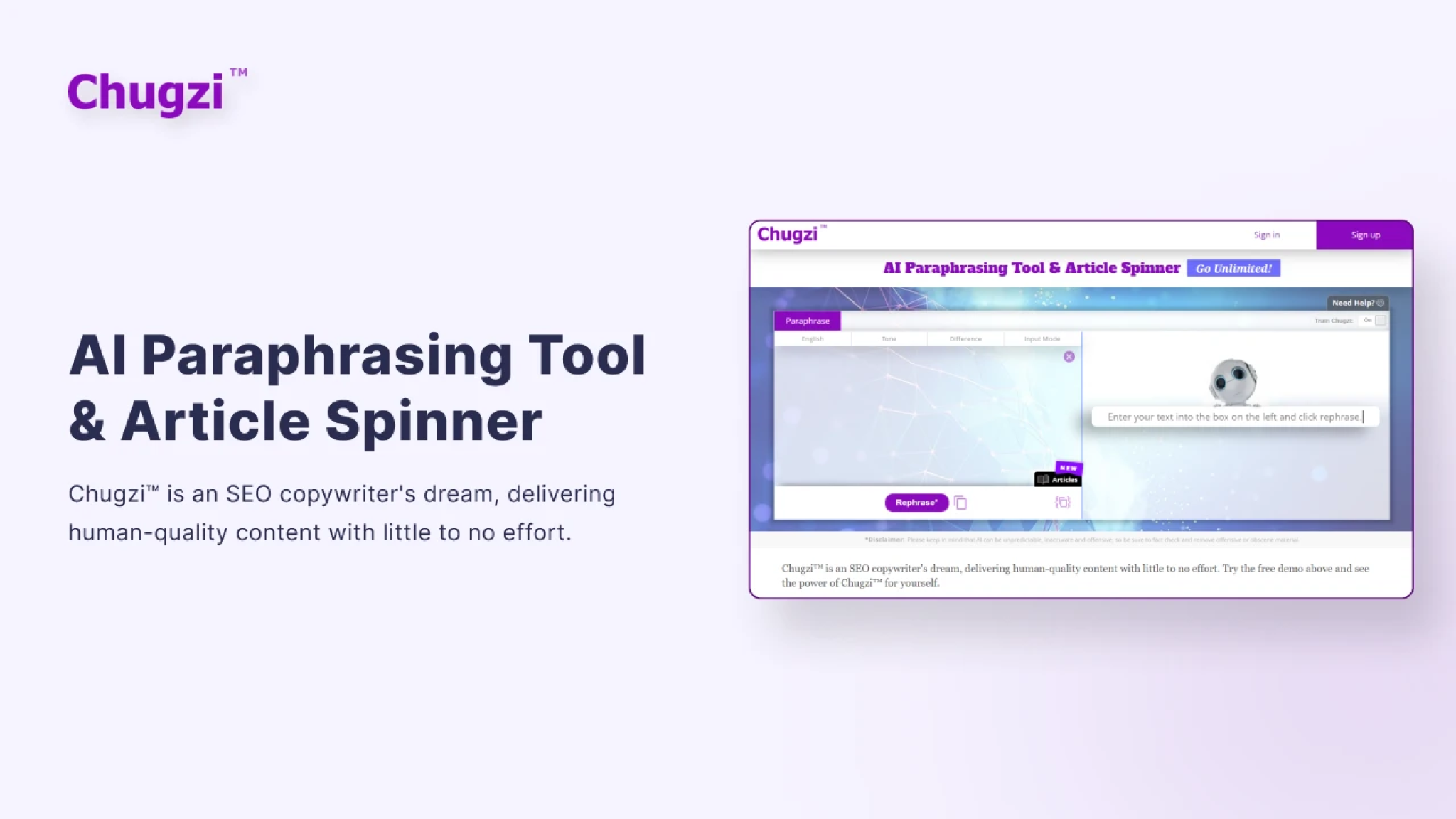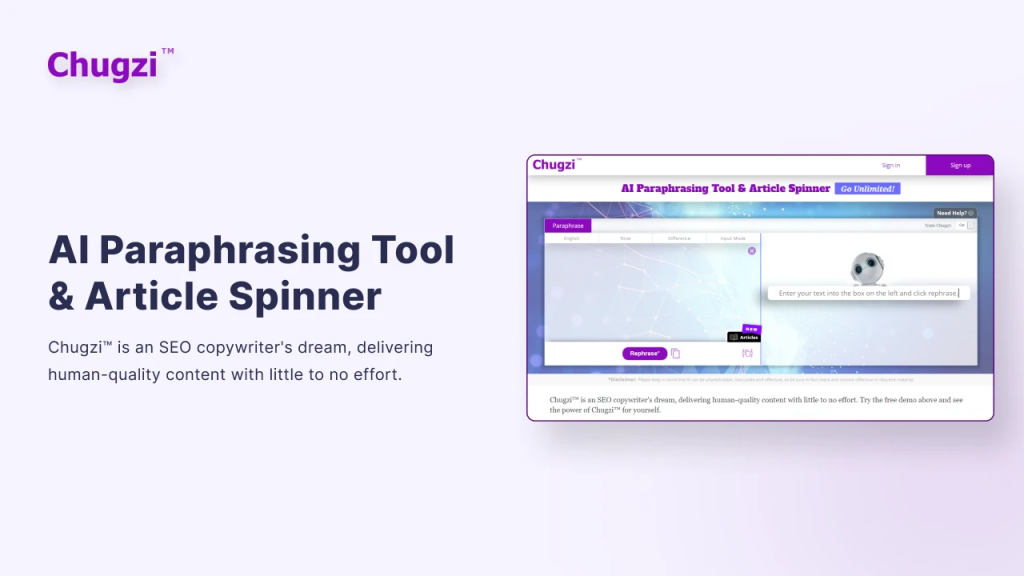 What Is Chugzi
Chugzi is an AI Paraphrasing tool and article spinner. It enhances and rewrites articles, sentences and paragraphs using AI. This tool allows also to spin a single article into dozens, or even hundreds of articles.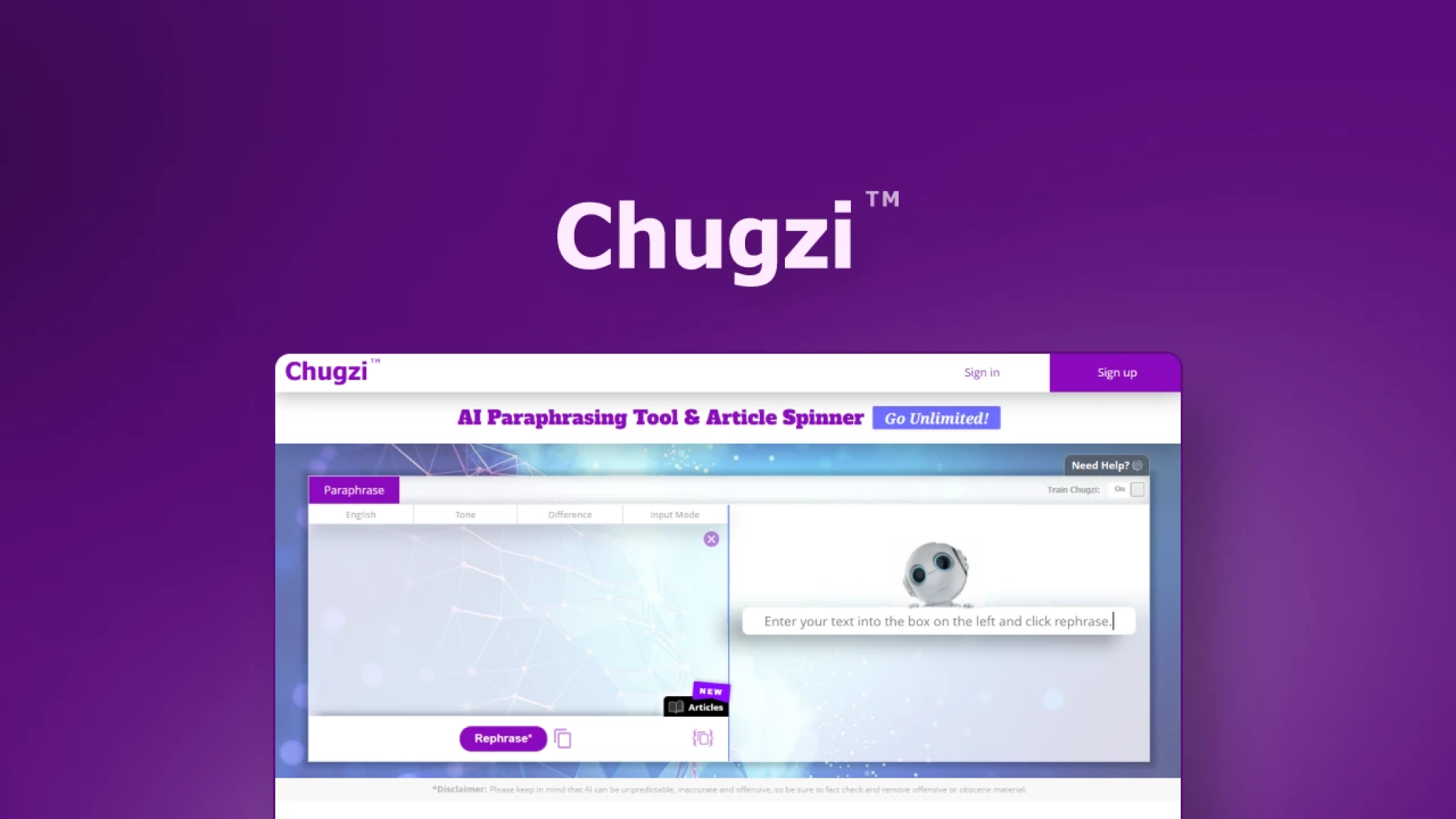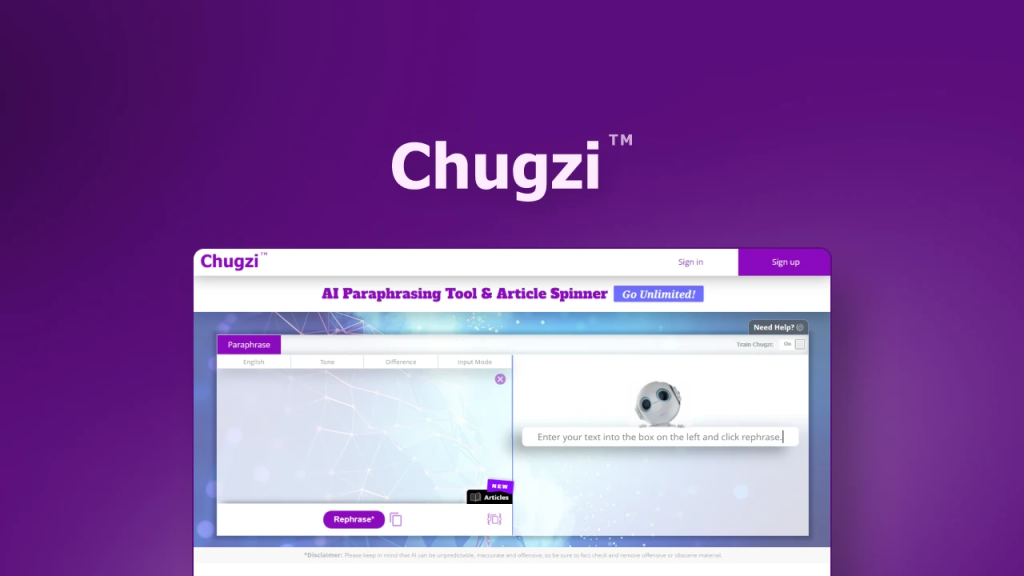 Chugzi is an ingenious content generation software with a simple concept: take your keywords and turn them into engaging, human-quality text. Save time, reduce frustration and get better results with our innovative technology that generates high-quality articles in seconds.
How does it work?
It is a very simple tool. All you have to do is paste the original article into the Chugzi Paraphrasing Tool and then select the words you want to paraphrase.
After selecting your words, click on the Spin button in order to make sure that only one sentence comes out from each word. Once you are done with your paraphrase, it will be converted into an original content for which you can use any of our writing services.
A Chugzi is made up of a few key components: The paraphrasing tool, the synonym finder and the spin generator.
The paraphrasing tool allows you to create unlimited paraphrases for any article or website.
You can also use it to find synonyms for any word. The synonym finder allows you to type in a word or phrase and find all the most common and unique words that are similar to it.
The spin generator helps you choose from many sentences from your favorite authors and have them ready in your document at once. All of these features allow you to get rid of unwanted words, create fresh content with quotes from famous authors, make sure that every sentence is correct, save time by eliminating duplicate words.
Why Chugzi?
Chugzi is a paraphrasing tool, with which you can rewrite or paraphrase any text. It can help you to eliminate unnecessary words from your article. The unique difference of Chugzi is that it allows users to create the original version again after rewriting the content.
The entire process of spinning articles in Chugzi Unlimited Paraphrasing Tool takes less than 5 minutes so if you are looking for a fast way to create paraphrases, this is what you need!
Company Details
Company was founded by Ben and is owned and operated by Spikka, LLC, a Wyoming limited liability company focused on developing web-based tools and services to enrich the lives of web developers and internet marketers.
Company is registered in USA.
Chugzi Features
AI Paraphrasing Tool & Article Spinner


Chugzi's most popular feature is its Paraphraser.
The Paraphraser is a powerful tool that enables users to rewrite any text in many different ways.
This paraphrasing tool might be used to rewrite or spin articles. Spinning user-generated content (blog entries, reviews, papers) or our own material (text of the website) is seamless with this paraphrase instrument.
In this article, let's see how you can paraphrase your article with simple words.
1.The first thing we must do is choose the best term for our piece. Next, you may use the "Paraphrase" button to generate new phrases from there!
2. The new sentences will be shown below your article one by one! You can click on any sentence to copy it or just copy the text by clicking Ctrl+C (or Cmd+C on Mac) and paste it into any program such as Microsoft Word, Google .
An Article Spinner is a tool that helps you generate unique content with a few clicks. The idea behind an article spinner is that you can use it to create unique content by spinning your own words into an article. You can create the spun content in such a way that the original meaning of the sentence remains and it makes sense to read and understand.
The most popular option for article spinners on the market today is WordAi. WordAi takes text from any source (in our case, Amazon book reviews), parses it, and turns it into useful information that can be used in articles or websites. When you need to create large volumes of content for your website
Ever-growing Article Database and ultimate Blog Creation
Stop procrastinating on your blogging initiative- with Chugzi, you can cut the average 3.5 hour writing time for a blog post down to 15 minutes or less.
Running a business takes up enough of your time- why spend more time than you have to on your blog? With Chugzi, you can quickly and easily get the content you need to keep your blog running without taking up all of your time.
Helps to Fuel your Backlink Profile
On average, companies gain an increased number of links to their website by blogging. In the past, this used to be a monumental effort.
But with Chugzi, it's a breeze. Simply spin a new version of your content for all your guest posts, blog networks, social media outlets and news outlets. You'll be amazed at how unique versions of your content can help maximize the effectiveness of your online reach.
Spintax for Video Creation, Email Delivery and Keeping Online Content Fresh
For a variety of different programs and online services, spintax is a very popular format. It's a time-saving measure that boosts your marketing effectiveness.
In order to generate cutting-edge Spintax output, Chugzi is a fantastic program to use.
This output will replace the outdated synonym and word-level spinning techniques that have previously been employed.
Chugzi Support
The Chugzi support team is helpful and responsive. They're always eager to help you with any issues that may arise.
They have Live Chat and Email Support , usually responds within 12 hours.
Chugzi is also provided with Roadmap.
Frequently Asked Questions
Does it Spin Article of any length?
Absolutely! You can rewrite your articles of any length, any number of sentences and phrases when you upgrade to our unlimited monthly, yearly, or to our unlimited lifetime plan.
What is the maximum length for the paraphraser? Is there a character limit?
There is no character limit for the subscription and lifetime plans, at least none that the average person would ever come close to reaching. Chugzi has done hundreds of pages of content in one button submission as a stress test and it worked fine.
Why Use Chugzi
Improve your writing skills.
Learn how to write more effectively.
Delivers Human Like Content with less time.
Creates Blog for you, in no time.
Has Powerful streamlined Editor.
It helps students write better essays and saves teachers' time, thus making it a perfect tool for all students.
Easily and securely manage your writing projects.
Chugzi Pricing Plans
Chugzi offers different versions of its paraphrase tool: free version, paid version and trial version. Try it now!
It also offers Monthly, Yearly and Life time Subscription.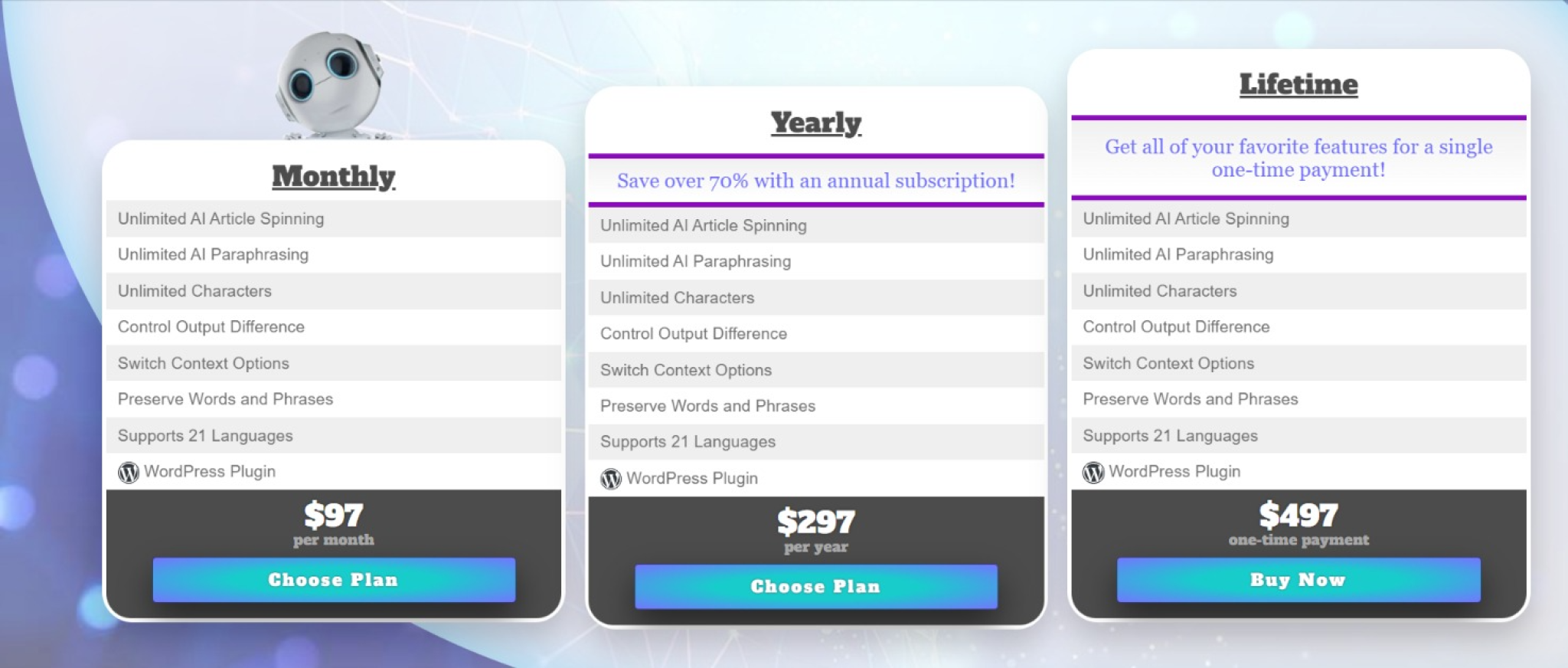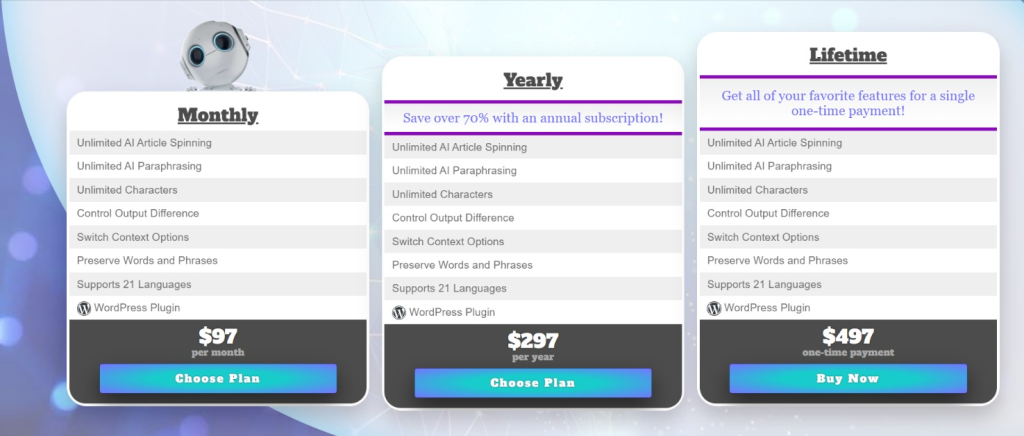 Alternatives to Chugzi
Chugzi is a ultimate paraphrasing tool and article spinner that provides dozens, and even hundreds, of unique paraphrases to fit your content needs and refresh all your SEO content with ease.
Here are a few alternatives to Chugzi, depending on what you're looking for.
Paraphraser.io stands as one of the most promising AI rewriters available. It leverages cutting-edge artificial intelligence to generate coherent, comprehensible content devoid of plagiarism.
QuillBot is the paraphrasing tool – it uses state-of-the-art artificial intelligence technology to instantly rewrite or enhance any content. This interface enables you to swiftly rephrase articles, sentences, and even entire paragraphs, automatically enhancing your content and enhancing readability for your audience.
Social Media Presence
Is Chugzi right for You ?
Chugzi is an AI-powered, automated content generation tool that delivers human-quality articles at a scale. It requires almost no input from users and follows the standard SEO best practices by delivering relevant meta tags, keywords, images and more.
Chugzi is the best solution for content marketing, blogging, and SEO. It's so easy to use that you can use it to create amazing content without ever writing a single word.
Overall, I think Chugzi is a good writing suite that has many helpful features. More features needs to be added, but overall it's an easy-to-use tool that'll make your work smoother and faster.
Video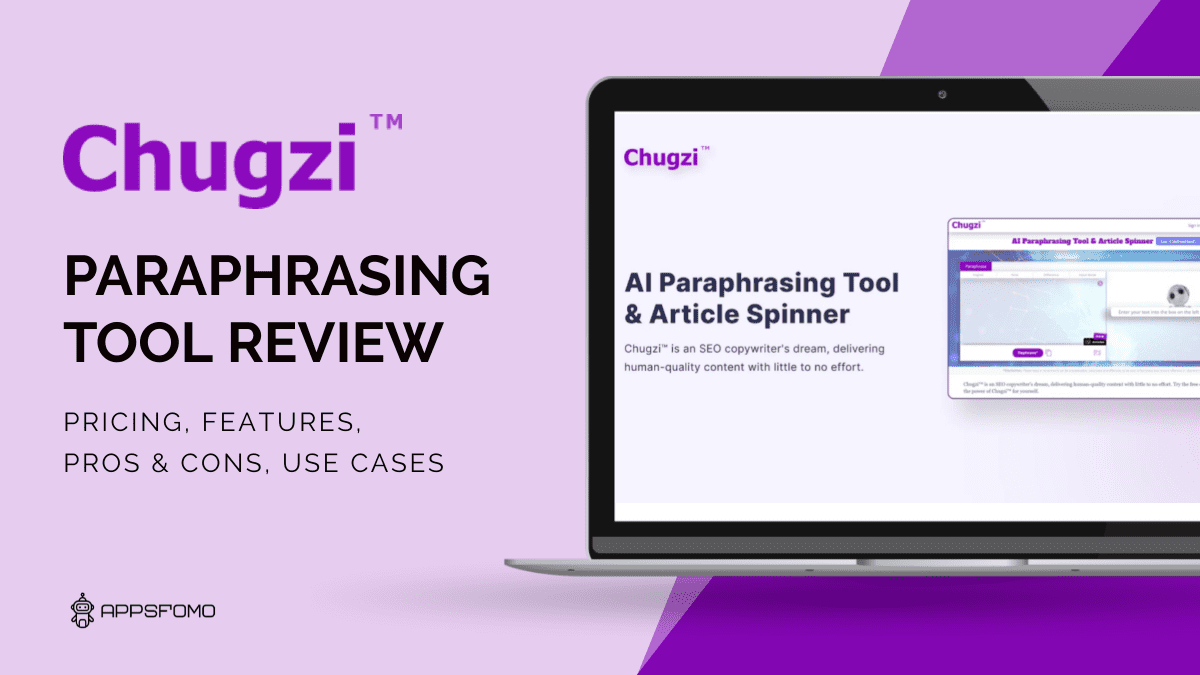 Specification:
Chugzi: Paraphrase, Enhance and Rewrite Articles with AI
| | |
| --- | --- |
| Review Date | Aug-22 |
| Company | Chugzi™ |
| Country | USA |
| Initial Release | 2020 |
| Pricing | Montlhy, Onetime, Yearly |
| Free Version | Free Trial |
| Lifetime Deal | Yes |
| LTD Platform | Appsumo |
| Money-Back | N/A |
| Appsfomo Rating | 7.4 |
| Support type | Email, Live Chat |
| Integrations | N/A |
| Supported Device | Web Based |
| Mobile app | Not Available |
| Affiliate Program | Yes |
PROS:
It puts out good-quality SEO-friendly original descriptions that need minimal editing.
Delivers human-quality content with little to no effort
Chugzi has non-deterministic AI
Chugzi does not reliant upon any third party AI delivery services.
CONS:
Paraphrasing or rewriting tool for other languages than English is difficult
Redemption process does not work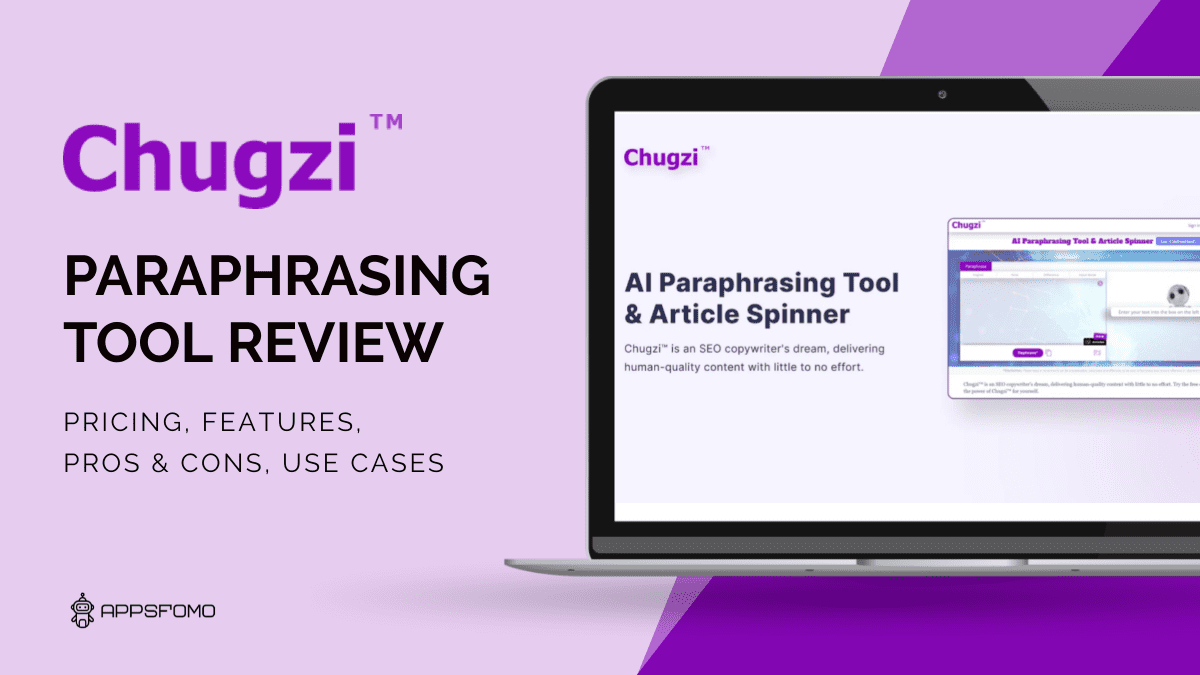 Chugzi: Paraphrase, Enhance and Rewrite Articles with AI