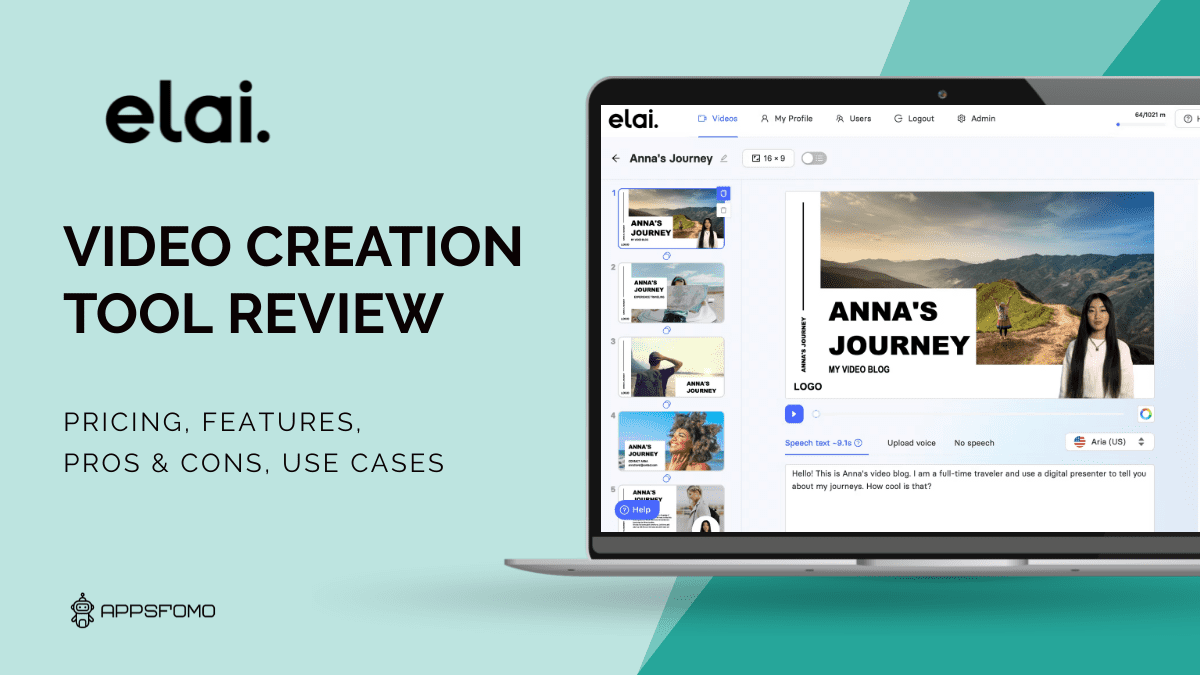 Elai.io: Create Video Content with Real Human Narrators from Text
Add to wishlist
Added to wishlist
Removed from wishlist
0
Add to compare
Are you looking for a video creation application that allows users to make unique AI videos in minutes without requiring a camera, studio, or greenscreen? Then definitely consider Elai.io
Using only text, you may make artificial intelligence (AI) videos with a presenter from scratch using Elai.io, a cutting-edge new SaaS platform. Until you add slides and content, it only allows you to pick a presenter and does not let you make a video. From scratch, Elai.io enables you to create customizable and updateable designs. It's a fantastic way to add some uniqueness to your presentation by inserting or linking to videos. Let's dive deep into the features of Elai and how you can use it to effectively market your products and services and attract customers.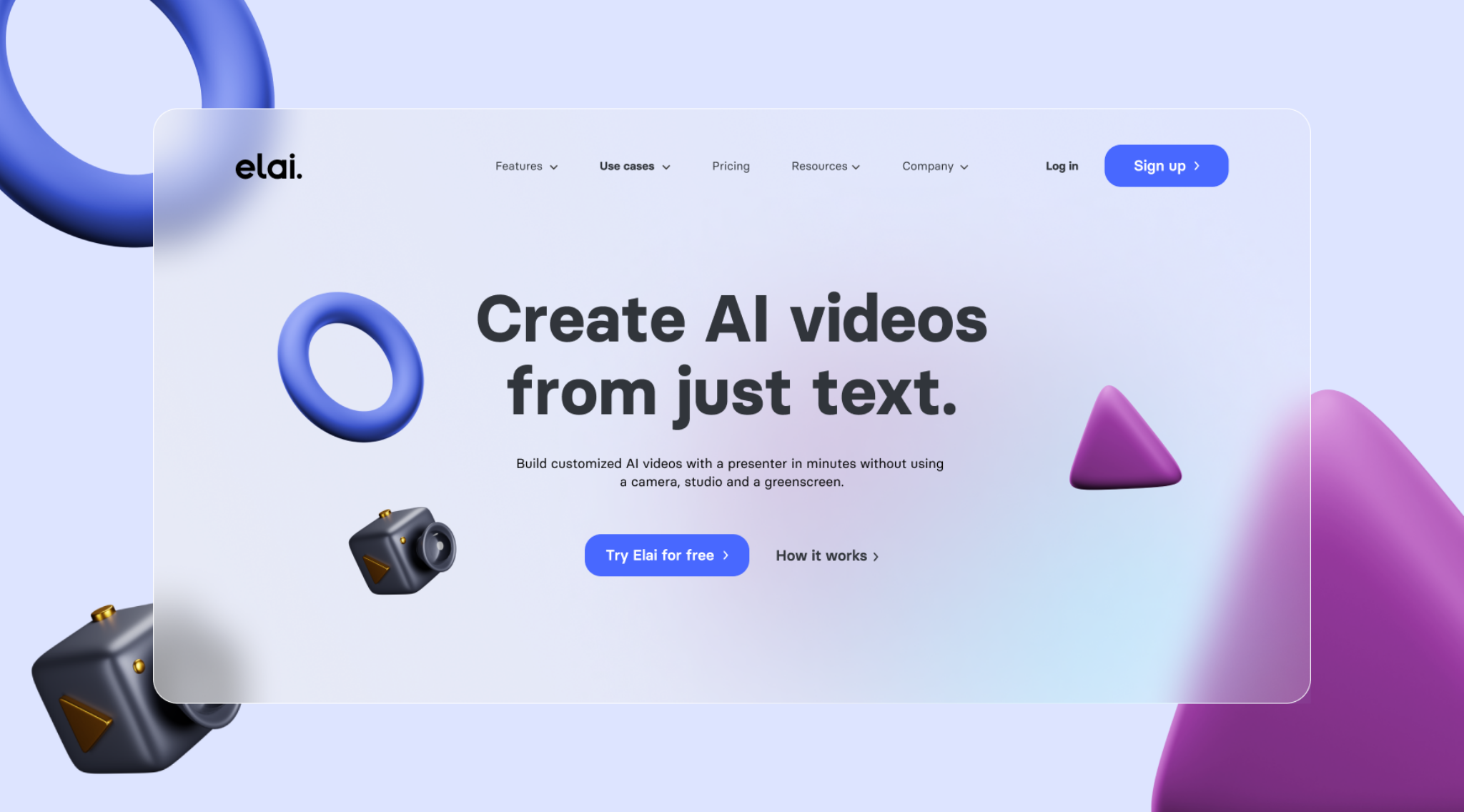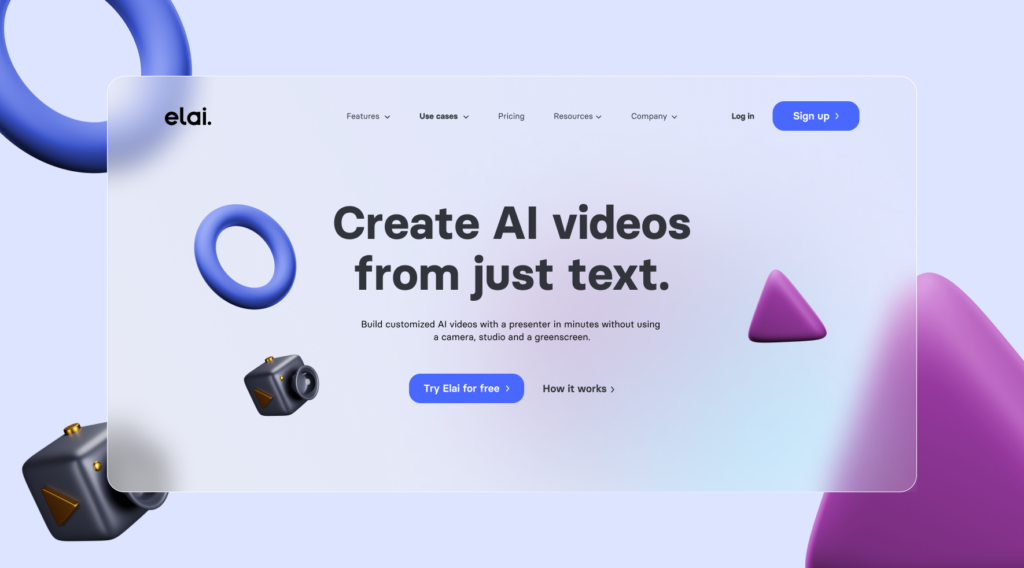 Elai.io is a revolutionary text-to-video platform that allows users to create customized AI videos spoken by a human avatar. As easy as using PowerPoint or Word, Elai will have you generating videos within minutes. With Elai, marketers can easily create educational and marketing video content with real humans from just text. This helps companies boost conversion rates, increase organic traffic, and improve viewer engagement with videos.
Additionally, businesses can save money and time by outsourcing the creation of their videos to a human narrator on Elai instead of hiring expensive actors or recording audio themselves.
How Elai.io works?
Elai.io lets you create videos and customize them in a variety of ways.
Sign in to your account.
To create a video, click on the "New Video" button to get started. You may either create a video from scratch or choose from one of the templates.
Select an avatar, From the right-hand sidebar you can choose an avatar. You may adjust their size and layering, and relocate them on the slide. Each slide can also have its own avatar, which is unique.
Add slides to your presentation. You can even crop them, animate them, and incorporate transitions for all of the slides.
Include speech text, During the presentation, type the text that your avatar will speak. Please keep in mind that each slide will need an additional text about the subject.
Customize slides to create a unique video experience. Add whatever you want: text, images, and forms. To top off your video, you can add some Lottie effects.
Once you get the confirmation email, your video will be ready to download. You may now download or share it. and share it with others on Elai.io.
With the platform's robust editing tools and intuitive design, creating a video is a breeze. You can also browse through various videos from top creators and discover new ideas for making videos that captivate audiences. Overall, Elai.io makes creating videos easy and enjoyable for everyone.
Company Details
A global team of AI technology lovers founded Elai.io, a deep-tech startup firm in the year 2021. They are design-driven dreamers who are driven by their users' demands. Elai.io has been more than just about advanced AI technology from the beginning.
Vitalii Romanchenko is the CEO of Elai.io, Company comprises 15 team members and is headquartered in Ukraine.
Online Presence
Elai Key Features
Automated Video Creation
Elai Builder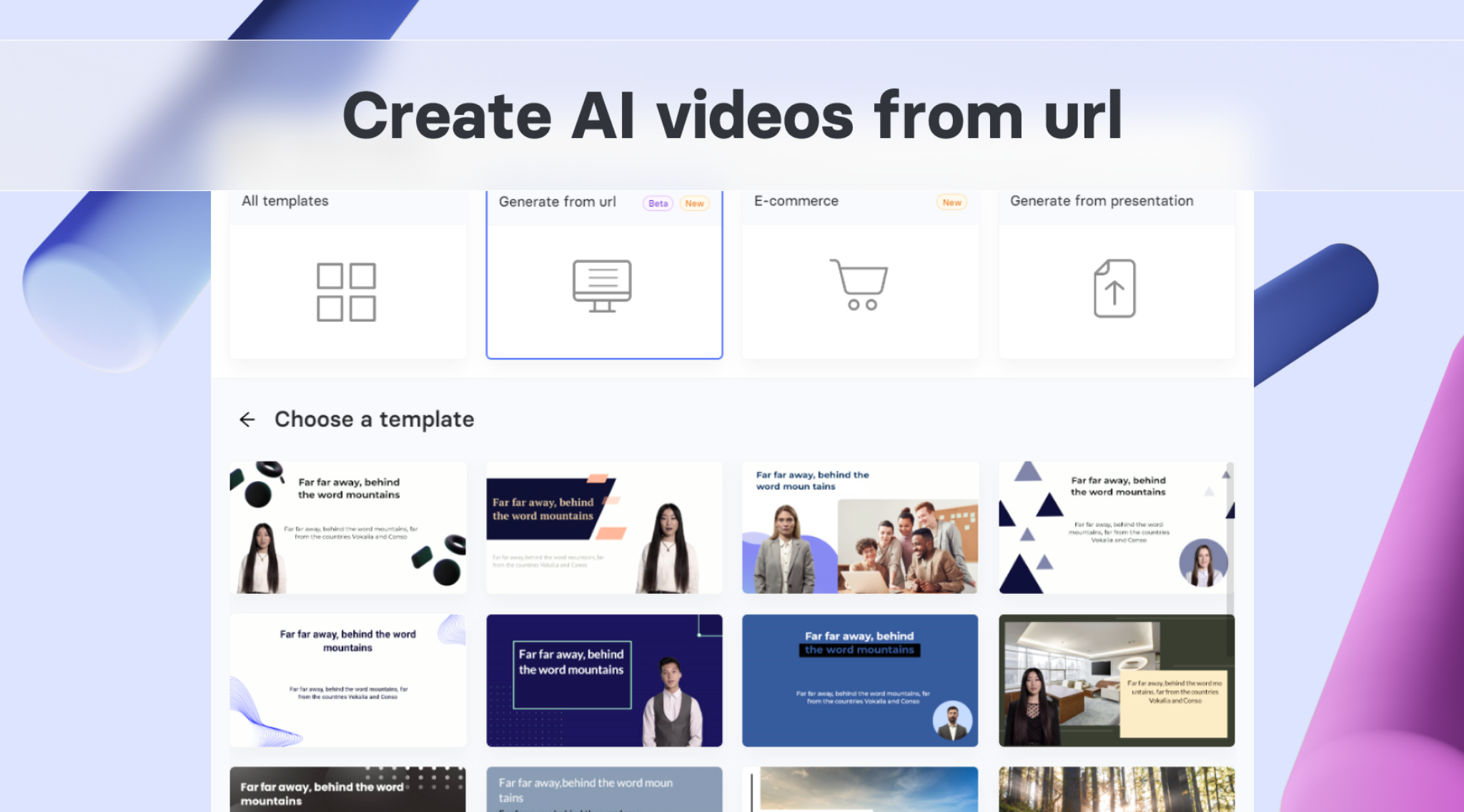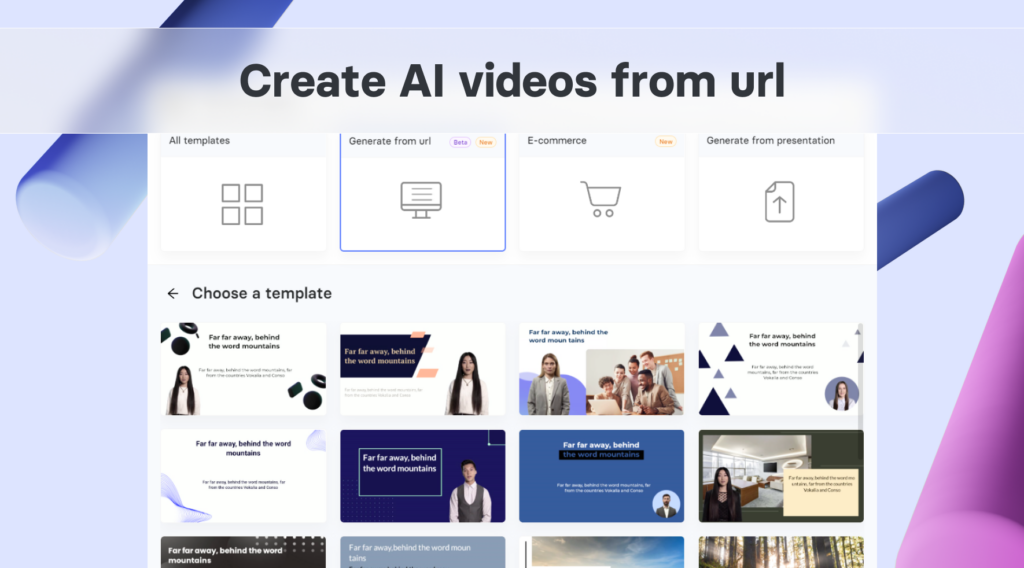 Elai.io is a powerful video creation tool that can help you create engaging and customized videos with Artificial Intelligence. Its intuitive interface, coupled with its extensive library of templates and customization options, makes it the perfect solution for creating visually stunning content quickly and easily.
Elai builder is your go-to solution for creating custom videos quickly and easily. Whether you are creating marketing videos, business presentations, or social media posts, Elai has the tools to help transform your ideas into visually captivating content. With its built-in editing capabilities and video styling tools, Elai makes it easy to add professional-looking effects to your video in just a few steps.
Additionally, Elai provides you with various music, video, speech, and virtual presenter options to add personality to your video. Whether you are creating corporate videos for your business or school projects for class, Elai will help you create engaging and unique videos quickly and easily.
Text-to-Video Conversion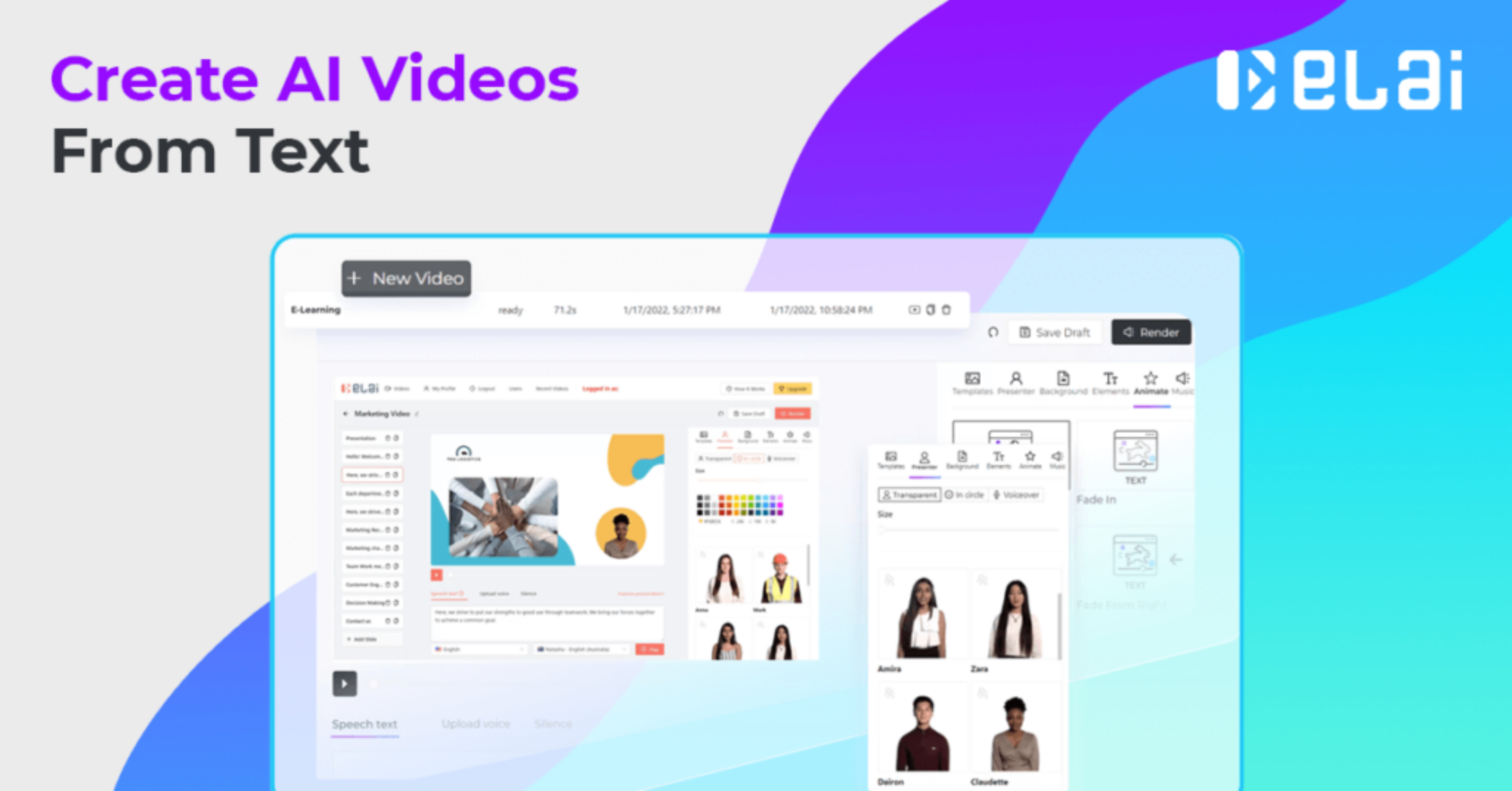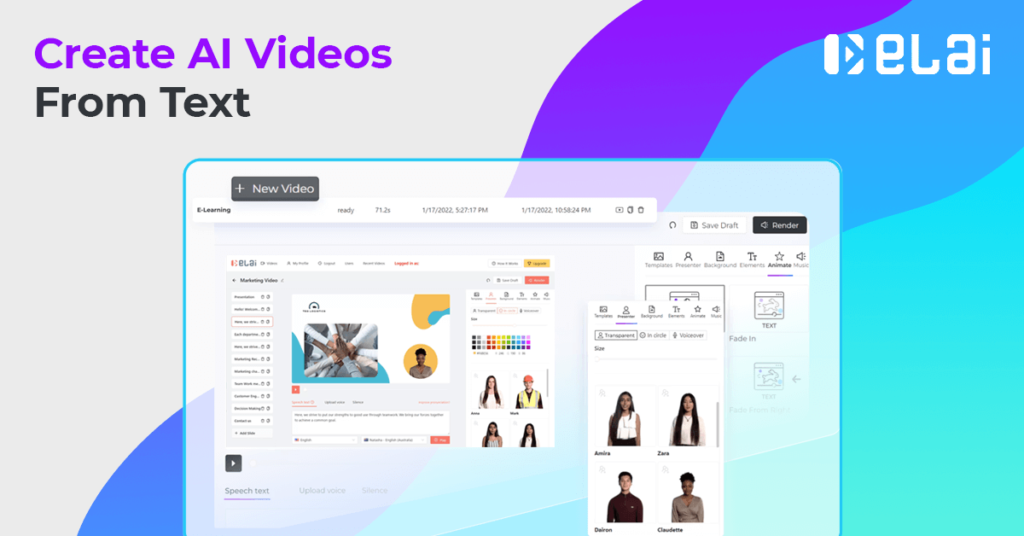 Elai.io is a cloud-based service that lets you create professional-looking videos from the text in just minutes. You can use the service to create videos with human avatars that say exactly what you want, building a video that's perfect for your business or team.
There are a variety of options when it comes to creating your video with Elai. You can select an avatar from their wide range of high-quality human avatars, or you can type text into slides and have the app generate audio and video from the text automatically. The app also allows you to add graphics, backgrounds, and other visual elements to your video quickly and effortlessly. Overall, Elai is a fast and easy way to create professional-looking videos from the text.
Cartoon, AI, and Custom Avatars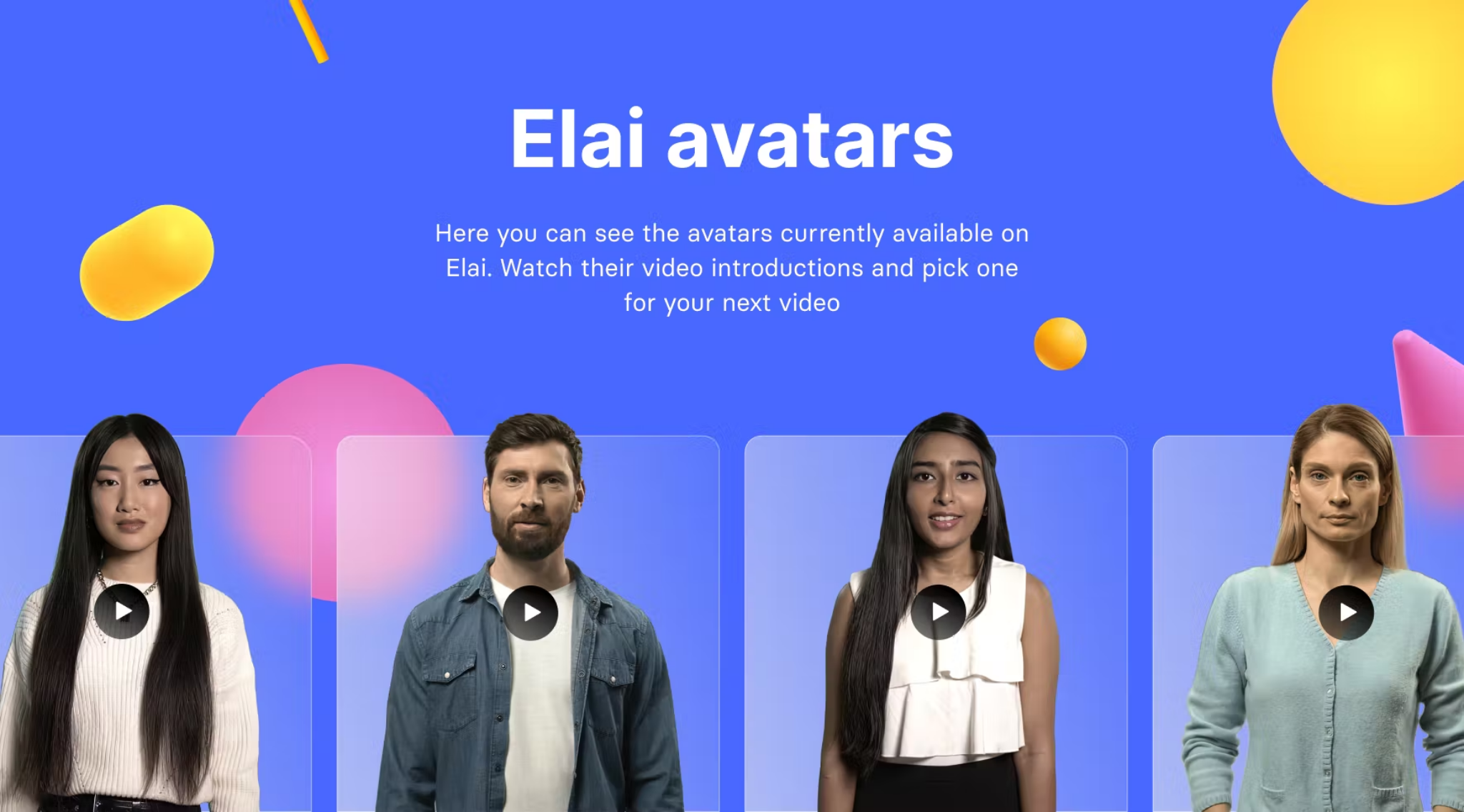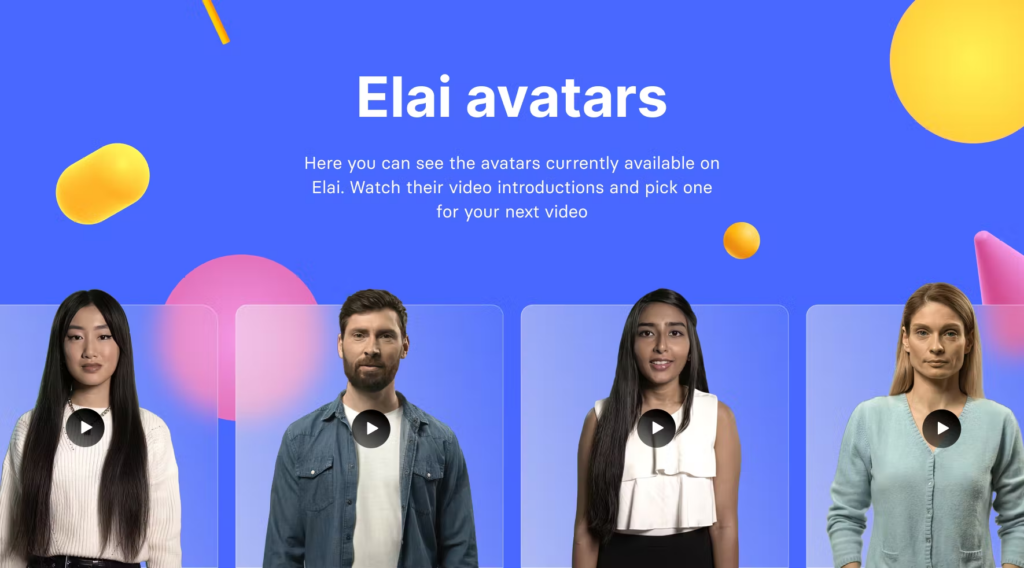 Elai has a range of avatars to choose from, so it's easy to find one that fits your needs. All avatars can be customized with different features and outfits, making them unique and instantly recognizable. Whether you're looking for a photo avatar, studio avatar, animated avatar, or selfie avatar, there is something for everyone at Elai.
You can also choose from human-like avatars from Elai's library or create your own custom avatar by sending the team your video or photo of yourself. This allows you to stand out among the crowd while using the app. If you're looking for an avatar that truly reflects your personality and brand identity, consider using one of Elai's professional options.
Multi-Scene Presentations
Elai's intuitive builder allows users to create multiple scenes within a single project, allowing users to organize their content in different ways and visually highlight different sections. The intuitive builder also supports custom background images, text, and shapes, making it easy for users to customize the look and feel of their presentations.
In addition to the intuitive builder, Elai also supports customizing the look and feel of your presentation by providing a range of creative options for background images, text, and shapes. Overall, Elai is a powerful tool for creating professional-looking presentations on the go.
Multi-Language
Without the help of a localization team, translate your content into 69+ languages. Creating videos for a global audience is simple with Elai. Sell globally.
Auto Translations
Elai.io is a cloud-based translation platform that offers a range of features and benefits to help businesses achieve their translation goals. The platform is easy to use and can be accessed from any device, making it ideal for translating all types of text, audio, and video.
Translations are completed in minutes and are accurate and error-free, making it an effective way to communicate with customers, partners, and other stakeholders. Besides, Elai.io offers a variety of translation services, including voice translation, machine translation, and human translation.
Online video maker
Elai.io is an online video maker that allows users to create, share, and monetize online videos. The platform offers a wide range of features that allow users to create high-quality videos. Elai.io also offers a variety of tools to help users monetize their videos, social media sharing, and advertising options. The platform's extensive features make it a versatile tool for creating online content and generating revenue from it.
Why Use Elai
Use Cases and Benefits
Explainer Videos – Clarify your product and its functionality to your audience using product walkthroughs. Transform business presentations into AI videos with digital presenters.
Sales Videos – Develop engaging videos to enhance product sales and target specific audiences.
HR Onboarding Videos – Generate videos related to HR or Company Policies, available in multiple languages.
E-Learning / Training Videos – Ideal for businesses requiring educational videos, instructors, or coaches.
Personalized Marketing Videos – Efficiently create various versions of marketing videos tailored for specific niches.
Corporate Communications – Craft presentations for both internal and external stakeholders, including company announcements.
Customer Service Procedures – Provide instructional videos for customer service representatives to guide them through procedures.
Health & Safety Videos – Create essential business videos, including Health and Safety Protocols and COVID procedures.
Real Estate Videos – Easily produce listing videos and marketing content for your growing business.
Landing Page Videos – Enhance search engine exposure and conversions by incorporating videos into landing pages.
AI Dubbing – Translate your existing videos into multiple languages using AI technology.
AI News Generator – Craft news videos responding to breaking stories, leveraging rich stock elements, templates, and animations.
Pricing Plans
Monthly Pricing and Annual Pricing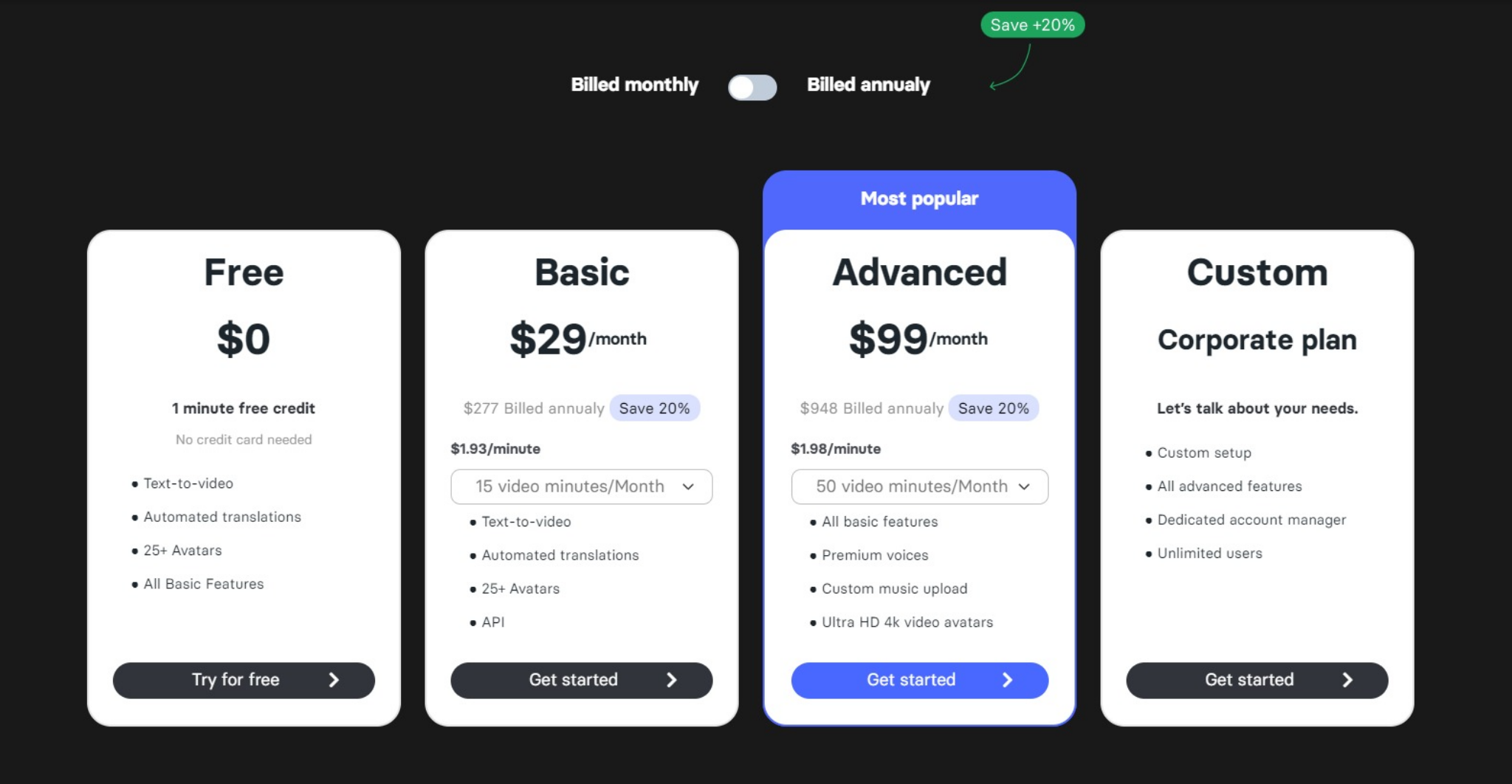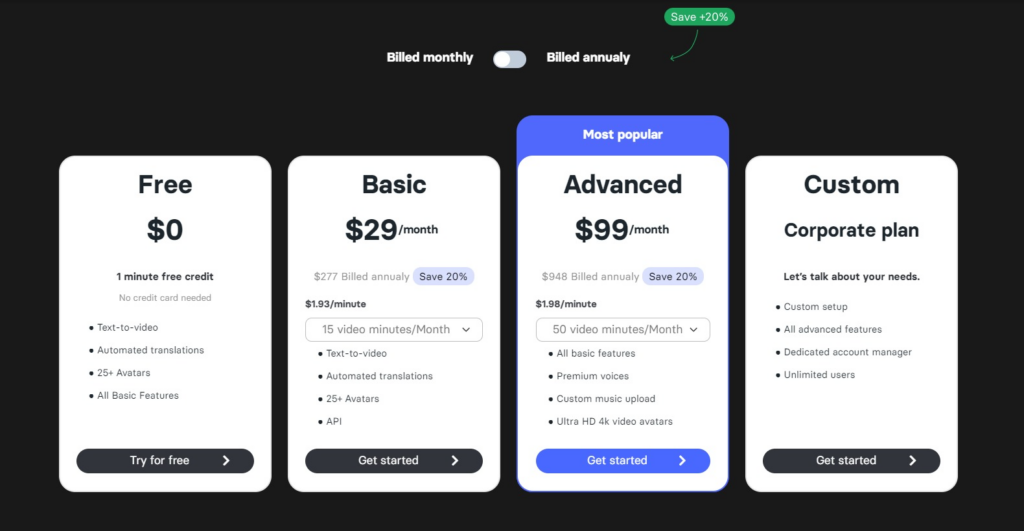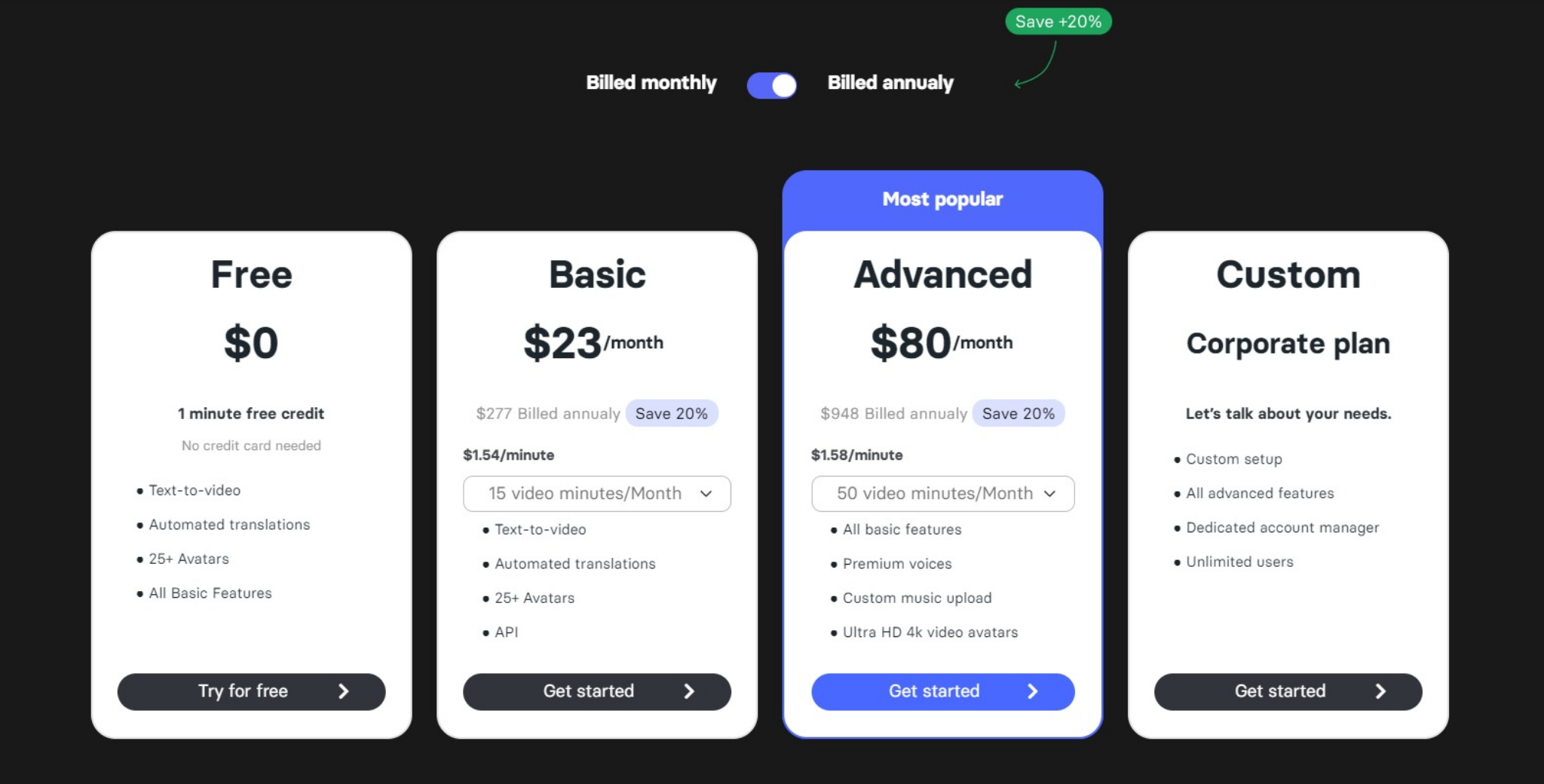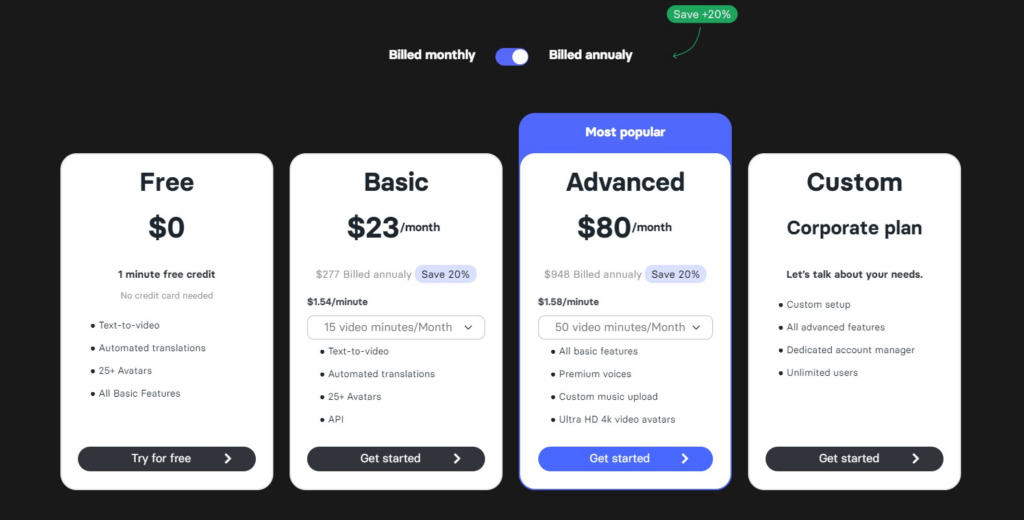 Support
Technical Support, Knowledge Base, Roadmaps, Changelogs
Alternatives
Similar Apps
The #1 rated AI video creation platform. Create professional videos 10x faster than ever before Synthesia is intuitive, simple, and requires no prior knowledge of video editing. It's fast, secure, and scalable.
Everyone may quickly and simply produce high-quality video without the usual steep learning curve with CreateStudioPro, a professional video production & animation program.
Videoshop is another good video editor for creating marketing content or corporate videos. The software has various capabilities that enable you to create professional videos in just minutes without any technical skills required.
Final Verdict
Is Elai right for You?
Elai.io is an online video creation platform that brings together content creators, video bloggers, and video advertisers to create, share and monetize videos in one place. It's a social platform for video content creators to build their fan base, engage with their followers, and make money through video ads.
If you're looking for an online video creation platform that helps you generate more leads, sales, and revenue from your videos, give Elai.io a try today!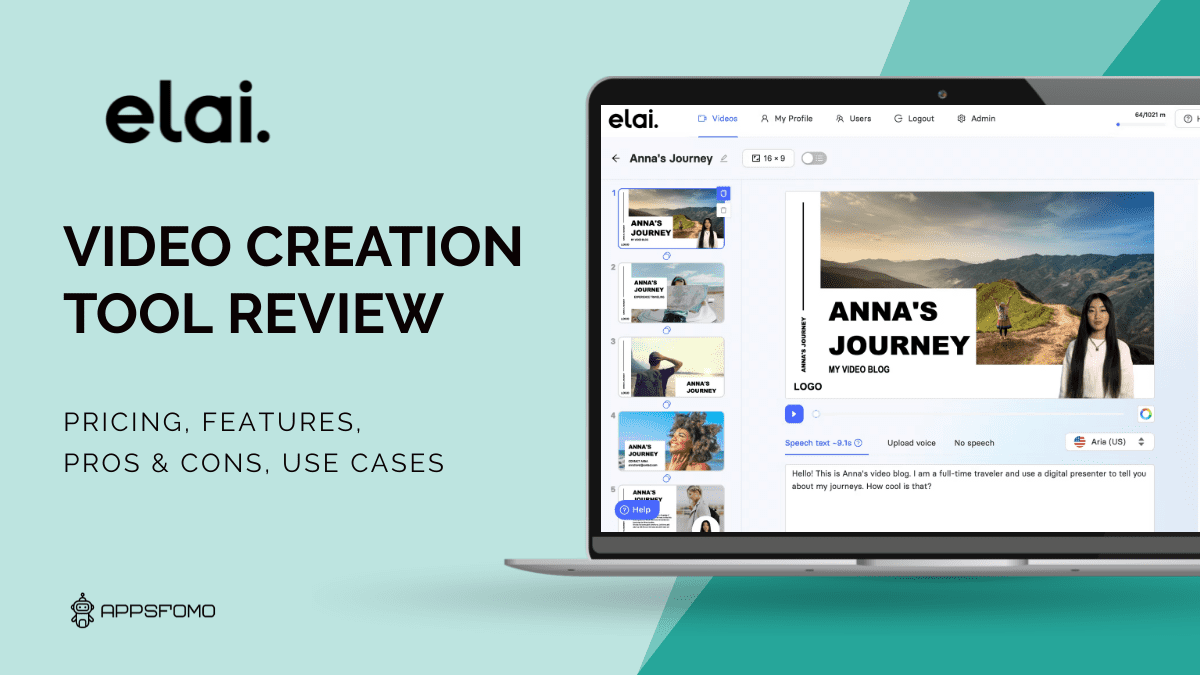 Specification:
Elai.io: Create Video Content with Real Human Narrators from Text
| | |
| --- | --- |
| Review Date | January 2023 |
| Country | Ukraine |
| Initial Release | 2021 |
| Pricing | Annual Payment, Montlhy |
| Free Version | Available |
| Lifetime Deal | Yes |
| LTD Platform | LTDhunt |
| Money-Back | 15 |
| Support type | Email, Live Chat, Ticketing |
| Integrations | No |
| Supported Device | Browser, Web Based |
| Mobile app | Not Available |
| Affiliate Program | Yes |
PROS:
Easy-to-use tool
Just from a link to an article or blog entry, you may create a video.
Translate a video into 69 languages in 1 click
25+ avatars
30 templates
Varied Tools
Screencast Based
Time Saving
CONS:
Static behavior of avatars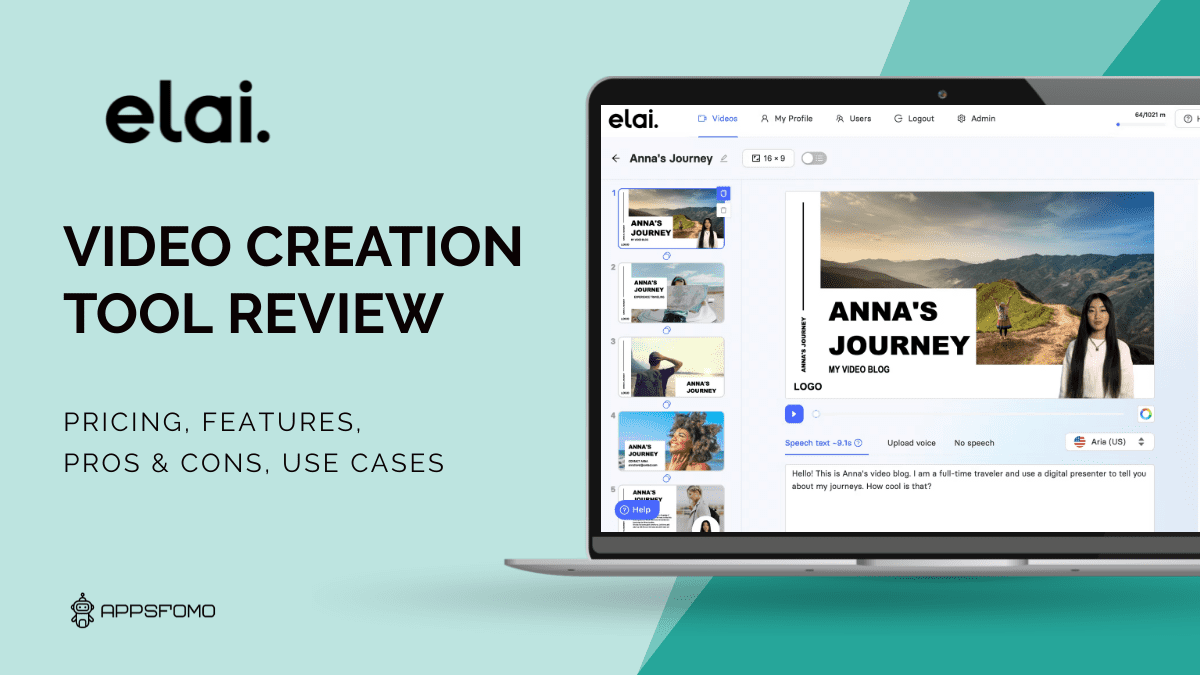 Elai.io: Create Video Content with Real Human Narrators from Text