Geru: The Ultimate Tool for Planning Your Marketing Strategy
Add to wishlist
Added to wishlist
Removed from wishlist
0
Add to compare
To be effective in sales, marketers follow a process. They begin with the customer and end with the customer-ready product or service. The process can vary from customer-to-customer, industry-to-industry, and product-to-product. The funnel process of marketing is a well-known strategy that helps marketers identify, acquire, and retain customers. In marketing, the funnel process involves creating an email campaign sequence to draw potential customers into a lead generation process.
GERU is the leading funnel mapping software that helps sales teams map their sales process, understand the profitability of each stage, and identify potential improvements. Geru includes features such as conversion rates, product prices & costs, traffic volumes, click-rates, and more, which can help sales teams make more informed decisions about pricing and marketing strategies.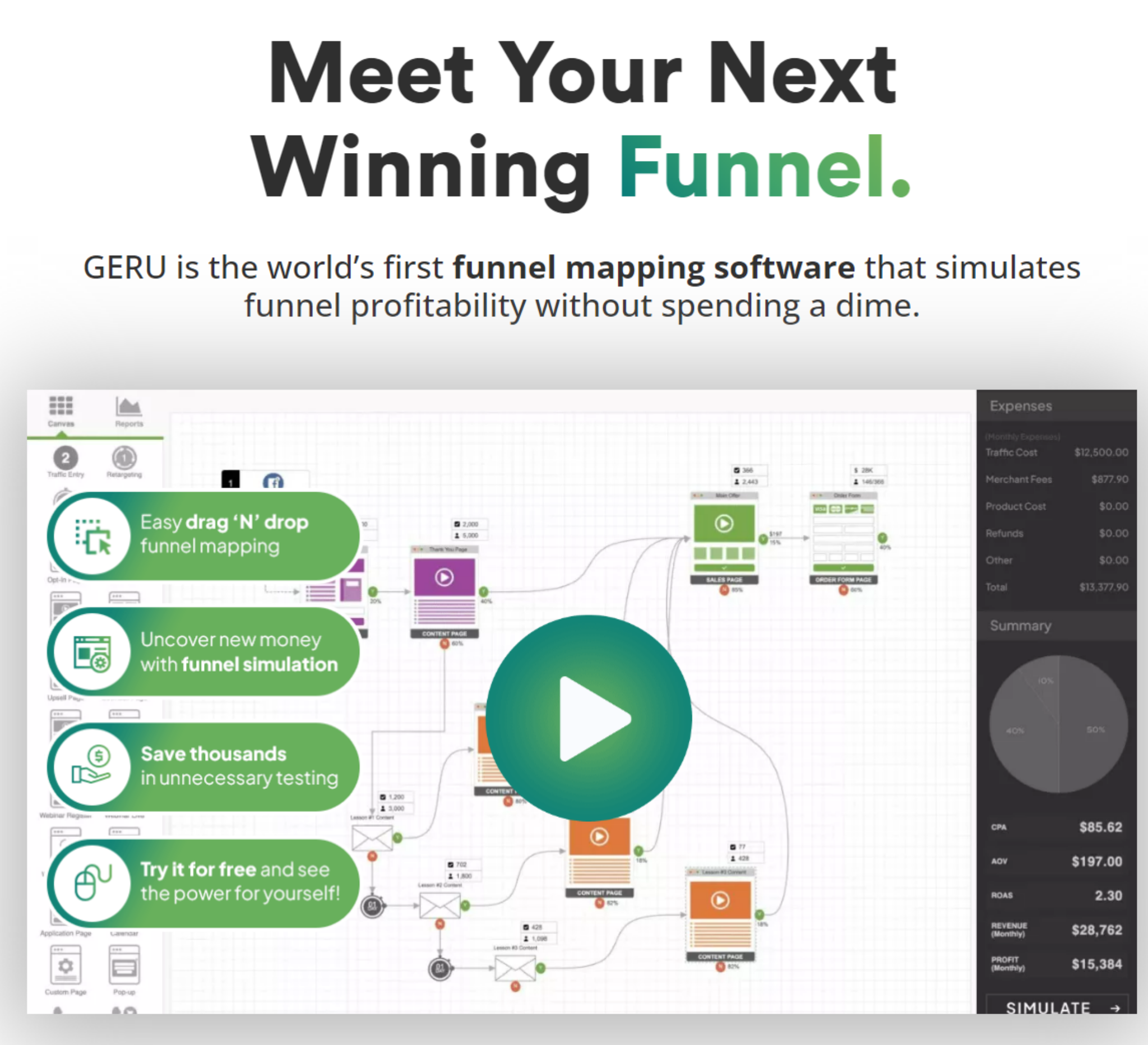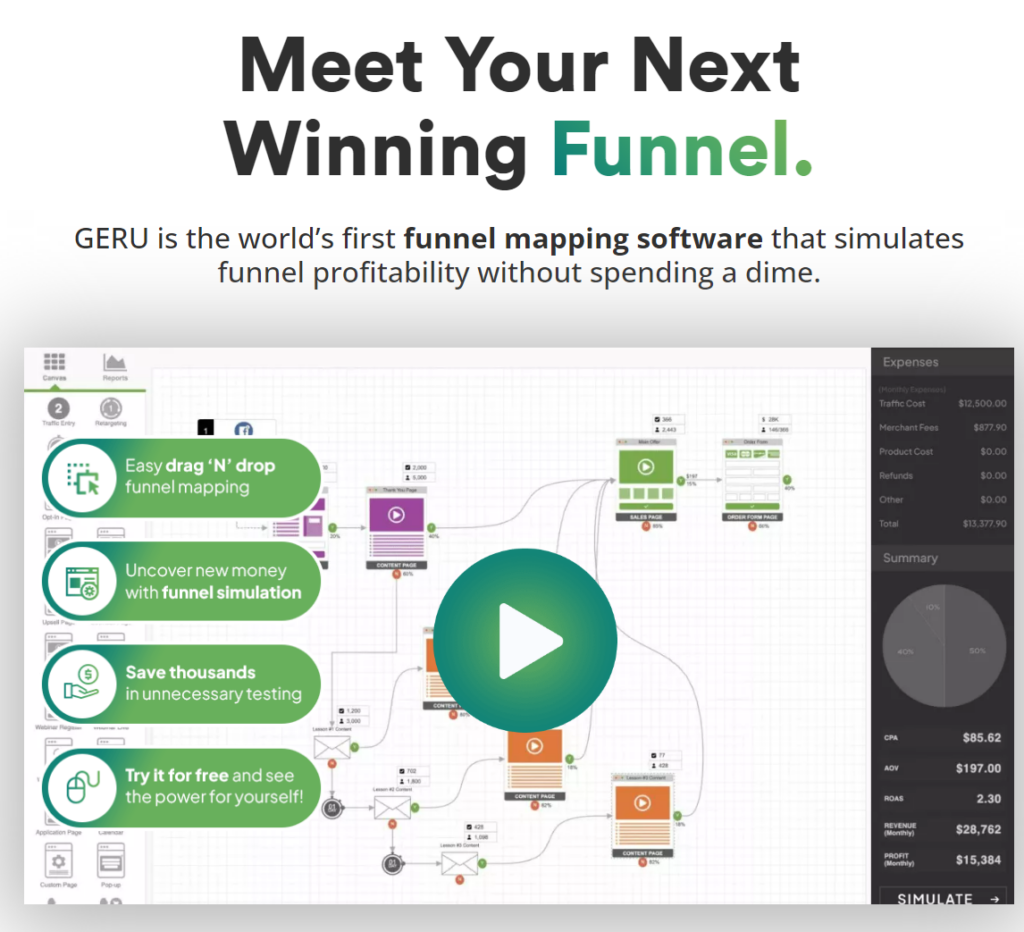 As a customer-centric platform, Geru is designed to help sales teams uncover the best sales funnel approach for their products and companies, understand customer needs, drive sales leads, and close deals. It's a must-have tool for sales organizations seeking more effective customer engagement and pipeline generation.
Company Details
Geru is a sales funnel software platform developed by Russell Brunson. The company was founded in 2000 and has since grown to offer several sales funnel management tools, including social media sales funnel, email sales funnel, lead generation sales funnel, and web-based sales pipeline management.
Online Presence
How does Geru work?
Basic Features
Geru offers marketing calendar, collaborative tools, project management, and goal-setting/tracking features. It works on Windows and Mac OSX. Geru offers deep dives into analytics and reporting capabilities so that you can monitor sales process performance accurately.
Funnel mapper
The tool Geru Funnel Mapper is a simulation tool that allows users to add expenses and traffic to understand potential revenue of each step in the sales funnel. It helps users create sequences of funnels, such as landing page with an opt-in form, email nurturing sequence, conversion funnel.
Marketing funnel blueprints
Geru's sales funnel blueprint library provides over 30 templates to help marketers simulate performance. These funnel templates include lead generation funnel, squeeze page funnel, webinar funnel, and micro-continuity funnel. Each template provides conversion numbers, traffic campaign information, and more.
Reporting
Reporting is an important feature of Geru that helps users identify the best sales funnel approach for their product. The reporting features of Geru include customer acquisition data, conversion data, and revenue data, which can be used to optimize your sales funnel and improve your overall marketing strategy.
Funnel simulator
The funnel simulator allows you to test the conversion rate of your sales funnel in a simulated environment. This is an essential tool for optimizing your marketing strategy and ensuring that you are reaching as many potential customers as possible. By testing the conversion rate of your sales funnel in a simulated environment, you can find which version leads to the highest conversion rate.
How is Geru different from other sales funnels?
Unique Features
It has predictive analytics features, allowing users to assess customer behavior and make adjustments as needed. Overall, it's an excellent sales funnel management tool that's sure to come in handy for any business owner.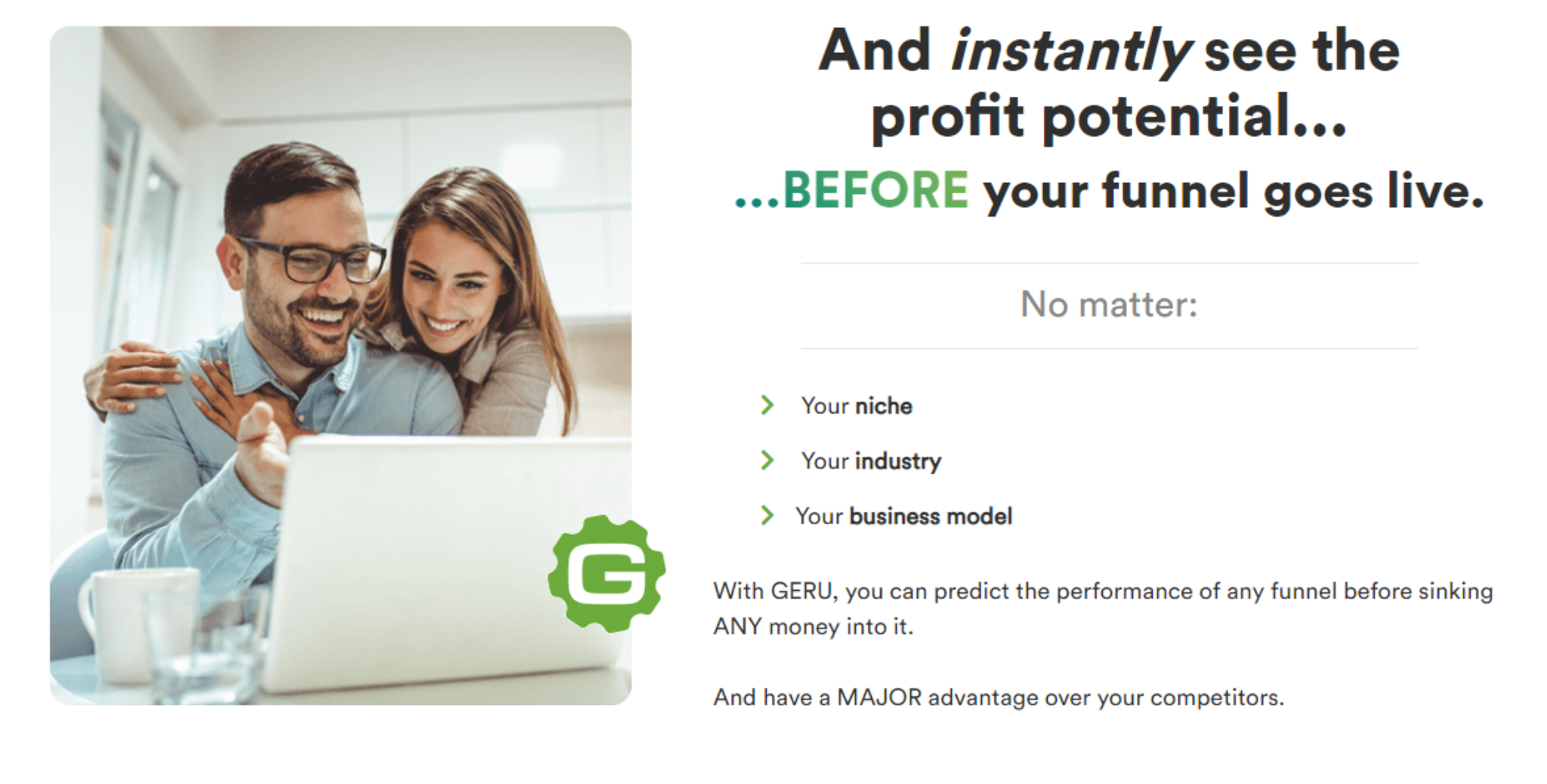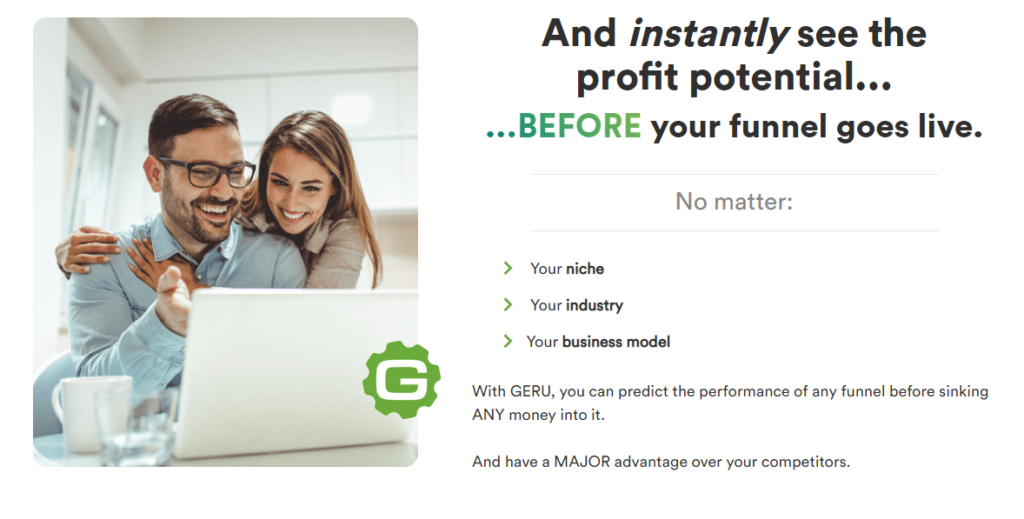 A/B test your funnels
A/B testing is a great way to test the effectiveness of your sales funnel. A/B testing allows you to test different versions of your sales process to see which version performs best. It is vital that you test multiple versions of your sales process to ensure that you are reaching all potential customers.
Scenario comparison
The scenarios feature of Geru allows you to compare different sales funnel scenarios and see the resulting conversion rate. This is an essential tool for optimizing your sales process and ensuring that you are reaching as many potential customers as possible
Goal Management
Goal management tools are essential for keeping teams focused and on track. Geru's goal management features help teams stay organized and effective. With features such as goal setting, tracking, and reporting, team members can stay motivated and accountable to their goals.
Why Choose Geru?
Use Cases and Benefits
Online business owners
Marketing agencies
Freelancers and Services
Simulate traffic
Stop any financial leaks in your funnel
Pricing Plans
Monthly Pricing
Geru starts pricing plans at $37 per month. There is no free trial plan offered by GERU – There is a 30-day money back guarantee offered. The pricing plans range from $37 per month to $199 per month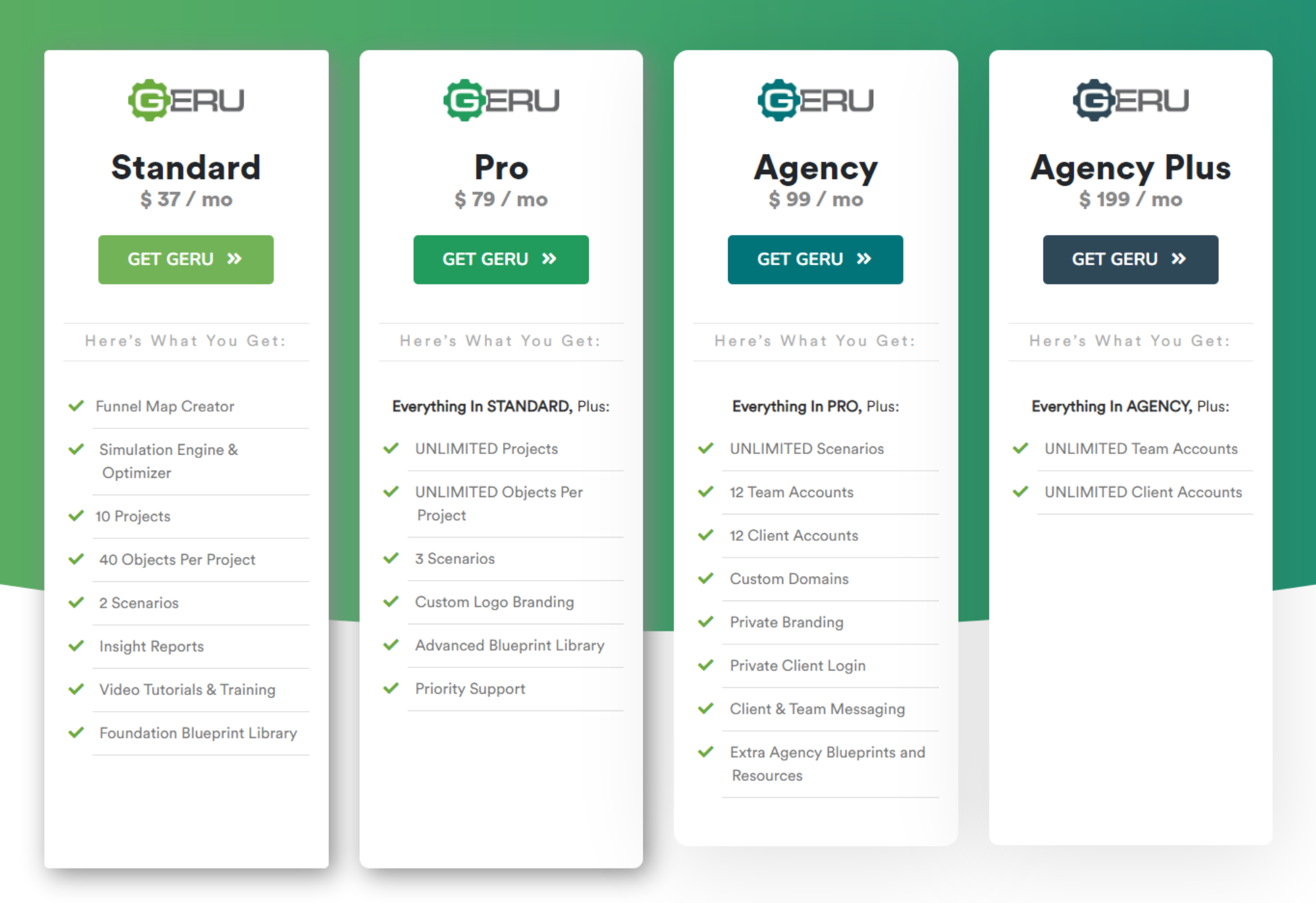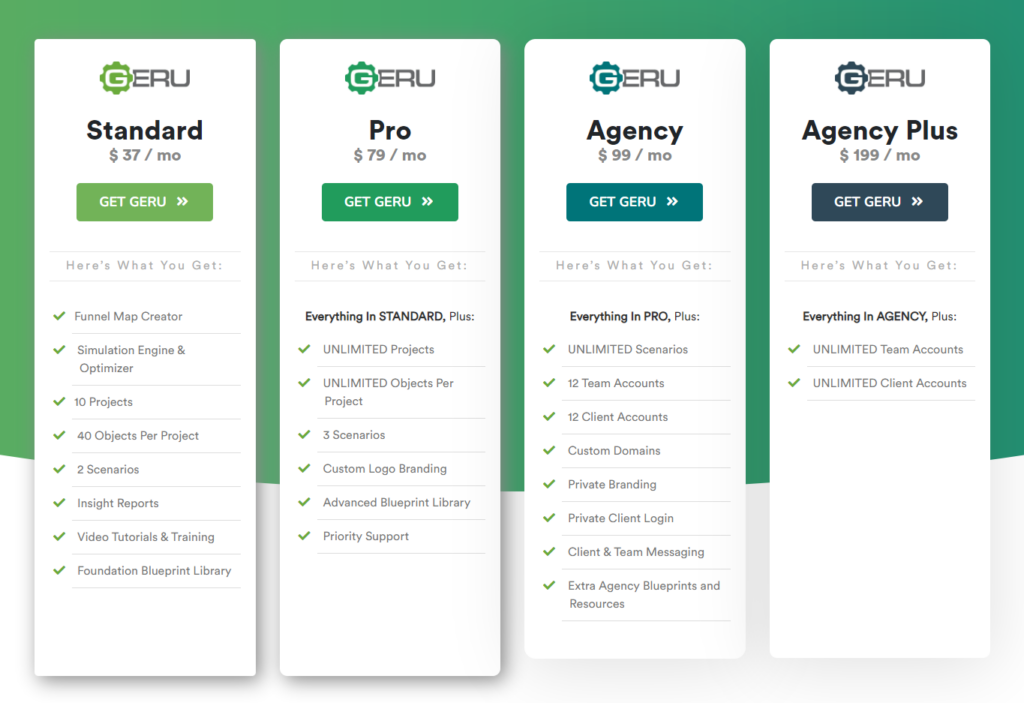 Support
Technical Support, Knowledge Base, Tutorials
Alternatives
Similar Apps
Alternative sales funnel software includes Dreamdata, Audience, Funnelytics, and many more. Businesses should consider these alternatives before deciding on which one fits their need best.
Dreamdata is a powerful and easy-to-use data management and analytics tool for businesses that need a quick, accurate way to process, analyze, and visualize large datasets quickly and efficiently.
Funnelytics offers a wide range of funnel templates, including Lead Gen Funnel, Squeeze page Funnel, and Webinar Funnel. These funnel templates can be used to determine the best sales funnel for your business and target audience.
Audience is an email marketing software tool designed to help business owners build bigger email lists more quickly than with any other platform
Final Verdict
Is Geru right for You ?
The sales funnel is a powerful tool that can help businesses target potential customers with the right message at the right time. With Geru, online business owners can easily create sales funnels and track the results of their marketing efforts. Marketing agencies can use the platform to manage social media campaigns and track customer interactions, while freelancers and services using Geru to reach out to potential customers
If you are an entrepreneur or business owner who wants to make sales and marketing easy and efficient, you should sign up for Geru.
Specification:
Geru: The Ultimate Tool for Planning Your Marketing Strategy
| | |
| --- | --- |
| Review Date | February 2023 |
| Company | Etison LLC |
| Country | USA |
| Initial Release | 2000 |
| Pricing | Monthly payment, Monthly Subscription |
| Free Version | Not Available |
| Lifetime Deal | Yes |
| LTD Platform | Geru Lifetime Standard |
| Money-Back | 30 Days |
| Support type | Help center, Live Chat |
| Integrations | Yes |
| Supported Device | Browser, Web Based |
| Mobile app | Not Available |
| Affiliate Program | Yes |
PROS:
It is easy to use and can be customized to meet the specific needs of your business.
It offers users a variety of tools and resources to help them succeed in sales.
Ability to visualize the dynamics of a product is extremely usefu
CONS:
It requires a significant investment of time and money.
It requires understanding of sales processes and techniques.
Geru: The Ultimate Tool for Planning Your Marketing Strategy