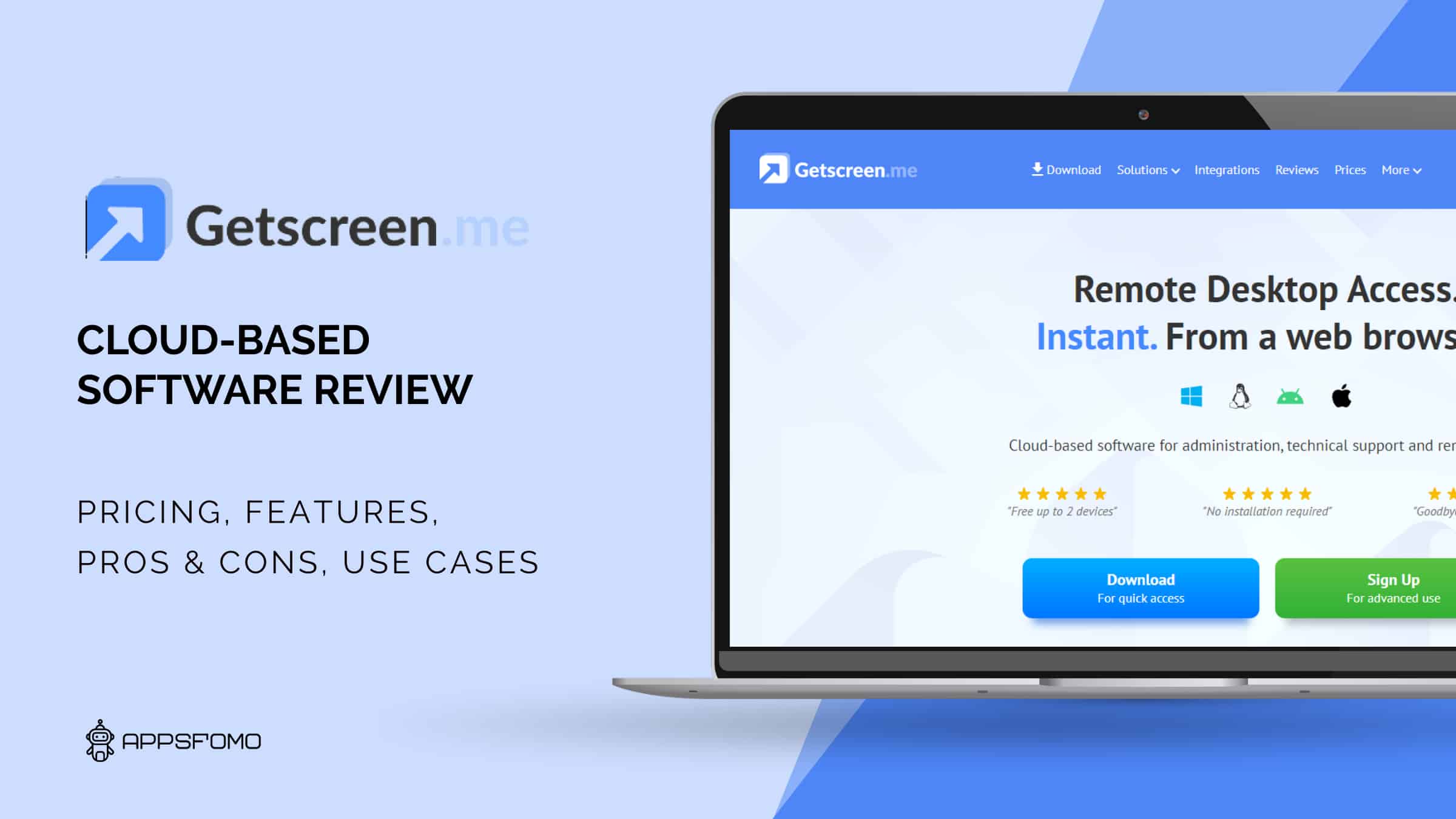 Recommended
GetScreen.me: The Simple and Affordable Remote Desktop Solution
Add to wishlist
Added to wishlist
Removed from wishlist
0
Add to compare
Remote desktop solutions have become a necessity in today's times. With more and more people working from home, remote access to work computers has become crucial.
Enter Getscreen.me, a simple and affordable remote desktop solution that can make your work life easier. In this blog, we will take you through everything you need to know about Getscreen.me. From what it is and how it works, to its unique features and pricing information, we've got it all covered. We'll also give you a rundown of its competitors such as AnyDesk, TeamViewer, and RemotePC so that you can make an informed decision on which one is best for you.
Whether you're a business owner or a professional who needs remote access to your computer, Getscreen.me is the perfect solution for all your needs.
What Is Getscreen.me?
Overview
Getscreen.me is a remote desktop solution that allows users to remotely access their work or home computers from anywhere in the world. It is a simple and affordable option compared to traditional remote access software, making it an attractive option for individuals and businesses alike. With Getscreen.me, you can easily connect to your computer from any device with an internet connection, allowing you to work from anywhere at any time.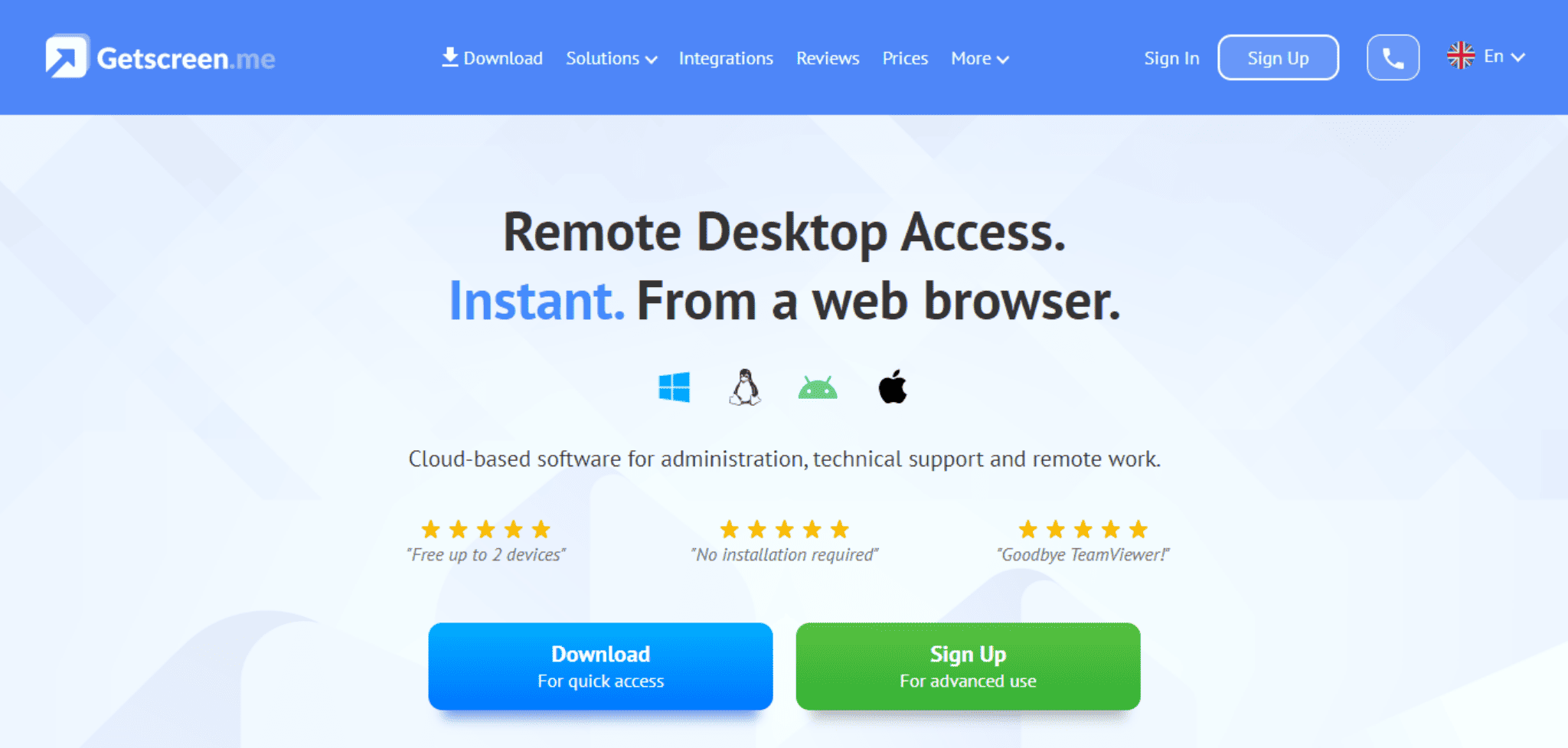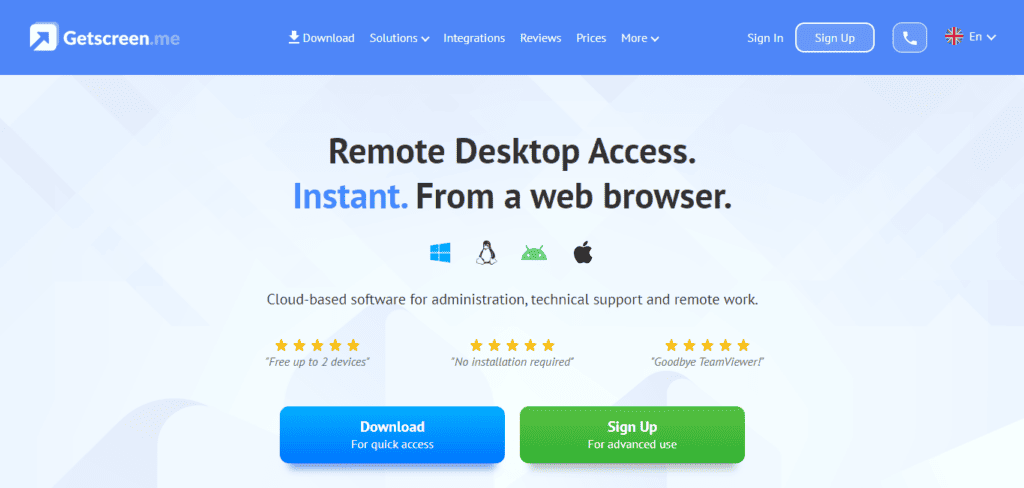 With secure end-to-end encryption and compatibility with multiple platforms, including Windows, Mac, iOS, and Android, Getscreen.me offers a simple and effective solution for remote access.
Company Details
Alex Borisov and Farid Shamsutdinov founded Getscreen.me in 2018. Since its inception, the company has prioritized user privacy and security. All data is encrypted during transfer, ensuring that sensitive information remains private and secure. The founders' dedication to providing a secure, reliable remote desktop solution has made Getscreen.me an ideal choice for businesses of all sizes.
Online Presence
How Getscreen.me works?
Technology on which Getscreen.me works
Remote desktop solutions are becoming increasingly popular, especially in today's remote work environment. Getscreen.me offers a simple and affordable solution that allows users to access their computers from anywhere.
Cloud-based technology: This provides a fast and reliable remote desktop solution that ensures secure and regular backups of data. Since all data is encrypted during transfer, users can rest assured that their confidential files remain protected at all times.
Instantaneous connection: Allows users to initiate the connection with just a few clicks, eliminating the need for lengthy setup or configuration processes. This means that users can access their desktops from any location with an internet connection without wasting any time.
Permanent access: Getscreen.me offers a unique solution by providing permanent access to remote desktops without the need for VPNs or extra software.
How to use Getscreen.me?
Follow the steps
Using Getscreen.me is a seamless process that requires minimal effort.
process to get started with getscreen.me
Here are the steps you can follow to get started using Getscreen.me.
To get started, sign up for an account and download the app on your computer.
After installing the client app on the remote computer you want to access.
Enter the Remote Computer's ID and Password
Enter its ID and password provided by Getscreen. me.
Access and Control the Remote Computer
Once connected, you can access and control the remote computer from anywhere using your own device.
Getscreen.me Features
Features
Getscreen.me offers a wide range of features designed to make remote desktop access simple and efficient.
API


Getscreen.me's API has the ability to integrate remote desktop functionality into their own software or applications, developers can save time and money without compromising on security. Using the API can help improve productivity and collaboration among remote teams while providing secure access to sensitive information.
Customizable to fit specific business needs, integration with Getscreen.me's API is easy to use and provides a cost-effective solution for businesses looking to streamline their operations.
Active Directory Integration
Active Directory integration is an essential feature for businesses looking for secure remote desktop solutions. This feature enables IT managers to control access to company resources and ensure that sensitive information remains protected, only allowing authorized personnel to access it.
Overall, Active Directory integration is a key factor that makes Getscreen.me stand out as a secure and comprehensive remote desktop solution for companies.
Call Recording
Call recording is a feature offered by Getscreen.me that allows users to record and save important conversations easily. This can help businesses improve customer service, provide training for employees, and ensure compliance with regulations. The call recordings can be accessed and shared securely through the Getscreen.me platform, making it an ideal solution for businesses looking to streamline communication and optimize productivity.
Collaboration Tools
Getscreen.me includes a variety of tools to facilitate teamwork. With the ability to share screens with multiple users, team members can collaborate on projects in real time without any delays or disruptions. The chat feature allows for seamless communication, making it easy to exchange ideas and maintain workflow.


Overall, these collaboration tools make remote work more efficient and streamlined for businesses using Getscreen.me.
File Management
Getscreen.me simplifies file management for remote teams by allowing for easy and secure file sharing between desktops. With drag-and-drop functionality, users can quickly transfer files, copy and paste text or images, and even transfer entire folders with ease. The platform also offers advanced file management features such as compressing and decompressing files, and renaming and deleting files remotely- all while ensuring encrypted security during transfers.
Desktop/Browser Sharing
Getscreen.me offers a simple and affordable solution for remote desktop and browser sharing. With just a few clicks, users can share their entire screen or specific applications with anyone in the world, making it ideal for online meetings and customer support. Additionally, the platform includes a range of communication tools such as chat, voice, and video calls that enhance collaboration.
Why choose Getscreen.me?
Unique Features
Getscreen.me offers a range of unique features that set it apart from other remote desktop solutions.
Access Controls/Permissions


GetScreen.me's unique feature of access controls and permissions allows users to have complete control over who can access their desktops. Additionally, permissions can be set for individual users or groups of users, offering added flexibility. With detailed activity logs, users can monitor who has accessed their desktop and what actions were taken. These access controls ensure the security of sensitive information on your desktop while allowing for collaboration with remote team members.
Surveys & Feedback
Getscreen.me takes remote desktop solutions to the next level with its unique feature of conducting surveys and collecting feedback from clients or customers. It offers businesses valuable insights into their customer's needs and preferences, helping them improve their services and identify areas for growth.
The survey feature is customizable, which means you can create your own surveys with your brand logo and colors. Additionally, automated email campaigns can be set up to send surveys or follow-ups at specific intervals. This feature provides an excellent opportunity for businesses to stay connected with their customers and build stronger relationships with them.
Customizable Branding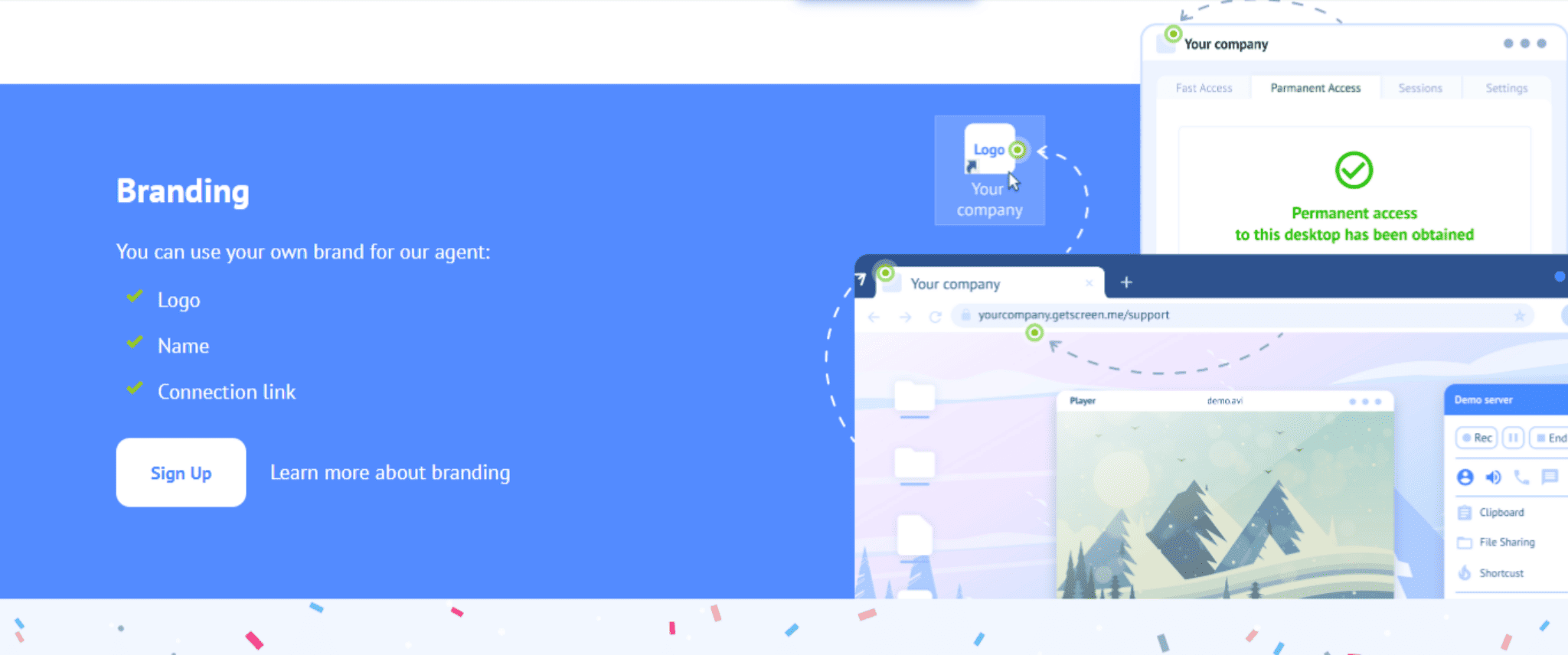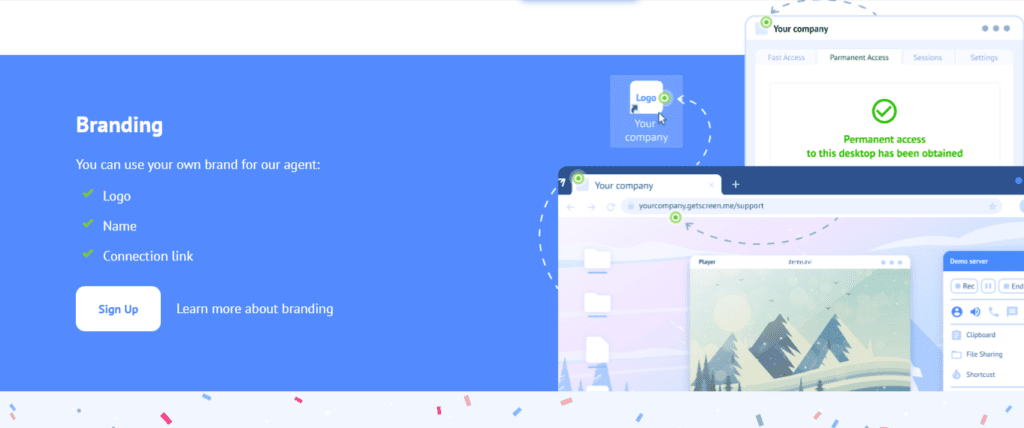 Customizable Branding options allow businesses to add their own logo and brand colors to the remote desktop interface. This feature helps create a professional appearance and reinforces brand recognition. Customizable branding is especially useful for companies that provide remote support or virtual training sessions. With Getscreen.me, businesses can maintain their identity while providing a seamless remote desktop experience.
Reporting & Statistics
Getscreen.me offers detailed reporting and statistics on all remote access sessions, providing valuable insights into the productivity of team members. With this feature, you can monitor the duration and frequency of remote desktop sessions, identify areas for improvement, and keep track of billing and invoicing for your clients. This user-friendly interface allows you to generate custom reports easily, which provides a comprehensive view of remote access activities.
Pricing Plans
Business Pricing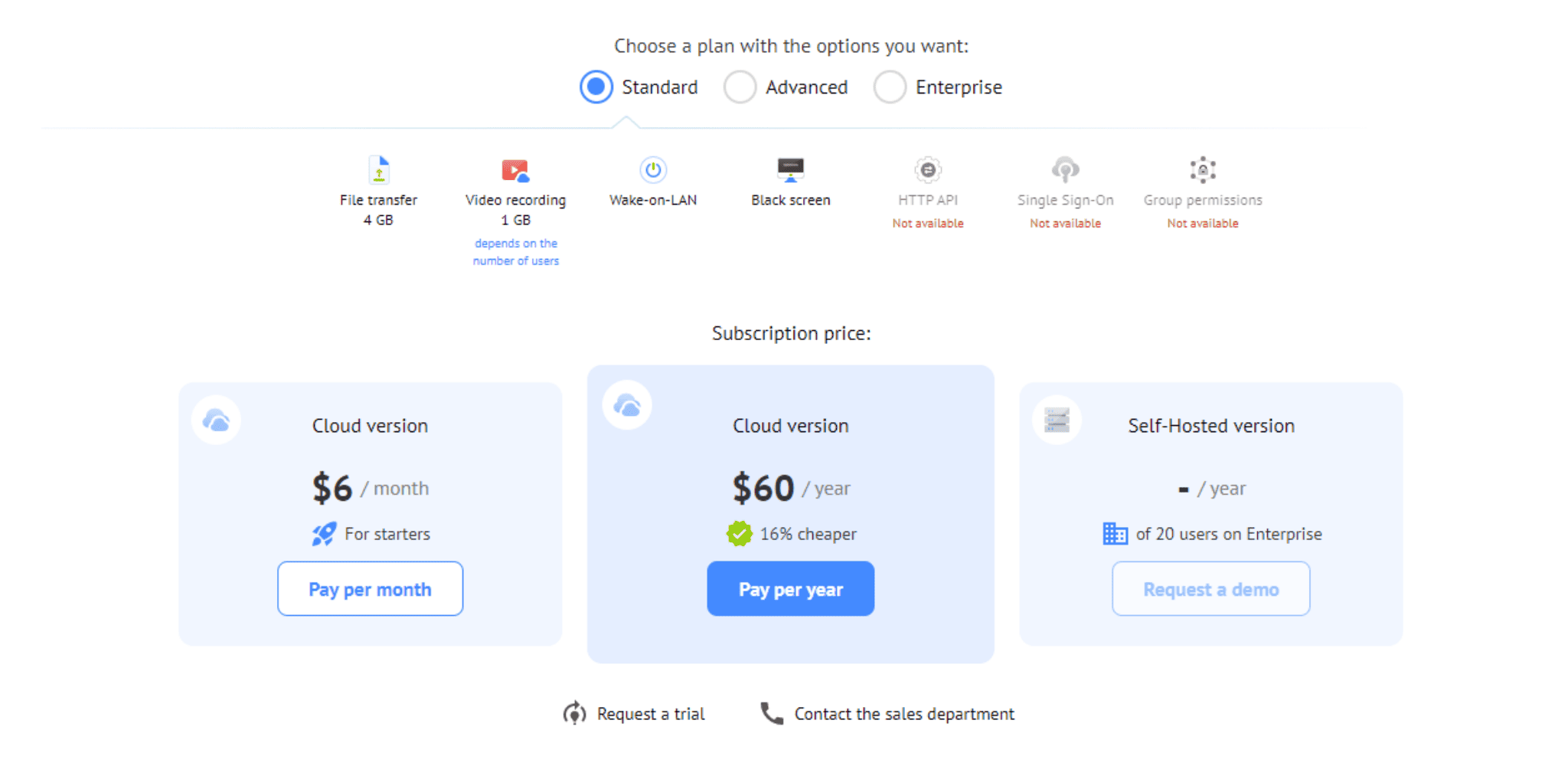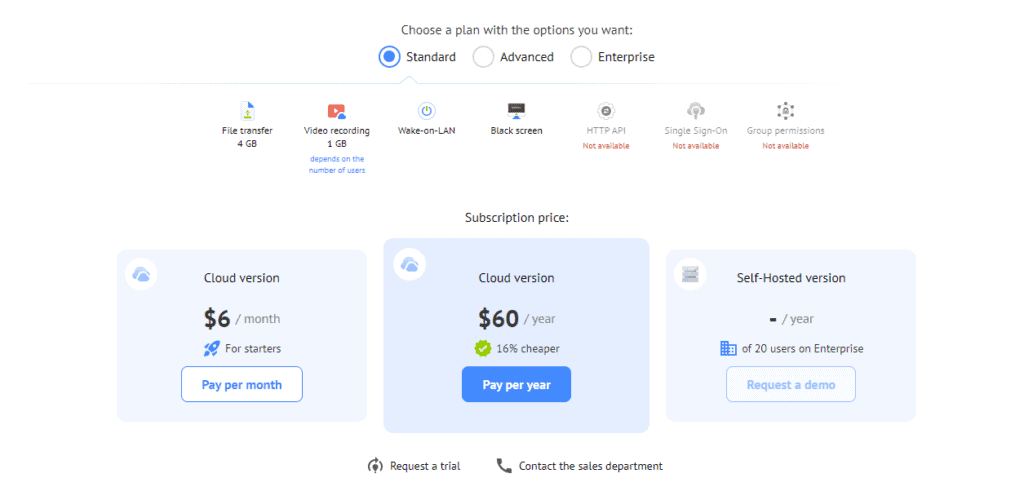 Support
Technical Support, Knowledge Base, Roadmaps, Changelogs
Alternatives
Similar Apps
AnyDesk allows users to access their computers from anywhere in the world. With fast and secure connections, low latency, and high frame rates, it's no wonder that AnyDesk has become a competitor in this space.
TeamViewer is popular remote desktop software that offers advanced features like file sharing and online meetings, making it an ideal choice for businesses looking to work collaboratively.
RemotePC is an exceptional remote desktop software that offers secure and reliable access to your computer from anywhere. Its advanced features, such as file transfer, chat, and multi-platform support make it a versatile choice.
Disclaimer text….
Final Verdict
Is Getscreen.me right for You?
In conclusion, Getscreen.me is a comprehensive solution to all your remote desktop needs. With its cloud-based technology and instantaneous connection, you can be sure of smooth and uninterrupted remote access. Its unique features, like access controls and customizable branding, make it stand out from its competitors. Moreover, with affordable pricing options and a free trial period, you can try it out before committing to a subscription.
So why wait? Sign up now and experience the ease of remote desktop access like never before!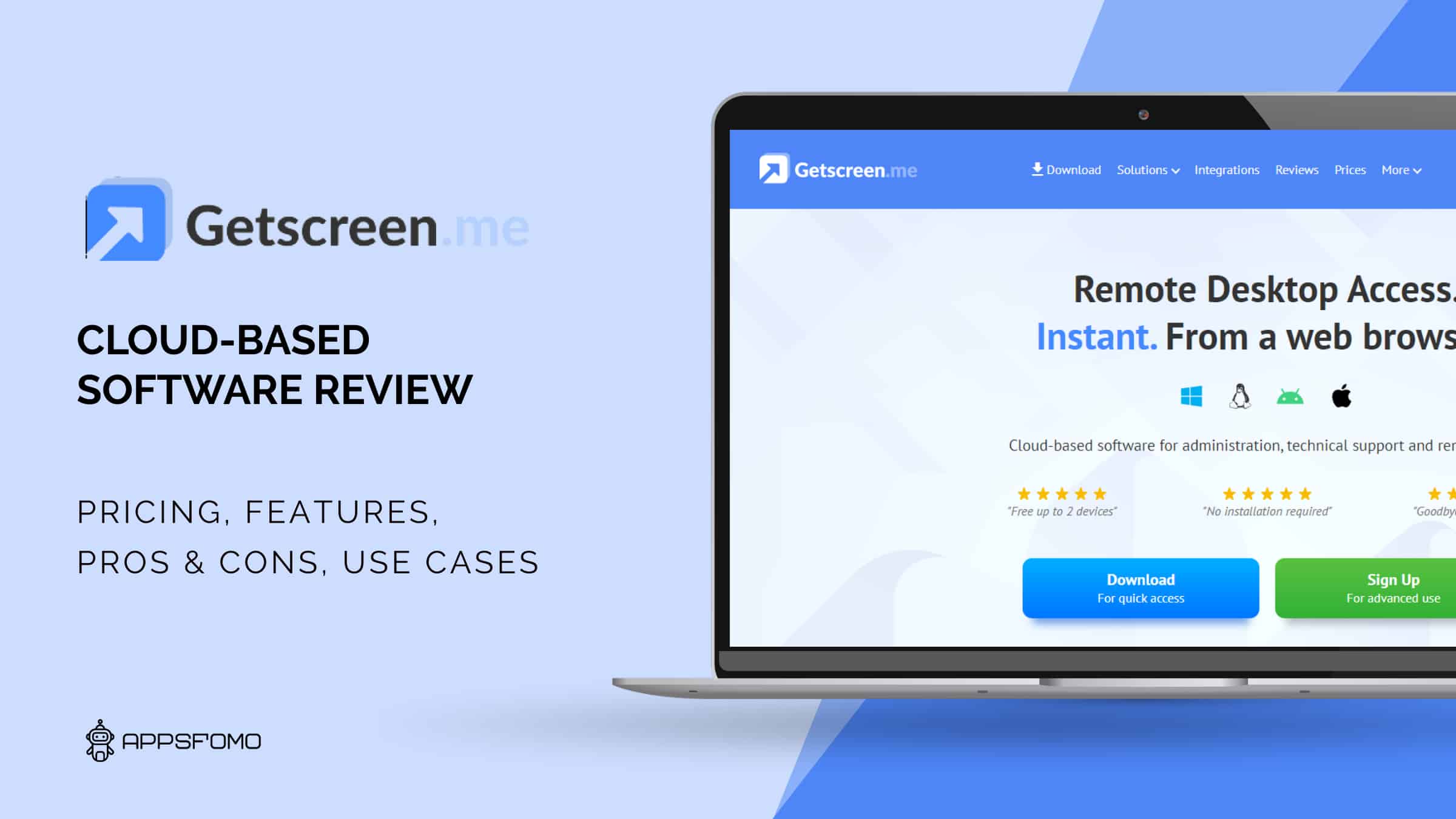 Specification:
GetScreen.me: The Simple and Affordable Remote Desktop Solution
| | |
| --- | --- |
| Review Date | May 2023 |
| Company | Point B Ltd |
| Country | Europe |
| Initial Release | 2018 |
| Pricing | Yearly, Monthly |
| Free Version | Available |
| Lifetime Deal | Yes |
| Support type | Emails |
| Integrations | Chrome, Jira Service Desk, LiveChat, Telegram |
| Mobile app | Available |
| Affiliate Program | No |
1 review for
GetScreen.me: The Simple and Affordable Remote Desktop Solution
PROS:
No complicated setup/settings
Session recording
Great support
Very well developed
CONS:
Cannot copy and paste files
Cannot buy additional computers with the same license.
Session Limits should at least be 30 Minutes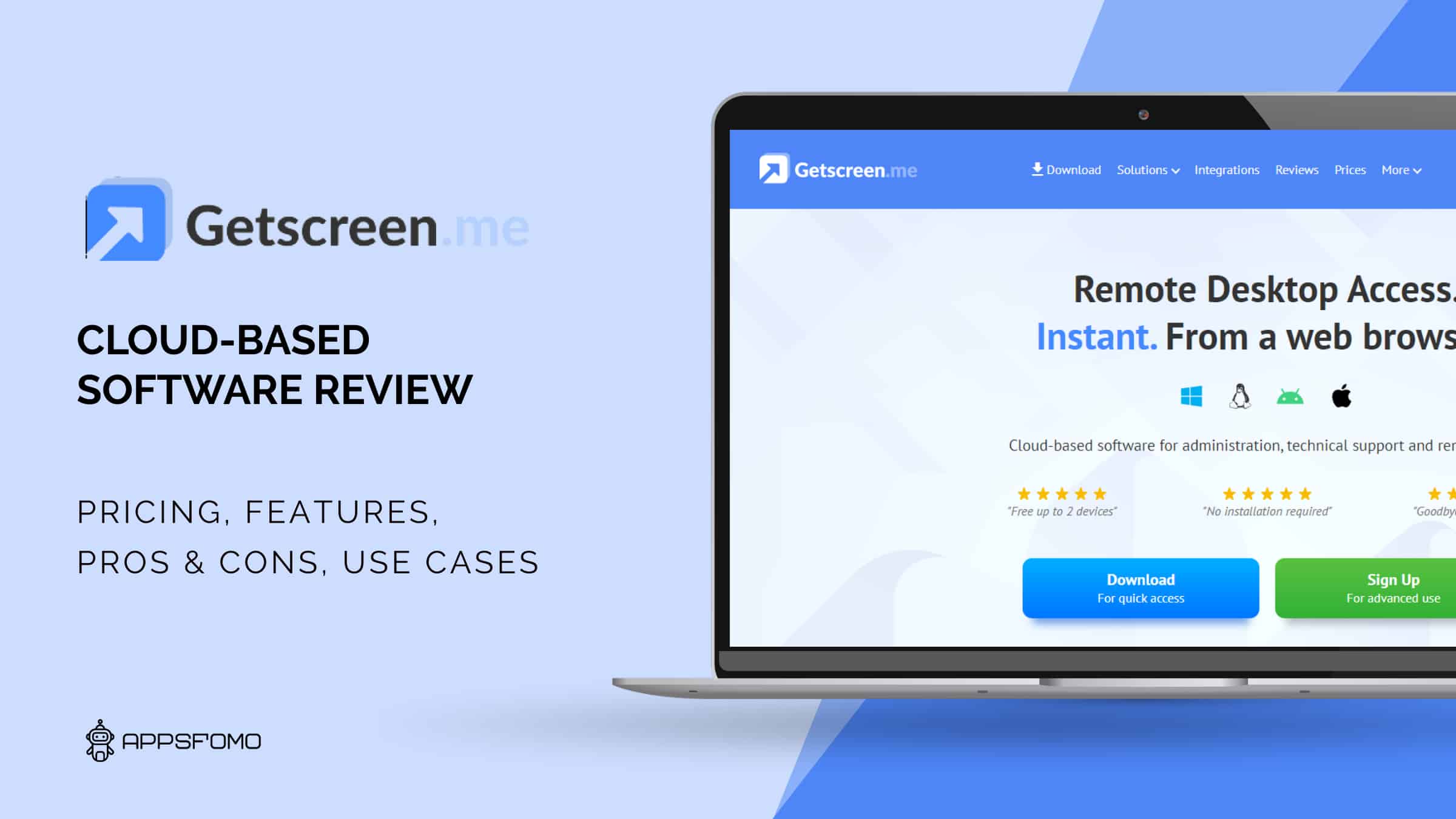 GetScreen.me: The Simple and Affordable Remote Desktop Solution