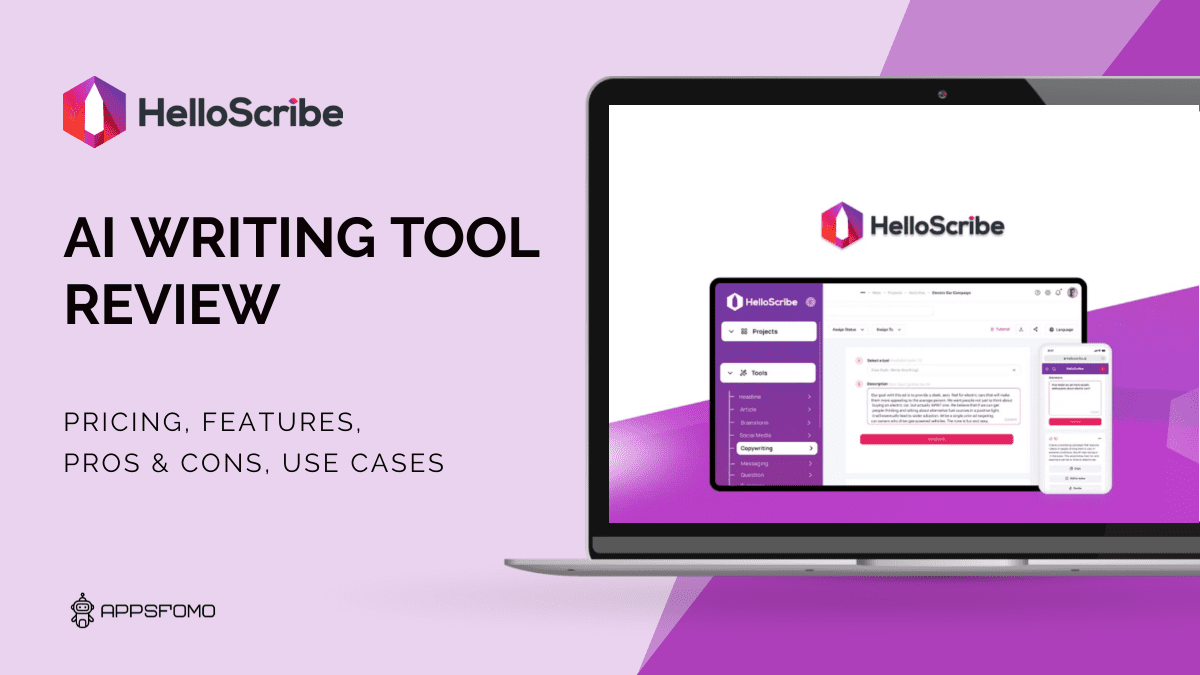 HelloScribe: The Smart Tool for Creating Quality Content at Scale
Add to wishlist
Added to wishlist
Removed from wishlist
0
Add to compare
Every content creator faces a unique challenge. While others brainstorm ideas, edit, and publish content, every content creator has to do the same with different writing tools. Some content creators may have to use Google's search bar or find inspiration on social media. Others may need a specialized tool that would not let them down.
But what if you could have all of the above in one tool? Sounds too good to be true? Well, it is! There is an AI-powered tool that does all of this for you. That's right – we're talking about HelloScribe. let's discuss this tool in detail..
What Is HelloScribe?
Overview
HelloScribe is an AI-powered writing and brainstorming platform that helps PR and marketing professionals develop great prose and come up with creative solutions to challenging problems. With its powerful writing and brainstorming features, HelloScribe helps you get more out of your work.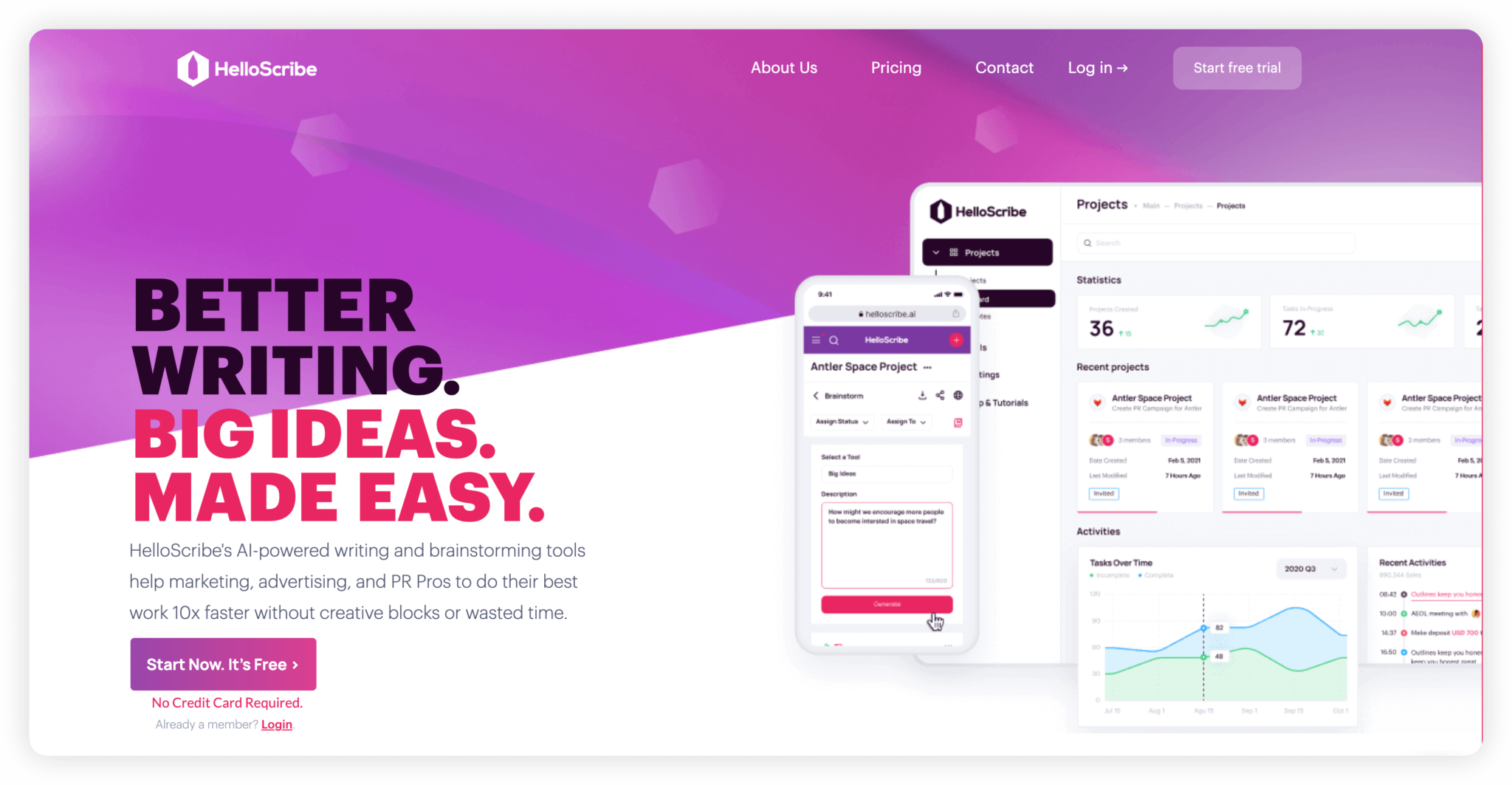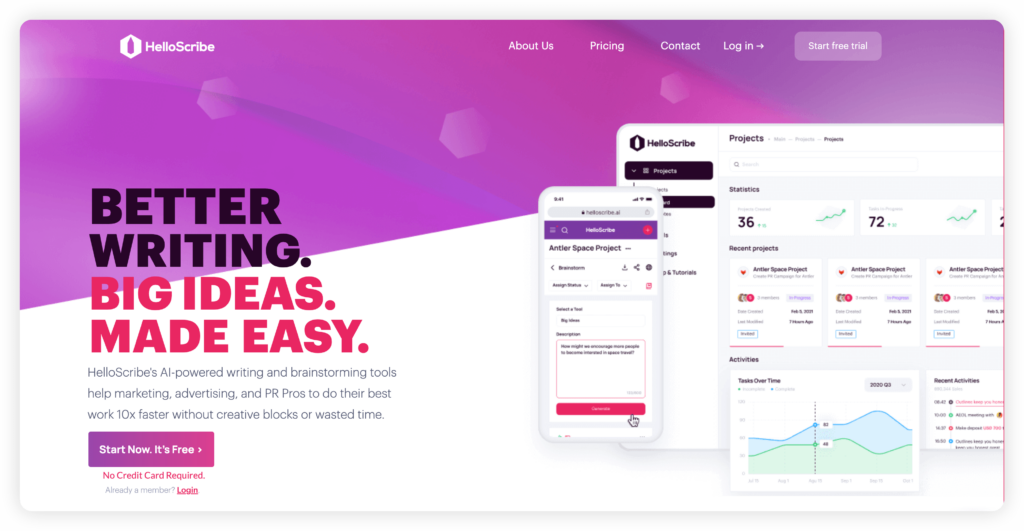 It is a revolutionary AI-powered writing assistant designed to help users save time and improve their writing skills. It offers a user-friendly interface and a range of customizable features.
HelloScribe can assist with proofreading, editing, paraphrasing, and idea generation. It can generate fresh marketing ideas and content for small businesses and entrepreneurs. With its help, you can create flawless copy and winning ideas 10x faster.
How will HelloScribe work?
It uses natural language processing and advanced algorithms to assist with a range of writing tasks, such as proofreading, editing, and even generating ideas and suggestions. This makes it suitable for users of all levels, including students, professionals, and casual writers. With the help of HelloScribe, you can create engaging, original content and research ideas quickly and easily. It can read and write in over 50 languages, making it a versatile tool for any task.
You don't have to waste time manually editing or formatting your content anymore – with HelloScribe, the job gets done quickly and effortlessly. Overall, HelloScribe is a great tool for improving your writing skills and saving time. Let's discuss how it works..
Enter Your Prompt
To use Hello Scribe, you must enter your prompt into the system to generate options. HelloScribe offers a wide range of customizable features to tailor the system to your specific writing needs. Whether you need an idea for a new blog post or a creative idea for an advertising campaign, Hello Scribe has you covered.
It can help with brainstorming ideas and generating content ideas by automatically generating text and visuals. You can also choose from over 100 automated creativity and writing tools, such as grammar checker, spell checker, and the Oxford dictionary. With Hello Scribe, just describe the outcome you're after and it will automatically write your blog post.
Generate Options
HelloScribe has over 100 tools that can generate different types of text using artificial intelligence. This tool can be used to write articles, emails, research papers, and more. Additionally, it is possible to use this tool to generate various kinds of text such as essays, reports, and academic papers. With HelloScribe's free trial or paid plan, you can unlock endless ideas and tailor-made content that will save you time and increase your creativity in writing.
Pick, Edit, and Publish
It allows users to choose the outputs that they want, tweak them as they desire, and bring them to life with their own personal touch. Whether you're working on a research paper or writing an essay for school, HelloScribe has the tools you need to turn ideas into compelling prose.
Company Details
Paul J. Thompson is the founder and Chief Magician at Helloscribe.ai, Founded in 2021 by a group of writers and technology enthusiasts who wanted to make writing and generating new ideas significantly simpler.
It is headquartered in Tampa, Florida USA
Online Presence
HelloScribe Key Features
AI Content Generator
It features a number of useful editing tools, content management tools, document management tools, and calendar management tools that make it easy for users to stay organized.
Content Management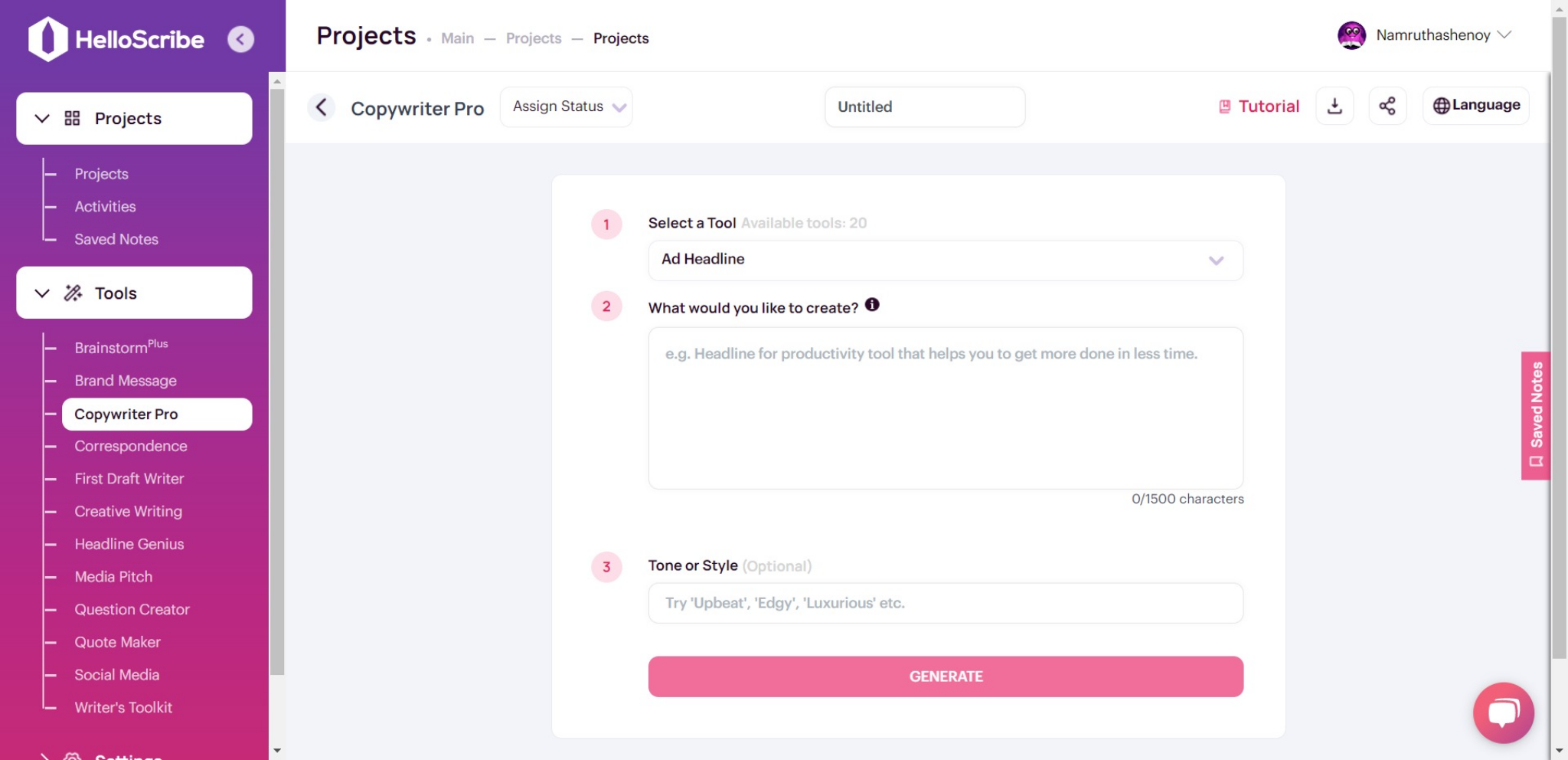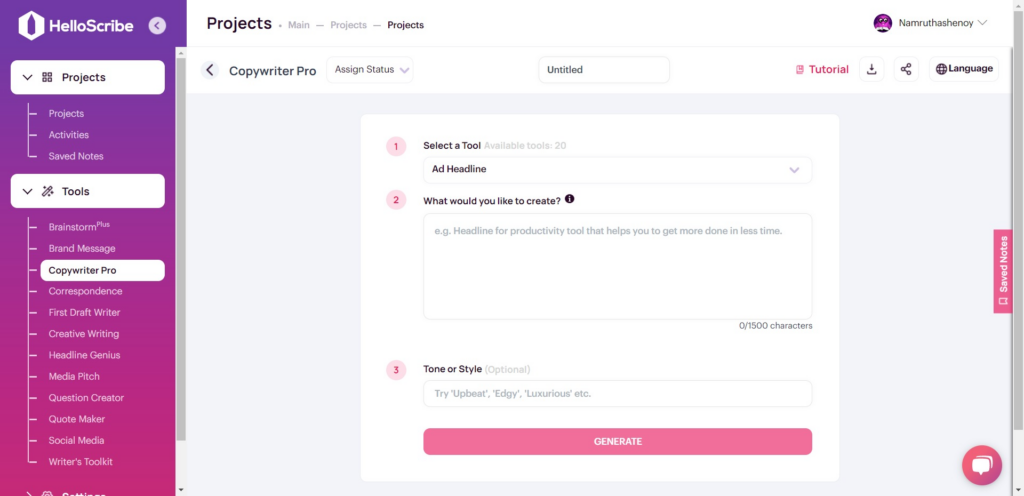 HelloScribe content management provides a user-friendly interface for creating and editing content. It can be used for proofreading, editing, and generating ideas and suggestions for writing projects. The platform's research companion is robust and pulls from verified news articles and over 200 million vetted research papers, so you can reliably gather credible sources for your work.
By using HelloScribe's content management feature, you can quickly create, edit, and share written work without compromising quality or losing time to tedious tasks.
Brainstorming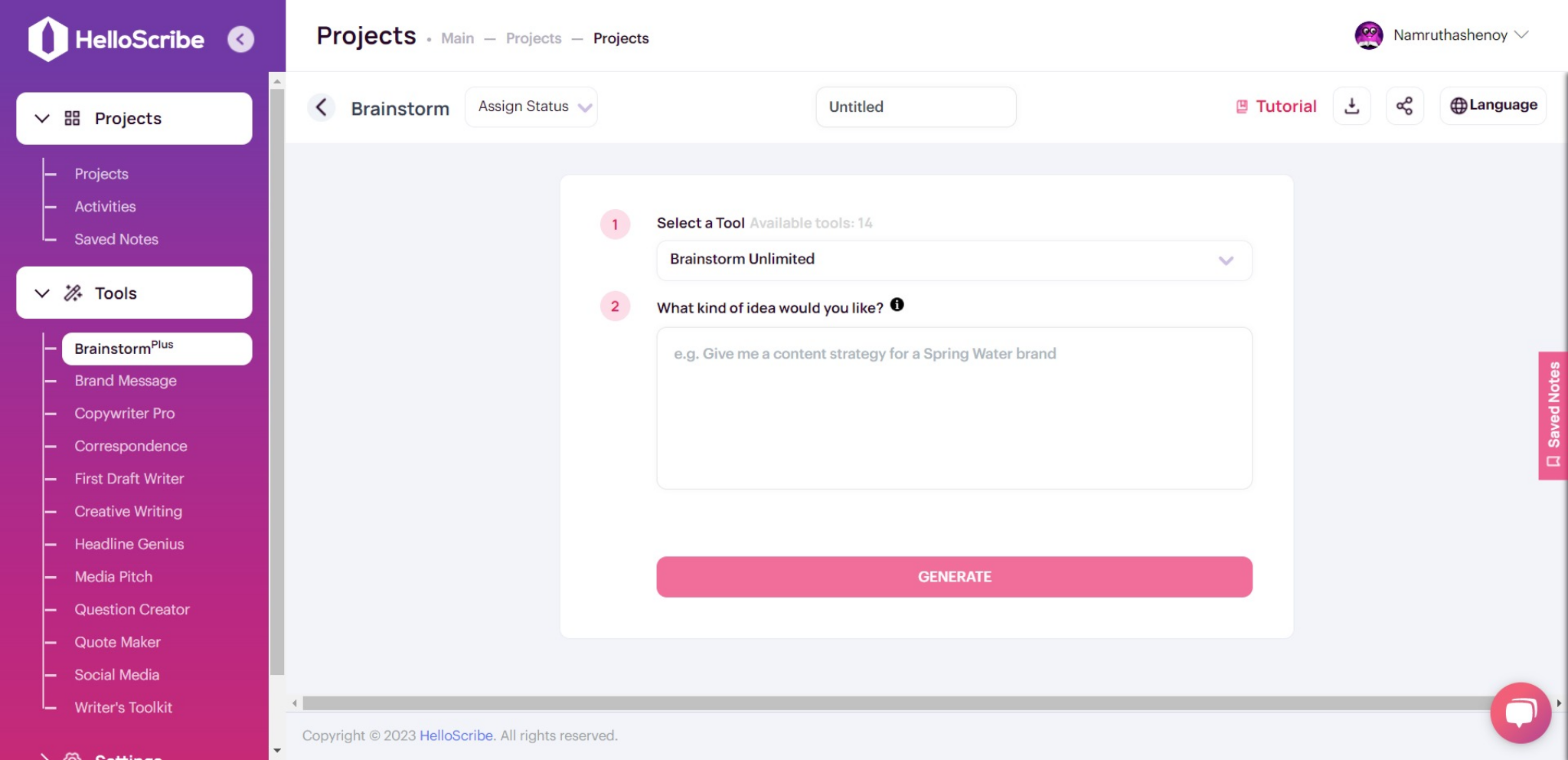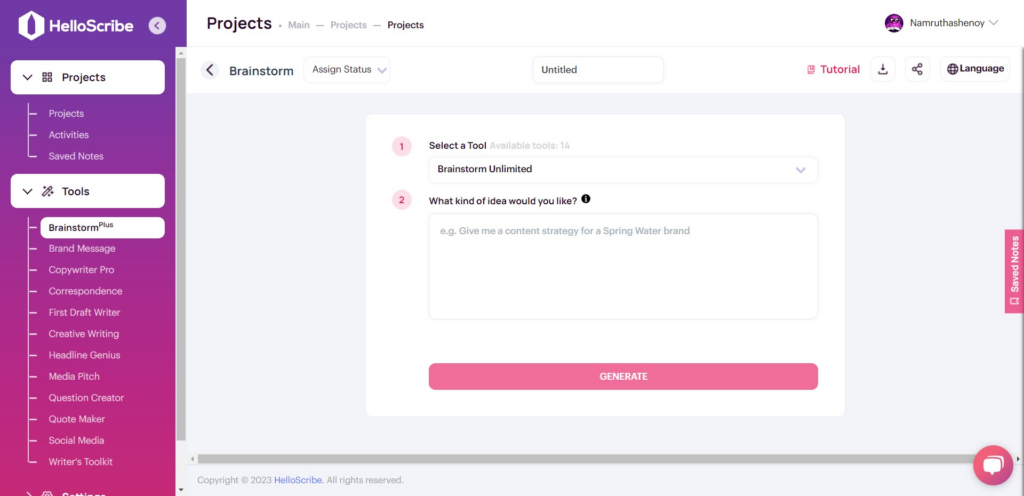 HelloScribe is an AI-powered writing assistant with over 80 writing and brainstorming tools to help you brainstorm original content for press releases, promotional gimmicks, and media pitches. It has a user-friendly interface and customizable features to tailor to any writing needs.
HelloScribe can quickly create social media posts, marketing campaigns, and brand messaging from scratch. It automatically generates fresh ideas for PR campaigns, publicity stunts, and media pitches in a matter of seconds. This tool is the perfect way to brainstorm fresh sales strategies, event ideas, new product ideas, and more.
With HelloScribe's brainstorming tools, you can generate creative marketing inspiration in record time without compromising quality. All you have to do is input your brief or problem statement and HelloScribe will instantly provide you with fresh ideas for promoting your business or idea.
Synchronous Editing
Synchronous editing is a kind of editing in which users may alter the same document at the same time, and their modifications are immediately visible to others.
HelloScribe offers a fast, easy-to-use synchronous editing feature that lets you work with others on the same document at the same time. This helps avoid any delays in feedback and ensures that everyone is working on the exact same copy of your content. Plus, thanks to HelloScribe's live previewing feature, you can see how your changes will look before they're actually saved. This powerful synchronous editing tool makes it easy for teams of writers to collaborate on content quickly and effectively.
Project & Document Management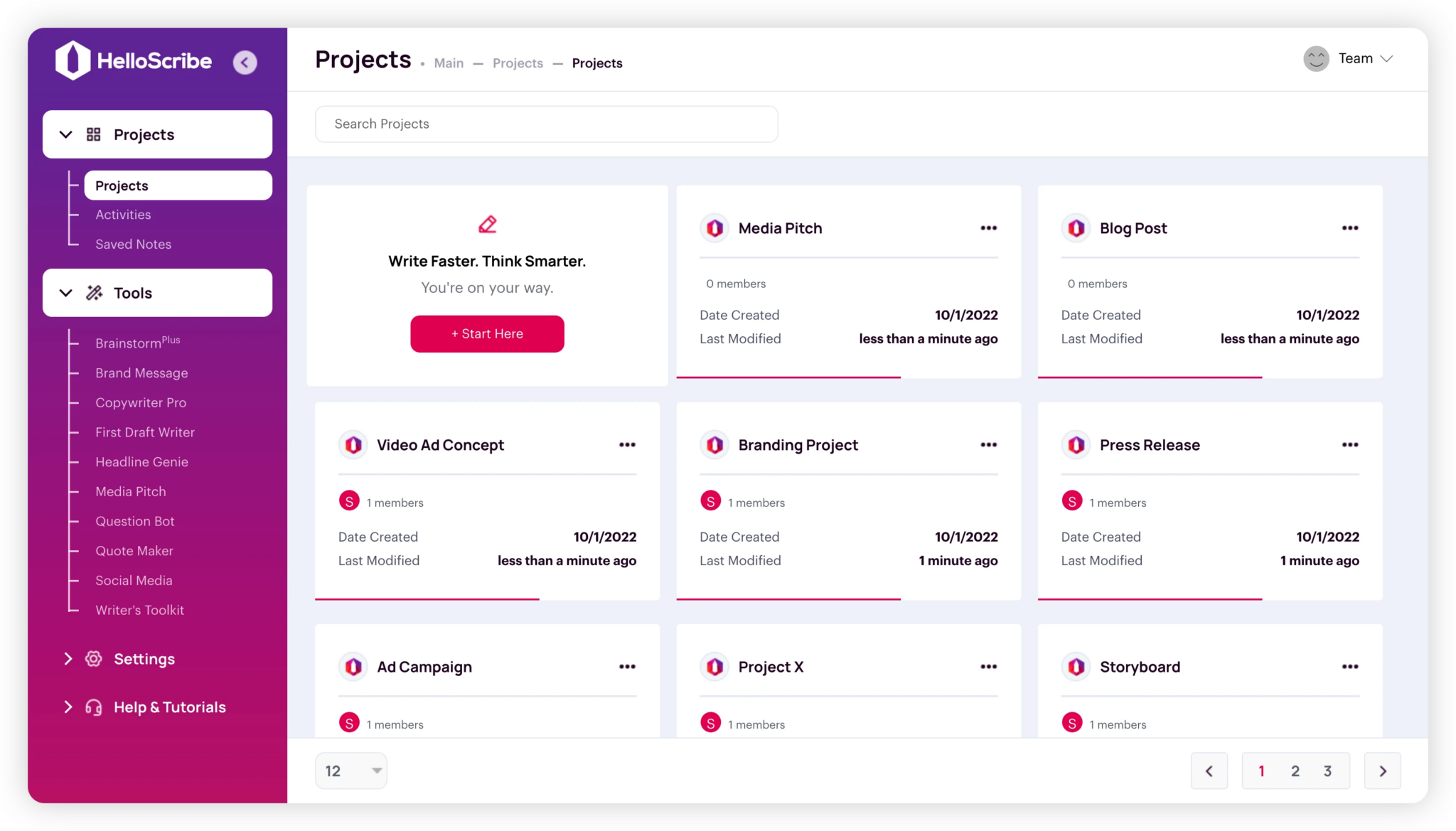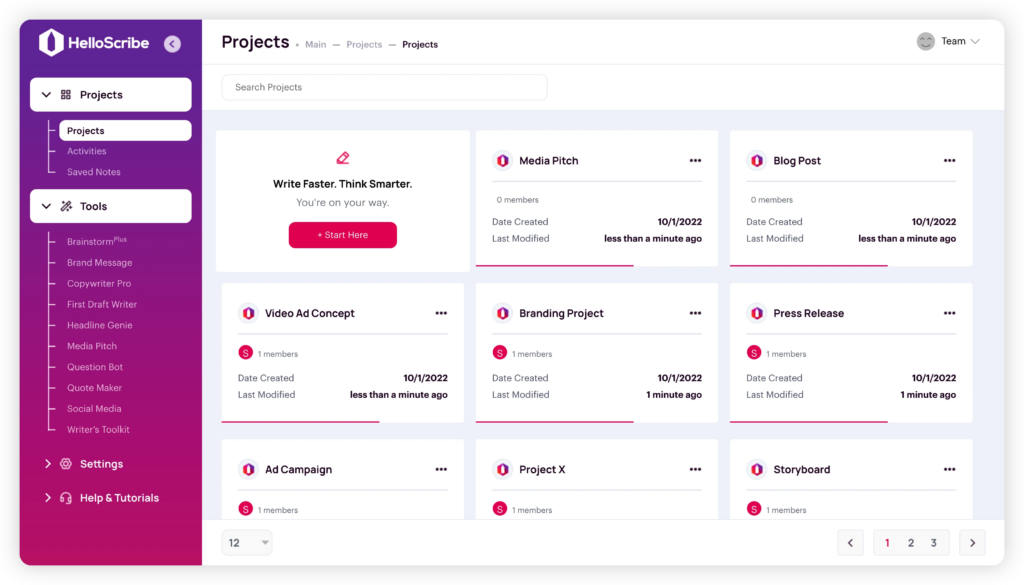 HelloScribe is a project and document management tool that helps individuals collaborate and manage their work effectively. It allows users to easily share ideas, upvote the best ones, and assign tasks to teammates. Through this tool, users can save time by accessing relevant information quickly and efficiently, along with streamlining communication between team members.
The HelloScribe platform has several features to help users complete their work more quickly and efficiently. Users can access all of the relevant information in one place through powerful search capabilities, which allows them to find specific documents and data quickly. Additionally, users can upvote the best ideas and ensure everyone is on the same page with assigned tasks. By sharing ideas, collaborating with teammates, and upvoting the best ones, HelloScribe helps teams stay on track and achieve their goals faster.
Why choose HelloScribe?
Accelerate your SEO content performance with AI
100+ Tools of the Trade
HelloScribe can help you streamline your writing process and free up precious time for other activities. Instead of spending hours on end staring at a blank screen, HelloScribe allows you to input text and have it automatically formatted and grammar-checked. With HelloScribe, you can write more quickly and with greater accuracy than ever before.
Not only does the software automatically correct common mistakes, but it also suggests improvements to improve your work. Say goodbye to tedious tasks, such as copy-pasting or retyping, and enjoy increased efficiency and productivity. Outputting quality content is easier when you have the tools to help you with formatting, grammar, and structure.
Easy-To-Use
HelloScribe is a tool that makes it easy to create unique, quality content. The software has multiple tools to help users write articles, blog posts, and social media posts with ease. It has a unique commenting system that allows users to interact with their content in a seamless manner.
Additionally, the software has multiple themes which help users create unique content for different audiences. Plus, features like a built-in plagiarism checker and automatic spellcheck ensure that content is free of errors.
Create with Confidence
HelloScribe is an AI-enabled writing tool that allows users to write with confidence. With HelloScribe, you can craft the perfect phrase to get your message across in seconds, automatically analyze your sentence for grammatical errors, and more. Plus, the tool gives you detailed feedback on how to improve your sentence structure and flow. Whether you are writing a business proposal or an academic essay, HelloScribe will help you write with confidence.
Unlimited Ideas
With Hello Scribe, you can get inspired with AI-generated ideas and insights to stay ahead in the game of PR and marketing. Whether for a new product launch or a company review, Hello Scribe can generate ready-to-use content in seconds that can help you instantly promote your brand. With our powerful artificial intelligence, we can write unique and engaging pieces quickly, without having to manually research different topics or develop unique writing styles. Plus, with our easy-to-use interface, you can easily tailor the output to meet your specific needs.
Money Saver
HelloScribe is a cost-effective partner that can help you write and produce content of superior quality on any budget. Whether you are a small business looking for fresh ideas for your blog or a large media organization looking to publish an article, HelloScribe has the tools and expertise to surpass your expectations. With its affordable pricing, streamlined workflow, and easy-to-use interface.
Under Your Control
The best part about using HelloScribe is that everything you generate is safely stored and owned by you. You have the ability to delete your data at any time, so you can ensure that it stays safe and secure
Bring Your Squad
HelloScribe is a unique tool for teams that allows them to collaborate and create outputs quickly and easily. With HelloScribe, you can share and upvote generated outputs with your teammates, allowing everyone to get their own workspace as they write. This ensures that everyone has access to all the tools they need to be productive.
The outputs generated by HelloScribe are always personalized and tailored to the individual needs of each user, so no two outputs are ever the same. Whether you're a research team working on a new project or an in-house team collaborating on a business proposal, HelloScribe has the tools to help you stay ahead of the competition.
Research Companion
HelloScribe is a powerful research companion that allows you to discover and analyze millions of research studies, verified news articles, and authoritative sources in just a few minutes. With HelloScribe, you can quickly find the stories and facts that matter most. You can also use it for research projects in both the classroom and the workplace.
It is an indispensable tool for students looking to conduct thorough research or professionals seeking accurate information on a range of topics. Whether you are researching climate change, history, or medicine, HelloScribe has you covered.
50+ Languages
With HelloScribe, you can effortlessly write in over 50 languages. Whether you are writing a blog post for your business website or an email to your colleague, HelloScribe will help you deliver the perfect style and tone. With HelloScribe, you can easily write in over 50 languages. Its unique natural-language technology will accurately transform your content into different formats such as articles, e-books, and social media posts.
HelloScribe Use Cases?
Who can use?
Copywriters
Professional Teams
Small businesses
Marketers
Consultancies and Agencies
Entrepreneurs and Freelancers
Pricing Plans
Monthly Pricing and Annual Pricing
Offers Free Trial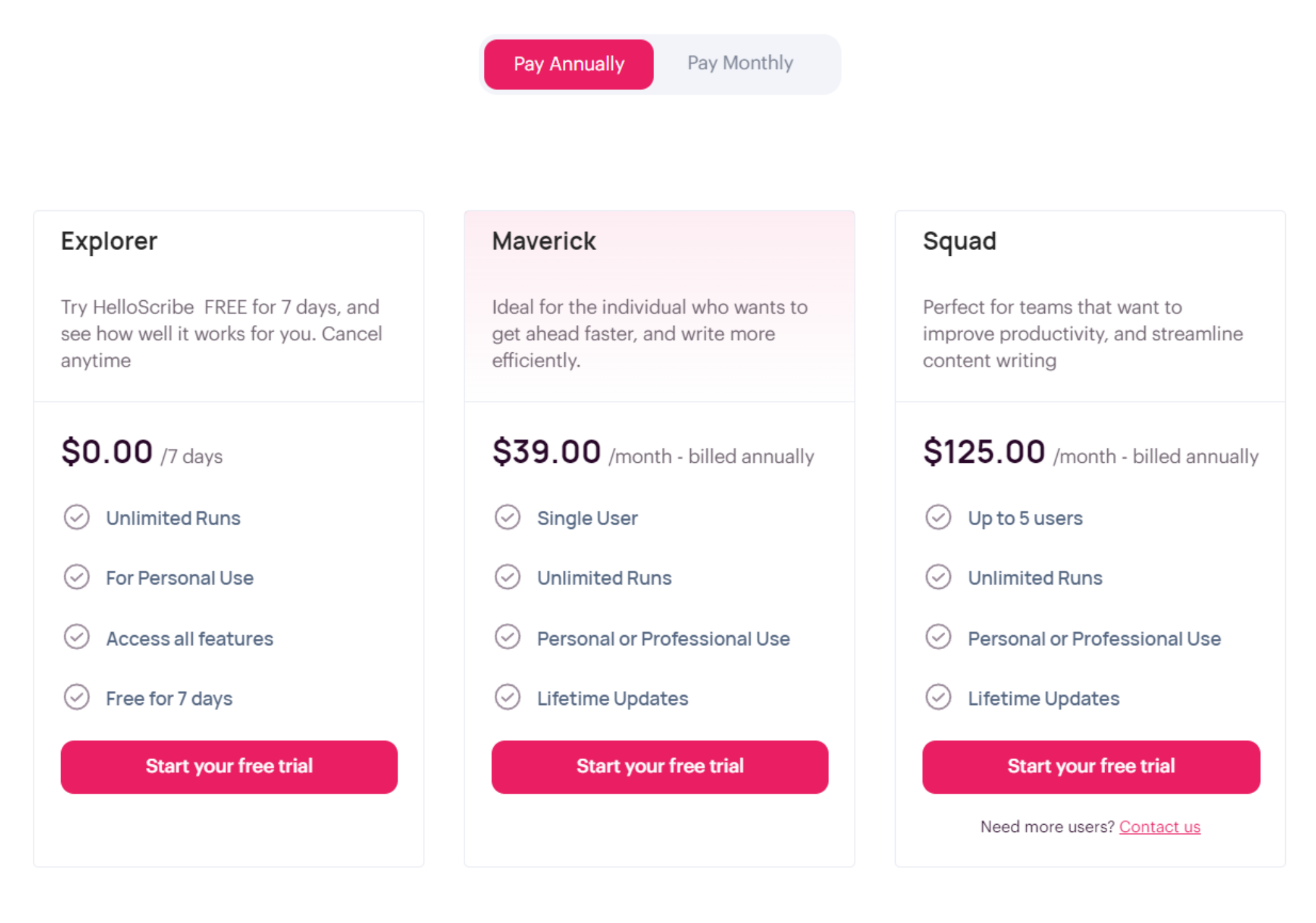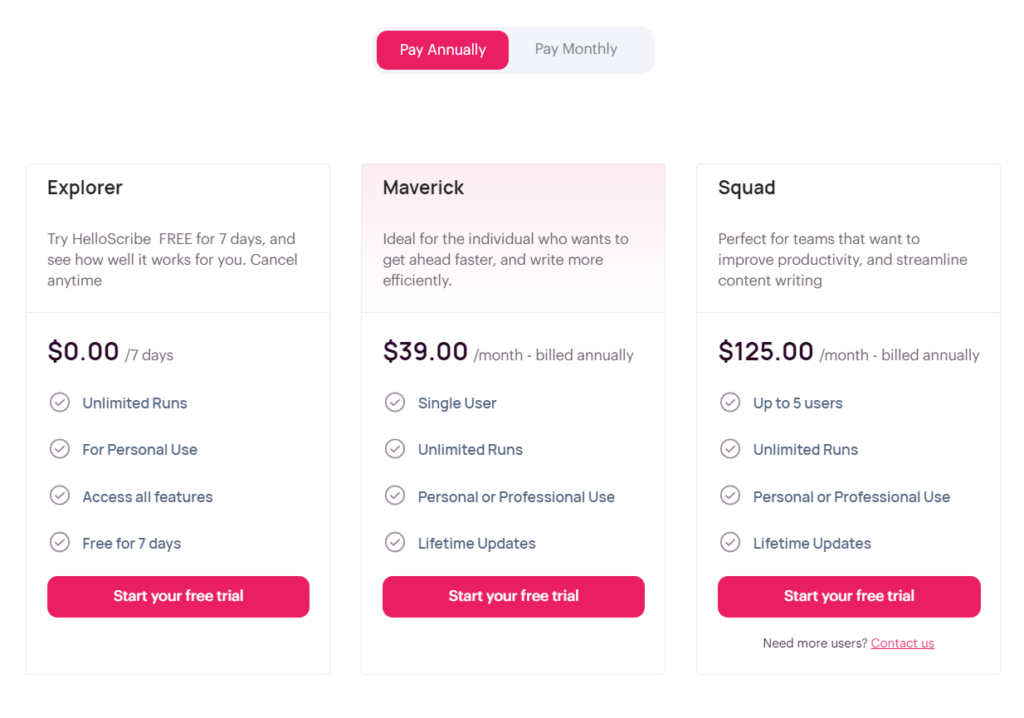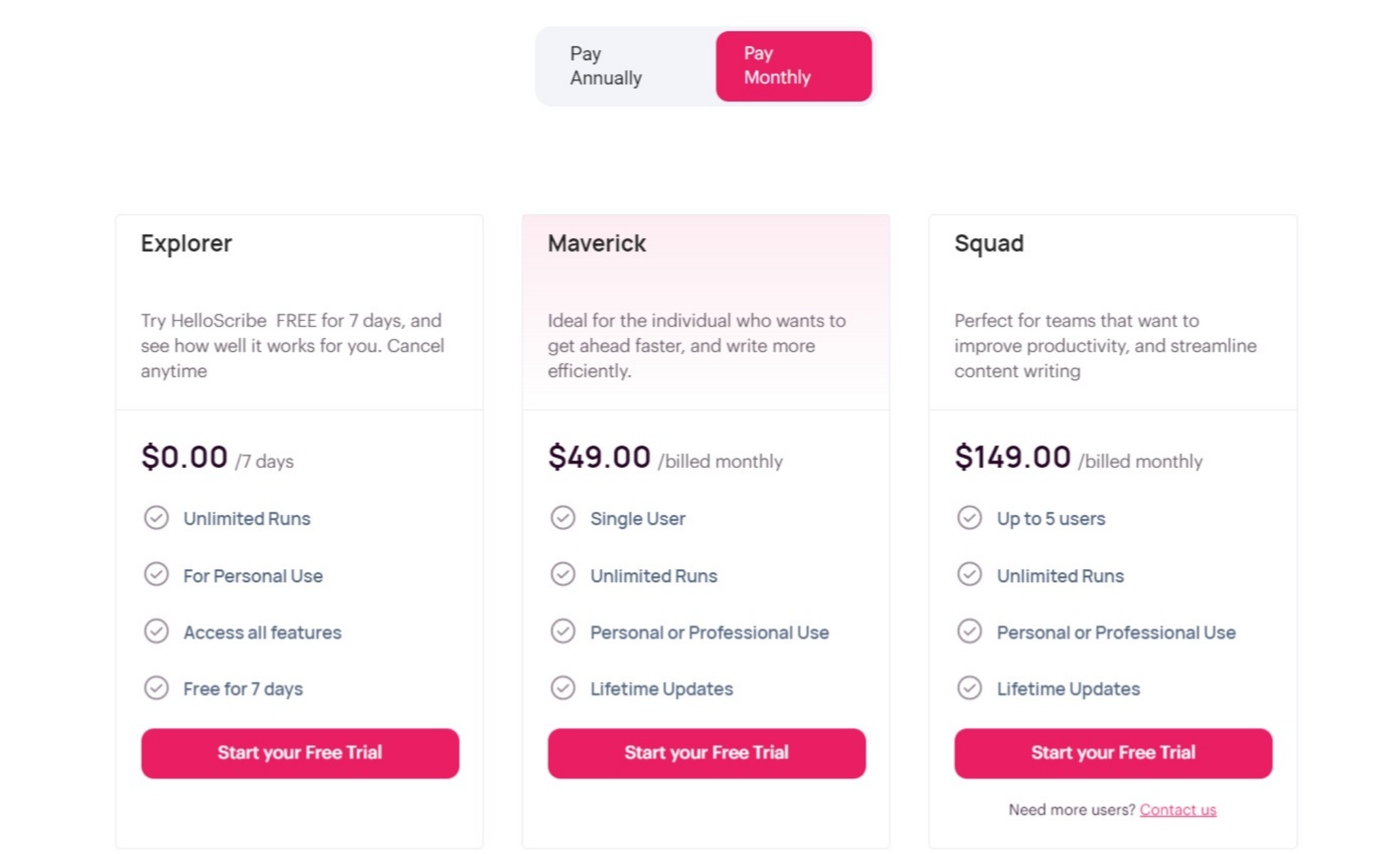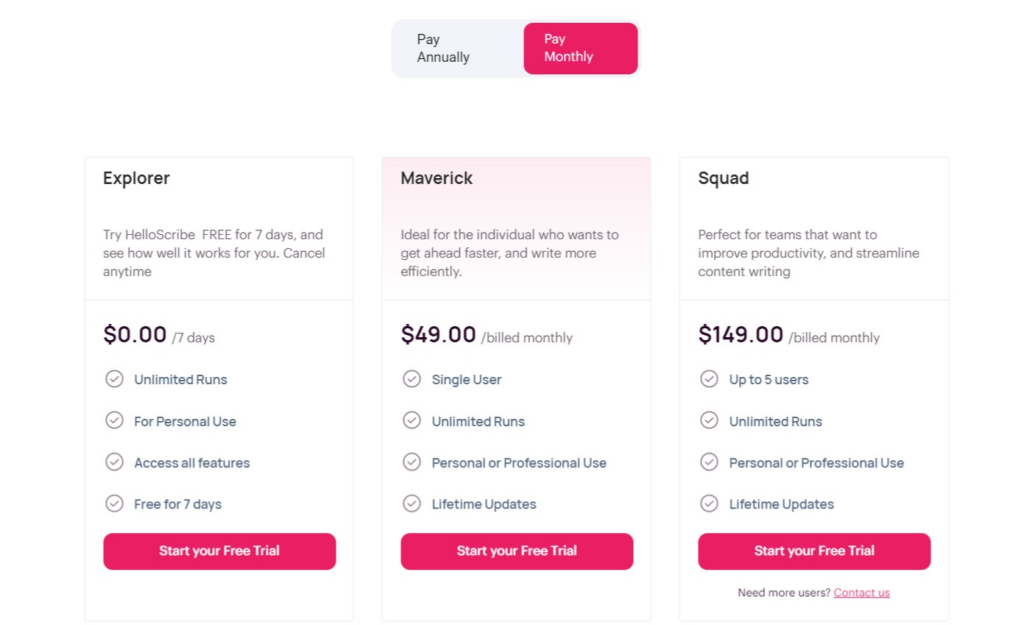 Support
Technical Support, Knowledge Base, Roadmaps, Changelogs
Supports Email, Ticketing, and Live chat
FB Group
Offers Blog and Youtube Videos.
Offers Roadmap and Changelog
Alternatives
Similar Apps
Confluence is a user-friendly team collaboration tool, where you can build, organize and collaborate on work virtually anywhere.
monday.com is a collaborative platform for managers to keep their teams aligned from one collaborative workspace. This flexible platform allows you to truly centralize your data, leveraging native integrations, third-party apps, and helpful widgets.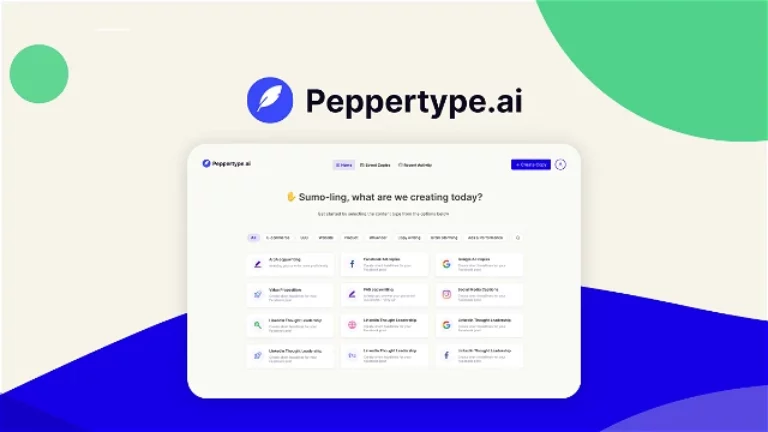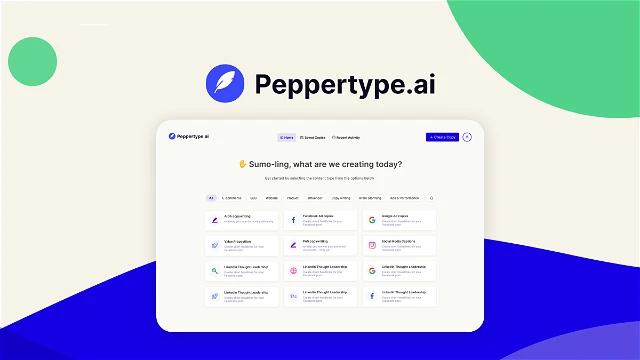 peppertype.ai virtual content assistant helps you quickly generate high-quality content for a range of purposes, from marketing copy to product descriptions to search engine optimization.
Final Verdict
Is HelloScribe right for You?
So now that you have understood the basics of AI writing with HelloScribe, it's time to get started! HelloScribe is your ideal companion for brainstorming and content generation. Once you start using it, you'll realize that your ideas flow easily. You won't be stuck in the creative rut anymore, and brainstorming will become a breeze. It's an AI-writing system designed to support your skills as a writer and enhance your productivity.
Unlike other A.I. Creative Assistants, which are limited to a particular task like writing copy or generating ideas, HelloScribe does both. As a result, you can use it to help with a wider variety of tasks.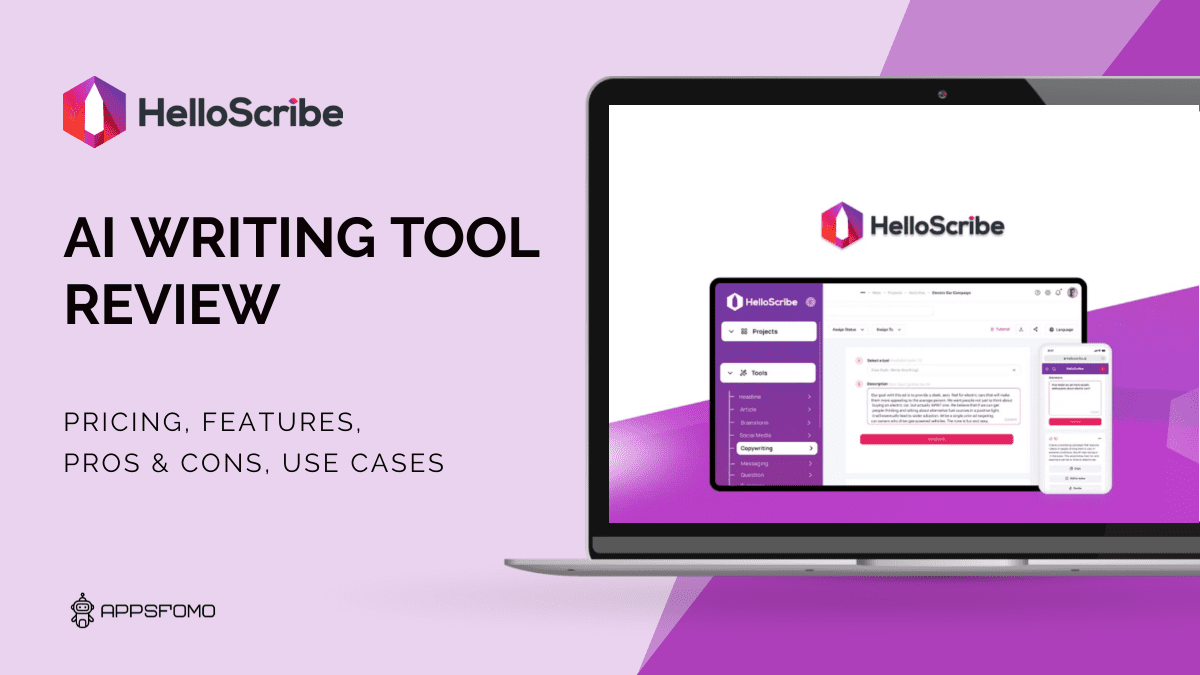 Specification:
HelloScribe: The Smart Tool for Creating Quality Content at Scale
| | |
| --- | --- |
| Review Date | February 2023 |
| Company | HelloScribe |
| Country | USA |
| Initial Release | 2021 |
| Pricing | Annual Payment, Montlhy |
| Free Version | Available |
| Lifetime Deal | No |
| LTD Platform | N/A |
| Money-Back | N/A |
| Support type | Email, Live Chat, Ticketing |
| Integrations | No |
| Supported Device | Browser |
| Mobile app | Not Available |
| Affiliate Program | No |
PROS:
Over 50 languages
Great writing quality
User-friendly interface
CONS:
Would be good to have more tools for editing the content
Sometimes problems with apostrophes and hyphens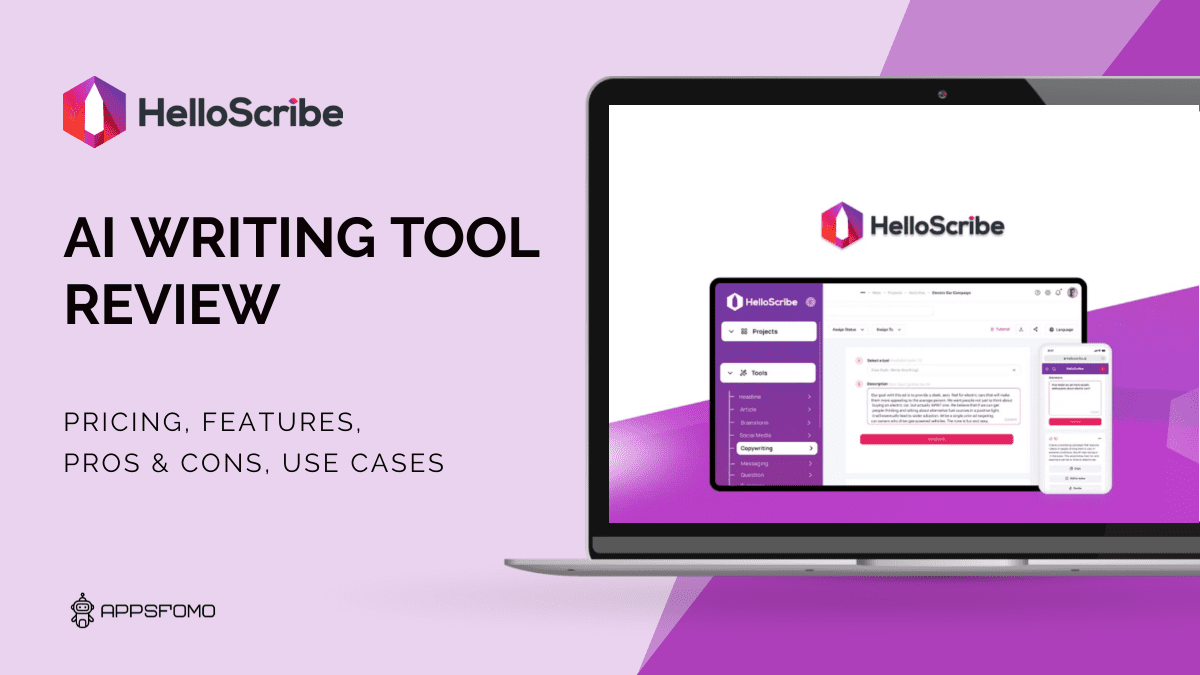 HelloScribe: The Smart Tool for Creating Quality Content at Scale