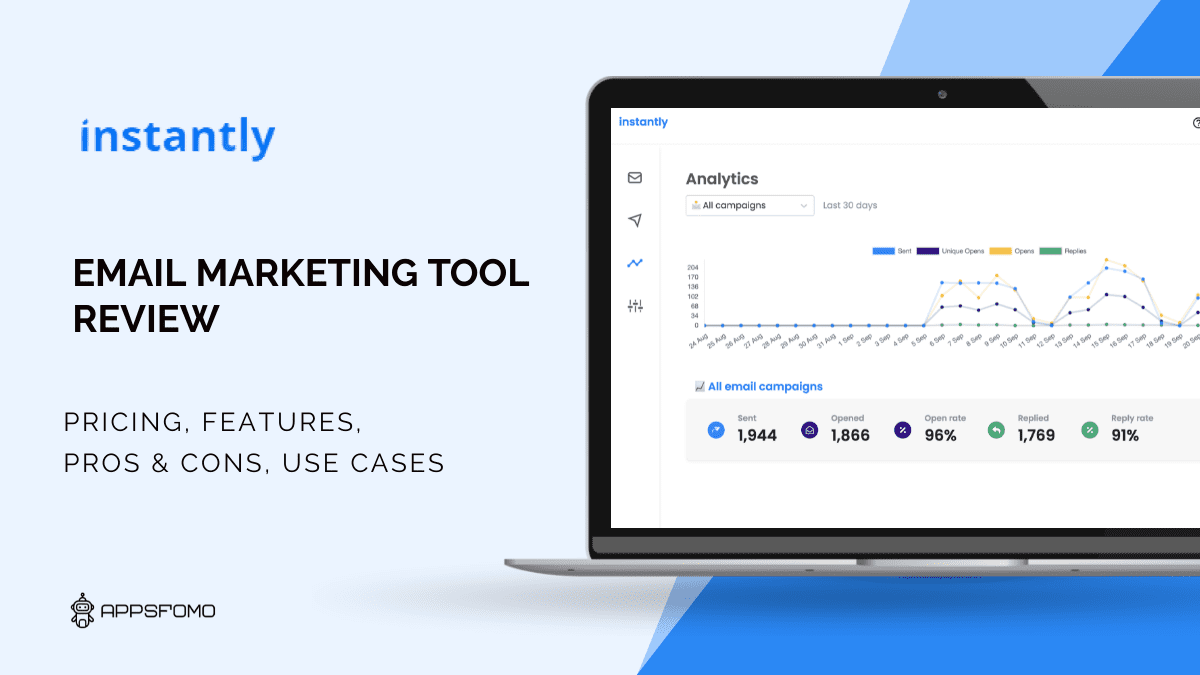 Instantly: The AI-Powered Cold Email Campaign Management Platform
Add to wishlist
Added to wishlist
Removed from wishlist
0
Add to compare
Marketing and outreach are two of the hardest parts of running a business. Most marketers spend money on marketing tools, but they're still not getting the results they want. What if there was a smarter way to market? There is!
With email marketing platforms like Instantly, you can automate your email campaigns and deliver amazing results with just a few clicks. Read this guide to discover why you need to start using email marketing platforms like Instantly, how it works, and why you should consider it. Automate and scale B2B cold email outreach with the power of AI.
What Is Instantly
Overview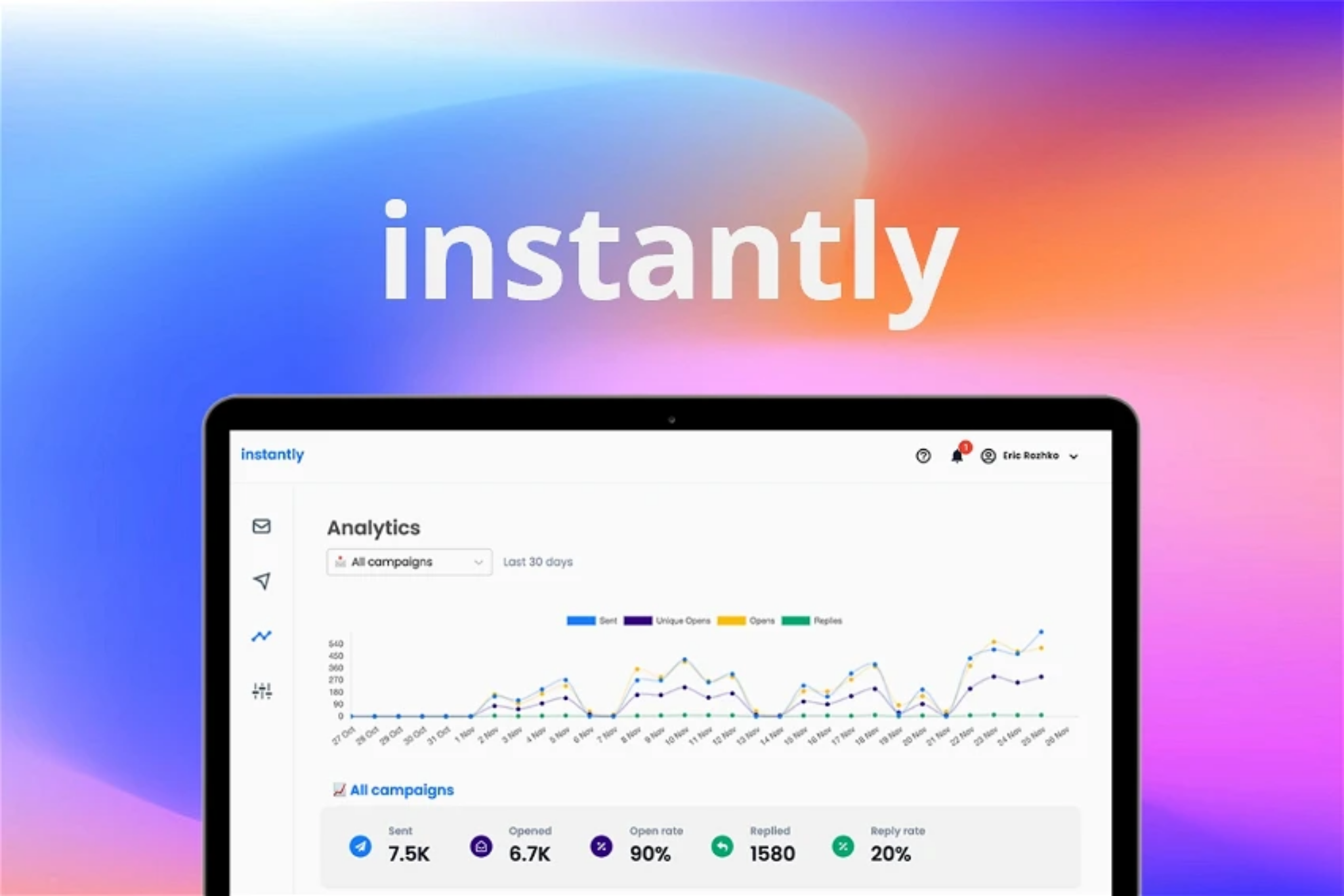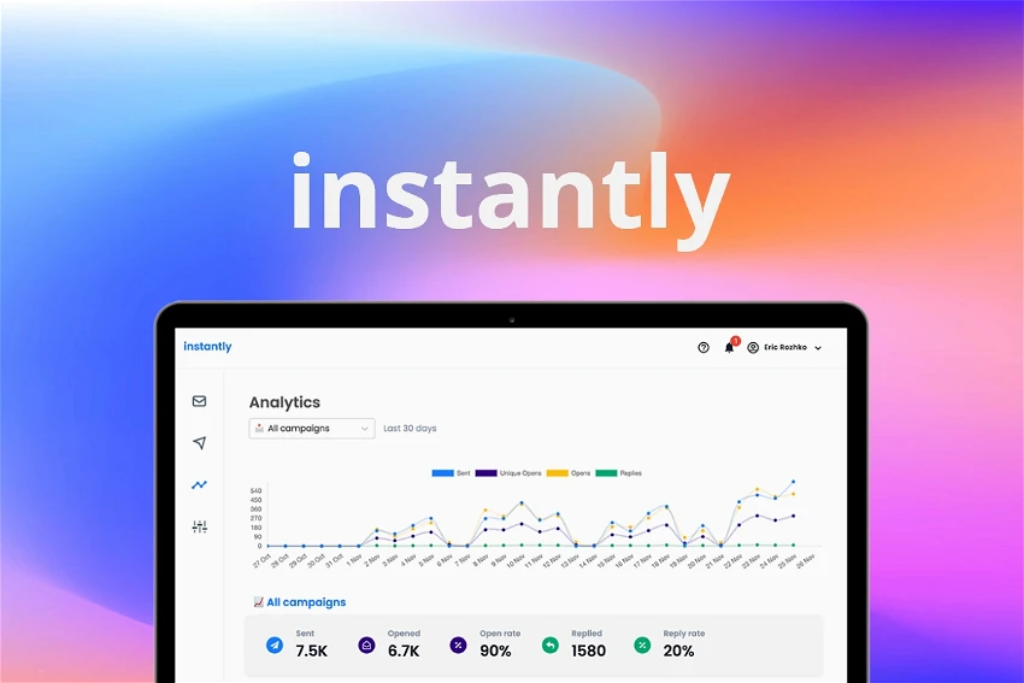 Instantly is an AI-powered email campaign management solution that improves deliverability and response by automated account warmup and smart sending functions, is available immediately.
Instantly helps you scale your outreach campaigns through unlimited email sending accounts, unlimited warmup, and smart automation. It helps you generate more leads, acquire new customers and grow revenue faster through personalized email campaigns at scale. The features offered by Instantly help you save time and money while improving your campaign performance.
For example, with Instantly's Smart Automation feature, you can target specific audiences with tailored messages based on their preferences and interests. With Unlimited Warmup, you can start campaigns without worrying about limitations. Finally, the platform's unlimited SMTP accounts allow for greater flexibility in your outreach campaigns.
With all these features at your disposal, there's no shortage of reasons why Instantly is the best email marketing solution for your business.
Features
More replies and more revenue
Connect and track limitless sending accounts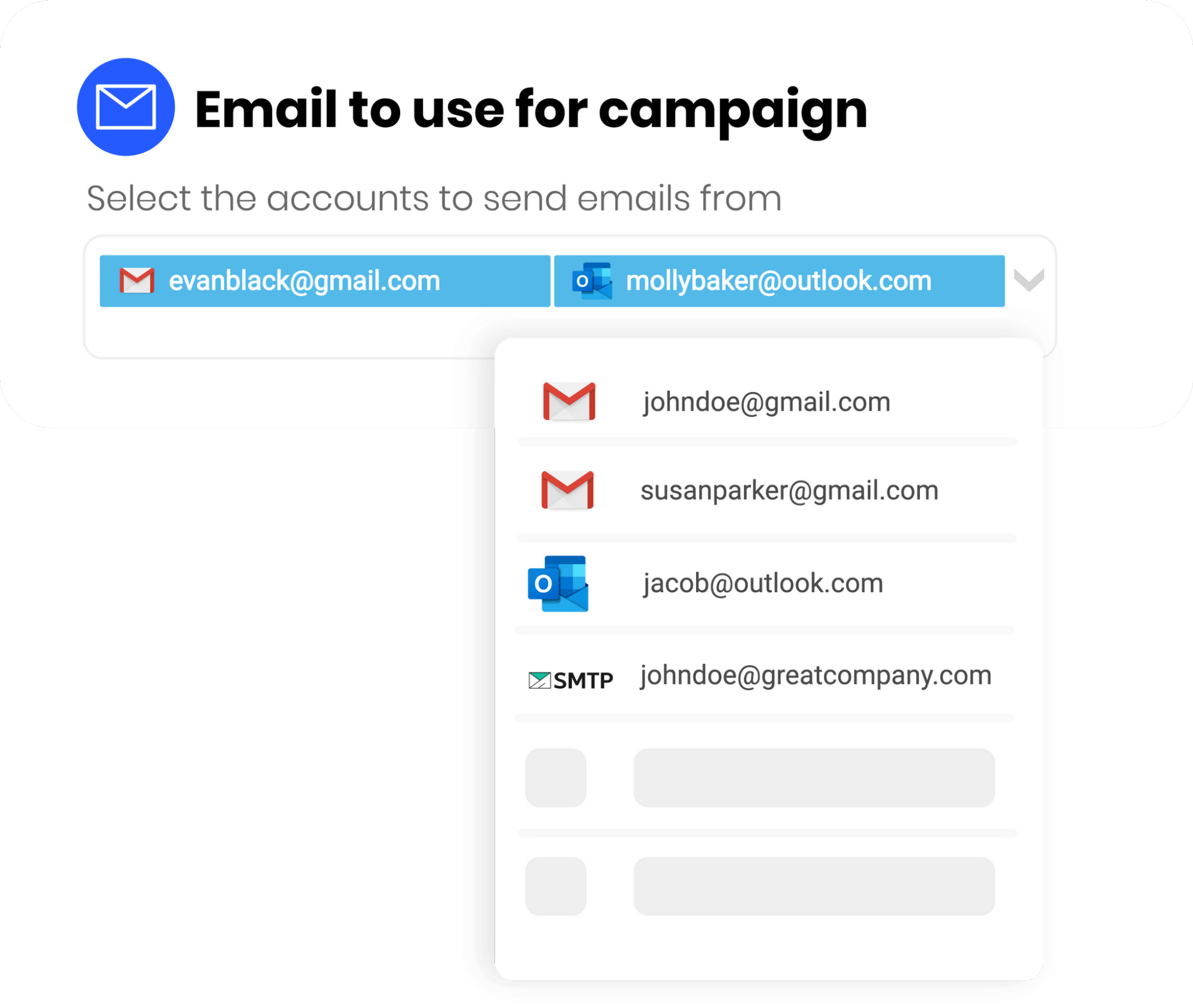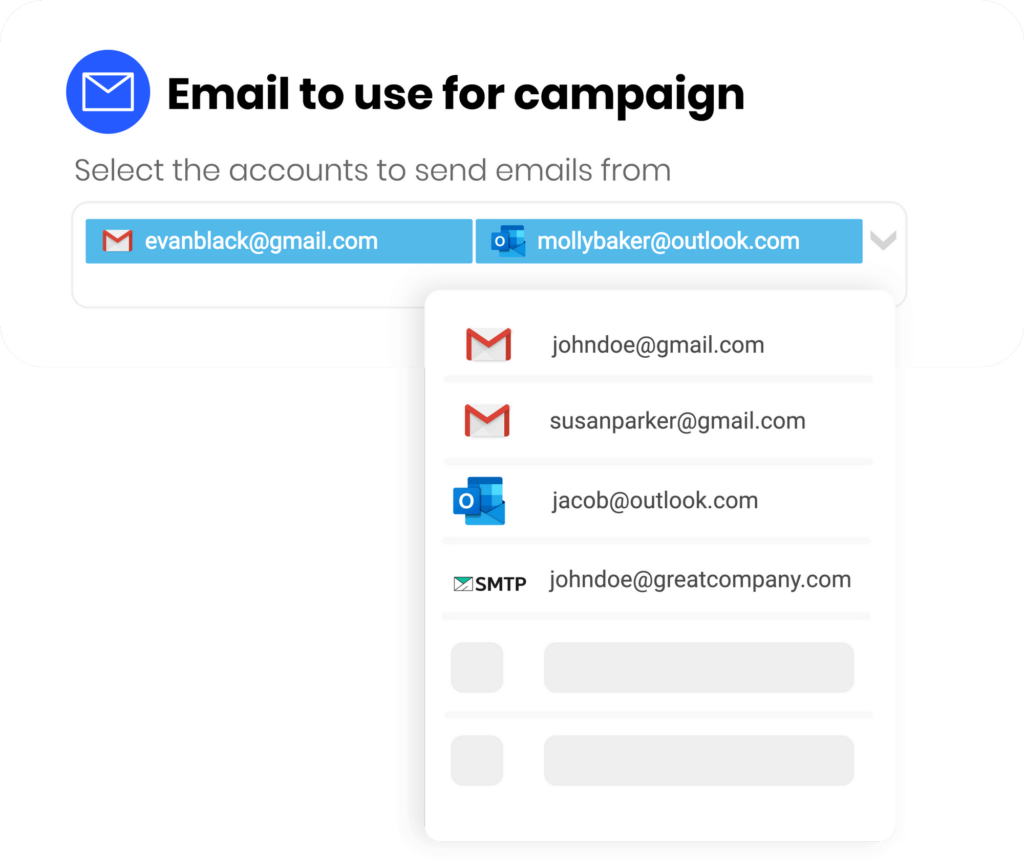 Instanly.ai is a cloud-based platform that helps users connect and track limitless sending accounts. It allows you to access multiple email accounts from a single dashboard, which can help you scale your outreach campaigns infinitely. With Instantly, you can easily send email campaigns to various contacts at once, saving valuable time and resources.
The platform also offers a variety of reporting tools to help you stay on top of your campaign performance. Additionally, it has built-in automation tools that can help you automate tedious tasks such as building campaigns and tracking results. Overall, Instantly provides powerful features to help you effectively manage and track your email outreach efforts in a hassle-free way.
Customize the number of messages delivered from each account to avoid spam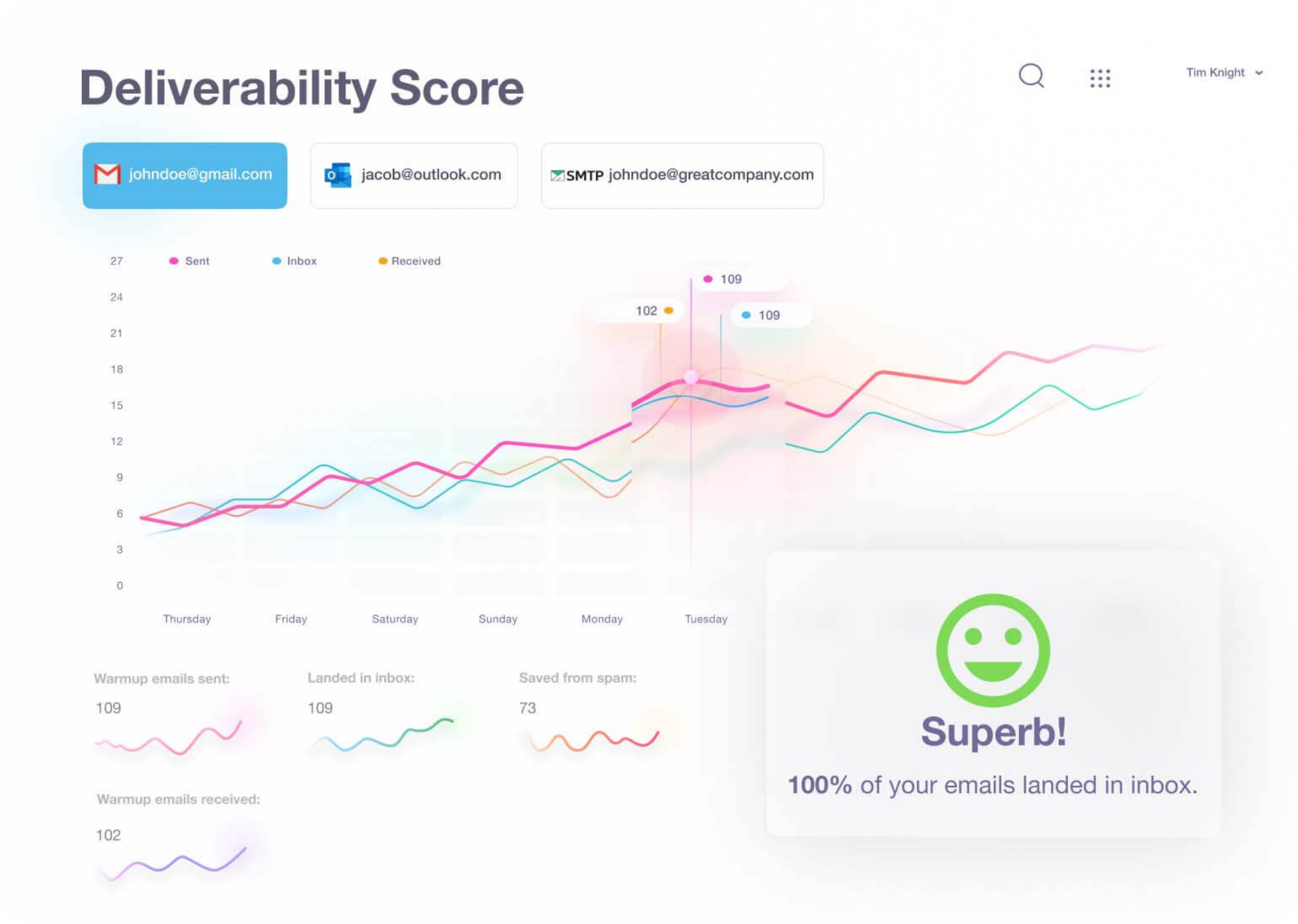 Instantly is a personalized email delivery service that allows users to customize the number of messages delivered from each account to avoid spam.
Instantly keeps your emails out of spam folders with an automated warm-up feature, which can be enabled or disabled with one click!
This feature is especially helpful for users who receive a lot of email notifications. Instead of constantly having to delete and read messages in their inboxes, they can simply select the ones they want to read and Instantly deliver them only once. This makes it easier to stay on top of important information while reducing the risk of accidentally deleting valuable information.
Automates Smart Mailing Sequences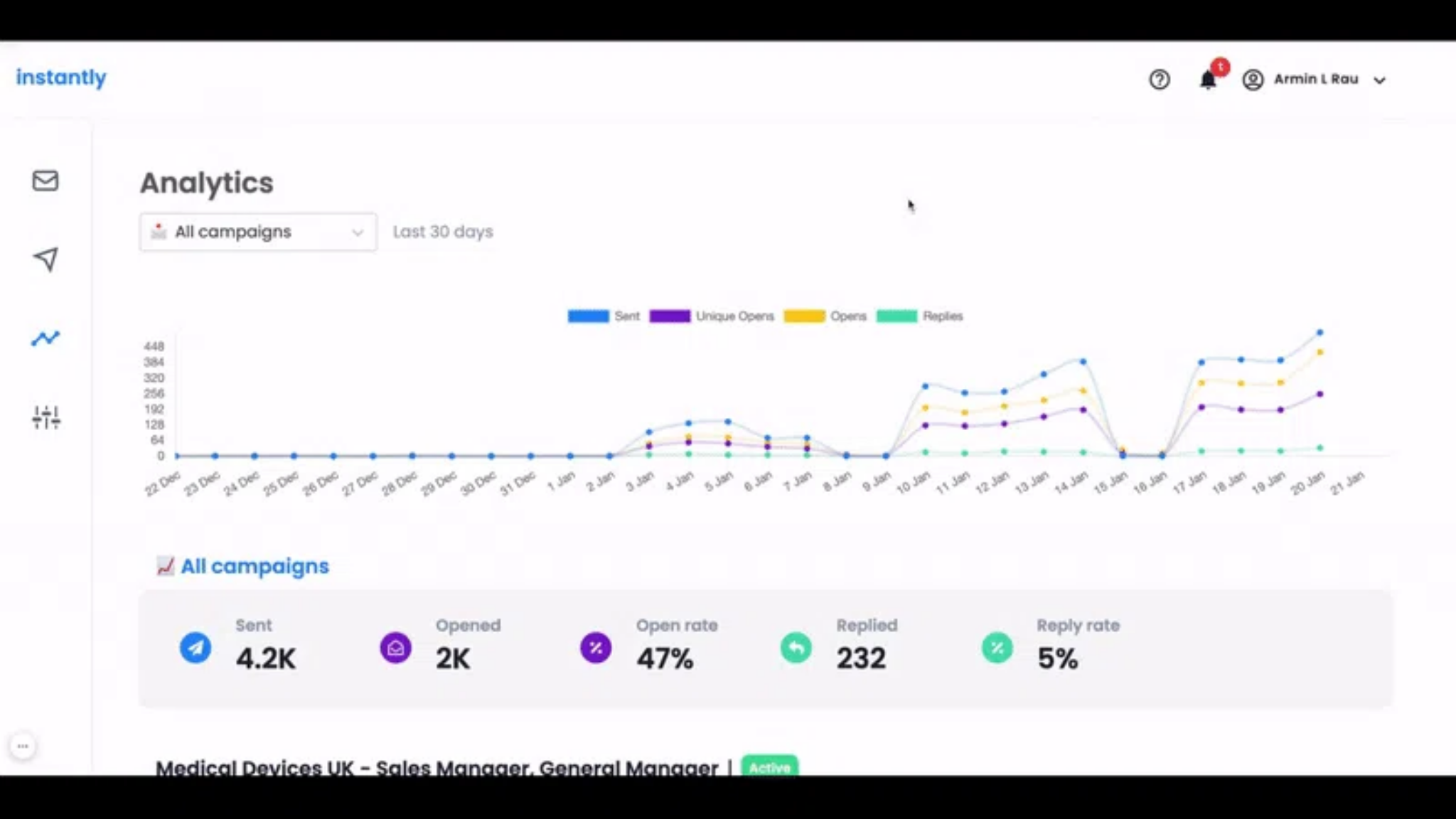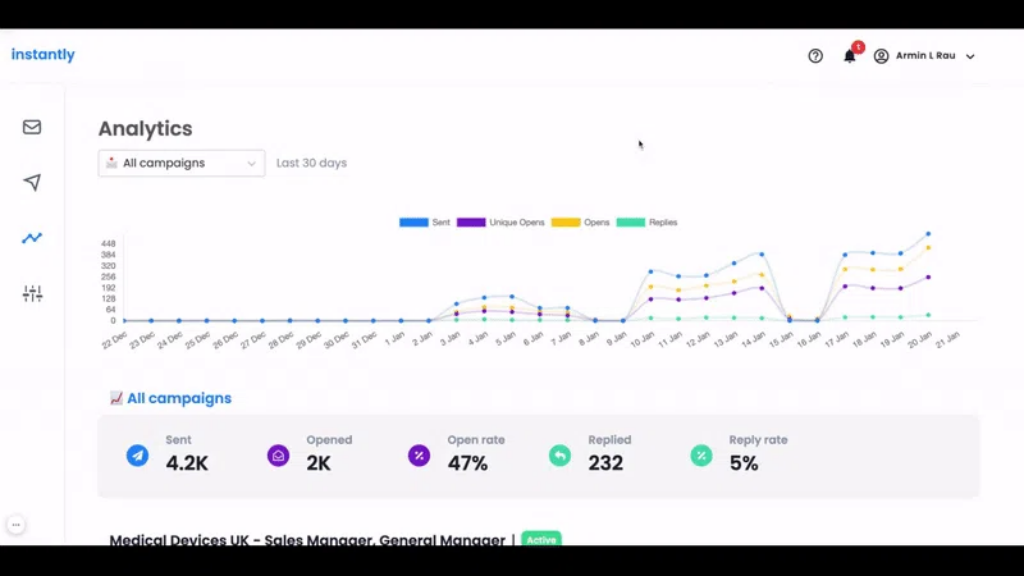 Instantly.ai is a powerful email marketing software that automates the repetitive tasks involved in creating, sending, and tracking email campaigns. You can tailor settings to your campaign needs—for example, automating the delivery limit and using multiple email sending accounts for a single campaign to automate daily sending increases.
With Instantly.ai, you can create automated mailings for your customers, followers, and subscribers that automatically engage with your messages over time. You can also track the success of your email campaigns and make adjustments as needed. This software helps you save time and streamline your email marketing strategy, allowing you to spend more time focusing on building your business.
Whether creating single-page emails or engaging with your audience over time, Instantly.ai has the features to help you reach your marketing goals quickly and easily. Whether you are a small business looking to increase engagement or a large company looking to streamline your email marketing process, Instantly.ai has the tools to help you achieve success.
Immediate Marketing and Outreach Insights
Instanly.ai is a powerful tool for businesses that want to improve their marketing efforts. The platform offers a range of tools to help you track your progress and measure results. It also provides access to a team of experts who can provide you with advice on various marketing topics.
This all-in-one platform offers immediate marketing insights and actionable tips to help you improve your strategy and increase your reach. It's an indispensable tool for any business that wants to optimize its marketing operations.
Improve Email Delivery With Unlimited Mail Warm-up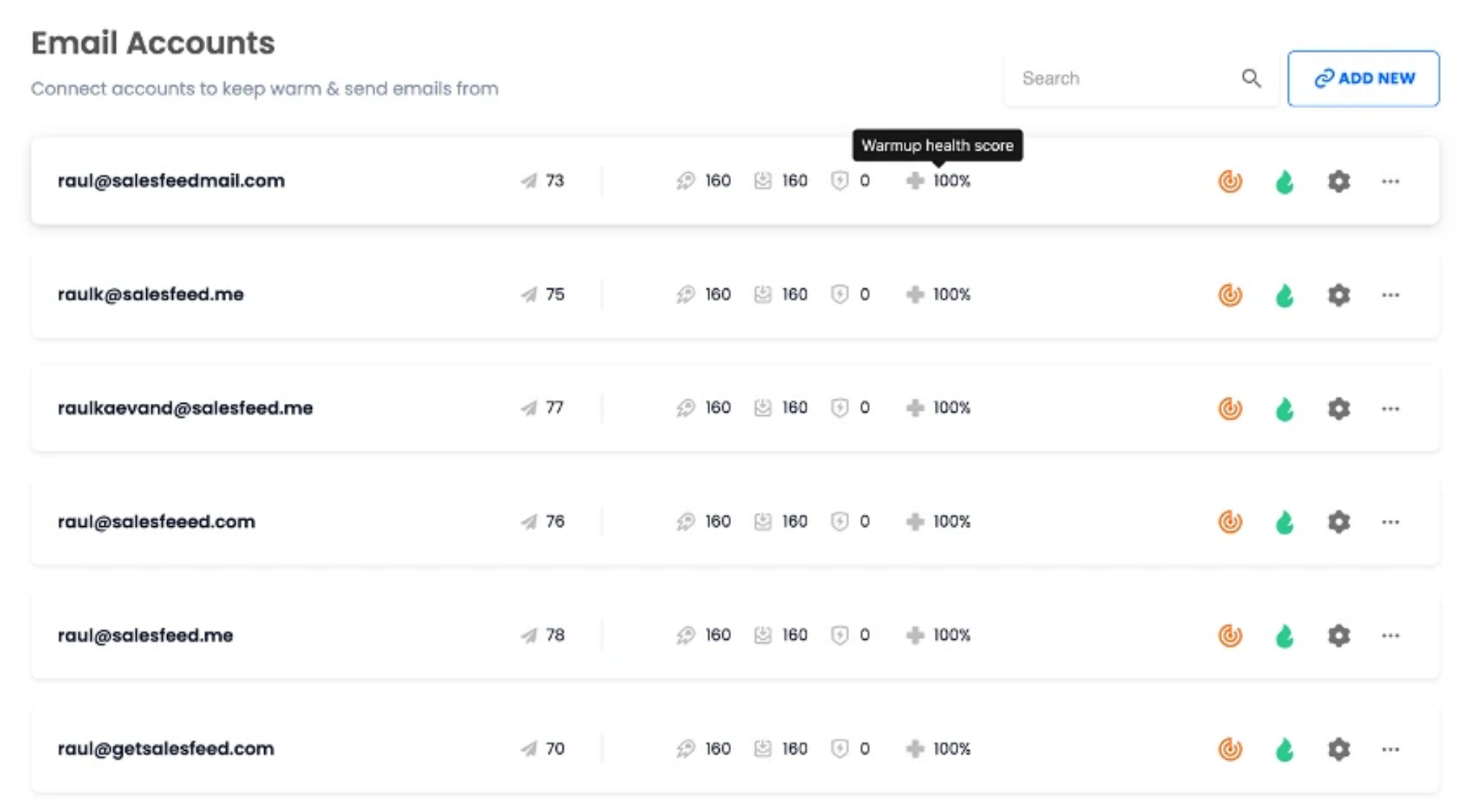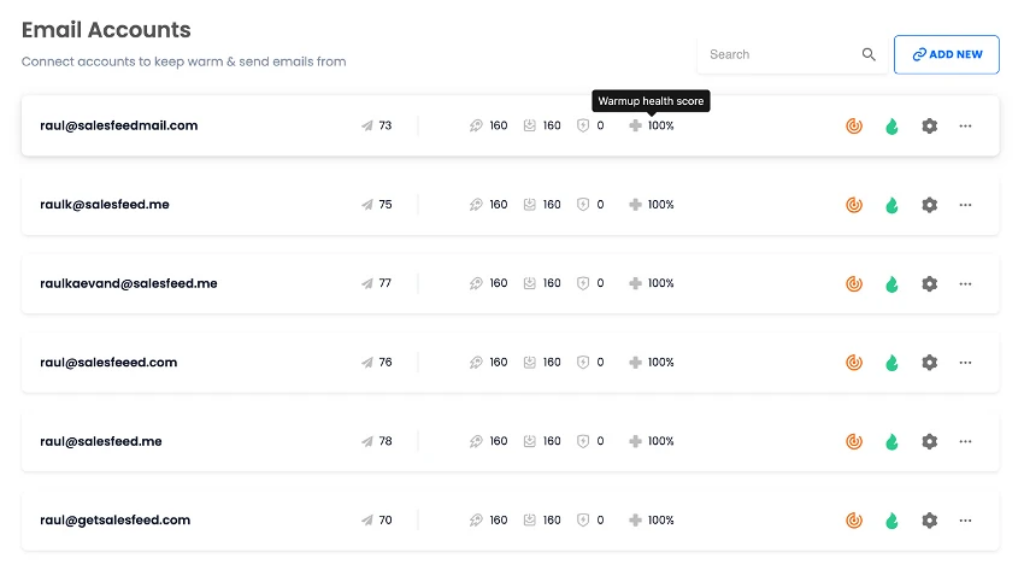 Instantly is a tool that addresses the problem of warming up email accounts before sending emails. The tool automatically sends a few emails from the account to ensure that it can deliver messages reliably. Warm-up emails are critical for improving the sending reputation of an email account, and Instantly's warm-up feature makes this possible with minimal effort on the user's part. It also reduces the risk of sending spam emails. Further, it helps reduce inbox clutter by interacting positively with the incoming messages.
Instantly lets you gradually scale the number of emails you send from each address to warm up your accounts and boost deliverability, so you land in inboxes, not junk folders. Plus, see statistics on your warm-up settings, like the deliverability rate of each email and how many messages were saved from spam.
Complete Automation & Customization
From personalizing messages with dynamic tags to scheduling a smart sending sequence, AI instantly automates every step of your campaign-building process.
Upload your lead lists and Instantly will populate your emails using a dynamic message template that includes unique information for each prospect, like name, company, and title.
You can input prospect details including name, company, and title, or use Instantly's custom variables to include other relevant info.
In the days following your initial outreach, you'll be able to send follow-up messages automatically, and if a lead responds, you'll be able to tell Instantly to stop automatic follow-up. In addition, you can set daily sending limits that will help prevent your messages from being classified as spam by selecting which warmed-up email accounts you want to send from.
Support
Technical Support, Knowledge Base, Roadmaps, Changelogs
As Support their offer Many informative articles, They offer Live Chat and Email Support
Their Response time is very good
They Provide Public Roadmap, but no Changelog
Why Use Instantly
Use Cases and Applications
To Reach More Leads
To Get More Replies
To Close More Leads
To boost open and reply rates Instantly employs powerful AI to automate smart sending sequences.
Helps to Increases Your Opens and Conversions.
Unlimited sending accounts and email warm-up functionality helps you optimize deliverability for your B2B outreach campaigns.
Helps to manage each account from one simple, easy-to-navigate dashboard.
By utilizing dynamic personalization tags, along with scheduled sends and follow-ups, it is possible to increase your mail open and response rates.
Pricing Plans
Monthly Pricing
Pricing is built for businesses of all sizes.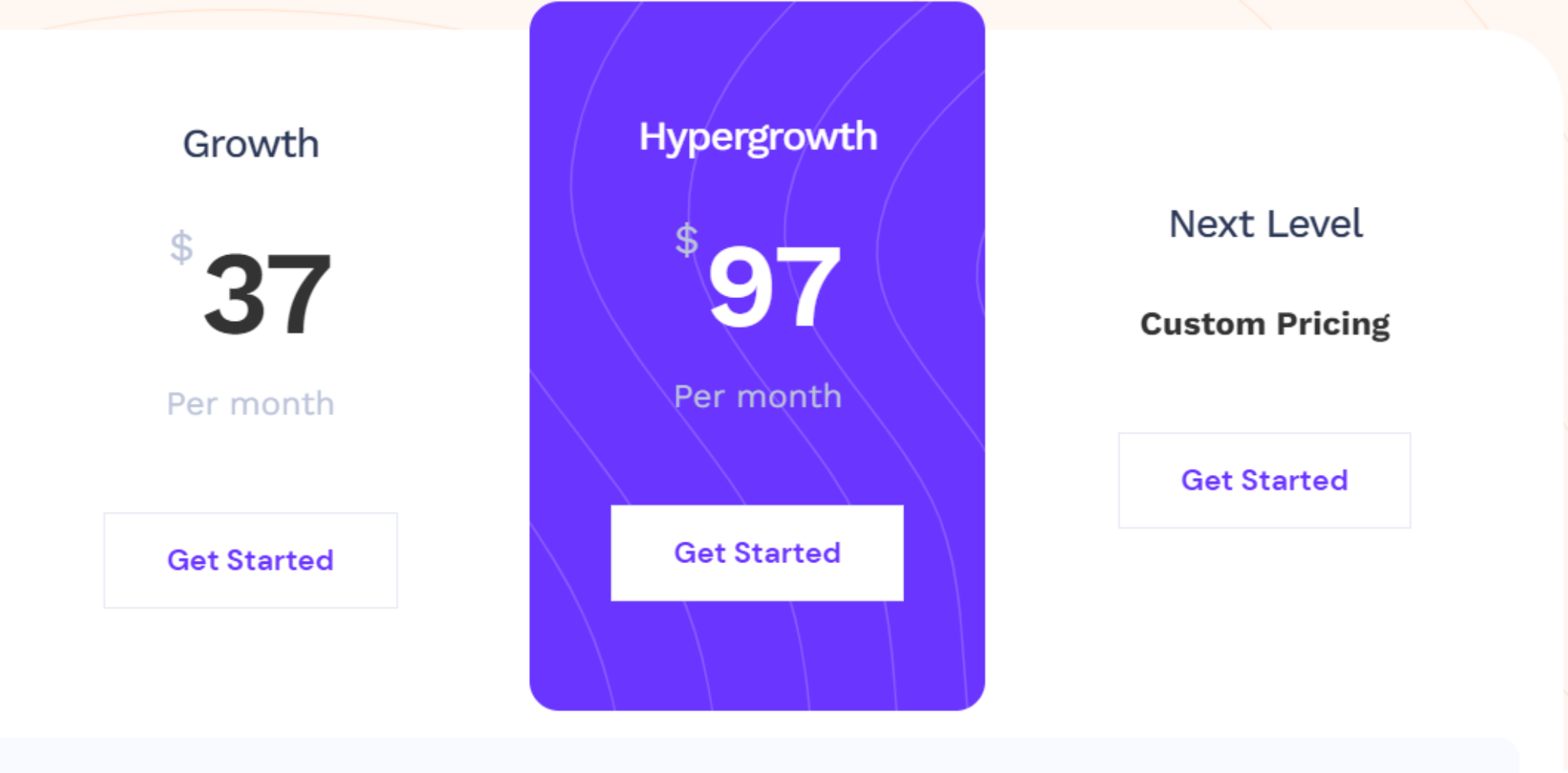 Alternatives
Similar Apps
In one package, you get Lemlist, which is your sales automation and cold email software. Automate follow-ups and engage with prospects across all channels with this tool that helps to personalize cold emails.
SalesLoft is a sales engagement platform helping teams set and execute a cadence of communications to convert more target accounts into customer accounts.
Sales automation software that puts your outreach on autopilot, while still making each communication personal.
Social Media Presence
Connect on Social Media
Conclusion
Is Instantly Right for You?
There are several solutions available to automate email marketing campaigns, but none of them can match the simplicity and effectiveness of using an email automation solution like Instantly.
Instantly.ai is a powerful, highly-customizable tool that can be used to increase the effectiveness of your campaigns. Its easy-to-use interface makes it ideal for anyone who needs their leads and email delivered in an organized fashion.
Sending each message individually makes it nearly impossible to ramp up your efforts, which is a key part of your B2B sales strategy. If you want to connect unlimited email accounts, automatically send personalized emails at scale, and warm up your sending accounts to maximize your chance of landing in inboxes, then Go for Instantly.ai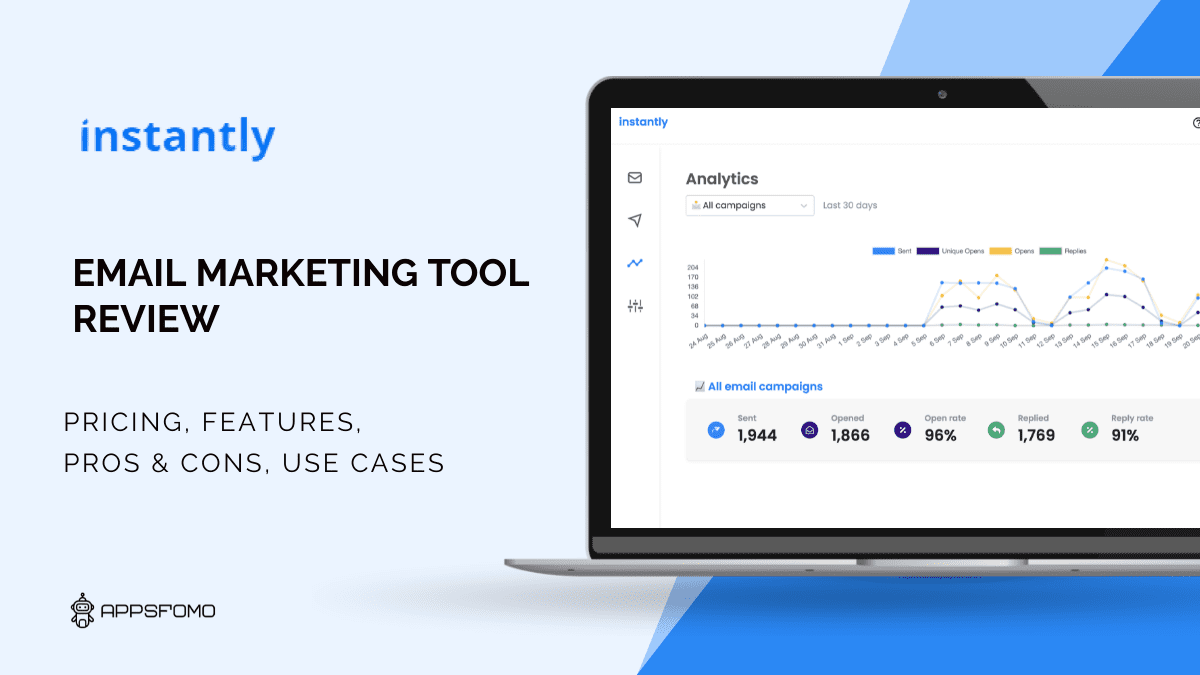 Specification:
Instantly: The AI-Powered Cold Email Campaign Management Platform
| | |
| --- | --- |
| Review Date | Dec-22 |
| Company | Instantly.ai |
| Country | Unknown |
| Initial Release | 2021 |
| Pricing | Montlhy |
| Free Version | Not Available |
| Lifetime Deal | Yes |
| LTD Platform | Appsumo |
| Money-Back | N/A |
| Support type | Email, Live Chat |
| Integrations | Zapier |
| Supported Device | Browser, Web Based |
| Mobile app | Not Available |
| Affiliate Program | No |
PROS:
Easy and flexibility of creating campaigns and using spintax within campagins..
High Deliverability when compared with other mail providers.
Multiple domains that you can attach to each account.
Auto warm up feature which ensure that, your email lands in clients' inbox.
Super quick and friendly customer support
CONS:
They don't have all the advanced features that other tools have.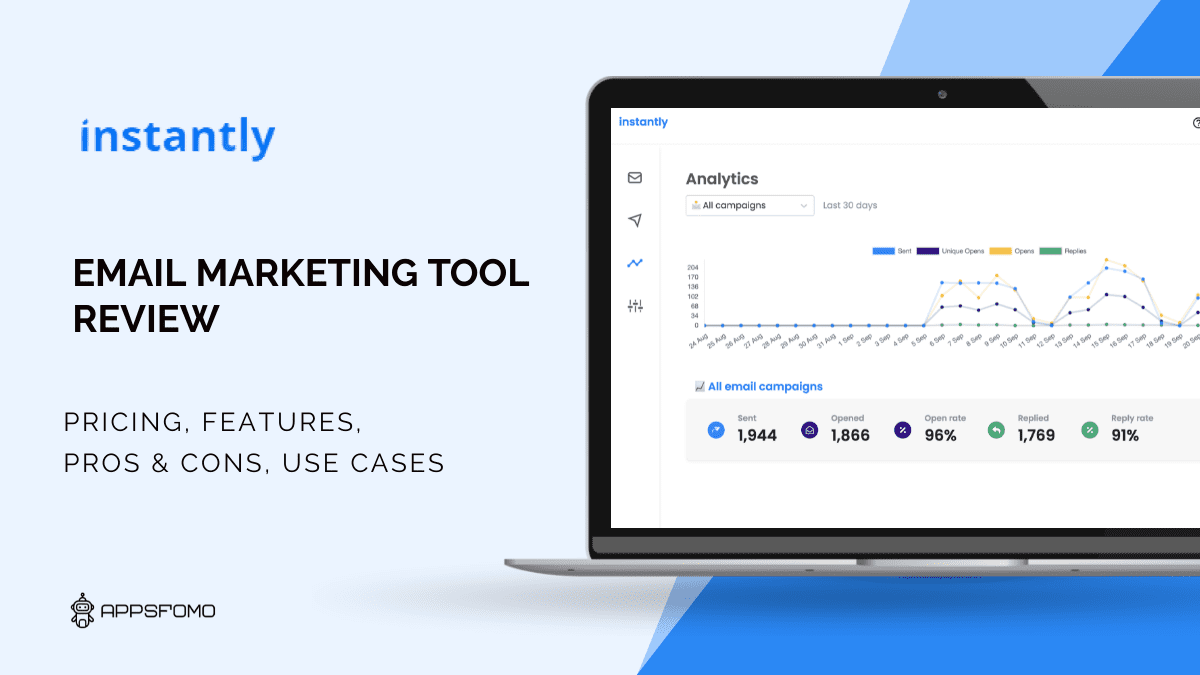 Instantly: The AI-Powered Cold Email Campaign Management Platform