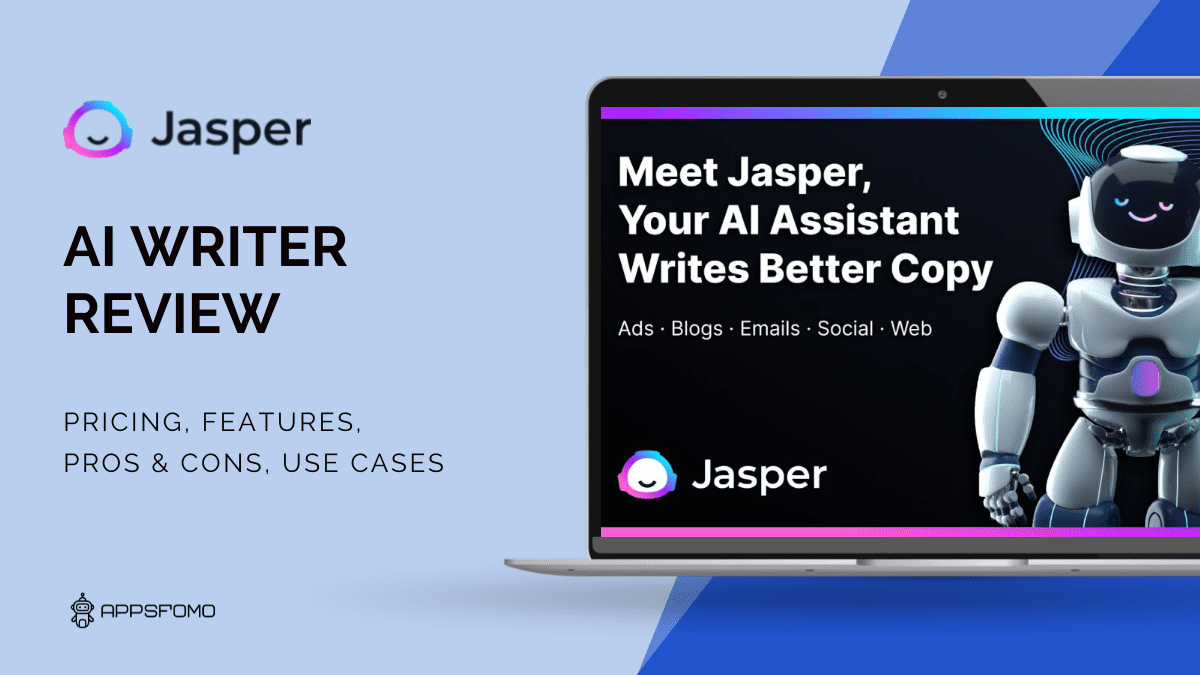 Jasper: The AI Content Generator for Creating Original Content Faster
Add to wishlist
Added to wishlist
Removed from wishlist
0
Add to compare
Are you in search of the best copywriting tool? If you are looking forward for getting the best writing assistant for your business, Then here you go! We have Jasper AI.
Jasper.ai is a copywriting tool that employs artificial intelligence to write content for your website or blog. This can be a great help when you want to quickly create content, without having to spend time writing it yourself.
Jasper assists writers in breaking through writer's block by assisting marketers, content writers, and entrepreneurs. Your blog posts, Facebook ads, marketing messages, website content, and other items may all be written by this AI called Jasper. Works with a wide range of industries and goods! Even your grandma can sell her mittens because it's so easy to use.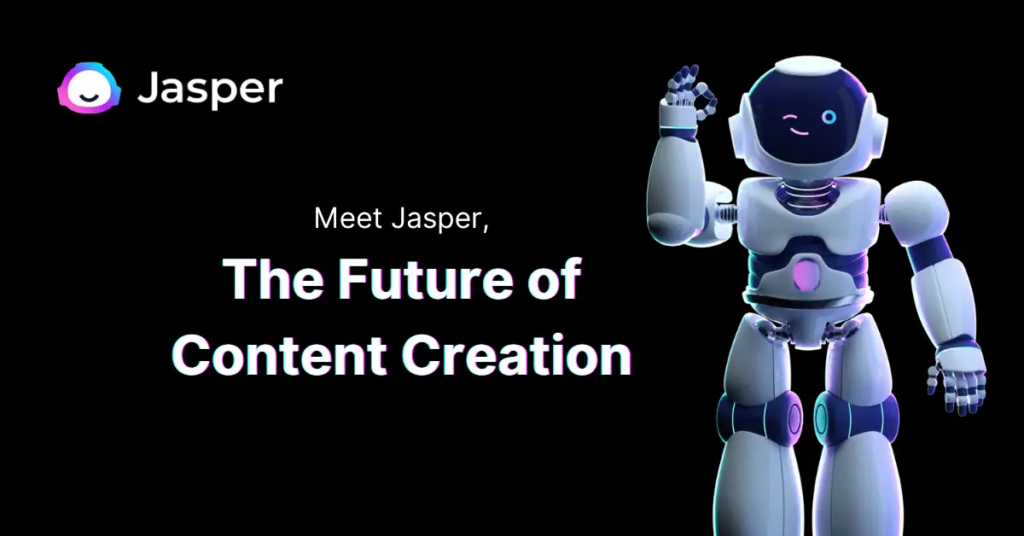 With Jasper, you can generate a never-ending stream of content ideas that are always tailored to your brand's needs in real-time. You can also save any idea for later use by importing it into your favorite writing app. Jasper helps you generate original, eye-catching, and engaging content that will stand out among other clickbait titles on the internet – without any writer's block! It empowers you and your team to generate amazing, original content 10X quicker by removing creative blocks.
Other features include document revision history, search functionality, multiple languages, and image generation. These tools make it easy for businesses to keep track of their content creation workflow and reach target audiences effectively.
The Jasper writing assistant is a useful tool for businesses of all sizes. It helps businesses create content quickly and efficiently without having to worry about the day-to-day aspects of writing copy.
How does it work?
It works with two plans shown below:
Starter Plan
A starter plan is a great option for customers who want quick wins for short-form writing such as advertisements, social media posts, and conversion copywriting. With the starter plan of Jasper, you can improve your copy and spark fresh ideas 5x faster than with free plans.
The starter plan offers 50+ template options and a free trial before a paid subscription is required. Also, it provides a powerful set of writing tools to help you craft compelling content in a jiffy. Whether you are a marketer or writer looking for ways to improve your copywriting skills or a writer looking for free writing templates to use in your next blog post, the starter plan of Jasper is a great place to start your writing journey.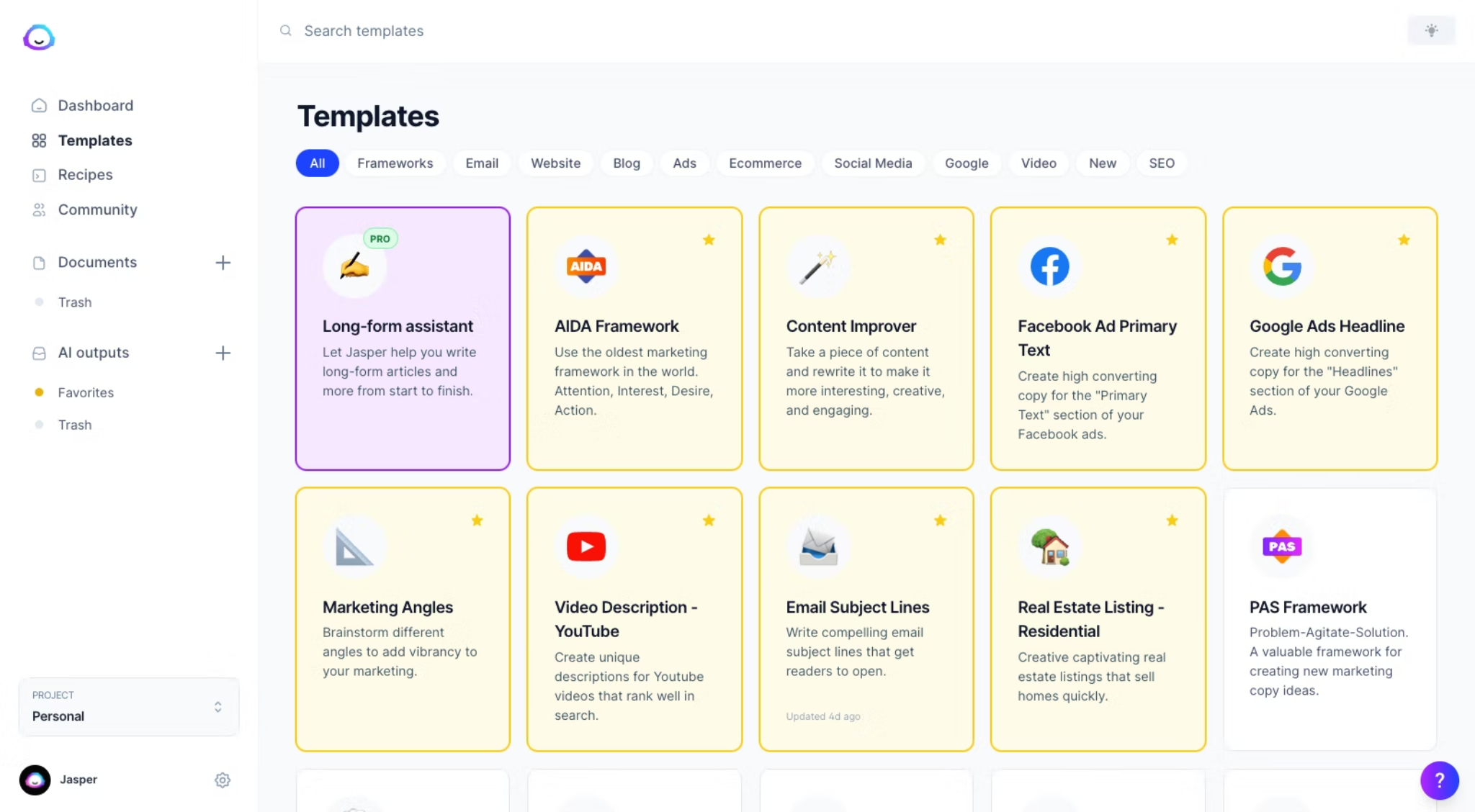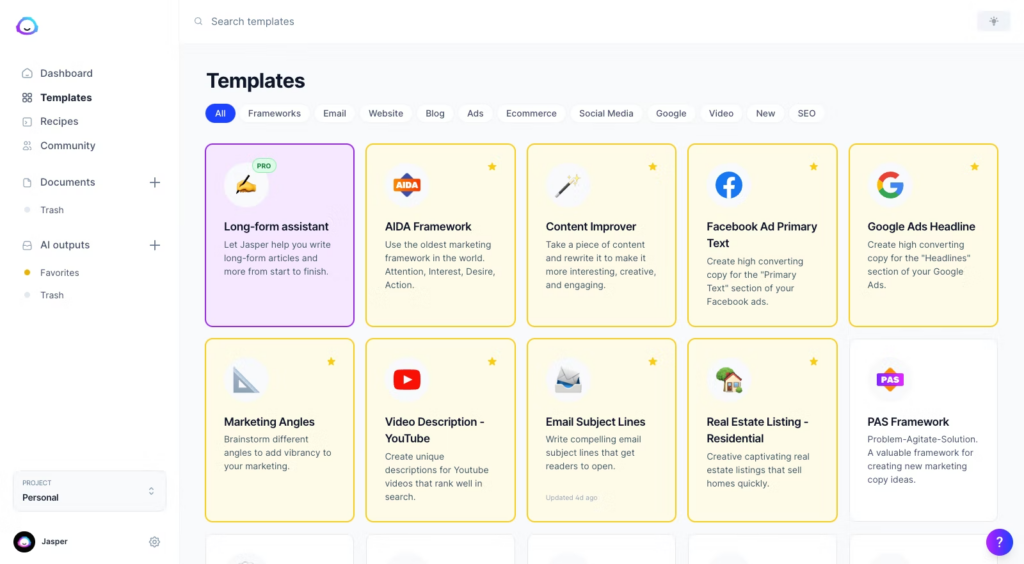 The Starter Plan is set at $29/month and includes up to 600 characters of output, 20,000 words per month, unlimited user logins, 5 project folders, and 50+ copywriting templates. It also comes with a 7-day money-back guarantee.
This is a scaled-down strategy intended for producing short copy suitable for Facebook Ads, social media posts, or brief email blurbs due to the low restriction of just 20K words per month. Remember that the 20K restriction isn't based on how long the emerging article is, but on all of the AI generations that Jasper generates while creating content (whether good enough to utilize or not). You might be able to write one blog entry or two, depending on how much memory you have.
Boss Made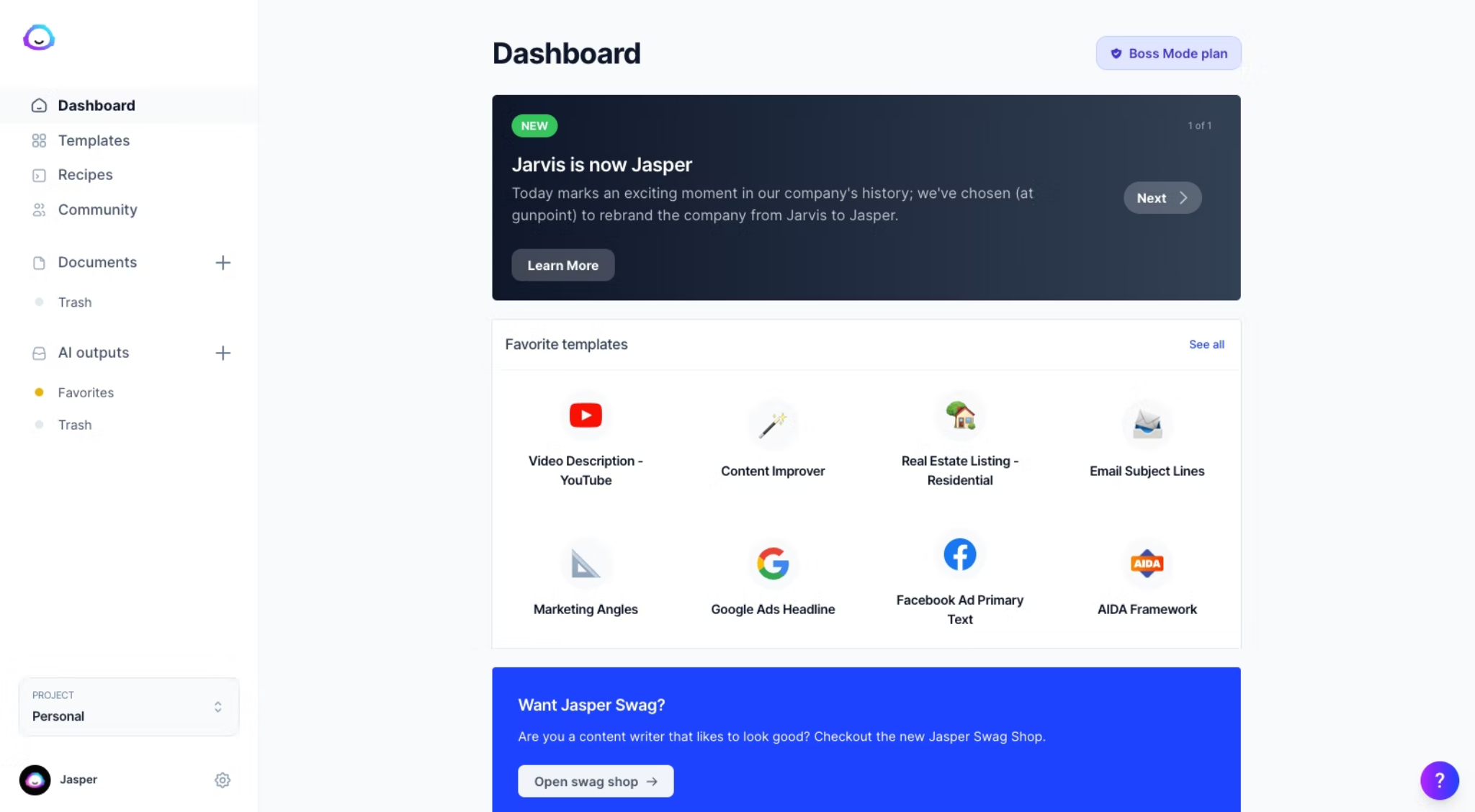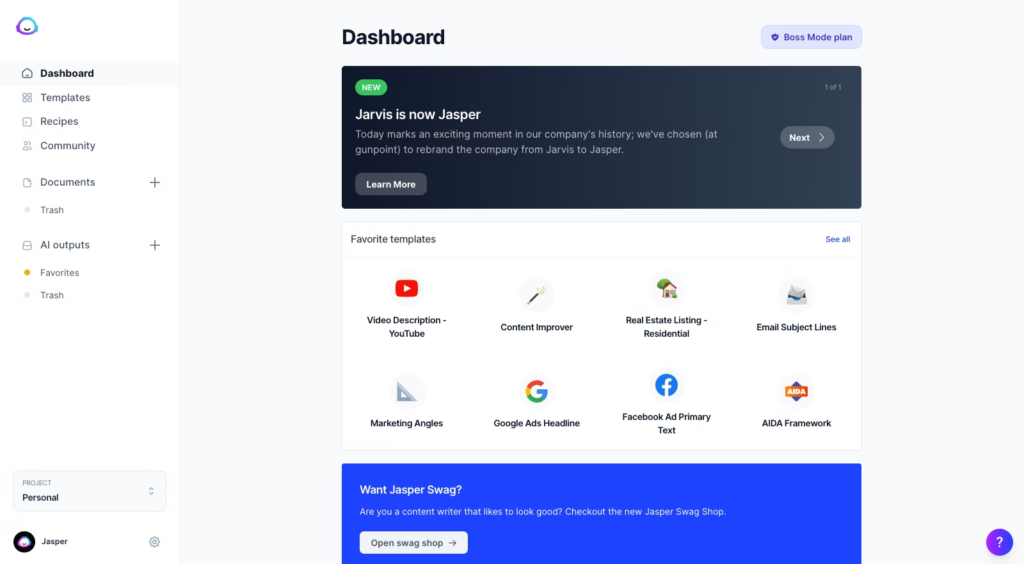 When you upgrade to Boss Mode, you'll be able to write 5X quicker on Write Blog Posts. Write high-quality, 100% original content that is also SEO optimized. If you want to write content like blog articles, social media posts, and stories then BossMode is a must. It starts from $59 per month.
The quickest way to produce long-form material that is unique and plagiarism free is by choosing Boss Made Plan. In just a few minutes, you can switch between Jasper's 50+ writing skills, such as the blog headline and storyteller, to produce the perfect piece of content.
You can write commands to tell Jasper what you are going to create and run the command to see the magic. Also with its Surfer SEO collaboration, you may optimize your material to rank for important keywords. You can also write and translate in 25 different languages. Keep your team organized with folders for your clients and multiple projects. Grammarly is built into its editor so that you can generate grammar-rich content easily. This is the strategy for you if you want more say over what Jasper writes beyond their current templates.
Company Details
With Jasper, anyone from individual freelancers to creators at enterprise companies can break through writer's block, repackage what they've written, create original images, and adapt their content to different formats and languages.
Jasper has been recognized as "one of America's fastest-growing private companies" by Inc. 5000. Jasper was established in 2020 by Dave Rogenmoser and John Philip Morgan in Austin, Texas.
Jasper has 11 investors, including Founders Circle Capital and Insight Partners. Jasper raised $131M funding to date.
Online Presence
Jasper Key Features
AI Content Generator
Business Features
Jasper is a content creation tool that helps marketing and sales teams create high-quality content faster. In this Business feature, you can use workflows and templates to turn one piece of content into a whole campaign. A customizable interface and numerous template workflows allow users to create content quickly and easily. Collaborating with a team online has never been easier. You can invite team members from all across the globe to work on the content and see updates in real-time. Plus, tailoring your plan to suit your unique needs will allow you to unlock all of your word credits upfront.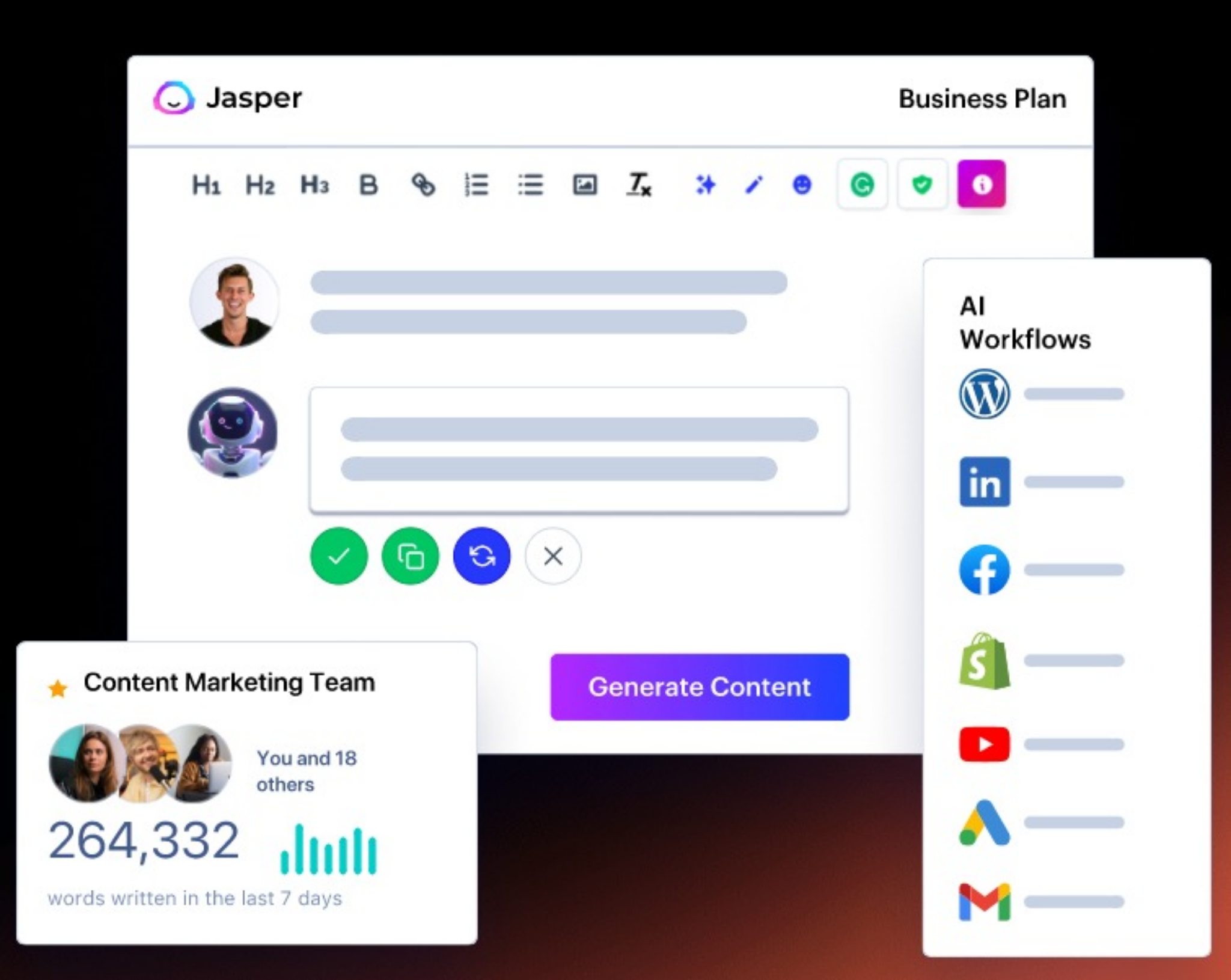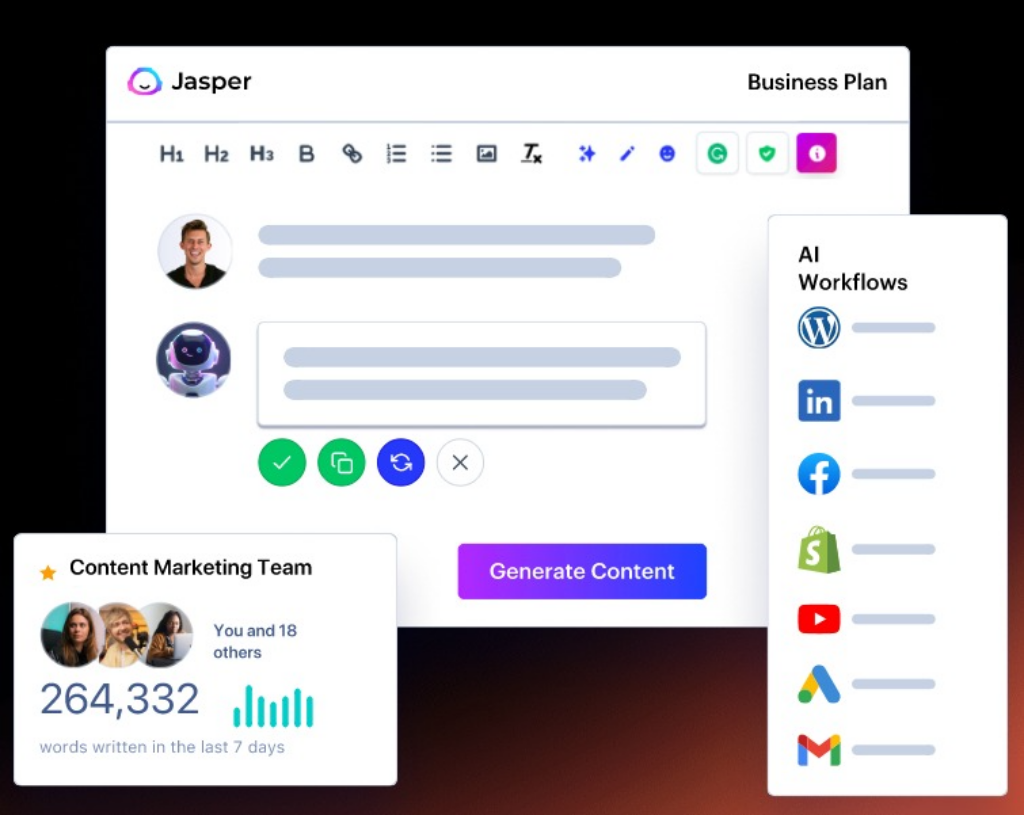 This feature enhances efficiency by streamlining your content production and optimizing content for creativity and ROI to increase business efficiency.
Jasper Art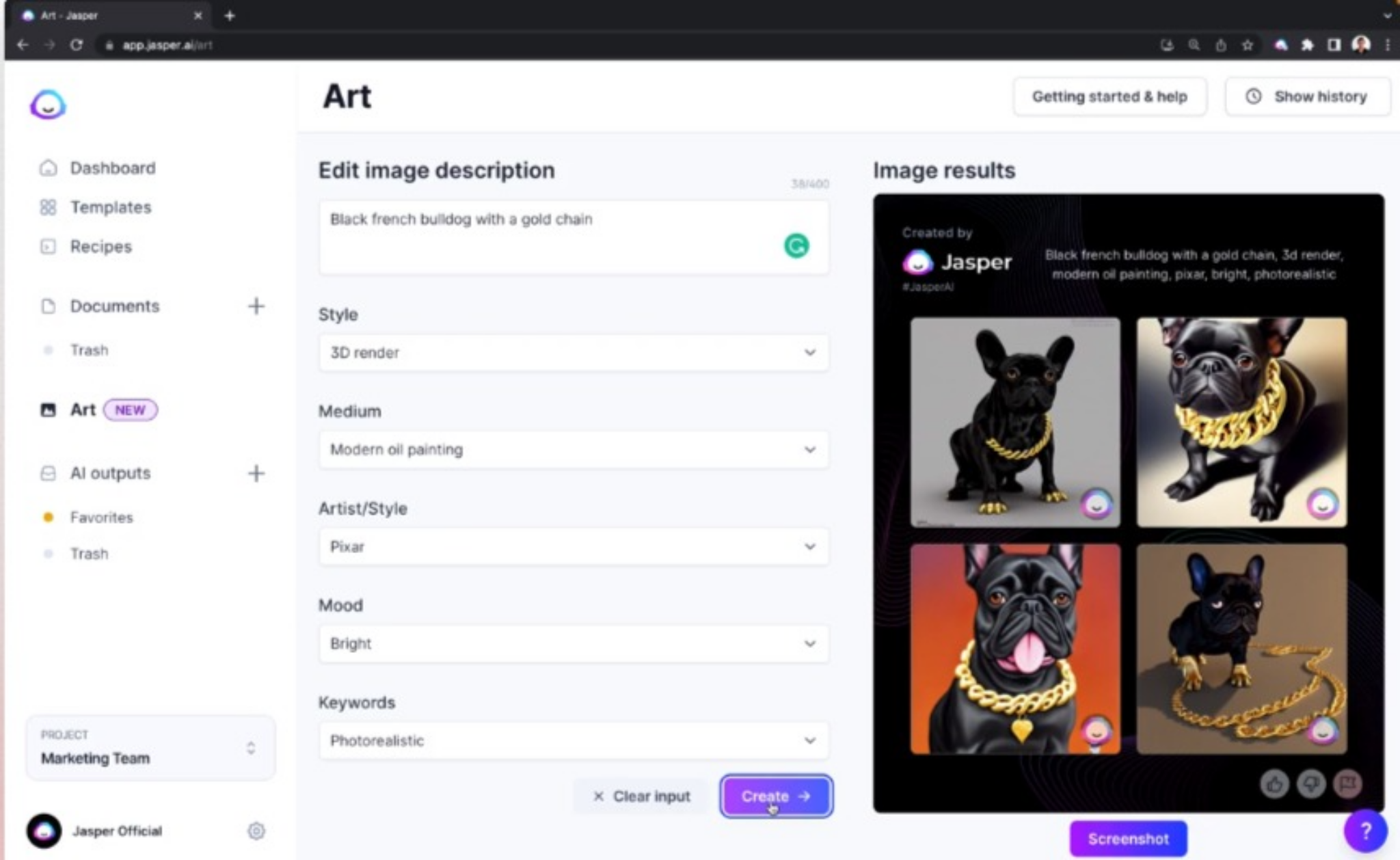 Jasper is a creative tool that helps you create amazing content quickly and easily. With a simple prompt, it generates a set of AI-generated images in a matter of seconds. You can then save, share, or use your copyright-free image.
You can create stunning art in mere seconds with Jasper Art. With your words, you can produce pictures. With the support of an AI, Jasper can now write both unique material and produce new photos that are totally customized to your preferences.
Jasper Chat
Jasper Chat is a natural-sounding artificial intelligence (AI) chatbot designed to interact with users in a natural and engaging way. By using artificial intelligence, Jasper Chat is able to engage with users in a way that feels natural and engaging. You can simply ask your friendly AI chatbot to generate ideas, revise your content, or make you laugh. It's a fun and effective tool for creating and refining content quickly and easily. Overall, Jasper Chat is a useful tool for creating and communicating content quickly and easily.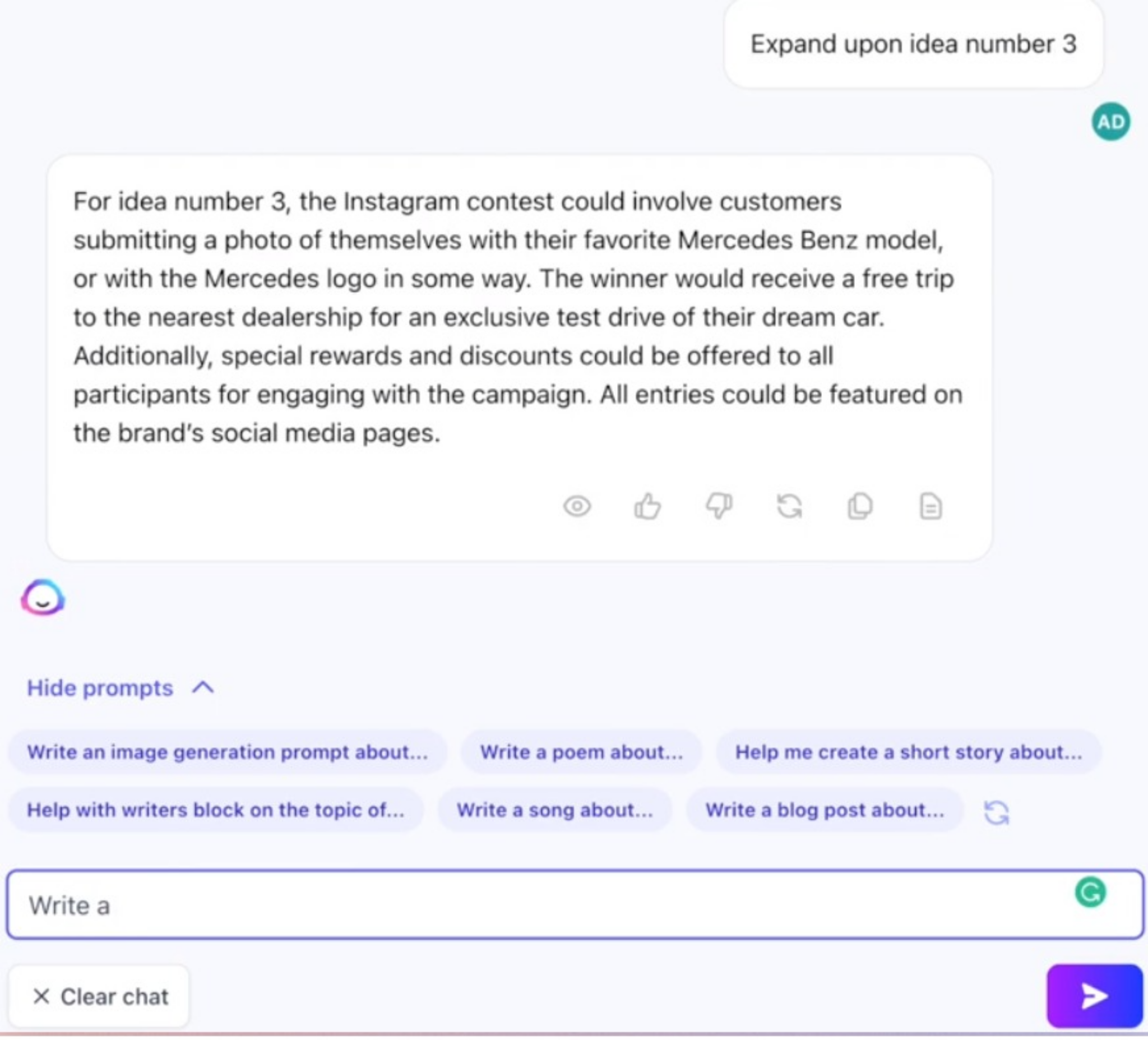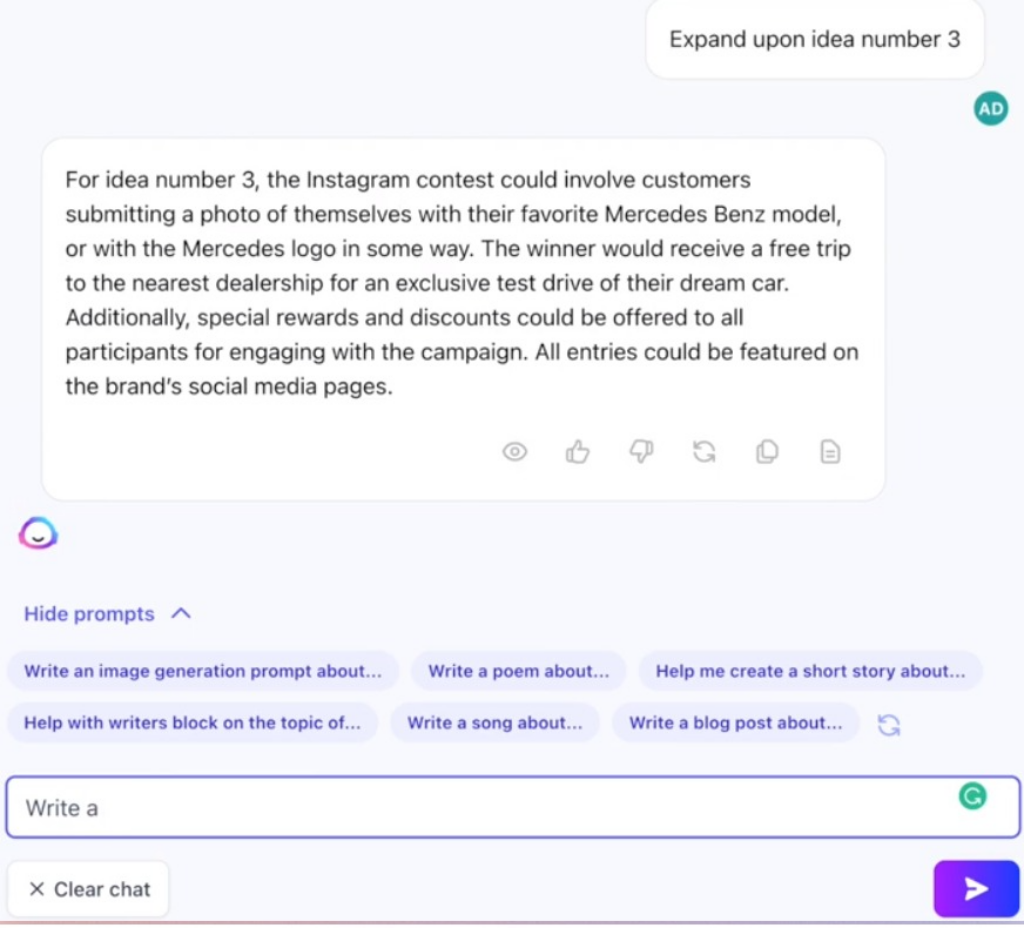 Chrome Extention
With the Jasper Chrome Extension, you can write better anywhere online. To introduce artificial intelligence into your content workflow, add the Jasper extension to your Chrome browser.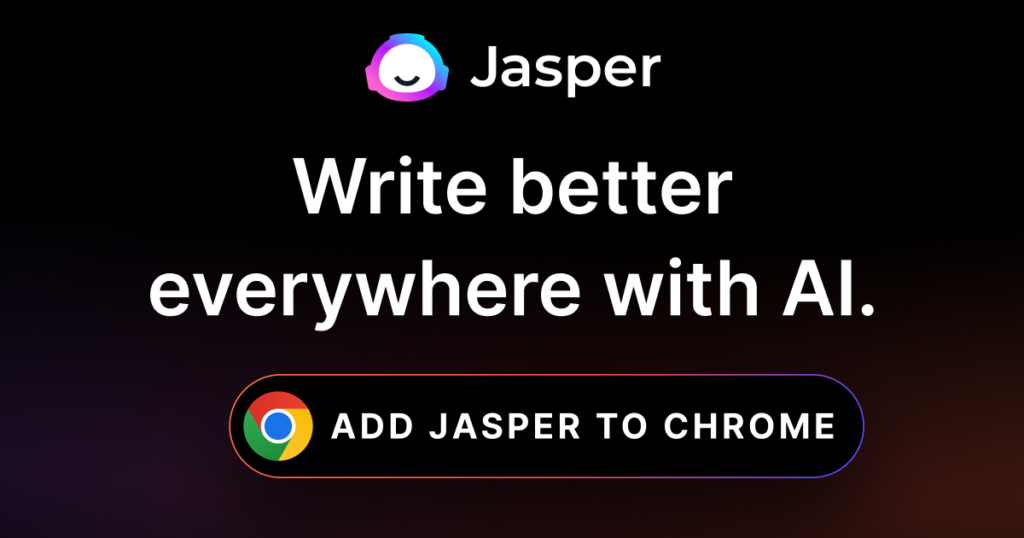 Create better content 10X faster when you bring Jasper into your workflow.
Surfer SEO Integration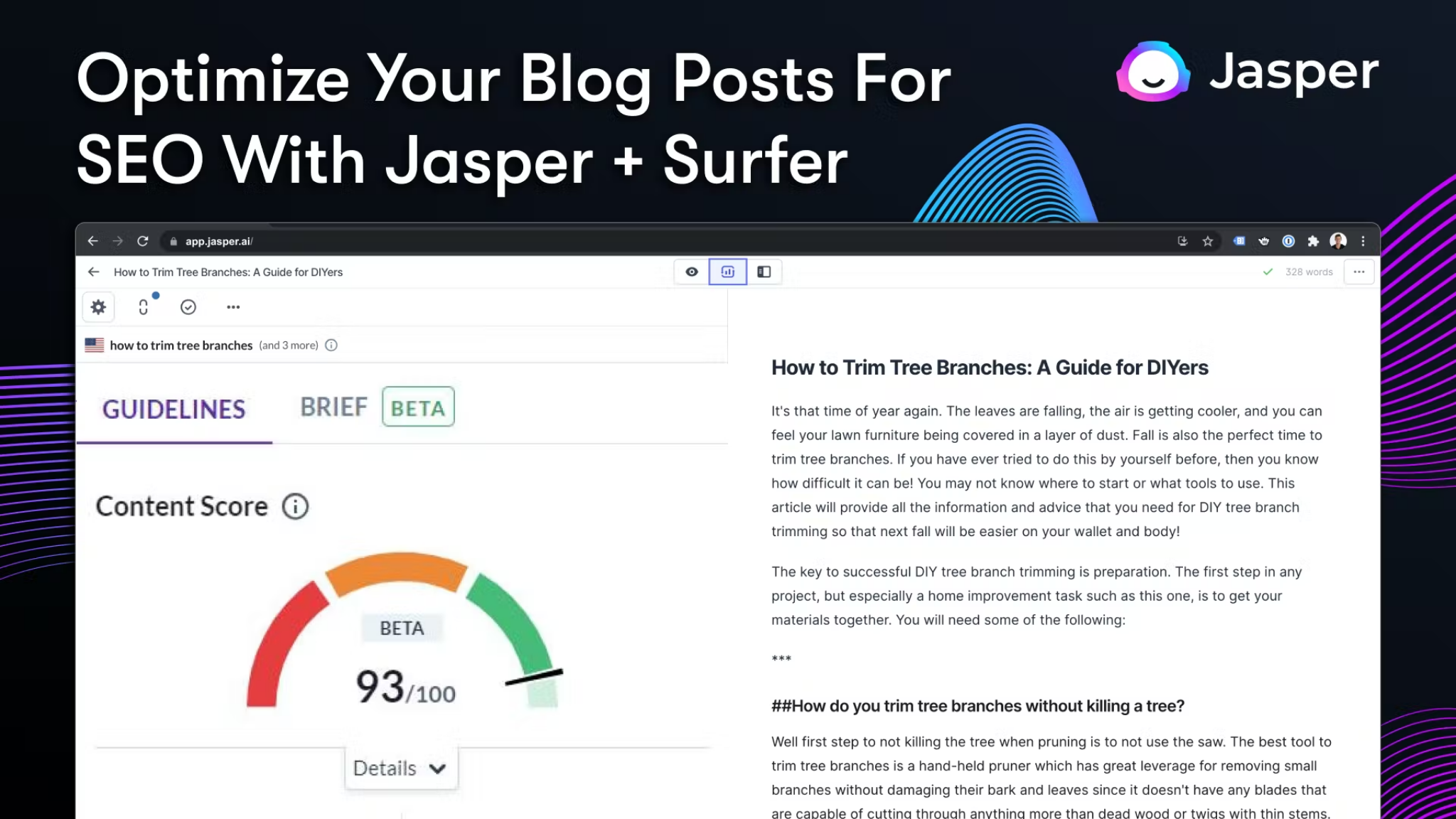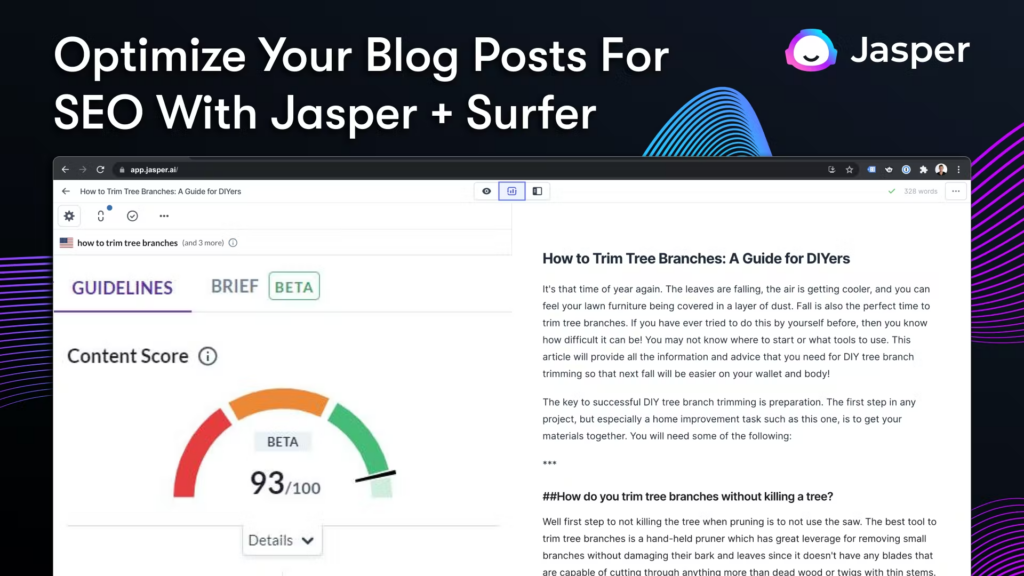 Surfer, an SEO software that examines the content of your page against 500 different signals and compares it to the top-ranking web pages on Google, is integrated with Jasper AI. Together, these two tools can be used to write blog posts at lightning-fast speeds that also will rank on Google quickly. In order to use the Surfer SEO integration with Jasper.ai, you will need to also purchase a subscription to Surfer SEO. The Surfer SEO integration is an optional add-on.
Now you can easily write epic blog posts with Jasper AI for WordPress that uses free SEO tools such as the RankMath plugin to help your blog posts written with Jasper rank on Google.
Plagiarism Checker
Jasper.ai is a plagiarism checker tool that uses artificial intelligence to detect plagiarism in written work, including essays, research papers, and other writing projects. The tool can be used to identify instances of plagiarism quickly and easily, without the need for a human reviewer. It allows users to specify the type of content they are reviewing, and automatically checks for any similarities between the original source and the copy-pasted content.
Multi-Language
Jasper.ai is available in multiple languages (26+) including English, Spanish, French, Italian, German, and Dutch. This makes it an ideal tool for businesses that need a tool to conduct business in multiple languages. With a single interface, Jasper.ai can convert text from various sources into a common language and automatically perform a range of tasks on the converted data such as grammar checks or translation. It allows businesses to save time and resources while making their operations more efficient and accurate.
Why Use Jasper
Use Cases and Benefits
10X your content output
Write copy and content that converts
Brainstorm new ideas.
Write better, everywhere.
Build an AI-Powered business.
Collaborate with your team
Create content in 26 languages
Enterprise ready security
50+ Templates
Boss Mode features
Preferable for creative and Market team
SEO Indexing
Create Social Media Content
Chrome Extension
Document sharing and permissions
Personalized onboarding and training
Easy login
Free to try
Pricing Plans
Monthly Pricing and Annual Pricing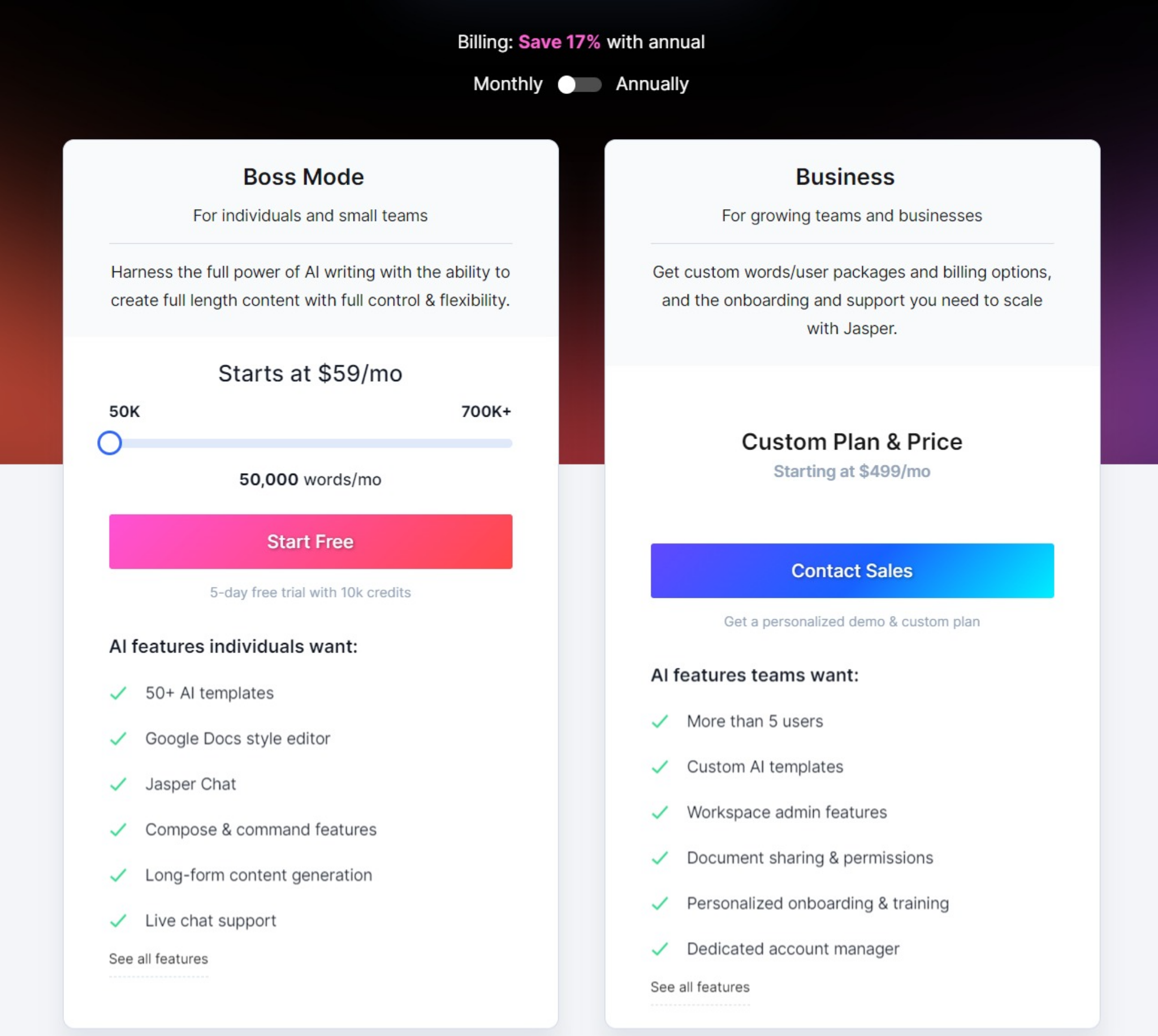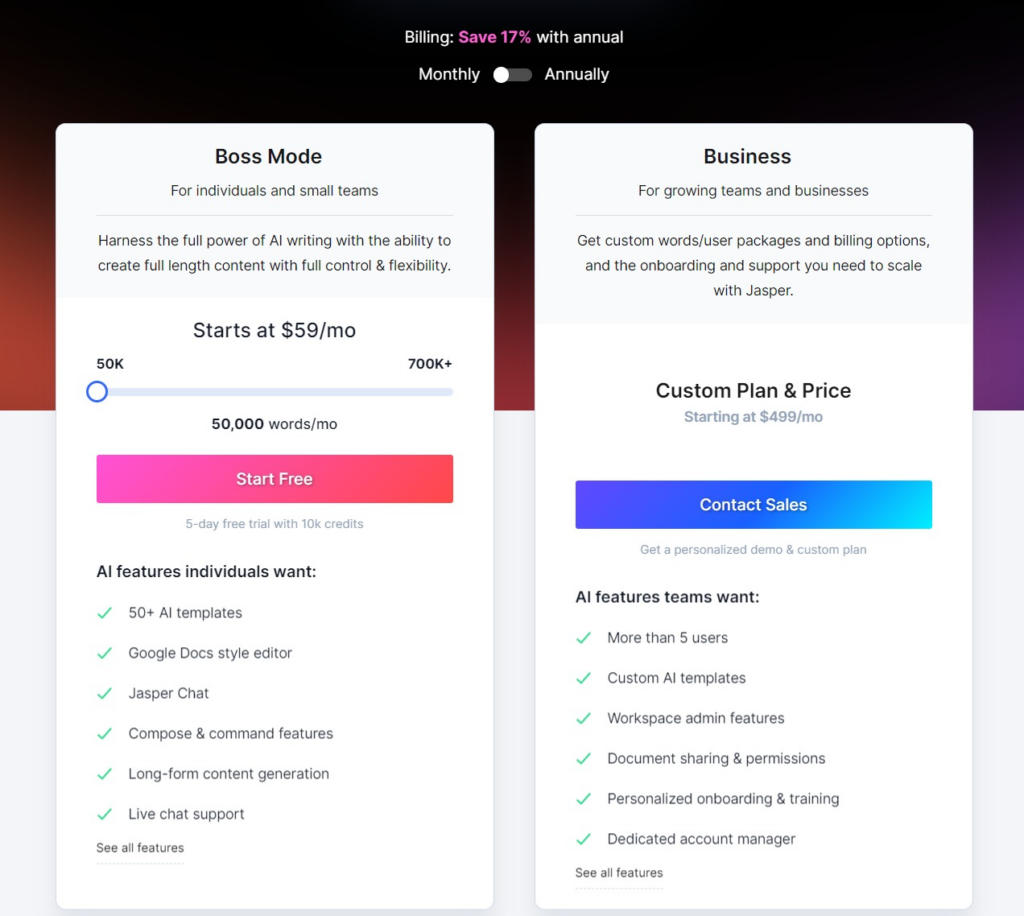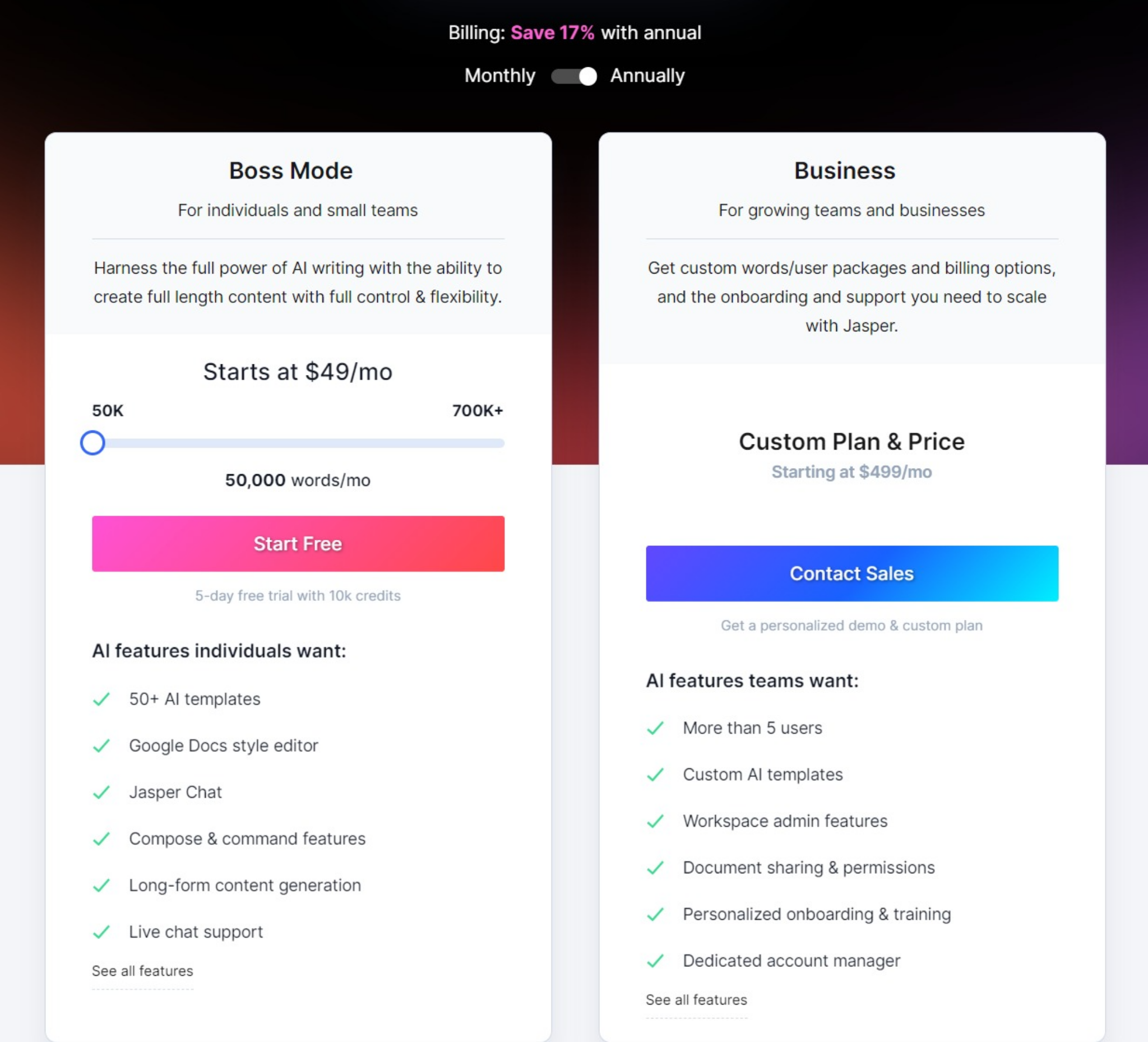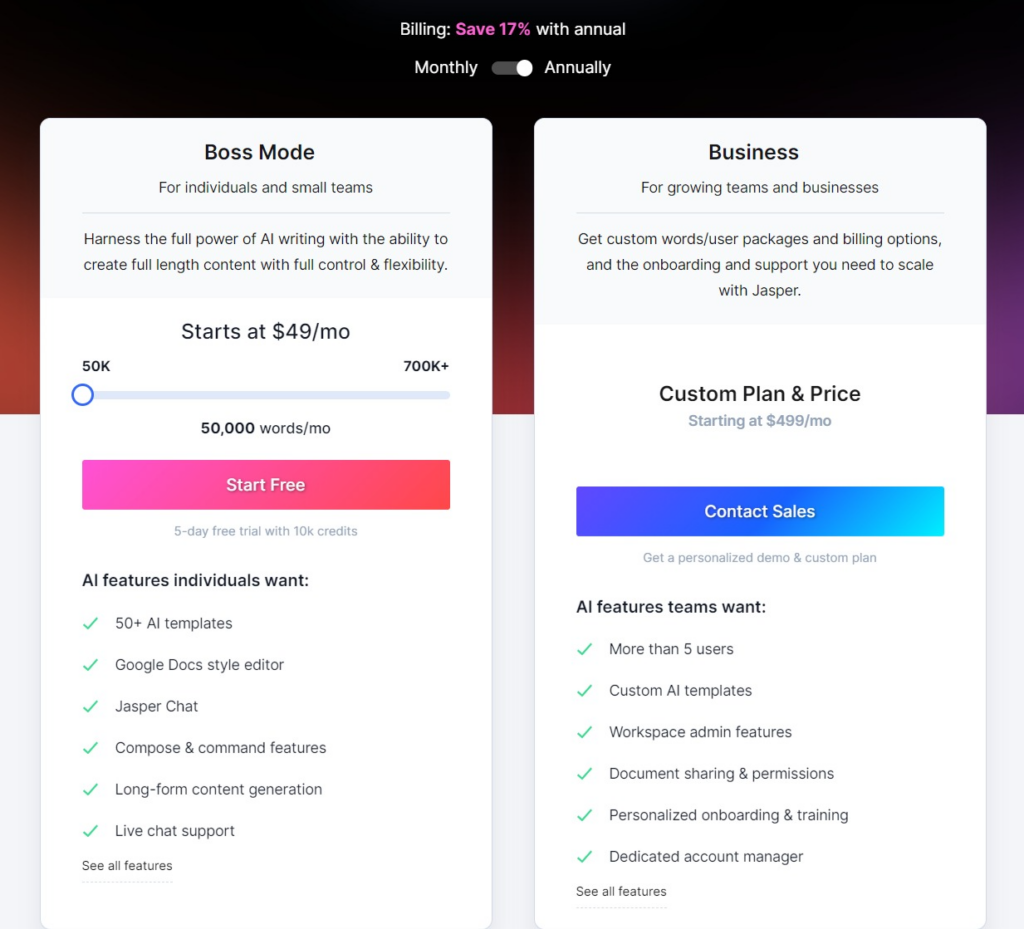 Support
Technical Support, Knowledge Base, Roadmaps, Changelogs
Sample Item #1
Sample Item #2
Sample Item #3
Alternatives
Similar Apps
Scalenut is a content marketing platform designed to help businesses to create quality writing and engaging content across all channels.
Writesonic is a versatile tool for writers of all levels. Use the AI Writer to create long-form blogs and articles. The AI writer will help you write SEO-optimized, long-form blog posts, and articles
peppertype.ai virtual content assistant helps you quickly generate high-quality content for a range of purposes, from marketing copy to product descriptions to search engine optimization.
Final Verdict
Is Jasper right for You?
Jasper is a very useful tool for all your content needs. It is an easy-to-use and well-designed tool that helps in producing high-quality content within minutes. Jasper AI Review has been going on for a long, which means it is a reliable tool to use when you need help with writing the right kind of articles.
In a nutshell, Jasper AI is the best choice for you if you want to write articles that don't have any flaws and have no plagiarism issues. Also, with the help of this tool, you can produce content that gets indexed by Google in no time. So, I would highly recommend this tool to all those who are looking forward to writing good quality content on their blog.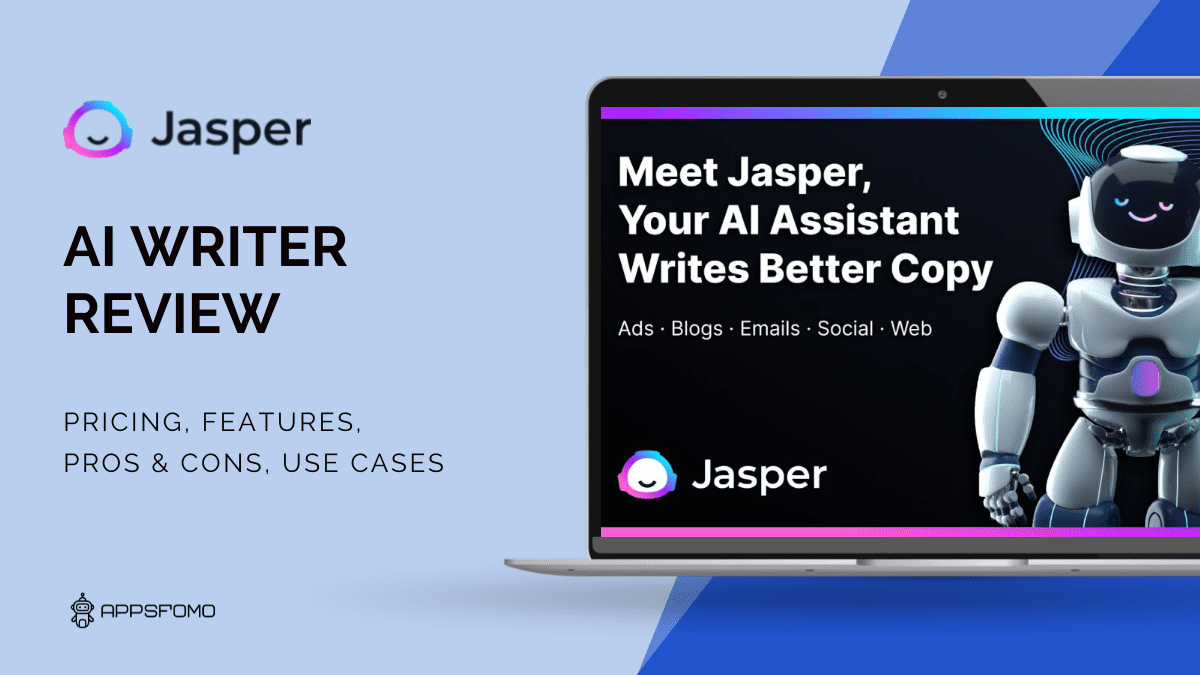 Specification:
Jasper: The AI Content Generator for Creating Original Content Faster
| | |
| --- | --- |
| Review Date | January 2023 |
| Company | Jasper |
| Country | USA |
| Initial Release | 2020 |
| Pricing | Annual Payment, Montlhy |
| Free Version | Available |
| Lifetime Deal | No |
| LTD Platform | N/A |
| Money-Back | N/A |
| Support type | Email, Facebook Group, Live Chat, Ticketing |
| Integrations | Yes |
| Supported Device | Browser, Web Based |
| Mobile app | Not Available |
| Affiliate Program | Yes |
PROS:
Easy-to-use and User-friendly Interface
Provide creative, engaging, and ethical content.
Can integrate with SurferSEO and Grammarly
Jasper Command function is the best feature
The ability to control the tone is great.
Gives quality content for blog posts.
CONS:
It would be great if the product review tool also accepted more characters as input.
It does have a small learning curve when using Boss Mode.
A bit expensive if one doesn't use it on a weekly if not daily basis.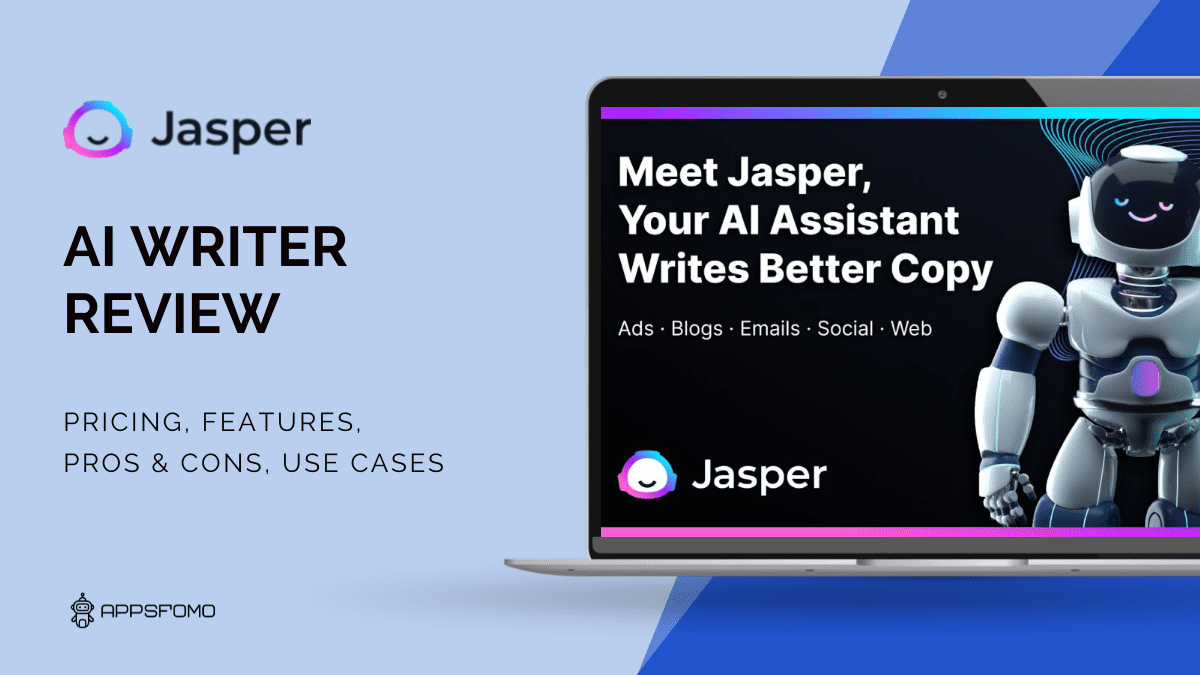 Jasper: The AI Content Generator for Creating Original Content Faster