Kadence Theme: Build Modern WordPress Website with Gutenberg
Add to wishlist
Added to wishlist
Removed from wishlist
1
Add to compare
| | |
| --- | --- |
| Review Date | 08-01-2021 |
| Author | Ben Ritner |
| Company Name | KadenceWP |
| Marketplace | Own Site |
| Free Verison | Available on WP.org ,Available on Own Site |
| Initial Release | 2014 |
| Active Installations | 1M + |
| WP.org Ratings | 5 |
| Niche | Design, Modern, Multipurpose |
| Free Templates | 20+ |
| Premuim Templates | |
| Unique Theme Features | Modern Demo templates |
| eCommerce Support | |
| Supported Page Builders | |
| One Click Demo | Yes |
| Multilang Support | |
| Pricing Options | |
| Money Back Guarantee | |
| Site Usage | Unlimited Sites |
| Support System | Email,Support Ticket |
| Competitor | Astra,Generatepress,OceanWP |
| Affiliate Program | Yes |
Kadence is simple, effective, and lightweight WordPress theme is rather hard. Among the new developers on the block now, Kadence is the most popular and trending WordPress theme. It boasts top quality functions that make it rather very easy for you to design a style a website.
You will get:
Well-coded, clean, and user-friendly
Modern Starter Templates
Cutting-edge Elements Feature
Good Third-party Integrations
Lightweight and fast-performing
Supports popular page builders and plugins
Kadence theme Review
Gutenberg Based Modern WordPress Themes
PROS
Well-coded, clean, and user-friendly
Modern Starter Templates
Cutting-edge Elements Feature
Good Third-party Integrations
Lightweight and fast-performing
Supports popular page builders and plugins
CONS
Starter Templates are Limited
Limited page builder support
Choosing the right WordPress theme for your website is crucial. It can make or break your online presence, and ultimately impact your business growth. Among a plethora of WordPress themes available in the market, Kadence Theme has gained immense popularity for its exceptional features and easy-to-use interface.
So, what exactly is Kadence Theme? How does it work? What are its free and pro features? And how is it different from other themes out there? In this blog post, we will explore everything you need to know about Kadence Theme. We will also review its pros and cons, discuss its alternatives, and help you decide if it's the best WordPress theme for your website.
An Overview of the Kadence Theme
What Is KadenceTheme?
Kadence Theme is a popular WordPress theme that allows users to create fast-loading, accessible websites easily. It features a drag-and-drop header and footer builder and offers a full library of starter templates that can be easily modified with global font and color controls.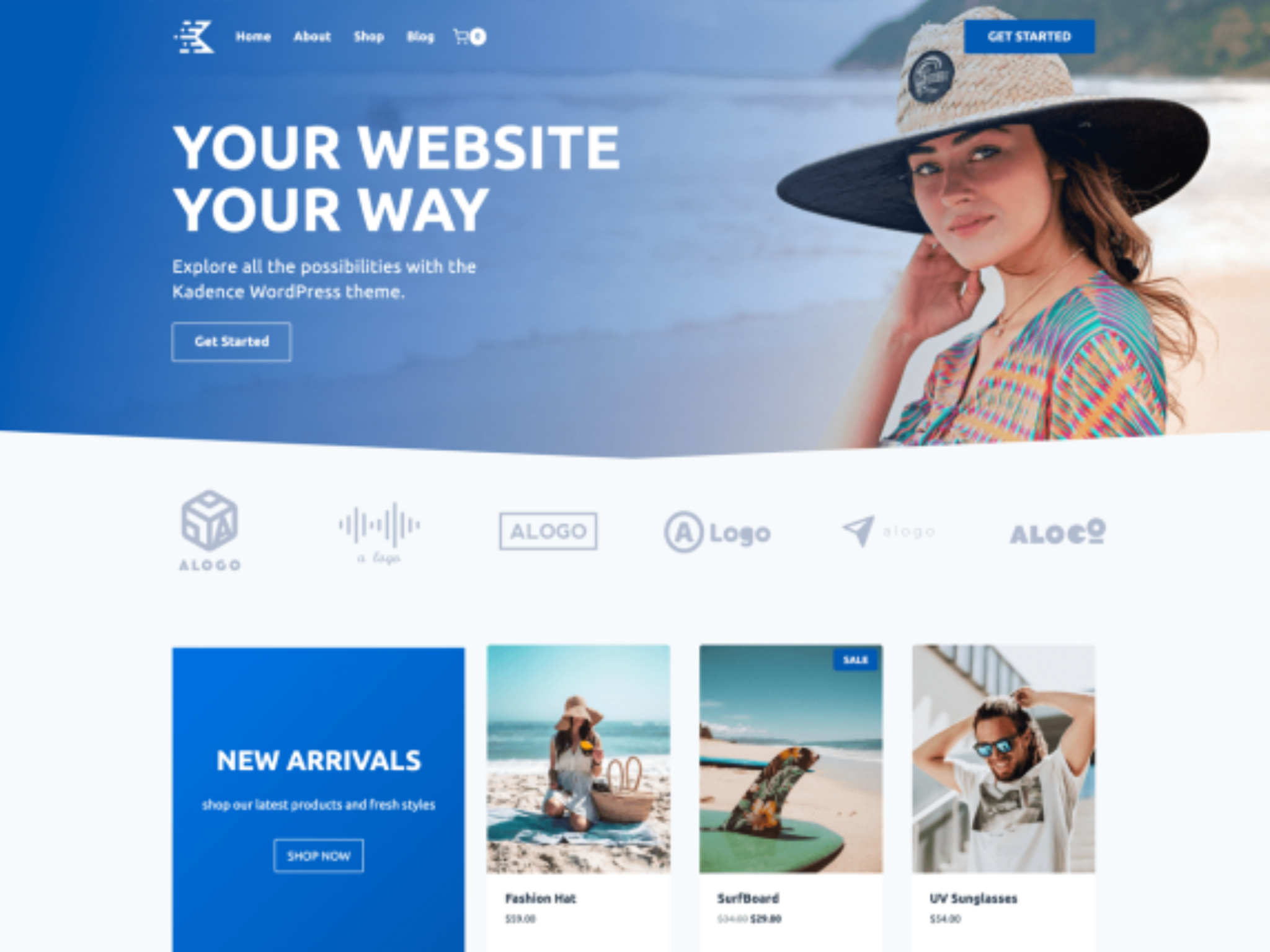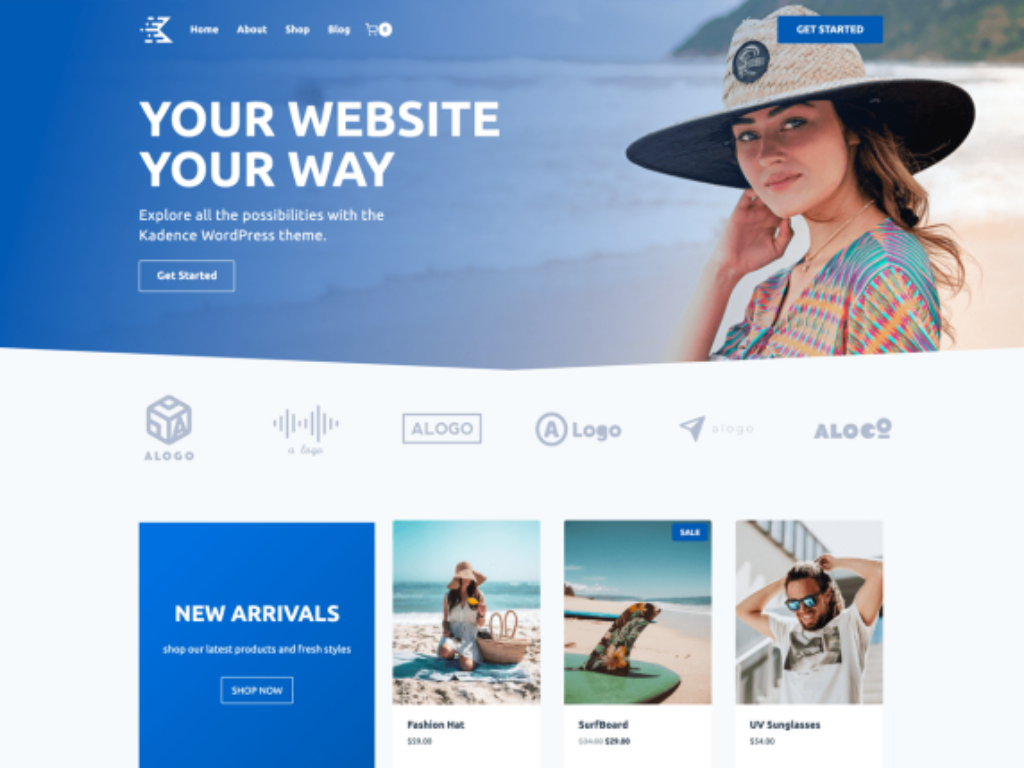 The theme is lightweight yet packed with features, making it perfect for creating e-commerce, course, business websites, and more. Additionally, it has extensive integration with the most popular third-party plugins to help build impressive websites quickly. Overall, Kadence Theme is an excellent option for anyone looking for an easy-to-use and feature-packed WordPress theme.
Seems like Kadence is giving tough competition to top themes in the market like GeneratePress, Astra, and OceanWP. Kadence is a modern theme offered in two variations – A free version as well as a premium version.
What Kadence is all about?
To add an extra touch to Kadence, developers of Kadence have created a Gutenberg-based block builder called "Kadence Blocks" that makes it easier for you to tailor the theme.
Kadence Blocks has a free and a pro variant as well.
Kadence works well on any kind of site. Whether it is a blog, portfolio, eCommerce, or any other site you can think of.
The company behind Kadence owns sells 4 different themes– Kadence, Ascend, Pinnacle, and also Virtue. Kadence is the most popular of all, because of its versatility as well as faster upgrade cycles.
Many people, who used Kadence stated that the theme provides you with more choices than any other popular Paid WordPress theme out there.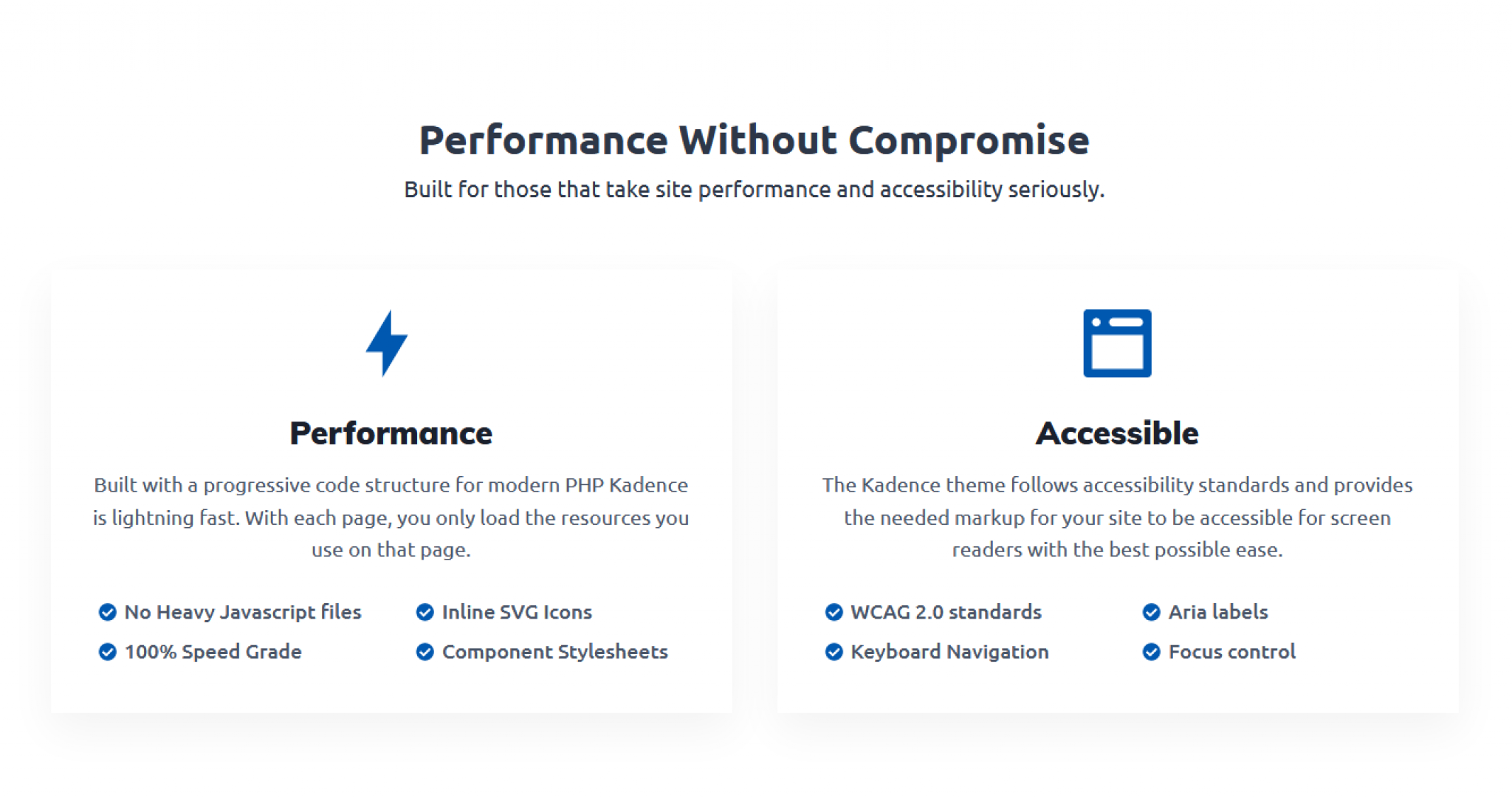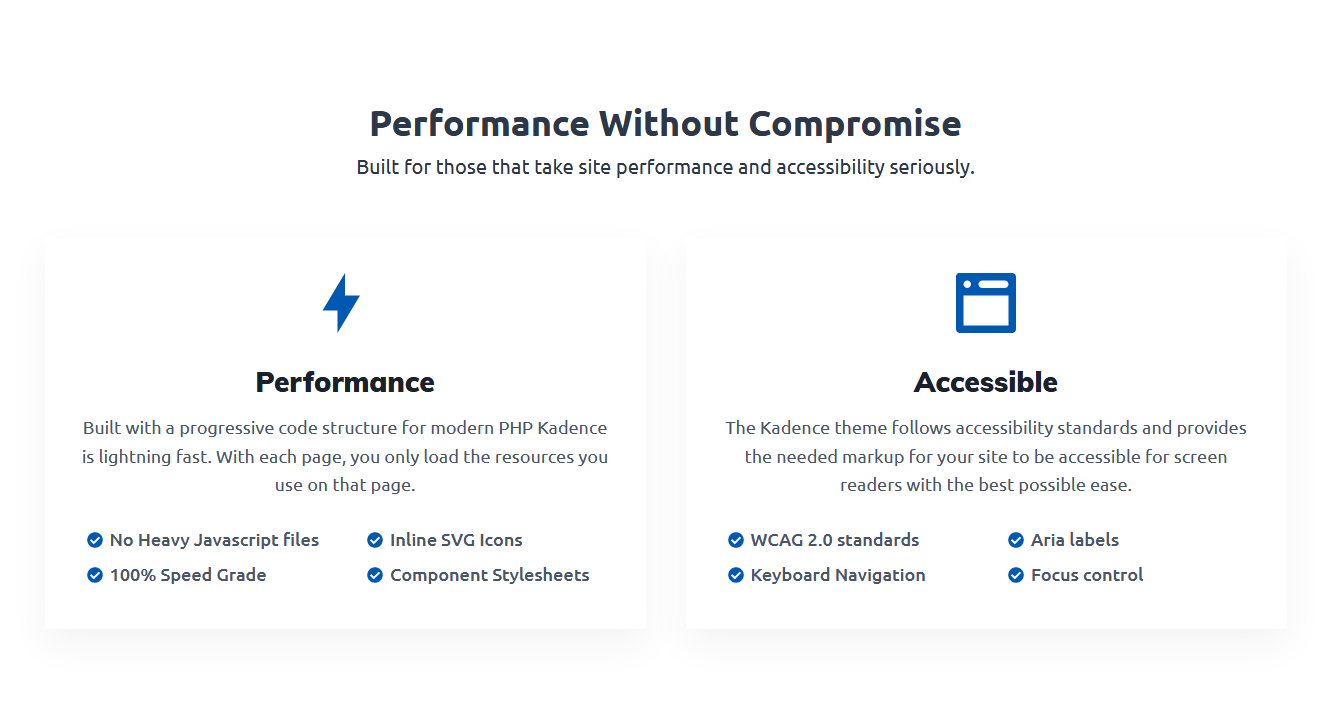 Kadence WP company details
Kadence WP Creates blazingly fast, accessible sites with Kadence Theme, Kadence Blocks & their suite of powerful plugins including Kadence Cloud and Kadence Conversions. The Kadence Blocks plugin is used by over 300,000 WordPress websites.
KadenceWP is a StellarWP brand at Liquid Web founded in 2014. The team is fully remote, attracting talent from around the globe.
The company is located in the beautiful city of Missoula, Montana.
Online Presence
How to Get Started for Free?
How Kadence Themes Work?
Kadence Theme even in its free version opens up a whole lot of customization options that the existing themes fail to provide. That's the reason why the theme is creating a lot of buzzes among Bloggers and WordPress users.
In minutes, you may construct and personalize custom-tailored websites. Install Kadence WP's Starter Templates from within your WordPress website for free to get started!
Install Kadence Starter Templates.
In your WordPress administrative dashboard, go to Plugins > Add New and search for 'Kadence Starter Templates.' Locate Starter Templates by Kadence WP and click Install Now, then Activate.
Choose a Starter Template.
Start your next website project with one of their professionally designed starter templates, which were built with you in mind. Leave the design to them. They will provide the following starter templates:
Personal Brands / Influencers
E-commerce Sellers
Online Course Creators
Local Businesses
Online Agencies
Event Marketing and Ticket Sales
Restaurants
Choose your Colors
Get started with one of the pre-designed color palettes, and then continuously refine your palettes to match your company brand identity.
Choose a Font
Get started with one of the pre-selected font pairings, and then choose from over 800+ built-in fonts to suit your needs.
Install and View
You may view and update your professionally constructed website with your own logo, text, photos, and more once you've downloaded it. That is really all it takes.
Free theme Features
Is it worth using Kadence for free
Kadence is a responsive WordPress theme that provides tons of features. The free version of the theme comes with a custom header and footer, blog support, and other useful features. The Kadence team provides 24/7 customer support, which is one of the reasons why it's so popular among users. Additionally, the theme is regularly updated with new features and bug fixes to ensure optimal performance. Overall, Kadence is one of the most popular WordPress themes available in the market today.
Starter Templates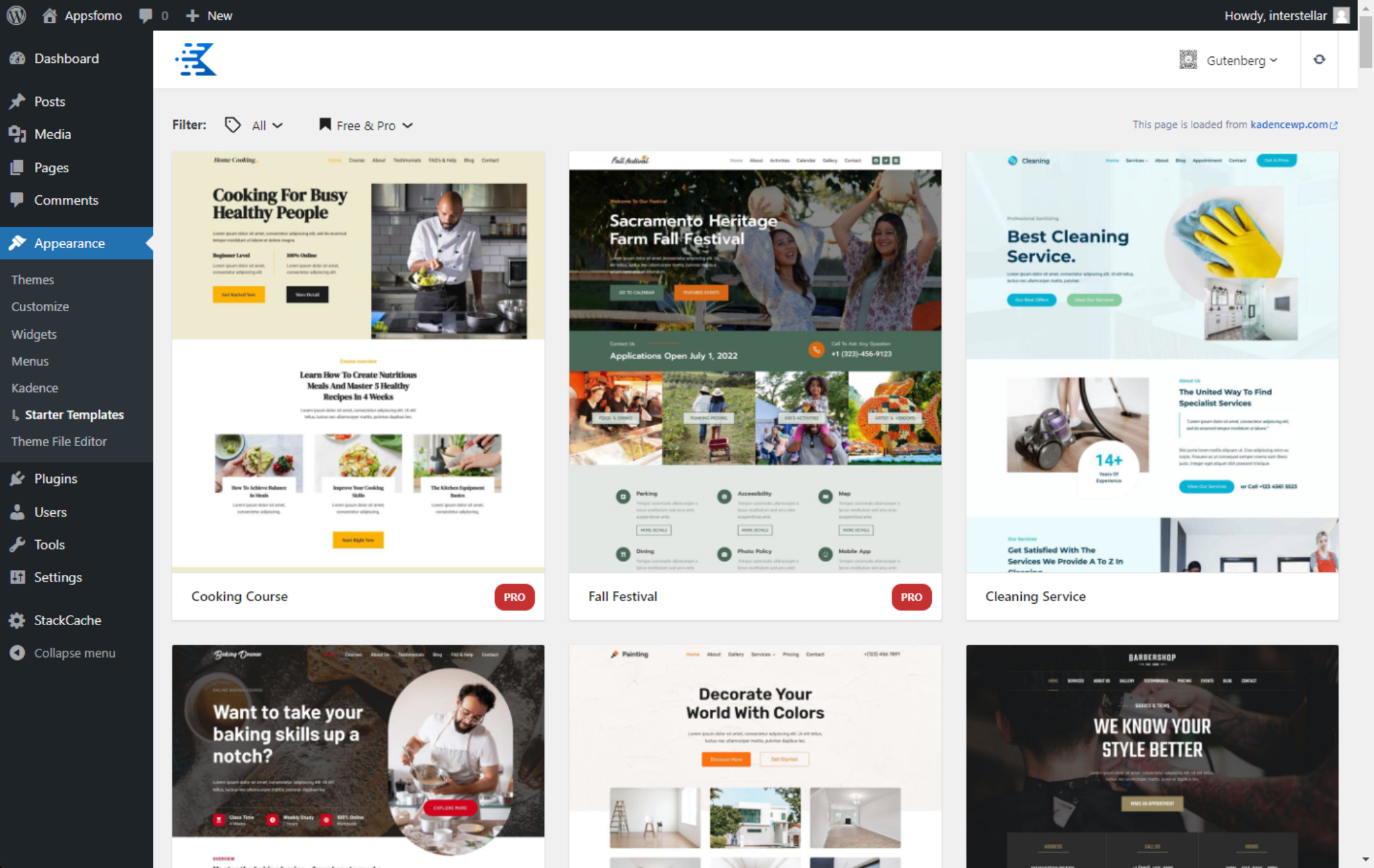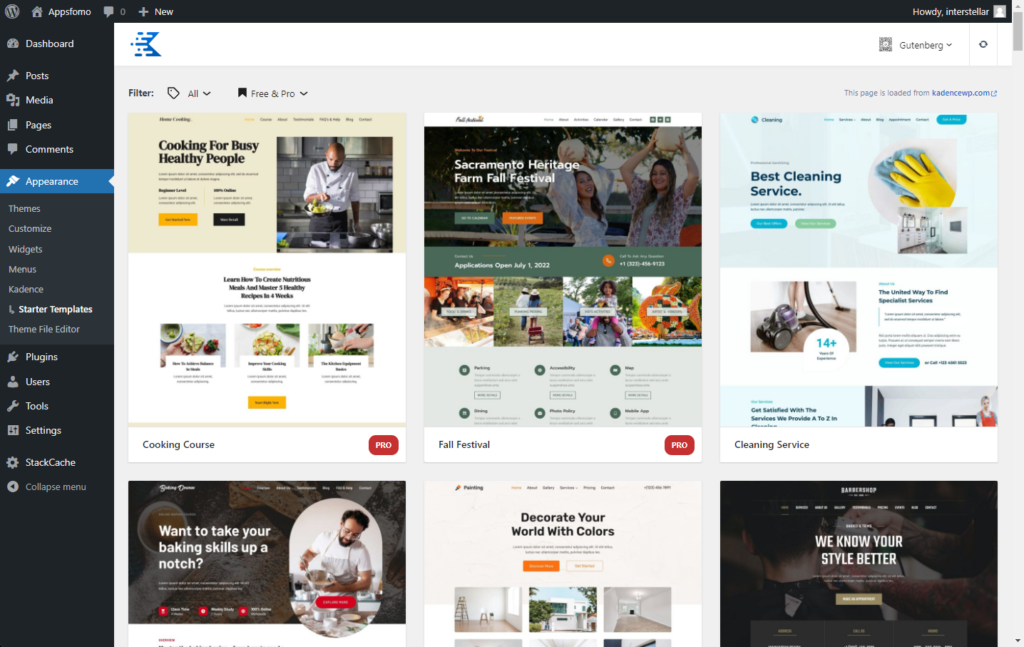 Kadence Theme offers several free features, including starter templates that provide a good starting point for creating a website. These templates are no-code, ready-to-use starter site templates that allow you to find a template you love and then make it your own.
The starter templates include options for different types of websites such as blogs, portfolios, and online stores. They also come with pre-designed layouts and customizable blocks that can be easily edited to fit your needs. Overall, these starter templates make it easy for users to create a professional-looking website quickly and efficiently using Kadence Theme.
Theme Settings
One of its standout features is the custom header and footer widget area, which allows for easy customization of your website's design. The theme also includes an advanced Customizable Widgets area, which enables users to create unique layouts for pages or posts quickly.
Typography
One of the standout features of the Kadence Theme is its typography settings. With these settings, you can easily customize the typography on your website to create the perfect design. Within the WordPress customizer, you can modify site-wide fonts, headings, buttons, links, and much more.
This level of customization allows you to create a cohesive and professional look for your website's typography that complements your brand and style. The typography settings are available even in the free version of Kadence Theme, making it a great option for those on a budget who still want high-quality design options for their WordPress website.
Custom Layouts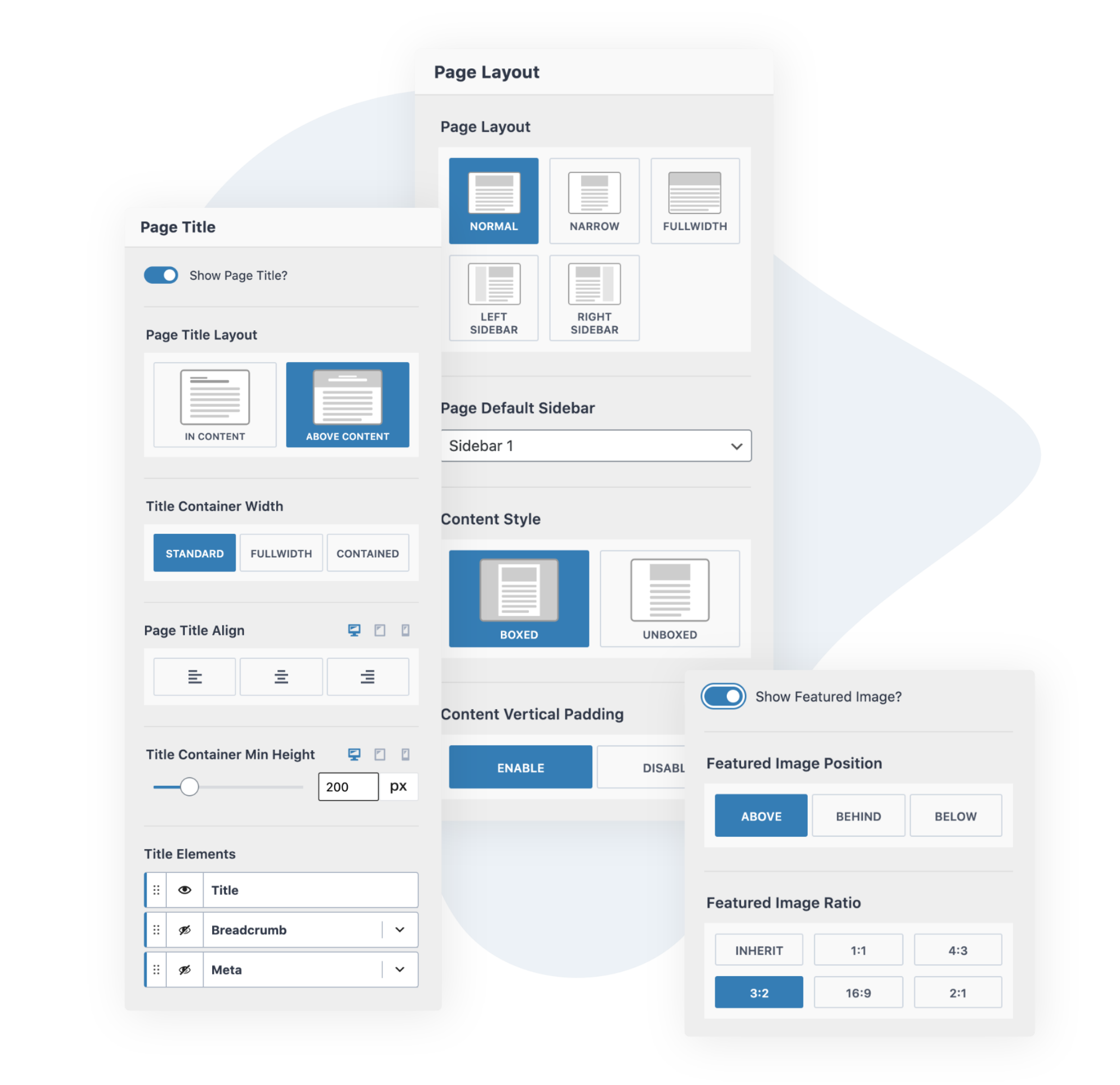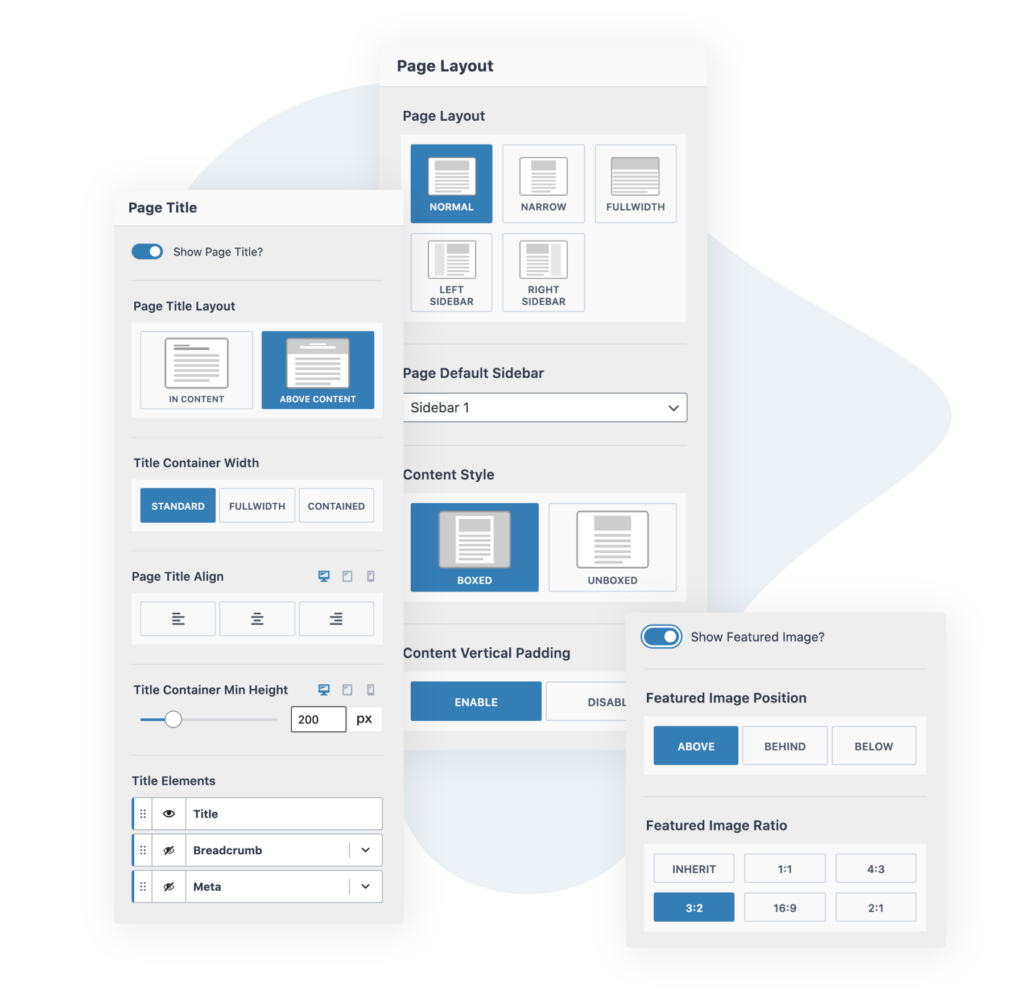 The Kadence Theme offers a range of free features to help you create a customized website. One key aspect is its layout settings, which allow for pixel-level control over the design of your site. With Kadence, you can set site-wide options for pages, posts, and custom post types. Additionally, you can easily switch between wide, narrow, or sidebar layouts with a click within the customizer.
Employ transparent and sticky header choices to gain the right aesthetic and functionality for your website, utilizing powerful design layout possibilities.
These layout options give you greater flexibility in creating a website that meets your specific needs and preferences without having to pay extra for premium features.
Colors & Buttons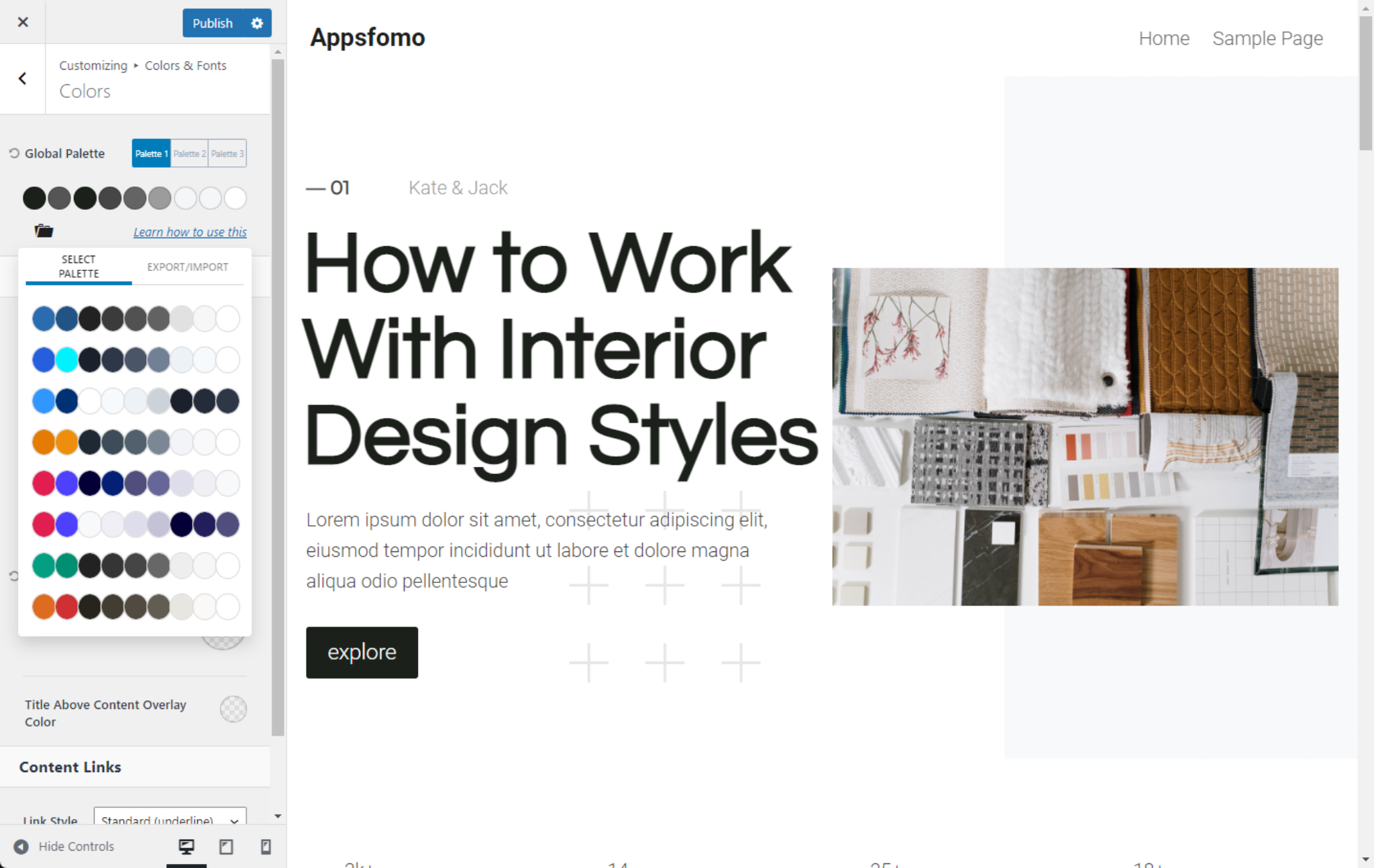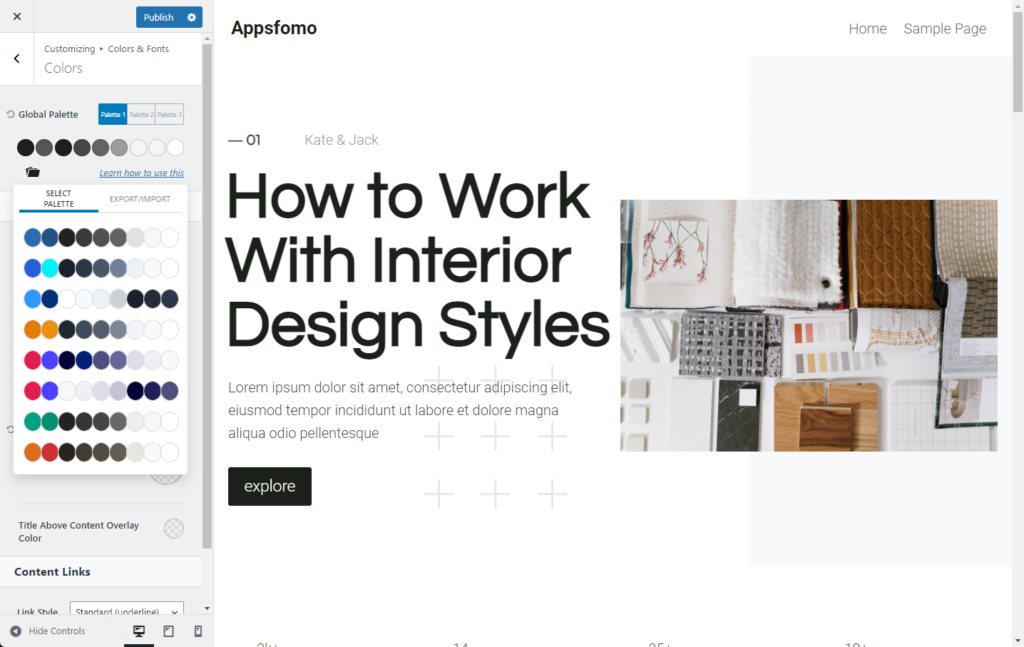 Kadence Theme has the ability to easily apply colors across your entire site using the global color palette. This feature makes it easy to maintain a consistent look and feel throughout your website.
In addition to its powerful color management, the Kadence Theme also allows you to change button styles with ease. You can adjust button typography, border, border radius, and color to create the perfect look for your website.
Drag & Drop
With over 10 elements to choose from, users can easily create custom navigation bars and headers without spending hours working on code. Additionally, users can watch updates live in the WordPress customizer, which allows for real-time adjustments and a more efficient design process.
Live Editing
One of the standout features of Kadence Theme's free version is the ability to use live editing within the native WordPress editor. This means that as you make changes to your website's header, you will be able to see those changes in real-time, without needing to constantly switch back and forth between editing and preview modes.
The live editing feature allows for a more streamlined and efficient website-building experience, making it easier for users to create a website that truly fits their needs.
Design Options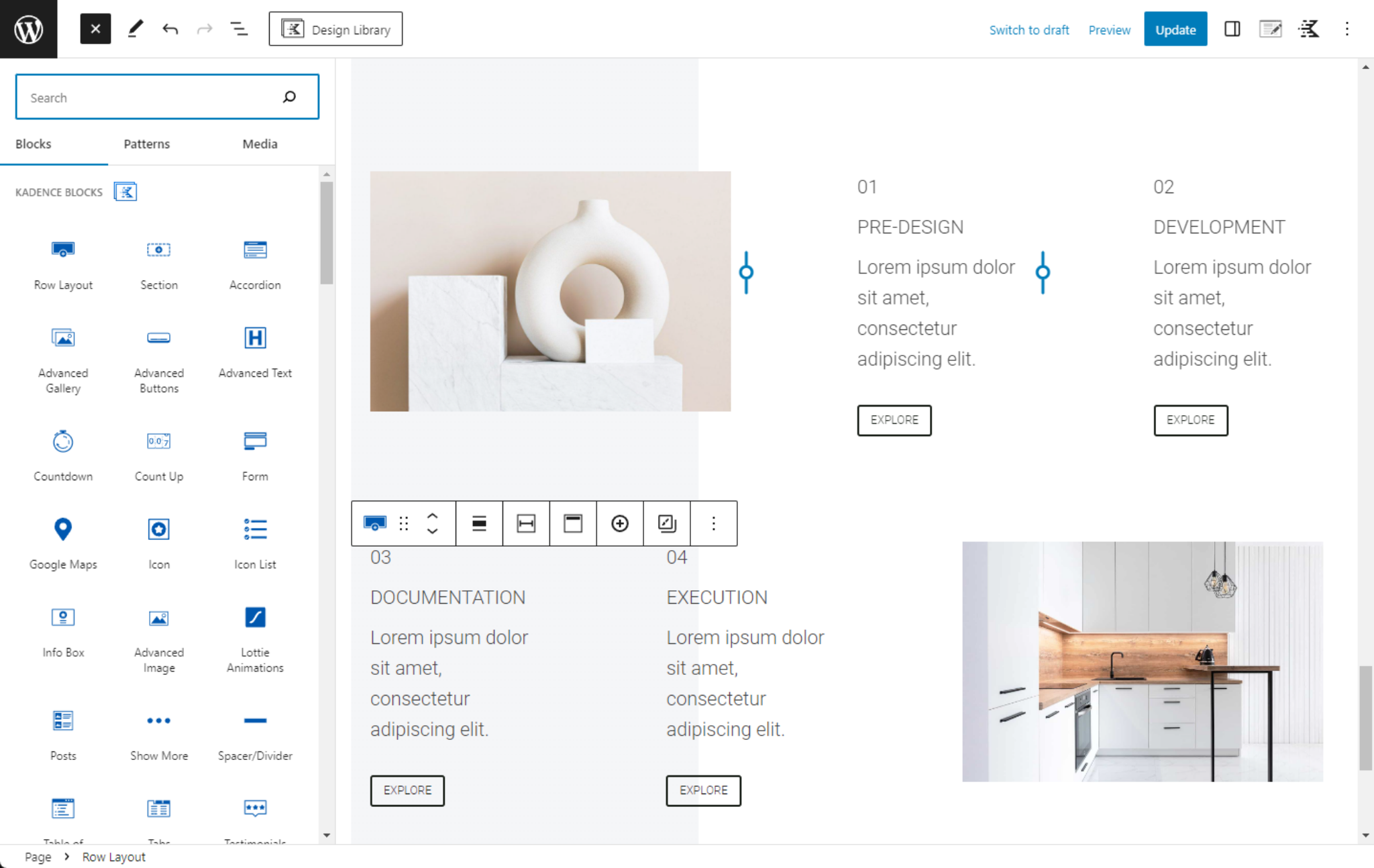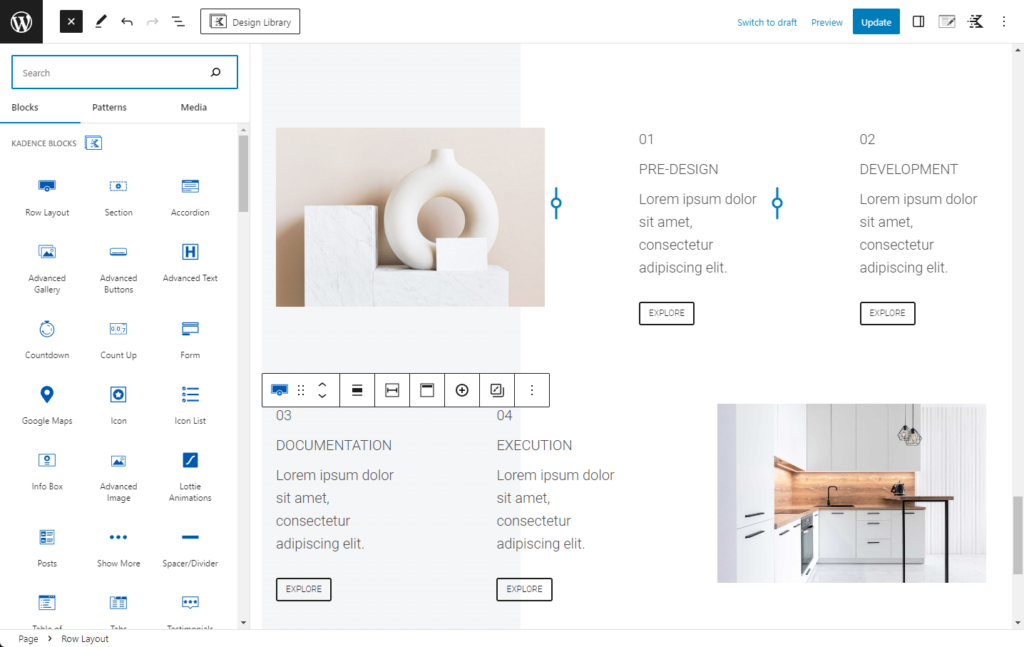 Kadence Theme offers a range of free design options for users to choose from. These include pre-built menu designs as well as the ability to customize your design with various features such as font, color, social icons, and drop-down menu options. With these design options, users have the flexibility to create a unique and professional website that fits their specific needs.
Pro theme Features
Is it worth upgrading to Pro?
Kadence Pro is a feature-packed WordPress theme that caters to the needs of any business. With its wide range of features, including custom widgets and modules, you can easily design your website to suit your preferences. The intuitive design and easy-to-use interface make this theme perfect for beginners, whereas the advanced customization options provide seasoned developers enough flexibility to create complex websites.
Header Addons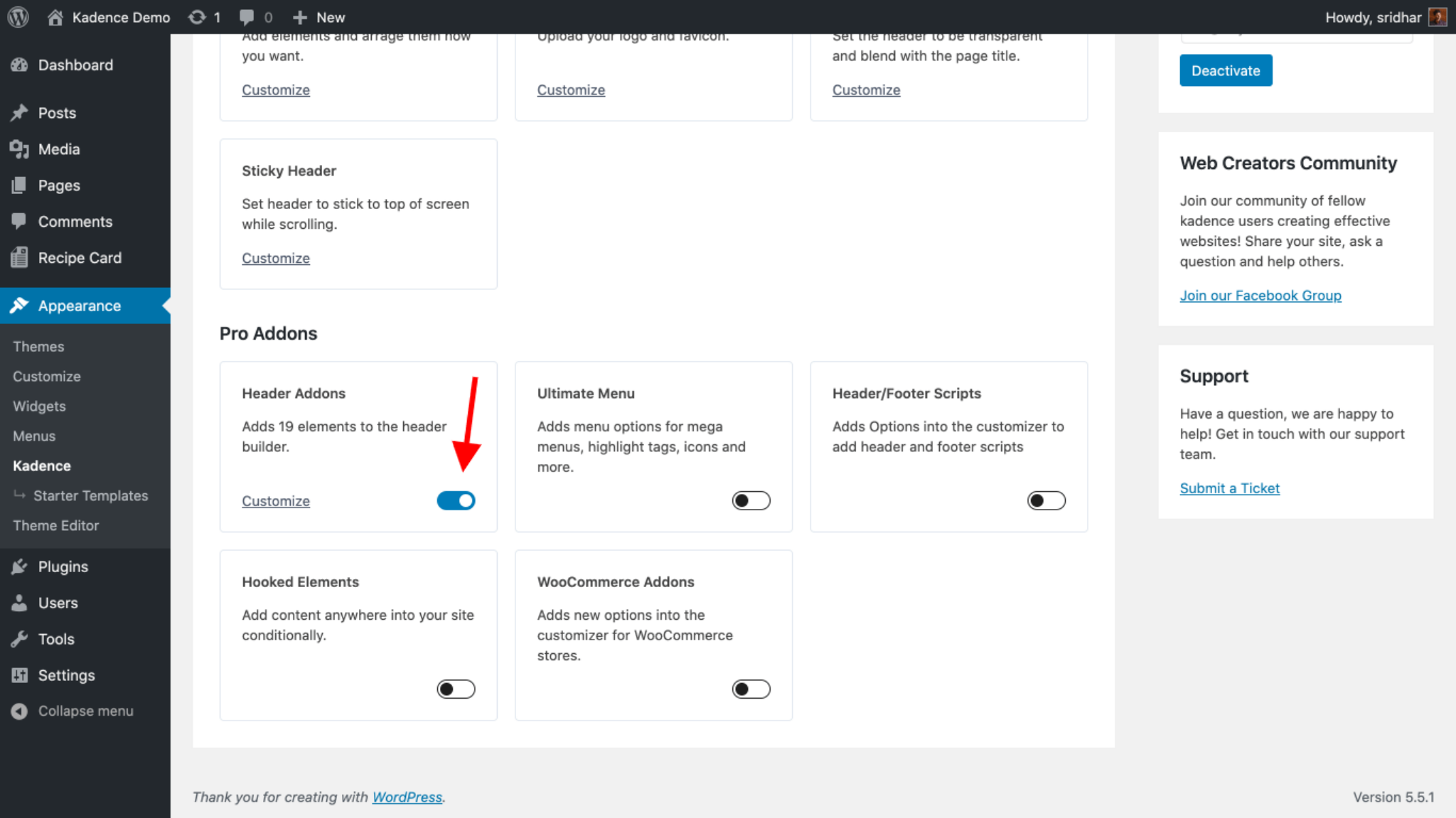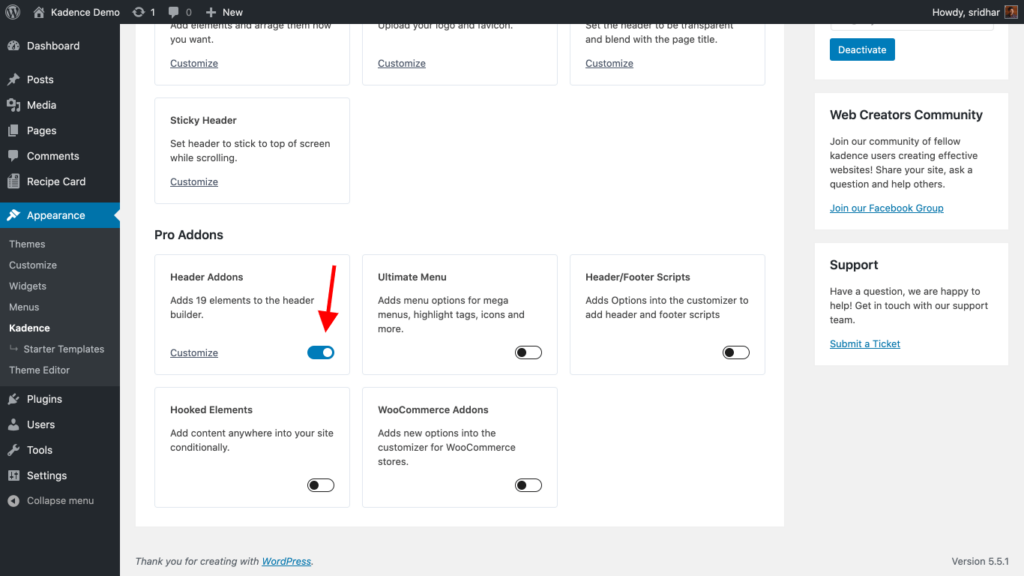 Kadence Pro offers a variety of features that can greatly enhance the look and functionality of your website. One such feature is the Header Addons, which allows you to build a premium header with 20 new elements to choose from. These add-ons include an Account Icon, Contact Elements, Dividers, Search Bar, Extra Buttons, and a Toggle with a slide-out panel.
In addition to the Header Addons, Kadence Pro also offers Extra HTML areas. This allows you to add extra content to your website's header or footer without having to modify any code.
Hooked Elements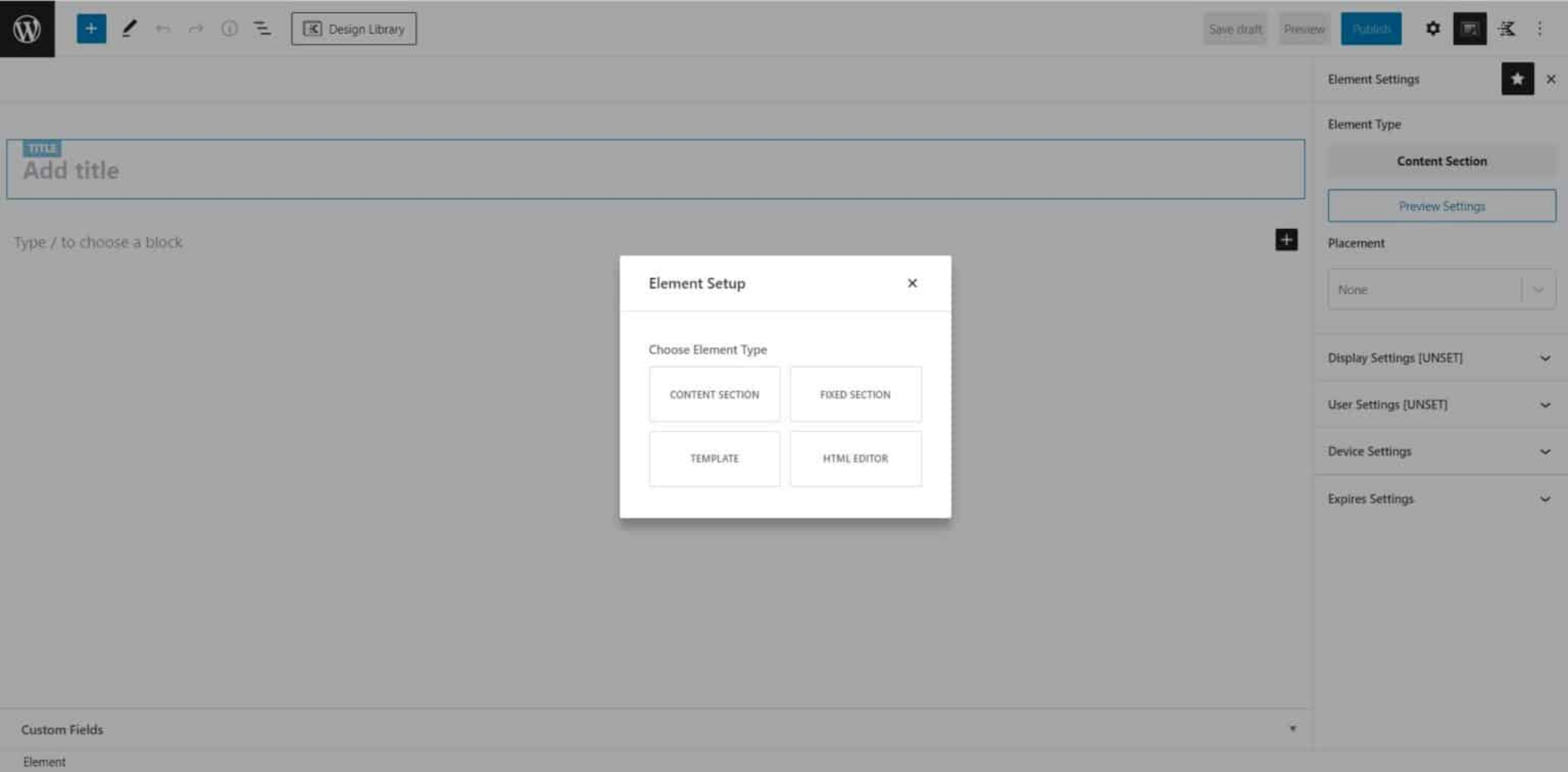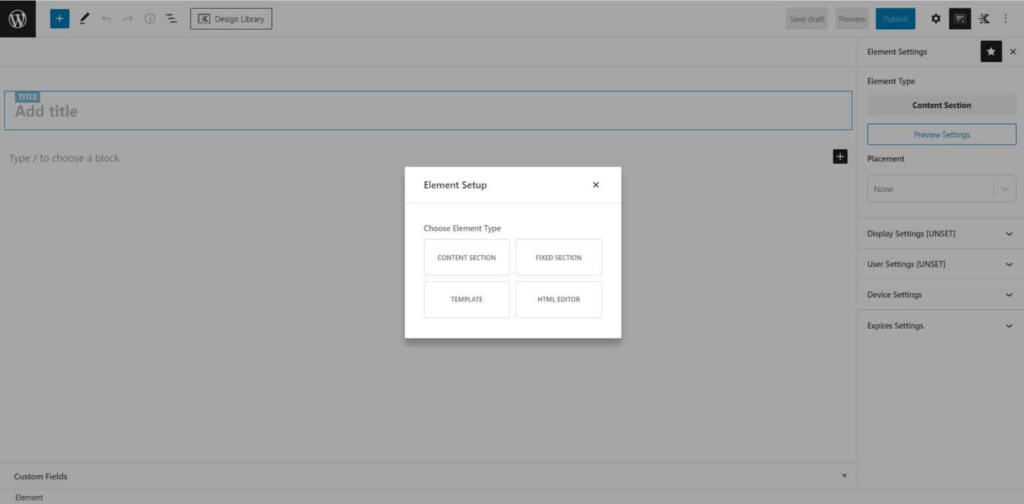 Kadence Theme offers a number of powerful features for users, including the ability to add Hooked Elements anywhere on their site. These elements allow you to display blocks or page builder content conditionally, and within a specific timeframe. This means you can show content to specific users, target specific placements, and even set expiration dates.
In addition, Kadence Pro allows you to replace your header and footer with custom designs that better suit your brand or website. This feature is particularly useful for those looking to create a more professional and cohesive look across their entire site.
Ultimate Menu
The ultimate Menu option allows for customizable mega sub-menus with options for highlight tags, icons, and more.
With Ultimate Menu, you can also use an icon in your menu item label and create multi-column dropdowns with custom content. Additionally, you have the ability to add a custom background for your dropdowns, further increasing the customization options available with this theme.
Fixed Elements
This feature has the ability to add fixed elements to your pages. This allows for content that remains fixed in place as users scroll through your site, providing a better user experience.
Fixed elements can include things like footers, banners, and headers that remain stationary while the rest of the page scrolls. The Kadence theme also lets you set fixed elements to show only on specific devices, making it easy to optimize the experience for different screen sizes.
Header/Footer Scripts


This feature allows you to easily add code snippets such as tracking codes or custom CSS without needing to access your website's backend.
With Kadence Pro, you can add header scripts, which are loaded before the opening body tag of your website's HTML, and footer scripts, which are loaded right before the closing body tag. These options give you greater control over how your site functions and make it easier to customize certain aspects of it. Overall, this feature makes Kadence Theme a great choice for those who want a more advanced level of customization for their WordPress website.
WooCommerce Addon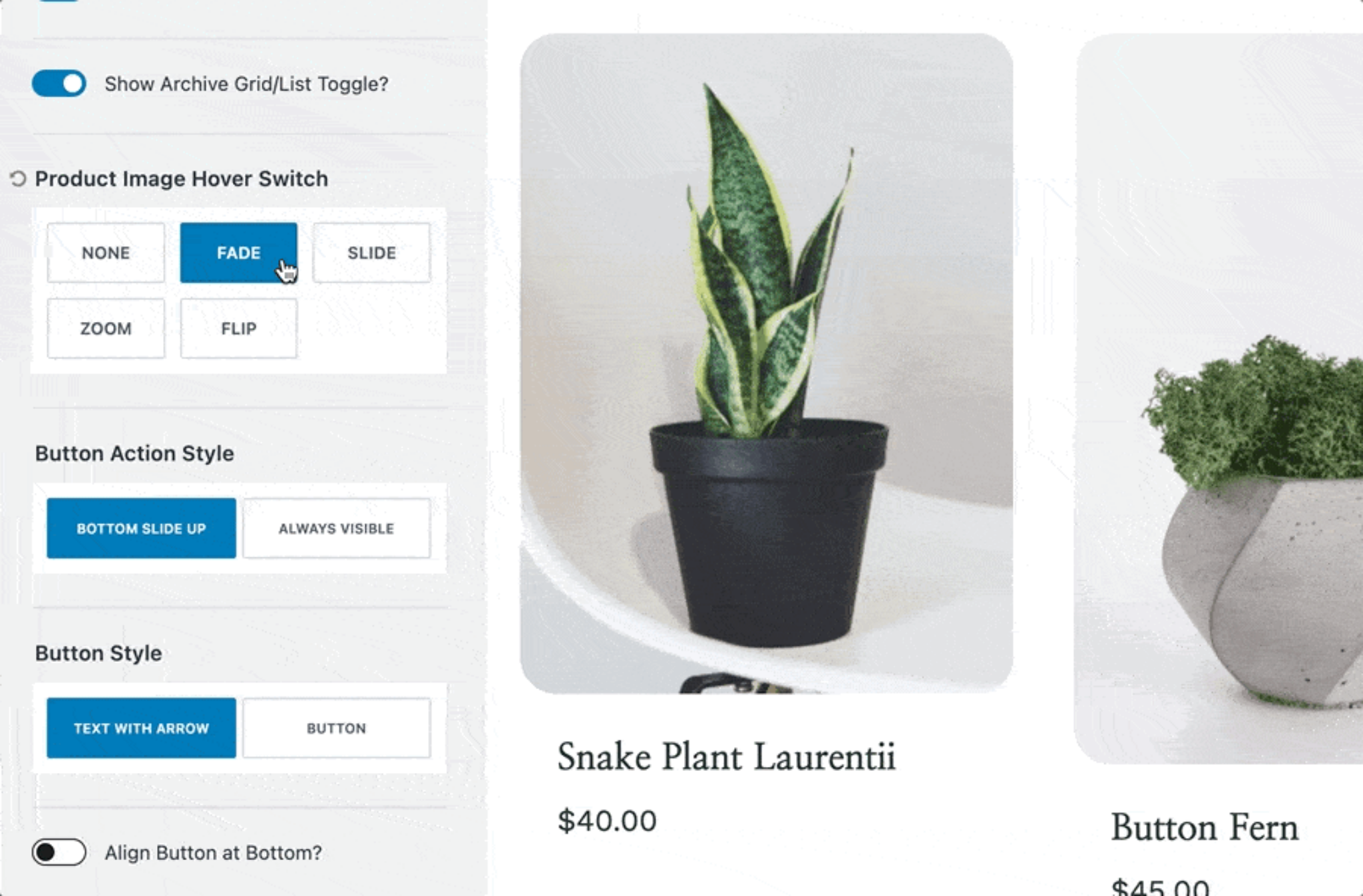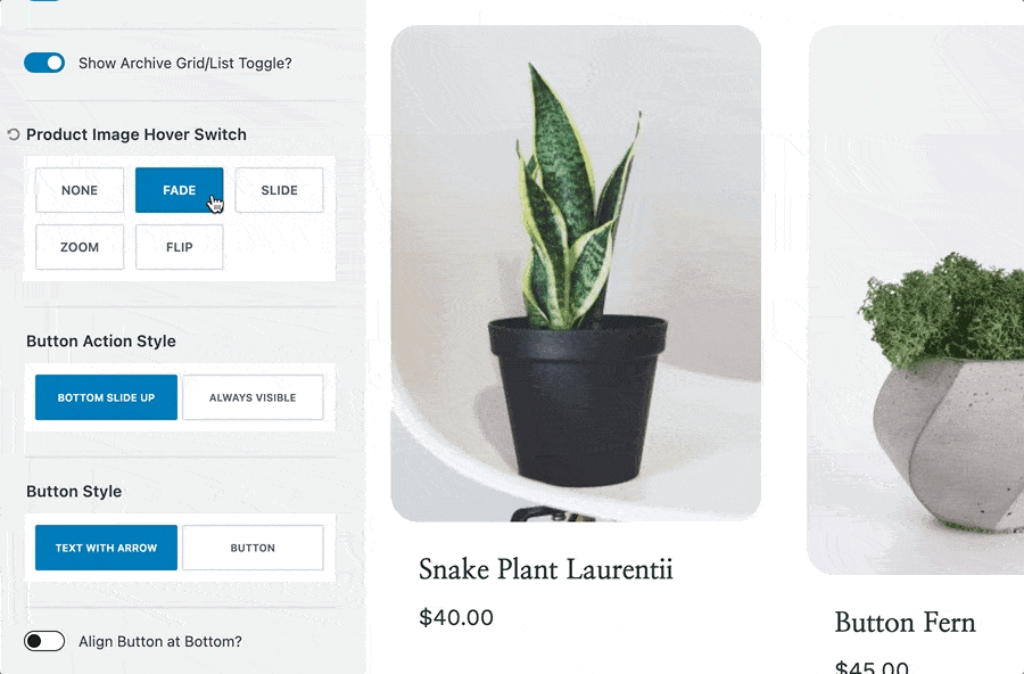 One of the standout features of Kadence Pro is its WooCommerce Addon, which provides a range of useful tools for online stores. These include the ability to add new options to the customizer for WooCommerce stores, such as auto-opening the side cart when a product is added and creating a custom shop page using blocks or a Page Builder.
The Shop Toggle Widget Area and Ajax Add to Cart for Single Product Page are also valuable features that can enhance the user experience for customers.
How is Kadence Theme different from others?
Unique Features
Kadence is a unique WordPress theme that sets itself apart from other themes by providing a wide range of features. Kadence is easily customizable, has a modern design, and is optimized for speed and SEO friendliness.
For markup and schema where needed, Kadence employs the best SEO practices.
One-click performance boost that will preload CSS in the header and then calls that CSS when needed.
You can control the style and customize it for desktop, tablet, and mobile devices from tiny screens to huge monitors.
Using the built-in breadcrumb generator or one of your favorite SEO plugins, enable breadcrumbs.
Buy the Kadence Pro Theme Addon or get the most value and sign up for one of the below bundles. With a 30-day money-back guarantee.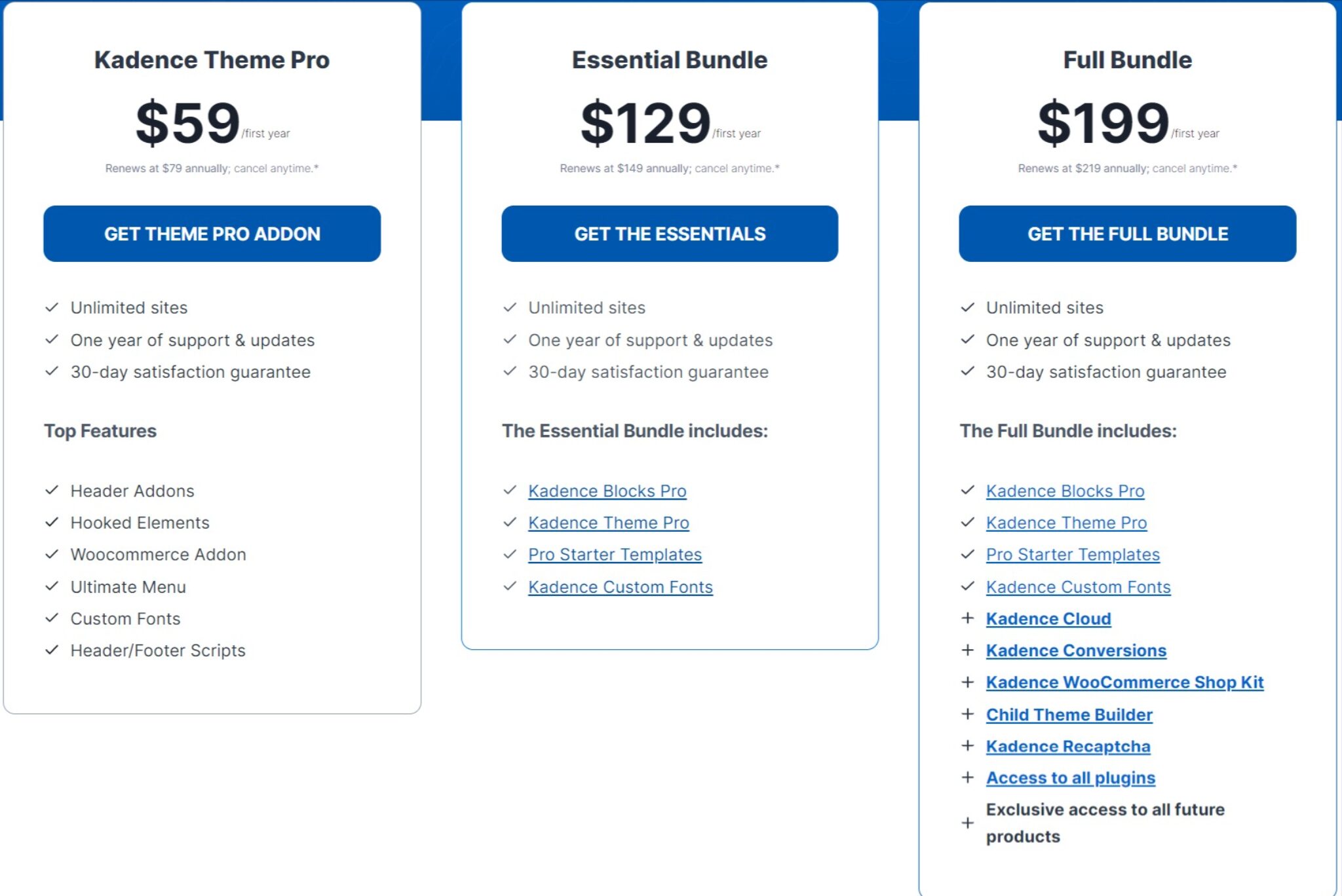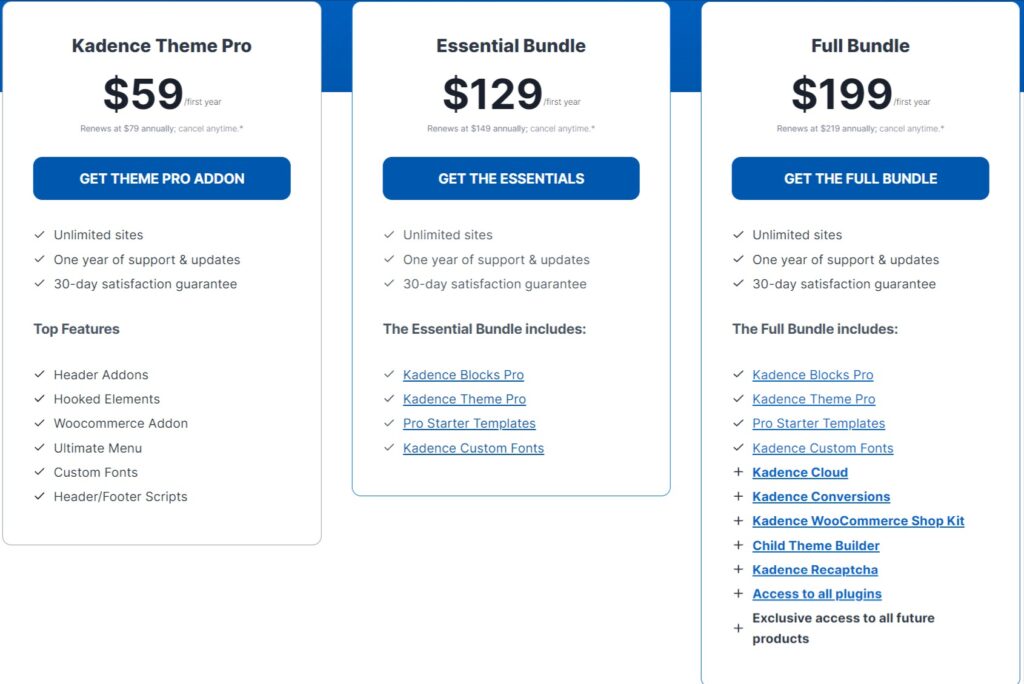 Support Details
Contact, Documentation, Roadmap, Changelog
Facebook Group
Public Roadmap and Changelog.
Alternatives
Similar Apps
The fastest, lightest, and most customizable WordPress theme. With this visual theme customizer, you'll be able to make your website look exactly how you want, as well as make it load quickly.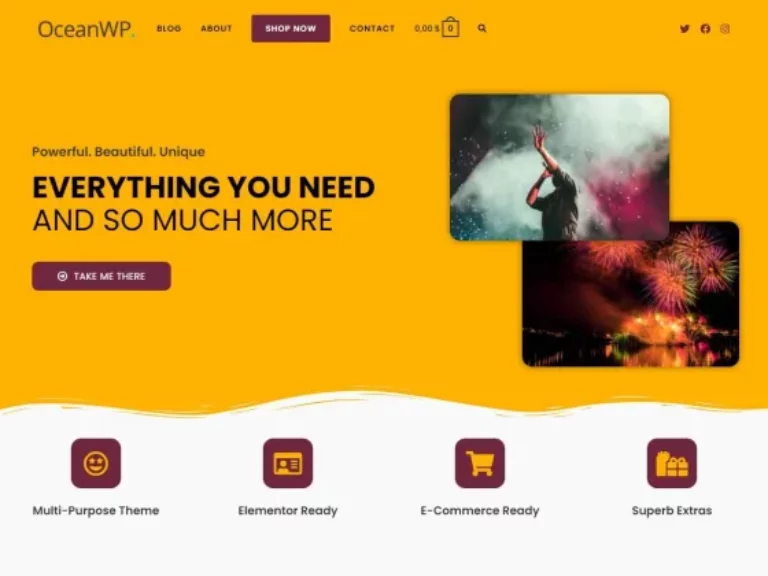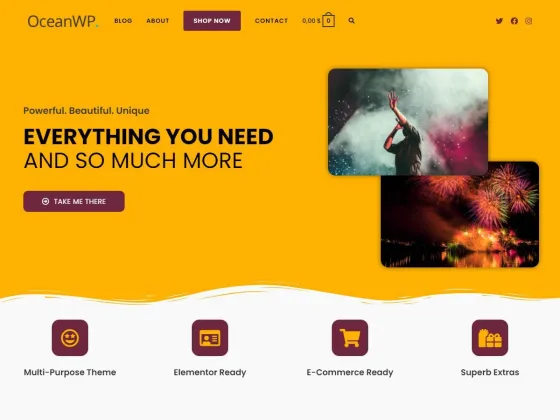 OceanWP is the perfect theme for your project. Lightweight and highly extendable, it will enable you to create almost any type of website such a blog, portfolio, business website and WooCommerce storefront with a beautiful & professional design.
GeneratePress is a lightweight WordPress theme that focuses on speed, stability, and accessibility. Start your website off in the right direction whether you're a hobbyist, freelancer, or agency.
Is Kadence Really Worth the Hype?
conclusion
When it concerns the theme options, the level of customization, the convenience of usage, and speed, Kadence just outperforms most of the popular themes in the market. The pre-built starter Templates and blocks are well-made and look very professional.
The support and depth in the documentation of their themes and plugins are on par with 2023 standards.
Kadence is perfect for you if you're looking for a pocket-friendly theme that gives you superior comfort.
Review Video
Watch this for more details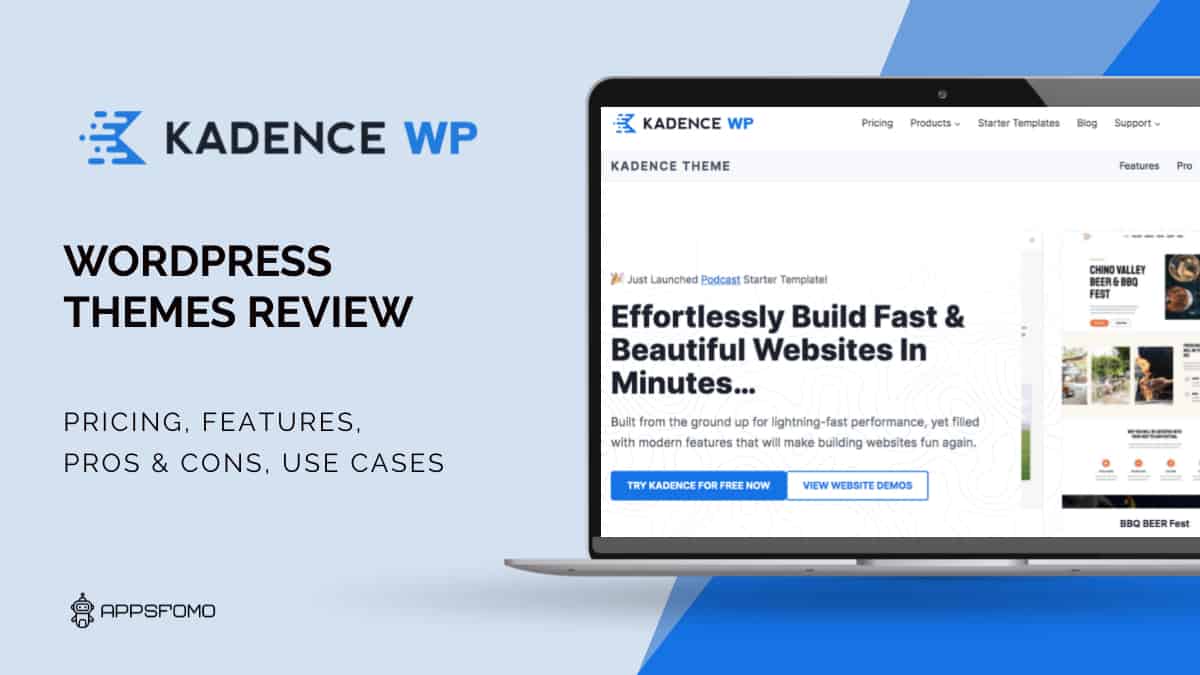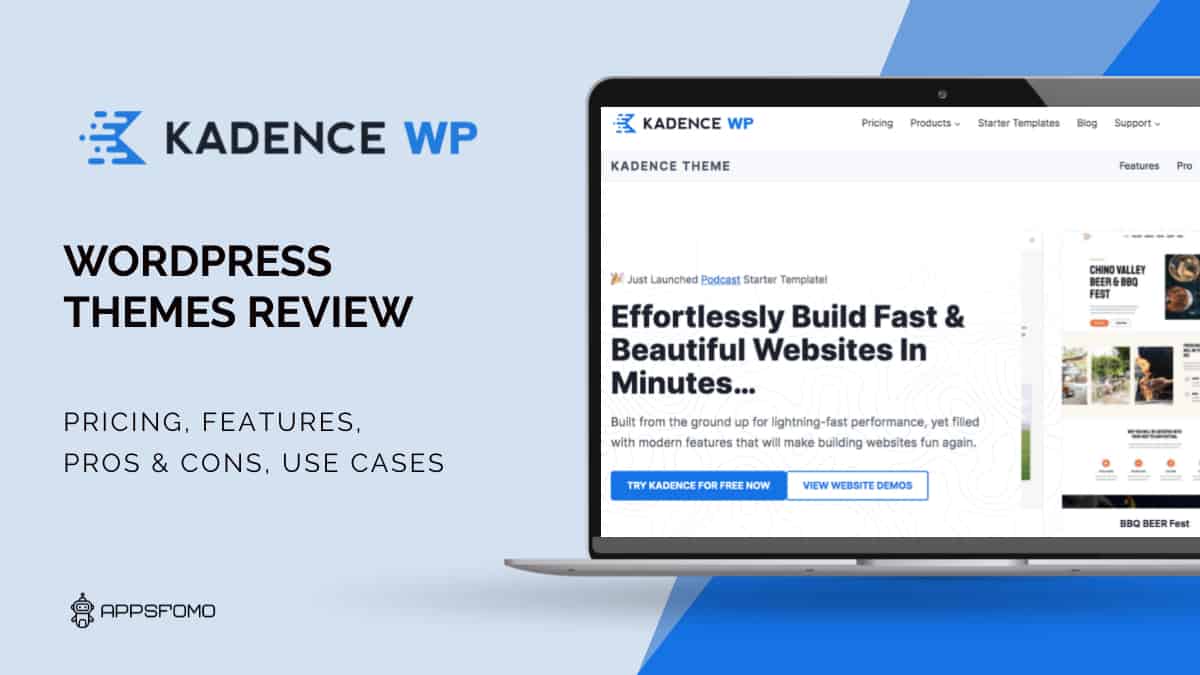 Kadence Theme: Build Modern WordPress Website with Gutenberg