Learndash: The Leading WordPress Learning Management System
LearnDash is a WordPress learning management system (LMS) trusted by companies, universities, training organizations, and entrepreneurs worldwide for creating (and selling) their online courses.
You will get:
Built-in the language translator
Exclusive Modern Learner Experience With Focus Mode
Easy To Use Course Builder
Drip-Feed Course Lessons
Sell One-off Courses And Subscriptions
LearnDash Review Rating
Best LMS plugin for WordPress
PROS
Built-in the language translator
Exclusive Modern Learner Experience With Focus Mode
Easy To Use Course Builder
Drip-Feed Course Lessons
Sell One-off Courses And Subscriptions
CONS
Slower / Methodical Development
Some Design Features Lack Options
In this digital age, it is no surprise that e-learning platforms have become the go-to option for providing information and education. When it comes to creating an online course, there are a plethora of options to choose from, but LearnDash stands above the rest.
LearnDash is a Learning Management System (LMS) plugin for WordPress that enables you to create an engaging online course that is tailored to your audience. With a user-friendly interface and customizable options, LearnDash has everything you need to create and manage online courses effectively.
In this blog post, we will dive into what LearnDash is, how to use it, and why it is the ultimate LMS plugin for WordPress. From features like unique notification triggers, dynamic content delivery, and course cloning to who uses LearnDash, we have covered it all. So, let's explore why LearnDash should be your top choice for creating your next online course.
LearnDash Overview
What Is LearnDash?
LearnDash is a cloud-based WordPress plugin and a Learning Management System (LMS) that helps to create online courses and sell them over the internet. It is a popular tool among businesses, universities, and training institutions due to its massive customization and unique features.
This plugin can convert the WordPress site into a fully functional LMS allowing users to create, manage and monitor their online courses with ease. The platform offers custom courses and also helps businesses monetize on it by selling the courses to other learning institutions.
It is an incredibly powerful tool, intended for developers, designers, and educators who want to create a fully-customizable and user-friendly online learning platform. Whether you are running an online business, training institution, or just creating courses for personal use, LearnDash is a valuable plugin to consider.


Company Details
LearnDash is run by a global team of developers, designers, marketers, and customer support specialists.
LearnDash is part of StellarWP, which is a Liquid Web brand. Founded in 2012 by Israel Barragan
The company is headquartered in the USA
Online Presence
How to Get Started?
how Learndash works?
For new users, LearnDash provides a mini boot camp with video guides to help them get started with the plugin. Additionally, after purchasing LearnDash, users are sent a welcome email containing links to the LearnDash Facebook group, YouTube channel, and Getting Started Guide to make sure they get the most out of the plugin.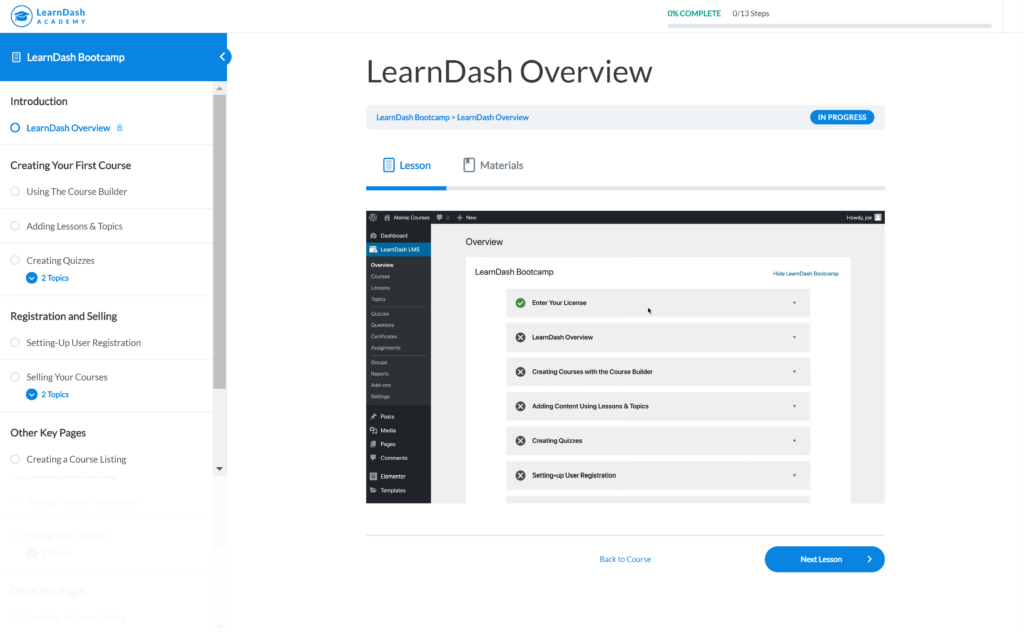 Basic Setup
To get started, you'll need to install the LearnDash WordPress plugin on your site. This can be done by visiting the official LearnDash plugin page and following the instructions there.
Complete the Onboarding and Design wizard to proceed next.
Creating LearnDash Courses
Once installed, you'll want to create a course in LearnDash. To do this, go to your Dashboard and click "Create Course Now!" You will then be taken to a new screen where you can create or edit an existing course.
You can create any number of courses on a single website, adding quizzes, assignments, lessons, sections, and much more to a course. The course builder helps to structure the course with different sections by adding lessons and quizzes, Course builder has a drag and drop feature so you can drag any lessens to a particular course. This feature makes users change the sequence of the content easily.
Course settings also have plenty of options like who can access these courses, prerequisites, progress bar, number of lessons completed, and much more.
Setting Up Course Lessons, Topics, Quiz
Lessons are different parts of your course to get differentiate between one topic and another you can use them.
Even you can add different topics to each lesson. To add lessons or topics you can use Visual course builder or a dedicated option by going to Learndash>Lessons>Topics
You can choose which course is associated with this lesson, You can add video lessons also.
For topics also you can add which lesson and course is associated with this.
If you want to add any Quizzes or Assignments in the course you can do that, Learndash gives full control and various options to create a quiz.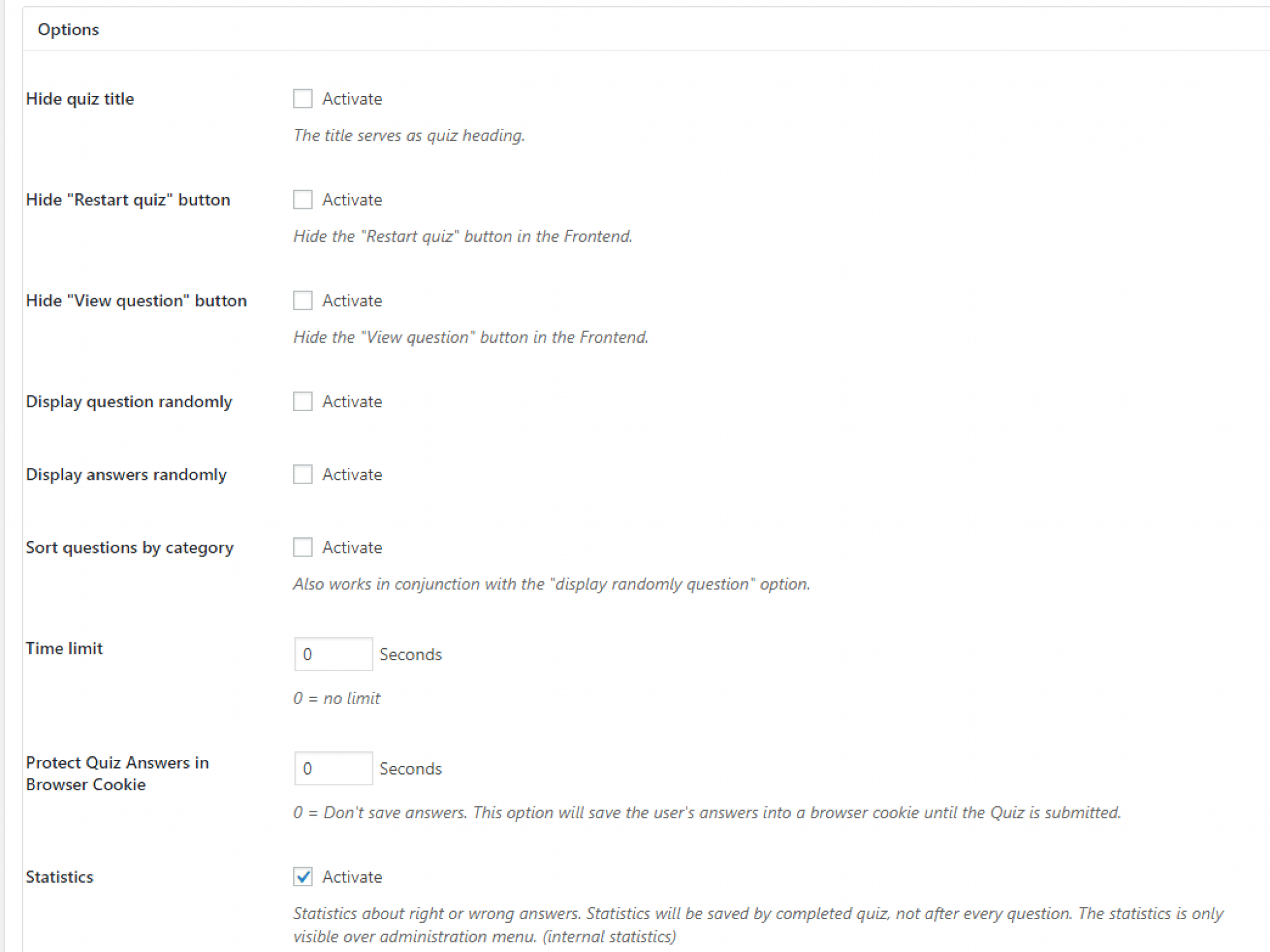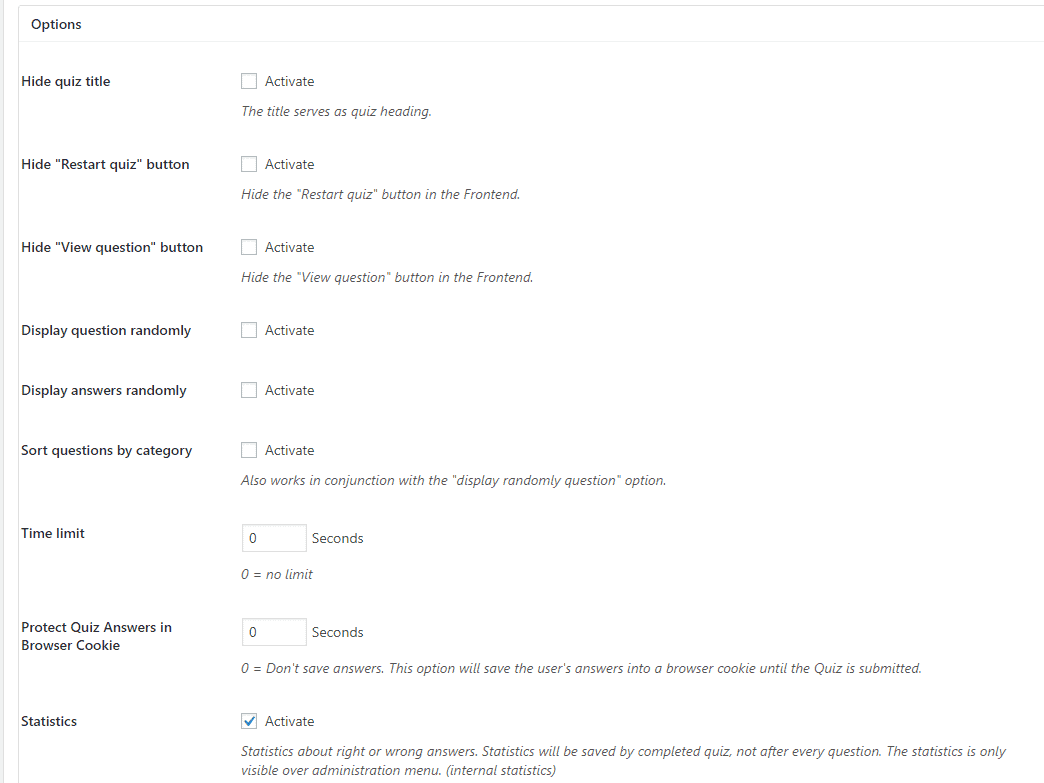 Learndash gives the option to save the settings template for the quiz so you can use that in the future. For any questions in the quiz, you select what type of the answer should be (like multiple choice, fill in blanks, long answers, etc.)
You can activate the assignments for the courses so that after finishing, the user can able to upload that in the assignment area.
Two Ways to Create a Course with LearnDash
LearnDash Product differences
Creating an online course may sound tricky, but LearnDash makes it easy with these two methods: if you already have a WordPress site with hosting, then the LearnDash plugin is just what you need. On the other hand, if you're starting a new site, then the LearnDash cloud is perfect for you.
Hosting
u003cstrongu003eSecurityu003c/strongu003e
Analyticsu003cbru003e
u003cstrongu003eCompatibilityu003c/strongu003e
u003cstrongu003ePricingu003c/strongu003e
u003cstrongu003eSupportu003c/strongu003e
Cloud
A fully-hosted website loaded with LearnDash.
Check Prices
Hosting
Included at lightning-fast speeds, with site backup included.
u003cstrongu003eSecurityu003c/strongu003e
iThemes Security Pro pre-installed.
Analyticsu003cbru003e
Includes ProPanel ($49 value).
u003cstrongu003eCompatibilityu003c/strongu003e
Compatible with every theme that's coded to WordPress standards; plus, starter templates designed specifically for Cloud
u003cstrongu003ePricingu003c/strongu003e
u003cstrongu003e$24/monthu003c/strongu003e when paid annuallyu003cbru003eu003cstrongu003e$29/monthu003c/strongu003e when paid monthly
u003cstrongu003eSupportu003c/strongu003e
Full access to the support team and robust documentation.
LMS Plugin
Integrate into your WordPress site
Check Prices
Hosting
Purchase separately.
u003cstrongu003eSecurityu003c/strongu003e
Purchase separately.
Analyticsu003cbru003e
Available as an add-on for $49/year.
u003cstrongu003eCompatibilityu003c/strongu003e
Compatible with every WordPress theme that's coded to WordPress standards.
u003cstrongu003ePricingu003c/strongu003e
u003cstrongu003e$199/year*u003c/strongu003eu003cbru003e*Additional license tiers available
u003cstrongu003eSupportu003c/strongu003e
Full access to the support team and robust documentation.
LearnDash LMS plugin Functionalities?
Basic Features
The Visual Course Builder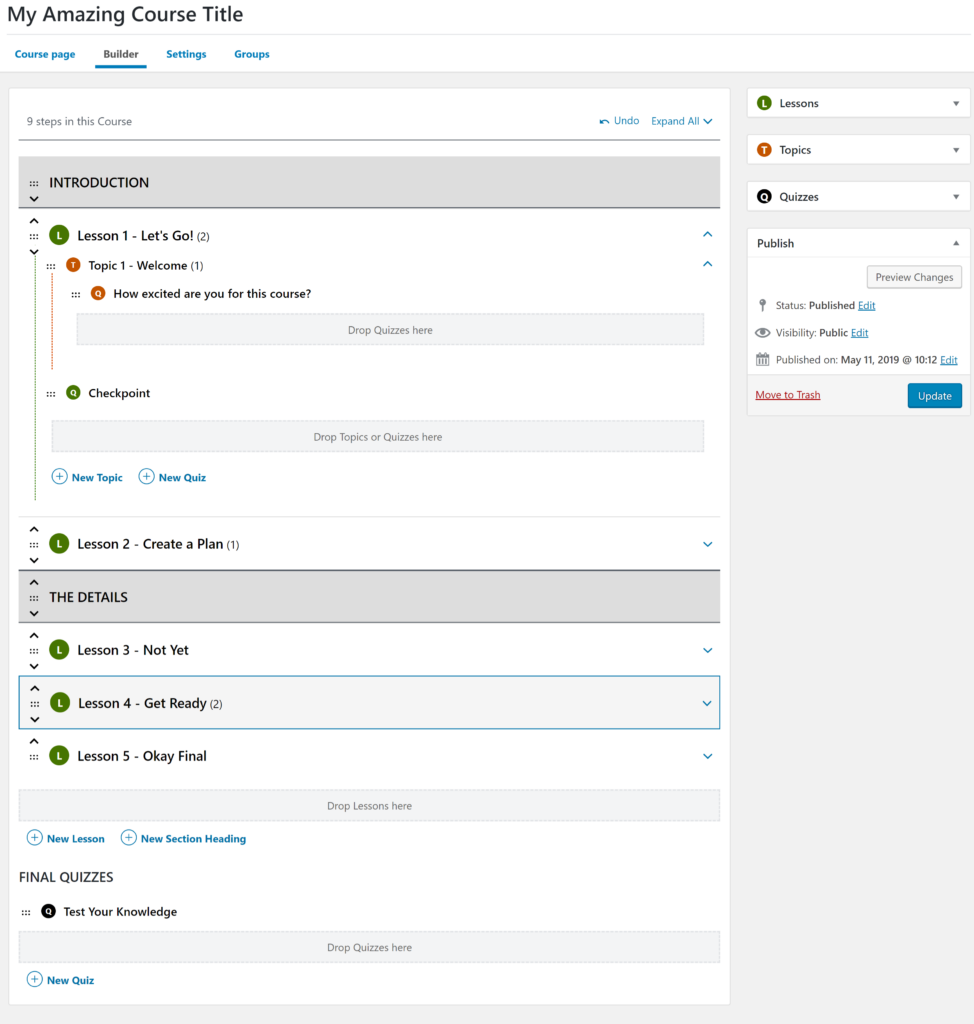 With its drag-and-drop builder, users can easily create courses, lessons, and quizzes in a fraction of the time it takes with other LMS systems. Recently, the builder has been updated to make it even more user-friendly, allowing users to use the latest version of the WordPress Editor to create course descriptions.
This updated builder now allows users to quickly plan out the structure of the course and add existing lessons and quizzes to the course structure via a drag-and-drop interface. Overall, the Visual Course Builder in LearnDash provides users with a simple and efficient way to create and manage online courses.
Course create wizard
One of the unique features that LearnDash offers is the Course Create wizard, which allows users to easily create a course from a YouTube playlist, Vimeo Showcase or Wista Project. Accessing the Course Create wizard is simple – users need to go to LearnDash > Courses from the WordPress dashboard and click the "Create from Video Playlist" button.
Once users have clicked the button, the Course Create wizard requires them to copy and paste their playlist URL into an input box and click the "Load the playlist data" button. This feature eliminates the need to manually create each lesson in a course, saving users time and effort.
Course navigation settings
LearnDash, the ultimate LMS plugin for WordPress, offers users a range of features to assist with course navigation. One of these features is the option to choose between two different course navigation settings: Linear and Free Form. Linear is the default option, allowing users to progress through the course in sequential order. Alternatively, Free Form enables users to move through the course in any order.
In addition to these navigation settings, LearnDash offers other features to assist with course navigation, such as Video Progression, Autostart, Video Control Display, Video Paused on Windows Unfocused, and Video Resume. Courses can also be set up to require the completion of one lesson before proceeding to the next. These features make LearnDash a user-friendly and customizable option for creating and managing online courses through WordPress.
Video progression system
If you make use of video clips in your training courses, Learndash's Video Progression function makes it actually simple to install either self-hosted or externally hosted video clips.
Instantly

mark lessons/topics as complete after the

customer finishes the video clip
Send out students

straight to the next video once it

completes
Hide the play bar (to stay clear of skipping), autoplay videos, as well as lots more.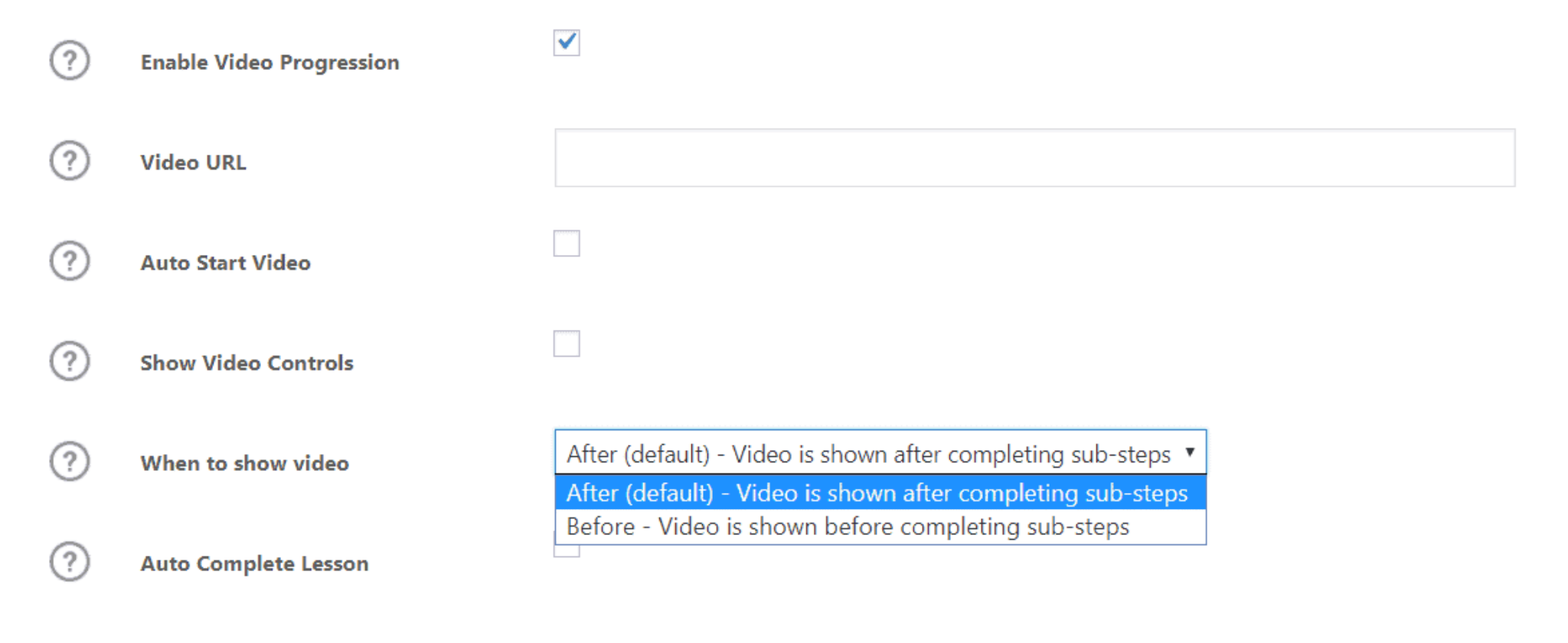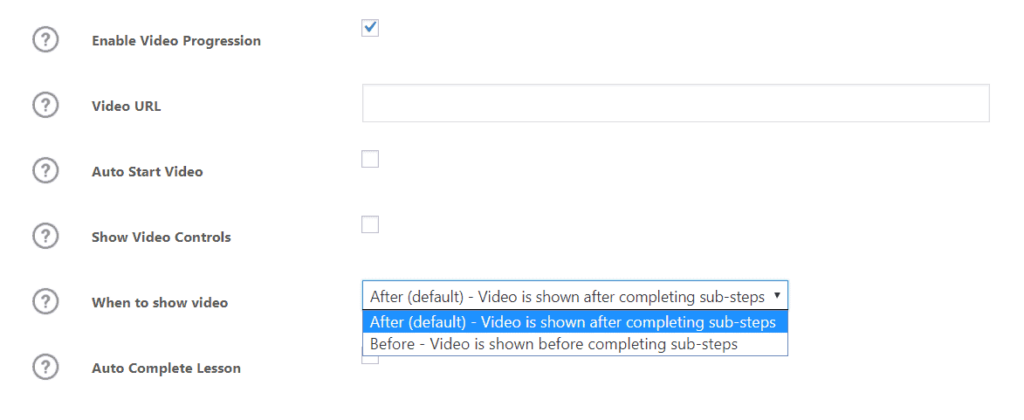 Unique Notification Triggers
One of its standout features is its unique notification triggers, which can be configured to activate when specific actions are taken by a learner, such as enrolling in a course, completing a quiz, or failing a quiz.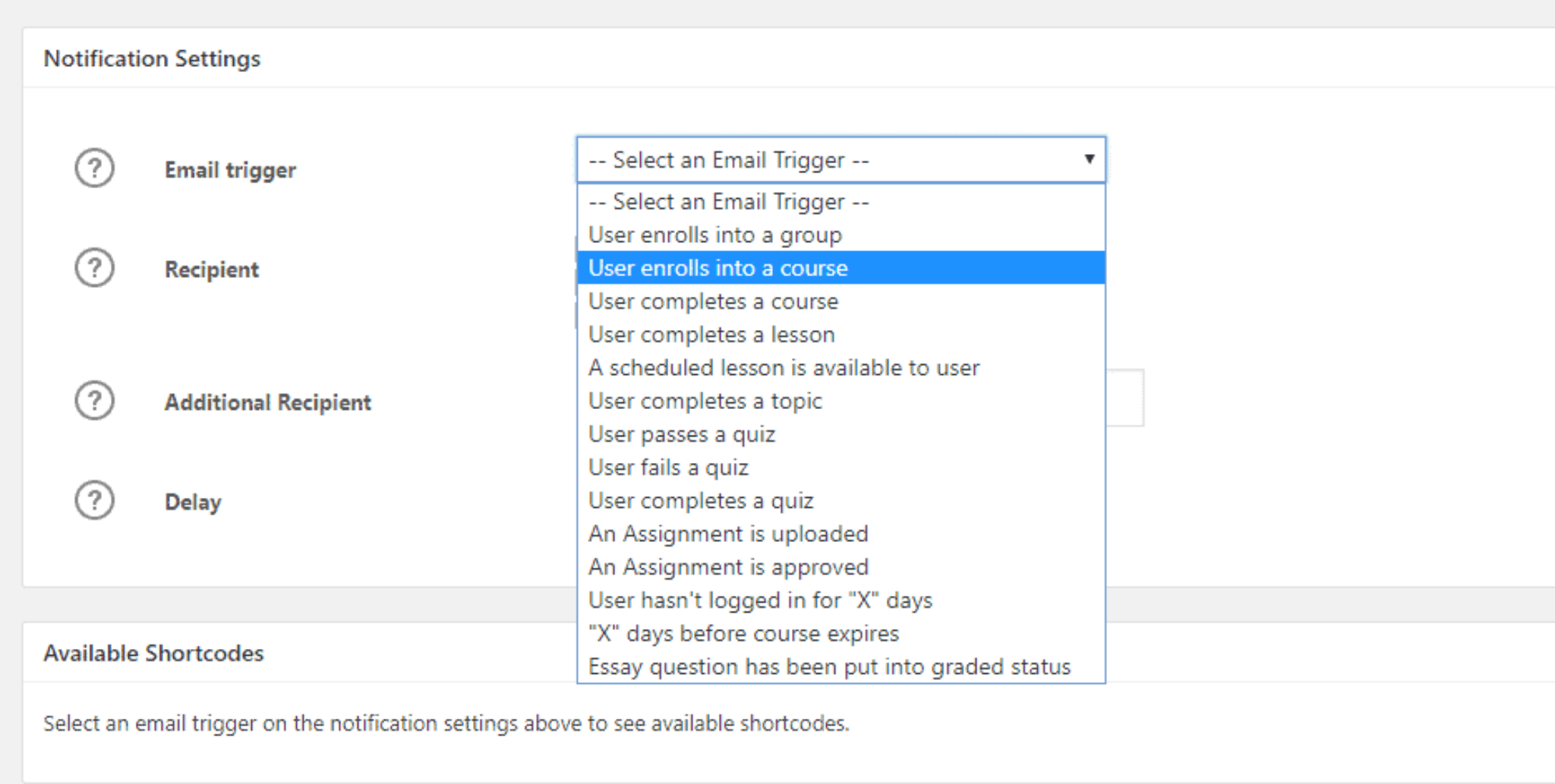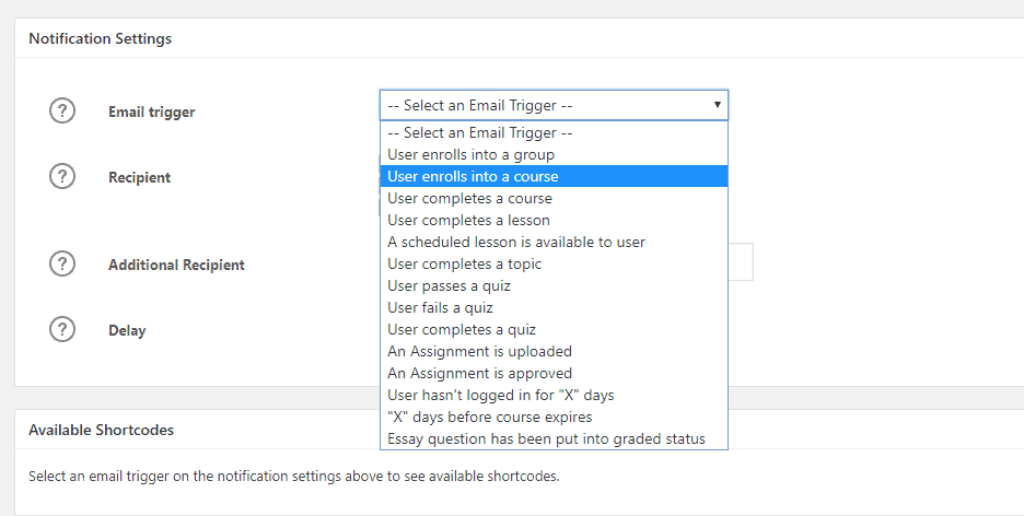 This allows users to automate tasks, such as adding learners to a segment in an email marketing service when they enroll in a course.
LearnDash ProPanel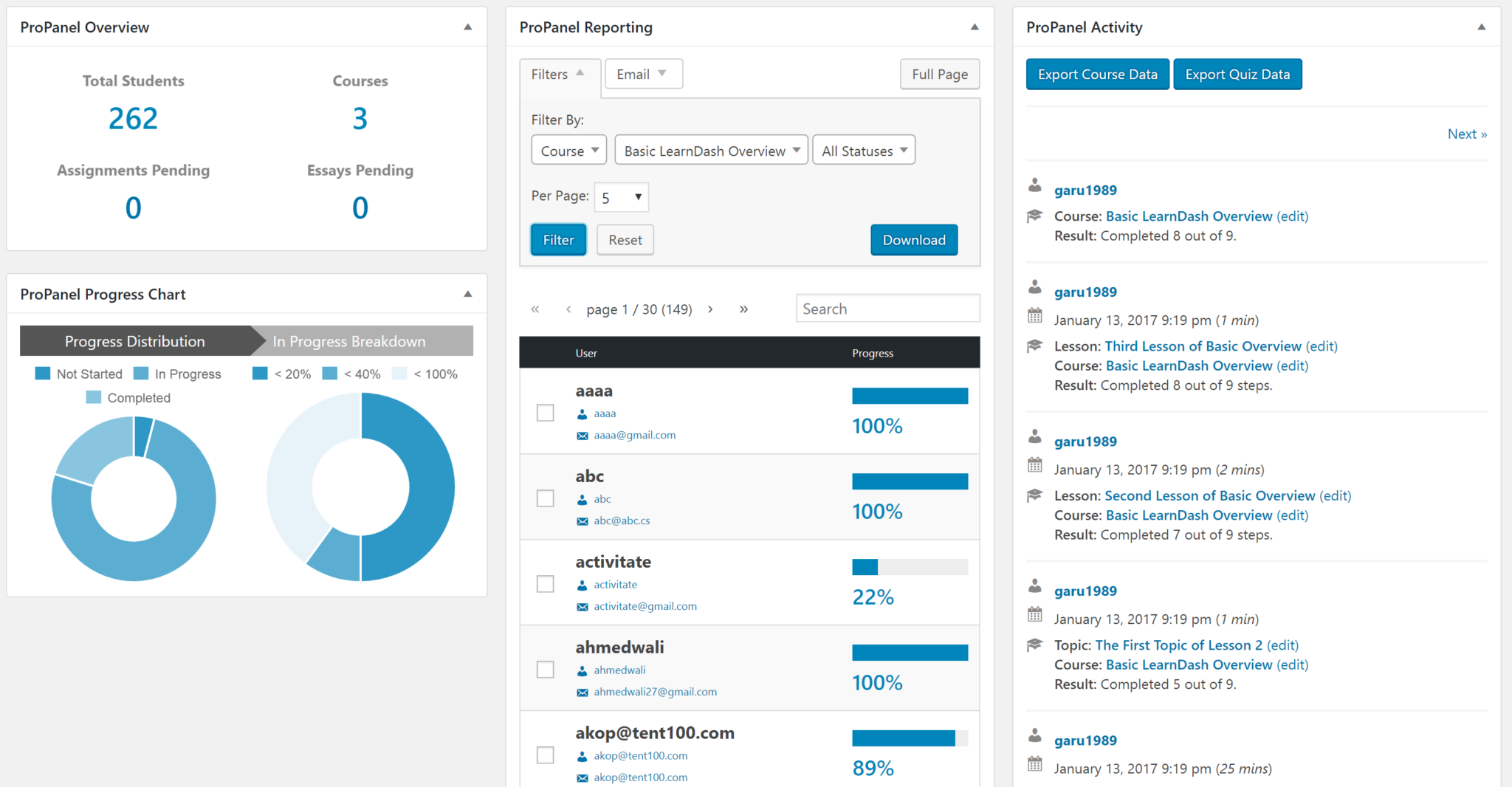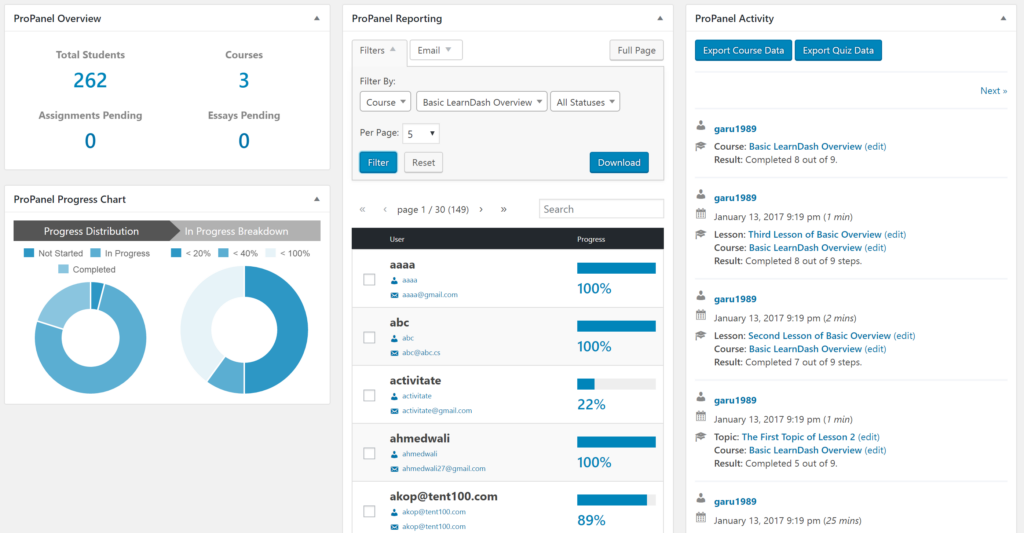 ProPanel's analytic tools help you easily assess your courses. Track enrollments and assignments, or filter to target struggling learners.
Course cloning
One of the key features of LearnDash is course cloning, which allows multiple courses to be created from a single source course. This feature is helpful for educators who want to test different versions of a course before releasing them to the public.
Focus Mode
This feature allows you to eliminate distractions for your students by hiding any content that might cause them to click away from the course. With focus mode, students can focus solely on the course content and complete it without any distractions. This feature is especially useful for longer courses that require a more concentrated effort from the student.
Learning paths
These learning paths are tailored to the individual needs of each learner and can include everything from videos and quizzes to interactive assignments and discussion forums.
Assignment Management
With LearnDash, users can easily create and assess assignments for their courses. Assignments are a great way to help learners retain information and apply what they have learned in a real-world setting.
LearnDash allows users to set rules for their students, such as requiring them to complete a lesson before moving on to the next lesson. This helps to ensure that each student has a solid understanding of the material before moving forward.
Automated Notifications
With this feature, students can receive instant feedback and communication when they achieve a certain score or perform a certain action, helping them to stay engaged and motivated throughout their learning journey. Automated notifications can also be customized, allowing instructors to tailor messages to specific student groups or learning objectives. This powerful feature ensures that students have the support they need to succeed, while also streamlining communication between instructors and learners.
Badges & certificates
One of the standout features of LearnDash, the popular LMS plugin for WordPress, is its ability to award badges and certificates to learners. These certificates can be official and can be awarded based on quiz performance, completing a course, or both.
Advanced quizzing
With LearnDash, users have complete control over how students take quizzes and tests. This includes features such as time limits, limiting attempts, and random questions.
Dynamic content delivery
With LearnDash, you can choose to drip-feed lessons to your students, allowing you to control the pace at which they progress through the course. Alternatively, you can set a linear or open progression, giving your students the freedom to move through the course as they see fit. This dynamic content delivery ensures your students stay engaged and motivated throughout the course, leading to better learning outcomes and higher satisfaction rates.
Drip-Fed Content And Prerequisites
Making courses available at a certain duration or at a particular time is called Drip-Fed Content. To make better user engagement you can activate this feature. You can make content available for some days after signup or you can set a particular date to display the content.

You can add course prerequisites also for some of the courses to check wheater the user is well known to complete this course. You can add some of the previous courses as prerequisites then you can check if the course taker has potential.

Easy Text Translation for Local Language
If English isn't your website's native language, LearnDash makes it simple to translate and localize your training course web content without the demand for a different plugin.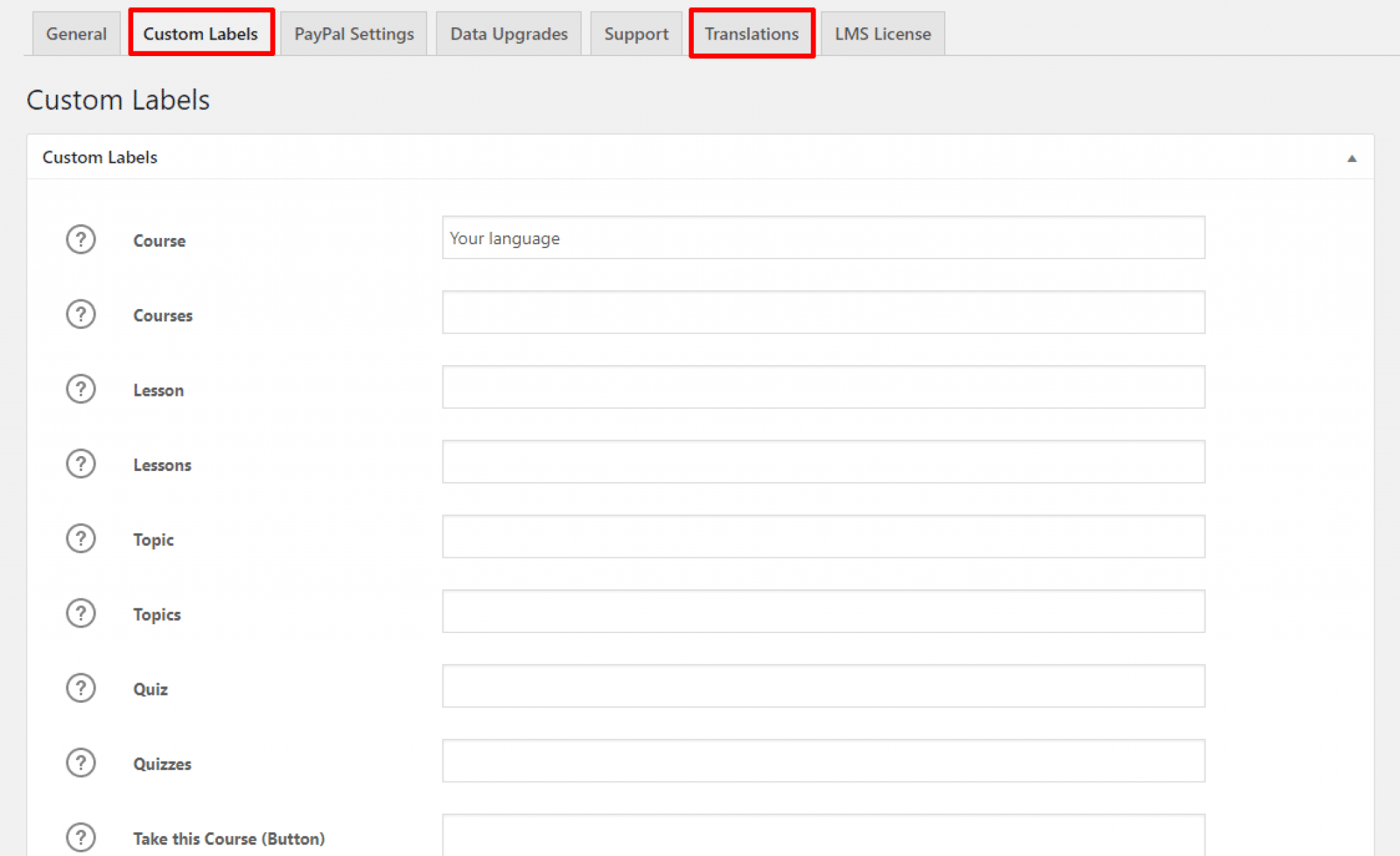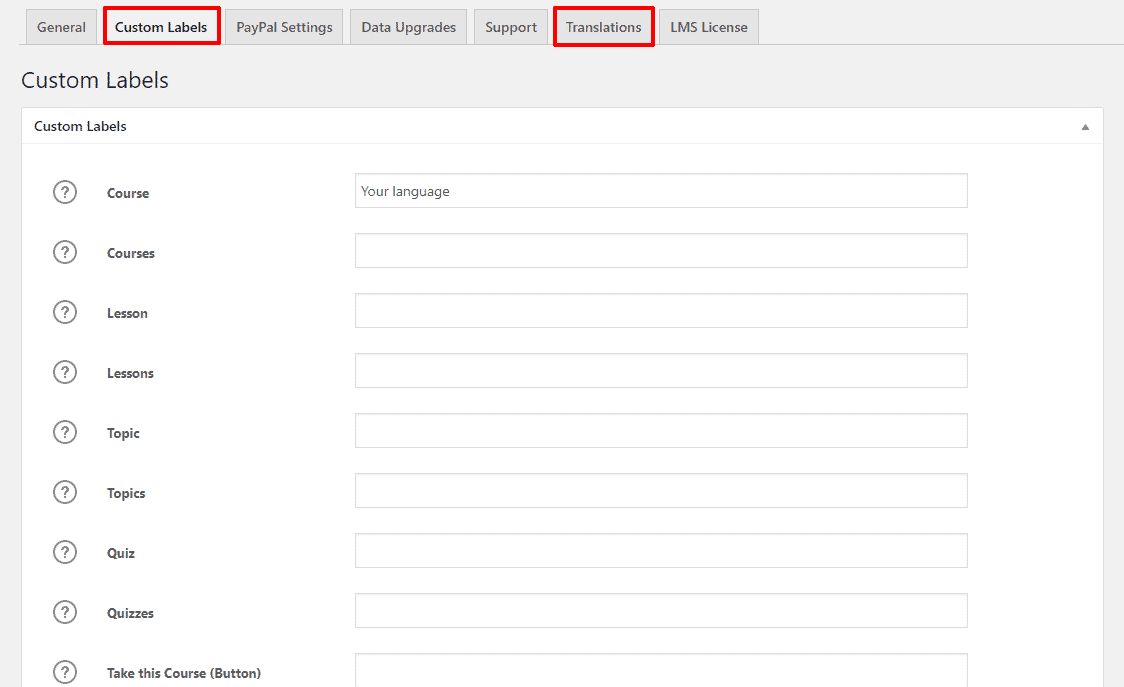 Why Choose LearnDash LMS Plugin?
Unique features
Customizable templates to align with your brand.
u003cstrongu003e40+ Integrationsu003c/strongu003e to add even more functionality to your online courses.
20+ pro and free u003cstrongu003eAdd-onsu003c/strongu003e
One-time purchases
Memberships and Subscriptions
Stripe integration and Payment Gateway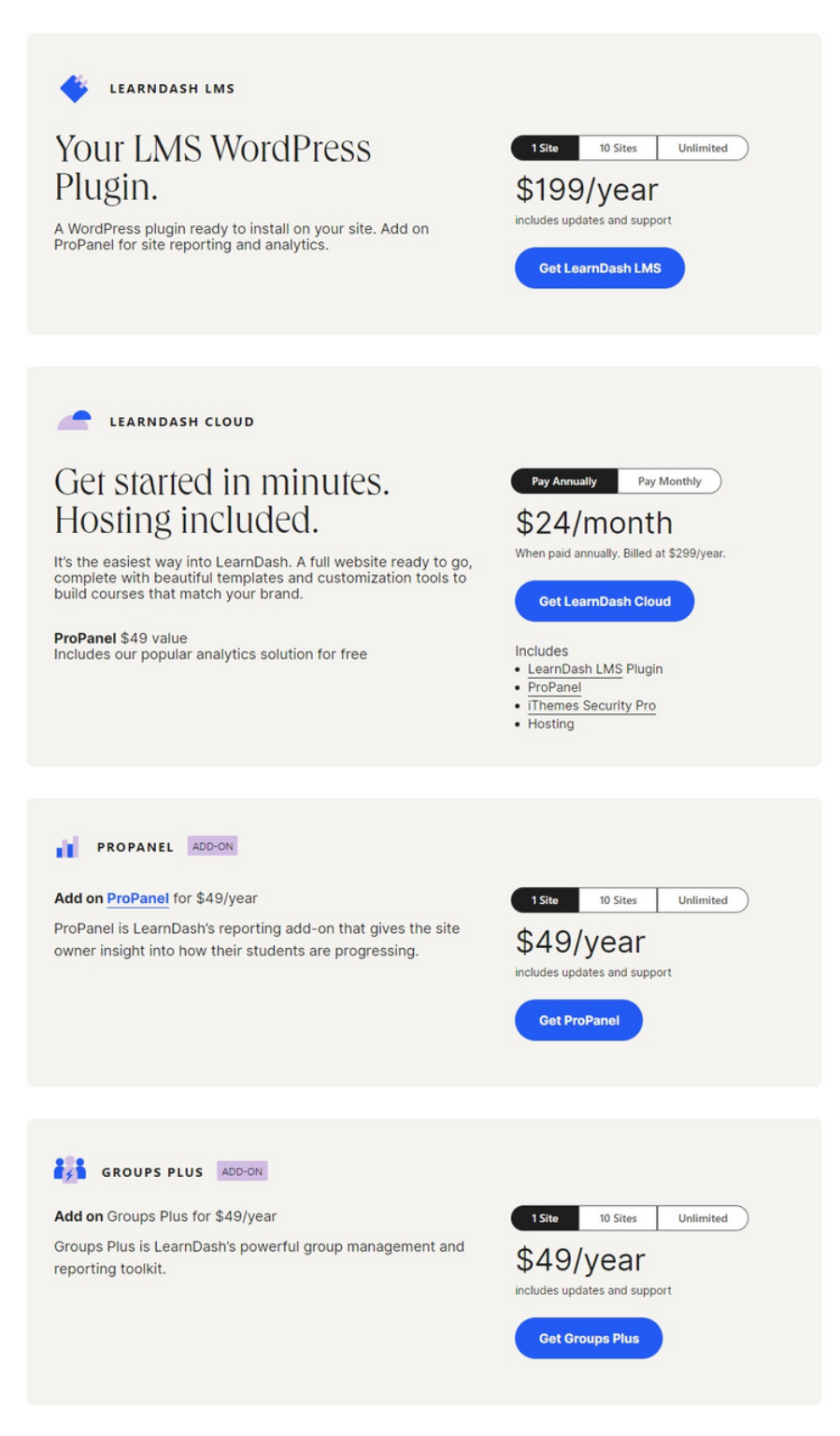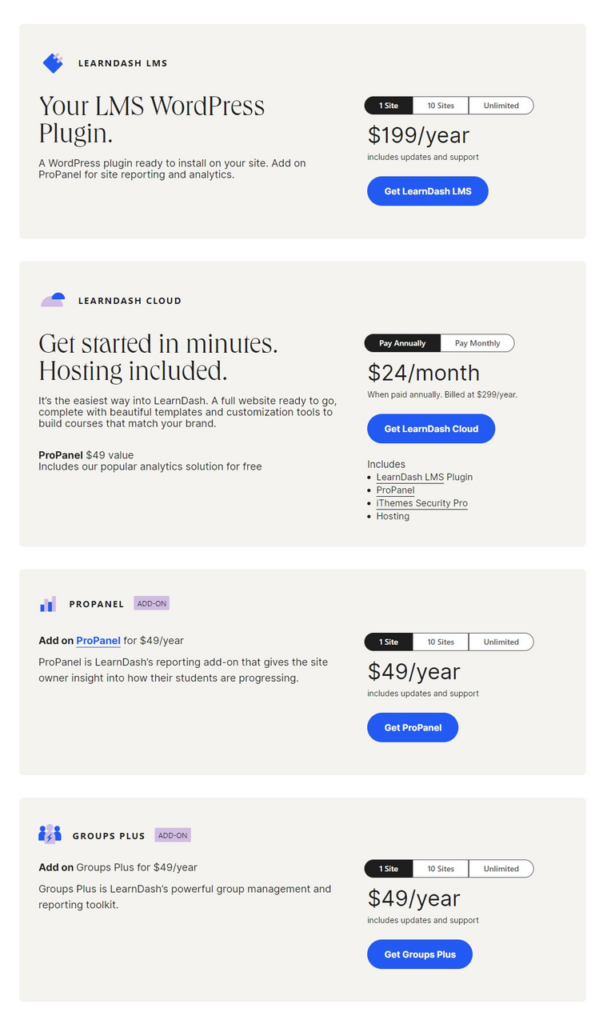 In the Basic package you don't get the Propanel feature, Propanel is reporting addon for LearnDash.
For all these packages LearnDash gives One support and updates with 15 Days money-back guarantee.
Support Details
Knowledgebase, Roadmap, Changelog, Contact support
Offers Live Chat, Email, and Ticketing.
Offers Brief Documentation.
Provide In-depth webinars, demo Videos, and Blog articles.
Facebook community support
Find an Expert to assist with any LearnDash project.
Other Alternatives to LearnDash
Similar Plugins
MasterStudy LMS WordPress Plugin is a comprehensive learning management system developed for delivering online courses and training.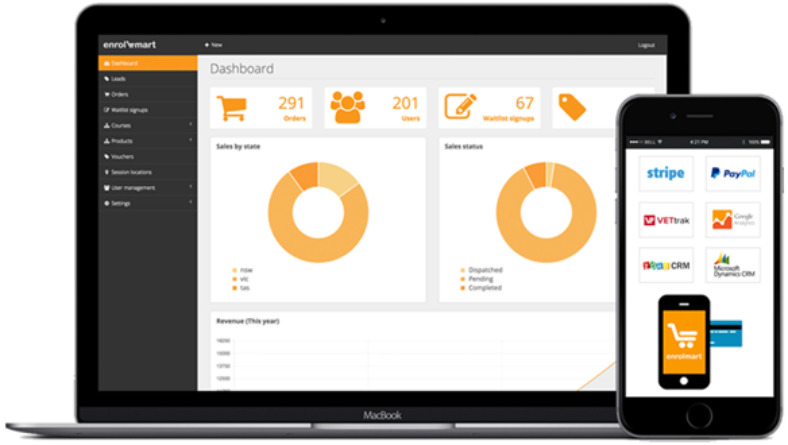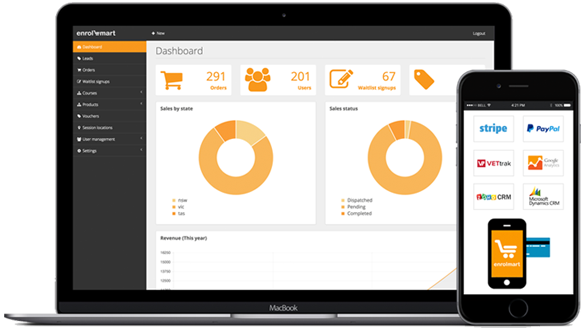 Moodle is more than just an LMS platform – They are a global community of educators, trainers, developers, system administrators, and learners who are dedicated to building the world's most effective platform for online learning.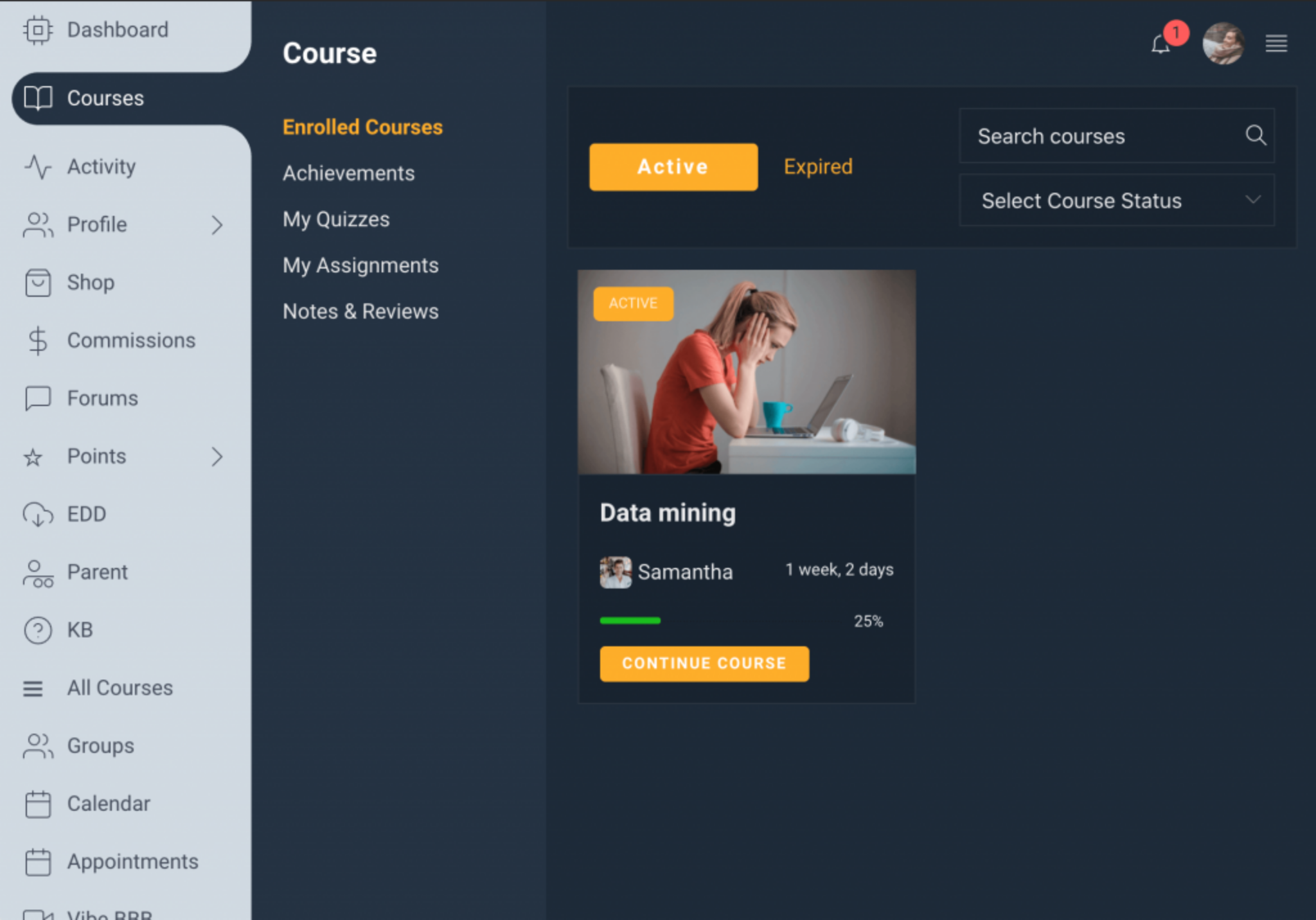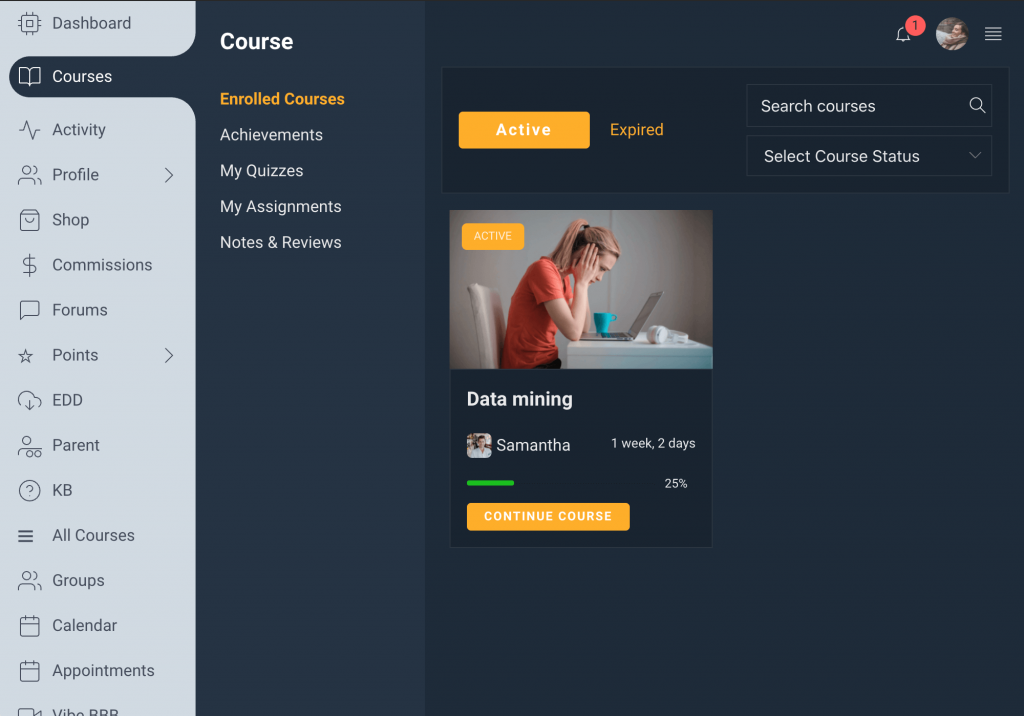 For Web and Mobile, the most sophisticated Social WordPress LMS. On the web and in the app, you can easily create your online education community. It's simple to create and sell courses online.
Final Verdict
Is LearnDash any good?
LearnDash has revolutionized the online learning industry with its user-friendly interface, customization options to match your branding, and a wide range of features to create meaningful and robust courses.
With a continually growing list of add-ons, LearnDash makes sure you have all the tools and resources to meet your business requirements. So why wait? Sign up for LearnDash today and experience the power of creating an impactful e-learning course.
LearnDash LMS Plugin Review video
Review Video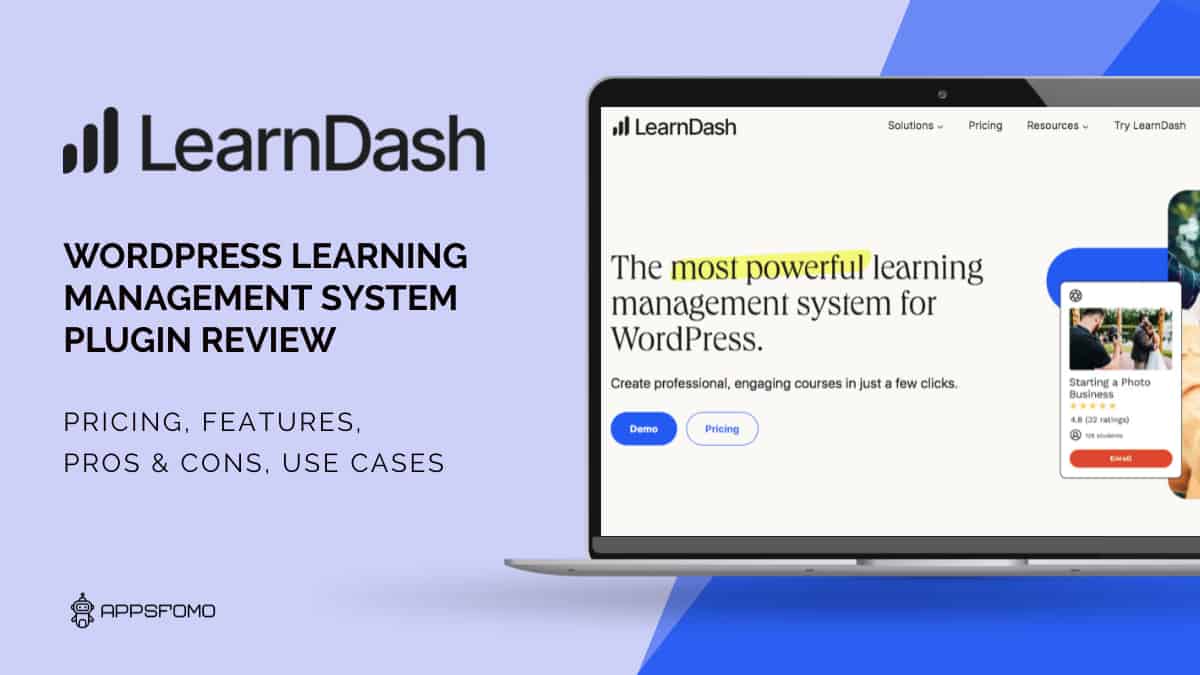 Learndash: The Leading WordPress Learning Management System