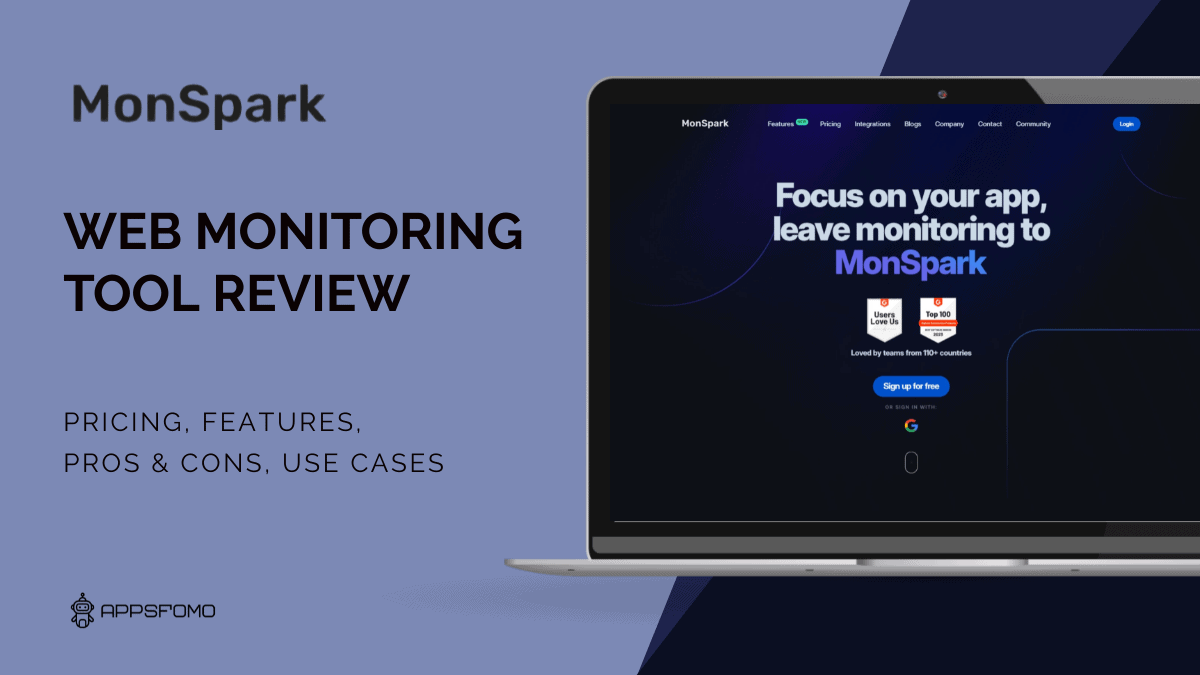 Monspark: Uptime Monitoring for your Website, Server, or Application
Add to wishlist
Added to wishlist
Removed from wishlist
0
Add to compare
A website is not just a blog or an online platform for sharing information. It is a business tool that helps in increasing customer engagement and sales. The website needs to be optimized for maximum performance and uptime to ensure visitors get the desired results.
In this blog, we will talk about how you can keep your website uptime at its best with MonSpark, the monitoring tool that provides comprehensive insights into the performance of your website. We will also tell you its features, pricing, and alternatives. So without further ado, let's get into it!
What Is MonSpark?
Overview
MonSpark is a popular web monitoring tool used by businesses to keep track of uptime and security. MonSpark offers features such as monitoring website uptime, checking for server downtime, and identifying website performance issues. You can prioritize your tasks and manage your team's performance by getting real-time visibility into what is happening across all your sites and apps.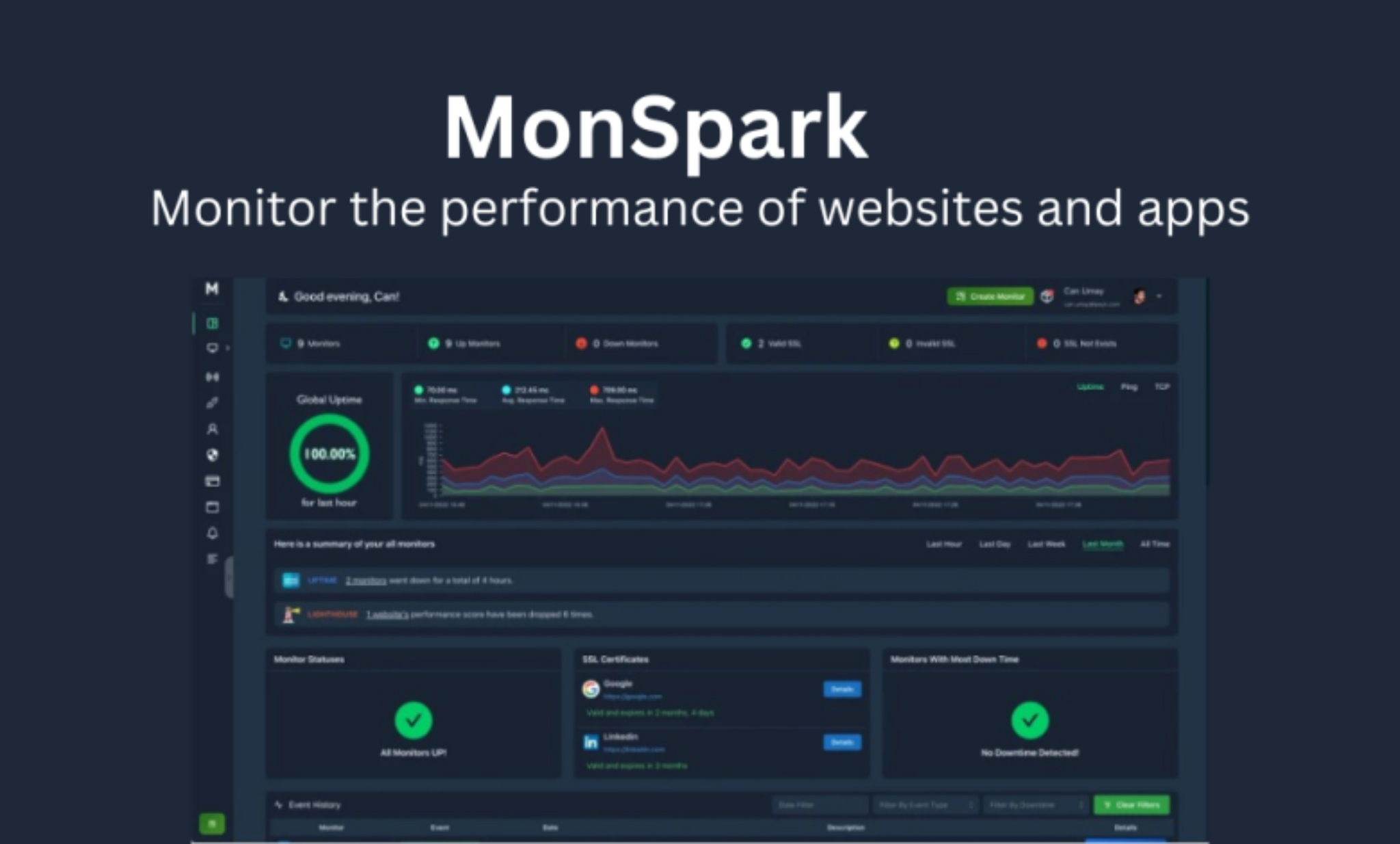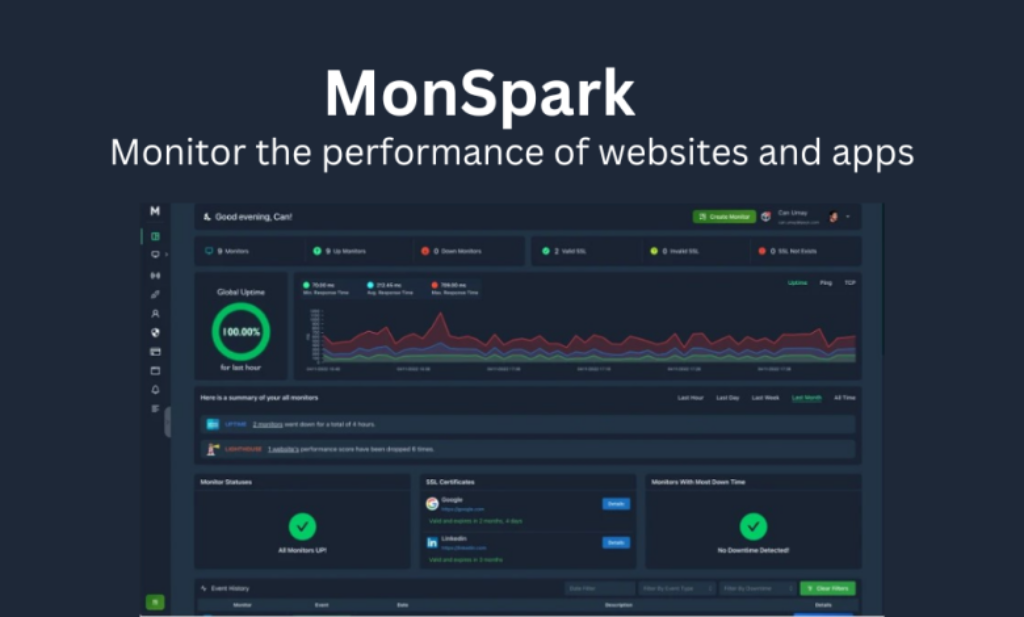 It offers detailed insights on website performance using charts, graphs, and reports. You can also receive email, SMS, or voice call alerts if something goes wrong with your website or app.
MonSpark is an affordable alternative to expensive web monitoring tools, making it a good fit for startups and small businesses.
How to use MonSpark?
Get started using MonSpark today with no credit-card required! It's a free service that offers uptime monitoring for websites. With the free uptime monitoring, you can be sure that your website is running smoothly and without any downtime.
After signing up for MonSpark, you'll receive a dashboard where you can view real-time uptime metrics of your selected websites. You can also view historical uptime statistics and notifications on the go. – You can use MonSpark to monitor 5 websites completely free.
There's no complicated setup required simply enter the URL of a website and MonSpark will take care of the rest. MonSpark notifies whenever website crashes or is down for too long, so can always be aware of its status. MonSpark keeps thousands of websites running smoothly, and the people who depend on it come from all over the globe.
Company Details
Initially, they started working on tool called Monspark in 2019. It was just a device for monitoring screenshots and textual modifications, but when they showed it to their potential clients, they discovered that they needed it for a variety of reasons. MonSpark was able to adapt to their demands by turning those reasons into modules.
Later in 2021 Peyk Inc. was created, which is the firm that developed MonSpark, after two years of development and eight team members. Osman Dogan is the CEO of the company headquarted at Wilmington, Delaware, USA.
Online Presence
Why need Web Monitoring Tool?
Benefits of website monitoring
Web monitoring offers a number of benefits to website owners and users.
It provides a detailed look at the performance, security, and overall health of a website.
With instant notifications, website owners can get timely alerts if their site goes down or experiences outages.
Can troubleshoot website issues and diagnose the root cause of any issues.
It helps in optimizing website traffic and converting more leads into paying customers.
In short, web monitoring gives you control over everything that happens on your site—both good and bad.
MonSpark Key Features
Ultimate Uptime Monitoring Service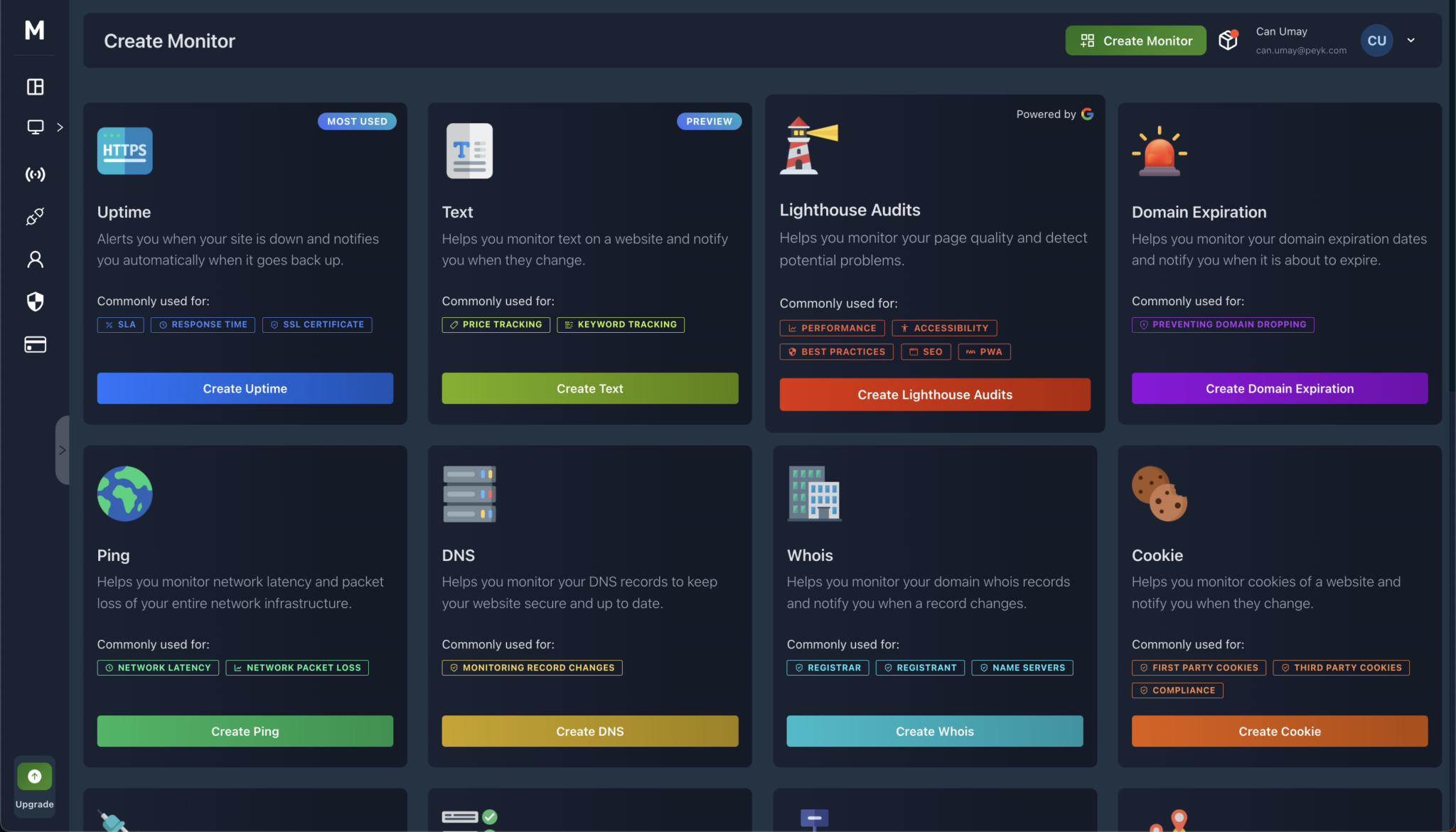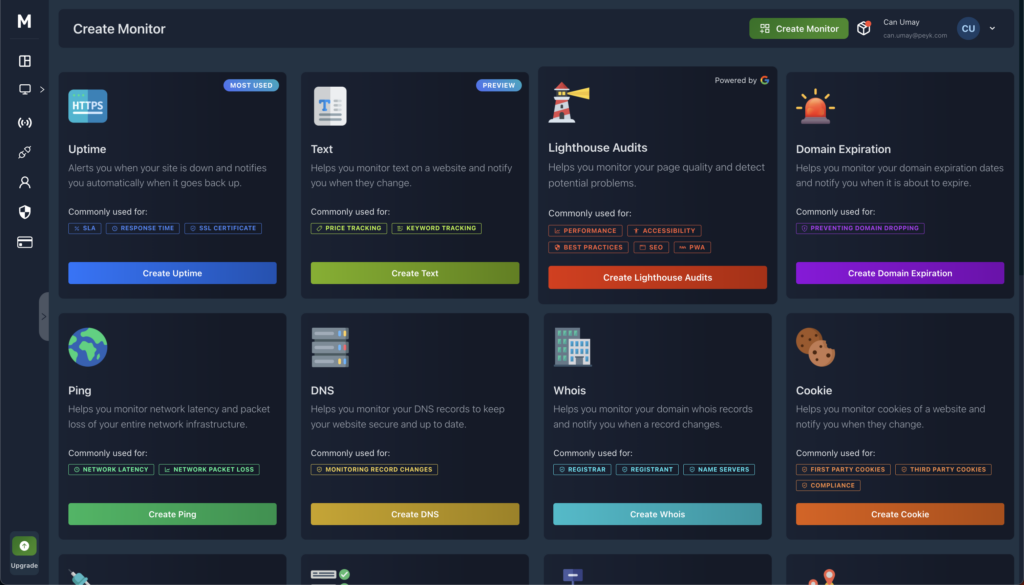 Uptime Monitor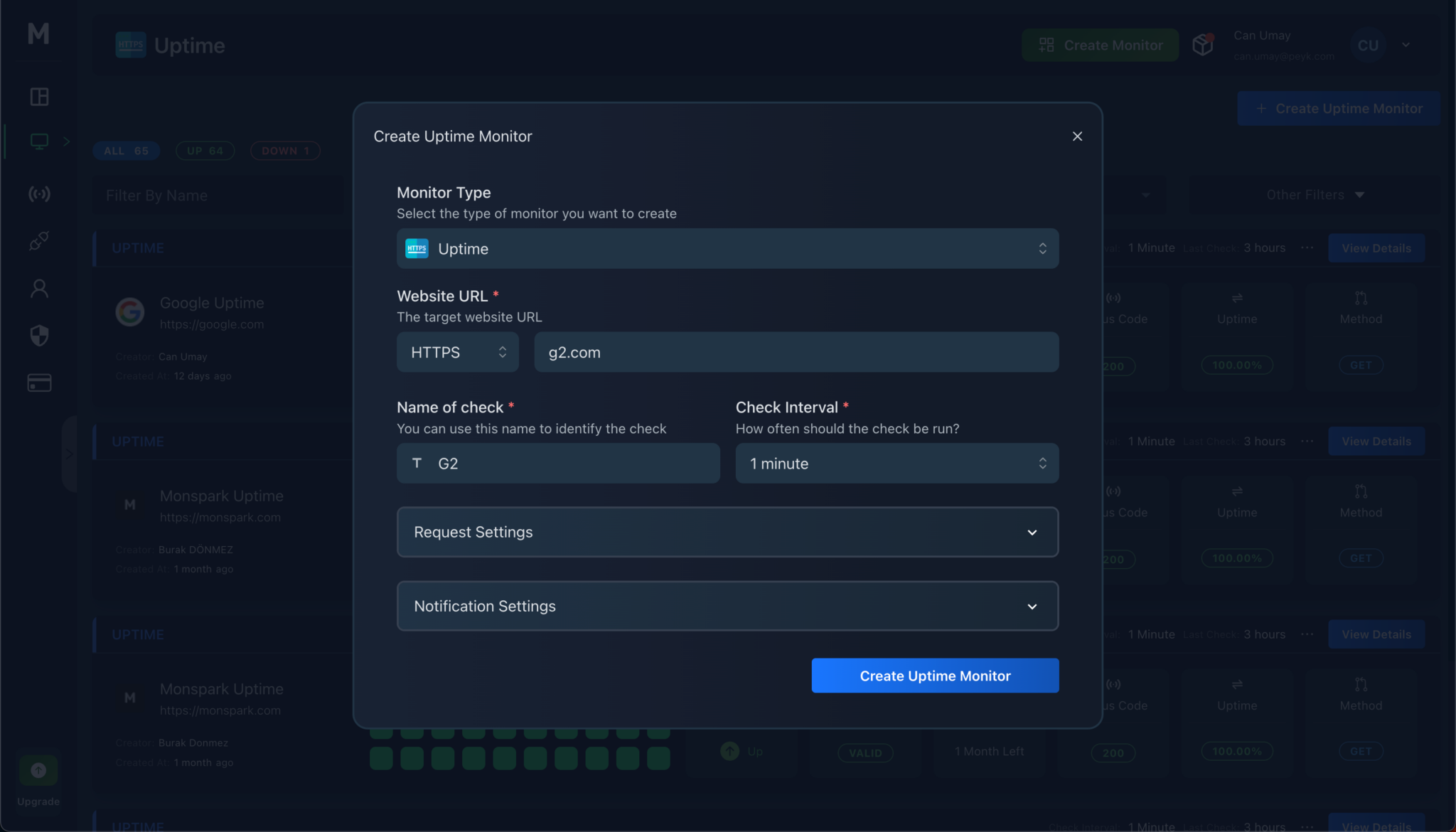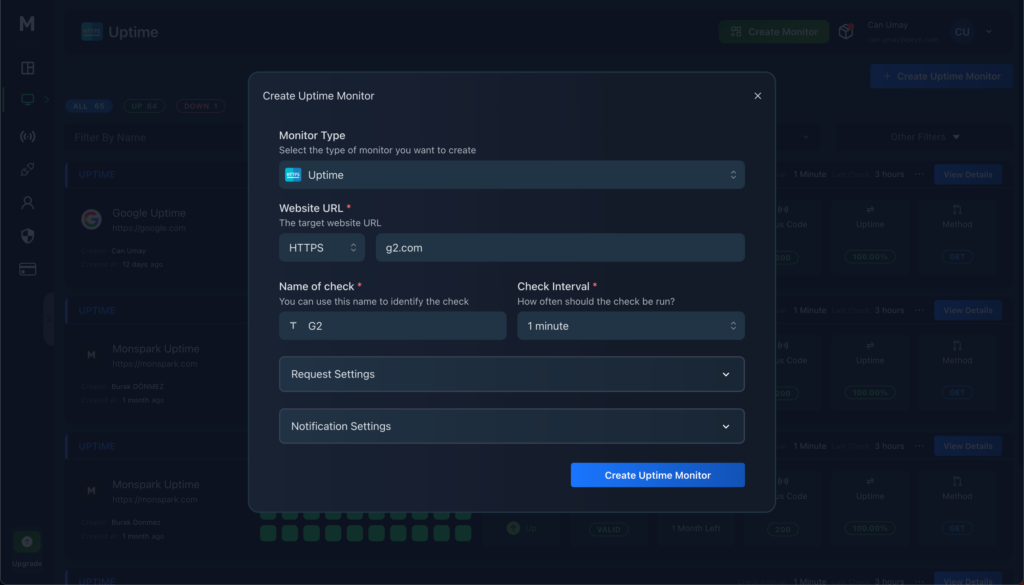 Uptime monitor is a service that automatically monitors your website or application and notifies users if it goes down. The purpose of uptime monitoring is to ensure that your website or application runs smoothly and is running at a high level of availability. If your site is unavailable to your users, you lose out on sales and income. Monitoring your website uptime allows you to determine how well your site is functioning and whether there are any issues with its performance.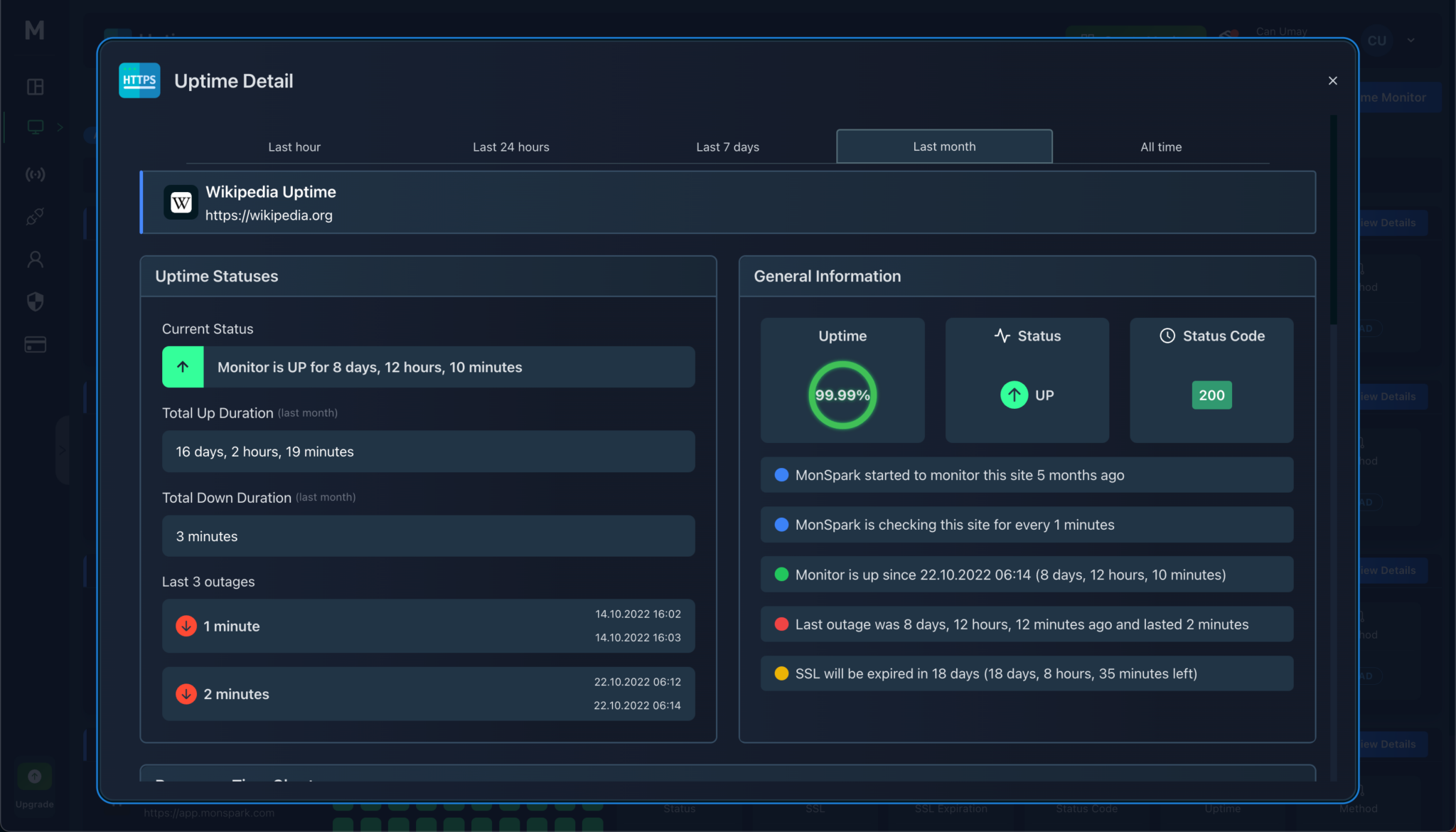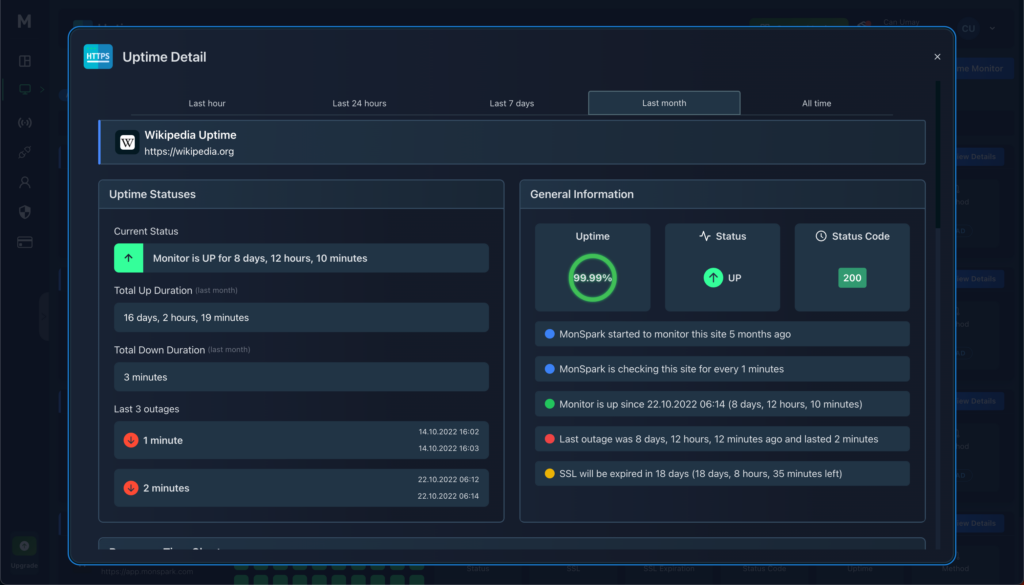 Text Monitor
This tool allows users to monitor website changes in the text, such as any changes to the text on a website.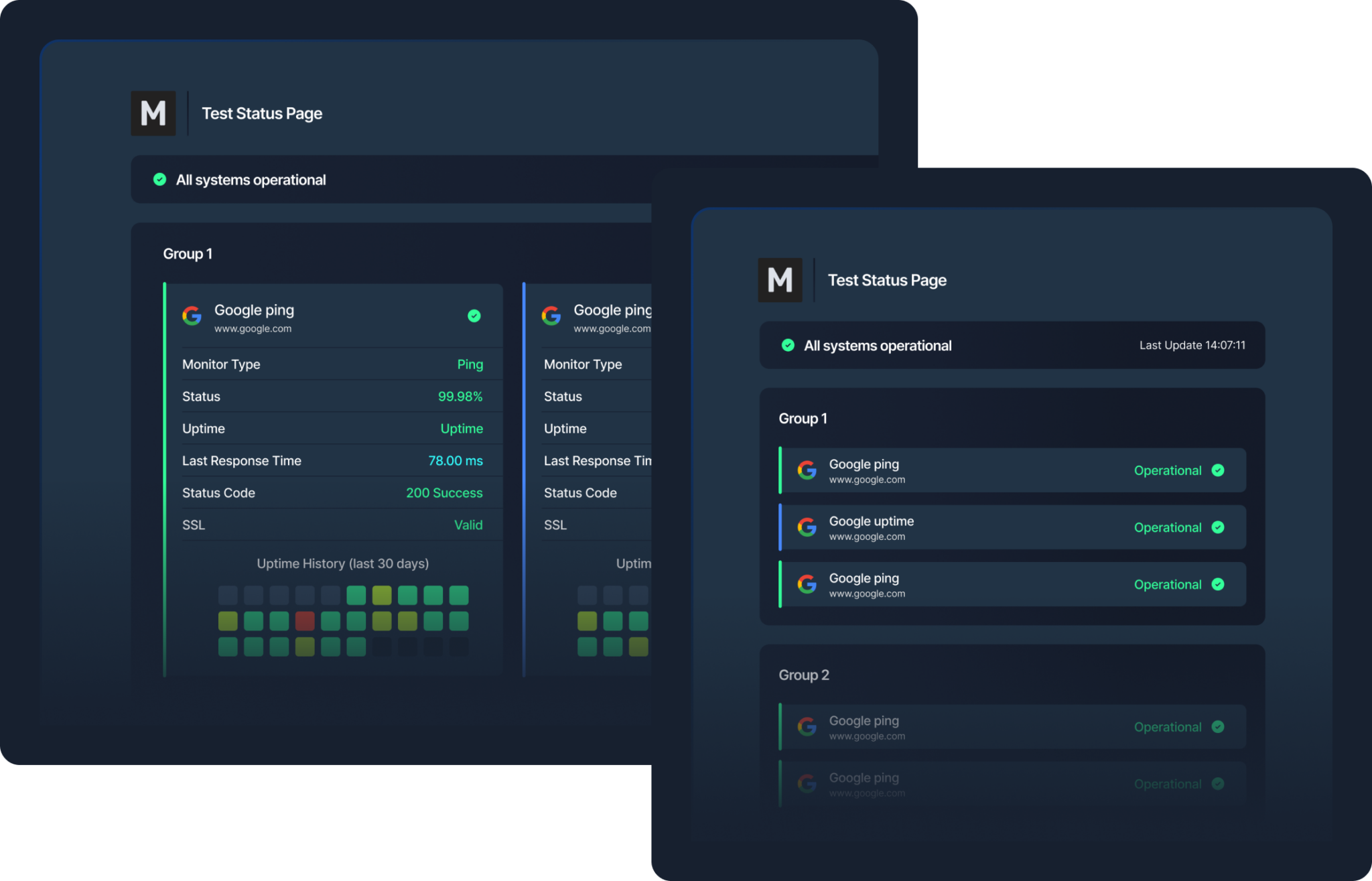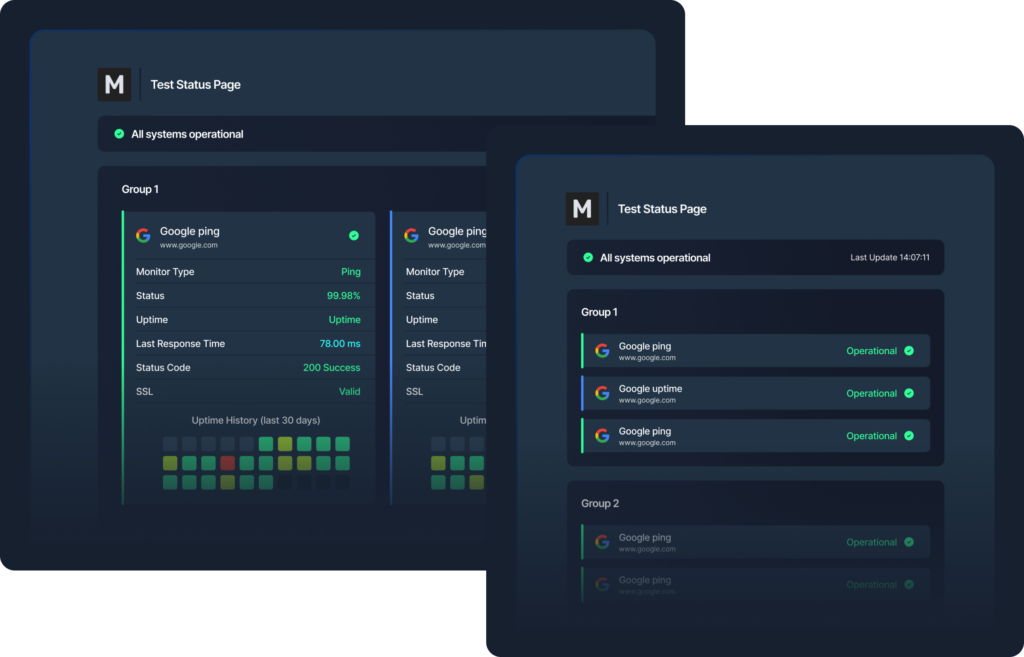 When there is a change in the specified text, MonSpark will notify you via email. This can help you ensure that your organization stays up to date with any news or updates on the website. It also saves time and effort since you won't have to manually check for updates.
Screenshot Monitoring
If you want to stay up to date with changes that happen 'behind the scenes' on your website, a great option is to use a screenshot monitoring tool. These tools allow you to visually track any page changes that are made on your website. It not only helps you monitor changes on your website but also saves you time by not having to manually go back and forth between pages. This can be especially helpful if you have multiple pages that need regular updating.
A screenshot monitoring tool will also give you a historical record of all the changes made on your website so that you can easily identify and fix errors or issues in future updates.
Ping Monitoring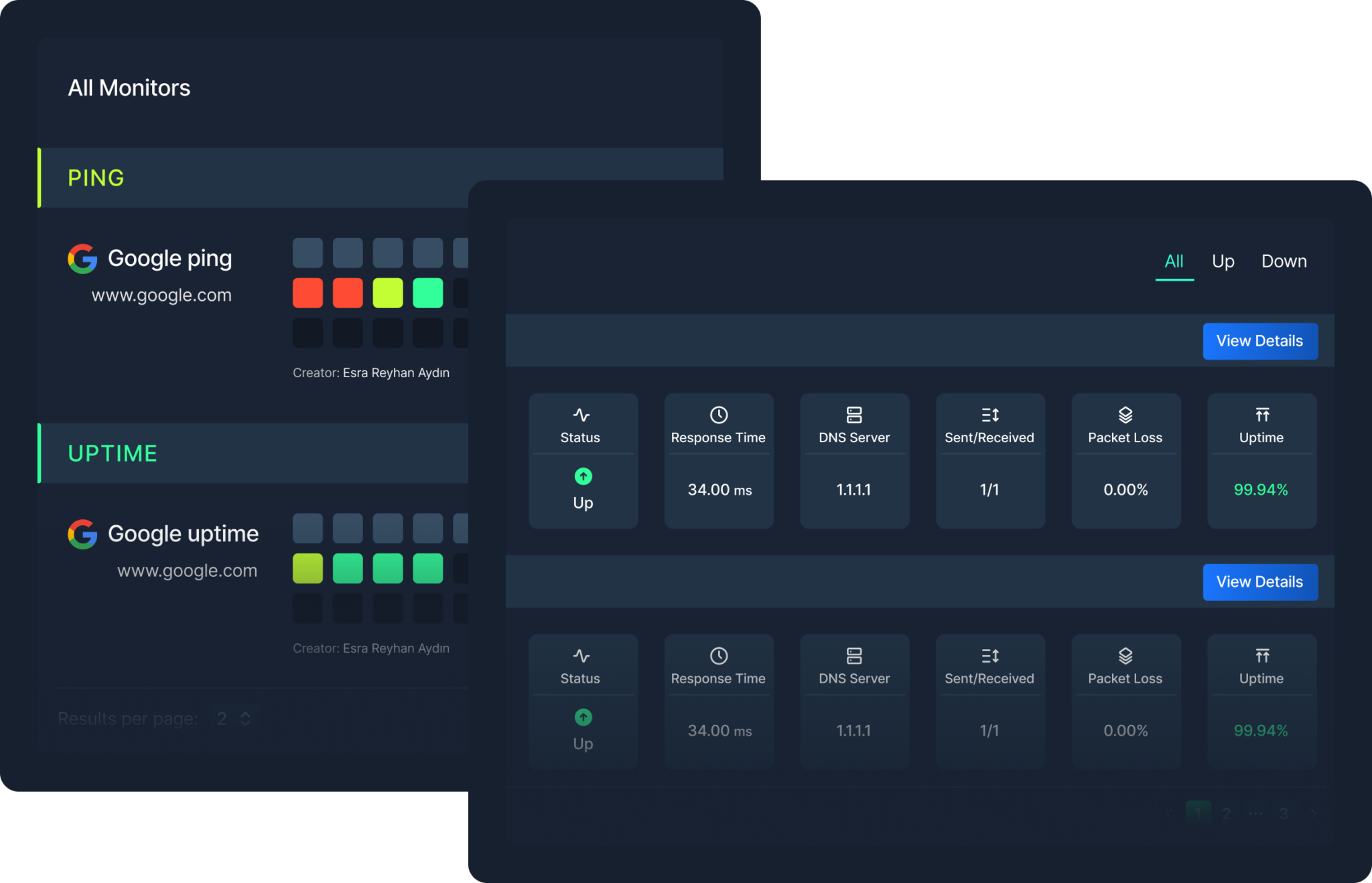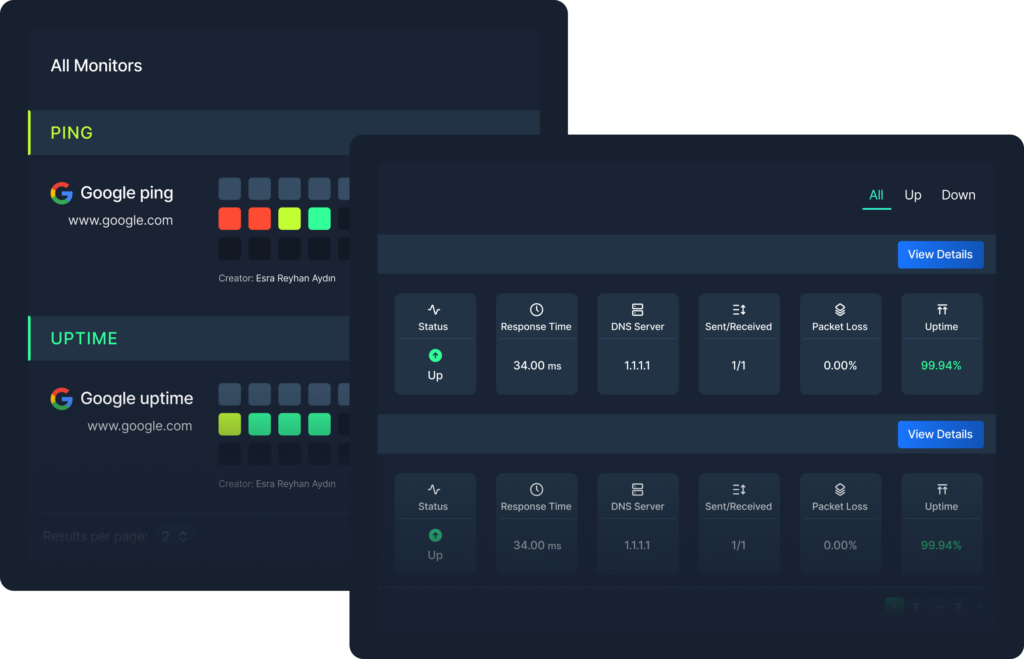 Ping is a network utility that helps you measure the latency, bandwidth, and packet loss statistics of a connection between two hosts. It is often used to troubleshoot network connections, but it can also be used for general performance analysis. Ping measures the time it takes for a packet to travel from one host to another, and then back again. You can use Ping to determine whether a target host is available by sending it to echo request packets and waiting for an echo reply.
Ping monitoring is useful for monitoring the status of your network infrastructure. It allows you to view ping results across all devices in your network and compare them over time. This feature helps you identify any issues with your network connectivity or troubleshoot any networking issues more quickly. By monitoring ping results, you can quickly identify if there are any problems with your network connectivity and take remedial action to ensure optimal performance.
DNS Monitoring
DNS is a critical part of ensuring the stability and security of your website. It's responsible for mapping domain names to their corresponding IP addresses, and without it, users cannot access your website. However, DNS can be easily compromised by hackers and other malicious entities. This can lead to serious problems if you are not monitoring DNS records.
Using a free tool like MonSpark can help you keep an eye on your DNS records, so you'll always know when they have been changed. If you don't monitor DNS records, then you're not monitoring the health and security of your website. It's essential to stay up to date with these changes to ensure that your website is running smoothly and safely.
SSL Monitoring
If you want to ensure that your website is secure and visitors are able to log in without having to worry about expired SSL certificates, monitoring the expiration date of your SSL certificate is a must. However, it's not always easy to tell if an SSL certificate has expired or not. To make sure that you are accepting only valid certificates, you can use a free tool like SSL Checker.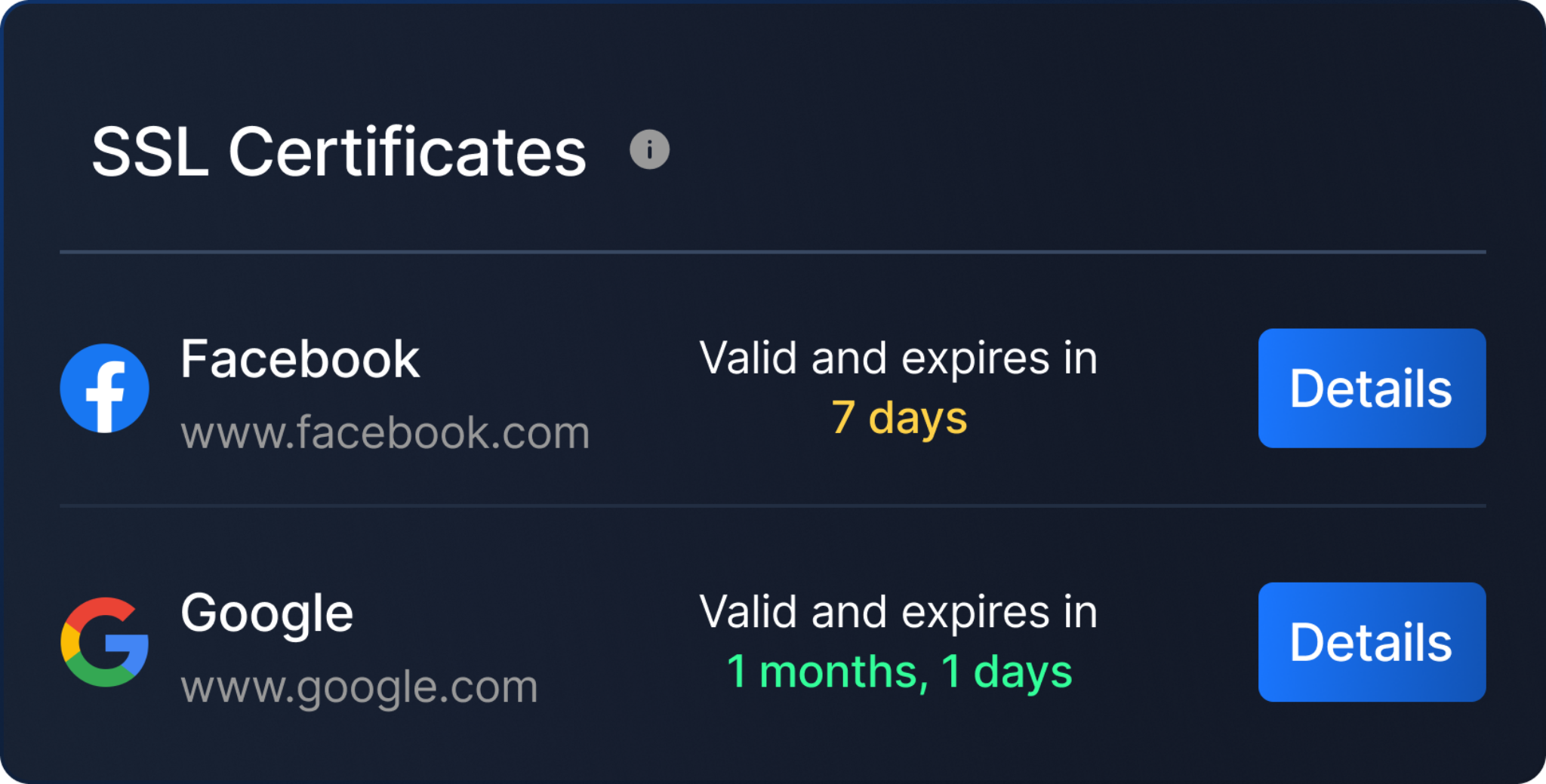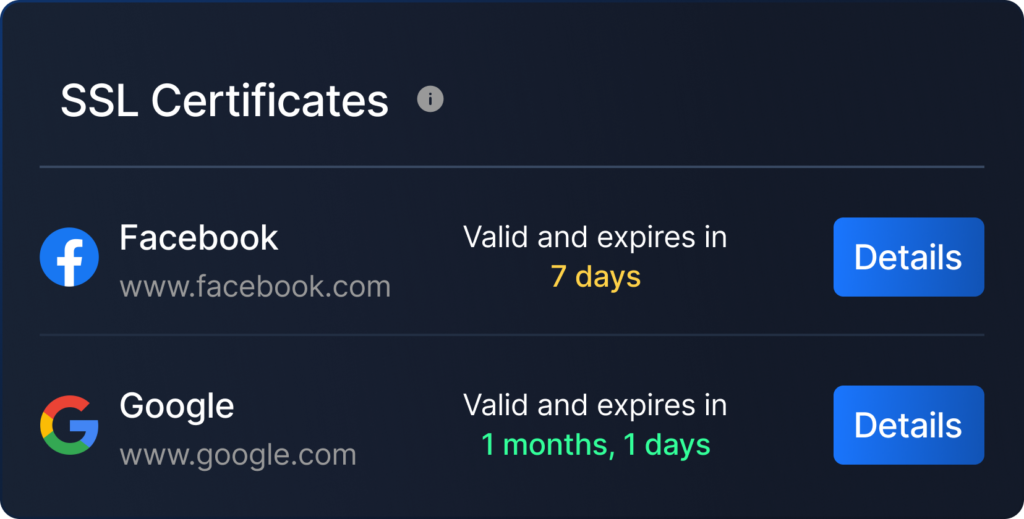 This tool will check if the fingerprint of the certificate is valid and will notify when an expired or revoked certificate is detected. Additionally, it can also provide information on the status of an individual certificate such as the date it was issued, whether it has been revoked, or its expiration date. This will help you ensure that your website is secure and visitors are able to login without having to worry about expired SSL certificates.
Port Monitoring
Port monitoring is a crucial part of successful network management. It lets you keep an eye on your network and detect problems before they impact your business. A port is an entry point to a network service. A single computer can have many ports, each of which maps to a specific application or process. The port number identifies the particular application or process.
You can use port monitoring to determine whether all of the ports on your network are in use and working correctly. This will ensure that your network, infrastructure, and equipment are performing as expected. It also helps to ensure that critical applications aren't being overwhelmed by other applications or services. Overall, port monitoring is an important tool for ensuring the stability and security of your IT infrastructure.
Lighthouse Audits
Lighthouse audits are a great way to improve your website's SEO rating. They help you maximize your efforts by evaluating your website and offering feedback on how to improve. Lighthouse audits look at various aspects of a website, including its title tags, page titles, and other metadata. They also take into account the quality of on-page and off-page content, as well as the site's accessibility and usability.
These audits provide valuable insight that can help you improve your website and further optimize your SEO efforts. By improving your SEO score after a lighthouse audit, you prove that you are making progress in improving the quality of your website and increasing traffic.
Whois Monitoring
Monitors WHOIS changes and email address modifications to alert you of any domain name ownership changes. This service will help you stay on top of any potential issues with your website or online presence. If a change in ownership happens, this monitoring service will let you know about it immediately so that you can take action.
This will reduce the risk of business disruption and keep your operations running smoothly. It's important to stay vigilant about who is accessing your website and who is modifying the information stored on it. By monitoring these changes, you can ensure that your website remains up and running.
Technology Monitoring
MonSpark checks the technologies used by websites and notifies users when something changes. It provides detailed information about the technologies and applications being used on a website, including their versions, uptime, memory usage, and more. It helps businesses keep track of the latest updates in website technology and ensure their websites are up to date. If a website is no longer using older tech or adding new features, it's an important sign that something may be wrong with the website's code or design.
If you're looking for a way to monitor the health of your website and ensure it runs smoothly, MonSpark is an indispensable tool. It will help you stay up-to-date on the latest trends in website technology and make critical decisions regarding which updates are necessary.
Cookie Monitoring
Keeping a website secure and compliant requires tracking first and third-party cookies to make sure that they are being used as intended. With MonSpark, you can easily manage cookie compliance by monitoring them in one place. You can view how many cookies have been set, what types of cookies have been set, and which domains have been assigned to those cookies.
This makes it easy to ensure that all parties are operating within the parameters of a contract or agreement. Additionally, you can use this information to identify potential issues with website security or performance. By monitoring cookie compliance, you can stay ahead of any potential problems and ensure that your website is staying up-to-date and safe.
Source Code Monitoring
Code monitoring tools help you track changes in your codebase over time. They can be invaluable for detecting security vulnerabilities, making sure your code complies with best practices, and other purposes. Some code monitoring tools also integrate with Continuous Integration (CI) and Continuous Delivery (CD) systems to speed up the process of deploying updates to production.
It's important to remember, however, that these tools only provide a limited view of the health of your codebase. Ultimately, you must still review the actual source code and make decisions regarding its suitability for deployment.
URL Monitoring
MonSpark alerts you whenever a new URL has been detected in your app's content, or when an existing URL has been renamed. It can also notify you when a URL is removed from the content if it was ever present in the first place. This makes it easy to keep track of your website's changes and ensure that everything stays up and running smoothly.
If you'd like more control over your website monitoring, MonSpark allows you to customize the notifications it sends out. You can specify which notifications are relevant to your app and tailor them to your specific needs. For example, you may only want to receive notifications about URLs that have been added or removed in the last few hours. Or you may only want alerts for certain types of URLs, such as those with specific hostnames or paths.
Blacklist Monitoring
It is always important to know if your website is blacklisted by a search engine. This will ensure that you are taking the necessary actions before being penalized or blocked. Some of the actions you can take include: regular SEO audits and maintenance, using a quality keyword research tool, and avoiding using banned keywords.
If your website is blacklisted, you must work hard to ensure that it is removed from the blacklist and work to avoid future issues. By knowing if your website is blacklisted, you can stay ahead of the game and ensure that it continues to perform optimally in search results.
Network Monitoring
If you want to ensure the performance of your website, it's important to monitor your speed.
You can use a speed test to see how long it takes your pages to load, as well as which parts of your site are functioning properly. By monitoring the performance of your website, you can identify issues and make necessary improvements.
MonSpark Integrations
integrate easily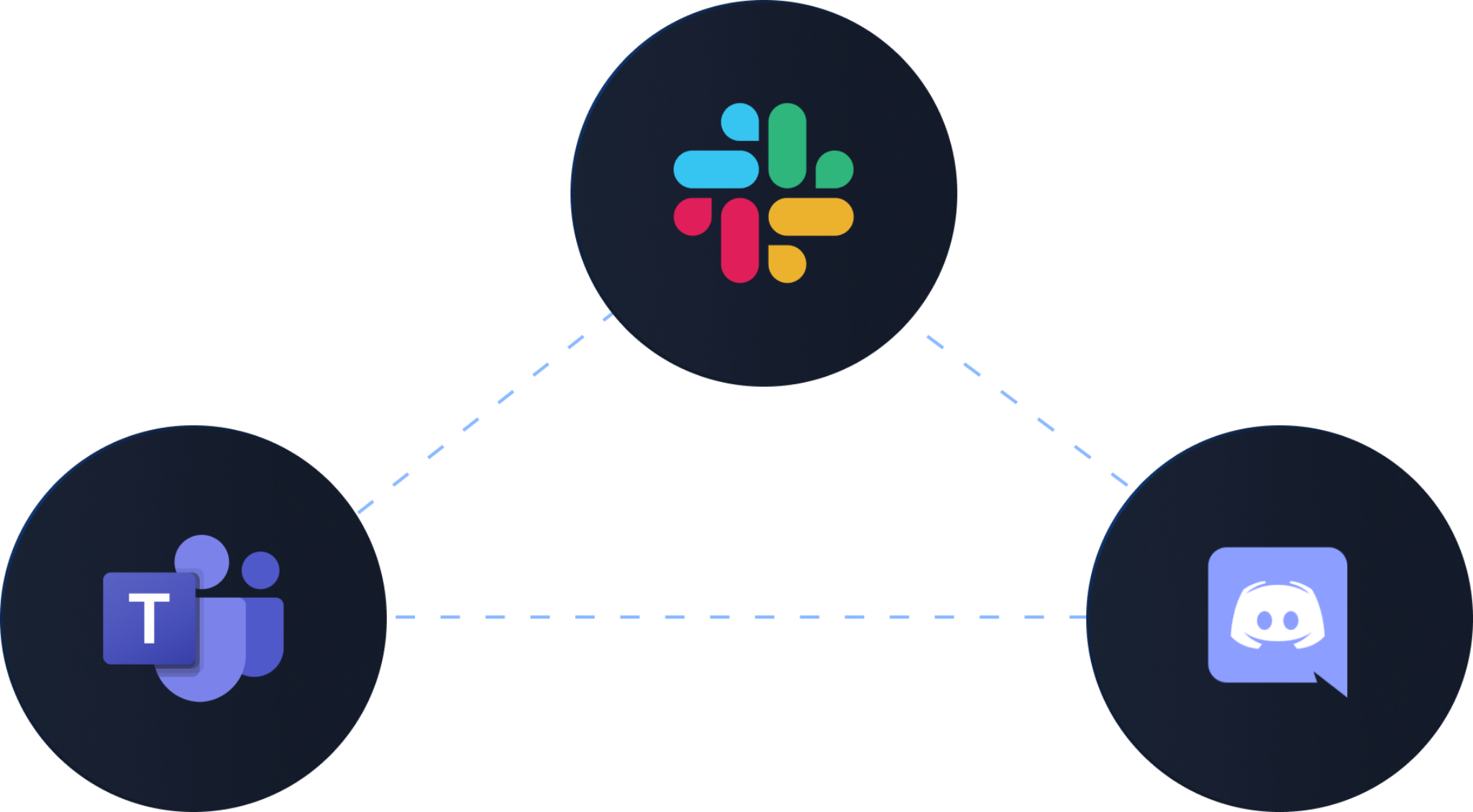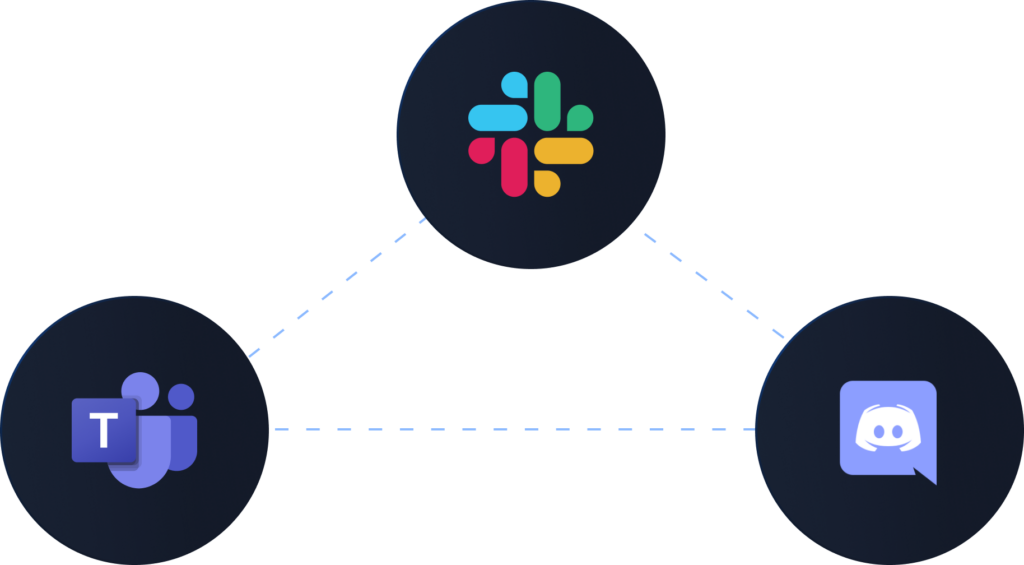 If you are looking to optimize your website's uptime, the MonSpark integration is a great way to do so.
When you integrate your MonSpark account with Microsoft Teams, you can view key notifications in team channels, like when an email has been read or a chat has been acknowledged. This can help teams be more efficient by bringing notifications to one place.
With the help of Slack integration, teams can stay up-to-date on the downtime that might occur with their server or game network.
Also, using Discord, team members can keep track of server status without leaving their favorite chat platform. By integrating MonSparK with the right tools, you can ensure your website is always online and operating smoothly.
MonSpark Use Cases?
Who can use it?
E-commerce
Professional Teams
Businesses of all sizes
SaaS
Project Managers
Entrepreneurs and Freelancers
Pricing Plans
Monthly Pricing and Annual Pricing
Offers Free Trial up to 5 monitoring.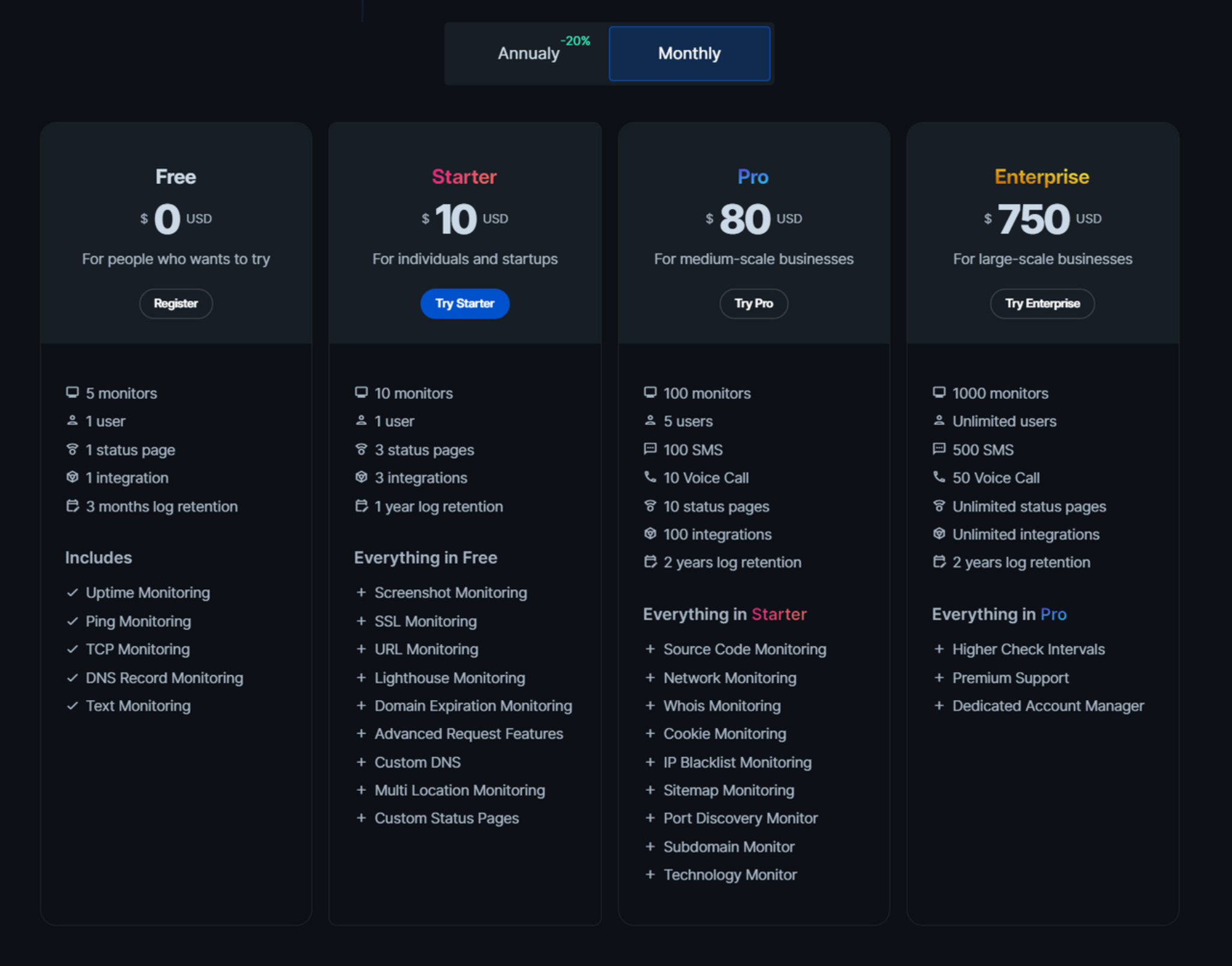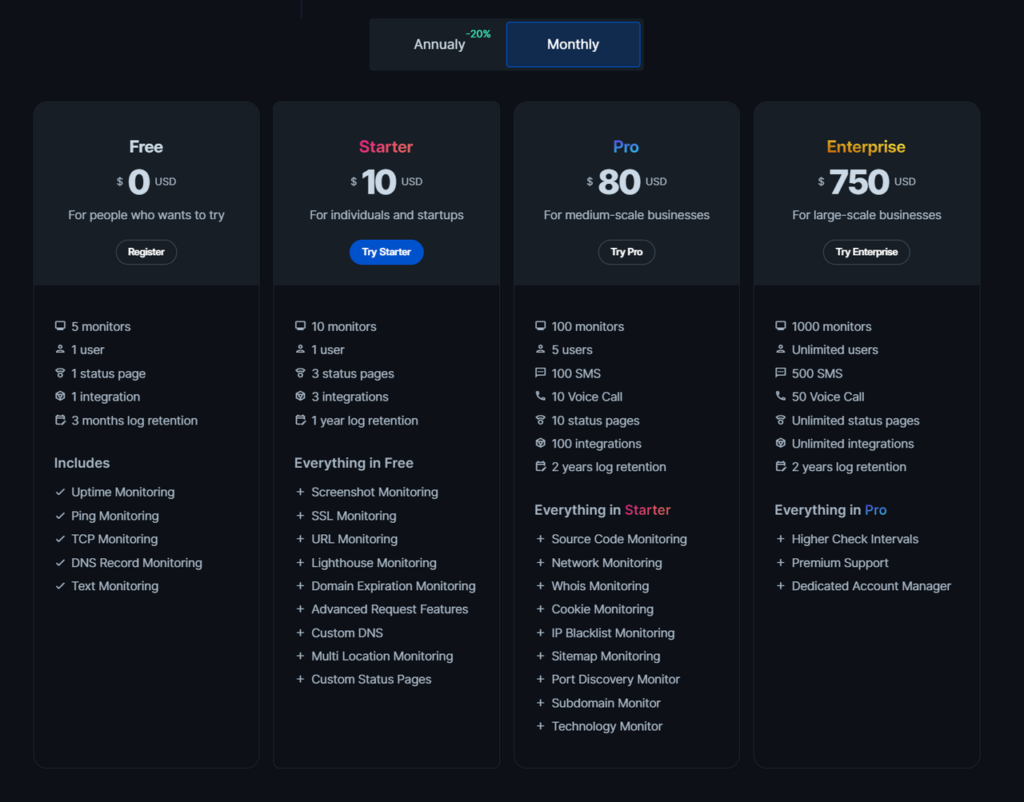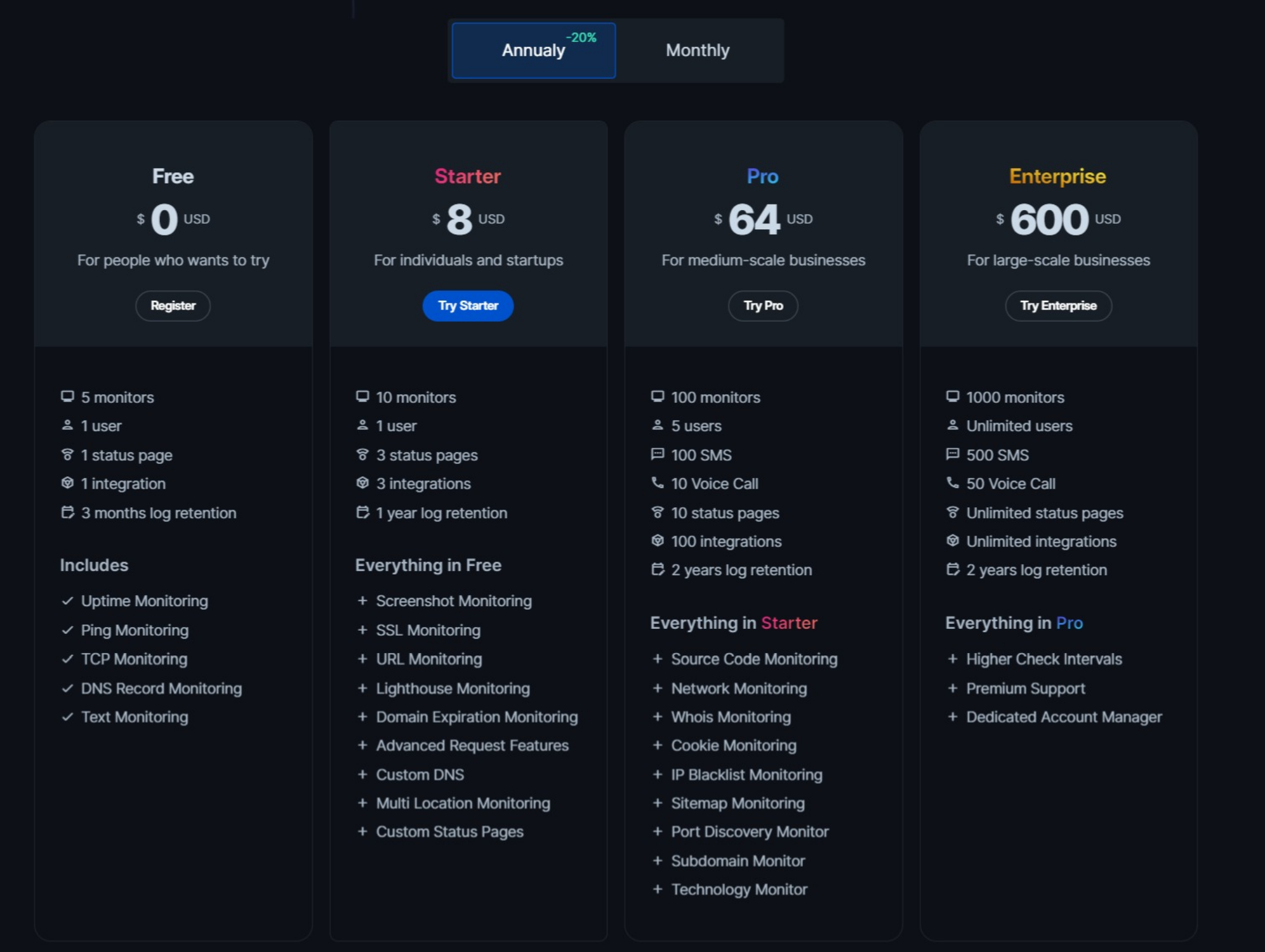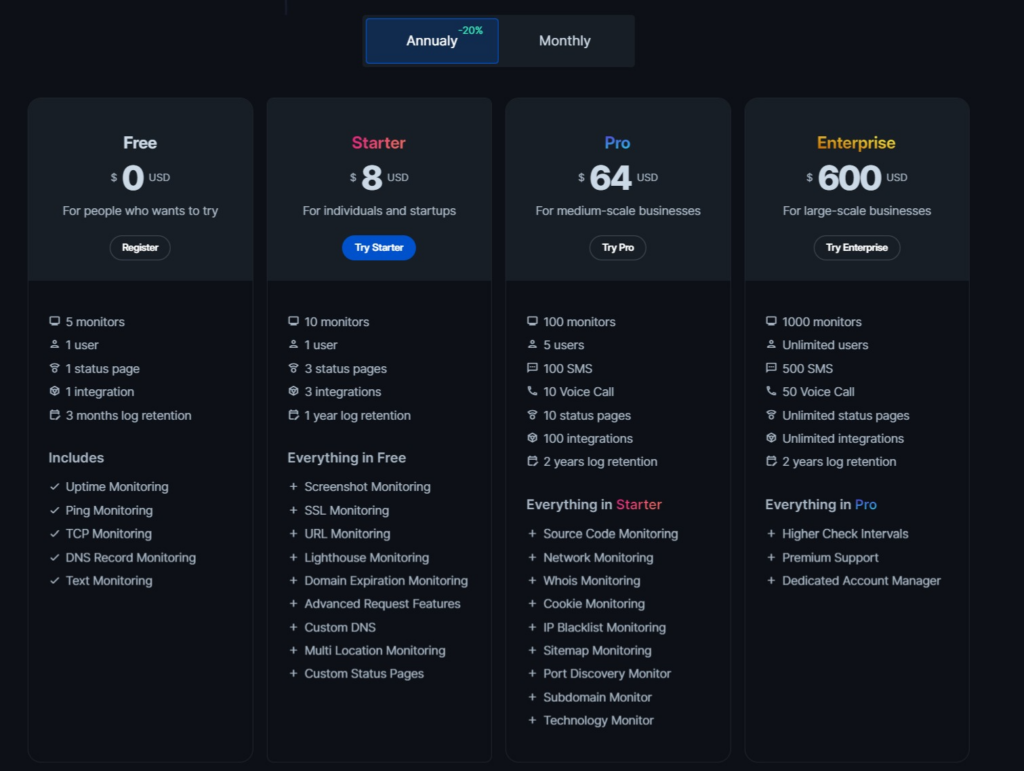 Support
Technical Support, Knowledge Base, Roadmaps, Changelogs
They offer Live Chat, Email, Ticketing, and Phone call support
Best Documentation support
Provide Public Roadmap and Changelog
Alternatives
Similar Apps
This tool comes with a wide range of features, such as website performance monitoring and website uptime monitoring. It provides real-time updates on the health of your website infrastructure and can help you identify issues before they become major problems.
It offers uptime monitoring, website performance monitoring, and other features. This service utilizes a combination of an API and webhooks to download website metrics from popular tracking tools.
Pingdom offers cost-effective and reliable uptime and performance monitoring for your website. This service offers detailed graphs, timelines, and alerts to keep track of your website's health.
Final Verdict
Is MonSpark right for You?
You've read the above article, which was written with the intention of helping you understand what website monitoring is, now that you know how website monitoring works and why it's vital for your website's uptime, you can choose to take steps in implementing it on your website/s or look for alternatives.
However, Monspark helps in optimizing websites for performance and accessibility, which can improve the overall experience for users. Hence, it's a handy tool for any website owner who wants their website to perform optimally and be accessible to as many users as possible.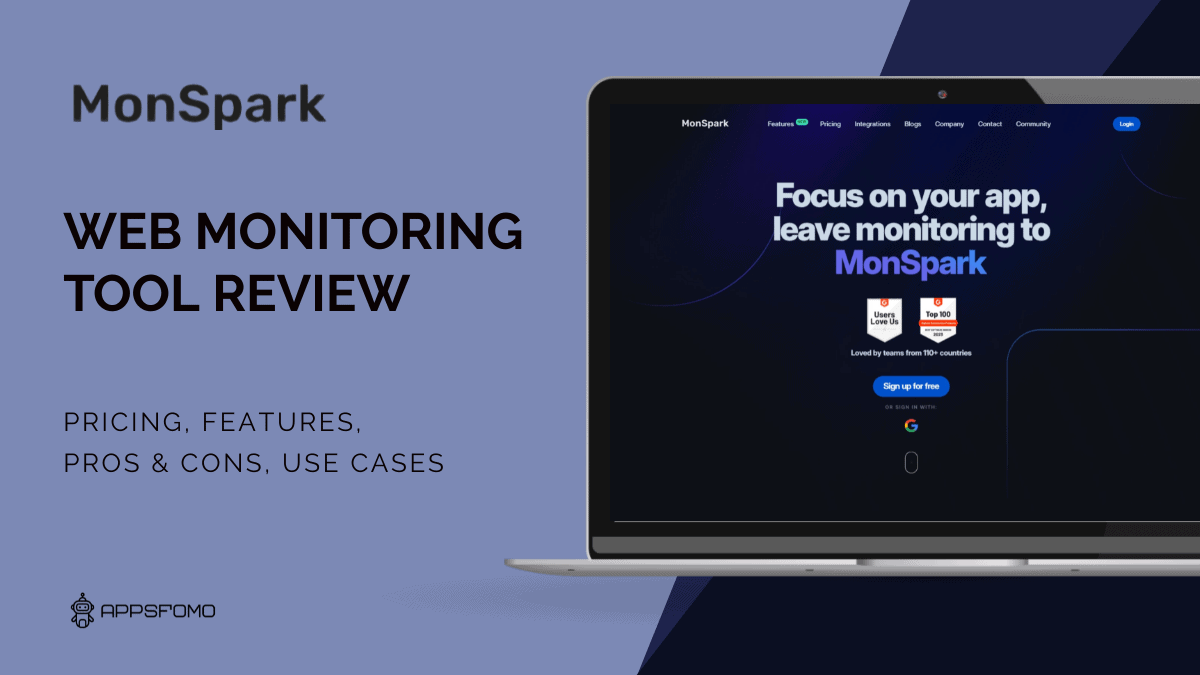 Specification:
Monspark: Uptime Monitoring for your Website, Server, or Application
| | |
| --- | --- |
| Review Date | February 2023 |
| Company | Peyk Inc |
| Country | USA |
| Initial Release | 2021 |
| Pricing | Annual Payment, Montlhy |
| Free Version | Available |
| Lifetime Deal | Yes |
| LTD Platform | Appsumo |
| Money-Back | N/A |
| Support type | Email, Live Chat, Phone call, Ticketing |
| Integrations | Yes |
| Supported Device | Browser |
| Mobile app | Not Available |
| Affiliate Program | No |
PROS:
Easy to Use
Excellent design of the dashboard and interface
Good amount of monitors
Standout lighthouse reports
Good Customer support.
CONS:
Currently, there's only a Europe location (Germany) when setting up a Text Monitor.
Limited integrations, would like more options besides Zappier Syncspider, webhooks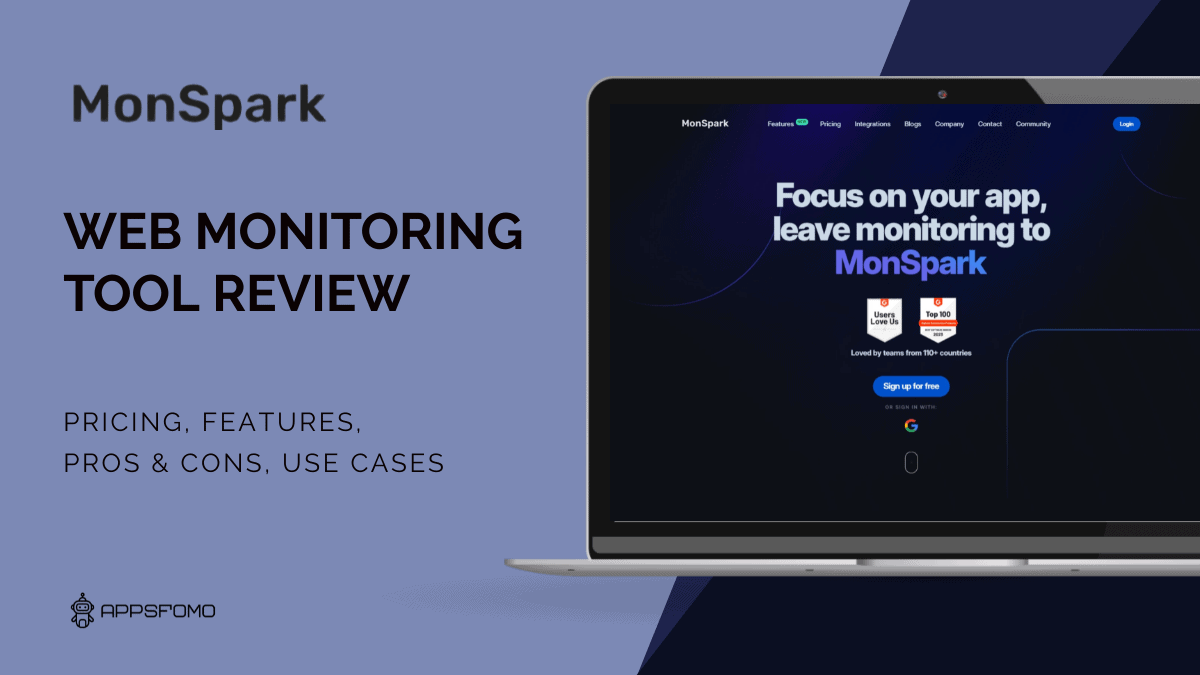 Monspark: Uptime Monitoring for your Website, Server, or Application