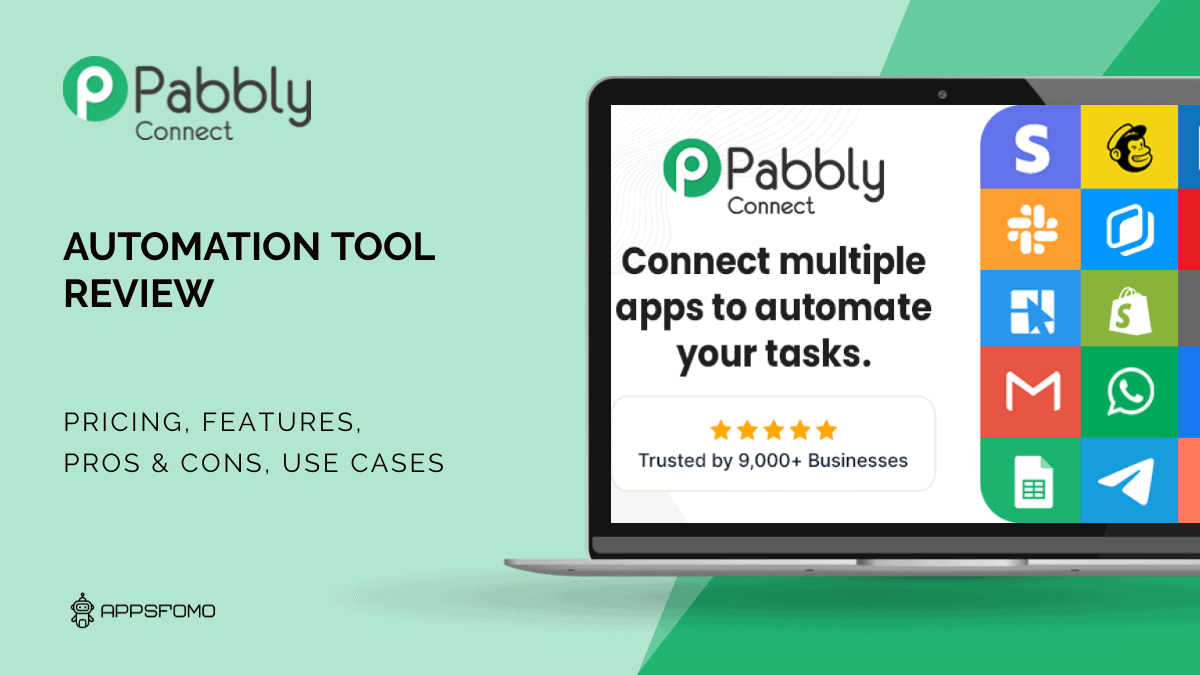 Pabbly Connect: Streamlining Your Workflow with Advanced Automation Features
Add to wishlist
Added to wishlist
Removed from wishlist
0
Add to compare
There isn't a single person in the world who doesn't want to work faster. Whether it's to earn more, complete tasks faster, or have more time for other things, most people would agree that automation is one of the best ways to speed up work.
But getting automation right can be tricky. In order to make an automation workflow successful, you need to have a solid understanding of why your organization decides to automate certain tasks and how they can help improve workflow efficiency and performance.
One such automation tool that has quietly gained traction amongst businesses is Pabbly Connect – The best alternative to Zapier, which helps companies automate repetitive workflows and boost productivity. One platform to automate all your integrations, Multi-step Calls & Unlimited Premium Apps.
The pabbly connect has been created to help businesses automate their business processes. This is done by connecting different systems providing data and tasks that need automation.
What Is Pabbly Connect
Overview
Pabbly Connect is a software automation tool that can help you connect and automate various apps and services for seamless data transfer between them. It provides features like triggers, app connectors, and callbacks, which allow you to connect your favorite applications within minutes and say goodbye to manual work.
The software connects a range of applications such as CRM, ERP and other enterprise systems. Pabbly Connect enables the companies' employees to work in a fully automated environment so that they can move from one task to another using well-defined standards which are known as rules set up within the pabbly connect application.
Easily connect multiple apps and automate your tasks with this handy tool. Apart from offering numerous features, Pabbly Connect is easy to use and understand. Get started with it today!
How does Pabbly Connect Work?
Pabbly Connect is a programmable automation platform. You can set up Workflows, which are sets of instructions that are run on a schedule. Then, you can connect apps to the Workflows, which will trigger the actions when certain conditions are met. For example, if someone tags an item on Facebook, you could create a workflow that runs whenever someone tags an item on Facebook and then automatically send an email with details about it to your team's inbox.
In just three steps, you can get started with your first workflow. No installation is required.


Click on Create Workflow Button.
Select the applications you would like to integrate.
Save your workflow and toggle it on.
You can now enable your workflow and save countless hours of manual work.
Company Details
Pankaj & Neeraj Agarwal are the Pioneers of Pabbly. This software was developed back in 2018 with the sole purpose of helping anyone around in order to meet their subscription & billing needs.
They believe that with a little courage, teamwork, and determination, any problem can be overcome. This belief has guided them as they worked to establish the foundation for their organization. The company is located in India.
Online Presence
Basic Features
Automate all your Integrations and Tasks
It is trusted by 9,000+ businesses. Pabbly Connect has an active 13,100+ members automation community.
No Code Powerful Automation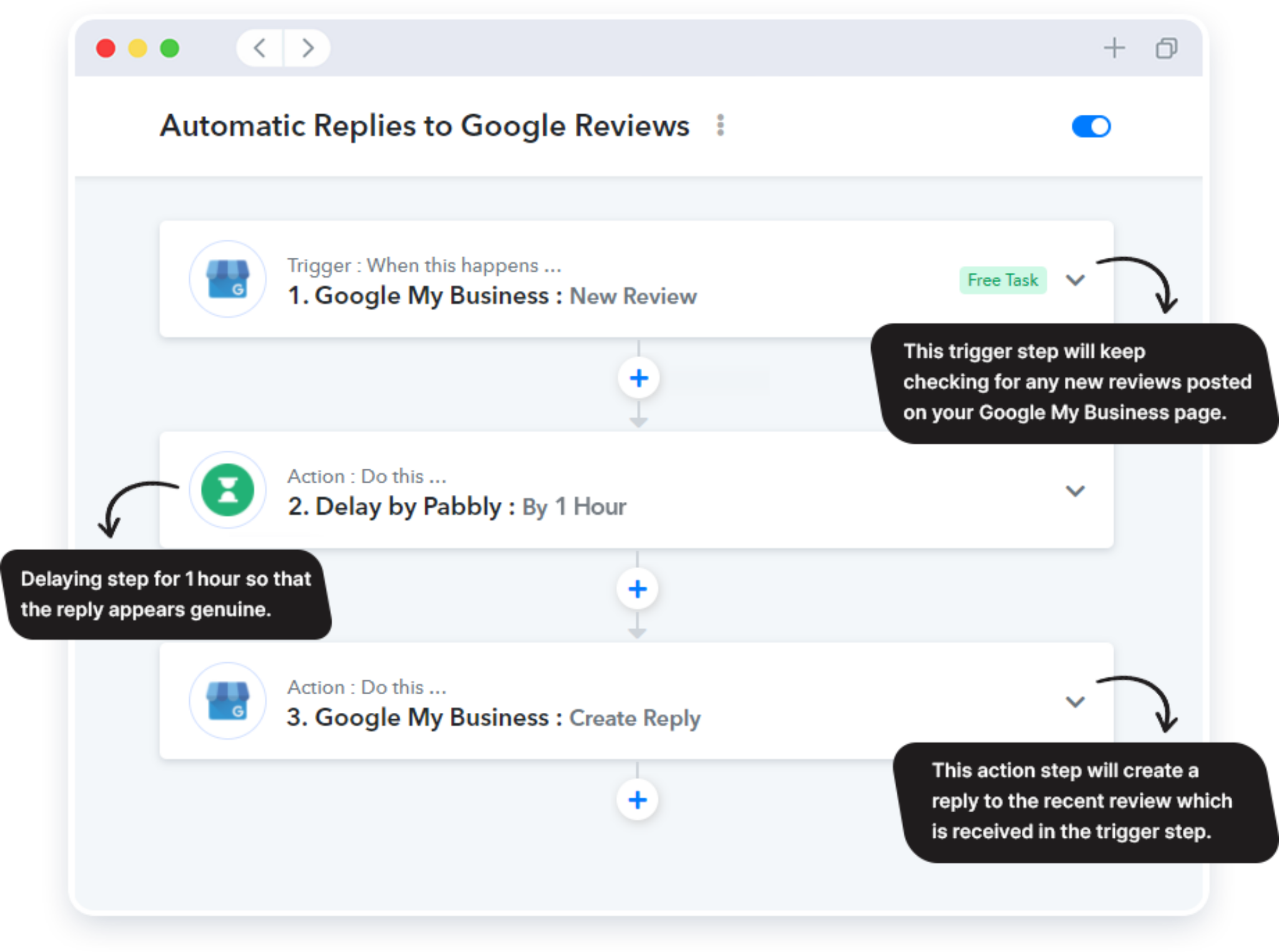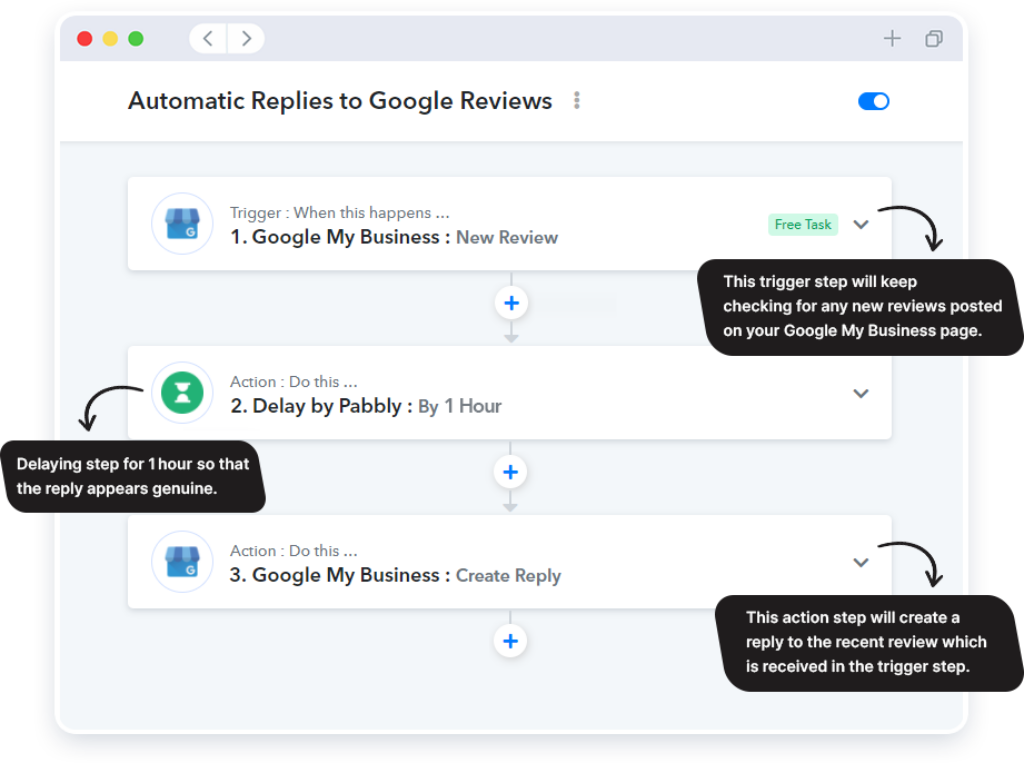 Pabbly Connect is a no-code platform that enables you to create powerful automation. Workflow builder makes automation accessible to everyone, allowing you to build and manage complex workflows without writing any code. With Pabbly Connect, you can automate tasks such as sending customer data to different applications in real-time.
For example, when new sales happen on WooCommerce, customer details can be automatically added to Google Sheets.
Pabbly Connect supports more than 1000+ applications for seamless data transfer. It allows you to seamlessly connect multiple cloud services and databases, allowing you to move data between them quickly and easily. This helps reduce data entry errors and makes your business more efficient.
Boost Productivity by Automating Repetitive Work
Pabbly Connect can trigger action steps in a workflow to transfer data from one application to another. This saves time and effort, making it more efficient for businesses to perform routine tasks.
It's important to configure the application so that it initiates your workflow when data is received. This will ensure that your automation task only executes action steps when needed. Once you are set up, you can use Pabbly Connect to transfer data quickly and effortlessly between multiple applications without spending too much time on tedious work tasks. It automatically handles all the tedious work for you, allowing you to focus on more important tasks.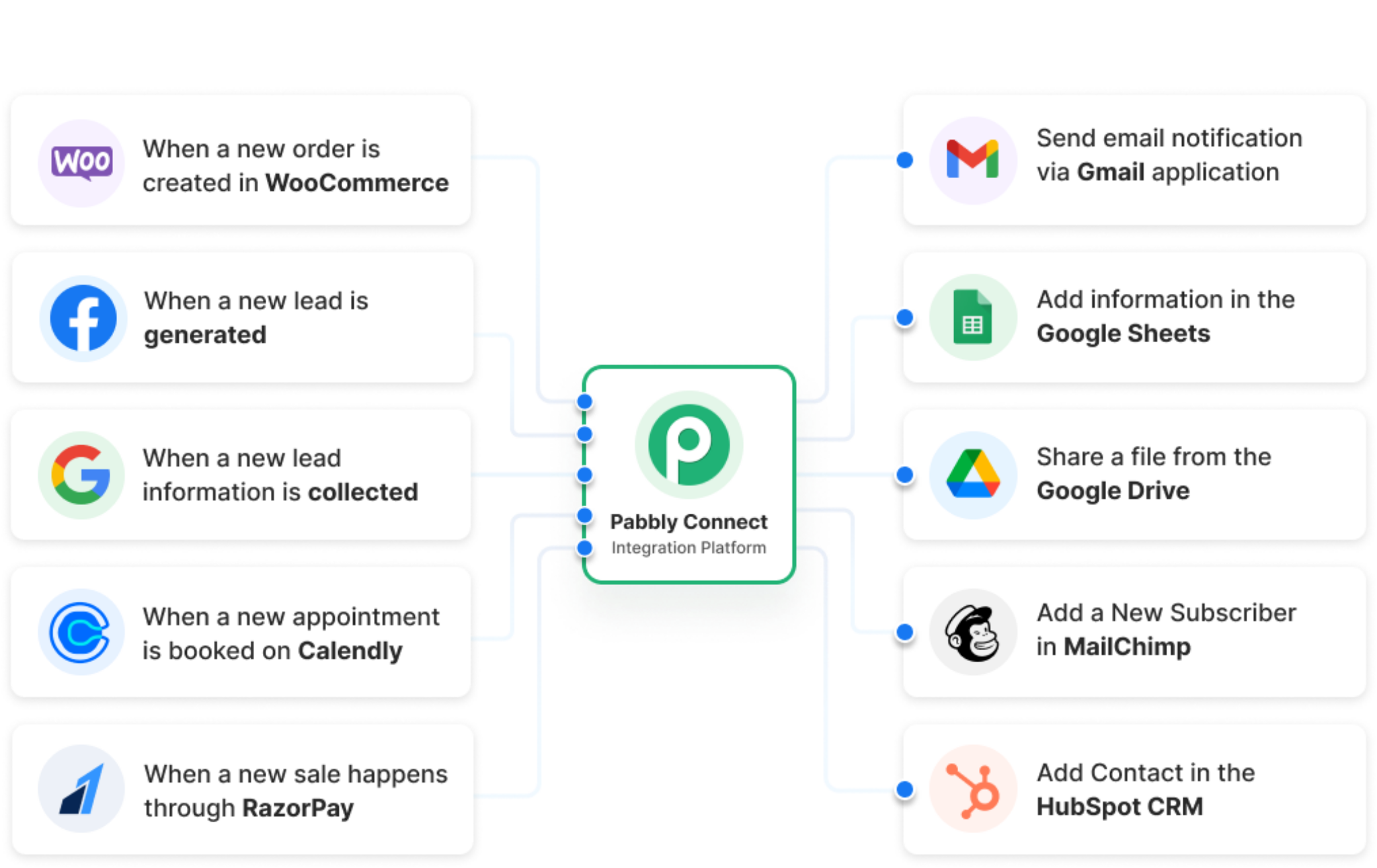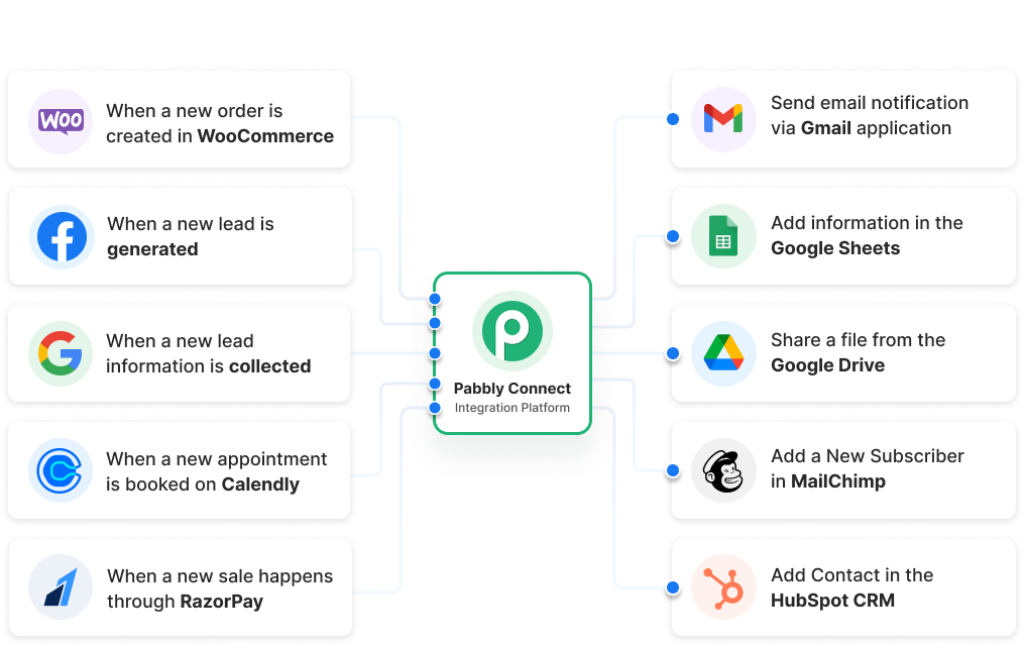 Pabbly connect works by triggering action steps in a workflow when data is received from one app or service. These action steps select the application that you would like to transfer the data to and enable the workflow. Only action steps will consume your monthly task allowance, meaning that your monthly task allowance allows you a lot further than if you had to manually perform all of your work tasks.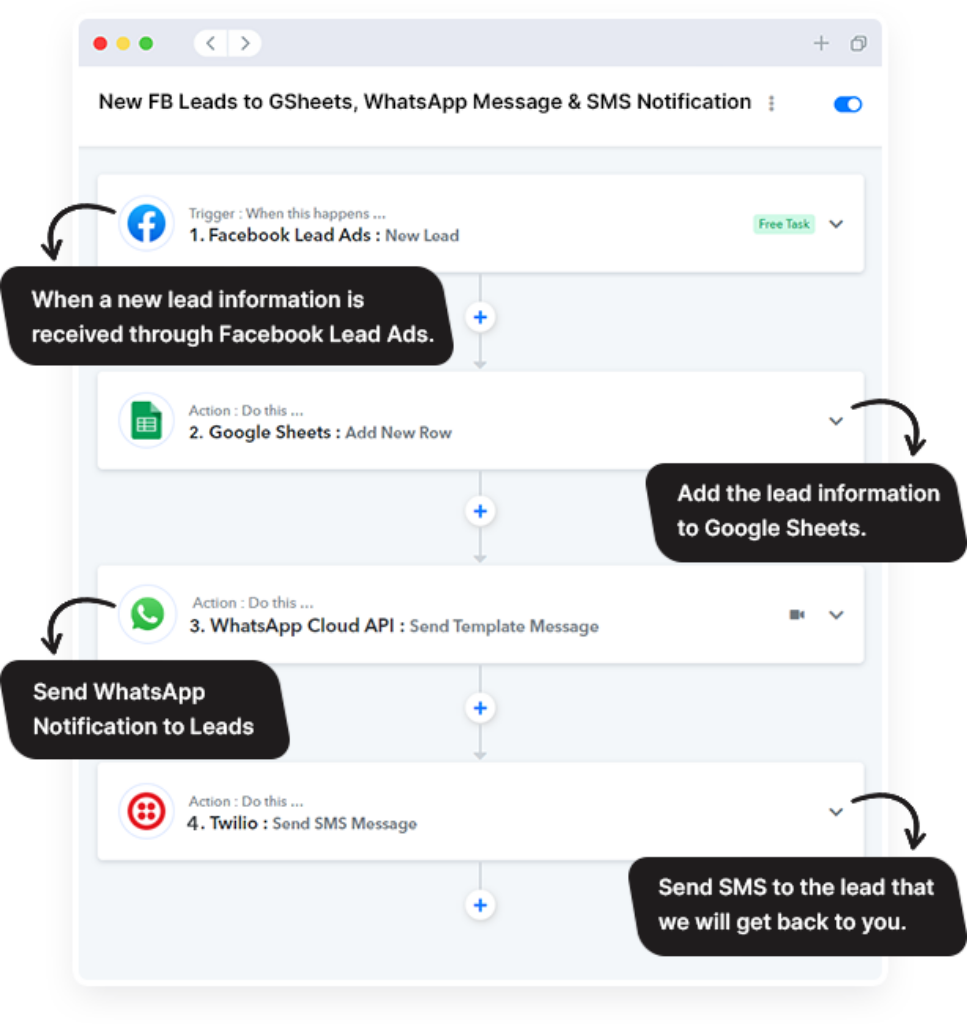 Automation tools remove the need for repetitive work tasks such as identifying records, categorizing them into folders, copying and pasting information, etc., which can be time-consuming and inefficient. They also help businesses improve their productivity by performing routine tasks automatically. Overall, automation tools save businesses time and money while improving their productivity and efficiency
Schedule Workflows
Pabbly Connect is a cloud-based platform that helps teams work more effectively. It offers different features to streamline team workflow, including workflows. Workflows allow teams to manage tasks and assignments in an organized way and prioritize them based on importance. With workflows set up, teams can ensure tasks get completed on time, with minimal overlap and a 100% completion rate.
Another feature of Pabbly Connect is scheduling workflows. Teams can set up a workflow that executes tasks at a specified date and time. For example, once per day, or every hour, day, or week. Once the workflow has been configured, it can be easily accessed via the Pabbly app for easy management and execution. Overall, Pabbly Connect offers powerful features to help teams work more efficiently and consistently achieve their goals and objectives.
Connect Any Application
Pabbly Connect offers a range of APIs for integrating various applications. With these APIs, you can connect to any app using a variety of methods. You can connect to an app using an interface based on REST or SOAP or use one of our custom APIs. All the APIs support several different API structures, such as OAuth 2.0, JWT authentication, and XML-RPC.
In addition, Pabbly Connect modules support multiple authentication providers, such as OAUTH 2.0 and JWT authentication. This flexibility makes it easy to integrate with any application.
Pabbly Connect has 1000+ integrations with popular apps. You can see the list here.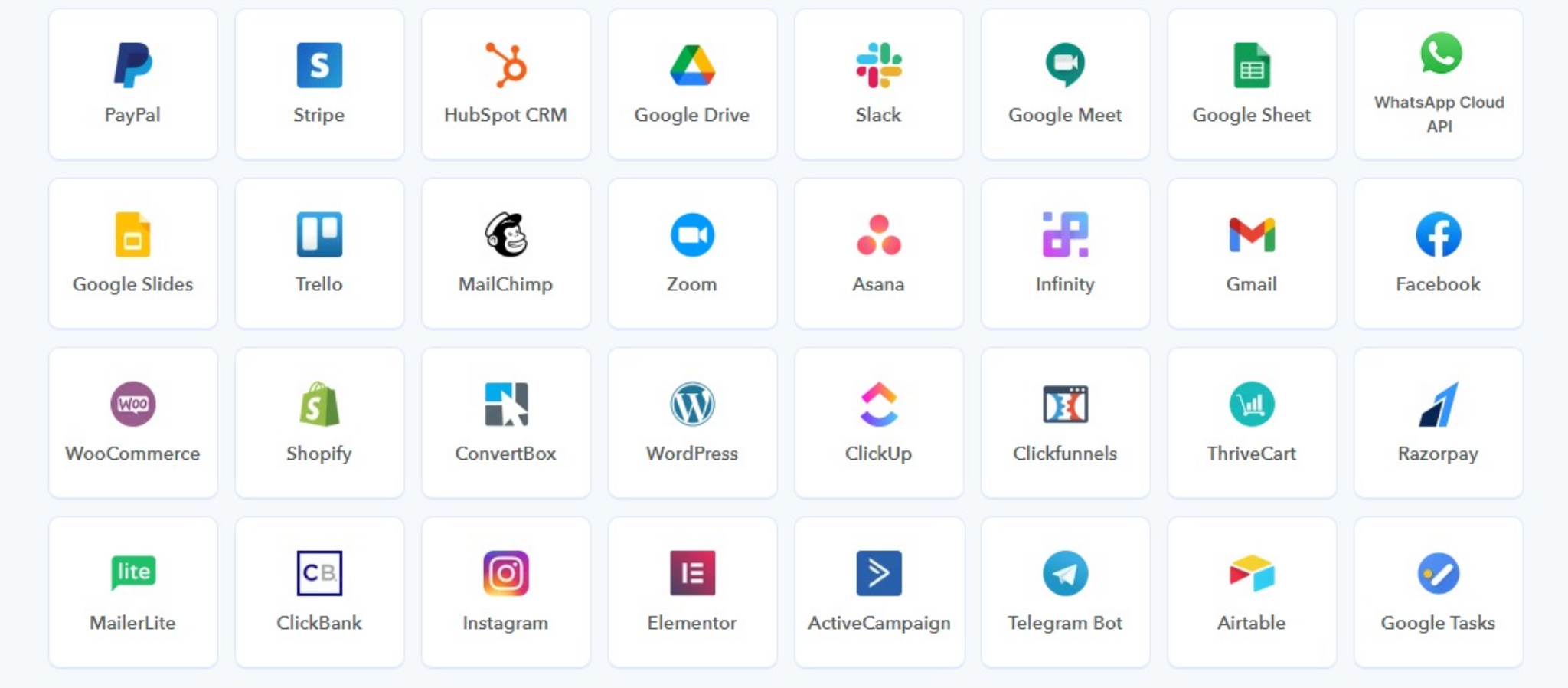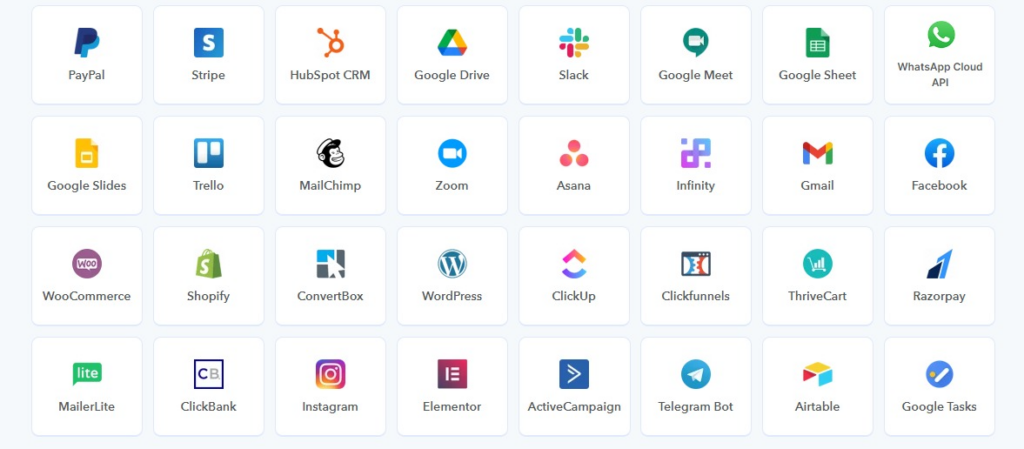 Advance Workflows
With Pabbly Connect, you can create advanced workflows with the help of routers/paths. These workflows allow you to execute different actions depending on the filter conditions you set. You can use a router to execute multiple actions based on the filter conditions you set.
For example, if you want to email a user based on their email address and location, you can use a router to email them only if they are located in the specified location. This allows you to save time and effort while still achieving your business goals. Besides, routers also provide security and flexibility, allowing you to tailor your workflow according to changing needs and requirements. Overall, routers enable efficient decision-making and action execution in the workplace.
Email Parser
Email Parser is a feature of Pabbly Connect that automatically extracts data from the incoming email such as the email name, subject, and body of the email. This data can be processed further for various purposes such as analyzing it for trends or identifying potential threats.
The parser also supports attachments in email messages. It can be used to extract information from these files, such as names and sizes of files or their contents. Overall, Email Parser enables businesses to gain valuable insights from email messages.
Delay Workflows
Pabbly Connect has several features that make it easy to work effectively. One of the most valuable features is Delay workflow, which allows you to delay performing the next action for a specified amount of period. This is useful if you need to take a step back and think about an action before proceeding. The period can be minutes, hours, days, or weeks depending on your needs. Other handy features include progress tracking and email support. Whether you are working on a project or writing an essay, Pabbly Connect will help streamline your work and save time.
Iterator
An iterator is a powerful tool to process collections of data. It divides a collection of data into multiple values and processes them one by one until the last value is processed. It can be used to calculate the mean, median, or other summary statistics of the data. Each value can be passed to the next action step added after the Iterator step. This allows you to quickly analyze and process large amounts of data without having to repeatedly write the same code over and over again.
Why Choose Pabbly Connect over Others?
Free Internal Tasks
One of the app's main benefits is that it provides internal modules which are completely free of cost. This means that no matter how many tasks you run with Internal modules, there will be no monthly credits consumed.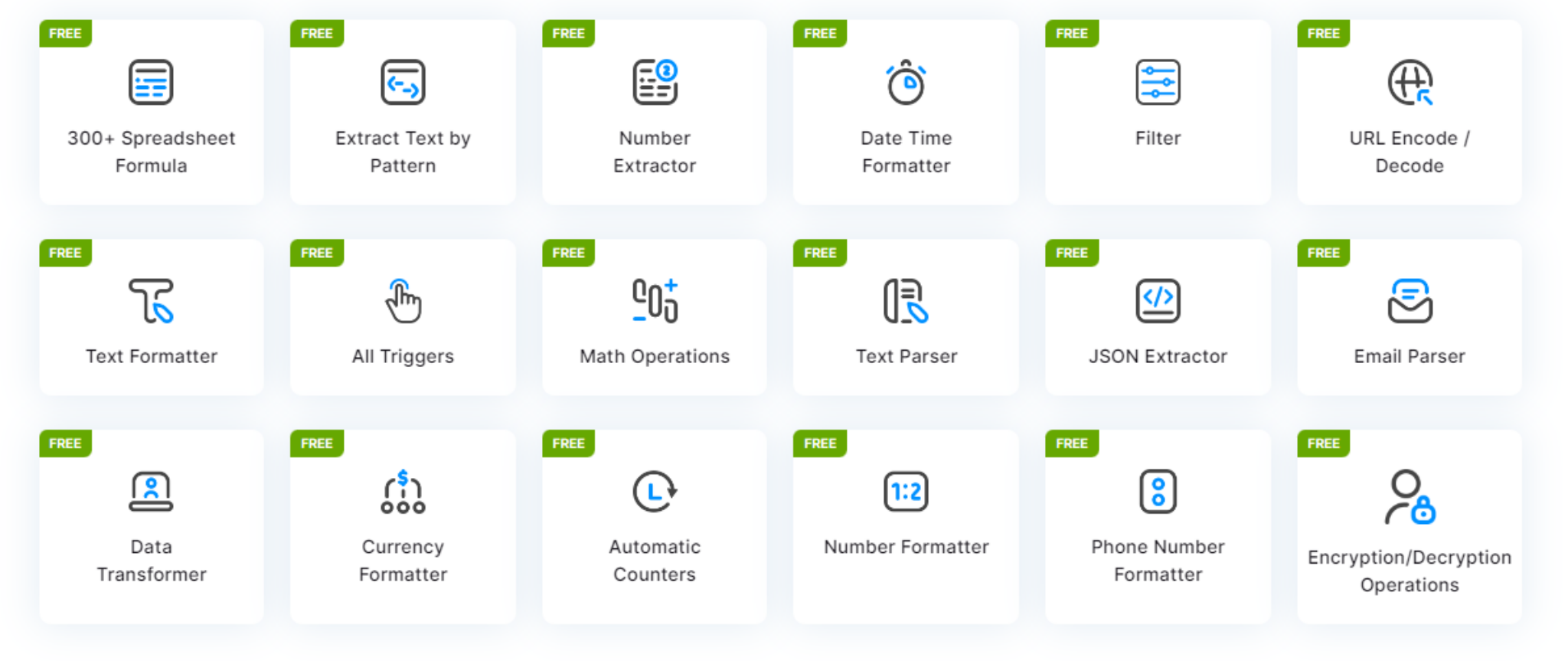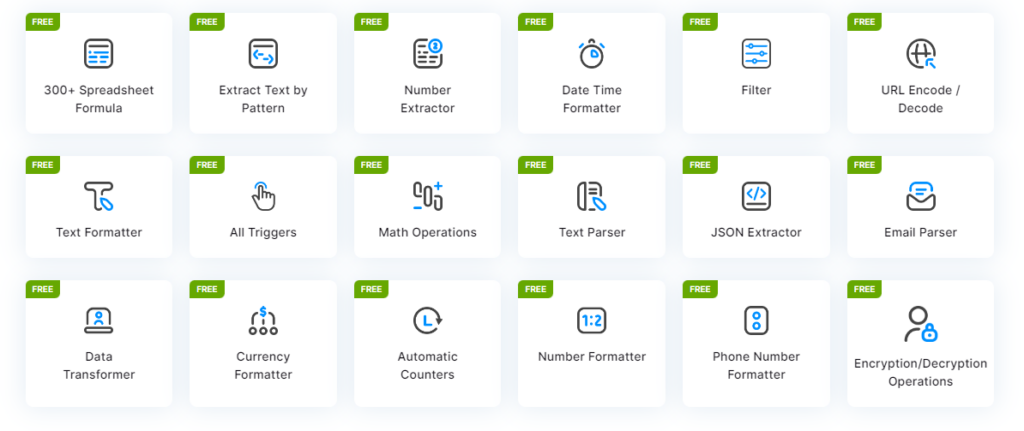 Routers
With Pabbly connect, a user can get access to logical paths and routers with all the plans. You will also be able to create routers of unlimited depth. Pabbly connect makes it easy for users to find the right router for their needs.
Data Forwarder
The Data Forwarder module in Pabbly Connect lets you easily return custom JSON responses back to your applications. Using this module you'll be now able to use Pabbly as a middle layer to any existing external API services to process data and return a response.
What makes Pabbly better than Zapier?
Pabbly provides limitless internal jobs in their automation software. When using internal operations like Filter, Router, or Formatter, you'll have ZERO tasks to consume.
Huge Pricing Benefit compared to Zapier (10000 Tasks for $699 (One Time) Vs 2000 Tasks for $588 (Every Year)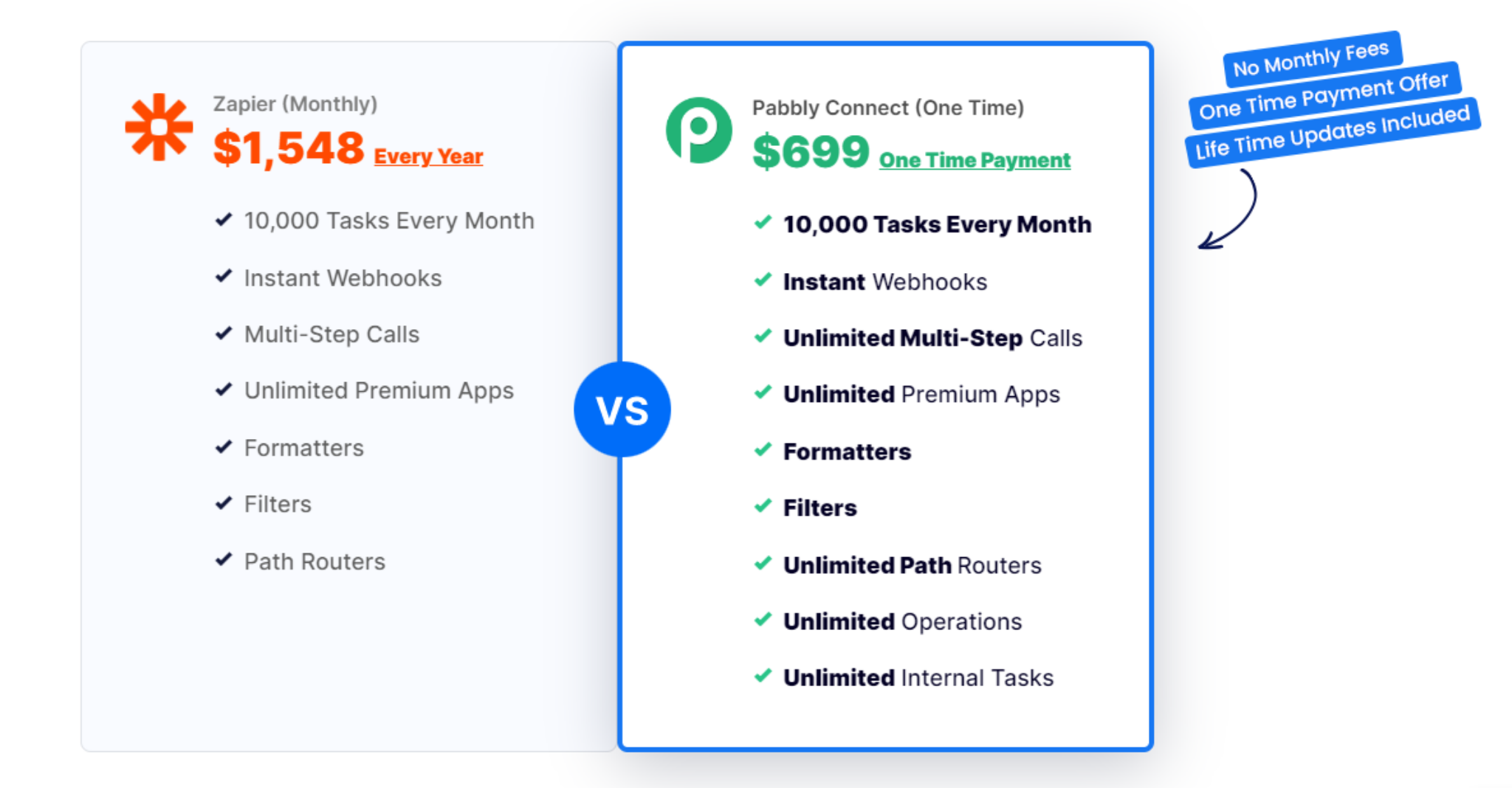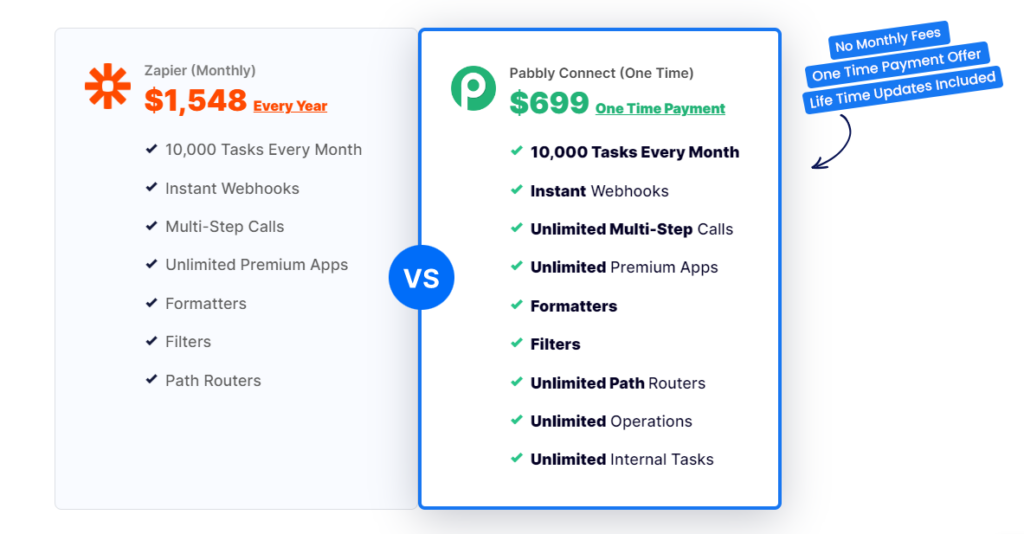 Zapier routers may be set to three levels deep inside the system. You may relocate routers to any level depth on Pabbly Connect. The level of router you want to install is not restricted by Pabbly Connect.
With Pabbly Connect, you can share the file from your Google Drive to any specific email address. But Zapier restricts you to share the file only within the organization email. The other option is to share the file and make it publicly accessible to everyone. While with Pabbly Connect, you can share files to specific email addresses only without making them publicly accessible.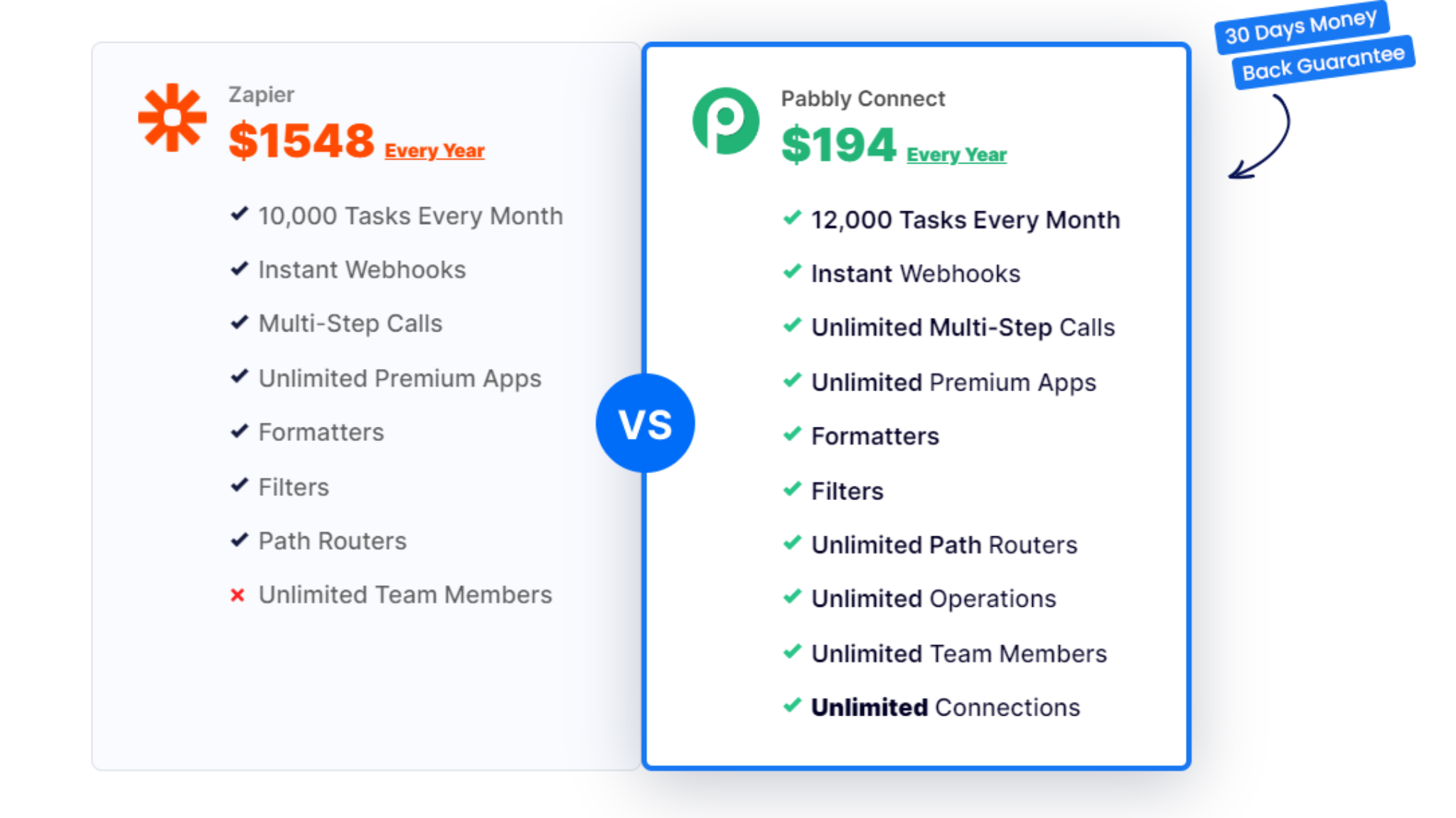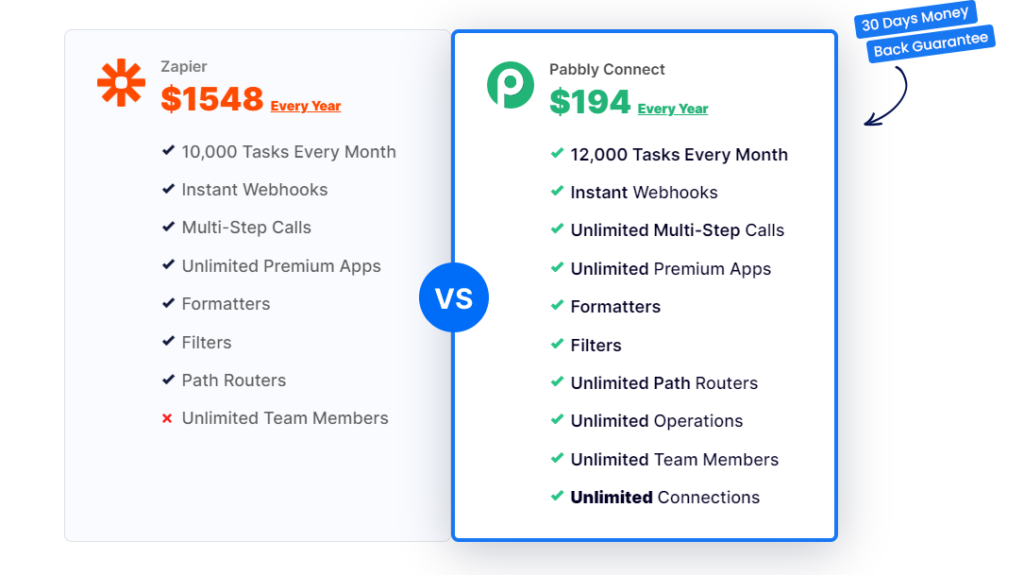 You can notice that pabbly connect offers minimal yearly subscription pricing compared to Zapier, with additional 2000 tasks every month.
Benefits offered by Pabbly Connect
Use Cases and Applications
Automate tasks within minutes.
Send notifications to users when tasks are completed.
Connect applications in seconds.
Supports 1000+ integrations.
Schedule recurring tasks and events.
It has advanced multi-step workflows.
Folder management and Enhanced Security.
Free Internal tasks
Two Factor Authentication
Re-executive workflows.
Instant Webhook.
Provides secure and Reliable infrastructure/technology.
No technical skills are required.
Pricing Plans
Lifetime, Monthly and Annual Pricing
Pabbly Connect offers One Time Payment for Lifetime Access.
It has monthly and yearly subscription plans too. It also offers a Free Trial.
They Provide 30 days of Moneyback Guarantee.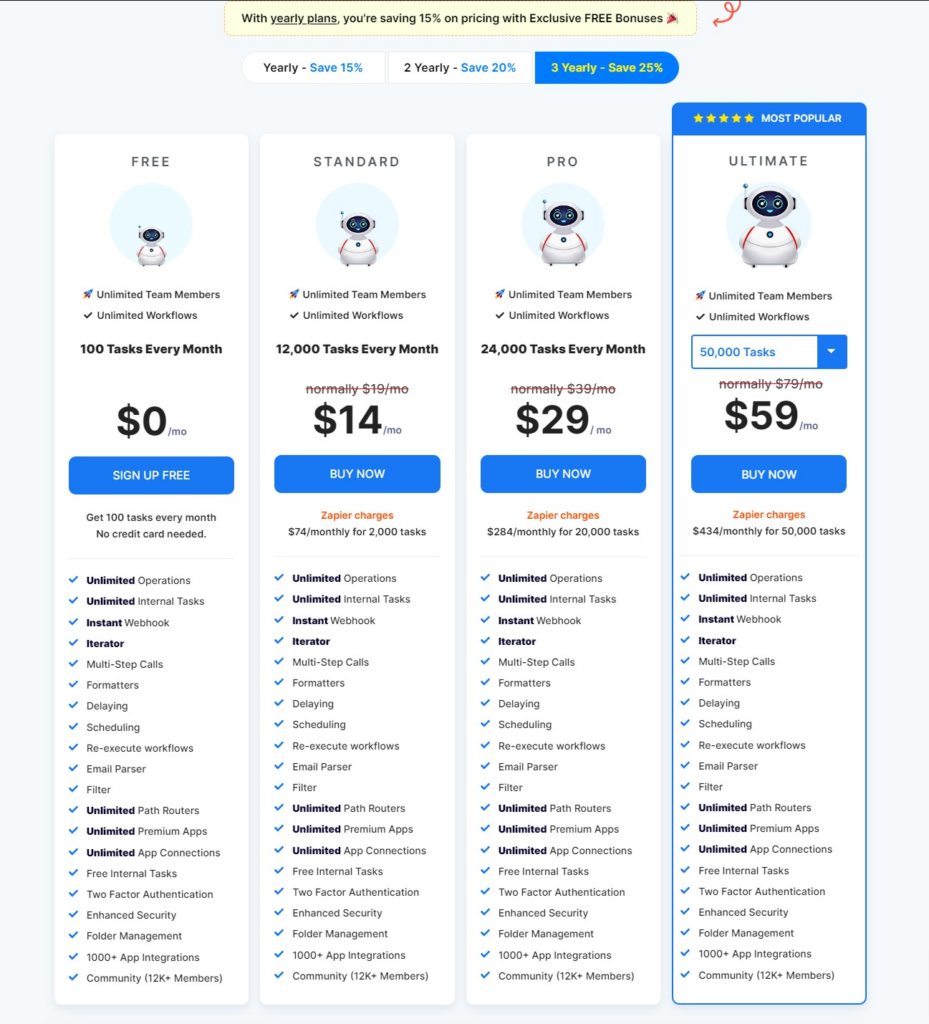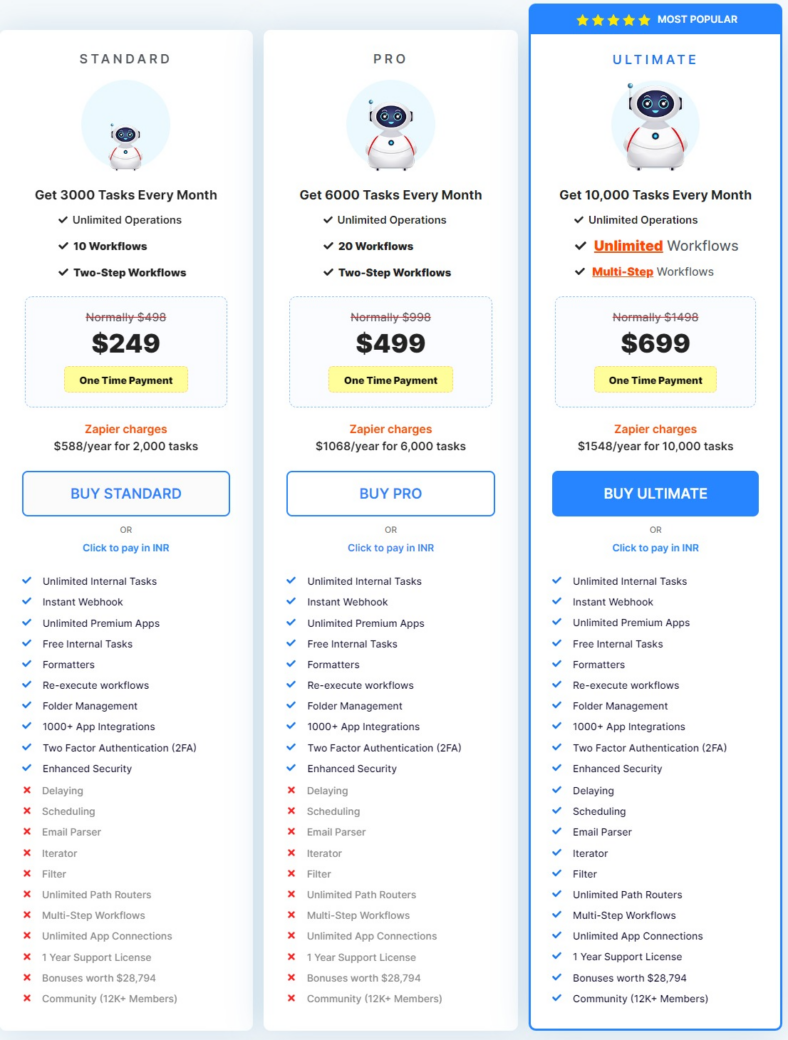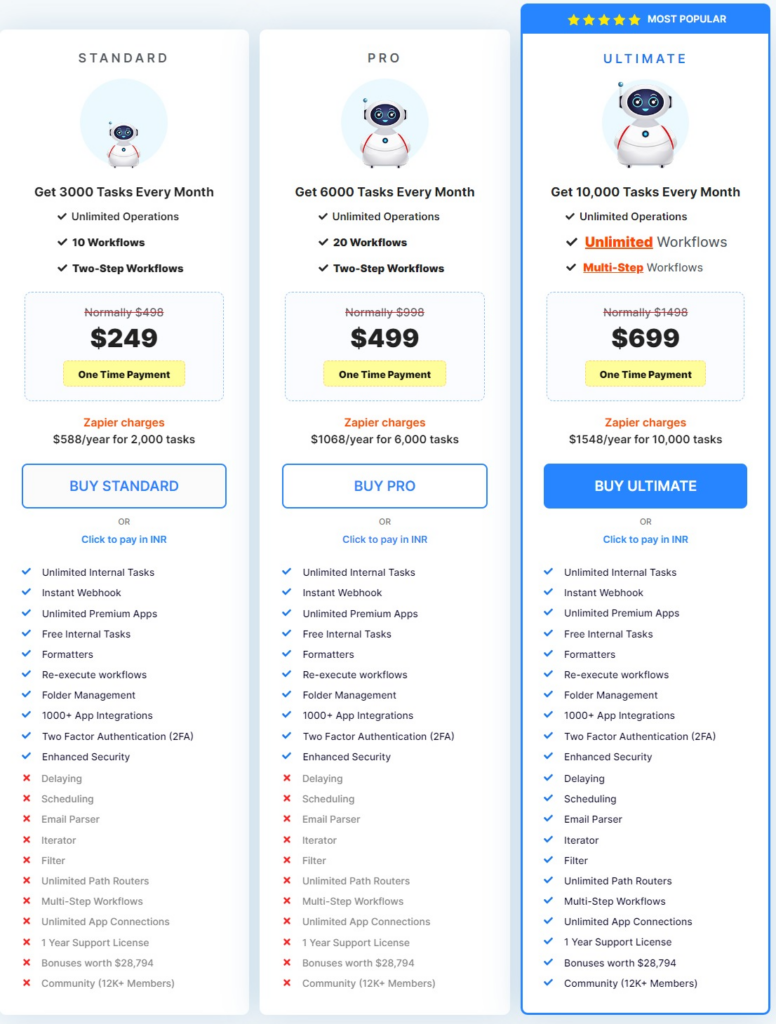 Support
Technical Support, Knowledge Base, Roadmaps, Changelogs
They provide Livechat, Ticketing, Discussion Forum, and Email support.
You can get in touch or ask technical queries directly.
Video Tutorials: 3284+
Alternatives
Similar Apps
With Zapier, you get to connect different apps within a matter of minutes! It's really easy to create simple or complex automation task. You can do simple tasks like sending an email based on a new contact in Salesforce or more complicated tasks like building a personalized customer experience and providing personalized recommendations.
Make allows you to visually create, build, and automate workflows. Use the playful drag-and-drop interface to connect apps in a few clicks, and build limitless workflows called scenarios. Set your scenarios to run instantly or per schedule, or watch the scenario run in real-time whenever you need.
Workato empowers business and IT teams to integrate their apps and automate business workflows without compromising on security and governance. Built on a cloud-native architecture that is designed for scale and speed to significantly reduce operational footprint and overall costs.
Final Verdict
Is Pabbly Connect right for You?
Pabbly Connect is an amazing automation tool with a lot of features and is best suited for businesses that use automation to solve their workflow problems.
It provides a great Lifetime deal that can meet your requirements to the next level. It offers quality, affordability, and reliability services to its huge number of customers.
It is the best alternative to Zapier, with many additional supports to meet your needs. Hence it is worth considering this product for all your successful automation.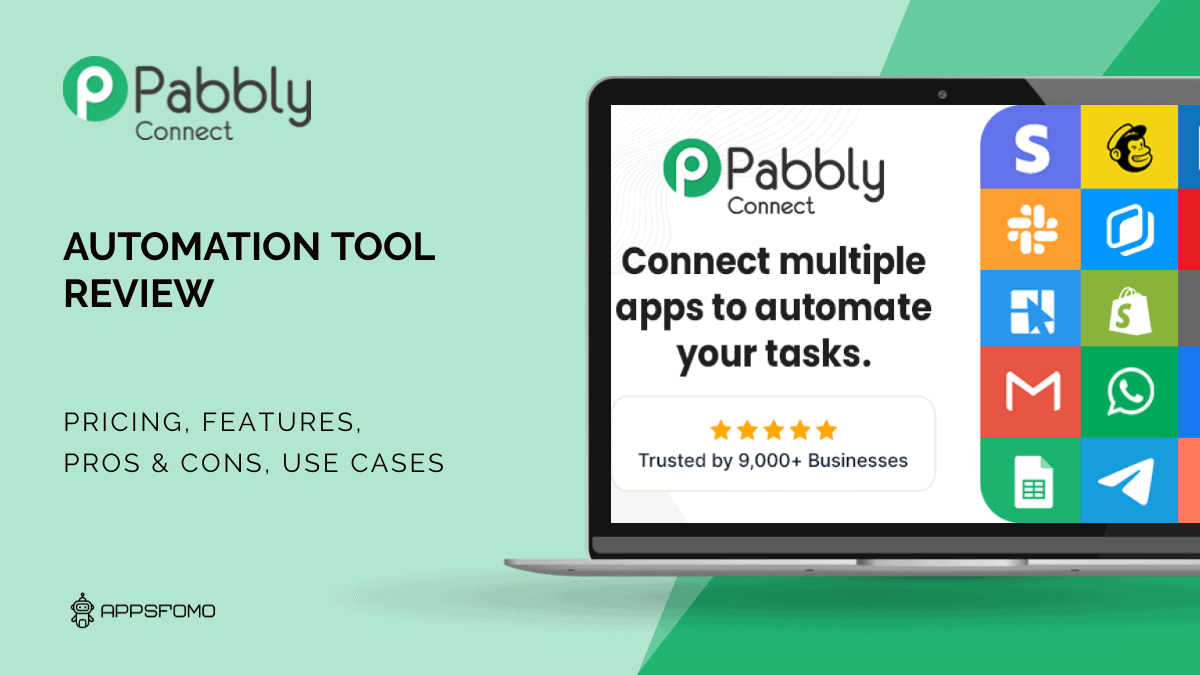 Specification:
Pabbly Connect: Streamlining Your Workflow with Advanced Automation Features
| | |
| --- | --- |
| Review Date | January 2023 |
| Company | Pabbly |
| Country | India |
| Initial Release | 2018 |
| Pricing | Annual Payment, Lifetime, Montlhy |
| Free Version | Available |
| Lifetime Deal | No |
| LTD Platform | N/A |
| Money-Back | 30 Days |
| Support type | Email, Facebook Group, Live Chat, Ticketing |
| Integrations | Yes |
| Supported Device | Browser, Web Based |
| Mobile app | Not Available |
| Affiliate Program | Yes |
PROS:
It's a perfect alternative for Zapier and Integromat. The best thing is they don't charge you for the internal modules you use, like schedule, delay, email parser, etc.
Rich integration and extremely cost-effective solution.
Pabbly has got an amazing community that is very active.
Pabbly connect is a simple, easy-to-use platform that allows you to automate and connect your work-related tasks easily with other services like email, Slack, google sheets, etc.
CONS:
It's confusing to set up, too much of a learning curve for the average person.
Workflows are complicated, troubleshooting is not easy. Every time you add a field, you need to restart the process from the beginning.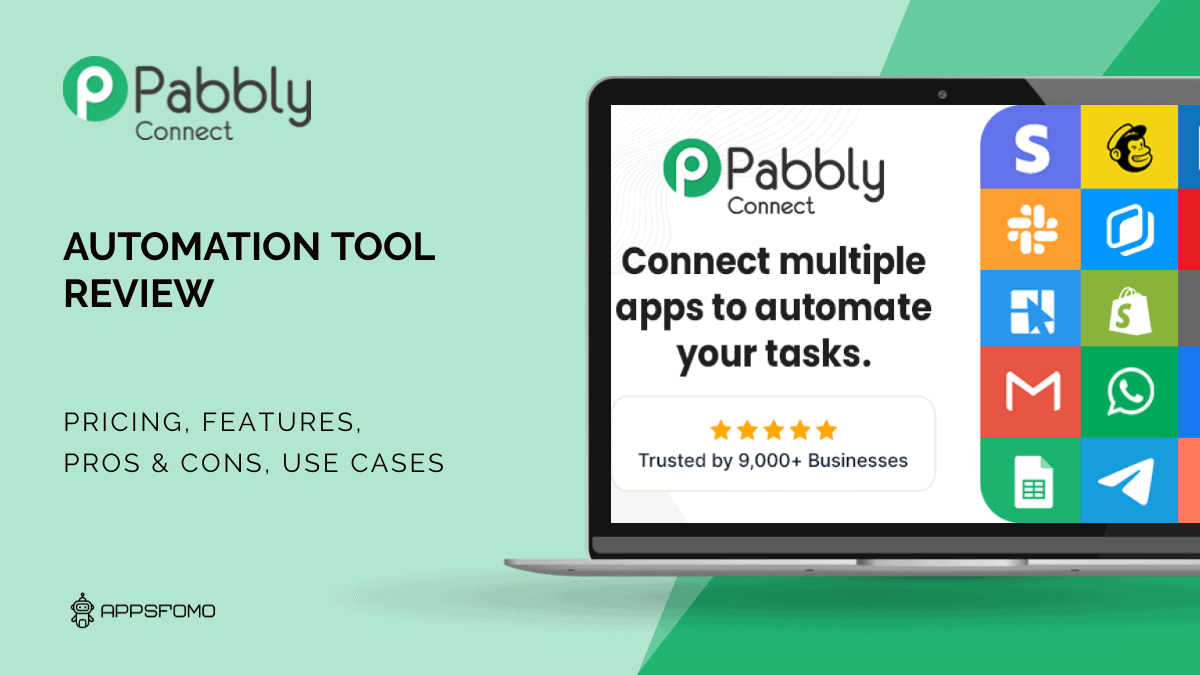 Pabbly Connect: Streamlining Your Workflow with Advanced Automation Features