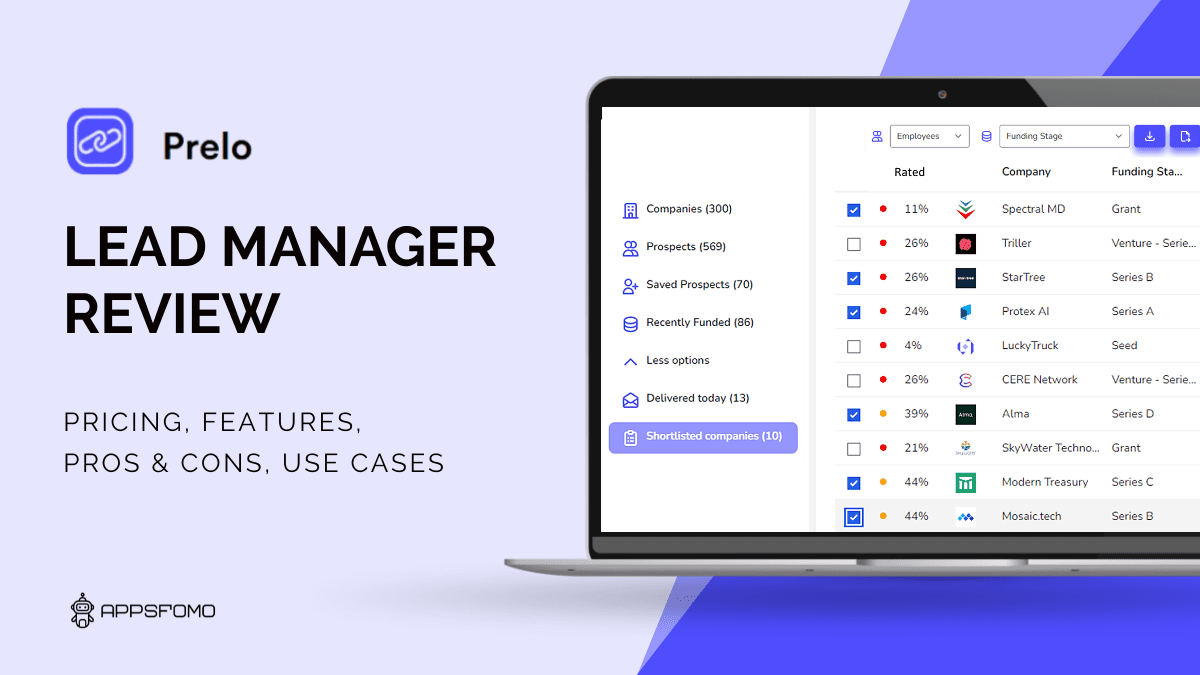 Prelo: Lead Management Made Easy and Simple for Early Stage Startups
Add to wishlist
Added to wishlist
Removed from wishlist
0
Add to compare
If you're a consultant looking for high-quality leads, Prelo is the perfect tool for you. Prelo is a frictionless prospecting platform that helps you find and connect with top consulting teams.
It does this by automatically tracking your interactions with potential clients, and then provide you with relevant and actionable information about them.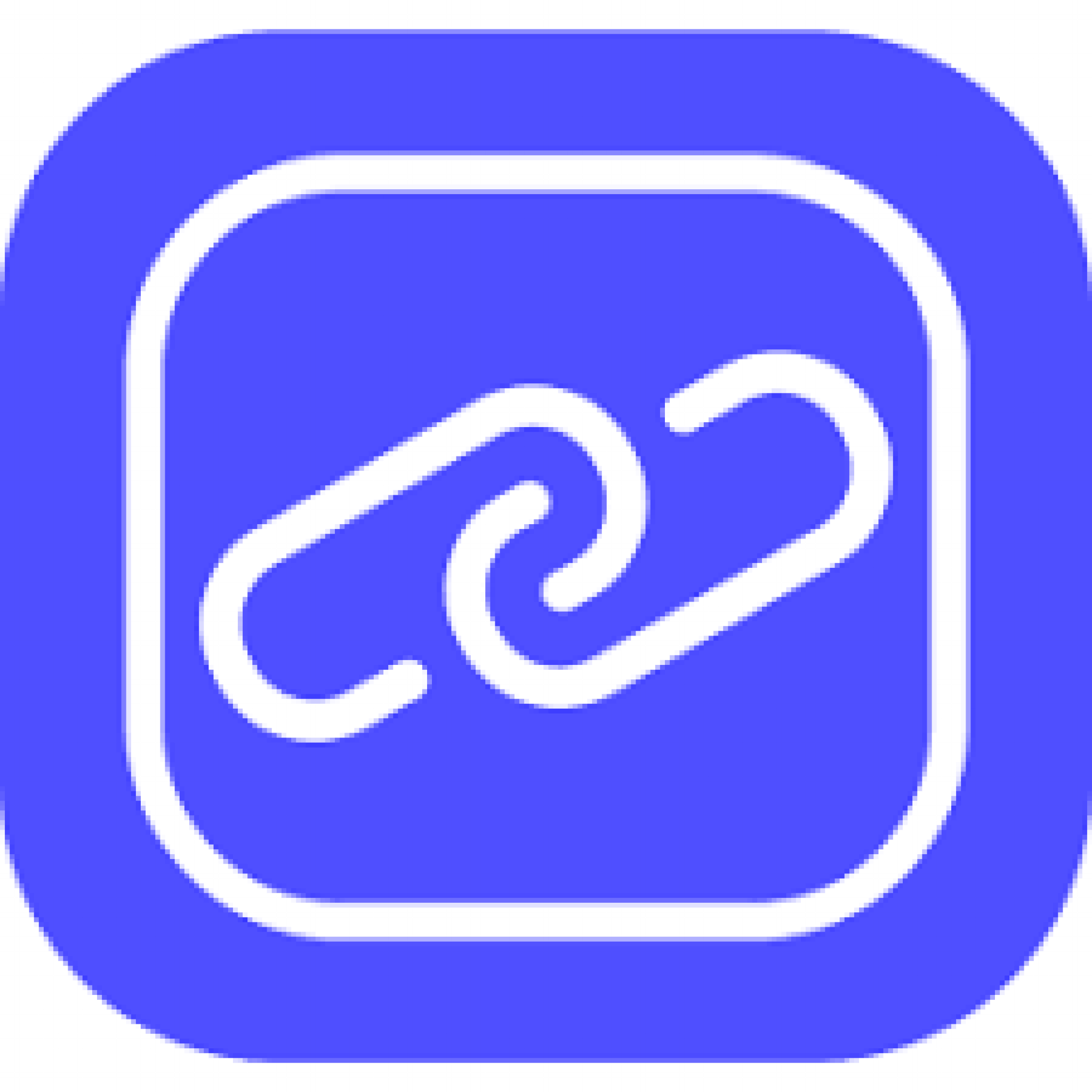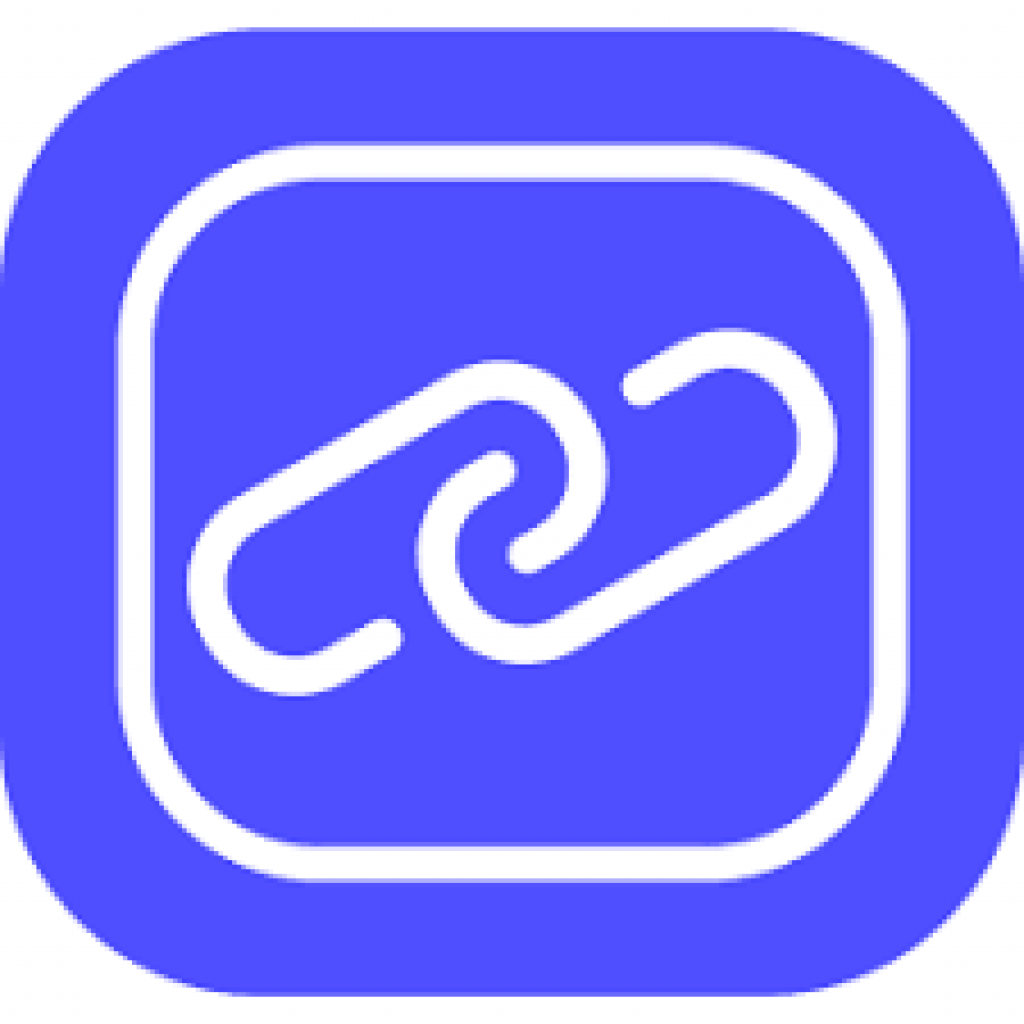 What Is Prelo?
Prelo is B2B and small business entrepreneurs to identify and connect with key decision makers in fast-growing technology firms at the optimum point in their growth cycle.
Prelo is an automated prospecting platform that helps you find and connect with top consulting teams. It does this by tracking your interactions with potential clients, and then provide you with relevant and actionable information about them.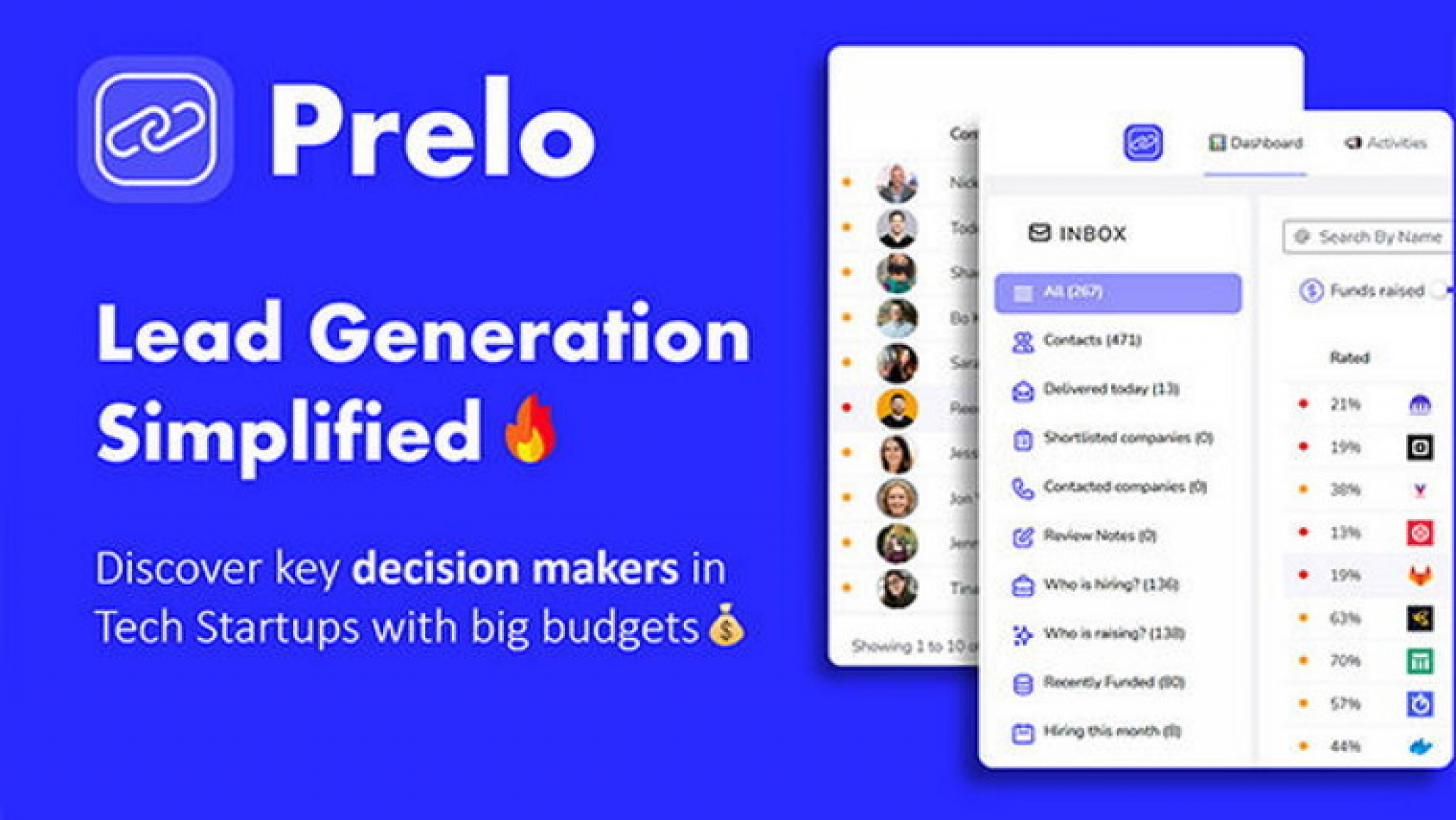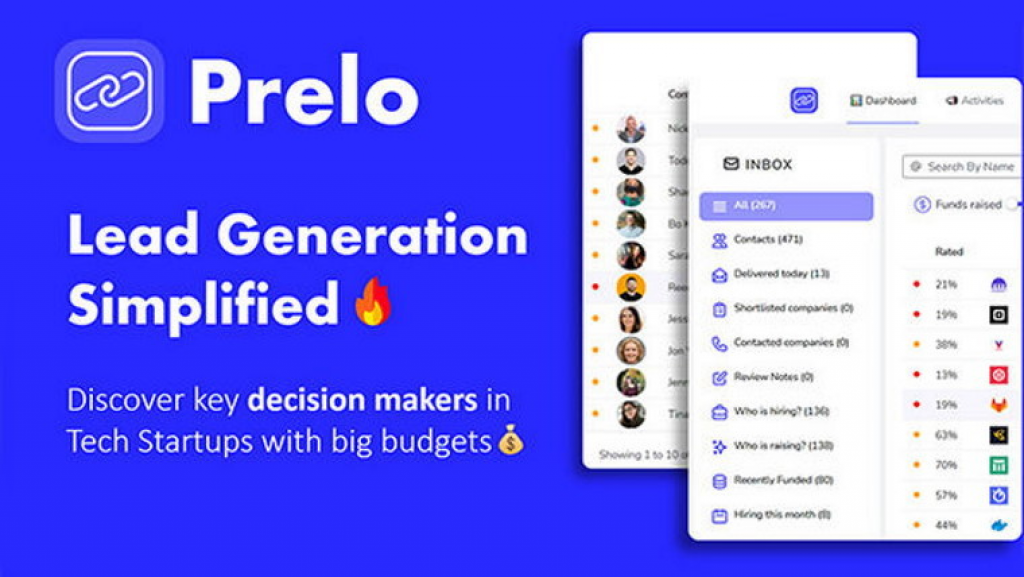 How does it work?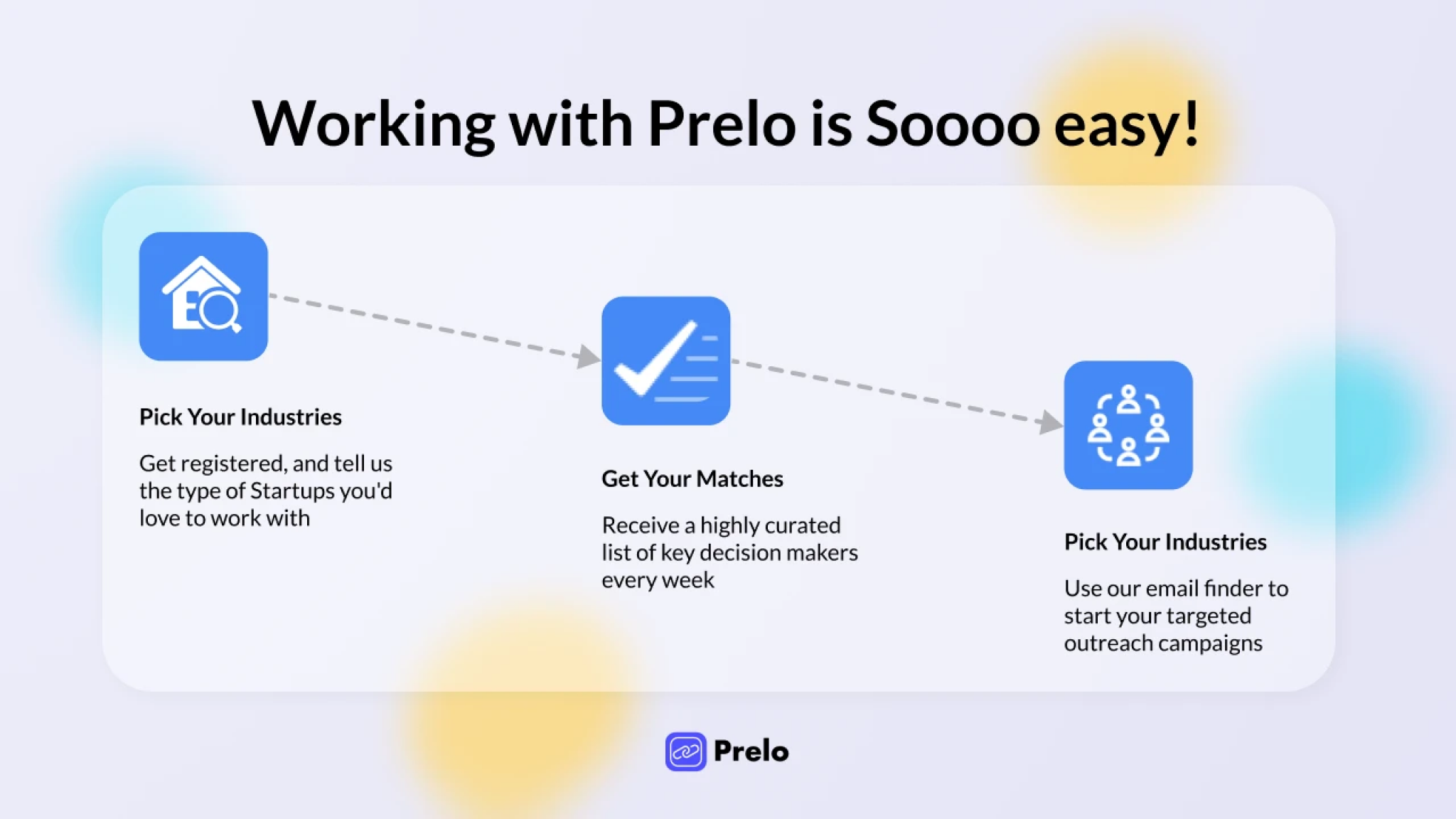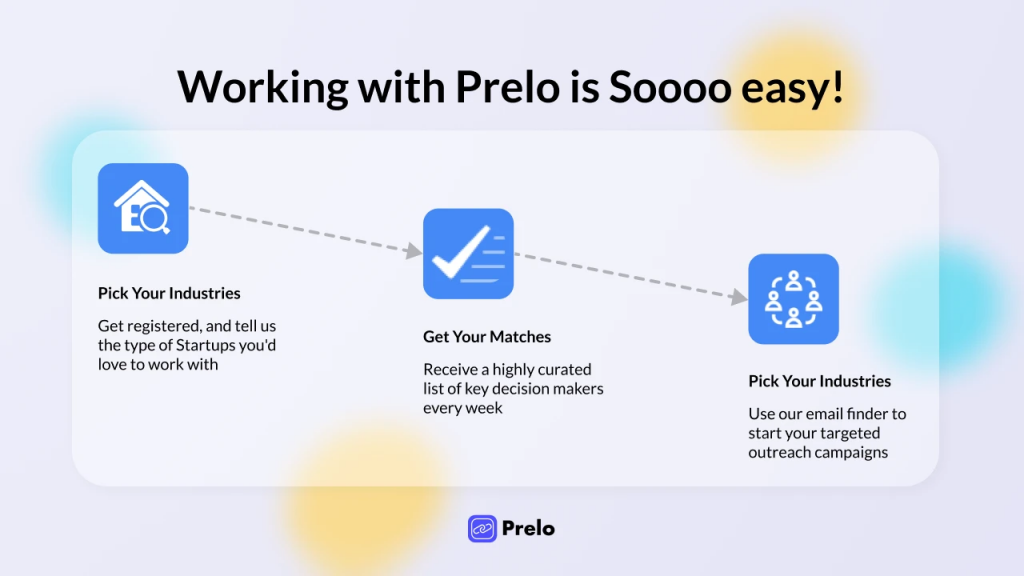 It offers access to 100+ fast growing tech Companies every week and allows you to build targeted email lists of key decision-makers in these companies.
Every week, you'll get a carefully curated list of important decision-makers. Begin your tailored outreach campaigns by using our email finder.
Company Details
Company founder: Olu Adedeji
Founded year: 30th May 2021
Company background/history: The founder is from the banking background, and the Co-founder 20'yr of business development background, they both had the same idea for every start-up would need to grow that's how Prelo started. It's Headquarters is in London.
Features
Prelo is a new online marketplace that allows users to buy and sell pre-owned items. It offers an easy way to find, compare, and buy pre-owned items from around the world. It also allows users to sell their own pre-owned items through the site.
Sales Pipeline
By industry, location, and funding, use Prelo to discover funded startups. With 15 ready-made search templates, you can create your sales pipeline of funded startups in seconds. Startups in the United States, Canada, Europe, Africa, Asia, and Middle East are all covered by Prelo.
Shortlist recently funded Startups
Customers who don't have a budget will no longer waste your time. You'll be able to tell when they raised money with Prelo. Target the key decision makers with our laser-focused filters, export their business emails and contact information to your CRM
Email Templates
Our carefully selected list of targeted email templates can be used to convert sales leads. Just one click will send you cold outreach emails or warm email follow-ups.
Accurate Data
Get a constant stream of fresh Startups on your radar that have recently received funding. To close more deals, build pre-built lists of sales prospects and sort them by funding stage. Shortlist your ideal customers and enjoy higher quality prospects, Book more sales meetings
Benefits of using Prelo
It boosts sales conversions With Prelo, you'll be able to target and convert more sales leads into customers.
This is because it provides detailed information about each client meeting, including the topics discussed and how likely it is that a deal will close.
Similarly, book more sales meeting which makes it simple for you to find and connect with potential clients who match the interests and needs of your business.
By automatically tracking all interactions with potential customers, Prelo will surface the most relevant leads for you.
Prelo Support
Prelo has very good support personnel available to assist you if you ever have a difficulty.
You can either reach via website or send an email to info@Prelo.co.uk.
Frequently Asked Questions
Why should I use Prelo?
Finding well-funded, fast-growing startups operating under the radar is easier than you think with Prelo. Our customers are rapidly growing their engagement with key decision-makers in leading-edge startups, with weekly growth of up to 400%.
How many Startups will I get in my inbox?
Every week, you'll get up to 250 startups in your inbox from Prelo. We have over 40,000 funded tech startups across 20 different industries and hundreds of countries, and we're constantly collecting data about them on different platforms.
What Information can I get from Prelo?
Quickly connect with CEOs/Founders and build relationships by using intelligent data to help you do so. We also share investment announcements and hiring information via social media (LinkedIn URL). In Startups, we monitor over 200,000 targeted professionals.
Why Use Prelo?
This can be used by any start-up and B2B business that wants to grow,
By having to know what type of audience they would need to target in terms for their business to grow.
Prelo is a great way for SMBs and early-stage B2B start-ups to find, research and connect with well-funded startups to get leads.
Prelo is an amazing tool for software development houses. They can use it to identify, research and connect with well-funded startups in their local area in order to get leads or develop a relationship.
For businesses that are looking to connect with well-funded, fast-growing startups Prelo can be an amazing tool. It allows you to target the key decision makers and get their email address so you can follow up later.
Prelo can be great for selling to venture capitalists (VCs) and accelerators. It allows you to target the right people with the right information so that you can get funding quickly.
You can also deploy prelo into Cloud, SaaS, Web-based.
Prelo Pricing Plans
Offers Monthly and Annual Subscription. It has free trial too.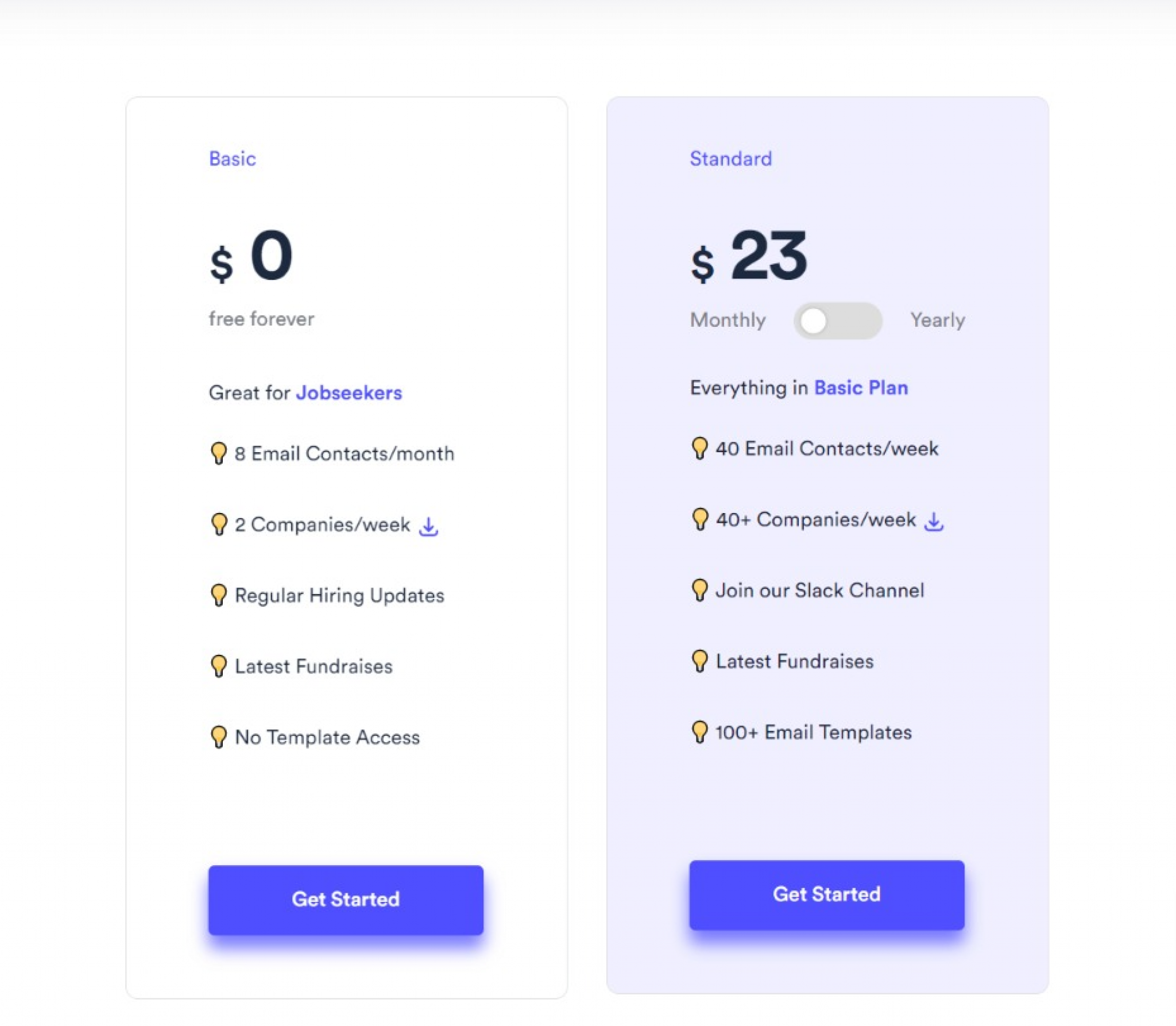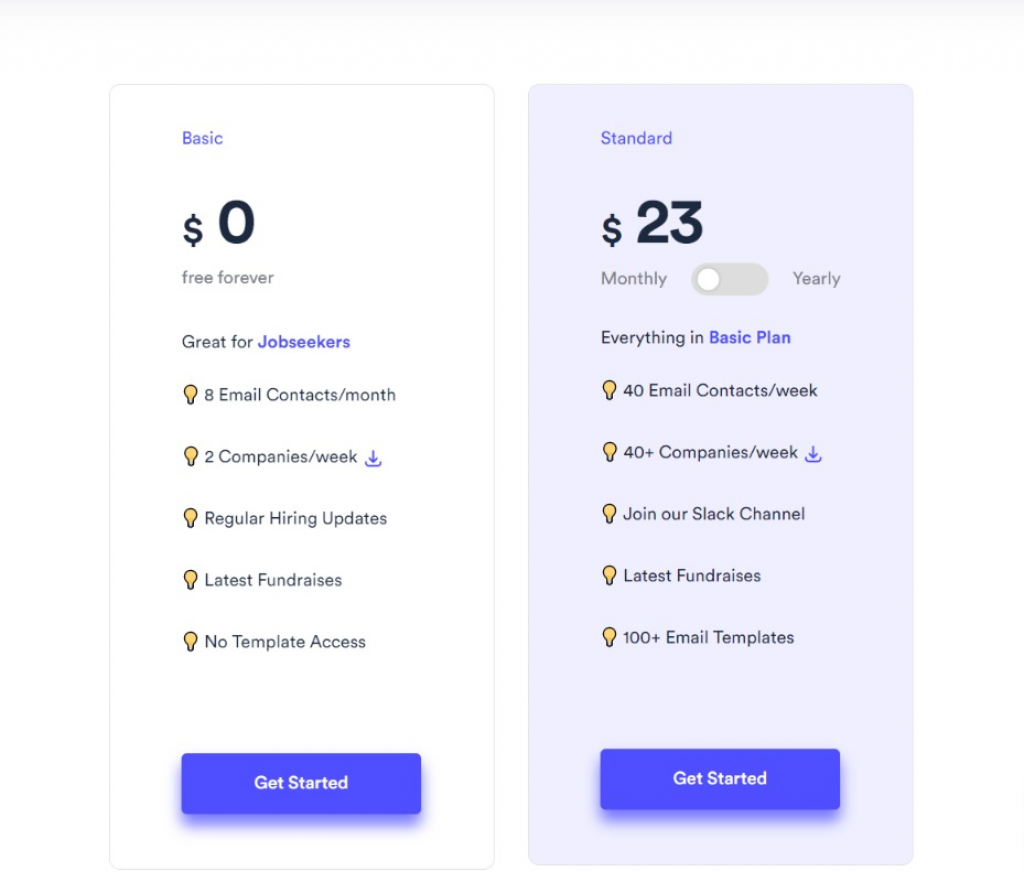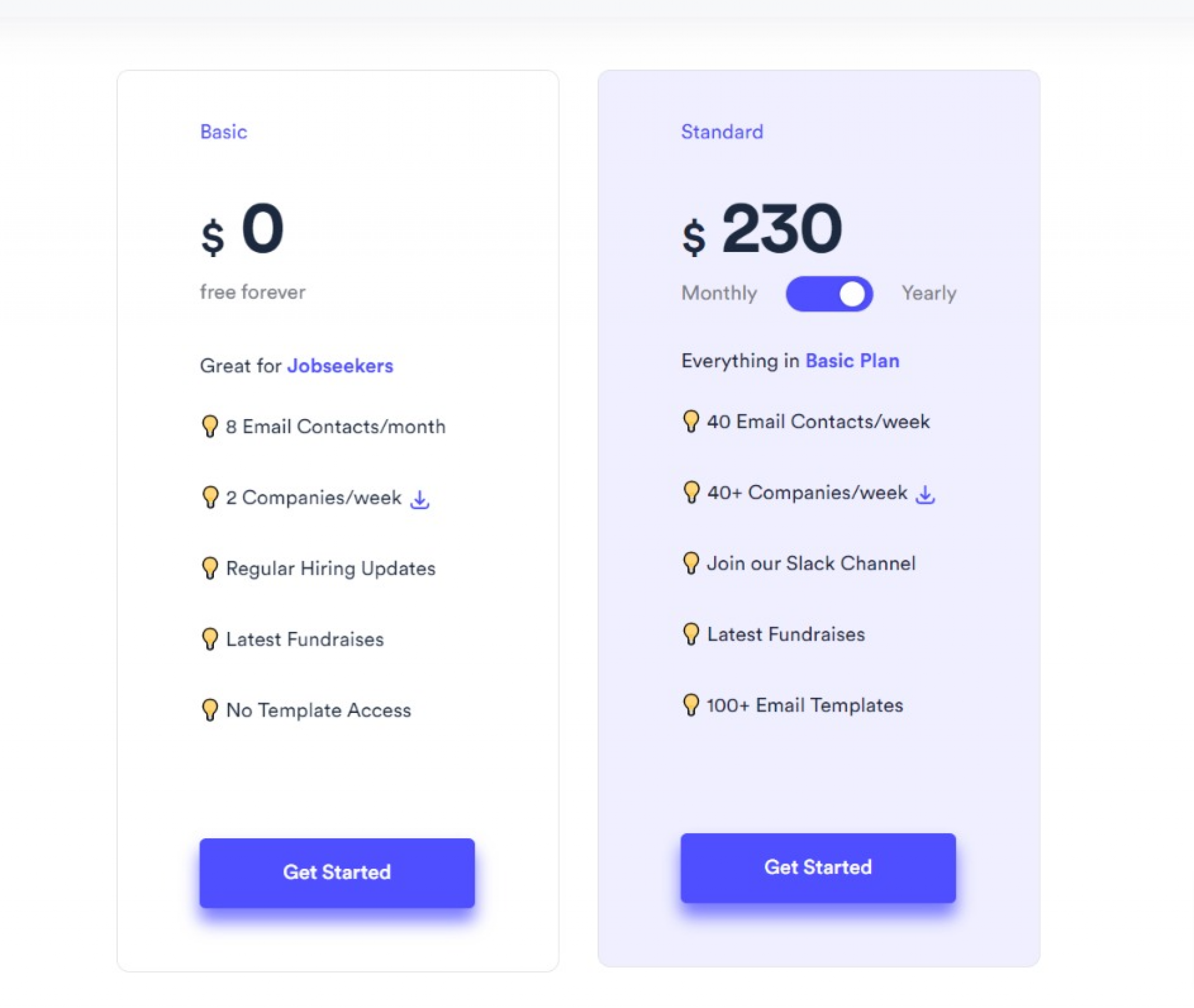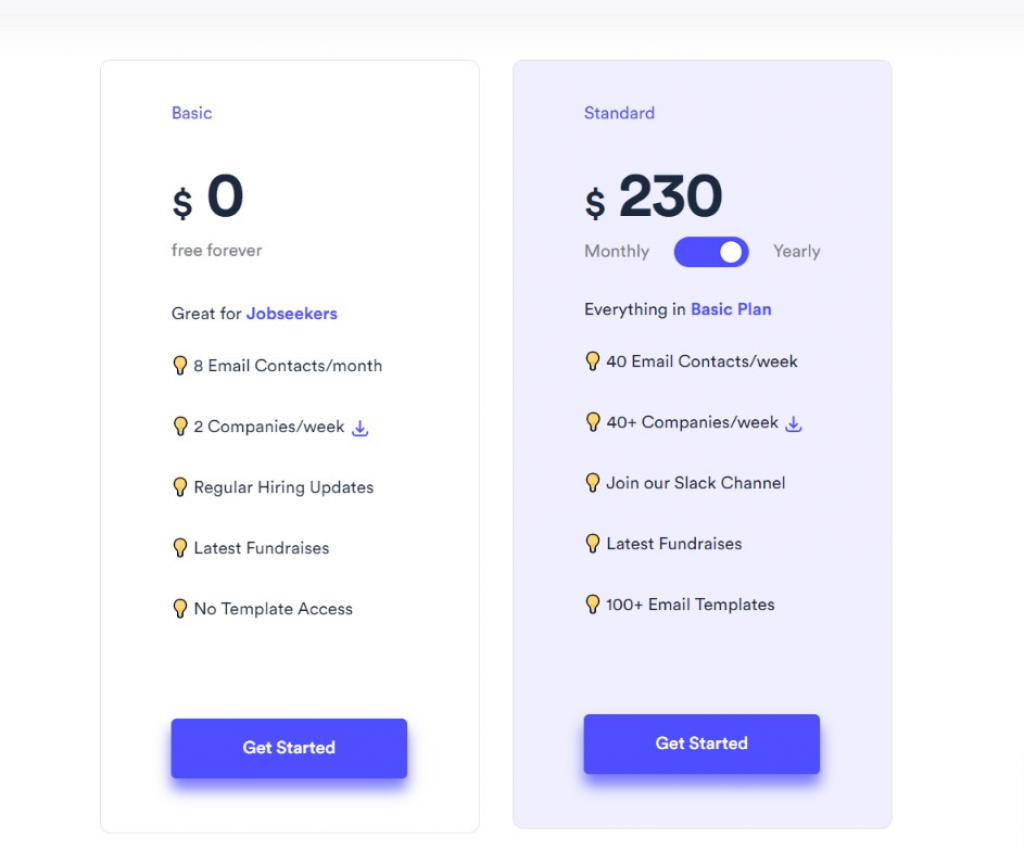 Alternatives to Prelo
Shows You Which Companies Are Visiting Your Site And What They're Looking At With Leadfeeder. With Leadfeeder, you can get more high-quality leads for your website.
With customized numerous Followups, you can automate your lead generation activities. With a single click, Hubspot can sync prospect information.
Social Media Presence
Is Prelo right for You ?
It is a platform that helps you discover new Startups and their products. Prelo provides the most up-to-date information on the Startups, such as their current funding status, the rate at which they are gaining users, and more.
Prelo helps you engage with key decision makers in the tech company. Our data insights and email finder help founders accelerate their introductions. They're closing the gap between finding prospects and getting introduced to them.
Prelo is a data-driven sales tool that enables founders to build and refine their email lists of key decision makers in well-funded startups. The platform collects and organizes data from multiple sources, allowing you to track the growth of your email list over time while also improving its quality.
Give a try for this product now!
Video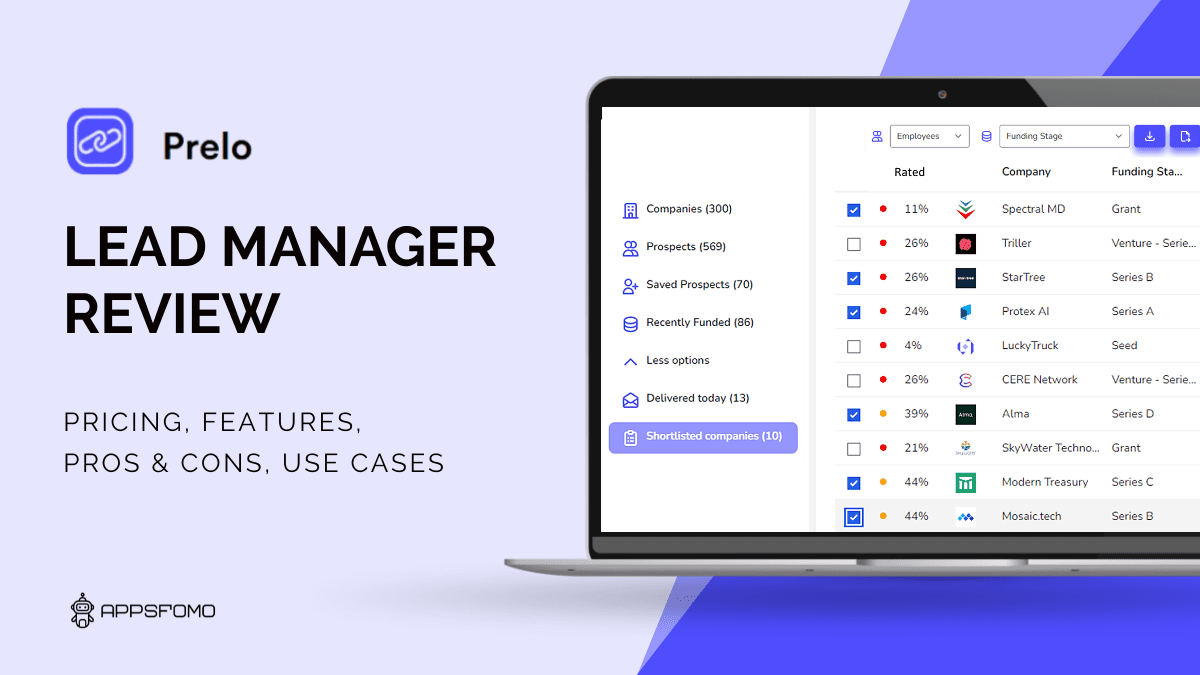 Specification:
Prelo: Lead Management Made Easy and Simple for Early Stage Startups
| | |
| --- | --- |
| Review Date | Oct-22 |
| Company | Prelo |
| Country | USA |
| Initial Release | 2021 |
| Pricing | Montlhy, Yearly |
| Free Version | Free Tier |
| Lifetime Deal | Yes |
| LTD Platform | Appsumo |
| Money-Back | N/A |
| Appsfomo Rating | 8 |
| Support type | Ticketing |
| Integrations | CRM |
| Supported Device | Web Based, Windows |
| Mobile app | Not Available |
| Affiliate Program | No |
PROS:
Simple and easy to use tool.
Good Support system.
Exciting database of beautifully written email templates.
Helps in reaching more people and companies, thereby increases business growth
Best platform to find new opportunities to grow your Startup
CONS:
UI for big screens needs to be improved.
Need to add more companies in the future.
The weekly quota of leads has to be increased.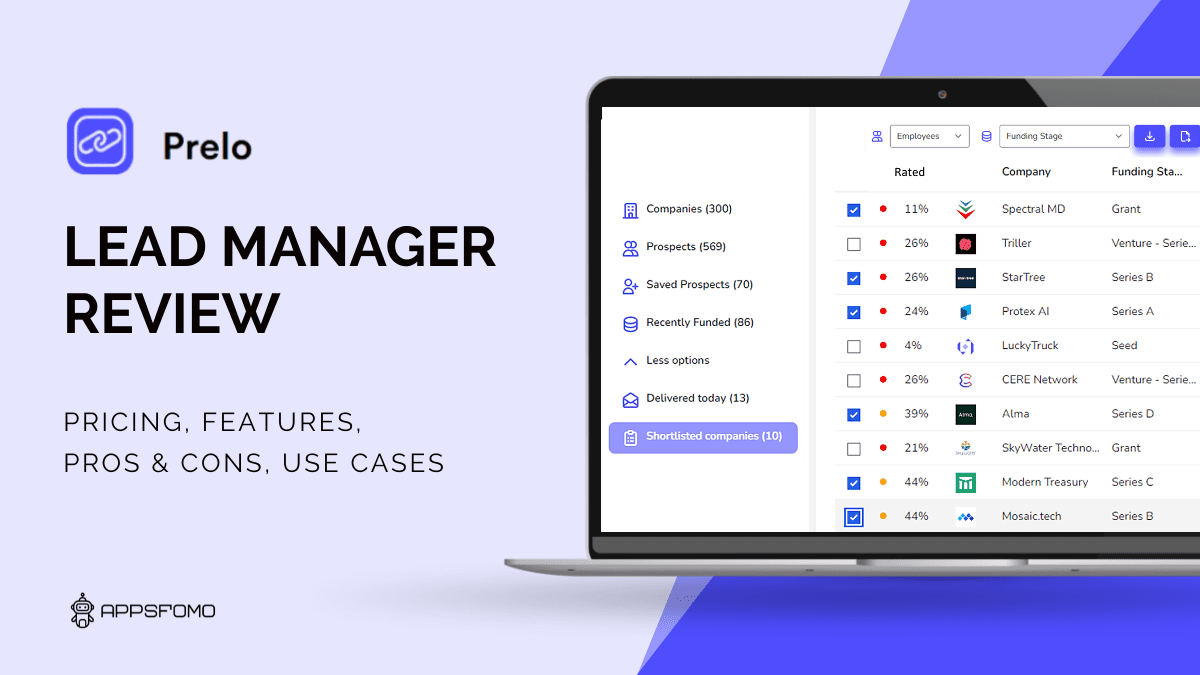 Prelo: Lead Management Made Easy and Simple for Early Stage Startups