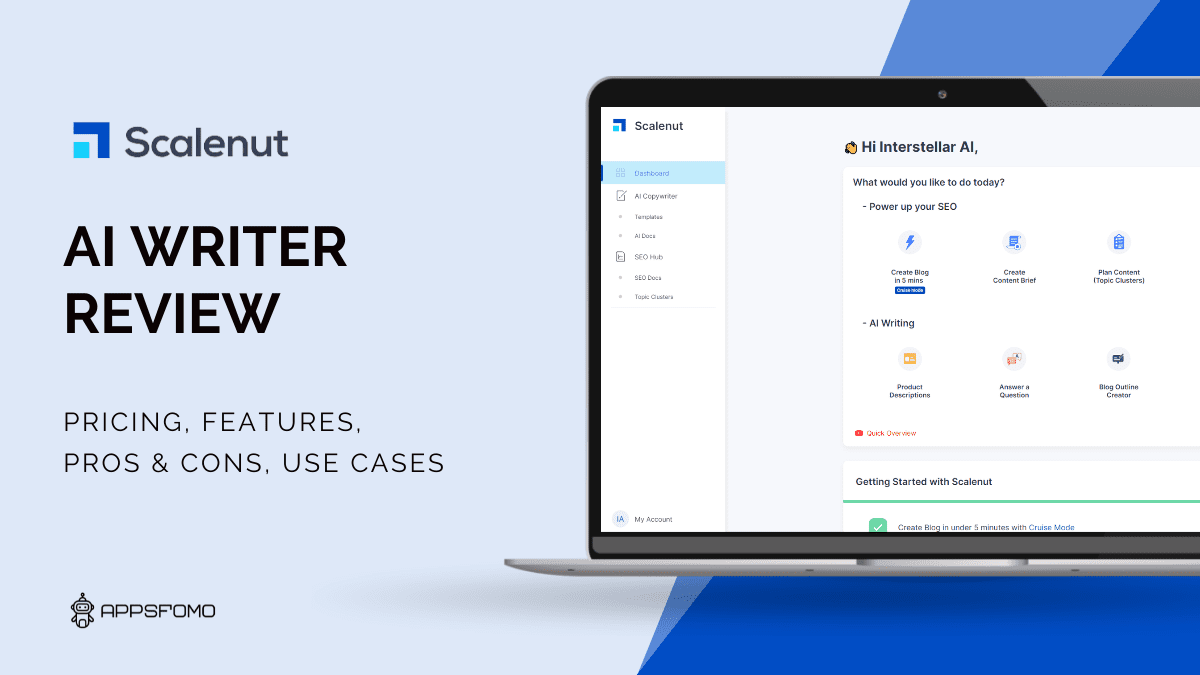 Scalenut: AI-Driven Content Research and Creation for Content Writers
Add to wishlist
Added to wishlist
Removed from wishlist
1
Add to compare
How Global Businesses are Fueling their Content Marketing with Scalenut, As content marketing becomes a more integral part of a globalized business landscape, more and more companies are turning to content marketing platforms like Scalenut to help them create and distribute their content.
Here, we'll explore how individual marketers, SMBs, and large enterprises have all multiplied their content creation and organic traffic in a short time by partnering with Scalenut.
What Is Scalenut?
Scalenut is a content marketing platform designed to help businesses create and quality of your writing, engaging content across all channels. By automatically generating article ideas, creating content syndicates, and optimizing posts for social media sharing in easy way.
Scalenut helps ensure that your website's valuable information reaches more people and achieve business goals faster than ever before. Its templates helps to create your content and then save them with a single click. This is useful in cases when you are short of time or if the content doesn't change often like news articles and other types of contents.
How does it work?
Fast and Better Content
Get ahead of your competition by writing blogs at 5 minutes per blog and automating NLP key terms to improve your ranking on Google and guided workflows for content brief integration.

Plan Content
SEO Hub is a tool that allows users to get detailed reports on their chosen keywords. These reports include actionable insights that can help users plan their content strategy for ranking purposes. With the knowledge of key terms, h tags, readability, intent, etc., SEO Hub provides users with the tools they need to rank their content. The best quality content can be achieved with AI-Powered reports, Insights from top 30 results, Questions from Quora and Reddit and H tags from key terms
Content that ranks on Google
Long-form AI copywriting, Real-time quality checks and a Library of royalty-free images SEO Hub's intelligent editor will help you write winning content every time by ensuring that everything from key terms and image density to relevant questions and h tags is the way it's supposed to be.
Winning content ideas and copy from AI
With unlimited content ideas, you can get real-time content ideas, It's your unfair advantage when it comes to content creation – AI Copywriter covers entire blogs, email headers, ad copies, social posts, long-form content, and multiple other content formats. The other content ideas may be Ad Copies product descriptions, Email Copywriting, Article Copywriting
Company Details
Founders:
Gaurav Goyal, Mayank Jain, Saurabh Wadhawan are the co-founders of scalenut in 2020, they are a team of 60+ employees. Based in Altadena, California
Funding:
Scalenut has raised $400k from Abishek Goyal, Titan Capital, Angellist India and First Principles as seed funding.
Features
Content Management
Scalenut is a curated list of the best content ideas on the web. Whether you're looking for blog intros, ad copies, blog posts or email headers – Scalenut will save you hundreds of hours by serving you the most relevant content ideas to your specific need at the click of a button.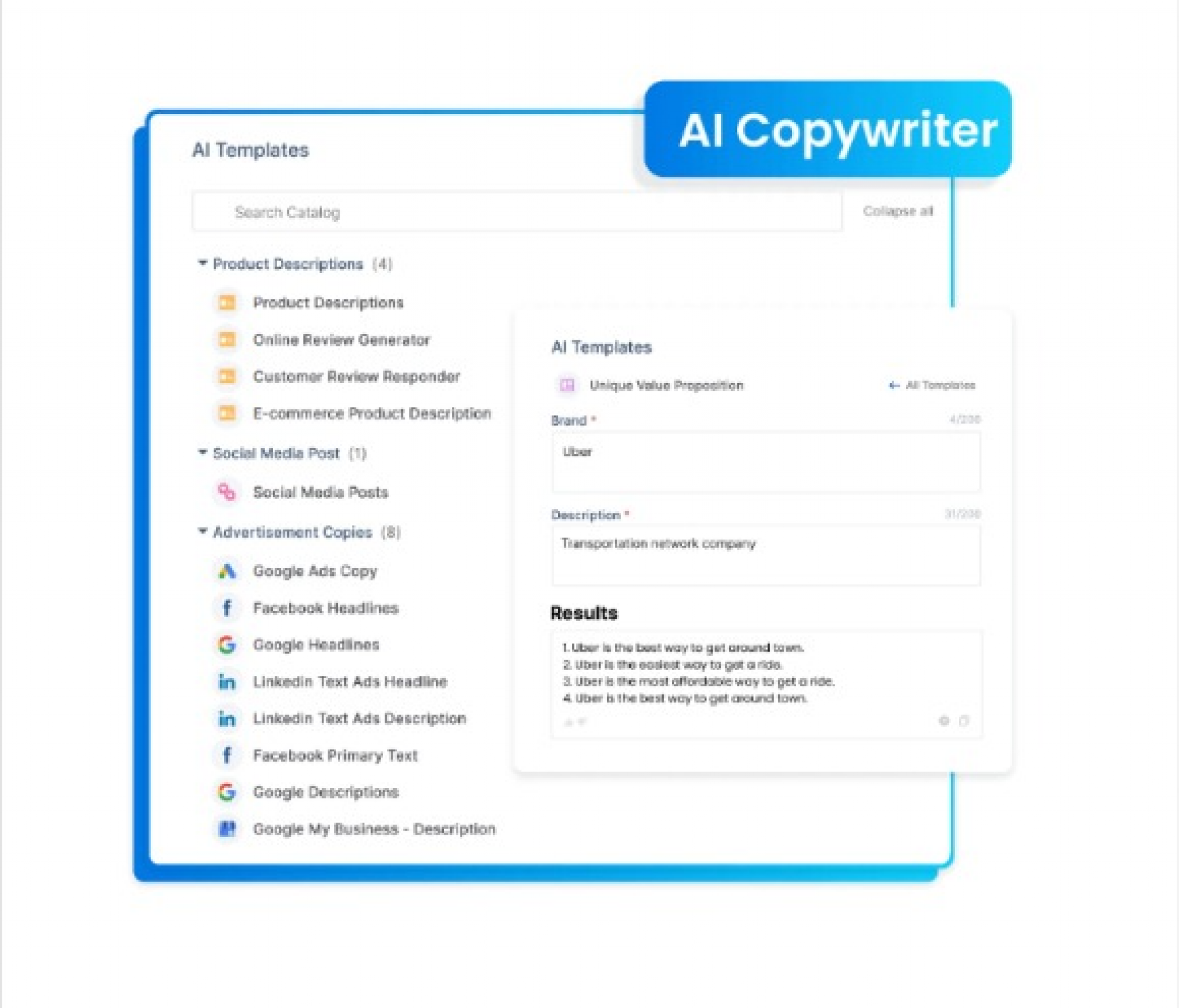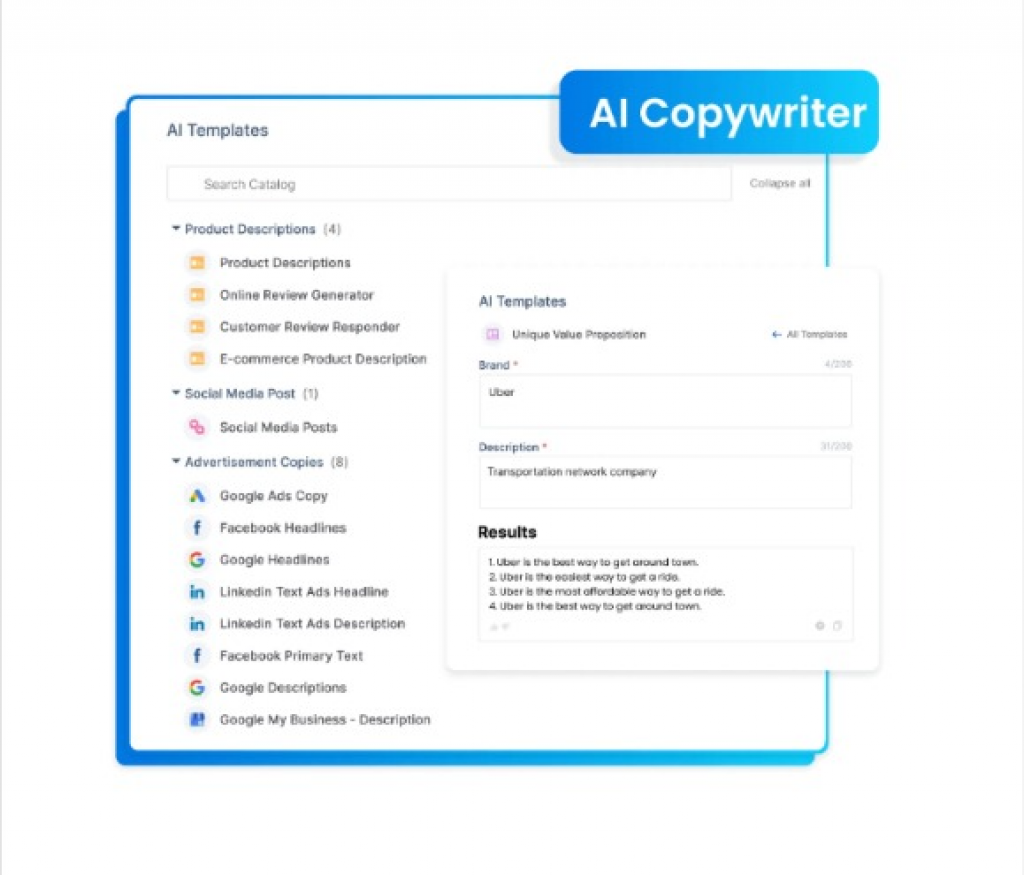 Cruise Mode
Scalenut is a workflow tool to help you create content that is trending. It helps you create a post in just 5 minutes with the use of NLP, AI and other automated tools like Headline Analyzer and Key Terms usage.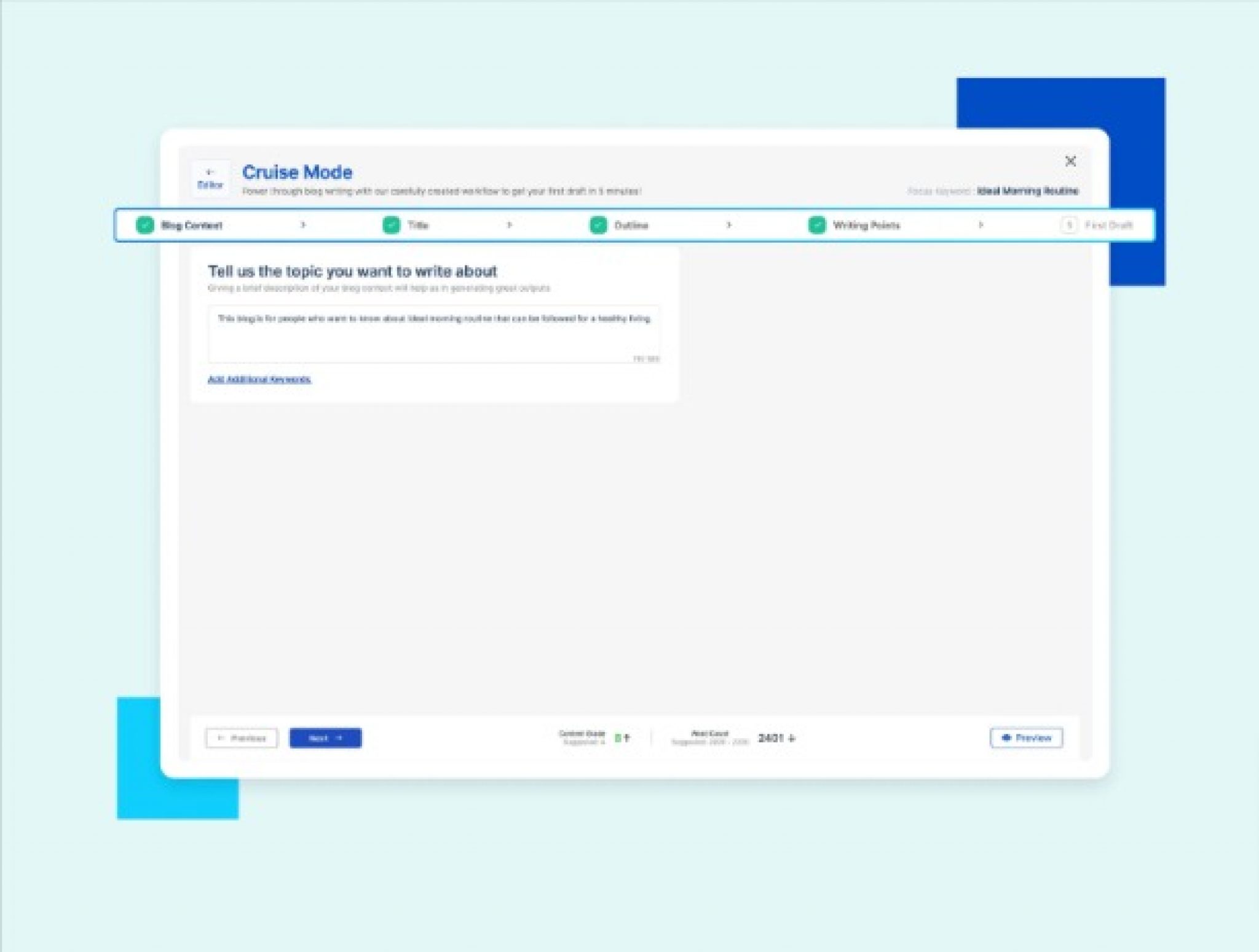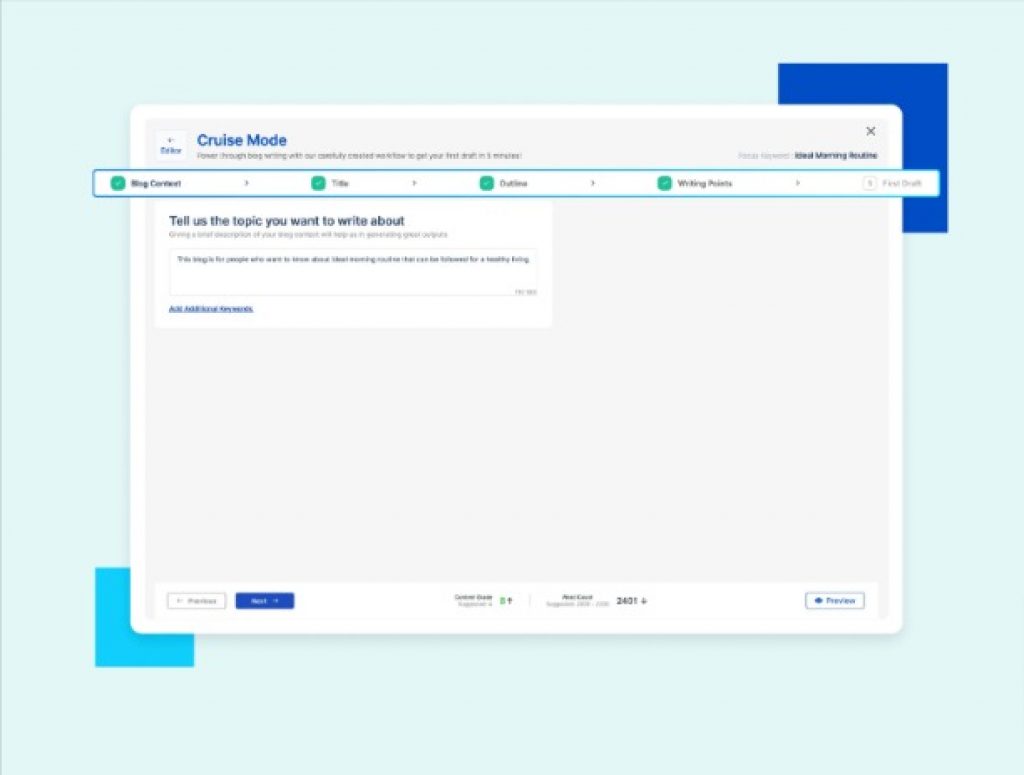 Master your Content
Scalenut helps you to create content on a blank canvas. It provides you with all the tools and support to create engaging content and have a perfect word count for your users or customers – from brainstorming to ideation to publishing.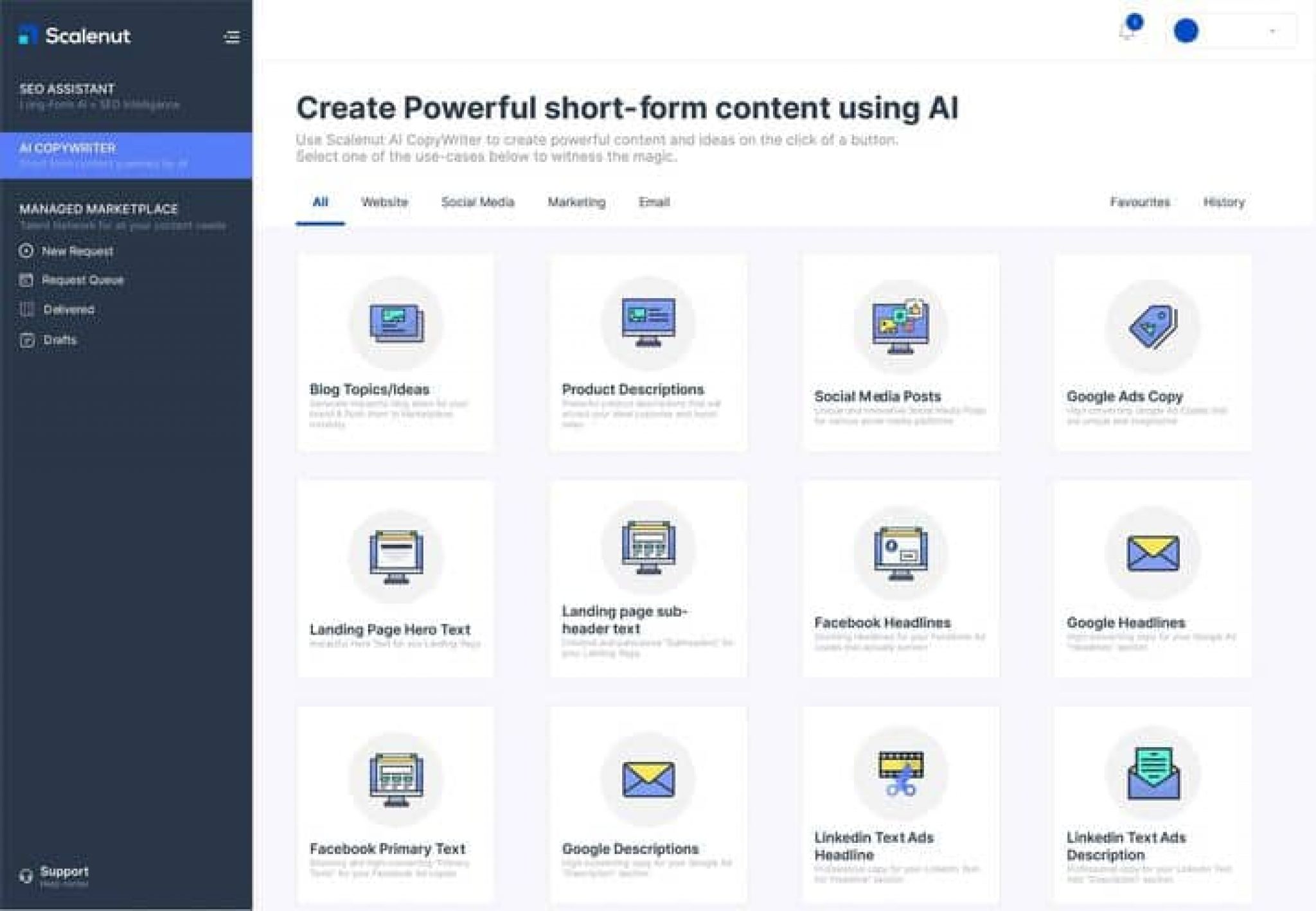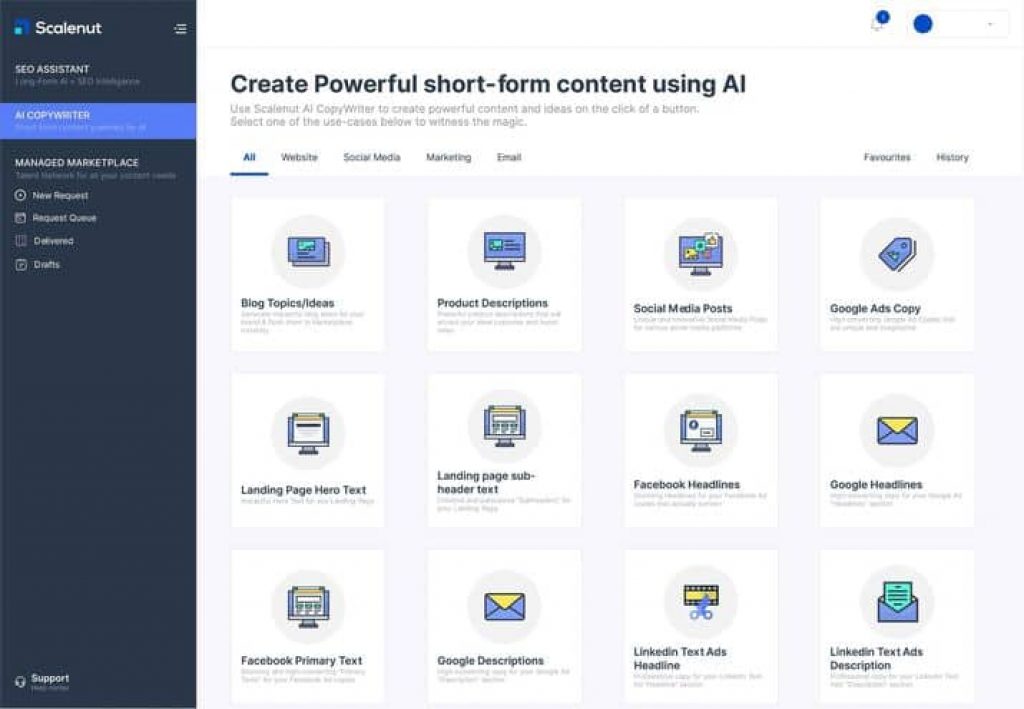 SEO Management
Scalenut is an AI-based seo assistant that lets you outsource all of your SEO activities to it. It will give you a complete winning seo recipe for organic search as per the keyword and niche you target with complete research data, analysis, and insights from different sources.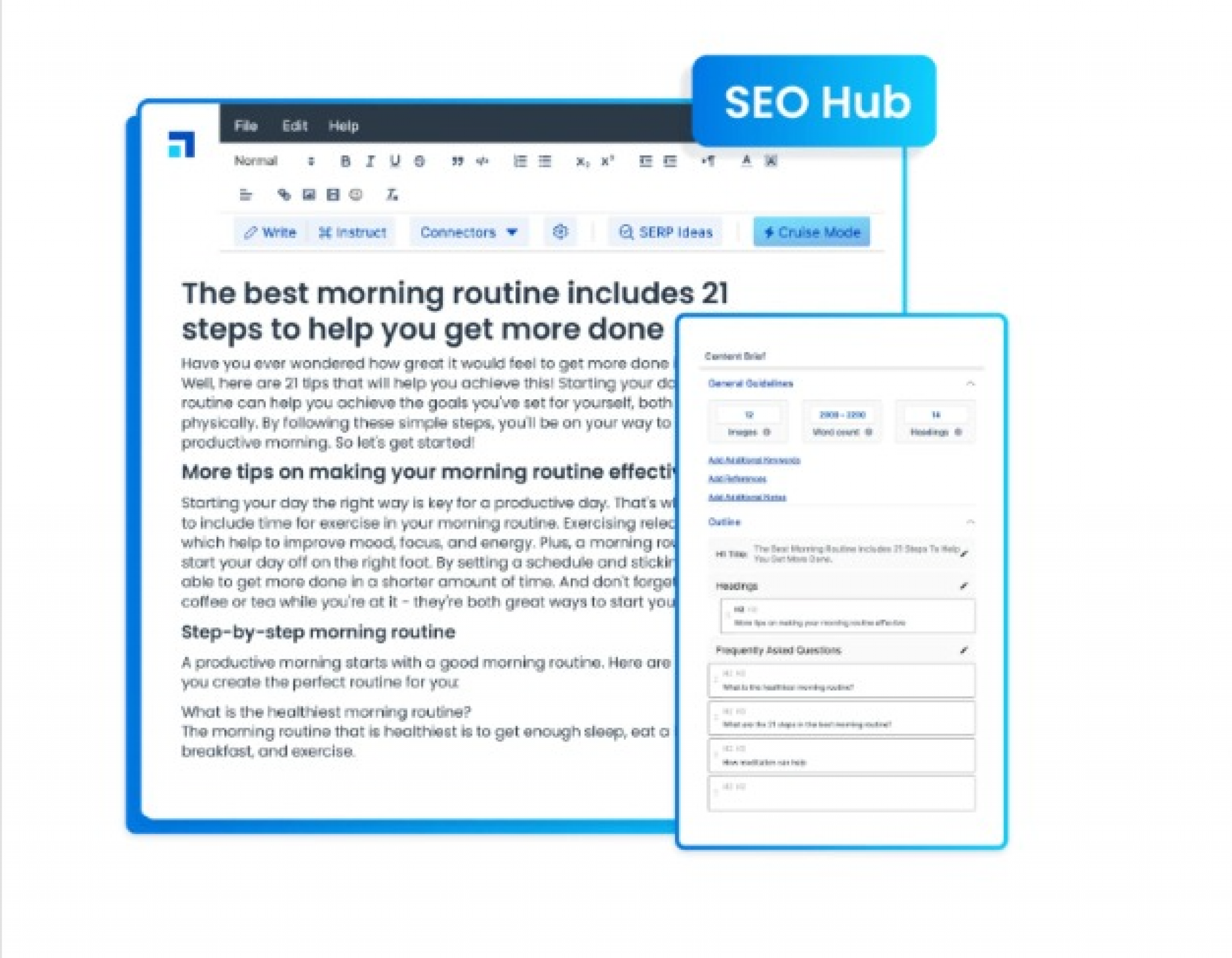 Produce high quality content
Scalenut is the best online text analyzer tool that helps you improve your writing skills. This editor is simple and easy to use, it will edit the spelling mistakes, punctuation errors, sentence structure and grammar mistakes by checking how readable your text is.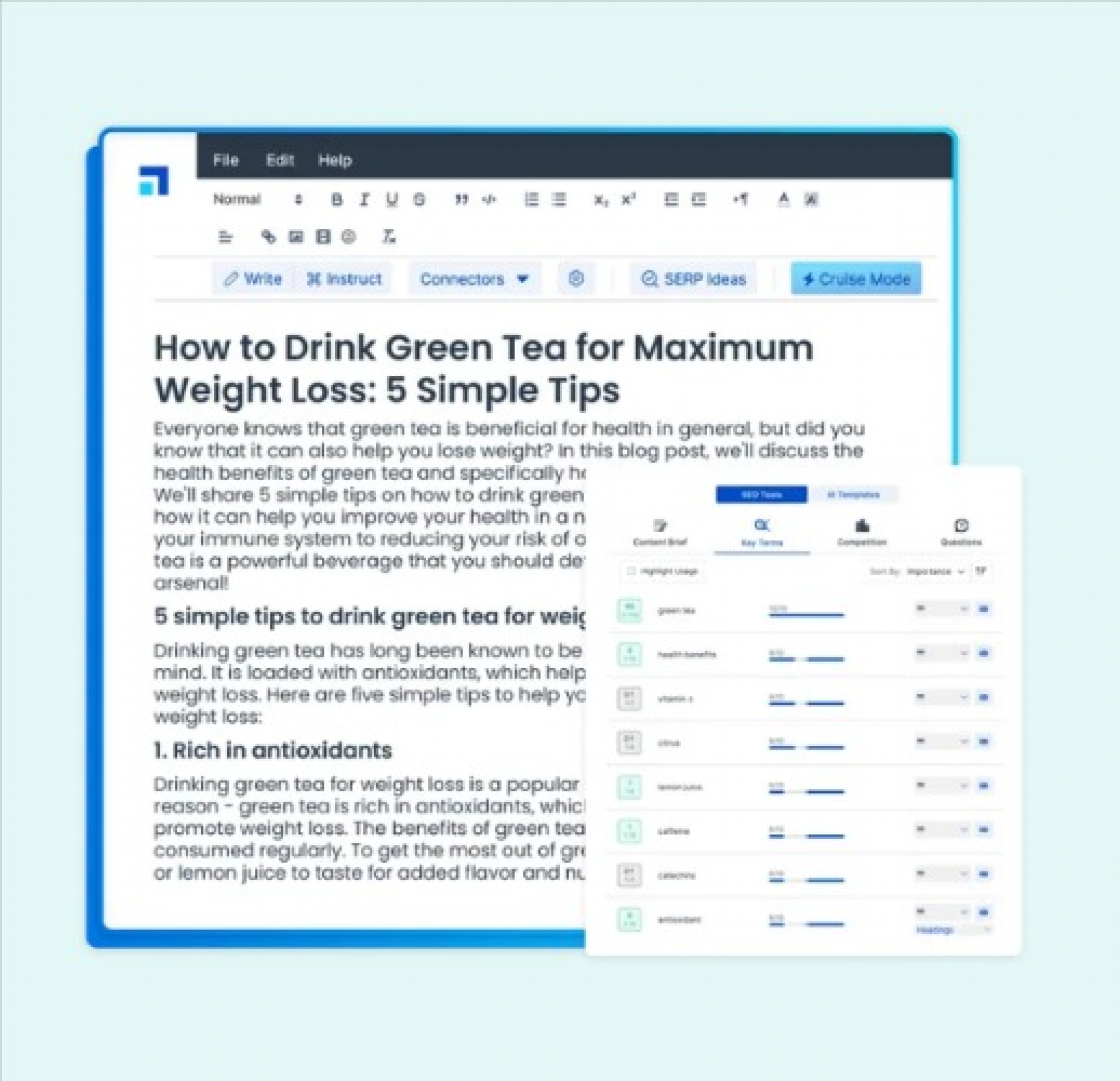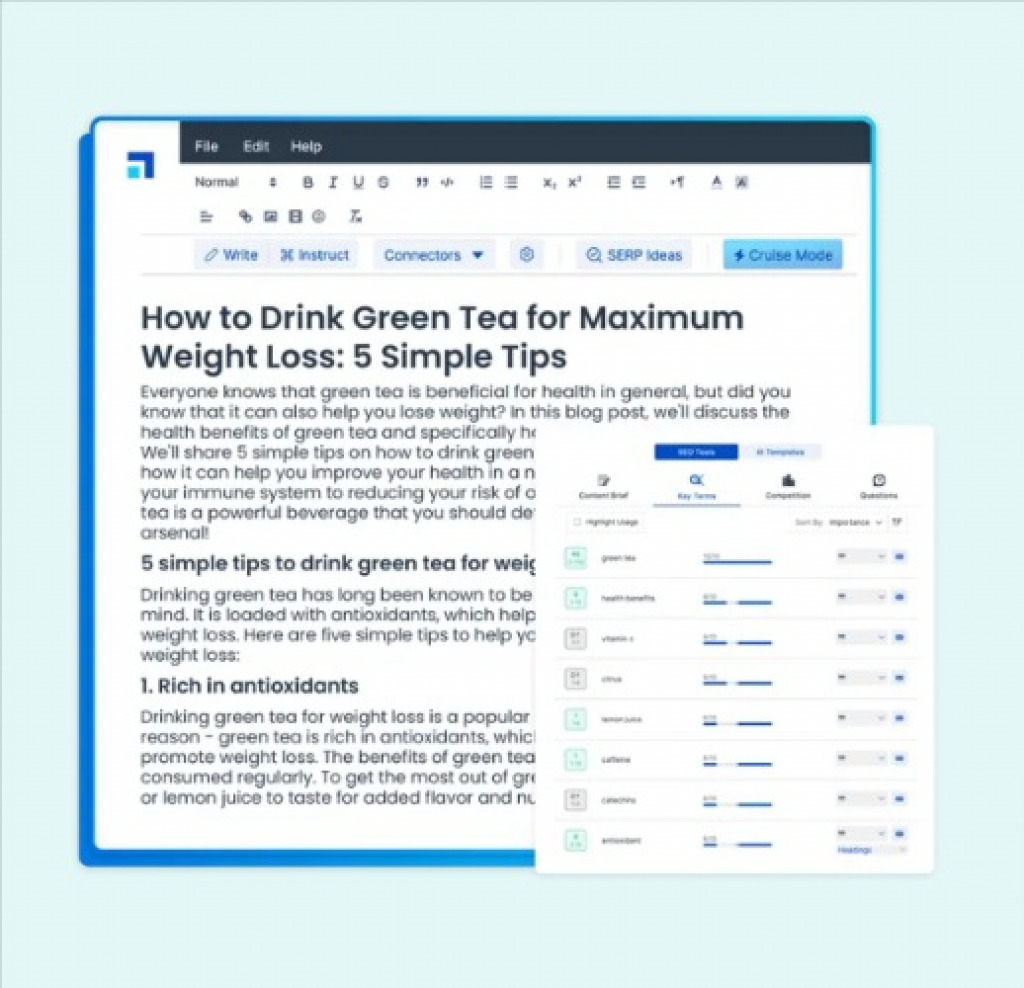 Professional Content Service
Scalenut is a marketplace that connects you to top content professionals who create engaging and high-quality content while paying less, saving time, and collaborating in real-time.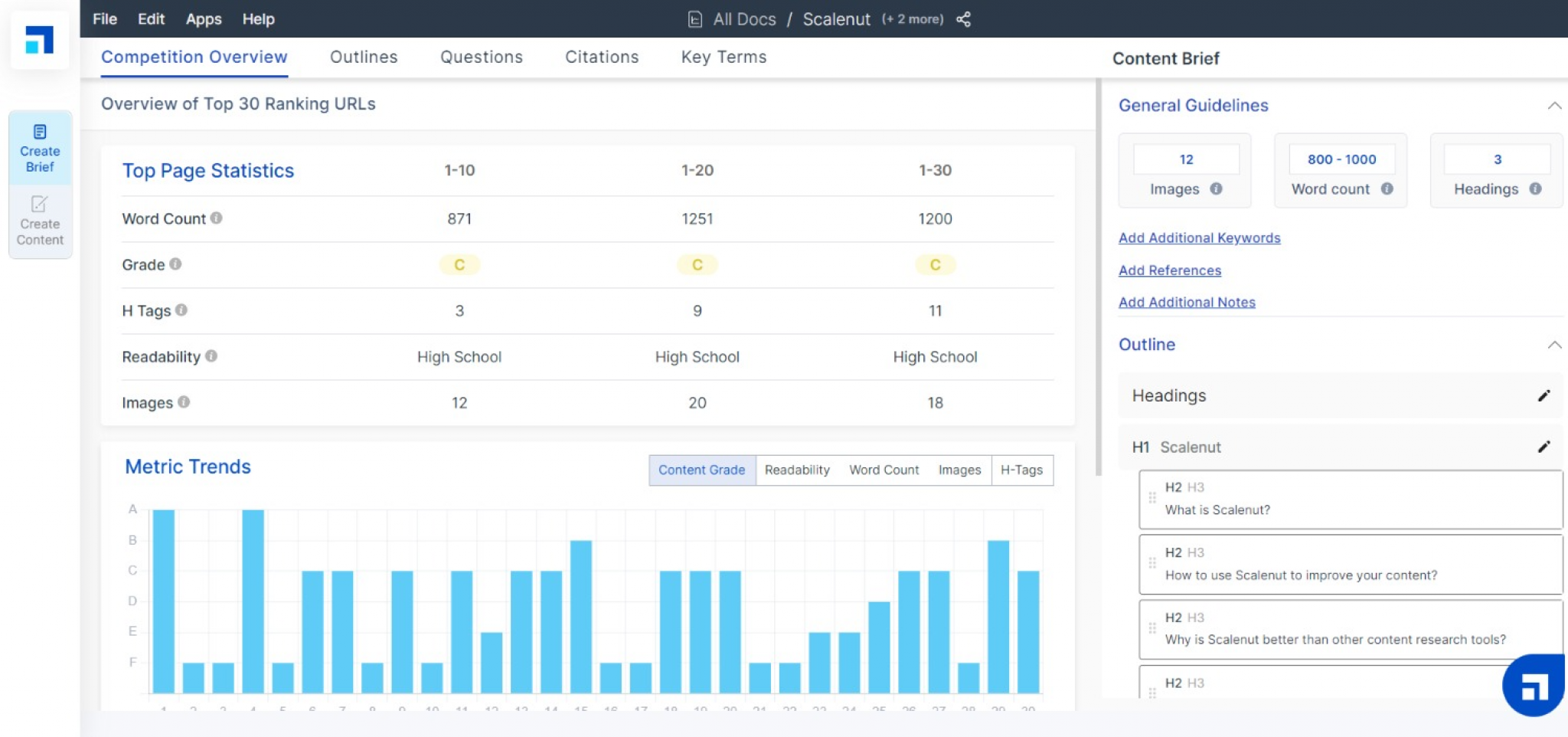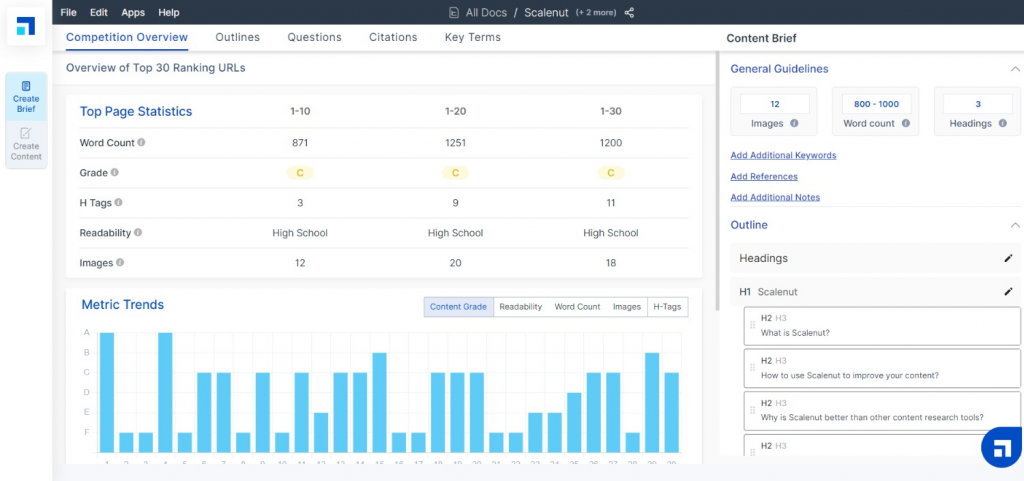 Content Type
Scalenut has three different kinds of content types.
Website Content
Your brand's story is essential in driving traffic and increasing conversions on your website. Write engaging content that captures the essence of your brand and Scale your business with content that converts.
Step 1: AI short-form copies
AI Copywriter helps you with ideas for your blog, website, product descriptions, and more. Just input a description and let the AI do its work.
Step 2: AI Long-form writing
You may create AI-assisted longform material in minutes with our powerful editor. Get real-time quality grading for your video, embed videos, and get photos.
Step 3: Cruise Mode
With Cruise Mode, you can get the aesthetics of ingenuity into your blog writing with remarkable speed. In 5 minutes, integrate the content, automate the NLP key terms, and finish your blog.
How our Talent Network makes website copywriting great
5000+ professional creators, research-driven, align with business goals, multilayer editing that is emotionally appealing.
Social Media Content
With posts that capture audience, nourish engagement, and ultimately boost your bottom line, engage social content that attracts eyeballs.
Scalenut's Generate AI, powered by artificial intelligence, generates numerous successful social copies in just three clicks.
Enter Brand Name
Enter Product Description
Hit Generate
Thought Leadership
To build your credibility with people who matter, Scalenut can help you write the Ebooks, Whitepapers, and thoughtful Newsletters that you need.
Most compelling thought leadership content
Share your idea, get high-quality content, and approve it. Instead, you may want to rephrase the question.
Scalenut For Users
Content Strategists
Use the best technology available to research and create content on spec that will drive business results. It's all in one location.
Scale content with Cruise Mode
Because Cruise Mode is here, you no longer have to worry about SEO-ranking blogs. You may take care of generating useful material in just 5 minutes! Automated NLP key terms, Content Brief Integration, Guided Workflows
Stay on top of your Game
SEO Hub assists you monitor industry, themes, and competition with intelligent and relevant reports. Quora/Reddit questions are included in Competitive Anlalysis, which relates terms.
Produce Clear, Compelling Content
AI tools help you build performant and rankable content. Keyword Frequency and Readability Analysis are important functions in Cruise Mode.
Content Creators
Use Cutting-Edge Technology to Raise the Bar on Your Content Creation Skills
Beat the writer's block
With the Long-form Editor, you can convert words into a fountain of ideas by turning titles, intros, product descriptions, social posts, and other content items. Many Content Formats, Just a Few Choices
Elevate quality to the next level
With the use of AI technologies and skilled creators, you may produce content that performs. Keyword Density Checker, Real-time Feedback, and Recommend Relevant Terms
Write Long form with low efforts
Intent, keywords, length, readability, picture frequency, and other SEO Hub statistics are among the metrics tracked. They add a lot of value to whatever you write. Optimize content for Google, meaningful data to outline your blog, and backed by AI & Human Copywriters.
Scalenut Business Owners
Get all the content you need to help your business grow on a single platform. Scalenut has talented creators and artificial intelligence-powered tools that deliver high-quality content. With our platform, you can get the content you need to attract new customers and keep them coming back for more.
It is trusted by companies like Airtel, Snapdeal, PharmEasy, Techmint
Edge with SEO Tools
Supercharge the productivity of your content team with seo parameters on Scalenut. You may produce short-form content ideas, blog intros, and long-form writing in a matter of minutes with SEO Hub. Unlimited Documents, 40+ Use Cases for AI Copywriters
Flexible content team on Standby
You may scale content creation at will thanks to our vast talent reserves. Scalenut gives you complete volume, type, and content strategy freedom, allowing you to be as aggressive as you want in a scalable manner. Professional creators, affordable pricing, and scalable for high volumes
Agencies
Scalenut provides high-quality content at scale for any industry, saving you time and resources by allowing you to create content at scale for every niche.
Cruise through your content creation
Your blog writing abilities will be accelerated to the point where you can launch a blog in 5 minutes! This method will allow you to craft valuable and impactful material in a way that is under your control.
Long form content
You may easily plan and publish long form content for your customers from a variety of backgrounds using the help of SEO Hub's intelligent insights and tight quality monitoring abilities. Quality Score, H Tags, and Key Terms
One tool for tons of content formats
From engaging social posts to converting ad copy and product descriptions to snappy headlines, IVA Copywriter covers everything your clients need. Minimal Data, Several Content Types, Original Content
Professional creators for superior quality
Our experienced authors offer well-researched, SEO-driven content that help you showcase thought leadership, attract natural traffic, engage your audience, and other objectives.
Endless revisions until you are satisfied
Before it reaches you, each piece of material is reviewed by our in-house editors and AI tools. Return it until you are satisfied, and go under Manual Checks, Revision Until Satisfied and AI Based QA.
Partnering with Scalenut allows to generate & acquire organic marketing.
Scalenut have made significant progress in changing the entire content creation process, from being merely a long-form ai writer to becoming a complete-fledged content creation, optimization, and marketing suite for marketing teams.
Content Strategy
Content Strategy is a big market, From the ground up, how to develop a content marketing strategy and the Importance of Pillar Content the finest resource for optimizing your material for SEO, the Guide to paraphrasing, and the guide to doing a content audit with everything Scalenut have the experience and technology to help you succeed.
Content Writing
Scalenut offers a suite of AI-assisted writing tools to help you produce engaging and well-researched content. These include: a platform that analyzes your text for key terms and other research material, an AI tool that helps generate original content, and a revision system that monitors your quality until you are satisfied.
Content Marketing
It allows for more effective social media posting by assisting with how to schedule social media tweets, the best time to publish on social media, and how often businesses should publish on it
Technology
Knowledge about Google algorithm changes, as well as structured data and conversational AI for business, are readily available.
Branding
Scalenut's brand identity is based on a simple and modern design that communicates scalability, quality and innovation. Since content marketing is such an important part of business today, the tools that are available to help you succeed are essential. With Scalenut's help, you can create high-quality content that will attract customers and generate leads for your business, Written content is beneficial to SEO, legitimate websites have linked to these, you will become more visible on social media, highlight your company's assets It assists you in gaining authority.
Graphic Design
Graphic design is crucial in helping your business stand out from the competition. With this feature, you can create engaging and professional visuals that will capture customers' attention. A powerful mode of communication is graphic design it also Indicates professionalism and builds credibility
Freelancing
Freelancing can be an excellent way to flex your creative muscles and earn some extra money. By giving importance to networking, and creating High-grade content to backlinks by understanding SEO using content writing tools with full efficiency the box thinking is required, for generating traffic and converting them into sales.
Entrepreneurship
Entrepreneurship can be a very rewarding experience, but it requires a lot of hard work and dedication. If you're looking to start your own business, Start with brainstorming content leads and then go with researching content leads, and lastly, articulating your ideas
Scalenut Support
They have well documented guides for all features of the tool in their help center. Scalenut provides 24×7 email/ live chat support to all the users of paid plans.
Their Pro plan includes a Dedicated customer success manager, to help you from all aspects.
Frequently Asked Questions
What are SEO Docs?
Scalenut provides a variety of tools for both short and long form content creation, and it is a full AI content writing and research platform. You may create blogs that rank higher on search engines with our SEO Hub. It includes SEO Docs, which by analyzing the top 30 results for your query, generates a comprehensive report with actionable information. Here is a summary of the report's contents.
How Does AI Copywriter help me with Copywriting?
All you have to do is choose the content format, mention the brand name, and describe your product/service in order for your content to be automatically generated across various formats. That's all there is to it! Just fill in the blanks and generate. You'll get a lot of different content created all at once. Which one appeals to you the most? Edit it or simply copy and paste it into your document to improve it.
What are AI words?
AI words are a new way to organize and hierarchize your thoughts on whatever you're writing. They make it easier for you to find the important points, and they can help with grammar, style, and organization.
What are the data sources for reports?
Scalenut uses real-time data from SERPs, CTR distribution, and keyword search volume to produce traffic data.
What is NLP?
NLP, or Natural Language Processing, is a way to better understand the main keywords of a page by looking at the content that surrounds it. Google uses NLP to analyze the sentiment of a page, which can be determined by the words directly before and after the entity, or even an entire section of text.
Why Use Scalenut?
SEO Hub
Scalenut's SEO Hub brings everything you need to create long-form content that your readers and search engines appreciate reading together in one place.
AI Copywriter
Tell Scalenut's AI Copywriter what you need, and they'll give you Robin. For websites, blogs, social media updates, and more, the program analyses your inputs and generates excellent copies.
Talent Network
Scalenut's Talent Network has been used by 200+ businesses in ten different countries to create web content, blogs, ebooks, emails, and more.
Chrome Extension
A simple access powerful Chrome addon to create engaging, knowledgeable, and imaginative posts that is powered by AI.
Cruise Mode
In Five Minutes, I Can Have a Blog? Now that it's a reality, here's what I've done. In the search engines, say Hello to rankings! Content creation, creativity, optimization, and speed are all available in Cruise Mode.
Topic Clusters
In seconds, Smart Content Planning generates a thorough content strategy based on relevant topic suggestions and targeted keywords.
App Integrations
To build a tool you'll adore, integrate the tools you like. Don't Alt+Tab anymore by connecting the SEO and content apps you rely on with your Scalenut account.
Scalenut Pricing Plans
Scalenut has a free tier of 2000 words per month.
The Premium monthly pricing model starts at $29 per month, which includes:
Unlimited Short form AI words
20000 Longform AI Words
40 + AI tools
Full-fledged content reports
Live Chat support and much more.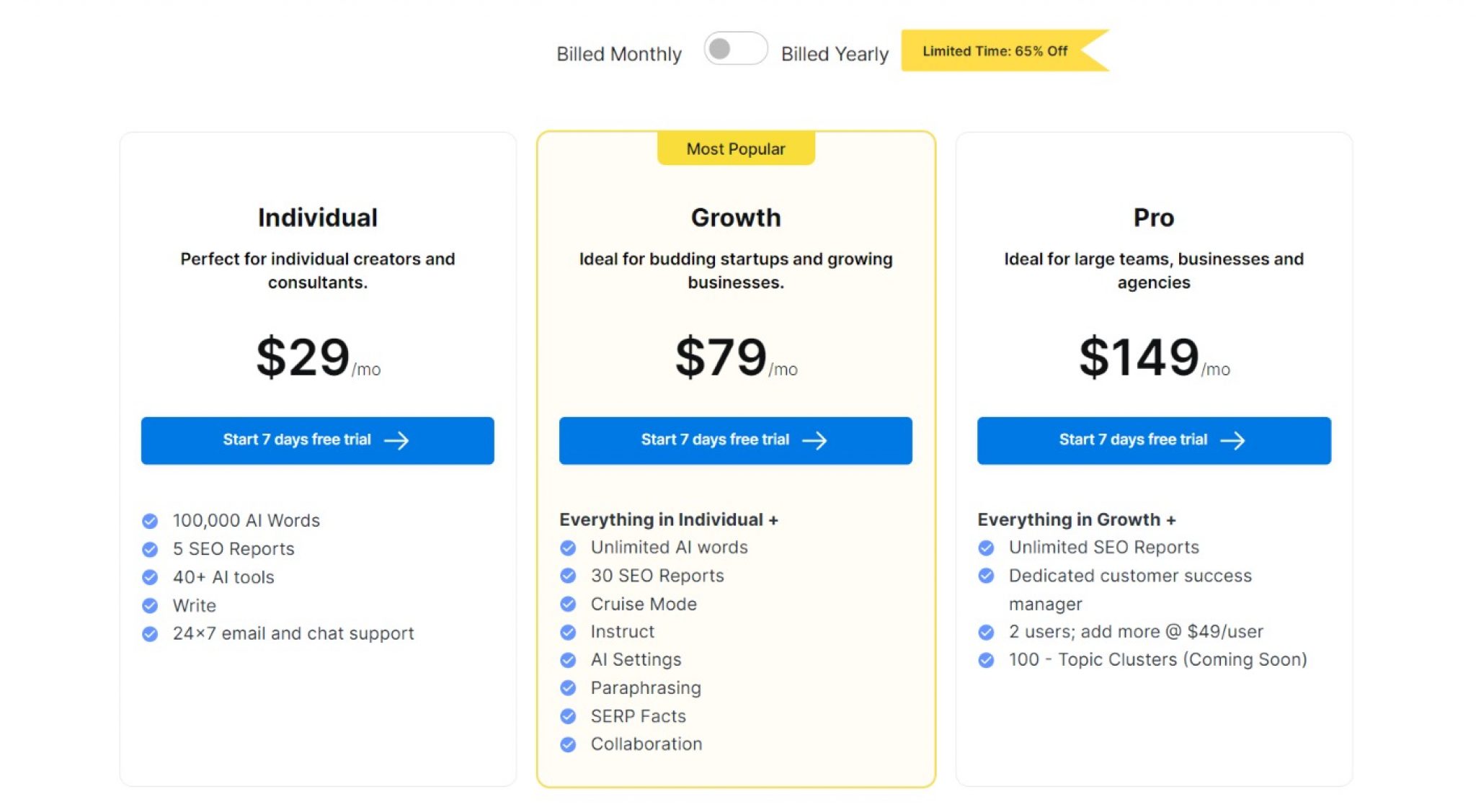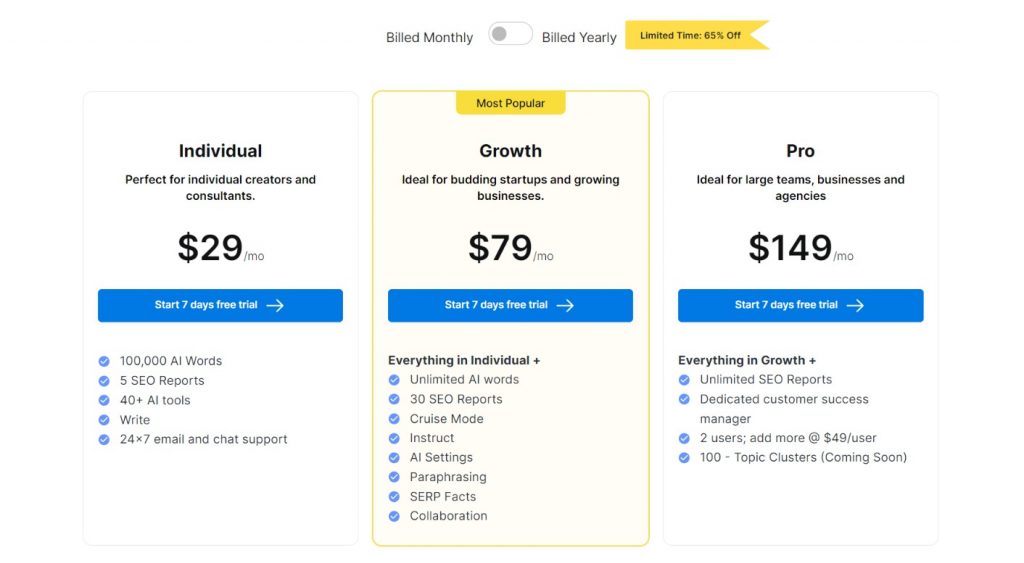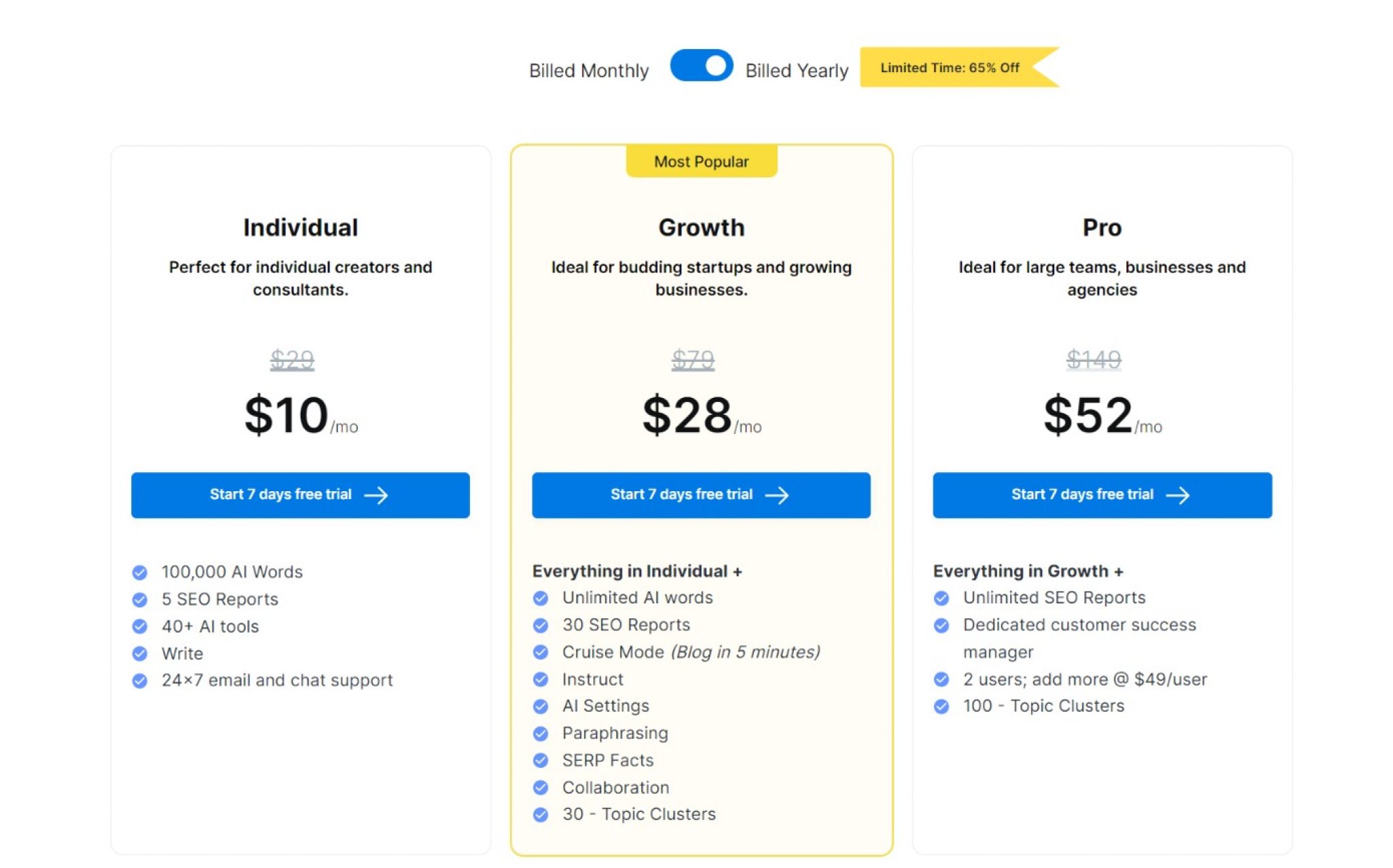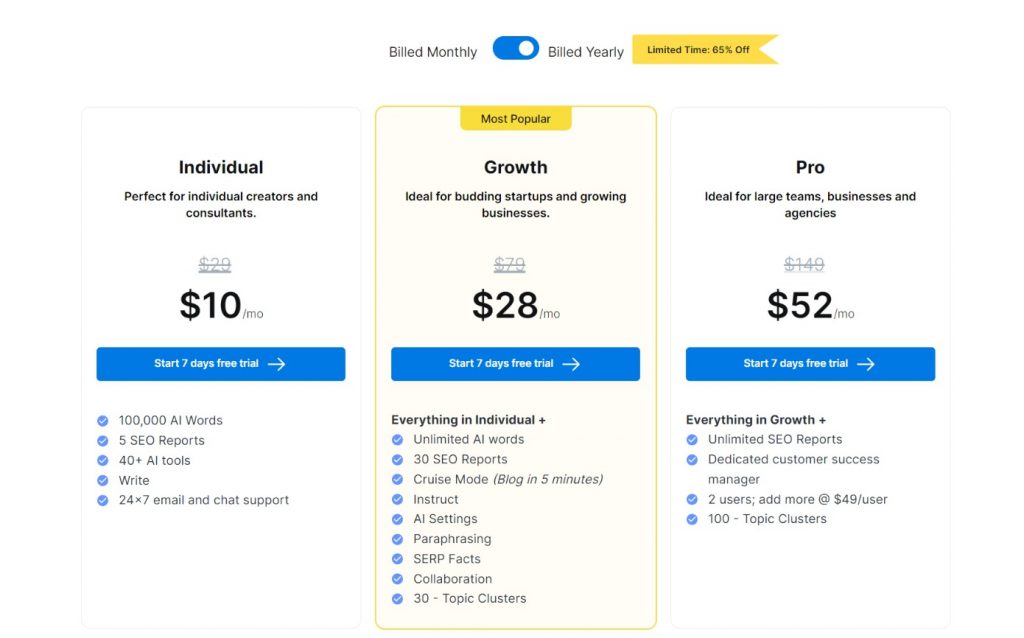 Alternatives to Scalenut
Writesonic is a versatile tool suitable for writers at all skill levels. It offers an AI Writer that assists in crafting extensive blogs and articles. The AI writer is designed to aid in producing SEO-optimized, long-form blog posts and articles. You can also check out pricing options, explore resources, and browse our product offerings.
peppertype.ai virtual content assistant helps you quickly generate high-quality content for a range of purposes, from marketing copy to product descriptions to search engine optimization.
Social Media Presence
Is Scalenut right for You ?
AI Copywriter can help you with copywriting by creating different content formats based on the brand name and product/service. Moreover, data sources for reports include real-time traffic data from SERPs, CTR distribution, and keyword search volume.
Scalenut's SEO Assistant is the perfect tool for creating long-form content that your readers and search engines will love. It's an end-to-end content research and writing tool that covers all the ranking factors and provides you with actionable insights and real-time tracking of SEO parameters.
Give a try for this product now!
Video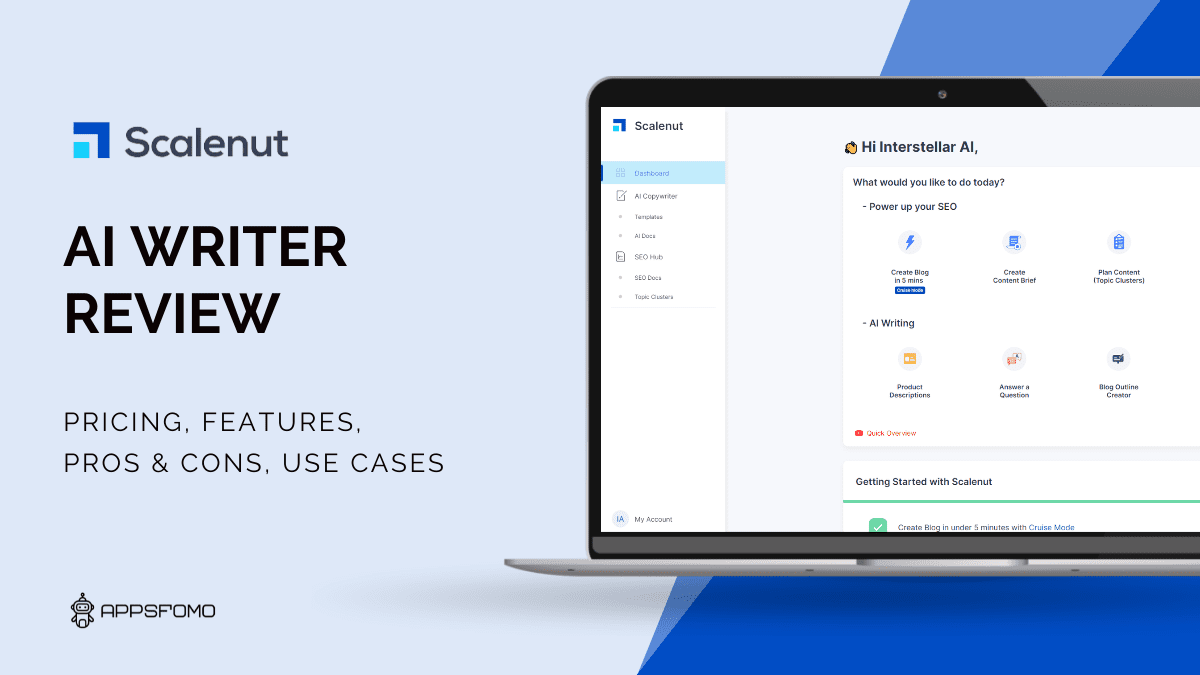 Specification:
Scalenut: AI-Driven Content Research and Creation for Content Writers
| | |
| --- | --- |
| Review Date | Oct-22 |
| Company | Scalenut |
| Country | India |
| Initial Release | 2020 |
| Pricing | Montlhy, Yearly |
| Free Version | Free Trial |
| Lifetime Deal | Yes |
| LTD Platform | Pitchground |
| Money-Back | N/A |
| Appsfomo Rating | 8 |
| Support type | Email, Live Chat |
| Integrations | Copyscape, Semrush, Wordpress |
| Supported Device | Web Based, Windows |
| Mobile app | Not Available |
| Affiliate Program | Yes |
PROS:
It's very intuitive, easy to use, and SEO friendly.
The AI content generation is fast and creative.
Free royalty-free images library, Top-notch SEO, and productive keyword ranking are the best features for users.
Great option for content creators who want to produce long-form content.
Creates SEO-focused content outlines.
The Scalenut AI engine helps you to draft and polish your work quickly and easily.
CONS:
Short-form contents aren't the best.
The editing feature of the software tool is a little hard.
The SEO Assistant at the moment is tied to the Long-form content editor.
Does not offer PRO plan that gives you the ability to work with more than one user.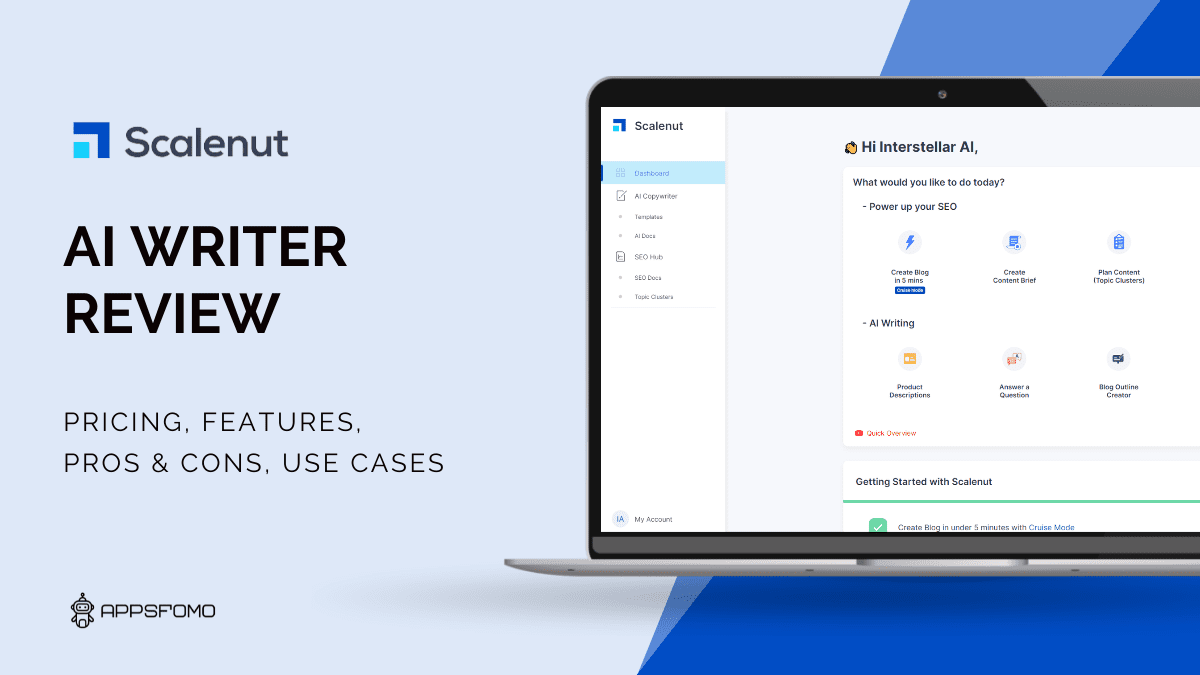 Scalenut: AI-Driven Content Research and Creation for Content Writers